Should You Buy Your Engagement Ring Online?
Considering shopping online for your engagement ring? Read this first.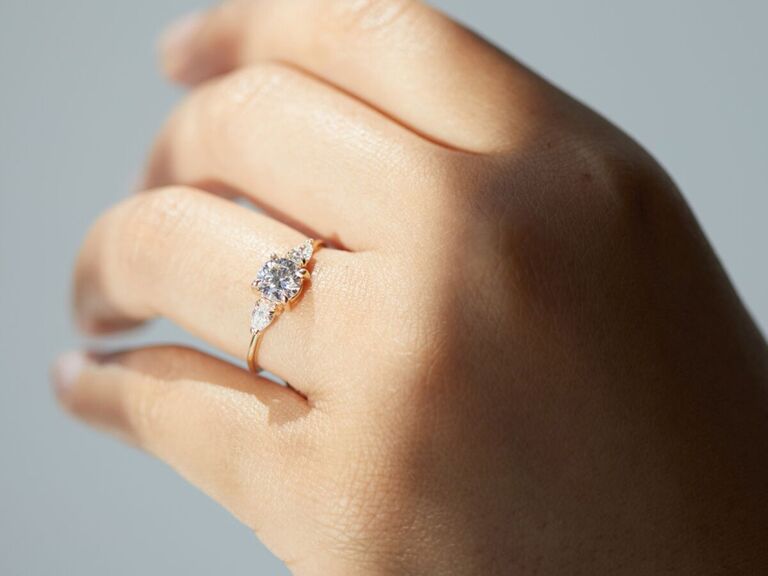 Photo Courtesy of CatbirdNYC.com
We have included third party products to help you navigate and enjoy life's biggest moments. Purchases made through links on this page may earn us a commission.
We all know online shopping is a godsend where impulse purchases are concerned—the latest best sellers plus three pairs of shoes without leaving the couch? Yes, please. But when it comes to buying engagement rings online (or any fine jewelry for that matter), the rules of shopping get a bit more particular than simply scrolling, adding to your cart and going through the motions of entering your credit card info at checkout. Since an engagement ring is a sentimental piece and often a sizable monetary purchase, you need to make sure you're getting exactly what you pay for. Here are some of our thoughts about shopping online for an engagement ring.
Can you buy a quality engagement ring online?
The answer is yes—with some caveats. If you're set on getting a ring online, whether it's a traditional diamond ring or one with an alternative gemstone, the most important thing to do is exercise caution while searching. Honestly, if a site's deals or special offers look too good to be true, they probably are. Make sure you're working with a reputable jeweler with a variety of options to choose from (some of our favorite online engagement ring destinations plus engagement ring styles are listed below).
Tips to keep in mind when buying an engagement ring online:
Choose a Trustworthy Vendor: This may seem like a no-brainer, but it's important to make sure you're purchasing your engagement ring or wedding rings from a reliable online retailer. Make sure the vendor has extensive FAQs detailing their return policy, shipping process and other customer service questions, as well as imagery of every ring, detailed product descriptions and a solid return policy (more on this later). If there are reviews on the site, make sure you read them—they can give you a good idea of other customers' experiences.
Verify the Certificate: Every diamond ring should come with an independent lab certificate, confirming the diamond is the quality the jeweler states it is. But not all labs and certificates are created equal. For the most accurate and reliable grading system, look for a GIA or AGS certified diamond.
Read the Return Policy: Before you buy a ring online, read up on the return policy of the site you're perusing, as each one is different. Some questions to consider: How long do you have to make a return or exchange? Do they offer free returns? Can you return your ring for a full refund or does the jeweler give credit only? Will they cover return shipping, or is that your responsibility? Does the ring come with a lifetime warranty? If not, how long is the warranty? If the ring doesn't fit, will they cover resizing or charge a fee? Make sure you know the answers to these questions before you checkout. If a site doesn't list a return policy, that is a red flag.
Pay Attention to Shipping: Once you've found your dream bling, you want to make sure it will arrive at your doorstep safely. Reliable sites will insure their packages and usually cover shipping. Read up on the details of how they package their products—your ring or loose diamond or gemstone should be packed securely. If you aren't able to sign for your ring, the jeweler should also be able to send it to a USPS, FedEx or UPS pickup destination. If presentation is important to you, check to make sure they include gift wrapping and a gift card.
Size It Up: When it comes to engagement rings and wedding rings, one thing is for sure: size matters. Standard ring sizes are given in millimeters based on the inner circumference of the ring. To figure out your ring size, you can purchase a mandrel set or print out a ring size chart to measure a ring that already comfortably fits you. If you don't have a ring to measure against, use a string to measure your finger and compare it to your printed out ring size guide.
Examine the Cut: The cut of a diamond isn't actually the shape (think: round, oval, pear), but how well the angles and proportions of the stone interact with light. Since diamonds start as rough stones and not faceted gems, the cut grade of a diamond is the only one of the four Cs that's not determined by nature, making it the most important aspect to consider. In other words, a bad cut can ruin an otherwise perfectly good stone. As you look through a vendor's selection of set or loose diamonds, choose only excellent or ideal cut diamonds. For round cut diamonds specifically, make sure the depth percentage is below 62.5% and the table percentage is below 60%. If the site offers 360 degree videos of loose diamonds, even better. Watch the stone closely to make sure it has the brilliance and sparkle you're looking for.
Look for Eye-Clean: Zoom in on the imagery or 3-D video of the diamond you're considering to assess its clarity. Check to see if there are any blemishes (read: external flaws) or inclusions (read: internal flaws). A good rule of thumb is that if you can see a blemish or inclusion online, it will be noticeable in person as well.
Evaluate the Color: A structurally perfect white diamond has no hue. The degree of a diamond's colorlessness is measured under controlled lighting and graded on a scale from D (colorless) to Z (light yellow), with colorless stones being the most valuable. Typically, diamonds in the G-I range will appear colorless and cost far less than stones in the D-F range. Look at the diamond's image closely to see if you notice a brown or yellow cast.
Decide on Your Carat Weight: Carats refer to the weight of the diamond. As the carat size increases, so does its rarity and price tag. While the size of a diamond is important, carat weight is generally considered the least important of the 4 C's. You want to select a well cut diamond first, then make sure it appears white and contains no noticeable blemishes and inclusions. After you've checked those boxes, spend the rest of your budget on Carat.
Take Your Time: By buying online, you have the advantage of doing your research and making comparisons, so don't feel rushed to make a decision—especially if something doesn't feel quite right.
Ask for Advice: Get an expert opinion on the diamond you're purchasing. Don't be afraid to reach out to customer service to get more information about the ring you're considering or check up on your order status.
How to design your engagement ring online
Technical aspects aside, the other important thing to consider when it comes to designing an engagement ring or wedding ring online is that it's a reflection of you or your partner's personal style. Is a setting in classic platinum, romantic rose gold or boho yellow gold on your wishlist? Do you like ornate vintage designs or are more simple solitaire styles the vibe you're looking for? Play around with different ring settings, metals, diamond shapes and details until you find the sparkler that feels right for you.
Editor's note: If you're still super in doubt about buying online, we suggest you visit a jeweler or showroom in person. There's something about spending time with a professional who can walk you through your options and help you choose exactly the right ring, and being able to touch and feel the pieces you're considering, that really can't be replaced. For the best of both worlds, go online for endless ring inspo—there's no harm in cyber window shopping to see what's out there and learn what you love (or don't)—then head to the jeweler for a hands-on shopping experience when you're ready to pick the one.
The best place to buy engagement rings online
Ask friends and family for recommendations and don't forget to browse The Knot engagement ring gallery. Some of our favorites include e-commerce jewelers like Blue Nile, James Allen, Ritani, Catbird, Vrai, Ceremony and Brilliant Earth, which offer a large selection of pre-made styles, customizable styles and loose diamonds (and often run online ring sales!). They'll let you magnify metal and gem options for an accurate closer look, which is super important when choosing the right rock. And definitely find out what the return policy is, wherever you decide to shop.
Our favorite online engagement rings
Feeling buying an engagement ring online right now? Shop some of our faves from trusted retailers below.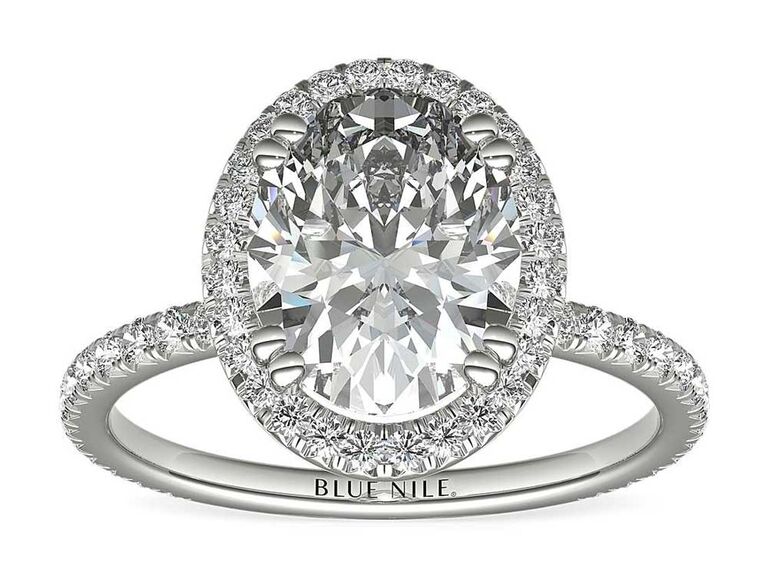 An oval-cut diamond center stone with a luxe halo setting in platinum has a seriously glam feel.
Blue Nile Studio oval cut heiress halo diamond engagement ring in Platinum, $3,590 for setting, BlueNile.com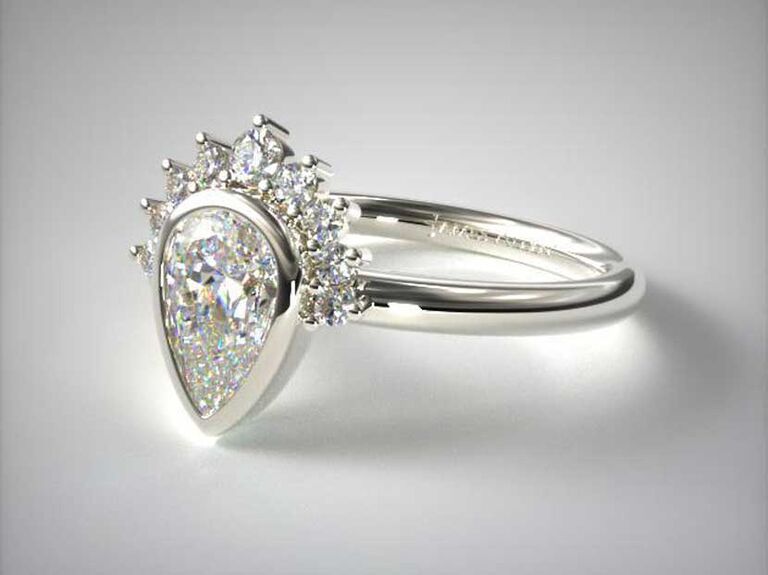 Set yourself apart from the crowd with a bezel set pear shape center stone plus unique diamond tiara setting in white gold.
James Allen pear shape bezel set diamond tiara engagement ring in 14K White Gold, $680 for setting, JamesAllen.com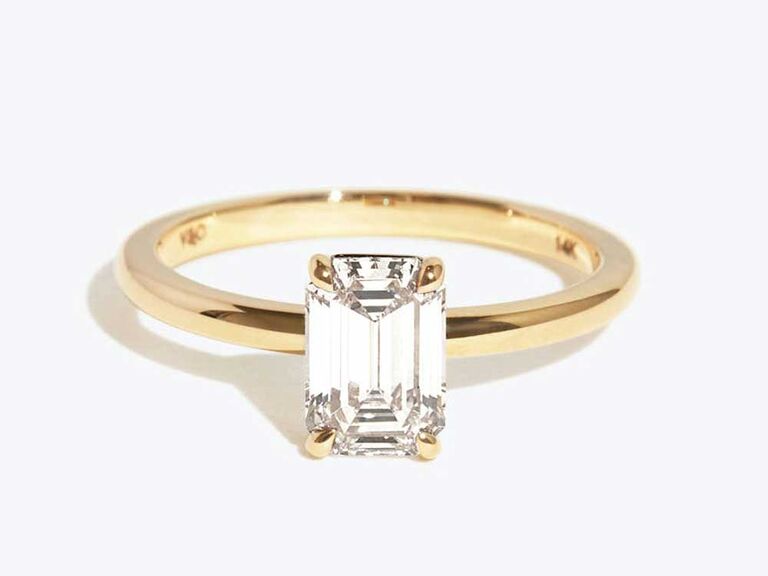 A no-frills ring that is still stunning, this emerald-cut center stone in a simple yellow gold solitaire setting has cool girl appeal.
Vrai The Emerald Signature plain engagement ring in 18K Yellow Gold, from $950, Vrai.com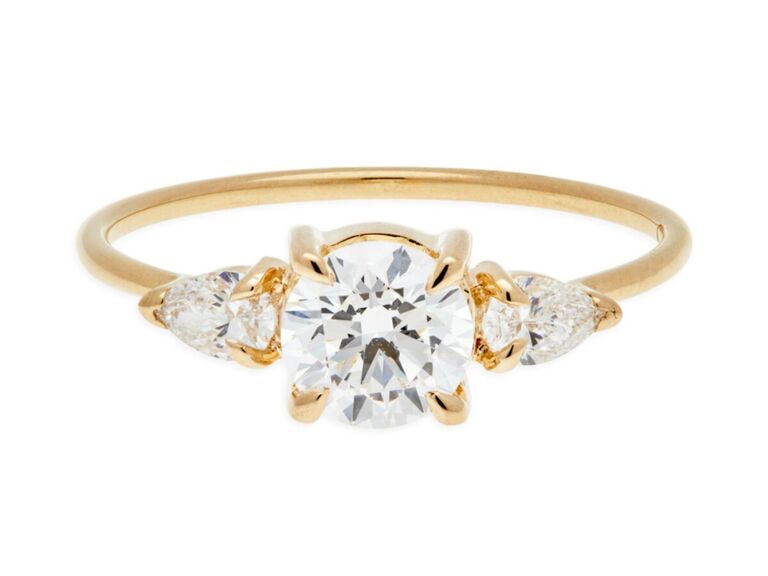 A round-cut diamond with pear shape side stones in a delicate yellow gold setting has an instant heirloom quality.
Catbird Wedding Violette the Swan engagement ring in 14K Yellow Gold, $7,500, CatbirdNYC.com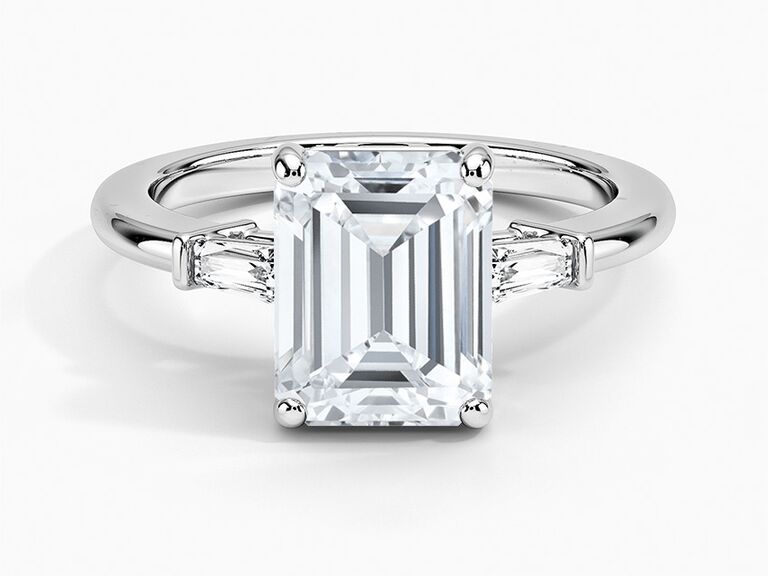 This engagement ring is pure elegance. A gorgeous emerald-cut center stone and stunning side baguettes are sure to stand the test of time.
Brilliant Earth emerald tapered baguette diamond engagement ring in 18K White Gold, $1,450 for setting, BrilliantEarth.com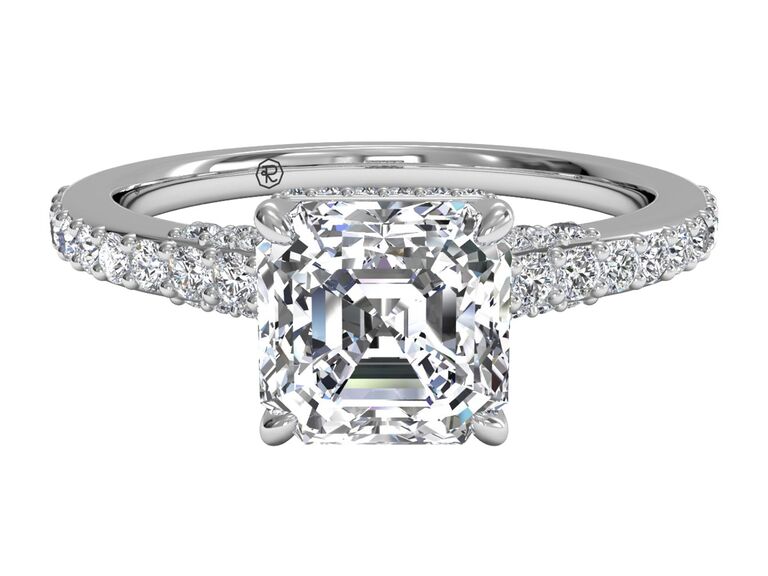 Asscher diamonds are all the rage right now. Get in on this gorgeous, geometric diamond shape and opt for an asscher-cut center stone in a dazzling pavé setting.
Ritani asscher brilliant french set diamond band engagement ring in 14K White Gold, $3,129 for setting, Ritani.com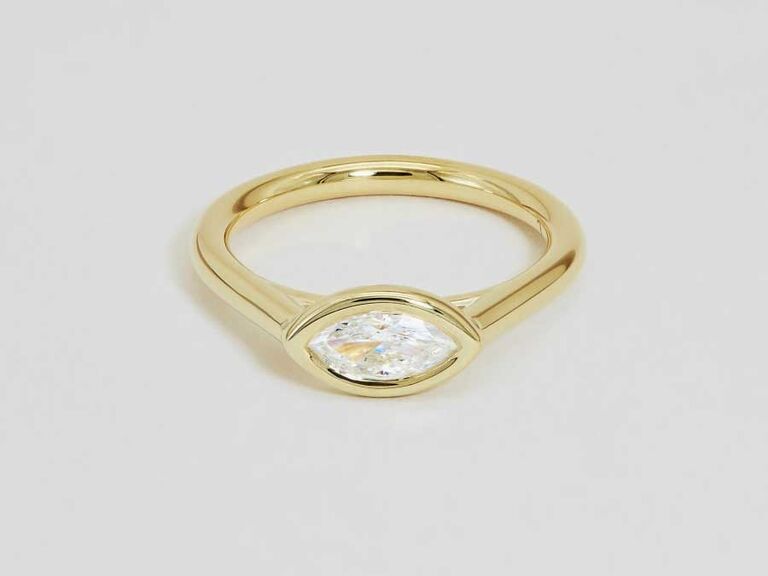 Calling all trendsetters. This marquise-cut center stone set in a sleek, yellow gold bezel design is chic AF.
Ceremony Dahlia marquise bezel set engagement ring in 18K Yellow Gold, from $3,685, Ceremony.us