Is There a Right Way to Wear Your Wedding and Engagement Rings?
We'll help you decide how to stack your new bands.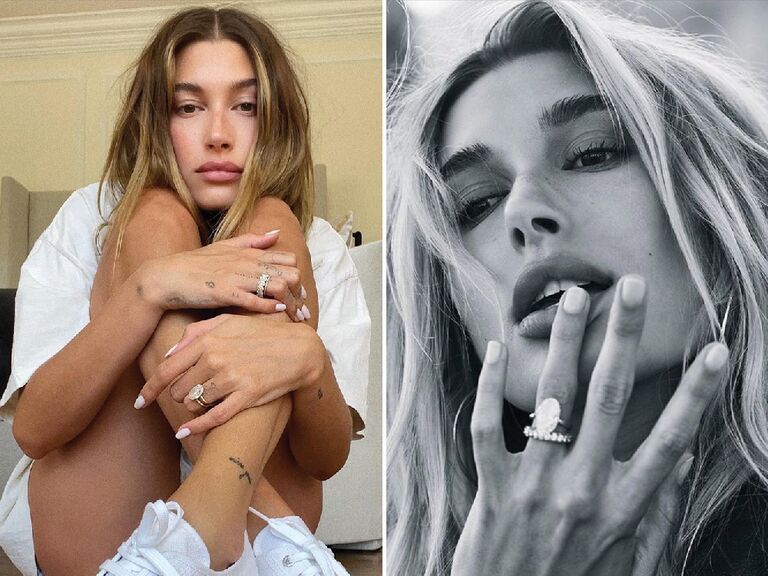 @haileybieber/Instagram
Confession: We pretty much always have jewelry on the brain. But while we're obsessed with analyzing celebrity engagement rings and tracking wedding band trends, there's more to it than ogling over carat sizes and stone shapes. The giving, receiving and wearing of both engagement and wedding rings is steeped in tradition and personal meaning. And now that you've started thinking about which way to stack your own bands, you might be wondering how to wear engagement ring and wedding band. Is there a right or wrong way? Does the wedding band go on first, or the engagement ring? Does the wedding band and engagement ring order really matter? Here's the short answer: It's completely up to you.
Maybe you've always seen your mom's ring finger with her wedding ring on the inside (or on the bottom)—but then, you may have seen stars like Hailey Bieber, Ariana Grande and Emily Ratajkowski swapping their stack order and wearing bands on both hands.
Even though plenty of people wear their engagement ring on the outside, or on top, you might like the idea of turning that tradition on its head—not just to be a trailblazer, but because doing so has its own symbolism for you. Or it could be as simple as the fact that the shape, size and style of your rings work better worn one way versus another. We encourage you to play around with various styles to come up with your ideal wedding band and engagement ring order. But before you get started, read up on the symbolism and history behind how to wear your engagement ring and wedding band.
How to Wear Your Engagement Ring and Wedding Band
If you're looking for a rule that dictates the "proper" wedding band and engagement ring order, you won't find it here. "Ultimately, it's your hand and your canvas to paint on," says Janie Marshall, Head of Brand for Clean Origin. "Today, couples are really into their own personal expression of their style. We find that people are excited about curating their own band and ring pairing, as opposed to asking us what they should do." To help you get started, here are a few common ways to stack wedding rings.
Rings on the Left Hand
When it comes to figuring out how to wear your engagement and wedding rings, the most common way is to stack your wedding ring first, then your engagement ring, on the left ring finger. According to Jillian Sassone, founder of jewelry brand Marrow Fine, this tradition stems from a centuries-old concept. "In Ancient Rome, it was believed that the fourth finger on the left hand (now known as the ring finger) was connected to the heart via a vein called 'vena amoris,' or the vein of love," she tells us. "Now, we know there is a vein in each finger connected to the heart, but the romantic tradition has endured in Western culture." This left-handed ring wearing custom is popular in certain regions, such as the United States, France, the UK, Canada, Mexico, South Africa and many Asian countries. But, as Sassone notes, it's common in other countries to wear wedding jewelry on different fingers, or even the right hand.
Rings on the Right Hand
How to wear your engagement ring and wedding band may be determined by the area you are living in, or the cultural traditions you are accustomed to. While wearing your rings on your left hand is common in many Western countries, you may see many couples wearing their rings on their right hands in Northern and Eastern European countries, such as Russia, Poland and Denmark. It is also common in India, Greece, Spain and Portugal. What's more, in some countries, like Brazil, couples will wear their wedding rings on one hand and switch hands after saying their vows at their wedding.
Engagement Ring First, Wedding Ring on Top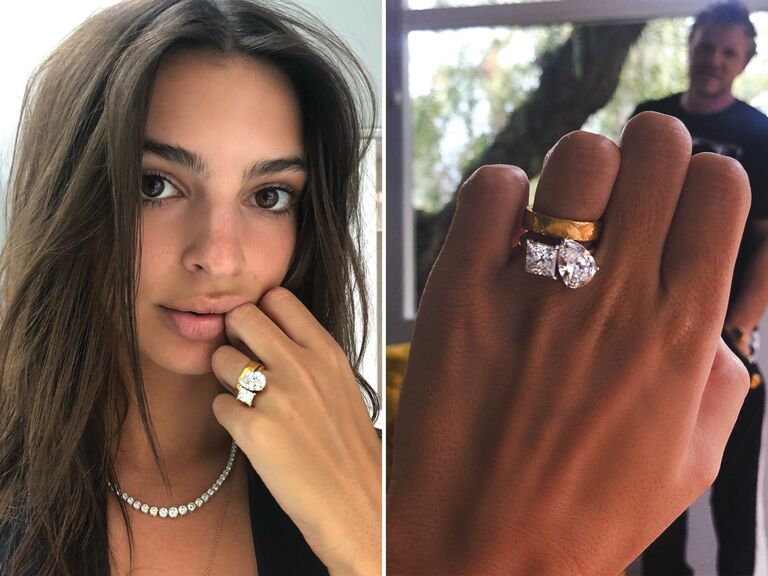 One choice is to wear your engagement ring first, with the wedding band on top. Logically, it might make sense to wear your rings in the order you received them. Symbolically, the idea that your engagement represents a promise and your wedding ring crystallizes that promise might really speak to you. Wearing your wedding ring on the outside gives your engagement story a sort of figurative bookend—first, you're engaged, now it's official. Time to start stacking with anniversary rings (wink!).
Wedding Ring First, Engagement Ring on Top
Perhaps the most common wear to wear your bling is to put your wedding ring first, followed by your engagement ring. So how do you wear your engagement ring and wedding band on your wedding day? If you go this route, remove your engagement ring before the ceremony so that you don't have to deal with potentially losing it or awkwardly fumbling with it at the altar. Wear it on your right hand or keep it in a very safe place. Once you've said "I do," you can slip your sparkler back on for the reception or wait a little bit to admire your new band on its own.
Engagement Ring One On Finger, Wedding Ring on the Other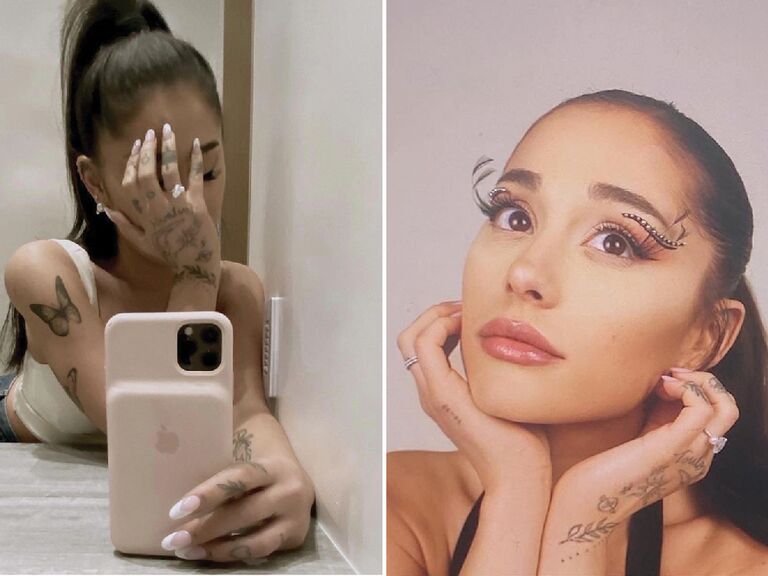 If you're wondering how to wear a wedding band if your band doesn't match your engagement ring, this is one prime option. Some prefer wearing their engagement ring on their left ring finger and their wedding band on their right ring finger. Though not a traditional choice, it's great for those who don't have a matching set or don't like the way the rings sit together on one finger. It's also perfect for those who prefer not to stack more than one ring on a finger. Aside from personal preference, you will often see couples wearing their engagement rings on the right hand and their wedding bands on their left in countries such as Germany and the Netherlands.
Alternate Rings
When it comes to how to wear wedding rings, there are no rules. In fact, Sassone notes that, now more than ever, people are wearing their wedding rings however they please. "Couples are making their own traditions, and we love to see it," she says. "Some clients move their jewelry from hand to hand, and some even wear them on a chain around their neck if they work with their hands often."
Plus, there's no rule that dictates you even have to wear them at the same time. Some like to wear their wedding bands every day and reserve their engagement rings for special occasions or when they dress up. Conversely, some like to wear their sparkling engagement rings all the time and forgo their wedding bands entirely. Plus, with the rising popularity of wedding ring stacks, you have free reign to wear whatever bands you want, wherever you want to.