Preparing to Pop the Question? These Are The 20 Best Places to Propose in Dallas
Whether you want to propose in the heart of the city or tucked away in a natural setting, we found the most romantic places in Dallas for a marriage proposal.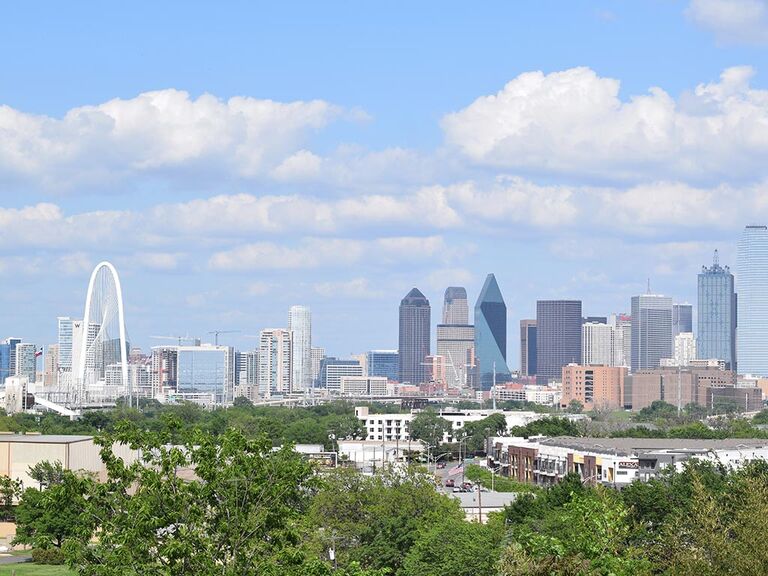 HUM Images / Getty Images
Asking someone to spend the rest of their life with you is a big deal, and that's probably why you are looking for the best places to propose in Dallas. By choosing the right venue to ask the question, you not only create an intimate memory but allow one spot to be remembered forever as the place they said, "yes."
We spoke with wedding photography expert Tiffany Hopwood of Tiffany Hopwood Photography in East Texas, who has more than 11 years experience as a photography vendor, to help us pick not only the most romantic places to propose in Dallas but also the best ones for grabbing gorgeous photos. Hopefully, one of these proposal ideas in Dallas feels just right when the big day comes and you can tick "find a venue" off your wedding proposal checklist.
In this story:
How to Decide Where to Propose in Dallas
Choosing where to propose is key to getting the moment just right. Photographer Tiffany Hopwood shared that her top three factors when deciding where to propose should be "time of day, noise level and exclusive access to site." It's no surprise that it gets hot in Texas, so avoiding the warmest parts of the day when the sun is directly overhead if proposing outside is best. Sunset is often a perfect time to propose, as the light is perfect for photos and the day has cooled a bit.
Another thing to keep in mind when it comes to how to propose is considering the noise level of a location is also important, as both the question and answer need to be heard clearly by both parties. Lastly, remember that many of the best places to propose in Dallas, Texas, are open to all, so if you want photos of just the two of you when the moment happens, ensure you will be the only ones there ahead of time.
The Best Time of Year for a Dallas Proposal
While winter is often the busiest time for proposals, there's no reason you have to fit into the mold. Tiffany notes that "for an outdoor proposal, April through May or October and November will give you the best weather." If you're planning to propose in summer, make sure to choose an indoor venue so everyone involved is comfortable.
Private Places to Propose in Dallas
In a big city like Dallas, it is often hard to find a quiet spot. So, we've collected a few intimate places to propose in Dallas for those who do not want an audience when the right time to propose comes.
The Gaston
Nothing says romance quite like a bed & breakfast getaway for two. The Gaston is a woman-owned getaway whose exquisite decor has been hand-picked to create a charming home with immense history in its walls. The Gaston's charm is second to none, and with breakfast served daily, this hidden gem is a truly memorable spot to get away for a night or two and ask the big question.
Rockledge Park
Sunset views over the water are often reserved for the West Coast, but you can also find them at Rockledge Park near Dallas. While the park has plenty of greenspace for photos, it also has stunning cliffs overlooking Grapevine Lake, setting the perfect scene for couples to promise their lives to each other at sunset. This is one of Tiffany's favorite spots to capture the special moment, although a photo permit must be acquired ahead of time.
The Adolphus Hotel
The Adolphus Hotel in Downtown Dallas has a gorgeous, temperature-controlled pool and sunny rooftop deck overlooking the city skyline. The area has food and beverage service as well as warm fireplaces for chilly nights. Perched up here in a private cabana for a few hours feels like you have your own little poolside oasis, making it a great spot to ask one of life's most important questions.
Gondola Adventures
Gondola Adventures in Irving, Texas has created a one-of-a-kind boating experience for couples to enjoy a scenic ride along the Mandalay Canal and Lake Carolyn. With cruise options including lunch, dessert or even a three-course meal while floating along the water, this intimate setting is a truly unique and unforgettable way to propose.
Tandy Hills Nature Area
Tandy Hills Nature Area and the surrounding parkland encompass almost 160 acres of lush countryside filled with native wildflower species and a view of the Fort Worth skyline. Strolling the well-kept trails is both private and romantic, easily creating a delightfully serene moment for popping the question. Photographers are welcome here to capture the special moment.
Le Meridien Dallas, The Stoneleigh
Le Meridien Dallas, The Stoneleigh has left no detail untouched in its Penthouse Suite. The stunning room can provide any couple with an unmatched staycation, complete with a private outdoor terrace overlooking Downtown, which serves as an incredible backdrop if you get down on one knee. The hotel's Art Deco vibe pairs well with the bustle of downtown and has numerous restaurants, bars and shopping just steps away if you want to turn the proposal into a weekend excursion.
Cedar Hill State Park
Just ten miles southwest of Dallas lies Cedar Hill State Park, a 1,826-acre spot with miles of trails to explore on bike or foot to find the perfect quiet place to propose. An enormous lake provides a beautiful backdrop for the day, all while you are surrounded by the unique beauty of limestone hills and rolling prairies. To turn your proposal day into a true adventure, you can book a campsite for the night too.
Best Rooftops to Propose in Dallas
There is a seemingly limitless number of places you can propose in Dallas, but there's something special about a Dallas rooftop proposal. Looking out at the city skyline from up high is breathtaking, and these rooftops are some of the best spots to dream up a future together.
Upside West Village at Canopy by Hilton
Tucked in the top floor of the Canopy by Hilton in Uptown is the Upside West Village, a gorgeous rooftop bar with an expansive view of Downtown Dallas. With cozy chairs by a fireplace wall and numerous signature cocktails to pick from, this is truly one of most scenic rooftops to propose in Dallas.
Catbird
Perched on the 9th floor of the Thompson Dallas Hotel is Catbird, a unique restaurant and lounge with a rooftop terrace overlooking Dallas. The bar's Art Deco design lends a funky vibe to the lush restaurant, and the outdoor terrace feels intimate with its large fireplace, twinkling lights and holly. For an extra bit of romance, consider proposing on Tuesday's Jazz Night or during the live music hosted on Wednesdays.
Reunion Tower
If you're searching for an unforgettable experience, check out the Reunion Tower's observation deck. The 360-degree view of Dallas is 470 feet up off the ground, providing visitors with unparalleled views of their city. This venue provides a special package for dates, complete with a VIP elevator, free acrylic frame and two glasses of sparkling wine that are perfect to commemorate the special day.
Saint Rocco's New York Italian
Located in Dallas' Trinity Grover neighborhood, Saint Rocco's New York Italian provides exceptional dishes and service from chefs Phil Romano and Jay Valley. The rooftop lounge is typically open on Friday and Saturday nights if not reserved by a private party, giving customers a view of the Dallas skyline to enjoy while they partake in upscale Italian fare.
Haywire
While Haywire has two locations near Dallas, the Plano location's rooftop terrace provides a photo-ready backdrop for the question alongside a funky, western vibe. With an Airstream trailer on the roof, a fireplace and farm-to-table dining, we love everything about the spot, especially for tried-and-true Texas couples.
Waterproof by The Statler Hotel
Atop the 18th floor of The Statler Hotel is Waterproof, a pool club by day and a lounge by night. This chic spot has refreshing cocktails, plenty of small bites and an unbeatable, panoramic view of downtown Dallas. If you're hoping for a bit more privacy at this bustling spot, try and snag a private cabana for the big moment.
Romantic Places to Propose in Dallas
An engagement is the first step towards marriage, and romance is key to keeping the spark alive. By choosing a romantic place to propose in Dallas, TX, you can be setting your relationship up for a lifetime of success.
The Dallas Arboretum
Within the Dallas Arboretum's 66 acres are plenty of romantic spots next to unique flowers, stunning architecture and flowing water features. Whether you pick the historic DeGolyer House, a nook within the botanical gardens or choose to propose in the Magnolia Glade when it's in full bloom, this venue offers many picturesque spots.
Hotel Crescent Court
After its $33 million remodel in 2018, Hotel Crescent Court in Dallas' Uptown district is nothing short of pure luxury and a solid indoor place to propose in Dallas. Elegance and sophistication are found in every room, making it the ideal location for a romantic getaway to set the stage for a proposal. With an award-winning Japanese restaurant on-site, a cocktail lounge and a gorgeous garden courtyard, there are plenty of ways to set up the big moment without having to leave this hotel.
The Fort Worth Zoo
For any animal lover, a quick drive to the Fort Worth Zoo can create the right ambiance for a proposal. Whether you drop to one knee in the African Savannah next to the giraffes, the 10,000 saltwater tanks that give you a glimpse into the Great Barrier Reef or amidst over 70 flamingos, there are plenty of spots to pop the question. To make this spot even more memorable, you can get married here as well.
Texas Discovery Gardens
Within Dallas' Fair Park are the Texas Discovery Gardens and Butterfly House. The climate-controlled building is perfect for a proposal year-round and houses hundreds of butterflies. The fluttering creatures are stunning to watch and create a romantic ambiance.
Flippen Park
Flippen Park is in the center of Highland Park but sets itself apart with its quaint stone gazebo, flowing fountain and pool. The romantic setting and manicured grounds are extremely popular with couples and a favorite of wedding photographer Tiffany Hopwood, especially when the flowers are in bloom.
Heard-Craig Center for the Arts
For the art or history-loving couple, a tour of the Heard-Craig Center for the Arts in McKinney, Texas before strolling through the venue's beautiful gardens is a great way to prepare for a proposal. Between the rotating art collection, rich antiques and the option to attend an afternoon tea, this calm spot is seriously a hidden date-spot gem near Dallas.
Piola Restaurant and Garden
While a couple's trip to Italy would certainly be a romantic way to propose, you can get that European flavor in the Dallas-Fort Worth area at Piola Italian Restaurant and Garden. The impeccable menu and classy restaurant provide the perfect date night material, and the gardens out back allow for a short stroll afterward to pop the question.