A Dallas Bachelorette Party City Guide to Plan Your Weekend
Everything's bigger in Texas—including these bachelorette party ideas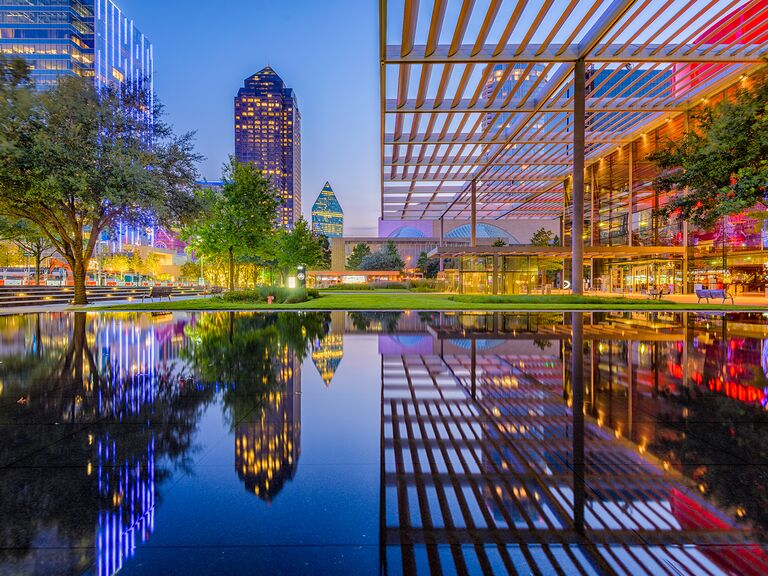 Sean Pavone/Shutterstock
We have included third party products to help you navigate and enjoy life's biggest moments. Purchases made through links on this page may earn us a commission.
A Dallas bachelorette party itinerary includes a little of everything: great eats (think barbeque and queso for starters), a fabulous nightlife and cocktail scene, and plenty to do and see during the day. This is a fun-filled bachelorette party destination so get your inner Texan ready and plan for a weekend of fun in the epicenter of the Lone Star State.
Dallas Bachelorette Party Planning in this Article:
Dallas Bachelorette Party Ideas and Themes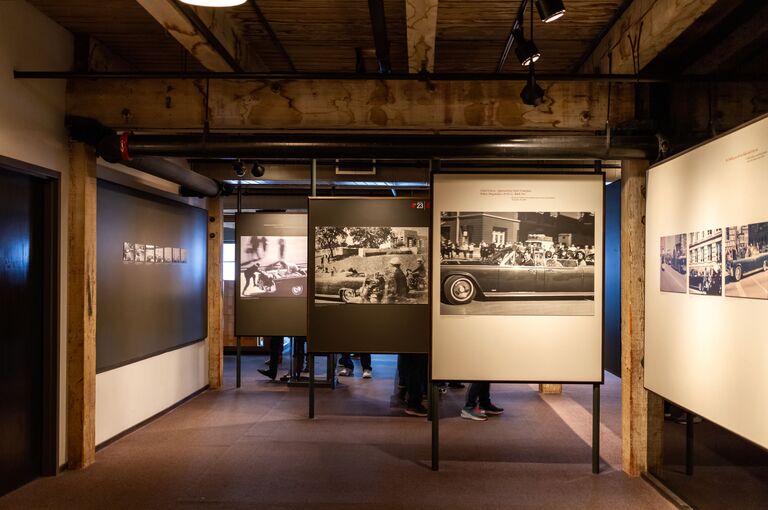 You'll find everything you need for a fun weekend, right in the heart of Dallas. You've got plenty of nearby outdoor activities for the adventurous bride, lots of delicious restaurants for the foodie, and luxury spots for a little R&R. Don't forget to outfit the bride squad in top-notch gear from The Knot Shop to match your bach theme—you can even schedule the ultimate gal pal photoshoot.
For the Outdoors Lover
Right in Dallas you can celebrate the great outdoors with a visit to the city's beautiful Arboretum & Botanical Garden. For a day outside with a little more of a party scene, head to Party Cove at Lake Lewisville. Or for a taste of art and fresh air, head to the Nasher Sculpture Center with its stunning sculpture garden.
For the History Buff
Dallas is loaded with history, so any bride who loves a blast from the past can make the most of this city. Check out TripAdvisor for a ton of options to explore Dallas's storied past: Start with the JFK Assassination & Museum Tour, fit in a visit to historic Fort Worth, and of course, end a night with a historic—and spooky—ghost (and pub) tour.
For the Foodie
It should be no surprise that this superstar city also has a phenomenal food scene, from backyard barbecue spots to top-notch Tex-Mex, you'll find your mouths watering to try as many of the restaurants as you can fit into one weekend.
For a Little R&R
Of course, if your crew has been watching The Real Housewives of Dallas, you know this city has plenty of luxury to offer. Make the most of this side of Dallas with spa treatments at luxury resorts, or even shopping Dallas's luxury and unique boutiques with a personal shopper.
Dallas Bachelorette Party Itinerary and Activities
From a rowdy nightlife scene to luxury spas, there's plenty to do and see on a Dallas bachelorette weekend. This three-day itinerary will fit everything you and your crew could want to do on the perfect Dallas getaway.
Day 1
Morning: Check in to your hotel or VRBO, then start your day (and the weekend) on the right foot at Brewed + Pressed, a great spot for yogurt and granola bowls, fresh-pressed juices, and health-boosting—non-alcoholic—shots: we recommend the Wingman or the Beauty Shot to set the weekend off.

Afternoon: Now that you're juiced up, get ready to work up a sweat. Power BAR Dallas Pole Dance Studio offers a pole dancing party that is quite the workout. Go, let loose, and enjoy the fun. If you've worked up an appetite, stop in for wine and light tapas at Leela's Wine Bar, where we promise there's a wine or spritzer on the menu for everyone in your party.

Evening: After getting ready, start the night with happy hour at Drake's, a Hollywood-inspired spot that offers great cocktails and live music. Then it's off to dinner at Jose, a sophisticated Mexican restaurant with modern takes on age-old favorites, including tasty frozen, various flavored margaritas. Then hit the town by heading to The Quarter for drinks, an outdoor patio, and plenty of music.
Day 2
Morning: Grab brunch at The Porch, where you can go light with smoked salmon and avocado toast or all-in with hot fried chicken and biscuits. Don't miss the fresh-squeezed mimosas or tasty micheladas.
Afternoon: Pick your poison today: For a day outside, head to the Party Cove at Lake Lewisville, where you can rent or charter a boat and join the masses drinking, dancing, and sun-bathing in the center of the lake. Or take the day to visit Dallas's wine country, with a tour to three vineyards and a delicious lunch, included. If you choose to stay and explore the city, don't miss lunch at Revolver Taco Lounge, a must-try for tasty and authentic tacos in the city.

Evening: Head to a dinner at Sixty Vines, a wine bar with wine on tap and delicious pizza and shared plates. End the night at one of Harlowe MXM's bars, listening to music, or enjoying the outdoor space. Or take in the skyline from the rooftop lounge at the Canvas Hotel (yes, there is a pool, too).
Day 3
Morning: Grab brunch at a Dallas mainstay, The Rustic, before starting your day of relaxation in the big city. The menu includes a breakfast casserole, tamale pie, or burgers, so you'll be plenty full by the time brunch is done.
Afternoon: After partying all weekend you deserve a break, so head to The Rosewood Mansion on Turtle Creek for a luxurious (and we mean luxury) day of R&R. There are a range of spa offerings, including manicures, pedicures, and massages on offer. And you can grab a delicious bite at the mansion's terrace restaurant or for quick fare, the bar.
Evening: It's finally time to get your hands on some Dallas barbecue, so head to Terry Black's BBQ for the real-deal (don't miss the brisket). End your last night with drinks at the Punch Bowl Social Dallas, where you can bowl, try your vocals at karaoke, play a round of ping pong, or just grab a cocktail from one of the three available bars.
Dallas Bachelorette Scavenger Hunt
Turn your itinerary into a game with a Dallas scavenger hunt. Distribute a list of activities with points awarded for each completed task and ask participants to provide proof with pictures. Download an editable template to customize the list and include local attractions and sights. Don't forget to give the winner a prize such as a cute souvenir.
Places to Stay in Dallas for a Bachelorette Party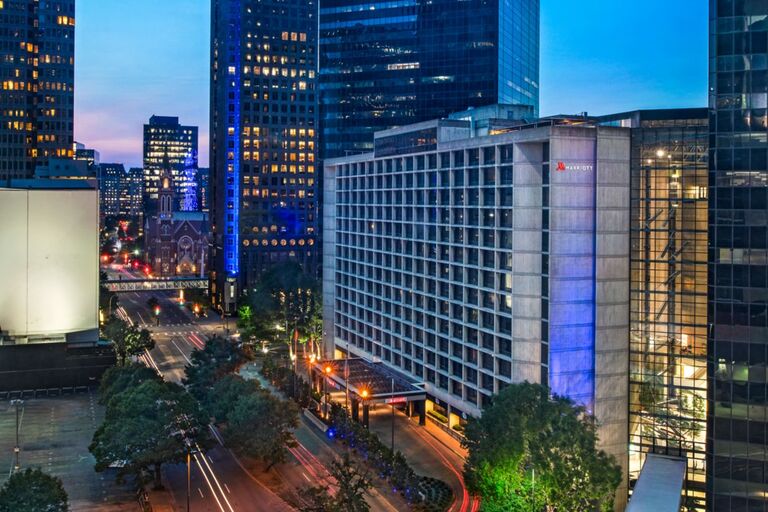 Dallas is an easy city to get around, though it can be sprawling, so if you want walkability stay in the city center. Still, you can get almost anywhere via Uber, Lyft, or a taxi, so don't worry if you don't mind a little car ride.
Best Dallas Bachelorette Hotels
Virgin Hotel Dallas: This is a great spot if you're looking for atmosphere. It has a pool with cabanas you can rent, a rooftop bar, and live music and events.
Omni Hotel and Resort: This spot is centrally located with all the amenities you'd expect from a luxury hotel, including on-site restaurants.
Dallas Marriott Downtown: For a mid-range budget, book this centrally-located hotel.
Pro tip: The Knot has partnered with Hotel Planner to help you secure the best group hotel rate and get free hotel advice from an expert travel planner.
Best Dallas Bachelorette Party Home Rentals
There are plenty of housing options for a Dallas bachelorette party, so check out TripAdvisor, VRBO, Airbnb, Expedia, and Hopper Homes. If you're looking to supplement your vacation rental stay with some hotel amenities such as a swimming pool or a fitness facility, you can secure Dallas hotel day passes on ResortPass.
A Modern Four-BedroomHome with a Pool and Jacuzzi just two miles from downtown Dallas is a great spot to stay with large groups (up to 16) and a luxe space on a mid-range budget.
Up to 10 people can stay at this Luxe Warehouse in Downtown Dallas. The exposed brick space with large windows was designed by The Bachelorette's Season 13, Jojo Fletcher, her fiancé Jordan Rodgers and the amazing design and build team with CNBC.
This Modern ans Spacious Home in Deep Ellum offers another side of Dallas's culture located in the historic center of music. It's 4300 square feet with outdoor spaces —perfect for groups of up to 14.
Dallas Bachelorette Party Nightlife
If you're going to Dallas for your bachelorette trip, there are so many amazing cocktail bars and restaurants in town. When coming up with your plan of action, keep our top restaurant and bar suggestions in mind.
Best Dallas Bachelorette Restaurants
Y.O. Ranch Steakhouse: A good steakhouse should always be in your back pocket because it's perfect for a nice evening out. The Ranch Steakhouse has a variety of chops, including unique options like bison or elk.
Monarch Restaurant: If you and your group are craving carbs, Monarch is a great choice. They have plenty of handmade pasta dishes like the Whole Maine Lobster Spaghetti with chile de arbol, basil, and oloroso sherry, in addition to other dishes like the Texas Wagyu Carpaccio with charred lemon, truffle, peppery arugula, horseradish crema and warm brioche.
Rise Soufflé - Dallas: The French restaurant in Dallas specializes in offering a variety of sweet and savory soufflé dishes. Some of their savory options are Jambon & Gruyère, Smoked Salmon, Tara's Escargot Soufflé, and Cauliflower & Brie to name a few, while some of the sweet soufflés include the classic Chocolate among others like Raspberry, Bread Pudding, Praline Pecan, and Apricot.
Best Dallas Bachelorette Party Bars
Ebb & Flow: Located in Deep Ellum, this spot has a great brunch and easy appetizers to share like Stuffed Jalapeños or Dumplings, but what really shines are the cocktails. The fresh ingredients stand out, especially when paired with high-quality spirits. The Garden Margarita combines Cointreau and Herradura Silver with agave, cilantro, cucumber, jalapeño, lemon, and lime. If you need a pick me up, The Salty Brew is a blend of Salted Caramel Crown, Baileys salted caramel foam, and cold brew.
The Tipsy Alchemist: The Tipsy Alchemist is a great spot in the Harwood District to go as a group. Not only do they have incredibly bright, flavorful cocktails, but they also have elevated Jell-O shots. You can choose from a variety of Jell-O shot flavors like citrus punch, margarita, and lemon drop in addition to cocktails with special touches like honeydew reduction and fresh fruits and veggies. Like a salad…you can drink.
Parliament: At Parliament (in the State Thomas District), you can choose from a selection of champagne cocktails or from a variety of craft cocktails they offer. Sip on drinks like the Flower Child with butterfly pea blossom gin, lavender bitters, Italicus liqueur, and lemon or the Pistachio Ramos Fizz with lemon, orange blossom, pistachio gin, cream, frothy egg white and club soda.
Expert Dallas Travel Tips
As you're looking for flights to Dallas, it's about a 3 ½ - 4-hour nonstop flight from NYC on United, Spirit, Southwest, and Delta and about a 3-hour nonstop flight from LA on Spirit, Delta, and Southwest. Plan to visit Dallas in the fall, like September or November. It's a great time to take advantage of the state fair, in addition to the temperatures being a little more mild. When you're looking at ways to get around the city, public transportation is a great tool in Dallas. They have buses, trolleys, street cars, and trains to make it easier to get around if you don't want to walk all the time or pay for Uber/Lyft.