Should You Use Multiple Dating Apps at the Same Time?
Less may be more when it comes to online dating.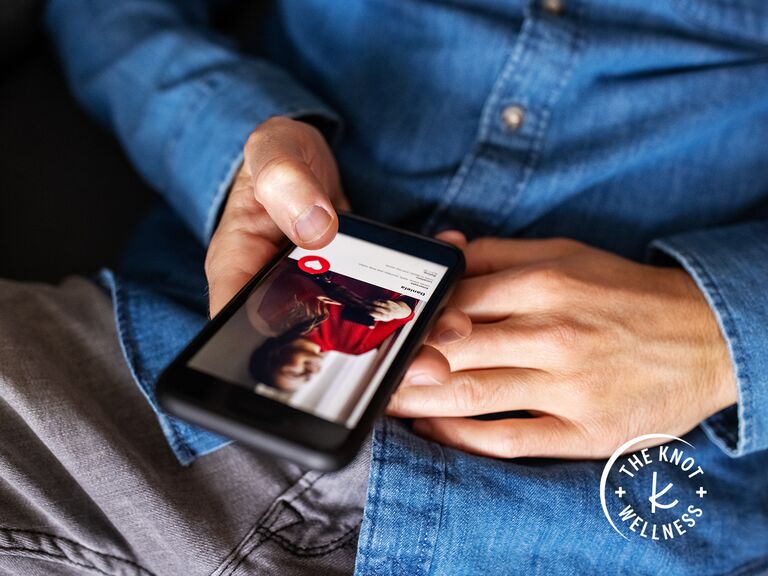 Luis Alvarez/Getty Images
We have included third party products to help you navigate and enjoy life's biggest moments. Purchases made through links on this page may earn us a commission.
I've always been a good multi-tasker, but my skills are never tested more than when I'm managing multiple dating apps at a time. Before I start swiping, I have to come up with a bio to advertise myself, select decent photos to show everyone what I'm working with, and before I even get to swiping I'm asked if I'd like to pay for the ultra exclusive VIP perks on each app.
Between keeping conversations alive, matching with people on different apps simultaneously, and trying to determine interpersonal chemistry before too much time is wasted, dating online is basically a part-time job. With Tinder, Grindr, Hinge and a host of other apps available to the public, does downloading multiple dating platforms serve as more of a benefit or a gateway to Bumble burnout?
Pro: Casting a Wide Net Increases the Likelihood of a Love Connection
We lead busy lives, and the idealized fantasies of meeting someone in the grocery store, out on a jog, or whilst your dog tangles up their leash with another dog whose owner eventually becomes your life partner are nice in theory, but also hard to come by.
Dating apps put the power in the users' hands. No longer are we left hoping the universe will serendipitously put the right person in the right place at the right time. We can now choose when we opt to play the field across a number of apps we can download to see countless singles and ultimately, hopefully, find love. Maximizing your scope and downloading multiple apps simultaneously will increase your chances of meeting someone special based simply on the ability to see more singles in your area.
According to a recent study, Tinder tops the list of the best dating apps for marriage. In fact, the study showed that Tinder paired 27% of married couples who used apps to find love and holds the title of the most popular dating app on the market. Bumble, Hinge and OkCupid round out the list of best apps for finding long-lasting relationships, proving that love in the digital age is possible and downloading the best of the best apps is key to finding a partner.
Con: Too Many Apps Can Lead to Feelings of Rejection
Downloading multiple dating apps at a time may allow users to cast wider nets and increase match potential, but it also opens the door to repeated feelings of rejection.
Elizabeth Earnshaw, LMFT, relationship expert, founder of Ours and author of I Want This To Work explains that research shows rejection is processed in the brain the same way as physical injury. "Human beings are not built to receive as much rapid-fire rejection as they do through dating apps," she says. "You might think about rejection as being the moments where someone ultimately communicates 'you're not for me', however, there are micro rejections every day—you swipe right on someone, for example, and they don't pop up as a match. If you swipe on 20 people and none match with you, that's 20 small rejections."
Dating in the digital age may take the stress out of meeting someone organically in the wild, but it comes along with its own set of mentally taxing possibilities, such as being ghosted or unmatched with. Earnshaw continues that people who face chronic rejection may see a toll taken on their mental health saying, "Some people begin to feel hopeless. In reaction to hopelessness, it is common for people to become chronically angry, sad, irritable, or even jealous. All of these are normal reactions." The online dating world is intimidating and users that experience feelings of lowness or overwhelm as a result of online dating on multiple apps are encouraged to seek out mental health resources.
Pro: Downloading Multiple Apps Can Be Done in a Healthy Way
Having a cell phone home screen filled with dating apps, multiple conversations going on simultaneously, trying to maintain some sort of connection until finally meeting in person, and resisting the temptation to see if the grass is greener on the other swipe is enough to drive someone insane.
Luckily, Earnshaw explains it's not necessarily the number of apps one uses, so long as users set clear boundaries with how they interact with them. "I think it's important for people to think about the use of the dating app as anything else they do for their well-being, rather than just a mindless activity," she says. "If you are on a dating app it is because you are hoping it brings something positive to your life—a nice encounter with a new person or a long-term relationship."
Some helpful tips she offers include looking at and interacting with apps at specific times during the day, being intentional with nurturing the relationships you already have with friends and family, and getting comfortable with telling your match that things aren't going to work out, because the more comfortable you get being honest with others, the easier it will be when others are honest with you. Arguably the most important tip that Earnshaw stresses: "Practice self-compassion—it feels crappy to be rejected! That's a reality. Don't be hard on yourself about it. Instead, recognize the pain, be kind to yourself about it, and then look for the connection you need from people who make you feel safe and supported.
To Swipe or Not to Swipe?
When it comes to choosing how many dating apps to utilize at a given time, the choice is yours. Rest assured, you aren't the only one downloading apps and looking for love on the world wide web. Research shows that in 2018, over 50 million people had accounts on dating apps. While online dating may seem like the norm to some, there is no "right" way to go about it. It's all about how you choose to engage with dating apps and how many you're willing and able to handle at a time.
So, download the apps, set boundaries, be kind to yourself, delete them when you need a break, then re-download them and give it another go. You have control over your love life and what you ultimately decide to put into it, so listen to your heart, mind and body to determine which dating app serves you best.