A Denver Bachelorette Party City Guide to Plan Your Weekend
From good brews to stellar views, there's plenty of fun to be had in the Mile-High City.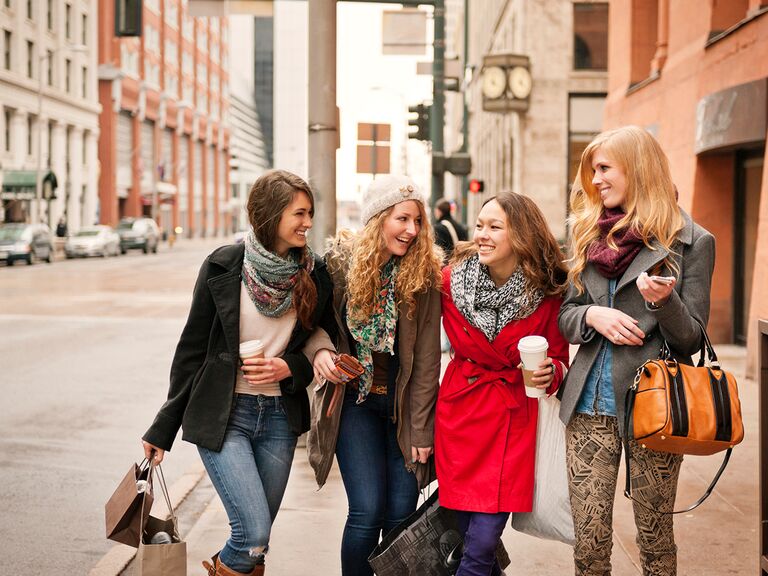 Cavan Images
We have included third party products to help you navigate and enjoy life's biggest moments. Purchases made through links on this page may earn us a commission.
Whether your bride is an outdoor enthusiast, a beer-lover, or just an all-around city type of gal, a Denver bachelorette party weekend will fill all her last fling needs. This laid-back bachelorette destination is perfect for exploring, with tons of options for restaurants, bars, and an active nightlife. Plus, with tons of national parks and outdoor spaces just a half hour from the city center, you can get the best of both city life and the great outdoors in one bachelorette weekend.
Denver Bachelorette Party Planning in this Article:
Denver Bachelorette Party Ideas and Themes
You'll fulfill every bride's wishes on a bachelorette weekend in Denver. Adrenaline junkies will find plenty of adventures to be had right outside the city, as will wine and beer aficionados and foodies alike. Plus, the nightlife scene in downtown Denver is full of delicious cocktails, games, and lots of dancing. (Plus The Knot Shop has plenty of gear to outfit your bride tribe in for the ultimate city photoshoot.)
For the Adventure Seekers
If you're heading to Denver, Colorado, chances are your bride likes to have a little outdoor fun—and there's plenty to be had. In winter, you can ski some of the world's top slopes just a half hour to an hour outside of the city. The rest of the year, find plenty to do including hiking Pikes Peak and Gardens of the Gods National Parks, exploring Rocky Mountain National Park, getting an introduction to rock climbing, or rafting beginner-friendly rapids along Clear Creek.
For the Booze Aficionados
Denver is home to more than 140 craft breweries, so if it's beer you're after, you've come to the right place. Try to sample as many as you can on a craft beer tour in downtown. If spirits are more the bride's thing, consider a history and whiskey tour, where you'll explore Denver with a cocktail in hand. Or if she'd rather have a nice glass of wine, combine nature's best with vino samplings on a Rocky Mountain National Park day, with stops at wineries along the way.
For Foodies
Foodies won't be lacking for options to whet their appetites. With top-notch restaurants, rooftop eateries, and local dives to sample, there is more good dining in Denver than you can fit into one weekend. For a twist on a foodie weekend, take a haunted food tour, where you'll unearth some of the city's darkest ghost stories while sampling at least five delicious bites from some of Denver's best.
Denver Bachelorette Party Itinerary and Activities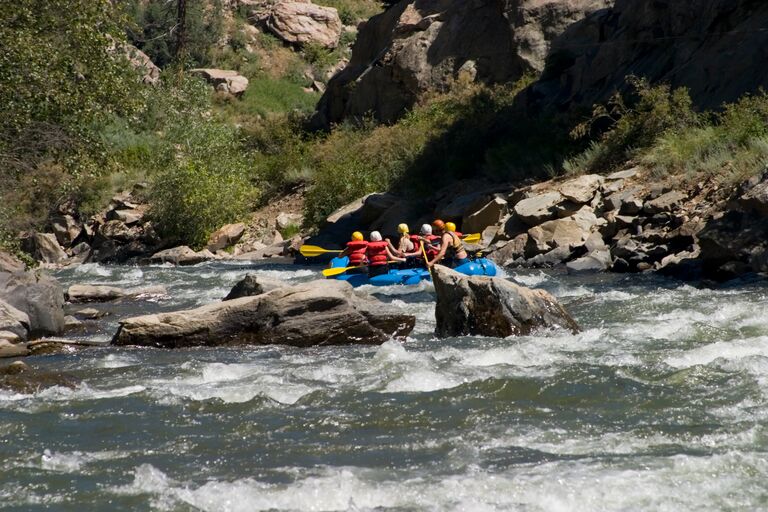 Pack your Denver bachelorette party weekend with a little of everything. This three-day Denver bachelorette party itinerary will get you the best activities in the city, its surroundings, and everything in between.
Day 1
Morning: If you arrive in time for breakfast, make sure it's at HASHtag, a delicious spot with breakfast and brunch favorites including warm churro bites, big cast iron cinnamon rolls, smoked salmon toast, and the wake and bake skillet: a cast iron full of scrambled eggs, mushrooms, gruyere cheese, and roasted veggies.

Afternoon: Get the weekend off to the right start with a taste of Denver's best: wine or beer. If it's wine you're after, head to The Infinite Monkey Theorem, where you can tour the urban winery's operations and then sample from the kegged, bottled, and canned wines. If you're after beers, hop on the Denver Brewery Bus for five stops: Renegade Brewing Company, Factotum Brewhouse, Rackhouse/C-Squared cidery; and a surprise brewery your tour guide will bring you to based on your tastes.

Evening: Don't let the party stop there! After a quick change for the night, head to happy hour at Corridor 44, a champagne bar where you can sample bubbles along with tasty small bites like oysters on the half shell, ahi tuna poke, smoked salmon caviar chips, and parmesan truffle fries.From there, make your first dinner count at Coperta, a Southern Italian restaurant serving seasonal and classic dishes. Dive into a plate of Spaghetti Cacio e Pepe with cacio de roma, pecorino romano, and plenty of black pepper or Smoked Ricotta Gnudi with pistachio, colorado stone fruit, and sage before a night out. If you're up for a night out, pick your poison: For singing and dancing, you can opt for karaoke at the Voicebox, where you'll have your own private room so inhibitions be damned, or head to Howl at the Moon for a fun dueling piano bar experience. If you'd rather have a more intimate experience, opt for cocktails at the Golden Moon Speakeasy, where you'll find artisanal drinks or the upscale William & Graham cocktail bar.
Day 2
Morning: Start the day at a local favorite, Snooze A.M. Eatery. This breakfast-only spot will get you fueled up for your day with options like sweet potato bacon smash, breakfast burritos and tacos, and sandwiches like the Sandwich I Am, a soft pretzel roll filled with eggs, cheddar cheese, sausage, and smoked cheddar hollandaise.

Afternoon: Take today to explore the beauty outside of Denver. If your bride is a water lover, take a rafting trip along Idaho Springs. Just 30 minutes outside of the city, this scenic paddling adventure includes rapids, but your guide can take you the easy route if your group is full of beginners. If you'd rather stay on dry land, head to the Red Rocks. This famous outdoor amphitheater has hosted top-notch musicians over the years but also features hiking trails, the Colorado Music Hall of Fame, and art exhibits. If you're not there to catch a show, take one of the many scenic hiking trails and explore the area.

Evening: Rest your weary limbs back at the hotel or AirBnB, but not for too long. Happy hour today is a cocktail tour of downtown Denver, with five craft cocktails and four small bites on throughout the city. You'll sample options like an Aperol Spritz paired with fried mozzarella bites and a butter-pecan old-fashioned with mushroom flatbreads. Save room for dinner, which is at Osteria Marco tonight, a casual Italian spot with homemade pasta and pizzas, as well as classic favorites like chicken parmesan and lamb meatballs. Then it's off to the main event: The Clocktower Cabaret! No work is required on your end here, just sit back at your table and enjoy the music, burlesque, comedy, drag, and circus performances. Of course, champagne, wine, and cocktails are on offer during the show, which is located in the historic D&F Tower on 16th Street.
Day 3
Morning: Sleep in today, you deserved it! But when everyone is ready, head to brunch at The Corner Office, where you'll find tasty treats like granola parfait, dark chocolate beignets, berry cheesecake French Toast, lobster benedict, and eggs Florentine. The perfect meal after a long night out.

Afternoon: Today is a more casual and relaxing part of your bachelorette weekend. To really R&R, consider spa treatments at the luxurious Salon & Spa at the Brown Palace, where you can even enjoy afternoon high tea after your pampering. Or head to The Woodhouse, another great spa option, this one located in a 19th-century home. If you'd rather try your hand at something other than manis and pedis, book a private party at Board & Brush, where you will make custom wood signs—all for the bride, or for each member of the tribe to take home and commemorate a great trip.

Evening: Your last dinner will be at TAG, which dubs itself a culinary journey. Combining Hawaiian, Asian, and Latin American cuisine with lots of shareable menu options, you'll find choices like beet and goat cheese, duck fat fries, firecracker sushi, Hong Kong-style steamed bass, and Kobe beef sliders. Whatever you do: Don't miss the "Not Your Grandma's Banana Cream Pie for dessert. For your last night out, keep things casual at the Lowry Beer Garden, a 9,000-square-foot space with a beautiful garden and covered twinkle-light-filled pavilion. Draft and bottled beer, as well as cocktails, and wine, are on tap. Or head out for a last hurrah at Punchbowl Social, where you'll find fun cocktails as well as bowling, shuffleboard, life-sized Jenga, karaoke, and arcade games.
Denver Bachelorette Scavenger Hunt
Turn your itinerary into a game with a Denver scavenger hunt for some fun and friendly competition. Distribute a list of activities with points awarded for each completed task and ask participants to provide proof with pictures. Download an editable template to customize the list and include local attractions and sights. Don't forget to give the winner a prize such as a cute souvenir.
Places to Stay in Denver for a Bachelorette Party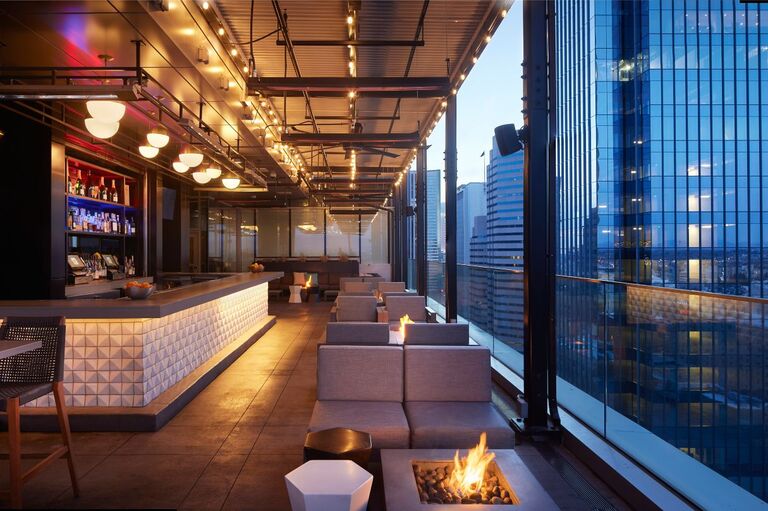 Staying in the heart of downtown will make it easier to get point-to-point, but you'll need a car to get to different areas of the city and especially if you plan to explore the beautiful surroundings.
Best Denver Bachelorette Hotels
The Curtis Hotel: A great spot in the heart of downtown, this hotel offers pop culture-themed suites and floors. Book an 800-square foot suite where you can host a pregame for the whole gang: Choose between the KISS or Rolling Stone-themed options.
The AC Hotel Denver Downtown: This is a great affordable option with modern rooms, plus a top notch rooftop bar where you can take in the whole city while enjoying drinks.
The NATIV Hotel: Looking for a boutique, higher-end experience with a more hipster vibe?This is a great choice, plus, it offers a restaurant, café, and trendy nightclub.
Pro tip: The Knot has partnered with Hotel Planner to help you secure the best group hotel rate and get free hotel advice from an expert travel planner.
Best Denver Bachelorette Party Home Rentals
There are plenty of housing options for a Denver bachelorette party, so check out TripAdvisor, VRBO, Airbnb, Expedia, and Hopper Homes. If you're looking to supplement your vacation rental stay with some hotel amenities such as a swimming pool or a fitness facility, you can secure Denver hotel day passes on ResortPass.
The Colorado Seasons - Luxury Vacation Rental is a modern 4000 square foot home in West Colfax (10 minute drive from downtown) that sleeps 8. Amenities include a hot tub, rooftop space with firepit and a games room.
This Charming Tudor Home located in Park Hill, one of Denver's oldest neighborhoods, is spacious for large groups, sleeping up to 12, plus it includes a backyard gas fire pit.
The Curtis Park Club is a boutique hotel located in the vibrant RiNo, neighbourhood. On VRBO, they offer a full buyout of their 8 rooms plus common areas. While it is on the pricier side, it can accommodate a large group of 18 people and the space is full of character.
Denver Bachelorette Party Nightlife
Denver, Colorado has some amazing places to eat and drink. If you're planning your bachelorette trip to Denver, here are some of our top suggestions for bars and eateries to check out in the city.
Best Denver Bachelorette Restaurants
Safta at the The Source Hotel + Market Hall: Inside The Source Hotel and Market Hall are 25 different vendors, serving everything from artisan crafts to food. One of those vendors includes the restaurant, Safta. They are known for serving elevated Israeli food with a modern twist on some dishes. The spreads, especially the Whipped Feta Dip with vinegar, aleppo pepper, and mint, can definitely not be missed.
Ultreia: The Spanish tapas restaurant serves a variety of dishes that are easy to share. You can choose from a selection of Spanish and Portuguese cheeses, split items like Bacon Wrapped Dates with goat cheese or even indulge in the Fruitas Del Mar, loaded with calamari, shrimp, and mussels in a toasted shrimp-tomato broth.
The Denver Central Market: The Denver Central Market is the perfect place to go to suit a variety of needs. If you have a group of picky eaters and adventurous eaters, this place has a little bit of everything. There are 11 vendors inside (but be sure to check out all of the bright, colorful murals covering the surrounding buildings first), some of which include Tammen's Fish for seafood, Green Seed for health food, Culture Meat & Cheese for meats and artisan cheese, and of course, don't forget to grab a cocktail from Curio.
Best Denver Bachelorette Party Bars
Death & Co Denver: Although the bar originated in New York, Death & Co expanded into Denver and it is one of the best cocktail bars you'll encounter. Everything's elevated and high-quality, so if you're into craft cocktails, this bar is a must. The experienced mixologists experiment with innovative flavor combos and fresh ingredients like lemongrass, melon, green chili and banana to keep visitors on their toes.
The Cooper Lounge: The Cooper Lounge is a great spot for a little snack and some drinks. Sip on creative combinations like the Open Sesame consisting of Novo Fogo Cachaça, Giffard Lichi-Li, Shochu, coconut, lime, savory sesame oil, spicy chili extract, nori, and umami bitters. A sweet and floral favorite is their In Bloom cocktail with Ketel One Vodka, Hendrick's Flora Adora Gin, lemon, butterfly pea flower, club soda to add bubbles and lavender honey.
Adrift: Adrift has a variety of rum-heavy, tropical cocktails and huge drinks to share. Their Party Punch Bowls are loaded up with a variety of aged rums, house-made grenadine, and tropical fruits, like guava.
Expert Denver Travel Tips
When you're looking at flights to Denver, it's about a 4 ½ - 5-hour nonstop flight from NYC on United, Spirit, Southwest, and Delta and about a 2 ½ hour nonstop flight from LA on United, Delta, and Southwest. Plan to visit the area in the spring or fall for mild weather and potentially better pricing. When getting around the city, it's definitely drivable, so renting a car is a great option. They also have taxis, ridesharing services, and public transportation.