I Designed My Own Engagement Ring & You Should Too
Does designing your own engagement ring ruin a proposal's element of surprise? According to one bride, absolutely not.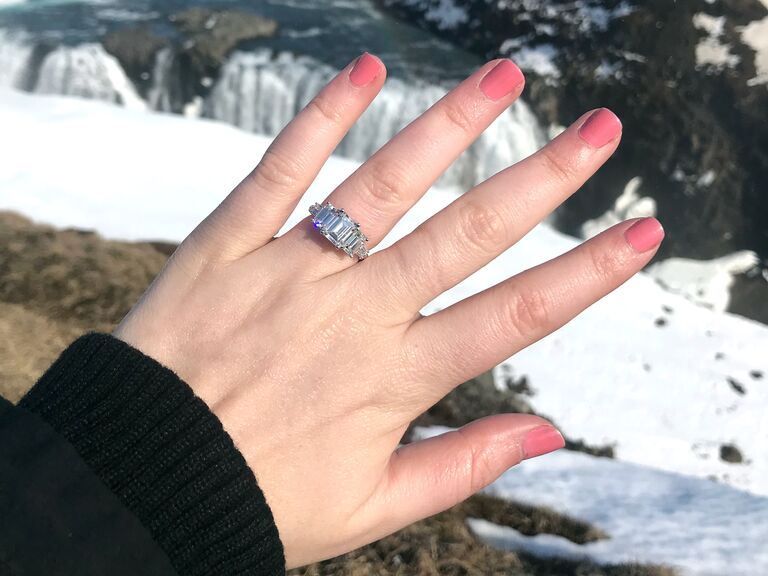 Lauren Levy
It's no secret that I thought more about my engagement ring than my now fiancé. Yes, it's a symbol of our love but it's one that I visualized and thought about on my hand long before I ever met him.
Call me shallow or superficial if you want but as a girl growing up, I always noticed the bling a woman was rocking when I met her — what type of style, setting, stones, and envisioned the type of ring I would one day want to wear. And part of my dream was never that some Prince Charming was going to surprise me with a rock that I may or may not love, it was that I would have some say on this emotionally big and financially huge decision—and maybe even design my own engagement ring.
You Cut Out the Guessing Game
When my boyfriend and I were hedging the conversation about engagement rings one day, it turned out that we were completely on the same page. He knew that I was way more educated on the topic than he was and felt that it was only right that I be involved. And that's not just because I know all about the 4Cs from working in the bridal industry. To him, I'm the one who will hopefully be wearing this ring every day of my life, so why shouldn't I get exactly what I want?
To my boyfriend, it felt silly and backwards for men who don't know as much as their partners on this subject to pick out something blindly, only guided by "subtle" clues or hints. Especially something that is going to be on a woman's body for the rest of her life if she chooses, even if her partner picks something she doesn't love. According to The Knot 2019 Jewelry and Engagement Study, the average amount spent on an engagement ring is $5,900 and my groom-to-be is too practical to spend that kind of money on something for me that he isn't dead certain is exactly what I'd want down to the last detail. It only made sense to him to cut out the guessing game, the potential secret disappointment, and "do it right the first time" — together.
You Get to Make Crucial Decisions Together
And that's exactly what we did, even though some worry designing their own engagement ring will take away from the romance or surprise of the proposal. But that absolutely wasn't the case and my boyfriend supported me through the decision-making process as I took the lead. The first thing I needed to decide was if I wanted to use the emerald cut stone that my grandmother left me or purchase a new diamond and save my grandmother's for a future necklace (she always wore a heart necklace that my grandfather gave her with an emerald diamond in the center and I dreamed of one day having a matching version made).
But given the sentimental value of my grandma's diamond and the fact that we would be trying to pay for a new stone, wedding, and house, completely ourselves and all around the same time, the answer seemed obvious. But again, this was a decision that my boyfriend wanted me to make on my own after time thinking about it instead of him making it for us.

Shortly after, my mom came to visit us in New York and she and I had a day of "just looking" together. My boyfriend felt strongly that when the time came to really pick things out and start making decisions, it should be just the two of us but I couldn't imagine shopping for engagement rings without my mom. So that was our compromise -- a day out with my mom to get ideas, but then when we went to actually buy the ring, it would just be us so he didn't have to worry about her or anybody else swaying my decision. Again, he wanted me to get what I wanted and not what he thought I wanted or what I thought anybody else thought I should want. There can be a lot of pressure with a decision like this!
While out meeting with jewelers with my mom, I saw an emerald cut ring in a setting that seemed unusual and took my breath away. I always knew exactly what I didn't want, but honestly had no idea what my "perfect" ring was in a realistic budget. And I have to say, this one was nearly it. Yes, there were some things I would want to change, but this gave me an idea to leap from.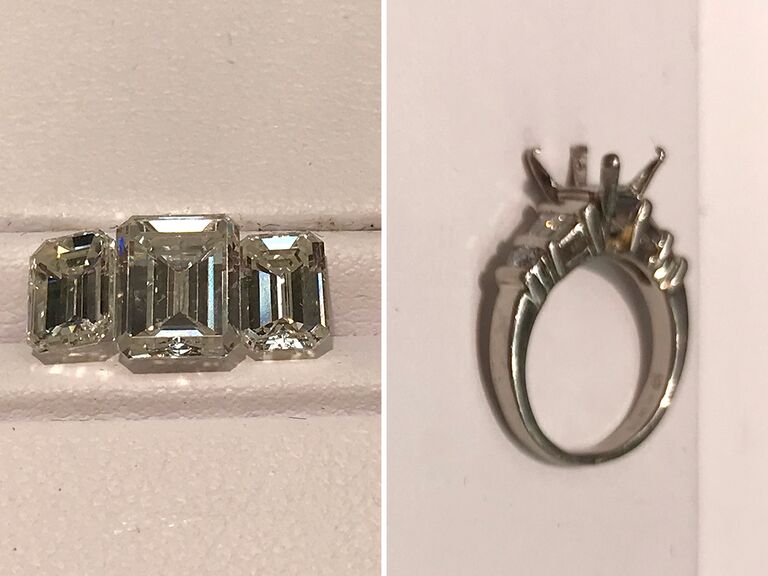 You Design a Ring That's Extra Meaningful
After that, my fiancé and I met with a jeweler we both really clicked with who would work with us on designing my own engagement ring. First, he inspected my grandmother's stone and taught my boyfriend about it. Then I showed them the type of design I liked and we came up with a plan that was incredibly meaningful and nailed exactly what I wanted: in addition to my grandmother's stone, we would pick out to smaller emeralds to flank it that were "new and from my boyfriend" and then to finish it, baguette diamonds on each side from my mom's original engagement ring setting.
That would create a ring that combined my grandma, future husband, and mom in one incredibly meaningful piece of jewelry. After we worked out sketches with his colleague, the jeweler said he was going to order a variety of emerald sets in different sizes that match the quality of my main stone so we could pick out which pair we liked best.
The following weekend we went in and decided on the two side stones together. We left the jeweler with my grandma's stone and mom's baguettes, and that's the last I saw of that kind older gentleman. He and my boyfriend took it from there.
You're Still Just as Surprised
I didn't know when the ring was ready or what the final product was going to be. Yes, I could imagine the design but since it was completely unique and unlike anything I'd ever seen before, I was still in the dark. And to add to the mystery, my sneaky boyfriend had a small "special package" mailed to my mom for "safe keeping." This way she would think she had the ring, and since she is such a terrible liar, I would then also think she had the ring, adding to the shock for both of us when he did propose. The moment was magical (complete with rainbow shooting out of a waterfall), the ring is in my opinion breathtaking, and being involved in it didn't take away from it or make our engagement story less special because I "knew" about the ring. It only made it even better because there's not a single thing I would want to change.