Devon Still, Fiancee Asha Joyce: 10 Things You Don't Know About The Knot Dream Wedding Couple
Find out the football player's plan to make his cancer-survivor daughter Leah a part of his wedding and see his future wife's engagement ring photo.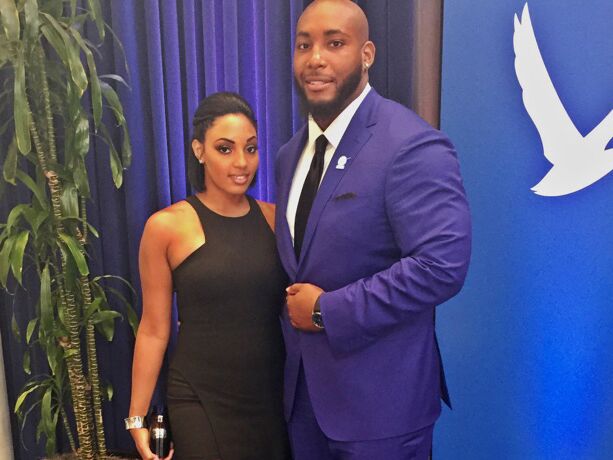 NFL player Devon Still has a lot to be grateful for in the past whirlwind year. After his beloved five-year-old daughter, Leah Still, was diagnosed with stage four neuroblastoma (an aggressive and rare form of cancer) last year, she had a tumor removed and underwent chemotherapy and stem cell treatment since then -- and was officially declared to be in remission this March. Raising awareness for pediatric cancer research and supporting Leah was at the top of the football player's priority list, which led the father and daughter to be the co-recipients of the Jimmy V Award at the ESPY Award ceremony in July for persevering through her battle with cancer with determination and grace.
And to top it all off, the football player and his beautiful fiance, Asha Joyce, will be The Knot Dream Wedding couple in 2016! Since all of you will be voting on aspects of their wedding soon, Still's future wife sat down with The Knot and shared 10 things people might not know about them as a couple -- including the color that Leah wants to be incorporated into their wedding day!
1. Asha and Devon have been dating for three years.
After meeting in 2012 at a mutual friend's party, they went on a few dates and have been "inseparable" ever since, Joyce says.
2. They share the same birthday -- which turned into an unexpected marriage proposal!
Joyce and Still were both born on July 11, so last year, she suspected that he might throw a surprise birthday party for her. Little did she know that she actually walked into her own surprise engagement party in a hotel room! Her family gathered together with candles, roses, signs and a violinist playing her favorite John Legend song.
3. Asha unknowingly picked out her own engagement ring.
"Before Devon proposed, we spoke briefly about the future, but I wasn't expecting our engagement to be so soon," Joyce says. But Still had a few tricks up his sleeve when he asked Joyce to help pick out engagement rings for a friend's fiancee` -- that turned out to be her ring! She chose an absolutely gorgeous round-cut diamond surrounded by an hexagon halo of yellow diamonds. "I used to work in a jewelry store and I would always sit there and think of what my engagement ring would be like one day. I definitely wanted something unique that stood out."
4. Devon's daughter Leah might have a future as a wedding planner.
So will we see Leah walking down the aisle as the couple's flower girl? "She wouldn't have it any other way," Joyce says. "She's so excited to pick out her flower girl dress. She also thinks she's a wedding planner. Leah wants everything to be pink! So we'll have some pink things, that's for certain."
5. Asha and Devon's wedding vows won't just be about the two of them.
"We're looking forward to making traditions for ourselves, starting with the wedding," Joyce says. Their wedding vows won't just encompass their commitment to each other -- they'll also be about having a union with Leah and being a family.
6. Speaking of family, they'll probably have the same amount of wedding guests on both sides.
"I feel like our guest lists will probably be equal," Joyce says. "My family is bigger, but he has so many friends and supporters in his life from Leah and the NFL. It'll be a lot of people."
7. Asha only knows one thing about her wedding dress so far.
"I definitely want a mermaid silhouette with some kind of embellishment," Joyce says. "But when I see the dress, I'll know. I love looking at every designer's collections, since this is all so new to me." She hasn't tried on any wedding dresses yet, but when she does, it'll be with her whole family at Kleinfeld Bridal.
8. Devon loves a good prank -- even at Asha's expense.
"Some people only see Devon's serious side on TV, but behind the scenes, he's silly and loves to joke around," Joyce says. "He loves to play pranks. I'm into everything about Halloween, and one time he dressed up and hid in the house and scared me!"
9. Their favorite date nights are at the movies.
"We go to the movies a lot, and we also love to travel," Joyce says. "Any chance we can go somewhere different, we do." And whenever they're not traveling, their home base is in Wilmington, Delaware.
10. Last year's challenges brought them even closer together.
"We embarked on a spiritual journey together since the last year was so challenging," Joyce says of Leah's battle with cancer. "We grew even closer to one another and to God through prayers and being together through thick and thin. He's the perfect guy for me -- he's loving, generous and compassionate. I knew he was the one because he's so upstanding as a father and as a man. He always tends to people's needs. He's such good guy and very kind-hearted."
Stay tuned for upcoming details about the voting process, and check out details of last year's The Knot Dream Wedding here!