Exclusive: The Wedding Essentials Crafty Content Creator LaurDIY Absolutely Loves (and So Will You)
Spoiler alert: You won't find a glue gun or a Cricut on this list.
For over a decade, content creator Lauren Riihimaki has built an online community around her passion for crafting and DIY projects—but you won't find her DIY-ing her wedding. In The Knot Magazine's Summer 2023 cover story, Riihimaki, who goes by the moniker LaurDIY on her social media accounts, gives us the inside scoop on her love story, her wedding vision, and her desire to leave the planning to the pros… but we've only just scratched the surface. Ahead of her 2024 nuptials, we sat down with our cover star again to chat about her planning tips and her must-have wedding essentials we know you'll love, from non-traditional registry gifts to the vendors that will make your life so much easier.
In this article:
Lauren Riihimaki's Wedding Registry Essentials
If you, like Riihimaki and her fiancé, Jeremy Lewis, have been with your partner for quite some time, there's a good chance you've already accrued the basics in your home. (Read: The thought of cluttering your kitchen cabinet with another set of Tupperware might literally make you break out in a cold sweat.) When you think of a wedding registry, you might associate it with traditional gifts like china, kitchen appliances, serving platters and bedroom linens—but those are far from the only things you can add to your wish list. In fact, the things Riihimaki and Lewis are registering for are fun, personal, and oh-so-creative. Get a peek inside LaurDIY's favorite wedding registry picks here.
Novel Newlywed Experiences
Why register for stuff when you have what you need? Rather than receive an influx of home goods they already own, Riihimaki and Lewis are choosing to register for non-tangible gifts. "We've skipped gift-giving a lot over the years in favor of experiences, like staycations and mini getaways," Riihimaki tells us. "We're also in a place where we are really lucky to have a lot of things that we need. I don't really need a crock pot, and I have an Amazon air fryer that does the job," she adds with a laugh.
Instead, Riihimaki and Lewis are prioritizing new experiences they can enjoy together, like a Napa Valley wine tour, a fireside couples' massage, and a private sunset sail. "There's something so fun about creating new memories by getting out in the world and doing something that you haven't done before, or that you haven't set aside the time to do in your regular day-to-day life," she notes.
A Present for Her Pups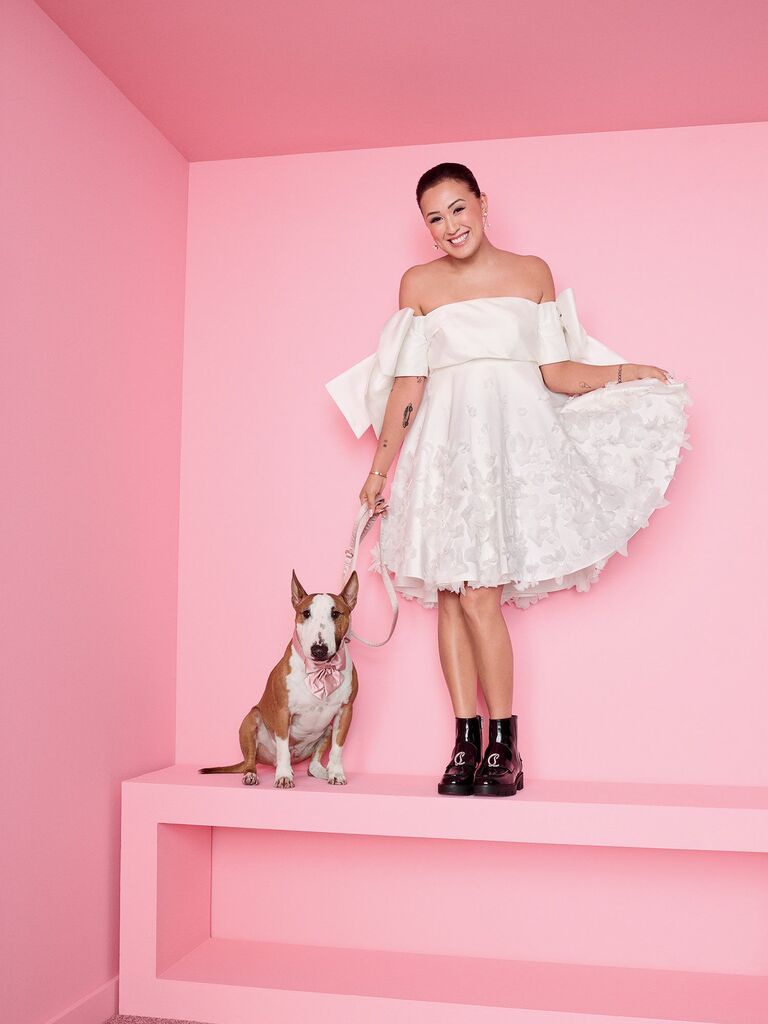 Any pet parent knows that animals are just as much a part of the family as humans, so Riihimaki insists that her dogs Moose and Diggy will have roles on the wedding day. (Moose nearly stole the show at The Knot Magazine cover shoot, after all). It'll come as no surprise, then, that the to-be-weds are sharing their registry with their furry loved ones. One of Riihimaki's gifting must-haves is a cooling pet pad to keep her pups comfortable on those hot Los Angeles days.
Materials for *One* Home DIY Project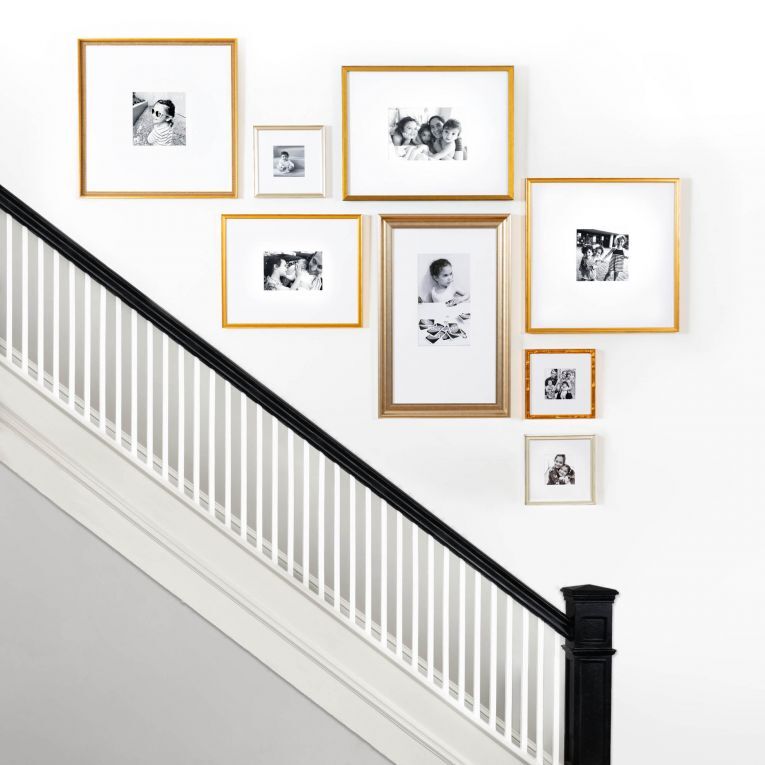 We know the queen of crafting won't be DIY-ing her wedding, but she does have a few newlywed home projects on her radar. Riihimaki tells us that one of her favorite wedding registry additions is a gallery wall frame set, which she plans to construct after the big day. "I want to do a gallery wall with photos from our wedding," she explains. "We have a massive blank wall above our stairs that we've never done anything with, so we'd love to transform it after the big day." ("That's definitely DIY," she jokes.)
Trendy Tableware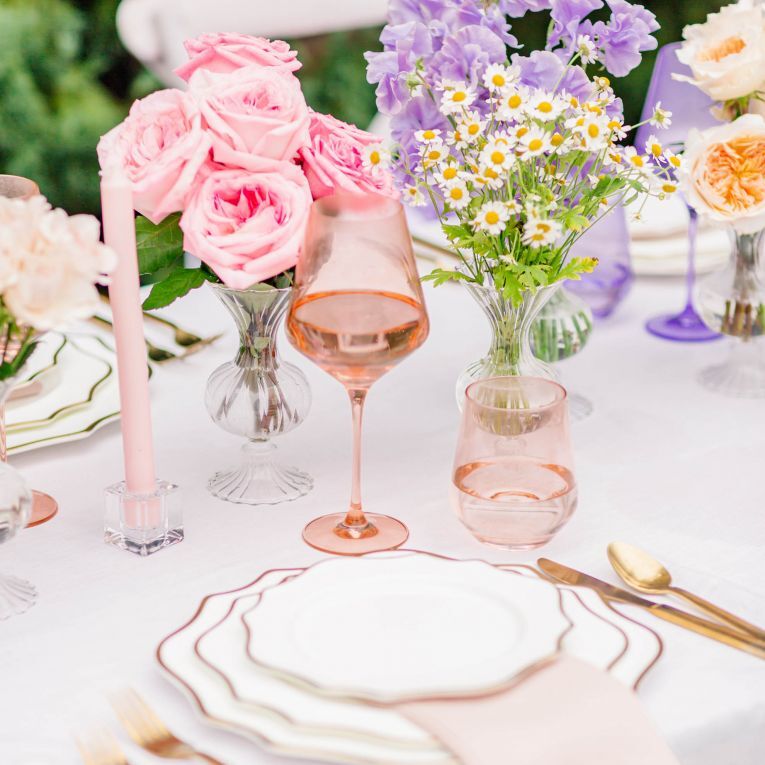 Although she won't be registering for hot-ticket items like an air fryer or a crock pot, one homeware piece Riihimaki can't resist is a set of Estelle colored glasses. (Can you blame her?) This ultra-trendy stemware brand is always going viral on TikTok and Instagram, and for good reason. Thanks to their vibrant hues and unique shapes, Estelle's champagne flutes and wine glasses are the perfect way to add a pop of personalization to your kitchen counter or your bar cart—no crafting skills required.
The Wedding Vendors Lauren Riihimaki Can't Live Without
Rather than take on the planning duties herself, Lauren Riihimaki is leaving her wedding to the experts. Although she's early in her wedding timeline, she's already found that her vendors are the "backbone" of her big day. Here are the wedding pros she simply can't live without.
A Seasoned Planner
Riihimaki got a taste for event planning shortly after her proposal when she and her newly-minted fiancé celebrated their milestone with loved ones. "We planned an engagement party, which was my first foray into doing any kind of planning," Riihimaki explains. "It felt like a mini wedding, which was really fun." Excitement aside, though, she quickly realized the importance of working with a seasoned planner. "The first vendor I hired was a planner because I feel like that's the backbone of the whole event," she says. "I'm not a professional, and I've never [planned a wedding before], so being able to lean into their expertise is such a level of comfort."
Relying on a combination of The Knot Marketplace, social media, and recommendations from friends, Riihimaki found the perfect pro to bring her vision to life—and to help her source the rest of her vendor team: "Planners have connections with other vendors that they work with and trust, so you're also hiring their personal relationships."
A Dreamy SoCal Venue
Although she hasn't secured her venue just yet, Riihimaki tells us the location will inspire the overall aesthetic and vibe of her nuptials. "We're leaning into the natural beauty of Southern California," she muses. "We're lucky to have so many incredible outdoor venues that have beautiful landscapes and scenic backdrops. We're planning to lean into the greenery of the venue and bring in pops of color."
A Glam Team-turned-Hype Squad
Another non-negotiable wedding vendor for LaurDIY? A glam team that doubles as a hype squad. "The confidence you exude when you're feeling your best is something I absolutely want to embody on my wedding day," she explains. "Having the right team of hair and makeup professionals is definitely a huge part of that."
Expert Content Creators
After spending over 10 years documenting her life on the internet, Riihimaki understands the value of great photography and videography, which is why she's prioritizing hiring a photographer and videographer to document her nuptials. "As a content creator, enlisting someone to capture the energy, the aesthetic and the moment can be daunting," she shares. "It's rare that you're able to bring together all the most important people in your life in this capacity, and I want to commemorate the love we'll feel on our wedding day. Having the right team of talented photographers and videographers is a partnership in trust and collaboration that I'm so excited for."
The Wedding Invitations Lauren Riihimaki Loves
Put the Cricut down. While you might think DIY-ing your invitations is a smart way to cut down on costs, trust us when we say that outsourcing the creativity will save your time and your sanity. Here are the wedding invitations that have inspired Riihimaki so far.
Pearlescent Shapes Wedding Invitations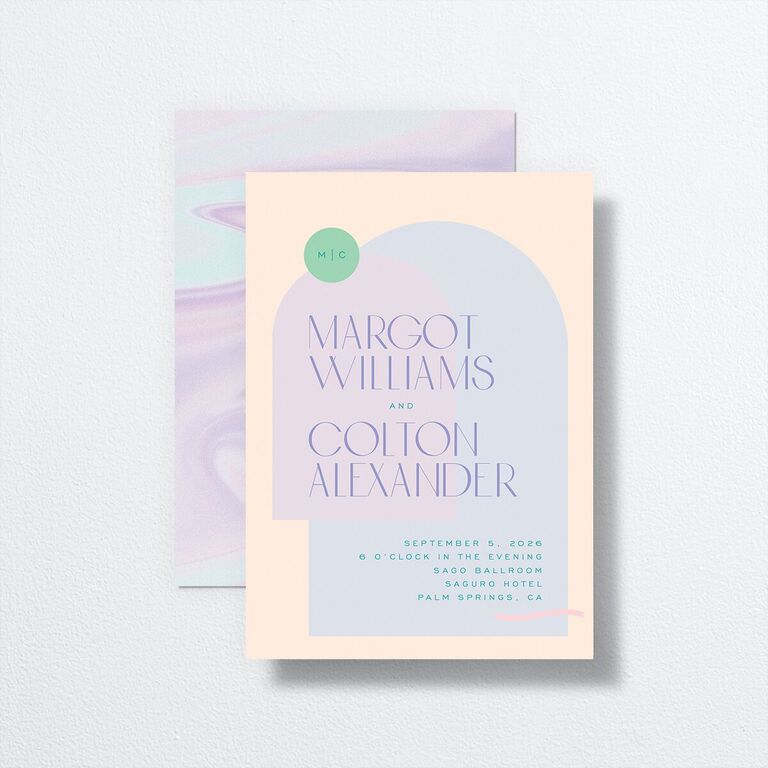 Deciding on a wedding aesthetic proved to be one of our cover star's most challenging planning tasks. "At the beginning, I really was struggling to decide whether I wanted something muted with earthy tones, or if I wanted something that's colorful and bright and vibrant," she reveals, noting that her home ultimately ended up guiding the direction. "My office is a smattering of color, and that just feels so much more authentic to me."
After reflecting on her tastes in interior design and home decor, Riihimaki decided her wedding vibe is "modern fun." It's no surprise, then, that she was drawn to this abstract stationery from The Knot Invitations. With imaginative shapes, dreamy pastel hues and an attention-grabbing pearlescent finish, we'd say these invites are the epitome of modern fun.
Vibrant Bold Rehearsal Dinner Invitations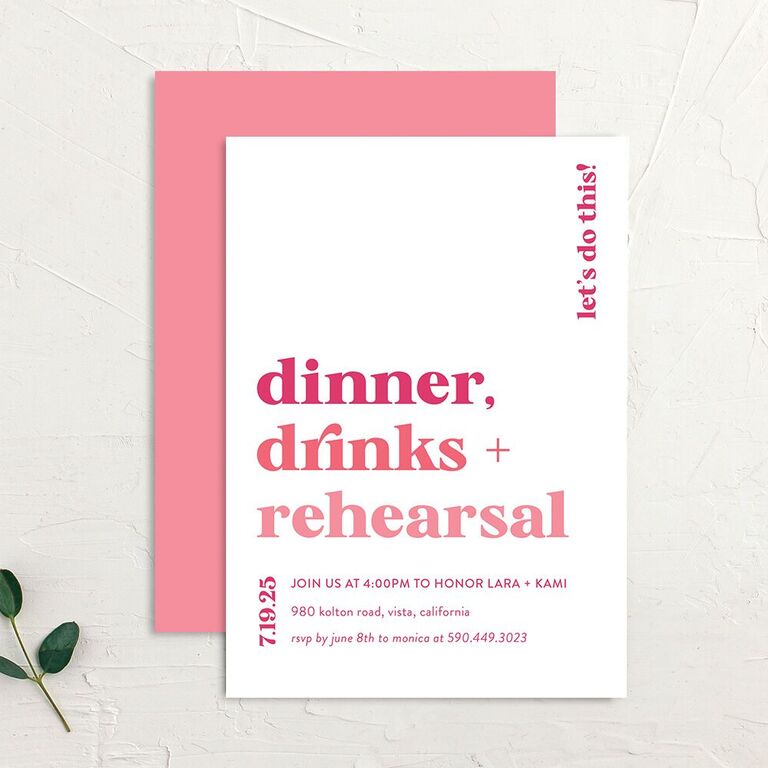 Vibrant? Check. Bold? Check. Fun? Absolutely. Riihimaki is obsessed with these punchy rehearsal dinner invitations, and so are we. Perfect for couples envisioning a playful and laid-back wedding, this stationery set comes in five bright hues to match your own wedding color palette.
Worth the Wait Wedding Response Cards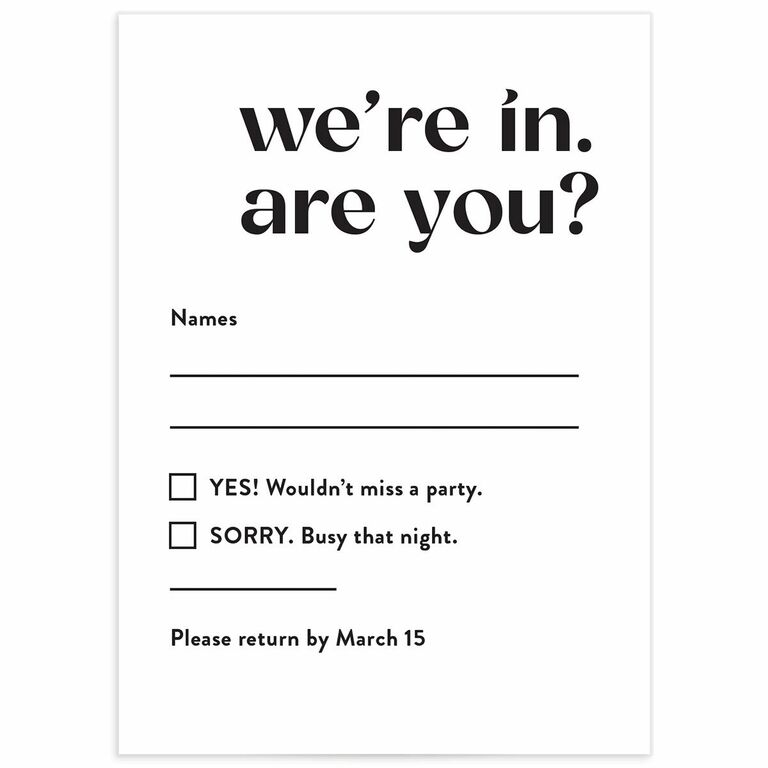 Color isn't the only way to infuse your wedding stationery with personality. Riihimaki loves these cheeky wedding response cards, and it's easy to see why. Leaning into witty wording is a great way to ensure your invites stand out in the mail pile. (Pro tip: If your invite makes a guest laugh, they'll be more likely to get their RSVP in on time. It's science.)
Modern Arc Wedding Invitations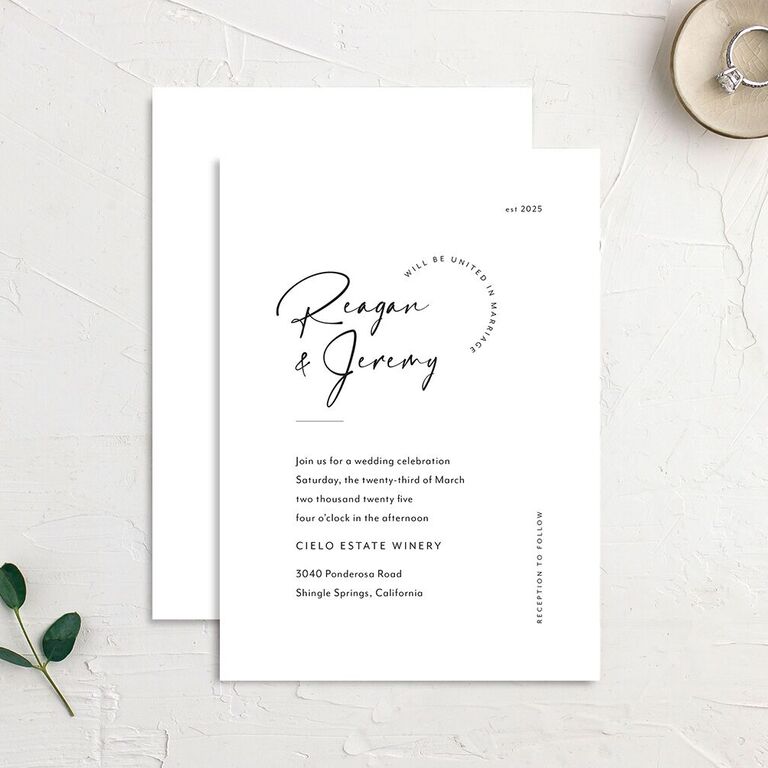 Aptly named the "Modern Arc" invitations, it's no surprise that Riihimaki was drawn to these unique invitations. While most stationery includes horizontal lettering, we love how the stylish cursive and distinctive arc easily draw your eyes to the must-know deets.