So, Do Wedding Bands Actually Have to Match?
We have the answer—and it might surprise you.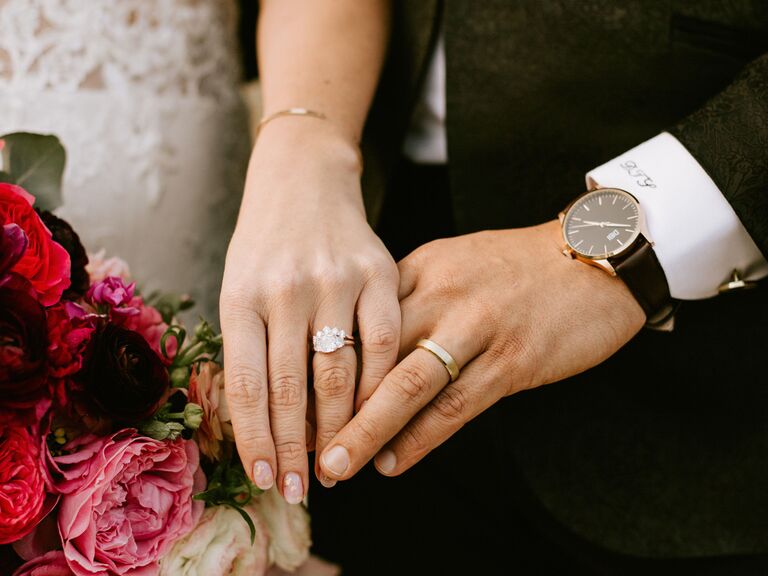 Lauren Scotti Photography
While you might not be able to take your eyes off your engagement ring, there's another piece of wedding jewelry you'll soon be adding to your stack. Purchasing your wedding bands is an exciting part of planning your wedding. (Who doesn't want to go ring shopping, after all?) But as you and your fiancé start to search for your jewelry, you might wonder: Do wedding bands have to match? It's a valid question, especially considering that wedding etiquette is becoming more unclear as couples make their own traditions. And while we believe in bending the rules, there is one thing we stand by: Your wedding-related choices should always be the best reflection of you. Here, we explain whether or not your wedding rings should match, as well as how to make the best choice for you and your fiancé.
Do Wedding Bands Have to Match?
Historically, mens and womens wedding rings did match. During the Renaissance period, wedding bands were made to fit like puzzle pieces. So while tradition dictated that rings should be worn on the left ring finger to honor the "vein of love," they were also made as matching pieces. Corresponding colors and metals symbolized a couple's union and allowed them to show their commitment to one another.
Wedding ring traditions have continued to evolve over time. Dual-ring ceremonies date back to the 1300s, when it was introduced by the Greek Orthodox Church. However, it took quite a while for the practice to gain popularity around the rest of the world. In fact, it didn't become common for men to wear wedding bands in the United States until World War II, when soldiers began wearing rings to honor their spouses at home.
In the past, wedding bands were made as sets to honor a partnership. But today, there are no rules that say your wedding bands have to match. Ring tradition is changing in a variety of ways as well—not just in their appearance. Not only are engagement rings for men are rising in popularity, couples are also splitting the finances when it comes time to make the big purchase. Now, couples are more focused than ever on doing what works for them instead of what historical traditions dictate.
Getting mismatched wedding bands is the ideal option for some couples. While there are plenty of classic wedding band options made of gold, silver, diamonds and platinum, there are plenty of alternative materials like titanium, tungsten, ceramic and wood for those who have different fashion preferences. Given everyone's individual fashion sense, it can be hard for couples to agree on one material and color. And with so many alternative ring options, why limit yourself to a design you don't fully love? Some engagement ring trends, like colored gems or lab-grown stones, might not match the style of ring your partner likes, and that's perfectly okay. Some people even opt to get a wedding band that doesn't match their engagement ring. When it comes down to it, your jewelry choices should reflect the style that you love most. Instead of compromising your own taste, it's encouraged for you and your partner to get rings that you both will enjoy wearing.
So, should your wedding rings match? The choice is completely up to you. If you prefer to stick to tradition, getting matching wedding bands would be a sweet way to symbolize your union. But getting different bands won't take away their sentimental value. Whether you have different style preferences or you just want different rings, mismatched bands are a great option for any couple. What matters most is that you both love the ring you have—you will be wearing it for the rest of your life, after all.