3 Awesome Alternative Engagement Ring Styles to Consider
It's true: Most brides want a ring no one else has. Danielle Miele, gemologist and jewelry blogger at GemGossip.com, gives us the rundown on alternatives you should try before saying "yes" to a ring.
by Danielle Miele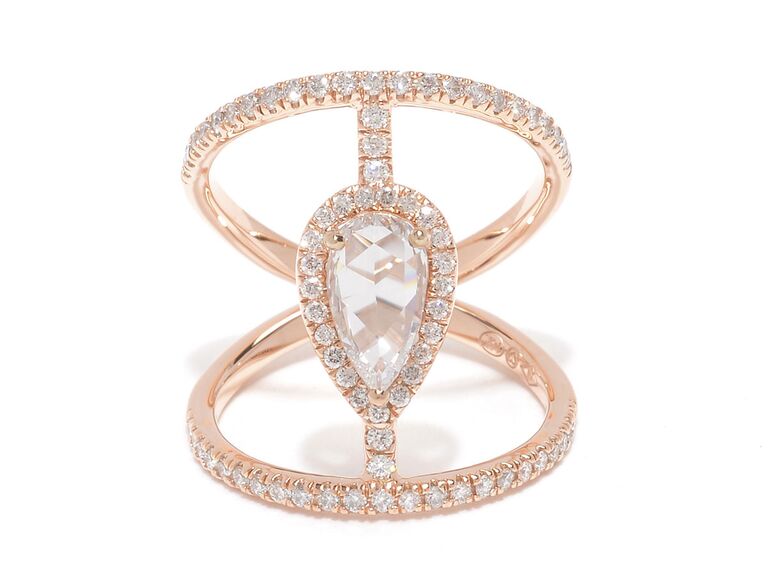 Before you go out engagement ring shopping, keep in mind a category that's quickly becoming a bride-to-be's most coveted choice: alternative engagement ring styles. This group includes anything atypical, like a unique style, a center gemstone other than a traditional diamond, or a design feature that's unordinary.  This category has been trending recently because it aligns with what most brides consider important—a phrase often uttered that goes something like, "I want a ring that no one else has."
If you've heard yourself or your friends say these words, then I've got some great options for you to consider—and you must try these, because you might not think they're for you until you slip these rings on your finger. (It happened to me!)
Antique Styles
Gone are the stigmas of secondhand engagement rings being bad juju or out of style. What is it that's so appealing about old-fashioned baubles? Antique engagement rings often feature old cut diamonds—these stones were all cut by hand (as opposed to the laser-cutting techniques used now) by the light of candles (since there was no electricity back then). This fact alone is romantic on so many levels. Whether you choose a sentimental Victorian snake ring from the late 1800s or a geometric influenced art deco ring from the 1920s, antique engagement rings can offer the one-of-a-kind feel you're looking for.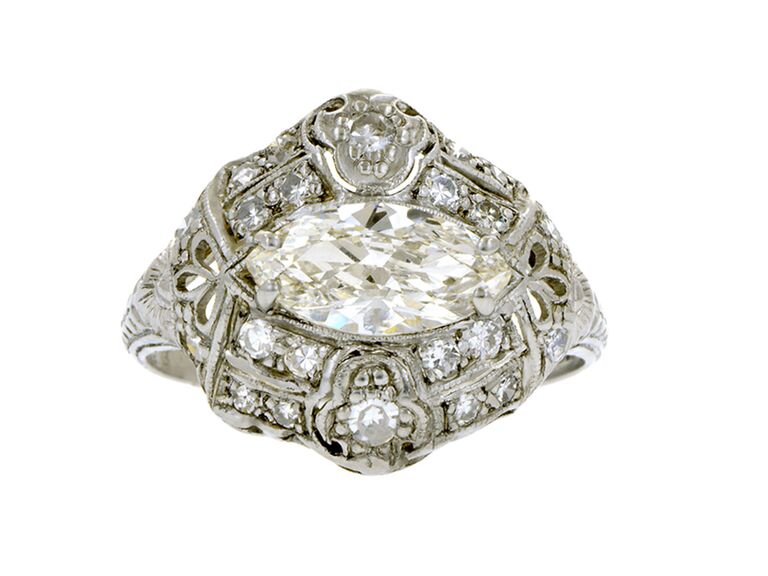 Doyle & Doyle art deco diamond ring, $7,900, DoyleDoyle.com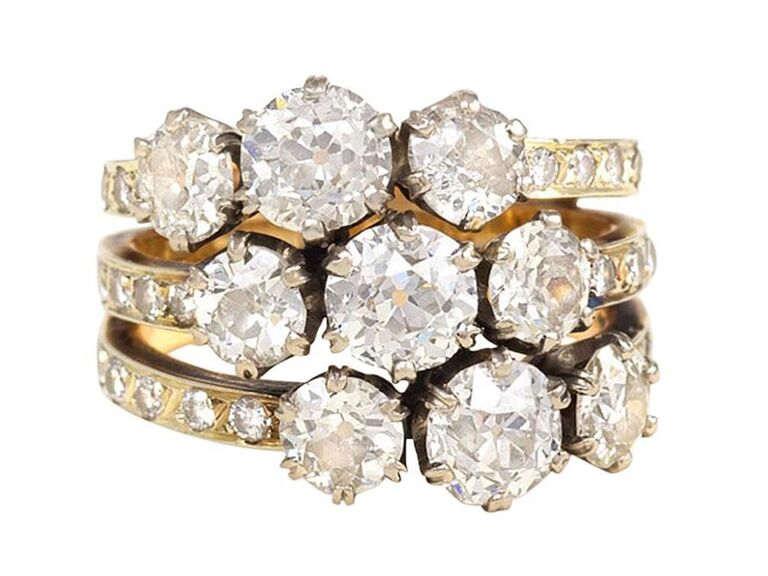 Kentshire Edwardian triple band diamond gold platinum harem ring, $24,500, 1stdibs.com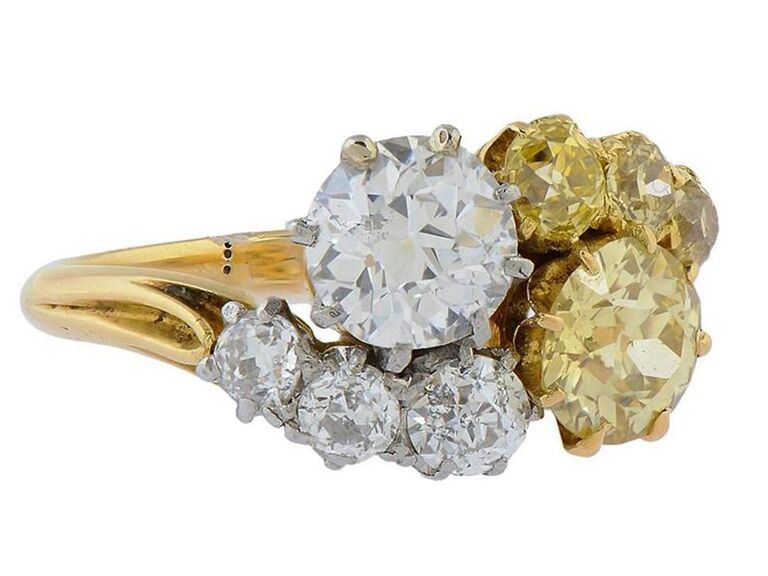 Morelle Davidson fancy yellow and white diamond crossover ring, $24,917, 1stdibs.com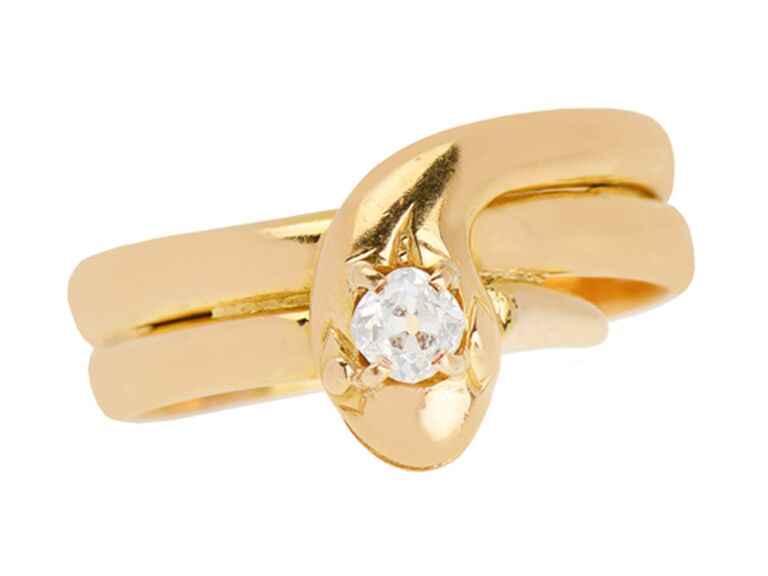 The Three Graces antique English diamond snake ring of 1891, $2,950, GeorgianJewelry.com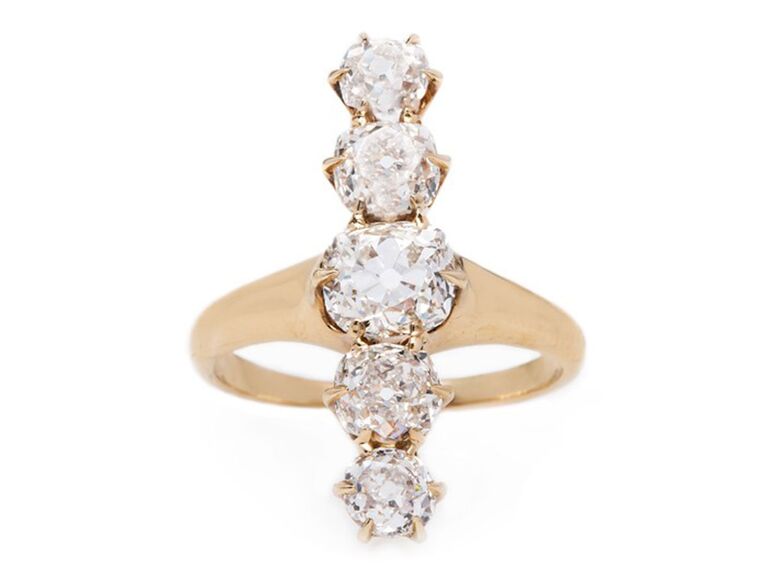 Trumpet & Horn Stockholm ring, $16,200, TrumpetandHorn.com

Colored Diamonds
White or colorless diamonds can be expensive. As you climb the diamond color grading scale, going from the letters at the end of the alphabet up toward the beginning, color goes from yellowish to more and more colorless. This also includes a price increase, often exponentially larger as you go up toward the very best color—a D color grade (there's no diamond that has a color grade of A, B or C). While white diamonds are the most popular, a niche of diamonds that have soared in popularity lately take unconventional colors like gray, chocolate and champagne, and give them a new life in beautiful gold settings.
ChinChar Maloney Maroa ring in white gold with 1.52 carat pink and red diamond, $4,925, ChincharMaloney.com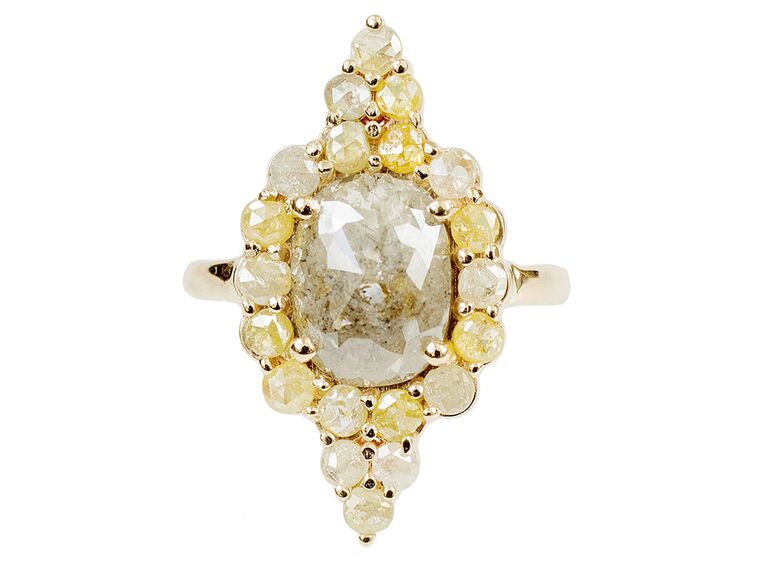 Xiao Wang Jewelry Galaxy gray rose-cut diamond ring, $5,765, XiaoWangNYC.com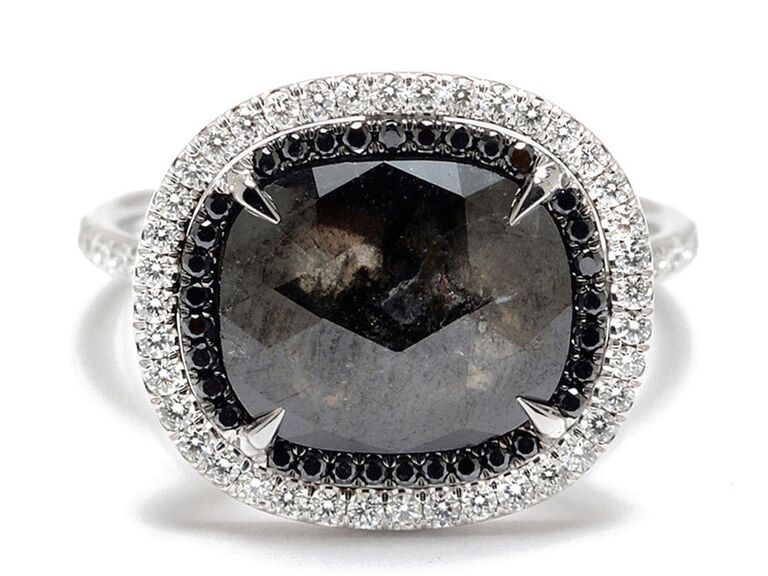 Greenwich St. Jewelers Trinity Raw diamond ring with rose-cut black center diamond, $9,750, GreenwichJewelers.com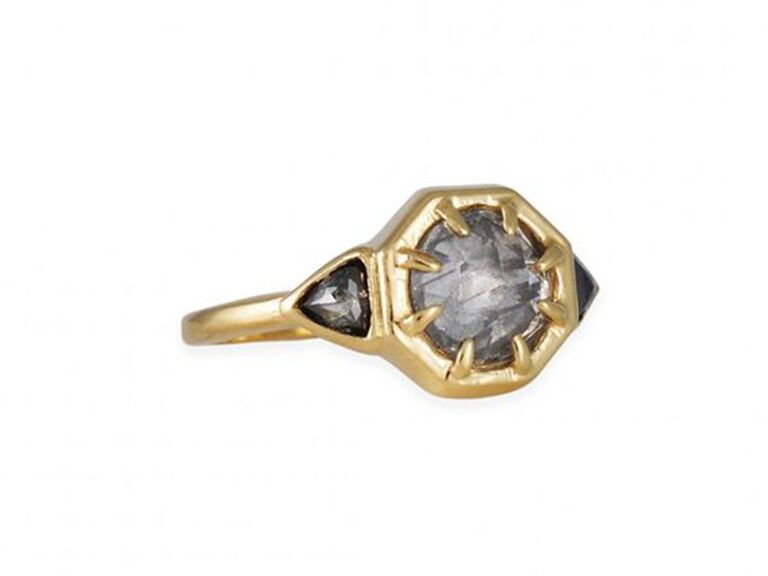 Lauren Wolf salt and pepper diamond octagon ring in yellow gold, $3,900, Clay-Pot.com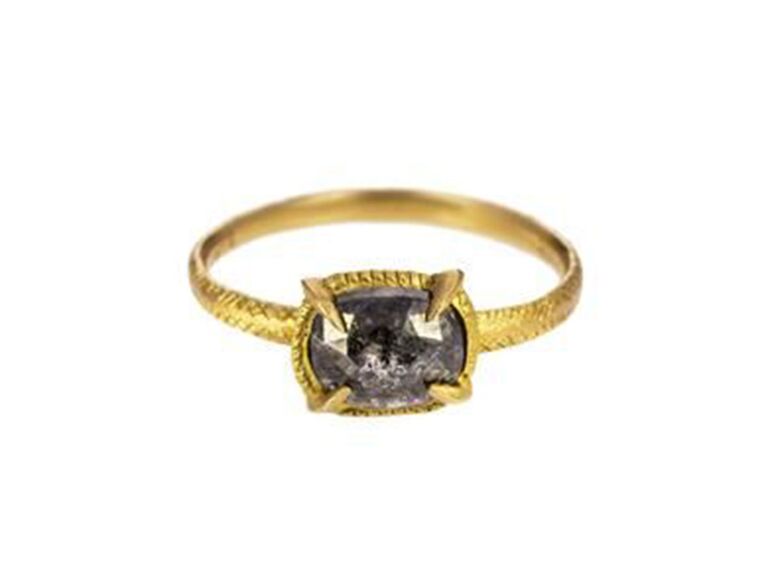 Rusty Thought grey rustic diamond solitaire ring in 18k yellow gold, $1885, TwistOnline.com
Standout Design Elements
Jewelry designers are seriously creative and talented, so some of the latest design elements incorporated into engagement rings allow them to show off their limit-pushing capabilities and artistic vibes. Details like diamonds set upside down, interchangeable wedding bands and unique non-diamond gemstones (think: morganite, paraiba tourmaline and sapphire) are turning heads in the best way possible. I urge you as a bride: Dare to be different and choose what makes your heart sing!
Anthony Lent custom one-of-a-kind engagement ring, AnthonyLent.com

Blair Lauren Brown yellow gold nugget and diamond ring, $16,000, LoveAdorned.com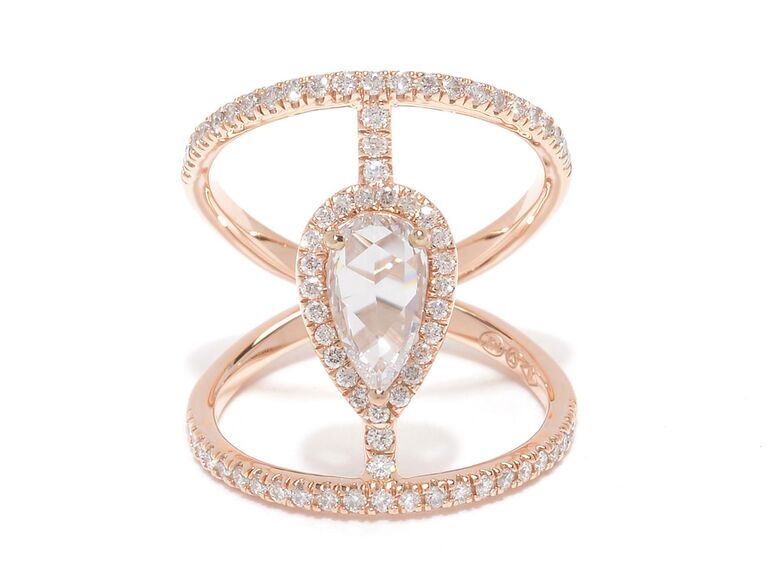 Meredith Kahn diamond bridge love twist ring with pear diamond, $ 8,000, MeredithKahn.com

Spinelli Kilcollin Amor ring, SpinelliKilcollin.com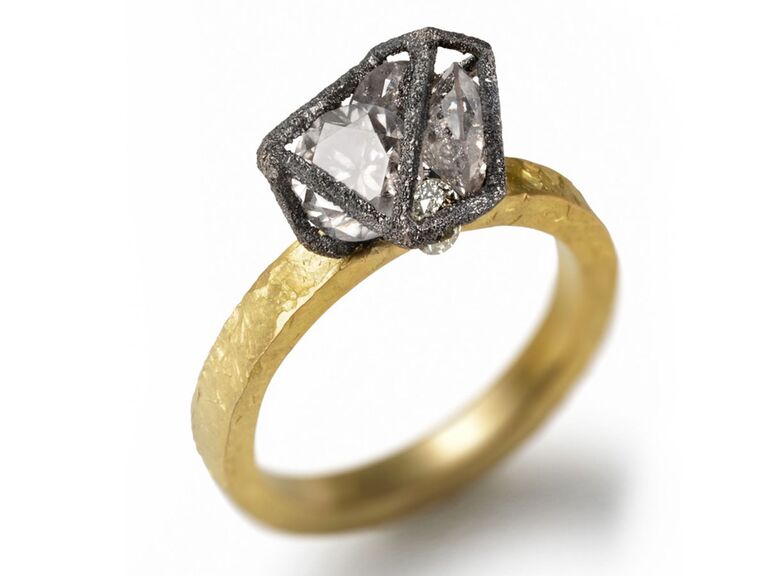 TAP by Todd Pownell caged diamond ring, TapbyTodPownell.com

Danielle Miele is the founder of the longest-running, US-based fine jewelry blog called Gem Gossip.  She is also a graduate gemologist and has been appraising jewelry professionally for nearly eight years. You can currently find Danielle traveling the world covering jewelry stories, visiting stores and collecting antique jewelry (she has over 300 rings).