Alternative Engagement Ring Ideas For the Modern Couple
Get inspired by these unique ideas.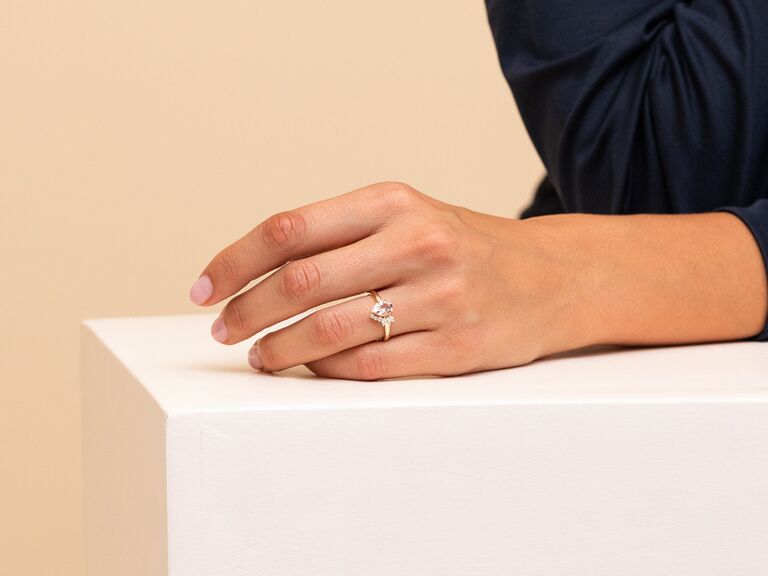 Courtesy of Mejuri
We have included third party products to help you navigate and enjoy life's biggest moments. Purchases made through links on this page may earn us a commission.
When it comes to finding an engagement ring, you aren't confined to proposing with a traditional diamond. Now more than ever, couples are choosing alternative engagement ring styles to showcase their personalities—some even overlook exchanging rings altogether. Whether your partner has eclectic taste or you're shopping within a budget, there are plenty of diamond ring alternatives that are just as meaningful.
According to The Knot 2019 Jewelry and Engagement Study, which surveyed over 21,000 recently engaged or married couples, it's clear that people are less focused these days about the size of their ring and more in touch with the meaning behind it. Over half of all proposers added custom details to the engagement ring, with 31 percent going so far as to completely design the jewel from scratch. Additionally, 10 percent of all rings exchanged included a precious gemstone instead of a diamond, indicating that alternative engagement rings are slowly (but surely) growing in popularity.
Below, we've rounded up popular diamond ring alternatives for the modern couple, from synthetic diamonds to unique precious gemstones.
Diamond Ring Alternatives
You can still find a glittering engagement ring without a hefty price tag. Here, we break down everything there is to know about diamond ring alternatives, from lab-created stones to gems that make a bold statement.
Lab-Grown Diamonds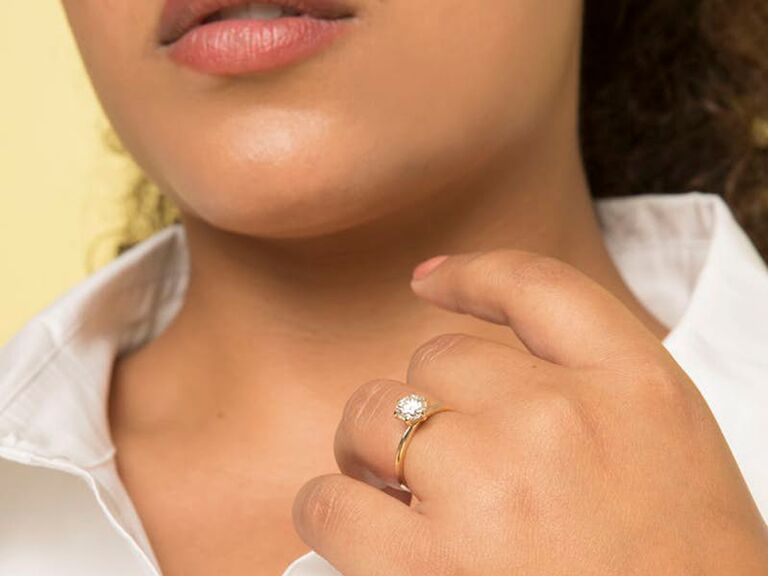 VRAI The Knife Edge ring, from $950, VRAI.com
Lab-grown diamonds have the exact same chemical compound and visual appearance as a diamond mined from the earth, and they're growing in popularity among those who want to save on an engagement ring. They're created through a strategic process that mimics the environment where diamonds are formed in the earth's crust, which allows lab-grown diamonds to be produced in a fraction of the time it takes to mine one. And while the diamond industry is committed to ethically-sourced stones, the system for creating a lab-grown diamond provides a conflict-free sourcing process.
Moissanite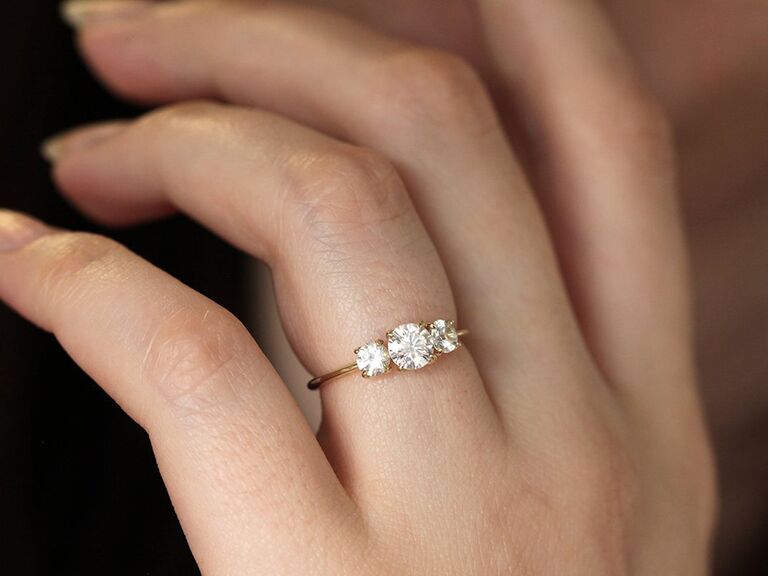 Capucinne moissanite engagement ring in 14K Yellow Gold, from $1,310, Capucinne.com
Looking for engagement ring alternatives that won't break the bank? Consider a moissanite engagement ring. Though it resembles a diamond, moissanite is actually a gemstone composed of silicon carbide. Since natural moissanite is incredibly rare, most of what's available today is lab-grown. Given their similar appearances, moissanite makes a great diamond ring alternative—especially for the budget-conscious couple. And according to The Knot 2019 Jewelry and Engagement Study, it's gaining popularity across the United States. Ten percent of those surveyed proposed with a ring that had a precious gemstone instead of a diamond. Of that, 19 percent proposed with a moissanite ring.
Salt and Pepper Diamonds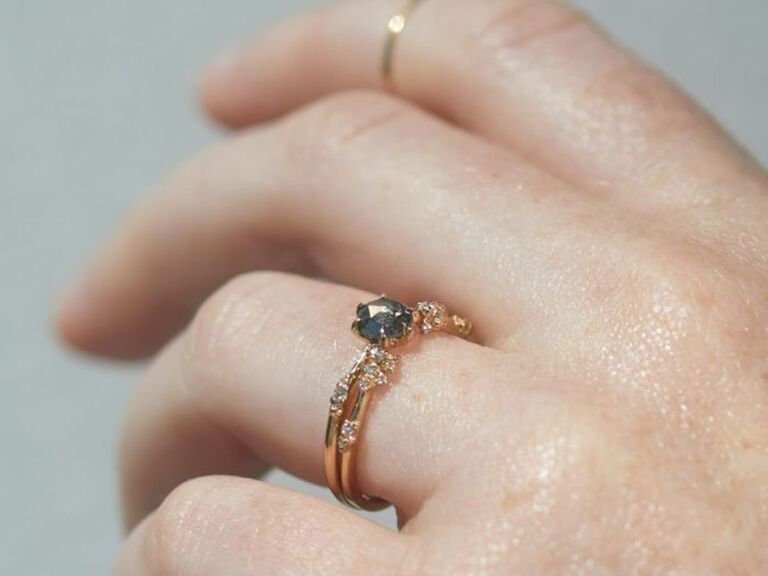 Laurie Fleming Ilona salt and pepper diamond ring in 14K Yellow Gold, $2,085, CatbirdNYC.com
Salt and pepper diamonds, also known as galaxy diamonds, are named for their grey, peppery appearance. While the stone itself is a true diamond, it has inclusions that cast a grey or black appearance within the stone. Each rock is different, meaning no two salt and pepper diamonds will have the same look. Some can look similar to a white diamond, with a barely-there gray shadow, whereas others can appear almost black. The verdict is that a salt and pepper diamond engagement ring is a great option for the person who loves to express their flamboyant personality.
Fluorescent Diamonds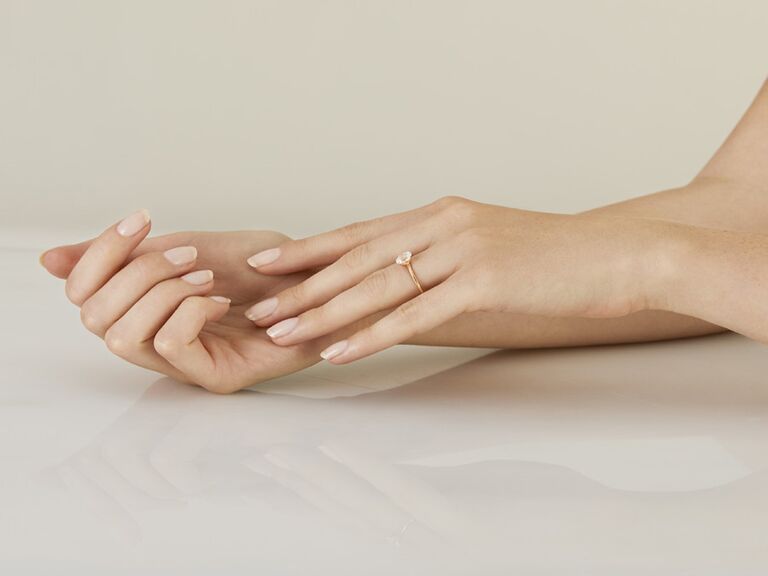 Taylor & Hart Demure oval diamond solitaire ring in Platinum, $825 for setting, TaylorandHart.com
While all diamonds have levels of fluorescence, some stones have a higher concentration than others. This can be seen when the diamond is exposed to UV light—a stone with a higher fluorescent level will emit a colored glow. However, it can be next to impossible to determine whether a diamond has a high fluorescent level with the naked eye. High fluorescence levels lower the cost of diamonds, making this a great alternative engagement ring idea for someone who loves to stand out from the crowd. Some retailers (like Taylor & Hart) allow shoppers to select their diamond's fluorescence level when creating an engagement ring online.
Alternative Engagement Ring Stones
Engagement rings aren't exclusive to white diamonds. Colored gemstones offer a personalized touch on the piece of jewelry they'll wear every day. Here are some of our favorite alternative engagement ring stones.
Morganite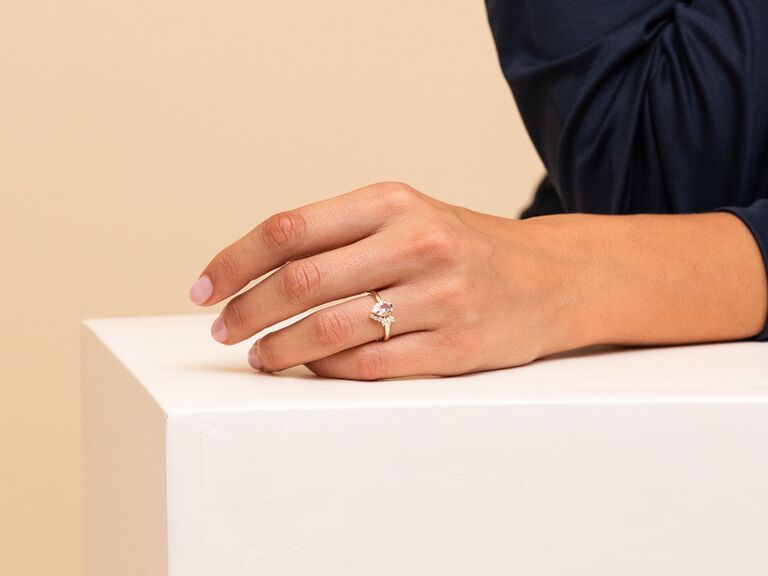 Mejuri pear cut ring in 14K Yellow Gold and Peach Morganite, $650, Mejuri.com
Shopping for a pink-lover? Consider getting them a morganite ring. This trendy gem can be found in a range of pink shades, from light peach to deep salmon. Its chemical makeup includes both aquamarine and emerald, and its color is long lasting; most morganite stones are heat-treated to remove yellow undertones and to preserve the blush tones. And given the fact that morganite is a mineral, it serves as a more affordable alternative to a diamond ring.
Sapphire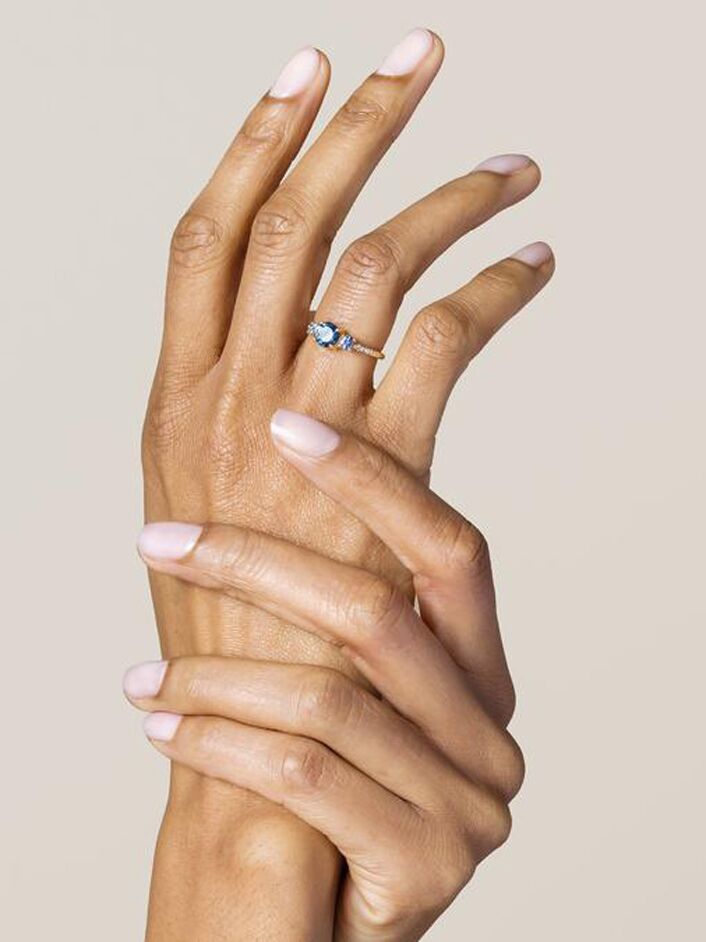 Mociun Orion sapphire ring in 18K Yellow Gold, $4,250, Mociun.com
Kate Middleton is partially responsible for the spike in popularity of sapphire engagement rings, and it's not hard to see why. The classic deep blue hue is strikingly elegant, making it a perfect option for the person who wants to break with tradition. But sapphires come in a range of hues beyond just blue, allowing you to expand your search for the perfect rock. They can also be found in pink, green, yellow, orange, purple and black shades.
Emerald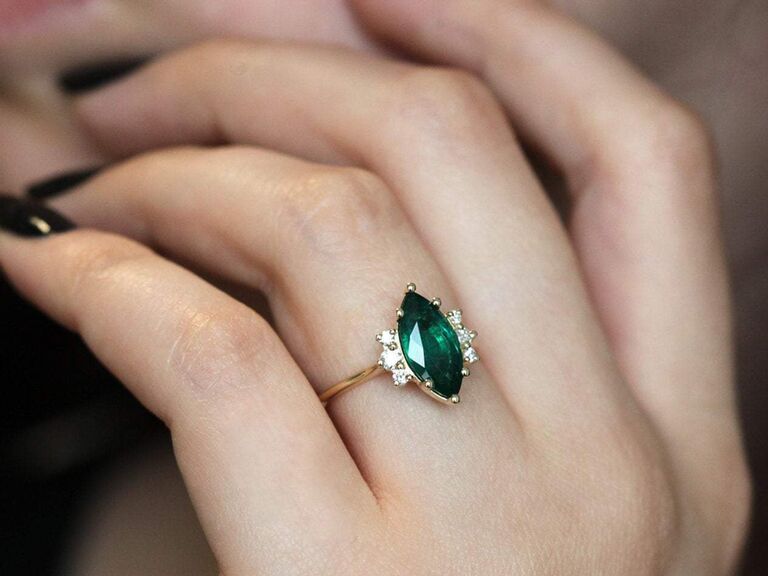 Capucinne Hillary marquise emerald ring in 14K Yellow Gold, from $2,750, Capucinne.com
Emeralds are more than just the birthstone for May: this precious gem would also make a great alternative engagement ring for someone who loves to stay ahead of the trends. While the green stone is slowly rising in popularity across the U.S., it's long been a symbol of elegance: John F. Kennedy famously proposed to Jackie Kennedy with an emerald engagement ring in 1953. However, it's important to note that emeralds typically have more inclusions than other gemstones, making them more prone to breaks or chips if bumped. If you do opt for an emerald engagement ring, a halo setting will help protect the stone more than a prong setting.
Ruby
Capucinne Hillary marquise emerald ring in 14K Yellow Gold, from $2,750, Capucinne.com
Red is the color of love, so why not consider proposing with a ruby ring? This striking gemstone will make a bold statement, perfect for someone who loves to wear eye-catching jewelry. It's also one of the toughest precious gemstones, making it a durable alternative engagement ring idea.
Pearl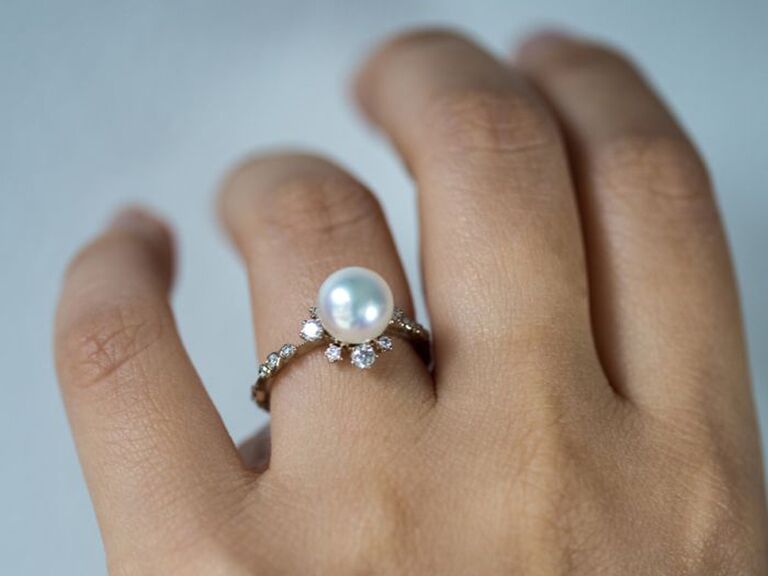 Kataoka Winter pearl ring in 18K Yellow Gold, $4,780, CatbirdNYC.com
Timeless and elegant, a pearl engagement ring is a great alternative engagement ring option for someone with preppy style and classic taste. Although they're rare—just one percent of respondents from our survey proposed with a pearl engagement ring—it's a great piece of jewelry for the person who likes to challenge tradition.
Alternative Engagement Jewelry
Diamonds and gemstones aren't fit to everyone's taste, and that's okay. There are plenty of alternative engagement ring ideas that you can use in your proposal that would hold just as much meaning. From engagement watches to eternity bands, these fresh ideas are perfect for the modern couple.
Eternity Band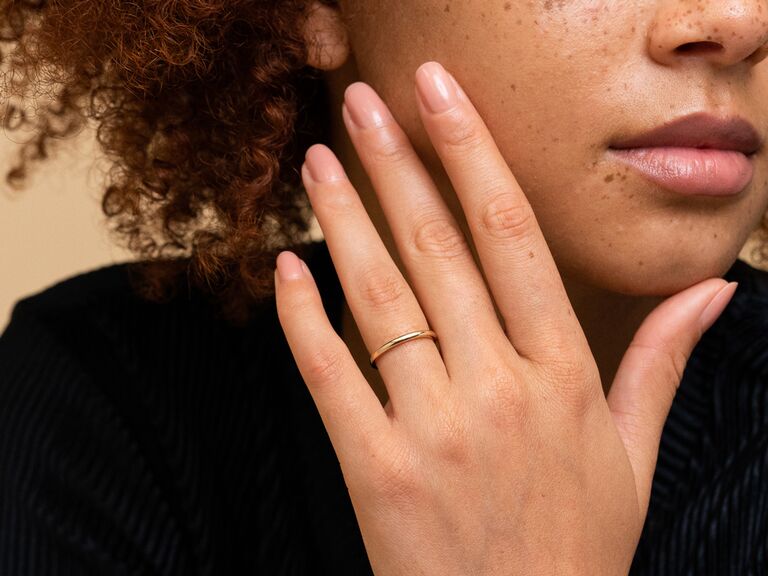 Mejuri thin band in 14K Yellow Gold, $215, Mejuri.com
If your significant other has simple tastes, a plain eternity band might be more their style. Ditch the traditional shiny diamond or gemstone, and instead consider purchasing a solid gold or platinum band that they can wear every day.
Watch
MICHELE Watches Deco Madison mid stainless-steel diamond watch, $2,095, MICHELE.com
A luxury watch is a timeless piece that will get plenty of daily use. If your partner doesn't prefer to wear rings, you can keep the symbolism of an engagement gift by proposing with a watch instead.
Necklace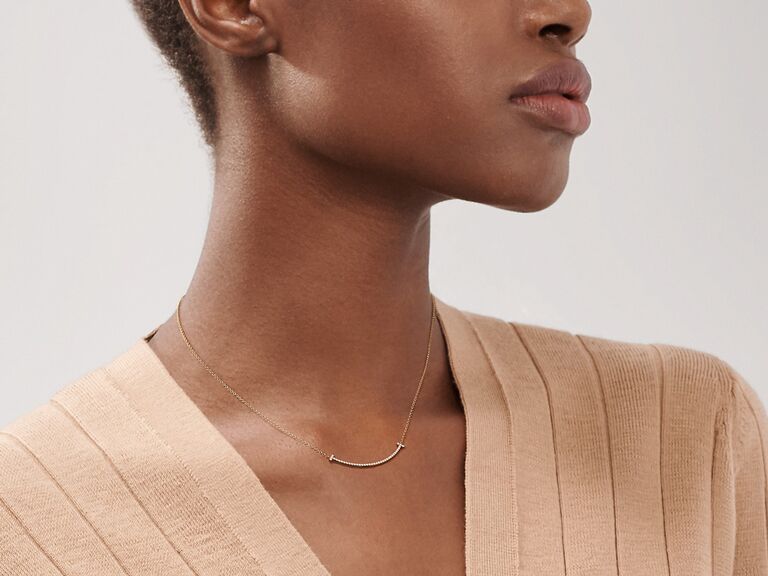 Tiffany T Smile pendant in 18K Yellow Gold, $2,200, Tiffany.com
A necklace can have just as much significance as an engagement ring. Consider purchasing a luxury diamond necklace in lieu of the traditional jewelry. Or, for a sentimental touch, gift them a design with your initials added as letter charms. They'll love the sweet gesture.
Bracelet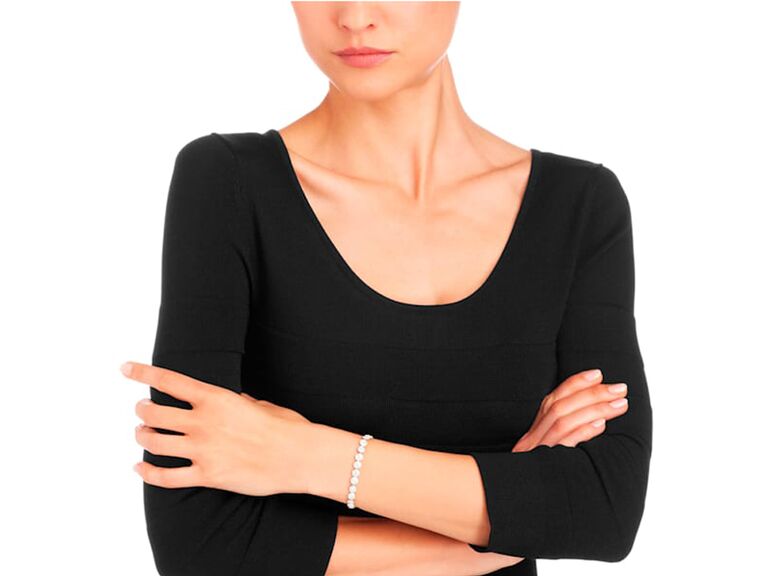 Swarovski Angelic bracelet in White, $185, Swarovski.com
Classic bracelets never go out of style, making them a great diamond ring alternative for your proposal. A dainty tennis bracelet or sentimental charm piece would serve as an equally special piece of jewelry that they can show off every day.
Men's Engagement Ring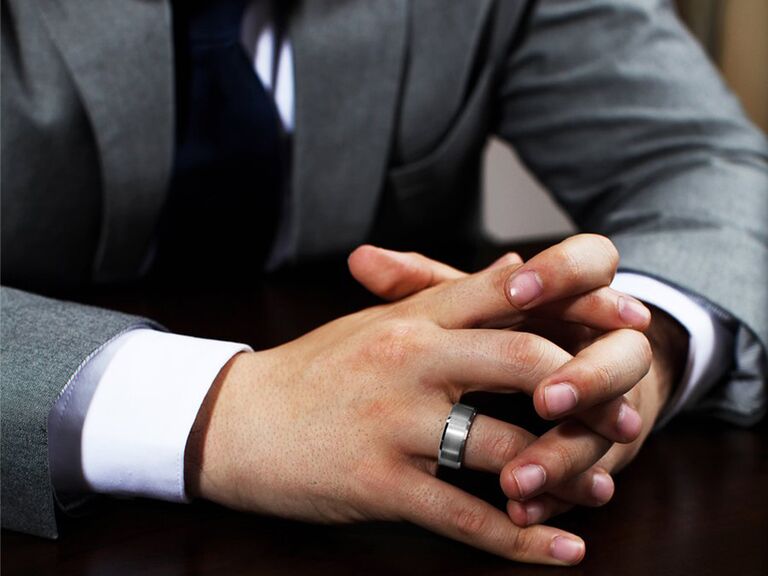 Band and Vow The Shire titanium ring, from $115, BandandVow.com
Yes, men can wear engagement rings too. While it's a trend on the rise in the U.S., male engagement rings are seen as traditional in other parts of the world. When it comes to specific styles, the type of band (as well as where it's worn) is up to your discretion.