Do Men Wear Engagement Rings? Definitely
Learn all about male engagement rings—and shop for a style he'll love.
We have included third party products to help you navigate and enjoy life's biggest moments. Purchases made through links on this page may earn us a commission.
We'll happily be the first to tell you: There's no one "right" type of engagement ring. Our team is all about celebrating your engagement your way, whether that's with a sparkly diamond bauble, an alternative ring or something else altogether. On that note, it should go without saying that engagement rings are for anyone and everyone who wants one. Male engagement rings? Totally a thing, and something we fully support—learn all about them here.
In this article:
Do men wear engagement rings?
Do guys have to get engagement rings? No, just like women don't. It's fine if one or both partners wants to skip the jewelry altogether, as long as they're both aligned. But can men wear engagement rings? Absolutely! Grammy-winning pop star Ed Sheeran made waves when he announced he was wearing a men's engagement ring. While the singer certainly brought attention to male engagement rings, he's definitely not the only example of men wearing engagement rings.
According to The Knot 2019 Jewelry and Engagement Study, 7% of all men recieve and/or wear an engagement ring. Roughly 6% of men in heterosexual relationships reported receiving one, while 49% of male same-sex couples exchanged one engagement ring (and 40% exchanged two). We'd venture to guess that male engagement rings will only gain traction as couples in the United States continue breaking with (and making) tradition.
Meanwhile, in some places outside of the US, male engagement rings are considered traditional. In Chile and Argentina, for example, it's common for both men and women to wear rings after getting engaged.
How should a man wear his engagement ring?
In the US, women tend to wear their engagement ring on their left ring finger. In turn, it also makes sense as the engagement ring finger for men. But again, what's considered traditional can depend on the wearer's cultural roots. In Chile, for example, rings are worn on the right hand prewedding and on the left postwedding.
At the end of the day, it's all about preference. If a guy chooses to wear an engagement ring and a wedding band, he might not want them stacked on the same finger depending on their size and style. He could move one to a different finger on the same hand or the other hand—the choice is really his. Then there are men who don't like wearing any rings at all—or can't wear them because they aren't compatible with their job or lifestyle. In that case, there's always the option of stringing the band(s) onto a necklace (a choice some women make too). In addition, there's also an up-and-coming male engagement ring alternative: an engagement watch.
As for where to wear it? Anywhere and everywhere (except for maybe at the beach or gym...). Like women's engagement rings and wedding bands, male engagement rings are a symbol of commitment that tell the world they've found their person. Even if someone doesn't realize your men's engagement ring is just that—an engagement ring—you'll know, and that should give you the warm and fuzzies. If the thought of wearing an engagement ring doesn't appeal to you, that's okay! But we recommend having an honest conversation about it with your partner—preferably before they buy you one.
How is it different from a men's wedding band?
In terms of meaning, it's the same as the difference between women's engagement rings and wedding rings: One says, "I'm getting married," while the other signifies you're already married. (And, while we're explaining all of the rings, you might as well learn the difference between both of these and promise rings.) Some women and men choose just one ring to symbolize their union, in which case the wedding band or engagement ring doubles as the other. But men and women alike are welcome to don both.
In terms of style, the lines are a little blurred. Like women's engagement rings (and wedding bands, for that matter), some men's engagement rings have gemstones, while others are simple eternity bands. If you're struggling to find jewelry labeled specifically as a male engagement ring, don't be afraid to buy something marked as a men's wedding ring instead. Honestly, most designs work for either purpose.
How much does a male engagement ring cost?
The national average cost of an engagement ring is $5,900, but averages always paint an imperfect picture. Prices depend on everything from design to the region you're shopping in. Regardless, we've found that male engagement rings tend to be cheaper than women's engagement rings. That's because they're often less decked out in diamonds and other stones, if they have any at all. Of course, nothing's stopping you from buying or wearing a men's diamond, sapphire or emerald engagement ring! Just know that precious gems will up the price. The average cost of a men's wedding ring is $510, which gives a sense of what simpler bands go for.
In actuality, men's engagement rings can cost anywhere from less than 100 bucks to thousands of dollars. Decide on a budget, factor in any necessary insurance, and try to stick to it. If you're buying your guy an engagement ring to reciprocate a proposal, like the 7% of couples who opt for dual proposals according to our engagement study, you may feel inclined to buy him something similar in price to whatever he got you. Some people go this route as a show of equality, but it isn't mandatory—especially if it's stressing you and your bank account out.
In any case, don't be afraid to talk about an engagement ring budget with your future spouse. In fact, setting guidelines for big purchases is an important part of a healthy relationship. This can help set expectations on both ends.
What are the best male engagement rings?
Ready to buy your guy an engagement ring? There's no "best" male engagement ring—just the best one for him. Before you take the plunge, think about his lifestyle, personality and taste. What kind of men's engagement ring would he feel most comfortable wearing? What goes best with his style? Does he have hobbies, a career or allergies that put certain types of materials off limits? (Silicone wedding rings can be very helpful to consider for these reasons.) Does he plan to wear a wedding ring too? (If yes, try to find something that can coordinate with—but won't look too similar to—a future band.) Use those things, plus his ring size, to guide your purchase. Need some inspiration? These are just a few of our favorite engagement rings for him at the moment, based off the most popular types of male engagement rings.
Men's Diamond Engagement Ring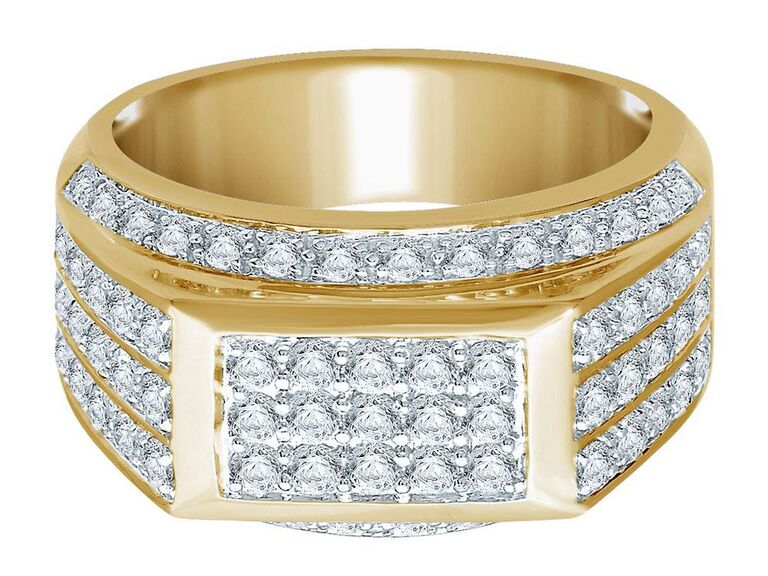 Get your man a diamond engagement ring that's just as bold as he is. If he's all about living the high life, this piece will make him feel like a superstar.
Helzberg Diamonds men's 1 1/2 ct. tw. diamond band in 14k Yellow Gold, $3,299, Helzberg.com
Men's Gold Engagement Ring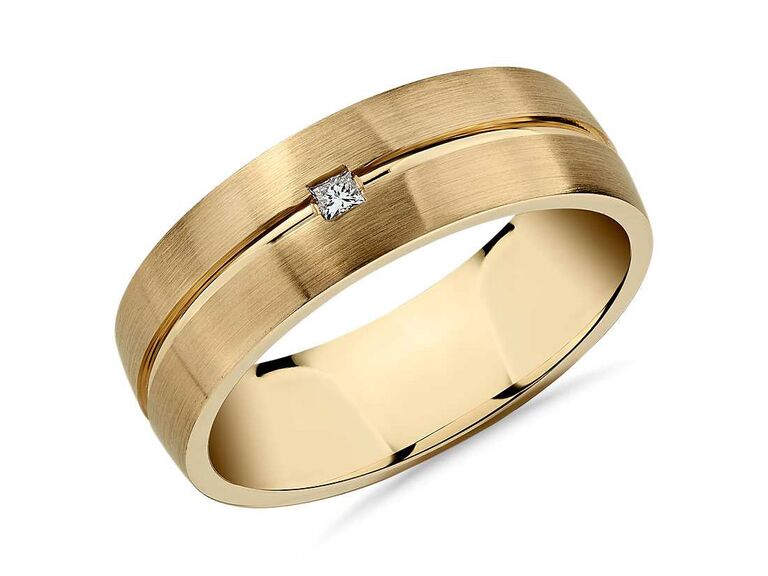 Men's diamond engagement rings and men's gold engagement rings are two of the most searched-for styles—this band combines both design elements. The stone is subtly accentuated by a fashionable center stripe.
Blue Nile single princess diamond and high polish inlay band in 14k Yellow Gold, $1,790, BlueNile.com
Men's Black Engagement Ring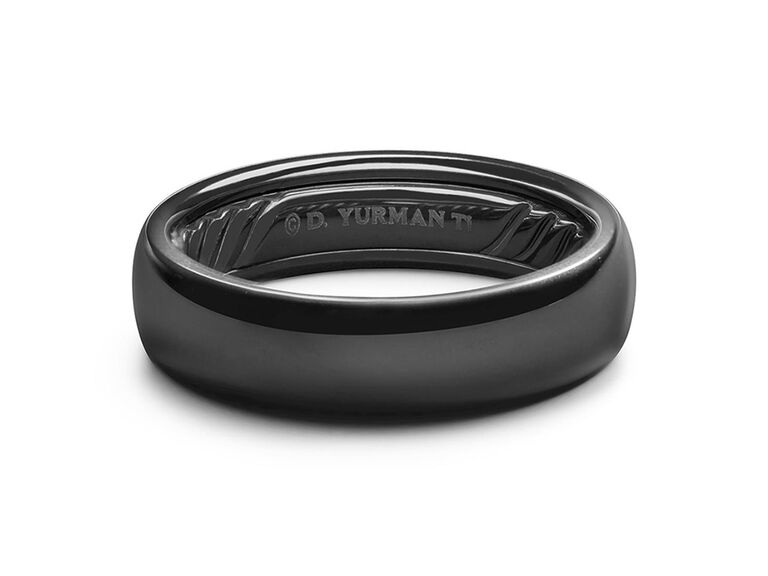 This dapper black titanium ring is perfect for the guy who wants a subtle engagement ring.
David Yurman classic titanium band in Black Titanium, $375, Nordstrom.com
Men's White Gold Engagement Ring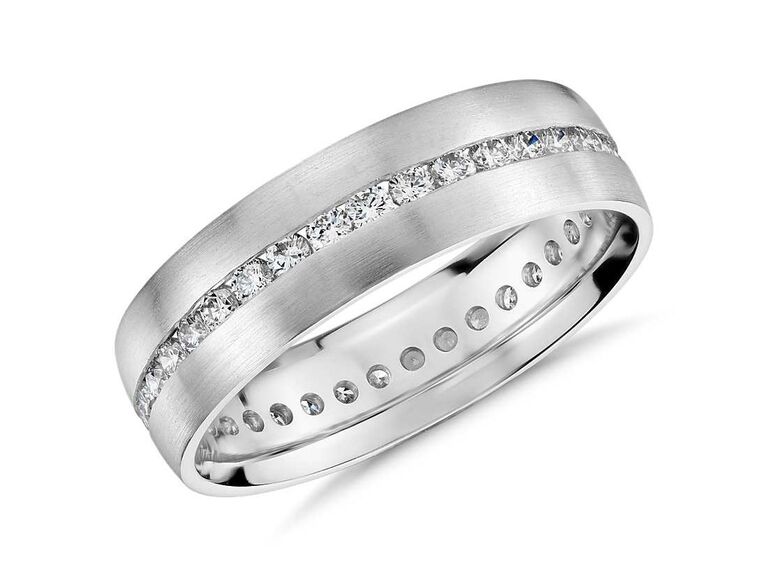 This male engagement ring combines classic white gold with a center band of diamonds. If he prefers something edgier, swap in black diamonds.
Blue Nile channel-set diamond eternity ring in 14k White Gold, $2,290, BlueNile.com
Men's Rose Gold Engagement Ring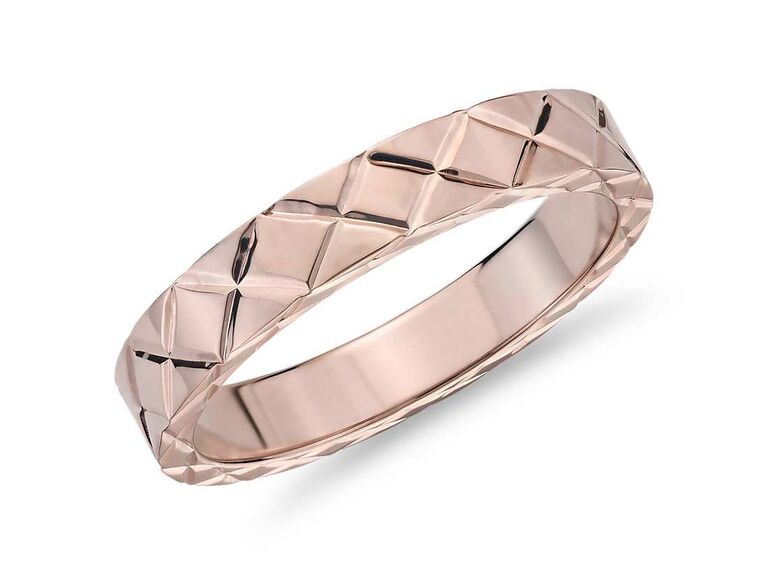 Rose gold is here to stay, as evidenced by this luxurious band. The engraved finish is unique, as well as being easy on the eyes.
Blue Nile hand-engraved criss-cross ring in 14k Rose Gold, $790, BlueNile.com
Men's Wood Engagement Ring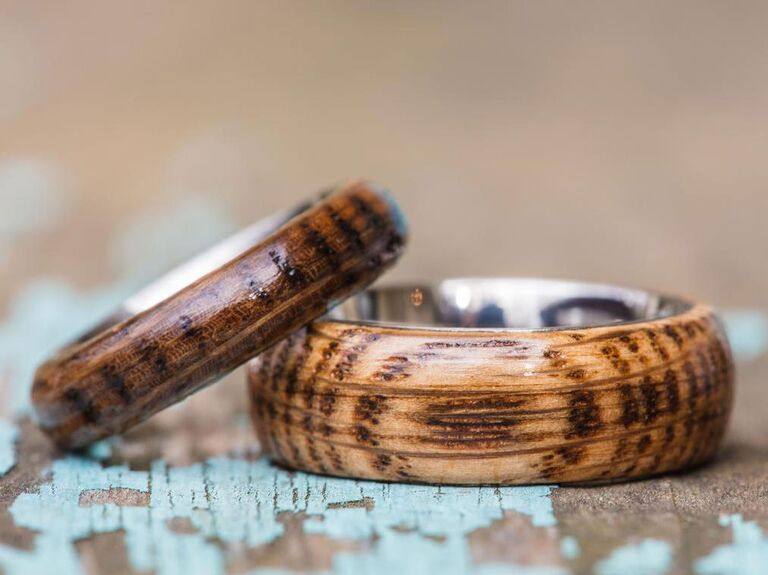 On the hunt for unique men's engagement rings? Etsy is the place to look. Sellers make some seriously cool pieces, from this wooden band crafted from reclaimed whiskey barrels to a popular glow-in-the-dark ring (that looks surprisingly elegant). Find something that honors his interests to show him just how well you know him.
Hawkins Handicrafts Tennessee whiskey barrel and titanium ring, from $160, Etsy.com
Men's Tungsten Engagement Ring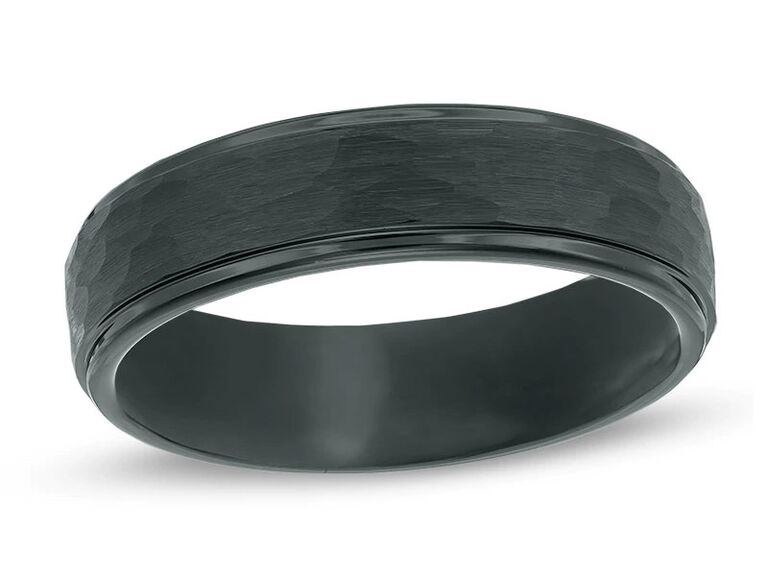 Searching for a sleek band? Try this unisex black engagement ring, made from smooth tungsten carbide—a super-strong, sturdy and trending male engagement ring material.
Zales men's Triton 6.0mm comfort fit hammered black tungsten band, $229, Zales.com
Men's Silicone Engagement Ring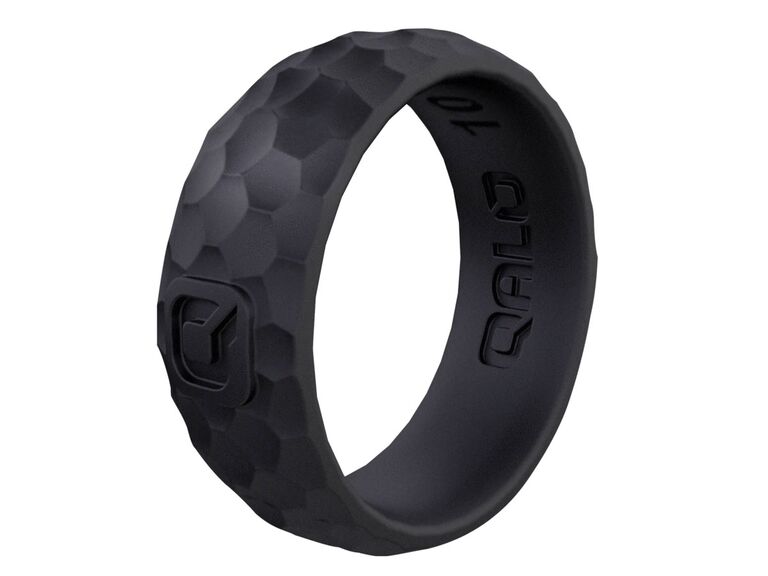 If your guy can't wear a metal engagement ring on the regular, we have the answer. QALO makes silicone engagement rings for men and women that are durable, non-conductive and flexible (to prevent injury), all at a low price point. They're great on their own or gifted alongside a more formal male engagement ring—that way, he can swap it in whenever he needs to. Choose from tons of different styles and patterns (including rings that honor service members). Or bookmark the brand for your wedding bands.
QALO men's classic Forged silicone ring, $30, QALO.com
Men's Gemstone Engagement Ring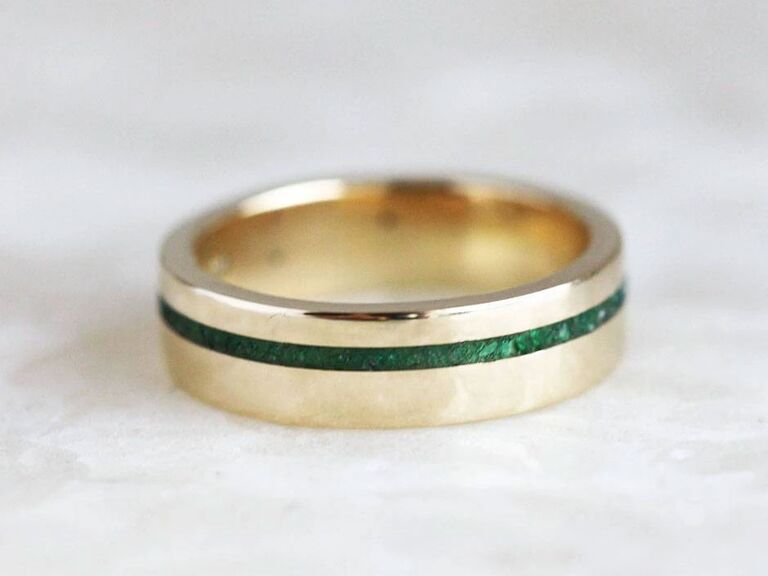 If he wants an engagement ring that stands out, he'll appreciate the crushed emerald inlay of this engagement band. The made-to-order men's engagement ring comes in three different metals: yellow gold, white gold or rose gold.
Capucinne Yuri mens band for him, from $1,200, Capucinne.com
Men's Textured Engagement Ring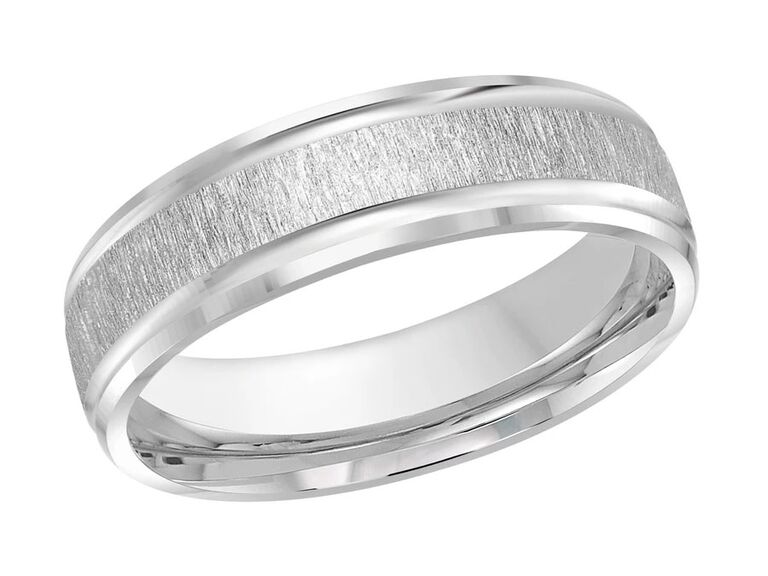 This classic beveled band is elevated with a chic sandpaper finish, for an engagement ring that'll look good with anything he wears.
Ritani 6mm sandpaper-finish beveled edge ring, from $1,145, Ritani.com