The 99 Absolute Best Engagement Photos We've Ever Seen
These engagement pictures are epic, full stop.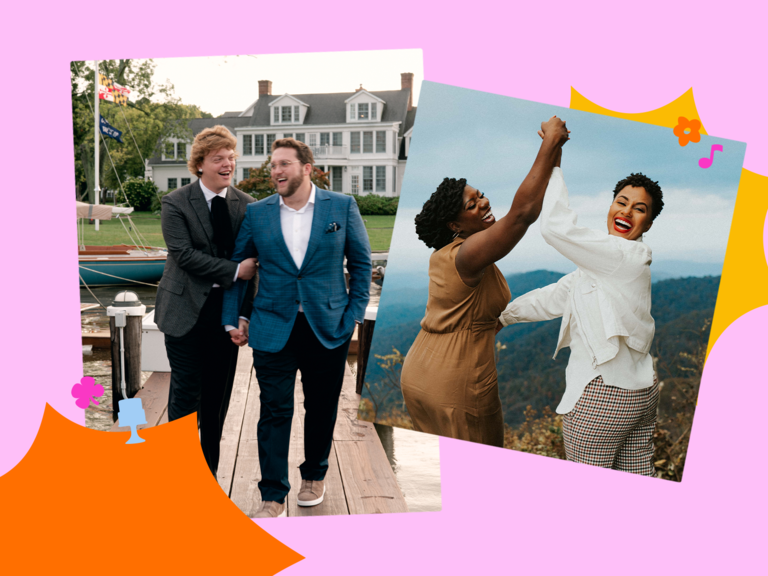 Photos from left to right: Abby Jiu Photography, Ellie McKinney Photography,Collage: Tiana Crispino
We get it—some wedding planning tasks are less fun than others. But one of the most exciting tasks you can look forward to is getting creative with engagement photo ideas. Amid the hustle and bustle of wedding planning, it's important that you don't forget to date your partner and simply enjoy their presence. Relaxing with help from these engagement picture ideas is a great way to do just that, plus they look great on save-the-dates. What are you waiting for? Peruse our favorite wedding engagement photoshoot ideas below and save the creative engagement photos that pique your interest to show your expert photographer.
In this story:
Expert Advice on Choosing Engagement Photo Ideas
To help you get the most out of your engagement photo ideas, we tapped three expert wedding photographers to share their inspiration. Wedding Pro educator Terri Baskin is the Virginia-based owner of Terri Baskin Photography with more than a decade of experience in the industry. And Jenny DeMarco of Jenny DeMarco Photography is based in Texas and has more than 14 years of experience. In short, these three pros know quite a bit about engagement photoshoot ideas to get your creative juices flowing.
"Engagement shoots are important because they allow the couple to spend time getting to know their photographer prior to the wedding day. Photographers are the one vendor that is with the couple the longest on the wedding day, so it's important that the chemistry is right so that the couple can relax and get the most authentic images," explains Baskin. "Engagement photo shoots really allow you to practice and get comfortable in front of the camera and with your photographer. They give you an opportunity to see what you like and dislike to make adjustments before the big day," says wedding photographer Jenny DeMarco, owner and lead photographer of Jenny DeMarco Photography.
Unique Engagement Photo Ideas
If you're having a hard time deciding where you want your engagement photos taken, think about your favorite hobby or pastime as a couple, or even what you did on your first date. Baskin is a fan of unique engagement photos and reminds couples that "above all, this is your experience so have fun while taking great photos!" Don't be afraid to let loose while capturing non-traditional engagement photos, like the ideas below.
1. Engagement Ring Close-Up Picture Idea
To be truly unique, think beyond portraits for your engagement photo inspiration. Jewelry, more specifically your engagement rings, shouldn't be overlooked when planning your engagement shoot. After all, this ring is what started everything. Ask your engagement photographer to snap a few pics of your engagement ring during your session.
2. Modern Art Installation Engagement Photo Idea
Calling all art lovers, this engagement photo inspiration is for you. At this shoot, the sunlight caught a dramatic art installation perfectly, bringing a stunning glow to the capture.
3. Sporty Winter Engagement Photo Idea
Thinking about winter outdoor engagement photos? Ski-bunnies, hit the slopes with your significant other to capture winter wonderland engagement photographs.
4. Summer Sailboat Engagement Picture Idea
For a unique summer engagement photo shoot, hit the high seas. Celebrate your nautical interests with engagement pictures taken on a boat.
5. Festive Happy Hour Bar Engagement Photo
Cheers to the to-be-weds. If you and your significant other love craft cocktails then hit up your go-to watering hole to toast to your engagement in a unique way.
6. Champagne Engagement Photo at Vineyard
It's time to pop the champagne. Instead of going to a bar, vino lovers may consider visiting their winery of choice to capture outdoor engagement photos.
7. Indoor Engagement Photo With Wine
Of course, you don't even need to leave home to toast to your relationship. This couple decided on doing their engagement photos indoors—they cozied up with a bottle of wine for their at-home engagement photo shoot.
8. Mountain Hiking Engagement Photo Idea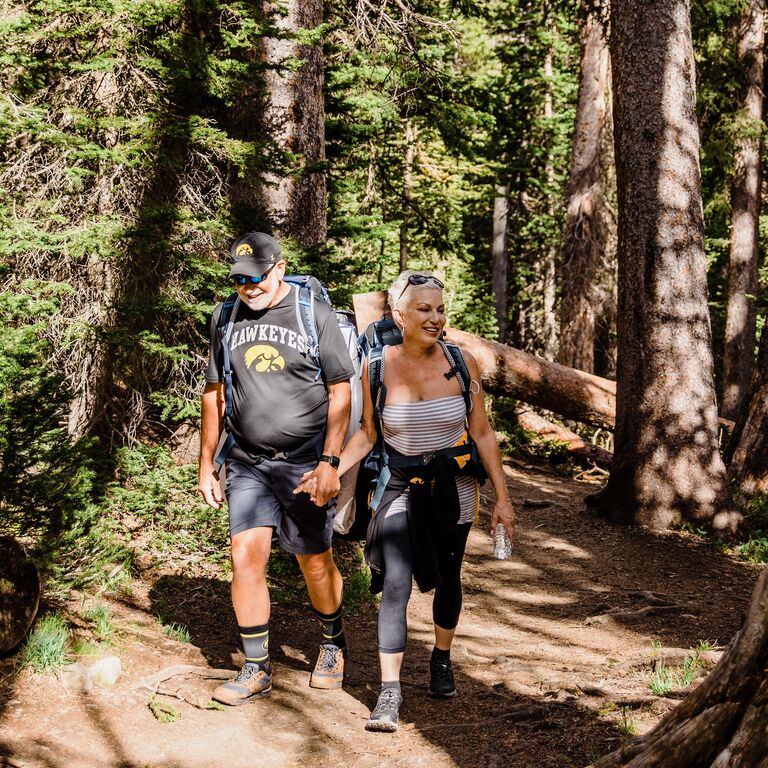 John Muir said it best: "The mountains are calling and I must go." Who can argue with that logic for mountain engagement photos? If you and your partner are a fan of the great outdoors, consider hitting up the Rocky Mountains like this couple did for their Colorado mountain engagement photo shoot.
9. Unique Idea for Engagement Photos With Hat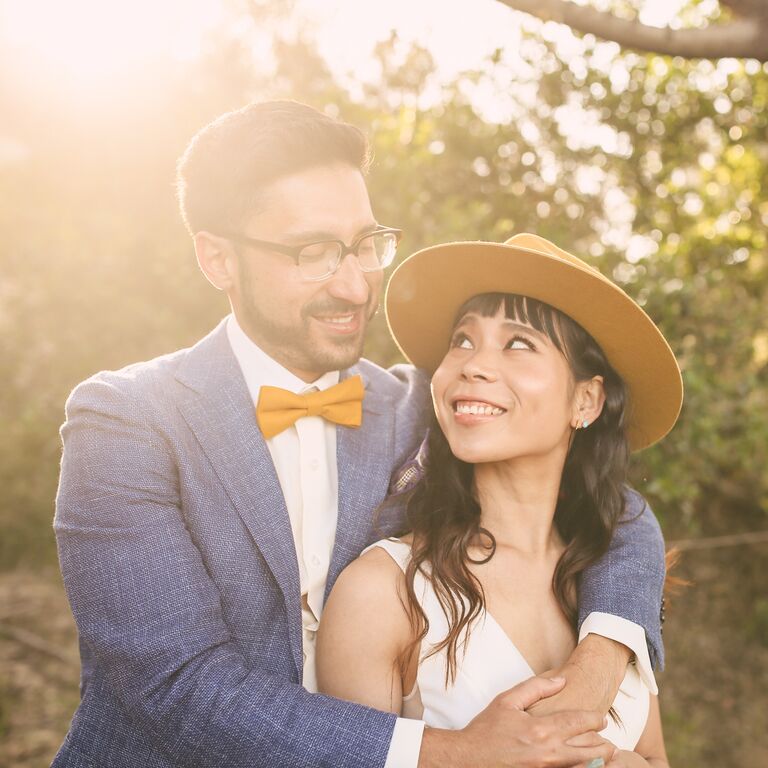 When it comes to unique engagement photos, a key element is attire. Your fashion doesn't have to be stiff and boring. Instead, opt for a unique engagement photo outfit that includes a fun hat or bowtie.
10. Relaxed Boat Engagement Photo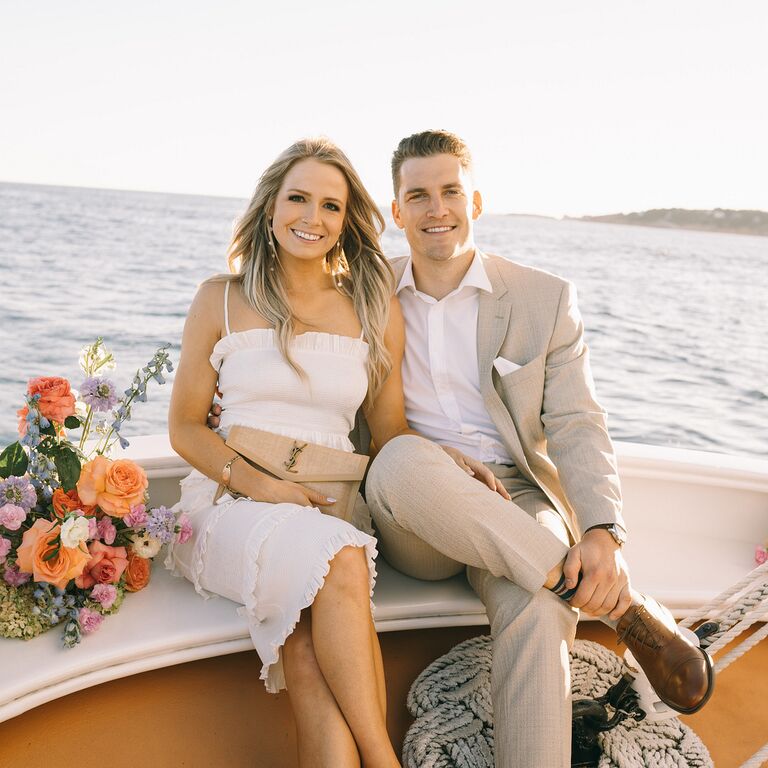 A surefire way to guarantee you get unique engagement photos is to focus on a hobby you enjoy and celebrate that. For this couple, a love of the Nantucket coastline brought them engagement photos on a boat.
11. Destination Engagement Photos on a Cliff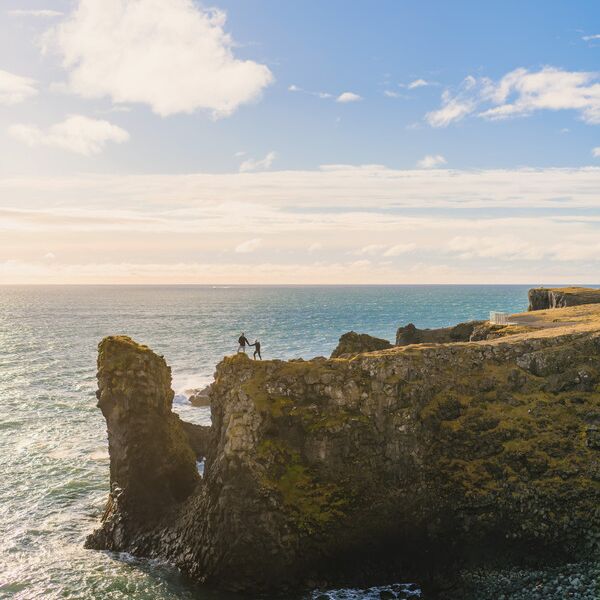 I don't even know this couple personally but I want their epic cliff engagement photo framed on my wall. Talk about a unique (and memorable!) setting for wedding engagement pictures.
12. Hiking Engagement Photos in Iceland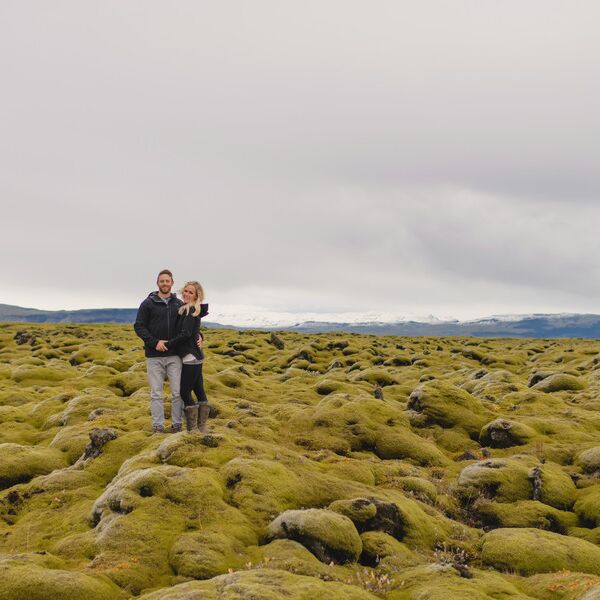 BRB, I am booking a trip to Iceland stat. How cool is this unique idea for Iceland engagement photos?
13. Rustic Engagement Photos in Unique Setting
Yee-haw, it's time for rustic barn engagement photos. Want to get inspired even more rustic Western engagement photos? We've gathered our faves below.
14. Iconic Leather Rustic Engagement Photo Outfits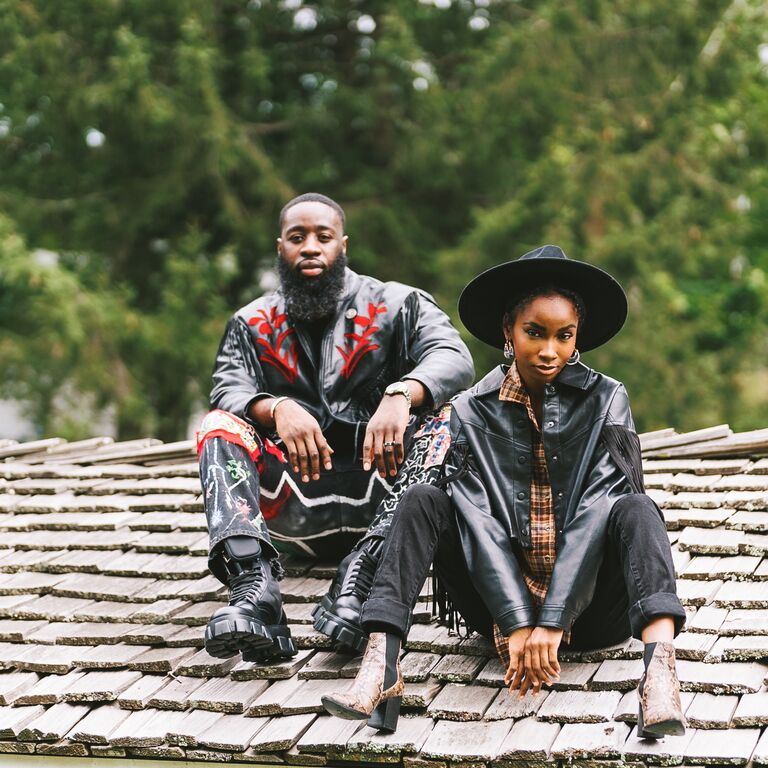 Half the battle with a unique engagement photo session is the fashion decision. Take a cue from this couple (content creators Aïssata Diallo and Ali Camara) who rocked black leather 'fits we're obsessed with.
15. Fun Bike Engagement Photo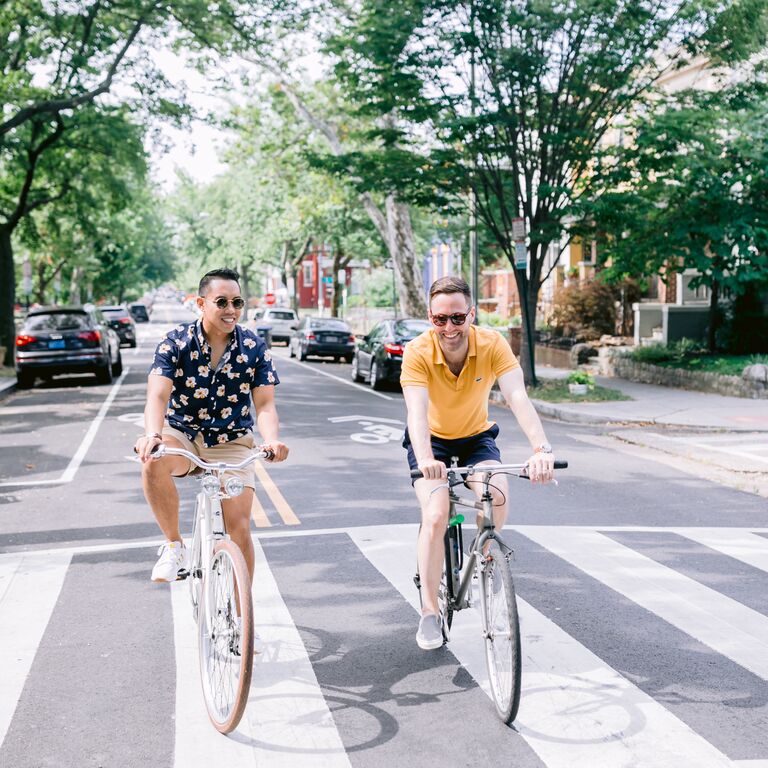 I love how this couple creatively tapped into an activity that's part of their everyday life: biking. When it comes to props and poses for fun engagement photos, don't overthink it. Leaning into everyday hobbies and activities is a winning option.
16. Creative Engagement Photo With Cultural Attire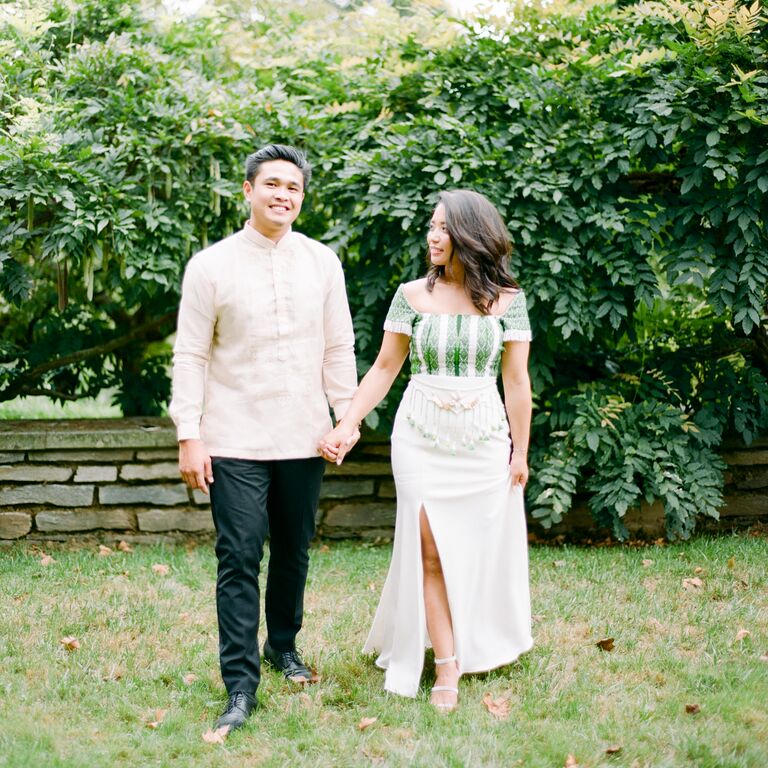 For their portraits, this couple honored their Filipino and Mizo heritage. Honoring cultural traditions is a beautiful option for both an engagement photo shoot and the wedding day.
17. Nautical Engagement Photo on Boat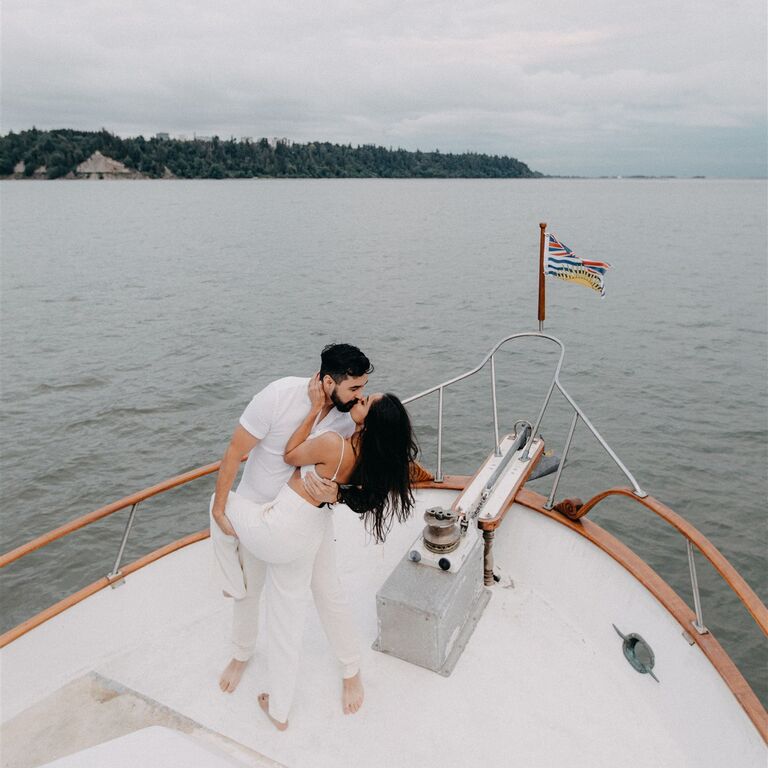 If you live near the ocean, take inspiration from this nautical engagement photo. A sunset sail on the water is a creative idea to help you get the best engagement photos possible.
18. Jumping on the Bed At-Home Engagement Photo
You're getting married—that's reason enough to jump for joy. Your engagement photos will likely end up displayed in your house, so why not also have them taken with an in-home engagement photo session?
19. Fun Engagement Photo With Bright Background
Looking for great places to take engagement photos in New Jersey? I'm partial to the murals of Asbury Park, seen here. A colorful mural backdrop added to this couple's palpable joy.
20. Joyful Field Engagement Photo at Sunset
You're going to want to immediately bookmark this dancing engagement photo idea. Dancing with your significant other in a field on a warm summer night—we can think of few activities that sound more fun than this.
21. Dim Sum Restaurant Engagement Photo Idea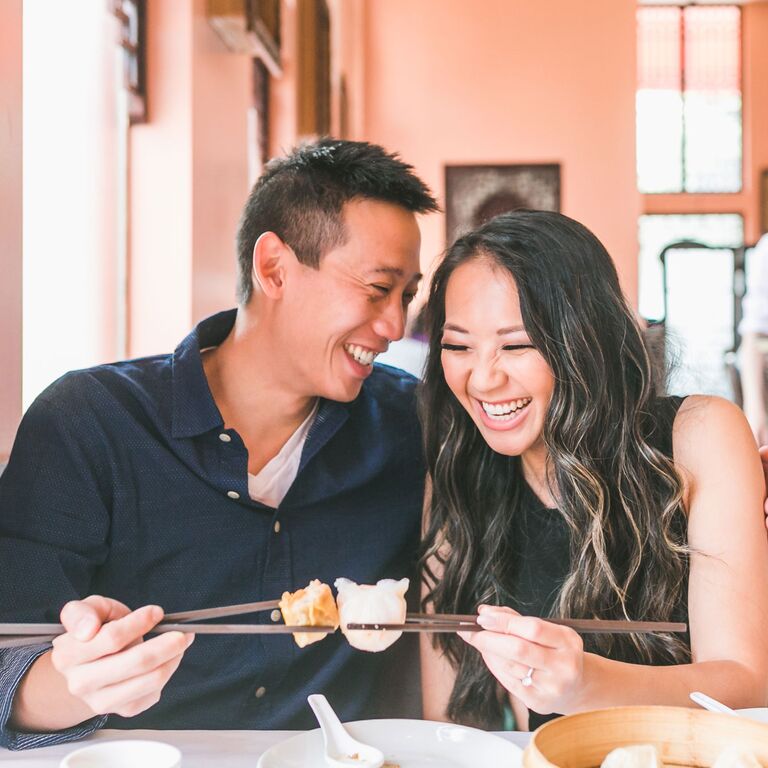 Maybe one of your favorite activities as a couple is to grab dim sum at a local NYC eatery. Visit the restaurant and snap a few pics to commemorate your go-to dinner date.
22. Music-Inspired At-Home Engagement Photo on the Couch
Take note of this music-themed engagement photo. If collecting vintage vinyls is your hobby of choice, ask your engagement photographer to highlight your love of music.
23. Art Museum Engagement Photo at The Met
Art lovers, head to your favorite museum to snap engagement photos. Museums typically have absolutely amazing architecture that can serve as a great photo backdrop. The natural light at The Metropolitan Museum of Art in New York City, seen here, is totally dreamy.
24. Sunset Engagement Photo in the Mountains
Sunset? Check. Mountains? Check. This picture is the perfect example of how to capture a stunning engagement photo you'll cherish for years to come.
25. Amazing Rustic Engagement Photo Outfits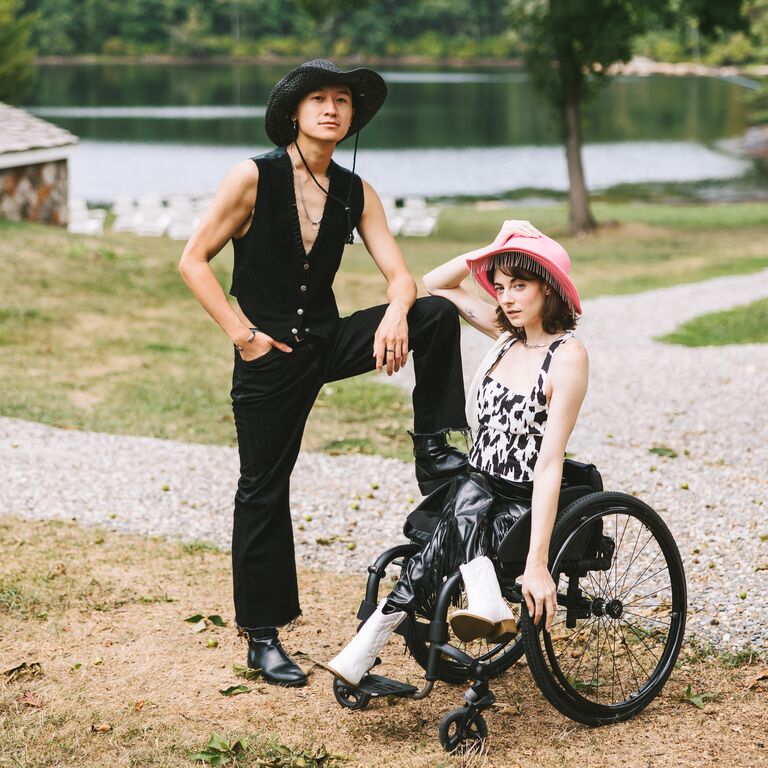 Looking for rustic country engagement photo ideas? This duo (influencer Bri Scalesse and her partner Sheldon Nguyen) went all out for their cowboy engagement photos. Not only were there on-theme hats and boots, but the Western engagement photos even included cowhide print.
26. Golden Gate Bridge Engagement Photo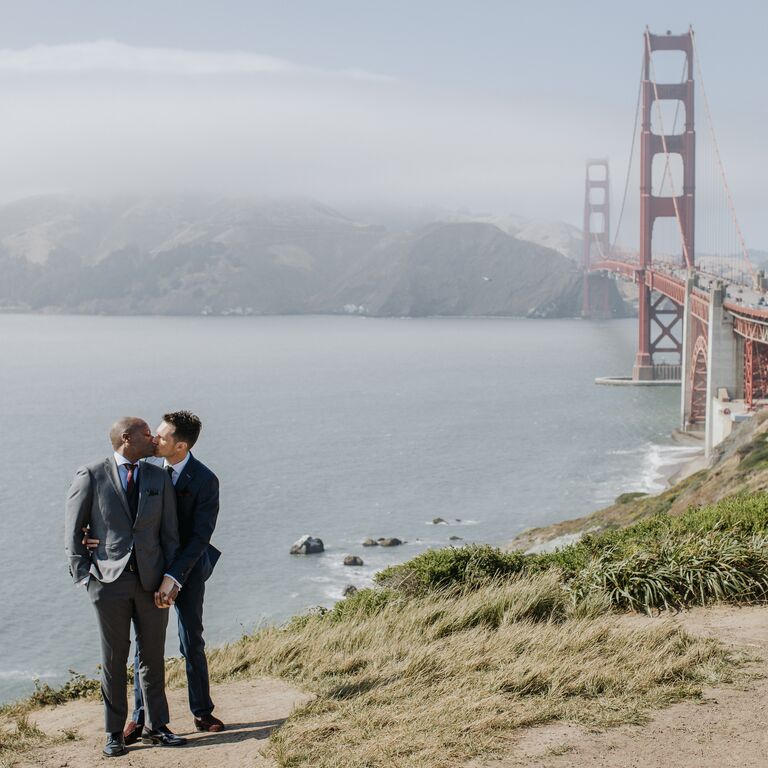 This spot should be on our list of engagement photo locations in San Francisco. If you're planning to snap San Francisco engagement photos, this is your sign to high-tail it over to Golden Gate Park.
27. Unique Black Dress Engagement Photo
How amazing is this bride-to-be's long flowy dress for engagement photos? If you're planning an edgy, moody wedding you could snap some equally dramatic engagement photos to use on a save-the-date as a peek at what's to come.
28. Cozy Engagement Photo at Home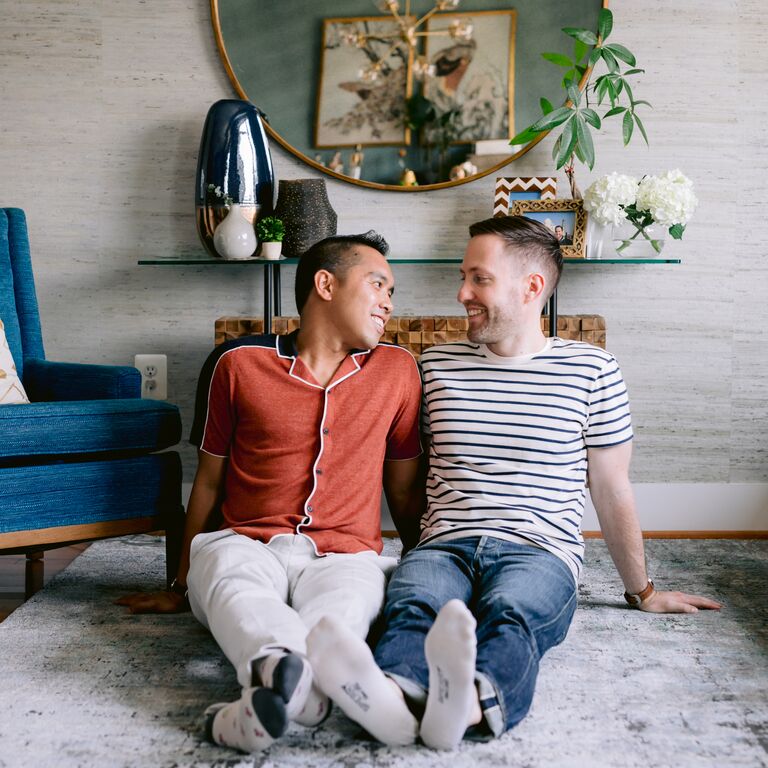 You don't have to travel far away to capture the best engagement photos—this indoor engagement photo idea is proof. This couple spent a relaxed afternoon in their apartment so their expert photographer could capture them in their natural environment.
29. Formal Engagement Photos in Washington, DC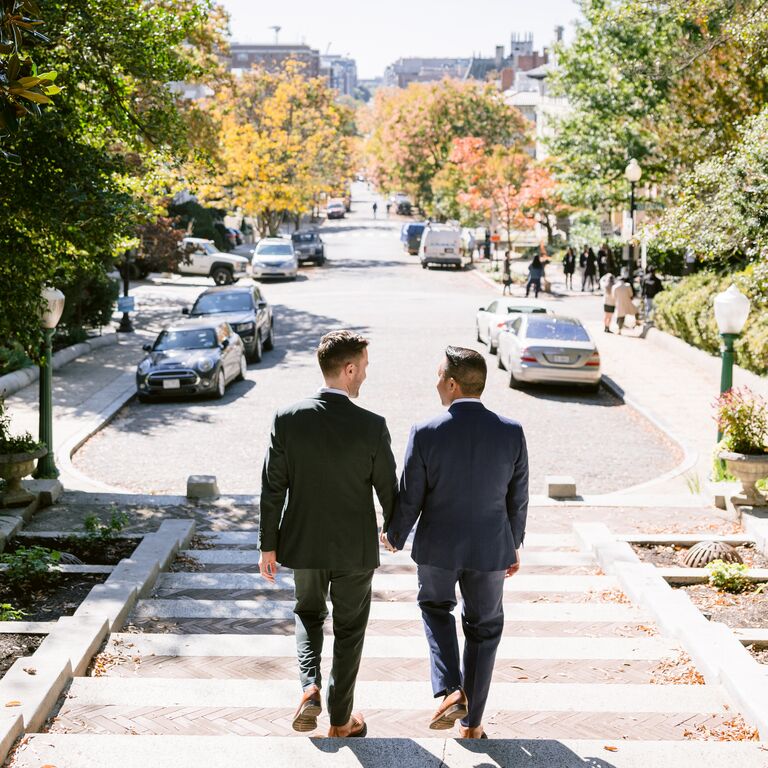 Historic landmarks, iconic architecture—Washington, DC, engagement photos are always a good idea. This couple donned suits for their portrait session to match the regal feel of their chosen location.
30. Cool Engagement Photo Idea With Cocktails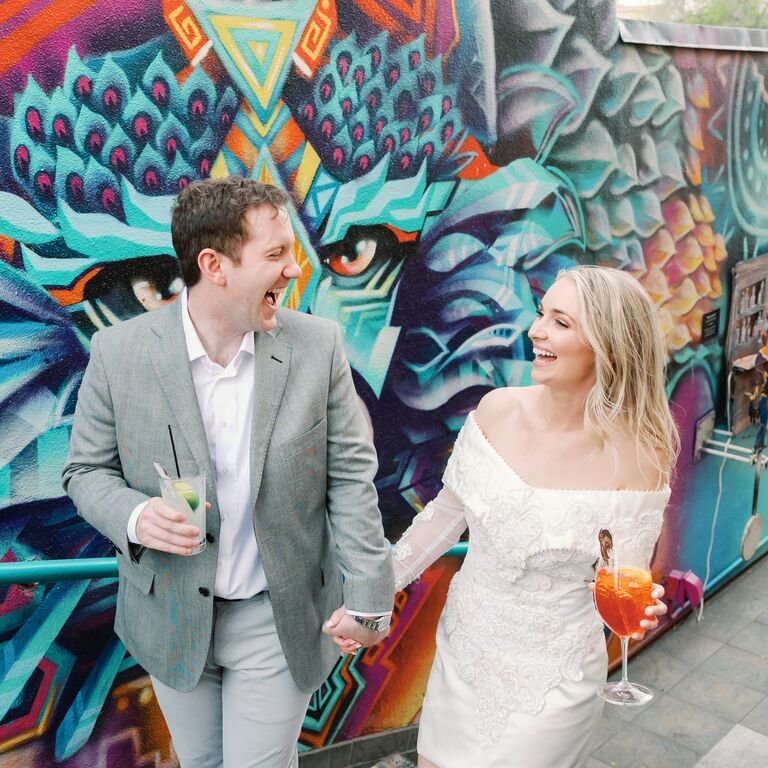 A simple, but awesome, engagement photo shoot idea? Bring your photographer along on a date night to your favorite bar.
31. Timeless Black-and-White Engagement Photo Idea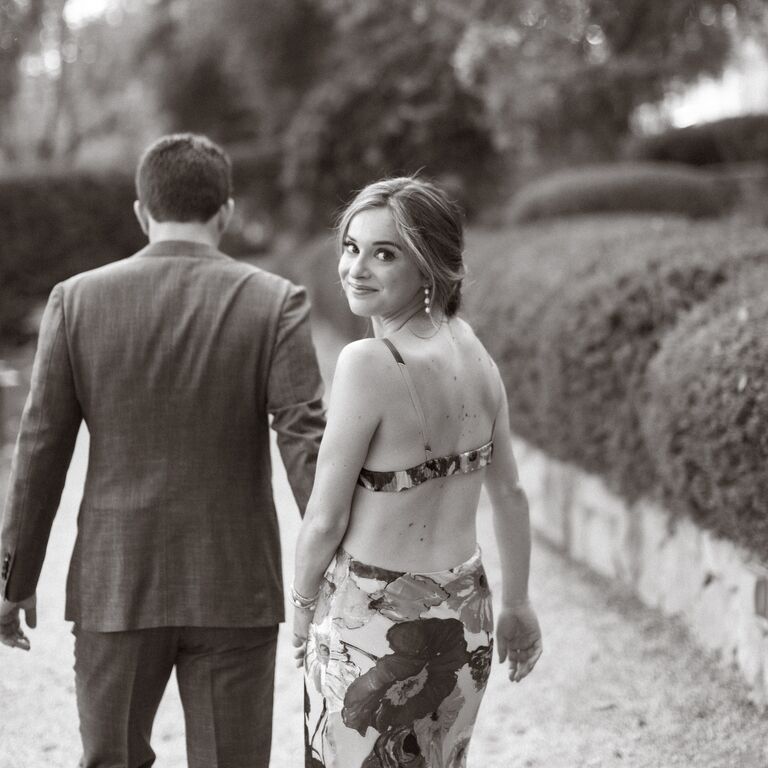 There's something so cool and effortless about black-and-white photos. I mean, how stunning is this couple's engagement picture?
32. Preppy Nautical Engagement Photo Idea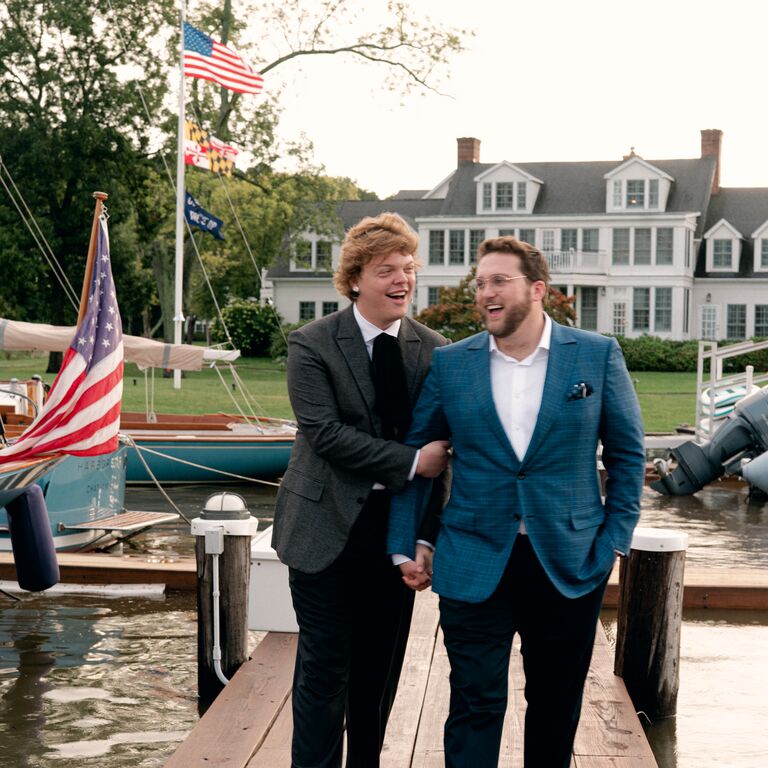 This chic waterfront engagement photo is living in my head rent-free. Whether you settle on beach engagement photos or simply take a stroll along a seaside pier, nautical engagement photos are always a good idea.
33. Stylish Engagement Photo With Sunglasses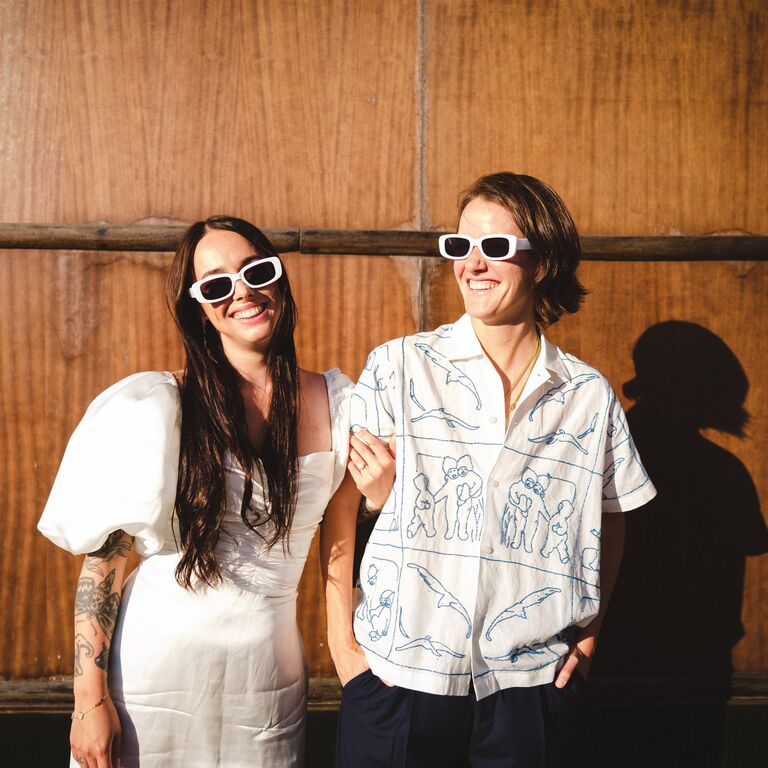 Struggling to decide on accessories for engagement photos? Follow this couple's lead and rock some fun sunglasses.
34. Chic Engagement Photo With Sunglasses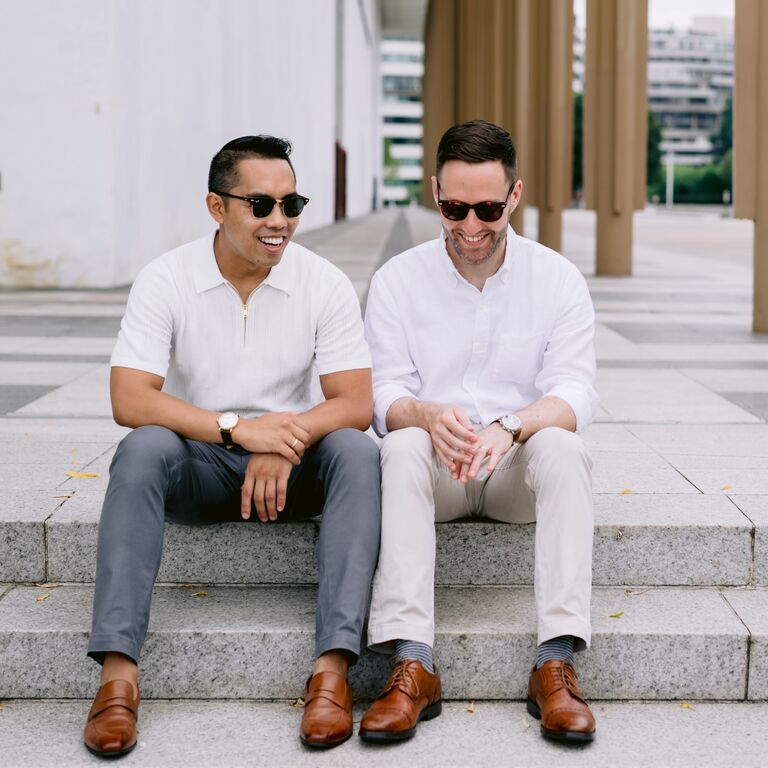 Still need convincing that shades are the key to cute engagement photo ideas? This picture is proof that you need to grab a pair of sunglasses before heading off to your engagement photo session.
35. Blue Smoke Bomb Engagement Photo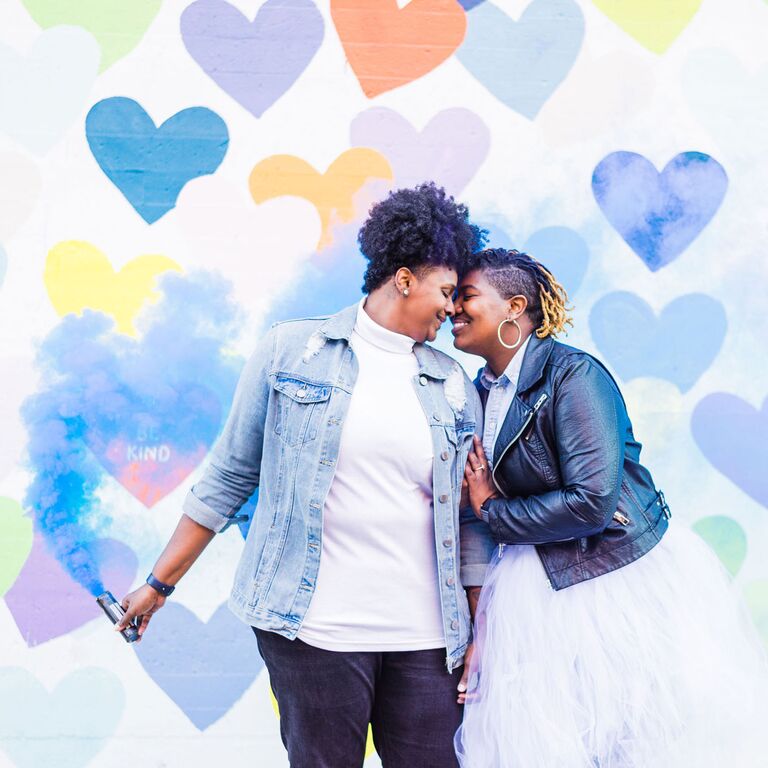 A colorful heart mural, paired with a blue smoke bomb, brought a fun vibe to this couple's engagement shot. However, the duo's radiant joy stole the show.
36. Stylish Maroon Attire for Engagement Photo
Hats off to this stylish duo. "Accessorize! Bring cute hats, tons of jewelry, scarves, heels, you name it," advises DeMarco.
37. Cool Denim Engagement Photo
Show off your unique style by selecting creative engagement photo outfits. This duo rocked their engagement session clad in coordinating denim looks.
38. Laid-Back Forest Engagement Photo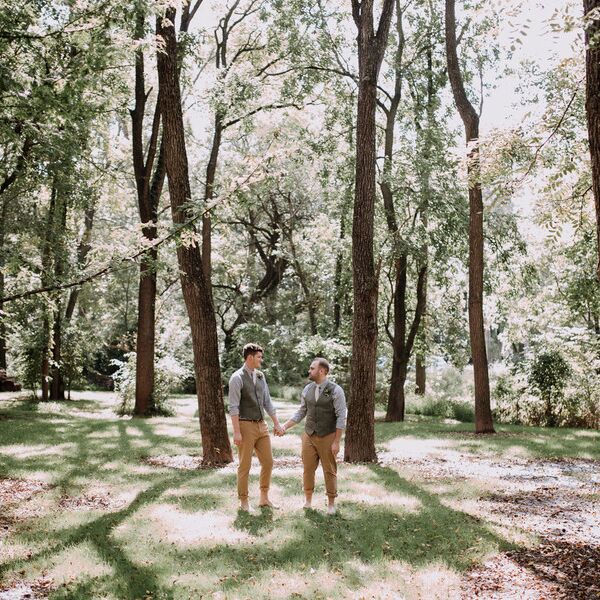 This couple leaned into a woodland vibe for their forest engagement photos. Few things are more calming than listening to the birds chip and leaves rustle as you walk through a forest. Embrace that relaxed energy for your prewedding shoot.
Romantic Engagement Photo Ideas
Romance is what brought you together and deserves to be memorialized on film. However, many couples aren't used to be the center of attention in front of the camera, which is exactly why Baskin loves engagement photos. This photo shoot is a low-stress time where "the wedding photographer gets a chance to see how you and your partner connect so that we can capture photos that best showcase you two as a couple." Capturing the romance during an engagement shoot will make it even easier for you and your photographer to get the best love-filled wedding photos on the big day. Ahead of your session, get inspired by these romantic engagement photo ideas.
39. Fashionable Engagement Photo Idea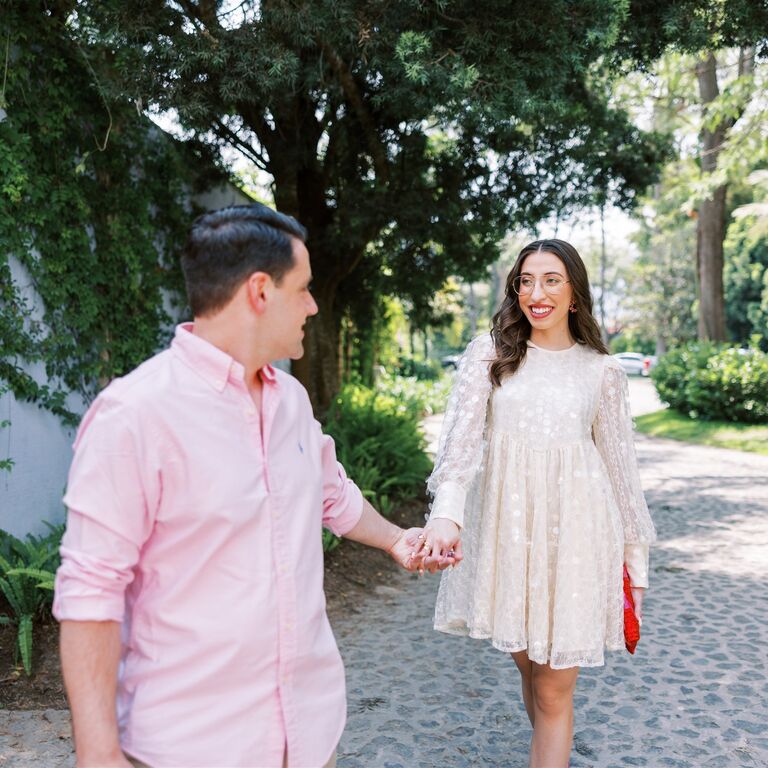 Caroline Vazzana is a fashion influencer so it's no surprise that her engagement photos were absolutely stylish. The content creator rocked a short white dress while her partner slipped on a pink button-down shirt.
40. Cute Hugging Engagement Photo in Tree Grove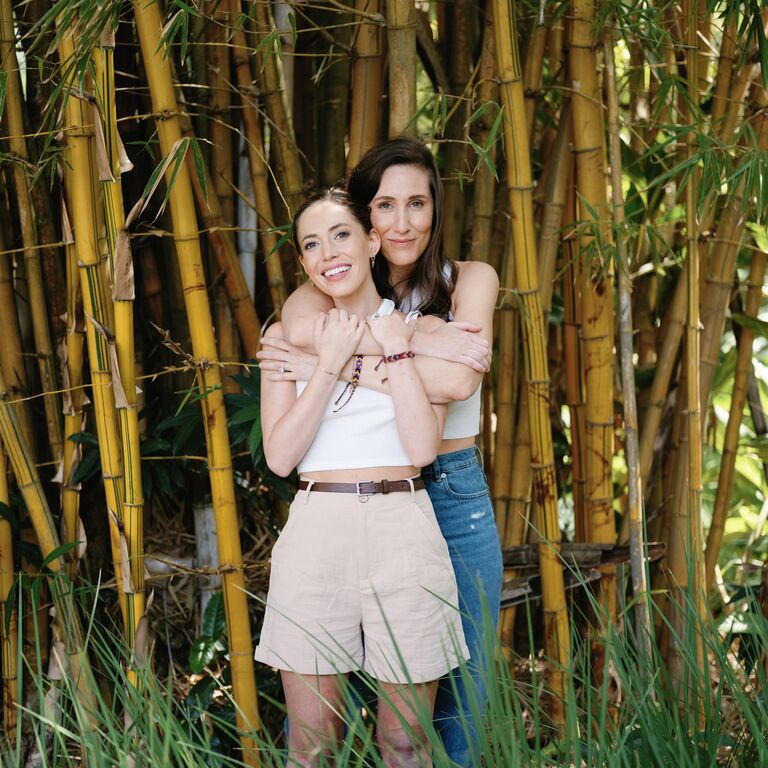 Some of my favorite engagement photo ideas involve taking a stroll through a tree grove. Whether you visit a Christmas tree farm or just find a nearby bamboo tree grove, forests always create a nice engagement picture backdrop. Here, lovebirds and content creators Steph Frosch and Melissa Barnett cozied up in a bamboo grove during their engagement photo shoot.
41. Romantic Formal Engagement Photo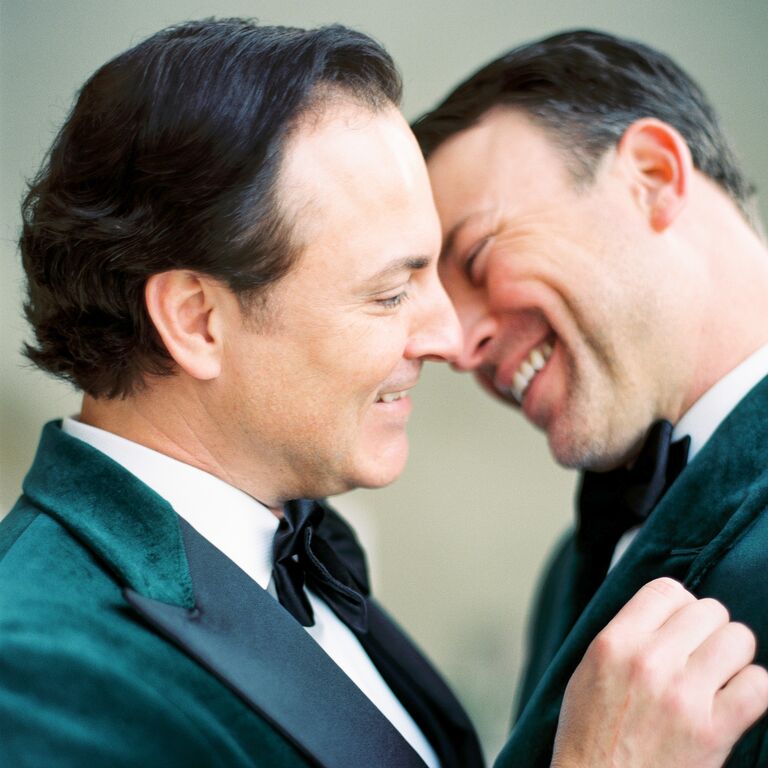 How could you not fall in love with this formal engagement photo? The green velvet suit jackets alone are simply divine.
42. Charming Formal-Meets-Casual Engagement Photo
The juxtaposition in this engagement photograph is so inspiring. The couple donned formal engagement photo outfits but selected a casual wildflower field as their engagement photo location.
43. Dreamy Vineyard Engagement Photo Idea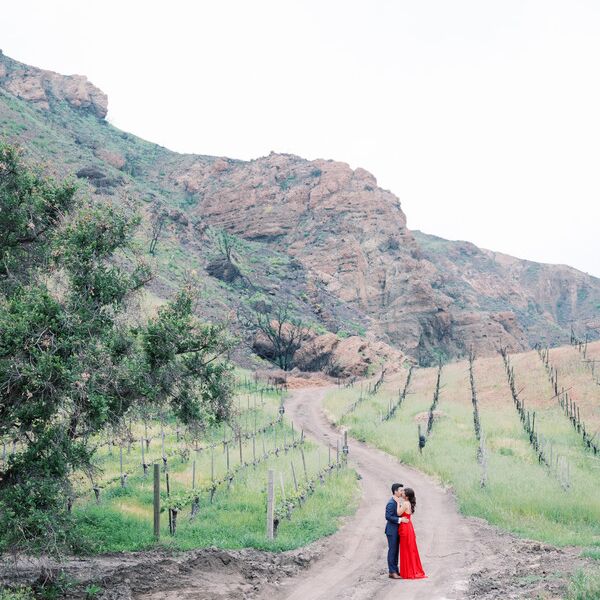 Wine and love are a winning combination. Celebrate each other and your affinity for vino with vineyard engagement photos.
44. Fantastic Golden Hour Engagement Photo Among Wildflowers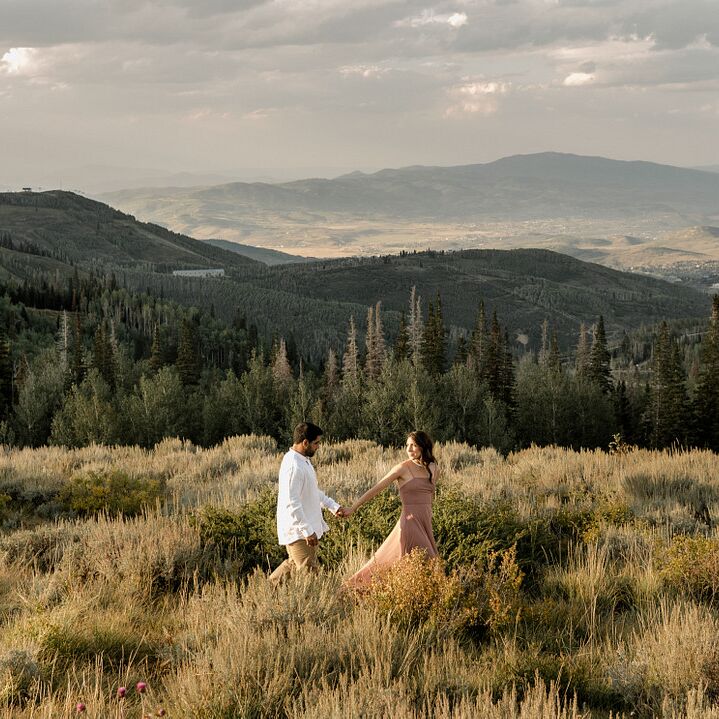 Golden hour engagement photos are some of the most dreamy prewedding pictures you can take. Just as the sun is about to set, head outdoors with your photographer to capture glowy images you'll adore.
45. Destination Italian Villa Engagement Photo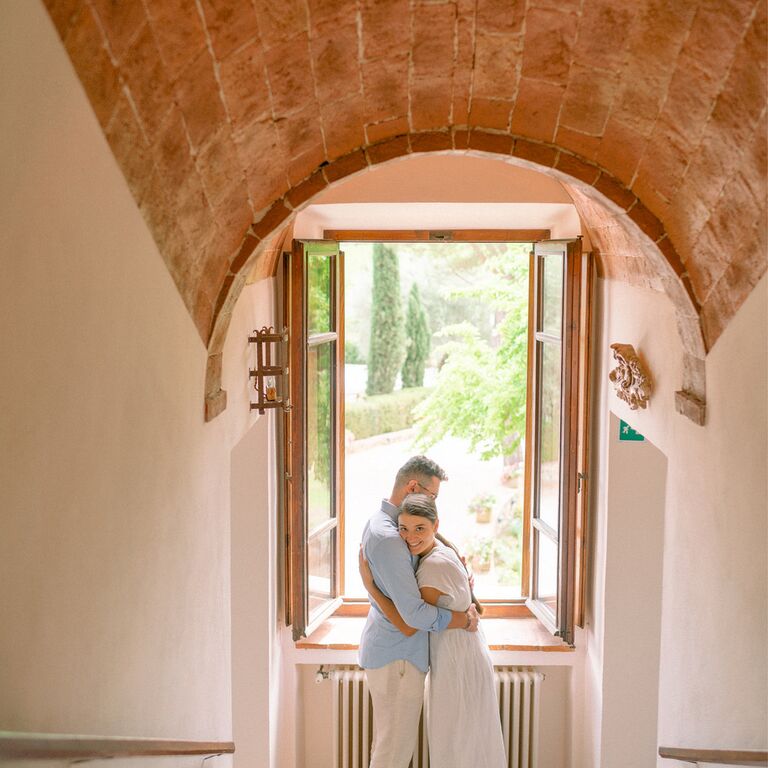 Why wait until the honeymoon to travel to Italy? Enjoy a little prewedding getaway (memorialized with engagement photos) at a Tuscan villa.
46. Romantic Waterfront Engagement Photo With Red Accents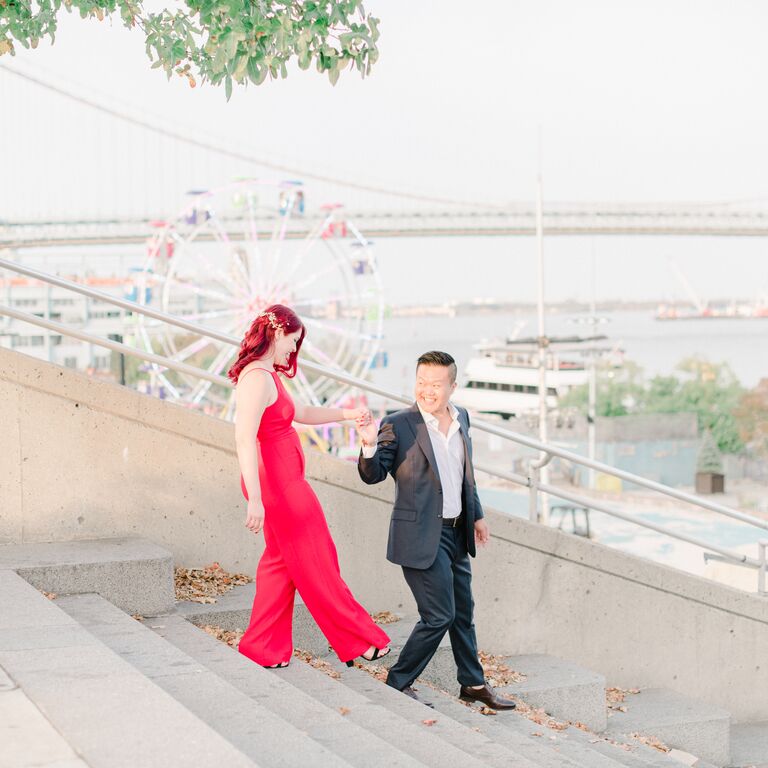 Red is the color of romance and this bride-to-be brought a double dose to her waterfront engagement photos thanks to a red jumpsuit to complement her red hair.
47. Affectionate and Emotional Engagement Photo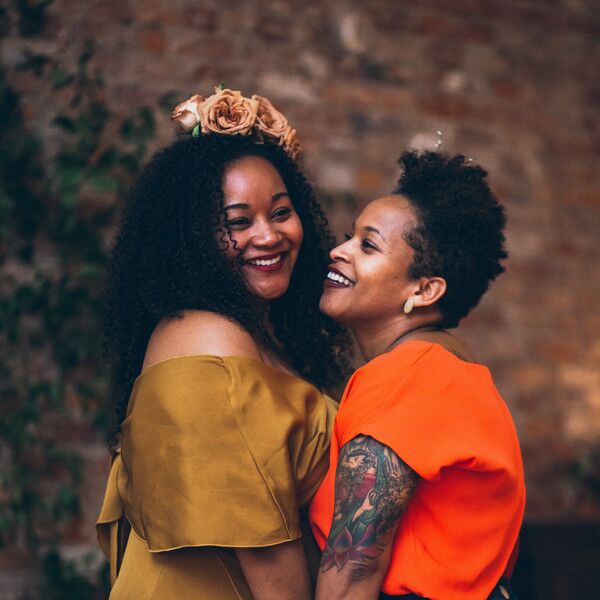 This couple's love is absolutely palpable. I can't decide what my favorite part of this engagement picture is—the genuine smiles, fun flower crown or vibrant outfits.
48. Portrait Session During Engagement Party
Can't find time in your busy schedule for engagement photos? Guess what—you can totally snap a few at your engagement party. This couple stole away from their engagement party for a few minutes to commemorate their partnership with romantic engagement photos.
49. Cute Engagement Photo Pose Idea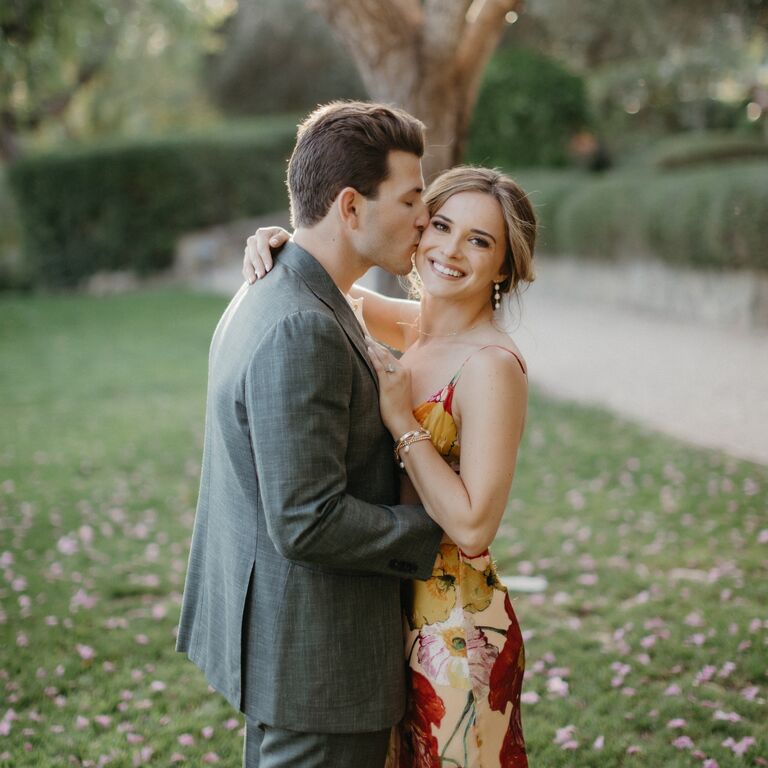 I love how effortless this couple's pose feels. Don't fret if you're worried that your love and affection for your partner won't come across on camera. Your photographer will help pose you in a manner that's both flattering and engaging. Also, let's just take a moment to appreciate this bride-to-be's stunning poppy-patterned engagement photo dress.
50. Mountain Engagement Photo in Alaska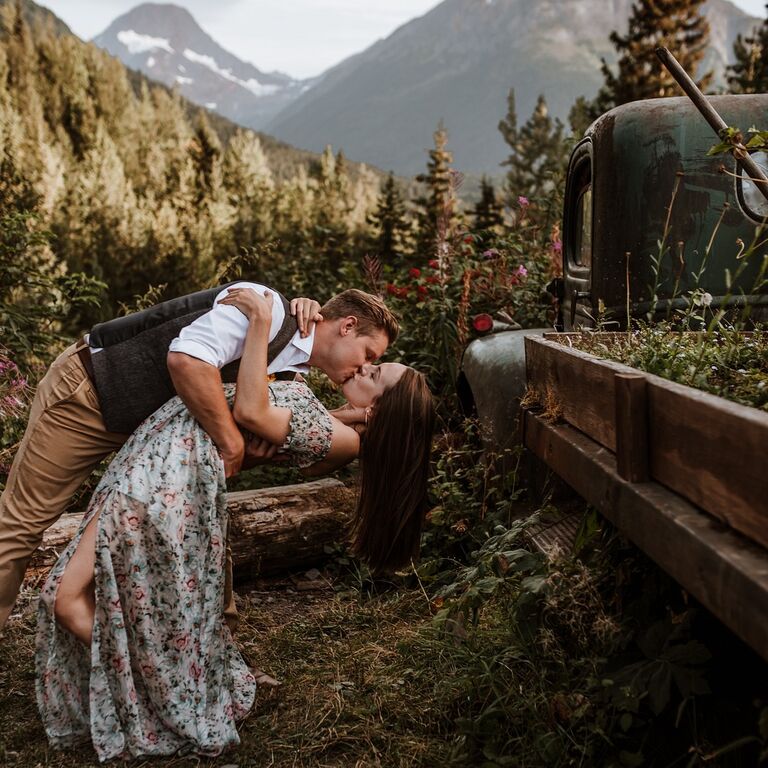 We're calling it now—Crow Creek Mine in Girdwood is one of the best places for engagement photos in Alaska. Snow-capped peaks, wildflowers and a vintage truck add to the whimsy of this couple's adventurous and fun engagement photo idea.
51. Romantic Italy Engagement Photo in Tuscany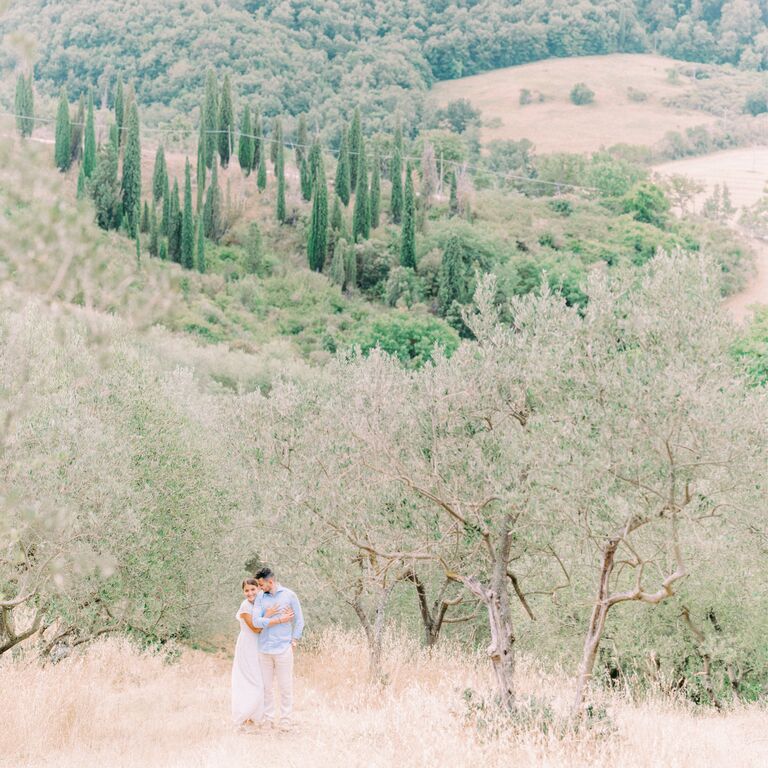 What comes to mind when you close your eyes and picture Tuscany? There's a good chance it's this very scene from Terre Di Nano in Val d'Orcia, Italy. All that's missing is a glass of wine and some homemade pasta.
52. Affectionate Park Engagement Photo Surrounded by Flowers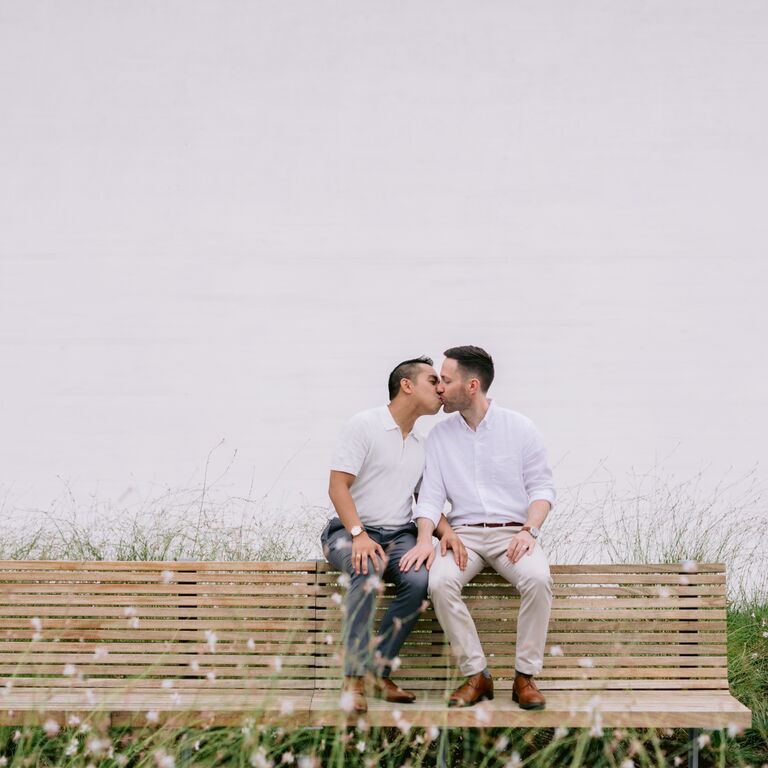 This love quote is as true as it is a cliche: "Love is what makes two people sit in the middle of a bench when there is plenty of room at both ends."
53. Adorable Kissing Engagement Photo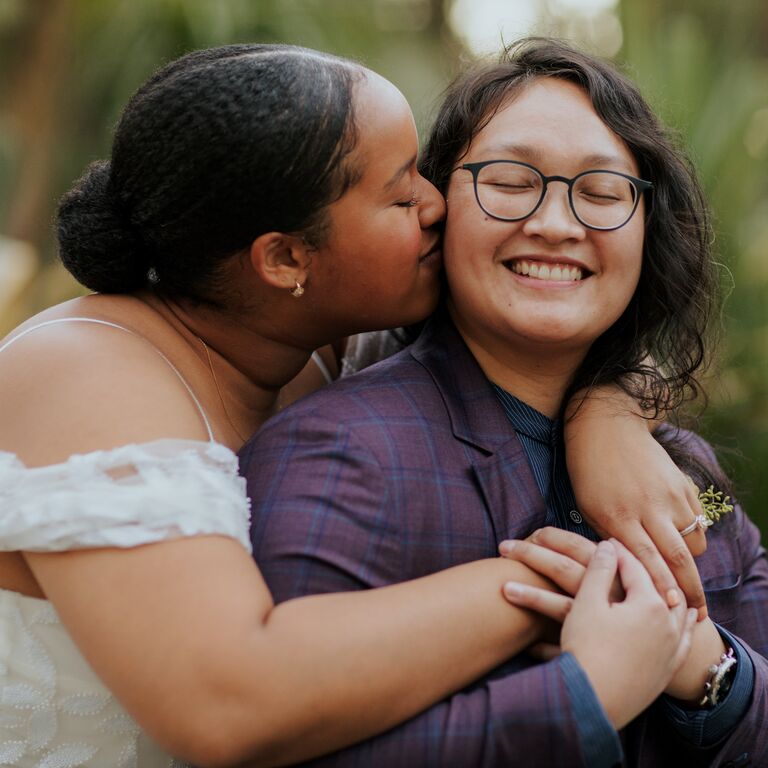 Is it possible to have too many kissing engagement photos? In the words of Cady Heron, the limit does not exist. Go full bore and lean into the romance—this is your photo shoot and it's all about celebrating your bond.
54. Elegant, Classic Engagement Photo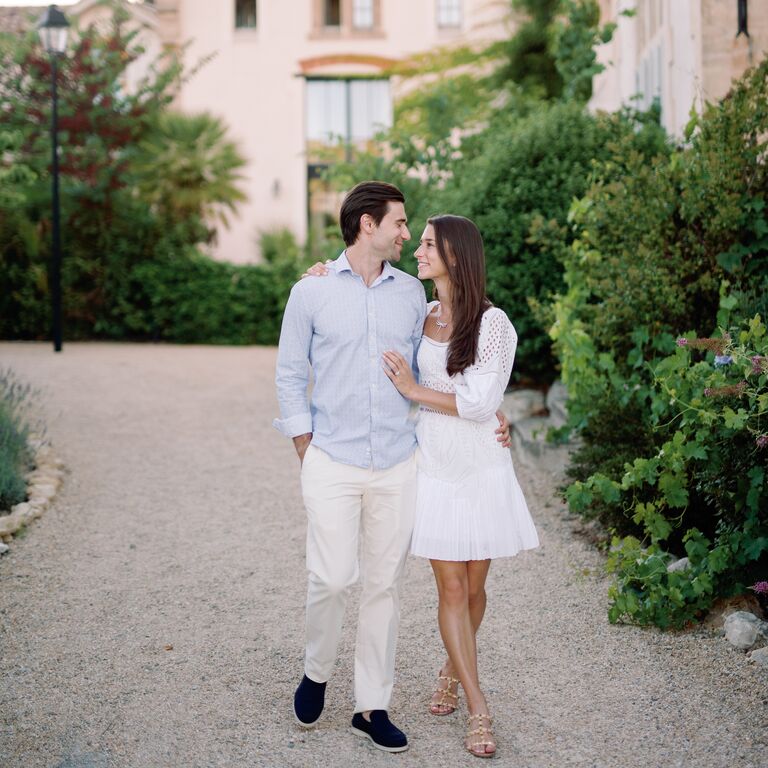 Looking for inspiration that feels formal, refined and sophisticated? Look no further than this wonderful classic engagement photo.
55. Gorgeous, Glam Engagement Photo Idea
I can only aspire to be as fashionable and glamorous as this engaged couple. From the groom-to-be's metallic peacock-patterned suit jacket to the bride's epic fuchsia lehenga, I stan the entire look. Ten out of ten, hands down.
56. Stunning Red Dress Engagement Photo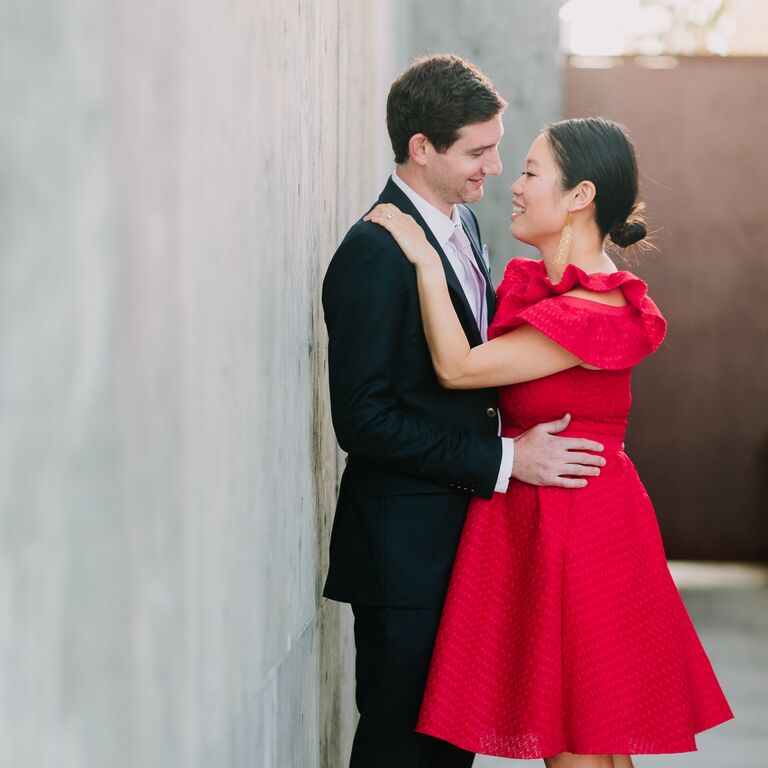 There's no shortage of classic engagement photos to use as inspiration for your own prewedding photo shoot, as this idea proves. I mean, how epic is this bride-to-be's red dress for engagement photos?
57. Casual, Cool Engagement Photo Inspiration
While formal engagement photos are great, casual ones can also be just as fun and memorable. A sweatshirt, a denim dress and a whole bunch of laughter made this engagement shot feel genuine, relatable and full of love.
58. Snuggling Engagement Photo on Couch
Don't be afraid to show a bit of PDA during your engagement session—a little snuggling will calm your nerves and help you focus on your partner as opposed to your photographer. Also, how fun is this couple's attire? A red jumpsuit added a fun pop of color to these studio engagement photos.
59. Matching Outfits for Cheerful Engagement Photos
Thinking about whether you need matching outfits for engagement photos? Consider coordinating without being too matchy-matchy. This couple rocked the same shirt but styled it completely differently.
60. Garden Engagement Photo on Bridge
The soft colors of spring are reason enough to celebrate your engagement with a garden engagement photo shoot. This couple paused on a bridge during their park engagement photo session to sneak a quick kiss.
61. Couple Dancing Engagement Photo
During golden hour, the sunlight will add romantic sparkle to the leaves it illuminates. This couple enjoyed golden hour by dancing together as the sun started to set.
62. Park Engagement Photo Session in Dallas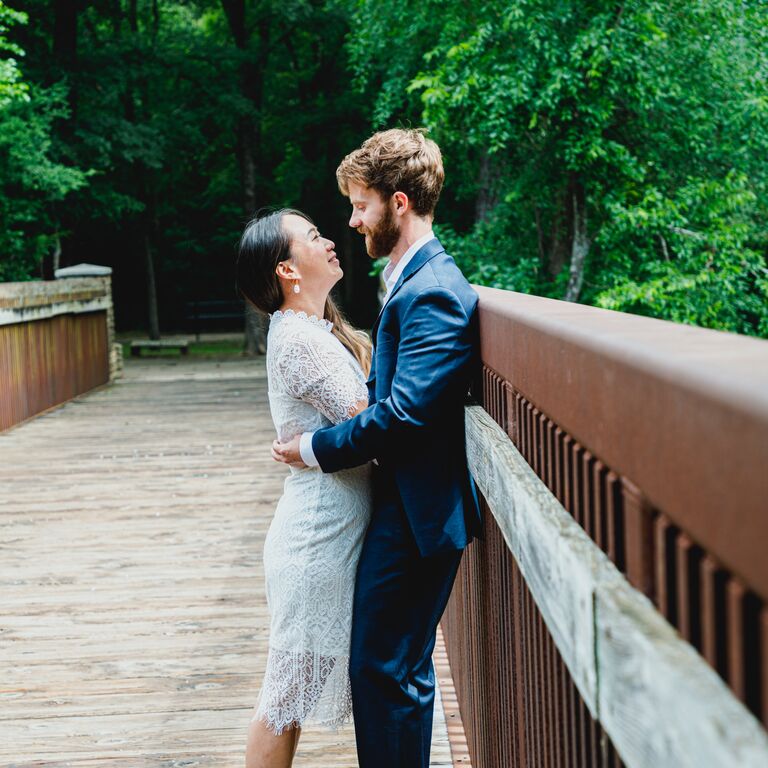 Here's yet another cute engagement photo idea with a bridge. This couple's search for Dallas engagement photos locations resulted in them capturing pictures at a local park.
63. San Francisco Engagement Photo in Flower Field
This couple took a playful gander through a field of wildflowers during their San Francisco engagement photos. The iconic Golden Gate Bridge served as a picturesque backdrop to the prewedding picture.
64. Intimate Beach Engagement Photo With Parasol
"I like long walks on the beach" is a romantic cliche for a reason—long walks on the beach are, in fact, really romantic and fun. This couple celebrated that fact for their cute engagement photos.
65. Idyllic Thailand Engagement Photo
Considering engagement photos in Thailand? Take this couple's photo shoot on the beaches of Krabi as a sign to book your trip to Thailand ASAP.
66. Cute Engagement Photo Idea in Guatemala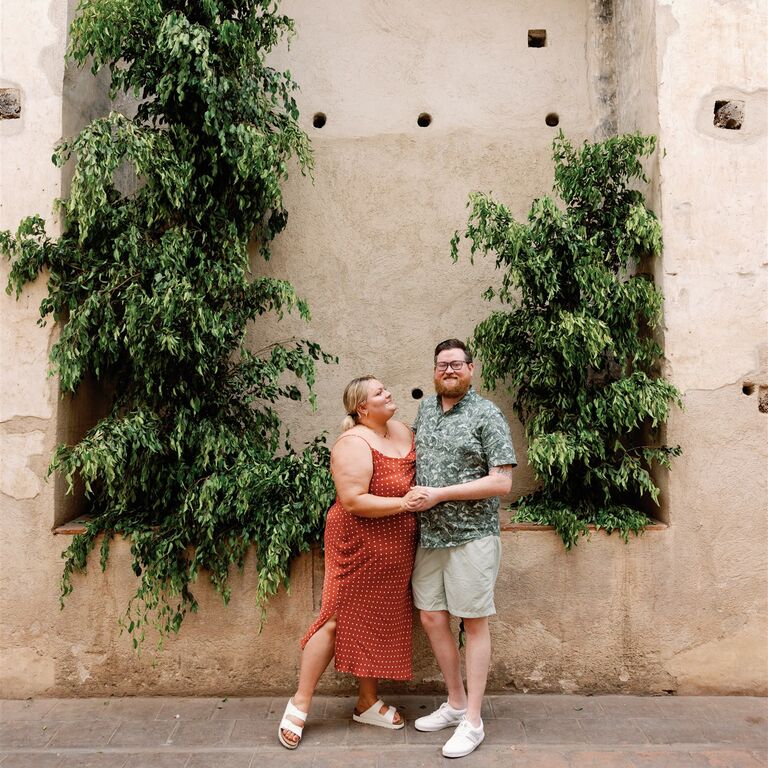 If Thailand isn't your speed, what about Antigua, Guatemala? Content creator Sean Taylor and her partner Eric Carlstrom posed for an engagement photo in front of a historic building covered in beautiful greenery while on an influencer trip with The Knot in Guatemala.
67. Rooftop Engagement Photo in Washington, DC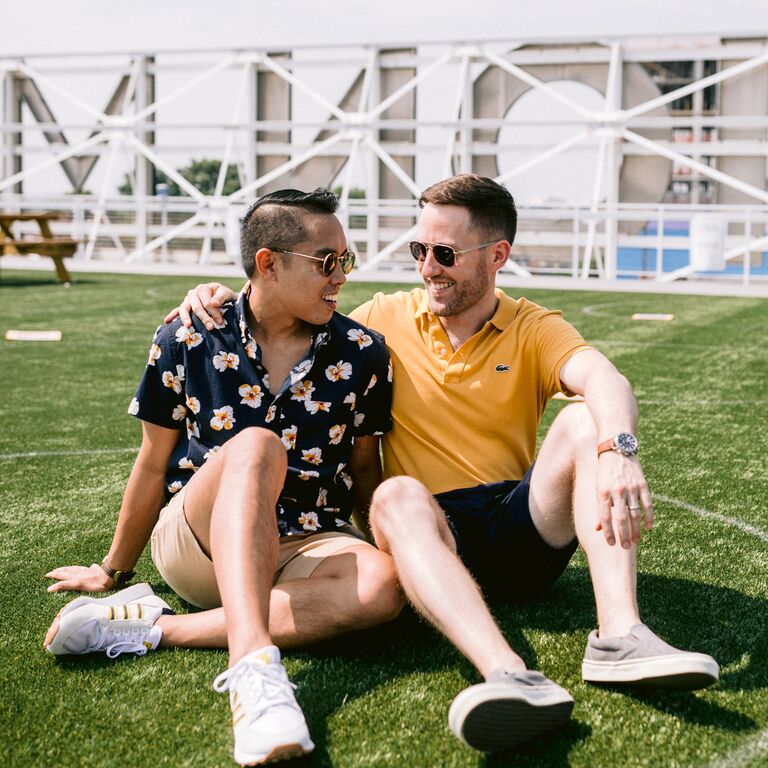 It's official, I'm now entering my rooftop engagement photos era. I mean, how stunning is this couple's engagement photo on a rooftop in Washington, DC.
68. Sand Dunes Engagement Photo at the Beach
Vacation is the perfect time to snap some engagement photos. This adorable duo took a stroll along some sand dunes for their vacation engagement photos.
Seasonal Engagement Photo Ideas
Here's the tea: Engagement photos are a good idea any time of the year. Spring, summer, fall, winter—we're obsessed with each and every season for engagement pictures because the changing weather brings with it new ideas for images. Plus, the changing seasons mean endless possibilities for photo shoot outfits. Baskin asks her engagement photography clients to "keep their session location and season in mind when planning outfits. For example, couples who take engagement photos during the fall can use the beautiful warm colors of the foliage to complement their fall engagement photo outfits."
69. Flower-Filled Spring Engagement Photo
It's important to make sure you feel like yourself during your engagement session. If you have a favorite hat or go-to bomber jacket, don that for your pics. This couple's fun outfits, paired with a stunning flower field, made their spring engagement photos a home run.
70. Tree Climbing Engagement Photo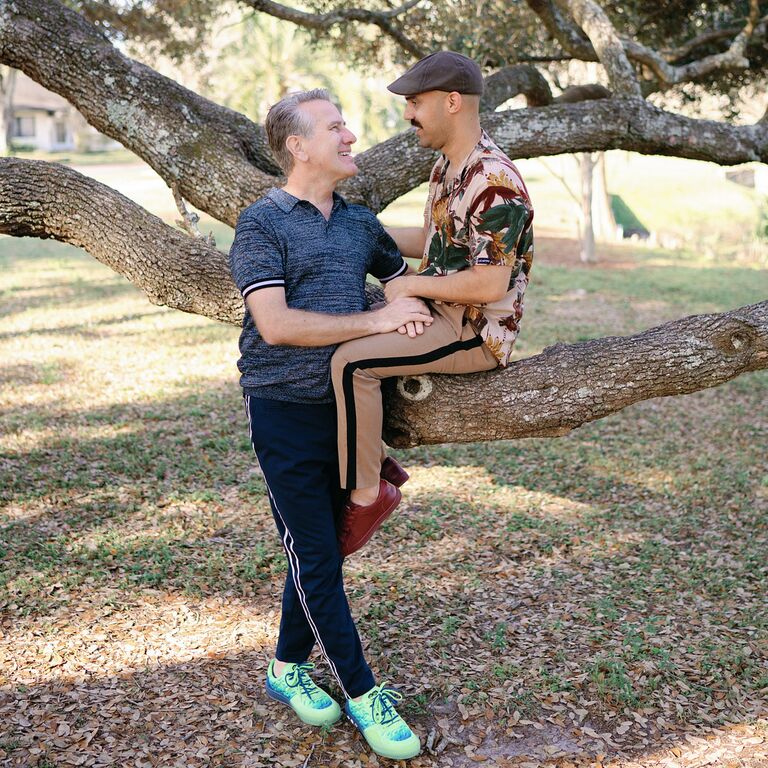 You want to shout your love from the treetops, don't you? This couple did just that with their spring engagement photos as they climbed a tree.
71. Stunning Engagement Photo in Field of Purple Flowers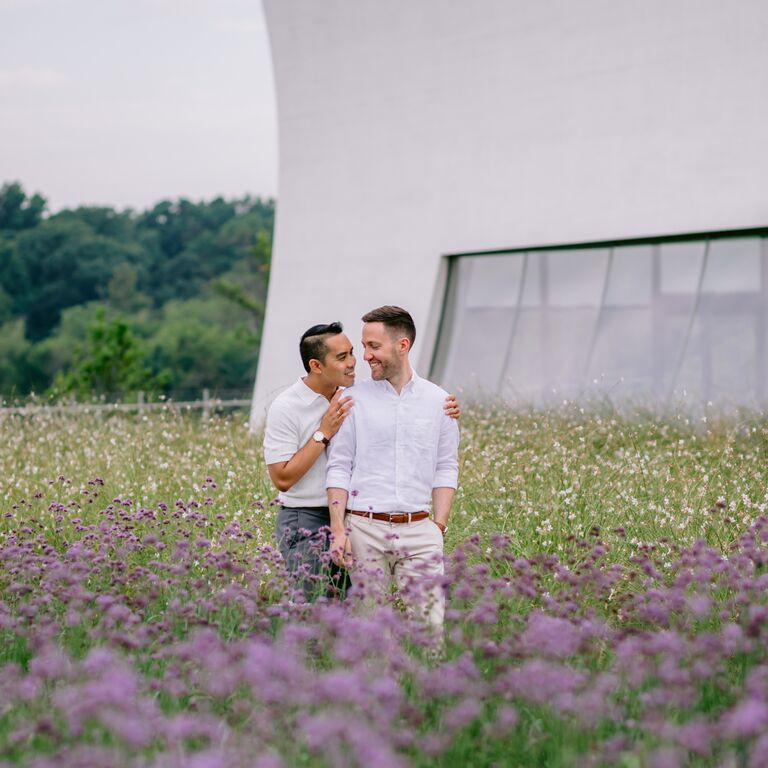 Don't mind me while I do a quick search for "best flower fields for engagement photos." This field of purple flowers made this engagement photo absolutely whimsical.
72. Casual, Tropical Engagement Photo Idea
No need to go over the top with glam (unless you want to, of course!). A linen shirt and a summertime sundress helped this couple ace their tropical engagement photos.
73. Cheerful Summer Engagement Photo in Charleston, South Carolina
The bright facades of the Lowcountry make Charleston perfect for engagement photos. Palm trees add a distinctively summery vibe to this couple's architecture-centric engagement pic in Charleston, South Carolina.
74. Splashing in Fountain Engagement Photo
Who's ready to splash about with their one true love? End a balmy summer engagement session with a fun splash in a pool or fountain as this San Diego couple did.
75. Relaxed Outdoor Summer Engagement Photo Inspiration
If your summers are marked by memorable beach trips, make the most of one of those vacations by scheduling a waterfront engagement shoot. This couple's genuine smiles tell us one thing for certain—they're having an amazing time on vacation.
76. Stylish Fall Engagement Photo With Leaves
Leave (or should we say leaf?) it to this couple to prove how great leaves are as an engagement photo prop. For autumn engagement shoots, highlight the fall foliage.
77. Romantic Beach Engagement Photo During Fall
Fall (or winter à la Taylor Swift's "Snow On The Beach") doesn't preclude you from beach engagement photos. For many, long walks on the beach are the epitome of relaxation. Celebrate your engagement with a laid-back photo shoot on the shore, just make sure to layer up for the weather.
78. Vibrant Orange Leaves in Fall Engagement Photo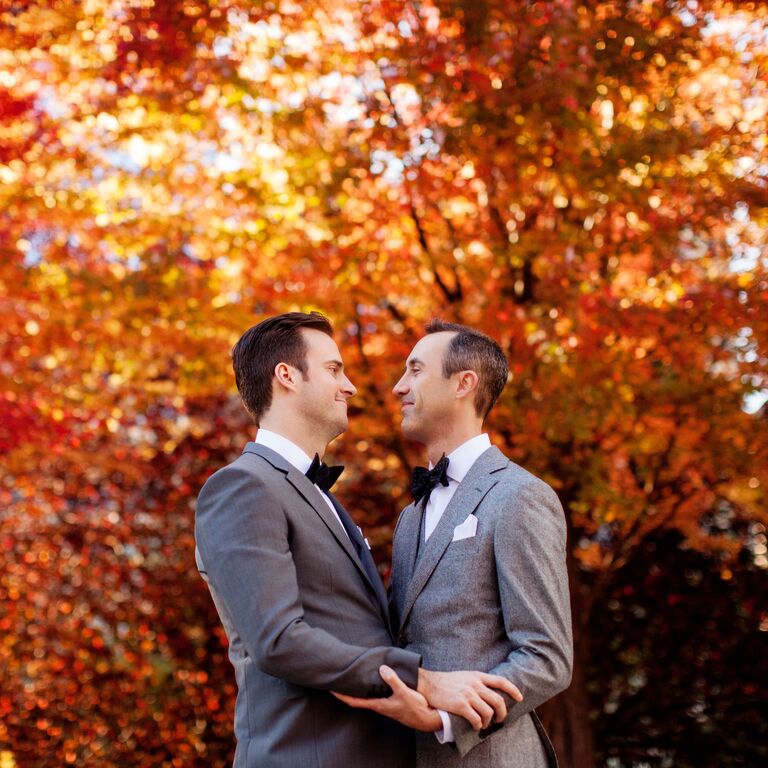 Do you still need convincing that fall foliage makes an amazing engagement photo backdrop? This couple's outdoor engagement photo should be all the proof you need.
79. Elegant Vineyard Fall Engagement Photo
This is the perfect excuse for a fall date night. An autumn romp through a vineyard or apple orchard is a great way to capture both your love and the fall foliage. Also, how cute are these fall engagement photo outfits?
80. Cozy and Casual Winter Engagement Photo Idea
Bundled-up winter engagement photos are just so cozy! If, for some reason, you're still on the fence about the magic of golden hour, this couple's snap will immediately win you over.
81. Romantic Snow Engagement Photo
Worried that snow engagement photos aren't a good idea? Think again. Winter engagement photos in the snow create a whimsical winter wonderland feel that you won't soon forget.
Candid Engagement Photos
This is your sign to take a deep breath if you're feeling nervous about your engagement photos. Booking an engagement session is a helpful way to ensure you and your partner will be comfortable in front of the camera on your wedding day. "Most couples aren't comfortable in front of the camera when we first start. I stress the importance of them arriving on time so that we can spend a few moments talking before the session starts. I expect the first 15-20 minutes of the session to be used getting the couple 'warmed up.' If couples try to 'practice' their engagement photo poses for too long they can get stuck when trying to receive direction from the photographer," advises Baskin. Before you know it you'll be laughing without a care in the world, resulting in epic candid engagement photos.
82. Adorable and Effortless Engagement Photo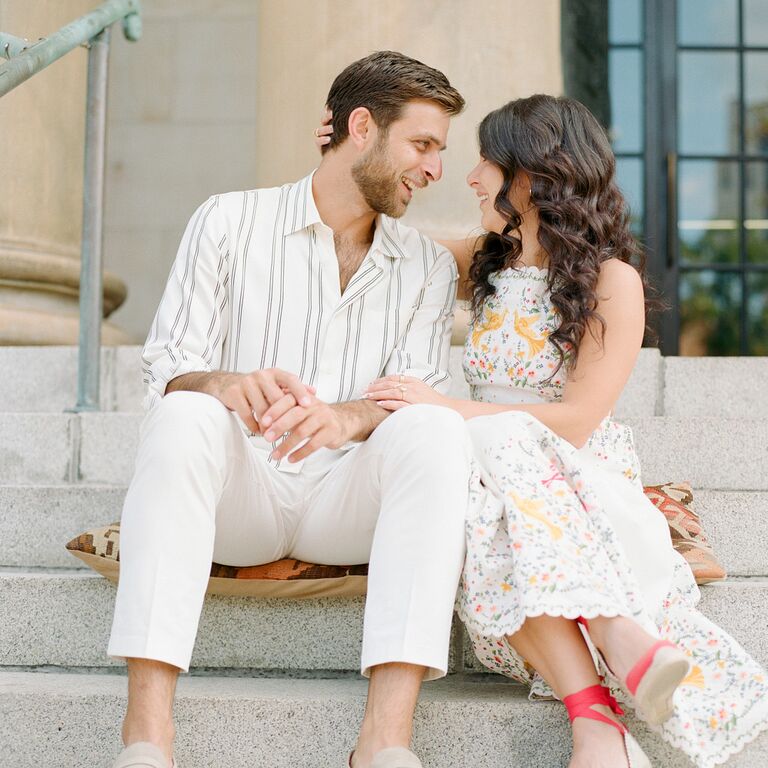 I love how natural and relaxed this couple looks. Focusing on your partner will immediately relieve stress and nerves if you're jittery at the start of your engagement photo shoot.
83. Cozy and Cuddly Engagement Photo
I just love seeing couples in love—the joy is palpable. If you feel most relaxed in a t-shirt dress or linen button-down shirt then rock a laid-back look for your engagement pics.
84. Running Engagement Photo Idea
It's time to run and jump for joy, you're getting married after all. Although an engagement picture is a still frame, if you're moving around and having fun during your photo shoot, that'll translate onto the camera, as it did here.
85. Couple Holding Hands and Laughing During Engagement Photo Shoot
I wish I could be a fly on the wall of this session because there's clearly a lot of fun chatter taking place. Plus, the sunlight breaking through the trees adds a dreamy note to this couple's evening walk through the park.
86. Fun Piggyback Ride Engagement Photo
It's ok to let loose and be a kid again. Think: piggyback ride along the beach inspired by this couple. Doing so will help you relax and capture the best candid engagement photos possible.
87. Ethereal Engagement Photo With Flowing Dress
A beach engagement shoot is always a good idea. It's an even better idea during golden hour with a flowy dress.
88. Dancing Engagement Photo Inspiration
There's a reason that so many songs have been written about relaxing on the beach in the summer—it's just so fun and relaxing. Capture that feeling with your engagement photos along the seaside as this duo did.
89. Walking Engagement Photo in the Mountains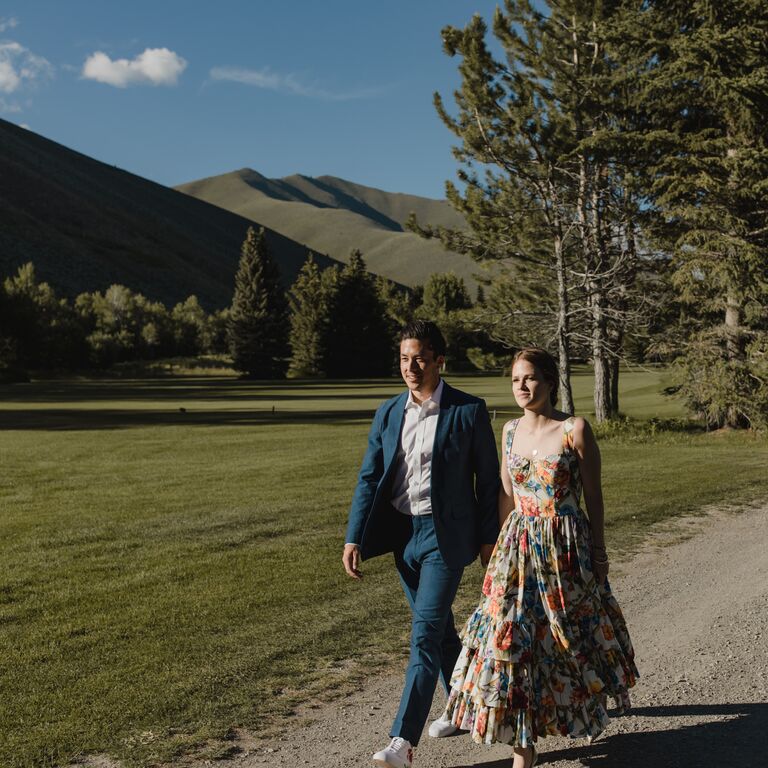 Walking is one of the best ways to capture natural, authentic candid engagement photos. Need proof? Just look at this chill, effortless couple.
90. Central Park Engagement Photo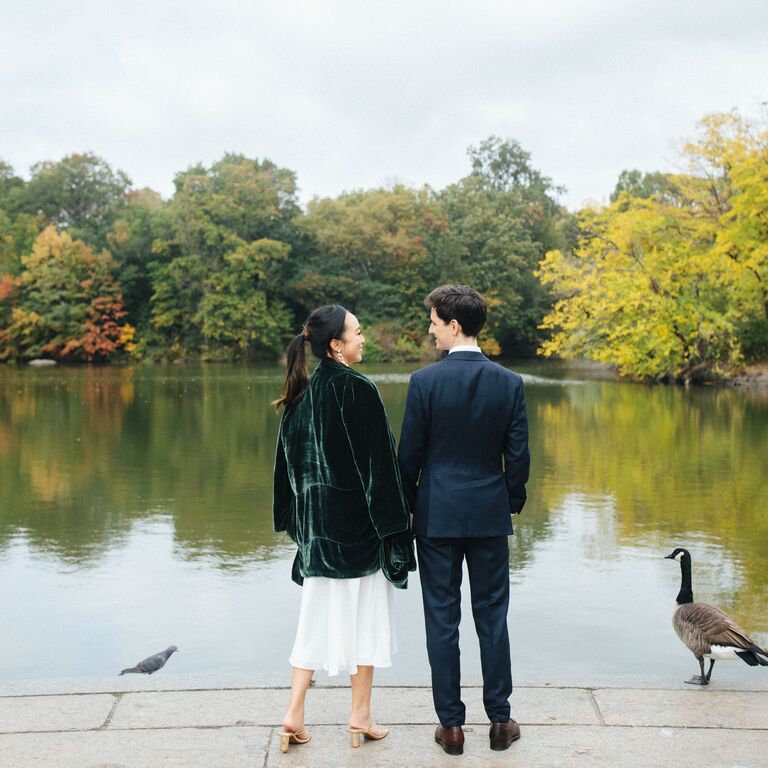 Calling all NYC couples. The Bethesda Fountain and the Central Park Lake are two of my favorite Central Park engagement photo locations. Need other ideas on where to take engagement photos in Central Park? The Conservatory Garden is another fun Central Park engagement photo spot.
91. Adorable Engagement Photo Inspiration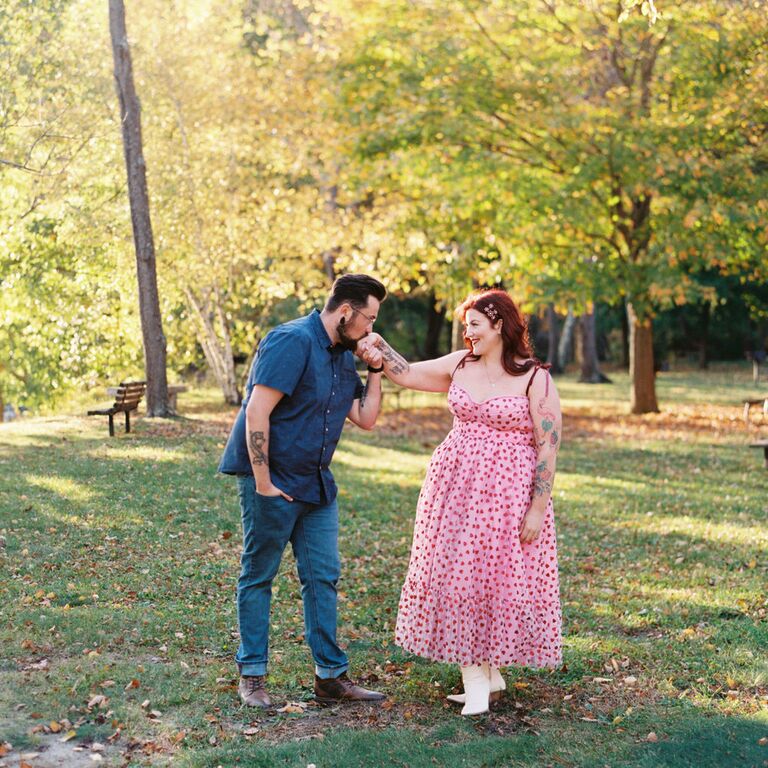 Alert: Here is a cute engagement photo idea. A kiss on the hand is a nice option for couples that aren't huge fans of PDA but still want a lovey-dovey feel to their engagement pictures.
92. Tulum Engagement Photos in Mexico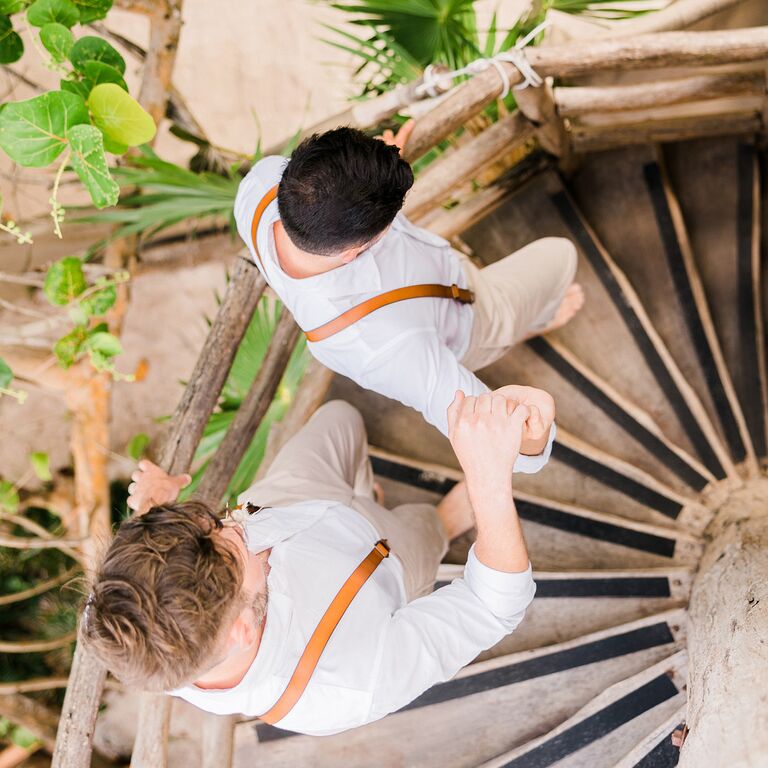 Treehouse engagement photos? Sign me up for non-traditional engagement photos! This couple's cool engagement photo session living rent-free in my head.
93. Wind-Blown Mountain Engagement Photo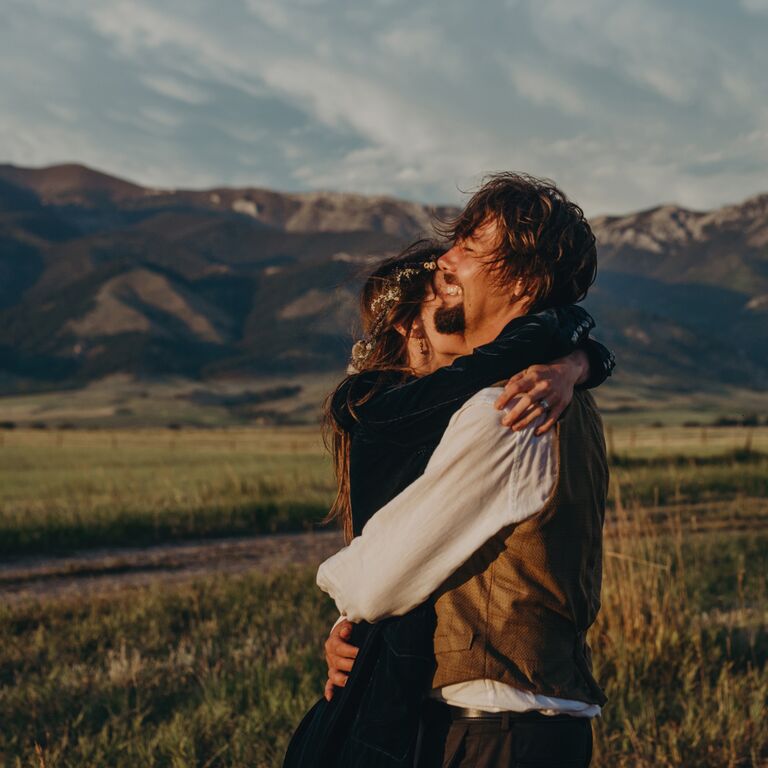 Wind typically isn't your friend when it comes to wedding and engagement photos. But, if you want candid pics then wind can add a relaxed, effortless feel to your photo shoot.
94. At-Home Engagement Photo With Dog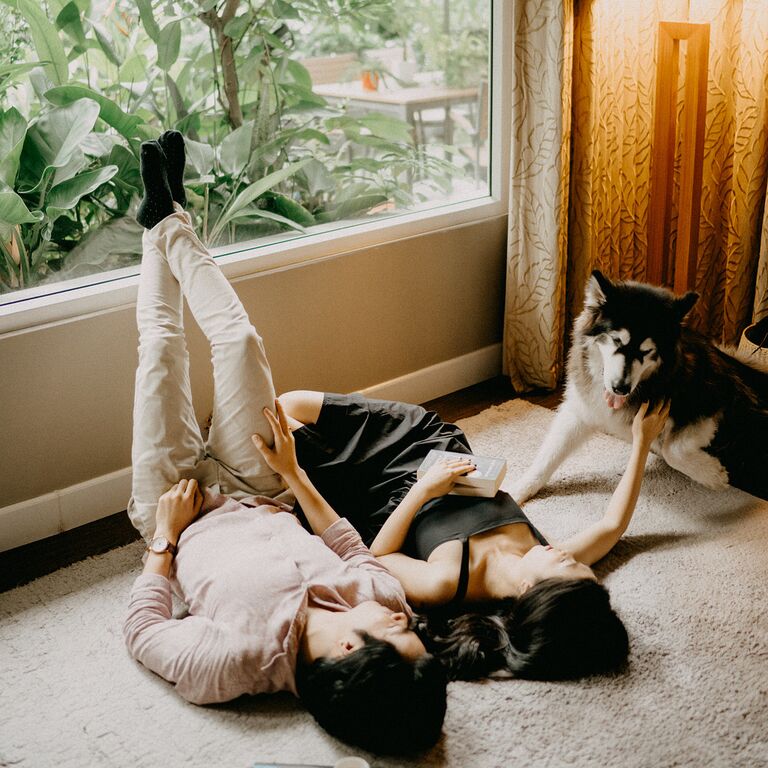 You've seen a lot of fun engagement photo ideas, but we've still got more gems to share. Your engagement photos don't have to be limited to the two of you—we're a fan of including your pets in the festivities as well.
95. Delightful Lake Engagement Photo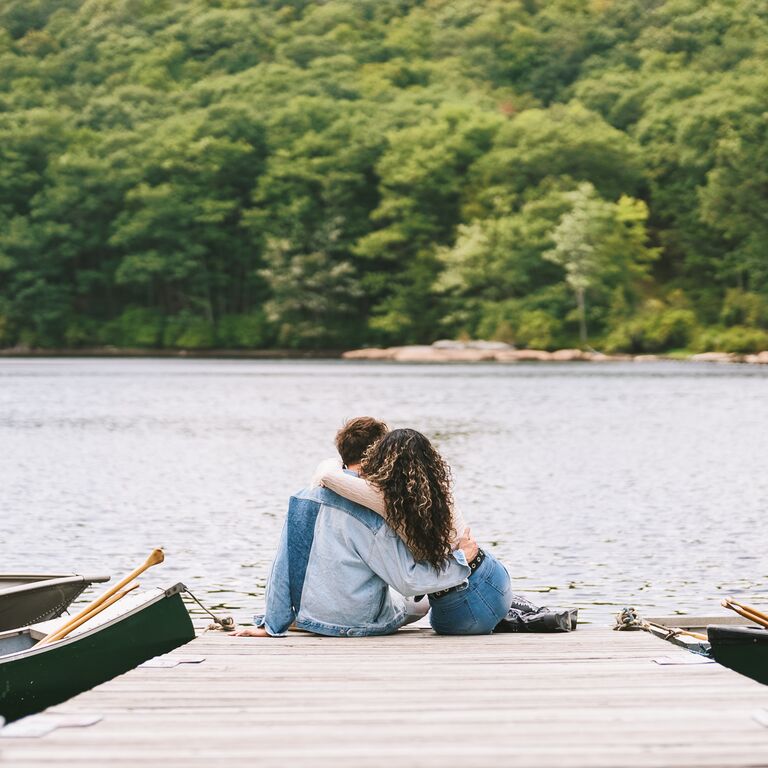 Looking for an Instagram-worthy engagement photo? This is it. Sitting on a dock at a summer camp lake—sounds like a dream.
96. Cozy Couch Engagement Photo at Home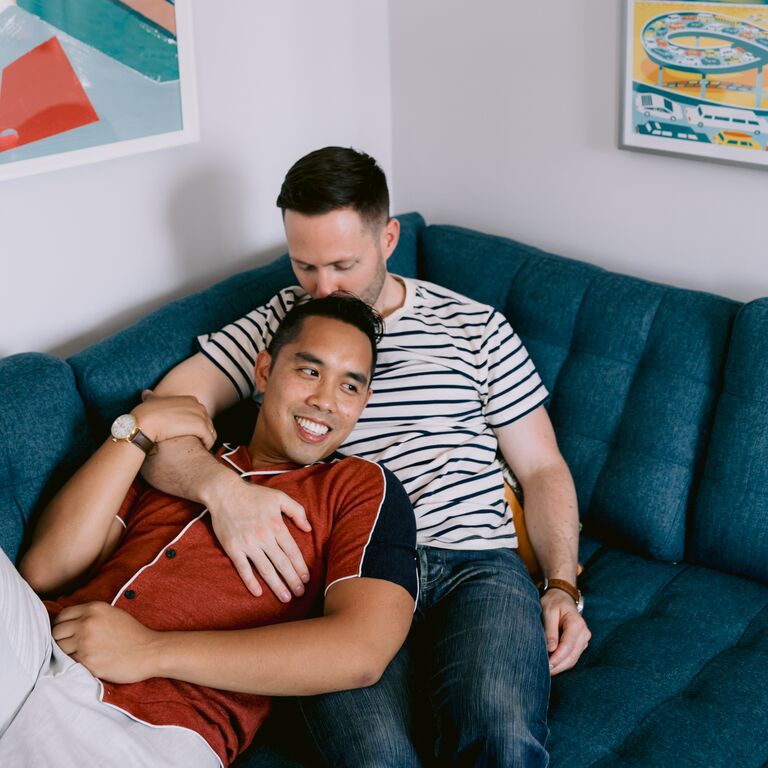 You don't have to jet set to far-flung places for your engagement photos—a snuggly session on your living room couch can result in fun pictures. Case in point? This couple's casual engagement photos at home.
97. Edgy Engagement Picture Walking Down the Street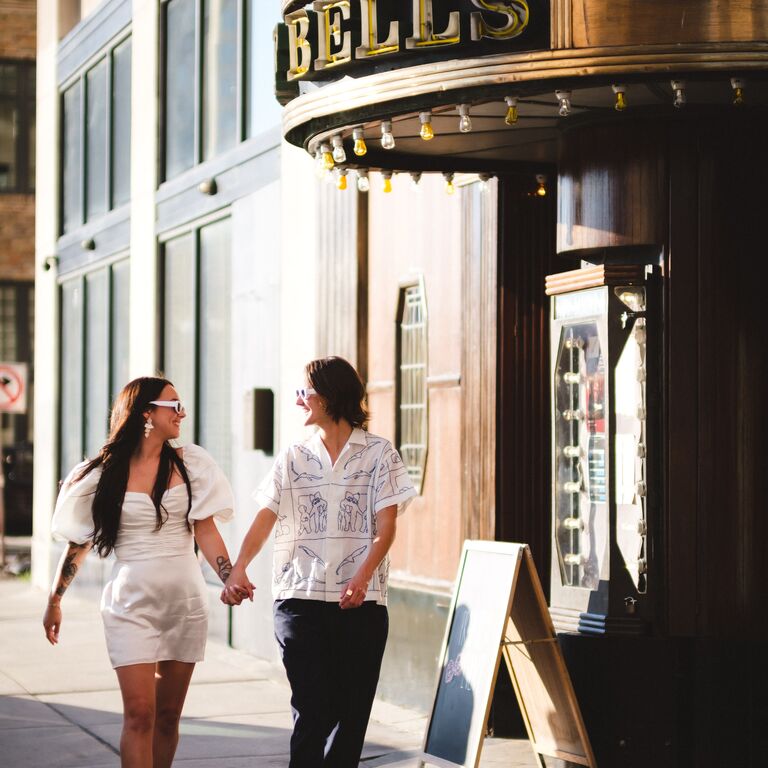 Whether you live in Chicago, Atlanta or Miami, urban engagement photos are a vibe. This edgy couple is slaying their city engagement photos.
98. Asheville Engagement Photo in the Blue Ridge Mountains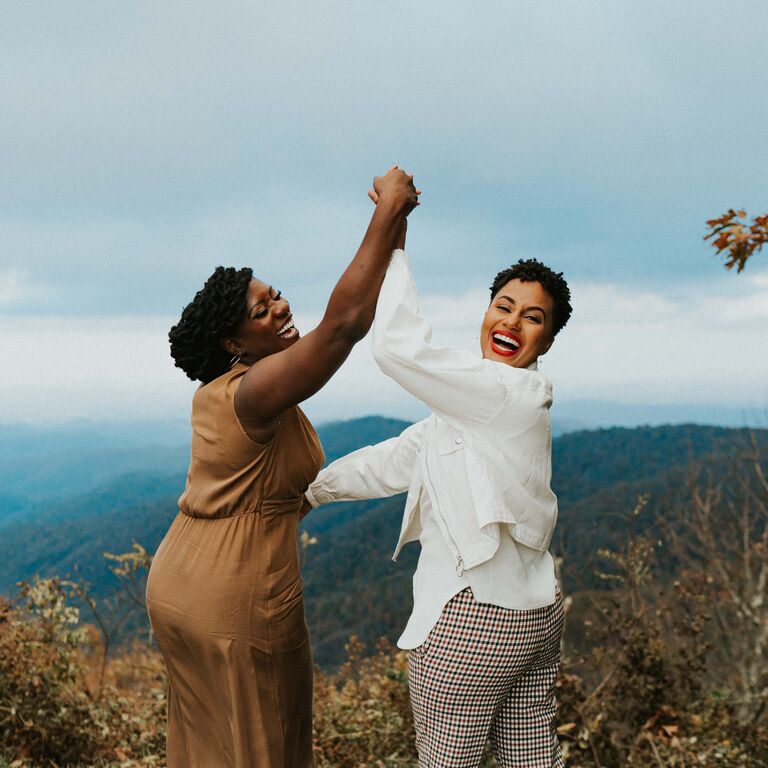 This is your sign to head to Asheville, North Carolina, for mountain engagement photos. While there are plenty of urban Asheville engagement photo locations, this picture is a reminder that the Blue Ridge Mountains are a breathtaking backdrop to keep in mind.
99. Intimate Engagement Photo in Bed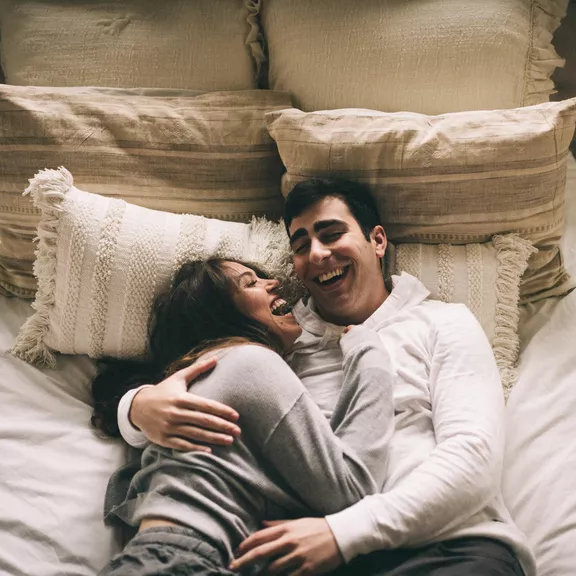 Despite the 98 engagement photo ideas above, we still haven't run out of creative engagement photo ideas to share with you. One last, but not least idea: Celebrate the house you've invested in making a home by having engagement pictures taken at your abode.