7 Engagement Announcement Dos and Don'ts
Here's everything you need to know about spreading your happy news.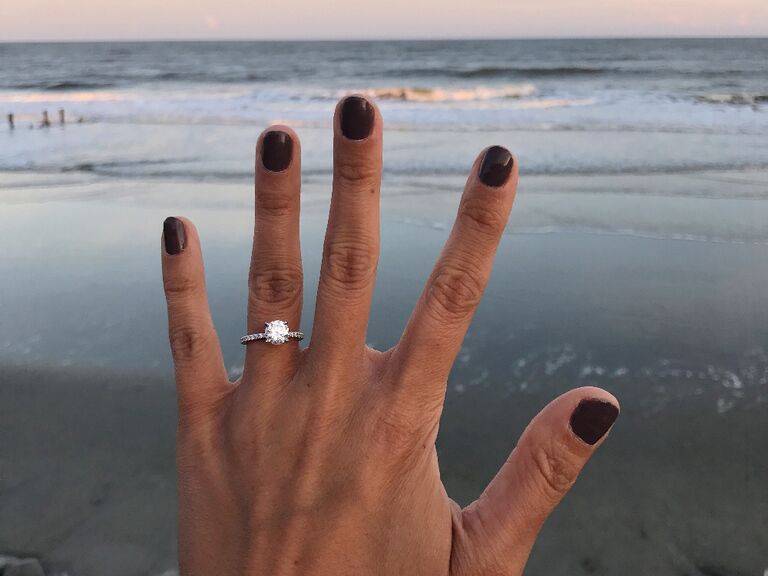 Kelsey Presswood / EyeEm / Getty
We have included third party products to help you navigate and enjoy life's biggest moments. Purchases made through links on this page may earn us a commission.
Congratulations—you're engaged! After you and your partner celebrate the latest milestone in your relationship, it's time to plan your engagement announcement. While you may be excited to share your #JustSaidYes Instagram post, there are a few things to know before you announce the news to the world.
You should feel empowered to share your engagement announcement in the way that best represents you and your partner, but there is traditional etiquette you should keep in mind. Here are seven rules pertaining to your engagement announcement, from whom to tell first to when you should share the moment on social media.
Do Savor the Moment With Your Partner
Your engagement is one of the defining moments in your relationship, so soak in every second with your partner. Once you tell your loved ones, they'll be thrilled to shower you with well-wishes. As exciting as it is to celebrate this season of life with your family and friends, make time to enjoy it one-on-one with your S.O. too. When you look back, you'll be glad that you intentionally set aside time to savor your newly-engaged status.
Don't Forget to Tell Your Loved Ones First
Before you share the happy news with the world (read: social media), there are a few people you need to tell first. Start with your immediate family, like your parents and siblings. If you can't see them in person, contact them via phone call or video chat. From there, you can share the news with extended family members (like aunts, uncles and cousins) and your closest friends. There are no rules that determine who belongs on your VIP list, but think of it this way: if you would want to be personally told about their engagement, you should consider telling them about yours.
Do Post on Social Media...
Once you've told your loved ones, you can post your "Just Engaged" picture on social media. Show off your favorite proposal photo with your S.O. to help family and friends feel like they were there. Animate the engagement announcement with a boomerang of your new ring, your first kiss as to-be-weds or a snapshot of you clinking champagne glasses. You can also incorporate engagement photo props like custom signs or even fun mugs. (P.S.: Don't forget to tag #TheKnotRings and your own personal wedding hashtag if you have one already.)
…But Don't Overshare Wedding Details
It's easy to be in the sharing mood once your tell your followers about your engagement. With so many exciting moments ahead of you, you'll want to document each wedding planning step along the way. After your initial engagement announcement, be selective about the subsequent details you post. While your followers will love seeing your proposal on their feed, find the balance between posting what makes you happy without oversharing. But when it comes to specific wedding information, save it for your wedding website to avoid hurting those who aren't invited.
Do Consider an Engagement-Moon
As you delve into wedding planning, revel in your newfound role as a fiancé by considering an engagement-moon. Whether you jet off to a tropical location or plan a low-key staycation in your hometown, more couples are jumping on this trend to enjoy quality time together before embarking on the wedding planning process. You'll only be fiancés for a limited amount of time, so follow up your engagement announcement with a well-deserved vacation.
Don't Forget to Send Announcements
Once the proposal excitement settles, be sure to send formal engagement announcements to your loved ones. If you want to stick to tradition, consider a paper announcement along with an invite to an engagement party. Call a local stationery store to have cards typeset and printed. (Psst: This is also a great way to screen potential vendors for your wedding invites). Alternatively, you can save time and order your paper goods online. Mixbook Photo Co. has engagement announcement templates you can personalize with photos, while Minted and Shutterfly sell customizable engagement party invitations.
If you'd rather take an eco-friendly approach to your engagement announcement, there are plenty of digital alternatives. Send your loved ones an email with all the proposal details and your wedding website, or design a Paperless Post invitation for your engagement party. Did you or your fiancé hire a videographer to film the proposal? Don't forget to include the highlight reel.
Don't Overlook Formal Engagement Announcement Wording
Traditionally, engagements are officially announced by someone other than the couple, unless there's no close relative to assume the honor or the couple wants to do it themselves. When composing your announcement, feel free to use the textual variation that best reflects your taste, audience and circumstances. (For example, you can choose whether or not you want to include who's "hosting" the wedding). Below are a few standard engagement announcement wording options to get you started.
If the Bride's Parents are Hosting
Mr. and Mrs. John Doe of Los Angeles announce the engagement of their daughter Jane Annette to Jack Smith, son of David and Beth Smith of Brooklyn, New York. Ms. Doe, a graduate of Vassar College, is a professor at Barnard College in New York City. Mr. Smith graduated magna cum laude from Princeton, attended law school at New York University and works at Smith, Golden, his mother's law firm, in New York City. A June wedding is planned. (Or no date has been set for the wedding.)
If a Single Parent Is Hosting
Ms. Janet Jones announces the engagement of her daughter Jane Doe to Jack Smith…. Ms. Doe is also the daughter of John Doe of San Francisco. (This line is close to the end of the announcement. Note: There's no need to mention the other biological parent if he or she wasn't involved in raising you.)
If a Remarried Parent Is Hosting With a New Spouse
Ms. Janet Jones and Mr. Timothy Chapin announce the engagement of Ms. Jones's daughter Jane Doe to Jack Smith…. Ms. Doe is also the daughter of John Doe of San Francisco.
If One Parent Is Deceased
The engagement of Jane Annette Doe, daughter of Mrs. Janet Doe and the late Mr. John Doe, to Jack Smith, son of David and Beth Smith of Brooklyn, New York, is announced by the bride's mother….
If a Close Relative or Friend Is Hosting
Here's an example of appropriate wording if your parents don't approve of your partner or are both deceased:
Ms. Julia Doe announces the engagement of her sister, Jane Doe, to Jack Smith, son of…. The bride is the daughter of [the late] Mr. John Doe and Ms. Janet Jones of Los Angeles.
If You're Hosting the Wedding Yourselves
Jane Doe, a professor at Barnard College, is to be married to Jack Smith, a partner at the law firm of Smith, Golden in New York City. Ms. Doe is the daughter of Mr. John Doe of San Francisco and Ms. Janet Jones of Los Angeles. Mr. Smith is the son of David and Beth Smith of Brooklyn, New York. A June wedding is planned.