15 Cute and Romantic Fall Proposal Ideas
Proposals and pumpkins—what's not to love?
Photo: Shelby Sawyer Photography
If your partner loves pumpkin patches, apple orchards, and sweater weather, a fall proposal is perfect for you. Here are 15 festive fall proposal ideas to get your creative juices flowing. As one season gracefully transitions into the next, not only does the change offer inspiration, but the opportunity to take full advantage of new seasonal favorites.
With summer fading into the rear-view mirror and an autumn chill in the air, you may be considering a fall proposal. As you dive into the proposal planning process, the ideal autumn marriage proposal could incorporate all of the hallmarks of the season (glowing pumpkins, amber leaves, warm cider, and spooky notions). However, planning the perfect fall proposal has a series of to-dos that you'll need to check off your proposal checklist including choosing a date and time for your late September, October, November or early December proposal, buying an engagement ring and practicing what you'll say when you propose.
In this story:
15 Romantic Fall Proposal Ideas
If you are feeling a bit overwhelmed about pulling off the ultimate romantic fall proposal, hold onto your pumpkin spice latte, we have curated 15 cute and romantic fall proposal ideas to set the autumnal mood.
1. Apple-Picking Proposal Idea
Come mid-September through October, apples are fresh for the picking. When planning your autumn proposal, consider doing so in an apple orchard. While most apple orchards are a bit rustic, this can be the perfect backdrop for a fall proposal.
Before popping the question under the Macintosh tree, pre-plan with your local orchard, so they are aware you'll be doing so and inviting a photographer to capture the moment. The sun can be intense on autumn afternoons so plan on proposing closer to dawn or dusk for ideal lighting and temperatures. Whether you decide to pull the ring out of your pocket or from inside an apple pail, that's your creative call.
2. Pumpkin Patch Proposal Idea
If you and your partner adore all things pumpkin spice, a pumpkin patch proposal idea may be in your cards. Similar to planning an apple orchard wedding proposal, a pumpkin patch proposal would be beautiful during early morning or closer to dusk.
You can brainstorm with your local farmers to see if they can assist with your fall proposal plans by setting aside a private space to pop the question or carving a pumpkin to act as a "Will you marry me?" sign.
3. Pumpkin Spice Latte Proposal Idea
For coffee lovers, fall is synonymous with PSL season. And while the concept is nothing groundbreaking, this cute fall proposal idea of popping the question with a PSL cup is anything but basic.
For this romantic fall proposal idea, consider writing your proposal on the outside of their coffee cup, right under the spot where their name goes. Naturally, something this crafty has to be pre-planned. We suggest that you work with your local coffee shop and favorite barista to pull this adorable autumn proposal off.
4. Pumpkin Carving Proposal Idea
A perfect October proposal idea would be to host an intimate pumpkin carving gathering for you and your partner for an at-home marriage proposal. Naturally, you can carve your message in the pumpkin or ask the question while enjoying the cozy seasonal activity together.
5. Hayride Proposal Idea
Hay wagons are magical experiences come autumn. Plan the perfect fall Sunday outing that starts with a hayride to enjoy the fall foliage. The outing is a beautiful chance to ask your partner's hand in marriage. Follow up this romantic fall proposal idea by enjoying fresh apple cider and splitting a fall donut to toast the occasion.
6. Horror Movie Night Proposal Idea
Horror movies are to fall and Halloween as clam bakes are to the summer moments. While scary movies aren't everyone's cup of tea, some couples love to be scared together. Popping the (sometimes scary) question is a cute fall proposal idea to try. To put this idea into motion, pre-plan an outdoor spooky movie night, illuminated by a movie projector, twinkling pumpkins, and the harvest moon. Naturally, you want to have a rain date in mind for any outdoor fall proposals, but this one will be for the memory books.
7. Foliage-Viewing Proposal Idea
Depending on where you live, October through November is a prime leaf-viewing season. For couples who share a love for the outdoors, consider an October or November proposal that centers around enjoying the changing leaves.
Ideally, this romantic fall proposal doesn't require a lot of props as Mother Nature takes care of the scenery. However, pre-planning a trip to prime foliage places, such as Vermont or coastal towns around Lake Erie, can assist with your grand gesture of love.
8. Ski Lift Foliage Proposal Idea
Did you know that in the off-season some ski resorts still operate their mountain lifts so guests can enjoy a gondola ride and take in sweeping nature views? Much like a leaf-viewing fall proposal, a ski lift fall foliage tour is a romantic autumn proposal idea. New England states, such as Vermont, have a variety of ski resorts (Bolton Valley Resort and Jay Peak Resort are some of our faves) to partake in a scenic lift tour through the foliage with your partner. You can pop the questions when you and your love are way above the golden treetops.
9. Fall Farmer's Market Proposal Idea
Autumn brings the harvest bounty of all the best seasonal fruits and vegetables. If weekend farmer's market runs are a favorite between you and your S.O., consider asking the question there. Surely, there will be a throng of people around, but if your partner doesn't mind a public proposal this shouldn't be an issue. As you pass the counter of fresh squash with warm apple pies in the next booth, take a knee and ask the question.
10. Fall Flowers Proposal Idea
Come September, chrysanthemums are in bloom. Let these seasonal fall flowers spark your creativity when planning a fall proposal. You could take your partner to a nursery and ask among pots of mums. Alternatively, you can make a homemade arrangement for a beautiful chrysanthemum-themed fall proposal.
11. Fall Bonfire Proposal Idea
There is something about a full autumn moon, crisp evening breeze, and warm bonfire that make the season extra cozy. For this romantic fall proposal idea, plan on asking about marriage around a fall bonfire. Keep an eye on the weather conditions before the big night. Have plaid blankets to cuddle under, extra lanterns, and yummy campfire treats to make your October proposal spark everlasting love.
12. Fall Trip Proposal Idea
How does sampling hard cider at a local brewery in Asheville, North Carolina, sound? Or maybe you like the appeal of soaking up the changing leaves in the Berkshires? A fall trip is a great proposal-meets-vacation idea you won't soon forget.
When planning the ultimate fall romantic proposal, dream up a couple's weekend trip. Fill the agenda with experiences and outings that both you and your partner would love to do together. Somewhere along the course of the weekend is when you'll propose.
13. Thanksgiving Proposal Idea
Many couples not only share a love for each other, but for their families as well. When brainstorming a November proposal, consider a Thanksgiving proposal. Sometimes, the best fall proposal ideas are done with loved ones gathered around. You can keep your Thanksgiving proposal completely secret from everyone or clue in selected family members about what will happen after the pumpkin pie is sliced.
14. Autumn Nautical Proposal Idea
Planning an October proposal leaves you with a variety of picture-perfect lake days. If you and your partner love to spend time at the lake, pre-plan a lakeside autumn proposal. Of course, the autumn leaves look best at sunset. Whether you ask the question dockside or onboard a boat that offers proposal packages, your memories will be golden.
15. Haunted House Proposal Idea
Fall is known for notes of clove and cinnamon. However, it is also known as Spooky Season. If you're a couple who loves to embrace your inner creeper, experiencing a haunted house can be a unique way to propose. Before entering the haunted grounds, you can ask your partner to marry you. This way, the screams of your wedding-worthy excitement can overpower all of the haunt-induced screams you two are about to experience.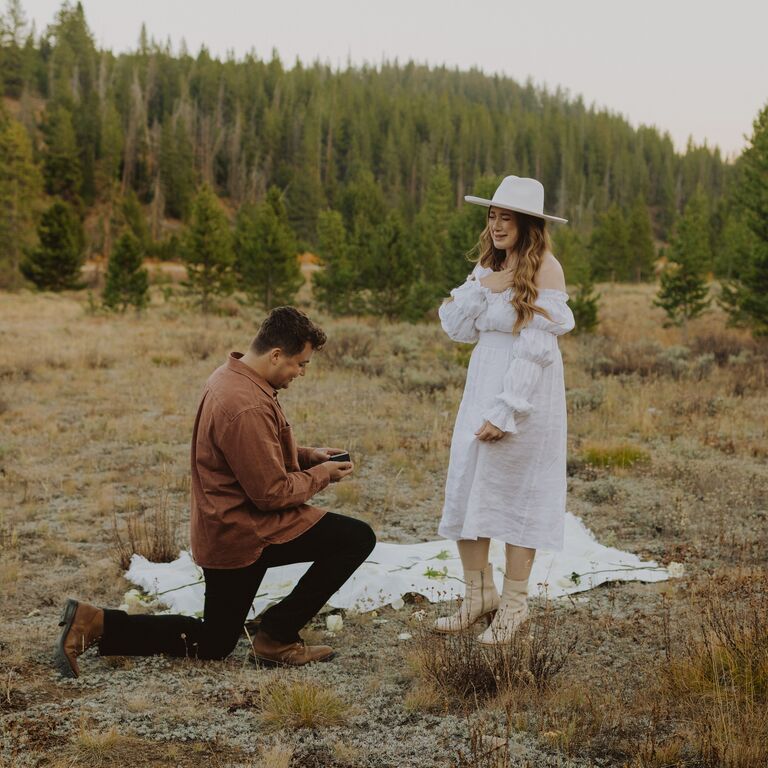 Four Things to Consider for a Fall Proposal
Now for the nuts and bolts of how to orchestrate the perfect autumn proposal. Follow these helpful tips and advice when planning an autumn proposal.
Consider the Weather
With any outdoor plans, weather is a big factor to consider. As you get close to the big day you pop the question, check (and double-check) the weather. It is always smart to have a rain day planned for yourself, your partner, and any third parties such as photographers, videographers, florists, and so forth.
Hire a Photographer
With any milestone, you'll want to document it. Hiring a photographer will give you solace in knowing your special day will be captured. The Knot Vendor Marketplace has a wonderful assortment of photographers to consider for the special moment. Work with your photography to set a schedule for the day so everyone can stay on track as events unfold.
Weigh the Benefits of Public vs. Private
As you're deciding on a proposal location, you have to consider whether you want a public or private setting. For example, if you want the most intimacy then a home proposal might be best. But if you're considering proposing elsewhere, you'll need to research what's available to you. Many public properties have rules around what you can and can't do. Before your autumn proposal, do your due diligence by asking permission and seeking any permits (if needed).
Practice the Proposal
Practicing your proposal speech and timeline will ease your nerves and establish a timeline of how you plan on proposing. Go to the actual spot where you're planning your fall proposal and run through it. Recite your speech during moments of alone time. The more you prep and practice, the calmer you'll be in the moment.