The Ultimate Guide to In-Season Fall Wedding Flowers
Find out what'll be readily available for your autumn wedding date.
Not only is fall a great time to get married, but couples tying the knot during autumn are lucky because plenty of stunning flowers are in bloom. Before you go too far down the rabbit hole of brainstorming dream fall flower wedding ideas, it's important to consider what's in season around the time of year of your wedding. Selecting seasonal flowers is great for a number of reasons. Notably, they're easier to procure and therefore better for the budget. Additionally, seasonal flowers are going to look fresher and more vibrant in your fall wedding bouquets and centerpieces.
In this article:
Top Tips for Sourcing In-Season Fall Wedding Flowers
Consider Your Wedding Aesthetic Holistically
As you're setting on a plan for your wedding floral arrangements, don't make those design decisions in a vacuum. Consider all the elements that are going into your wedding decor so that you end up with a celebration that feels thematically cohesive. Eddie Zaratsian, the owner of Eddie Zaratsian Lifestyle & Design, emphasizes how the venue you choose deserves particular attention. "Your venue will also play a major role in what your bouquet should look like. If you're hosting your wedding at a gorgeous estate or a beautiful oceanside venue, it's key that your flowers evoke that luxury, over-the-top feeling."
Keep Your Bouquet in Water for as Long as Possible
Keeping your bouquet in water prior to the wedding will help the arrangement look its best during the wedding. Bron Hansboro, the owner of The Flower Guy Bron, advises that you "keep your bouquet in its water source as long as possible, with lukewarm room temperature water. The last thing you want is to have your florals wilt before you have a chance to walk down the aisle. Your florist should be able to store and preserve your flowers up until the big day, but this knowledge is great to have on hand in case your plans change." Similarly, boutonnieres should be stored somewhere cool until they're ready to be pinned onto lapels.
Utilize Grasses and Foliage in Your Fall Floral Arrangements
As the trees around you start to show off their fall foliage, consider incorporating leafy branches and dried grasses in your wedding-day arrangements as a nod to the season. Pampas grass works great for boho-themed weddings while seeded eucalyptus or ruscus would work well in romantic floral designs. In addition to grasses, berries like snowberry and hypericum also work well as filler.
Wedding Flowers That Are in Season During the Fall
A great way to ensure your wedding flowers are as fresh as possible and blend beautifully with the look of your wedding is to select flowers that are naturally available on your wedding date. While it's possible to ship in out-of-season flowers for your big day, these seasonal blooms may prompt you to reconsider in favor of local botanicals.
Alstroemeria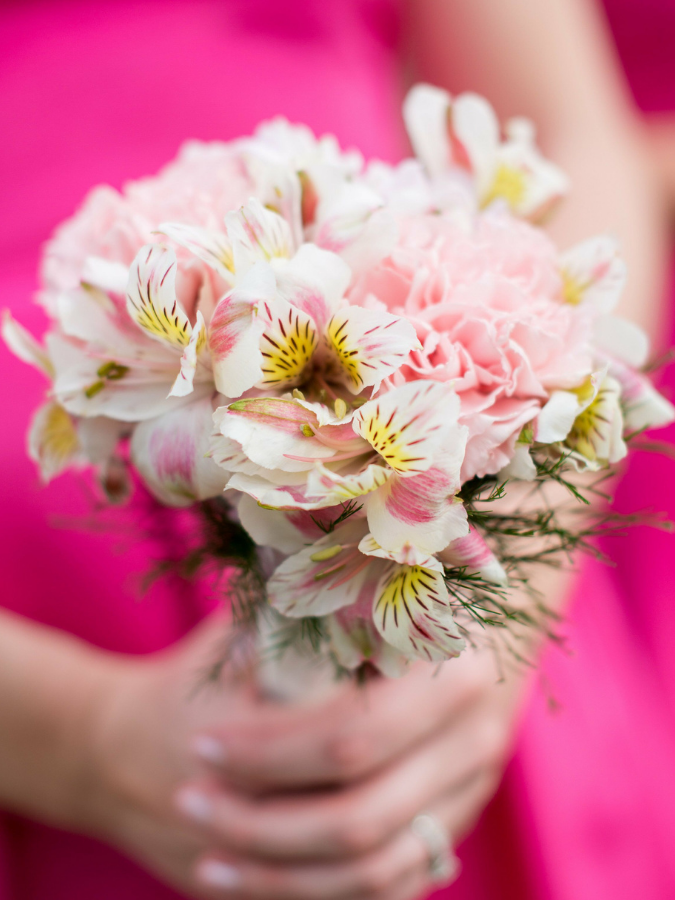 Commonly referred to as the Peruvian lily, alstroemeria is a colorful pink bloom that will bring a spring or summer wedding vibe to your fall nuptials.
Amaranthus
Easily identifiable by its dark red tendrils, amaranthus is a great option for to-be-weds considering cascading bouquet ideas.
Astrantia
Similar in appearance to scabiosa, astrantia is identifiable by its prickly mauve blooms. The unusually shaped flowers are a great option for fall wedding bouquets.
Calla Lily
This timeless bloom (similar in appearance to tulips) is known for its elegant trumpet shape and long stems. Calla lilies are a great option for couples planning glam or modern weddings with minimal black-and-white color palettes.
Celosia
Celosia is similar in color to amaranthus, however, instead of its blooms falling in long tendrils they stand up straight like little cones. Celosia comes in a variety of colors from purple and dark red to burnt orange and bright pink.
Chrysanthemum
Chrysanthemums, especially spider mums, are a great option for fall weddings. Chrysanthemums are identifiable by their numerous petals and bright colors.
Dahlia
Dahlias are a favorite flower in the wedding world. However, they have a limited growing season which often disappoints couples tying the knot during the spring. However, fall couples are in luck because the lush blooms' limited growing season goes from August through October.
Gerbera Daisy
Similar in appearance to sunflowers, Gerbera daisies are a fun option for casual, eclectic weddings. They're also an incredibly versatile option since they come in a range of colors from yellow and red to pink and white. Gerbera daisies have a rather long growing season and are available from spring through early autumn.
Hellebore
Hellebore blooms are growing in popularity and are a good option to consider if you want flower arrangements that feel unique. Their growing season begins in late fall and continues through winter.
Marigold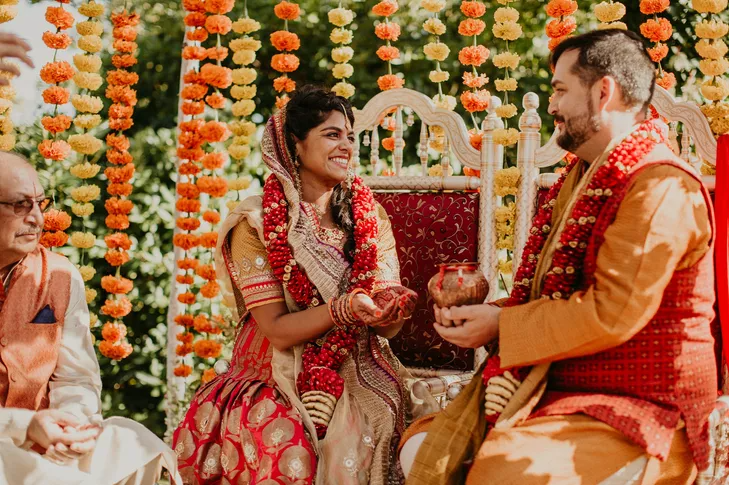 Often seen at Hindu weddings, marigolds (similar in appearance to carnations) are a great option for creating large flower installations because they're a fairly budget-friendly bloom. Marigolds come in red, yellow and burnt orange colorways.
Pansy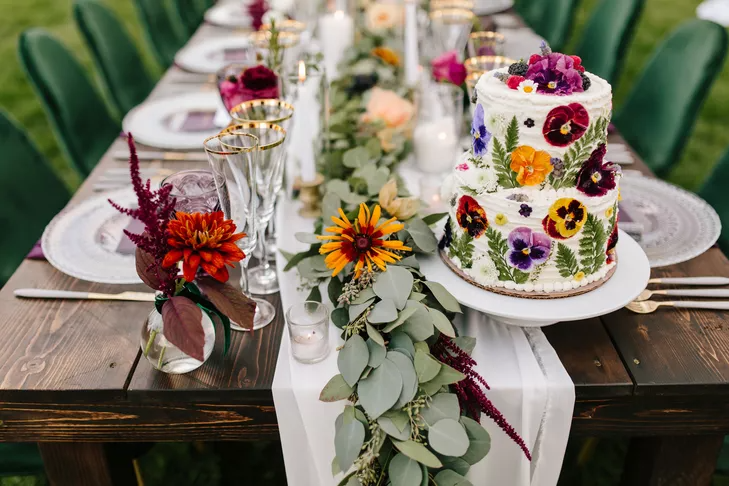 Pansies are edible so they're a fun option for couples who want to meld their catering and floral plans. From pressed pansies on a wedding cake to fresh pansies used as cocktail garnishes, your options are limitless.
Yarrow
A good option for boho and rustic weddings, yarrow is a yellow plant with blooms that resemble sea coral. Yarrow is shaped much like Queen Anne's lace with a flat array of petite blooms atop a thin stalk.
Foliage to Consider for a Fall Wedding
While most types of foliage can be easily sourced all year round, there are a few types that would look especially great at an autumn wedding. These options will blend beautifully with the fall leaves surrounding your venue.
Bunny's Tail
Named after its uncanny resemblance to rabbit tails, bunny's tail is a petite, yet fluffy, filler option.
Eucalyptus
While many wedding trends highlight silver dollar eucalyptus as a greenery go-to, baby blue eucalyptus (seen here) and seeded eucalyptus are varieties that shouldn't be overlooked.
Hops
Beer enthusiasts, this filler foliage option is for you. In recent years florists have begun expertly including dried hops in some arrangements.
Year-Round Flowers to Consider for a Fall Wedding
Some flower varieties naturally bloom all year round. These botanicals are especially great options to include in your wedding because they'll be easy for your florist to source and the flowers are sure to look healthy and fresh.
Roses
Roses are nearly synonymous with weddings and a big reason for that is that they're available all year round so all to-be-weds have access to stunning garden roses and spray roses alike.
Waxflower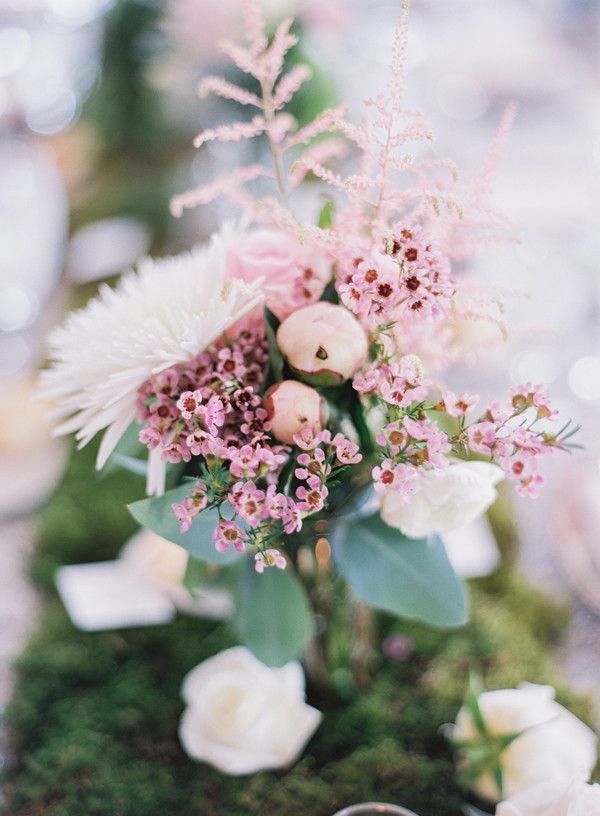 Waxflower gets its name from the waxy surface of its petite blooms. For couples who don't want to use baby's breath as filler, this is a great option for couples who want their arrangements to resemble wildflowers.
Lisianthus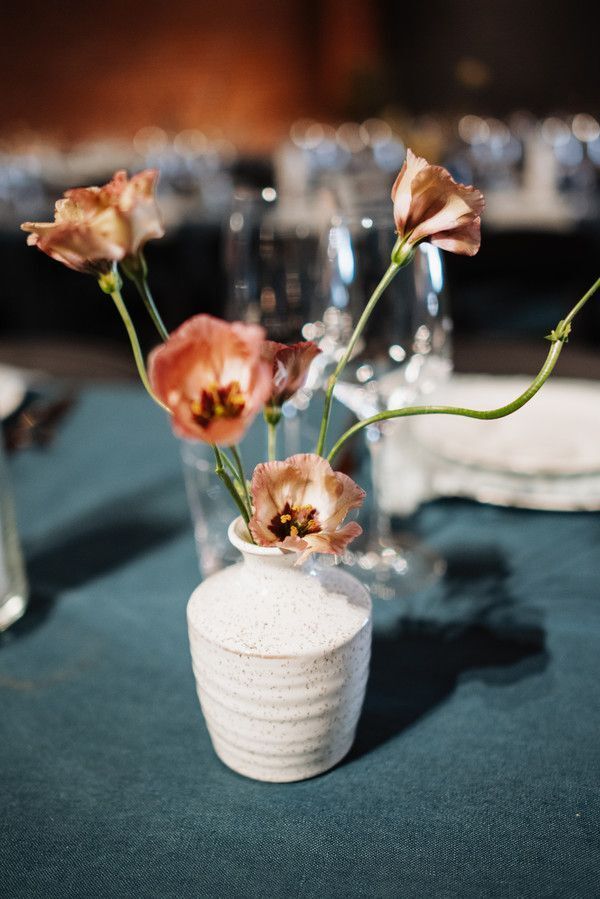 Lisianthus is like a cross between a rose and carnation. Lisianthus works great when used in tandem with roses. Pro-tip: Since lisianthus blooms are a bit smaller than roses, the plant works especially well in boutonnieres.
Baby's Breath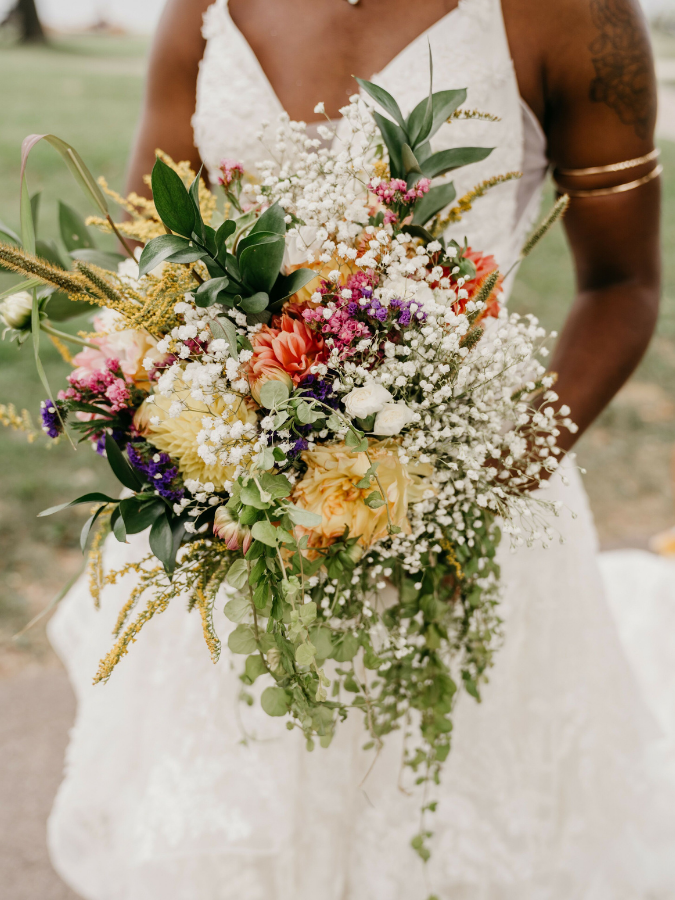 Baby's breath is a hearty option to act as a filler in arrangements. Additionally, since the flower is so affordable, it can be used in large-scale installations as well.
Gorgeous Fall Wedding Flower Arrangement Ideas
Now that you know what types of flowers are in season during the fall, it's time to start brainstorming your perfect combination of varieties. Let these beautiful flower arrangements inspire your own wedding flower designs.
Bouquet With Astrantia and Rose
To complement the astrantia and rose blooms in this bridal bouquet, the floral designer utilized bunny's tail and dried ferns.
Dahlia Ceremony Arch
A mix of red, orange and burgundy dahlias were used to decorate the aisle and arch at this waterfront wedding ceremony.
Lounge Area Centerpiece With Fall Leaves
An arrangement of roses and fall leaves topped the concrete coffee table at the lounge seating area for this wedding in Telluride, Colorado.
Custom Bar Front With Leaf-Centric Urn Arrangement
To complement the custom bar front at this early fall reception, the couple's florist put together a vibrant arrangement filled with leaves in an array of fall wedding colors.
Rustic Greenery Centerpiece
There wasn't a fresh flower in sight at this wedding in Ontario, Canada. Instead, an assortment of eucalyptus and ferns set the tone for the arrangements.
Bouquet With Fern and Rose
The garden roses in this rust-hued fall bouquet were so lush they almost looked like peonies.
Ceremony Aisle Arrangement With Branches
Branches are a great option to add height and drama to autumnal designs.
Orange-and-White Centerpiece
These rustic centerpieces were comprised of orange dahlias, butterfly ranunculus blooms and roses.
Boutonniere With Bunny's Tail and Maple Leaves
Maple leaves provided a vibrant backdrop to this rustic fall wedding boutonniere.
Bridesmaid Bouquet With Eucalyptus and Rose
For the bridesmaid bouquets at this wedding, the floral designer brought together eucalyptus and rose with sprigs of bunny's tail and dried seed pods.
Rust-Hued Ceremony Arch
An assortment of fall foliage ensured this ceremony arch looked right at home at this mountain-view wedding.
Wedding Cake With Rose and Leaf Accents
While it's commonplace to add fresh flowers as decoration to wedding cakes, this couple took things one step further and added maple leaves for a bit of whimsical seasonality.
Rose and Zinnia Centerpiece
Vibrant zinnias added a burst of color to this white-and-green centerpiece.
Clematis, Dahlia and Zinnia Centerpiece
While many fall wedding arrangements focus on rusty, terracotta-like hues, don't be afraid to play with color if you want to.
Air Plant Seating Chart Display
Since air plants don't need water they're a great option for couples who want to give guests plant wedding favors that aren't succulents.
Boutonniere With Bunny's Tail and Dried Ruscus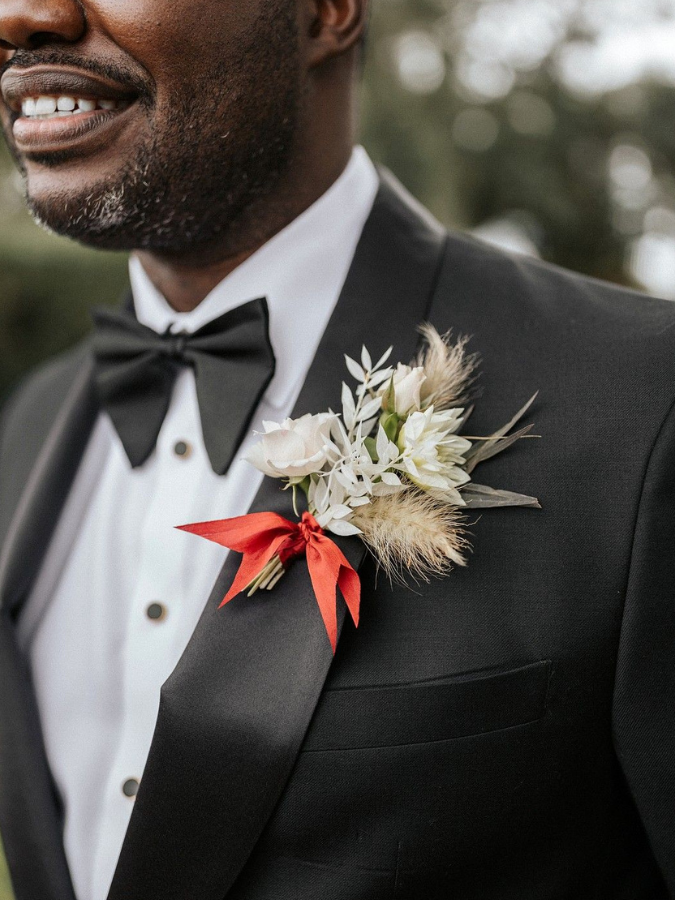 Ruscus is a great foliage option whether you use it fresh or dried, as this groom did.
Celosia, Dahlia and Rose Bud Vase Arrangement
The great part about choosing in-season blooms is that many of them come in similar colorways, like the burnt orange botanicals seen here.
Bridesmaid Bouquets With Wildflowers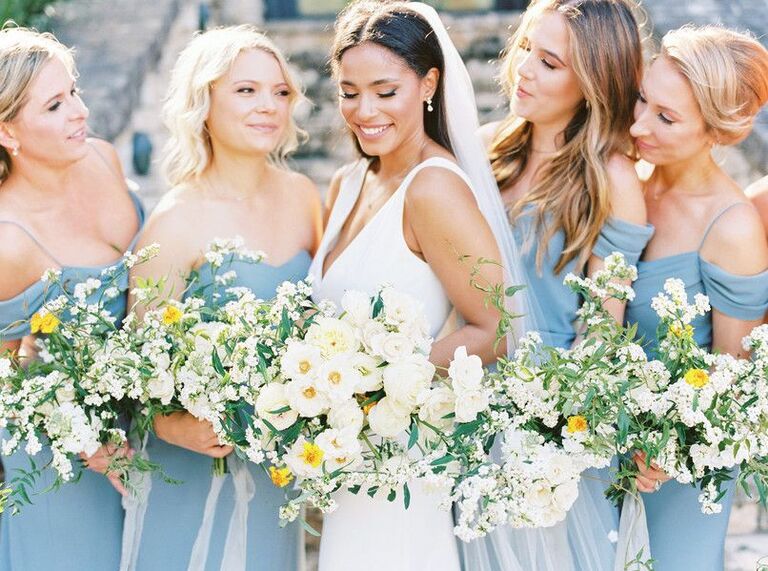 For this wedding in Texas, the bridal bouquet included ranunculus and roses while the bridesmaids' bouquets resembled clutches of wildflowers.
Amaranthus and Rose Bouquet
Burgundy strands of amaranthus added beautiful movement to this bridal bouquet.
Fireplace Flower Installation With Dahlias
Instead of commissioning an altar arch, this couple had the fireplace at their wedding venue decorated with blooms before they tied the knot in front of it.
Ceremony Backdrop With Dried Palms
Dried botanicals are a great option for weddings, no matter the time of year because they don't wilt the same way that delicate blooms like hydrangea or peonies might.
Simple Fall Boutonniere
Don't be afraid to use pastels in your fall wedding decor. Pastels aren't only for spring weddings as evidenced by the soft pink bloom in this boutonniere.
Ceremony Decor With Dried Palms and Pampas Grass
This Palm Springs wedding ceremony was decorated with boho palm and pampas grass arrangements.
Hanging Ceremony Installation Made of Hops
Dried hops were used to create the dramatic hanging foliage chandelier at this wedding ceremony.