How to Plan a Wedding From Start to Finish
Not sure where to begin? We walk you through the process with this step-by-step guide.
If you just got engaged, your first instinct might be to open Google and type "how to plan a wedding." We don't blame you—planning your nuptials is certainly a big deal, and it's unlike any other party you're hosted before. When you're not sure where to start planning a wedding, narrowing down the first steps can feel downright overwhelming… but that's where we come in. As your go-to wedding planning resource, our website has all the tools you need to bring your dream day to life. Plus, we even have an app that's filled with ideas, inspo and guided help to make planning a breeze. The best part? It's all completely free. So, before you read on to our step-by-step wedding planning guide, download The Knot App first—because that's the actual first step to complete. (Trust us.)
You might also be wondering how long it takes to plan a wedding. Are you starting too early? Too late? According to The Knot Real Weddings Study, the average engagement lasts 15 months, but you can spend far more or less than that planning your big day. Whether your wedding day is two years or six months (or three months!) away, it's doable, but if you're planning with a shorter timeline, flexibility is key.
Below, we've listed everything you need to know about how to plan a wedding from the "big picture" perspective. But, if you're looking for descriptive step-by-step details, check out our comprehensive wedding planning checklist, which serves as the perfect counterpart to this outline.
In this easy, no-fuss wedding planning guide, you'll learn everything you need to know about how to actually bring your big day to life. (Consider it wedding planning 101). Because the industry has undergone plenty of change in the past three years, wedding planning is different now than it was in years past.
There's no "right" way to plan your wedding because your special day will be as unique as your relationship. But, if you need some help to get started, we tapped a few seasoned industry experts to share the most important tasks you need to know, in the general order you should aim to complete them.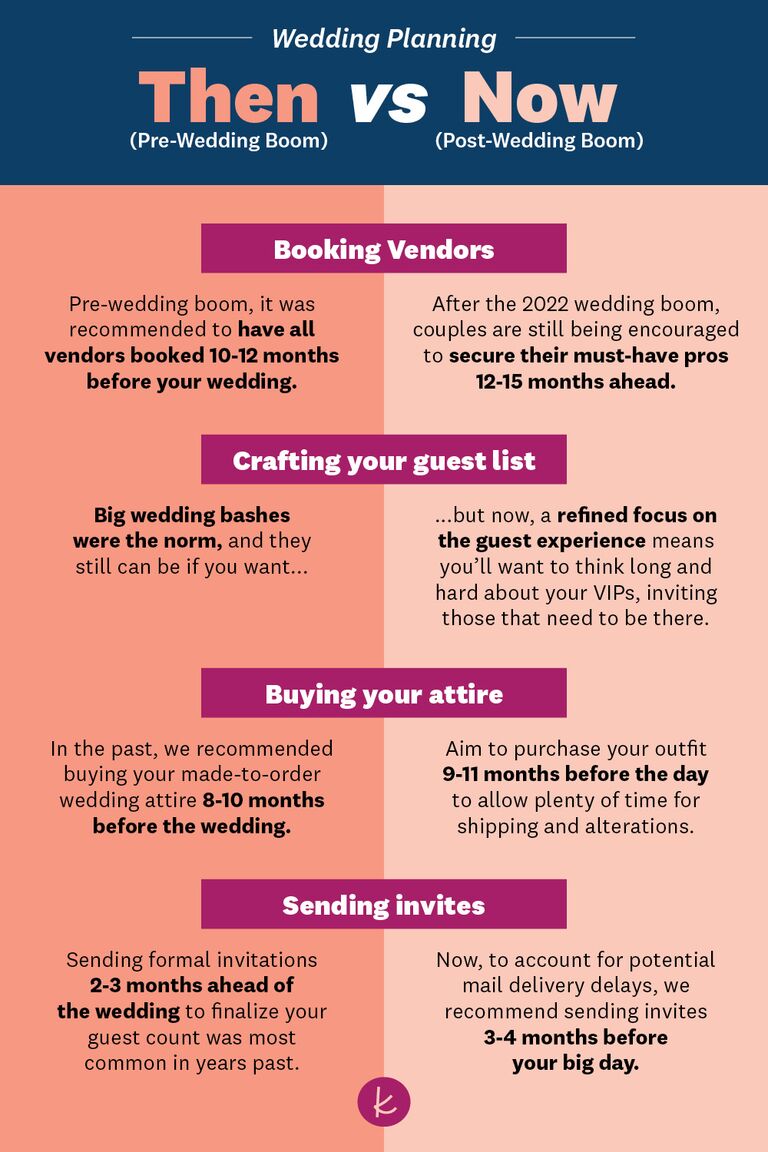 1. Start Thinking Big Picture
The minute you get engaged, everyone will be asking for your wedding date. In reality, though, you won't be able to set an exact wedding date until other major decisions—like setting your budget—are made. But before you dive into the nitty-gritty details, we recommend thinking about the big-picture vision you have for your wedding day. What time of year do you want to host your celebration? What wedding venue style sparks your interest? Are you drawn to intimate, outdoor boho parties, or would you rather have a glam formal affair at a chic city rooftop? How many people do you want to invite? These are key details to consider before you move forward with any decisions. "I always ask my couples to describe their perfect wedding day," says Mary Thornton, founder of Connecticut-based stationery boutique and event planning company Party Party. "Is it casual? Formal? Large? Small? Do you prefer formal and elegant, or do you want a fun, casual dance party? Once that decision is made the other ones fall into place."
Remember, there's no need to rush. (Unless, of course, you simply can't wait to say "I do." In that case, plan away!) Take your time gathering wedding inspiration during this stage of the planning process. Don't forget to check out magazines (you can even subscribe to The Knot Magazine to get extra inspiration beyond a single issue!), social media and real wedding photos—and don't limit yourself to the obvious sources. Something as unlikely as a wallpaper pattern, a scene from a favorite movie, or a family heirloom can spark your creativity. We also recommend browsing our yearly wedding trend report for fresh, of-the-moment ideas.
2. Set a Wedding Budget
Curious to know the first steps to planning a wedding? Once you've taken some time to daydream about what you want your wedding ceremony and reception to look and feel like, setting a budget is the very first task to complete. After all, you can't move forward with any subsequent decisions until you know what you can afford to spend. One thing to note, though, is that you'll also need to think about your guest count as well, since your wedding size and budget go hand-in-hand. "The wedding budget and the guest list determine the rest of your planning, like where you'll get married, what kind of food you'll serve, whether you'll have a band or DJ, among others," Thornton explains.
At this point in the planning process, it's necessary to sit down with your families and figure out if anyone is going to contribute financially, and how much. This number will affect every decision about how you plan your wedding, along with the purchases you make, so be intentional about setting aside this time to discuss expectations. While it may feel uncomfortable at first, having this budget discussion early on will keep you and any financial contributors aligned on your values and goals moving forward, thus preventing miscommunication or confusion. "Interactions with parents or other stakeholders who may be contributing financially to your big day may be a source of stress," says Damali Peterman, conflict resolution expert and founder of BreakThroughADR. "The key to navigating these interactions is to find ways to be appropriately vocal, using your best judgment to navigate the discussion, and only accept what you can tolerate." (Psst: Check out our guide on how to ask your parents to contribute to your wedding here.)
You might also take this opportunity to sign up for The Knot Savings Program. For a one-time $50 fee, you'll get access to exclusive discounts, free gifts (including your very own copy of The Knot Ultimate Wedding Planner & Organizer) and much more. This program will help you save on wedding expenses throughout the planning process, so the earlier you sign up, the better!
3. Establish Your Priorities and Expectations as a Couple
Before you begin hiring vendors, purchasing wedding decor and shopping for attire, experts say that creating a priority list and mission statement is an essential step. "This is one of the starting conversations I have with my clients," says Cathleen Holloway, founder of Texas-based design and event company Holloway Events. "Everyone has different priorities when planning a wedding. For example, a client who's a self-proclaimed foodie is going to want to have the best food at their wedding, while a client who's obsessed with flowers will prefer lush displays. We categorize our must-haves and our wish list items and work from there."Establishing your priorities and expectations is a key part of the wedding planning process for two reasons. Not only will this guide budget allocation, it'll also help you and your partner remain aligned on what's most important to both of you while allowing you to compromise—and this is key for minimizing disagreements and conflict along the way. "It's essential to discuss upfront what each person's role will be and the related expectations," Peterman explains.
And, if you find yourself feeling overwhelmed, Peterman advises to address the concern respectfully, and as soon as it arises. "I often see frustration arise with couples when there's a breakdown in the communication, or if a miscommunication goes unaddressed," she adds. "Maintaining a frequent and open line of communication and leaning into difficult conversations will greatly minimize stress associated with wedding planning."
4. Find Your Wedding Vision
Before you try on a single wedding dress or tuxedo, book a reception band or sample a bite of wedding cake, determine the vision for your wedding. While you've already done some big picture ideating, now's the time to really narrow down what you want your day to look like. Is it a candlelit evening in a mansion or a barefoot ceremony on a tropical beach? While you're picturing your perfect wedding, here are some key questions to answer now: Will you have a big or small wedding? Will your party be outdoors or inside? Will it take place at home or at a special destination? Will you choose a specific theme, or are you inspired by a certain wedding style, like modern, classic, romantic, vintage, rustic or all-out glam?
To help you get a better idea of what you want (and what you don't want), take our fun Style Quiz that takes all the guesswork out of creating your dream wedding vision, then matches you with beautiful venues and pros that fit your style. When you start hiring vendors, it can be extremely helpful to have a mood board or a few saved Instagram posts that highlight your favorite wedding ideas, as well as the aesthetic you'd like to hone in on. After all, having a clear wedding vision will make your big day much more memorable to guests. "The aesthetic of your wedding is everything," says Holloway. "As we always say, the beauty is in the details."
5. Consider a Wedding Planner or Coordinator
If you have room in your wedding budget, we recommend hiring a wedding planner or a coordinator early in your planning timeline. A professional can help you know how to plan a wedding under your specific circumstances and needs. Alternatively, you can also hire a part-time consultant or coordinator to devise a wedding blueprint—including the budget, your schedule and lists of good vendor and site choices—before you launch solo into the preparations. Another option is a day-of wedding coordinator, who will make sure everything goes smoothly on your wedding day.
While you can absolutely plan your own wedding, having the expert guidance of a planner or coordinator will make your experience much more enjoyable and stress-free. "There's a difference between filling in a spreadsheet and looking at Pinterest photos and actually planning and executing a wedding," says Thornton. "A planner has worked on hundreds of weddings and has a depth of knowledge that is so beneficial. Figure out what your budget is for a planner and see if you can make it work because you won't be sorry."
And, as Holloway notes, a wedding planner will be exceptionally skilled at helping you navigate the challenges and changes of the wedding industry in a post-COVID world. "Planners are experts in our field for a reason, and those that are still standing after navigating a pandemic will not steer you wrong," she says.
6. Set Your Date and Book a Venue
Once you have a vision guiding your wedding day, you'll be ready to set your date and book the setting. Your ceremony and reception venue will become the backdrop for virtually all your wedding photos—not to mention, it'll have the biggest impact on your budget and the overall vibe of your soirée. Ensure that you plan to get the look, price and extras you want by scouring local listings, shopping around, scheduling visits and booking early. (Pro wedding-planning tip: Use The Knot Marketplace to find wow-worthy venues near you.)
In years past, it was recommended to secure your wedding date and venue at least one year in advance. Now, post-wedding boom, we recommend completing this step as soon as possible. Because vendors and venues are quickly filling up, it won't hurt to get a head start by planning proactively.
7. Hire Priority Wedding Vendors
If you just can't imagine getting married without a certain wedding band playing at the reception or a photographer whose work you love, act fast. Many in-demand wedding vendors are hired more than a year in advance, and once they're booked, they're gone. This is especially relevant for couples planning 2022 and 2023 weddings. Since vendors fill their schedules quickly, we recommend reaching out to your priority pros first—you can even do so if you're choosing between a few wedding dates, as this will help you pick the day based on your must-have pro's availability.
While there's not necessarily an order you need to follow when booking pros, we recommend starting with a wedding photographer first. "The photographer makes your memories, and the photographs replace your memories over time so it's important to hire someone you trust," says photographer Lucy Cuneo. "If you really are in love with a specific photographer, I even recommend checking their availability before you pick your wedding date."
Beyond photographers, we recommend prioritizing venues, florists, caterers, rental companies, videographers and hair/makeup stylists first. You'll have more time later in your planning journey to work with fashion designers, stationers, and niche entertainers (like a live painter or reception dancers).
8. Organize All Wedding Materials
If you want to know how to plan a wedding, one thing rules above all else: organization. You can keep essential documents in a virtual, sharable space (like Google Docs) so you, your partner and any family members can share access and edit things together so that everyone is on the same page. But for those who prefer physical materials, you can never go wrong with a good, old-fashioned wedding notebook. After all, you'll need a place to store physical receipts, brochures and other items from vendors. A master checklist is also a good idea—click here to customize your own wedding planning checklist through The Knot.
9. Plan Your Wedding Guest List Tactfully
By now, you already have a general idea of how big your wedding will be thanks to the previous planning you've already completed. Once you have a ceremony or reception site booked, for instance, you're going to be limited by how many people it can accommodate. But beyond that, consider what you want the flow of the day to look like. Would you rather have quality one-on-one time with each guest or throw a once-in-a-lifetime party for all your friends and family? This will affect the exact number of people you invite. Keep in mind that including more guests in your wedding plans means higher prices, as catering costs are generally calculated on a per-head basis. So, in addition to location, your budget will have a big influence on the size of your guest list.
If your parents will be contributing financially to the wedding, they have a say on the guest list. Work with them (or any other contributors) to determine exactly who will receive an invitation. And, if you're not sure how to create your guest list without drama, use this helpful guide as a resource. (Remember: Only invite those who you truly want to celebrate with!)
10. Make Your Wedding Registry
There's no such thing as making your registry too early. With engagement parties, showers and well-wishing relatives in your future, everyone will appreciate your foresight. After all, weddings and gifting are synonymous. And although gifts are optional for some wedding events, like engagement parties, some of your guests may want to give you something to commemorate the occasion. We recommend setting up your wedding registry through The Knot so guests don't have to ask (or guess) what you'd like.
11. Create Your Wedding Website
Your wedding website is equally as important. This is a helpful tool for loved ones, because it houses all the relevant details about your wedding day, like the date, time, dress code, and transportation logistics you've arranged, like hotel room blocks or shuttle services. Beyond that, it's a place to show off your favorite proposal and engagement photos, as well as local recommendations for those that will travel to your nuptials. (This is especially important if you're hosting a destination wedding.) Create your wedding website early, and update it frequently as you finalize more details. Then, include the link on your save-the-dates and on an insert in your formal invitations so guests know how to find it.
12. Insure Your Wedding
No matter how careful you are, the peace of mind that wedding insurance will give you and your fiancé is worth it, especially after the effects of the coronavirus pandemic. And, in addition to insuring your wedding event, we also recommend getting policies for your engagement ring and wedding rings too. You can purchase a jewelry protection policy as an extension of your renter's or homeowners policy (which would reimburse you for a set amount of cash if you lose the ring), or through a company that specializes in jewelry insurance (which might offer more coverage than a standard homeowner's policy by replacing a lost or stolen ring).
13. Choose Your Wedding Party
Now, it's your turn to propose to your close friends. While having a wedding party isn't necessary, many couples want to be surrounded by bridesmaids and groomsmen as they celebrate their biggest milestone yet.
Remember, the earlier you pop the question, the better. Your wedding party is agreeing to spend their money and donate their time to you, so be considerate and kind by informing everyone about all your plans, including costs for attire, bachelor and bachelorette parties, and more. Your wedding day will feel much more special thanks to your best man, maid of honor, and the entirety of your crew.
14. Select a Stationery Suite
As your big day draws closer, you'll need to alert guests with beautiful wedding invitations. But, believe it or not, your stationery suite includes more than just save-the-date cards, formal invites and RSVP cards. Consider what you want all of your paper goods to look like, from place cards, menus, ceremony programs, and wedding favor tags. Each plays a role during the day, and having a consistent design among all will make your wedding look seamlessly cohesive. We recommend using The Knot Invitations to find paper goods that match the style and theme of your wedding day.
15. Shop for Wedding Attire
One of the most exciting outcomes of successfully learning how to plan a wedding is shopping for attire. Begin your search by browsing wedding dress and suit ideas online, and don't forget to save your favorites to take them with you to your appointments. Then, learn the lingo before setting foot in a store. If you're shopping for a wedding dress, read up on silhouettes, necklines, trains and hues that you're interested in trying. For those shopping for a suit, consider whether you want a traditional suit or a sleek tuxedo. We also recommend considering whether you'll buy or rent your outfit.
When it comes to wedding attire, we recommend shopping as early as you can. Custom orders, as well as tailoring, can take months. Plus, you'll need additional time for touch-ups and alterations.
Spend some time thinking about how you can showcase your personality through all aspects of your wedding day outfit, from the actual clothing to the colors and even your accessories too. "Oftentimes, additional accessories like jewelry are forgotten, but they're equally as important as the rest of your attire," says Lisette Scott, founder of jewelry brand Jam+Rico. "All of these pieces will complete your look on your special day."
While you can personalize your wedding day through decorations and accent details, fashion is another way to express yourself and tell your story to loved ones. "Personalizing your wedding is what will make that day memorable for you and your guests," Scott adds. "Unique touches of jewelry that have symbolic meaning of your heritage and culture can begin to tell a meaningful story."
This is also a good opportunity to start thinking about your wedding's dress code. This isn't mandatory, but if you have a particular level of wedding attire formality in mind, whether it's black tie, semi formal, cocktail or casual, it's time to nail that down.
16. Set Your Prewedding Self-Care Routine
We're big proponents of having a prewedding self-care routine in place for the months leading up to the big day. You deserve to treat yourself, after all, because planning a wedding is no joke. While cosmetic treatments are certainly not necessary for your wedding, you may want to experiment with things like teeth whitening kits, sunless tanners, facials, or hair coloring. We recommend starting any new procedures early on, giving yourself time to find what works for you and makes you feel your absolute best. (Read: You don't want to try a new skincare product the week before your wedding day in case it doesn't react well with your skin.)
Beyond cosmetic rituals, think about how you can prioritize your mental health and your relationship during this season. Now is a great time to attend premarital counseling to set yourselves up for success as a married couple. Be sure to get enough restful sleep, too, as it's the crux of your wellbeing. And, if you're feeling overwhelmed by wedding stress or "planxiety," it won't hurt to try talking to a therapist or licensed professional who can offer the help you need.
17. Think About Your Honeymoon
While you're certainly wrapped up in how to plan a wedding, don't forget your honeymoon too! You and your S.O. will want to enjoy some much-earned R&R after the big day, so think about what kind of honeymoon you'd like to take, and when. You certainly don't have to set foot on a plane immediately after your wedding reception ends, th1.ough can if you'd like. At the very least, consider taking a minimoon first before a full-blown honeymoon at a later date. After all, don't you want to ring in newlywed life with a hot tub and a chilled glass of champagne?
To be sure you have enough time to plan your postwedding getaway, stay on top of key deadlines for renewing your passports, booking flights, and securing lodging and extra activities. And if the thought of planning a vacation on top of your wedding sounds like an added stressor, we recommend working with a honeymoon travel agent. Not only will they hook you up with VIP perks and benefits, most of their services are free too.
18. Prioritize Personalized Details
Here's where you can really make your wedding day shine. Paying attention to thoughtful, personalized details is what's going to make your guests walk away thinking, "Wow, that was so them."
If you're a self-proclaimed DIY expert, perhaps you'd like to hand-letter your own wedding signage. Or, if your first date was spent over tacos and margaritas, make that the center of your wedding menu. If you're movie buffs, consider naming your reception tables after your favorite flicks. You can even serve a signature cocktail named after your pets if you'd like. The options are endless when it comes to how you can personalize your wedding day. And if you want yours to be a memorable affair, focus your attention here.
19. Enjoy Prewedding Parties
Don't get too swept up in the steps to planning a wedding. This time in your life is definitely worthy of celebration, so party accordingly! The months leading up to the big day are full of additional wedding events. Often, a couple's close friends, family members or bridal party will take the lead on hosting engagement parties, wedding showers, bach parties, and the rehearsal dinner. You'll be surrounded by your nearest and dearest as they help you welcome this new life milestone, so be present and soak up the joy of every single wedding event.
20. Stay in Communication With Your Pros
Consider this the golden rule of wedding planning: There's no such thing as over-communicating with your vendors, according to the pros themselves. "Be sure to have a clear idea of what you want and communicate to everyone," Thornton recommends. It's for this reason that having a planner or coordinator can be a major benefit, especially when you need to streamline dialogue between everyone in the final weeks before the wedding. "Wedding planners know exactly what you need, and they can relieve the pressure of back and forth with vendors," Holloway advises.
Whether you've enlisted a planner or you're handling it yourself, aim to have regular communication with your professional team. This will keep everyone aligned on timing, logistics, and expectations, and it'll eliminate miscommunication and confusion. When it comes to your wedding day, there's no such thing as being too organized.
21. Apply for a Marriage License
Did you know that getting married comes with paperwork? Before the wedding date, you'll need to apply for a marriage license—after all, this is your ticket to becoming legally wed, and it's one planning task not to leave until the last minute. Then, after the wedding day, you'll need a marriage certificate, which proves you're legally married. Both documents need to be notarized, but specific timing guidelines vary by state and county. "It's important to do your research on the timelines and deadlines for the location or county where you're getting married so you understand what you need and when," says Pat Kinsel, Founder & CEO of digital notary site Notarize. "If you're not sure, contact the city or town clerk where you are getting married to get confirmation on the timeline and deadlines for documentation."
In some states, marriage licenses are only valid for a short period of time, so it's vital to complete this wedding planning task in a timely matter. "In most cases, your marriage license needs to be obtained within a certain time period before the wedding and may not be officially filed within a certain time window as well," Kinsel adds. "For example, if you're getting married in New York, a marriage license is only valid for 60 calendar days beginning the day after it is issued, and the marriage ceremony may not take place within 24 hours from the time the license is issued. Meanwhile, some counties in California allow you to obtain the license up to 30 days prior to the wedding and the official license must be filed within a few days or weeks."
For more in-depth help, follow our guide on how to obtain your marriage license.
22. Take Time to NOT Plan
By now, we've covered exactly how to plan a wedding. But here's one planning task you won't find everywhere: Take time to actively not plan your wedding too. Planning your nuptials is a big undertaking; it may as well be the first big test of your marriage. It's a long (but rewarding) gauntlet of compromise, sacrifice and stress management.
Before your wedding, take time as a couple to do anything but wedding planning. Have regular date nights with no wedding talk allowed. It's more important than ever to prioritize your relationship and continue dating each other. It will help you remember why you're doing all of this in the first place. "You have already done the hard part, which is finding your life partner," Thornton advises. "This is the celebration of your love with the people closest to you. Don't forget that and how special your wedding day is... and enjoy yourself!"