The 20 Funniest Love Songs for Your Wedding Playlist
Get ready to dance the night away with a smile on your face.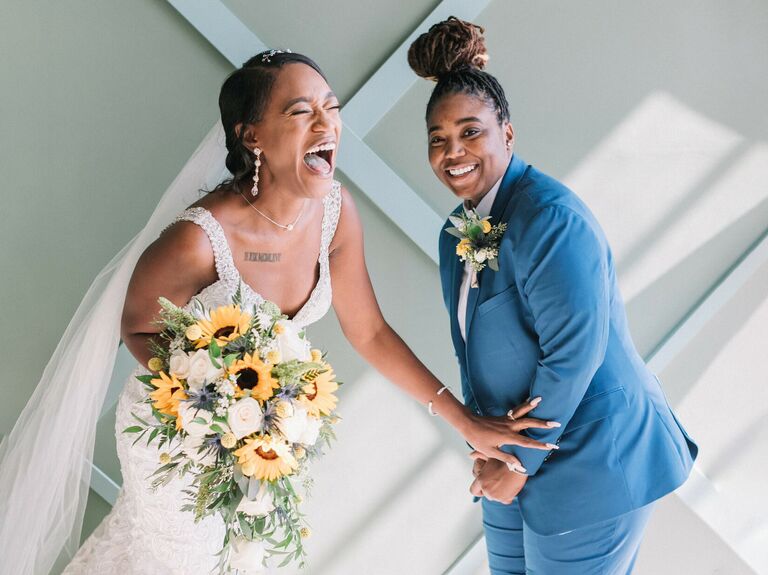 Caitlin Alohilani Photography
If you appreciate a good laugh and have a playful sense of humor, you might consider adding one—or more!—of these funny love songs to your wedding playlist. Besides, in our humble opinion, the best love songs are the ones that make you smile.
Below, we rounded up all sorts of funny love songs, from fan-favorite tracks from Paul McCartney ("Silly Love Songs") and The Moldy Peaches ("Anyone Else But You") to a handful of under-the-radar indie tunes you've yet to hear. Despite their differences, all of them have one thing in common: LOL-worthy song lyrics.
There's just one more thing to do: After you finalized your list of funny love songs, reach out to your band or DJ, who will work with you to incorporate your requests into their lineup of tunes. From there, you'll be all set to sing and dance along to the music come the big day: After you say "I do," hit the dance floor to bust a move and sing along to the hilarious lyrics.
Read on for 20 of the funniest wedding songs that are sure to have you and your guests laughing out loud on the dance floor. (PSA: You can also check out our curated Spotify playlist for more inspiration.)
"The Way I Am," Ingrid Michaelson
Lyrics you'll love: I'd buy you Rogaine/When you start losing all your hair/Sew on patches/To all you tear/Cause I love you more than I could ever promise/And you take me the way I am"
"The Way I Am" features charming lyrics that portrays true love in a realistic way, complete with flaws and hardships. The aforementioned verse, in which Michaelson talks about buying Rogaine for her partner when their hair starts to fall out, paints a funny and adorable picture of growing old with your spouse. It makes a whimsical choice for a first dance song.
"Silly Love Songs," Paul McCartney
Lyrics you'll love: "You'd think that people would've had enough of silly love songs/ButI look around me, and I see it isn't so/Some people want to fill the world with silly love songs"
Romantics-at-heart should play Paul McCartney's "Silly Love Songs" during their reception, cocktail hour or dinner. McCartney released in 1976 (after The Beatles had broken up), after facing criticism from fans and former bandmate, John Lennon, for writing too many so-called "silly love songs".
"How to Write A Love Song," The Axis of Awesome
Lyrics you'll love: "Hey girl I've been standing at the back not doing much for this song/ But that's because my talents are quite limited/But that don't mean that I love you any less/ In fact, it means the opposite (I'm just showing off my voice)"
This satirical song pokes fun at every clichéd love song (and popular boy band) on the market. Plus, it's pretty catchy. The tune is by The Axis of Awesome, an Australian musical comedy trio. Although "How to Write A Love Song" was released back in 2011, the lyrics are just as funny today. Play it after dinner or during cocktail hour to get your wedding guests out of their seats, dancing and laughing.
"Escape (The Piña Colada Song)," Rupert Holmes
Lyrics you'll love: "If you like piña coladas/And gettin' caught in the rain/If you're not into yoga/If you have half a brain/If you like makin' love at midnight/In the dunes on the cape/Then I'm the love that you've looked for/Write to me and escape"
Everybody knows the beloved "Piña Colada Song". If you take the time to really listen to the lyrics, you'll be pleasantly surprised by Rupert Holmes' wittiness. The song centers on a man who feels trapped in his current relationship before finding an ad in a local newspaper from a woman seeking a partner with specific interests. The big plot twist? The woman who submitted the ad is the man's current partner, and, by the end of the tune, the two are able to rekindle their romance. Have your DJ or band play it during the reception and watch as your guests sing along enthusiastically.
"Rambling Through the Avenues of Time," Flight of the Conchords
Lyrics you'll love: "She reminded me of winter's morning (What frigid?)/Her perfume as eau de toilette(What's that mean?)/She was comparable to Cleopatra (Quite old)"
Flight of the Conchords is a New Zealand-based comedy duo featuring Bret McKenzie and Jermaine Clement. McKenzie and Clement went on to have their own BBC radio show and HBO TV show, the latter of which featured the song, "Rambling Through the Avenue of Time". McKenzie takes the lead on guitar and vocals, raving to Clement about a woman he recently met. Clement echos with humorous comments. While Bret revealed most of the song was made up, he did say he felt inspired to write it after noticing a girl at a local pet store. It's a great song to play after dinner to re-energize guests.
"The Luckiest Guy On The Lower East Side," The Magnetic Fields
Lyrics you'll love: "The day is beautiful and so are you/My car is ugly but then I'm ugly, too/I know you'd never give me a second glance/But when the weather's nice/All the other guys don't stand a chance"
The Magnetic Fields' "Luckiest Guy On The Lower East Side" was released in 1999. The lead singer lists a slew of other guys and why they're "better" than him. (John buys her gowns, Andy brings her candy, Lou keeps her secrets, and so on.) The only thing he has going for him? He has a car in NYC—which, if you don't live in the Big Apple, is actually a big plus. While it may not be the most traditional first dance song, it makes a great option for nontraditional couples.
"I'm Yours," Jason Mraz
Lyrics you'll love: "I've been spending way too long checking my tongue in the mirror
And bending over backwards just to try to see it clearer/But my breath fogged up the glass/ And so I drew a new face and I laughed"
Jason Mraz is best known for his romantic acoustic love songs, and "I'm Yours" is among his most famous. The smash hit is filled with candid song lyrics. Additionally, the cheery tune took Mraz less than 20 minutes to write. He told Billboard, "The melody just appeared out of nowhere while the words flew over my head as my thoughts were focused on surrendering to the moment. That is ultimately what the song is about—giving yourself or your time to someone or something else." Play it as you walk down the aisle or for your first dance as a married couple.
"Wanna B Ur Lovr," "Weird Al" Yankovic
Lyrics you'll love: "You're so hot, you're gonna melt/The elastic in my underwear/I'll bet you're magically delicious/Like a bowl of Lucky Charms"
"Weird Al" Yankovic is most famous for his funny songs, which are often parodies of popular hits. "Wanna B Ur Lover," which is from his 2003 album, Poodle Hat, is essentially a bunch of awful pickup lines that are just so bad, they're good (in a hilarious way). Keep in mind that the song is a bit crass, as Weird Al is known for his sometimes-dark sense of humor. If you do opt to play it, consider waiting until after dinner once guests have settled in.
"Five Years Time," Noah and The Whale
Lyrics you'll love: "Oh well, in five years time we could be walking round a zoo/With the sun shining down over me and you/And there'll be love in the bodies of the elephants, too/I'll put my hand over your eyes but you'll peek through"
Noah and The Whale's "Five Years Time" depicts the excitement—and unknown—that lies ahead in a relationship. The opening lines of the song are playful, with the narrator singing about visiting a zoo with his loved one and watching the elephants. As the song goes on, it becomes clear that the future is uncertain but, despite this, the crooner confesses that, "There'll be love, love, love wherever you go."
"Stuck In The Middle With You," Stealers Wheel
Lyrics you'll love: "Clowns to the left of me!/Jokers to the right!/Here I am stuck in the middle with you"
You may not think of this tune as a love song, but it can certainly be interpreted as one. The catchy chorus actually refers to people in the music industry (per Wikipedia). However, you can also interpret it to be about you and your spouse as you embark through life together, despite the "clowns" and "jokers" who may be standing in your way. Play it during the reception (perhaps after dinner) to get your guests singing and dancing.
"Never Gonna Give You Up," Rick Astley
Lyrics you'll love: "Never gonna give you up/Never gonna let you down/Never gonna run around and desert you/Never gonna make you cry/Never gonna say goodbye/Never gonna tell a lie and hurt you"
Cap off your wedding day by playing this '80s hit. While you may not consider it to be outright funny on paper, the over-the-top cheesy lyrics—coupled with the heavily edited vocals—make it extra-cringeworthy (in the best way possible, of course). The song, which has become a popular Internet meme, has surpassed more than one billion views on YouTube.
"Do Fries Go With That Shake?," George Clinton
Lyrics you'll love: "I said I'll take a filet of this/Please don't fry it!/Do fries go with that shake!?.../You know you look marvelous!/I'm a fast-food junkie/And I need a fix/Without your sugar/I'm gonna be sick"
If you or your spouse has a wicked sense of humor—and aren't afraid of a few PG-13 sexual innuendos— then you'll certainly appreciate this 1986 George Clinton song. The lyrics leave little to the imagination ("Baby, can I cut your cake?" "I said I'll take a filet of this" and so on.) The song is definitely more playful than it is serious, which makes it a perfect choice for a post-dinner jam session.
"Anyone Else But You," The Moldy Peaches
Lyrics you'll love: "Here is the church and here is the steeple/We sure are cute for two ugly people/I don't see what anyone can see in anyone else/But you"
The Moldy Peaches' "Anyone Else But You" is a quirky number. While it was originally released in 2001, the song didn't become popular until 2007, after it was featured in Juno. However, by the time the song had skyrocketed, the band had been on an indefinite hiatus since 2004. If you have a playful sense of humor, you'll especially appreciate the chorus, which is romantic and funny at the same time.
"Grow Old With You," Adam Sandler
Lyrics you'll love: "I knew right then and there/I'd grow old with you/I said I'd tell you jokes whenever you are sad/Make you a mom if you made me a dad/Oh, it's been so much fun/Growing old with you"
Adam Sandler first sang this song in 1998 flick, The Wedding Singer. However, he performed an updated version of the tune in his 2019 Netflix special, Adam Sandler: 100% Fresh. He revamped the lyrics for his wife, Jackie, and two daughters. It's just as sweet as it is funny, providing fans with an authentic glimpse into his life as a devoted dad and husband. Since the song talks about growing old with your spouse and the bright future ahead, it's a great last dance song.
"You And I," Ingird Michaelson
Lyrics you'll love: "Oh, let's get rich and buy our parents/Homes in the South of France/Let's get rich and give everybody nice sweaters/And teach them how to dance/Let's get rich and build our house on a mountain\Making everybody look like ants/From way up there, you and I, you and I"
"You And I" is another Ingrid Michaelson tune. The light-hearted duet was released in 2008, and the male parts feature vocals from singer-songwriter Dan Romer. Not only are the lyrics cute and quirky, but they encapsulate a special type of love that's worthy of a rom-com. Play it during dinner or cocktail hour.
"Mambo No. 5," by Lou Bega
Lyrics you'll love: "A little bit of Sandra in the sun/A little bit of Mary all night long/A little bit of Jessica, here I am/A little bit of you makes me your man"
This funny love song is sure to draw your guests to the dance floor—and it's extra special if your name is one of those listed in the lyrics!
"The Book of Love," The Magnetic Fields
Lyrics you'll love: "The book of love is long and boring/No one can lift the damn thing
It's full of charts and facts and figures/And instructions for dancing/But I, I love it when you read to me/And you, you can read me anything"
This indie record from The Magnetic Fields is a popular pick for first dances thanks to its charming lyrics. The song was written by the band's main singer, Stephin Raymond Merritt. And, despite the song's success, Merritt told Tidal that he is "puzzled that it's become a wedding standard."
"In Spite Of Ourselves," Iris DeMent and John Pine
Lyrics you'll love: "In spite of ourselves/We'll end up a'sittin' on a rainbow/Against all odds/Honey, we're the big door prize/We're gonna spite our noses/Right off of our faces/There won't be nothin'/But big old hearts, a'dancin' in our eyes"
This underrated duet—sang by Iris DeMent and John Prine—paints a realistic picture of marriage. Both DeMent and Prine sing candidly about each other's flaws and quirks. As the song goes on, it becomes evident that the two characters deeply know and understand each other through and through. It may not be the most traditional first dance song, but it can work depending on your sense of humor.
"Our Last Summer," The Cast of Mamma Mia!
Lyrics you'll love: "And now you're working in a bank/A family man, a football fan/And your name is Harry/How dull it seems/Are you the hero of my dreams?"
If you love show tunes—and a good laugh—you'll have to add "Our Last Summer" from Mamma Mia! to your wedding reception playlist. Consider playing it at cocktail hour or dinner.
"Bad Romance" by Lady Gaga
Lyrics you'll love: "I want your love, and I want your revenge/You and me could write a bad romance/I want your love and all your lover's revenge/You and me could write a bad romance"
"Bad Romance" isn't a funny song, per se, but playing it during a wedding reception could be an LOL-worthy moment. It's a surefire hit that will pack the dance floor.