79 Romantic Last Dance Wedding Songs
Want to end the evening with a song that revels in romance? Check out our list of original tunes for a romantic last dance.
by The Knot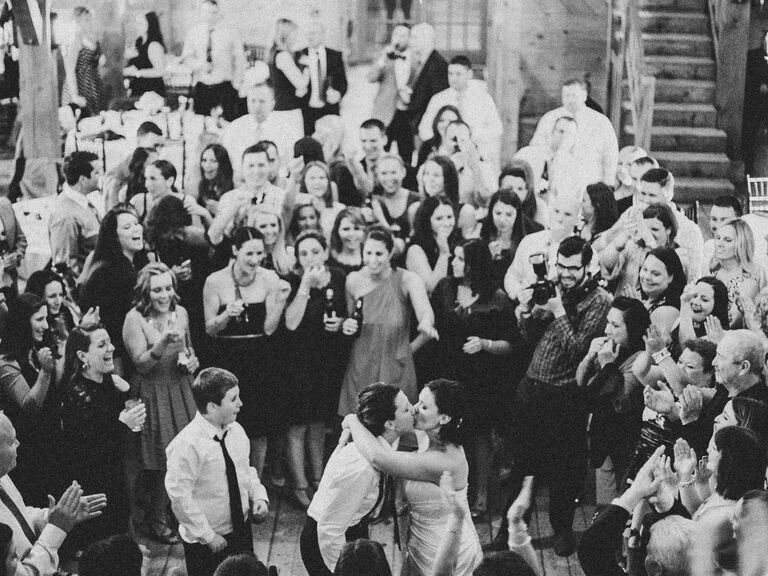 Immortalize your last dance with a wonderfully romantic song. We've consulted with DJs and bands across the U.S. and here are choices they suggest for a final note on your big day. May you be inspired by these top-it-off tunes.
Knot Note: Many of these pieces have been performed by other artists. We have chosen our favorite versions.
Standard Last Dance Wedding Songs
1. "All The Way" (Frank Sinatra)
2. "Always And Forever" (Heatwave)
3. "An Affair To Remember" (Frank Sinatra)
4. "Besame Mucho" (The Beatles)
5. "Cheek To Cheek" (Ella Fitzgerald)
6. "Dream A Little Dream Of Me" (Louis Armstrong)
7. "Goodnight Sweetheart" (David Kersh or Ray Price)
8. "Goodnight Sweetheart, Goodnight" (The Spaniels)
9. "How Do You Keep The Music Playing" (Frank Sinatra)
10. "I Can't Give You Anything But Love" (Judy Garland)
11. "I Remember You" (Frank Sinatra)
12. "I'll Be Seeing You" (Tommy Dorsey and Frank Sinatra)
13. "I'll See You In My Dreams" (Doris Day)
14. "I've Got A Crush On You" (Ella Fitzgerald)
15. "I've Got The World On A String" (Bing Crosby)
16. "If Ever I Would Leave You" (Robert Goulet)
17. "Isn't It Romantic" (Mel Torme)
18. "It Had To Be You" (Tony Bennett or Ray Anthony)
19. "Just the Two Of Us" (Bill Withers)
20. "Moon River" (Andy Williams)
21. "My Blue Heaven" (Gene Austin)
22. "My Funny Valentine" (Frank Sinatra)
23. "My Way" (Frank Sinatra)
24. "Put Your Dreams Away For Another Day" (Frank Sinatra)
25. "'S Wonderful" (Benny Goodman & His Orchestra)
26. "Sabor A Mi" (Jose Feliciano)
27. "September Song"(Frank Sinatra)
28. "Someone To Watch Over Me" (Nina Simone)
29. "Stand By Me" (Ben E. King)
30. "That's All" (Nat King Cole)
31. "The Girl From Ipanema" (Joao Gilberto)
32. "The Last Dance" (Rosemary Clooney)
33. "The Party's Over" (Nat King Cole)
34."The Way You Look Tonight" (Frank Sinatra)
35. "There's A Small Hotel" (Ella Fitzgerald)
36. "True Love" (Bing Crosby and Grace Kelly)
37. "Two Sleepy People" (Hoagy Carmichael)
38. "Unforgettable" (Nat King Cole)
39. "What A Wonderful World" (Louis Armstrong)
40. "What Are You Doing The Rest Of Your Life?" (Frank Sinatra)
41. "With A Song In My Heart" (Ella Fitzgerald)
42. "Wonderful, Wonderful" (Johnny Mathis)
Classic Pop/Rock Last Dance Wedding Songs
43. "All of My Life" (Linda Ronstadt)
44. "All You Need Is Love" (The Beatles)
45. "Follow You, Follow Me" (Genesis)
46. "Have I Told You Lately" (Van Morrison)
47. "How Deep Is Your Love" (Bee Gees)
48. "I Finally Found Someone" (Barbra Streisand and Bryan Adams)
49. "Just The Way You Are" (Billy Joel)
50. "Save the Last Dance for Me" (The Drifters)
51. "Something" (The Beatles)
52. "Time After Time" (Cyndi Lauper)
53. "True Companion" (Marc Cohn)
54. "We've Only Just Begun" (The Carpenters)
55. "When A Man Loves A Woman" (Percy Sledge)
56. "When Will I See You Again" (The Three Degrees)
57. "Wonderful Tonight" (Eric Clapton)
58. "Wrapped Around Your Finger" (Sting)
59. "You Send Me" (Sam Cooke)
R&B/Soul Last Dance Wedding Songs
60. "Angel Of Mine" (Monica)
61. "Endless Love" (Diana Ross and Lionel Ritchie)
62. "Go Home" (Stevie Wonder)
63. "Goodnight My Love" (Gloria Estefan)
64. "I Will Always Love You" (Dolly Parton or Whitney Houston)
65. "Save The Best For Last" (Vanessa Williams)
66. "That's What Friends Are For" (Dionne Warwick)
67. "The Greatest Love of All" (Whitney Houston)
68. "You Are The Sunshine Of My Life" (Stevie Wonder)
69. "You Mean The World To Me" (Toni Braxton)
Pop/Rock/Contemporary Last Dance Wedding Songs
70."Con Te Partiro/I Will Go With You" (Andrea Bocelli and Sarah Brightman)
71."From This Moment On" (Shania Twain and Bryan White)
72. "Grow Old With Me" (John Lennon or Mary Chapin Carpenter)
73. "I Don't Want To Miss A Thing" (Aerosmith)
74. "Kind & Generous" (Natalie Merchant)
75. "This I Promise You" ('N Sync)
76. "Truly, Madly, Deeply" (Savage Garden)
Shows/Movies Last Dance Wedding Songs
77. "Circle Of Life" (Elton John, from The Lion King)
78. "I Could Have Danced All Night" (Julie Andrews, from My Fair Lady)
79. "Over The Rainbow" (Judy Garland, from Wizard Of Oz)