76 Good Night Texts to Wish Your Partner Sweet Dreams
Let them know that they're the last thing on your mind before dreamland.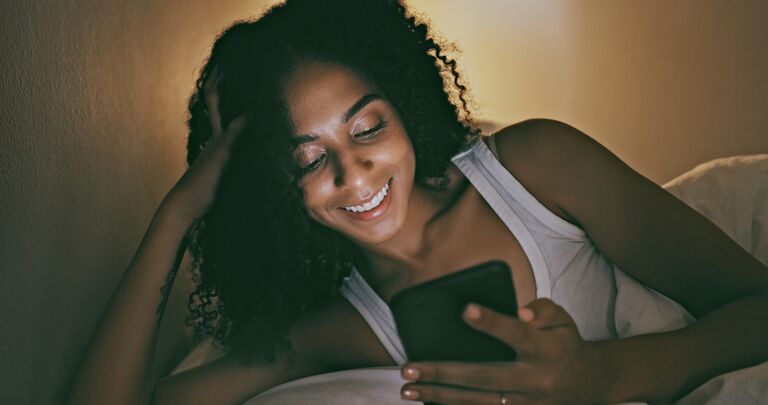 LaylaBird / Getty Images
There's no better guarantee for sweet dreams than falling asleep with your partner by your side. But if you're not spending those midnight hours together, then a sweetly worded good night text will let them know that they're still on your mind. To get your fingers flowing, we've curated a list of 76 good night texts that are perfect to send to your love.
Below, see the best good night messages that run the gamut from flirty to funny to sexy.
In this article:
Sweet Good Night Texts
While nothing is sweeter than curling up with your partner, sending or receiving one of the sweet good night texts for her, him and them below might just be the next best thing.
Good night, beautiful.
Good night, handsome.
I hope the day has been good to you, darling.
The stars tonight have nothing on your smile.
I wish I was falling asleep with you in my arms.
I hope you're able to get to bed early tonight. I know you've been stressed and you deserve rest.
You're always the last thing on my mind as I drift off.
I had so much fun with you tonight! Can't wait to see you again.
Rest easy, my sleeping beauty.
Thanks for always being the best part of my day.
Looking forward to the morning when we can talk again.
I hope all your sweet dreams come true.
It's so hard for me to fall asleep without you next to me.
Today may have been tough, but knowing you're there for me always makes things a little easier.
Wishing you the best day tomorrow, honey.
Good night to the one who makes my days brighter.
The only thing I want at the end of the day is time with you.
Cute Good Night Texts
These good night texts for her, him or them are just the thing to make your partner smile one last time before drifting off to sleep.
Sleep well, sweetheart.
Good night, baby.
Sending you good vibes for a great day tomorrow!
Just wanted to let you know that I'm thinking of you.
I wish we could stay up all night talking.
Good night, honey. Dream of me, please!
I hope this text makes you smile before you drift off 🙂
NGL, I might be up all night thinking about you!
This isn't as good as whispering sweet nothings in your ear—but it's close!
Hope all your dreams are as sweet as you are!
Is it pathetic that I miss you already?
Hoping you get a ton of rest tonight, baby<3
Only one more sleep until we see each other again!
Romantic Good Night Messages
Don't get to fall asleep with the one you love? Wish them a restful slumber with these romantic good night messages for her, for him and for them.
"You want the moon? Just say the word and I'll throw a lasso around it and pull it down." —It's a Wonderful Life (1946)
I'm falling asleep listening to our song.
Wouldn't it be so sweet to share a toothbrush stand? Matching bedside tables?
Just wanted to thank you for always making me feel so loved. Good night, babe.
Good night, my dear. I hope your day was as beautiful as you are.
Somehow, I love you more and more with each passing day.
I want to fall asleep with our limbs all tangled up together.
Good night to the one who made all my dreams come true.
There's nowhere I'd rather sleep than with you.
I have a confession to make: I wished upon a star for you.
I'm dreaming of the life we're going to share together.
I can't wait for the day when we always fall asleep and wake up with one another.
My dreams came true when I found you.
I always want you to be the last person I see at night and the first I see in the morning light.
I sleep so soundly now just knowing you're in my life. You make me so happy.
You're the brightest star in my universe.
Flirty Good Night Texts
Want to add a little something extra to the old wink emoji standby? The flirty good night texts for her, him and them below are just what the cheeky occasion calls for.
What do you think we'd be doing if we were together in bed RN?
I'm only a text away if you feel lonely tonight...
My bed is nowhere near as comfortable as being in your arms.
It's going to be tough to fall asleep thinking about how much I want you.
Baby, you must be exhausted from looking so good all the time!
If you were here right now, I bet you'd be doing a much better job of keeping me warm than my blankets are.
I'd much rather be between your sheets right now.
Snuggling under my covers just isn't the same as snuggling with you!
Want to stay up and chat? (You're definitely worth losing sleep over!)
My bed feels so empty without you in it.
Funny Good Night Texts
Whether they've had a stressful day at work or just need a pick-me-up before bed, look to these funny good night texts.
You must be tired from running through my mind all day!
See you in my dreams—literally 😉
Good night, sleep tight, don't let the New York City bed bugs bite.
Let me know if you need me to keep you safe from the monsters under your bed! 👹
ICYWW, even your morning breath and bed and bedhead are cute!
I've decided that sleeping separately is what nightmares are made of!
I'd skip my skincare routine for you—maybe 😉
I'd call and sing you a lullaby, but that would probably cause you nightmares.
Sexy Good Night Texts
Not quite sexts but plenty suggestive, these sexy good night texts might just make it a little tougher to fall asleep (if you catch our drift).
I plan on having very dirty dreams about you tonight 😏
Wanna guess what I'm wearing to bed tonight? (Spoiler: nothing)
I want you. I wish you were here right now.
If we were together, I'm sure we wouldn't be getting any sleep tonight!
My sheets still smell of you.
Just thought you'd want to see what I'm wearing to bed.. [along with a sexy selfie, if you receive consent]
Good Night My Love Message
Remind them that you love them to the moon and back by sending one of these good night love messages to your sleepy sweetheart.
Sweet dreams, my love.
I love you to the moon and back 🌙
You're the reason why I get up in the morning, my love.
Couldn't let you go to sleep without reminding you of how much I love you.
I'll miss talking to you all night long. Until the morning, my love❤️
I can't wait to see you in my dreams. Good night, love.