These Spicy Sexting Ideas Will Keep You From Feeling Awkward as Hell
Hit send on the spiciest of texts with confidence.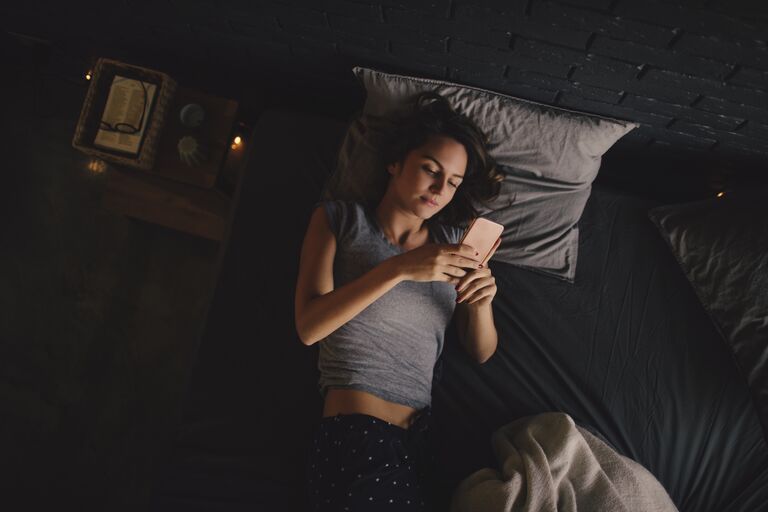 Photo: Getty Images | AleksandarNakic
ICYMI, sending your lover a spicy text—better known as a sext—isn't just something for LDRs. Anyone can do it (with consent), for any reason, like setting the mood for tonight's hot date, or letting your partner know you're thinking of them. All you need are some top-tier sexting ideas.
That's why we're calling all sexting aficionados and novices: No matter where you are on the scale of sexting knowledge, we're here to take away your nerves and (hopefully) ignite your senses. John Eros, an audio erotica star at Sssh and sexting expert, has the sexting 101 that we all need. Below, see his spiciest sexing examples and begin to learn the art of how to talk dirty over text.
The Hottest Sexting Examples to Try With Your Partner
When it comes to sexual fantasies or igniting intimacy throughout the week, Eros knows a thing or two about how to bring it to life, even through texting your partner.
"When it comes to sex, there is nothing better than igniting someone's imagination," he shares. "The art of arousal is all about communication, so making dirty talk or erotic suggestions is the ultimate go-to when it comes to turning someone on."
You'll want to take note of some of his hot sexting examples, below:
"Every minute of today, I'm going to be thinking about all the things I'm going to do to you tonight."
"🥵you make me throb"
"I want you to think about how I'm going to touch you for the whole day."
"I had a sexy dream about, come over and I'll show you."
"Moan like that for me."
"I hope you know that I'm thinking about how I love the feeling of your body against mine."
"How I am for you 💦💦"
"Come over, bring handcuffs."
"I can't stop thinking of being inside you."
"I'm thinking about you tying me up and it's making me want you bad."
"💦🍆😋"
"All I can think about is work is how your skin feels."
"I want to feel you explode for me."
"Do you remember that thing I told you I want? Let's do it tonight."
"Please remind me why I'm your good girl. 😇"
"Wait until you see what I'm not wearing just for you."
"You were so good to me last time, I want to return the favor."
"I want to feel your weight against me."
"Kiss me again, just like that."
"Nobody can make me feel as good as you do."
"I'm not wearing any underwear."
"I've never thought about touching someone as much as I think about touching you."
"I would to meet in a bar, pretend we're strangers and take you home."
"I can taste you."
"What would you do to me if you were here now?"
"I'm aching to have you inside me."
"Say my name when you come for me."
How To Sext: Tips For Sexting
Anyone can be good at sexting. With some basic education around sexting etiquette (and a little dash of confidence), you'll be ready to hit send on the spiciest of texts in no time.
1. Ask your partner what they're comfortable with
Above all, before sexting, make sure to ask your partner for consent. Consent is always key. You can do this by simply asking something like: "How do you feel about sexting?" or "Is it okay if I send you something dirty?"
2. Build up your partner's anticipation throughout the day
If you know that sending a sweet sext (or an even dirtier one) is something that excites your partner, it can build up your courage and confidence to send it. "Just like the physical act of sexuality, the build-up is where the fun is," Eros reminds us. "Little comments or texts throughout the day can really build up the excitement leading to the physical touch."
3. Communicate something you love about your partner
Sometimes, the best way to confidently sext is to go back to the basics of what you love sexually about your partner. If you love how their skin feels or you enjoy the way they sound in bed, that will help you with things to say while sexting.
4. Be descriptive
Paint a picture for your lover. "It's all about telling your partner how much of a turn-on it is for you to know that you are turning them on," Eros says. "The best way to show this is not by just saying what you want or plan to do or how you feel, but the 'why' behind it. Getting to the 'why' really helps add so much more sexual detail."
5. Don't take yourself too seriously
Whether you're new to sexting ideas or an old pro at sending hot messages, it's always best to not take yourself too seriously. Use sexting as a time to have fun, turn you and your partner on and enjoy the moment. If you say something embarrassing or funny, it's okay. After all, it's just a sext—it should be fun!