How to Pull Off the Perfect Bridesmaid Brunch
Thanking your girls over eggs and mimosas is even easier than you'd think.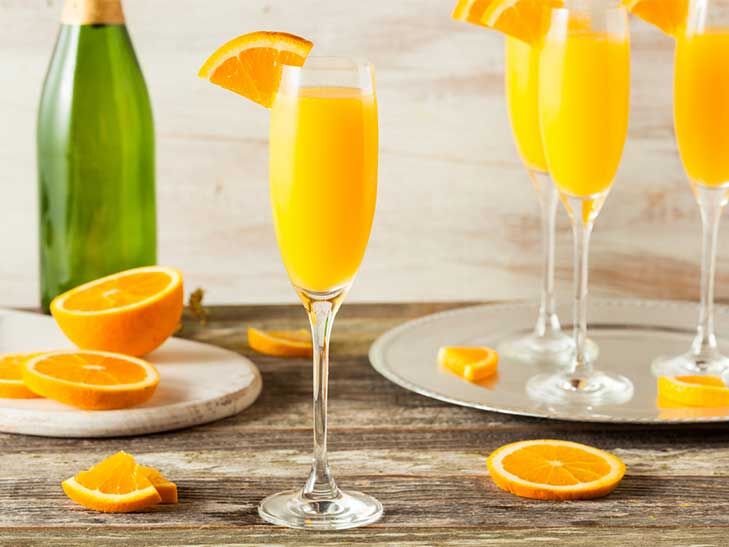 As your wedding all-stars, your bridesmaids are there to support you every step of the way. They help you find your dream dress, plan your shower and bachelorette party, and respond to your panicked texts regarding centerpieces and seating charts—just to name a few of the ways they've been crucial in getting you to the altar. So if you're looking for a sweet way to say thanks (plus get in a little extra bonding time), throwing an at-home brunch or a more traditional bridesmaid luncheon is a time-honored tradition that deserves revisiting. Need a little help brushing up on your hostess skills? Check out our step-by-step guide for entertaining your ladies with ease.
The Reason for the Occasion
While the bridesmaid brunch is in no way a required ritual, it's a nice gesture to show your gratitude for your friends' support. There's no hard-and-fast rule as to when this event takes place, so the timing and reason is up to you. Maybe you want to host the brunch shortly after getting engaged so you can pop the "Will you be my bridesmaid?" question. Or maybe you'd like to get together right before the wedding to thank them for their help leading up to the main event and give them their bridesmaid gift. No matter when it occurs, the meal doesn't have to be fancy or formal. It's simply a chance to spend some quality time with your favorite women—you might even consider including your mom or future mother-in-law in the festivities.
Quick and Easy Prep: No time to make invites? No problem. A phone call to invite each guest is personal and appreciated. Just be sure to give them several weeks notice.
The Essentials for the Table
Simplicity is key for a stylish table with minimum effort. No need for fancy table linens (but if you have them, feel free to use them)—a plain white tablecloth provides a clean and minimal backdrop that goes with any place setting. For a centerpiece, pick up a fresh bouquet from your local florist or market and display it in your favorite vase. If the brunch is taking place after your bridal shower, now's the perfect chance to show off some of your new dishes. Even if you registered for fine china, you can still break it out for a casual gathering like this. Set each place with a dinner plate, bread plate or other small dish, cup and saucer, water glass and champagne flute. Accent with a folded napkin, fork, knife and spoon. For serving, you'll need two large platters and a pitcher.
Quick and Easy Prep: Set the table the night before so you're not rushing in the morning. If you're worried about the flowers wilting, stash the bouquet in the fridge overnight.
The Food
This get-together is about honoring your friends, not stressing yourself out. Even if cooking isn't your forte, you can pull together an easy, impressive meal by planning ahead and sticking with simple ingredients. Start with a selection of pastries and a loaf of bread from your favorite bakery—you can't go wrong with cinnamon buns, danishes and croissants. For a savory dish, toast slices of rustic bread in the oven, and top with sliced avocado, salt, pepper and a poached egg. Need an easy hack to cook multiple eggs at once? Just put a tablespoon of water in each cup of a muffin tin, crack an egg in each and bake at 350 degrees for 11 minutes. Like magic: A dozen perfectly poached eggs. Serve the eggs and avocado on toast alongside a platter of pastries and individual yogurt parfaits.
Quick and Easy Prep: Make the yogurt parfaits in advance. Layer fresh fruit and yogurt in mason jars or stemless wine glasses and refrigerate overnight, then top with granola in the morning before serving.
The Drinks
What's a brunch without mimosas? Since there are just two ingredients, let your guests mix their own at the table. Just provide a pitcher of orange juice and have a bottle (or bottles!) of bubbly ready to go on ice. Aside from that, brew up a pot of coffee, offer a selection of tea and have a plenty of water on hand.
Quick and Easy Prep: Set up your coffeemaker before bed, so you only need to flip the switch before everyone arrives.
The Supplies