36 Small and Inexpensive Bridesmaid Gifts That Are Actually Cute
These thoughtful picks are all under $30.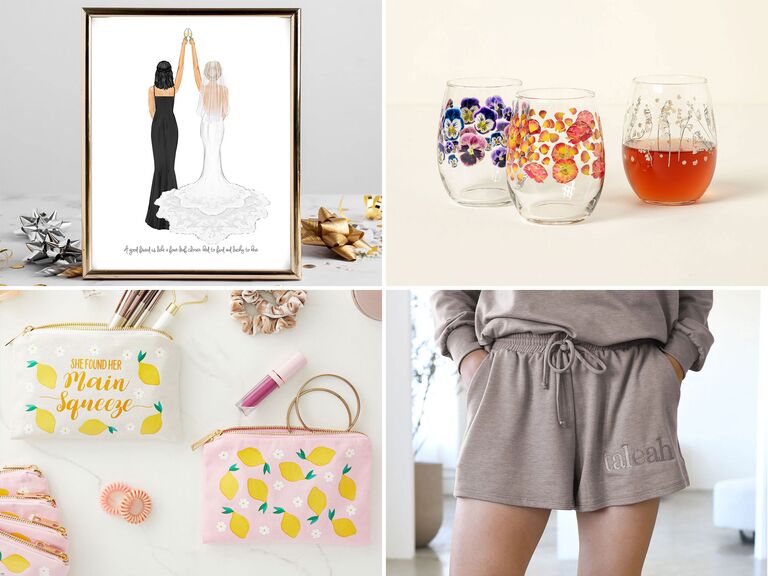 We have included third party products to help you navigate and enjoy life's biggest moments. Purchases made through links on this page may earn us a commission.
The crew you've chosen for your wedding party has had your back from day one and now it's your turn to give them some love with a thoughtful thank you present. The best part? You don't need to break the bank to show your friends and family appreciation. There are plenty of cute and inexpensive bridesmaid gifts out there that they'll adore and that certainly don't look cheap—you just need to know where to find them. Lucky for you, we've done the hard work and gathered our favorite affordable bridesmaid gift ideas, all for less than $30. From the tear-jerkingly sentimental to the perfectly practical, these top-notch presents tick all the boxes.
In this article:
Bridesmaid Gifts Under $30
Instead of a few small gifts for each member of your wedding party, opt for one pricier (but still budget-friendly) gift, that you know they'll hold onto even after the festivities are over—like one of these cute finds for $30 or less!
Satin Robe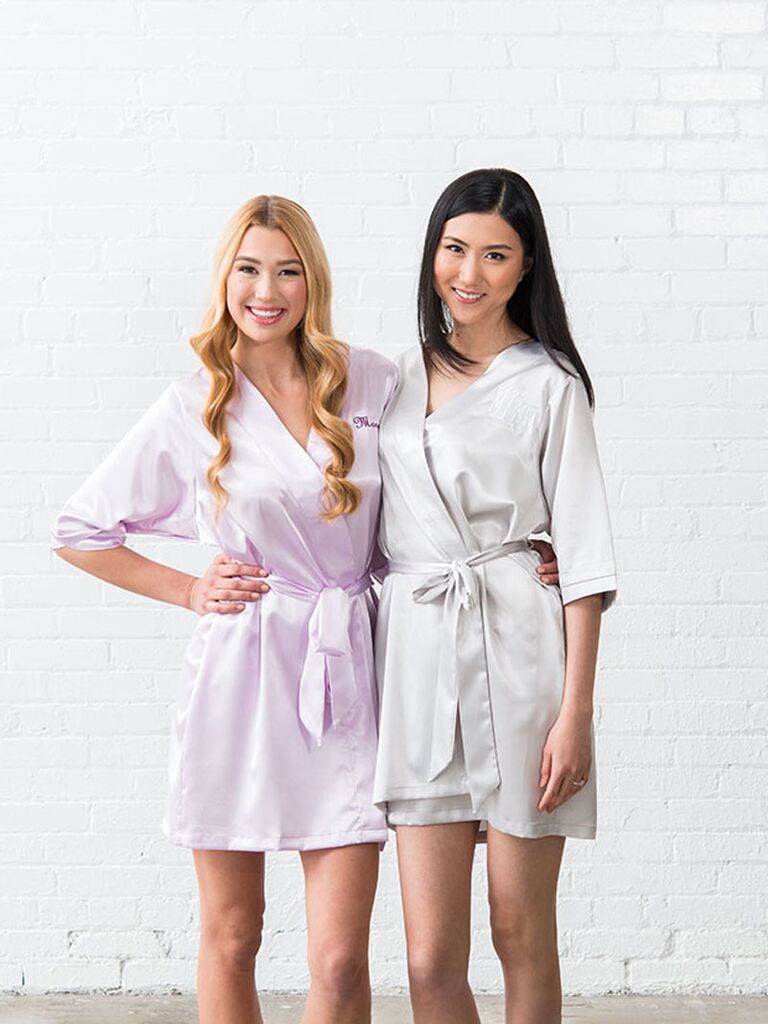 FYI, your friends want cute, getting-ready outfits, too! Treat your bridal party to satin robes with their name or initials embroidered on the front. With over a dozen fabric and thread colors to choose from, each member can have a robe truly unique to them.
Heart-Shaped Succulent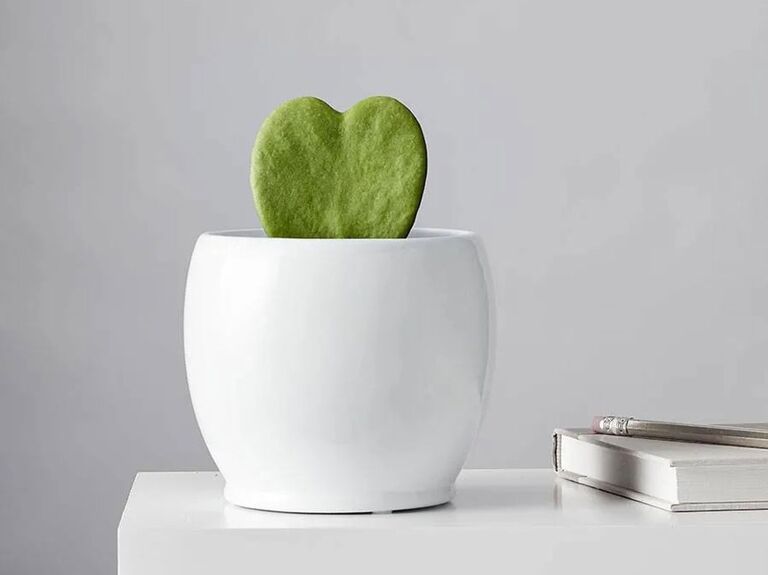 Tell your bridesmaids you're glad you pricked them with this adorable, heart-shaped succulent. (Don't worry, it's not actually sharp.) This Hoya Kerrii plant comes in a white ceramic pot with care instructions so your crew can cherish it for a long time.
Celebratory Candy Box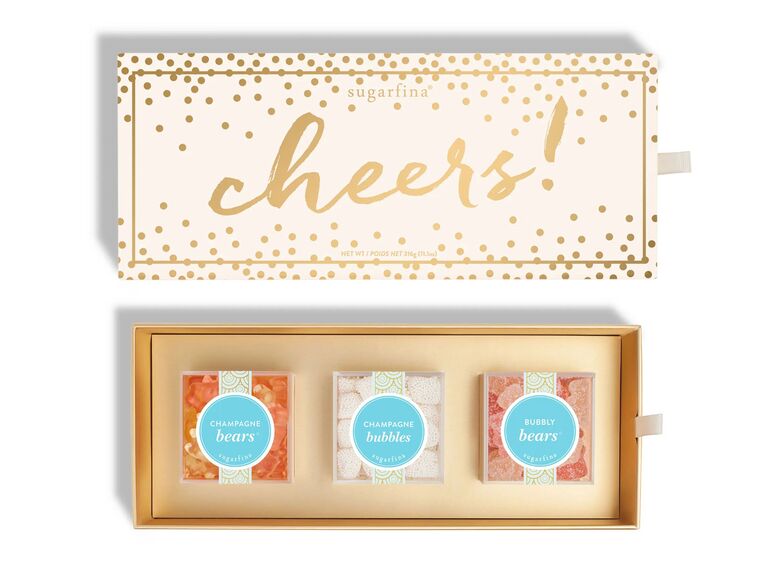 Edible gifts are always a good idea, especially when they're as celebratory as this box of gourmet candy. Customize each bento box yourself based on your bridesmaids' tastes or give Sugarfina the reins with a pre-made gift set of champagne-flavored gummies. Affordable wedding party gifts never tasted so sweet.
Jeweled Ring Dish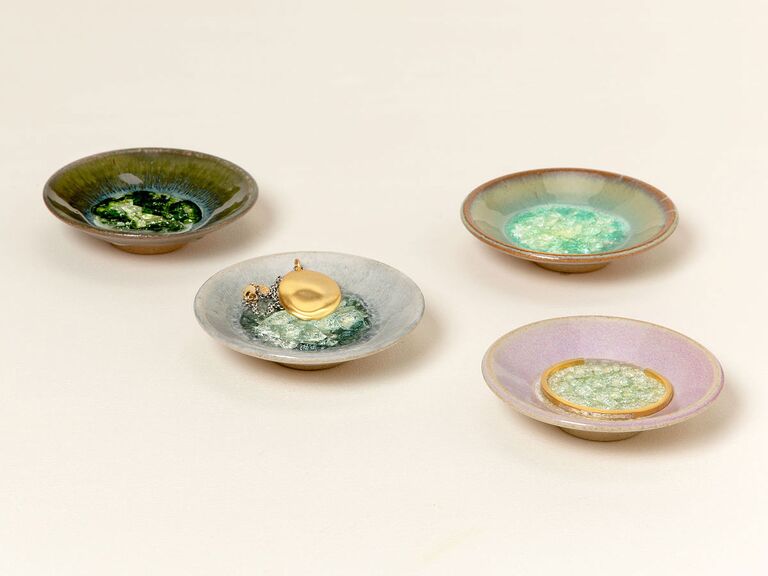 Ring dishes are not just a popular gift for newlyweds—they also make thoughtful (and inexpensive) bridesmaid gifts. These petite handmade ceramic bowls are glazed in the colors of the twelve traditional birthstones, with crackled glass centers to resemble crushed gemstones. They are a subtly personal gift for each member of your wedding party to store their favorite jewelry in.
Engravable Signet Ring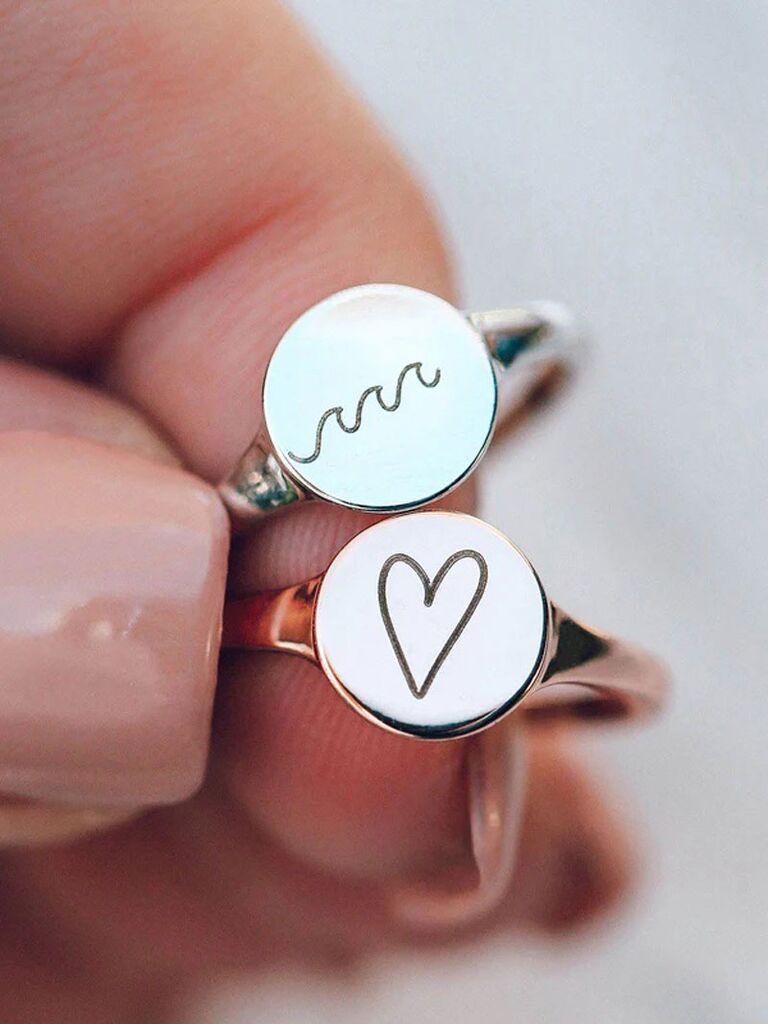 While bridesmaid jewelry can be expensive, there are a lot of budget-friendly options that still feel special. Since your wedding day is all about the rings, why not, swap bands with your wedding party as well? This signet ring from Pura Vida comes in a silver or rose gold finish and can be custom engraved with a symbol, initials or the timeless phrase "BFF."
Coffee Gift Boxes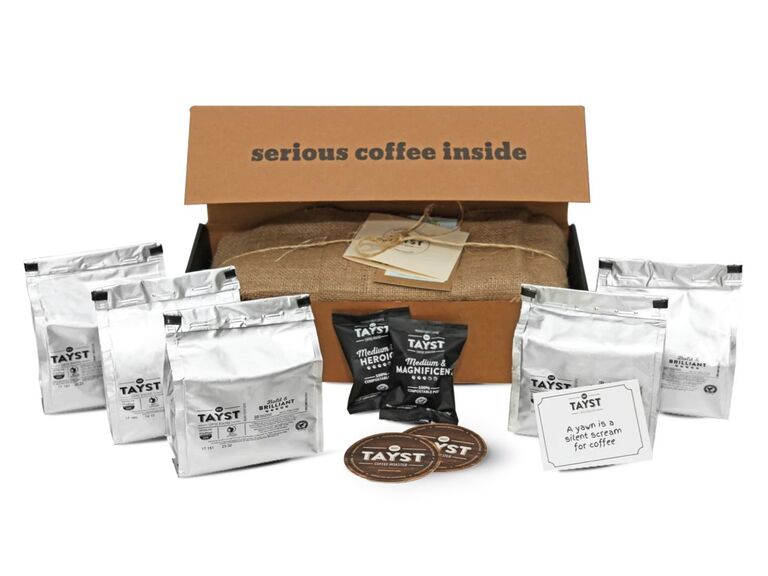 Aiming to please a caffeine lover or two? They'll appreciate a box full of freshly roasted coffee in a variety of delicious blends. This affordable bridesmaid gift box will 100% make up for all those late nights they'll inevitably spend helping you plan the wedding.
Cozy Sweat Shorts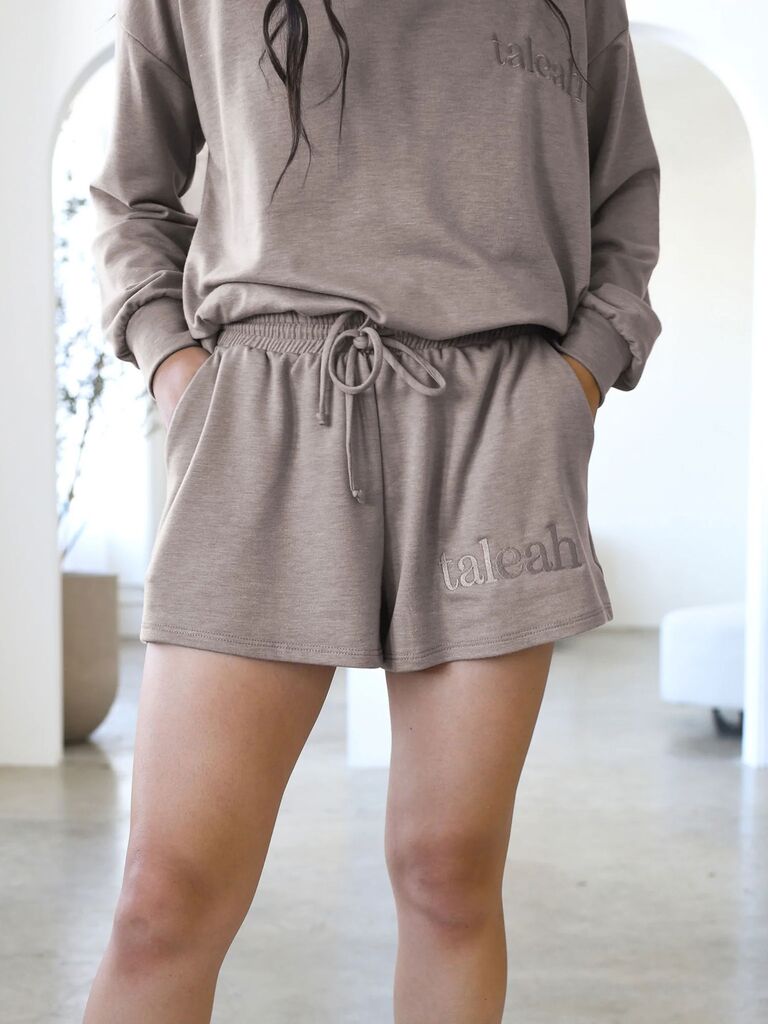 Looking for getting-ready outfits they'll wear after the big day too? You can't go wrong with these soft drawstring sweat shorts—and they can be custom embroidered without putting you over budget. Of course, if you're willing to spend a little more you can pair them with a cozy sweatshirt or hoodie for a matching loungewear set your bridesmaids will never want to take off.
Mini Perfume Set
You want your bridesmaids to look, feel, and smell their best, right? Gift each a small bottle of their favorite luxury perfume so they all have a signature wedding scent. Not sure where to start? Versace's Bright Crystal fragrance is a tried-and-true favorite for anyone who loves a fruity floral scent.
Birth Month Flower Glass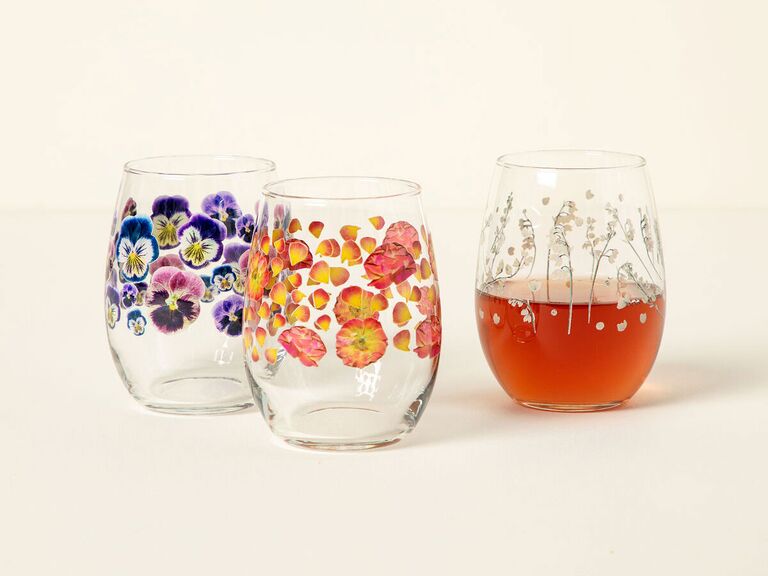 Raise a glass to lifelong love and friendship! These stemless wine glasses feature pressed blooms turned into digital art from each of the twelve birth month flowers. Give each bridesmaid their unique glass paired with a bottle of wine and a promise to have a relaxing night together once all the wedding planning is done.
Custom Illustration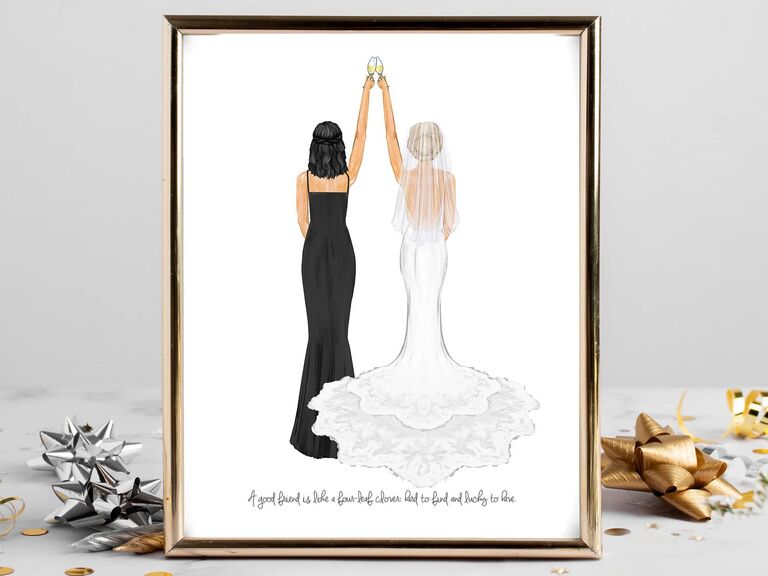 If you're on the hunt for a special gift for every person in your wedding party, look no further than a custom illustration. Choose the skin color, hairstyle and formal attire that most closely resembles everyone's wedding day look, then add a special message to be printed at the bottom of the graphic. The art is then shipped to you, so all you have to do is frame it before gifting it to your pals.
Personalized Clutch
One thing that will always come in handy? A clutch (it's in the name after all). Give everyone in your squad a fold-over velvet clutch with their name printed in the script. They can use it to hold their bachelorette party and wedding day essentials in chic style.
Bridesmaid Gifts Under $20
We get it, sticking to a budget in the lead-up to your big day is important—and hard. But with these fun and creative wedding party gift ideas for $20 or less, we've made it a little bit easier. Choose from some of our favorite affordable presents, ranging from personalized drinkware to luxe care accessories.
Unique Monogram Mugs
Everyone loves adding to their mug collection—and now every time they sip their morning brew, they'll think of your friendship. Black and white with a touch of gold, these mosaic-inspired monogram mugs only look expensive. Gift them to your wedding party with a gift card to their favorite coffee shop. They'll need a caffeine kick when they're running wedding errands with you.
Cocktail Recipe Collections
If your team has never had trouble throwing back cocktails, help them make their own with this collection of eight recipe books featuring 100 cocktails perfect for every occasion, like the bachelorette party pregame.
Personalized Wooden Hangers
Surprise your wedding party the morning of the big day with a sweet yet simple bridesmaid gift like these personalized hangers. Their names or roles will pop in elegant script on the white wood so they'll instantly know where to hang their dress or suit for safekeeping. (Don't forget to get one for yourself, too!)
Travel Jewelry Case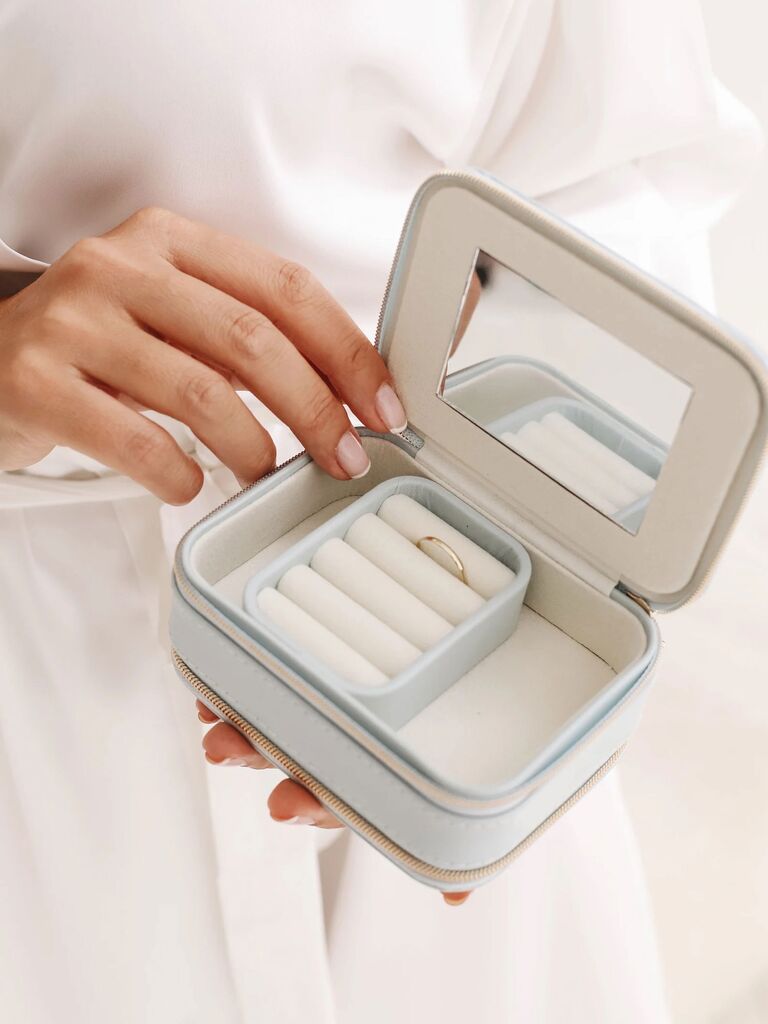 Hosting a destination wedding? A travel jewelry case will come in handy for you and your wedding party. These faux leather jewelry boxes have two zippered compartments, adjustable interior organizers and a mirror for a deceivingly spacious accessories box. Best of all, the top can be customized with each of your friends' or family members' names for a personalized bridesmaids gift that still comes in under $20.
Trendy Claw Clips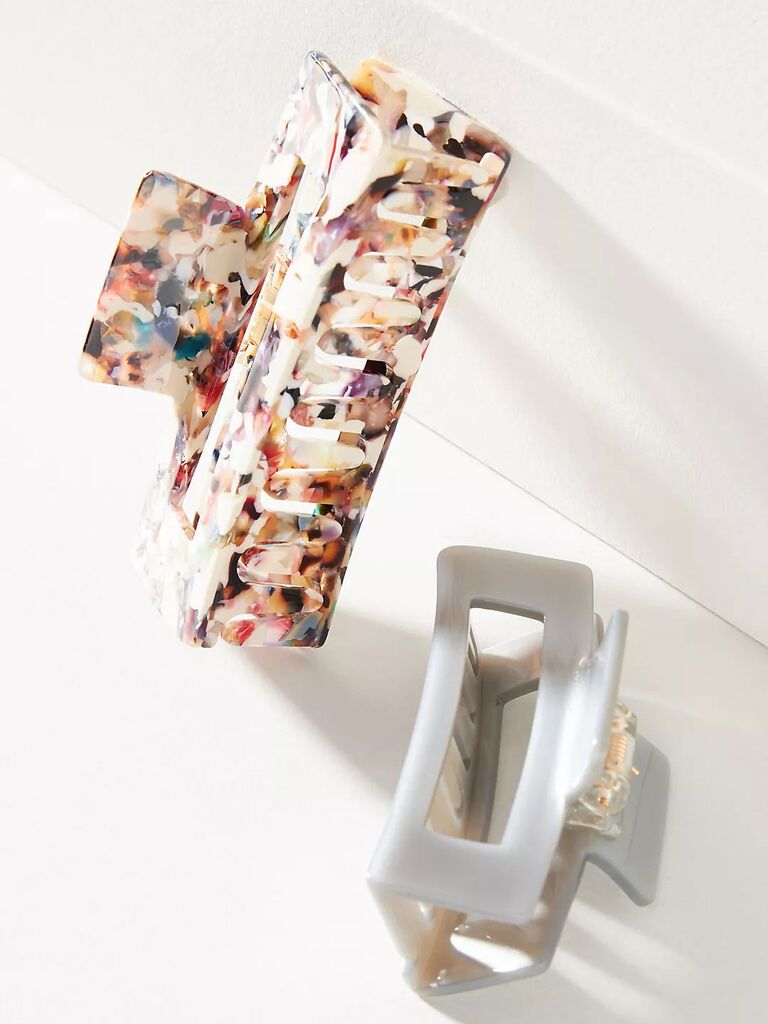 To have and to hold—your hair. Claw clips are the latest must-have hair accessories and all your bridesmaids know it. This set of two will give them an effortless updo that might even inspire their wedding day hair.
Personalized Planner
Tell your wedding party to mark their calendars with this budget-friendly bridesmaid gift and proposal idea. Personalize planners with each member of your crew's names, then mark your wedding day and bookmark that page. When your friends open it, they'll instantly see your ask. It's a practical yet creative gift for your wedding party that will guarantee they don't miss any of the important festivities.
Bridesmaid Water Bottle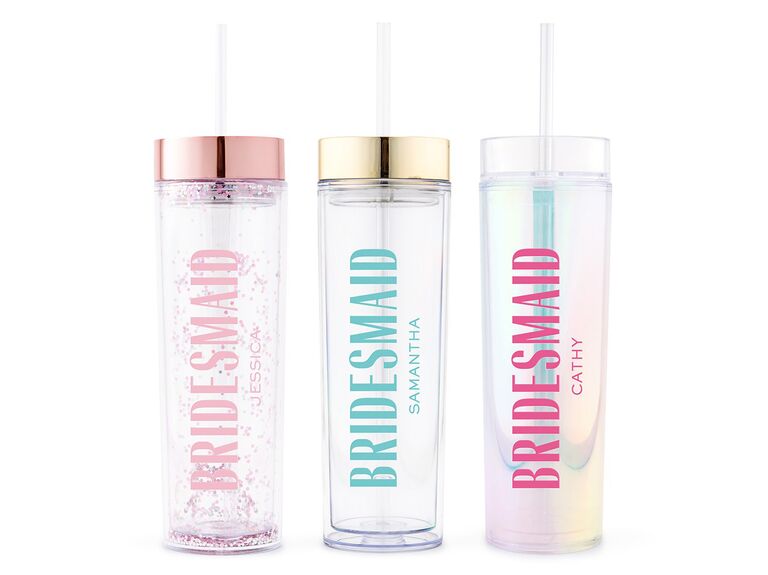 Help your crew stay hydrated in style with sleek drink tumblers adorned with their names and wedding titles. They're especially perfect if you're looking for affordable bridesmaid gifts for a tropical destination wedding. No glasses allowed at the pool or beach? No problem. These water bottles are made from plastic, but still boast thermal innovation that keeps beverages insulated and, thus, cold.
Luxe Sleep Masks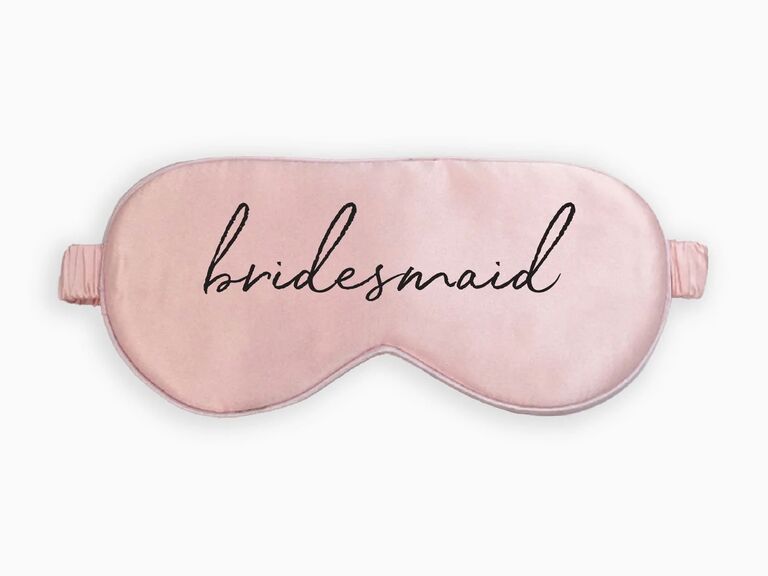 Give the gift of beauty sleep. Your bridal party will be extra thankful for these luxe sleep masks after a long night of celebrating you and your true love. They're made of mulberry silk, so they're soft on the skin and printed with their title "bridesmaid" in black script. (Psst, these inexpensive bridesmaid gifts also make for awesome bachelorette party favors.)
Warm Slipper Socks
Don't let your squad get cold feet! Treat everyone to some snug new slipper socks to keep their feet comfortable before slipping into dress shoes for the ceremony. You might see these again at the end of the night on the dance floor.
Personalized Bottle Openers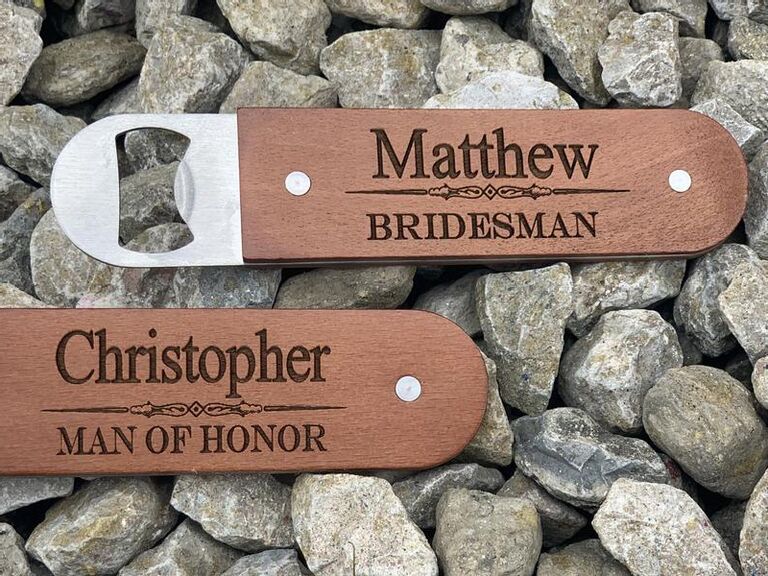 Don't discount practical presents on your search for inexpensive wedding party gifts. Thanks to the sweet personalization, these engraved "bridesman" and "man of honor" bottle openers are equal parts useful and sentimental. They'll probably pull them out pre-ceremony to crack open a cold one.
Bridesmaid Proposal Candles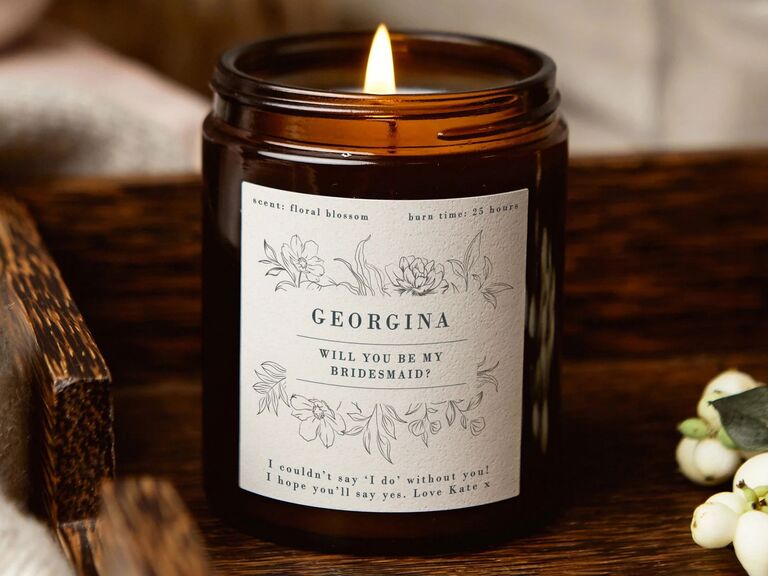 Your soon-to-be spouse isn't the only person who lights up your life. Ask your best friends to be by your side on the big day with this inexpensive bridesmaid proposal idea: custom candles. With a dozen sweet scents to choose from, each apothecary-style jar boasts a custom-made label with their name and a personal message from you. For an additional cost, you can even add in soothing bath salts so they can really get their R&R on before all the festivities begin.
Pretty Proposal Boxes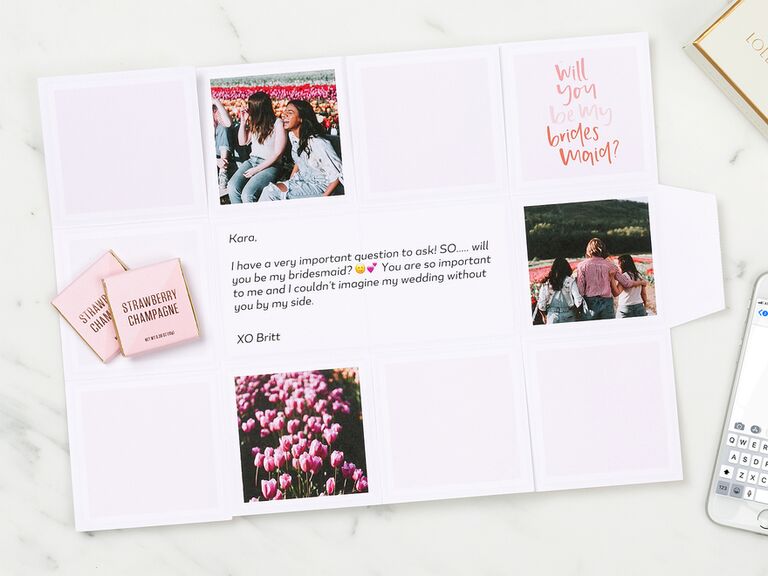 If you're searching for a bridesmaid proposal box on the less expensive side, why not create your own? With Greetabl, you can design a meaningful wedding party proposal gift filled with a custom message and pictures of you with your friends and family. Then it's totally up to you just how much you want to spend on small presents to stuff inside.
Monogrammed Tote Bag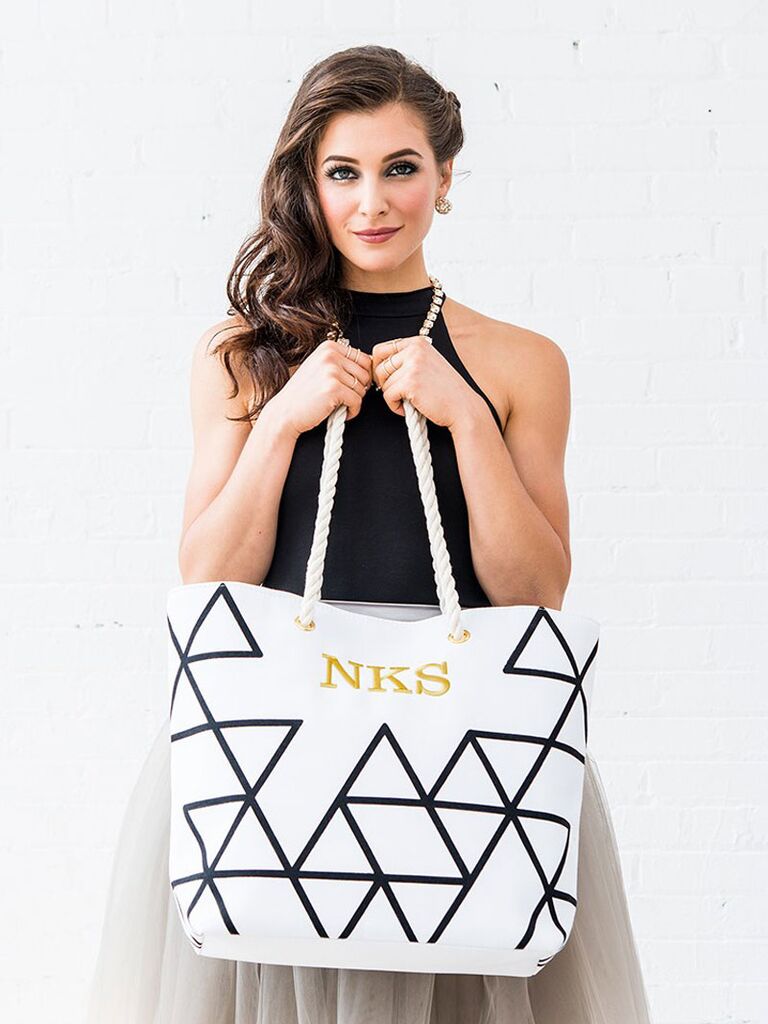 Between makeup, jewelry, hair care, a change of clothes and shoes and all other wedding day essentials your party needs, an extra large tote bag to carry it all is a must—and thankfully, these are under $20. This cotton canvas fabric tote comes in dozens of patterns and can be personalized with your crew's names or initials. Plan an even more thoughtful surprise by filling it with other small bridesmaid gifts that show your appreciation, like mini bath products, candy and other swag.
Bridesmaid Gifts Under $10
Whether you're looking for an affordable solo present or small gifts for a bridesmaid goodie bag, we've gathered the best bridesmaid gift ideas for $10 and under that you can shop right now.
Soothing Eye Gels
You never know when the happy tears are going to hit! For bridesmaid gift ideas on a budget, turn to luxe beauty products to pamper your squad before or after the big day. These quality under-eye gels are packed with antioxidants meant to brighten and depuff. Plus, at a cheap and cheerful $3 per pack, they're great bridesmaid gifts to buy in bulk for everyone in your squad.
Scented Bath Bombs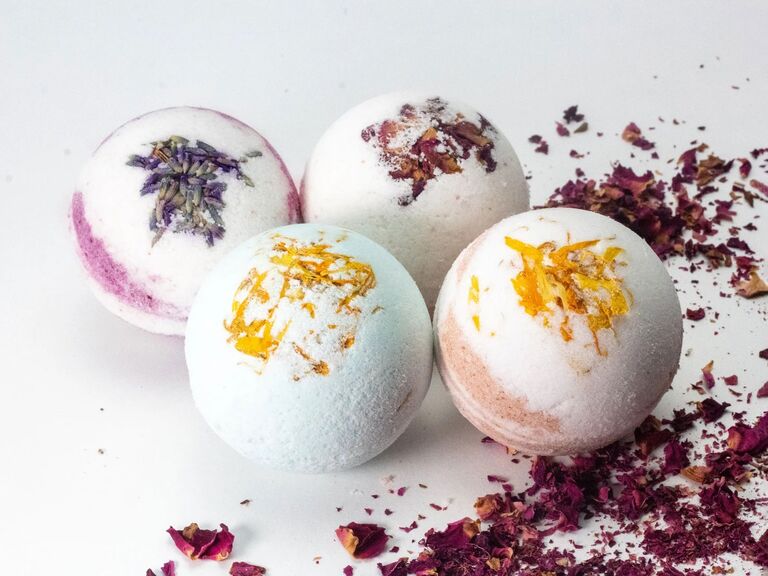 Who doesn't love a nice, long soak in the tub? Keep the self-care theme going with these organic bath bombs. They're made with coconut oil to hydrate skin, Epsom salt to soothe sore muscles and essential oils to evoke feelings of calm and relaxation. They're so inexpensive, you could give everyone two: one to refresh before the wedding and one to relax with after.
Matching Bridal Party Socks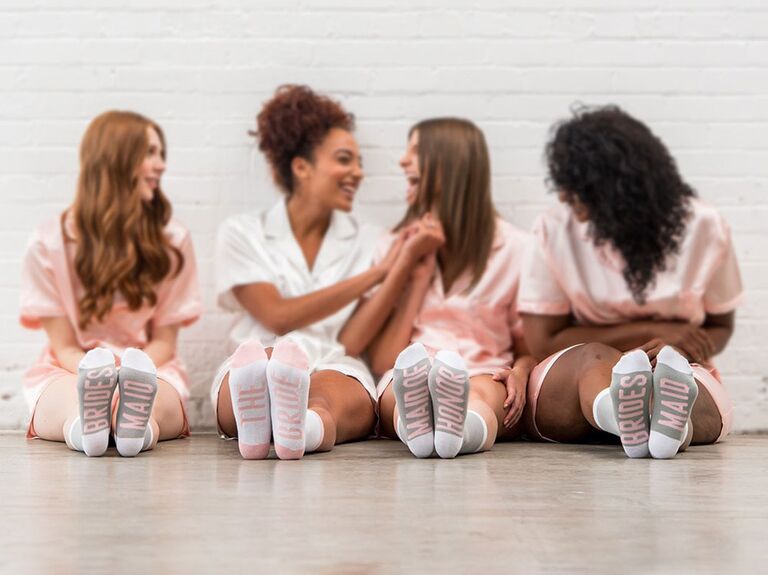 This isn't just an inexpensive bridesmaid gift idea, it's also photo inspiration! (Seriously, how cute is the snapshot above?) Matching socks will take your getting-ready outfits to the next level. You can have them personalized with your crew's different titles, meaning they'll make for fun and affordable bridesmaid and maid of honor gifts.
Heart Sunglasses
Heart-shaped sunglasses will never go out of style. They're just so fun (and cheap)! These come in four stunning colors to suit each person's style. Feeling crafty? Buy thin-tip paint pens to personally customize the lenses with everyone's name or wedding title.
Custom Beaded Key Chains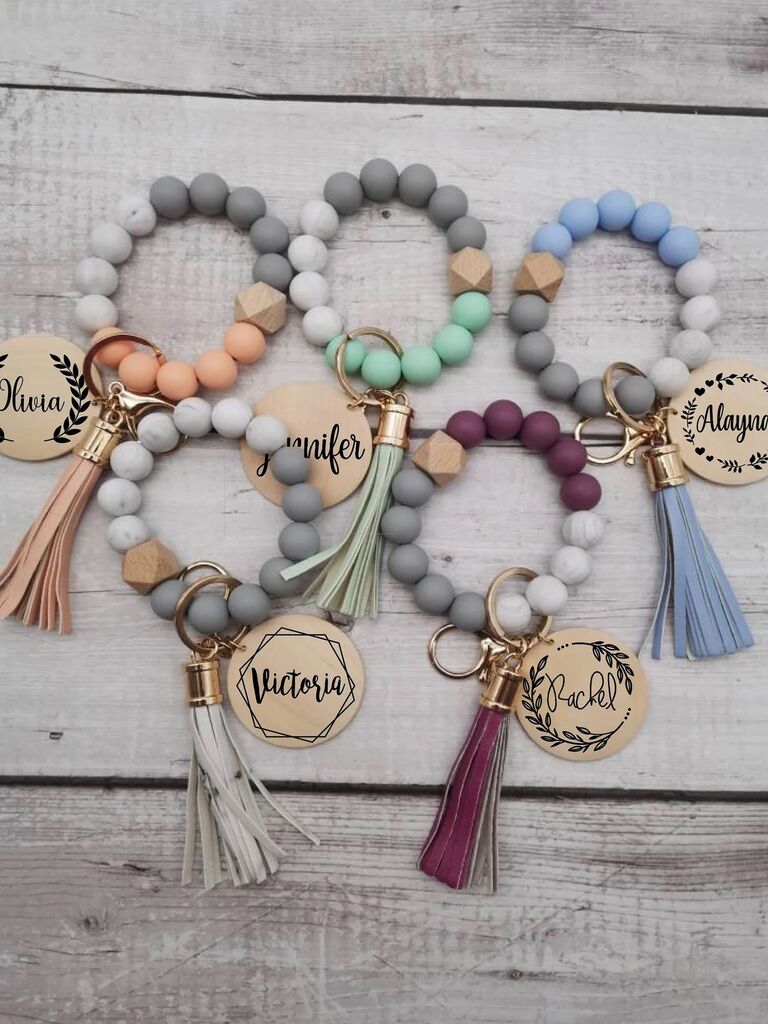 We're obsessed with these bridesmaid key chains. They're made of colorful silicone beads with a leather tassel and wood charm that can be personalized with a name. Your wedding party will take them everywhere and the wristlet design allows them to go hands-free (such a bonus!).
Cute Compact Mirrors
These floral compacts will look oh-so chic in your bridal party's purses. Not to mention, they'll be incredibly useful for touch-ups on the big day. They're a thoughtful and inexpensive wedding gift your bridesmaids will use again and again.
Champagne Tumblers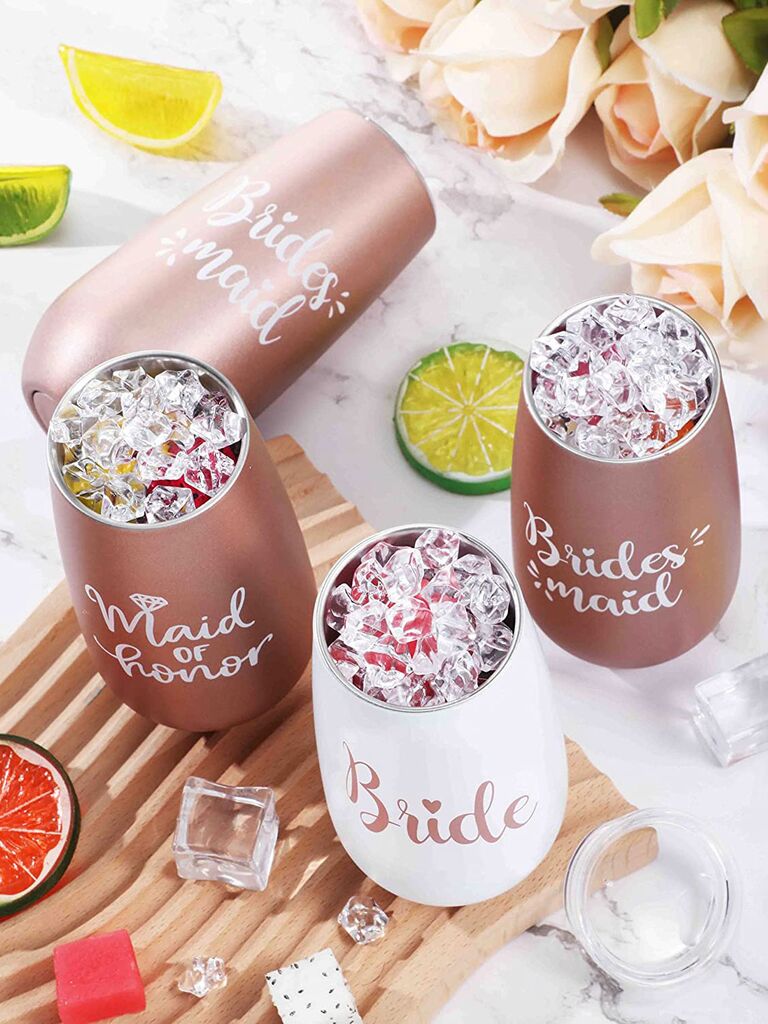 Keep the celebratory champagne cold with these stainless steel wine tumblers. They're rose gold colored (except for the bride's, which is white) and personalized with each person's wedding title. Best of all, these practical yet cute bridesmaid gifts come in sets of eight for a bulk buy.
Love Knot Bracelet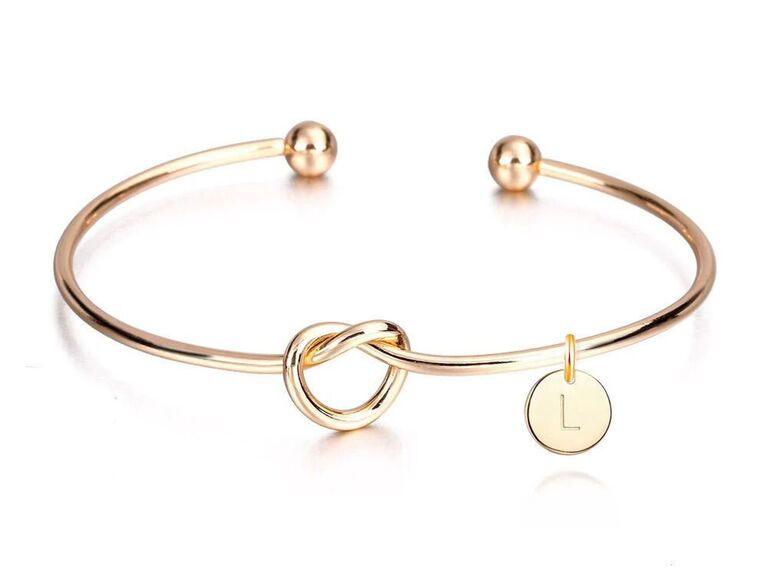 Can't tie the knot without your best friends? Tell them so with a thematic "love knot" cuff bracelet. You can even add a monogrammed charm for a personal touch. We bet you'll see these baubles accessorizing their wedding day outfits. (Note: Gift wrapping costs extra.)
Bridesmaid Wine Label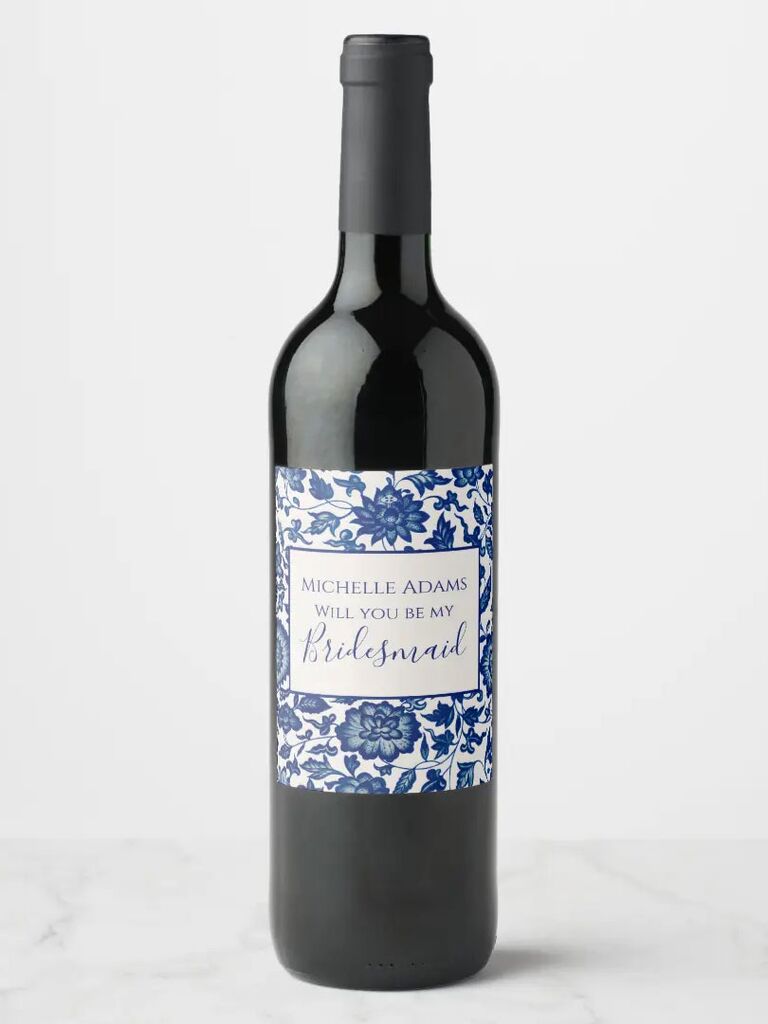 Edible—well drinkable—wedding party gifts are a favorite for a reason. Keep your bridesmaid proposal gift budget-friendly with cheap custom labels to stick onto a bottle of wine of your choosing. You'll have something to toast with right away when they accept your invitation to be a bridesmaid or bridesman!
Pretty Pashmina Scarves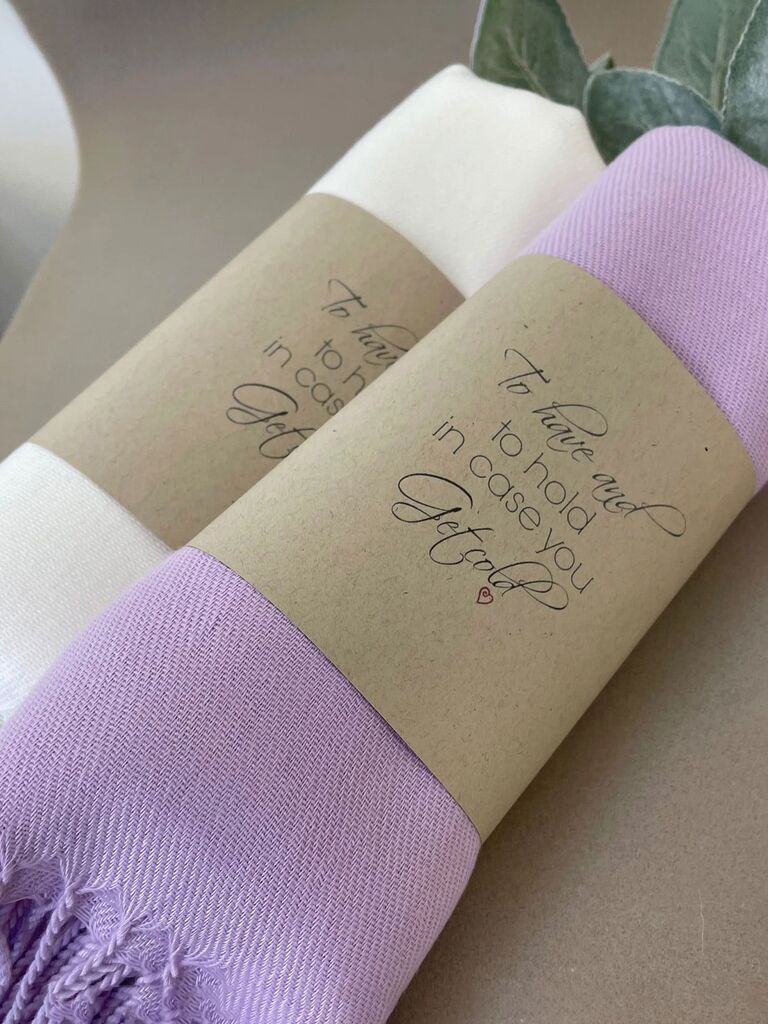 Planning winter nuptials? Show your love for their willingness to take pictures outside with a warm pashmina. These shawls are made from eco-friendly vegan-based viscose for a silky soft feel that will look luxurious in all your wedding photos. Plus, they come in 25 colors, so they can easily match the rest of your color scheme. Team them with mini hand warmers to really bring the warmth.
Makeup Bag
Say thank you to your crew by giving them somewhere to store all their cosmetics. This set of eight canvas makeup bags is adorably decorated with lemons and daisies. There are seven pink bags for each member of your party, plus a white bag embroidered with the phrase "She found her main squeeze" for yourself.
Nail Polish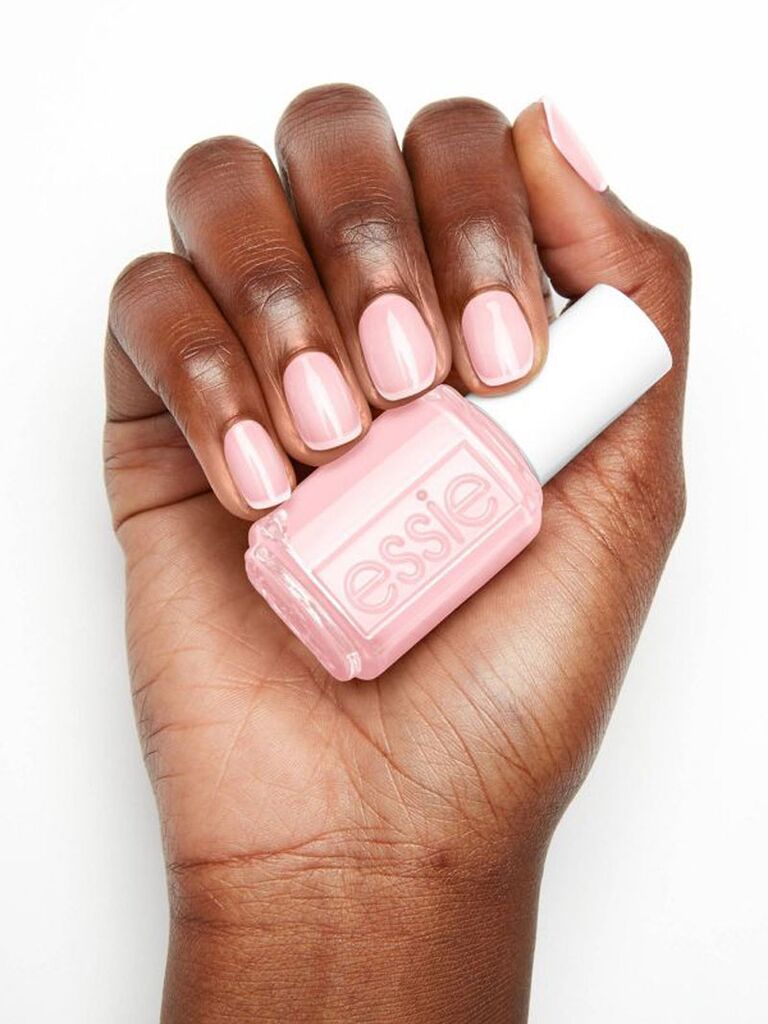 There's no denying that being a bridesmaid can get expensive. Take away some of the costs with all the essentials for an at-home manicure so they can get dolled up for every wedding event. Pair this classical pink polish with a punny tag that reads "You're going to nail it as my bridesmaid" or "Mani thanks."