What Exactly Does a Bridesmaid Do?
It's all about supporting your friend.
So your friend asked you to be in their wedding party and you said yes. Now what? While the idea of being in someone's wedding is exciting, understanding what you're signing up for is important. That's why we put together this comprehensive guide on bridesmaid duties—both before the wedding day and on the big day. While there's a lot of information, remember that the main job of a bridal party member is to be there for friend.
Planning a wedding, while fun, can be stressful. As a bridesmaid, you need to be there for your bestie and help however you can. And on the special day? Your job is to stand by your friend during the ceremony as they take this next step. Then, it's all about making sure your friend has as much fun as possible at the reception.
Remember: Being someone's bridesmaid is a an important role. If you're unsure you have the time to dedicate to supporting your friend, give them a call and talk through what they need. If you're concerned about budget, speak honestly to your friend about expected costs. Get all the information upfront so you can make an informed decision. Knowing exactly what you're signing up for will make the process more fun—and will make you the best bridesmaid ever. Below, see a complete list of bridesmaid duties (and maid of honor duties too).
What does a bridesmaid do?
While the duties of a bridesmaid vary wedding to wedding, the general idea remains the same. The official job of a bridesmaid is to help the to-be-wed. You are there to support them through the planning process and celebrate this important relationship milestone. In general, bridesmaids typically attend a few prewedding parties (think: bachelorette party and bridal shower), stand up in the wedding, and help the guest of honor throughout the reception.
A maid of honor's responsibilities are more lengthy, as they're truly the to-be-wed's go-to person for help. Typically a maid of honor will be more involved in the planning process, plan the prewedding parties, hold the bouquet and give a speech at the reception.
What are the duties of a bridesmaid before the wedding?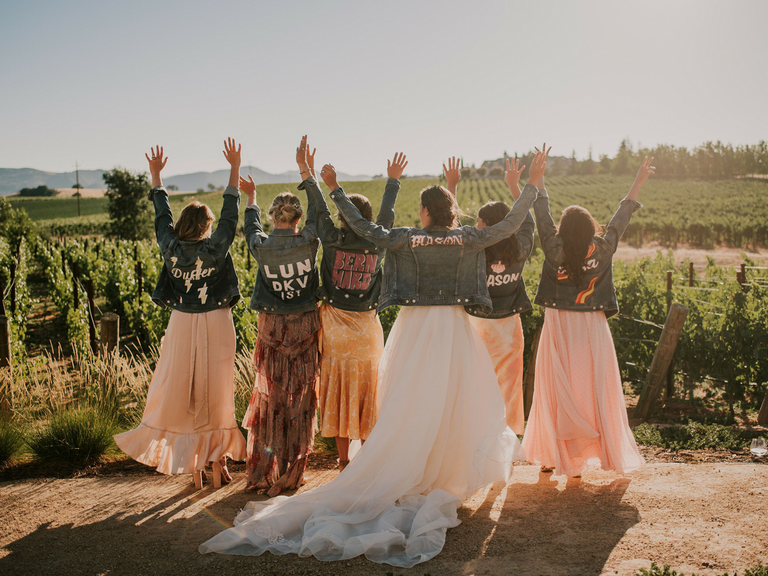 There's more to being a bridesmaid than showing up on the wedding day. Wedding planning can be a stressful process, and your friend will likely need help and support. As a bridesmaid, part of your job is to be there for your loved one for all the pre-wedding events. Take time to check in on them and offer to help with any small tasks you can think of (delivering the wedding invitations to the post office, for example).
Bachelorette Party
The first and most obvious prewedding obligation for bridesmaids is to plan and attend the bachelorette party. This celebration happens before the wedding and typically involves the nearlywed and their wedding party. While some bachelorette parties are one night only, others last a full weekend. Communicate with your BFF ahead of time to understand what they wants. That way, you can build time into your schedule and budget accordingly. Plus, it'll give you more time to brainstorm themes, stock up on pool floats (if necessary) and order fun bridal party merch.
Bridal Shower
Another prewedding party you're expected to attend? Thebridal shower (or wedding shower). This usually involves friends and family members of the to-be-wed. As a bridesmaid, you'll need to be there to support your friend. Sometimes bridesmaids plan and host the bridal shower, so make sure you're clear on when it's happening and how much it'll cost. If you don't host it, you might need to bring a wedding gift and a thoughtful card. If you're not hosting, check in on your friend and ask if they need help with anything on the actual day—showers can turn into big events and having an extra set of hands can be helpful.
General Wedding Prep
Of course, you'll also need to help your bestie with wedding preparations. The biggest task to complete? Getting your wedding day outfit. Often, to-be-weds will choose a color or style for their bridal party to wear. Ask them what they're picturing and follow instructions—even if it's not your favorite style or color. We know it's tempting to ask for an exception to whatever bridesmaid dress or outfit they've picked, but remember: the wedding is about your friend, not you. If you genuinely feel uncomfortable with the given requirements, speak to your friend privately to come up with a compromise.
You might also be called upon to help your bestie find their wedding day outfit. Sometimes to-be-weds ask their friends to come with them while they go wedding dress shopping. If you're invited and choose to attend, do your best to stay positive. Offering negative feedback or opinions can confuse your friend and make the experience more stressful than it needs to be.
Finally, it's important to simply be there for your friend throughout the wedding planning process. Regularly check in on them to make sure they're doing okay. Ask them if you can help with anything. Bring them a coffee or surprise them with a Facetime call to chat about something non-wedding related. All of these small actions will add up in a big way, and your friend will be extremely grateful to have you by her side.
Bridesmaid Duties on the Wedding Day
Getting ready for the wedding weekend? We've got you covered. Read on to learn about bridesmaid responsibilities on the wedding day.
Rehearsal & Rehearsal Dinner
The night before the event, you'll need to attend the rehearsal and rehearsal dinner at the wedding venue. During the rehearsal, you'll practice the processional order and go through the steps of the ceremony. Pro tip: Wear your wedding shoes to this event, as you'll get extra practice going down the aisle in them.
Then, it's off to the rehearsal dinner. You don't need to do much here except follow the suggested dress code, listen to the speeches and enjoy the meal. Word to the wise: Don't stay out too late, as you'll want to be rested for the big day ahead.
Morning Before Wedding
The getting ready process is just as important as the actual ceremony. As a bridesmaid, be prepared to help your friend should they need assistance. You'll also need to plan on being up and in the getting-ready room early. (Bridesmaid hair and makeup can take up to one and a half hours—plus you need to eat and have time to chat to one another).
You may be asked to help your BFF with their outfit and pose for photos. Ask about the getting-ready timeline to confirm where you need to be and when so that you know exactly what to expect on the day of the wedding. Psst: Pack an emergency kit (with bandaids, a nail file, tissues and Tide-To-Go) in case of any last-minute accidents.
Wedding Ceremony
The wedding ceremony is your time to shine. During the event, you'll likely be expected to go down the aisle and stand up beside your friend. Don't worry: You will have rehearsed all this ahead of time, so there won't be any surprises on the actual day. Just make sure you pick comfortable shoes that you can walk, stand and dance in. And if your friend needs a tissue or an encouraging smile, you'll be right there to help them out.
If you're the MOH, you might need to take your friend's flowers and hold them so they can perform the ring exchange. Check to make sure their outfit looks OK too—and if it needs adjusting, smooth it out so it's picture-perfect.
Wedding Reception
All of the wedding pictures are usually taken after the ceremony and during the cocktail reception. That means you might miss a few hors d'oeuvres. But don't worry, you won't miss that many! Make the process as quick as possible by cooperating with the wedding photographer, the wedding planner, the couple and the groomsmen.
Once you get to the wedding reception, you might need to give a speech. Prepare ahead of time by using our comprehensive guide on how to give an awesome speech. If you're not giving a speech, listen to the ones being given (typically from the MOH, the best man and the parents) respectfully. Then, it's party time. Bring positive energy to the reception by engaging with other guests and grooving on the dance floor if you feel comfortable. Getting up and dancing will likely encourage other guests to join in, which will make the reception extra fun.
Finally, check in on your friend to make sure they're getting enough water and food (and cocktails too). They might be busy talking to guests or taking pictures, so passing them something to eat could make a big difference by the end of the night.
Wedding After Party or Post-Wedding Brunch
Keep the party going by supporting your friend. Make sure everyone gets to the after party and gets their late-night snack (if one is being offered). Continue to check in on your friend to make sure they're hydrated and happy.
For the post-wedding brunch, know exactly when you need to be there—and don't be late. We know it might be tough to get up after a late night, so set your alarm the day before. Check with the couple to see if they need anything from you as well. Then, you're free to enjoy the morning alongside your newly-married bestie.