20 Sweet Bridesmaid Luncheon Invitations Worthy of Your Wedding MVPs
Because prewedding bonding time with your besties absolutely warrants its own invitation…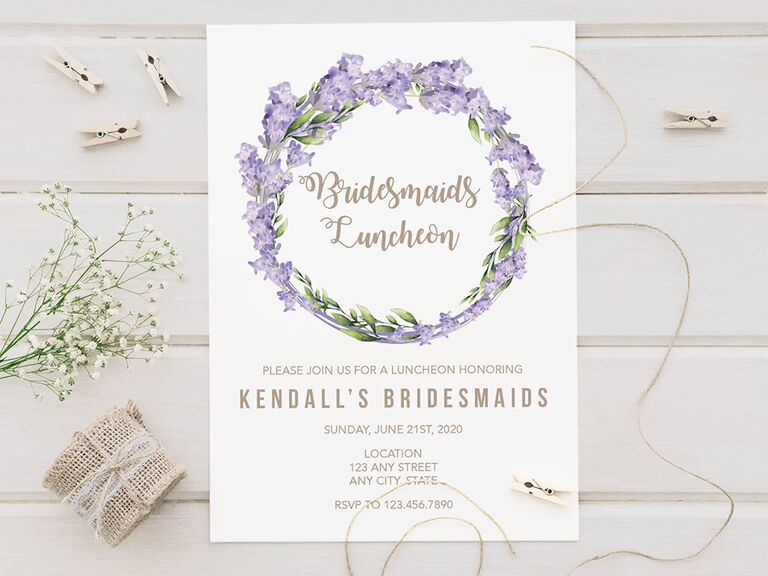 We have included third party products to help you navigate and enjoy life's biggest moments. Purchases made through links on this page may earn us a commission.
There are so many prewedding events that require invitations, but one that often gets left out? The bridesmaid luncheon. As easy as it would be to send a group text to all of your favorite ladies (it's usually a girls-only gathering, but bridesmen certainly count!), mailing out a proper bridesmaid luncheon invitation is a sweet way to honor your wedding party and make each member feel special. It's also a fun task to take on yourself, since all of the planning thus far has been about you and your partner. Stepping out of the spotlight for just a moment to celebrate your squad and thank them for all the help and support they've lent throughout your engagement might be exactly what you need in the days leading up to your wedding.
In years past, the rehearsal dinner has been the occasion of choice for couples looking to present gifts and tokens of appreciation to their wedding party, but an intimate bridal luncheon can be an even better place to do it for your gals. Not only can you personalize the soirée to your unique taste, but it can also be as formal or informal as you'd like. Plus—despite what the name suggests—you don't have to limit yourself to lunch. If you'd like to invite your bridal party to the spa for nail appointments and noshes the day before your nuptials, you can; If you'd like to carve out time with your crew at a cool cocktail party the weekend before your wedding, you can; If you want to brunch with your besties the morning of your big day, you can.
You don't even have to be the one who hosts if you'd rather pass the baton onto your maid of honor, mother or godmother to orchestrate something fabulous for your favorite people. Just remember that since this party serves as a tribute to your VIPs, you'll be the one who doles out the hugs and thank-you cards when the time comes. Should you have any trouble coming up with your #appreciationpost following the event, you can let these bridal luncheon invitations inspire you.
Fresh & Yummy Paperie Minimalist Bridesmaids Luncheon Invitation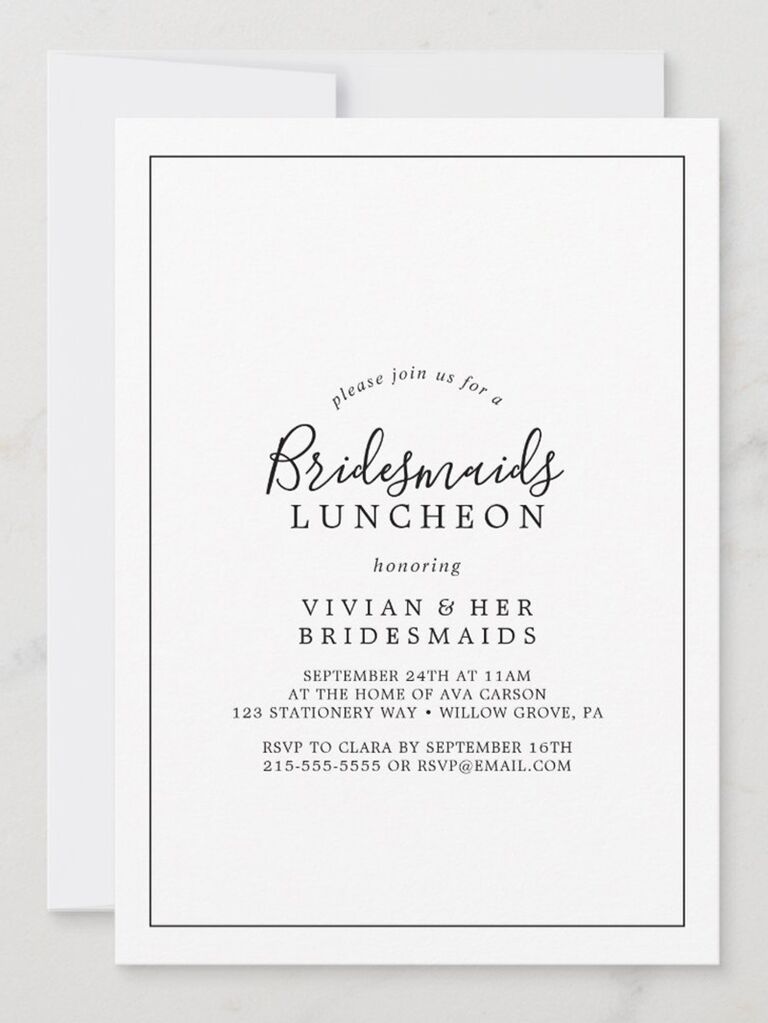 For a simple event, this minimalist bridesmaids luncheon invitation is perfect. The modern romantic design features classic black and white typography paired with elegant calligraphy in vintage hand-lettered style. It's customizable in any color and can be kept simple and elegant as is, or personalized with signature graphics and artwork.
Atelier Gifthouse Bridesmaid Photo Card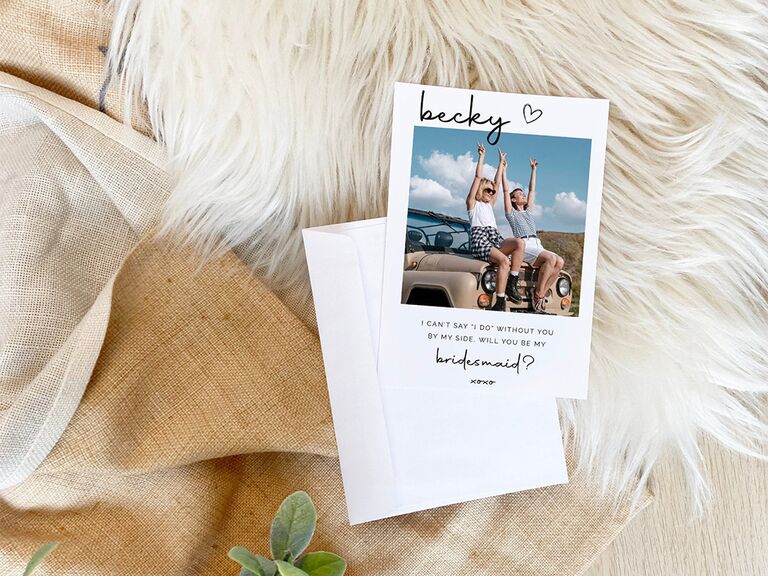 Something incredibly personal and bespoke will always be adored, so if you want to switch things up and modify an existing design to invite your closest family members and friends to your bridesmaid luncheon, by all means do it. These "Will You Be My Bridesmaid" Polaroid-style photo cards can be customized with each of your invitees' names and a heartfelt message of your own (including the time, date and place of your party). Printing is limited to one side only, so you can handwrite any additional info on the back.
Fresh & Yummy Paperie Rose Gold Watercolor Bridesmaids Luncheon Invitation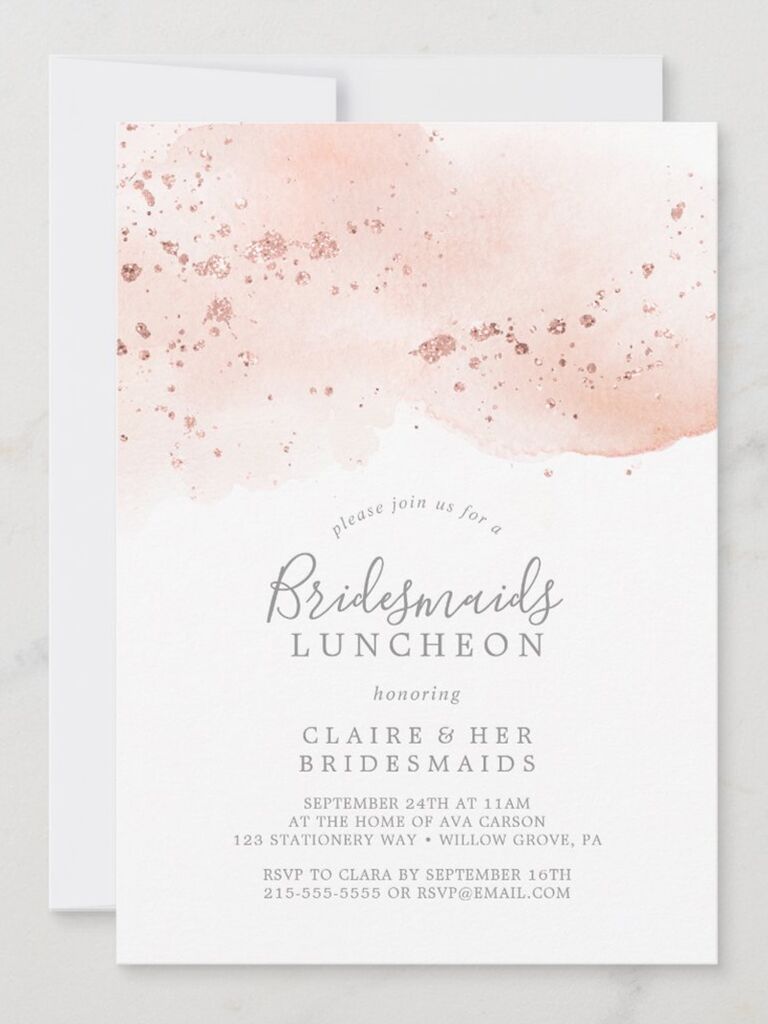 If Elle Woods had a bridesmaid luncheon with her Delta Nu crew today, this invitation card would be totally on point. The whimsical design features blush pink watercolor details with beautiful faux rose gold glitter for a look that's equal parts flirty and feminine.
Darling & May Wildflower Sketch Orange Bridesmaids Luncheon Invitation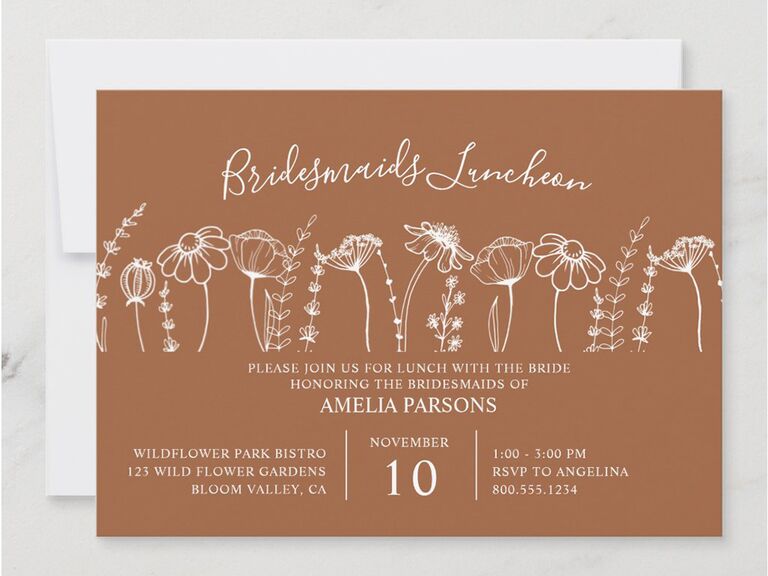 This bridal luncheon invite is a stunning option for a floral-obsessed bride. The delicate botanical theme features a lineup of wildflowers drawn in white line art and accompanied by elegant handwritten script, hinting at a wild and carefree fête to follow.
Lovely Wow Studio Bridesmaids Luncheon Dreamy Greenery Bridal Shower Invitation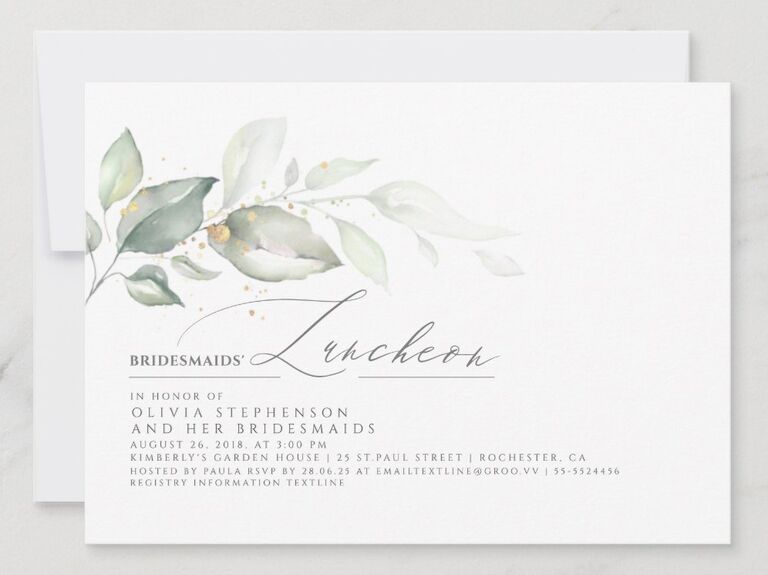 If you'll be holding the luncheon in an arboretum or greenhouse, something like this crisp white invite—with artful sprigs of greenery—is bound to grow on your guests. We're particularly fond of the soft wash of color on the back, and the fact that "and her bridesmaids" is in the same font size as the bride line itself, ensuring that your whole crew feels like a guest of honor.
Darling & May Terracotta Botanical Arch Bridesmaids Luncheon Invitation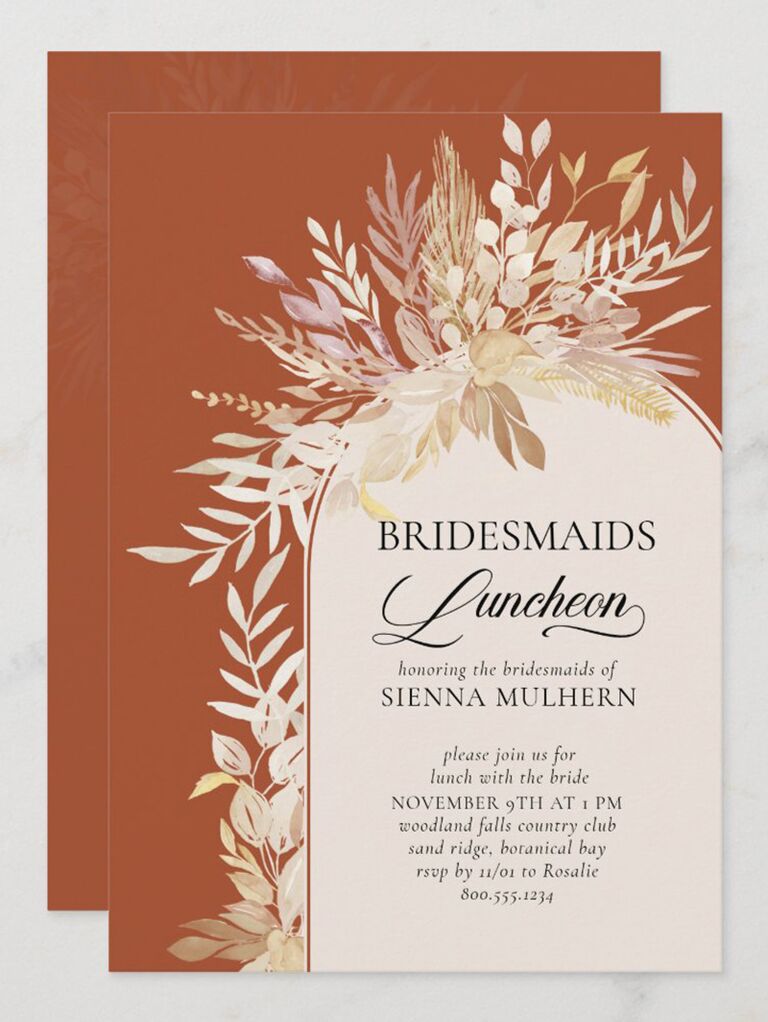 Boho is a state of mind. Embrace earthy color palettes, dried foliage and pampas grass, with a thematic invitation. Terracotta and cream commingle with an airy botanical design that features a trendy arch decorated with a canopy of botanicals—all that's missing are your very important details.
Nazia Hyder Tea Party Children's Birthday Party Invitations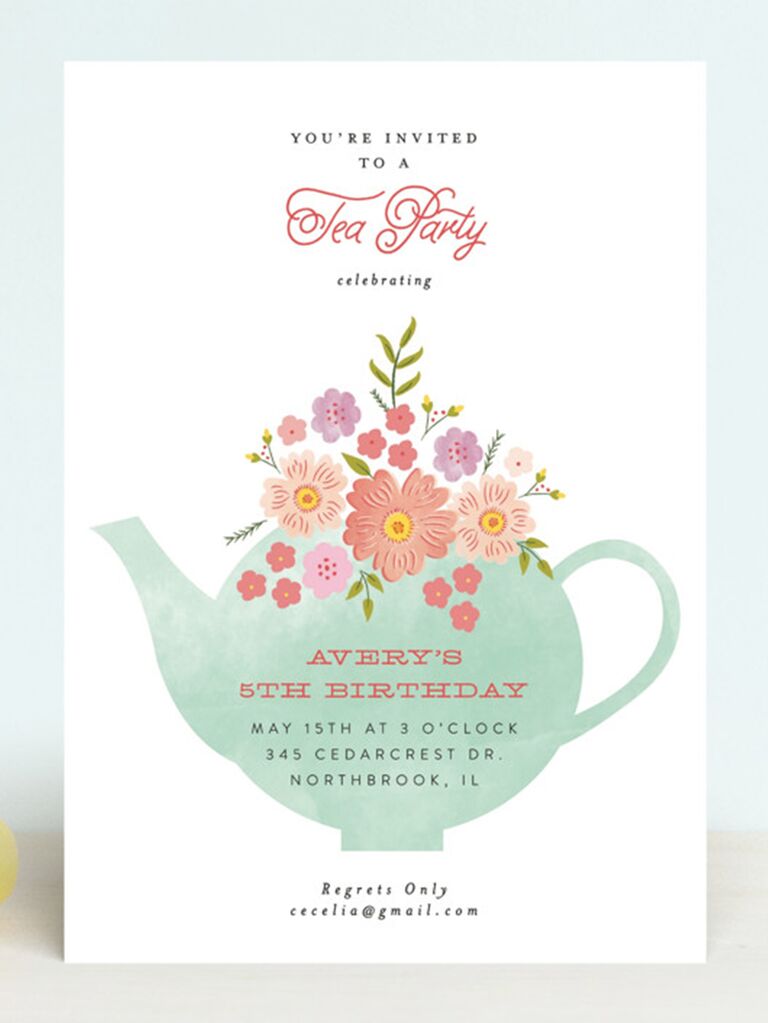 Sure, you can tee this invitation up for a child's birthday party, but the whimsical design featuring a teapot flower vase and watercolor florals suits a prewedding bridal luncheon invite just as well. Like all Minted paper goods, you can personalize all of the wording to fit your event plus add festive flourishes like liners or return address wraps to make everything cohesive and highly curated. If you're the bride, consider adding a few personally selected tea bags to each bridesmaids' gift, along with a cute teacup and a note about bringing it to sip on the morning of your wedding!
Thisisnotme Designs Elegant Black Stripe Gold Bridesmaids Luncheon Invitation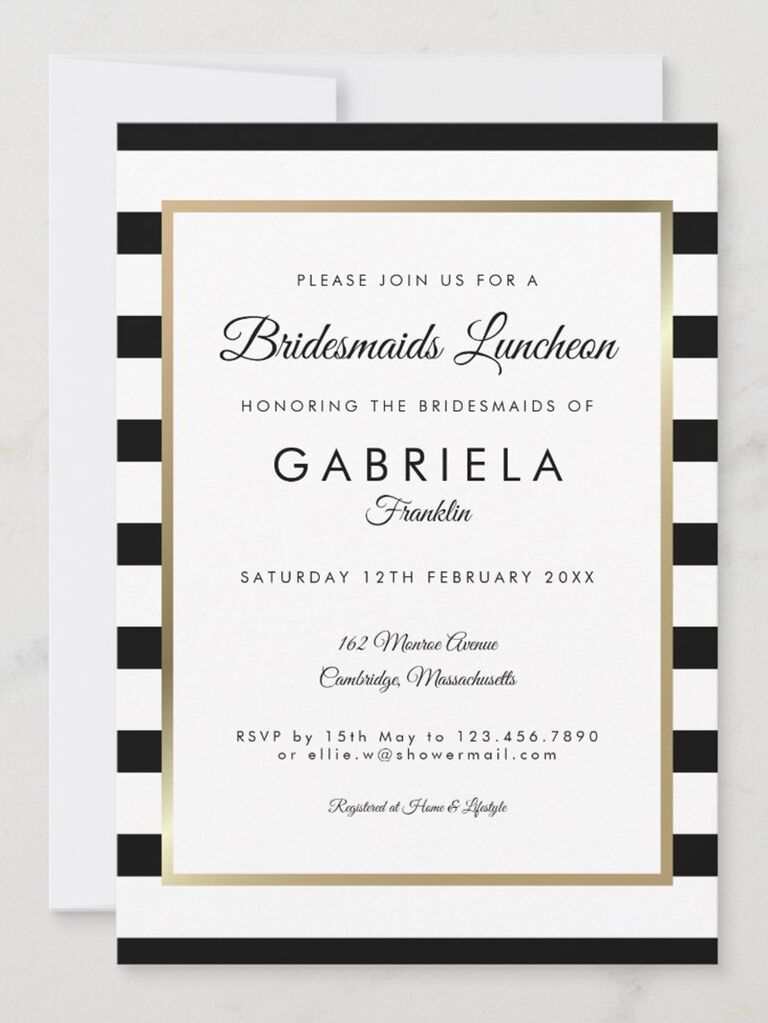 Classic black and white stripes set the tone for an elegant afternoon spent with friends and family. This design does a lovely job of highlighting both honorees—the bridesmaids and the bride—while a faux gold foil border frame adds glam to the event details. Add hors d'oeuvres and a luxe assortment of classic cocktails and you've got yourself the perfect celebration.
The Knot Elegant Hydrangea Bridal Shower Invitations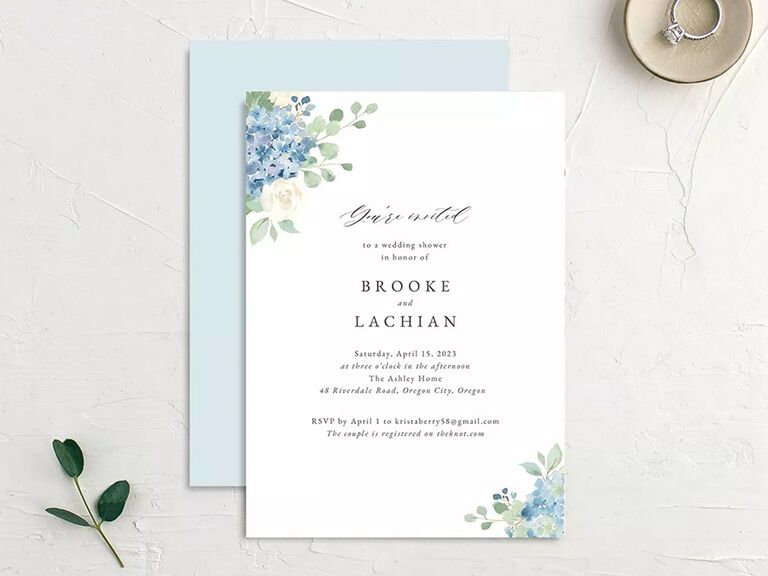 Since bridesmaid luncheons are still a relatively new tradition, the invitations are still getting perfected—but that doesn't mean that gorgeous party invites like this one can't be personalized for more than one bash. Bouquets of hydrangea, roses and eucalyptus leaves adorn this design, and the text is offered in a variety of classic typefaces with an accent of a modern script font. Just swap "bridal luncheon" in for "wedding shower" and tweak the text to mention the bride and bridesmaids.
Party Peeps Lakeside Monogram Crest Bridesmaids Luncheon Invitation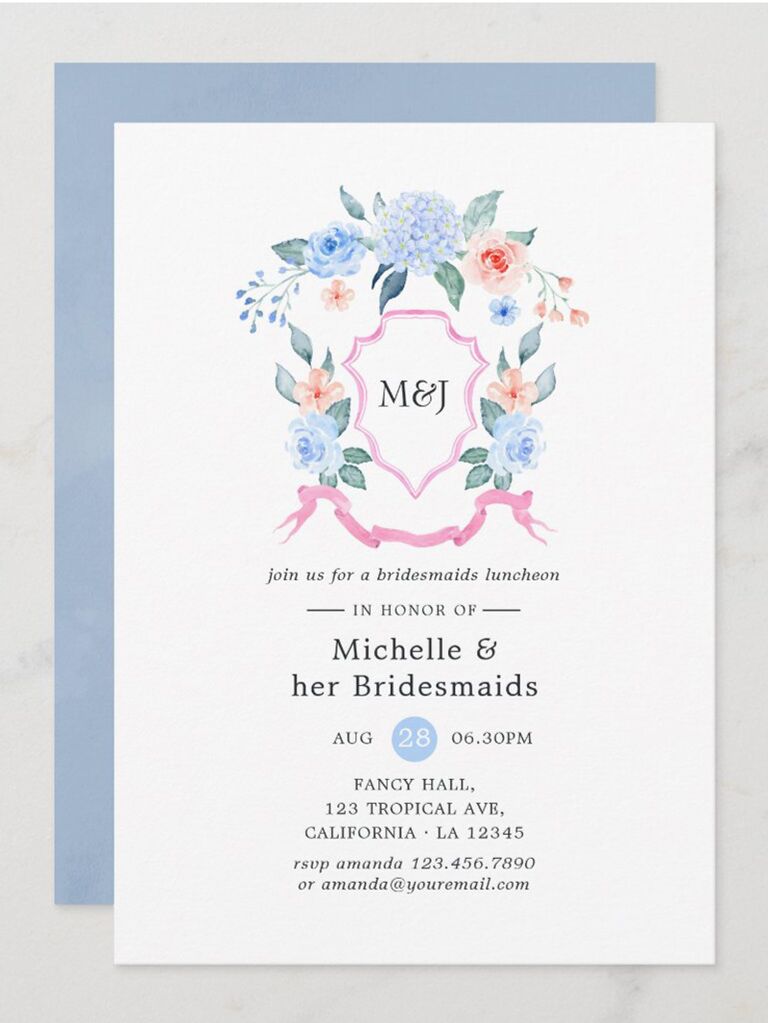 With monogram detailing up top, this dusty blue and pink invitation is decidedly preppy and romantic. It looks like a wedding invite, but that's kind of perfect when you're celebrating such a special, lasting bond among the best of friends. Consider that pink ribbon a hint at the silk chiffon or velvet that will wrap their flowers on the actual wedding day.
Redwood & Vine Antique Peony Bridesmaids Brunch Invitation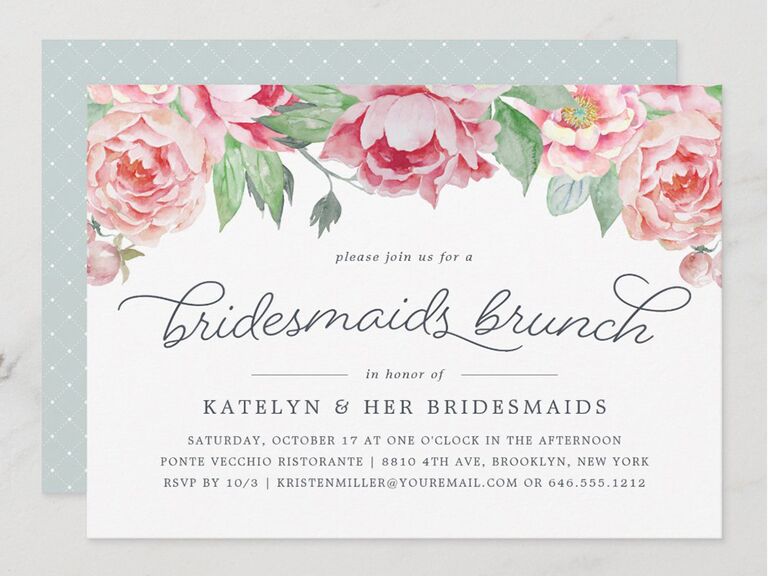 Any time pretty flowers and friends mix over brunch, you can bet it will be a posh and polished time. This vintage floral design features blush pink watercolor peonies with decorative typography accents and smoky blue-gray lettering. With the words "bridesmaids brunch" effortlessly calligraphed across the horizontal layout, it makes it clear that the bride's closest confidantes won't want to miss it.
Sarah Brown Float Bachelorette Party Invitations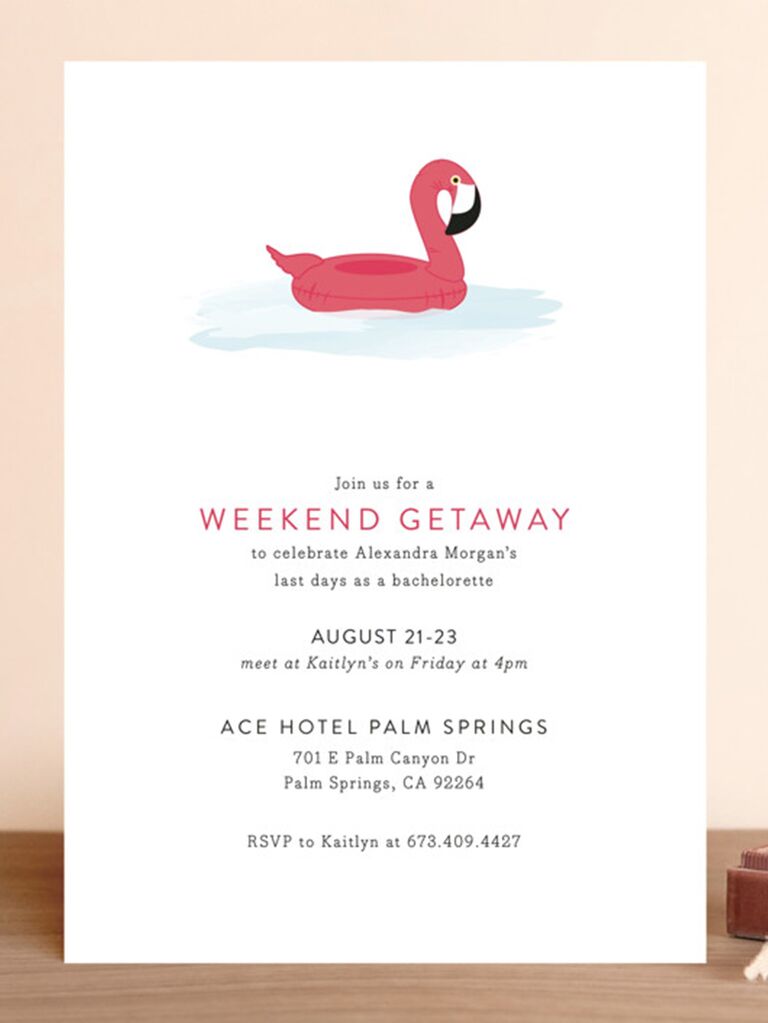 Granted, a bridal luncheon is a lot simpler to plan than a weekend-long bachelorette party, but the pool flamingo still floats well for the occasion—especially if it will play out like a scene plucked straight from Palm Springs. Choose whether your feathered friend is golden, peach or coral colored and don't forget to update the fields that skew a little more bachelorette focused. In any case, a poolside appreciation party will always be a win.
Party Peeps Watercolor Paris Bridal Luncheon Invitation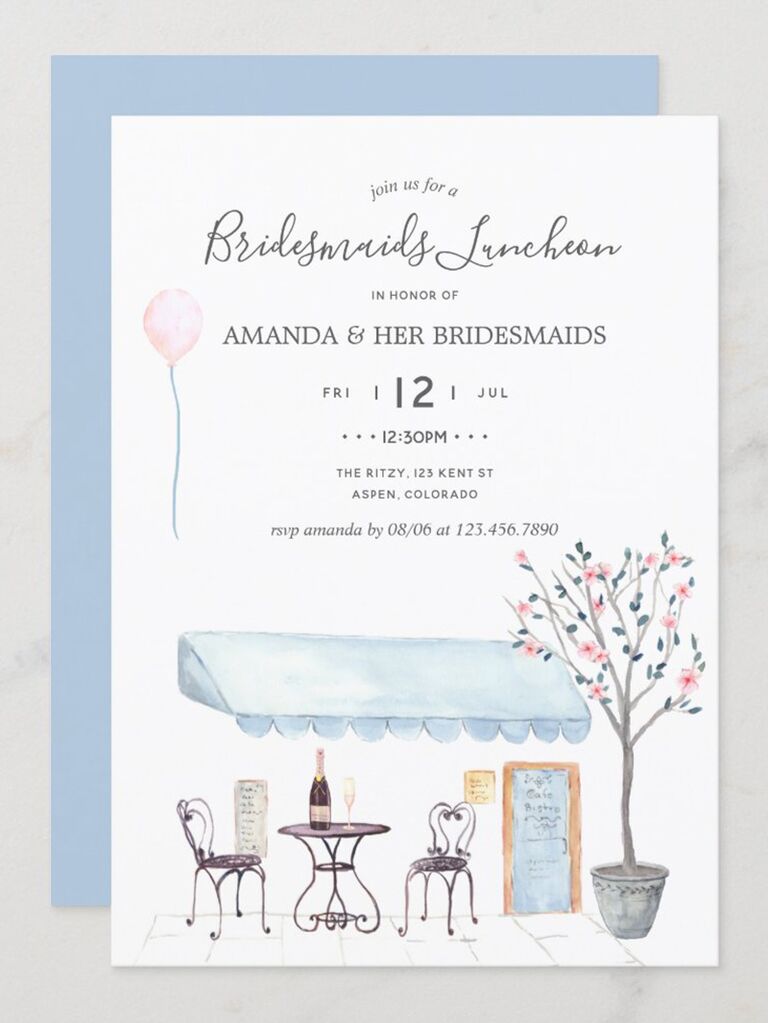 Any Emily in Paris fans out there? This one's for you. Gather the girls at your favorite little café or boulangerie and choose a signature sip for everyone to enjoy on the patio. Have your second in command pick up some pastel balloons and maybe, just maybe, you'll all close your eyes and be transported to Café de Flor.
Dulce Grace Manis and Mimosas Bridal Party Celebration Invitation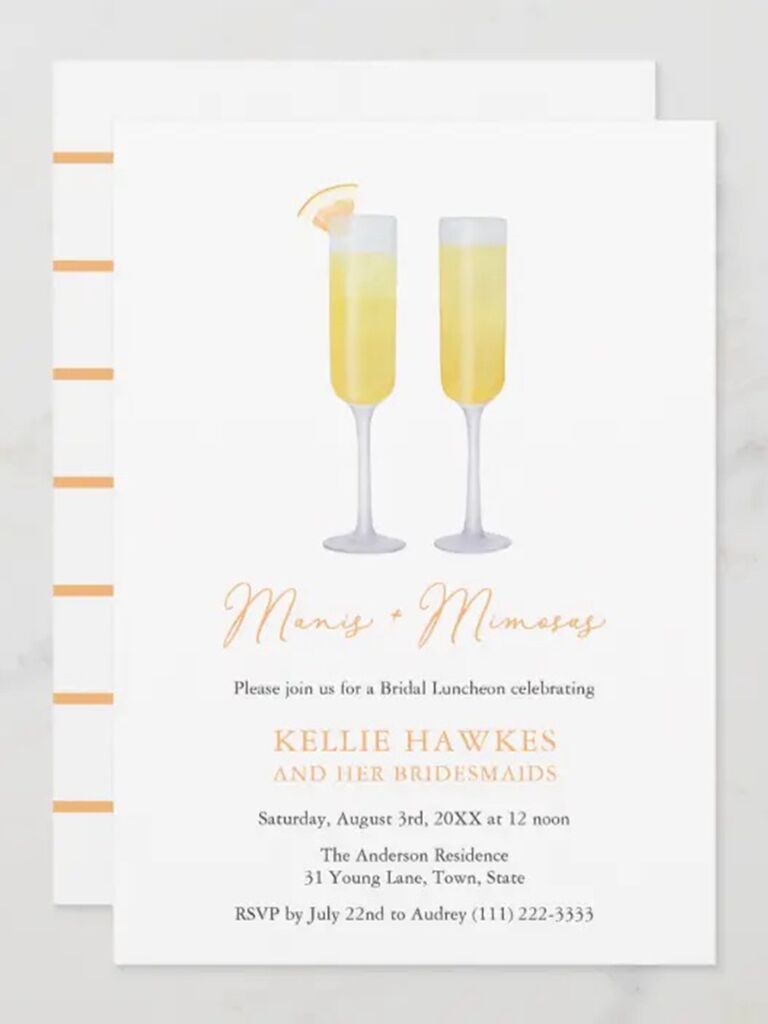 Truth time: A wedding probably couldn't happen without bridesmaids and mimosas, so why not honor both at the same time? We love this invite, especially if the plan is to have your bridal luncheon a day or two before the wedding, when freshly-painted nails are already on everyone's to-do list. You can customize the color of the stripes if you'd like to mellow out the yellow a bit or make the hand-painted drinks stand out even more. Either way, it's an invitation worth toasting over.
Hephzibah Design Watercolor & Glitter Roses Bridesmaids Luncheon Invitation
If you'll be going a little more formal with your event, this pretty and modern bridal luncheon invitation will totally fit the bill. The color palette blends sage green, blush pink and faux gold glitter with watercolor roses and leaves for a touch of sophistication and class any bride-to-be (and her girls) will love.
The Knot Palm and Protea Bridal Shower Invitations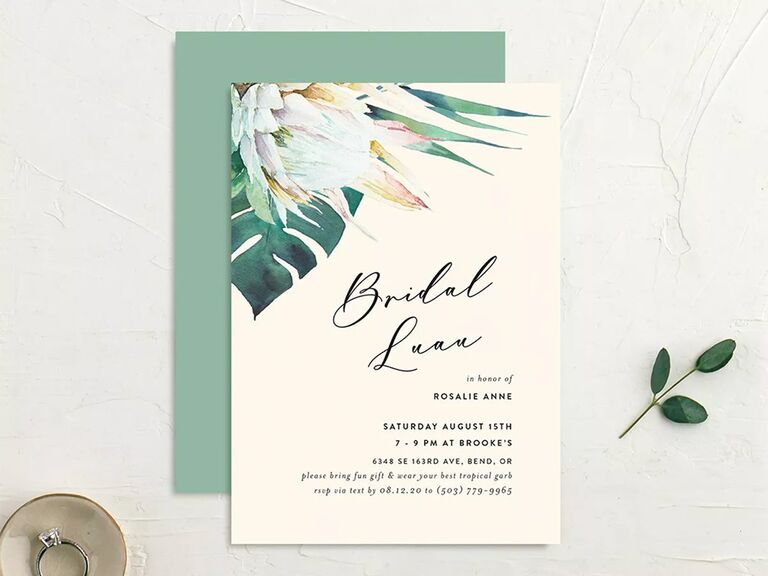 If a beachy destination wedding is already in the works, a tropical-themed bridesmaid luncheon makes a lot of sense. This template features palm and protea leaves, followed by editable event details. Keep the FYI to encourage guests to wear iconic island-vibes ensembles, and just modify the note to say they should bring a favorite photo they have with the bride instead of a gift.
go print + Lavender Grapevine Wreath Bridemaid Luncheon Invitation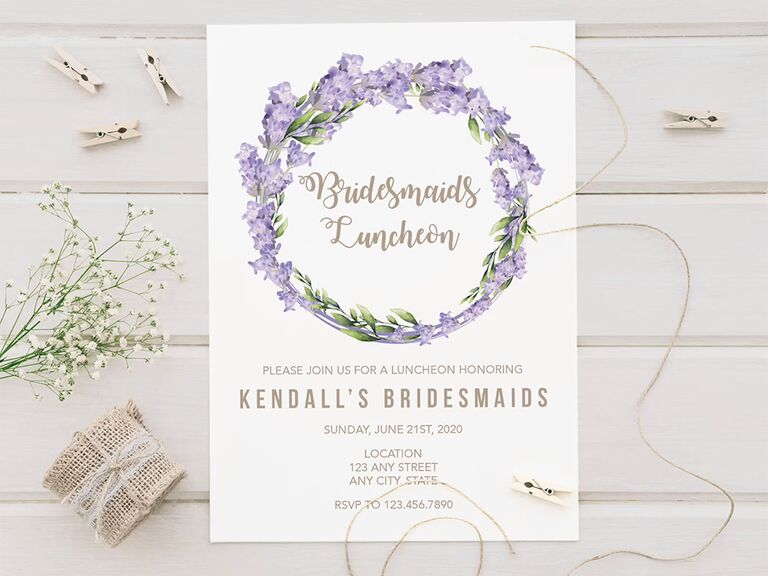 While a bridal luncheon isn't the right place to put the wedding party to work, you can still weave some interactive moments into the event to turn up the festivity. The lavender grapevine wreath pictured here is a wonderful prelude to a flower crown-making session between bites. And, if there will be a rehearsal dinner later in the day, everyone can wear their crown out for the night.
WebbCo Prints Digital Watercolor Bridesmaids' Luncheon Invitation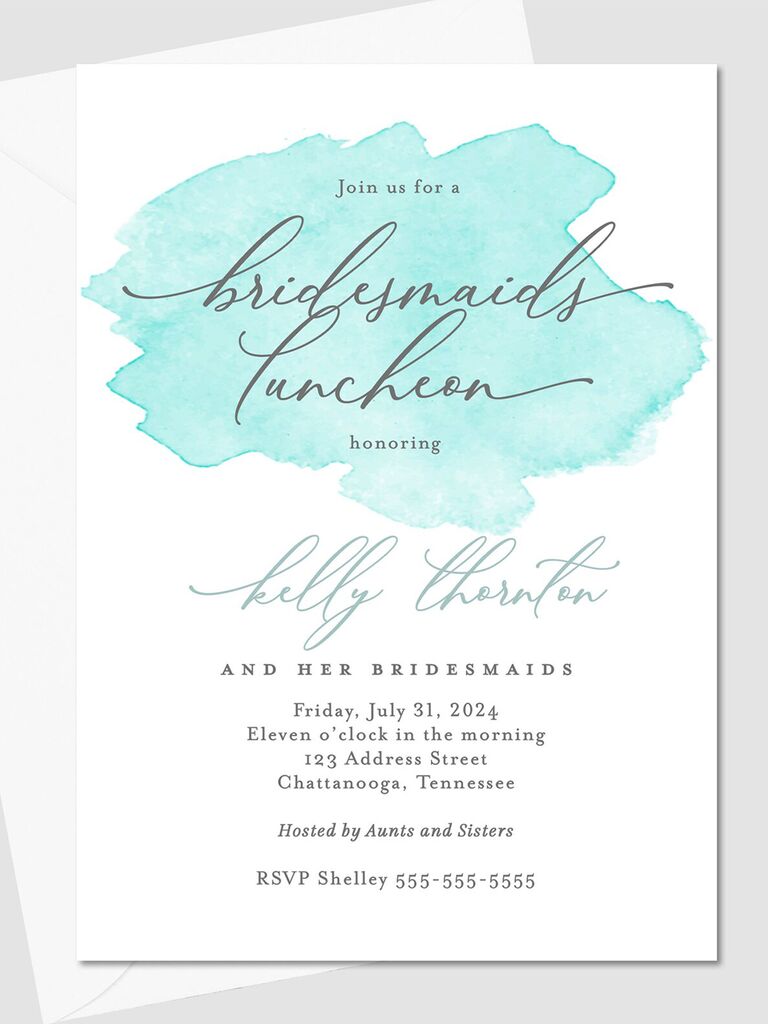 With so many last-minute things to check off your "I do" to-do list, it's completely understandable that you might overlook a bridal luncheon. That's when we rally around a printable bridal luncheon invitation option that can be customized and sent by the bride or a member of her party (aunt, mom or sister, too). Best part of this seafoam green watercolor-washed pick? The pricing is just right.
Signature Greenvelope Cascading Blossoms Invitation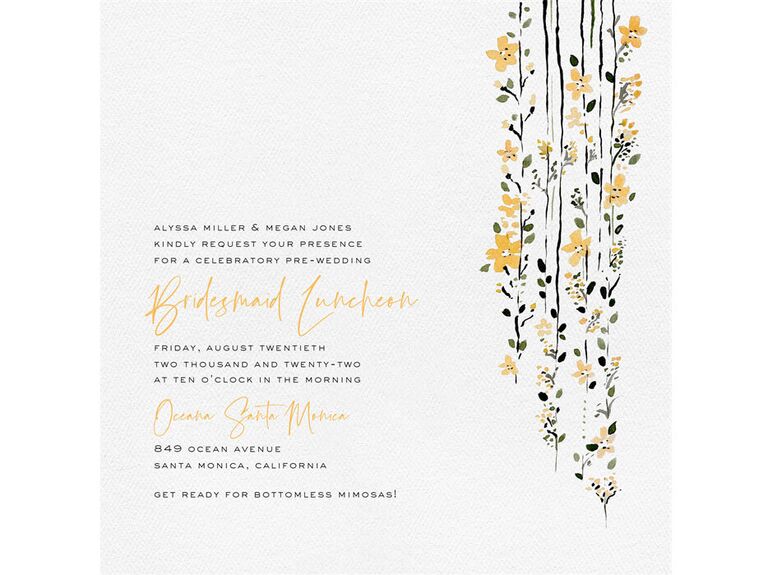 A digital missive that can be emailed to the entire guest list—particularly one as stunning as this—comes in clutch. The delicate blossoms cascading down this design are sure to mesmerize guests (after they've already been bewitched by the envelope-opening animation). And, as with all Greenvelope designs, you have the option to fully customize the card text, background and envelope for no additional cost.
Adorable Invitations Bridesmaids Luncheon Invitation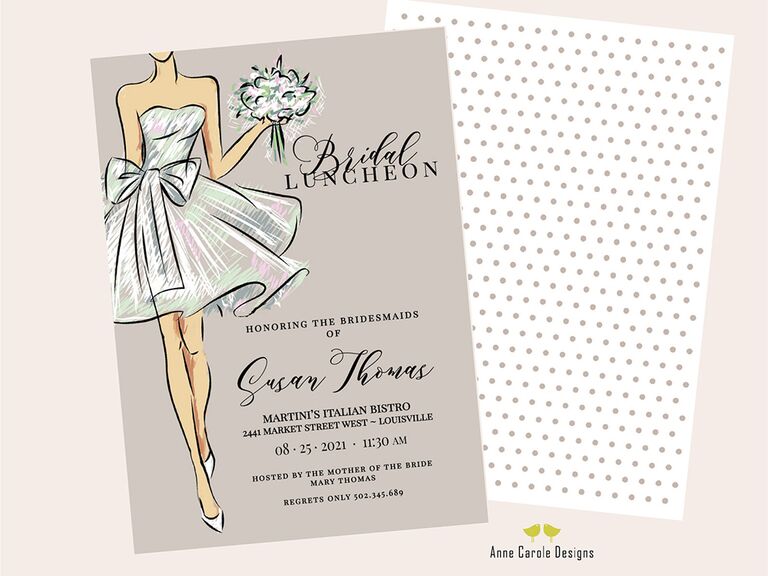 This stylish sketch is precisely the thing to hype everyone up for their impending aisle debuts. With a bouquet in hand and pointed stilettos on foot, a bridesmaid is ready for anything, right? Not to mention, those polka dots on the back add just the right touch of vintage charm. Audrey Hepburn would be proud!