55 Bridesmaid Gifts That Are as Unique as Your Bridal Party
Shop cute gift ideas they'll really, really love.
We have included third party products to help you navigate and enjoy life's biggest moments. Purchases made through links on this page may earn us a commission.
Bridesmaid gifts are an optional (but popular) way for couples to show their gratitude. According to our data from a 2022 survey, 70% of couples choose to buy thank-you gifts for their wedding parties—and it's no wonder why. "Your bridesmaids are here to provide support throughout the entire wedding planning journey," says Kisha Damali, owner and creative director at D'MALI, a New York City-based design studio that specializes in gifting. "What better way to show how much you value their time and assistance during the most important milestone of your life than with a gift?"
Of course, next comes the question of what to give your bridesmaids as a gift. "When choosing the right gifts for your wedding party, my advice is to gift items that will make your wedding party feel special," says Damali. This could mean engraving items, picking presents that fit their interests, choosing cute accessories in their style, or assembling gift baskets full of pampering products. And you don't have to buy everyone the same thing. "Consider gifting each member of the party a different gift based on their likes and personality," suggests Damali.
All clear on bridesmaid gift etiquette? We've listed 55 of the best bridesmaid gift ideas below that'll work for goodie bags and solo presents alike.
1. Buttery Soft Robes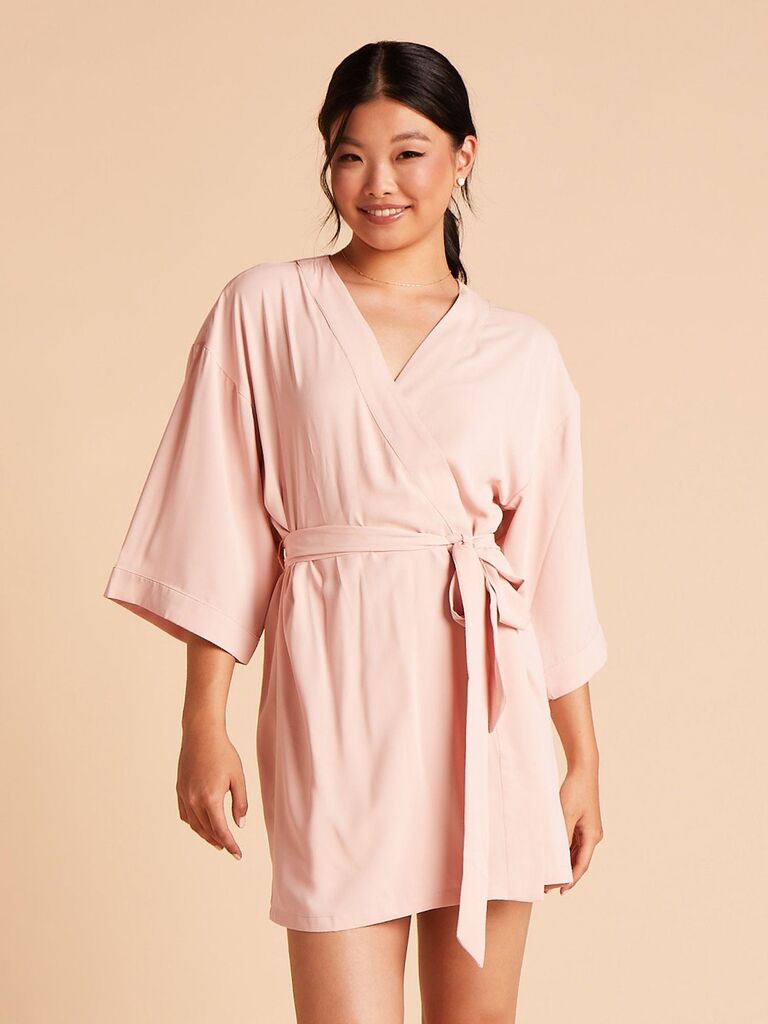 For the bridesmaid who: has mastered the art of blending style and comfort
Cost: under $50

Who doesn't love a soft robe to wear while lounging? Giving this cute bridesmaid gift tells your friends they deserve a little downtime. Plus, it's a practical present for the morning of the wedding day. You can personalize the back with their name or wedding title. (If you're buying bridesmaid robes as thank-you gifts rather than separate getting-ready gifts, we suggest personalizing them with their names.)
2. On-Theme Candles
For the bridesmaid who: always raises her glass for others
Cost: under $50

Embrace the celebratory theme by choosing this "Let's Toast" candle with notes of grapefruit, apple and champagne grapes as a gift for your bridesmaids on your wedding day. You can personalize the back of the glass jar with a sweet, personal note thanking them for being your besties.
3. Monogrammed Rocks Glasses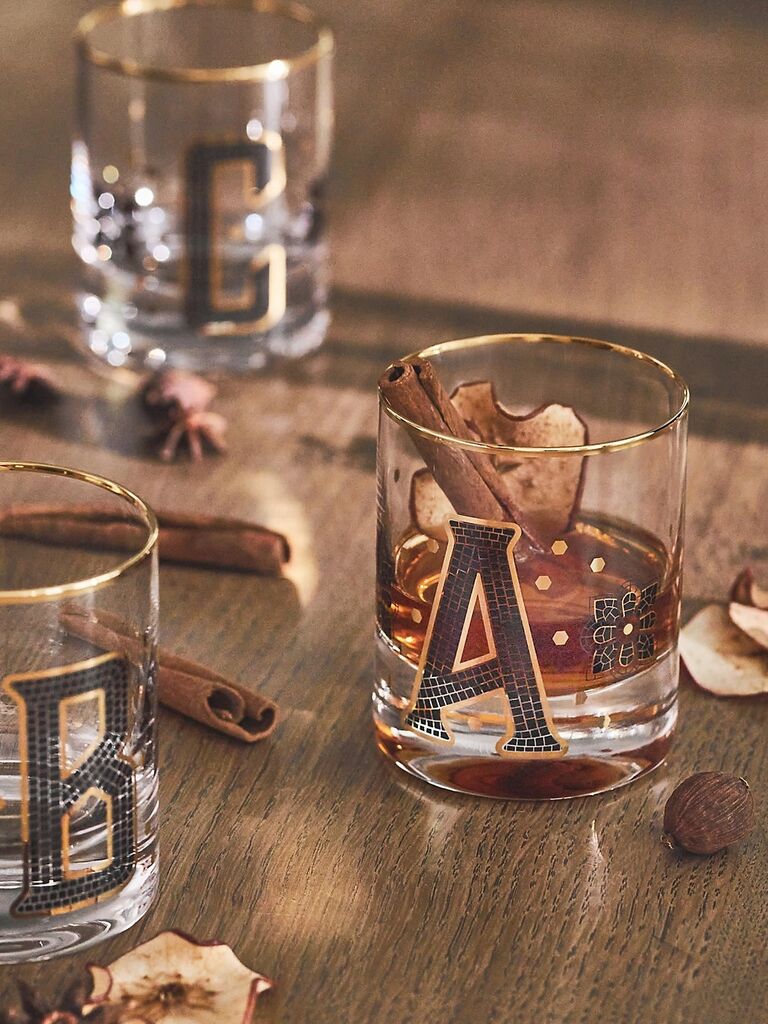 For the bridesmaid who: knows a thing or two about good whiskey
Cost: under $25
If you're still not sure what to get your bridesmaids, just keep scrolling! We've got plenty of inspiration to suit your bridal party's unique tastes. Anyone who prefers a robust whiskey over fruity, fizzy cocktails will fall head over heels for this beautiful glassware. Each glass is personalized with an initial in an ornate bistro tile design. Complete with gold rims, these elevated vessels are the best bridesmaid thank-you gifts for whiskey lovers.
4. One-of-a-Kind Necklaces
For the bridesmaid who: is always looking at the stars
Cost: over $100

Birthdate Co. has taken the humble zodiac necklace one step further. These incredibly special accessories are inspired by both astrology and numerology, creating something that's unique to each bridesmaid's exact date of birth. Four thoughtfully chosen stones decorate each pendant, bringing the wearer good luck and energy. You can add their initials for an extra $15, but we bet it'll be a bridal party gift to remember either way.
5. Bold Nail Polishes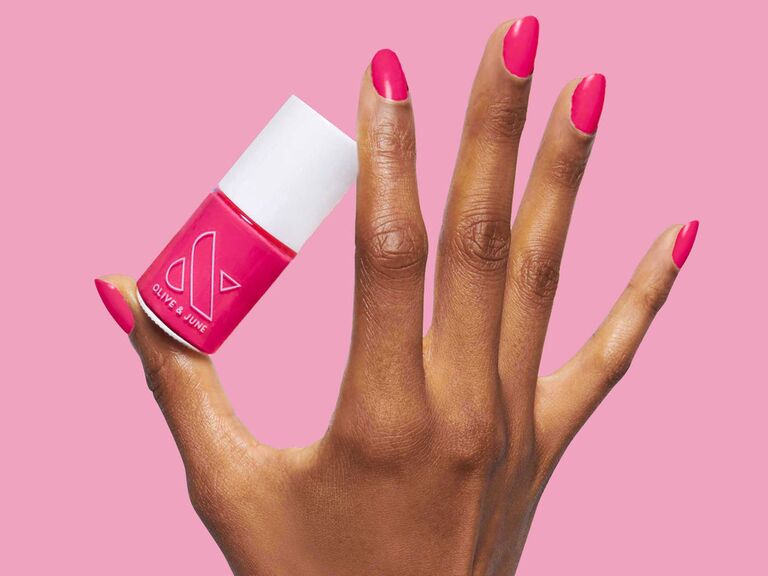 For the bridesmaid who: never stopped loving Barbie
Cost: under $10

Choose a bridal party thank-you gift that embraces the moment. Barbiecore is here to stay in 2023, and we bet any nostalgic peeps in your wedding party are pretty darn chuffed about it. Bring the trend to life for your crew by gifting each bridesmaid a bottle of bold pink nail polish that wouldn't look amiss on the unofficial Malibu queen herself.
6. Travel Jewelry Cases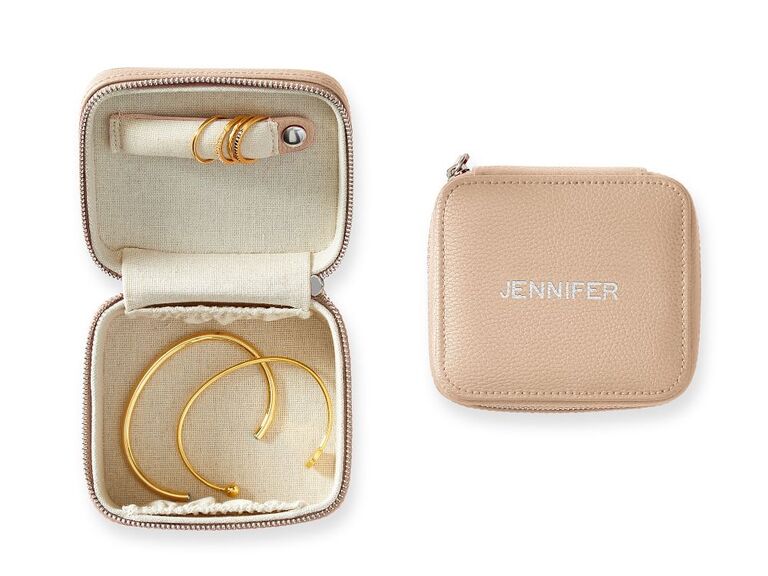 For the bridesmaid who: travels in style
Cost: under $75

If your girls are always on the go, there are lots of useful bridesmaid gifts to complement their carry-ons. This gorgeous jewelry case is something they'll turn to on the regular. In fact, it's not just great for travel—they can safely stow their jewelry in the case all the time. With a luxurious vegan leather finish, it'll look great on their dresser. Add each bridesmaid's name for just $13 extra.
7. Pampering Skincare Sets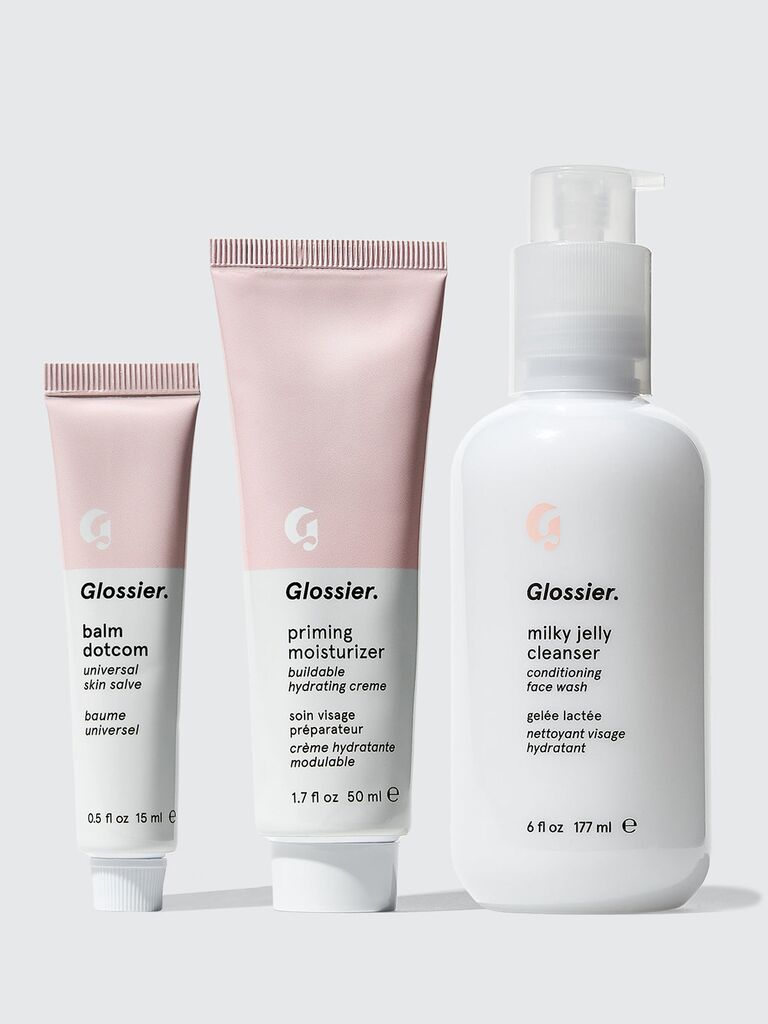 For the bridesmaid who: takes skincare seriously
Cost: under $50

If you're shopping for someone practical, the best bridal party gift is something they can use. A kit of skincare essentials from cult-favorite beauty brand Glossier totally fits the bill. This set of full-size essentials includes cleanser, priming moisturizer and lip balm. They'll be glowing long after the big day! Beauty products are one of the top bridesmaid gifts for a reason.
8. Sentimental Photo Books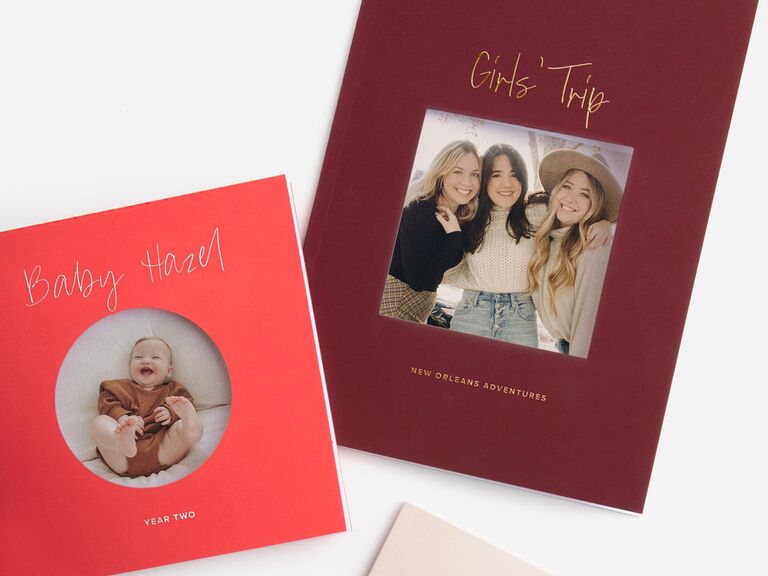 For the bridesmaid who: you've known since kindergarten
Cost: under $25

You've shared so many wonderful memories together. For the ultimate meaningful bridesmaid gift, make a photo book filled with favorite photos of your biggest adventures. Artifact Uprising's online editing tools make creating your own memory book a breeze, and you can customize the cover with your preferred image and title. Trust us, this gift will be treasured forever.
9. Portrait Champagne Flutes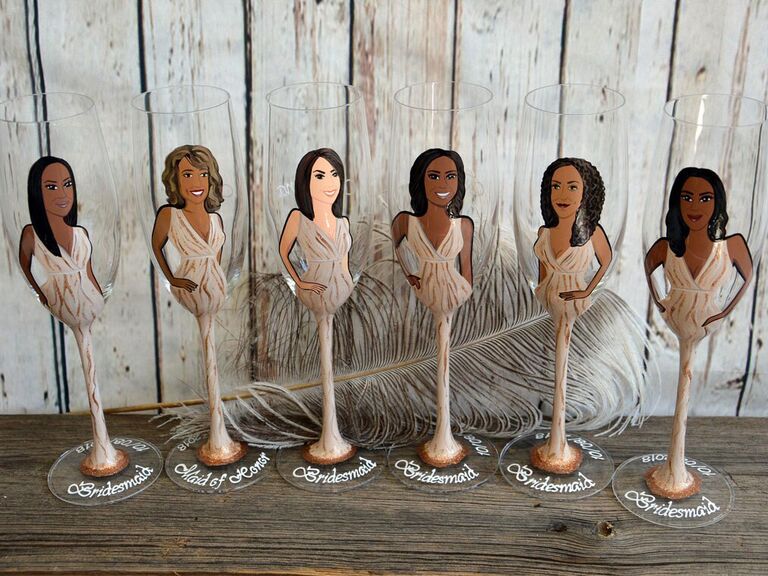 For the bridesmaid who: never stops taking selfies
Cost: under $50

Personalized bridesmaid gifts are always a good idea. It shows your 'maids that you went the extra mile to pick out bridal party gifts just for them, and if it's anywhere near as awesome as these flutes, it'll come in clutch for years to come. Your crew will never tire of sipping sweet champagne from a glass with their portrait painted on it.
10. Dazzling Drusy Earrings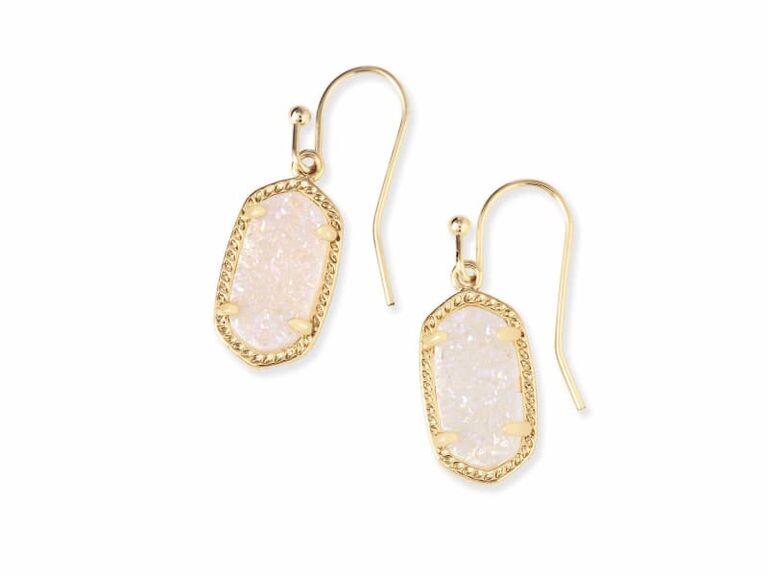 For the bridesmaid who: knows how to accessorize
Cost: under $75

Jewelry to wear on the wedding day can be a perfectly nice bridesmaid gift, as long as you choose something they'll wear again afterward too. These pretty drop earrings are elegant without feeling over the top, so your girls can easily pair them with everyday outfits. The iridescent drusy stone brings just the right level of sparkle.
11. Snug Slippers
For the bridesmaid who: deserves to put her feet up
Cost: under $25

We'd never say no to a pair of cozy new slippers, and your bridesmaids probably won't either. After all of the planning, prepping and partying, they'll be more than happy to put their feet up in these bad boys. Each fluffy white slipper is embroidered with their first name, so they won't get mixed up the next time you're all lounging together. Wedding gifts for bridesmaids don't have to be super unique, sometimes less is more!
12. Disney Friendship Rings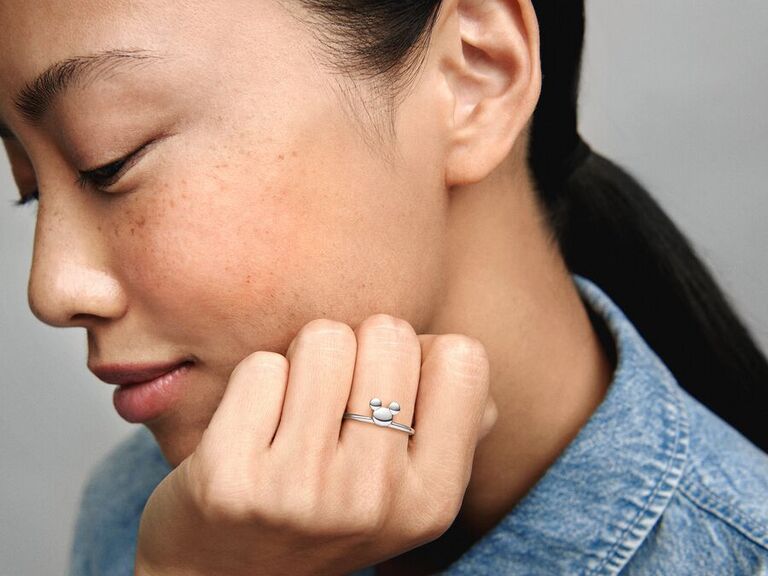 For the bridesmaid who: would move to Disney World if she could
Cost: under $75

Jewelry is easily one of the most popular bridesmaid gifts you can choose. Make sure your bridesmaid jewelry gifts carry as much meaning as possible by choosing something to reflect each person's interests. We love this Mickey Mouse-inspired ring for any Disney-obsessed bestie. It's even more special if you get a matching friendship ring for yourself too.
13. Spa Gift Cards
For the bridesmaid who: loves a little R&R
Cost: under $50

Consider how much time and energy your bridesmaids have put into being there for you on your wedding day. Help them embrace some well-deserved self-care by giving each person a gift card for the spa treatment of their choice—mani, pedi, massage, facial… the list goes on. Spafinder gift cards can be used in thousands of locations, but it's a good idea to double-check that there are options nearby before buying your gift cards. It's such a great bridesmaid gift from the bride that you might want to bag yourself one too.
14. Glittery Cocktails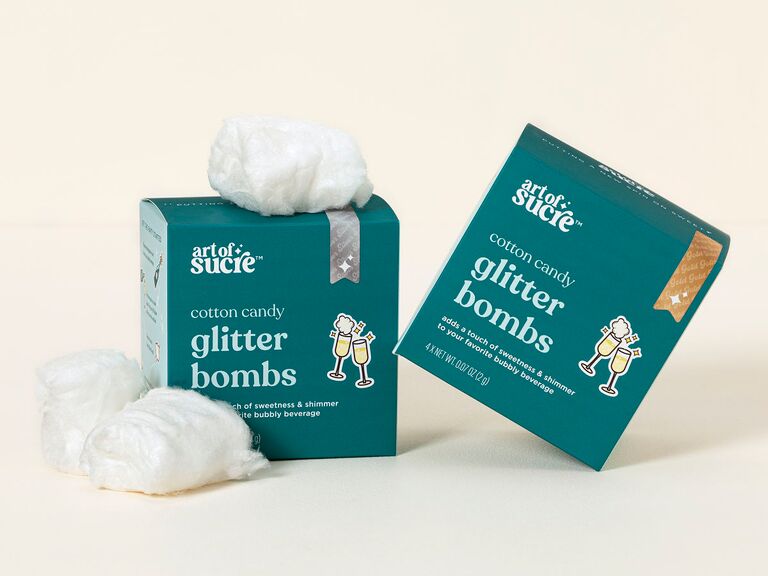 For the bridesmaid who: knows how to celebrate
Cost: under $25

Looking for more bridesmaid gift ideas you could easily pop in a bag or box? These cotton candy glitter bombs add a sweet, sparkly surprise to champagne, prosecco, cocktails and mocktails alike. Pair it with a bottle of bubbly and raise a glittery toast to the special occasion. Or, pick up the ingredients for your friends' favorite cocktails and let them create their own sparkly sensations after the wedding. Each box includes four cotton candy puffs with silver or gold glitter.
15. Comfy Bridesman Sweatshirts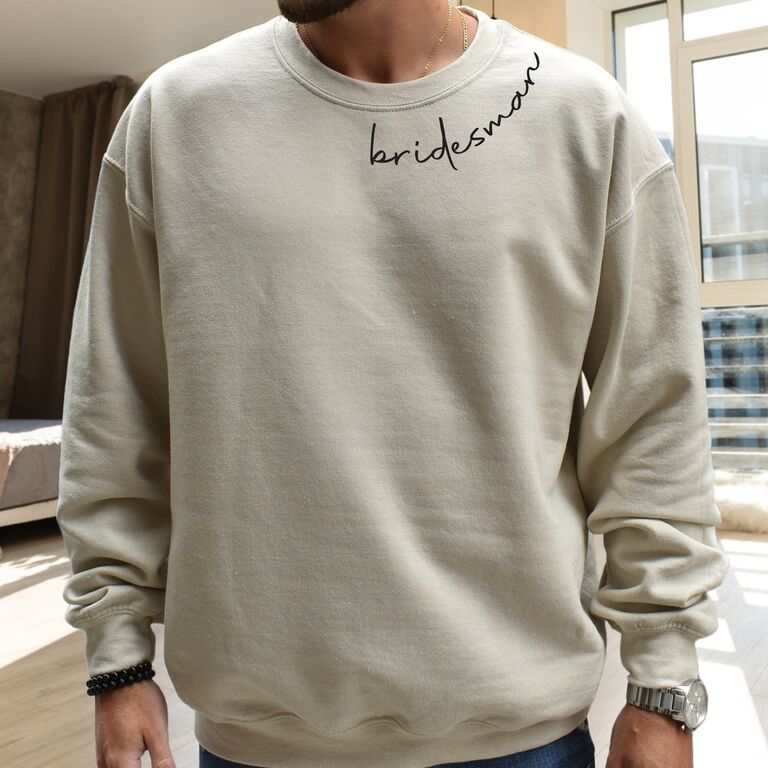 For the bridesman who: is incredibly proud of his wedding party status
Cost: under $50

We didn't forget about bridesmen gifts. Treat the guys in your bridal party to sweatshirts that proudly show off their role in your "I do" crew. In fact, these gender-neutral sweatshirts make great gifts for everyone. You can personalize the text to say "bridesman," "bridesmaid," "friend of honor," or even just their names.
16. Chic Charging Trays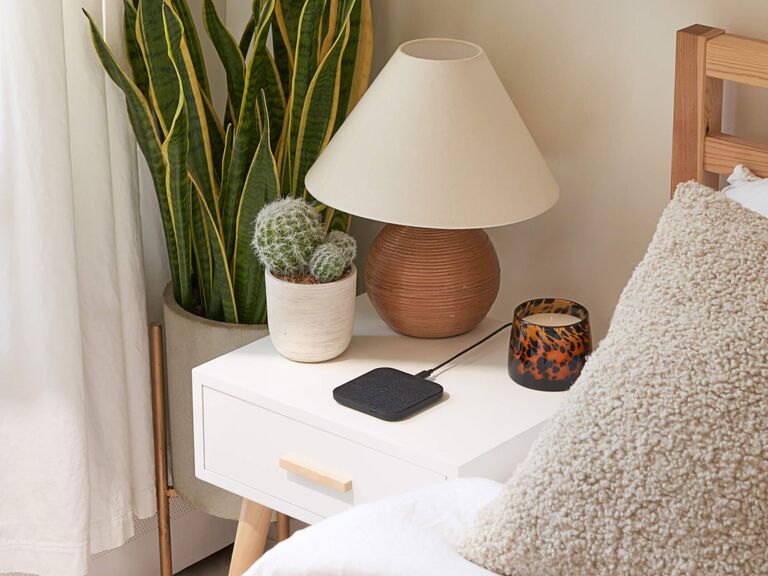 For the bridesmaid who: has a place for everything in her home
Cost: under $50

For the practical peeps in your crew, we've found an equally practical bridesmaid gift: a wireless charging tray. This clever accessory will sit pretty on their nightstand or coffee table. It provides an easy way to charge their phone, minus the hassle of messy, tangled cables. Courant works for most Google, Apple and Samsung phones, but if anyone has an older model, you might want to double-check that it's QI-enabled.
17. Cozy Collegiate Hats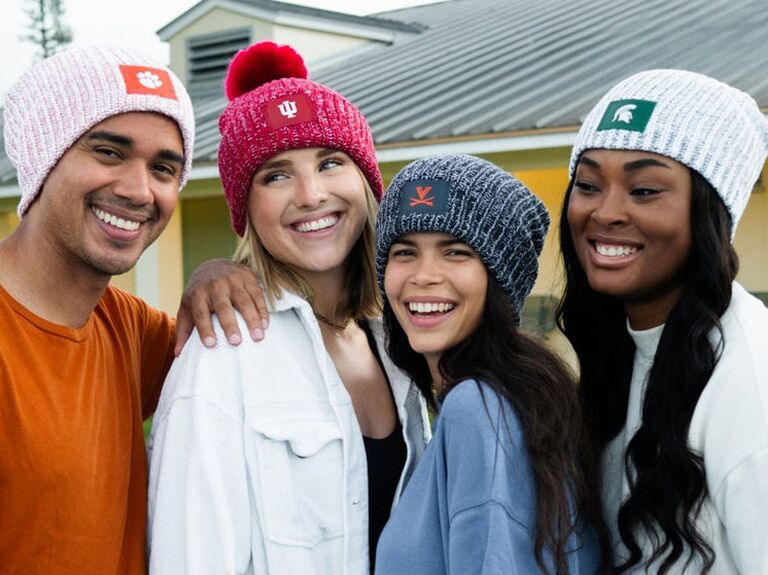 For the bridesmaid who: was the best college roommate ever
Cost: under $50

Take inspiration from the weather when choosing presents for your favorite gals. These cozy beanies are a useful winter or fall bridesmaid gift that'll keep them warm in chilly conditions. But that's not all: Love Your Melon's NCAA collection has hats representing over 50 different schools, from the Colorado Buffaloes to the Pittsburgh Panthers. Choosing your bridesmaids' alma maters is a sweet way to celebrate them as individuals.
18. Versatile Beauty Balm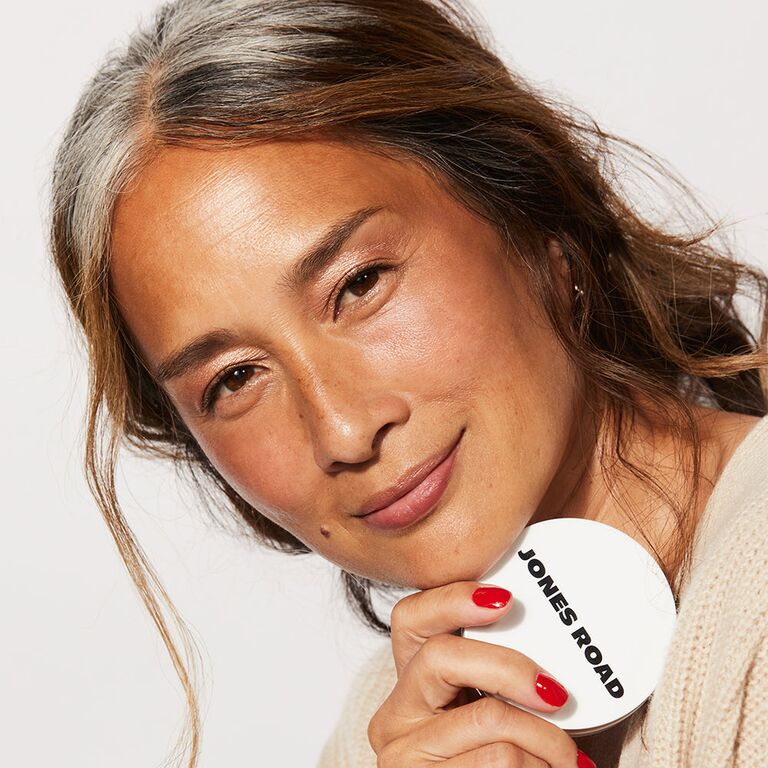 For the bridesmaid who: keeps her beauty routine simple
Cost: under $50

In search of a beauty staple to add to gift bags or boxes? Look no further than Jones Road's Miracle Balm. This versatile product delivers a dewy glow in seconds and can be applied to both cheeks and lips (meaning a less cluttered makeup bag—score!). It comes in eight different shades to suit a variety of skin tones, so everyone in your crew can enjoy the subtle glow reviewers have been raving about.
19. Confetti Passport Cases
For the bridesmaid who: has more airline miles than anyone you know
Cost: under $25

If someone in your bridal party has permanent wanderlust, here's something they can put to use right away. Your girls can instantly stow their passports in these fun confetti holders so they're easy to spot and protected from everyday wear and tear. If you want to go all out, jazz up their travel gear with matching confetti luggage tags.
20. Retro Hair Clips
For the bridesmaid who: loves a throwback
Cost: under $25

In case you didn't hear, butterflies are back in. Gen Z has officially reclaimed the Y2K trend and we're very much here for it. And when it comes to butterflies and fashion, what could be more appropriate than the quintessential butterfly hair clip? Add these unique bridesmaid gifts to their selection of goodies and we promise you'll have a happy bridal party on your hands.
21. Silk Pajamas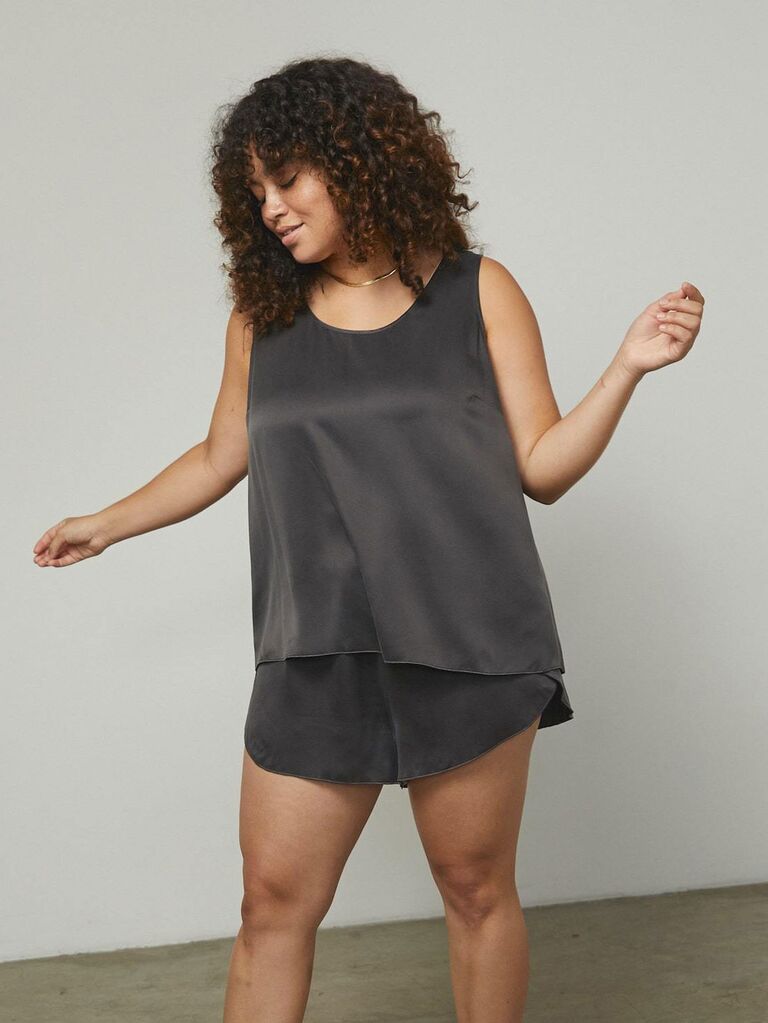 For the bridesmaid who: appreciates the finer things
Cost: over $100

Shopping for getting-ready outfits that double as amazing presents? Look no further than this cool silk pajama set. The best part: Your gals can simply throw them in the wash whenever it's needed—no hand-washing or dry cleaning required. We promise they're worth the splurge.
22. Cool Bubble Glasses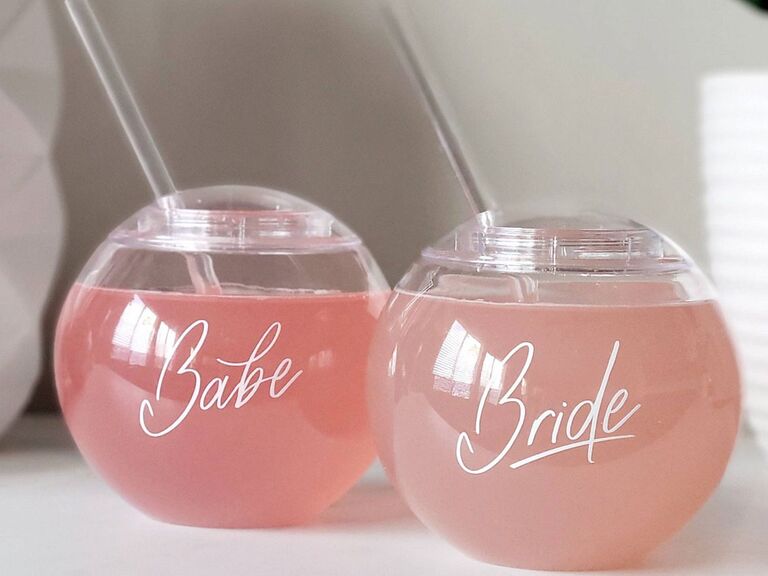 For the bridesmaid who: likes to sip in style
Cost: under $25
Have you ever seen such fun cups for cocktails? Pass them around on the morning of and then use them to toast to your friendship. After the wedding, your crew can keep them for sipping drinks at home, by the pool or at the beach. The see-through design makes it easy to show off their favorite libations. And since they're made of vinyl rather than glass, they won't break easily.
23. Birth Flower Necklaces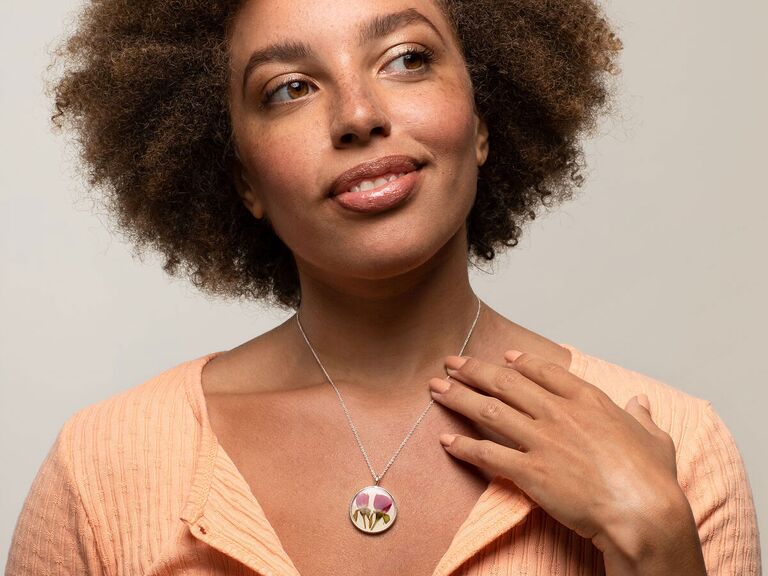 For the bridesmaid who: prefers statement jewelry
Cost: under $50
There's something super special about personalized presents, which is part of the reason why these birth flower necklaces are such a great bridesmaid gift. There's a unique pendant for every month of the year and each one includes a real, resin-coated flower. Choose whichever one matches your bridesmaid's birth month, from January's carnation to December's narcissus.
24. Personalized Yoga Mats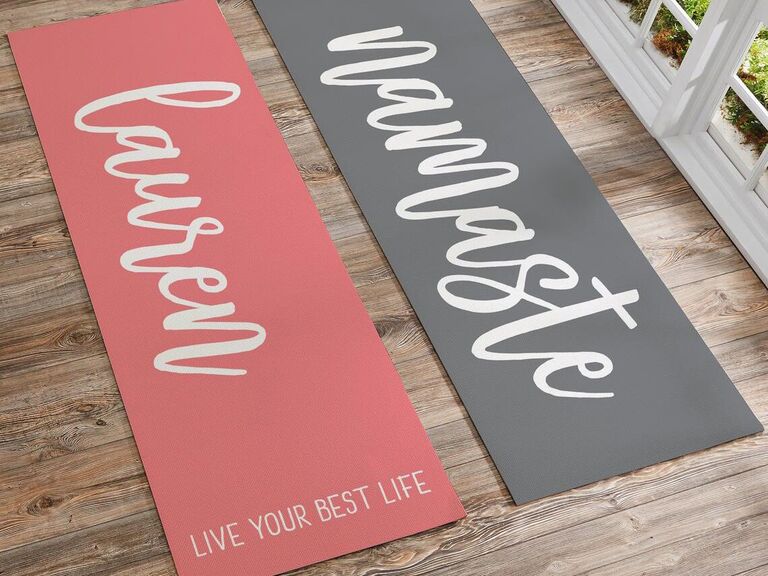 For the bridesmaid who: is basically a hot yoga veteran
Cost: under $50
If you're looking for a wedding gift for bridesmaids who never miss a yoga class, how about new yoga mats? Have them personalized with their names or a cute quote for an extra-creative bridesmaid gift.
25. Curated Gift Boxes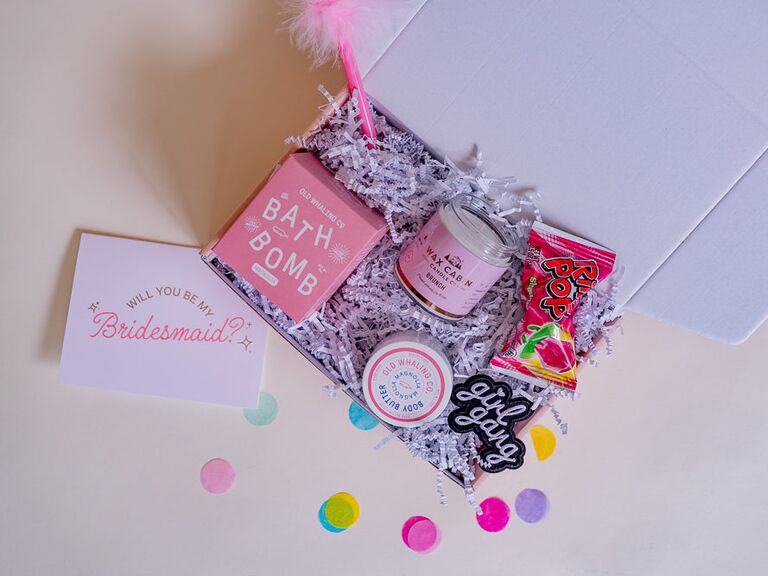 For the bridesmaid who: knows variety is the spice of life
Cost: under $50
If you came in search of presents for coordinating memorable bridesmaid proposals, we've got you. Bridesmaid gift baskets (or in this case, boxes) can be filled with lots of different things for your BFFs to enjoy. This lovely set is chock-full of small treats, including a scented candle, bath bomb, candy necklace and more. A handwritten bridesmaid proposal card seals the deal.
26. Pavé Name Bracelets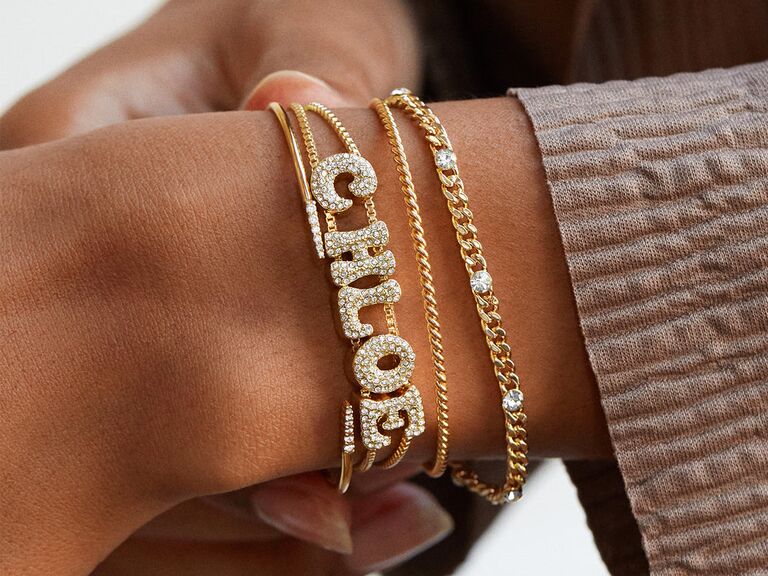 For the bridesmaid who: adds a little extra sparkle to everything she does
Cost: under $75
Give your squad the gift of their names in sparkly pavé letters. These seriously chic bracelets will become an everyday accessory. You can hand them over as day-of bridesmaid gifts, but if you want to make sure you have enough time to express your feelings, you might want to carve out some time with each bridesmaid before the big day. No matter when you choose to deliver them, these classy bridesmaid gifts are sure to be a hit.
27. Tasty Tea Subscriptions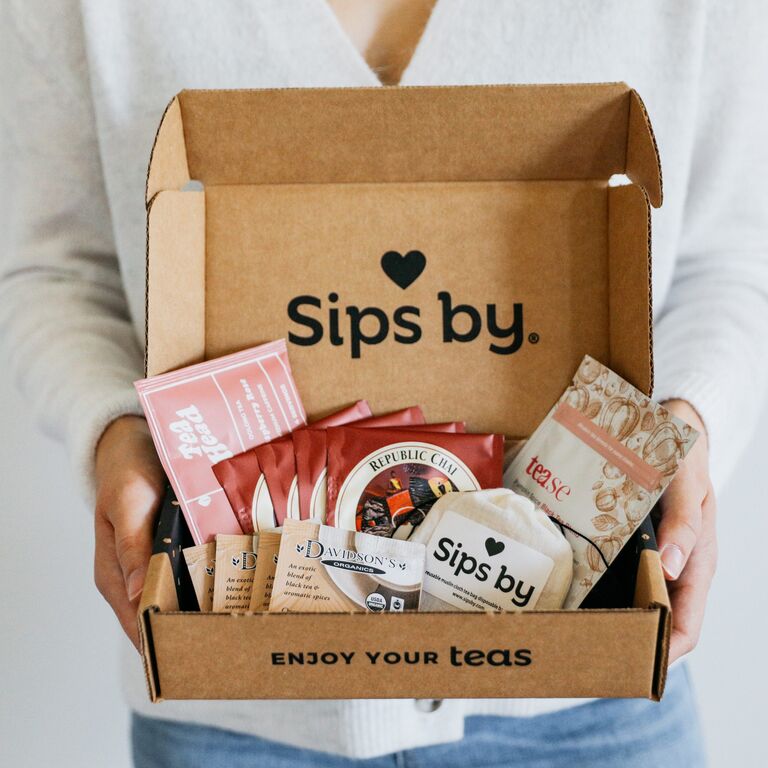 For the bridesmaid who: has ritualized her morning tea routine
Cost: under $50
That friend who solves every problem with a soothing cup of tea? Yep, this is probably the best bridesmaid gift for her. A three-month subscription to Sips by will let her enjoy three monthly deliveries of delicious tea from around the world (and it's tailored to her tastes).
28. Mini Gift Boxes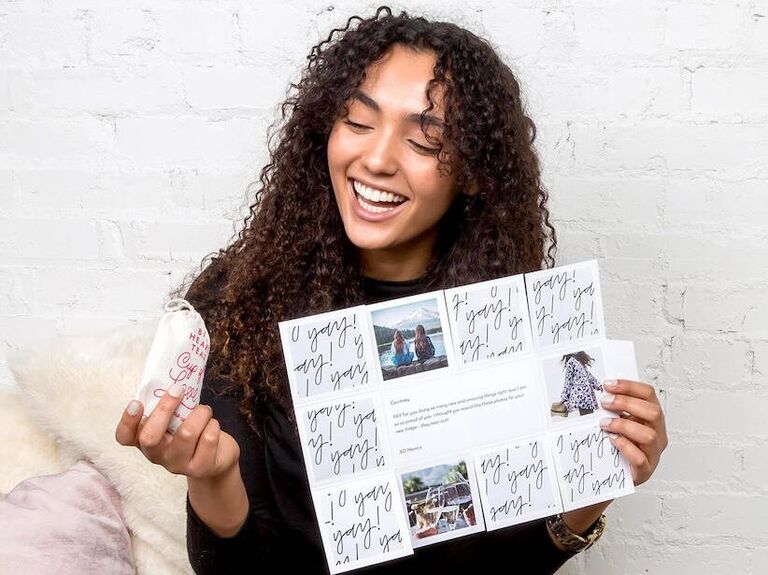 For the bridesmaid who: lives out of town
Cost: under $25
Looking for an unforgettable bridesmaid gift idea you can easily send in the mail? Check out the awesome service, Greetabl. Step one: Choose from a range of stylish packaging designs. Step two: Decorate the inside with special photos and a personal note. Step three: Pick out a pocket-size present to stuff the box with. The possibilities are practically endless—talk about a cool bridesmaid (or bridesman!) gift.
29. Morse Code Bracelets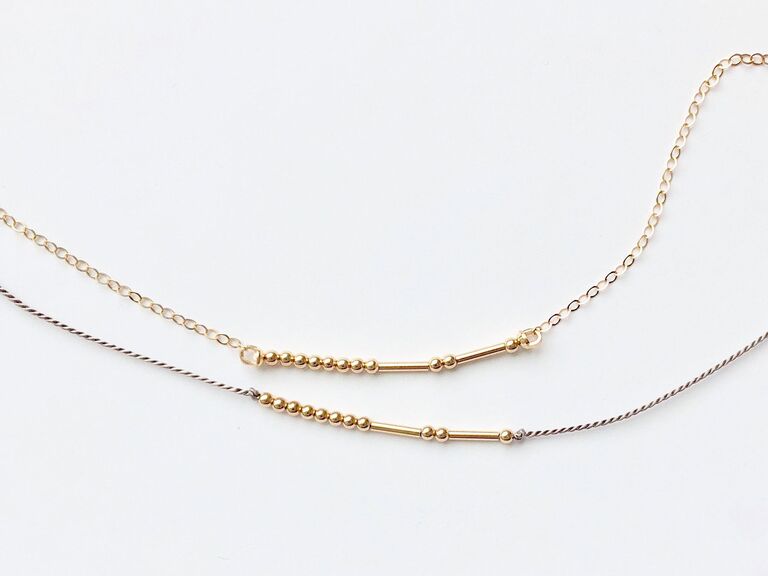 For the bridesmaid who: knows you better than anyone
Cost: under $100
On the hunt for good bridesmaid gifts for your sister (or a friend who has earned sister status)? This dainty chain link bracelet spells out the word "sister" in morse code. It's a subtle representation of your relationship she can easily wear every day. Choose from sterling silver, 14-karat gold or gold fill and centered or off-center positioning of the dots and dashes. If it sometimes feels like you have your own secret language, now you really do.
30. Spa Gift Sets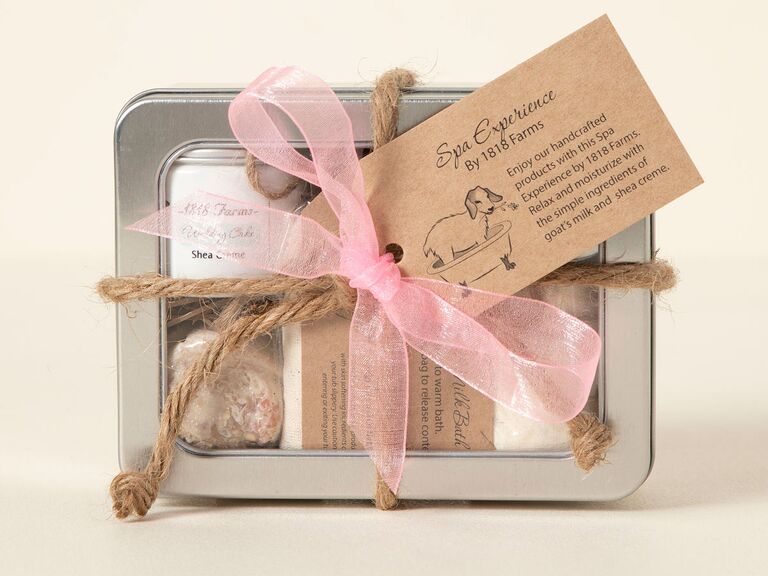 For the bridesmaid who: is too busy to go to the actual spa
Cost: under $50
Give your girls the gift of a DIY spa day with this bridesmaid gift basket filled with a variety of handmade and homegrown spa products. We're talking lavender goat's milk bath tea, a moisturizing bath truffle, mint lip balm and "wedding cake" whipped shea cream. This wedding gift for your bridal party will go down a treat when they're recovering from an awesome night of celebrating your love.
31. Versatile Weekend Bags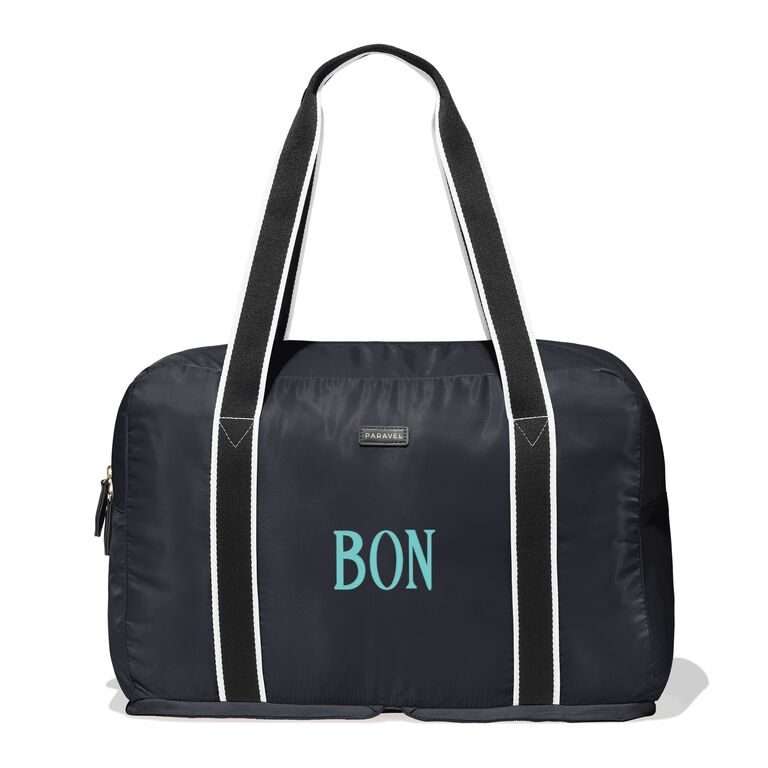 For the bridesmaid who: embraces spontaneous adventures
Cost: under $75
Let them know you don't want your bachelorette to be the last time you all go on a girls' trip together by gifting each person a travel-friendly duffel bag. This ultra-practical pick doesn't just make it easy to store essentials—the bag itself is easy to store too. The entire thing folds up flat and zips into a handy pouch whenever it's not in use. Your crew can keep them out of sight in their car or tote, ready to spring into action at any moment. Have the bags embroidered with your bridesmaids' initials for a small extra fee.
32. Unforgettable Experiences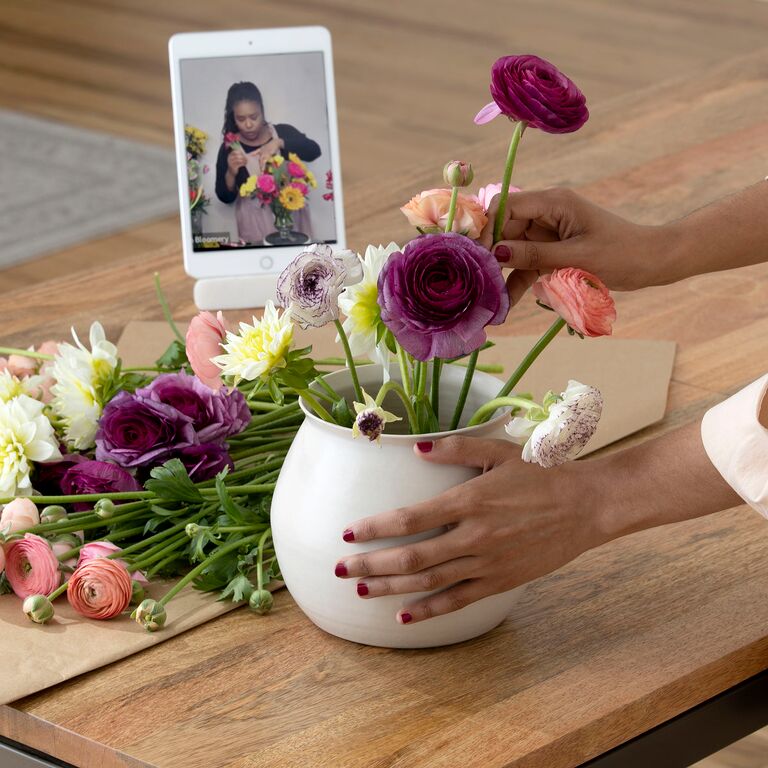 For the bridesmaid who: loves to learn new things
Cost: under $50
Here's a cute bridesmaid gift idea for friends who like to get creative. Uncommon Goods offers online classes and experiences led by experts in cookery, painting, flower arranging, mixology and beyond. There's bound to be something for everyone in your squad.
33. Heartfelt Coffee Mug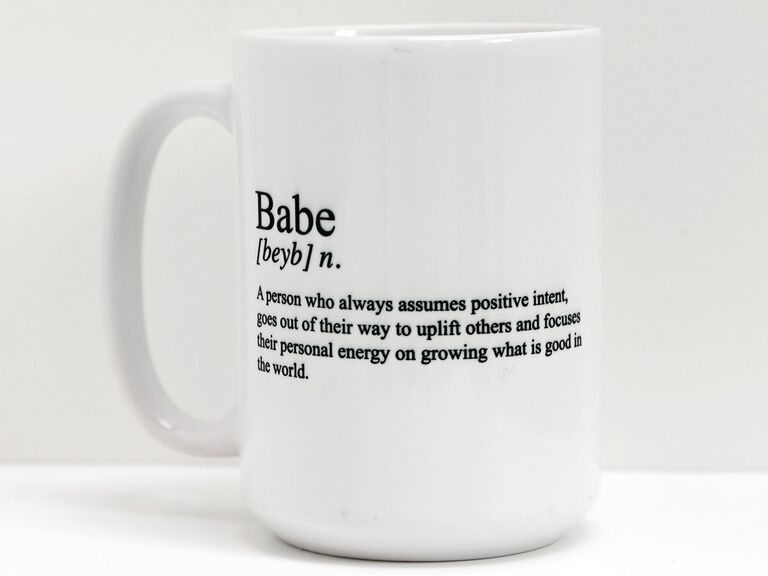 For the bridesmaid who: is a total babe
Cost: under $25
This thoughtful mug delivers a powerful message. Let the babes in your bride squad know exactly how highly you think of them by gifting one to each person. The mugs are printed with the definition of a babe as someone who "always assumes positive intent, goes out of their way to uplift others and focuses their personal energy on growing what is good in the world."
34. Zodiac Pendants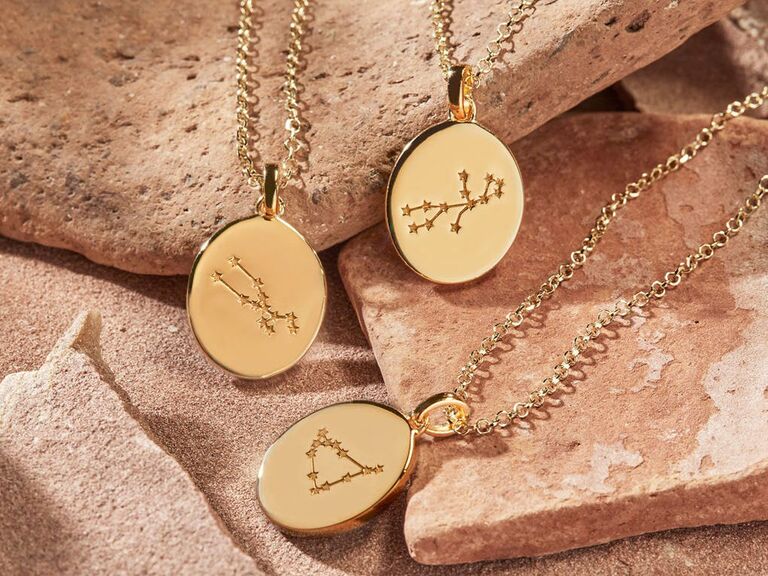 For the bridesmaid who: always checks her horoscope
Cost: over $100
Shopping for luxury bridesmaid gifts for your girls? If your budget allows, consider more expensive items of jewelry or a one-of-a-kind experience (think: game tickets for their favorite team or concert tickets for a musician they love). If you want to go down the jewelry route, these celestial-inspired pendants are a thoughtful gesture for any astrology-obsessed members of your squad. Choose between sterling silver and 14-karat gold vermeil.
35. Monogrammed Throw Blankets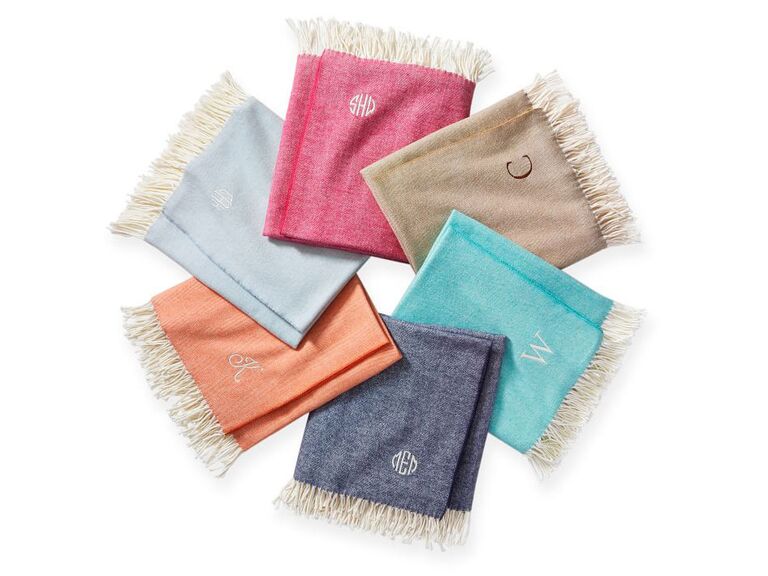 For the bridesmaid who: takes pride in her abode
Cost: over $100

A cozy throw blanket is a welcome gift no matter the occasion. Your bridesmaids will instantly feel appreciated when they unwrap one of these Italian herringbone blankets embroidered with their monograms. It's a personalized gift that'll be a stylish addition to their homes.
36. Wellness Journals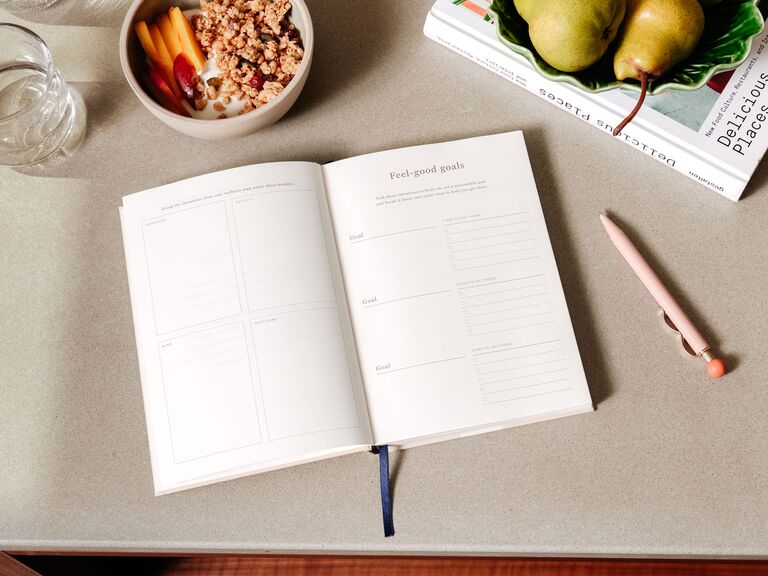 For the bridesmaid who: wants to build a solid wellness routine
Cost: under $50
Encourage your besties to prioritize self-care with a wellness journal. This pretty pick from Papier has 12 weeks' worth of space to track goals, jot down feelings, express gratitude and more. The journal is designed for daily check-ins, which should help make self-care a frequent habit. Bonus: You can customize the covers with each person's name for an extra-meaningful touch.
37. Meaningful Knot Necklaces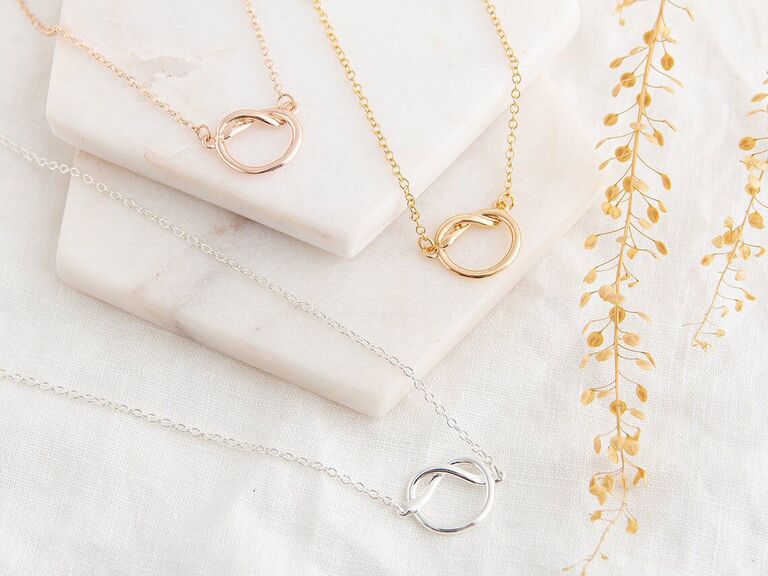 For the bridesmaid who: is known for being sentimental
Cost: under $25
Your relationship with your soon-to-be spouse is definitely important, but it's not the only important relationship in your life. Let your bridesmaids know you're in it for the long haul with these sweet knot necklaces. The knot shape represents your everlasting friendship. Not only that, but it's a sweet reminder of how they stood by your side when you tied the knot. Don't forget to pick up one of these unique and thoughtful bridesmaid gifts for yourself too so you can all rock matching necklaces.
38. Personalized Ring Dishes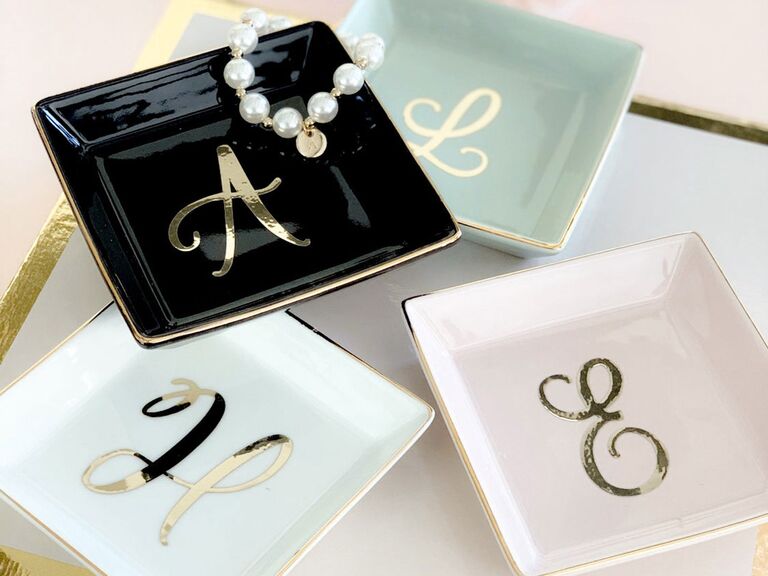 For the bridesmaid who: loves to stay organized
Cost: under $25
A monogram ring dish is a pretty place to drop jewelry or other doodads. These wedding party gifts for your bridesmaids will make a lovely addition to gift baskets, or you can present them on their own with thoughtful thank-you notes
39. Cute Leather Totes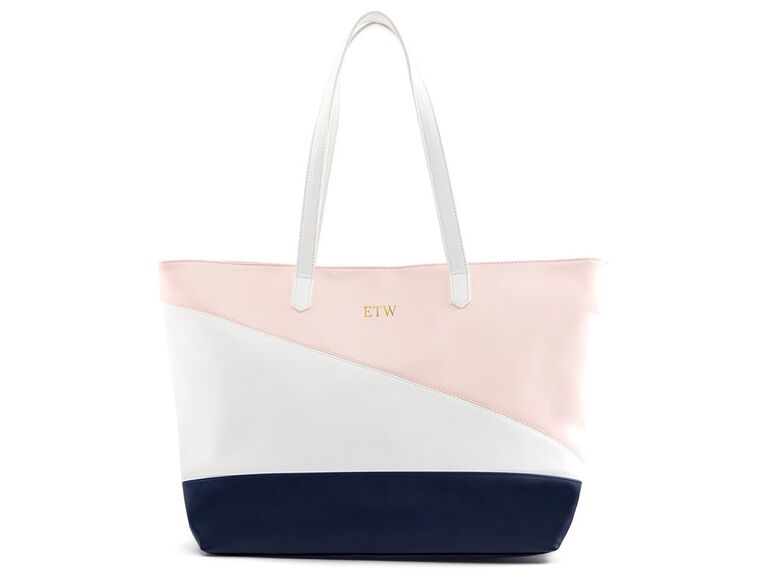 For the bridesmaid who: never leaves home without the essentials
Cost: under $50
This stylish faux leather tote looks much more expensive than it is. Have each one embossed with your squad's initials for an extra-special touch. If you really want to impress, fill each tote bag with some more small goodies to thank them for participating in your wedding. But honestly, they'll get tons of use out of this thoughtful bridesmaid gift on its own too.
40. Genius Velvet Scrunchies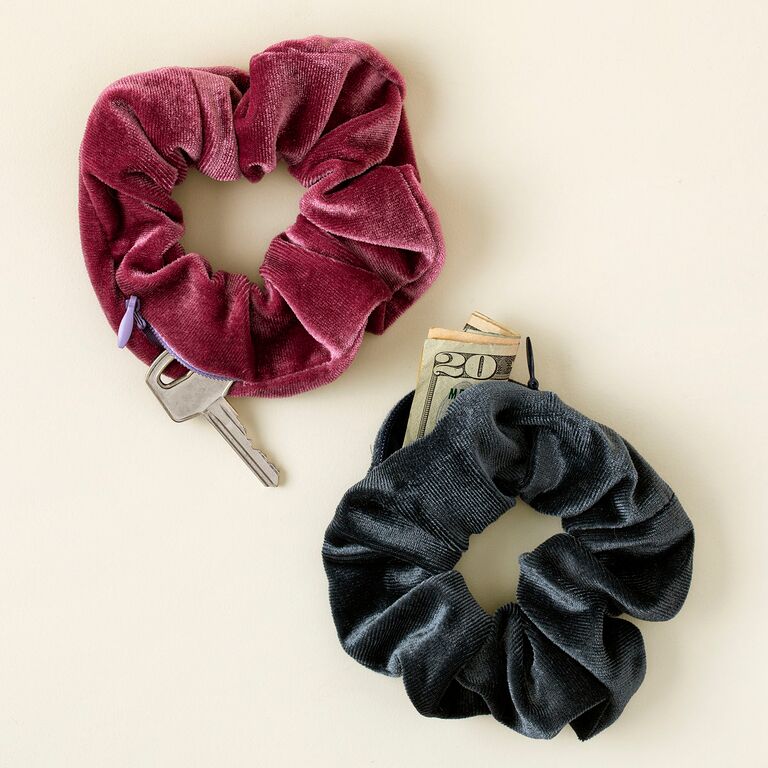 For the bridesmaid who: never has enough pockets
Cost: under $25
Solve one of the most common dilemmas in women's fashion with this unique bridal party gift idea. Yep, we're talking about the inexplicable shortage of pockets. If discovering that a dress has pockets brings wonder and delight to your bridesmaids' faces, imagine just how amazed they'll be when they find out these scrunchies have hidden pockets. Use them to stow keys, cash and more where no one would ever think to look.
41. Modern Jewelry Boxes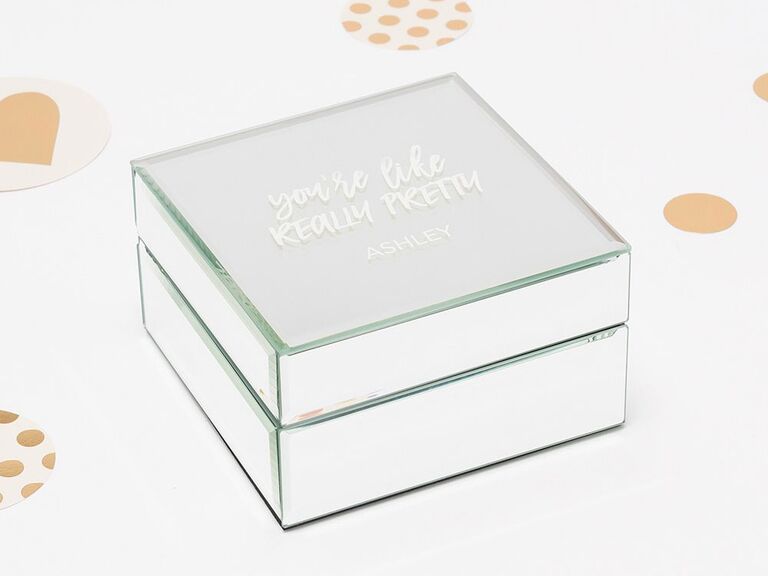 For the bridesmaid who: could totally make "fetch" happen
Cost: under $50
If Mean Girls was their favorite flick growing up, this mirrored jewelry box will bring back joyful memories. It's printed with one of our favorite quotes from the iconic Regina George: "You're like really pretty." The lid can also be personalized with your bridesmaid's name and the inside is lined with velvet. It's an especially thoughtful gift to give bridesmaids alongside a nice necklace or bracelet.
42. Rustic Bridesmaid Mugs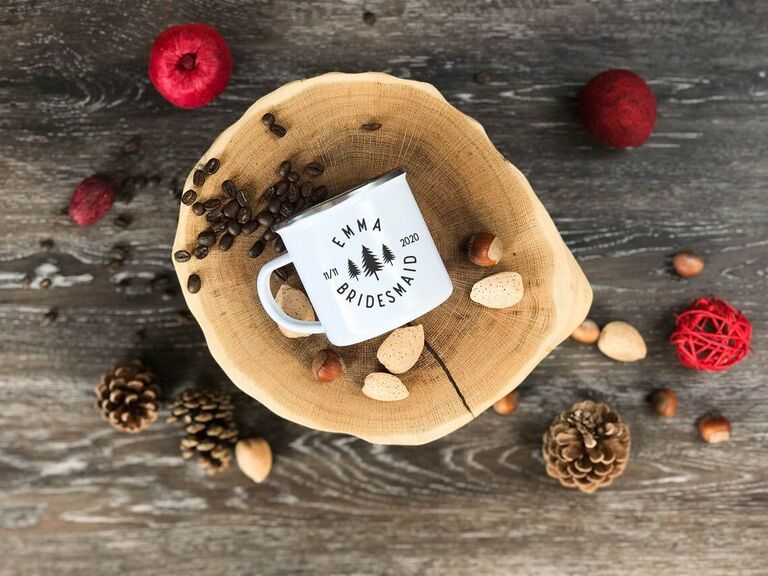 For the bridesmaid who: is a happy camper
Cost: under $25
Why not use your wedding season as inspiration for unique bridesmaid gift ideas? This useful metal mug is a nice tribute to summer thanks to the camp theme. Each of these rustic wedding gifts is customized with your bridesmaids' first names, wedding titles and the date—talk about a practical keepsake!
43. Bridesmaid Keepsake Ornaments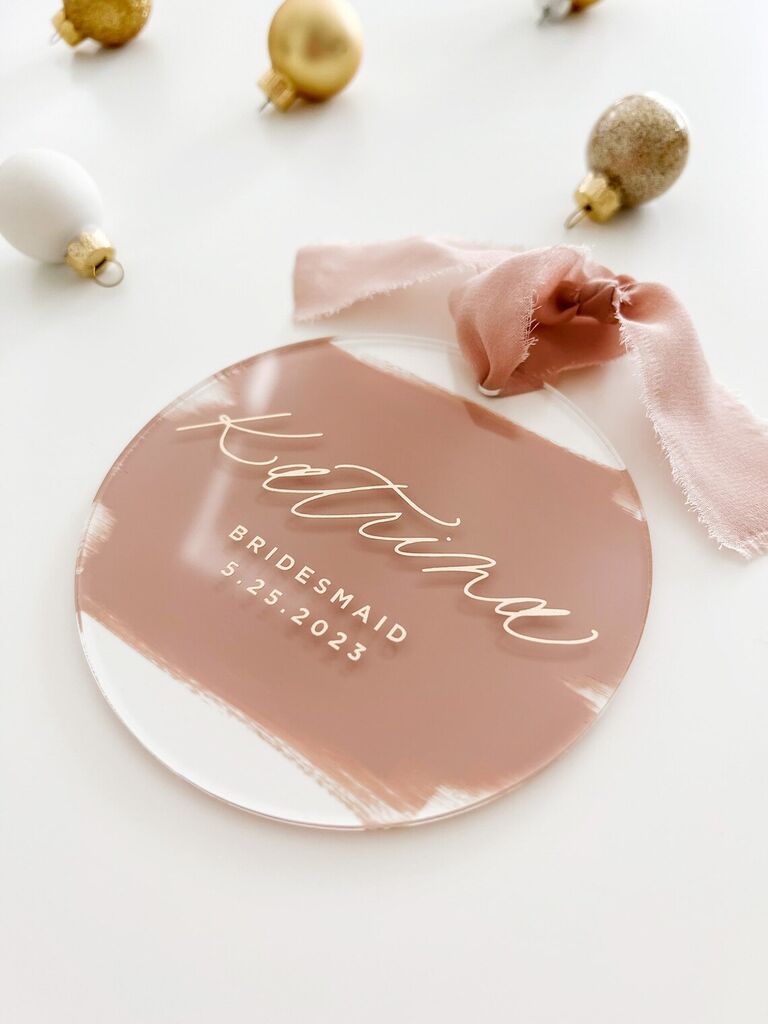 For the bridesmaid who: always keeps a memento
Cost: under $50
Need bridesmaid presents for a winter wedding? If they celebrate Christmas, give each of your best friends a bauble personalized with their name, wedding title and the year. They can hang it on their tree for every holiday to come as a sweet souvenir from the day they helped you say "I do."
44. Gold Initial Bracelets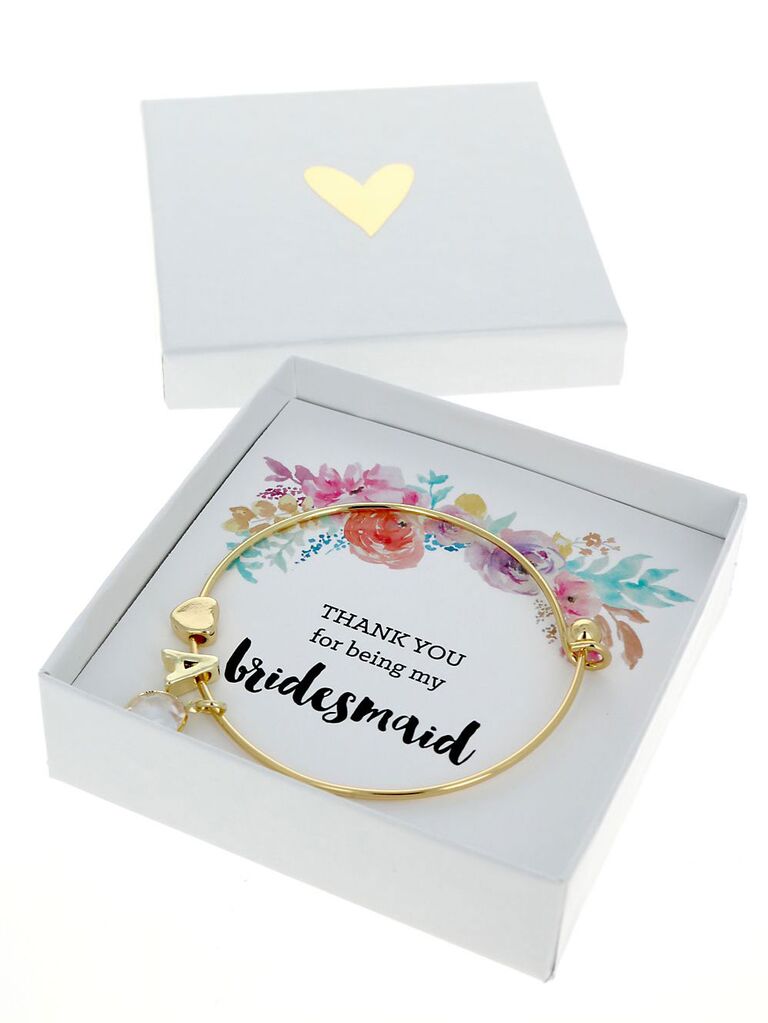 For the bridesmaid who: has a classic sense of style
Cost: under $25
Wondering what makes a good bridesmaid gift on a budget? We've got great news: You can still buy pretty keepsake jewelry. We love that this budget-friendly gold bracelet has a wedding theme but is still classic enough to wear long after your special day. The personalized initials will make these unique gifts for your bridesmaids really stand out.
45. Personalized Beach Towels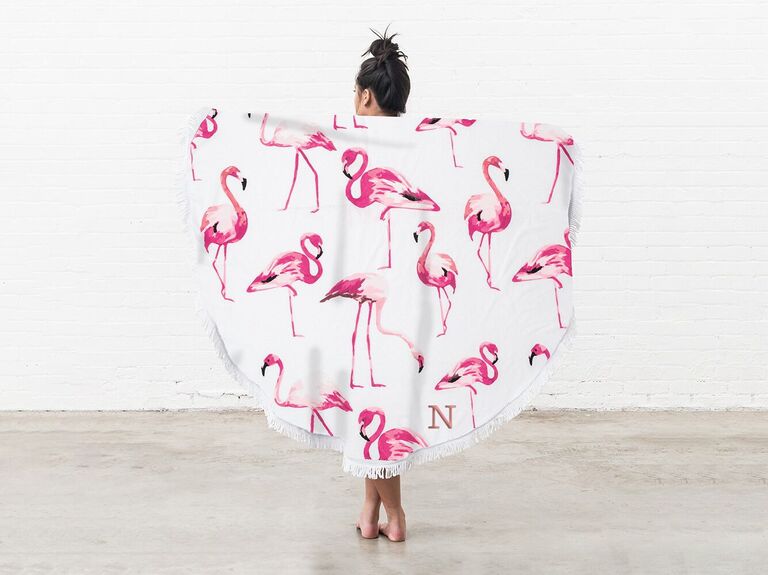 For the bridesmaid who: is always the first one in the pool
Cost: under $50
Personalized beach towels are especially cool bridesmaid gifts if you're planning a seaside (or poolside) bachelorette party, wedding or future vacay (girls' trip, anyone?). This fun flamingo print ties in seamlessly with a tropical wedding theme, and you can have it embroidered with each person's initials for an extra-special finishing touch.
46. Fun Conversation Cards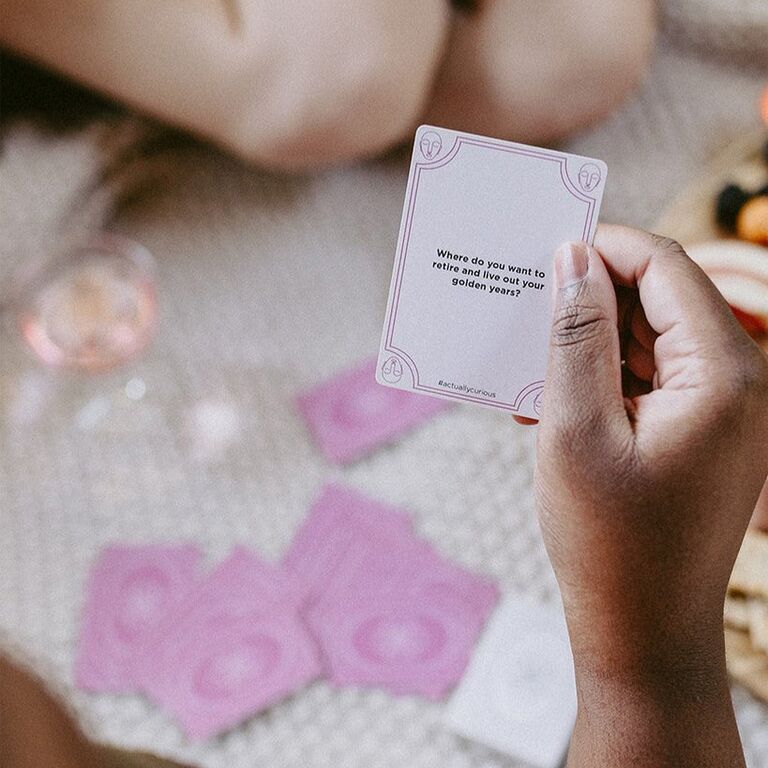 For the bridesmaid who: loves to talk things through
Cost: under $50
Don't be afraid to go for nontraditional bridesmaid gifts. Being a bridesmaid isn't just about taking on extra responsibilities—it should be fun too! Choosing fun bridesmaid gifts is a sweet way to end the experience on a high. One of our top picks: these thoughtful conversation cards by Actually Curious. Designed to build connection in a playful way, the Happy Hour Edition is chock-full of questions about dreams, ambitions and favorite memories.
47. Champagne Gummy Bears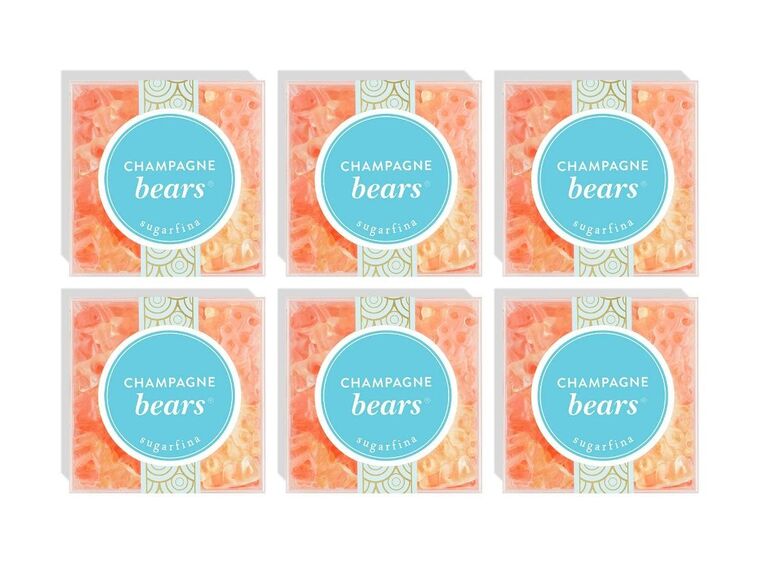 For the bridesmaid who: has a sweet tooth
Cost: under $10
Candy is always a hit, but Sugarfina candy goes the extra mile. The brand is known for its celebratory candy cubes with grownup flavors, like these champagne gummy bears. You can buy a pack of six for just $50, coming in at under $10 a pop—what's not to love?
48. Bridal Party Socks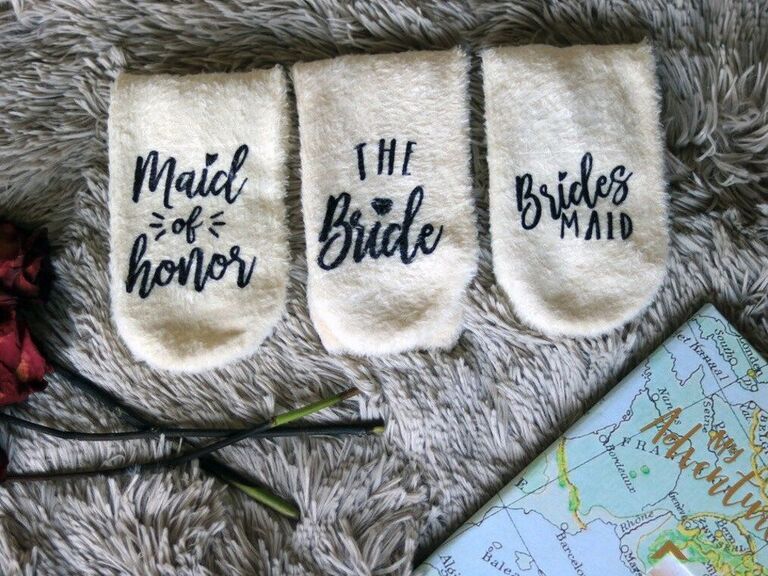 For the bridesmaid who: says she wants socks for the holidays (and means it)
Cost: under $25
Socks are always a great gift idea, and we think your bridal party will agree. These Insta-worthy gifts are perfect for a girls' night in with your besties. They'll serve as a permanent reminder of this crazy (but wonderful) time in your lives.
49. Pretty Notebooks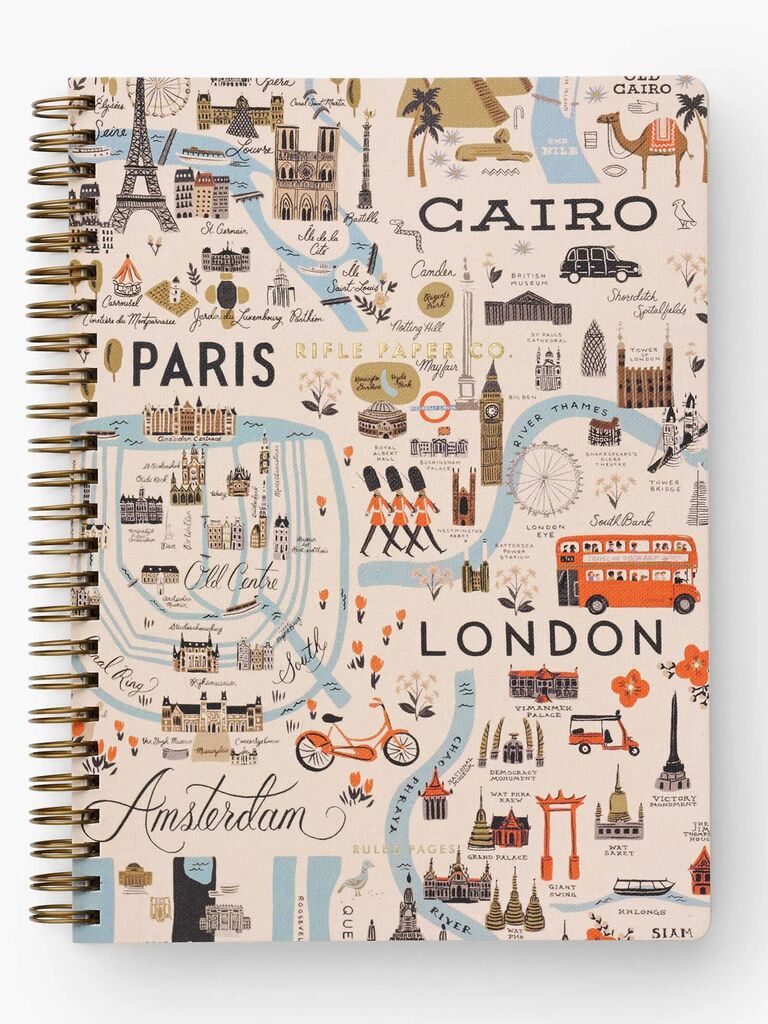 For the bridesmaid who: likes to jot things down on paper
Cost: under $25
One of the best ways to make sure your bridesmaid gifts aren't cheesy is to go for something practical. This spiral-bound notebook comes in a fun travel-themed print, perfect for your jet-setting squad to stow in their handbags. It's also a fitting present if you're having travel-themed or destination nuptials. Because the notes app on your phone is handy in a pinch, but you really can't beat pen and paper.
50. Wine-Themed Boxes
For the bridesmaid who: loves her vino
Cost: over $100
Sometimes, the best bridal party gifts are already put together and all you have to do is add a heartfelt handwritten note. Exhibit A: This curated wine-themed gift box including a tongue-in-cheek guidebook, two silicone travel tumblers, felt coasters and round wine markers for cleverly keeping track of who owns which glass.
51. Mini Succulent Gardens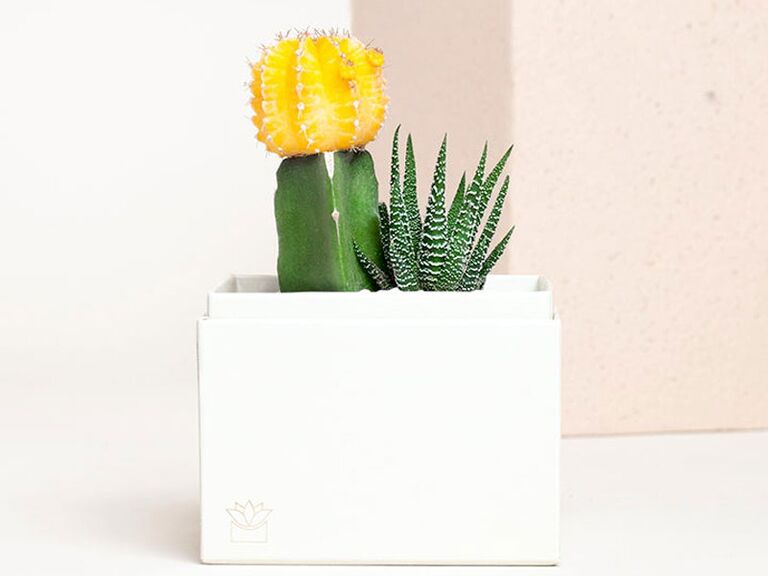 For the bridesmaid who: has a green thumb
Cost: under $50
When selecting wedding gifts for your bridal party, don't feel compelled to buy the same thing for everyone. The more you play to each person's unique personality, the more points you'll score for buying an awesome gift. Any avid plant mom (or dad, if you're having bridesmen) will happily accept this delightfully unusual bridesmaid gift of a mini succulent garden.
52. Coffee-Themed Gift Baskets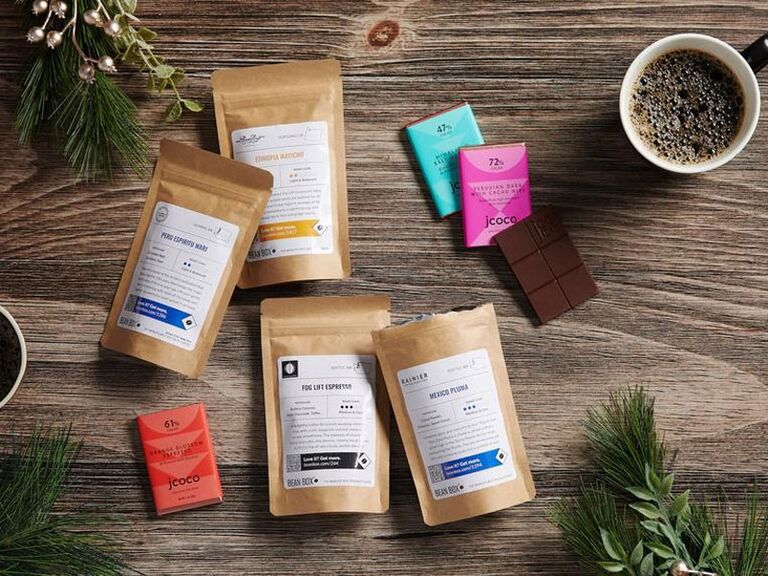 For the bridesmaid who: fuels herself almost exclusively with caffeine
Cost: under $50
A bridesmaid gift basket filled with coffee and chocolate is sure to earn appreciation from your caffeine-loving bridal squad. Between the four artisanal coffee varieties and four culinary-inspired chocolate pairings, they'll have no problem perking up the morning after the wedding.
53. Aromatherapy Eye Gels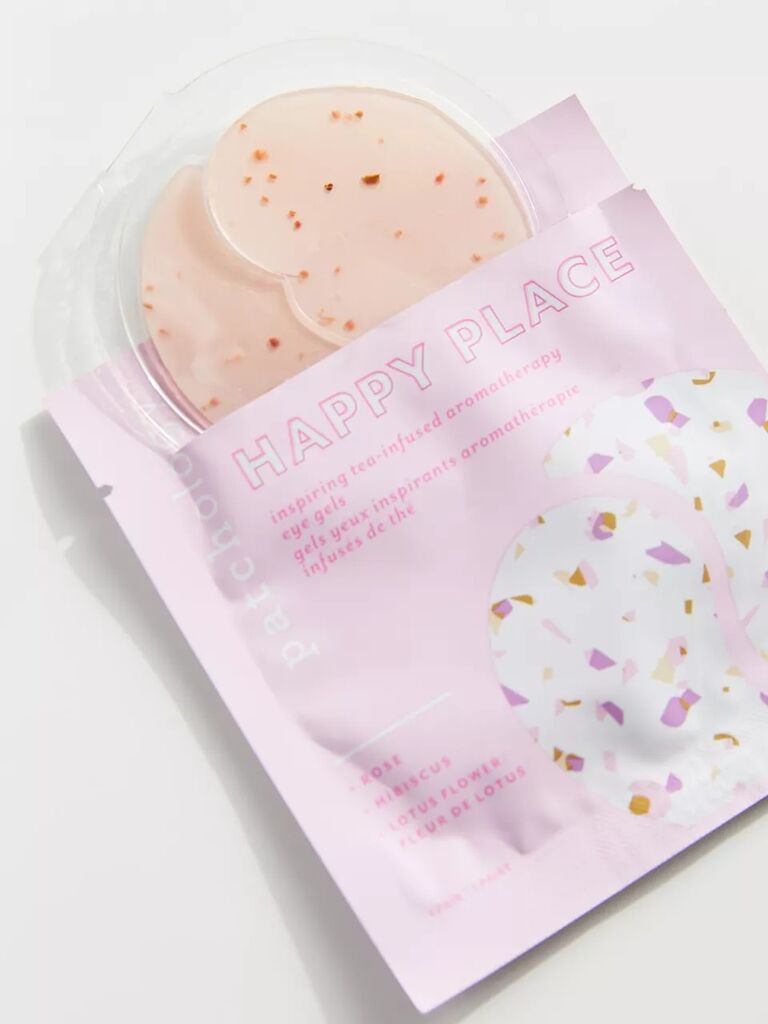 For the bridesmaid who: wants to feel their best after the big day
Cost: under $10
Let's be real for a second. Your bridesmaids are probably going to want all the help they can get to feel refreshed and recharged the morning after your wedding. Popping these super-affordable undereye gels into a bag with some hangover-fighting staples (like Liquid I.V.) will make waking up for that postwedding brunch a whole lot easier. It's a gift that'll go to use right away.
54. Book Bucket Lists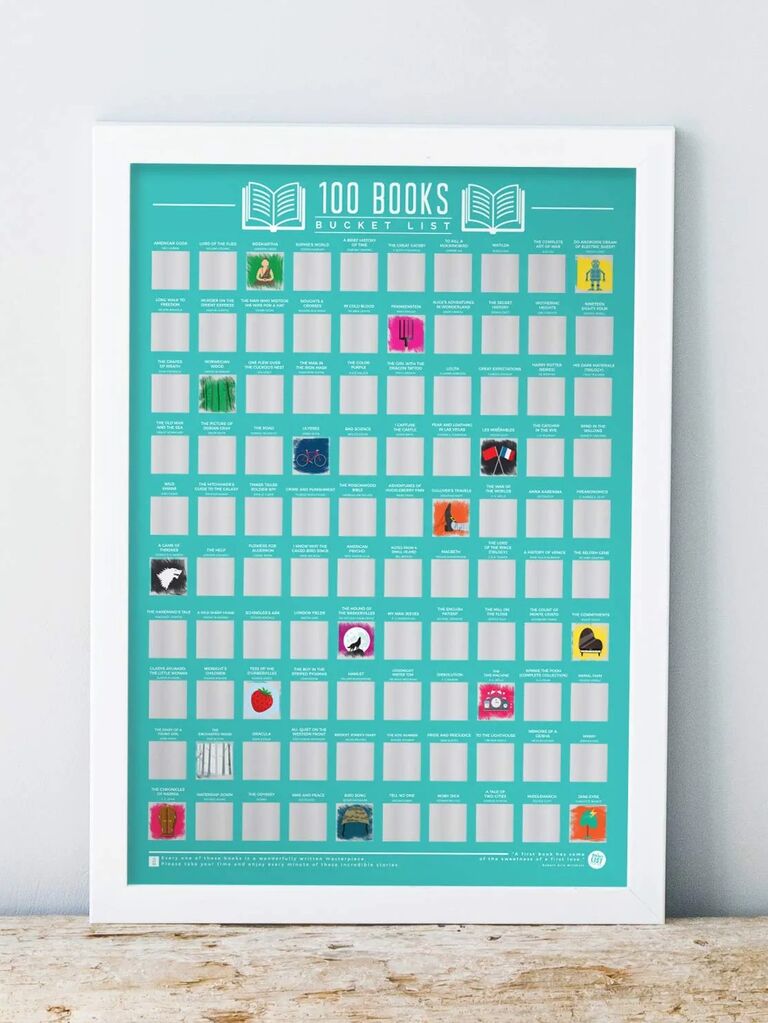 For the bridesmaid who: spends all her time on #BookTok
Cost: under $50
Self-proclaimed bookworms will love scratching off 100 must-read works from this bucket list poster. Bonus points if you start a book club to keep your crew together after the big day.
55. Cute Custom Candles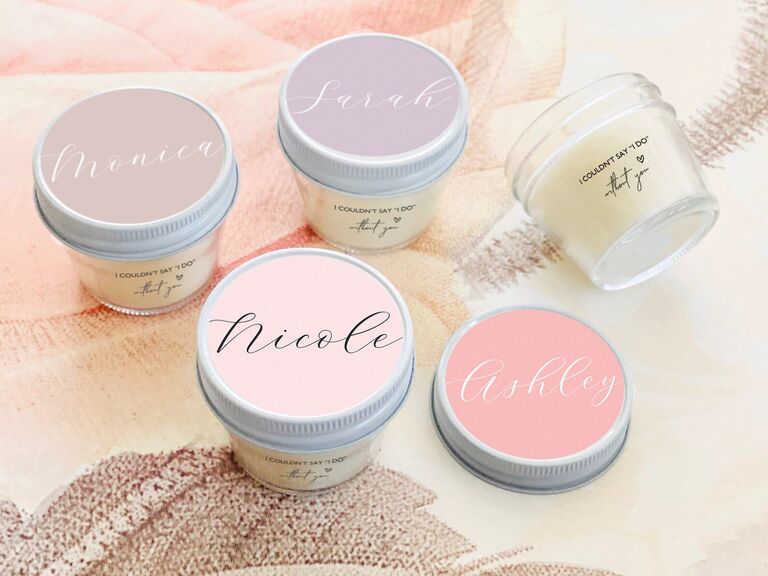 For the bridesmaid who: never has too many candles
Cost: under $25
These bridesmaid thank-you gifts come in chic pastel shades, making them on-theme presents for spring weddings. Each bridesmaid's name is printed in romantic calligraphy on the lid, while the jar reads: "I couldn't say 'I do' without you."