55 Unique Bridesmaid Gift Ideas for Everyone in Your Bridal Party
Say thank you to your squad in style.
We have included third party products to help you navigate and enjoy life's biggest moments. Purchases made through links on this page may earn us a commission.
While giving your bridesmaids thank-you gifts isn't required, it never goes unappreciated. "Your bridesmaids are here to provide support throughout the entire wedding planning journey," says Kisha Damali, owner and creative director at D'MALI, a New York City-based design studio that specializes in gifting. "What better way to show how much you value their time and assistance during the most important milestone of your life than with a gift?" she continues. From pitching in for the bridal shower to organizing a bachelorette getaway and volunteering their time for bridesmaid dress fittings, it's safe to say your crew has earned some appreciation.
Decided that bridesmaid gifts are the right way to show your gratitude? We're sharing our top tips for choosing and giving them below. Plus, shop 55 editor-approved ideas for what to give your bridesmaids as a gift.
In this article:
How to Choose Bridesmaid Gifts
"Gift giving should always be intentional and thoughtful," says Damali. "When choosing the right gifts for your wedding party, my advice is to gift items that will make your wedding party feel special." This could mean personalizing each item, picking something that fits their interests, simply choosing cute bridesmaid gifts in their style, or assembling bridesmaid gift baskets full of useful or pampering accessories. It's also not necessary to buy the same gifts for everyone. "Consider gifting each member of the party a different gift based on their likes and personality," says Damali.
How to Give Bridesmaid Gifts
When deciding when to give your bridesmaids their gifts, there isn't a right or wrong time. If you're gifting something that might be helpful to them on the wedding day, like a monogrammed clutch, the morning of is a good opportunity to spoil your squad. Otherwise, the rehearsal dinner is a popular time to hand out wedding gifts for bridesmaids. What's more sentimental than a heartfelt "thank you" on the eve of your nuptials? As for presentation, Damali suggests a beautifully wrapped gift box paired with some sparkling wine.
Our Favorite Bridesmaid Gifts
Not sure where to find unique bridesmaid gifts for your "I do" crew? We've gathered our top picks from every corner of the internet, with options for both bridesmaid goodie bags and solo presents. From traditional mementos to nontraditional experiences and accessories, browse our list of the 55 best bridesmaid gift ideas below.
1. On-Theme Candles
Embrace the celebratory theme by choosing this "Let's Toast" candle with notes of grapefruit, apple and champagne grapes as a gift for your bridesmaids on your wedding day. You can personalize the back of the glass jar with a sweet, personal note thanking them for being your besties. There's also the option to add Sugarfina champagne-flavored gummy bears or sugar lips for an extra-sweet present.
2. Travel Jewelry Cases
If your girls are always on the go, there are lots of useful bridesmaid gifts to complement their carry-ons. This gorgeous jewelry case is something they'll turn to on the regular. In fact, it's not just great for travel—they can safely stow their jewelry in the case all the time. With a luxurious leather finish, it'll look great on their dresser.
3. Sentimental Photo Books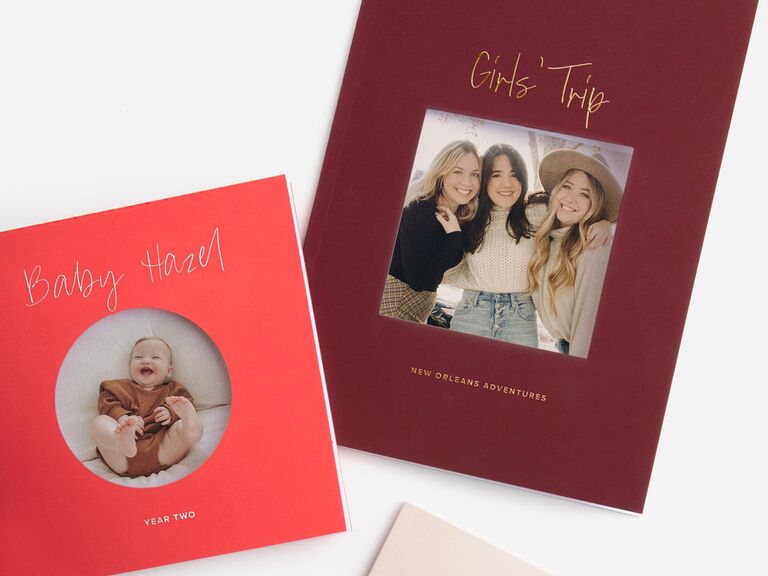 You've shared so many wonderful memories together. For the ultimate bridesmaid gift, make a photo book filled with favorite photos of your biggest adventures. Artifact Uprising's online editing tools make creating your own memory book a breeze, and you can customize the cover with your preferred image and title. Trust us, this gift will be treasured forever.
4. Surprise Celebrity Greetings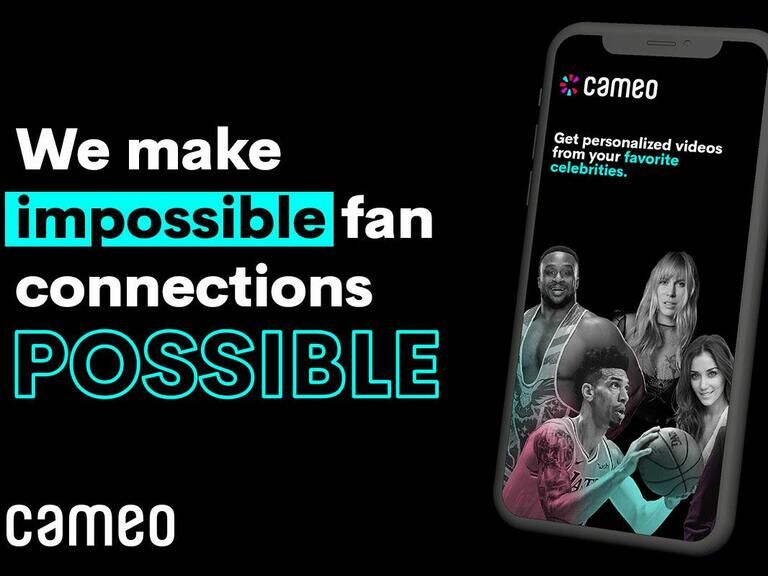 Shopping for someone who already seems to have everything? Experiential gifts are your best bet. Cameo lets you request a personal video message from a celebrity. There are lots of famous faces on the platform, from pro athletes to actors, musicians and reality stars. Believe us when we say it'll be a bridal party gift to remember. (Psst, Cameo is also a great way to coordinate memorable bridesmaid proposals.)
5. Portrait Champagne Flutes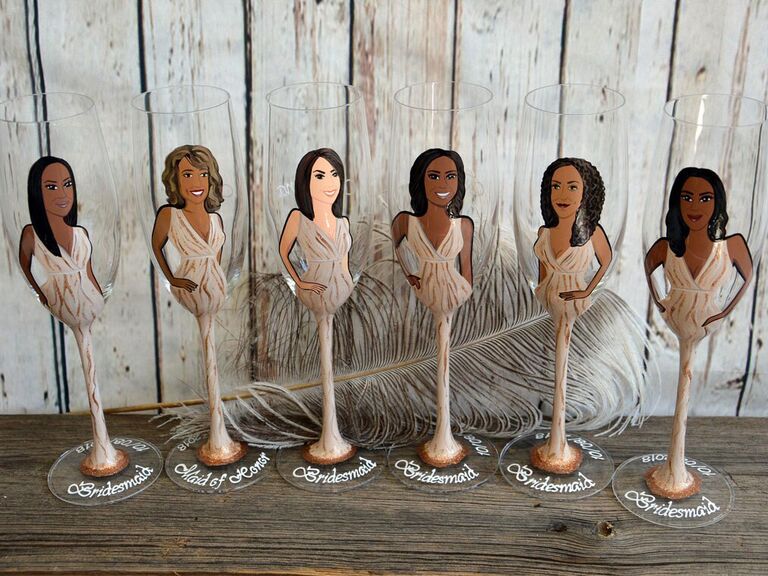 Personalized bridesmaid gifts are always a good idea. It shows your 'maids that you went the extra mile to pick out something just for them, and if it's anywhere near as awesome as these flutes, it'll come in clutch for years to come. Your crew will never tire of sipping sweet champagne from a glass with their portrait painted on it.
6. Snug Slippers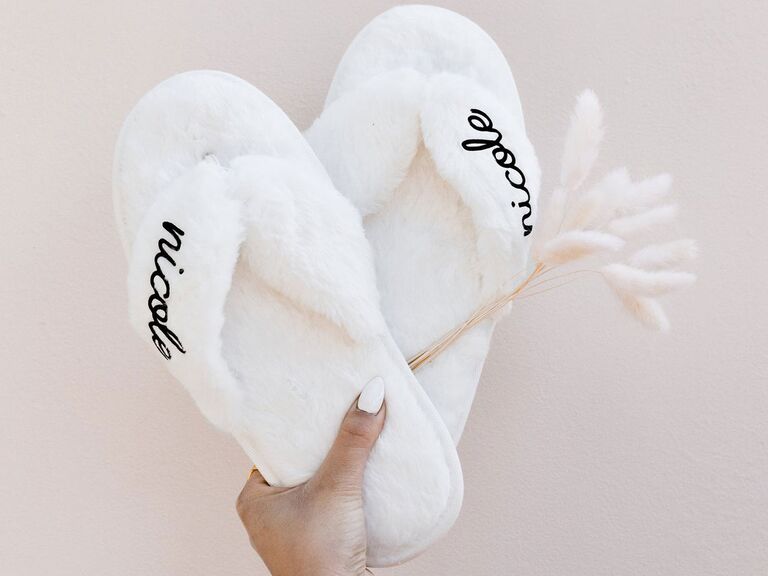 We'd never say no to a pair of cozy new slippers, and your bridesmaids probably won't either. After all of the planning, prepping and partying, they'll be more than happy to put their feet up in these bad boys. Each fluffy white slipper is embroidered with their first name, so they won't get mixed up the next time you're all lounging together.
7. Friendship Rings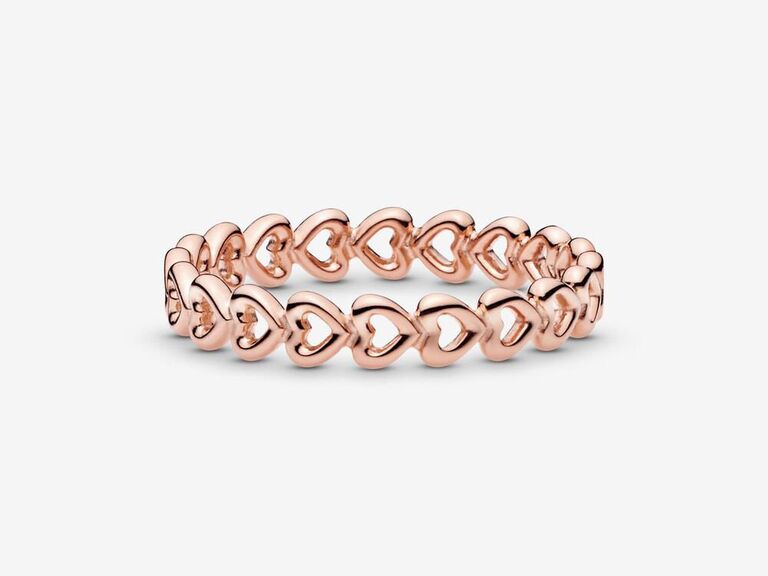 Jewelry is easily one of the most popular bridesmaid gifts you can choose. Necklaces and bracelets are a simple and sentimental way to thank your friends for all of their love and support. Want to take a more unusual spin on your bridesmaid jewelry gifts? Opt for friendship rings instead. Pandora has a beautiful selection of options (and don't worry, you don't need to be Ariana Grande-level rich to buy matching rings for your besties).
8. Spa Gift Cards
Consider how much time and energy your bridesmaids have put into being there for you on your wedding day. Help them embrace wellness and self-care by giving each person a gift card for the spa treatment of their choice—mani, pedi, massage, facial… the list goes on. Spa Week gift cards can be used in over 9,000 locations throughout the US, so chances are there's one nearby.
9. Bridesman Cuff Links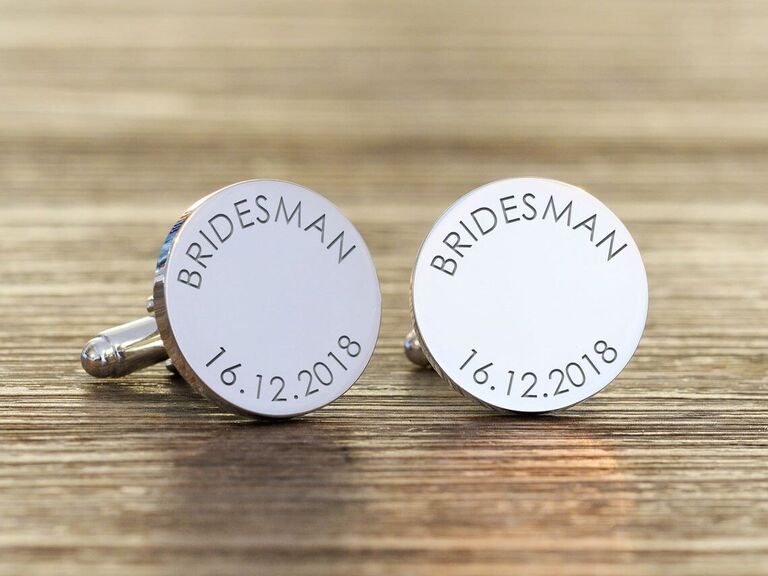 We didn't forget about bridesmen gifts. Treat the guys in your bridal party to a set of dapper cuff links they can wear on the wedding day and hold onto afterward as a sentimental souvenir of your special day. These rhodium-plated cuff links can be engraved with their wedding title and the date.
10. Chic Charging Trays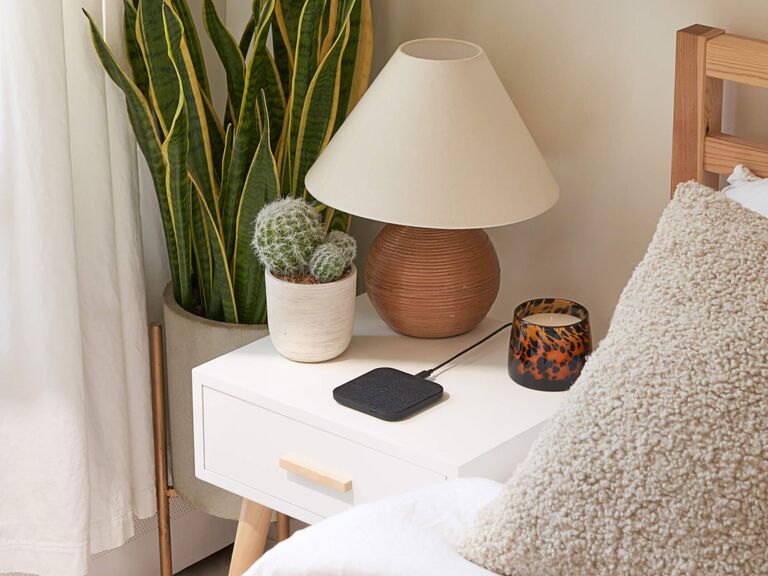 There's no such thing as a universally perfect gift—it all depends on what kind of presents the recipient likes to receive. For the practical peeps in your crew, we've found an equally practical bridesmaid gift: a wireless charging tray. This clever piece of technology will sit pretty on their nightstand or coffee table while providing an easy way to charge their phone. It works for most Google, Apple and Samsung phones, but if anyone has an older model, you might want to double check that it's QI-enabled.
11. Cozy Hats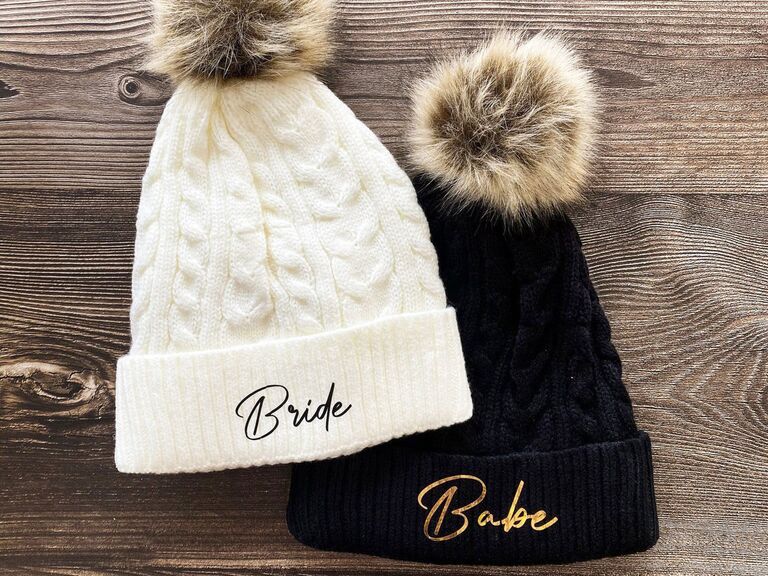 Take inspiration from the weather when choosing presents for your favorite gals. These cozy beanies are a useful winter or fall bridesmaid gift that'll keep them warm in chilly conditions. They're also a cute addition to your squad's wardrobe whenever you all hang out together.
12. Druzy Earrings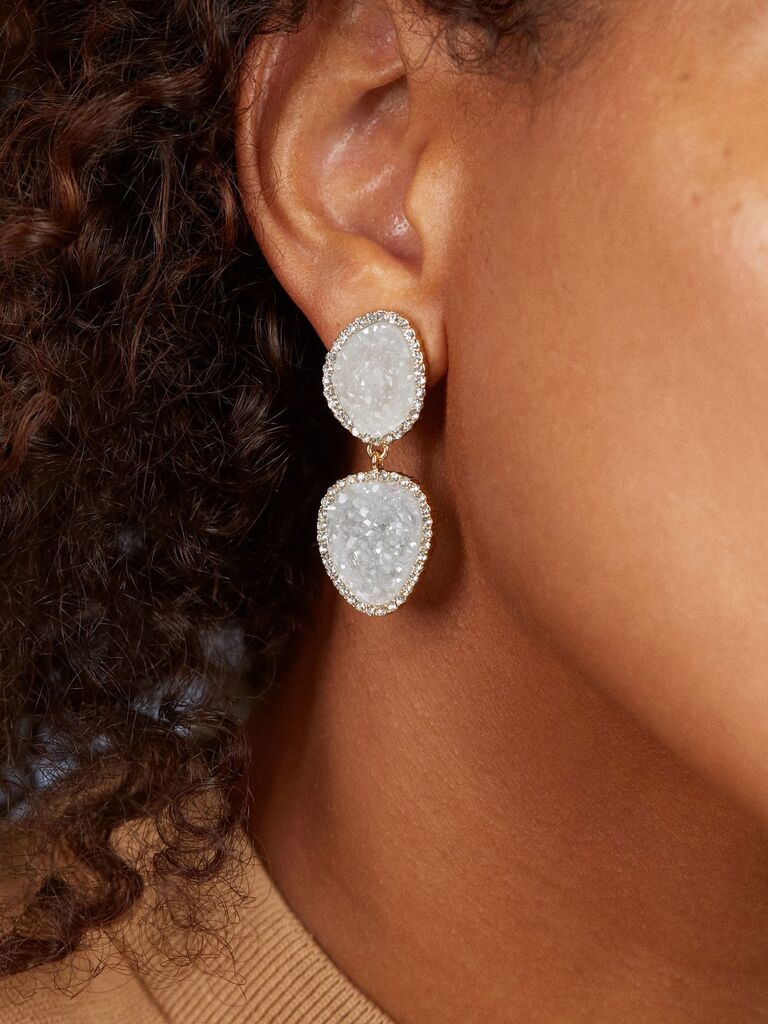 Show your bridesmaids how much you love their sparkling personalities by gifting them chic druzy earrings. This gemstone jewelry is exactly the kind of unique bridesmaid gift they can wear again and again. If you're buying them for your crew to wear as bridesmaid earrings on the wedding day, just make sure it's something that matches their style. Otherwise, you should pick up additional thank-you gifts that they will appreciate after the nuptials.
13. Confetti Passport Cases
If your bridal party has to travel for the wedding, consider including something in their gift bags they can put to use right away. Your girls can instantly stow their passports in these fun confetti holders so they're easy to spot and protected from everyday wear and tear. If you want to go all out, jazz up their travel gear with matching confetti luggage tags.
14. Custom Hair Clips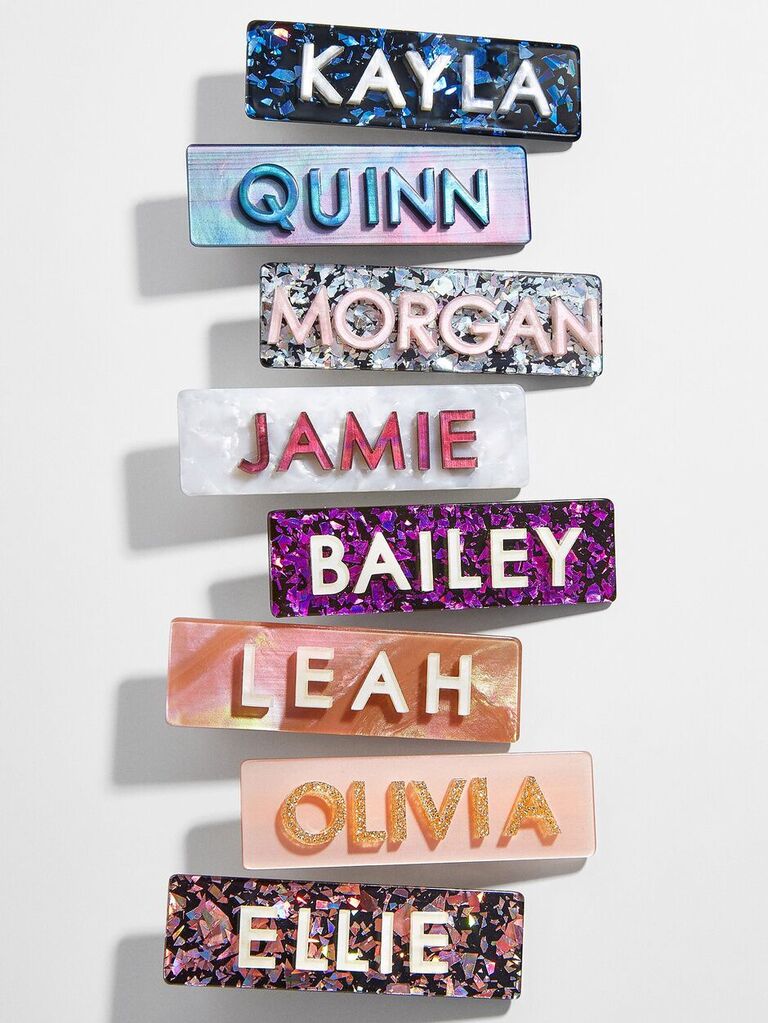 These unique and on-trend bridesmaid gifts are bound to catch an eye or two. They're bright, bold and lots of fun, just like you and your besties. Y2K style isn't just alive and well, it's alive and thriving.
15. Silk Pajamas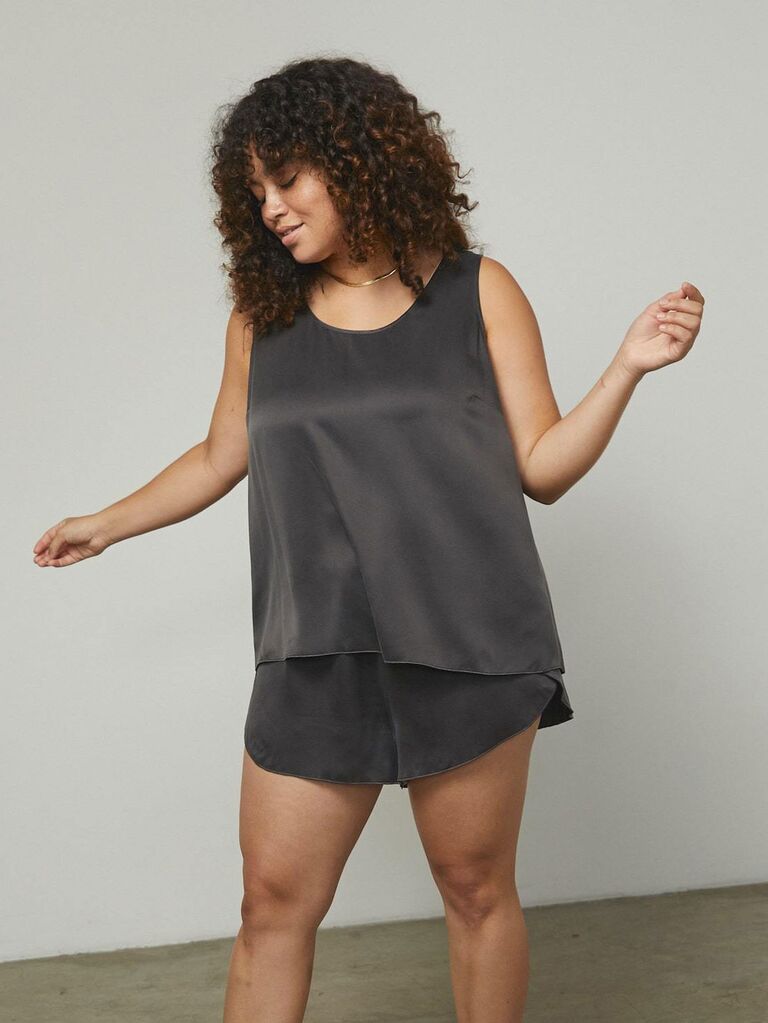 Shopping for getting-ready outfits? Look no further than this cool silk pajama set. Simply throw them in the wash whenever it's needed—no hand-washing or dry cleaning required. They're a splurge, but they'll be one of the best bridesmaid gifts ever received (we promise!).
16. Bridesmaid Gift Crates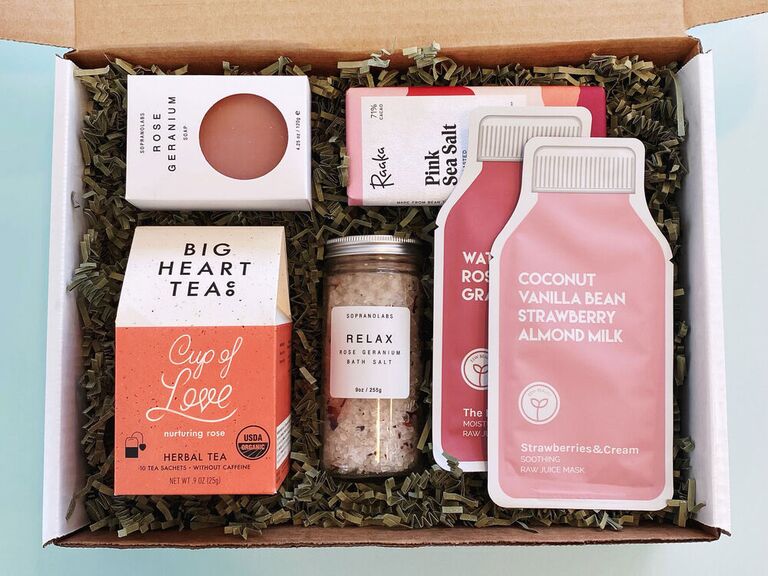 Bridesmaid gift baskets (or in this case, boxes) can be filled with a variety of things for your best gals to enjoy. This lovely set contains rose bath salts, rose soap, pink sea salt dark chocolate, rose herbal tea and two face masks—basically all the pampering products that'll help them get back on their feet after dancing the night away at your wedding.
17. Insta-Worthy Bubble Glasses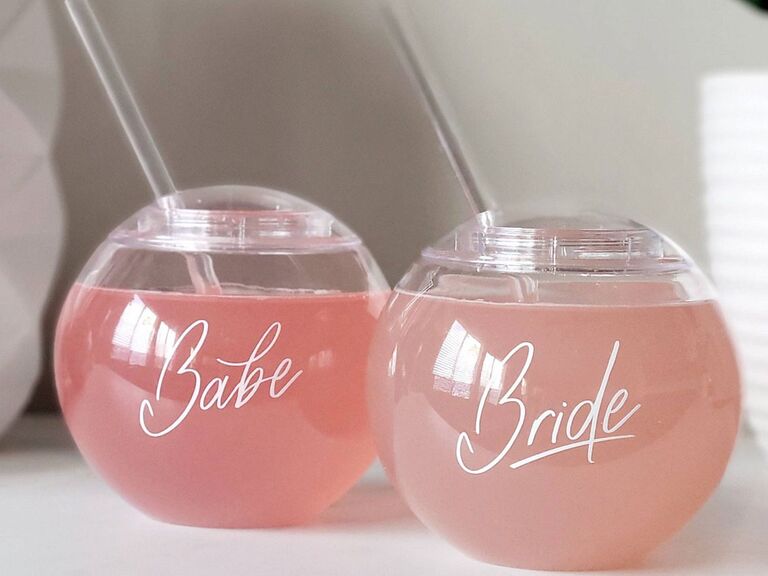 Have you ever seen such fun beverage glasses? Pass them around on the morning of and then use them to toast to your friendship. After the wedding, your crew can keep them for sipping cocktails at home, by the pool or at the beach. The see-through design makes it easy to show off their favorite libations.
18. Birth Flower Necklaces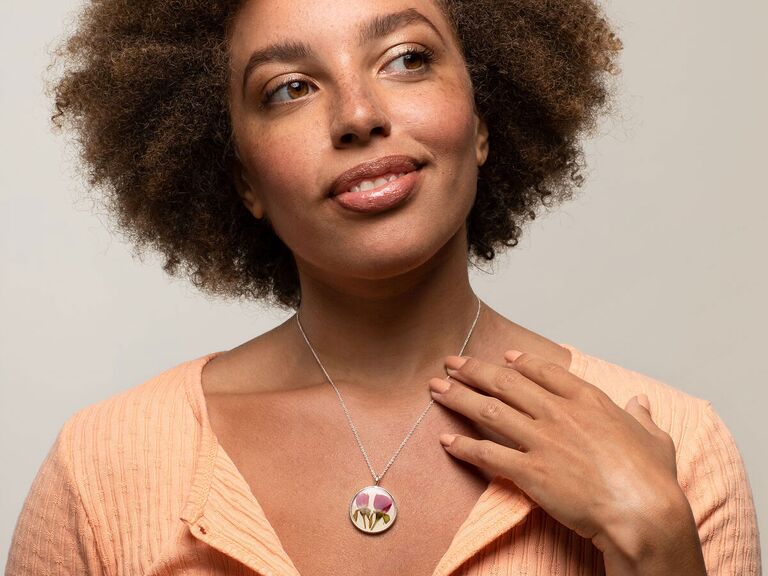 There's something super special about personalized presents, which is part of the reason why these birth flower necklaces are such a great bridesmaid gift. There's a unique pendant for every month of the year and each one includes a real, resin-coated flower. Choose whichever one matches your bridesmaid's birth month, from January's carnation to December's narcissus.
19. Thoughtful Gift Boxes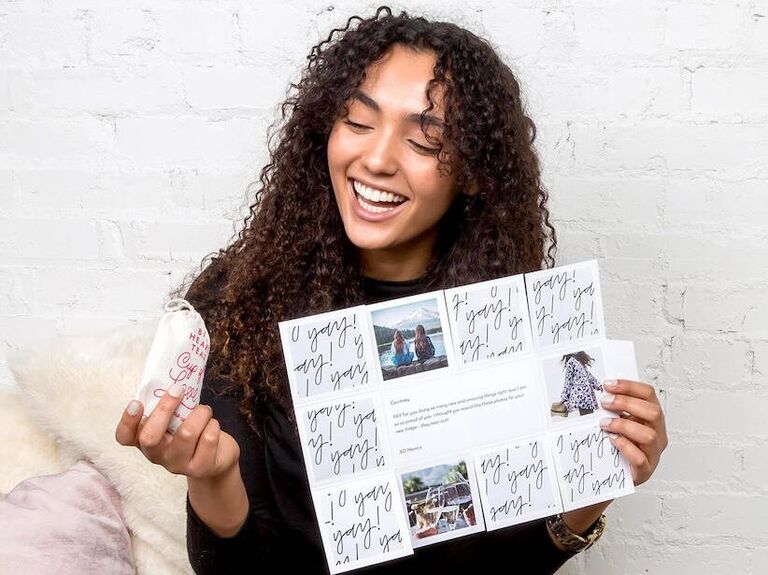 Looking for an unforgettable bridesmaid gift idea? Check out the unique service, Greetabl. Step one: Choose from a range of stylish packaging designs. Step two: Decorate the inside with special photos and a personal note. Step three: Pick out a pint-sized present to stuff the box with. The possibilities are practically endless—talk about a cool bridesmaid (or bridesman!) gift.
20. Personalized Yoga Mats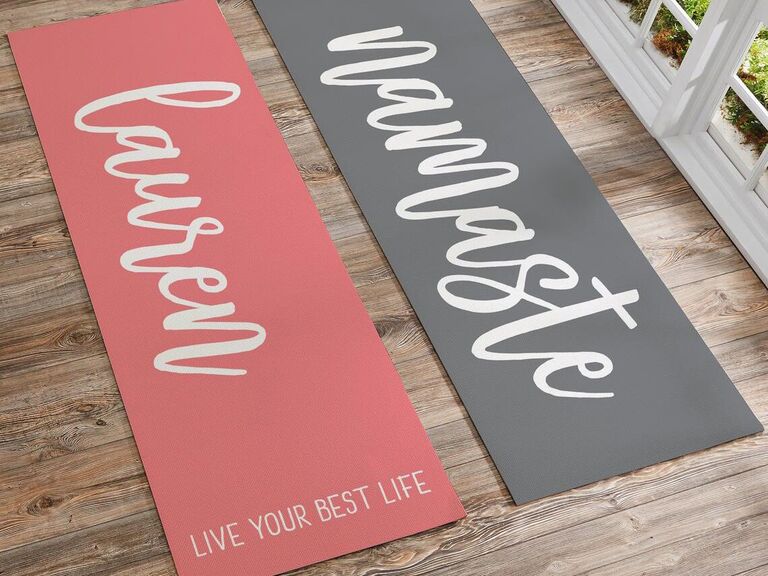 If you're looking for a wedding gift for bridesmaids who never miss a yoga class, how about new yoga mats? Have them personalized with their names or a cute quote for a creative bridesmaid gift.
21. Beaded Friendship Bracelets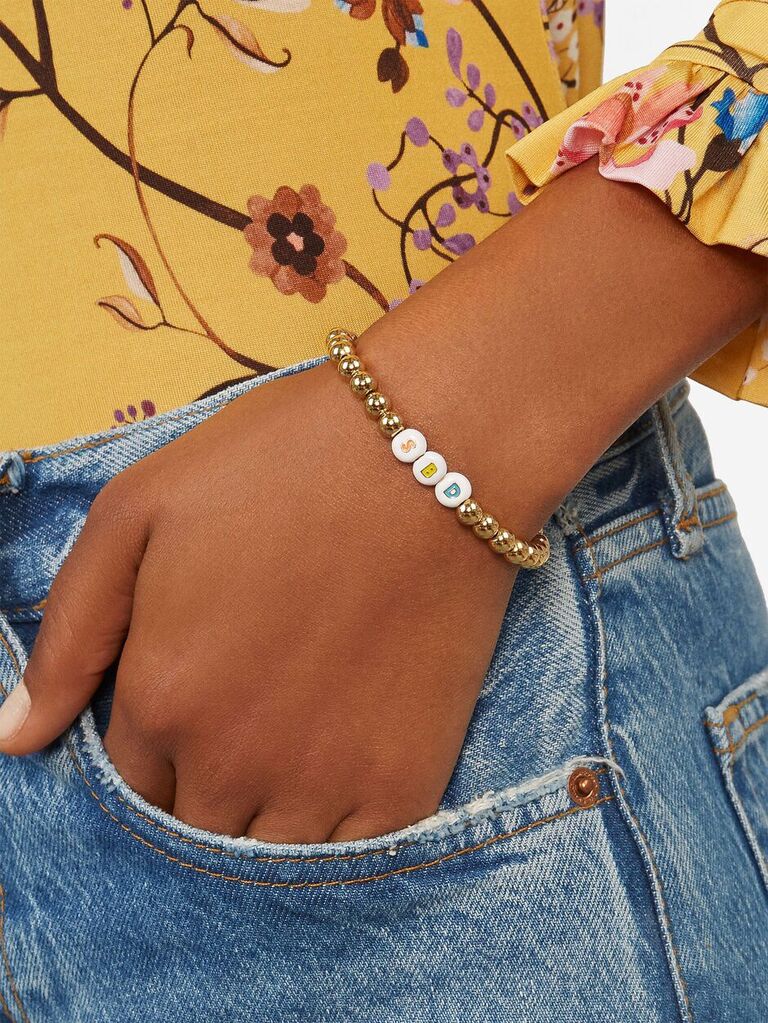 Shopping for a childhood BFF-turned-bridesmaid? This cute and casual piece of jewelry gives a nod to traditional friendship bracelets thanks to its adorable beading. You can totally hand it over as a day-of bridesmaid gift, but if you want to make sure you have enough time to express your feelings, you might want to carve out some time before the big day.
22. Tasty Tea Subscriptions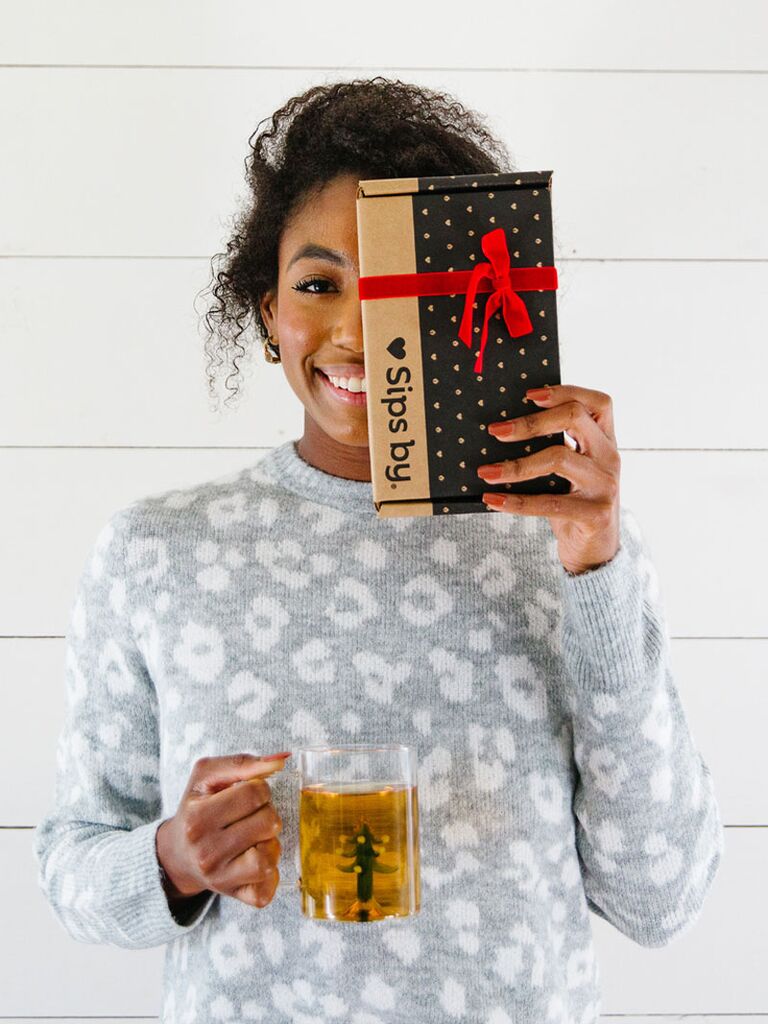 That friend who solves every problem with a soothing cup of tea? Yep, this is probably the best bridesmaid gift for her. A three-month subscription to Sips by will let her enjoy three monthly deliveries of delicious tea from around the world (and it's tailored to her tastes).
23. Comfy Robes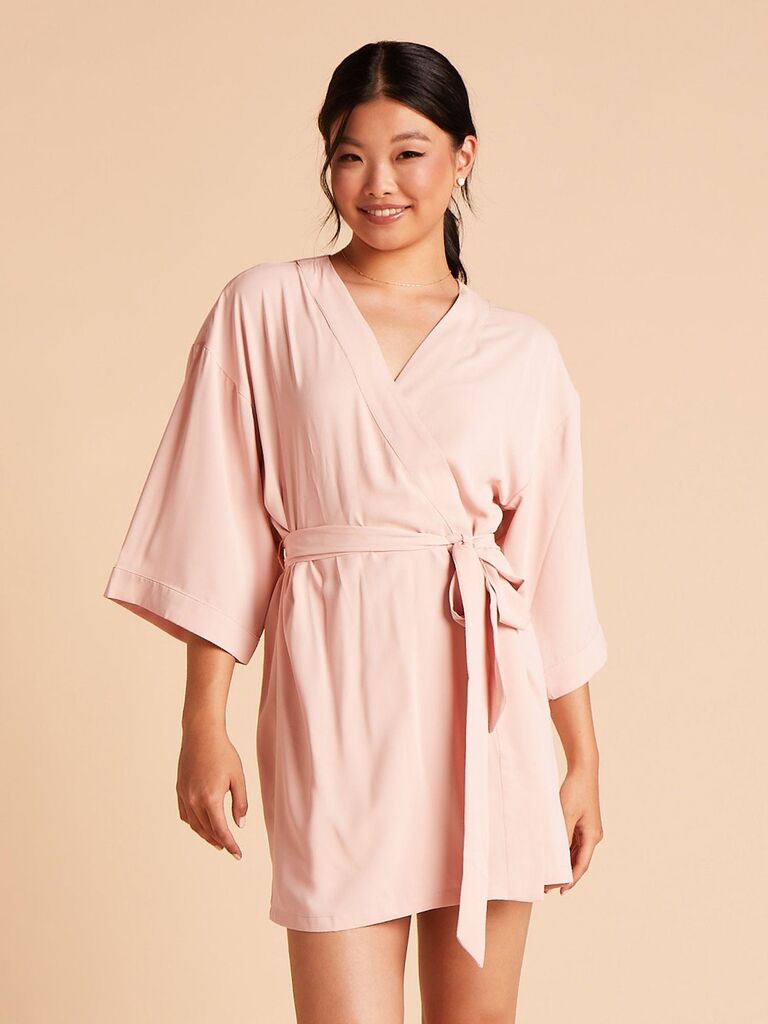 What bridesmaid wouldn't love a soft robe to wear while lounging? Giving this cute bridesmaid gift tells your friends they deserve a little R&R. Plus, it's a practical present for the morning of the wedding day. You can personalize the back with their name or wedding title. (If you're buying bridesmaid robes as thank-you gifts rather than separate getting-ready gifts, we suggest personalizing it with their name.)
24. Zodiac Pendants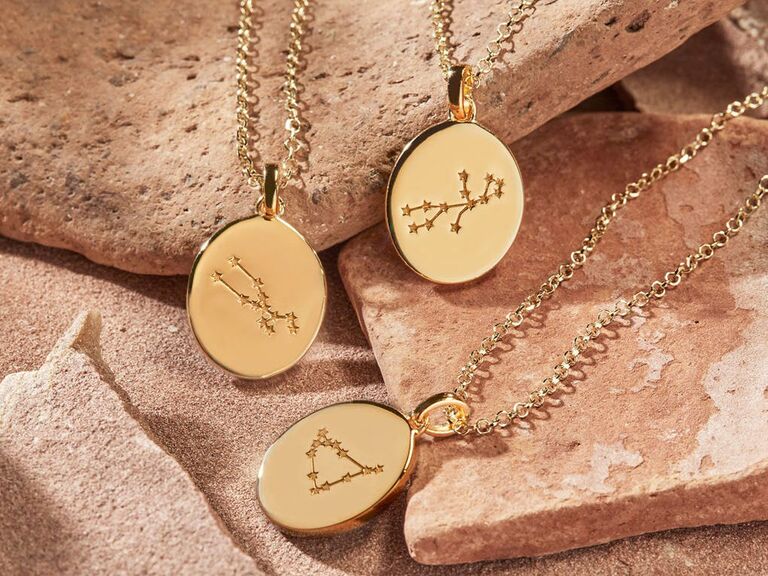 Shopping for luxury bridesmaid gifts for your girls? If your budget allows, consider more expensive items of jewelry or a one-of-a-kind experience (think: game tickets for their favorite team or concert tickets for a musician they love). If you want to go down the jewelry route, these celestial-inspired pendants are a thoughtful gesture for any astrology-obsessed members of your squad. Choose between sterling silver and 14-karat gold vermeil.
25. Glittery Cocktails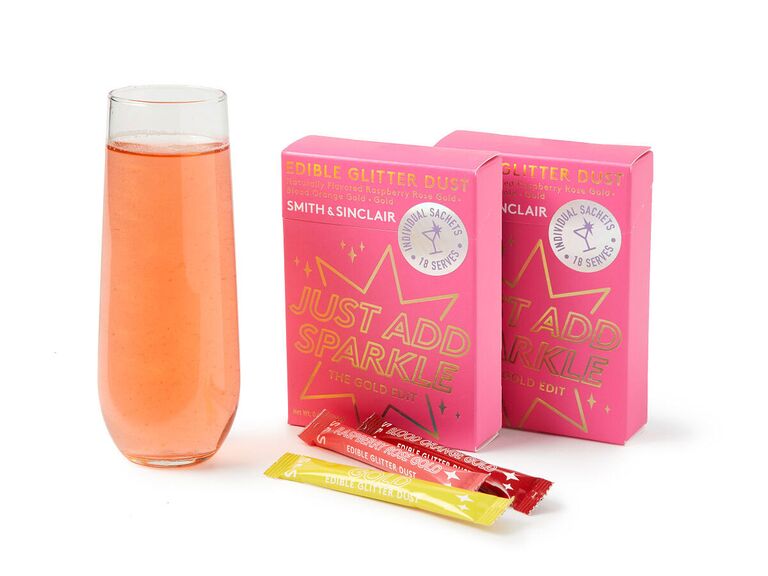 Looking for more bridesmaid gift bag ideas? This edible glitter is a fun finishing touch that your crew will love. Pair it with a bottle of bubbly and raise a glittery toast to the special occasion. Or, include the ingredients for your friends' favorite cocktails and let them create their own sparkly sensations after the wedding. Each box includes six packets of edible glitter in raspberry rose gold, blood orange gold and flavorless gold.
26. Monogrammed Throw Blankets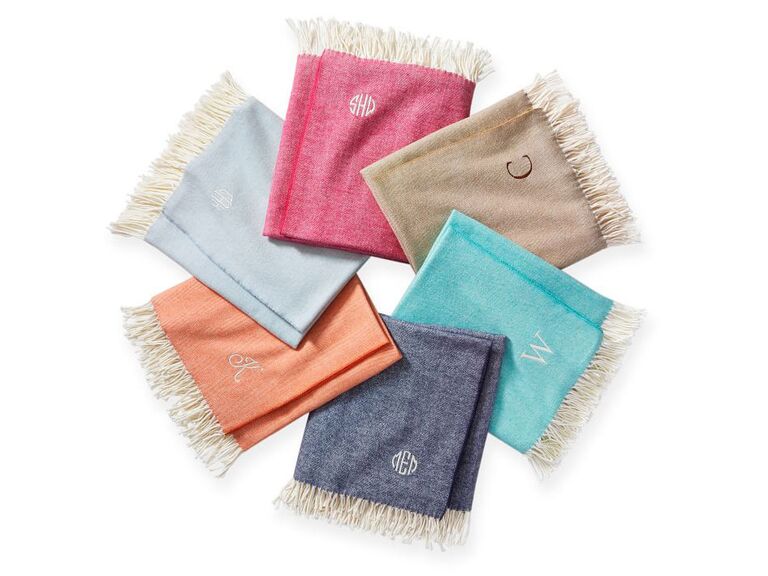 A cozy throw blanket is a welcome gift no matter the occasion. Your bridesmaids will instantly feel appreciated when they unwrap one of these Italian herringbone blankets embroidered with their monograms. This personalized gift will be a stylish addition to their home.
27. 12-Week Wellness Journals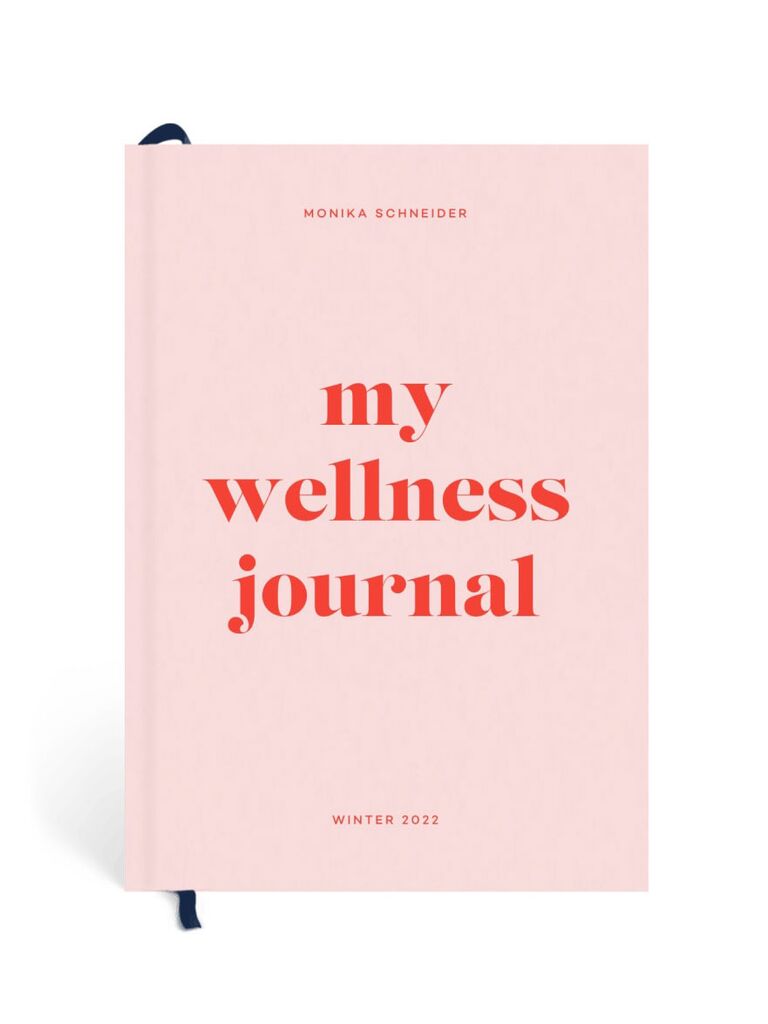 Encourage your besties to prioritize self-care with a wellness journal. This pretty pick from Papier has 12 weeks' worth of space to track goals, jot down feelings, express gratitude and more. The journal is designed for daily check-ins, which should help make self-care a frequent habit.
28. Meaningful Knot Necklaces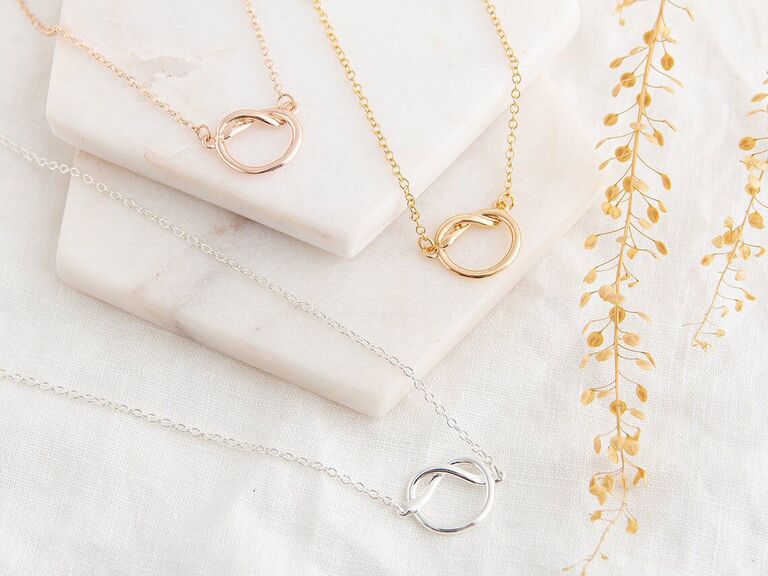 Your relationship with your soon-to-be spouse is definitely important, but it's not the only important relationship in your life. Let your bridesmaids know you're in it for the long haul with these sweet knot necklaces. The knot shape represents your everlasting friendship. Don't forget to pick one up for yourself too so you can all rock matching necklaces.
29. Movie Bucket List Posters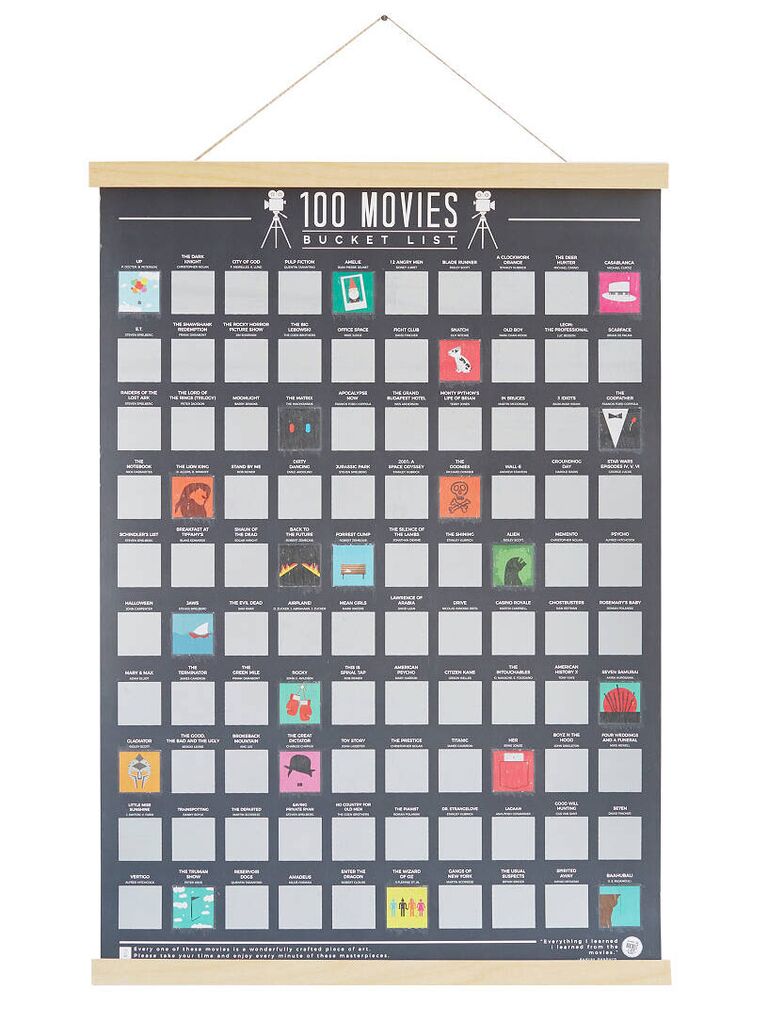 Movie buffs will love scratching off 100 classic films from this bucket list poster. We also love the magnetic frame, which makes it easy to display right away. Bonus points if you plan a bunch of girls' nights to watch them together.
30. Monogram Coasters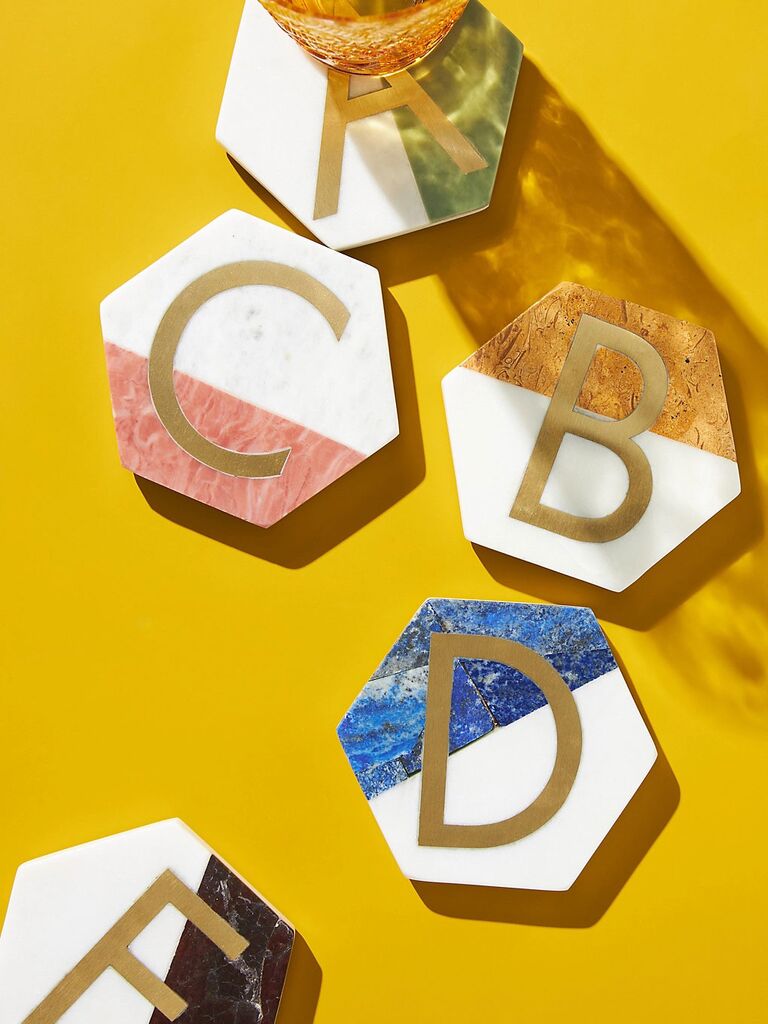 If you're still not sure what to put in your bridesmaid bags, just keep scrolling! We've got plenty of options to suit your bridal party's unique tastes. These gorgeous coasters will turn their coffee table into a work of art. Finished off with custom monograms, they're the best bridesmaid thank-you gifts for design lovers.
31. Pampering Gift Sets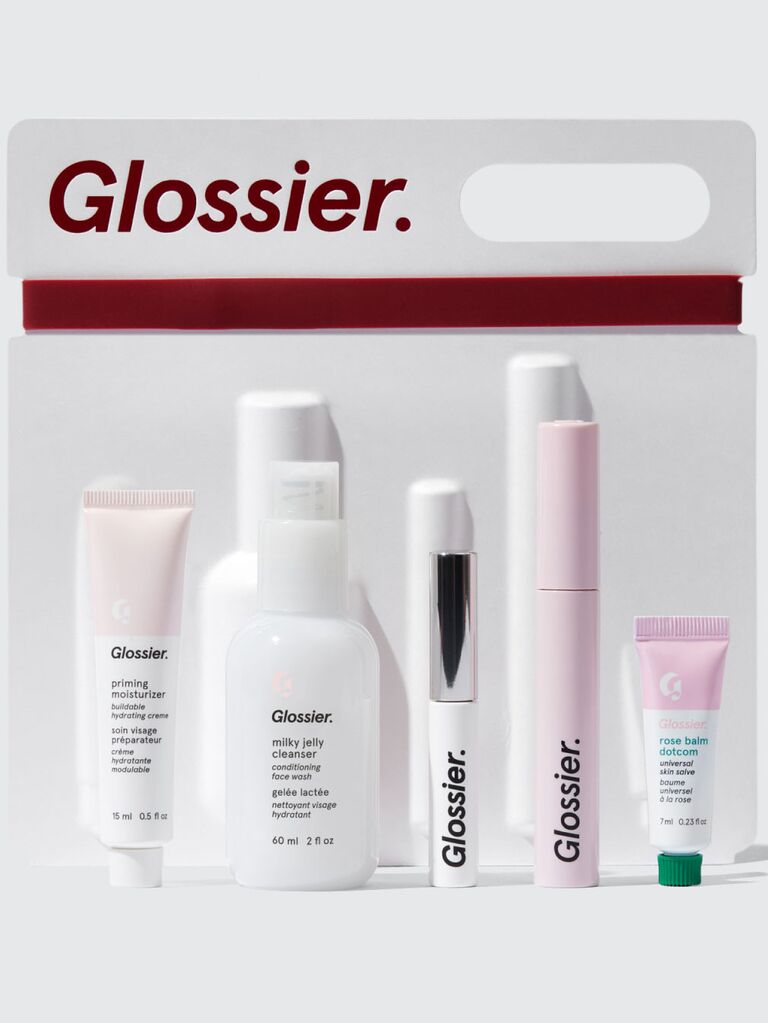 If you're shopping for someone practical, the best bridal party gift is something they can use. A kit of skincare essentials from cult-favorite beauty brand Glossier totally fits the bill. This set of minis includes cleanser, priming moisturizer, lip balm, mascara and eyebrow fluffer. They'll be glowing long after the big day!
32. Cute Custom Candles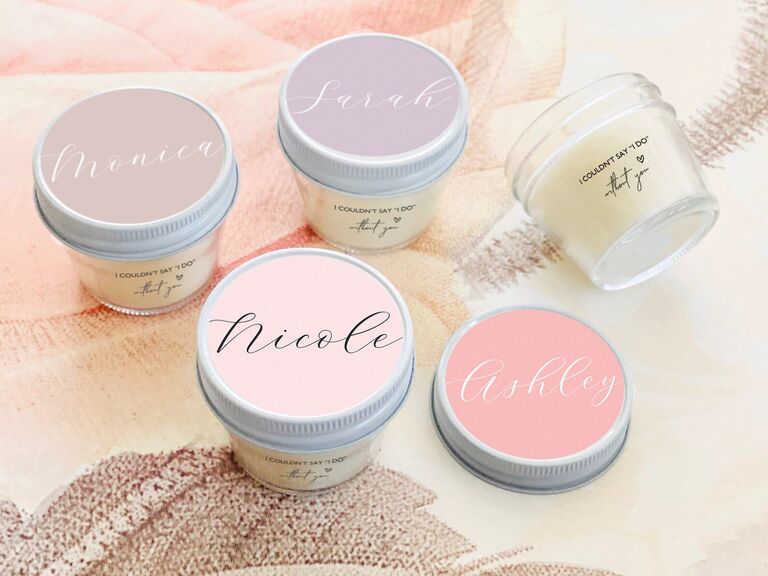 These bridesmaid thank-you gifts come in chic pastel shades, making them on-theme party favors for spring weddings. Each bridesmaid's name is printed in romantic calligraphy on the lid, while the jar reads: "I couldn't say 'I do' without you."
33. Personalized Ring Dishes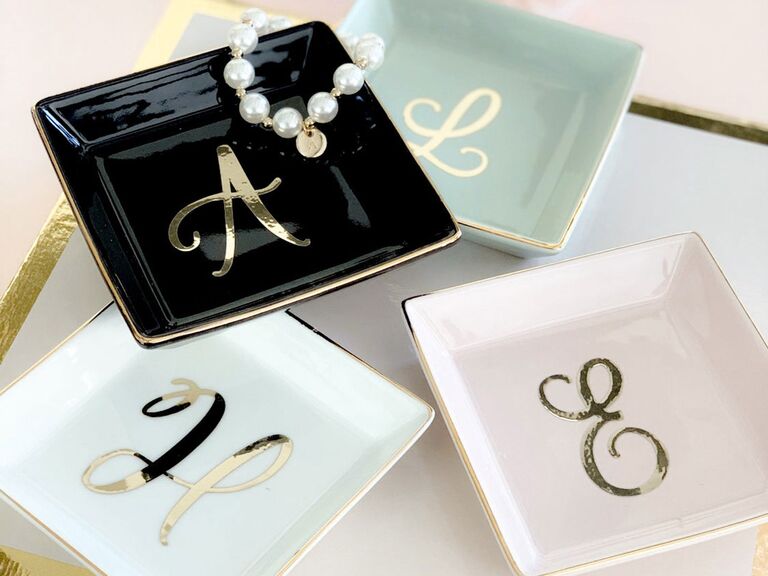 A monogram ring dish is a pretty place to drop jewelry or other doodads. These wedding party gifts for your bridesmaids will make a lovely addition to gift baskets, or you can present them on their own with thoughtful thank-you notes.
34. Spa Gift Baskets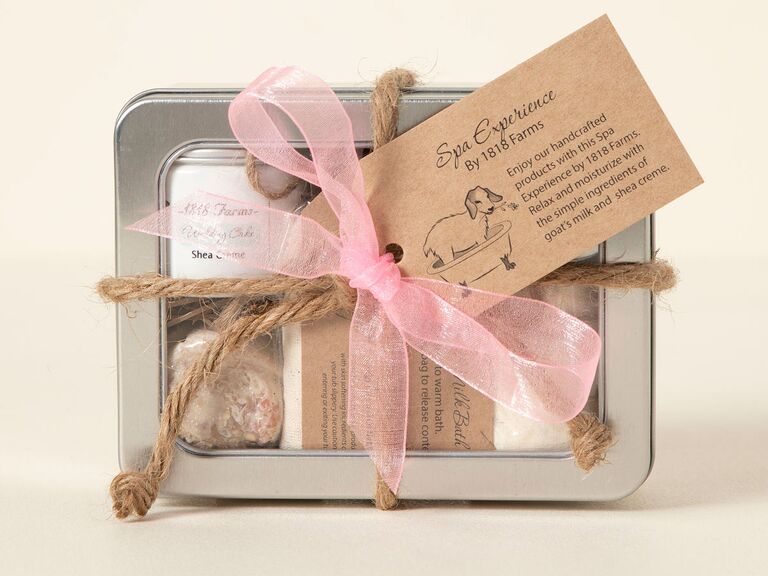 Give your girls the gift of a DIY spa day with this bridesmaid gift basket filled with a variety of handmade and homegrown spa products. We're talking lavender goat's milk bath tea, a moisturizing bath truffle, mint lip balm and "wedding cake" whipped shea cream.
35. Rustic Bridesmaid Mugs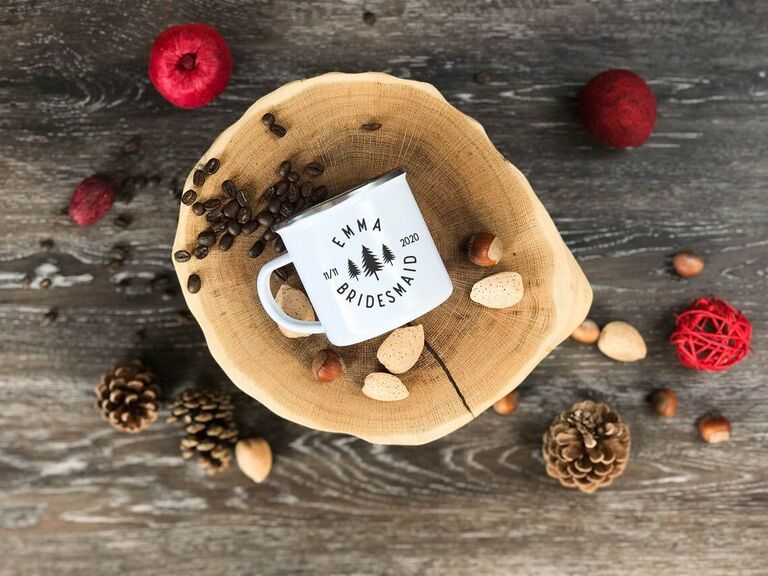 Why not use your wedding season as inspiration for unique bridesmaid gift ideas? This useful mug is a nice tribute to fall or winter—hello, hot cocoa. Each of these rustic wedding gifts is customized with your bridesmaids' first names, wedding titles and the date—talk about a practical keepsake!
36. Bridgerton Book Series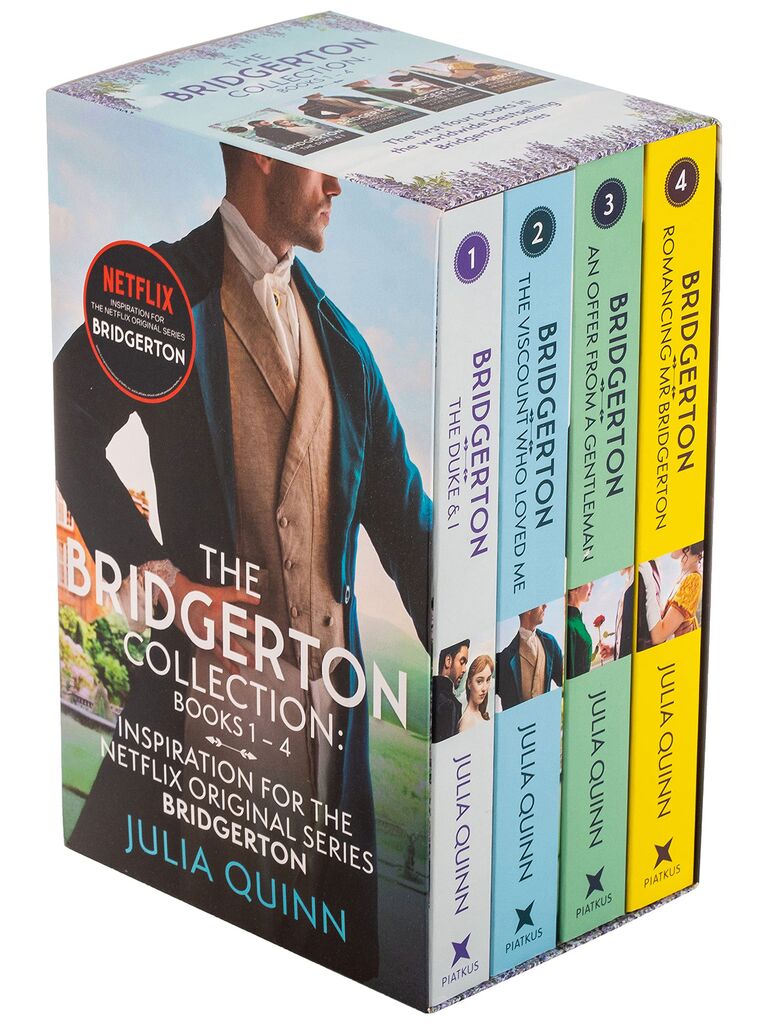 Bridesmaid gift sets don't have to be inspired by the spa. If one of your 'maids always has her nose in a book, a box set of her favorite genre is an awesome bridal party thank-you gift. Your romance-obsessed friend (or Netflix-obssessed friend, for that matter) will want to get stuck into these reads right away. The set includes the first four books from the series that inspired Bridgerton.
37. Morse Code Bracelets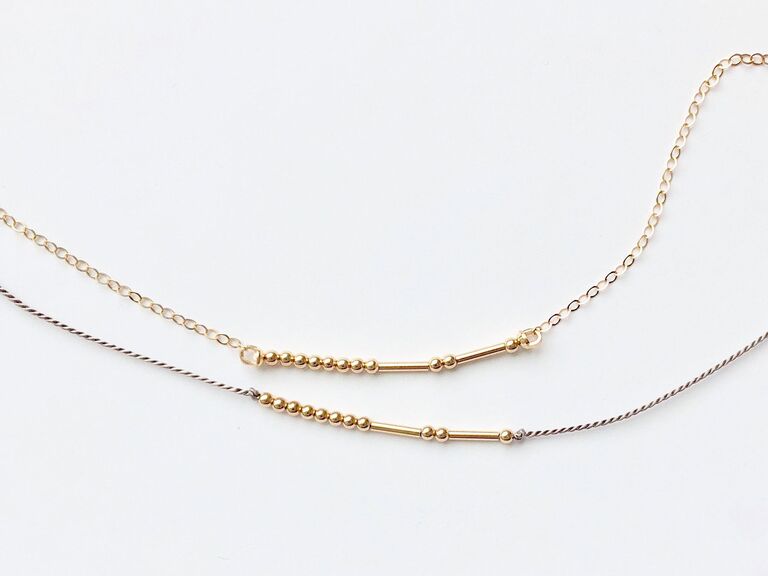 On the hunt for good bridesmaid gifts for your sister? This dainty chain link bracelet spells out the word "sister" in morse code. It's a subtle representation of your relationship she can easily wear every day. Choose from sterling silver, 14-karat gold or gold fill and centered or off-center positioning of the dots and dashes.
38. Cute Leather Totes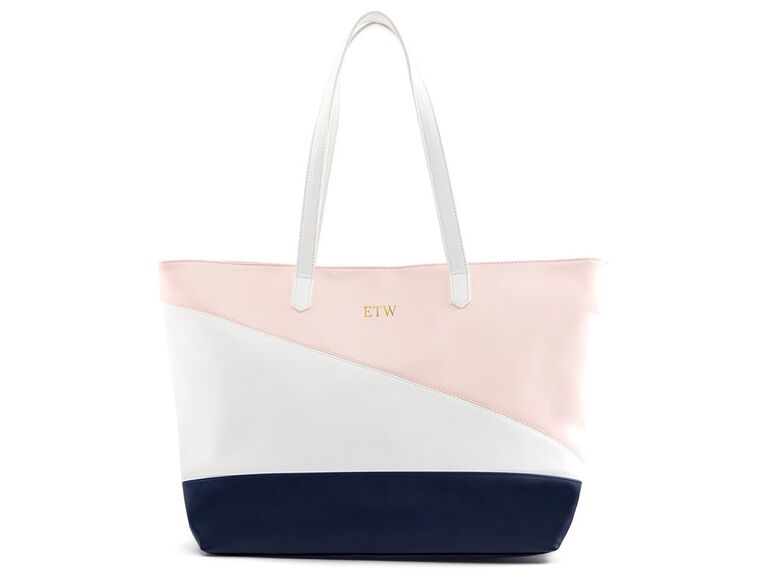 This stylish faux leather tote looks much more expensive than it is. Have them embossed with each attendant's initials for an extra-special touch. Your bridesmaids will get tons of use out of such a thoughtful bridesmaid gift. If you really want to impress your squad, fill each tote bag with some more small goodies to thank them for participating in your wedding.
39. Wine and Cheese Baskets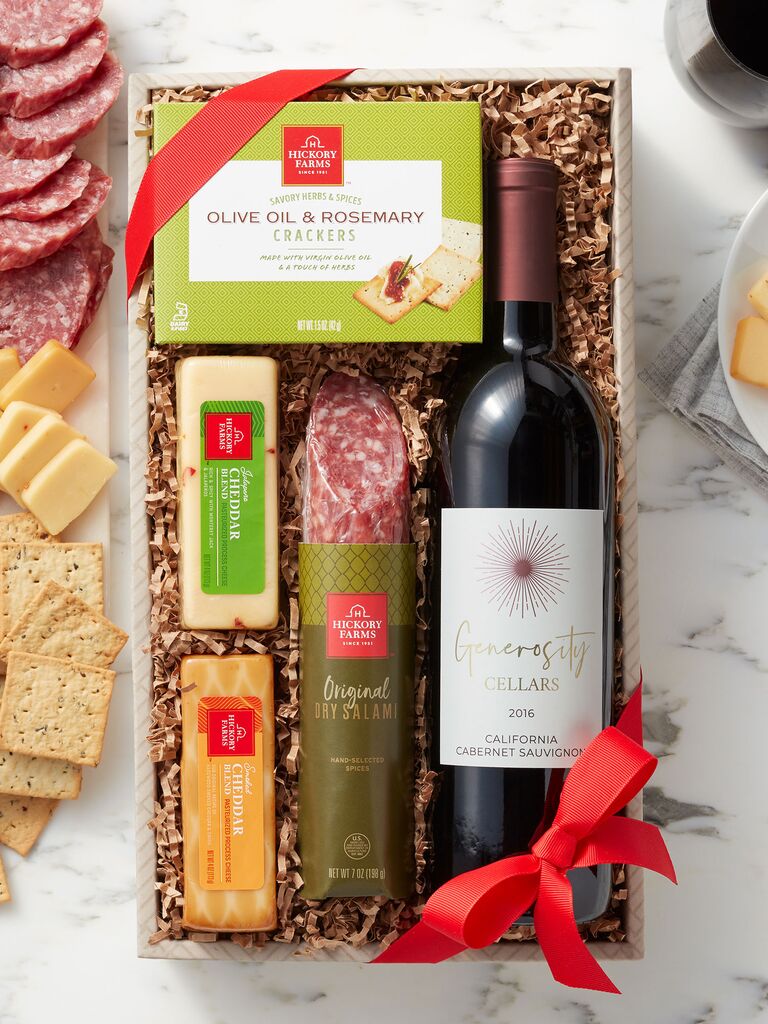 This bridesmaid gift basket isn't a basket at all—instead it's a neat box filled with gourmet cheese, meat, crackers and wine. Foodie friends will rejoice when they receive this perfectly nice bridesmaid gift. Just don't forget to add a thank-you card.
40. Useful Compact Mirrors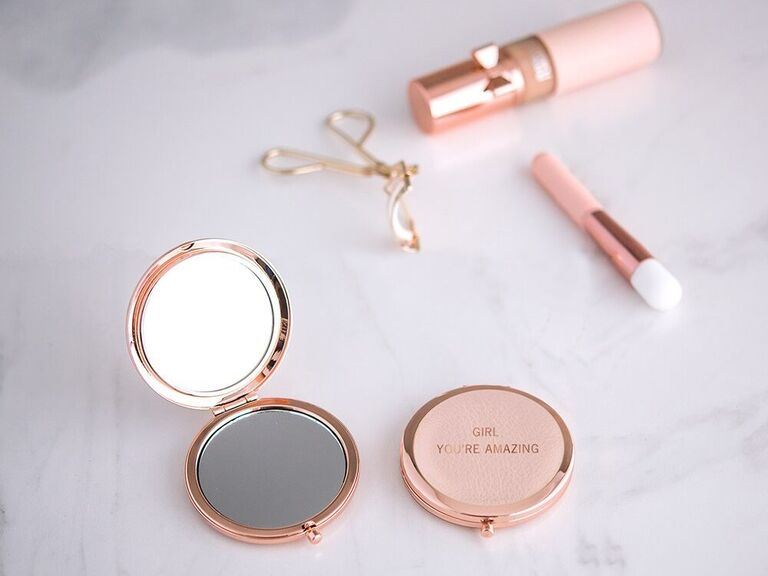 Tell your best gals just how amazing you think they are with these embossed faux-leather compacts. If you're looking for personalized bridal party gift ideas, you can also have them engraved on the back. A compact mirror is a traditional bridesmaid gift idea for a reason—they're just so darn useful.
41. Bridesmaid Holiday Ornaments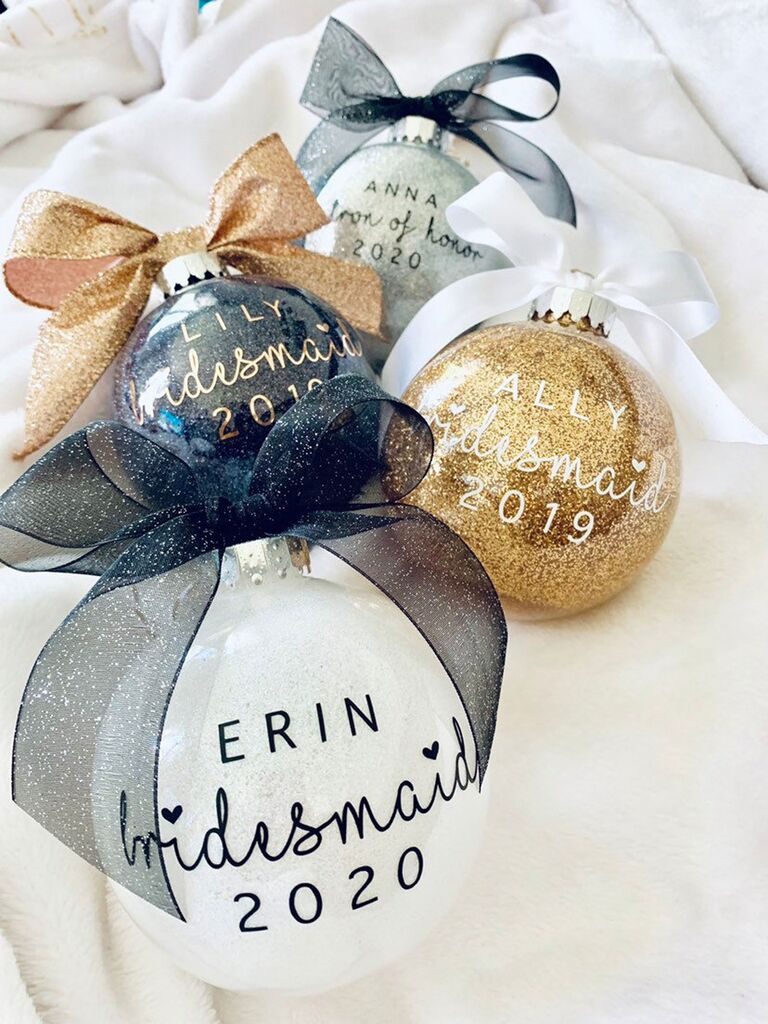 Need bridesmaid presents for a winter wedding? If they celebrate Christmas, give each of your best friends a bauble personalized with their name, wedding title and the year. They can hang it on their tree for every holiday to come as a sweet souvenir from the day they helped you say "I do."
42. Modern Jewelry Boxes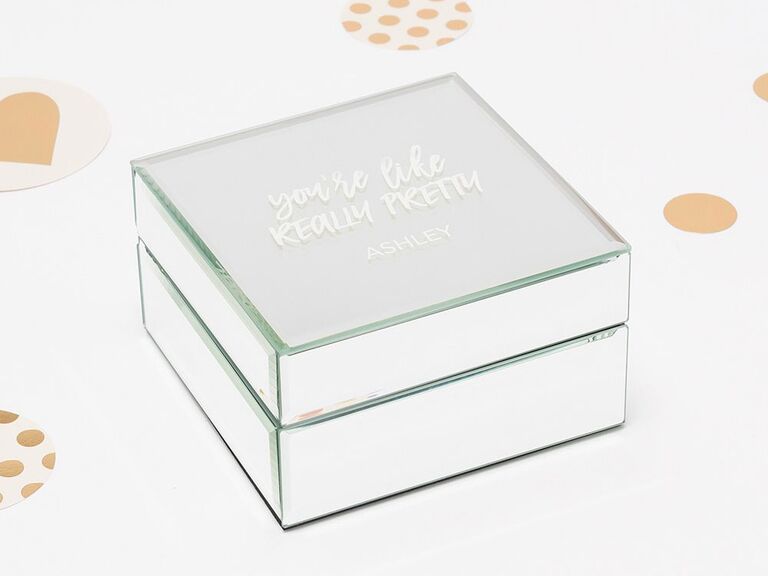 If Mean Girls was their favorite flick growing up, this mirrored jewelry box will bring back joyful memories. It's printed with one of our favorite quotes from the iconic Regina George: "You're like really pretty." The lid can also be personalized with your bridesmaid's name and the inside is lined with velvet.
43. Gold Initial Bracelets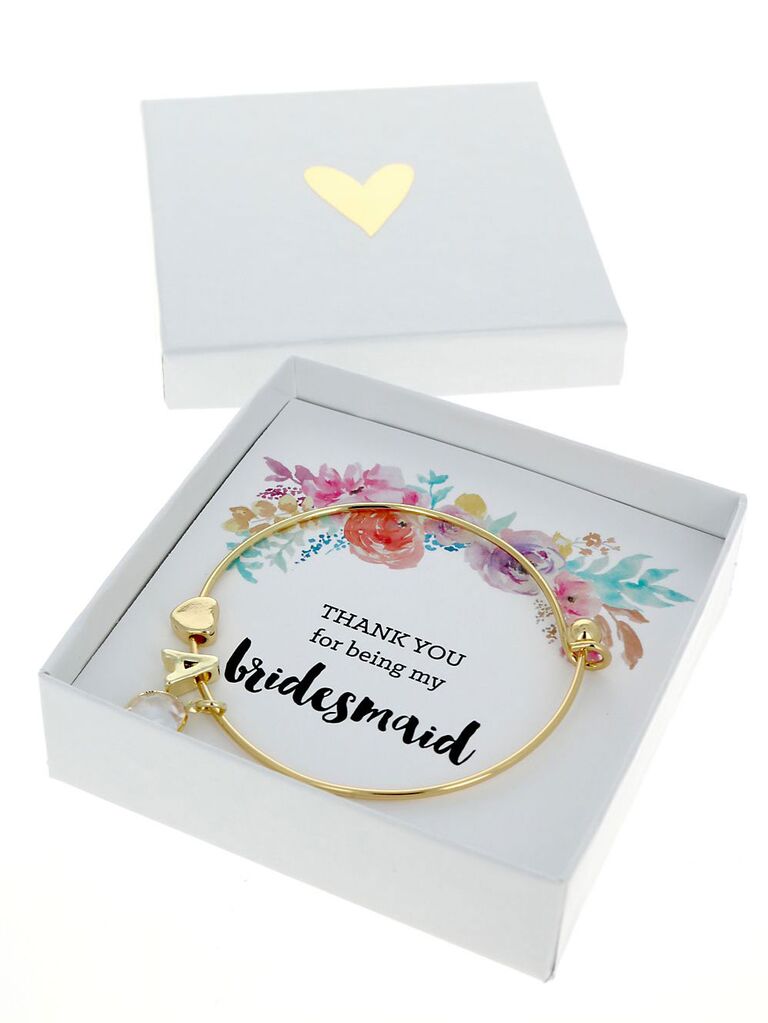 Wondering what makes a good bridesmaid gift on a budget? We've got good news: You can still buy pretty keepsake jewelry. We love that this budget-friendly gold bracelet has a wedding theme but is still classic enough to wear long after your special day. The personalized initials will make these really stand out in bridesmaid gift bags.
44. Personalized Beach Towels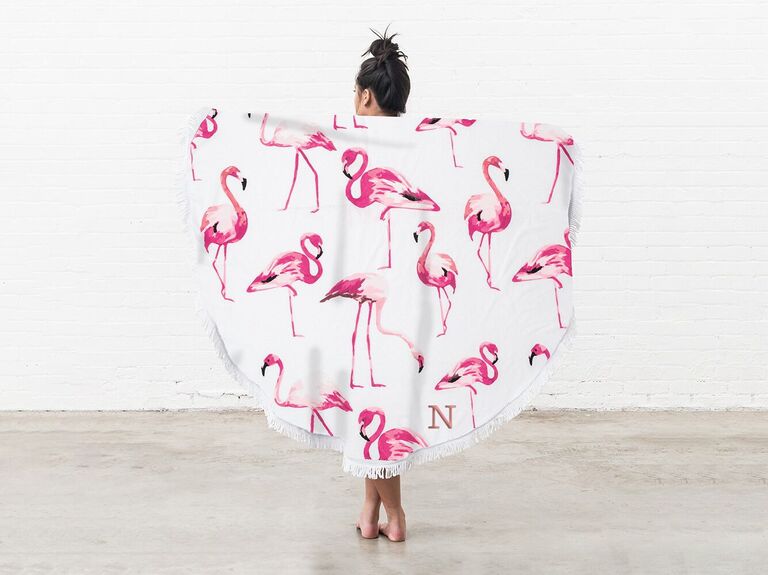 Personalized beach towels are especially cool bridesmaid gifts if you're planning a seaside (or poolside) bachelorette party, wedding or future vacay (girls' trip, anyone?). This fun flamingo-print option ties in seamlessly with a tropical wedding theme, and you can have it embroidered with each person's initial for an extra-special finishing touch.
45. Colorful Travel Cups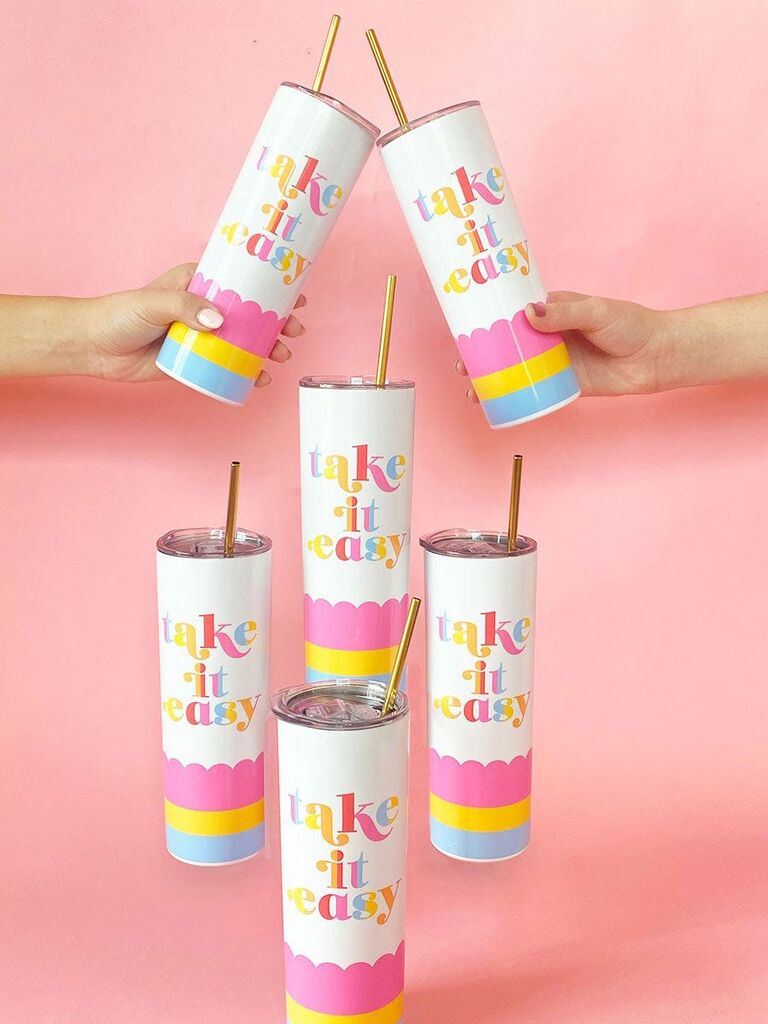 Help your besties enjoy their next sip in style by including these fun stainless steel tumblers in their bridesmaid gift bags. Each colorful cup is printed with the words: "Take it easy." Whether you plan to hand them out as bachelorette party favors or postwedding presents, your crew will welcome those instructions. Stainless steel straws are also included, making this an eco-friendly addition to their drinkware.
46. Versatile Weekend Bags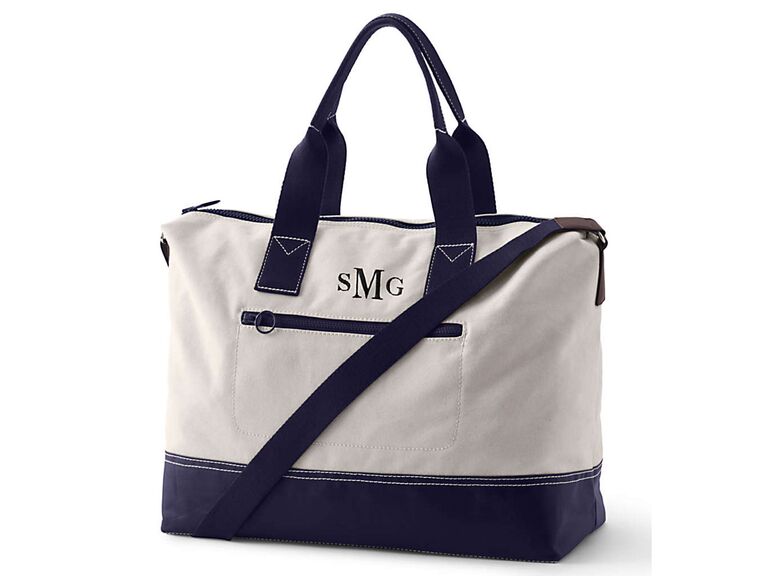 Let them know you don't want your bachelorette to be the last time you all go on a girls' trip together by gifting each person a travel-friendly duffel bag. This modern weekender can be personalized with your bridesmaids' initials and comes in three different colorways. Inside, there's ample space to stow carry-on essentials like a change of clothes and favorite beauty products. It also loops over the handle of their luggage case so they can easily manage multiple bags at once.
47. Bridal Party Socks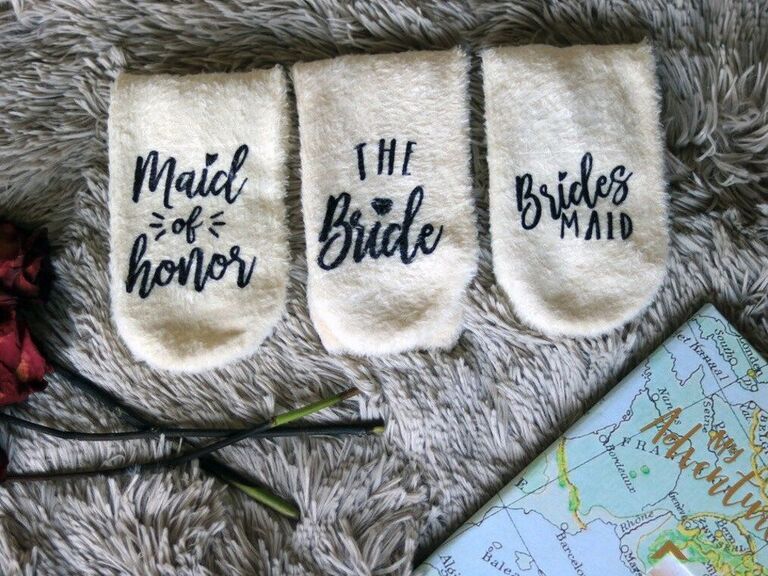 Socks are always a great gift idea, and we think your bridal party will agree. These Insta-worthy gifts are perfect for a girls' night in with your besties. They'll serve as a permanent reminder of this crazy (but wonderful) time in your lives.
48. Pretty Notebooks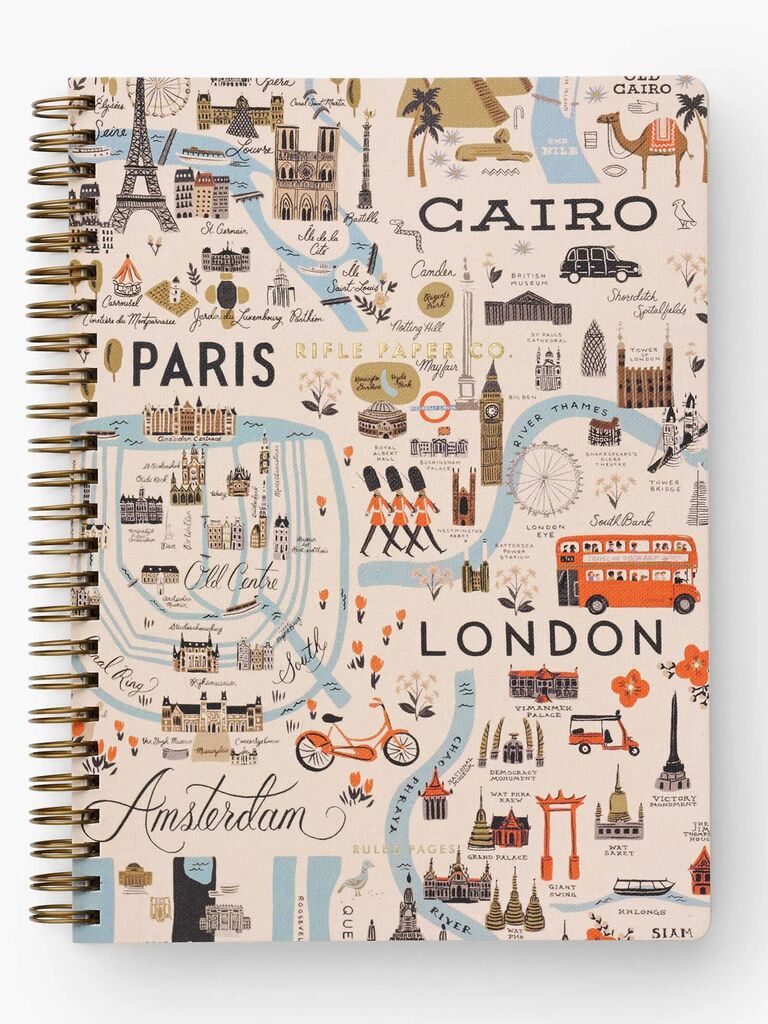 One of the best ways to make sure your bridesmaid gifts aren't cheesy is to go for something practical. This spiral-bound journal comes in a fun travel-themed print, perfect for your jet-setting squad to stow in their handbags. It's also a fitting present if you're having travel-themed or destination nuptials.
49. Illusion Cookies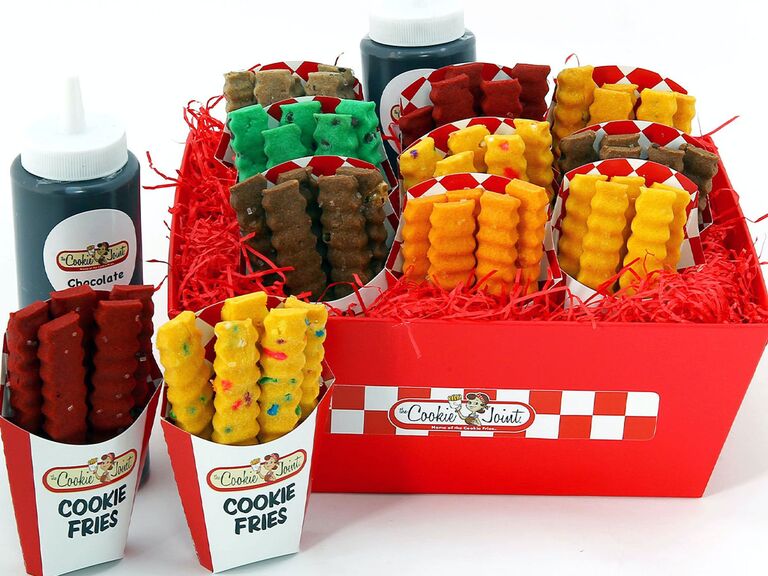 The best bridal party gifts are things that your BFFs already enjoy. If you've got a foodie on your hands, browsing Goldbelly for the latest shippable gourmet treats is a great place to start. Our pick? These fun, French fry-themed cookies from The Cookie Joint. The gift set includes nine mini cartons of assorted shortbread cookie fries and a bottle of chocolate dipping sauce, serving 8–10 people.
50. Cheeky Flasks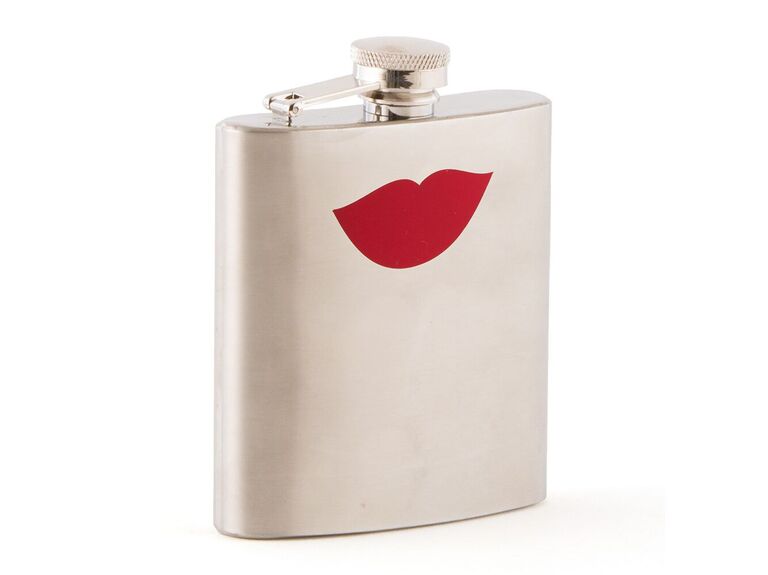 If you and your girls are known for getting up to mischief together, choose bridal party gifts that reflect just that. This red-lip-motif flask is a cute bridesmaid gift idea for friends who occasionally like to let loose—and do it in style.
51. Coffee-Themed Gift Baskets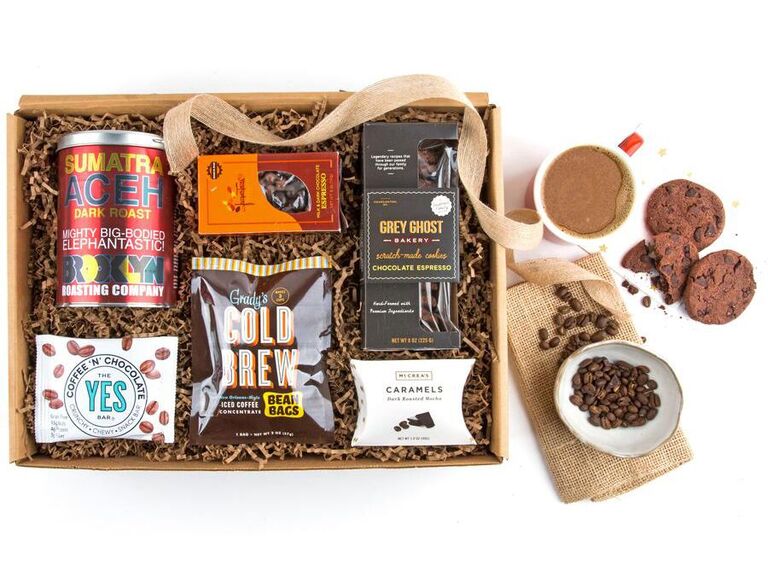 A bridesmaid gift basket filled with coffee-inspired treats is sure to earn appreciation from your caffeine-loving bridal squad. Between the chocolate-coated espresso beans and whole-bean mocha java, they'll have no problem perking up the morning after the wedding.
52. Mini Gardens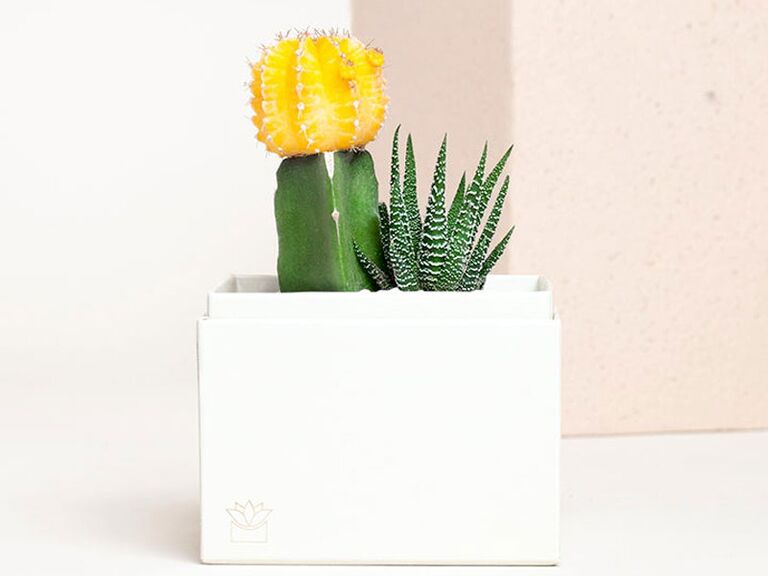 When selecting wedding gifts for your bridal party, don't feel compelled to buy the same thing for everyone. The more you play to each person's unique personality, the more points you'll score for buying an awesome gift. Any avid plant mom (or dad, if you're having bridesmen) will happily accept this mini succulent garden. It includes a vibrant yellow grafted moon cactus and haworthia.
53. Bridesmaid Wine Labels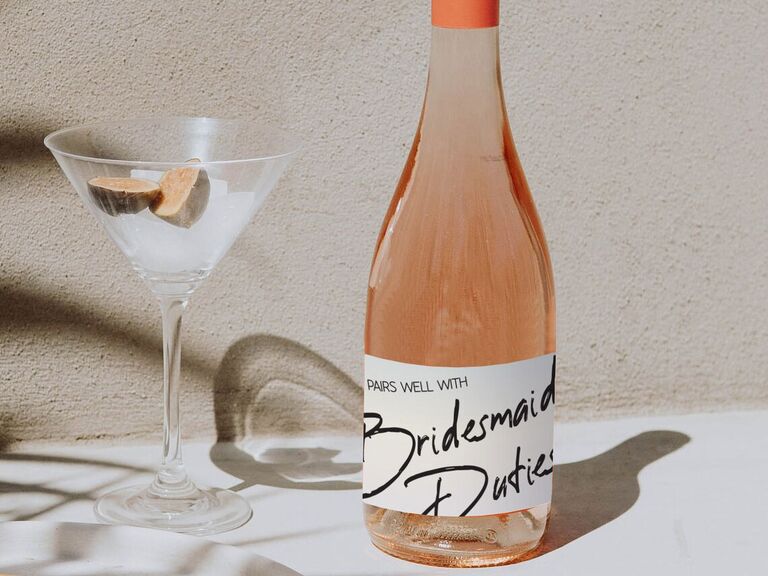 Shopping for your bridesmaids on a budget? Buying on-theme labels is an affordable way to upgrade any wine bottle. These stylish labels read: "Pairs well with bridesmaid duties." Throw in some other small goodies like hair ties and mini scented candles for a thoughtful but budget-friendly selection of gifts.
54. Symbolic Watches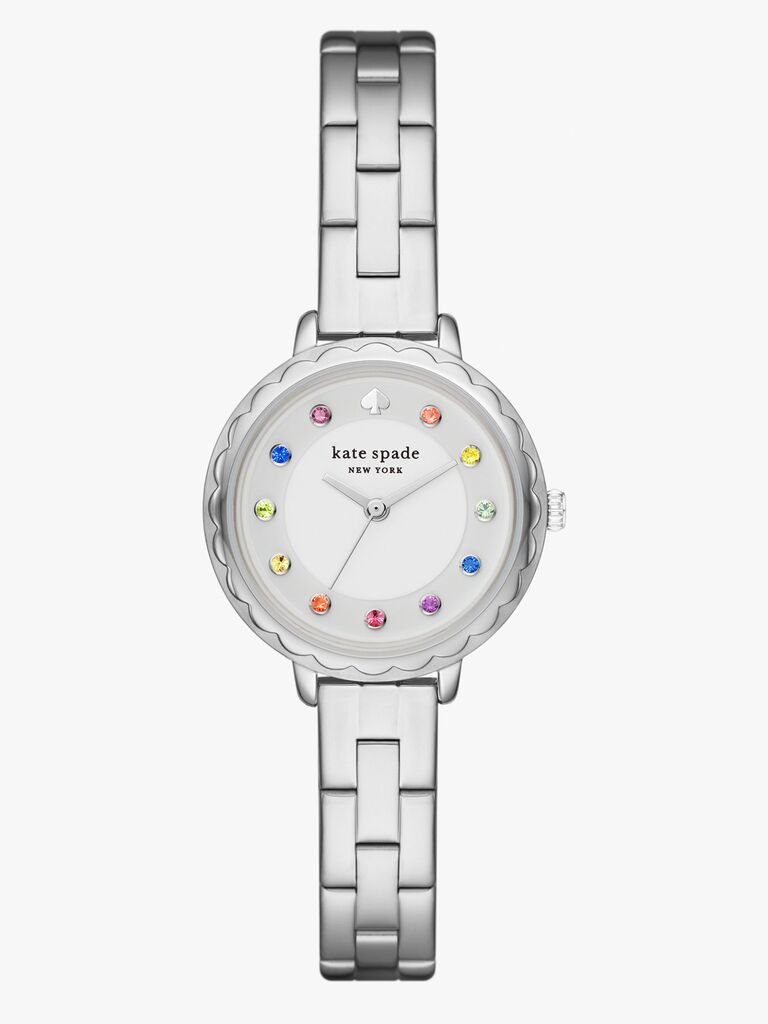 Whether you've got a bigger budget or you're shopping for a bridesmaid who really went above and beyond (or your maid of honor), a nice watch is a lovely gesture. It pays tribute to all the time you've spent together in the past, as well as the years of friendship to come. This chic timepiece from Kate Spade is made from silver-tone stainless steel—durable and shiny.
55. Funny Candles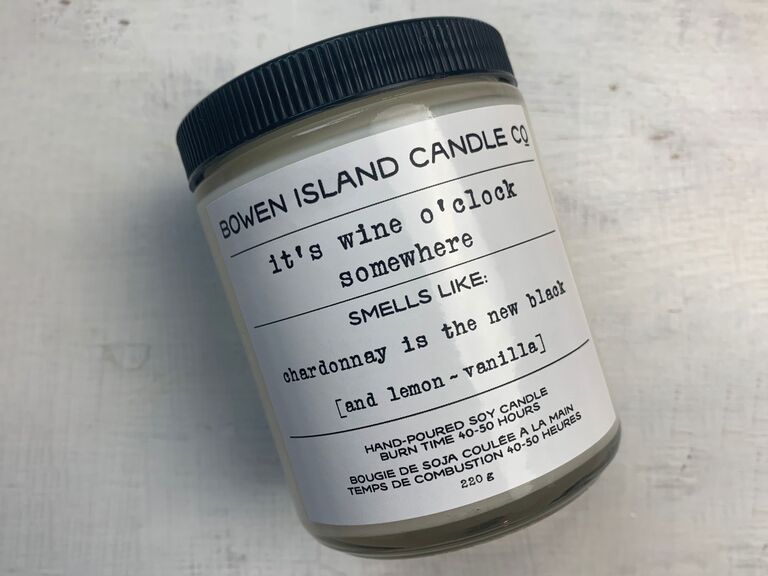 As far as fun bridesmaid gifts go, any self-proclaimed wine aficionado will get a kick out of this candle. Titled "It's wine o'clock somewhere," the scented candle smells like lemon and vanilla (or "chardonnay is the new black," as it says on the label). Each candle is made from plant-based wax and offers 40-50 hours of burn time.