These 40 Bridesmaid Gifts Are Cute, Creative and Curated for 2023
And all are editor-approved.
We have included third party products to help you navigate and enjoy life's biggest moments. Purchases made through links on this page may earn us a commission.
Wondering how to be the best bride ever? We suggest giving out bridesmaid gifts. "Your bridesmaids are here to provide support throughout the entire wedding planning journey," says Kisha Damali, owner and creative director at D'MALI, a New York City-based design studio that specializes in gifting. "What better way to show how much you value their time and assistance during the most important milestone of your life than with a gift?" We can't argue with that! While gifts for bridesmaids and other wedding party members are completely optional, they're a very popular way for couples to show their gratitude. According to The Knot's 2022 Wedding Party Gifts Research, 70% of couples surveyed have or will buy gifts for their wedding party. Of that, 62% will give thank-you gifts, 31% will give proposal gifts and 23% will give both.
But what bridesmaid gift ideas will earn you the Bride of the Year title? "When choosing the right gifts for your wedding party, my advice is to gift items that will make your wedding party feel special," says Damali. One of our favorite ways to do this is through personalized items, like custom embroidered pajamas, monogrammed tote bags or birthstone jewelry. You don't have to buy everyone variations of the same thing, though. "Consider gifting each member of the party a different gift based on their likes and personality," suggests Damali. Items that fit each bestie's hobbies or style will show how well you know them and love your unique relationship.
Starting to feel inspired? We've got even more ideas for bridesmaid gifts whether you're giving them something before, after or on the wedding day. Below, browse (and buy) the best bridesmaid gifts according to our editors.
In this article:
Unique Bridesmaid Gift Ideas

As shopping and wedding editors, we've seen our fair share of bridal party gift ideas. While personalized robes and drinkware are classics for a reason, there are lots of unique bridesmaid gifts to shop that your crew hasn't received before and will love.
Birth Date Pendant Necklace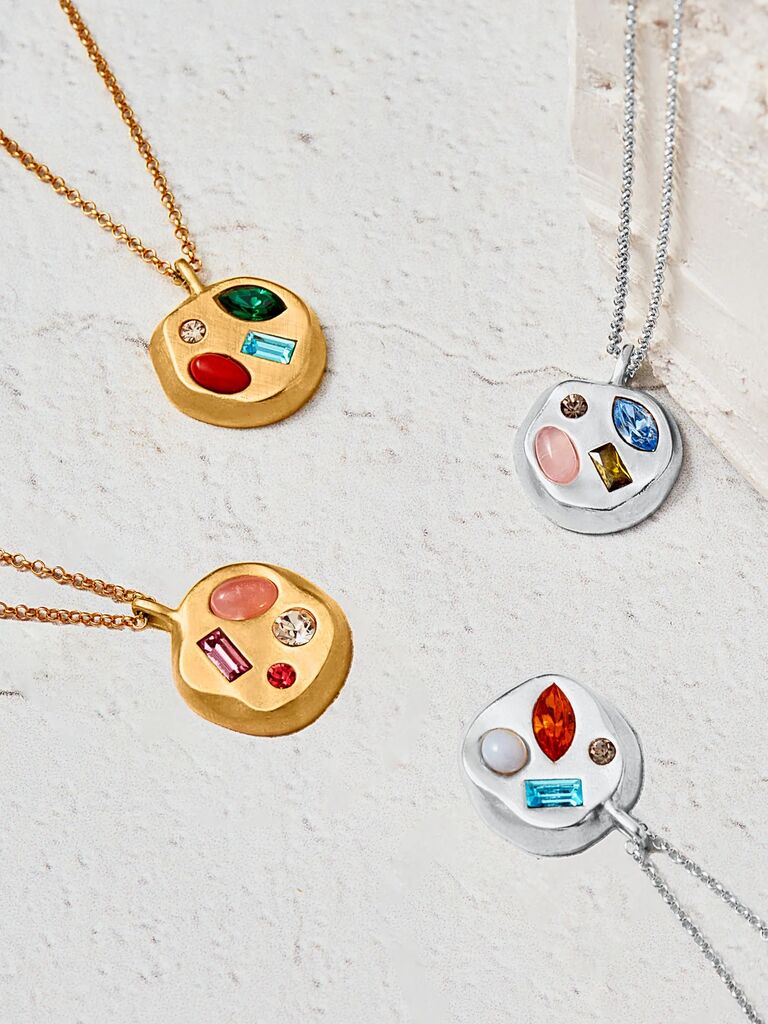 These incredibly special necklaces are inspired by both astrology and numerology, creating something that's unique to each bridesmaid's exact date of birth. Four thoughtfully chosen stones decorate each pendant, bringing the wearer good luck and good energy. You can have their initials engraved on the back of the pendant for an extra $15, but we bet it'll be a bridal party gift to remember either way.
Why we love it: "If you have a small group, consider splurging on these birthday necklaces for your besties. Unlike similar gifts, these pendants are customized to specific birth dates, not just birth months. Each colorful crystal combination is uniquely beautiful." —Emily Platt, Senior Manager, Commerce Content Strategy
Jewel-Toned Tea
We bet you've never seen tea like this before. Not only does each blend of herbs, spices and flowers offer wellness benefits, but they steep to the hue of the recipient's birthstone. Too pretty! This set even comes with a shiny tea strainer.
Why we love it: "I can't get over how cute the apothecary jar packaging is! I know my bridesmaids would save them even after all the tea leaves are enjoyed. I love that this gift is personal and practical. Plus, the colored teas feel so magical." —Emily Rumsey, Assistant Commerce Updates Editor, Gifting & Stationery
Unforgettable Virtual Experience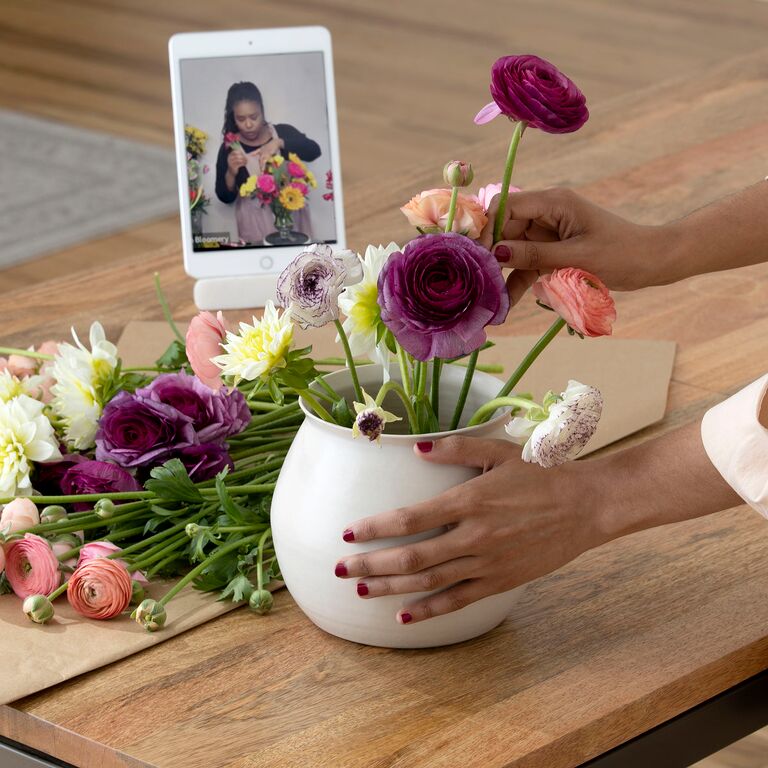 Here's a creative bridesmaid gift that's actually not just a physical present. Uncommon Goods offers online classes led by experts in a host of areas, so there's bound to be a fun hobby for everyone in your squad (think: watercolor painting, astrology chart classes or wine tastings). All the supplies are shipped in advance, so they'll just need to hop onto Zoom at the specified date and time.
Why we love it: "As someone who loves to try her hand at something new, I think this is the perfect gift idea. Whether it's cooking, floral arranging or crafting, you'll find a subject that suits even your pickiest peep, and you can gift individual classes or organize a group "outing" (IRL or virtually). Plus, it's just a fun way to spend an afternoon and your besties will think of you every time they put their new skills to use." —Meesha Diaz Haddad, Editorial Operations Manager
Morse Code Bracelet
On the hunt for good bridesmaid gifts for your sister (or a friend who has earned sister status)? This dainty chain link bracelet spells out the word "sister" in Morse code using dot and dash beads. It's a subtle representation of your relationship she can easily wear every day. Choose from sterling silver, 14K gold or 14K gold fill as the material then select between a centered or off-center position of the pattern.
Why we love it: "I love that these carry such meaning behind them with the morse code, but can also double as classic understated layering pieces for everyday wear." —Sam Langabeer, Associate Director, Editorial Operations
Champagne-Scented Candle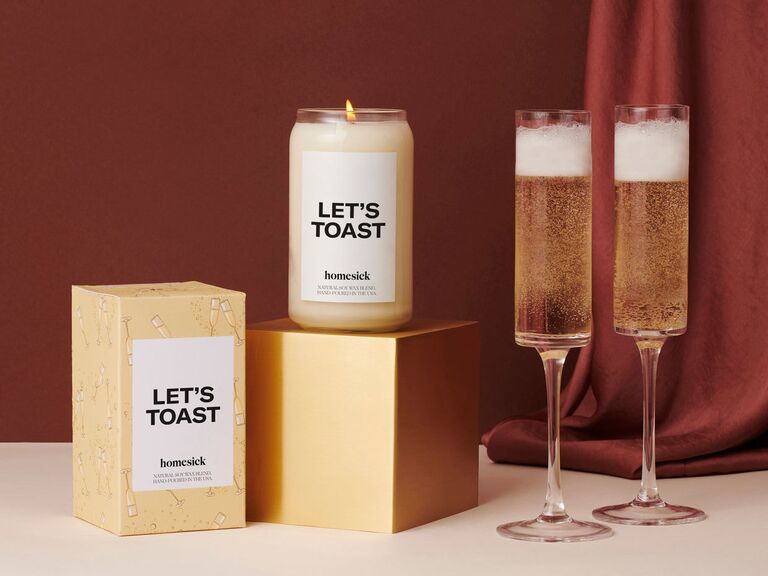 Move over lavender- and vanilla-scented candles, an occasion as special as a wedding calls for something with a little more pizazz. This candle is uniquely designed to smell like champagne—the OG celebratory drink. (Psst, you can also shop Homesick's Team Bride rosé candle which can come in sets of three for a bulk discount.)
Why we love it: "This candle is cute, celebratory and compact—the perfect trifecta. On the back of the box, you can write their name and the special occasion: them being your bridesmaid!" —Emily Platt, Senior Manager, Commerce Content Strategy
Portrait Champagne Flute
Speaking of champagne, personalized glassware is a classic bridesmaid gift. These flutes though are really one-of-a-kind. Your crew will never tire of sipping bubbly from a glass with their portrait painted on it.
Why we love it: "While you could use wine charms or glass markers to distinguish everyone's glass on the wedding day, these custom champagne flutes are way more fun. Each is hand-painted to match your crew's likeness for drinkware that's almost too stunning to use." —Emily Rumsey, Assistant Commerce Updates Editor, Gifting & Stationery
Personalized Yoga Mat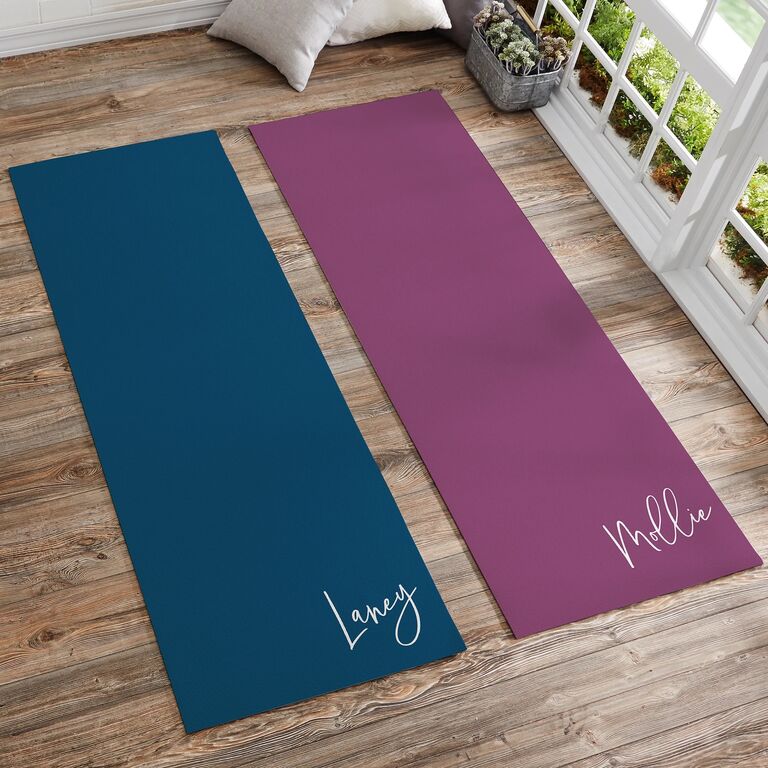 Whether you're planning a meditation class to calm nerves the morning of the wedding or you're shopping specifically for your workout buddy turned bridesmaid, a yoga mat is a fun and totally unexpected gift they'll be thankful for. This one has an anti-slip back and comes with a strap for easy transport. Of course, the best part is that it's customized with their name and favorite color.
Why we love it: "While most yogis have their preferred mats, a spare and personalized option is perfect for those days when plus-ones join the flow. This option is an especially kind gift for the bridesmaids who prefer to spend their weekends in Savasana. (Take it from a certified yoga instructor herself!)" —Esther Lee, Deputy Editor
Wellness Journal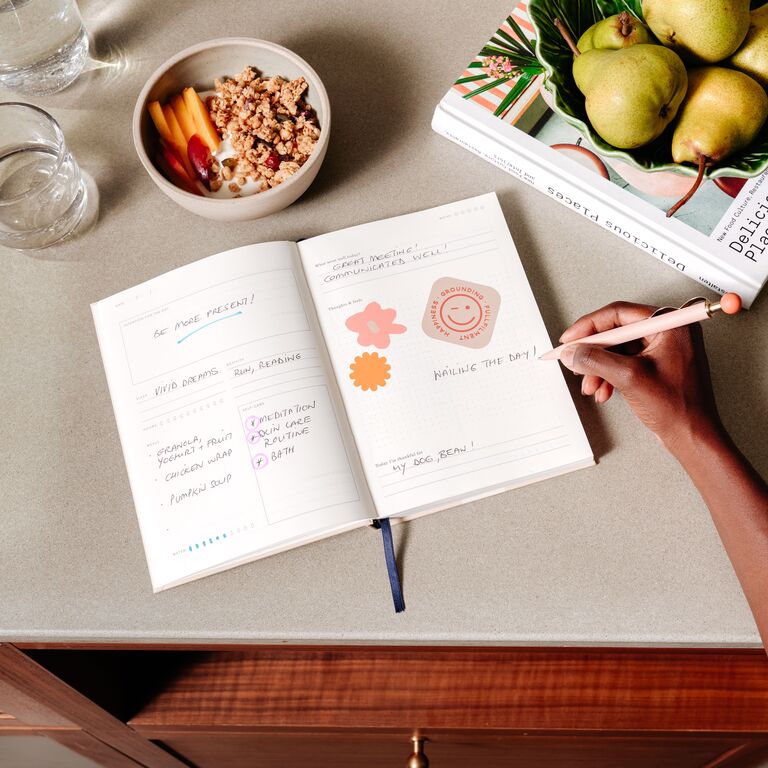 After throwing off their schedule the past few weeks, or even months, with wedding-related plans, your bridesmaids will be eager to get back to their regular programming. Help them prioritize self-care with a wellness journal. This pretty pick from Papier has 12 weeks worth of space to track goals, jot down feelings, express gratitude and more. You can customize the covers with each person's name for an extra meaningful touch.
Why we love it: "Your mindfulness-centered, self-care-conscious, goal-focused besties will value this wellness journal from trendy stationery brand Papier. The pretty pattern options and the personalization element make the self-reflection experience of journaling one of the most sacred parts of my day." —Esther Lee, Deputy Editor
Yves Saint Laurent Engraved Lipstick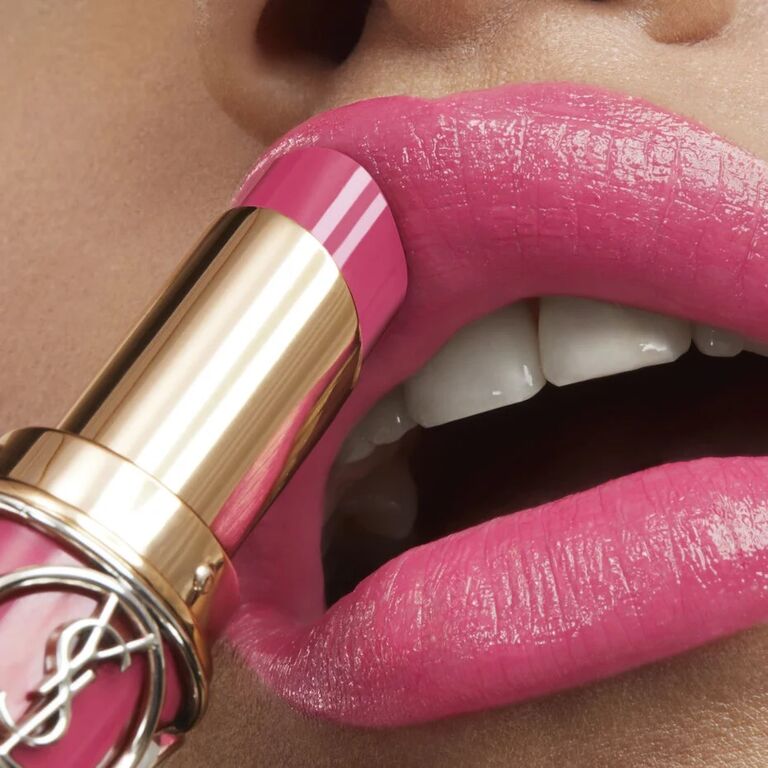 Yes, you can have YSL lipstick personalized. First choose between a matte, gloss, stain or—our favorite for everyday use—colored lip balm, then have each bridesmaid's name, initials or a very short (14-characters) custom message laser engraved on the lid. It's a really special gift for your support system that they'll want to hold onto even after all the makeup is gone.
Why we love it: "These luxe engraved lipsticks are the perfect way to treat your bridesmaids—and avoid confusion when they're topping up their makeup throughout the day! They're a thoughtful gift they'll be able to use even after the big day has passed." —Alison Meehan, Assistant Commerce Editor, Gifting & Stationery
Tiny Custom Art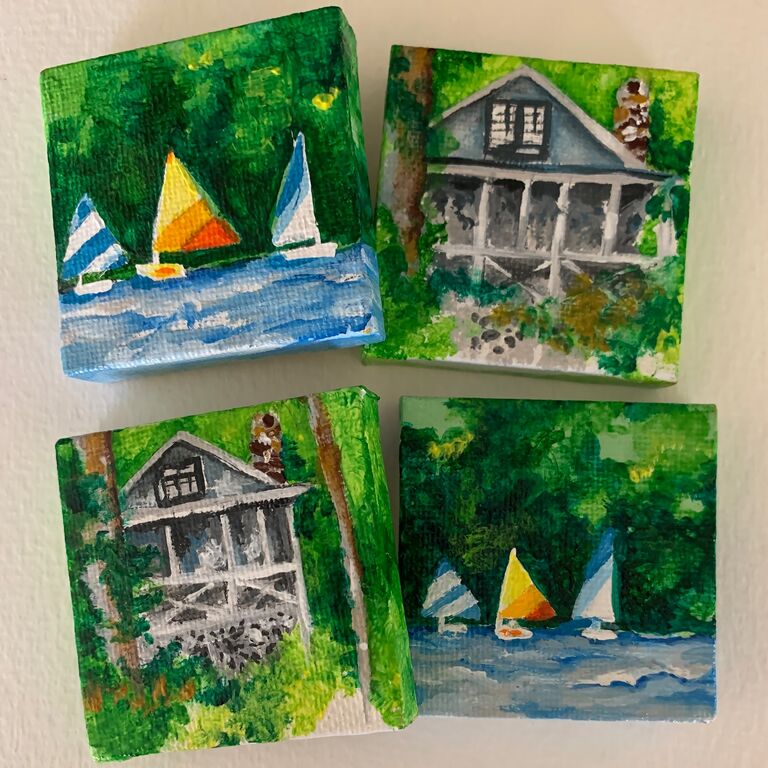 If you can't tell, we love personalized gifts and these mini canvases take the idea to the next level. Choose a favorite food, animal, quote or location to be hand-painted by this Etsy seller. We love the idea of having a spot meaningful to your wedding—perhaps where you went for your bach party or your gorgeous venue—painted as a keepsake gift for your bridal party so they'll always remember the special occasion.
Why we love it: "I was so excited to have my friends and family visit Philadelphia in the fall, and experience some of mine and my husband's favorite places. As part of their gift, I gave each of my bridesmaids a very small hand-painted art piece of Washington Square Park, which is where we would later take group pictures. I loved that this gift acted as a piece of the city that they could take with them, but also that it supported a small artist's business." —MaryKate Callahan, Director of Content Strategy
Cute Bridesmaid Gift Ideas
"Cute" is a totally subjective adjective—except when it comes to these gift ideas for bridesmaids. From pretty getting-ready robes to thoughtful jewelry, your crew will "ooo" and "aww" when they open these presents.
Buttery-Soft Robe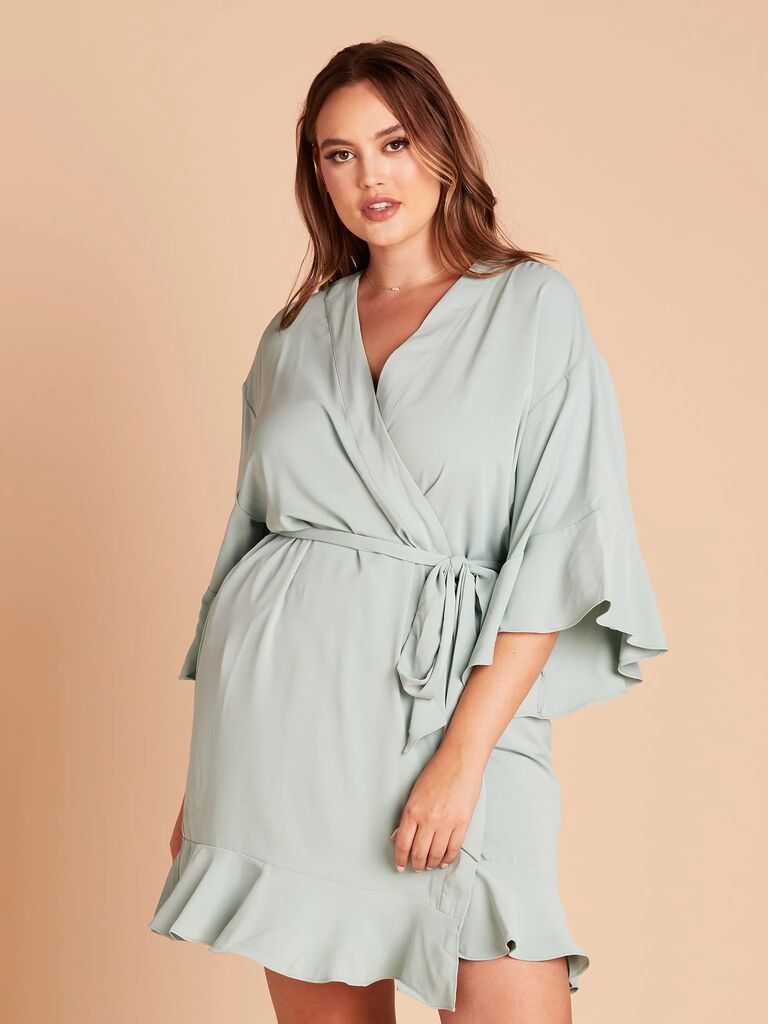 This ultra-soft robe has darling ruffle sleeves and a matching hem that'll make anyone feel extra luxe as they get ready for the day or lounge at night. It comes in 15 different colors, so you can find one that matches your wedding theme, and the back can be personalized to each wedding party member. Trust us, you'll be glad you got this popular bridesmaid gift when you get all the cute morning-of pictures back.
Why we love it: "I wasn't a robe girly until I was gifted one and now it's the best part of my beauty routine. Not only does it make me feel extra luxurious, but it keeps my fit stain-free as I prep (or unwind) each day. Plus, I don't have to pull anything over my head, resulting in frizzy hair or smudged makeup. Your bridesmaids will definitely appreciate the convenience while getting ready on the wedding day." —Emily Rumsey, Assistant Commerce Updates Editor, Gifting & Stationery
Sentimental Photo Book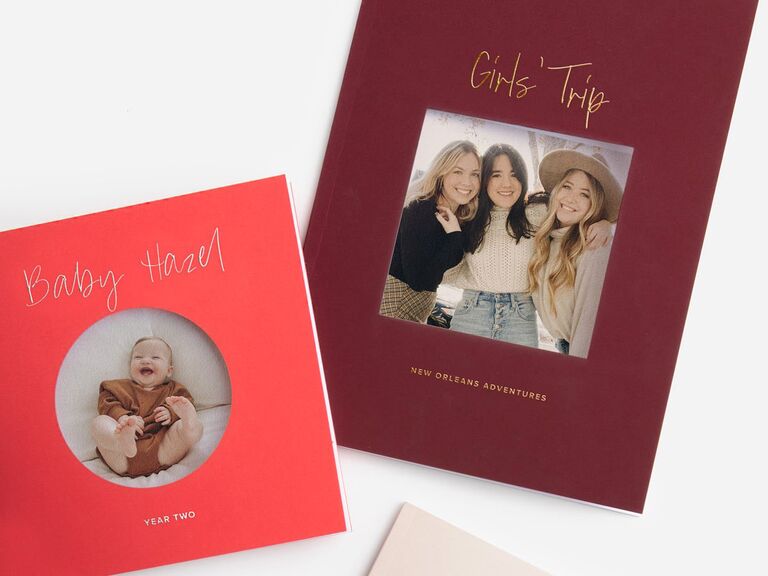 Here's a thoughtful bridesmaid gift for the one who's known you since kindergarten. A photo book filled with your favorite memories from a lifetime of adventures will bring a tear to their eye. Artifact Uprising's online editing tools make creating your own memory book a breeze, and you can customize the cover with your preferred image and title. Trust us, this cute gift will be treasured forever.
Why we love it: "Call me old school, but nothing feels better than a tangible memory of your time together. Give your bridesmaids an excuse to get their photos of the bach party off their phones." —Lauren Kay, Executive Editor
Botanical Trinket Dish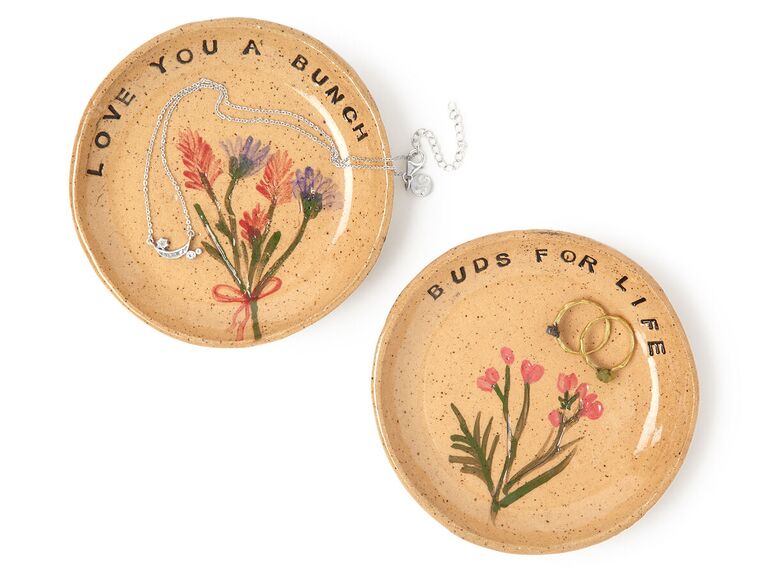 A ring dish is a pretty place to drop jewelry or other doodads. Thus, this wedding gift for your bridesmaids will make a lovely addition to gift baskets, or you can present it on its own with a thoughtful thank-you note. Although, the ceramic dish might express your feelings well enough thanks to the stamped phrases "love you a bunch" and "buds for life."
Why we love it: "I love puns and, when they're packaged on charming trinket trays like these, I wouldn't be able to resist buying them for my bridesmaids. I think ring dishes are cute bridesmaid gifts since they're thematic to the occasion. Even if your friends aren't married, it's useful to have a designated spot for any special baubles." —Emily Rumsey, Assistant Commerce Updates Editor, Gifting & Stationery
Custom-Embroidered Sweatshirt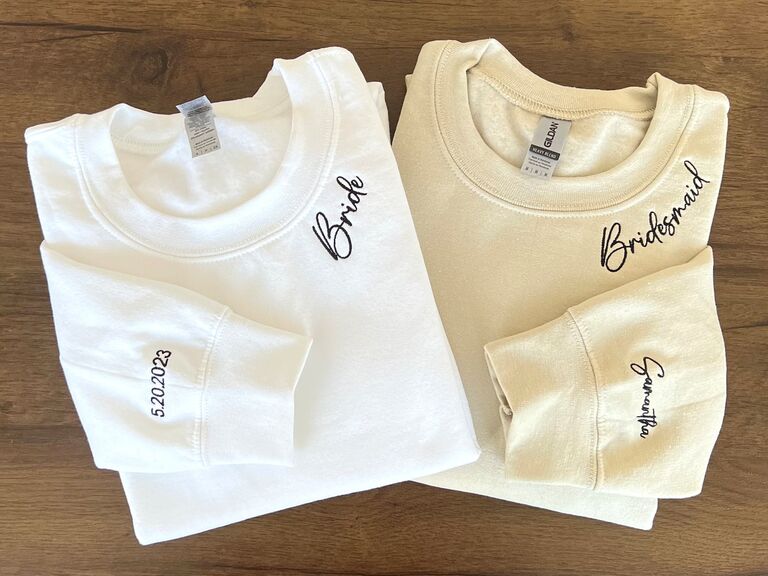 These crewneck sweatshirts are custom embroidered along the neckline and sleeve with your crew's wedding title and name, respectively. Choose from 11 fabric colors (including white for you) and 35 thread colors to give each member special swag. They'll be wearing these with pride whenever they can.
Why we love it: "A cozy sweatshirt is a fabulous gift for anyone, let alone your besties! I gave my bridesmaids personalized crewnecks to wear on my big day and we all still get compliments when we wear them out and about." —Arielle Balot, Senior Manager, Affiliate & Revenue Operations
Embroidered Fleece Shorts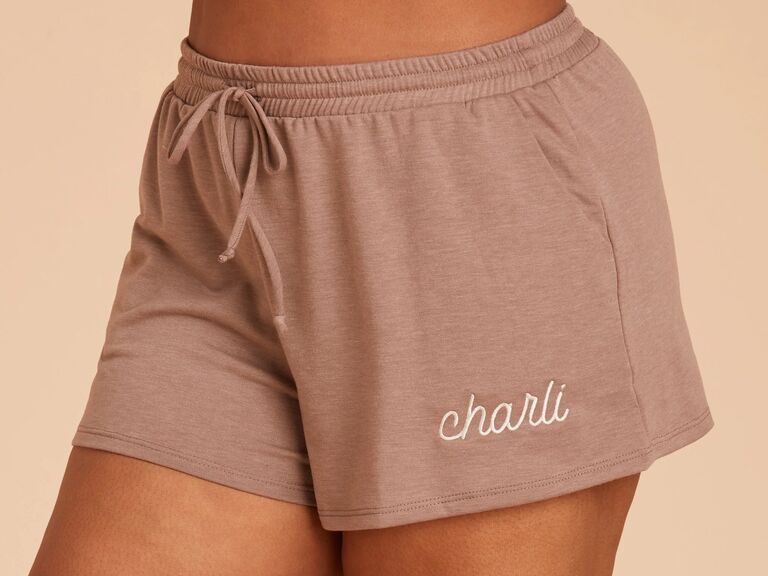 If you're planning a summer wedding, sweatshirts might not be the most practical bridesmaid present. You still want them to be cozy, though! Insert: sweat-shorts—a trend we're living in and your bridesmaids will too! They can even be embroidered with each wedding party member's name or role.
Why we love it: "In my opinion, you can never have too many sleep shorts. (My overflowing pajama drawer is proof.) Buy your crew these affordable sweat shorts for casual-cool getting-ready photos. Postwedding, your bridesmaids will put them in their regular loungewear rotation, I promise." —Emily Platt, Senior Manager, Commerce Content Strategy
Birth Flower Necklace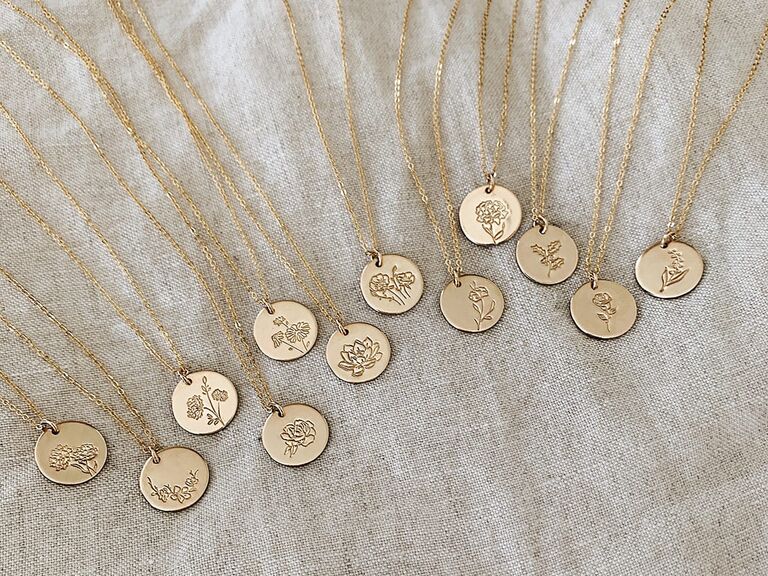 Dainty jewelry—particularly in gold—is so on trend right now. This pendant from Made By Mary is stamped with the wearer's birth flower (there's one associated with each month of the year), so you can gift each of your bridesmaids a personalized bauble. We especially love how well these necklaces can stack with their other daily accessories.
Why we love it: "As a Made By Mary stan, this was an easy choice for me for what will be my go-to bridesmaid gift. I love the idea of personalizing the necklace to each of my gal pals. And as a lover of (birth) flowers and practical gifts, I live for the idea of gifting something my future bridesmaids can wear on the wedding day and after (with a sweet memory attached to it)." —Taylor Whitten, Content Strategist, Planning & Style
"Team Bride" Crew Socks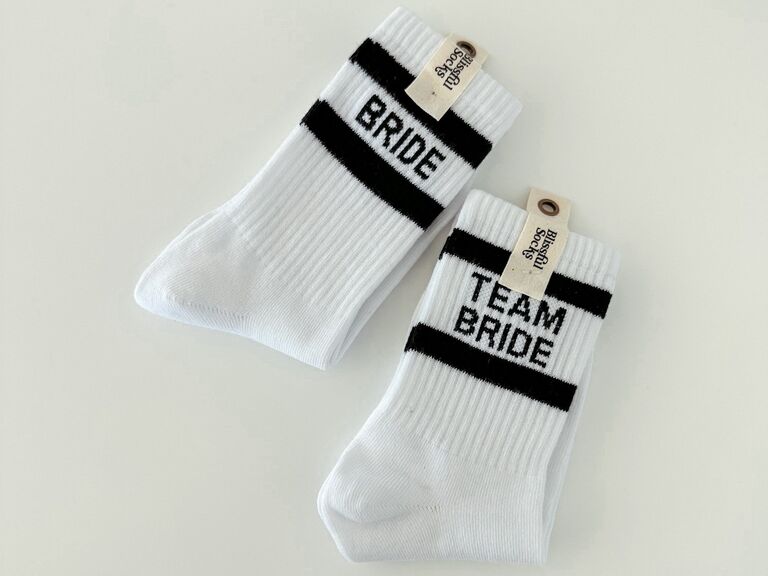 Socks are always a great gift idea, and we think your bridal party will agree. These Insta-worthy gifts are perfect for a girls' night in with your besties. They'll serve as a permanent reminder of this crazy (but wonderful) time in your lives.
Why we love it: "Socks are an awesome and practical gift for several reasons. One, they are something that your party will use even after the big day. And two, they make for an adorable photo op with the crew! This is a gift I wish I added to my list for my own wedding—no one wants any sign of cold feet on their wedding day!" —Arielle Balot, Senior Manager, Affiliate & Revenue Operations
Personalized Iced Coffee Cup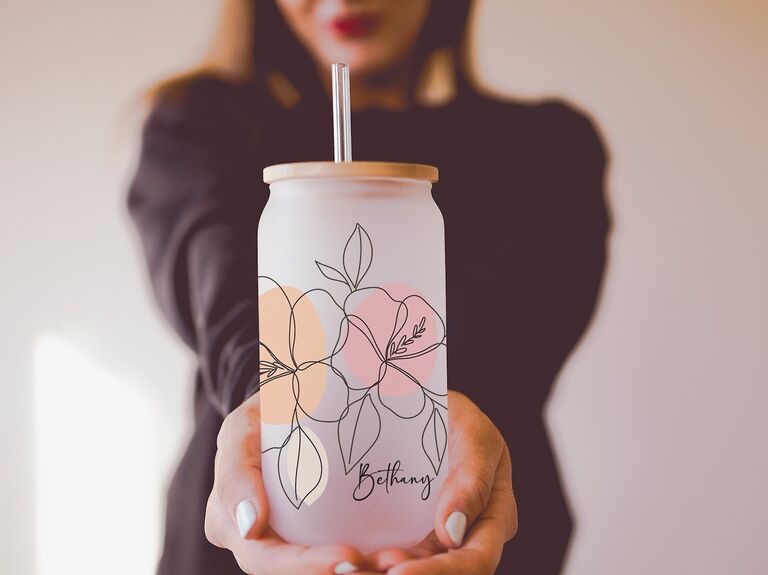 A bridesmaid gift for the wedding day that'll go really far with your bridal party: coffee. Set up a breakfast bar with pastries, cold brew, creamers, sugar and these cute glass cups in the getting-ready suite. Each can be personalized with a BFF's name and a floral pattern.
Why we love it: "I'm a big fan of practical gifts, especially when they're pretty, too! This iced coffee mug is so cute and a great gift for your coffee-loving friends. Plus, you can personalize it with their names for the perfect finishing touch." —Alison Meehan, Assistant Commerce Editor, Gifting & Stationery
Long-Lasting Roses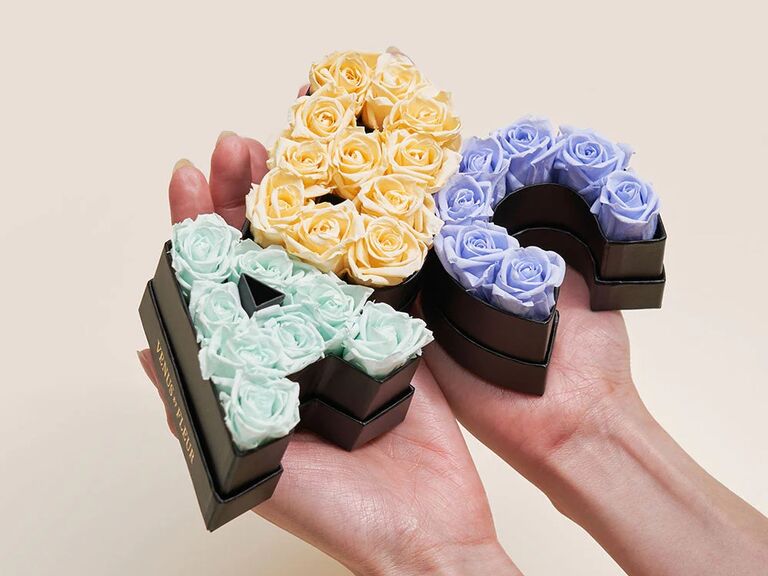 While wedding day flower bouquets will only stay vibrant for a few days, these roses will last up to a year. No care necessary! While you could choose any arrangement, we love these mini alphabet boxes for a personalized touch.
Why we love it: "Any permanent—or in this case, semi-permanent—reminder of your wedding day and, thus, the memories you made together, will be a touching gesture for your bridesmaids. I would definitely put this mini bouquet on display in my home, especially if the roses were in my favorite color (pink)." —Emily Rumsey, Assistant Commerce Updates Editor, Gifting & Stationery
Custom Illustrated Card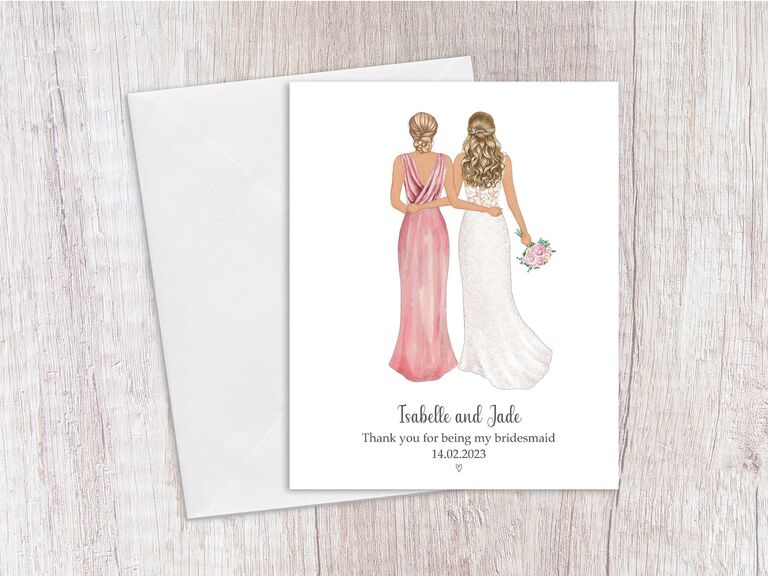 IMO, custom illustrations make great bridesmaid gifts that aren't cheesy, despite how sentimental and cute they are. This physical card can feature you with each of your bridesmaids. With dozens of hairstyles, dress designs and skin tones to choose from, it'll be easy to create a cartoon of each of your loved ones.
Why we love it: "I'm a firm believer in the power of a handwritten card. It's arguably the nicest bridesmaid gift since it really comes from the heart. I'd tear up if my best friend handed me this stationery with a custom illustration of us. I already don't throw out cards, but I'd make sure to keep this one in an extra special place." —Emily Rumsey, Assistant Commerce Updates Editor, Gifting & Stationery
Practical Bridesmaid Gift Ideas
If you're looking for bridal party gift ideas that they'll get plenty of use out of, you've come to the right place. These are the best practical bridesmaid gifts our editors have successfully given, received or really, really want.
Long-Lasting Nail Polish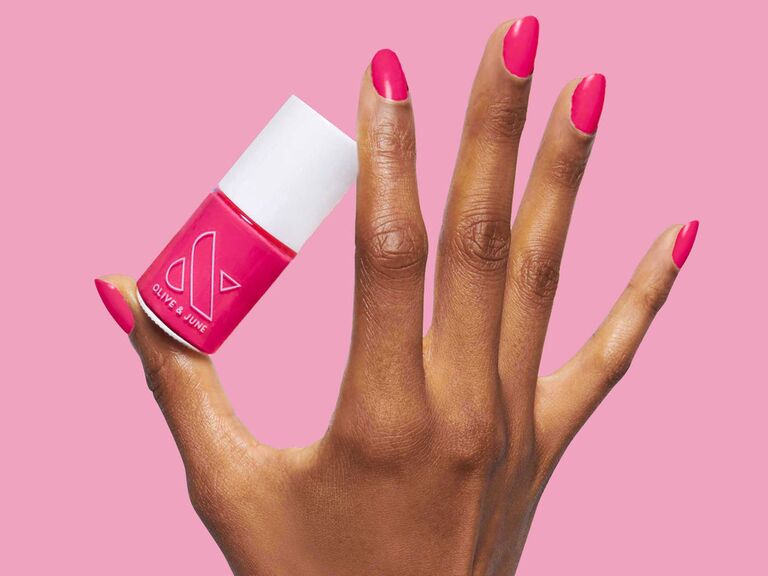 Choose a bridesmaid thank-you gift that's not only useful but embraces the moment. Barbiecore is here to stay and we bet any nostalgic peeps in your wedding party are pretty darn chuffed about it. Bring the trend to life for your crew by gifting each bridesmaid a bottle of pink nail polish that wouldn't look amiss on the unofficial Malibu queen herself—nor as a finishing touch to their wedding-day look. Best of all, the salon-quality, long-lasting formula will stay chip-free, even if they really get down on the dance floor.
Why we love it: "I think nail polish is such a fun gift for bridesmaids. You can give them a shade you want them to wear on the wedding day or take a note from my book. I actually gave each of my bridesmaids a nail polish from Olive & June with a color I felt like they would actually wear and match each of their individual personalities as opposed to a color they may only wear once." —Lauren Whalley, Fashion Editor, Beauty & Inclusivity
Personalized Oversized Blanket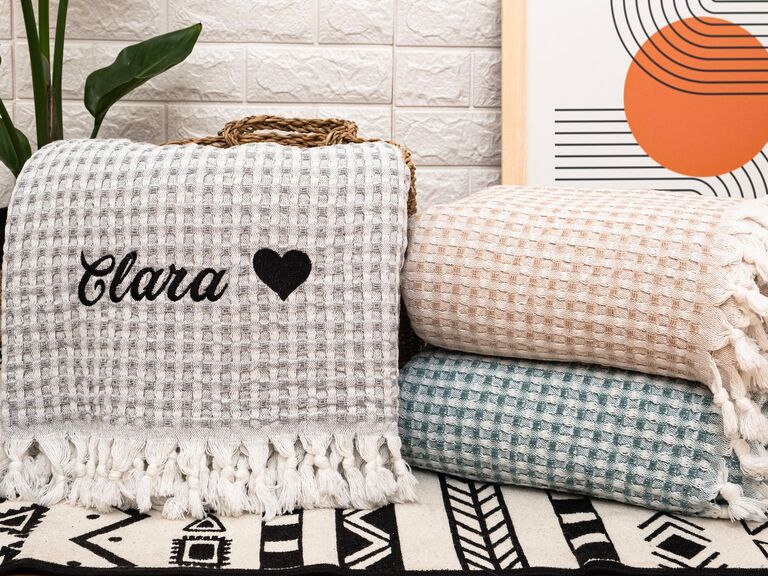 A cozy throw blanket is a welcome gift no matter the occasion. Your bridesmaids will instantly feel appreciated when they unwrap one of these waffle throws embroidered with their name. They'll put it to use right away for a well-deserved postwedding nap.
Why we love it: "Loungewear, spa goodies and blankets are all great thank-you gifts for bridesmaids because they say: 'Go get some R&R, you deserve it!''' I love that this blanket comes in neutral hues to match any home decor and the custom embroidery is a nice touch. Plus, oh my gosh does it look soft." —Emily Rumsey, Assistant Commerce Updates Editor, Gifting & Stationery
Spa Gift Card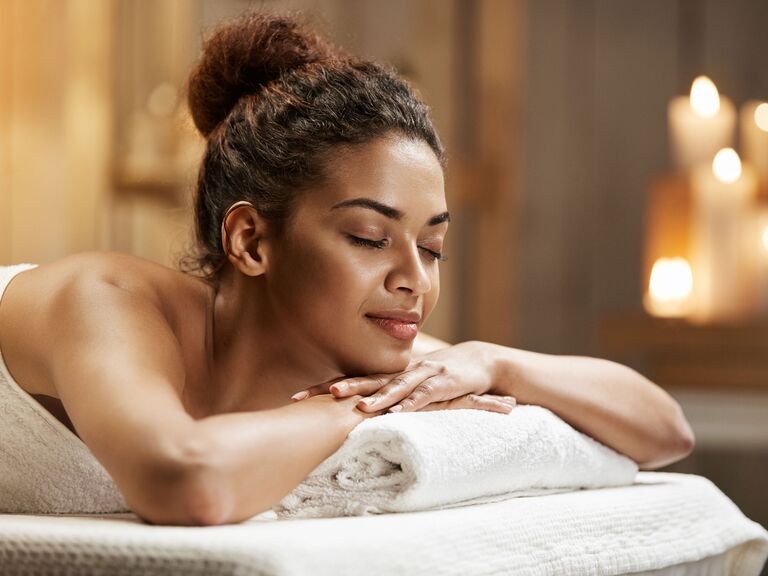 Give your squad the gift of a spa day with this inclusive gift card. Spafinder digital gift cards are good at thousands of spas and salons around the US, so they can seek out an oasis no matter where they travel from for the big day. It's a particularly great experience gift for your maid-of-honor who really went the extra mile.
Why we love it: "An indulgent necessity in today's world of self-care, a spa gift card is an especially thoughtful bridesmaid gift for your besties to enjoy postwedding. To me, it screams, 'Thank you for participating in the festivities. Now rest your toes and relax.'" —Esther Lee, Deputy Editor
Travel Jewelry Case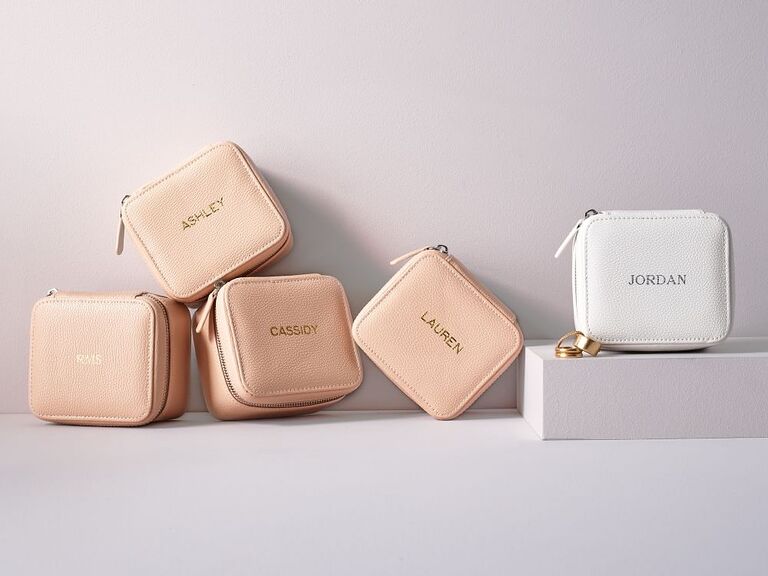 Any destination wedding calls for travel-related wedding gifts for your bridal party, like a jewelry case. This one is made of pebbled vegan leather with a soft linen lining that'll keep their accessories untangled and scratch-free. For a little extra, you can have the lid foil debossed with their name.
Why we love it: "A travel jewelry case is one of those items you never realize you need until you have it—and once you start traveling with one of these, you'll never go back. (Trust me!) It never feels good to toss your beloved gems in a random bag and hope for the best. Plus, when you're in your bridesmaid era, you'll constantly be on the move. That's why a travel jewelry case is one of the best gifts for bridesmaids. Not only is it practical, it's a gift they'll *actually* use long after your big day." —Sarah Hanlon, Entertainment & Celebrity Editor
Elegant Earrings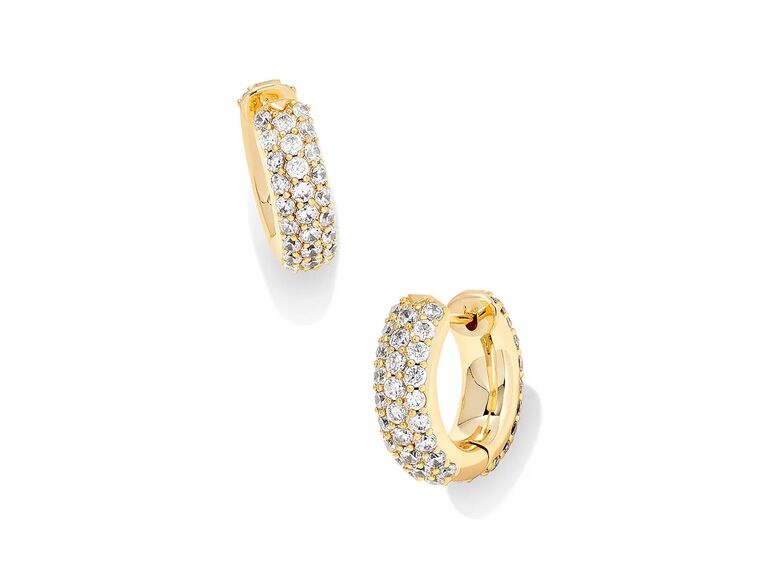 Kendra Scott has always been a favorite jewelry brand amongst brides and your bridesmaid will love it too. These pavé crystal hoops will add extra glam to their wedding outfits, though they're still simple enough for everyday wear. They come in gold- or rhodium-plated brass, depending on the metal hue that best matches their formal attire or their style.
Why we love it: "When my best friend got married, she gifted all her bridesmaids earrings. I thought this was the perfect bridesmaid gift for a few reasons. First of all, she has impeccable taste and I love every gift she's ever given me. But more importantly, it was a practical gift because we all wore the earrings for the wedding. Now I think of her beautiful North Carolina wedding each time I re-wear the earrings." —​​Hannah Nowack, Senior Editor, Weddings
Versatile Beauty Balm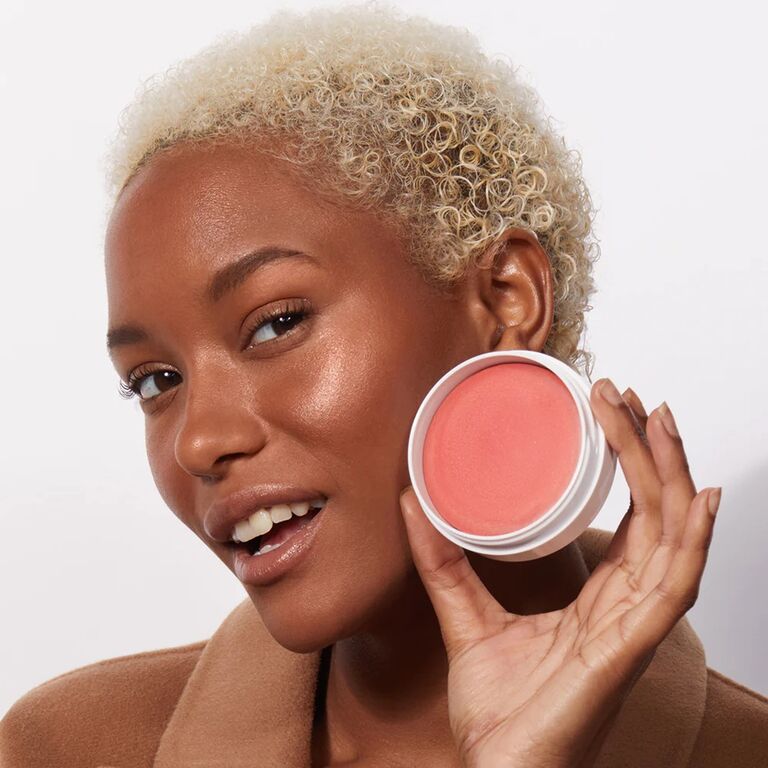 In search of a beauty staple to add to gift bags or boxes? Look no further than Jones Road's Miracle Balm. This versatile product delivers a dewy glow in seconds and can be applied to both cheeks and lips (meaning a less cluttered makeup bag—score). It comes in eight different shades to suit a variety of skin tones, so everyone in your crew can enjoy the subtle glow reviewers have been raving about.
Why we love it: "I'm a big personal fan of Miracle Balm (and really, anything Jones Road). This product is a perfect gift for your bridal crew, as it's an easy-to-use product that you can just smear onto your skin for a gorgeous shine that'll make your face and body glow in pics. You don't need to wait for the makeup artist to touch you up—just use your fingers to rub in some sparkle. A little dab will 'dew' ya—trust me!" —Arielle Balot, Senior Manager, Affiliate & Revenue Operations
Energizing Eye Mask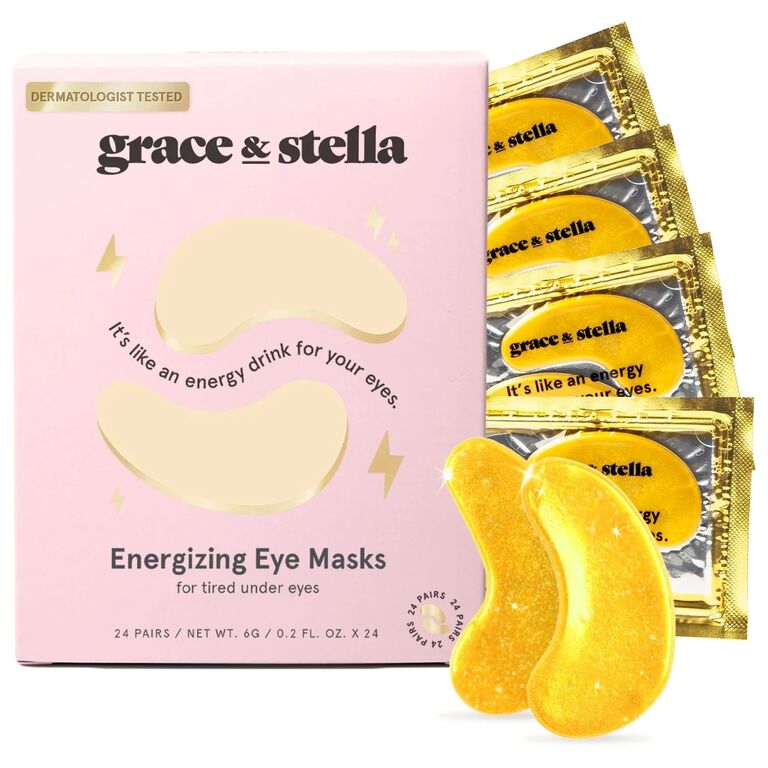 Tried and tested, these eye masks aren't just super affordable, they also have serious de-puffing power. Your bridesmaids will love starting the wedding day with the eye energy boost—and the morning after the wedding, too.
Why we love it: "Eye gels are one of those skincare 'extras' you never think to add to your cart during a shopping haul, but let's be real: Everyone loves to pop these on in the morning. Whether you hand these out after a late night on your bach party or bright and early on the wedding day, your besties will feel like VIPs with a set of hydrating gels. Pro tip: Keep them in a fridge or a cooler before putting them on for maximum relaxation." —Sarah Hanlon, Entertainment & Celebrity Editor
Luxe Pajama Set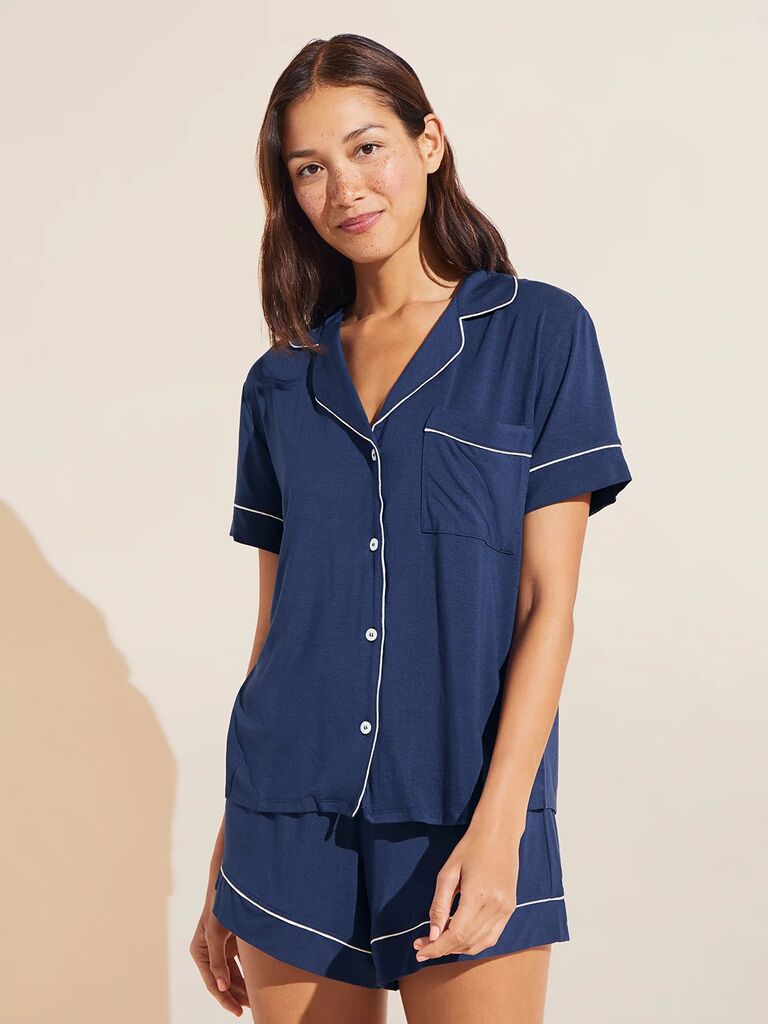 If your crew won't actually use their getting-ready robes beyond the big day, consider gifting each cozy pajamas they'll want to wear nightly instead. This particular short set is made from a temperature-regulating knit fabric to keep them cool as they sleep. It comes in 10+ different gorgeous hues that'll make picking a special color for each bridesmaid easy. You can even have the pocket monogrammed for a small charge.
Why we love it: "I decidedly am a matching pajamas kind of person, so naturally, I think this classic pair from Eberjey is such a lovely gift for your bridesmaids. I own this set—they're butter-soft and make me feel chic and pulled together just drinking tea in bed on a Tuesday night. Your besties will love lounging in these in the getting-ready suite and beyond the big day." —Cathryn Haight, Commerce Editor, Gifting & Stationery
Personalized Stanely Cup
Hydration is very important if your wedding party is planning to drink from dawn until dusk to celebrate your union. Thus, water bottles are a critical part of the day. Your loved ones will think these Stanely cups are the best bridesmaid gifts they've ever received when they wake up hangover-free. Make sure to have each laser-engraved with their name, monogram or a graphic.
Why we love this: "I can confirm that Stanley Quencher Tumblers are absolutely worth the hype they're currently receiving on TikTok—and they make fabulous bridesmaid gifts. I love the idea of personalizing the tumblers (not only is personalization cute, it helps to avoid any confusion about which cup belongs to whom). And as an added bonus, fill each tumbler with the respective 'maid's beverage of choice, so it's ready to go when they arrive on the morning of the wedding." —Kim Forrest, Senior Editor
Monogrammed Tote Bag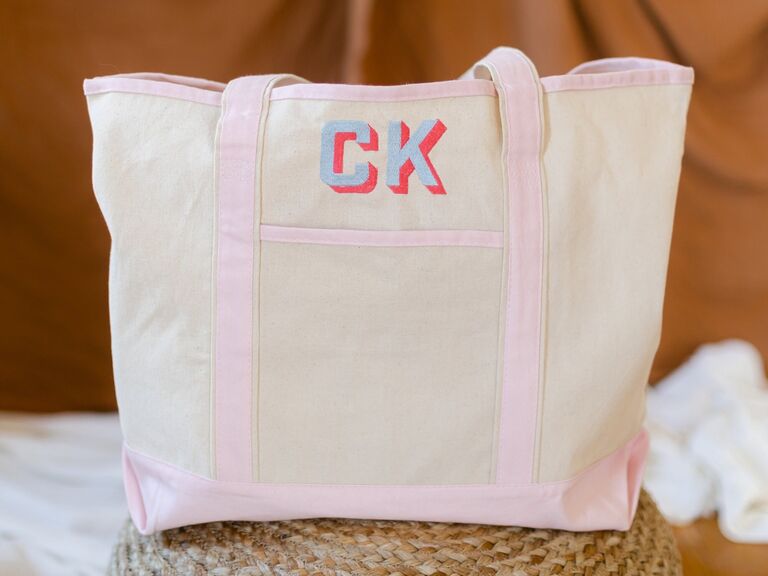 A tote is not just a practical gift for your bridesmaids, it can also make your life easier. No gift wrapping is necessary when you can put any extra goodies right in the canvas bag. This one comes in two different sizes, five different colors and three times as many thread and design options for the monogram.
Why we love it: "Personalized tote bags are the perfect gift for bridesmaids! They fold up easily in your luggage to transport to and from a bach trip. If you're doing bridesmaid gift bags, this is a great option, since it can be reused afterward as a purse, for future vacations and even as a shopping bag. This tote adds a cute personal touch that you can customize to include names or monograms." —Mina Garagozlo, Senior Social Media Manager
Fun Bridesmaid Gift Ideas
If you're looking for something sweet, yet celebratory, check out these fun bridesmaid gifts. They're bound to get a big smile from everyone in your bridal party. (Quite literally with our first suggestion.)
Smiley Face Slippers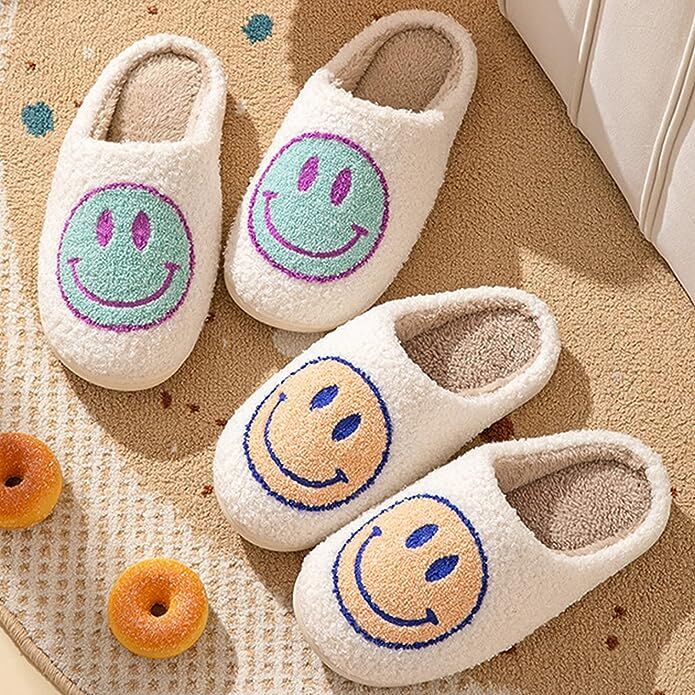 We'd never say no to a pair of cozy new slippers, and your bridesmaids probably won't either. After all of the planning, prepping and partying, they'll be more than happy to put their feet up in these bad boys. Each fluffy white slipper is embellished with a colorful smiley face. Give each wedding party member their own color, so they won't get mixed up the next time you're all lounging together.
Why we love it: "As a work-from-home girlie, I've become slipper-obsessed and require coziness at all times. Slippers are a great gift because they're both a wedding-getting-ready essential and a little luxury your besties can ~indulge~ in on the daily. Plus, there are so many cute styles to personalize for your unique crew, like these classic smiley faces you can get in each babe's favorite color." —Nic Taliaferro, Fashion Content Strategist
Patterned Beach Towel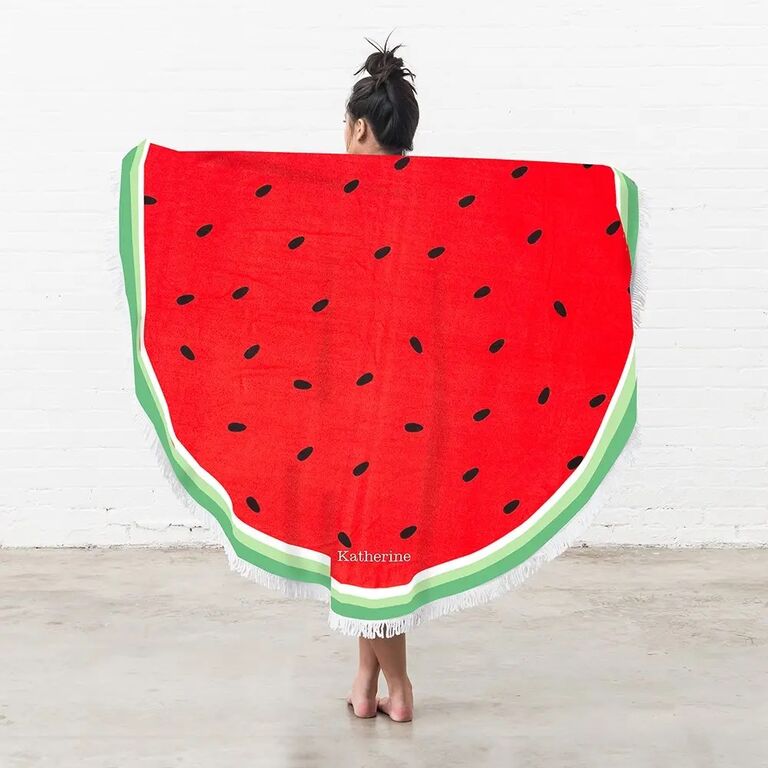 This extra-large, round beach towel is a fun bridesmaid gift if you're having a tropical soirée. The lightweight microfiber material makes it easy to dry off and the colorful patterns and fringe hem make it a cheerful addition to any beach bag. Have each personalized with the date and location, so your crew is always reminded of your tropical wedding.
Why we love it: "If you know me, you know I'm having a beach wedding. I want my friends and family to enjoy the sun and sand as much as I do and a fun tote full of beach goodies feels like just the way to do that. I love that a pool towel—especially a large round one that can double as a beach blanket—is long-lasting and practical. Plus, the vibrant patterns are too fun! The watermelon certainly makes me smile." —Emily Rumsey, Assistant Commerce Updates Editor, Gifting & Stationery
Engraved Gold Flask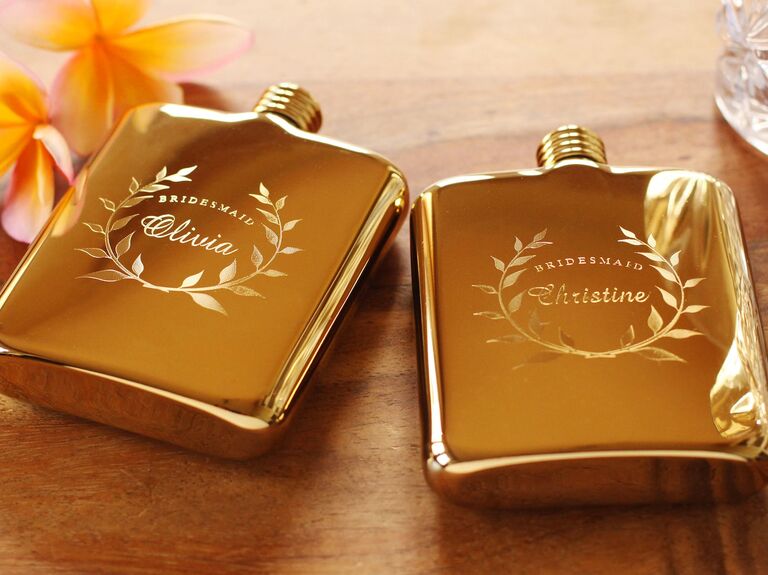 If your and your friends' idea of fun involves a bit of booze, surprise them with this day-of bridesmaid gift: their very own personalized flask. We're obsessed with the shiny gold finish! Bonus points if you fill it with their favorite liquor.
Why we love it: "If your besties love to party, these gold flasks will bring a glamorous touch to the celebrations. I think there's something so grown up about having your own personalized flask—and I will be dropping some not-so-subtle hints about these to all my engaged friends!" —Alison Meehan, Assistant Commerce Editor, Gifting & Stationery
Cotton Candy Glitter Bombs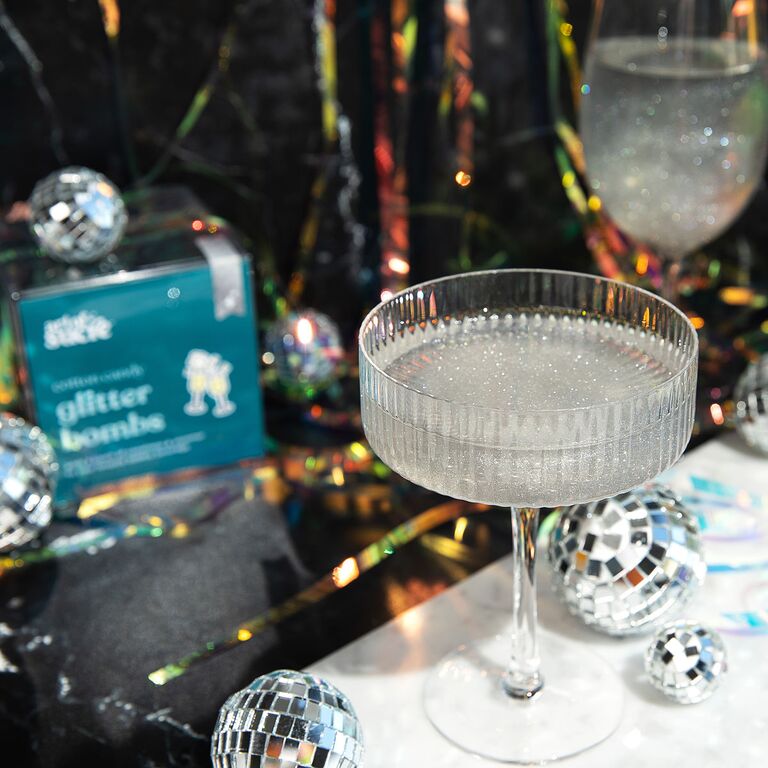 These cotton candy glitter bombs add a sweet, sparkly surprise to champagne, prosecco, cocktails and mocktails alike. Pair it with a bottle of bubbly and raise a glittery toast to the special occasion. Or, pick up the ingredients for your friends' favorite cocktails and let them create their own shimmery sensations after the wedding.
Why we love it: "Glitter is fun, but often messy. If you want some shimmer without the sparkle trail, gift these whimsical puffs of sugar. They dissolve into cocktails for a fun, flavorful surprise. I love them in bridesmaid gift bags!" —Emily Platt, Senior Manager, Commerce Content Strategy
Custom Name Bracelet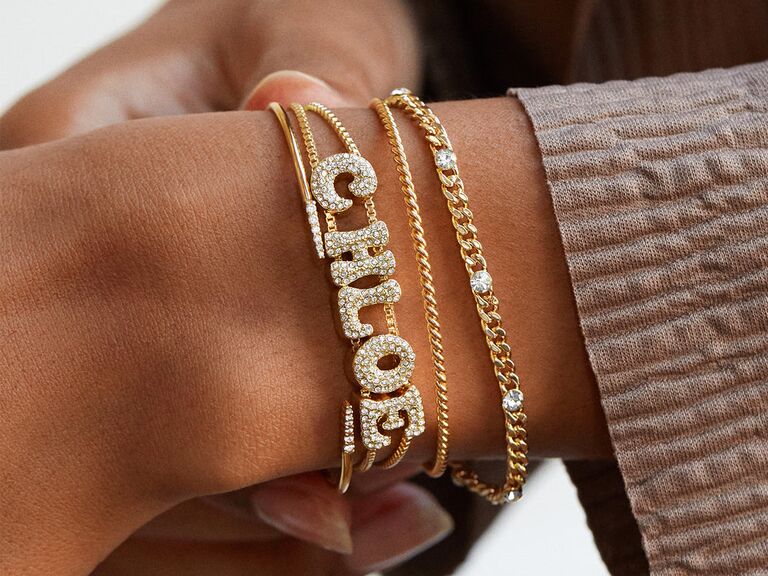 While this shiny bauble might not match your black-tie wedding aesthetic, it's certainly a fun accessory for your squad every other day of the year. Simply choose the font (the Rainbow Ombre is extra playful) then customize it with each of your bridesmaids' names. It takes two weeks to ship so make sure you plan ahead with this bridal party gift idea.
Why we love it: "Carrie Bradshaw made us all swoon for name jewelry—and this groovy personalized bracelet is a true stunner. Gold pave letters (my fave is the set rendered in the cutest retro font, by the way) slide onto a double-strand box chain to spell out the names of each of your bridesmaids. Not only are custom gifts like this super thoughtful, it's practically guaranteed your pals will wear these again and again." —Cathryn Haight, Commerce Editor, Gifting & Stationery
Star Sign Guidebook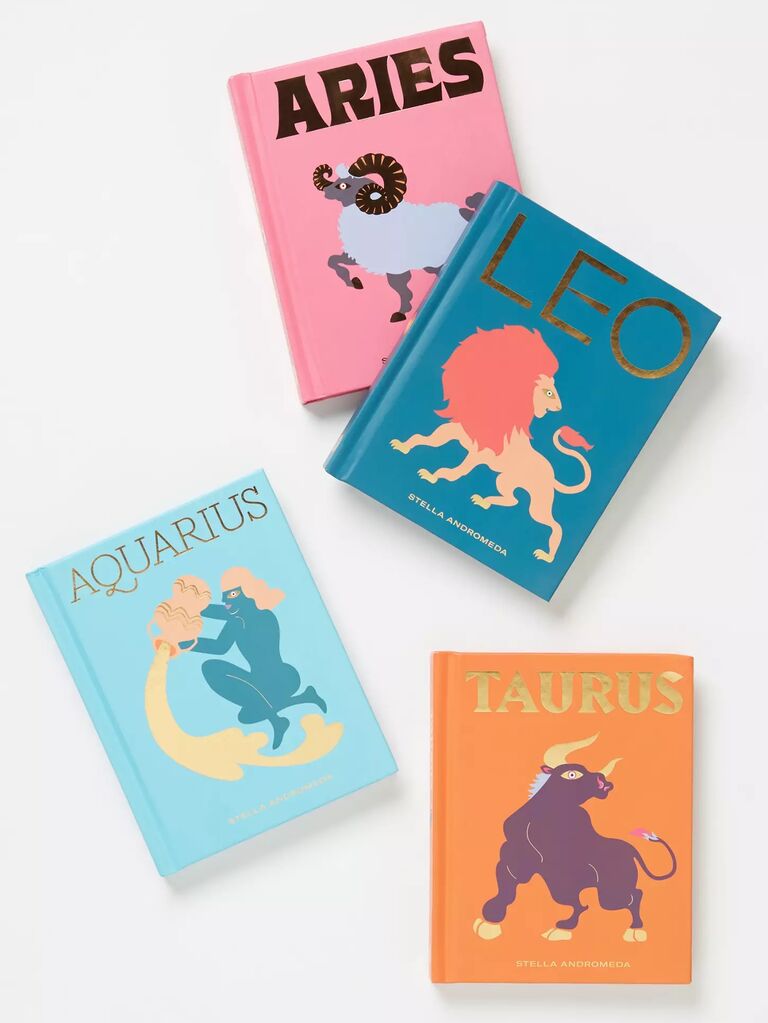 We consider anything and everything to do with astrology fun. Gift each member of your crew a book about their sign so they can learn about their life according to the stars, like how they communicate and what they're looking for in love. It's sure to spark lots of conversations.
Why we love it: "Zodiac-themed gifts are a cute way to show your bridesmaids that you love them for who they are. Where would you be without the organized Virgo or compassionate Pisces in your life?" —Emily Platt, Senior Manager, Commerce Content Strategy
Champagne Gummy Bears
Sugarfina candy is top-notch and I'm not the only editor that thinks so. Their Bubbly Bears are, you guessed it, champagne flavored complete with a dusting of sugar crystals. They'll be devoured before the day is over.
Why we love it: "When a friend from college asked me to be a bridesmaid in her wedding, I received champagne gummy bears in the bridesmaid proposal box she gifted me. While I would've said yes to her no matter what (duh!), these treats certainly sweetened the deal. Something I especially love about Sugarfina is that you can make custom boxes with anywhere from three to 20 candy selections, so each attendant gets their favorite candy. You'll deserve the 'To-Be-Wed of the Year' award for gifting these gummies." —Hannah Nowack, Senior Editor, Weddings
Disco Drinkware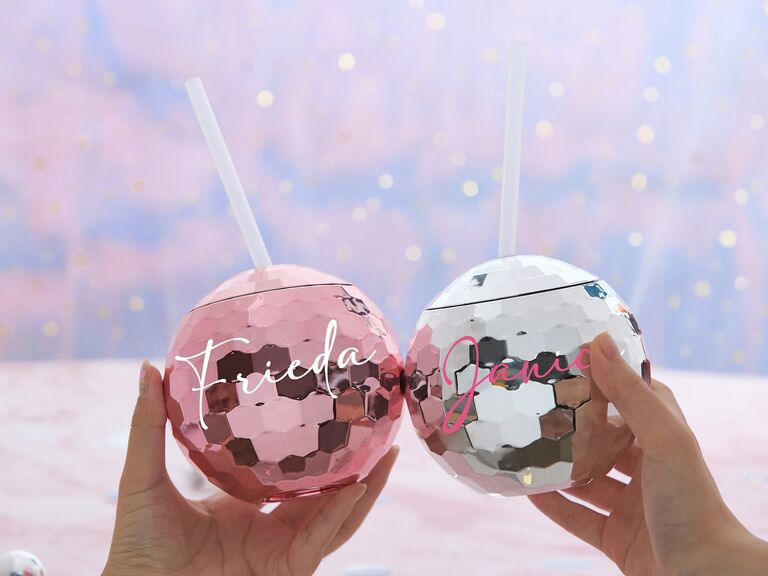 Have you ever seen such groovy cups for cocktails? Pass them around on the morning of the wedding and then use them to toast to your friendship—oh, and upcoming nuptials. Afterward, your crew can keep them for sipping drinks at home, by the pool or at the beach.
Why we love it: "Disco cowgirl bachelorette parties are having a moment and I'm obsessed with this whole aesthetic. Gift your besties disco ball tumblers at the bach bash that they can use again while getting ready on the wedding morning—it's the gift that keeps on giving." —Hannah Nowack, Senior Editor, Weddings
Retro-Inspired Butterfly Clips
Gen Z has officially reclaimed the Y2K style and we're very much here for it, especially the resurgence of the quintessential butterfly hair clip. Add these fun bridesmaid gifts to their goodie bags and we promise you'll have a happy bridal party on your hands.
Why we love it: "Whether we're talking claw clips, butterfly clips, colorful bobby pins or even creaseless clips for a chic getting ready moment, hair clips are a super cute and functional gift. I've amassed quite the collection of different hair clips over the years as a frequent bridesmaid. The style and color palette of each gifted clip set reminds me of my friends and their weddings, making it extra fun to style them all together!" —Nic Taliaferro, Fashion Content Strategist
Coffee-Themed Gift Set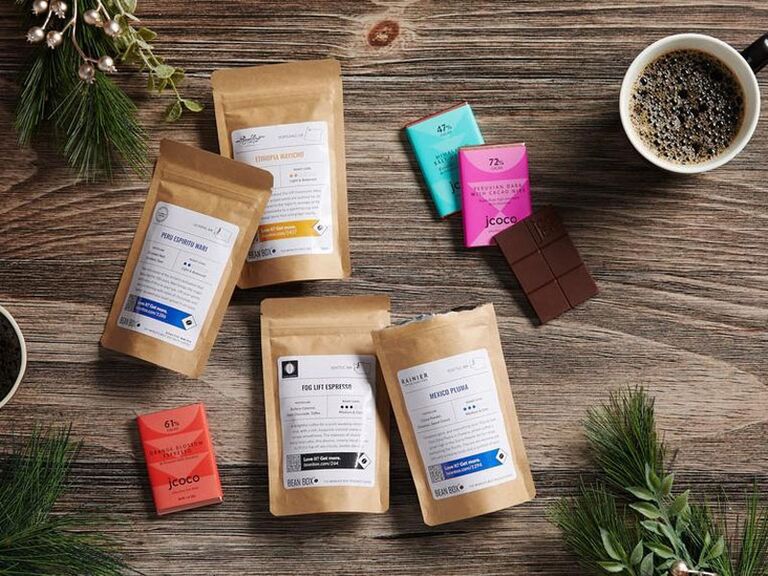 A bridesmaid gift basket filled with coffee and chocolate is sure to be appreciated by your caffeine-loving companions. Between the four artisanal coffee varieties and four culinary-inspired chocolate pairings, they'll have no problem perking up the morning after the wedding.
Why we love it: "Coffee and chocolate are the ultimate in life's little luxuries—and this lovely box that combines both will surely go over well and come in handy as a bridesmaid proposal gift. They can use the coffee to perk them up ahead of your prewedding events, then chillax with the chocolates on their couches afterwards (and hopefully, put the bridesmaid group chat on Do Not Disturb for a sec)." —Cathryn Haight, Commerce Editor, Gifting & Stationery
Naoimh O'Hare contributed to this article.