15 Halloween Proposal Ideas for Spooktacular Engagement
Looking for ways to pop the question with a Halloween spin? We've got you covered.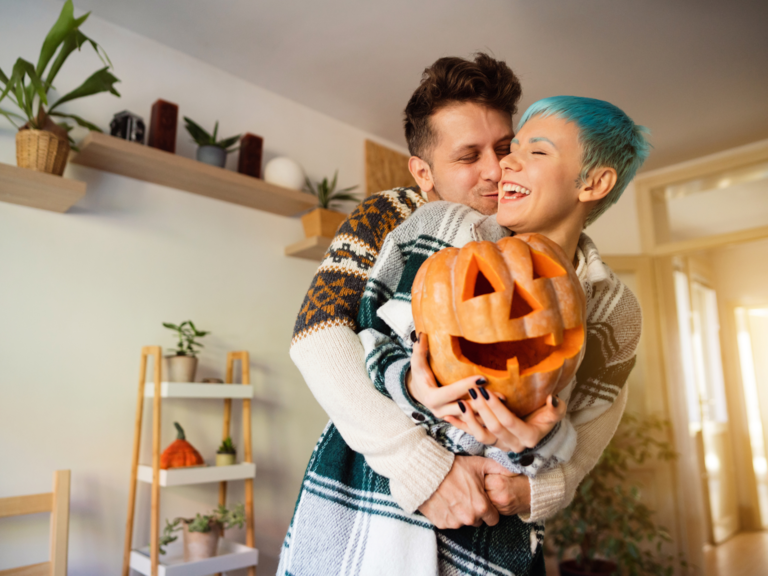 Photo: SrdjanPav / Getty Images
If a Halloween proposal is what you plan on doing to ask your partner to be yours forever, you've come to the right place. We've compiled a list of the best Halloween proposal ideas you can refer to when planning how you'll propose on Halloween or during the spooky season. From haunted hayrides to hotel rooftop events, we have ideas for every kind of Halloween fan.
In addition to Halloween engagement ideas, we've provided a couple of things to keep in mind when planning your special moment. The Knot Vendor Marketplace is a great resource to find vendors who can help you make your proposal dreams a reality. Regardless of the idea you choose or make your own, you'll have a spooktacular time with the love of your life.
In this story:
15 Halloween Proposal Ideas
Pull off a memorable spooky Halloween proposal with these Halloween proposal ideas. Feel free to incorporate these ideas as we've listed them, or personalize them to make them unique to you and your partner as a couple.
1. At a Pumpkin Patch
There are few places that give as much of a Halloween feel as pumpkin patches. Pick your favorite patch or the one closest to you and head there with your partner to pick some pumpkins. Tell them you want them to pick you out the heaviest pumpkin they see while you snap a photo when in reality you'll be quickly bending down on one knee and grabbing the ring out its hiding spot before they turn around.
2. While Pumpkin Carving
If you'd rather propose from the comfort of your home, plan a pumpkin carving date with your partner during which you'll ask for their hand. Make sure you're sitting on opposite sides of the table while you're both carving. Once you've successfully carved "Will you marry me?" onto the side of the pumpkin, tell your partner that you're ready to show them your final product–ensure you have the ring handy!
3. Walking Through a Haunted House
If walking through a haunted house every year with your partner is a tradition, incorporate it into your proposal. Make sure the "level" of spookiness is manageable because you want your partner to be crying happy tears and not ones of horror
4. At the End of a Corn Maze
Ask your partner to be your boo forever at the end of your journey navigating a corn maze together. If you take this recommendation, we'd advise a daytime proposal in case getting through the maze takes you longer than expected.
5. During a Couples Costume Photoshoot
Another fun way to execute a boo-tiful Halloween proposal is with couples costumes. Whether you choose to dress like Troy and Gabriella from "High School Musical" or Charlie and Nick from "Heartstopper," dressing up together is memorable in itself and adding an engagement ring will make your moment a core memory for both of you. You can hire a proposal photographer to work with you on a special Halloween costume photoshoot and then pop the question whenever the moment feels right.
6. With a Treat
If your partner is all about that Halloween candy, it'll be hard to go wrong incorporating some into your moment. Luckily, many shops offer personalized candy wrappers on which you can have "Will you marry me?" written across the front. As long as you pick out their favorite candy and ensure they pay attention to the wrapper when you hand it to them, you should be all set to execute an extra sweet proposal they'll remember forever.
7. At a Cemetery
Although a cemetery likely isn't the first place that likely comes to mind when thinking about romantic proposal locations, it certainly makes for a good place to propose on Halloween. Even if other people think it's a peculiar or ominous place to start the next chapter of your life as a couple, all that matters at the end of the day is how you and your partner feel about your moment.
8. While Watching a Halloween Movie
Whether your partner's favorite Halloween movie is "Hocus Pocus," "Halloweentown," or anything in between, a Halloween movie night is the perfect idea for a romantic Halloween proposal. Whether you want to stay at home or rent out a movie theater is up to you. If you take the movie theater approach, talk with the theater in advance to see if you can ask "will you marry me?" projected at the end of the film before getting down on one knee.
9. Head to Salem
For a truly bewitching Halloween proposal, it's worth taking a trip to Salem, Massachusetts to pop the question. You can present the ring while exploring the Salem Witch Museum in the "Witch Mansion" Haunted House. As soon as you step foot in Salem, you'll feel the Halloween spirit make its way through your body and will do so even more once you hear the "yes" you've been waiting for.
10. On a Haunted Hayride
Propose during a haunted hayride for an extra magical moment. If you'd like your engagement to consist of just you and your partner, your photographer (if you choose to hire a photographer) and the conductor without any other passengers aboard, we'd recommend calling ahead of time. That way, you can inquire about whether or not a private trip for your special moment could be possible.
11. At Walt Disney World's Mickey's Not-So-Scary Halloween Party
If your partner is a Disney lover, surprise them with tickets to Magic Kingdom's Mickey's Not-So-Scary Halloween Party. This exclusive event is filled with many opportunities to pop the question. Whether you wish to do so while watching the Hocus Pocus Villain Spelltacular Show in front of Cinderella Castle or when meeting and greeting Jack Skellington & Sally from "The Nightmare Before Christmas" is up to you–either way, your proposal will be magical with just the right amount of spooky.
12. On a Ghost Tour
For a super spooky proposal, embark on a ghost tour with your partner during which you can pop the question–just make sure to inform your tour guide with your proposal plans before the tour begins so they're aware and can do their best to ensure you have your moment to adequately connect with your partner.
13. While Visiting New Hope, Pennsylvania
For a Halloween engagement with a small-town feel, consider heading to New Hope, Pennsylvania. New Hope is a town in Bucks County that is renowned for getting into the spooky spirit. With nearly all of the Halloween festivities one could want in one place including haunt hunting tours, hayrides and pumpkin patches, there'll be no shortage of options for where you can get down on one knee–all you'll have to worry about is finding the right time.
14. At a Hotel Halloween Rooftop Event
If your partner isn't the biggest Halloween fan, keep an eye on hotel event calendars (one notable option to check out is the the JW Marriott Tampa Water Street) as many properties will host rooftop Halloween events or decorates its rooftop area for the spooky season. If you're not in Florida, you can research hotels in your area with rooftop events during which you can propose to your significant other in the festive atmosphere filled with Halloween decor.
15. At Universal Studio's Halloween Horror Nights
Halloween Horror Nights is a fang-tastic location for a Halloween engagement if your partner likes all things horror. You could propose in front of one the "scareactors" who walk around the park or do so after you two make your way out of your favorite house.
3 Things To Consider When Planning A Halloween Proposal
When thinking about how to propose on Halloween, there's a couple of factors you'll want to keep in mind while making your way through your wedding proposal checklist.
How Much Your Partner Likes Halloween
Although your partner may like Halloween, it's important to gauge just how much they like it and/or if there are any particular parts they like more than others. For instance, if they enjoy going pumpkin picking, but get easily startled, it is in your best interest to pick a quieter pumpkin patch. Furthermore, you wouldn't want to plan a haunted house proposal if your partner is not the biggest fan. On the flip side, if your partner loves all things spooky, they'd likely enjoy a proposal while on a ghost tour more so than one that occurs when pumpkin carving. Stick with what they already like–your proposal isn't the time to push your partner out of their comfort zone.
Noise Level
If you opt to propose at a Haunted House or another Halloween-related event, consider the crowd level. It is more likely that the nights leading up to Halloween night and Halloween night itself will be the most crowded and the loudest. We'd recommend selecting a day a couple weeks out from Halloween (while still in the month of October or late September) so you can still enjoy the Halloween experience without all of the noise. And, so your partner can hear you when you ask them your very special question.
Whether or Not You Want to Have a Proposal Photographer Present
Deciding whether or not you want a proposal photographer present at your engagement is your decision. However, we'd strongly recommend having one. If you'd rather your partner not see them or want to keep the moment more private, you can instruct them to take photos from afar. It's always nice to have your moment captured as it's a moment you get one shot at.