The 37 Best Couples Halloween Costumes of the Year, Hands-Down
Bring on the costume contests and Instagram likes.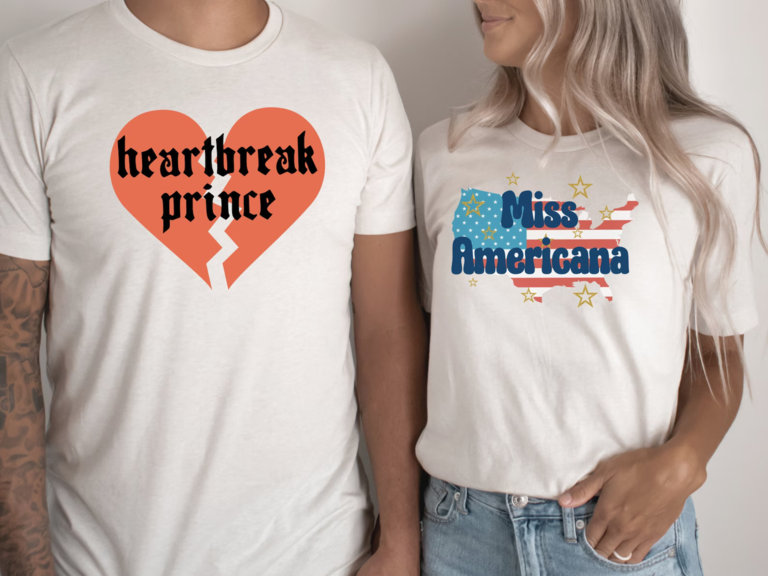 Photo : Etsy
We have included third party products to help you navigate and enjoy life's biggest moments. Purchases made through links on this page may earn us a commission.
There's plenty to love about fall, from pumpkin spice everything to autumnal wedding details—whether you're a guest or hosting the thing! And, of course, Halloween is (believe it or not) right around the corner. Brainstorming costume ideas can be doubly tough when it comes to coordinating couples Halloween costumes. This year though, you can end your spooky search for the perfect 'fits right here: Our shoppable curation of the best couples Halloween costumes has something for every duo.
From nods to trending pop culture characters to cheeky puns and innuendos, these couples Halloween costumes run the gamut. Whether you and your boo were inspired by this summer's Barbie movie madness or want to make your Instagram followers LOL, you'll find all the inspo you need below.
Scroll on to see and shop the 37 best couples Halloween costumes for 2023.
In this article:
The Best Halloween Costumes For Couples
If you're looking for the best couples costumes this year, these are our absolute favorites. That last-minute October 30th scramble? You don't know her.
Barbie and Ken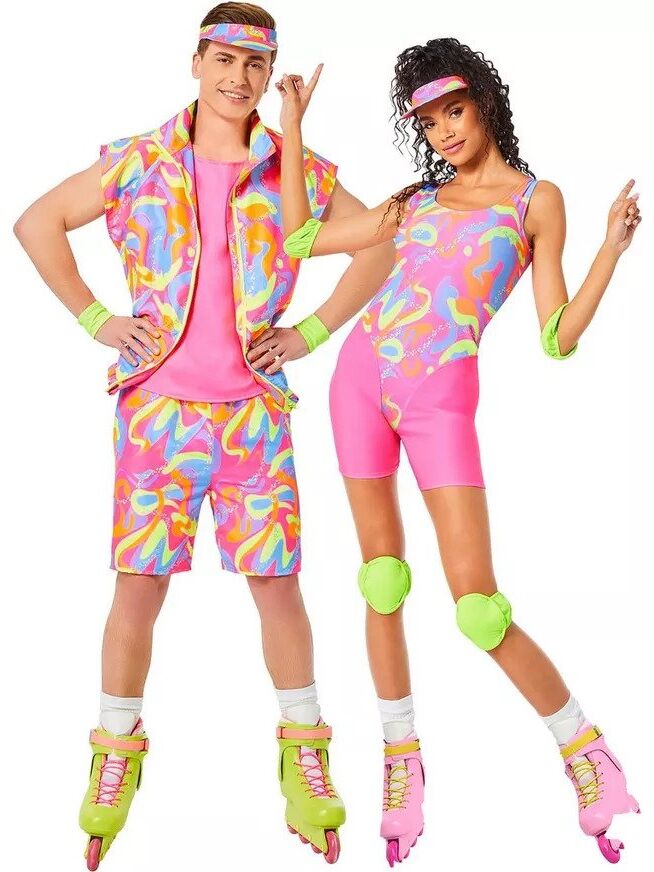 Come on, Barbie, let's go party. Barbie and Ken costumes are almost definitely going to be the hottest couples Halloween costume this year. (Bonus points if you and your Ken rollerblade into the bash.)
Romy and Michele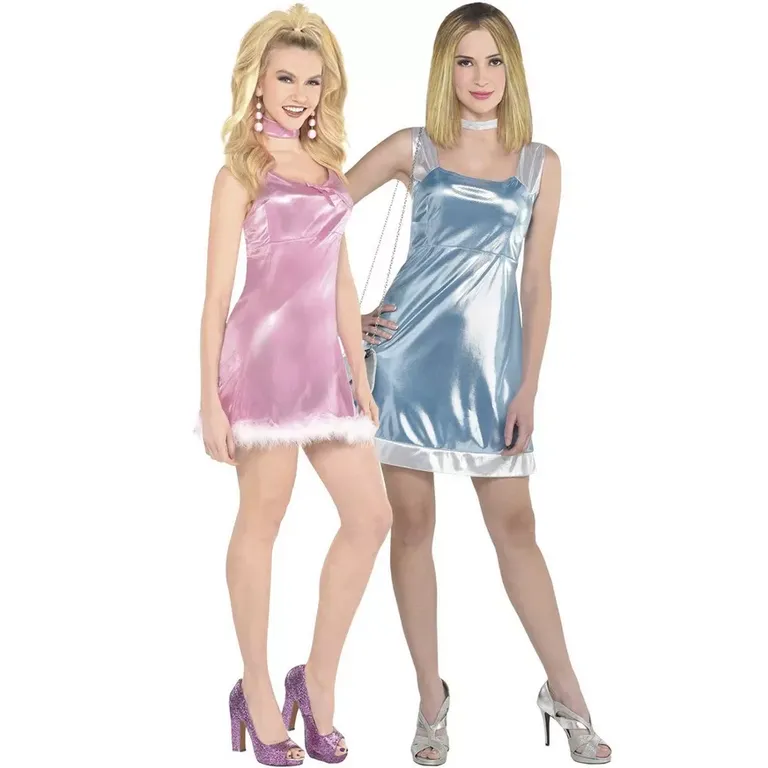 "Do you have some sort of business woman special?" Channel the iconic '90s duo with coordinating iridescent slip dresses.
Miss Americana and the Heartbreak Prince
Enter your Halloween era with this pair of comfy tees made for Swiftie sweethearts.
A Below Deck-Inspired Duo
For fans of the Bravo franchise, this couples costume is so easy to pull off even a third stew could do it. (No shade!) Simply snag yachtie-inspired costumes and then spout iconic quotes from the show all night long.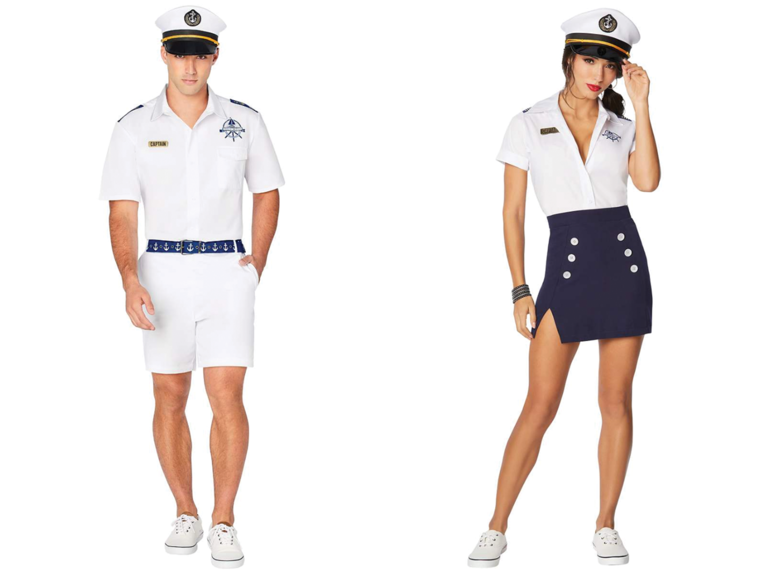 Rockford Peaches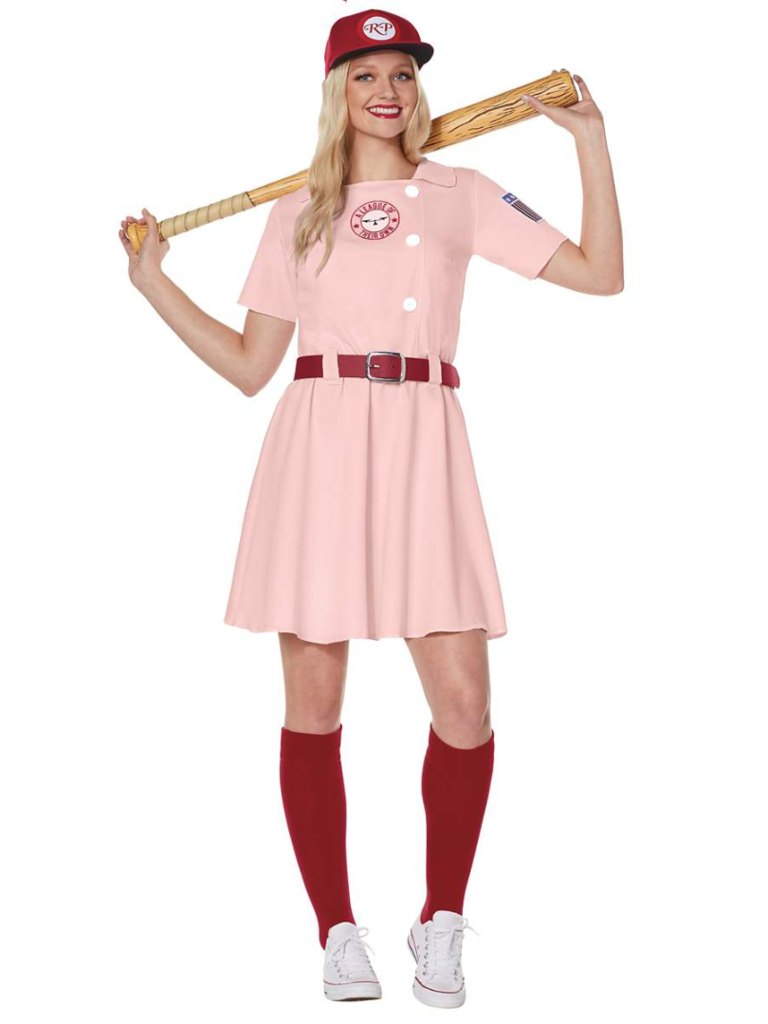 The perfect pair of costumes for you and the one you want to tell, "You are my team."
Morticia and Gomez Addams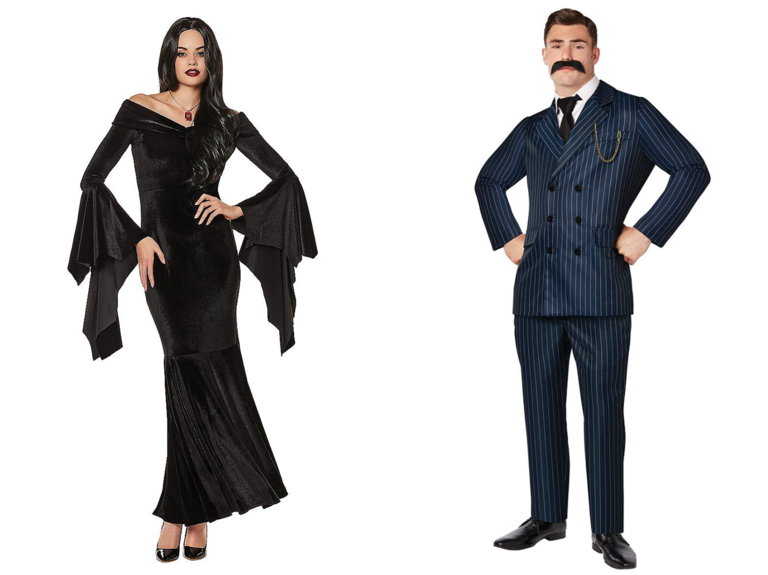 "When we are together, darling, every night is Halloween." The Instagram caption basically writes itself with this tried-and-true darkly romantic Halloween costume.
Funny Halloween Costumes For Couples
For a couples costume that'll have everyone laughing, look to these funny Halloween costumes for couples.
Lydia Deetz and Beetlejuice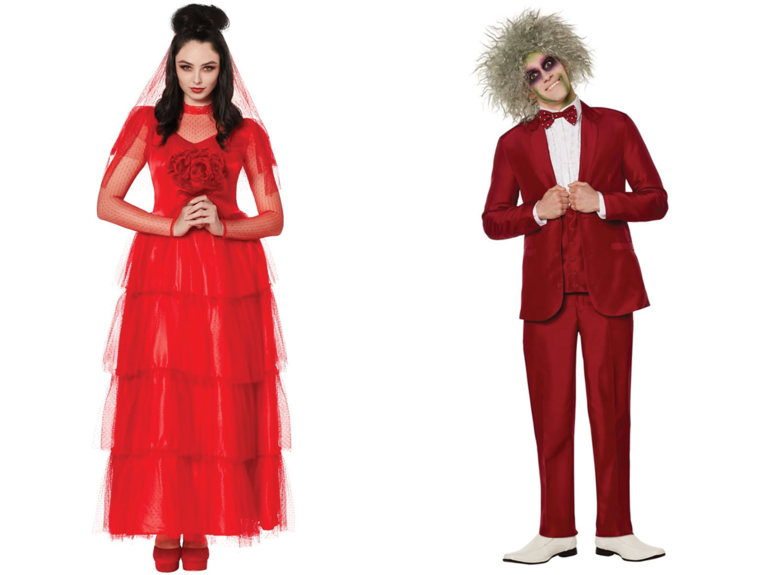 We dare you to say his name three times and don these duds from the spooky-funny film.
Flo and Jamie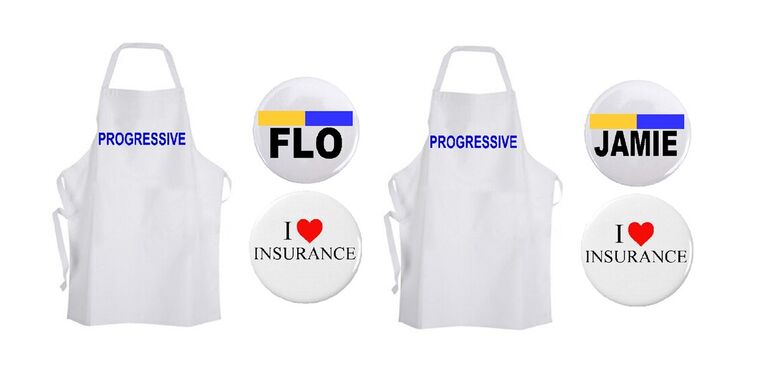 Whether it's a reference to your newly shared insurance status or you just really love those commercials, this funny couples costume is easy to pull together. (Just add some red lipstick and Flo's iconic blue headband!)
Dodgeball Costume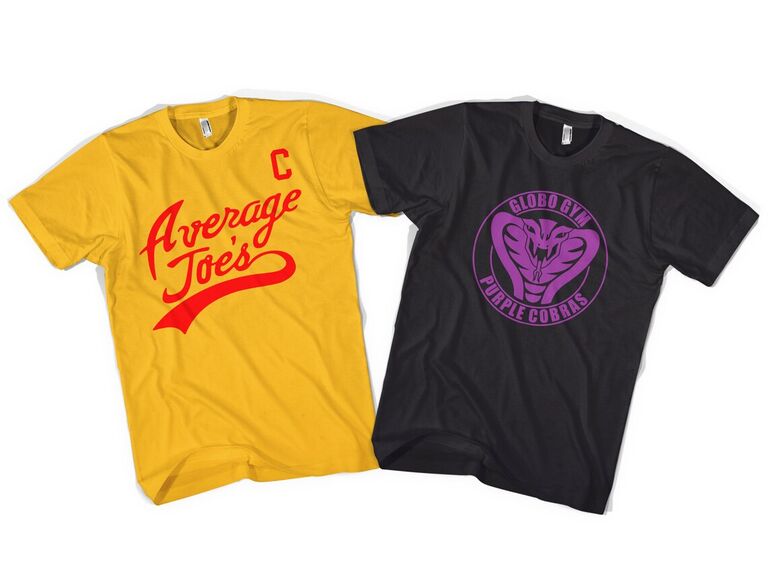 "That's a bold move, Cotton." Almost as bold are these fun tees that nod to the 2004 comedy. Extra-short shorts are not a requirement (but highly recommended).
S'mores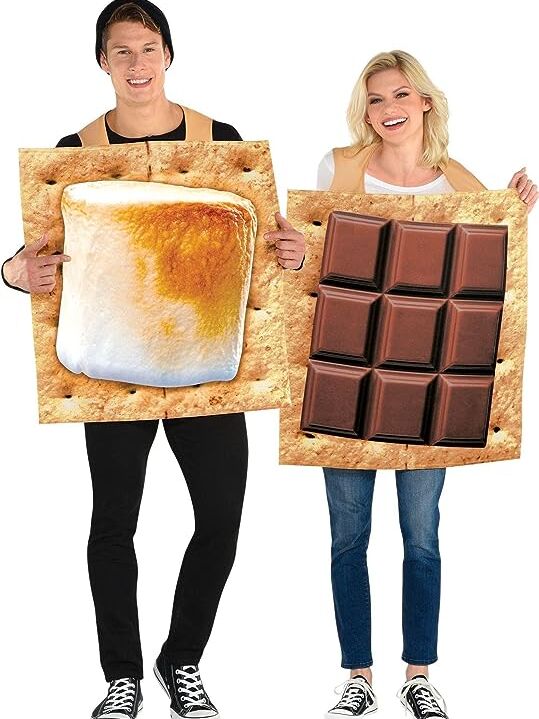 We hate to be mushy, but the only thing that goes better together than you and your partner is the marshmallowy, chocolatey goodness of a warm s'more. These tunics will transform you both into the campfire treat for a wholesomely humorous couples costume option.
Rum and Cola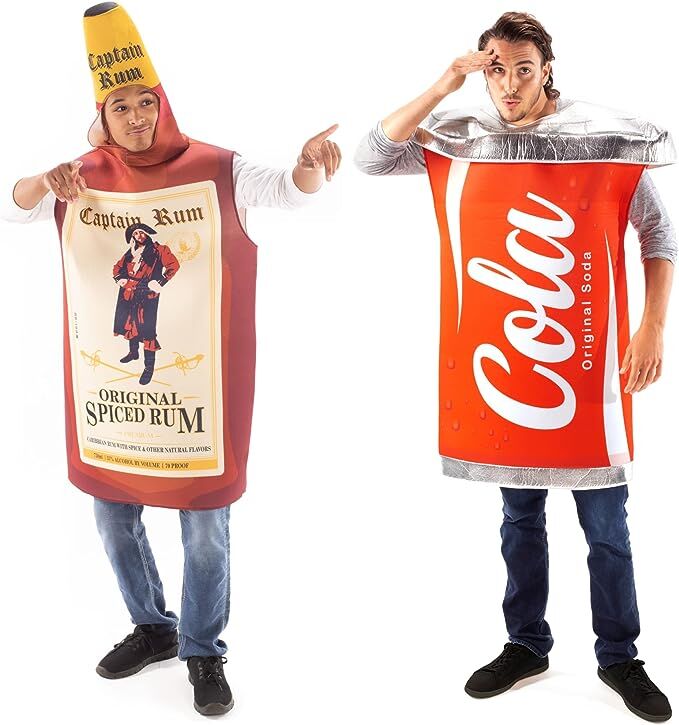 It's a match-made in mixology heaven with these rum and Coke Halloween costumes. (We predict that everyone will be high-fiving you at the bar.)
Salsa and Chips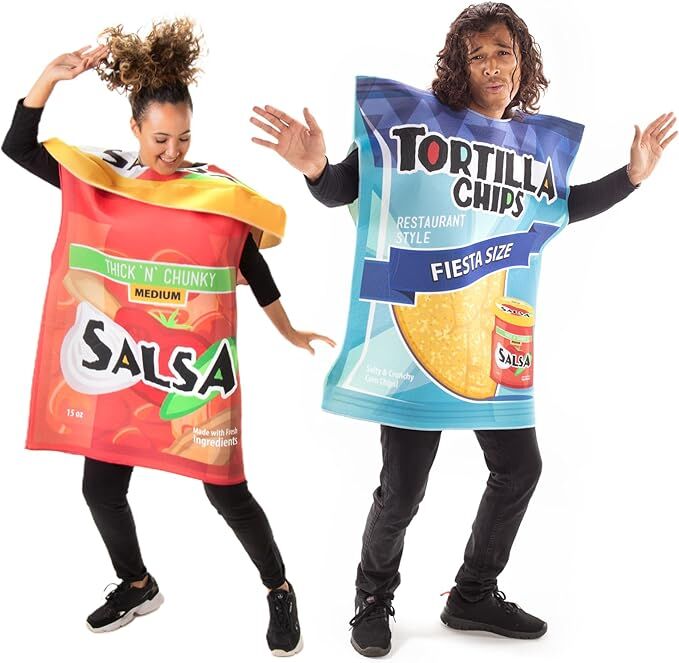 You can't go wrong with chips and salsa as a classic, funny combo. Bonus points if you bring the actual grub with you to the party!
Spongebob and Patrick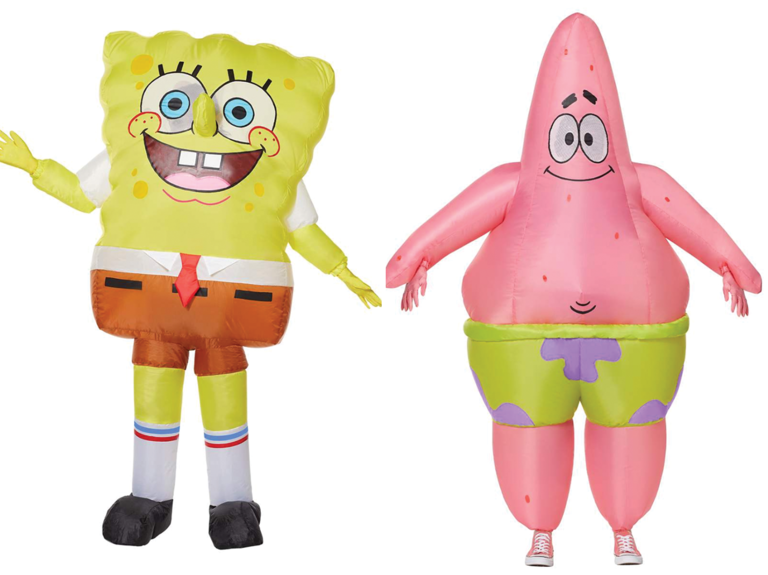 This BFF duo is a genius costume idea for the couple looking for laughs. (Plus, since you can wear anything underneath it, you don't have to be committed to wearing the inflatable costumes all night.)
Charcuterie for Two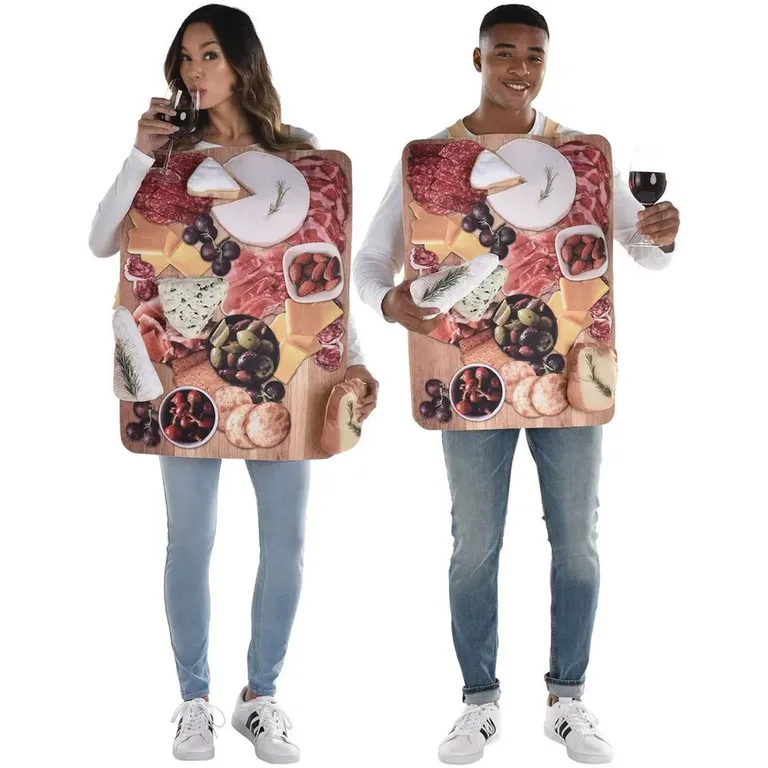 Because every Halloween party needs an assortment of meats and cheeses, right?
Sexy Halloween Costumes For Couples
With their high slits and hemlines and cheeky innuendos, these sexy Halloween costumes for couples are ideal if you're looking to get saucy this season.
Aladdin Couples Costume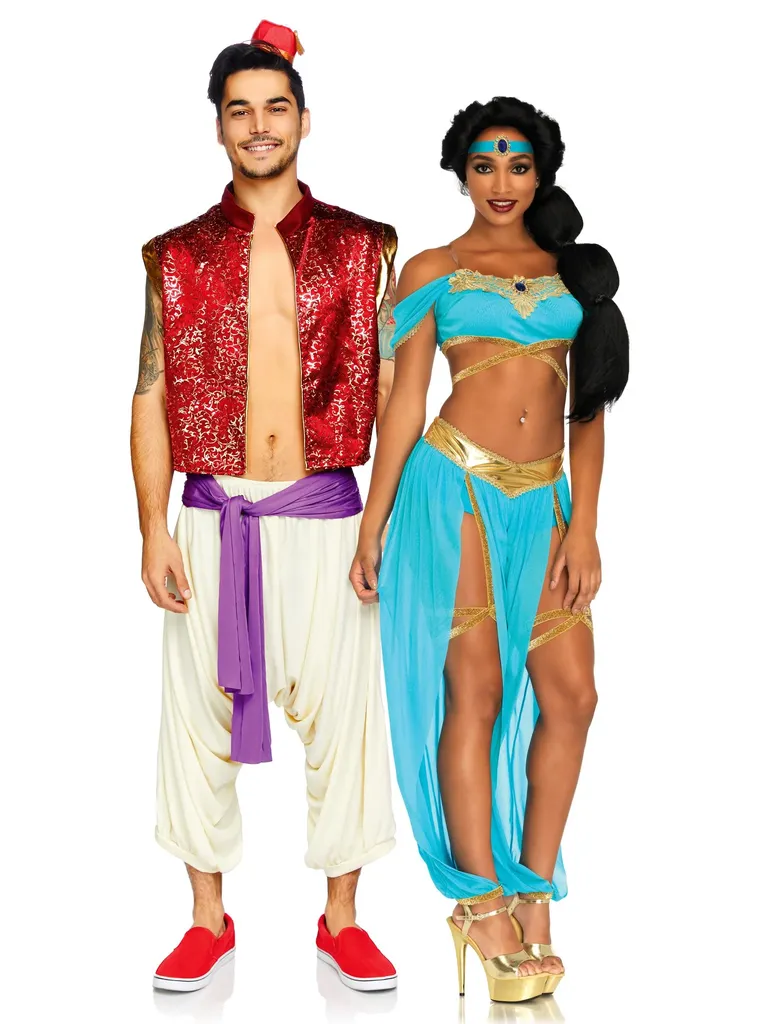 If you count Disney's Aladdin as one of your, ahm, awakenings, consider this sultry set.
Peach and Eggplant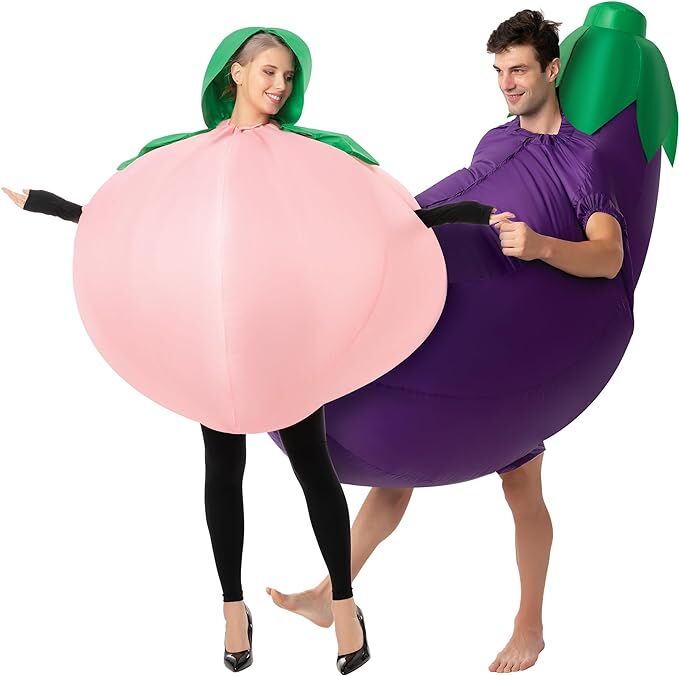 We all know what these emojis really mean…
Top Gun Uniforms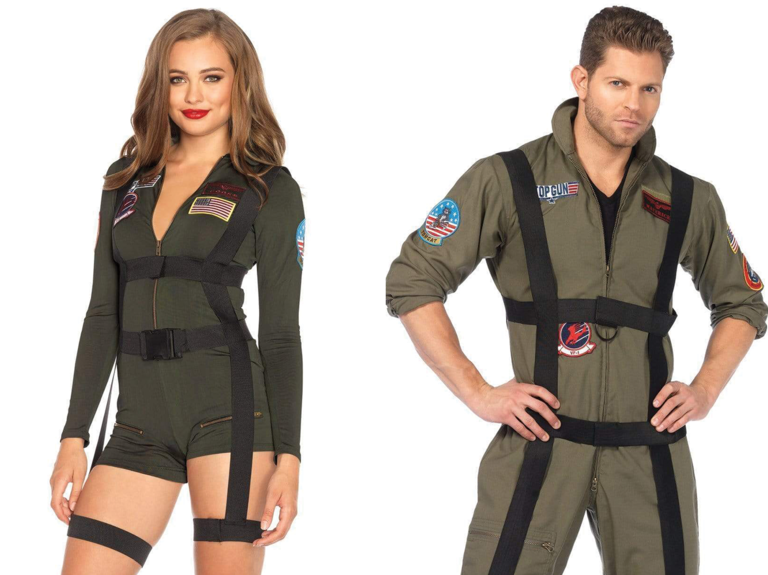 Whether you're team Maverick or team Goose, these sexified versions of the Top Gun uniforms come in a pants or shorts option. Just add aviators.
Austin Powers Couples Costume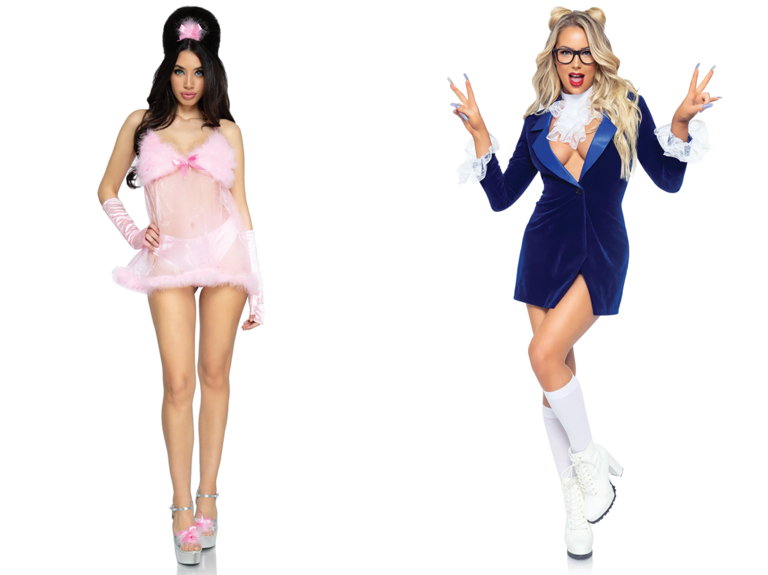 Opt for the blue velvet get-up or the pink frock with feathers, and then serve up some seriously sexy vibes with these Austin Powers-inspired outfits.
Cinderella-Inspired Princess and Fairy Godmother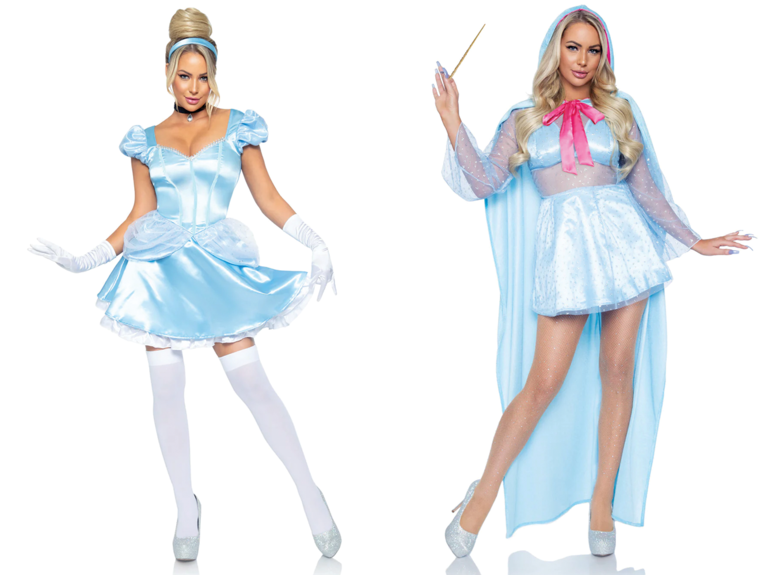 You and your bibbidi-bobbidi-boo (see what we did there?) can pair up as a sexy version of Cinderella and the fairy godmother.
Emperor and Goddess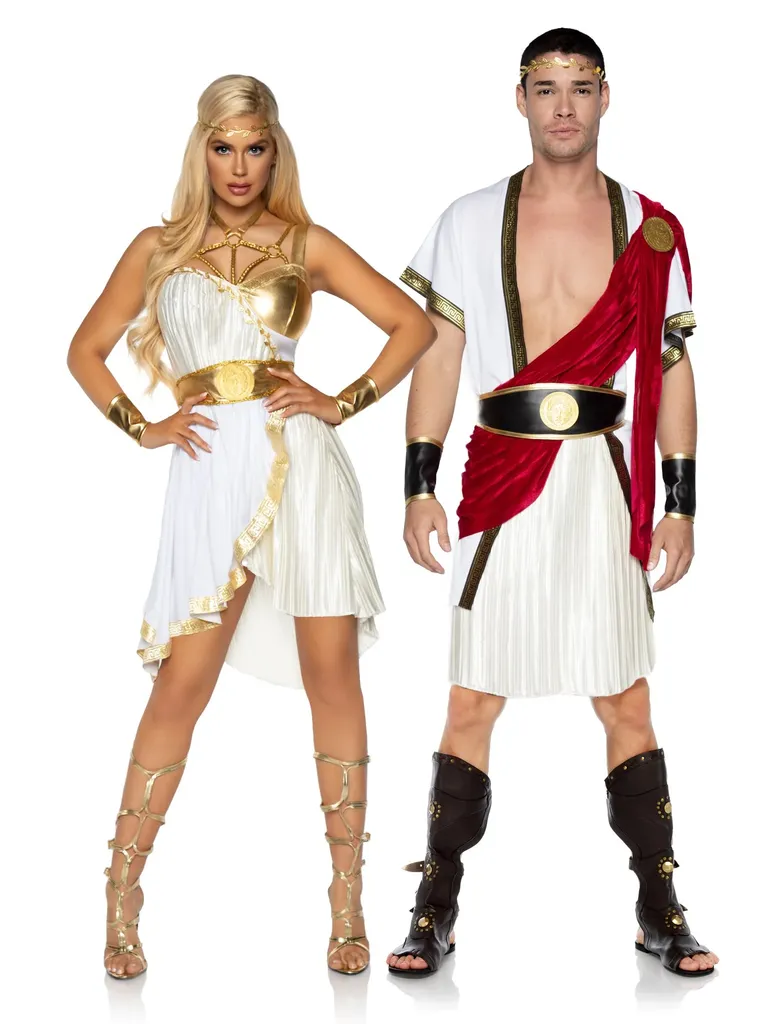 Ready to rule? These Roman emperor and goddess costumes exude a sexy, sensual strength. (Is it super obnoxious to post a gym selfie in them? Yes. Should you anyway? Absolutely.)
Cute Halloween Costumes For Couples
Sweeter than that Halloween candy you totally, absolutely bought for the trick or treaters and not yourselves, these cute Halloween costumes are perfect for couples.
Pickleball Paddle and Ball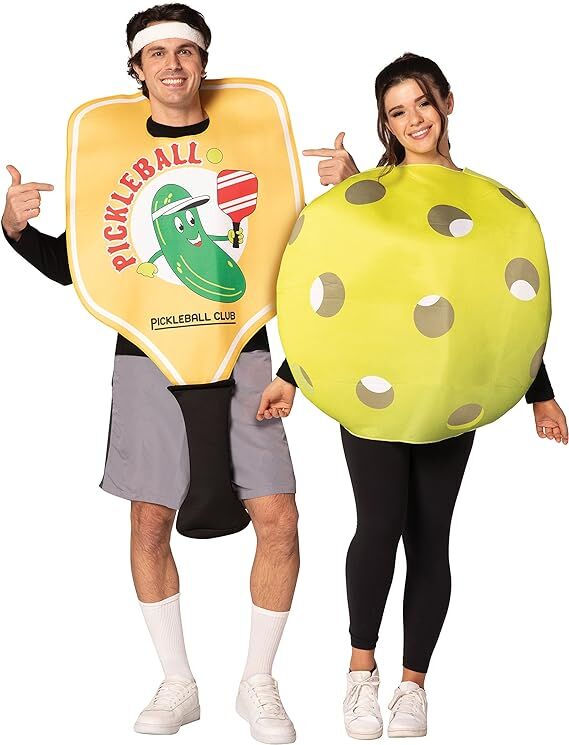 The sport that has taken the country by storm! Pickleball seems to be all the rage these days, so if you and your partner are fans of the game, why not dress up like the paddle and ball?
Hot and Cold Coffee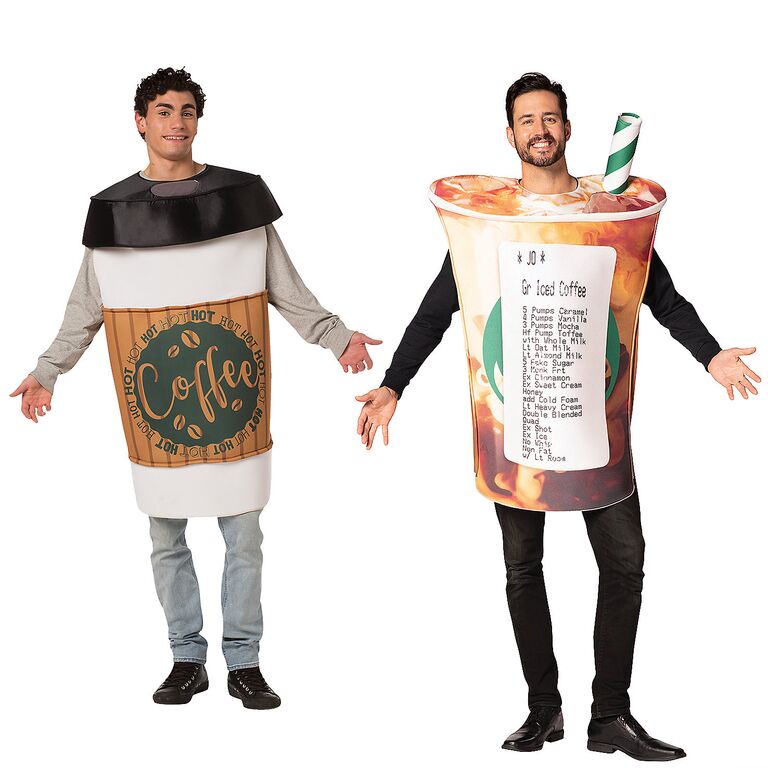 There are two types of people in this world: those who love hot coffee and those who love their brew iced. Reveal your vote (and prove that opposites do indeed attract) with these adorable hot and cold coffee costumes.
Clueless Couples Costume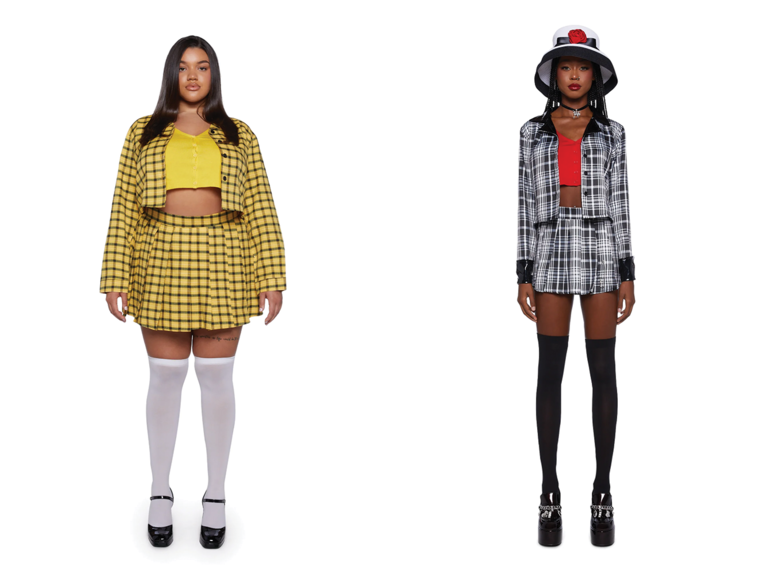 As if you even wondered what you were going to be this Halloween!
Ellie Sattler and Dr. Grant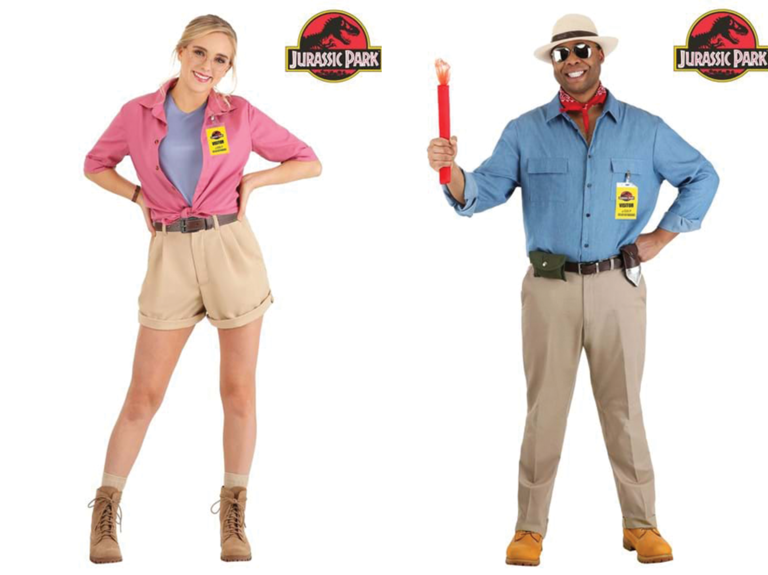 "Dinosaurs eat man. Woman inherits the earth."
Emily and Sally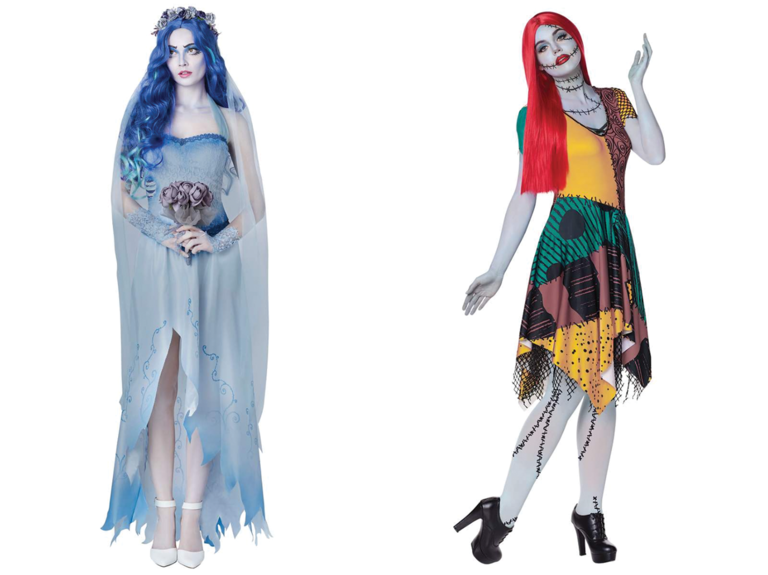 Go full Tim Burton this Halloween with coordinating Emily (Corpse Bride) and Sally (The Nightmare Before Christmas) costumes.
Daphne and Fred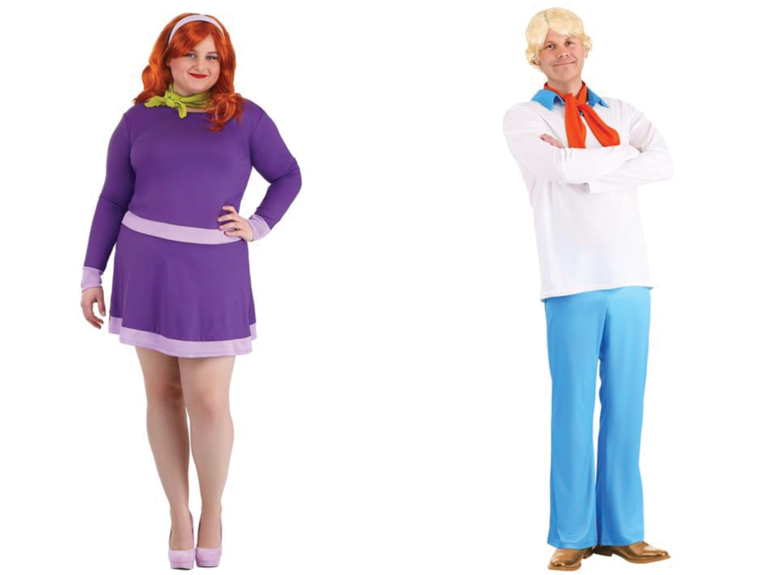 Get in the spooky spirit with this classic costume. If you have friends who want to join in on the fun, have them dress as the other members of the Mystery Inc. gang.
Grease Is the Word
For a cute WLW halloween costume, dress up as Sandy and one of the iconic Pink Ladies from Grease.
Scary Halloween Costumes For Couples
If you're on the hunt for a more frightening, gruesome vibe, look no further than these scary Halloween costumes for couples. (Halloween is all about the scares, after all!)
Pennywise Couples Costumes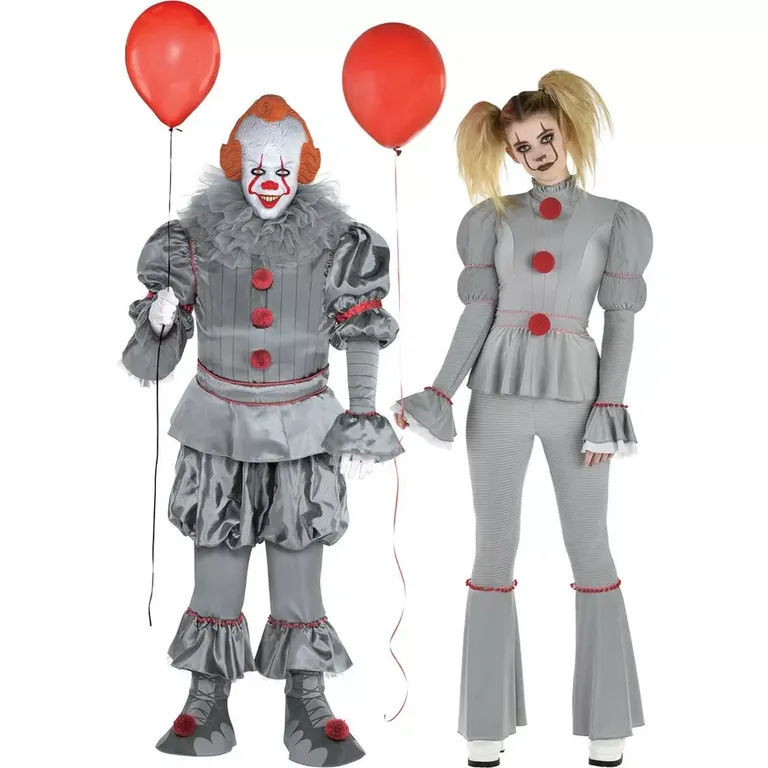 This ultra-creepy Pennywise costume is available in two different styles, so you both can clown around together. Just add red balloons to complete the frightening look.
The Twins from The Shining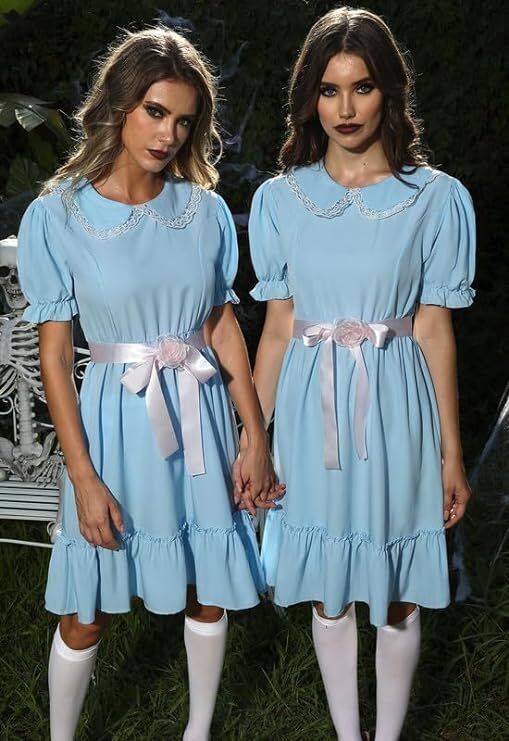 From the 1980 hit film The Shining, these creepy as all get-out twins are a great option for a couple's or a matching Halloween costume.
Freddy and Jason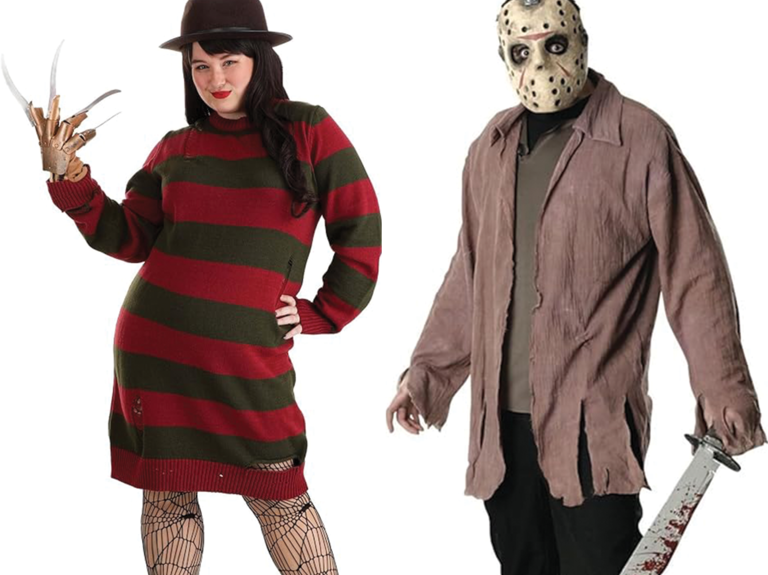 Has there ever been a more iconic (or chilling) Halloween duo than Freddy Krueger and Jason Voorhees? This is an easy, recognizable couples costume if you want to go out and turn some heads.
Chucky and Tiffany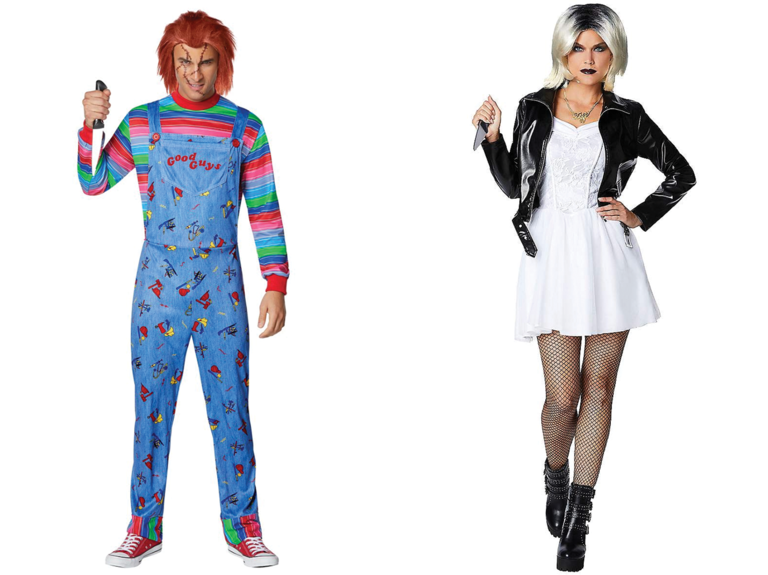 Chances are, if you grew up in the '80s or '90s, the infamous evil doll and his bride have sent shivers down your spine.
Mummies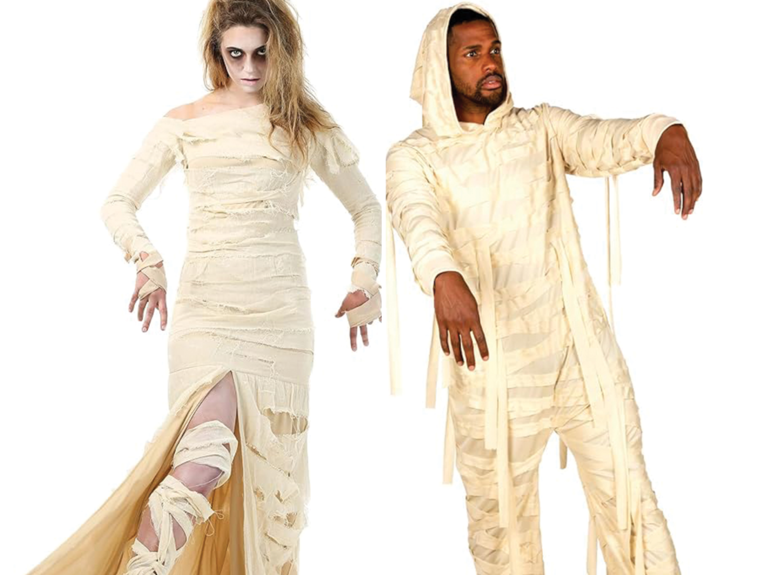 A mummy costume is a Halloween classic. And with two styles to choose from, these bandaged mummy outfits, plus some mummy makeup, are all you need to check Halloween off your to-do list.
DIY Halloween Costumes For Couples
Ready-to-wear Halloween costumes are certainly convenient, but a solid do-it-yourself Halloween costume allows you to get a little more creative—and maybe save some money, too.
Beth Dutton and Rip Wheeler
Calling all Yellowstone fans! Grab your favorite cowboy hat and fancy faux-fur and you'll instantly transform into this hot couple.
Freudian Slip
While one of you dons a fake 'stache, the other wears a slip dress with printed-out psychology terms pinned to it.
Wayne's World
Grab your light wash jeans, Converse shoes, band tee and flannel to channel your inner Wayne and Garth. This is an easy costume that you can likely put together with what already lives in your closets.
Birds and Bees
A quick trip to your local craft store and a glue gun are all you need to make creative headbands or tees with decorative birds and bees on them to literally bee the birds and the bees.
'80s Workout Couple
Throw it back to the '80s with this easy idea that only requires your favorite colored leggings, leg warmers, chunky sneakers and sleeveless sweatshirts—anything '80s approved goes.