13 Stylish Halloween Wedding Ideas for Your Ceremony and Reception
Look beyond candy bars and carved pumpkins.
by the knot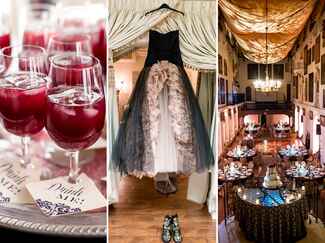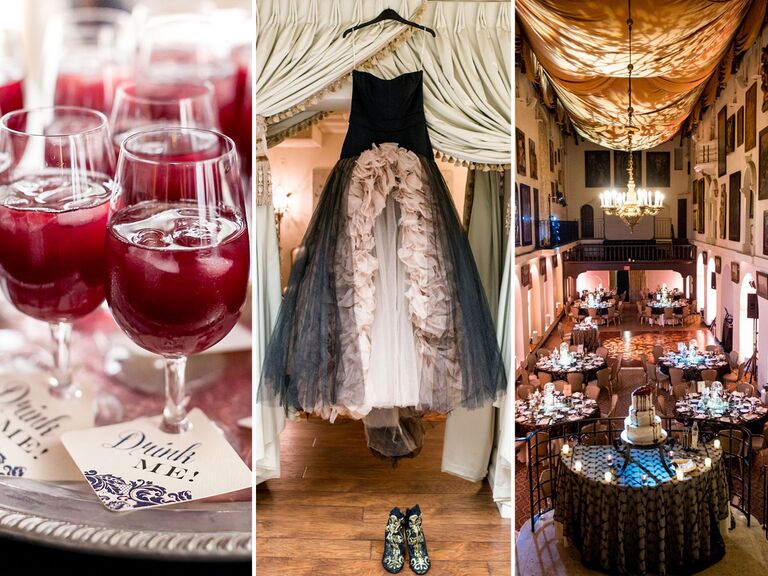 photo by
PROCOPIO PHOTOGRAPHY; KIM FOX PHOTOGRAPHY
From your wedding dress to the cocktails, there are so many ways to weave chic fall elements into your day-of decor. You can take the full-on Halloween route and dress your venue to the nines in pumpkins and cobwebs or add subtle nods to the holiday through your menu, or find the  middle ground that's perfect for your style.

1. Themed Invitation Suite
Send out creative invitations that give guests an idea of what's to come, without giving too much away. Invites designed like Tarot cards, for example, provide a hint of Halloween magic without being too over the top.
2. Dress Details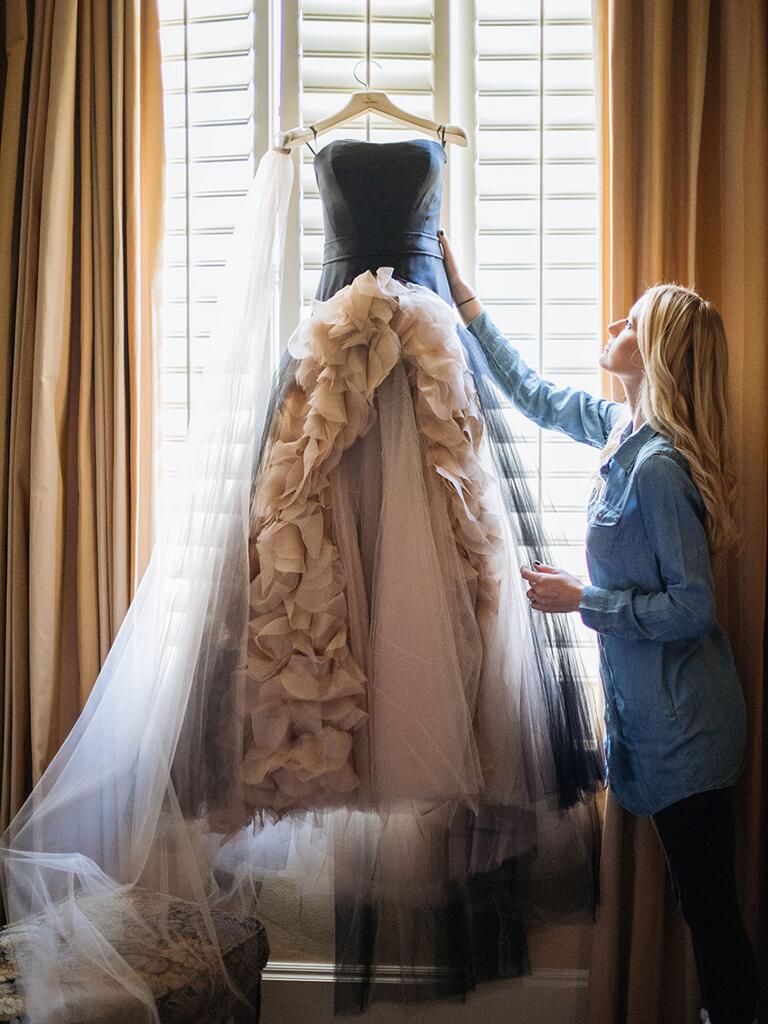 When it comes to your wedding dress, try touches of color and antique embellishments—a dark-hued sash cinched at the waist with an embellished brooch would look chic. Try a black-net birdcage wedding veil, a pair of to-the-wrist gloves, or antique jewelry for even more flair.

3. Dramatic Makeup
Keep your makeup sophisticated—too Halloween-ish and your makeup look will end up looking more like face paint than bridal beauty. Go for a slightly darker smokey eye or a deep plum lip color. Tip: To avoid going overboard, choose just one area (eyes or lips) to highlight.
4. Wedding Party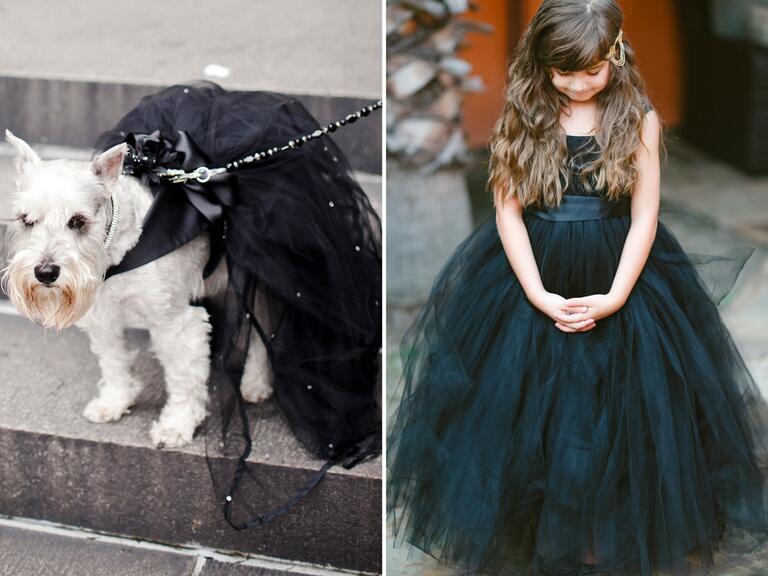 Outfit your bridesmaids in rich, deep hues like dark purple, black, or navy. Capelets, crocheted shawls, cameo chokers or sheer scarves will add just the right hint of enigma to their look. As for smaller attendants like the flower girl, ring bearer or a special pet appearance, they might have fun indulging more in the Halloween spirit.
5. Ceremony Details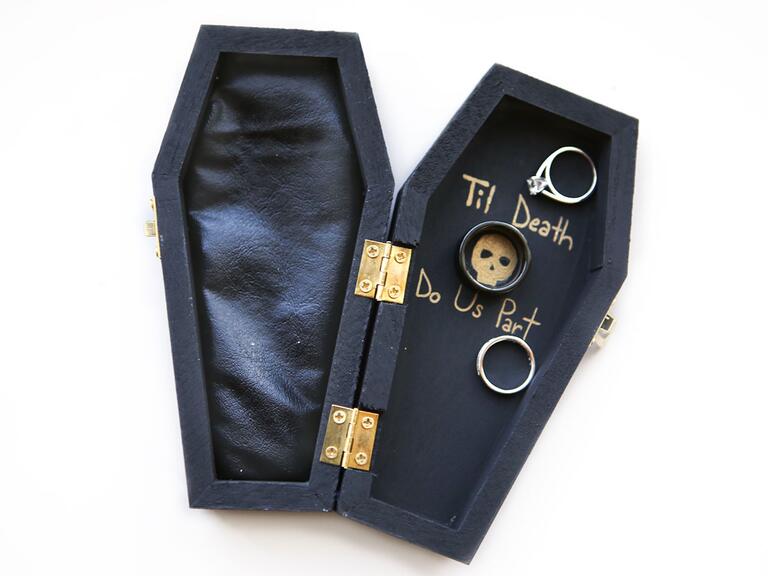 The whole "until death do us part" thing is just too good. It's always associated with nuptial vows, but fall ceremonies can cater to that specific verse and sneak in just a little Halloween fun. A coffin or tombstone ring pillow is a small detail that you can share with your partner.
6. Reception Décor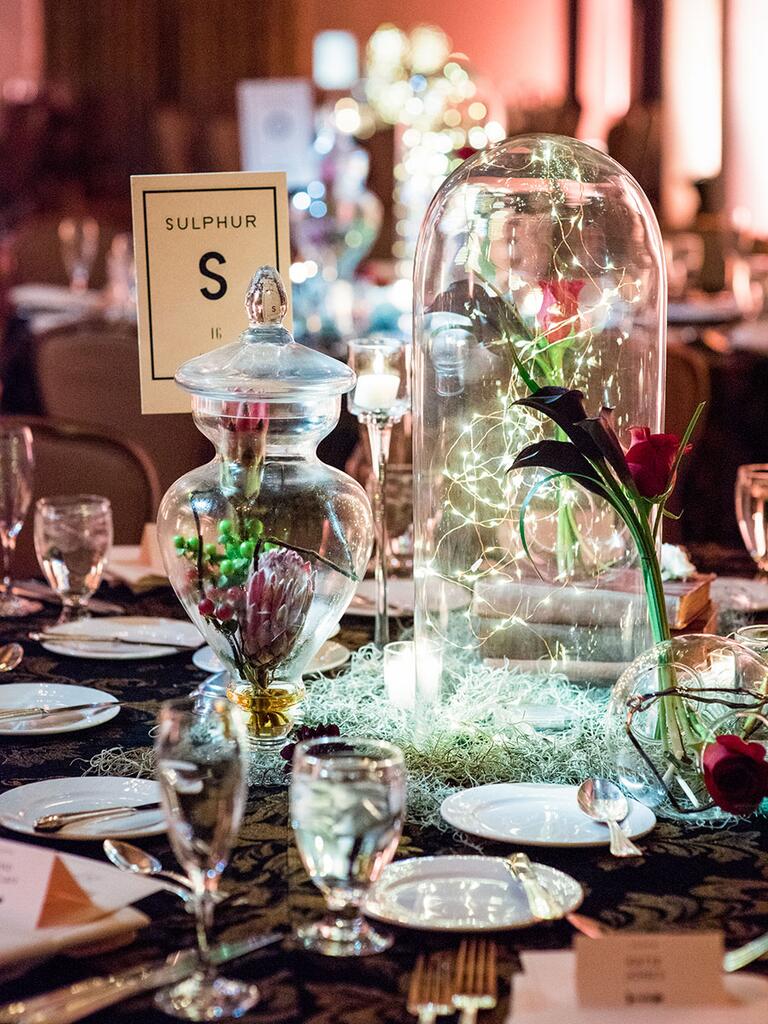 Use luxe black linens in a heavy velvet to accent a few spaces in your reception venue. A draped entrance, a suave cocktail bar or a decked out dessert table would be more than enough to introduce the theme into the room. Think of lighting to elevate the ambiance too: candelabras are chic and flex between seasonal spookiness (aka Halloween) but will look timeless in photos. 
7. Photobooth 
Craft a spooky photo set with a velvety curtain for the backdrop and, if resources allow, deck out the set with old furniture and fake spider webs. Include easy-to-wear props for your guests like hats, gloves, and boas.

8. Bold Arrangements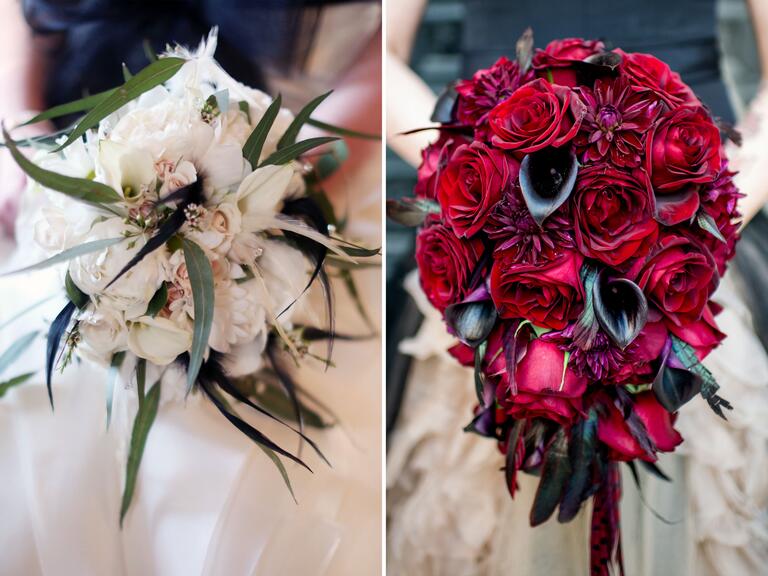 For florals, think dark roses, deep red calla lilies, black feathers, branchy accents and tons of candle votives. If space allows, consider hanging antique chandeliers over the dance floor garnished with fake cobwebs.
9. Cocktails

Ask your caterer to create a signature drink for your cocktail hour. Apples are a great seasonal option, and can be crafted with into a rum-apple cider or go for green apple martinis and fresh apple slice garnishes. If you really want to go all out with the bar area, have your bartender concoct a batch of party punch with dry ice in it. The smokey effect will be enchanting, and attendants can easily ladle it into glasses for guests.
10. Music

Sure, there are always the Halloween favorites like "Monster Mash," "Thriller," and the theme song from "The Addams Family." An original way to elevate your Halloween music? Have an organist play at your ceremony (try Bach's "Toccata and Fugue in D Minor") and a pianist or cellist perform solo during dinner (Bolcom's "Graceful Ghost Rag" and Liszt's "Mephisto Waltz" are both great options).
11. Wedding Cake
When it comes to your cake, focus on the flavor. Red velvet would fit right in with the surroundings, or go seasonal with something like pumpkin cake and cream cheese frosting. A pair of miniature pumpkins are perfect as cake toppers.

12. Spooky Favors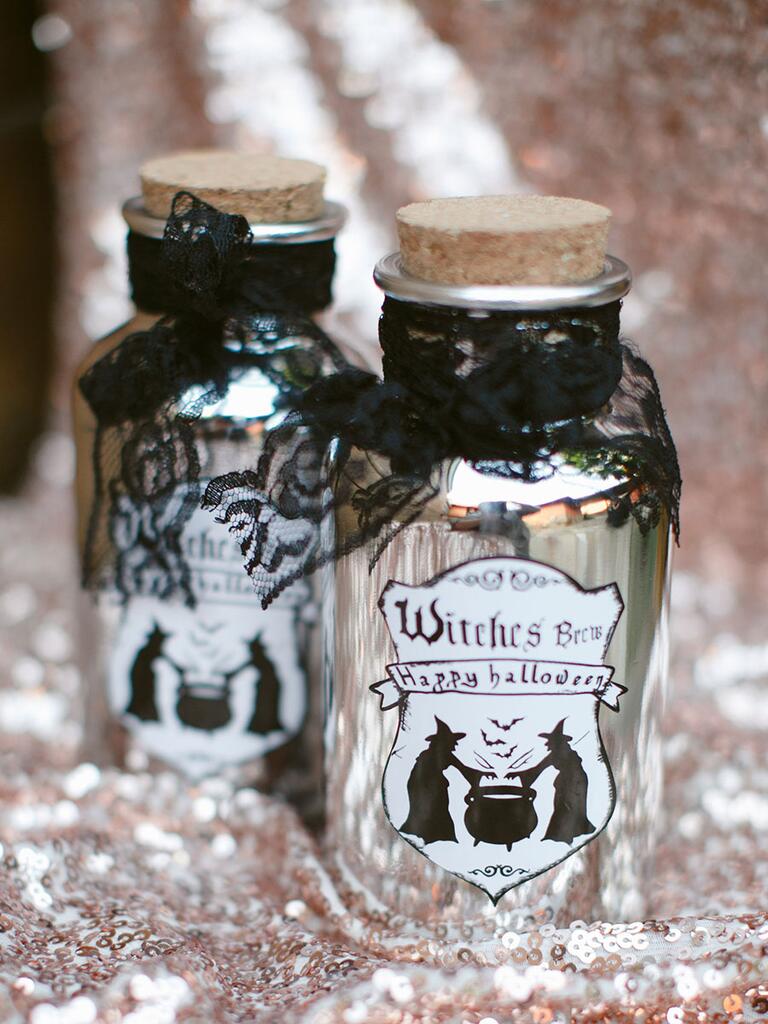 Favors could be as simple as goodie bags of Halloween candy (or candy bar with candy corn, candy pumpkins, caramel apples and typical trick-or-treat candies with take-away bags) or as creative as witch's brew (splits of champagne), witch's trailmix (candy and nut mix) or witch's playing cards (tarot cards).

13. Grand Exit

If the weather will be cold, make your getaway in a black town car. To really make a statement, opt for a black, antique, horse-drawn buggy. Have your driver play the part in a top hat, tails and gloves.