13 Stylish Halloween Wedding Ideas for Your Ceremony and Reception
Here's how to incorporate our favorite Halloween details into your wedding.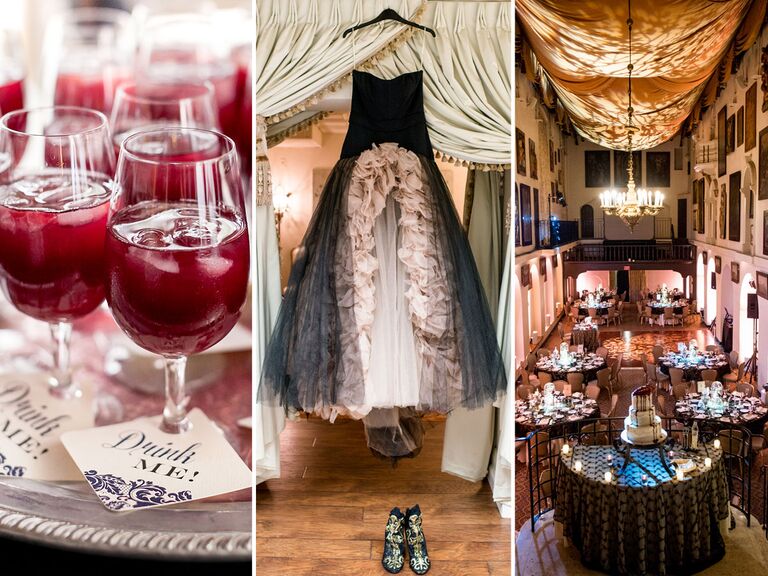 PROCOPIO PHOTOGRAPHY; KIM FOX PHOTOGRAPHY
From your gown to your getaway car and everything in between, there are so many creative ways to tie Halloween wedding ideas into your day-of details. For Halloween superfans, take the full-on Halloween-themed wedding route and fill your ceremony and reception venues with pumpkins, cobwebs, vines, various inky hues and other spooky touches. But even if you love Halloween, you don't have to go quite so over the top if that's not your style. Include more subtle nods to the autumn holiday—stick to Halloween wedding shoes hidden under your dress or hand out Halloween wedding favors at the end of the night. The perfect Halloween wedding ideas for your day are closer than you think—check out our favorites right here.
1. Themed Invitation Suite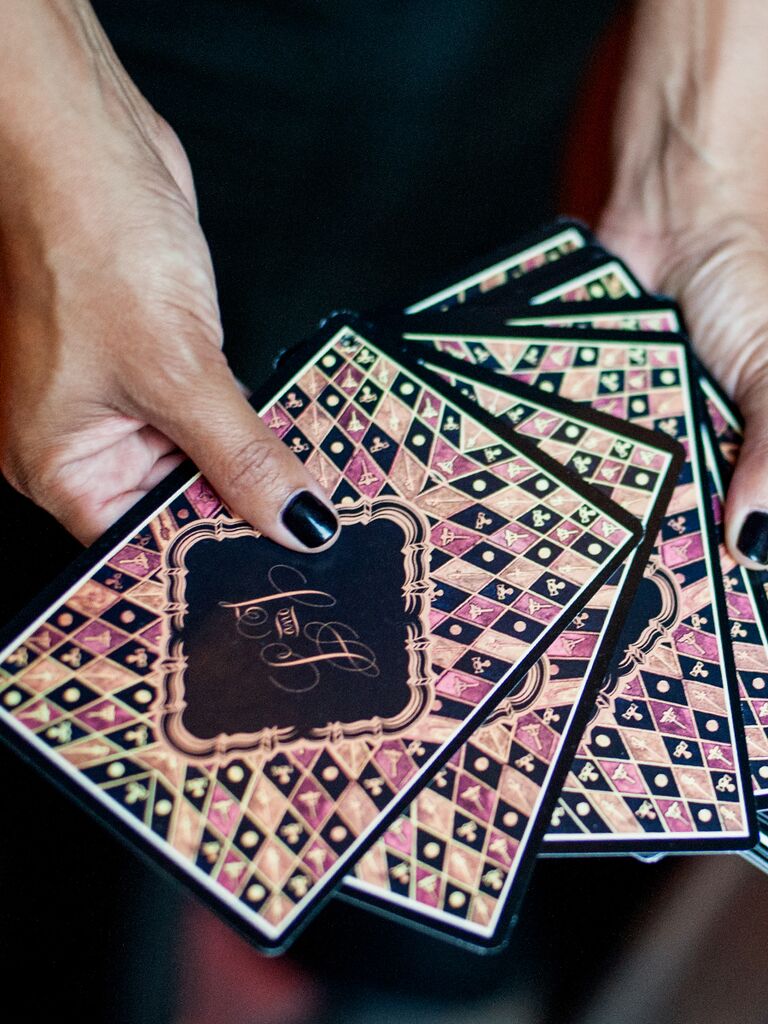 Send creative Halloween wedding invitations to introduce your themed celebration right from the start—without giving too much away. We love these invites designed like Tarot cards, for example, which provide a hint of Halloween magic with mysterious undertones without going overboard.

2. Alternative Wedding Attire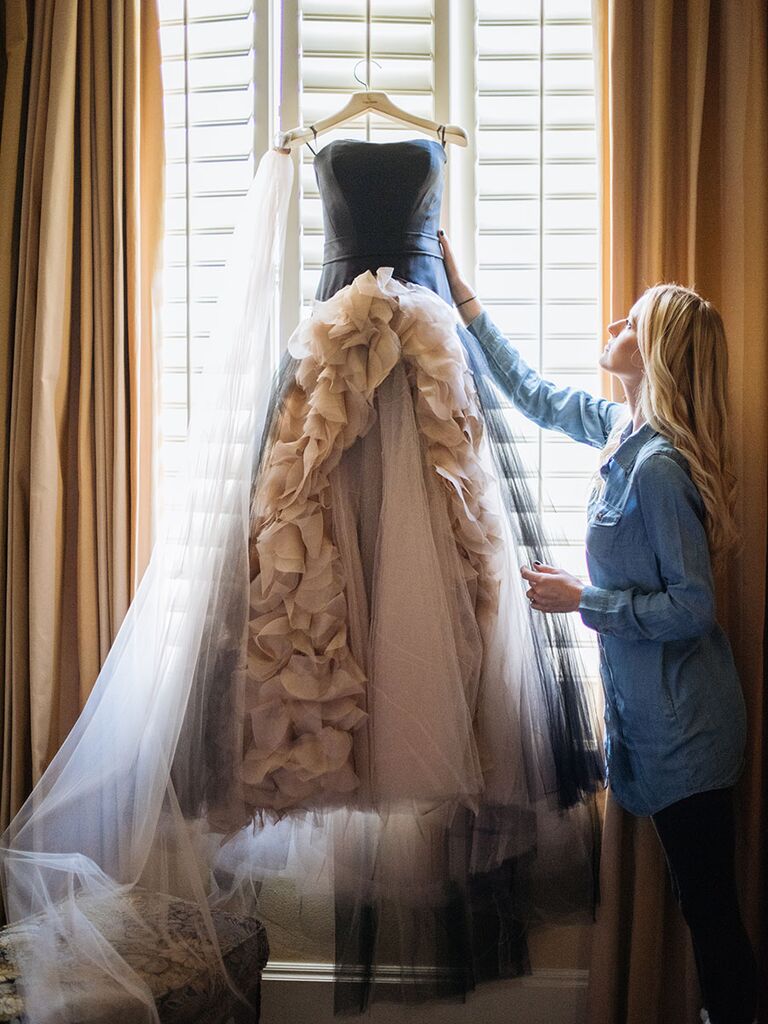 When it comes to your wedding dress, play with deep colors and antique embellishments for a moody, gothic feel. Since it might be trickier to get your hands on a specifically Halloween-themed wedding dress, simple accents can help turn your gown from ordinary to Halloween-worthy in no time. Try a dark-hued sash cinched at the waist with an embellished brooch, or opt for black birdcage wedding veil, a pair of short gloves and antique jewelry.

3. Dramatic Makeup
Unless your wedding is a full blown Halloween costume party, you probably won't want your makeup to be too Halloween-ish. Instead of asking your makeup artist for Halloween wedding makeup specifically, come to them with a few dramatic ideas, like a darker smokey eye or a deep plum lip color. To avoid going overboard, choose to highlight one area such as the eyes or lips.
4. On-Theme Wedding Party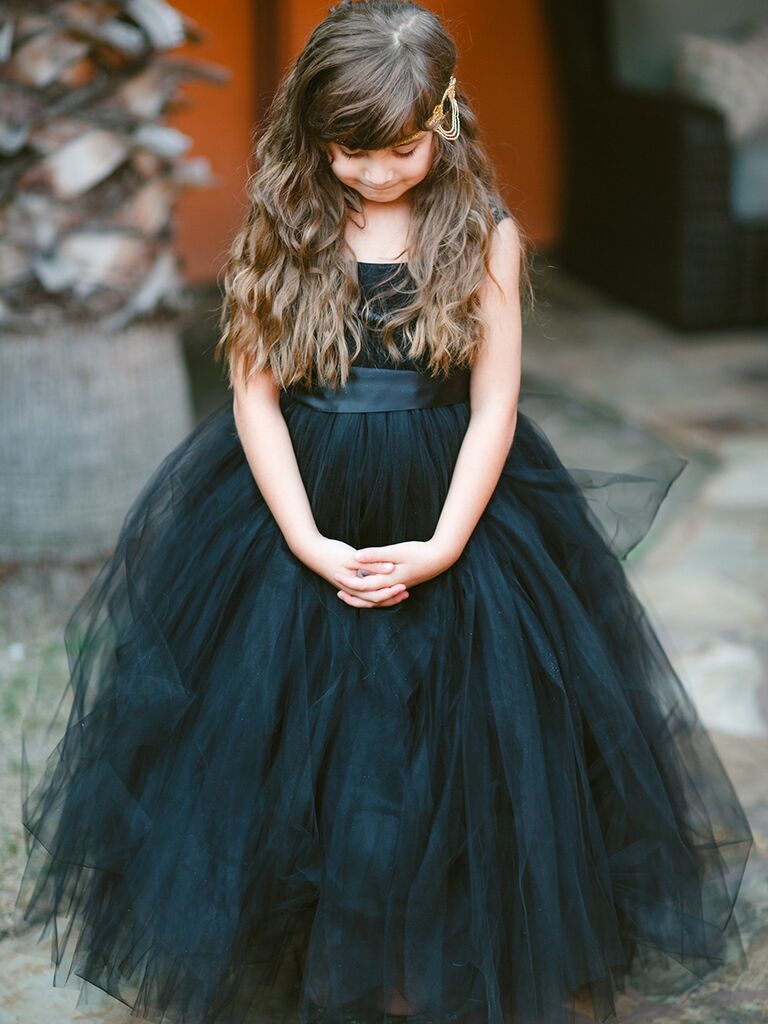 Outfit your wedding party in rich, deep shades like charcoal, burgundy, black or plum. If you want, add layers and extras in the form of capelets, dark manicures, crocheted shawls, chokers and sheer scarves for a look that's sinister yet stylish. As for your smaller attendants like the flower girl, ring bearer or a four-legged helper, you might have a little more freedom to indulge in the Halloween spirit.

5. Sinister Ceremony Details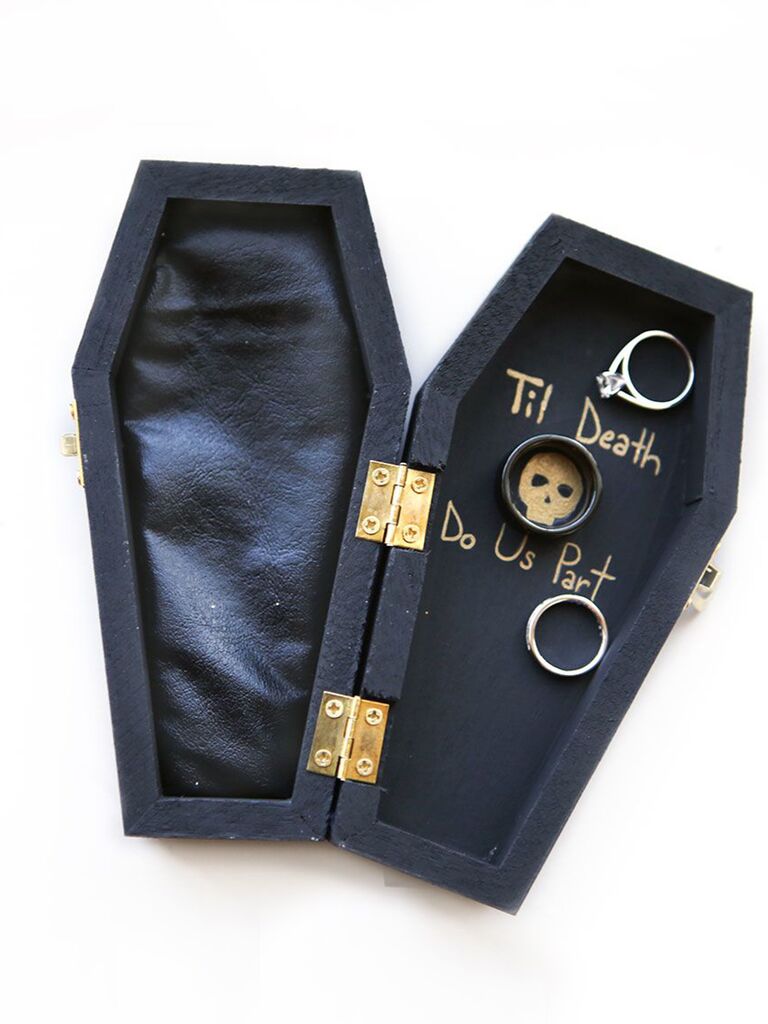 A perfect Halloween wedding idea for your ceremony is to take advantage of the whole "until death do us part" verse in your vows—if you're up for it, why not sneak a bit of dark humor into your ceremony to perpetuate the Halloween fun? As for the rings, have the ring bearer carry the bands in a coffin or tomb stone ring pillow.

6. Reception Décor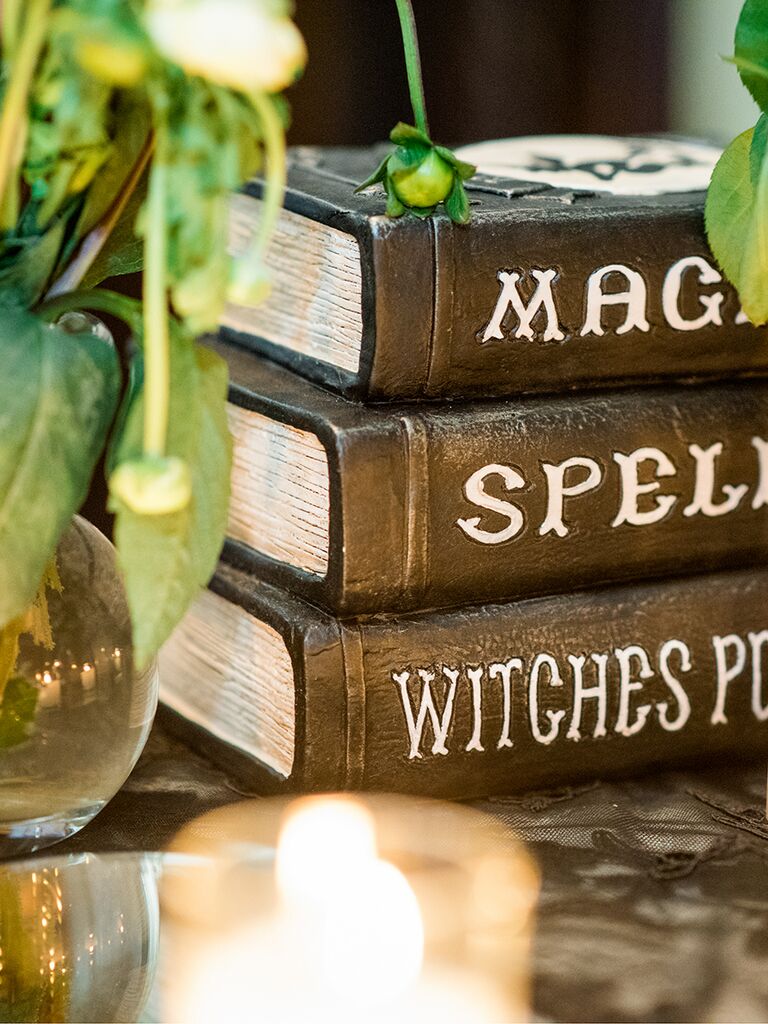 The sky's the limit when it comes to Halloween wedding ideas for your reception. Use luxe black linens in heavy velvet to accent a few spaces in your venue or cover your tables in spindly black lace. A draped entrance, suave cocktail bar or a decked-out dessert table is more than enough to introduce the theme into the room. Use lighting to elevate the ambience too: Candelabras add a gothic, vintage feel while still looking timeless in photos. 

7. Photo Booth
Photo booths are always a popular wedding reception extra, but guests will really be ready to snap photos at a such a fun, themed party—especially if you include awesome props. Craft a spooky photo set with a velvety curtain for the backdrop and, if resources allow, deck out the set with old furniture and fake spider webs. Include easy-to-wear props for your guests like hats, gloves and boas.

8. Gothic Blooms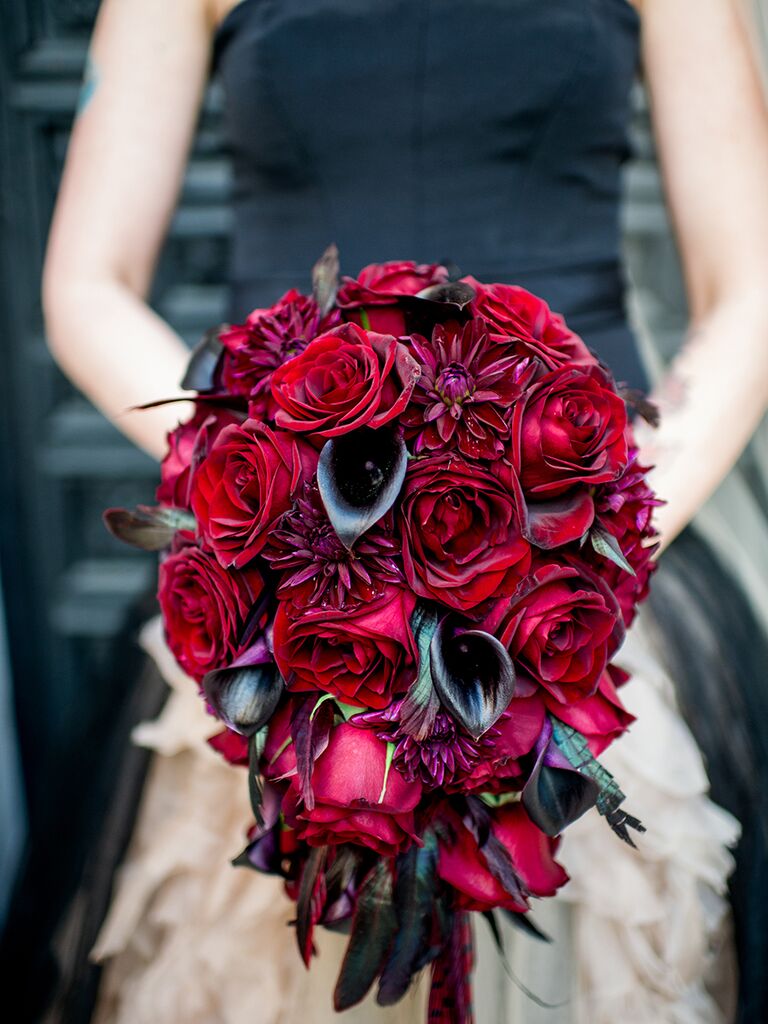 For your bouquet, think dark roses, blood-red calla lilies, black feathers, then add branches and tons of candle votives to the tables for the ultimate Halloween wedding centerpieces. If space allows, consider hanging antique chandeliers over the dance floor garnished with fake cobwebs.

9. Fun Cocktails

Ask your caterer to create a signature Halloween wedding drink for your cocktail hour. Apples are a seasonal staple (and perfect to play up the poison apple motif). Turn them into a rum apple cider, or go for green apple martinis garnished with fresh slices. If you really want to go all out with the bar area, have your bartender concoct a batch of party punch with dry ice in it. The smokey effect will be downright enchanting, and guests can help themselves to as much as they please.
10. Moody Music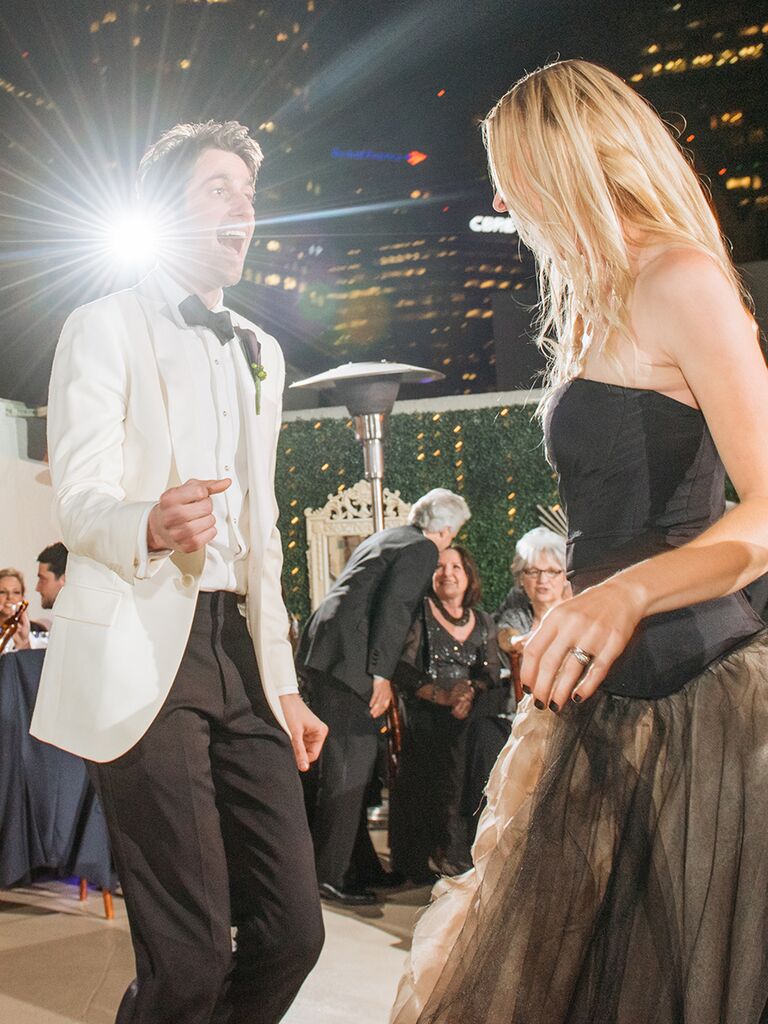 Your Halloween wedding ideas don't all have to take the form of décor—match your music to the theme too. There are always Halloween favorites like "Monster Mash," "Thriller," and the theme song from "The Addams Family." And an original way to elevate your music is to hire an organist play to at your wedding ceremony (try Bach's "Toccata and Fugue in D Minor") and a pianist or cellist perform solo during dinner (Bolcom's "Graceful Ghost Rag" and Liszt's "Mephisto Waltz" are both great options). You and your guests will feel like you're dining in the coolest haunted mansion ever.

11. Tricked Out Cake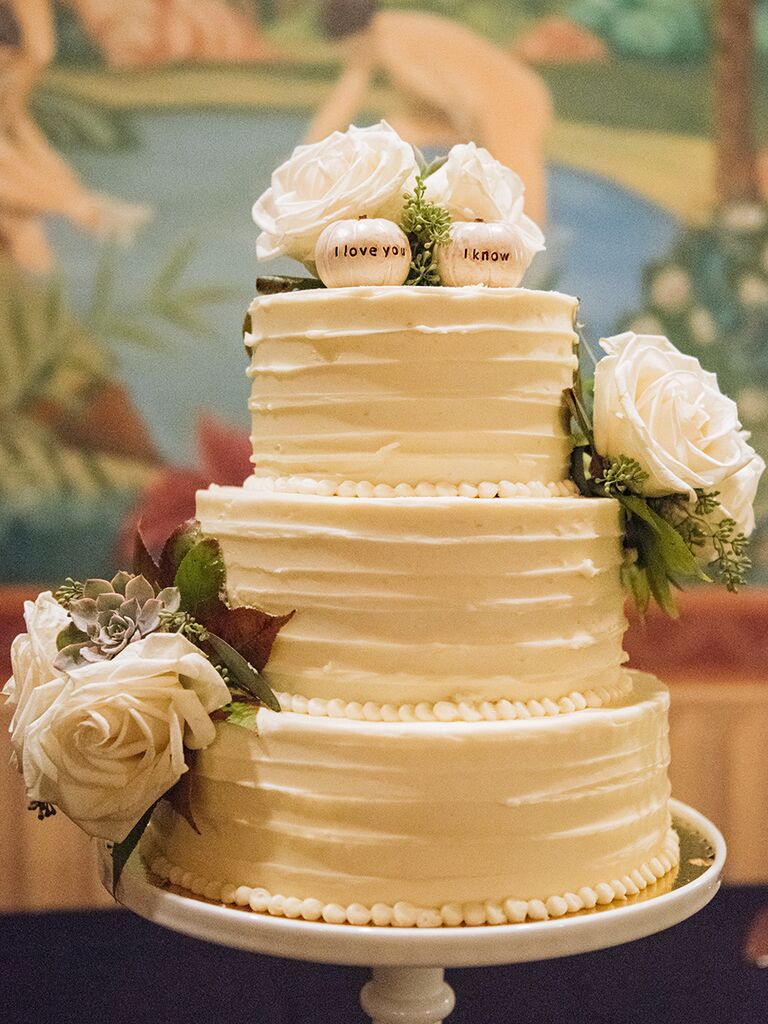 When it comes to your wedding cake, focus on the flavors and toppers. Red velvet obviously fits right in with your Halloween wedding décor (and it's absolutely delicious). Try something seasonal like pumpkin spice cake and decadent cream cheese frosting. As for the display, a pair of miniature pumpkins with a sweet (or spooky) message is the perfect, understated cake topper—but you're welcome to get even more macabre with your Halloween wedding cake details if you're so inclined.

12. Halloween Favors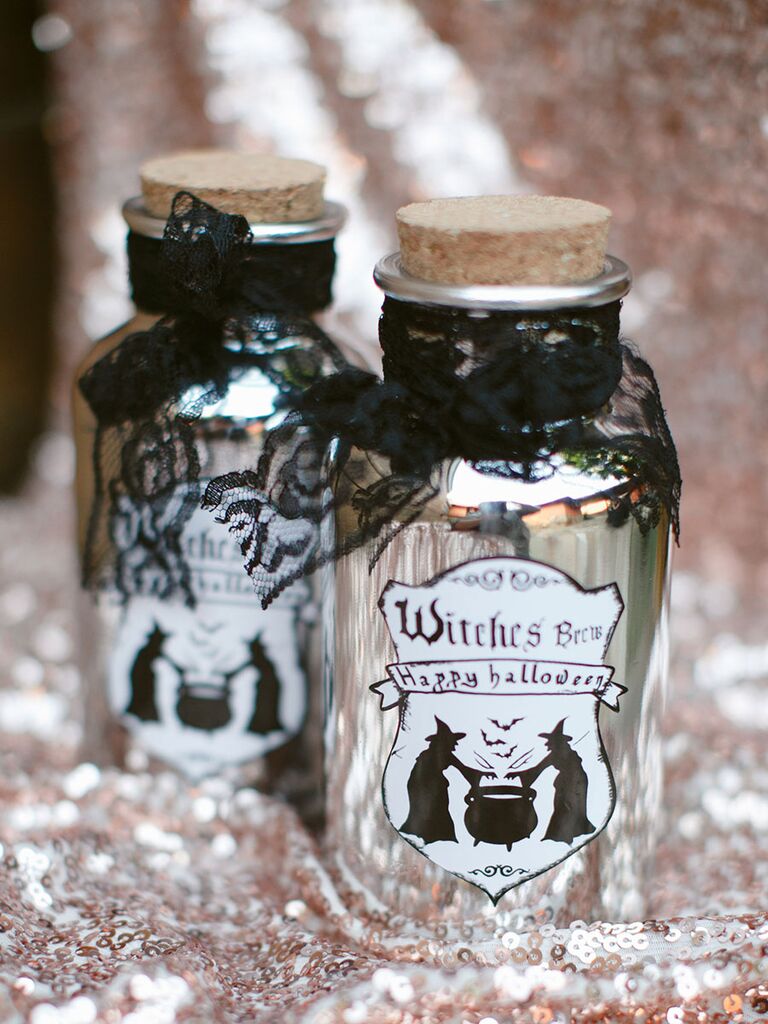 Your Halloween wedding favors could be anything from a make-your-own candy bar (include cellophane bags and bowls of sweet favorites) to locally made caramel apples or splits of champagne with a customized label (like "Witch's Brew: Drink If You Dare"). You could also send your guests home with miniature pumpkins, Halloween decorated cake pops and cupcakes or even a deck of Tarot cards.

13. Grand Exit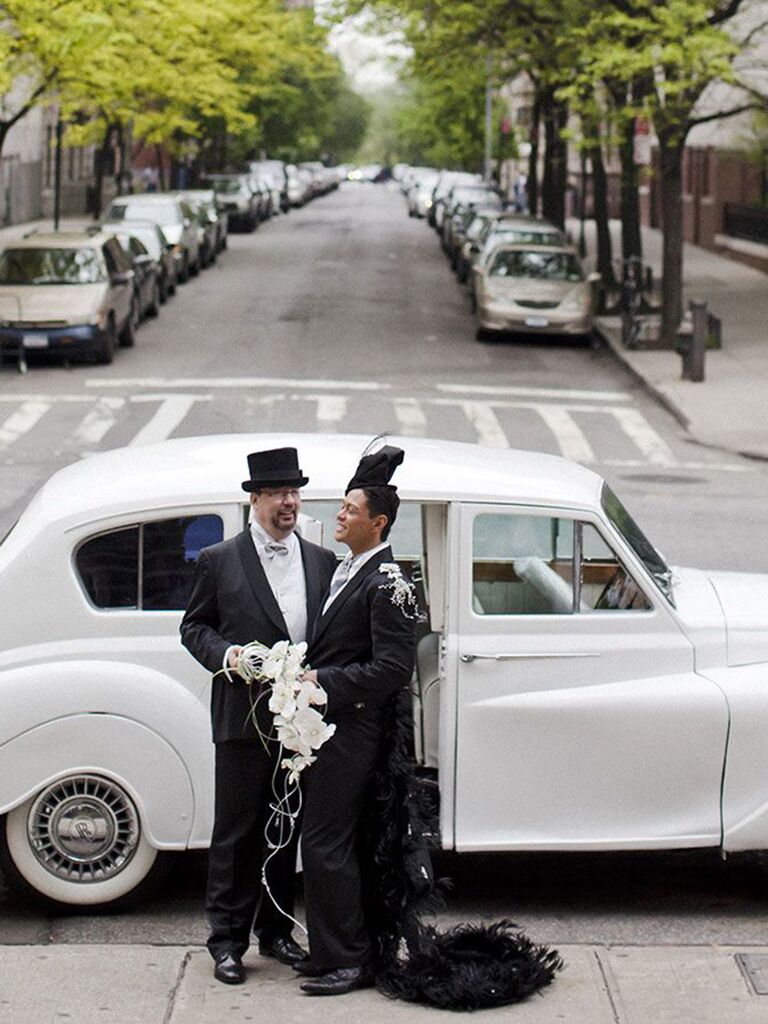 One of our favorite, underrated Halloween wedding ideas is including a souped up, spooky getaway car—because your reception departure obviously needs to be as fabulous as the party before it. If the forecast calls for cooler temps, make your getaway in a black town car. To really make a statement, opt for a black, antique, horse-drawn buggy. Have your driver play the part in a top hat, tails and gloves to complete the look.