40 Halloween Wedding Ideas Perfect for Spooky Season
These ideas bring new meaning to "till death do us part."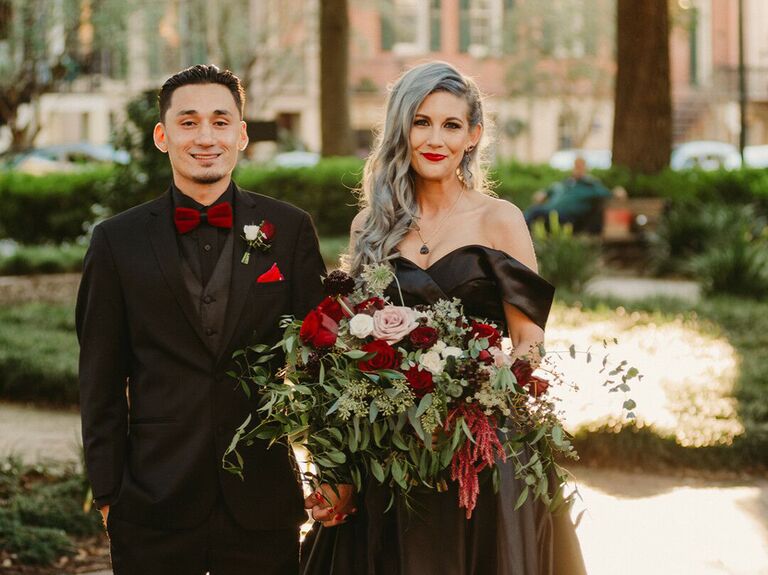 Photo: Dewitt For Love Photography
If you're tying the knot on October 31st, chances are you'll need Halloween wedding ideas that celebrate your union and the fright-filled holiday. (And yes, it's okay to get married on Halloween. It isn't an unlucky wedding date.) The great thing about wedding themes is that they give you the freedom to get creative with out-of-the-box ideas. You could say goodbye to wedding white and make the most of a color palette centered around black. Additionally, you could bring in a skull or pumpkin motif to thread throughout the event's design. No matter what route you go, there's sure to be a Halloween wedding idea below that deserves a spot in your ghoulish wedding plans.
In this article:
Halloween Wedding Ideas:
Colors | Decor | Cake | Centerpieces | Bouquet | Editor's Favorites
Ideal Halloween Wedding Venues
Your Halloween wedding venue doesn't have to be creepy and full of cobwebs. Choose a location with history and elegance, like a Gothic cathedral, castle, mansion or haunted hotel. Farms with corn mazes could also be a great locale because they offer a fun reception activity for all ages. For couples who want to make their big day extra unique, consider hosting at a cemetery, saloon, cave or woodland area.
Halloween Wedding Budget Priorities
For a Halloween-themed wedding, we suggest putting lots of attention on your decorations because it will put you and your guests in a spooky mood. Hiring an experienced wedding planner to help you accomplish this will elevate your October wedding. A planner will know that a moody tablescape, tarot card table numbers and dark florals are just a few ways to set the eerie tone. Sending Halloween-inspired wedding invitations is also crucial so your guests know what to expect before your special day––think: dramatic fonts, themed illustrations and Victorian borders. So invest in a stationery expert to help pull these eye-catching Halloween ideas off. And finally, arguably, one of the top three must-have vendors is your wedding photographer because they'll know the right way to capture your haunted celebration. Use our suggestions as a starting point for making your wedding budget, then use The Knot's budget tool to make your final wedding decisions.
Halloween Wedding Colors
The best colors for a Halloween wedding aren't just orange and black. Dark reds, purples, golds and even varying shades of white can work. Below are the most popular Halloween wedding colors and palettes that won't make your celebration look juvenile. (Psst. This is how to pick your wedding color palette if you don't know where to start.)
1. Orange and Black Halloween Wedding Colors
We had to include this iconic color combo on the list. Orange and black can be beautifully incorporated into your Halloween wedding decorations without reminding everyone of a plastic jack-o'-lantern. Use burnt oranges, browns and rust tones to contrast against jet-black details as this couple did.
2. Gold, Black and Crimson Halloween Wedding Colors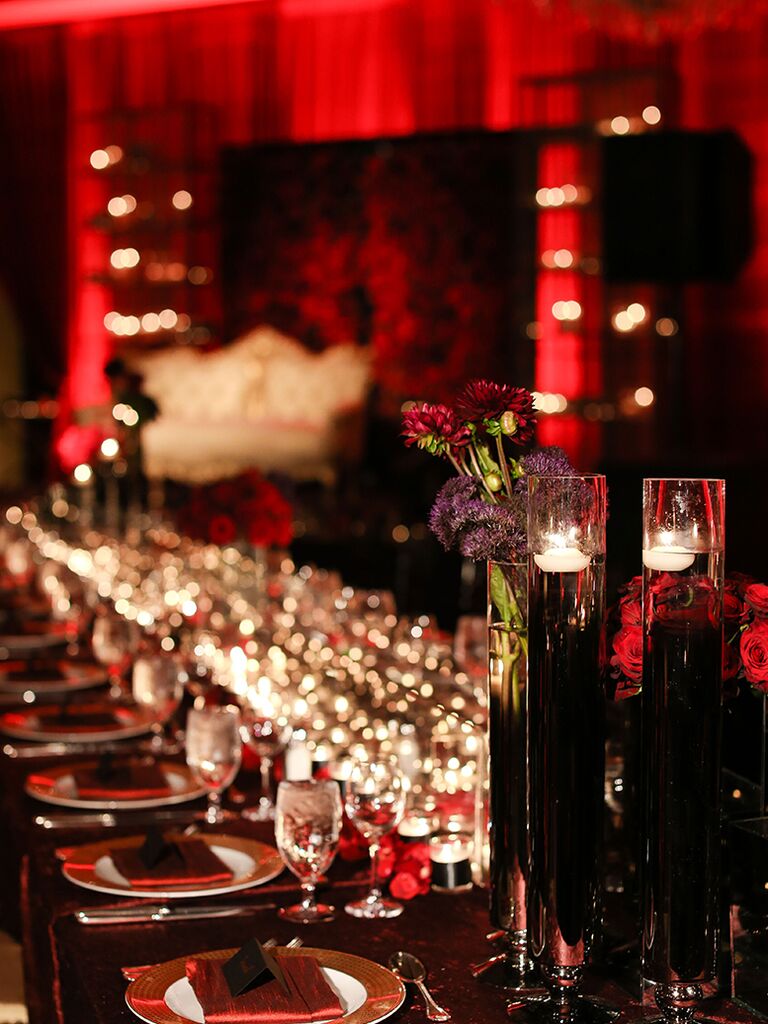 Having a classy Halloween wedding is possible with this glam and romantic color palette. We love the velvet crimson table linens, gold-rimmed plates and black floating candle centerpieces. This is a great choice for couples who want a sultry and vampiresque vibe.
3. Copper and Ivory Halloween Wedding Colors
If dark colors aren't your thing, try copper and ivory for your Halloween wedding. Copper is perfect for fall weddings and stands out subtly and elegantly against ivory. From your wedding invitations to your cake, don't be afraid to have fun with these hues.
4. Purple and Black Halloween Wedding Colors
A royal purple and black allows you to set a moody vibe without trying too hard. Dark green, burgundy and gold also complement this color scheme. From the dramatic floral centerpiece to the carnival-inspired menu card, we love how these newlyweds seamlessly integrated these colors.
Halloween Wedding Decorations
To throw a successful Halloween wedding, you'll need top-notch decorations for your theme. Check out these wedding fun and funky details for your ceremony and reception.
5. Halloween Tarot Card Table Numbers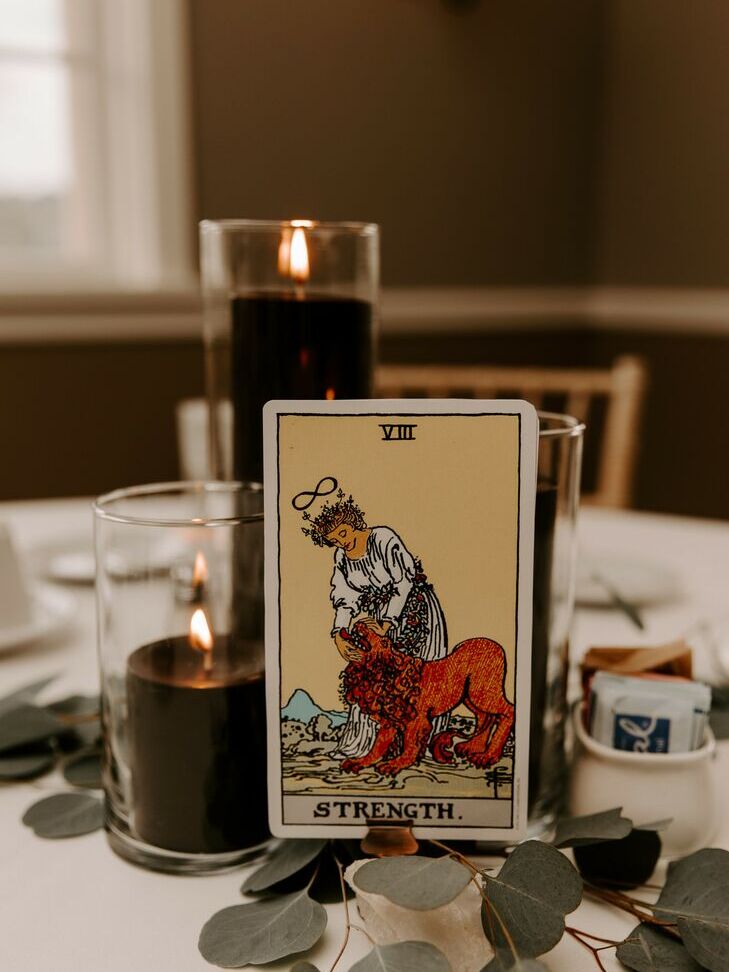 Tarot cards shine a light on an individual's past, present and future. Use this mystical deck of cards as a creative way to number your tables. In addition to hiring a great DJ or band, consider bringing in a tarot card reader to entertain your guests during cocktail hour and the wedding reception.
Find your kind of venue
From barns to ballrooms, discover reception venues that feel like you.
6. Eclectic Halloween Wedding Decor
To frighten guests, consider decorating with skulls and taxidermy as this couple did. Not only are glass cloches having a moment in the decor world, but they are also a great option for showcasing spooky decor details.
7. Vintage Halloween Wedding Escort Cards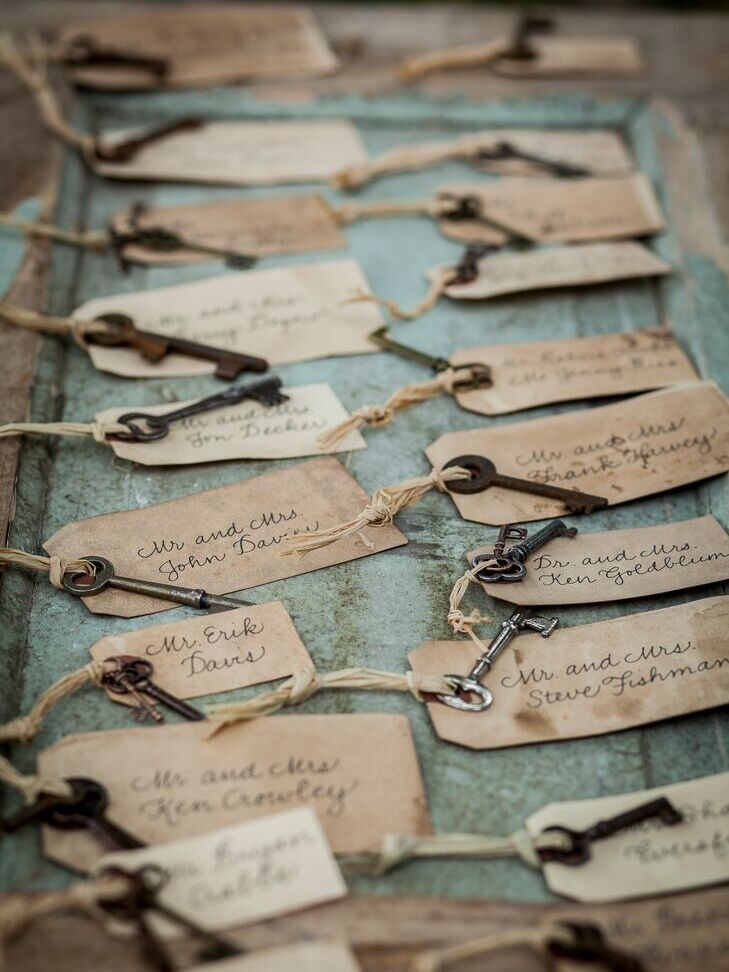 Skeleton keys can easily be sourced from flea markets, thrift or antique stores and are a fun option for a favor-escort-card combo. We love how the couple gave each guest a different key, making this Halloween wedding idea even more personal and unique.
8. Skeleton Halloween Wedding Guest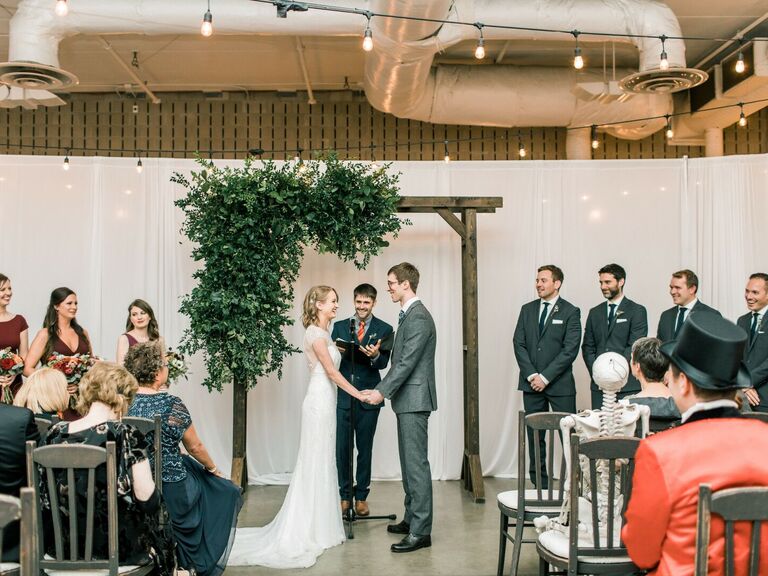 Not all the attendees at this wedding ceremony were human. One skeleton snuck into the ceremony to watch the happy couple exchange wedding vows.
9. Black Pumpkin Halloween Wedding Aisle Decor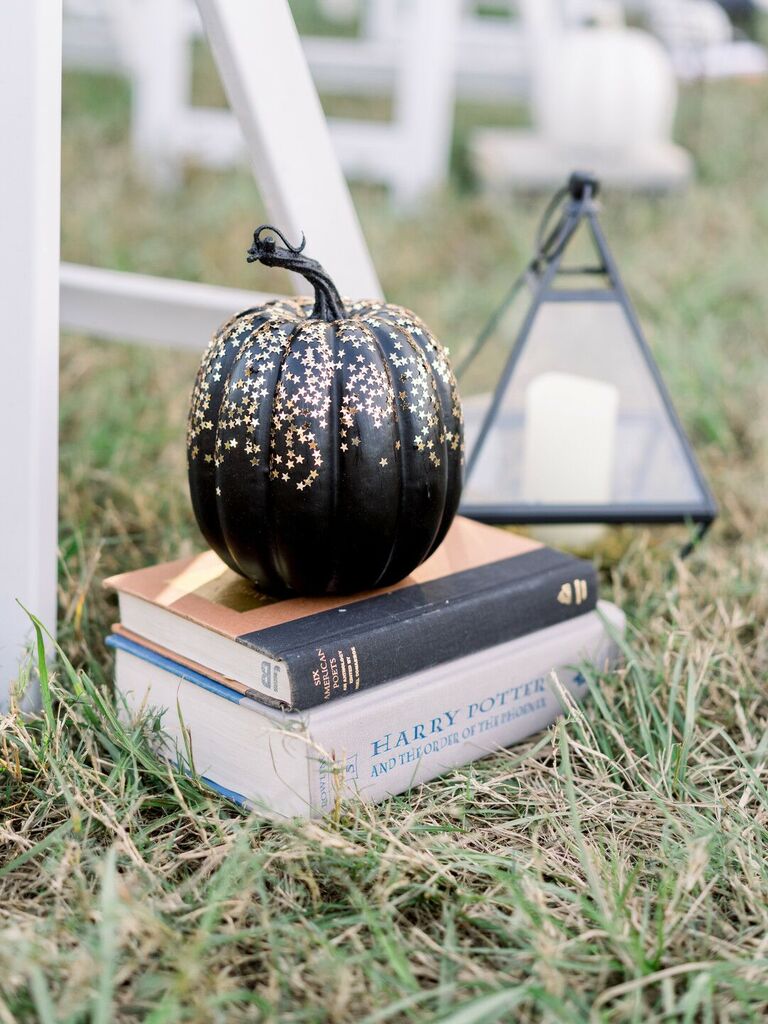 While you could certainly line the aisle with jack-o'-lanterns, this couple had fun painting pumpkins black to use as Halloween ceremony decor. They even used their favorite books as stands for their DIY masterpieces.
10. Elegant Halloween Wedding Black Chandelier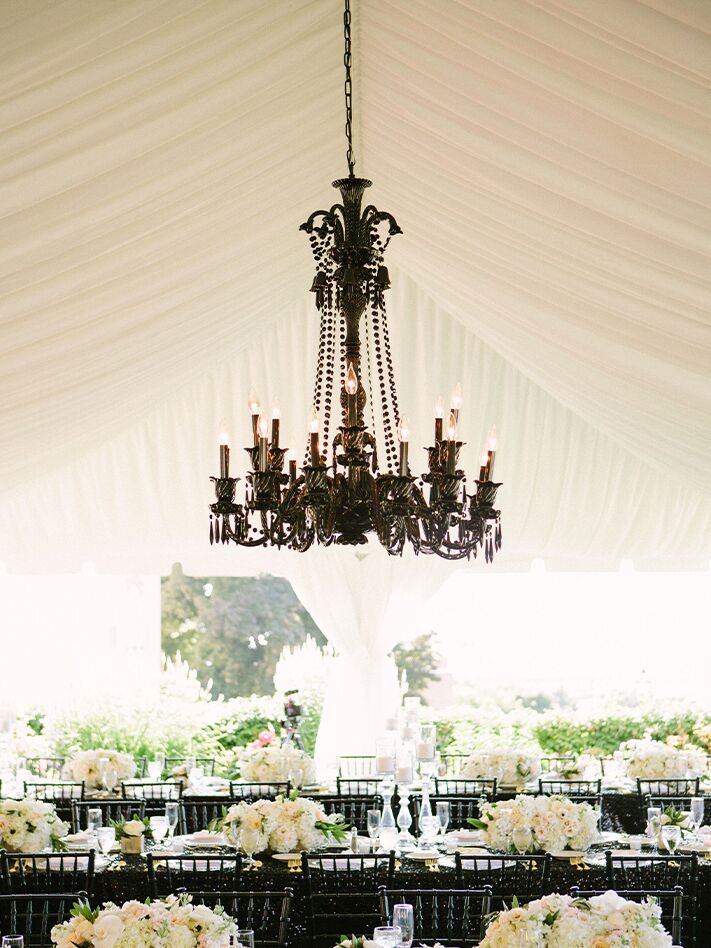 A dramatic black chandelier brought a glam-meets-creepy vibe to the wedding reception decor. The chandelier also went perfectly with the black glitter table linens.
11. Halloween Wedding Welcome Sign Decorations
The great thing about a Halloween wedding is that you can buy decorations at your local party store. Instead of being used as a jumpscare on someone's front porch, this corpse couple welcomed guests at the wedding reception.
12. Halloween Mummy Table Name Card
Each table at this wedding had a Halloween ghoul as the name card. If you don't want to use illustrations as this couple did, use monster props like a witch's hat or vampire fangs to distinguish tables from one another.
13. Sinister Halloween Wedding Stage Decor
An abundance of dark foliage, pink roses and black chandeliers added a gothic touch to this wedding. Remember, every part of your event should be decorated––even the stage area.
14. Unique Halloween Wedding Dessert Display
A wall decorated with the famed Death Cab for Cutie lyric was the backdrop for this sugary spread. If you don't have space for a dramatic backdrop for your dessert display, consider creating one for your photo booth.
Halloween Wedding Cake Ideas
Don't miss an opportunity to be your most creative. You can go simple or over the top with your Halloween wedding cake, but no matter what, make sure you do something personal to you and your boo.
15. Semi-Naked Halloween Wedding Cake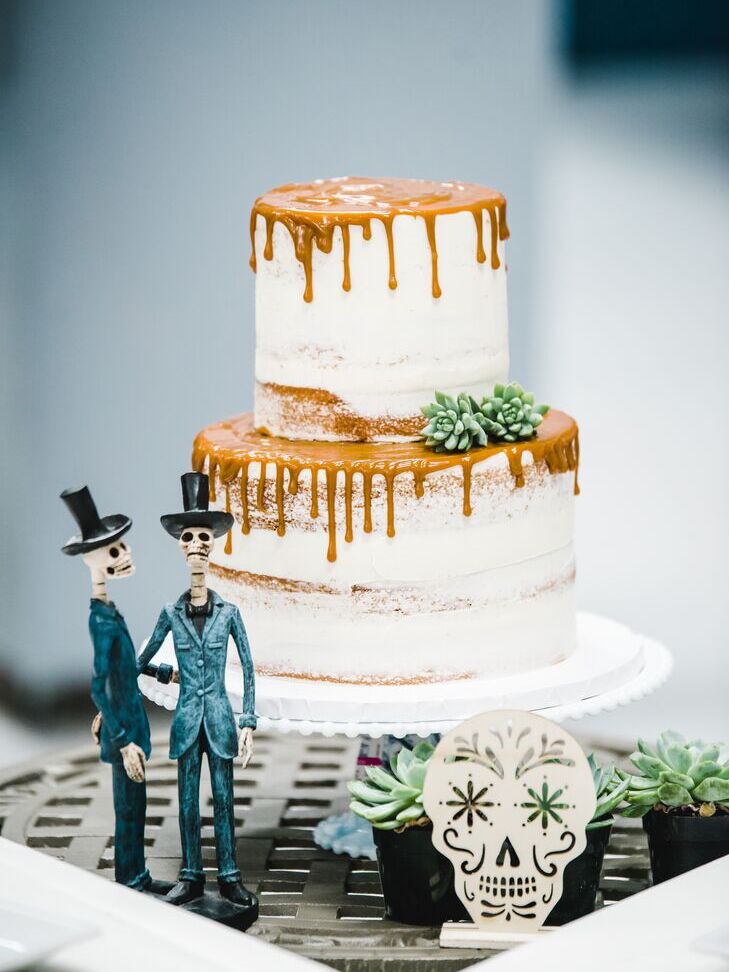 The grooms had a modern semi-naked cake with caramel topping on each tier. To add some personality to their cake, they had a white sugar skull cake topper and matching skull figurines (inspired by Día de los Muertos) to honor one of the groom's Mexican heritage.
16. Pumpkin Halloween Wedding Cake Toppers
White and black was the color scheme at this Halloween wedding. The couple had a delicious buttercream wedding confection with cute pumpkin cake toppers that read "I love you" and "I know."
17. Dramatic Jet-Black Halloween Wedding Cake
Black wedding cakes will always be one of the most luxurious options for a Halloween wedding. Black is effortlessly striking since guests will expect a traditional white cake. Also, we love how this couple had a matte, glitter and rose-textured tier for their cake.
18. Mad Hatter-Themed Wedding Cake
This couple took inspiration from "Alice in Wonderland" for their Halloween wedding cake. The dessert had an edible top hat, playing card-inspired accents, a teapot and clocks.
Halloween Wedding Centerpieces
Bring your decor Halloween wedding ideas to the reception tables too. Here are some of our favorite wedding centerpieces for a terrifying tablescape.
19. Halloween-Inspired Moody Tablescape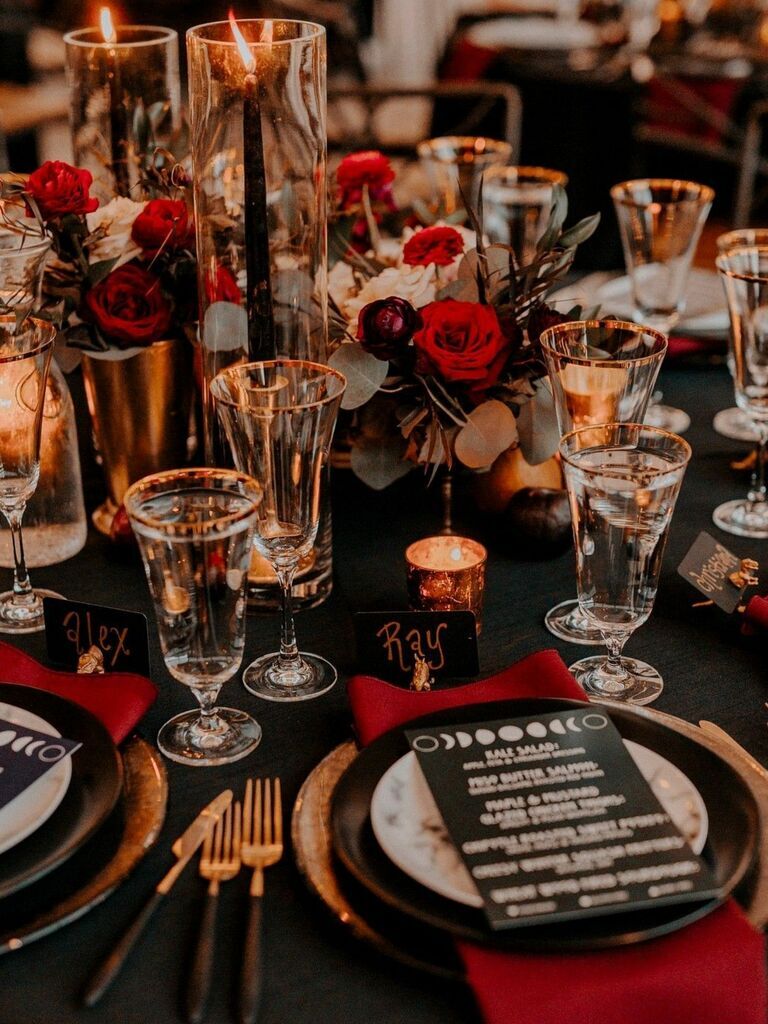 This entire red-and-black tablescape is wow-worthy. From the celestial menus to the rich red roses, black candles and gold accents, the table's design is romantic and mystifying in the best way possible.
20. Witches Brew Halloween Wedding Centerpieces
Since the to-be-weds' celebration fell on October 31st, they decided to make their reception Halloween-themed. Cute silver vials that read "Witches Brew Happy Halloween" were placed on each table.
21. Halloween Wedding Spell Book Centerpieces
Tap into the magic of Halloween and have fake spell books as wedding centerpieces. Look online to see if you can find some with fun Halloween-themed kids' activities.
22. Inventive Pumpkin and Floral Centerpiece
You can't have a Halloween wedding without a few pumpkins involved. At this autumn wedding, the couple used the pumpkins as vases for ranunculus, hydrangeas, craspedia and dusty miller blooms.
23. Halloween Black Taper Candles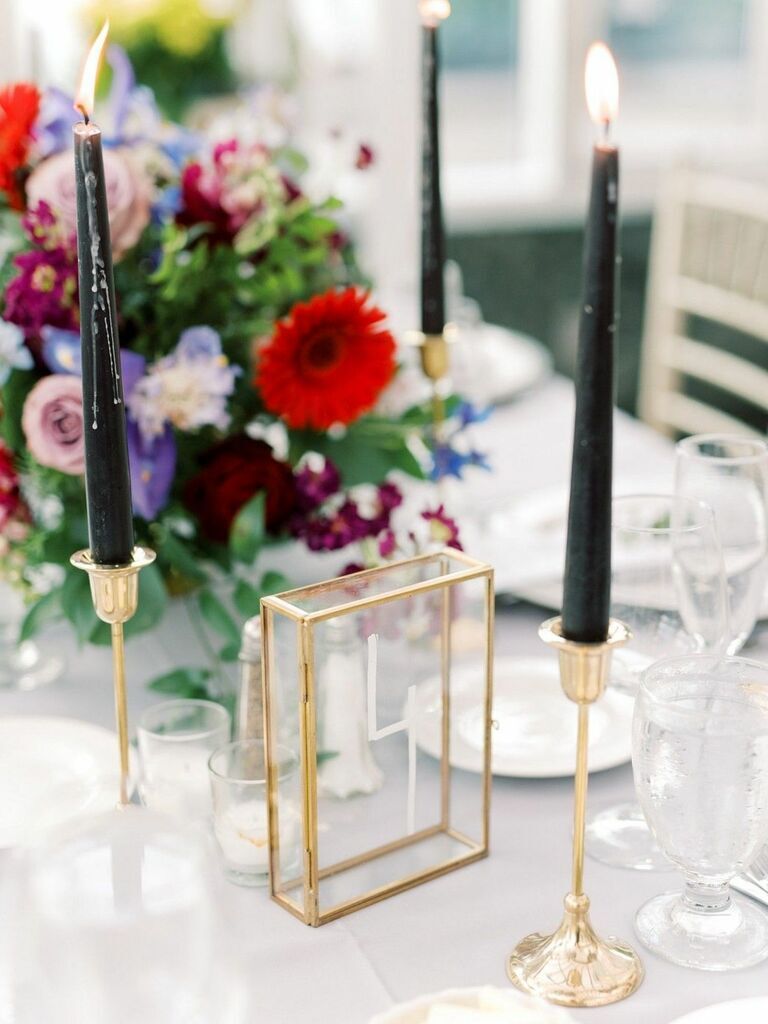 Black taper candles brought an elegant vibe to the wedding tables at this event. For a more glam look, swap the simple candleholders for dramatic candelabras covered in cobwebs.
Halloween Wedding Bouquets
Finding the right Halloween wedding flowers isn't a hard task. Just check out these seasonal, innovative and lush wedding bouquets below.
24. "Stars Wars"-Inspired Wedding Bouquet
We love this whimsical air plant and pincushion protea bouquet. If you look closely, you'll notice each bouquet is adorned with "Star Wars" battleships.
25. White Rose and Black Feather Halloween Wedding Bouquet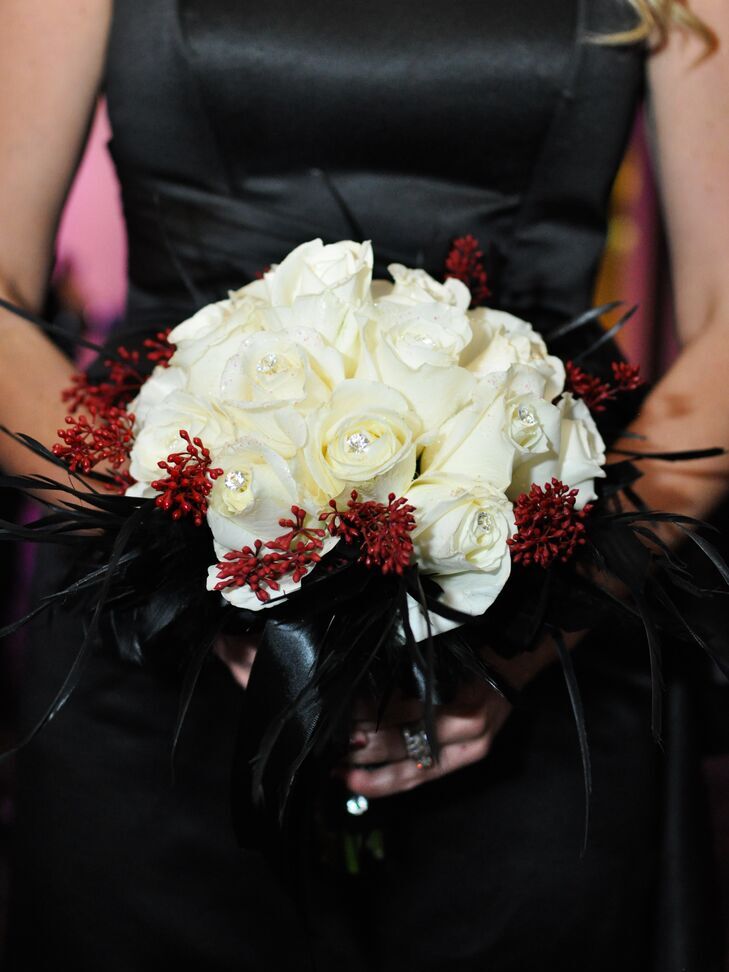 At this red and black wedding, the bridesmaids carried dramatic bouquets of white roses, red berries and black feathers. We love the rhinestones placed in the center of each rose.
26. Bold Purple Halloween Wedding Bouquet
If you're wearing a bold and colorful wedding outfit, carry a bouquet of dark colors as an eye-catching contrast as this bride did. Her floral arrangement had dark dahlias, scabiosa and fern shoots.
27. Dramatic Halloween Wedding Bouquet
At this alternative Halloween wedding, the bride had a gorgeous and unique bouquet full of reds, dark purples and black. The proteas, black dahlias, black calla lilies and red roses in her bouquet were also on the reception tables.
Editor's Halloween Favorites
It's hard not to have everything on this list be a favorite of mine since Halloween is my favorite holiday. But some standout wedding details made it to the top. Below are 13 of the best ideas for a Halloween wedding.
28. Glam Purple and Black Halloween Wedding Invitation
Include a Halloween motif in your wedding stationery, like black cats, a coffin, skulls or spider webs. Start with your Halloween wedding invitations so your guests know what to expect from the big day.
29. Black Halloween Wedding Suit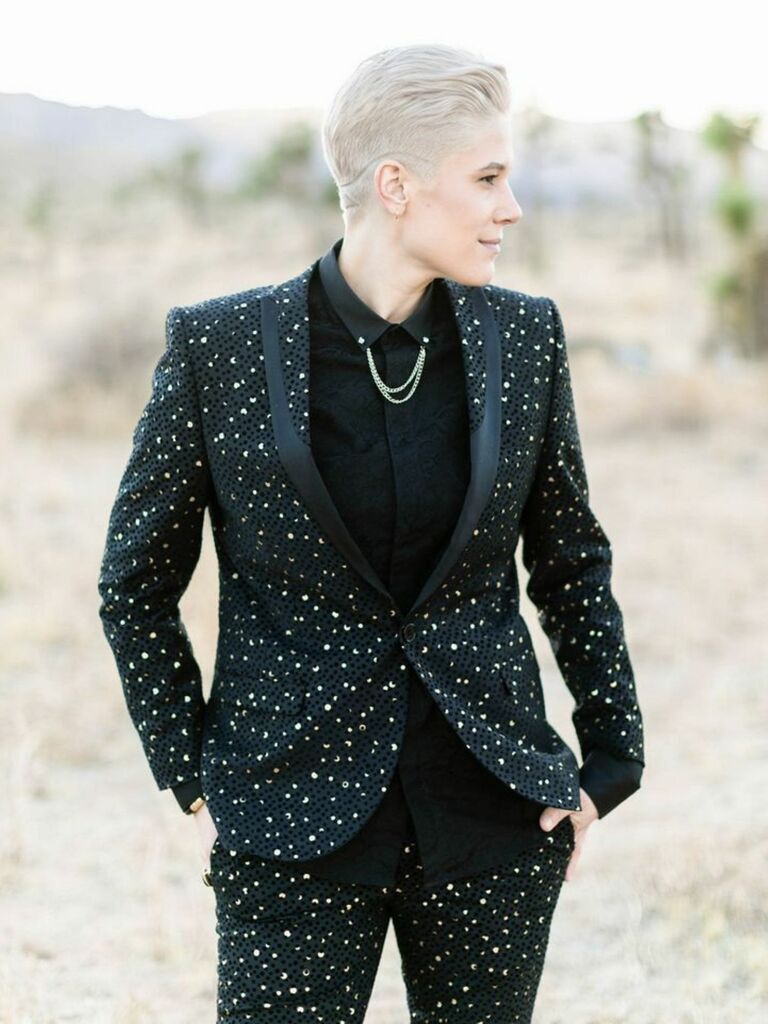 This bride rocked an epic cheetah print black suit for her gothic wedding celebration. This is a prime example that unique patterns deserve a place at your wedding.
30. "Star Wars" Storm Troopers at a Halloween Wedding
This couple got the party started at their wedding reception with a little help from some Storm Troopers. Any "Star Wars" fan will be beyond excited to get a picture with this galactic crew.
31. Bride With Halloween Wedding Makeup
Even if you don't wear black on your wedding day, there are plenty of ways to bring a spooky feel to your wedding day look. From gothic-inspired wedding shoes to moody makeup, consider bringing in eerie details to complement your wedding dress.
32. Halloween-Themed Wedding Cookies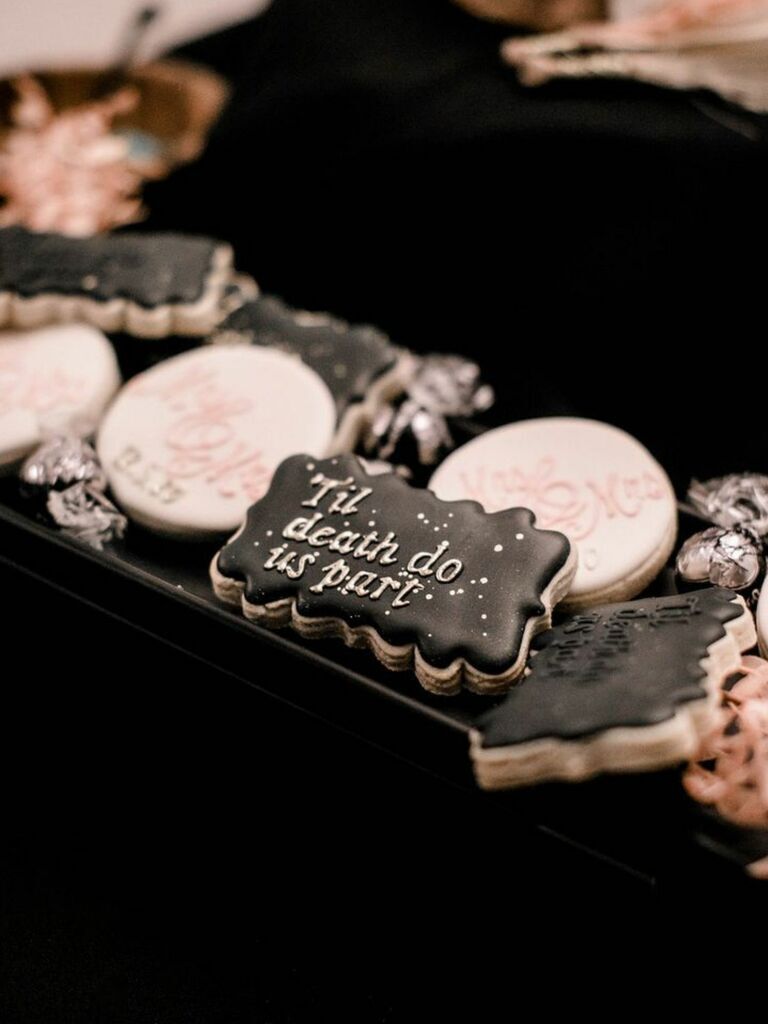 Since guests will be skipping trick-or-treat activities for your wedding, sweets are a must for a Halloween wedding. Cookies decorated with the phrase "'til death do us part," were offered on this big day.
33. 'Til Death Statement Halloween Wedding Ring
This cool bride wore a wooden "Til Death" statement ring for the day. Consider getting a custom ring with that statement and your and your partner's initials.
34. "Harry Potter"-Inspired Dog Wedding Outfits
Including your pet in your wedding will never go out of style. Dress your furry friend in Harry Potter-themed attire.
35. Wedding Guests Wearing Halloween Costumes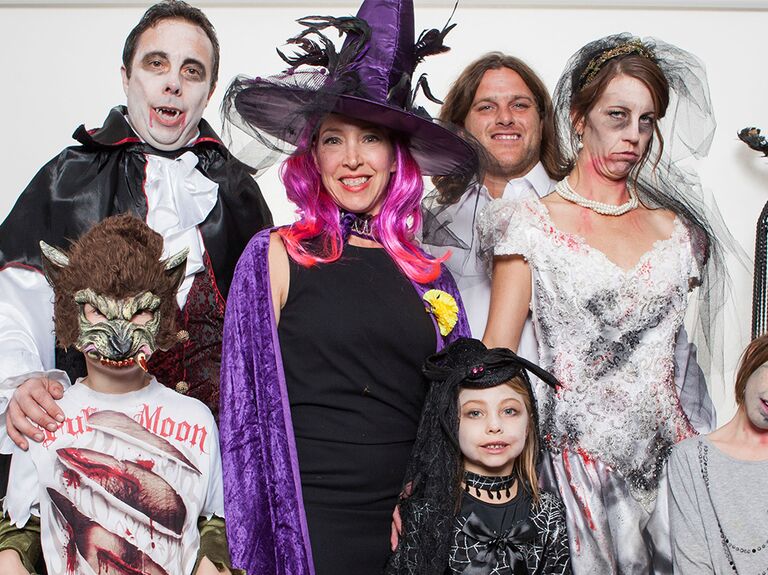 For themed weddings, it's always a great idea to get guests in on the fun. This couple asked attendees to come to the wedding dressed in Halloween costumes.
36. Halloween-Themed Leather Jacket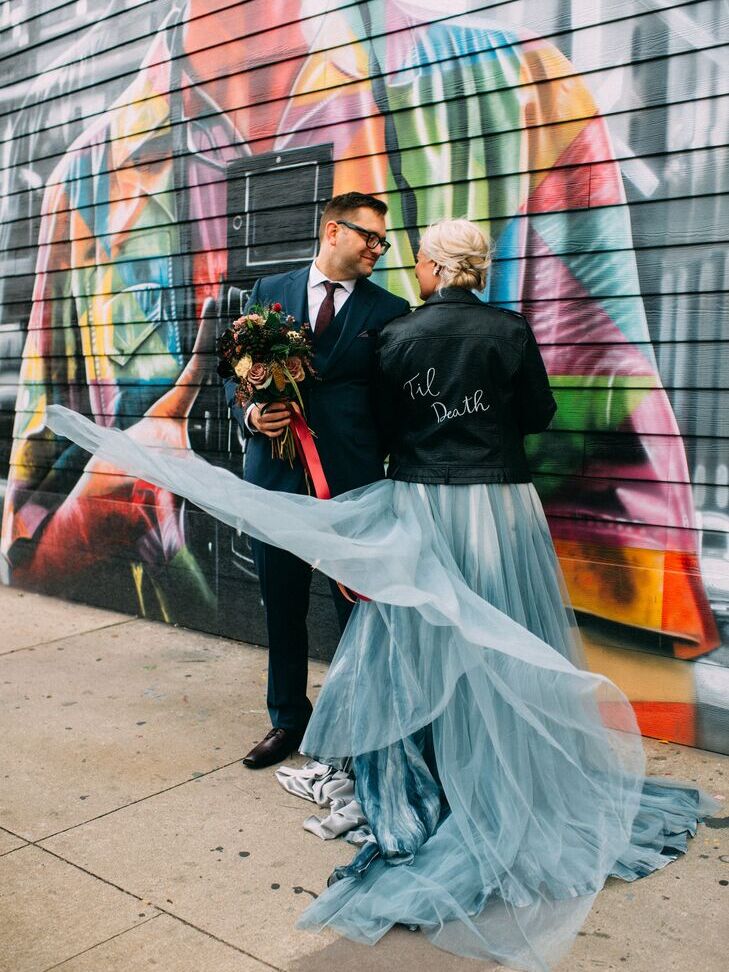 Get edgy with your wedding day look. A calligraphed custom leather jacket was the perfect finishing touch for this bride.
37. Halloween Wedding Coffin Ring Box
No one said your ring box had to be simple. Put your wedding jewels in a mini coffin-shaped box to show everyone you're serious about your vows.
38. Wig Wall at a Halloween Wedding Reception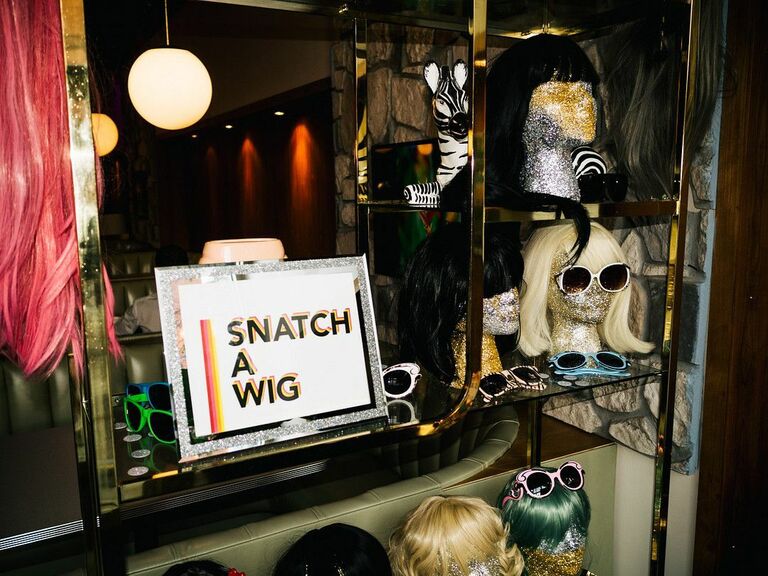 You don't have to ask guests to come to the wedding dressed in costumes. This couple had a wig wall at their reception where attendees could snag a colorful wig to wear while dancing.
39. Black Engagement Ring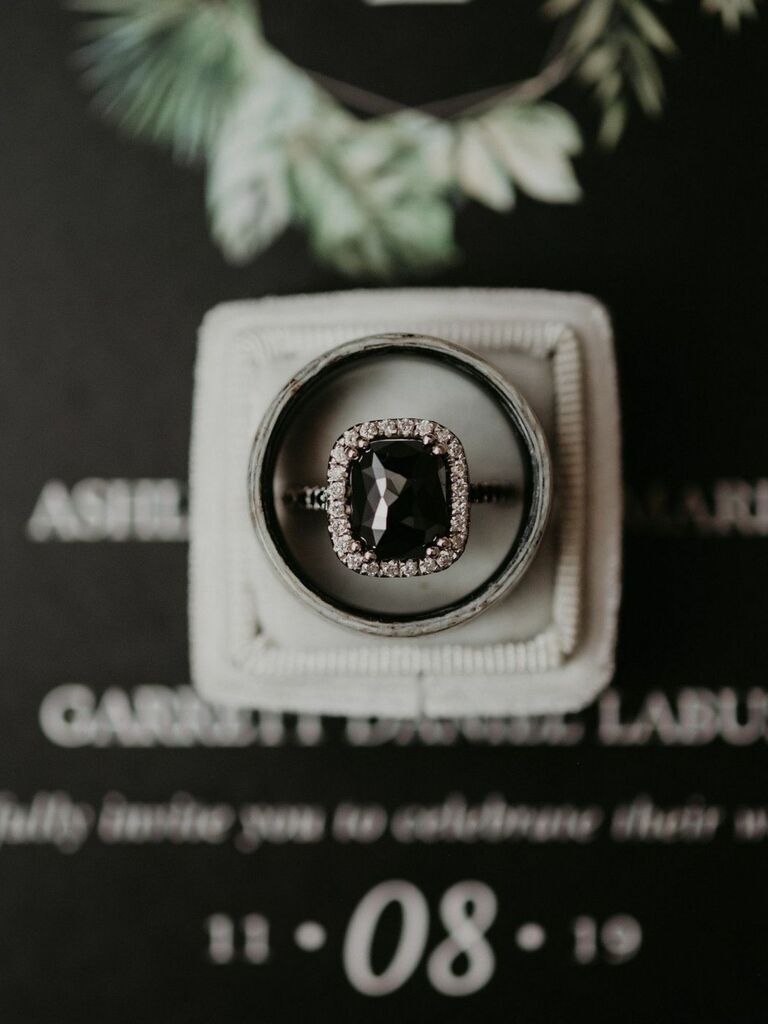 For couples who want their love of Halloween to extend beyond the wedding day, consider selecting gothic wedding rings that you can wear for years to come. Let these black diamond wedding rings inspire you.
40. Crystal Halloween Wedding Favor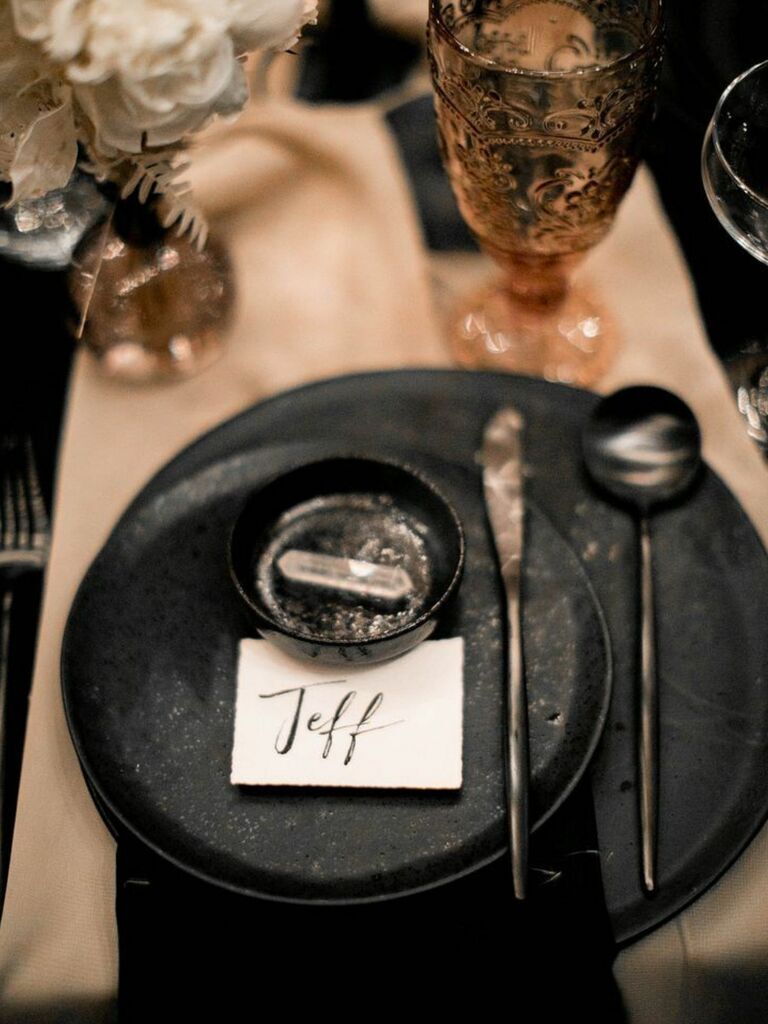 Shoutout to all my crystal lovers. Incorporate your down-to-earth and mystical aesthetic into your table settings, which can double as a wedding favor.
Halloween-Themed Wedding Tips
Now that you're fully inspired by those horrortastic Halloween wedding ideas above, here are some final planning tips. These wedding experts break down the most important things you need to know.
Communicate the theme with your guests.
Nora Sheils, founder of Bridal Bliss and leader in the Northwest event planning industry, emphasizes the importance of prewedding communication with guests. "You need to let guests know what to expect, especially if kids are invited. You don't want your wedding to cause nightmares. Also, communicate your expectations for guests—are you expecting guests to dress up? If so, make it super clear."
Have fun with your theme.
Holidays, like weddings, are meant to be fun so feel free to let loose and incorporate details because they excite you, not because you feel obligated to. Kathryn Cooper, professional wedding photographer and owner of Kathryn Cooper Weddings, advises couples to "have fun and create the wedding experience you love. Don't try to make others happy because you'll always have an Uncle Bob who refuses to dress up," The pro, who boasts more than 17 years of wedding experience, goes on to say that "If you want a spooky wedding or even just elements of it at your dessert table, do you and put out all the fake cobwebs, spider rings, and mini pumpkin favors you love. In the end, have fun and create a day you'll love, and your guests will follow suit."
Use color and decor subtly and strategically.
Sheils suggests subtlety with color and decor is the way to go to ensure the day doesn't feel tacky. "It's easy to go overboard on the decor which quickly turns from chic to tacky. Stick with elegant fall tones such as burgundy, deep orange, or copper and add some unique seasonal items to make it festive. Or think of a monochromatic with a few neutral or metallic pops like black and copper or charcoal and ivory. You get the Halloween point across without it being overwhelming."