Our Favorite Spooky Bach Party Destinations Across the US
Between Savannah or Salem, Wednesday Addams would approve of these haunted hangouts for your crew.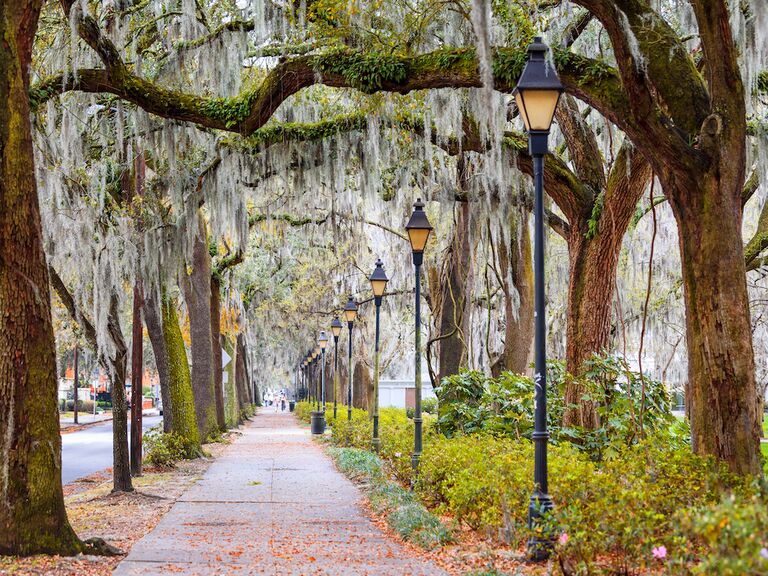 Getty Images

We have included third party products to help you navigate and enjoy life's biggest moments. Purchases made through links on this page may earn us a commission.
Certain destinations whisper to groups of friends. Some like partying on a beach while others prefer a spa day. What doesn't seem to come up enough in conversation is wedding parties that love spooky activities and haunted history. Around Halloween, particularly, there are so many amazing trips to take, but these year-round spots incite fear. Here are the best places to visit across the US to fully embrace a spooky bachelorette party.
Salem
A Salem bachelorette party is at the top of the list for East Coast groups. Of course, the city was put on the map for the Salem Witch Trials back in the late 1600s, with plenty of historical landmarks to explore. In October each year, Salem also has its Haunted Happenings Festival. Visitors and locals go all out, wearing movie-quality costumes, roaming the streets. Psychics are waiting to give you a tarot card reading. There's no shortage of fun (or Instagram captions) for bach parties to enjoy.
Where to stay:
The Hotel Salem has a mid-century feel and is just a short walk to local boutique shops and entertainment. The Hawthorne Hotel has been around since the 1920s. It's centrally located, right in the action of the Haunted Happenings Festival and has an eerie past. Guests and employees have reported seeing figures, hearing babies crying, lights flickering, and more. According to SalemGhosts.com, "one particular employee refuses to work nights ever again. During his evening shift, after cleaning a room he went to get supplies and returned to find the room's entire configuration changed around." The Salem Inn dates back to 1834 and has been turned into a cozy bed and breakfast perfect for an overnight stay.
Where to eat:
While in town, be sure to check out Sea Level Oyster Bar for a hot and dirty (a spicy dirty martini made with pepperoncini juice), some oysters on the half shell, and chowder fries. Get a sandwich or salad at Witch's Brew Cafe is close to the House of Seven Gables, put on the map thanks to Nathaniel Hawthorne's 1851 novel. The Derby has a great brunch and if you're looking for a coffee to grab and go, stop in to Gulu-Gulu Cafe for a latte.
What to do:
Explore the shops along Essex and Derby like the Harry Potter-style wand shop, Wynott's Wands. Wicked Good Books is the perfect place to find a new story to get lost in and Crow Haven Corner is where you'll find metaphysical goodies, sage and more. Explore some sites from the original Hocus Pocus movie. Visitors can see the Old Town Hall, Pioneer Village, Phillips Elementary School, and Ropes Mansion (aka Allison's house) to name a few. Check out some of the historical sites in town like The Witch House where Jonathan Corwin, a judge during the famous witch trials, resided. Explore The Salem Witch Museum to learn about the witch trials and get a reading from a local psychic or tarot card reader.
New Orleans
A New Orleans bachelorette party comes with all the perks: amazing food, local small-town shops, jazz music blaring through the streets, stunning architecture… and plenty of spirits. There's a reason New Orleans is known for being one of the most haunted cities in the country. The area was once home to the original voodoo queens and powerful wickens; plus, unspeakable crime throughout history.
Where to stay:
One11 Hotel is located on the Mississippi River within walking distance from Bourbon Street, full of restaurants, bars, and shops. Hotel Monteleone is home to the popular circular bar that spins slowly, resembling a carousel. If you're looking to splurge, stay at The Ritz-Carlton, New Orleans. Here, guests can expect luxury amenities like live jazz in the hotel, spa treatments, and spacious rooms.
Where to eat:
Of course, Café Du Monde has to be on your list for a coffee and some beignets. Deanie's Seafood has some delicious seafood options like crawfish and chargrilled oysters. Head over to Tujaque's Restaurant in the French Quarter (that has been running for over 160 years) for some delicious shrimp and grits. Superior Seafood is a classic for oysters, cooked or raw, and Tableau has high end dishes like poached and fried oysters paired with brie, apples, cherry wood-smoked bacon, and Herbsaint-infused cream on crispy bread. While in the south, Willie Mae's Scotch House is a must for their crispy fried chicken and sides.
What to do:
While in New Orleans, scope out some public art and magnificent street murals in the city. Explore along with the French Quarter and Bourbon Street to find some unique shops like Marie Laveau's House Of Voodoo on Bourbon St. Nearby, take a Tour the Sazerac House before seeing a live show at Preservation Hall Jazz Concert in the French Quarter. To learn about the spirits in the city, the history of voodoo, and psychotic serial killers, check out Ghost City Tours.
Sleepy Hollow
The history of the village of Sleepy Hollow is famous and it's fun to explore during the fall. Washington Irving's, "The Legend of Sleepy Hollow," put this quaint village on the map, tying in sites like The Old Dutch Church and the Headless Horseman Bridge.
Where to stay:
The Tarrytown House Estate on The Hudson sits on 26 acres. From the 1840 King Mansion, one of their rooms on site, guests can enjoy a sizable balcony overlooking the Hudson River and the bright lights of New York City in the distance. Another option nearby is Castle Hotel & Spa, a Norman style, 19th century palace on the Hudson.
Where to eat:
While you're in Sleepy Hollow, dine at Dale Talde's restaurant, Goosefeather, for Hong Kong inspired cuisine. The Bagel Emporium sells soft, chewy bagels, with a bunch of different spread options. In addition to bagels, they sell flagels which are essentially just flat bagel skin without the soft, doughy middle. If you're looking for a sweet treat to bring home, head to The Bakehouse of Tarrytown for anything from stone fruit pies to freshly baked cookies. For farm to table dishes, head over to the RiverMarket Bar and Kitchen. There's a small market attached with local wines, cheeses, eggs, and more.
What to do:
While in town, be sure to check out the famous Sleepy Hollow sites like the Sleepy Hollow Cemetery dating back to the mid 1800s that is home to some famous gravestones like Andrew Carnegie. The Sleepy Hollow Lighthouse from the 1880s can be seen along the Westchester RiverWalk. There's a huge Sculpture of the Headless Horseman on Broadway and, of course, the infamous Headless Horseman Bridge. The Old Dutch Church from 1685 and is part of Washington's famous story.
San Antonio
San Antonio's history dates all the way back to the 1500s, so you know there's some spirits left behind in the city, especially near the Alamo. With the Battle of the Alamo in the mid 1860s playing a huge role in Texas' fight for independence, it's said that the ground is still home to quite a few spirits on the property.
Where to stay:
If you prefer to stick to a chain due to loyalty points, there are plenty along the Riverwalk area from Hyatt to Embassy Suites by Hilton, but if you want to splurge, it has to be Hotel Emma. The hotel has 146 rooms available, all absolutely incredible and unique, full of luxury, with a rooftop pool to cool off after you've been walking around in the Texas heat.
Where to eat:
The Magnolia Pancake Haus has huge, delicious pancakes to start your morning on a good note. Order some light, fresh ceviche at La Gloria while soaking in the riverfront views. Head over to the Pearl District via river taxi or walking. At times, they have an incredible farmers market there selling everything from flowers and local produce, to prepared foods and gourmet jarred goods. The Pearl area is sprinkled with locally owned boutique shops and delicious restaurants like Green for exceptional vegetarian food. Save room for a sweet treat from Bakery Lorraine, a French style bakery with macarons, cakes, tarts, and cookies.
What to do:
Discover the history of the Alamo during one of their tours. Visitors can explore and read through information on their own, take an audio tour, or take a guided tour. If you're not interested in a tour, it's still free to access the buildings. Explore the Riverwalk filled with stores, souvenir shops, bars and restaurants along the water. GO RIO San Antonio River Cruises is a great way to get up and down the river if visitors don't feel like walking. Don't miss the stunning Cathedral of San Fernando. As the state's oldest building, the gothic style cathedral is said to be home to many presumed ghosts and spirits.
Stowe
Stowe is a charming, small town in northern Vermont, full of little country stores, boutique hotels, bed-and-breakfasts, delicious restaurants, and maybe even a few spirits. There's plenty to do and see while you're in town, but if you're interested in the paranormal, a visit to Emily's Bridge should be on your itinerary.
Where to stay:
The Green Mountain Inn has been around since the 1830s. It's truly a special place to cozy up for the night. It's a convenient location, great for exploring the town, and despite being on the smaller side the hotel has a swimming pool and a hot tub that can be enjoyed even during the colder season. Topnotch Resort is another wonderful option while staying in Stowe. The rooms are beautiful and spacious, while the hotel is set back enough that you're removed from any noise in town. The Lodge at Spruce Peak is the perfect spot to enjoy mountain views. The pool is heated so guests can still enjoy this amenity, even on cooler days.
Where to eat:
For a perfect fall snack, head over to Cold Hollow Cider for a hot cider donut and a cider slushy. Vermont Artisan Coffee & Tea has phenomenal maple lattes. Smugglers' Notch has bottles of their Vermont Bourbon Maple Cream Liqueur, great for spiking coffee or making bourbon snow slushies in the winter. Idletyme Brewing Company has craft beers, crispy fish fries, juicy burgers, giant pretzels, and pub food. Enjoy fresh oysters and seafood at the Tipsy Trout.
What to do:
As you're walking around town, pop into some of the adorable, locally owned small shops like The Stowe Mercantile on Main Street. It's full of candies, decorations, souvenirs, and even some local beers. Exploring the covered bridges while in Stowe is a must. There's no shortage of them around town, like the Giles W. Dewey Memorial Bridge or Emily's Bridge, named for its dark history. The Gold Brook Covered Bridge (aka Emily's Bridge) was given the nickname because of a tragedy in the 1800s. A woman named Emily was standing on the bridge, waiting for the love of her life because they were supposed to elope. When the man never showed, Emily hung herself under the bridge. There are tales of people driving or walking through the covered bridge and getting mysterious scratches either on their car or their body, in addition to hearing voices.
Savannah
Savannah has a charming vibe and a lot of incredible things to experience, but it's also consistently named one of the most haunted places in the country for a reason. From soldiers that passed during the Siege of Savannah and American Civil War's Savannah capture, to gruesome murders and victims of yellow fever, Savannah has a rich history that lead to some spirits supposedly staying behind.
Where to stay:
There are some truly incredible places to stay in Savannah, but The Brice in Savannah on Bay Street is a perfect location. Not only is the hotel dog friendly if you want to bring your fur baby, but it's in a walkable capacity to the entire city. If you're looking for a truly haunted experience, The Marshall House, Historic Inns of Savannah was named one of the most haunted hotels in the country by USA Today. Around since the mid-1800s, the Marshall House actually used to be used as a hospital on several occasions; once for soldiers and twice during the Yellow Fever epidemic. Visitors have said they've seen spirits walk the halls and that they've heard children sprinting around.
Where to eat:
The food is incredible in Savannah. Sorry Charlie's Oyster Bar has incredible cocktails in addition to fresh seafood. If you're looking for some good old-fashioned southern barbecue, Wiley's Championship BBQ has smoky, juicy ribs, pulled chicken, pork, fried okra, sweet potatoes, and a bunch of different barbecue sauces to enjoy. The Olde Pink House was incredible, with fried pork chops and plenty of oysters. Vic's on the River has crispy fried chicken and southern classics. Grab a scoop at Leopold's Ice Cream.
What to do:
Take a walk down to the waterfront to explore some of the candy shops or stores like Savannah's Candy Kitchen for sugary pralines and candy apples. Browse through the Paris Market for some home decorations or jewelry. Definitely look into doing a ghost hunt tour of the city with Sixth Sense Savannah Ghost Tours. Savannah embraces its past that has led to spirits staying behind. Head over to Chippewa Square where Forrest Gump was filmed. Stop by Forsyth Park to see the fountain.
Chattanooga
It seems like everyone jets right towards Nashville these days, but there's more to Tennessee than just Nashville. The eastern side of the state, in Chattanooga for example, has something special; an underground waterfall. Not just any underground waterfall, but the tallest and deepest in the country open to the public.
Where to stay:
The Read House, particularly in room 311, is said to be the room of a spirit, Annalisa Netherly, and the staff and community fully embrace her being a permanent guest. People who choose to stay in that room have experienced lights flickering, water turning on and off on its own, moving shadows, and odd noises among other eerie things. The other hotel mentioned below is a great option, if you don't feel like trying your luck with the spirits overnight. If you're not looking to try your luck with 311, book a room at the Kinley Chattanooga Hotel. The Kinley is just across the street from the famous Chattanooga Choo Choo.
Where to eat:
Try some familiar and some unusual charcuterie board items from cured meats and local cheeses to homemade head cheese and spreads at Main Street Meats. Grab a latte from Sleepyhead and stop into Frothy Monkey for a fast breakfast will fuel your morning. Stop into Niedlov's Bakery & Café for some baked goods and soft pretzels. The dishes at Flying Squirrel are incredible, including the Spicy Korean "Candy" Chicken. Whitebird is right near the Walnut Street Bridge, serving some of the best shrimp and grits.
What to do:
It'll be tough to narrow down the itinerary with so many Chattanooga bachelorette party ideas. On the list for the group is a trek to Ruby Falls. Deep down in the caverns inside Lookout Mountain is an underground waterfall called Ruby Falls. After, you'll want to explore the Chattanooga Choo Choo for its adorable places to eat and little shops. The Chattanooga Choo Choo is, however, one of the most notoriously haunted places in the city. There have been occurrences of people seeing spirits and ghosts wandering around. For something adventurous and unique, try the SWINCAR e-spider through Adventure Sports Innovation or indoor (or outdoor) rock climbing at High Point Climbing & Fitness/Downtown. Head to the top of Lookout Mountain on Lookout Mountain Incline Railway.
St. Helens
St. Helens in Oregon was originally put on the map after being founded by a man named Captain Henry Montgomery Knighton. Along the Columbia River, St. Helens is known for its beautiful views of Mount St. Helens in Washington, hence the name. When a Disney movie came out that would go on to captivate the hearts of Halloween lovers everywhere, it brought even more attention to this modest city.
Where to stay:
As far as places to stay go, there aren't too many options right in St. Helens. You may want to consider staying off property, but nearby like McMenamins Kalama Harbor Lodge, or choosing a chain hotel in the city like the Best Western Oak Meadows Inn. The Lewis River Inn is a really simple, basic level room for a reasonable price, too.
Where to eat:
Grab a cold beer at Roof with a Pastrami Reuben to hold you over. Down some Mexican and a margarita at El Tapatio Mexican Restaurant. Plymouth Pub is a great spot for burgers. Overall, expect some pretty casual restaurants throughout the city. Most establishments seem to avoid the frills and just focus on serving quality food that tastes amazing.
What to do:
St. Helens' main claim to fame during the month of October is the Spirit of Halloweentown Festival. Visitors can see the big pumpkin a la Disney film Halloweentown, while exploring the entertainment and scheduled activities going on throughout the month. Pick between Vendors Village, haunted houses and live music. Although the city is known for inspiring Halloweentown, a few scenes in Twilight were also filmed in St. Helens, like the Port Angeles scenes and when the girls are prom dress shopping at Petite Jolie. Explore 2Cs Vendor Mall to browse through antiques.