Everything You Need to Know About a Handfasting Ceremony
From start to finish.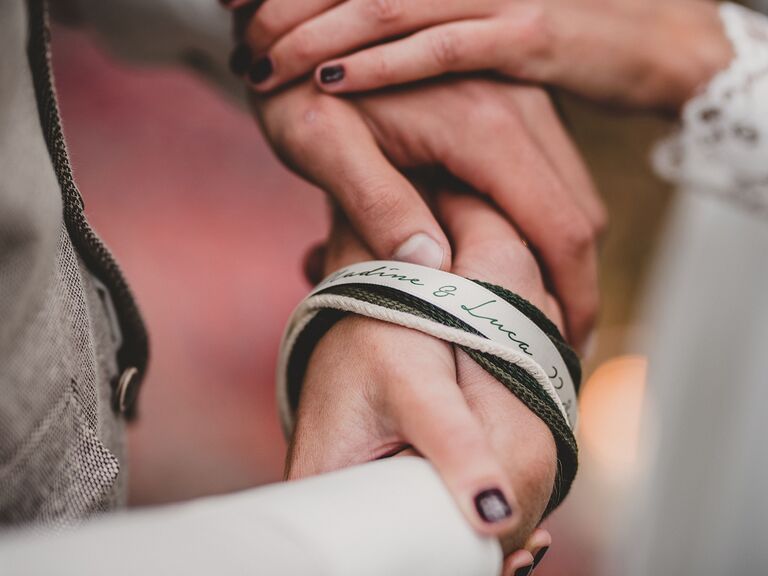 Sven H Photography/Shutterstock
Originating in Scotland in the 16th and 17th centuries, a handfasting ceremony was a way to make a contract with your beloved. In other words: marry him or her. The Scottish term itself roughly translates into "to strike a bargain by joining hands," and was considered a Celtic tradition during a wedding ceremony. It's also historically part of all Pagan and Wiccan celebrations, dating hundreds of years. In fact, handfasting expert and designer Oleta Collins explained when it first originated, duos needed to wear the ribbon for a year and a day, and then decide if they would like to stay married. If they wanted to separate, it would be as if they were never married. Sort of like a 'trial marriage' rather than a traditional wedding.
Today, the cords don't hold quite as much legal meaning but they can still be a special way to honor this milestone. As a modern celebrant for some couples who appreciate the symbol of unity the ceremony presents. By using carefully-selected cords of various colors that represent different promises to one another, couples begin the start of their married life—quite literally—tied together.
Interested in including a handfasting ritual as part of your ceremony? Here, everything you need to know about a handfasting ceremony:
How Do You Perform a Handfasting Ceremony?
Imagine standing up at the altar, prepared to exchange vows and tie the knot. The term 'the knot' actually originates from the handfasting ceremonies! As Collins explains, the officiant or minister will tie knots around the couple's hands, wrists and arms. Because there is no 'right' way to do this, the duo getting hitched can decide what works for their personal preference. "There are several ways to wrap the hands during the ceremony. It can be as simple as wrapping around a single knot to tying them into a stunning infinity knot," Collins continues. "Your officiant should be able to help you decide which is best for you."
Following the tying of the knot, couples may choose to leave the cords on for the remainder of their ceremony, or remove their hands and continue with the service.
In some other instances, Bethel Nathan, an ordained officiant, says couples actually tie their own knot. And other versions don't use a knot at all, but rather wrap a single, long ribbon or cord around their joined hands. Some of her couples choose to include important people, like parents, in helping to wrap the ribbons around their joined arms. Other times, she's the only one participating. Since wedding traditions are created when two people decide they're important, you get to guide this Scottish unity ritual.
What Should You Say During a Handfasting Ceremony?
What's beautiful about the traditional handfasting is how it welcomes all couples: religious and non-religious, LGBTQ+ and everything in between. As Nathan explains, everyone chooses different speeches during this special moment. And people will decide to have a handfasting ceremony at various times within the celebration. "In my ceremonies, it goes either right before their personal vows or in place of vows. Some officials do it at the end, but I like doing it combined amongst the vows and rings at the core of the ceremony," she explains.
Recently, handfasting ceremonies have become especially popular within the LGBTQ+ couples, according to Nathan. "There is something very powerful with the imagery of 'tying the knot'—whether it is before those who matter most to them, or even just us in an elopement," she notes.
How Long Should a Handfasting Ceremony Last?
Again, because the handfasting ceremony is directed by the couple, they decide how long it should be. If you choose to incorporate your vows throughout the experience, it will likely last around ten minutes, Nathan estimates. But, if you are simply doing the tying knots only, Collins estimates no more than three to five minutes.
What Do the Colors in the Handfasting Cords Represent?
While Nathan says these are the most common definitions associated with handfasting ceremonies, some couples will give different meanings based on their personal relationship. Say, for example, the color 'purple' was the bride's mother's favorite hue, she may select that one as a nod to her own family member. How many should you pick? A handful—or should we say, an armful? "My couples, if they choose to have the color of the cords included in the ceremony, usually pick one or two or maybe three meanings per color, not all of them," Collins shares.
Red: passion, strength, lust, fertility
Orange: encouragement, attraction, kindness, plenty
Yellow: charm, confidence, joy, balance
Green: finances, fertility, charity, prosperity, health
Blue: tranquility, patience, devotion, sincerity
Purple: Power, piety, sanctity, sentimentality
Black: strength, wisdom, vision, success
White: purity, concentration, meditation, peace
Gray: neutrality, canceling, balance
Pink: unity, honor, truth, romance, happiness
Brown: earth, grounding, talent, telepathy, home
Silver: treasure, values, creativity, inspiration
Gold: energy, wealth, intelligence, longevity
What Are Handfasting Cords Made Of?
Traditionally, Collins says the cords are created out of elastic material that is woven together with other colors and then tied. If you want, you can customize them and change the material to lace or ribbon or incorporate all of them. Collins says some choose to add Celtic knots, gold leaves, entwined trees, or other meaningful symbols. "We have seen some newlyweds use fabric that is handed down in their families to have a more personalized experience," she adds.
Just imagine if you past down your own handfasting cords to your children and they stay in the family for generations to come? That's a knot with staying power