13 Irish Wedding Traditions You Should Know
Attending a traditional Irish wedding? Here's what you can expect.
If you or your partner come from Irish roots, you'll likely want to pay homage to your Irish heritage throughout the wedding and wedding planning. And you don't have to host the big day on St. Patrick's Day in order to nod to include the traditions of ancient Ireland. From Celtic motifs threaded throughout your decor to traditional Irish entertainment to wow guests, there are tasteful and elevated ways to incorporate Irish wedding traditions into each and every part of your wedding from the ceremony through the reception.
To better understand the Irish wedding traditions you may want to consider and to help you know what to expect if you're a wedding guest attending Irish nuptials for the first time, we tapped wedding expert and event planner Tara Fay of Tara Fay Events. She opens up about the customs often associated with traditional Irish weddings and everything you need to know in relation to these culturally rich wedding celebrations.
In this story:
What to Expect at an Irish Wedding
Irish weddings are steeped in beautiful tradition. So while couples will bring their own personalization and flair to their Irish special day, the wedding will also likely include beautiful traditions and customs that have been celebrated by other couples since ancient times.
However, when it comes to deciding what traditions and rituals are the best fit for your own day, understanding the history and context of customs is paramount. As Fay notes, "people like to know all about the traditions and in some cases are unaware of where the old traditions came from."
Irish Wedding Misconceptions
"The biggest misconception about Irish weddings is that they are all about drinking," says Fay. "It's more that they are about celebrating and spending time with family and friends. Ireland has a history of emigration and weddings were always a time for families to come together from all around the world, so it is a time to celebrate family and friendship. And yes, while there is drinking involved, there is also singing, laughing, and happiness with the partying for many, many hours."
Customary Irish Wedding Traditions and Superstitions
Many Irish wedding traditions are also tied to long-standing superstitions "The Irish are very superstitious and we have so many rhymes or 'piseog' in Irish, which means a superstition or superstitious practice," explains Fay.
1. Celtic Knot
Not only at Irish weddings, but also at those celebrating the cultures of Scotland, Wales, Cornwall, Isle of Man, and Brittany, Celtic knot motifs may be threaded throughout the decor. From a triangular Trinity Knot to a Celtic Cross, Sailor's Knot and Dara Knot, there are a variety of styles that would look great emblazoned on a wedding ring or incorporated into your wedding stationery.
2. Claddagh Ring
When it comes to Irish wedding jewelry, Claddagh rings are especially popular. "Like most Irish things, the Claddagh has its name in Gaelic as well and is the 'Fáinne Chladaigh,'" explains Fay. "The Claddagh (named after an area in Galway in the west of Ireland) symbolizes friendship, loyalty and love. The two hands are clasping a heart and hold it; essentially you are holding someone's heart. It's commonly said that depending on the way you wear your Claddagh will indicate if your heart is taken or not. So if you wear your Claddagh on your left hand with the heart facing 'in,' you are married and if it's on your right hand with the heart facing 'out,' your heart is open and not taken. I like to think of it as falling out of someone's hands and always seems a precarious position."
Fay goes on to note that there's an Irish engagement tradition where "when someone gets engaged in Ireland, it is traditional to wish on their ring, so you try on the ring and turn it three times. It's also seen as unlucky to wear a ring on your wedding finger until it's an engagement ring."
3. Horseshoe
In addition to Celtic knots, the horseshoe is another icon that's commonly incorporated into Irish weddings. "A horseshoe was often given to a bride for good luck (and sometimes still is)," says Fay. "It was tied into the bride's bouquet and hung right away at home to ensure good luck."
One of the most well-known Irish wedding traditions is the practice of handfasting. Handfasting is a unity ceremony that takes place during the marriage ceremony wherein the couple's hands are tied together with a cord or rope. Though the practice originated in Scotland, many Celtic traditions and cultures include handfasting in their wedding ceremonies to symbolize the binding union a couple is entering into. Fay also notes that the phrase "'Tying the knot' as an expression came from the Celtic handfasting ceremony."
5. Bagpipes and Uilleann Pipes
While many people may assume that bagpipes are a major part of Irish weddings, Fay explains that they're less common in Ireland than some people realize. "The funny thing is that bagpipes are not one of the traditional instruments of Ireland, we have Uilleann pipes which are played sitting down, as opposed to standing up. They do not require the musician to blow into them as they are played under the arm. Most bagpipes that people would be familiar with are Scottish bagpipes," explains Fay. "There are however also Irish bagpipes which are slightly different to Scottish bagpipes in sound. Over the past two-to-three decades, bagpipes have become popular at weddings in Ireland as there is Celtic influence."
6. Irish Wedding Attire
There are a variety of distinct fashion elements that are notable within Irish weddings. Typically, a groom at an Irish wedding will wear a kilt with a tartan that represents the county or district of Ireland they're from. This approach is slightly different than Scottish kilt tartans which are based on clan origins. To accompany a kilt, the groom may don a Brian Boru jacket (named after the Irish warrior king), knee socks, a Sporran, a tux shirt and bowtie, and Ghillie Brogue shoes.
Brides will often wear ensembles that may incorporate Irish motifs like shamrocks, Celtic knots and horseshoes. Additionally, Irish lace is especially prominent, especially on wedding gowns. "Irish lace has been popular since Queen Victoria's time and even Princess Diana had Carrickmacross lace on the veil for her wedding," explains Fay. "It's very traditional for a bride to save part of her wedding lace and have it made into a christening gown. Lots of Irish brides also would have either a lace hanky or Irish linen and lace for their wedding day, sometimes sewn into the under part of the gown. The lace hanky was kept as a sign of fertility and then used as part of the christening robe as well for the first child."
An interesting fashion-related superstition at Irish weddings has to do with where wedding shoes are placed. Fay explains that "we also say never put new shoes on a table!"
7. Veil
As is common at many weddings across the globe, brides often wear veils to accompany their wedding dress. However, the reason for veil wearing at Irish weddings is a bit unique and has to do with warding off evil spirits and fairies. "We are a bit obsessed with the fairy folk," says Fay. "One of the reasons brides had to wear a veil over her face, to stop her being taken by the fairies."
8. Irish Dancing
Irish weddings are incredibly celebratory events packed with lots of Irish music and dancing. "Irish dancing will always make some sort of an appearance at a wedding," notes Fay. "This could be as a display or from the guests. Most Irish wedding bands will be familiar with the music that will get people up—even if it's the Irish Rover, which can have people attempt an Irish reel or a full-on set dancing like the Siege of Ennis or the Walls of Limerick, a Riverdance-style performance is often expected."
In addition to music and dancing, toasts, accompanied by Irish beers (like Guinness) and spirits, may be incorporated into an Irish wedding reception. Toasts can often take place during the dinner portion of a wedding reception, and it's interesting to note that "Ireland bizarrely is not known for its food outside of Ireland, but we have some of the best organic food in the world, as it is what we do," says Fay. "There will always be cheese of some sort, usually a goat's cheese somewhere, fish of some type, usually salmon (poached or smoked), or smoked trout, and usually beef or lamb."
10. Child of Prague
Another icon, in addition to lace, Celtic knots, horseshoes and shamrocks, that may be incorporated into a traditional Irish wedding is the Child of Prague figurine. "The child of Prague is still used by placing the figure outside before the wedding to guarantee good weather," explains Fay. "You will often see a whole village with small statues outside their doors for a wedding."
11. Wishing Ring
A wishing ring has blessings on it written in Irish and it's said if the blessing or wish catches on you as you walk under it, that wish or blessing will happen to you.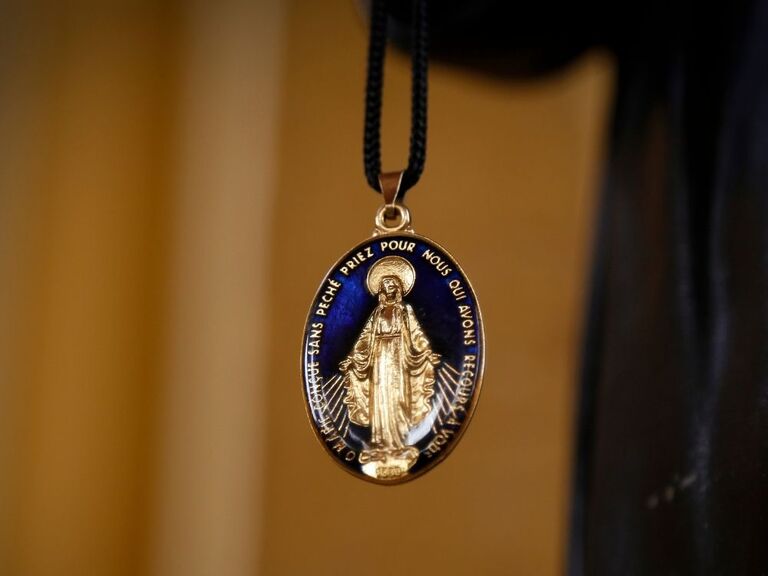 While many to-be-weds include "something blue" in their wedding, Irish couples generally do it in conjunction with a trinket known as the Miraculous Medal. "Lots of Irish brides will have a gold medal sewn onto their dress, called a Miraculous Medal," advises Fay. "A lot of times this medal will have some blue included in it, thereby having the 'something blue' as part of it—usually a medal of Our Lady."
13. Month of Honey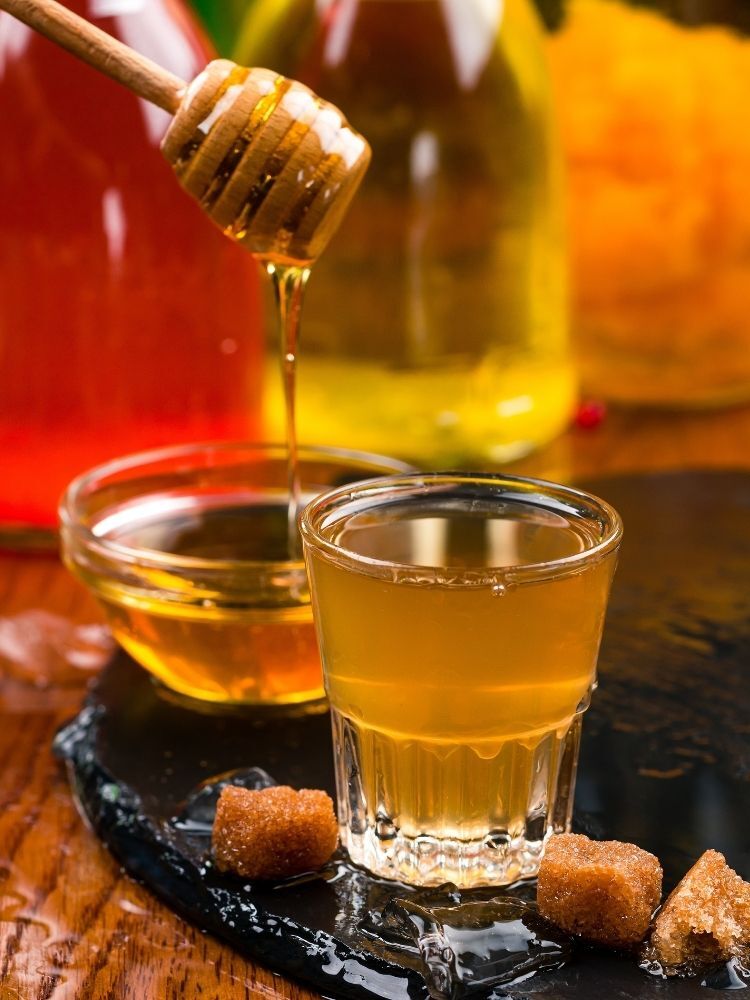 One notable postwedding Irish tradition for newlyweds is the Month of Honey, the Irish take on a honeymoon. "It's more the honeymoon, which is the month following the wedding," notes Fay. "At the wedding, the couple was supposed to drink mead, which is a drink made from honey. Then for the month following the wedding the married couple was supposed to continue to drink the mead to promote fertility and keep the fairies away."
Modern Irish Wedding Inspiration
While many couples may choose to incorporate some old Irish customs as a nod to ancient Irish traditions and ancient Celtic traditions, other modern to-be-weds may prefer to take bits and pieces to thread into their personalized wedding day. Fay said that even today, "the child of Prague is still used by everyone, and people still have horseshoes, the hanky, something blue, and use a medal if given by a family member."
Wood Hurley Stick Wedding Exit
As a nod to the iconic Irish spot, this couple exited their wedding ceremony through a tunnel of hurley sticks.
Irish Musicians at Wedding Reception
A trio of Irish musicians serenaded wedding guests at this seated dinner reception.
Irish Lace
This couple's photographer captured photographs of meaningful heirlooms, including Irish lace and a black-and-white photograph, ahead of the wedding.
Handfasting Ceremony With Purple Ribbon
For their handfasting ceremony, this couple chose an on-palette purple ribbon that complemented their color scheme.
Groom and Groomsmen in Kilts
All of this to-be-wed's attendants were decked out in traditional kilts.