Irish Wedding Traditions
by Karen Bressler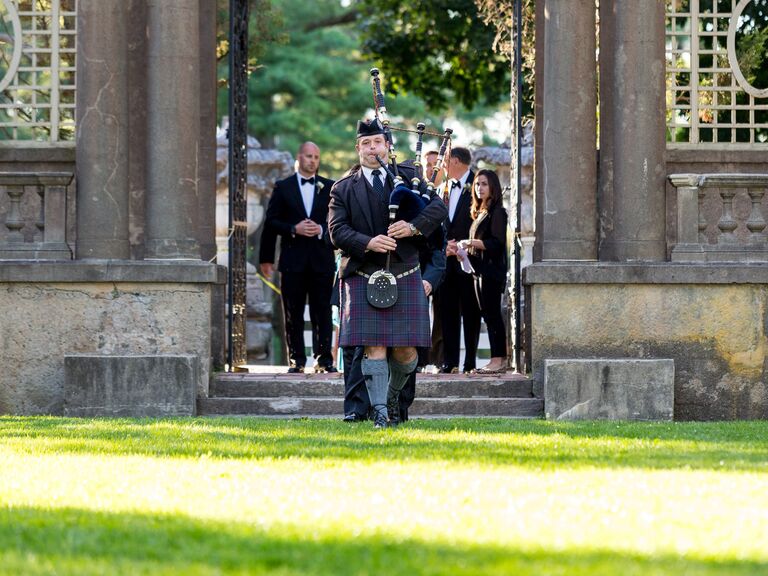 Forget 12-piece bands, bridal clothes, and rings of gold. It's traditions like bagpipes, kilts, and Claddagh rings that keep Irish eyes smiling during the wedding festivities. Here are a few of the Irish wedding traditions that have made their way over from the old country and into Irish American wedding celebrations.
The Claddagh Ring
Named after Claddagh, a fishing village in Galway (in Western Ireland), the Claddagh ring is handed down from mother to daughter and is used both as the betrothal and wedding ring. It is worn with the crowns facing inward, toward the wrist, on betrothal, and outward, toward the nail, upon marriage. Today, it is still used as a wedding ring and it is considered improper for a person to buy one for him or herself; it must be given as a gift.
Irish Wedding Superstitions
In the 18th and 19th centuries, the Irish believed that if the sun shone on the bride, it would bring good luck to the couple. It was also lucky to hear a cuckoo on the wedding morning or to see three magpies. After the wedding ceremony, it was important that a man and not a woman be the first to wish joy to the new bride.
Locking the Door
Since Irish men were known for getting cold feet on their wedding days, once the bride and groom were in the church, the guests would lock the door to keep the groom inside to make sure he went through with the ceremony.
Irish Wedding Toast
The wedding party gathers around the bride and groom. All fill their glasses with mead and the newly wedded couple recites an Irish toast: "Friends and relatives, so fond and dear, 'tis our greatest pleasure to have you here. When many years this day has passed, fondest memories will always last. So we drink a cup of Irish mead and ask God's blessing in your hour of need." The guests respond: "On this special day, our wish to you, the goodness of the old, the best of the new. God bless you both who drink this mead, may it always fill your every need."
Irish Lace
While bridal fashions in Ireland resemble the rest of the Western world, one distinctly Irish touch is Irish lace. Try to incorporate this beautiful fabric into a gown or veil. If that's too expensive, consider carrying a lace handkerchief in your bridal bag or hand them out as attendant gifts. Color scheme? Follow Irish heritage, of course, and go for green, white, and gold.
Bagpipes and Kilts
Lots of big Irish families have family members who are in pipe bands. So it's not unusual for them to hook up at a wedding and pipe the couple into the mass or at dinner. Popular tunes are the "Highland Fling" and the "Stack of Barley," as well as jigs, reels, and hornpipes. Not only do they sound good, they look good too. Most pipers wear Celtic kilts -- plaid skirts that their ancestors wore in medieval times. The Irish weren't allowed to wear them during British rule, so now it seems they slip them on for practically every special occasion, maybe in an effort to make up for lost time and to reclaim their stake in what is often regarded as a Scottish fashion statement.
Lord of the Dance
Show off on the dance floor with a ceilidh, a traditional Irish set dance. Consider signing up for pre-wedding lessons -- for just you and your sweetie or for the whole bridal party. Keep in mind that some ceilidh dances are named for locations in Ireland such as the Kerry Set, the Seige of Ennis, while some waltz tunes include names such as "Galway Shawl", or "Home to Mayo" -- choose a song or dance to reflect your family's heritage or ancestral home. Be sure to share the special significance of your dance with your guests.
An Irish Feast
The traditional Irish menu -- Irish soda bread, corned beef, and cabbage -- is perhaps not something you'd typically crave, but when cooked right and served up at a big wedding fete, it's positively delicious (not to mention that it all gets washed down with plenty of whiskey and Guinness Stout). And don't forget the traditional Irish wedding cake, a fruitcake filled with almonds, raisins, cherries, and spice and laced with brandy or bourbon.
The Month of Honey
The word for honey is "meala" in Irish. "Mi na meala," the month of honey, refers to the month after the wedding when the newlyweds celebrated by drinking mead, a brew made of fermented honey. Following the wedding, a sufficient amount of mead was given to the bride and groom, along with special goblets, so they could share the unique brew for one full moon after their wedding -- and thus the term honeymoon was coined. It was believed that this delicate yet potent drink was the best way to ensure a good beginning for a new marriage, and it was also believed to endow powers of virility and fertility.
Modern Swing on Things
You can incorporate these Irish wedding traditions into your wedding with just a few simple modifications. Instead of hiring a complete band of pipers, get one to play at certain points during the wedding -- maybe outside the ceremony as people enter and leave. Instead of mead, drink your favorite champagne but recite an Irish toast. Use Claddagh rings for wedding bands, and be sure to take a look at some of the modern interpretations of the Claddagh. Also, don't forget that one way to celebrate your love of all things Irish is to honeymoon in Ireland -- it's gorgeous, and oh-so-romantic.