28 Wedding Vow Books to Share Your Heartfelt Thoughts
These beautiful books will become instant keepsakes after your special day.
We have included third party products to help you navigate and enjoy life's biggest moments. Purchases made through links on this page may earn us a commission.
Writing your own wedding vows is a beautiful way of telling your S.O. exactly how you feel—but that can be easier said than done. Facing some serious writer's block? A good vow book may be just what you need to finally get the wheels turning. Not only are these pocket-size journals perfect for hanging onto during the ceremony (don't you always feel less nervous when your hands are doing something?), but they also serve as a special memento for many years to come. And the cherry on top: They look so much better in wedding photos compared to your phone or a crinkled piece of paper.
Not sure where to buy vow books for your wedding? We went ahead and started shopping for you. Our favorite picks range from sophisticated leather-bound pages to romantic velvet covers and personalized vow book options for a range of budgets. Check them out below to find a design that matches your individual style.
In this article:
Couples Vow Books
Create a cohesive look on the wedding day with the help of these matching vow book sets.
The Knot Shop Personalized Vow Pocket Notebook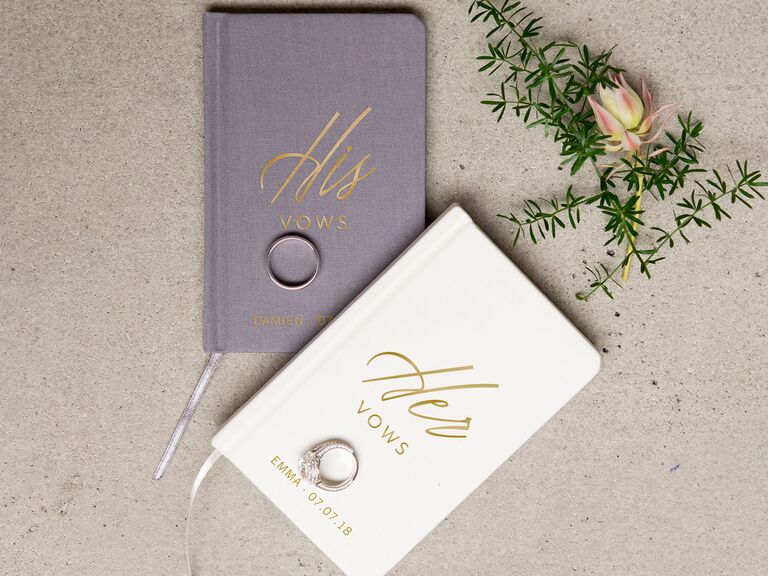 These lovely pocket journals certainly won't look out of place at the altar. You and your partner can choose between "His" and "Her" vow books with your name and wedding date printed in gold below.
Seniman Calligraphy Linen Vow Books with Gold Foil Press
These hardcover vow books come in gorgeous hues of ocean blue and olive green. If you and your sweetheart can't decide on a color, not to worry! Simply mix and match the two.
Galag Hers and Hers Vow Books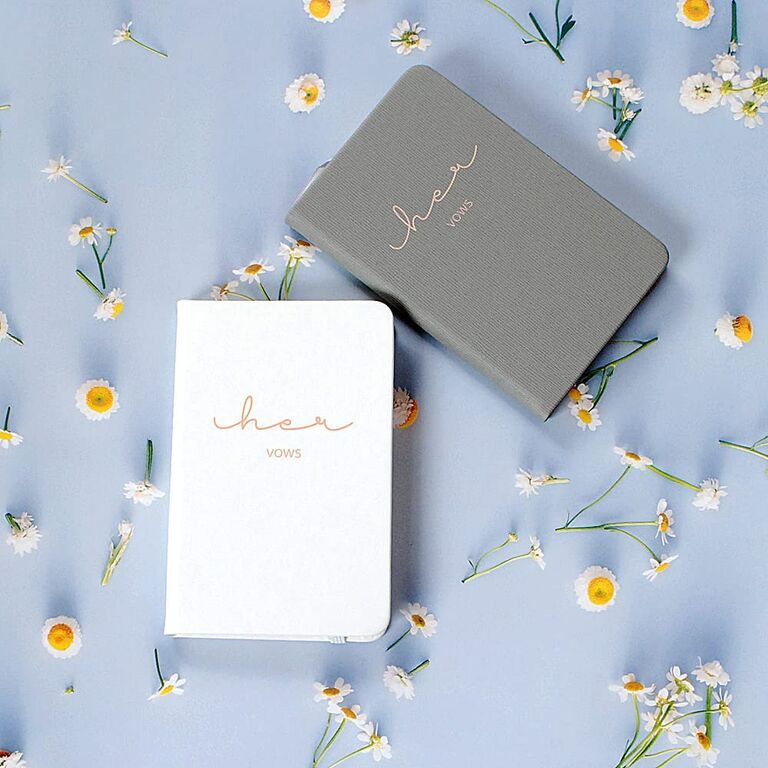 These sweet and simple vow books come in a neutral two-toned color palette to match nearly any theme. The hard covers are both embellished with "her vows" in gold lettering on the front.
Amazon White Vow Books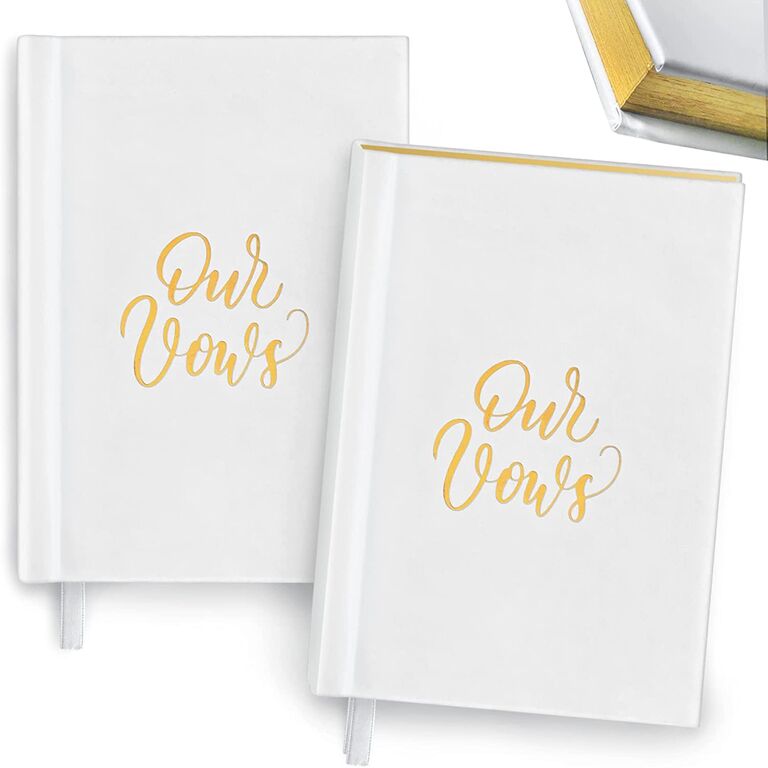 Looking for classic vow books that don't break the bank? These ivory-colored journals include lined pages and a special introductory page where you can fill in your names and wedding date.
Calligraphy by Michelle T Handmade Vow Books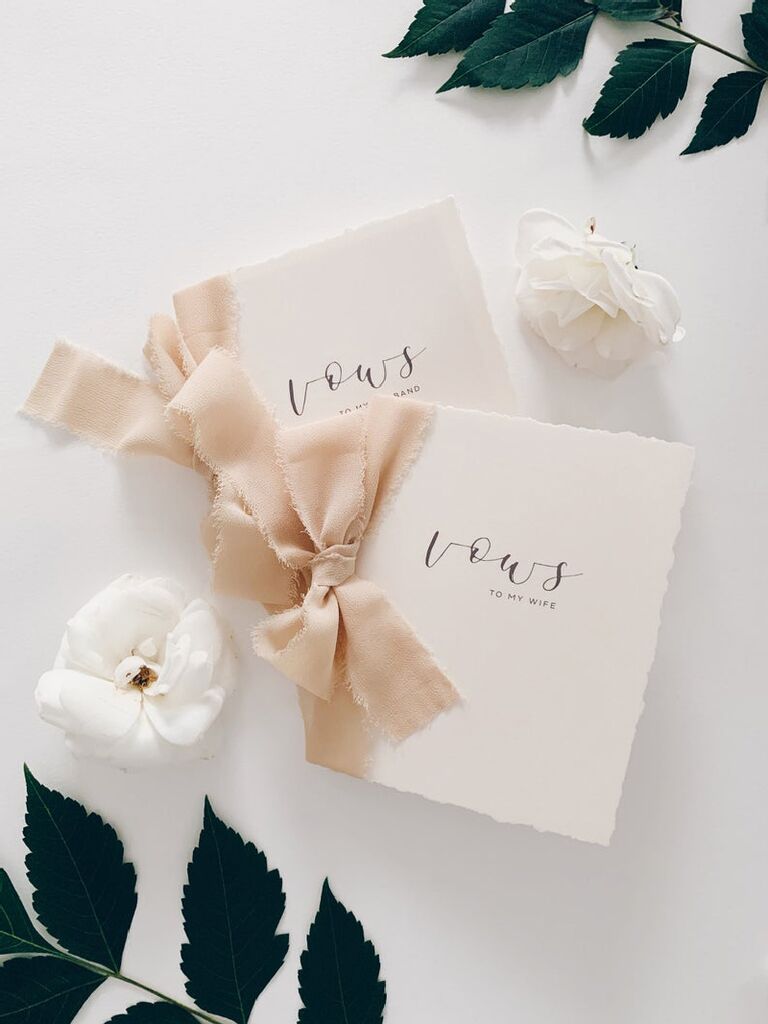 Your love for each other deserves to be documented somewhere special, and there are plenty of handmade vow books on Etsy perfect for writing your promises in. This elegant set ties everything together with a big, romantic bow. You also have a range of wording options to suit your specific relationship.
Avocado Goods Wedding Vow Books
This thoughtful set of wedding vow books from Amazon also comes with two "Reasons I Want to Marry You" journals. It'll be twice as fun filling them out, and just as heartfelt.
Leather Vow Books
If you prefer a more rugged vibe, you'll love these genuine leather vow books featuring custom embossing and rustic-inspired details.
Ox and Pine Personalized Leather Wedding Vow Book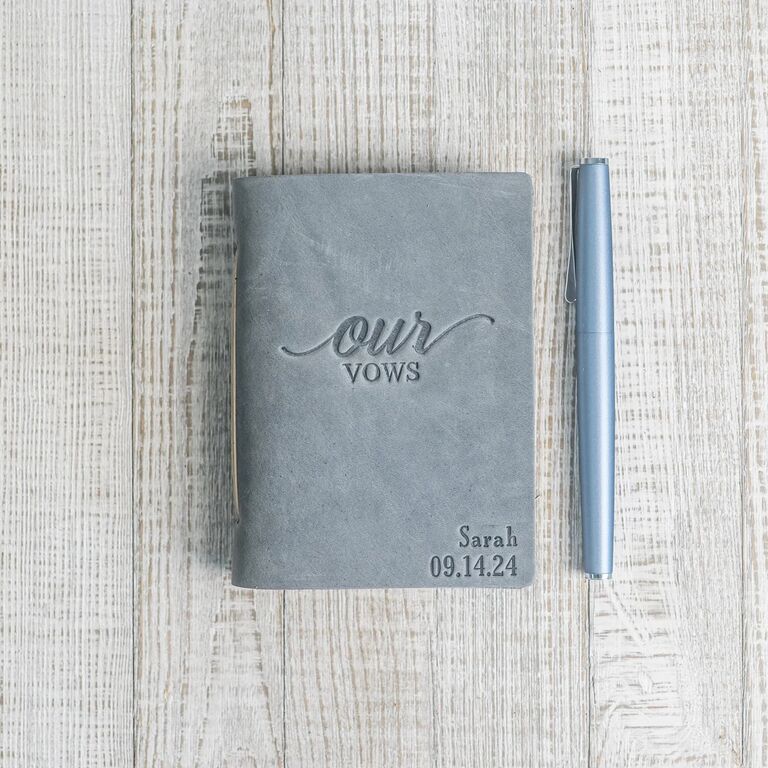 Your lifelong promises to your partner will feel all the more special between the covers of a luxurious leather vow book. Make it even more personal by adding your name and wedding date.
ROYCE New York Contemporary Leather Journal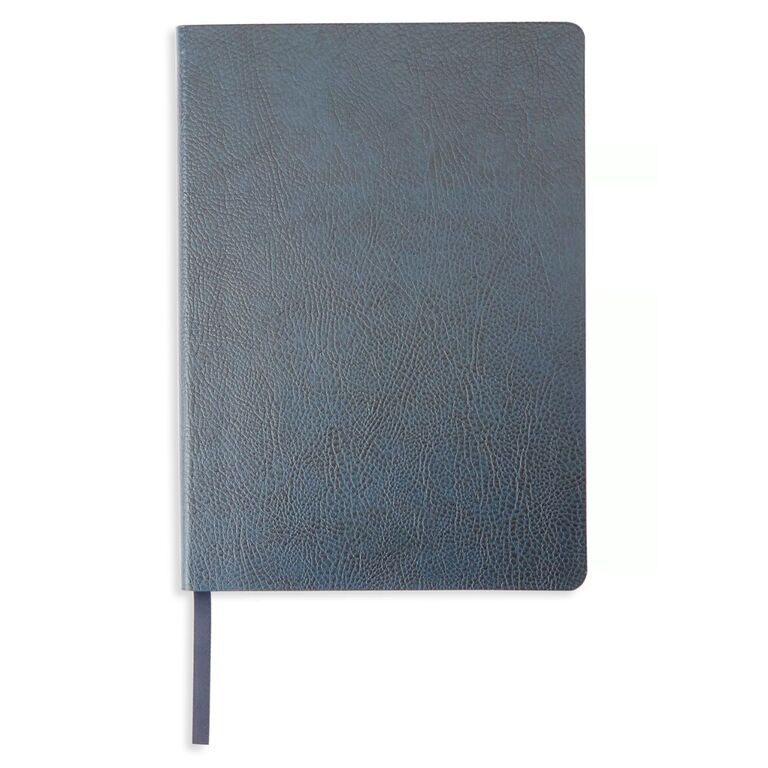 This sophisticated journal is an excellent pick for the minimalist newlywed-to-be. Stylishly understated, it's what's on the inside of this sleek leather vow book that counts most. (Hint: Buy it in navy for your something blue on the big day).
Claire Magnolia Leather Vow Book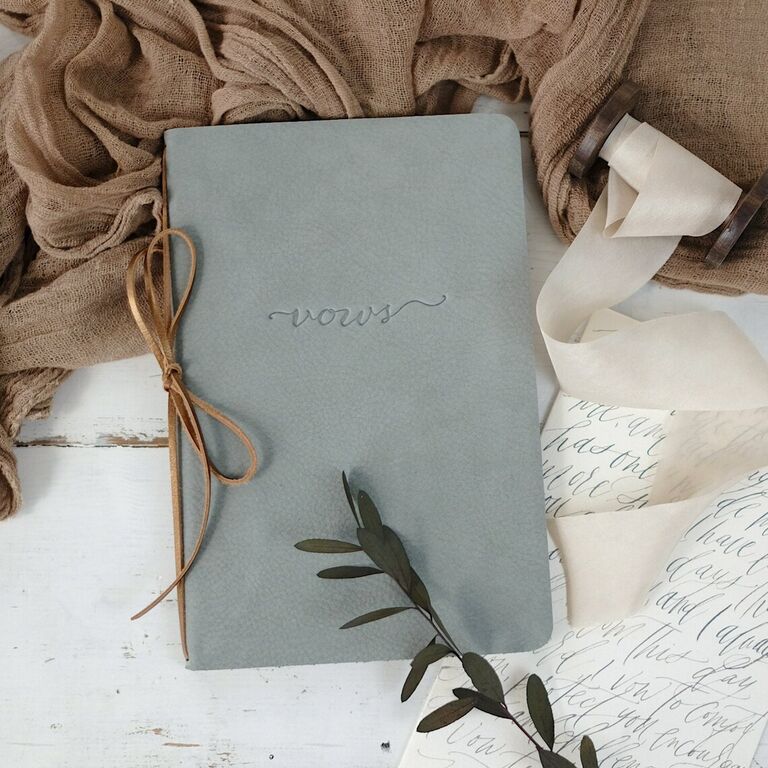 Choose from an array of colors, designs and binding ties to make this leather vow book totally your own.
Personalization Mall Adventure Awaits Charcoal Writing Journal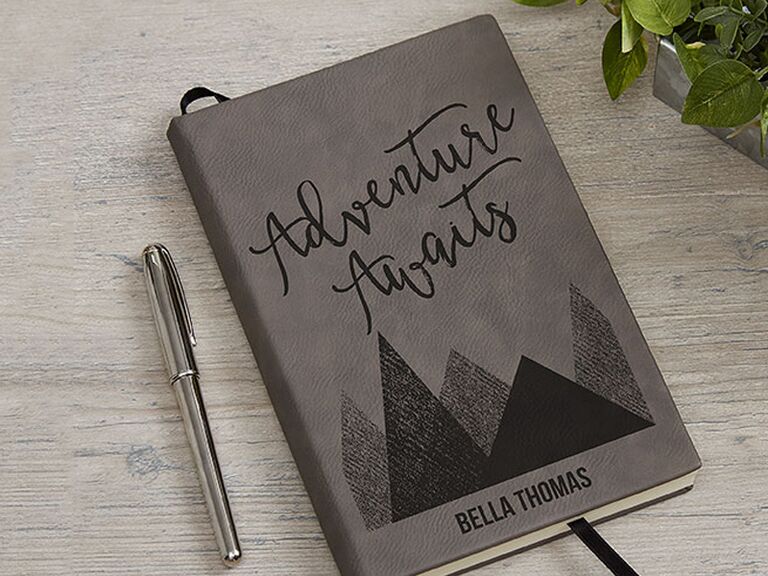 You're about to begin one of your life's greatest adventures. Commemorate the moment with a wedding vow book you can keep for years to come. With 80 pages, there's plenty of room to write your vows and start planning your next chapter together.
Cover Cafe Custom Leather Vow Book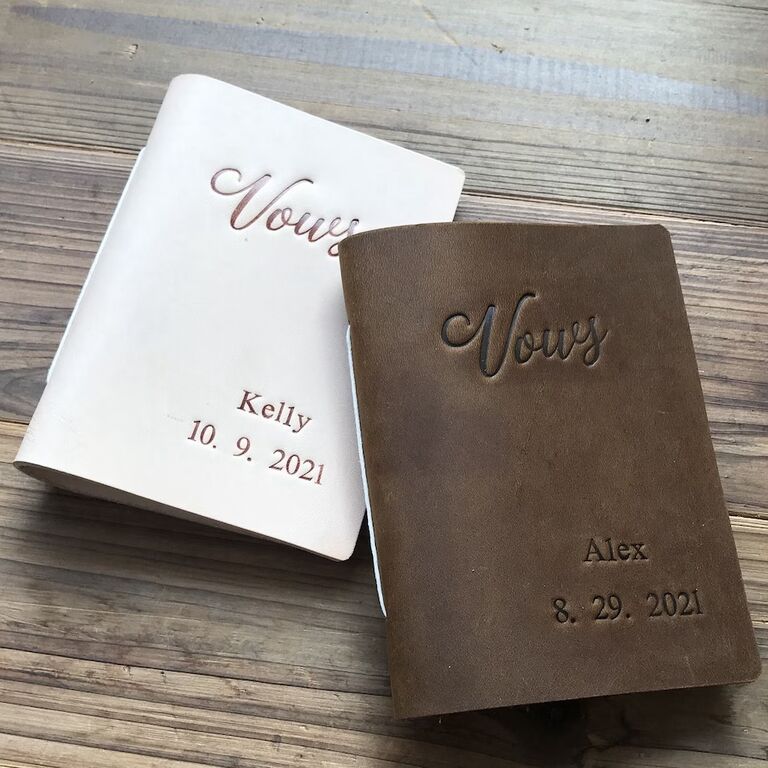 Planning an outdoor wedding? This rugged leather vow book is a fitting tribute to your romantic adventure.
Custom Vow Books
Your wedding day is one of a kind, and so are these personalized vow books. Customize them with your names, wedding date and more for a personal touch.
Modern Album Designs Promises Vow Book
Whether you're renewing your vows or making this commitment to each other for the first time, these personalized booklets invite you and your partner to share heartfelt promises.
Paper Peach Shop Best Day Ever Wedding Vow Books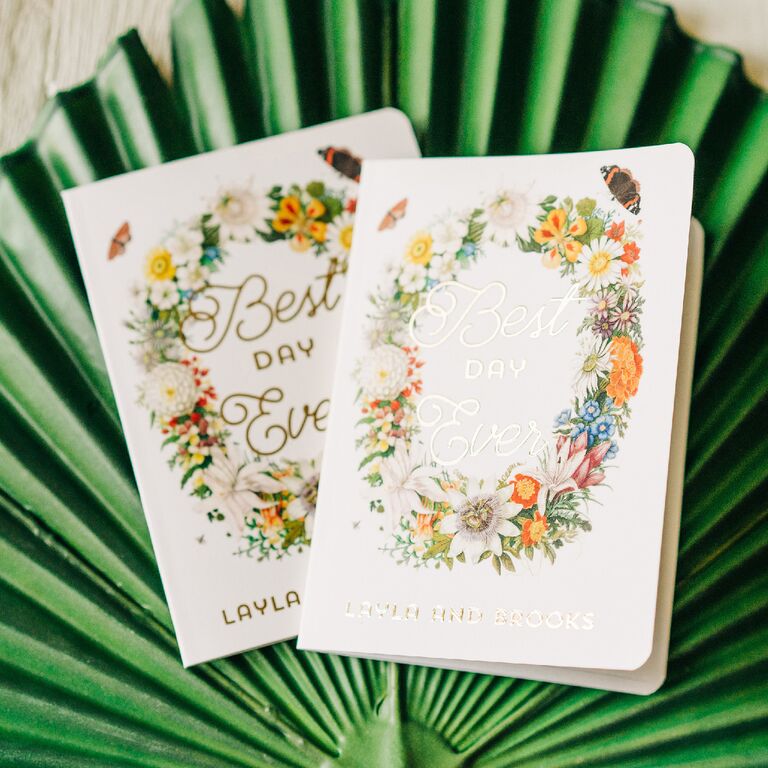 Etsy is chock full of gorgeous vow books for all kinds of celebrations. If you're planning a spring wedding or summer soiree, we've found your match. Celebrate your "Best Day Ever" in style with this bright and colorful set.
Red Berry Guest Books Wooden Wedding Vow Book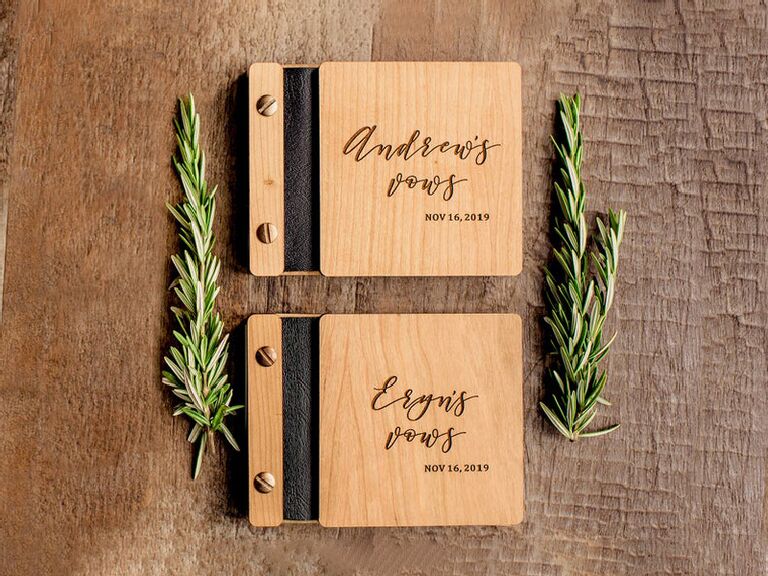 Planning a rustic wedding? Make sure your vow books fit the bill with these unique wooden booklets. They'll be engraved with your names and wedding date for an extra-special memento.
Artifact Uprising Their Vows Book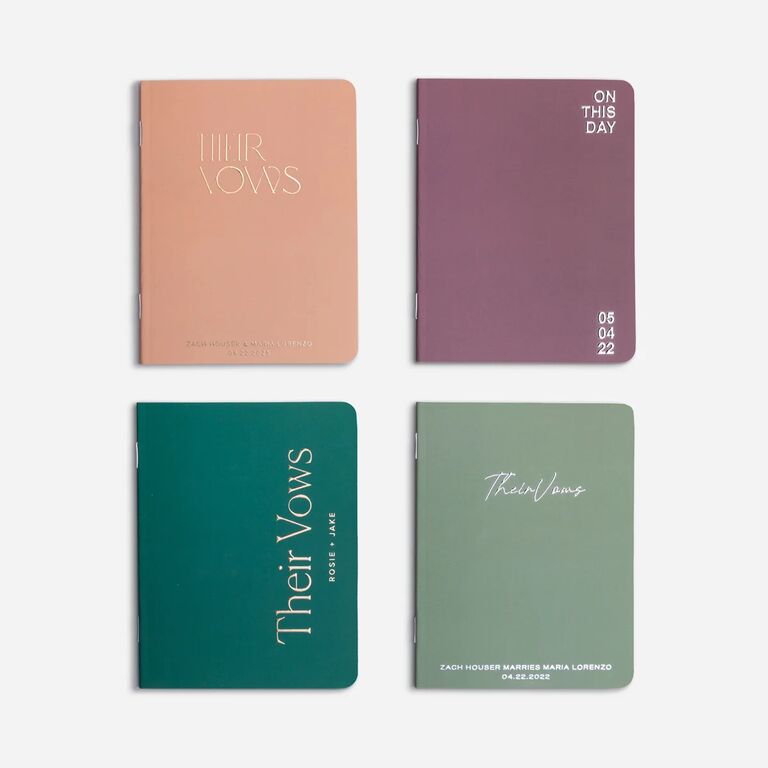 This cute pocket-sized vow book is available in multiple different designs that can be customized with your name and wedding date. Experiment with the different colors for the cover and the foil lettering to find a combination that you totally love.
Blush Paper Co. Gold Foil Wedding Vow Books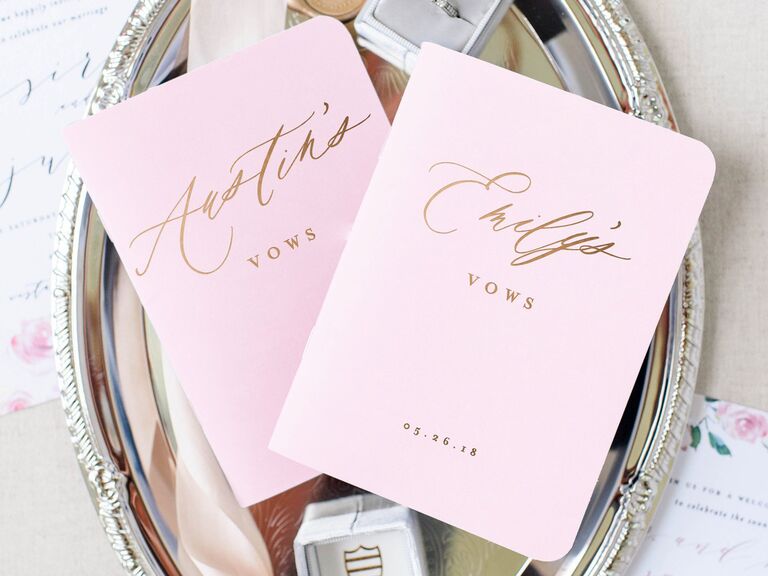 Add a splash of color to your special day by choosing vow books that stand out. This gorgeous pair comes in a variety of shades to suit your wedding theme.
The Knot Shop "I Do" Vow Pocket Notebook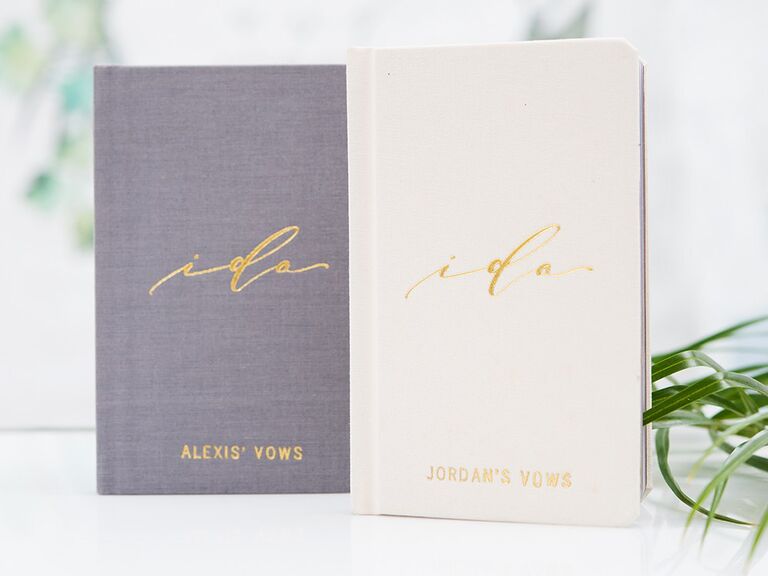 These minimalist "I do" pocket notebooks are the perfect place to express your innermost feelings for each other. With your names embossed beautifully on the covers, you'll know exactly which one to grab in the hustle and bustle of the big day.
Velvet Vow Books
These elegant velvet vow books are the perfect fit for a romantic, luxurious wedding aesthetic.
Anthropologie His and Hers Vow Booklets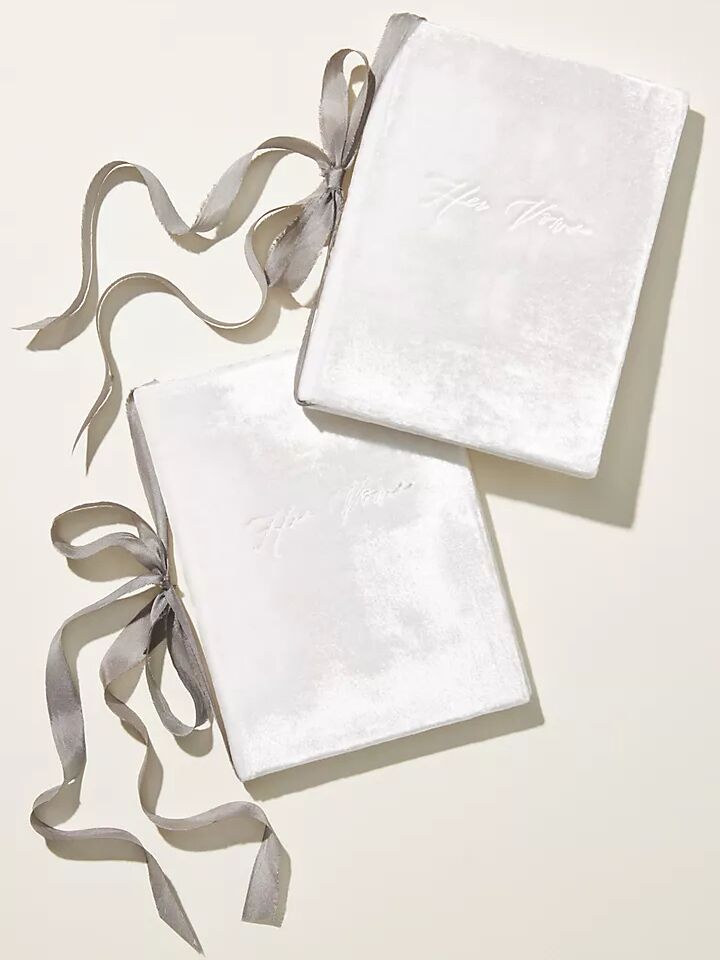 This heirloom-worthy set includes two velvet vow books embossed with "her vows" and "his vows." The books are finished with beautiful matching silk ribbons.
Mayflower Workshop Velvet Covered Wedding Vow Booklets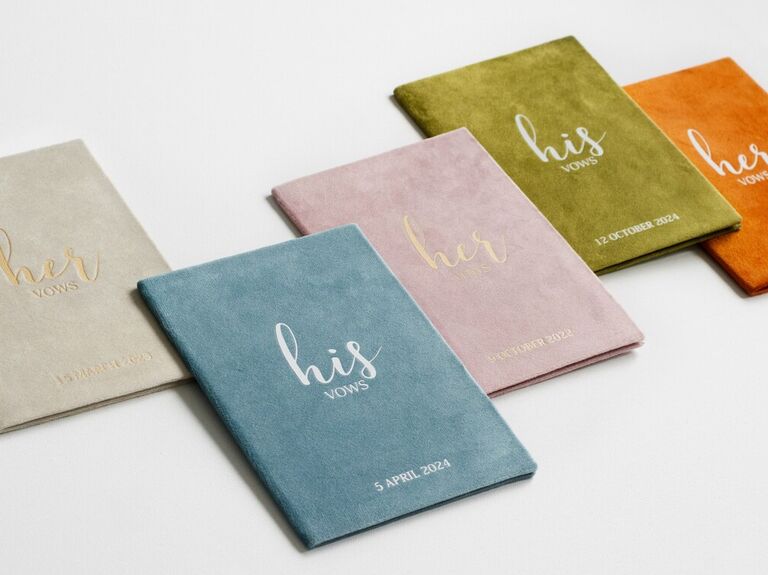 Special occasions like this don't roll around too often. Go all out for your wedding ceremony with a set of decadent velvet vow books. Bonus: They come in a range of colors to suit the theme of your festivities.
Velvet Raptor Vow Book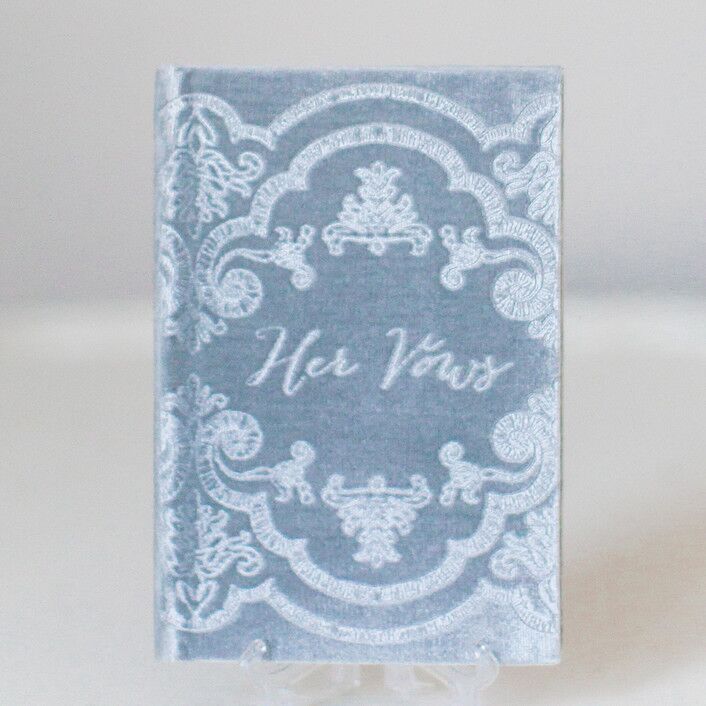 Is your wedding theme inspired by all things vintage? This stunning vow book is all about antique elegance, featuring an ornate design on the hand-pressed velvet cover.
Styling Archives Velvet Vow Book with Silk Ribbon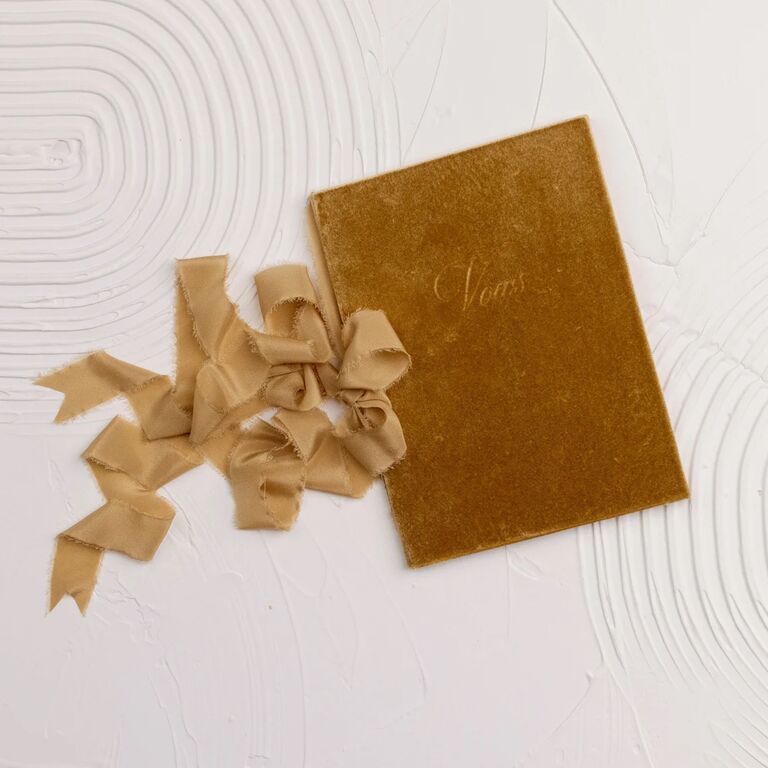 Add a little bit of color to your wedding day with one of these velvet vow books. The book is available in nine different earth-toned colors and includes a matching silk ribbon for styling.
In Loft Calligraphy Velvet Suede Hardcover Vow Book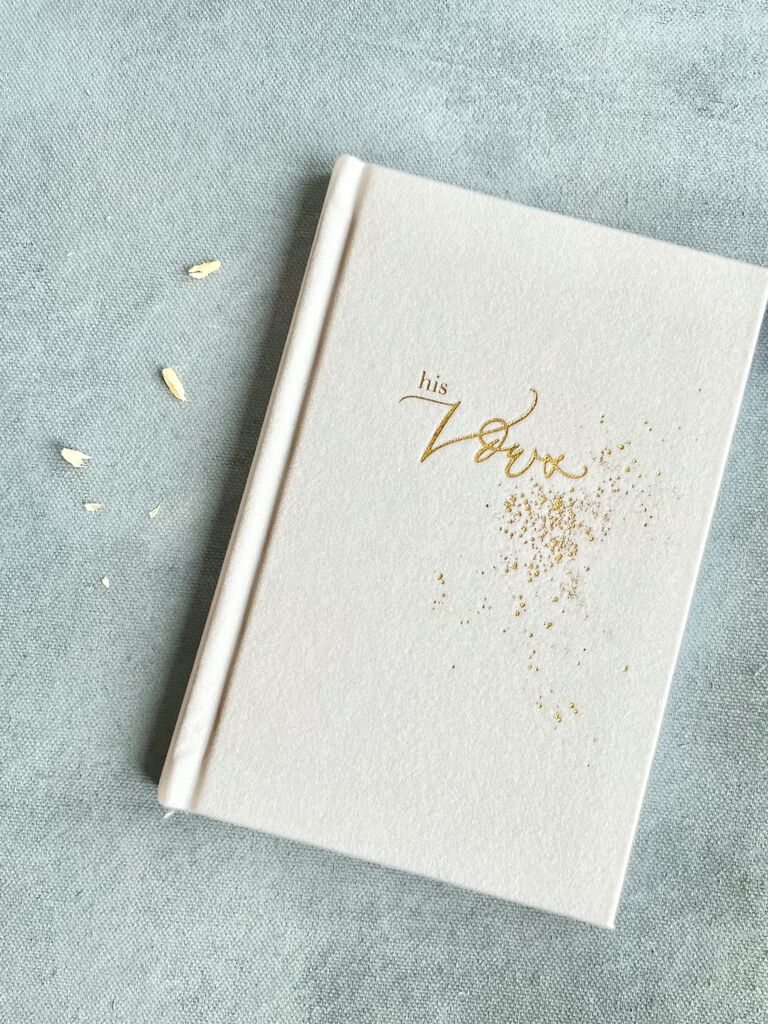 Here's a final option from our list of gorgeous velvet vow books. This timeless ivory book is stamped with gold foil, which you can personalize with a custom name, date or phrase.
Modern Vow Books
Featuring sleek designs and unique (but minimalist) details, these modern vown books are stylish picks if you're looking for options that stand out.
Lit'l Pepper Gourmet Embossed Vow Books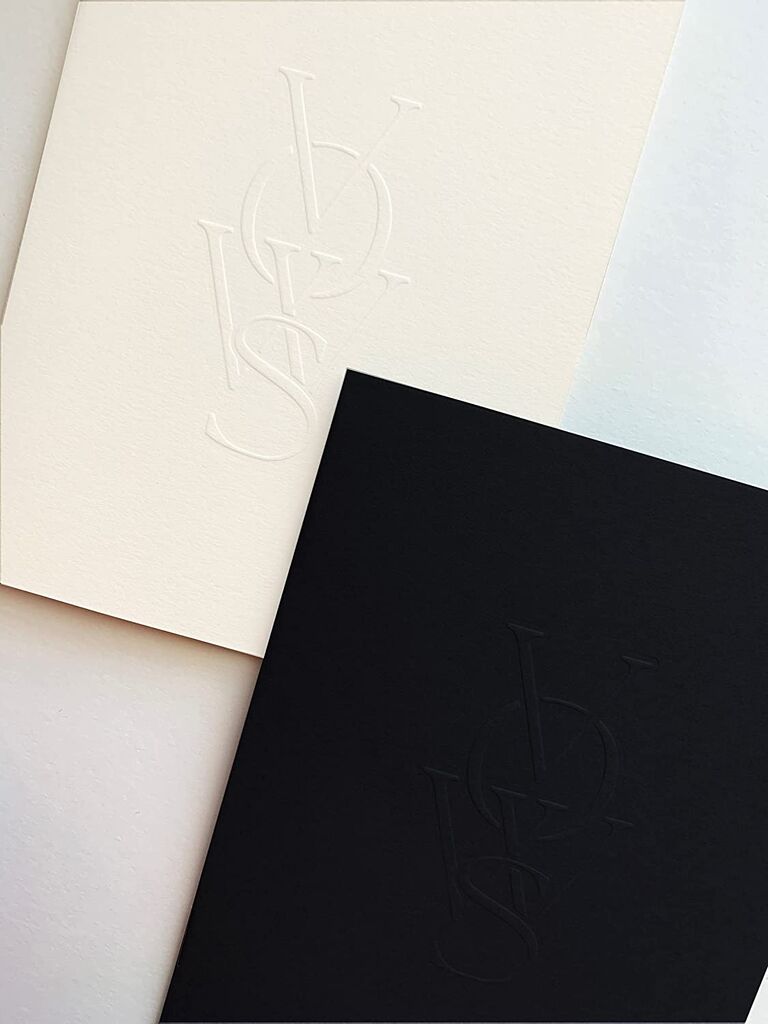 This set of embossed wedding vow books feels stylish and sophisticated. With a neutral color palette and modern design, they work for weddings all year round.
Print Smitten Modern Minimalist Wedding Vow Books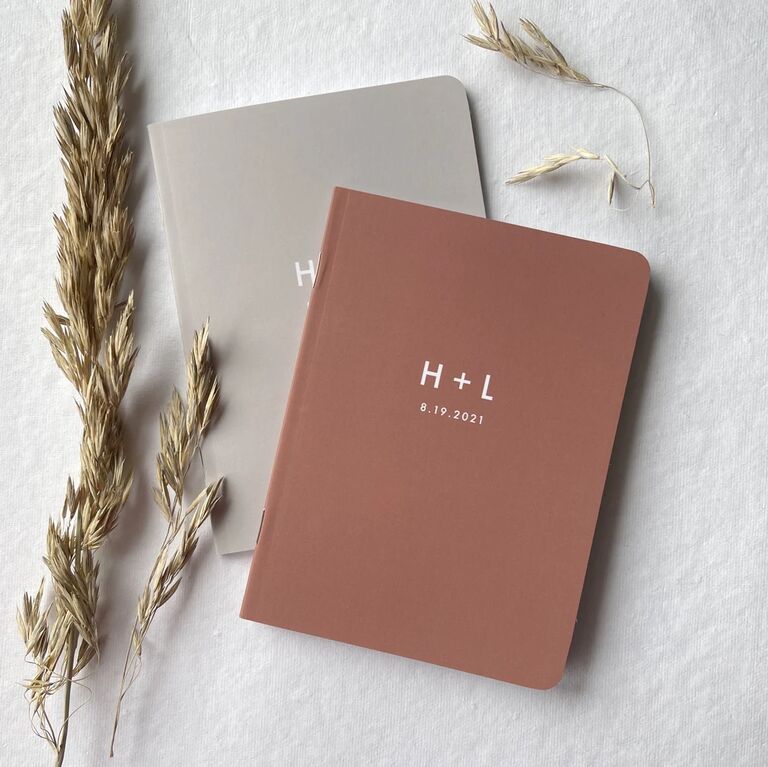 Small initial letters and your wedding date will add a subtle personal touch to these vow books. With 48 different colors to choose from, you've got plenty of options to match any wedding theme or season.
Kate Spade New York Pink Bridal Journal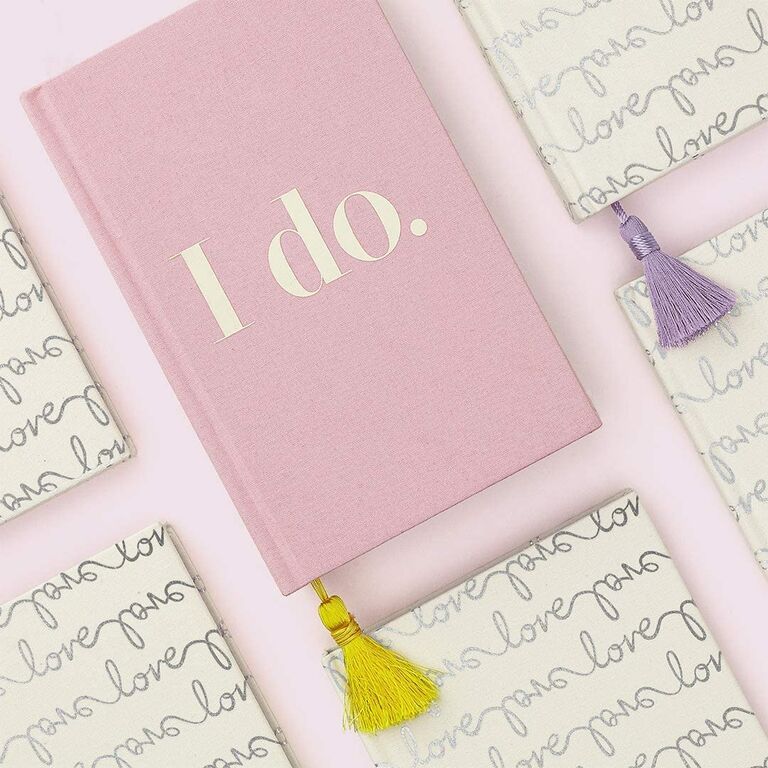 What better place to write your promises to each other than this journal adorned with a simple "I do" to conclude your vows? This hardcover vow book will keep your thoughts safe until the big day. Even better, the built-in tassel bookmark means you won't lose your place.
Muujee For My Husband Wedding Vow Books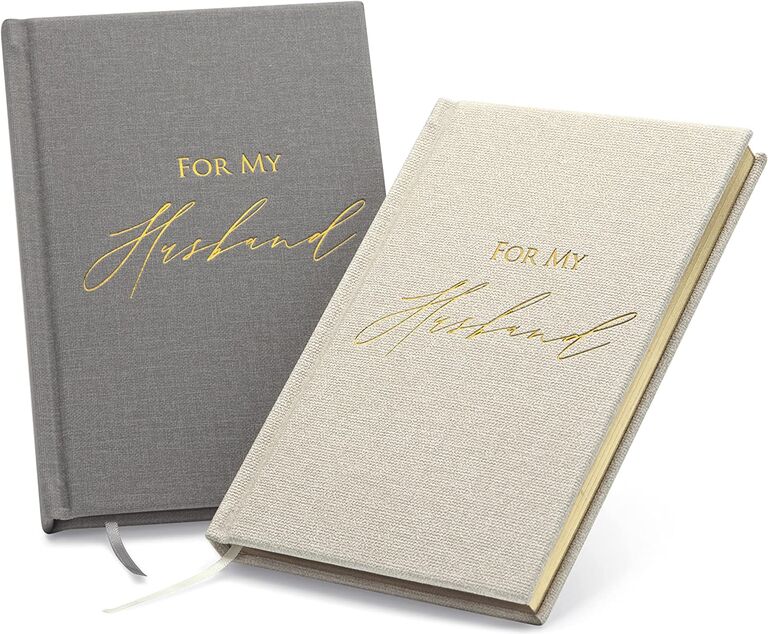 Modern yet sophisticated, these hardcover vow books feature luxe detailing such as gilded-edge pages, a satin ribbon bookmark and embossed gold lettering on the front.
Free People Stars & Moon Collection Cloth Journal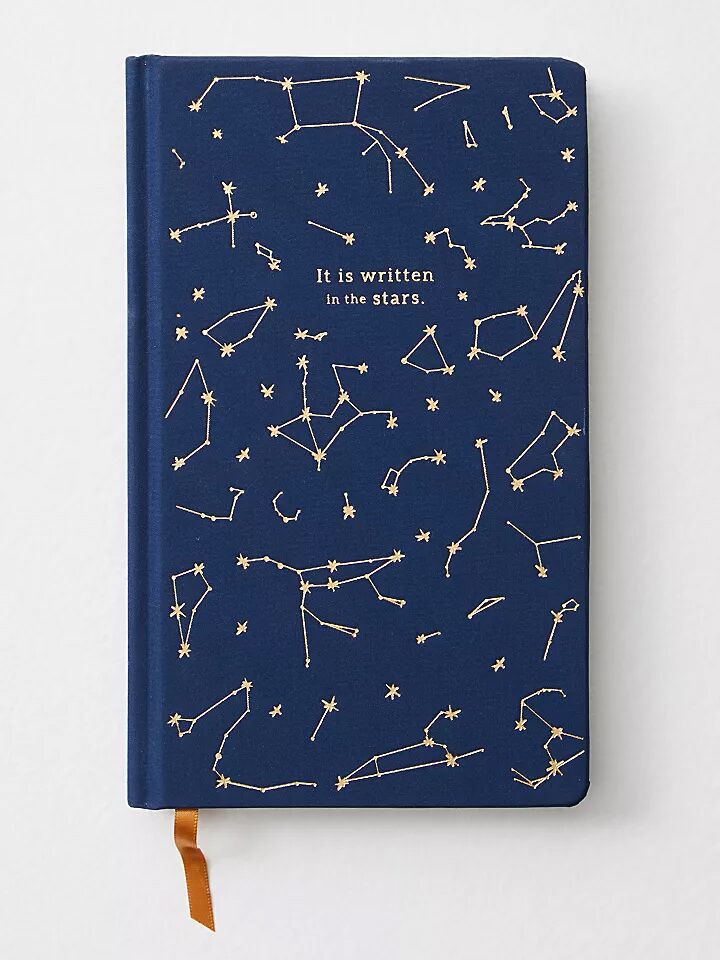 Unique journals make some of the best vow books. This one has a meaningful message on the cover—the perfect inspiration for writing your vows. Whether you're planning a celestial celebration or simply believe it was "written in the stars," this hardcover vow book is a great place to start.
Blush Paper Co. Custom Wedding Vow Books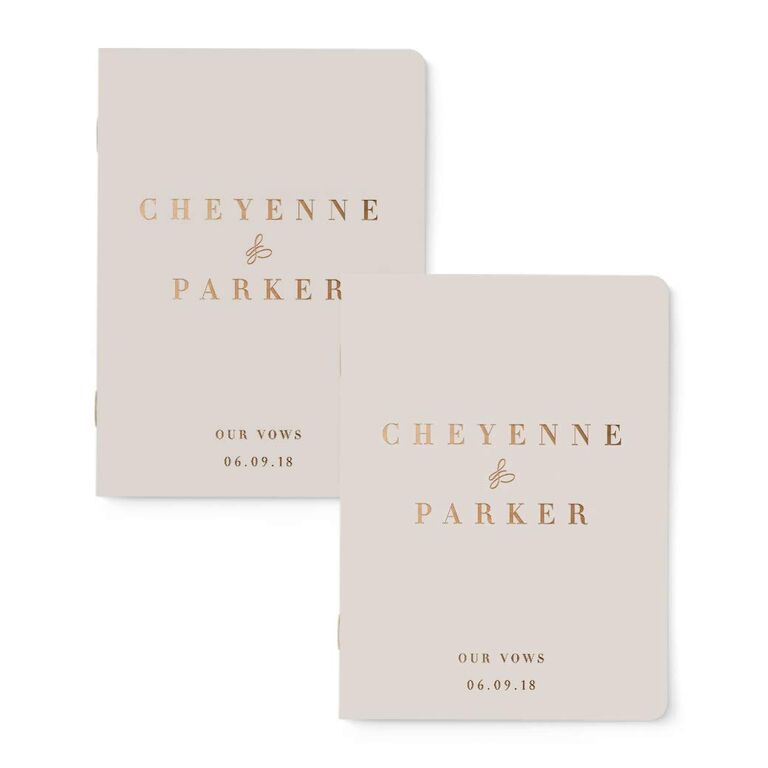 Personalize these chic notebooks with you and your partner's name along with the wedding date. The books, which are handmade by a small business in Pennsylvania, come in 20 different colors with four metallic lettering options.