Everything You Need to Host a Magical Harry Potter Bachelorette Party
(Hint: Don't forget the butterbeer!)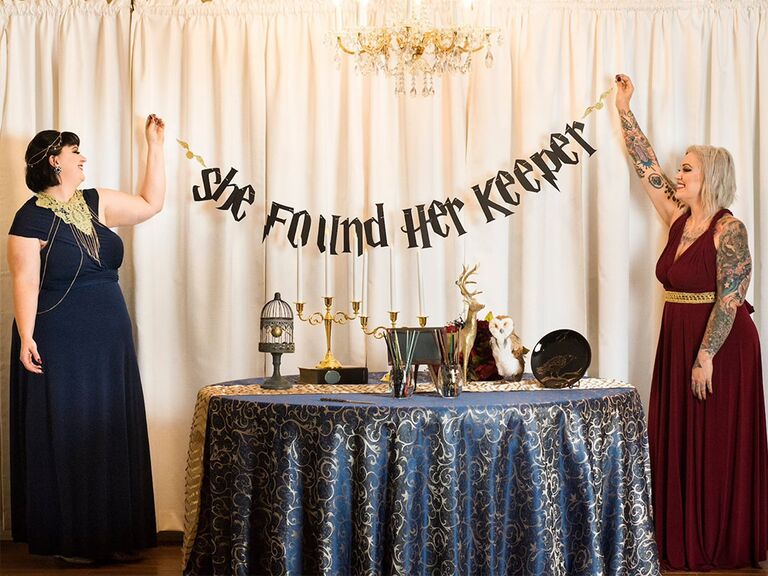 We have included third party products to help you navigate and enjoy life's biggest moments. Purchases made through links on this page may earn us a commission.
If the bride-to-be is a self-professed Potterhead, we can't think of anything better than surprising her with a Harry Potter-themed bachelorette party thrown by all her bridesmaids and besties! The good news is, the wizarding world of Harry Potter is so beloved that fans all over the world have been throwing Harry Potter weddings, bridal showers and even bachelorette parties (or "hen parties" as they're called in the UK) for years now—and they're only becoming more and more popular.
As a result, there's no shortage of Potter-inspired party ideas to help you get started. From glittery lightning bolt cupcake toppers to bachelorette party games that'll have you drinking whenever someone says "Hufflepuff" or "Slytherin," scroll on for some of the best Harry Potter bachelorette party ideas we've seen yet.
Mianne Market Printable Harry Potter Wizard Party Games & Quizzes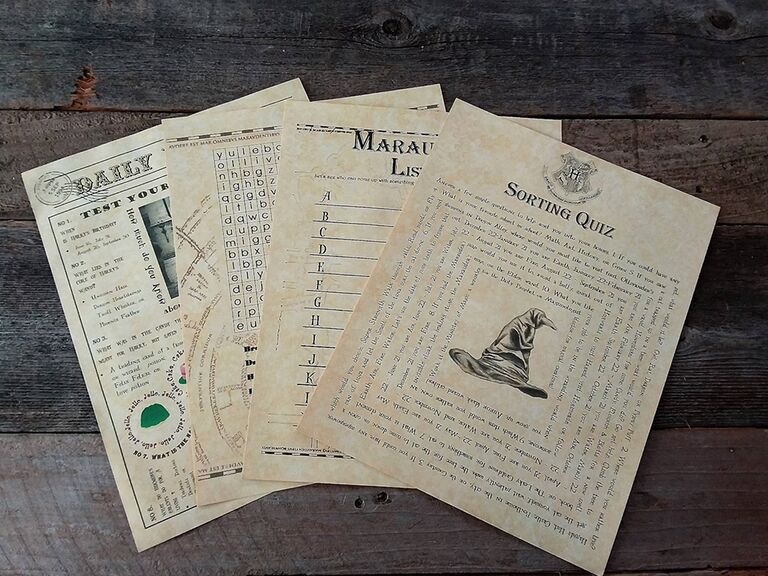 A bachelorette party isn't really a party without the games. Keep the wine flowing as you pass around these printable word searches and quizzes, which are easy to follow and fun for everyone. (You can also look into Harry Potter-themed drinking games, depending on the crowd.)
Happy Bride Store Wizard-Themed Bachelorette Party Shirts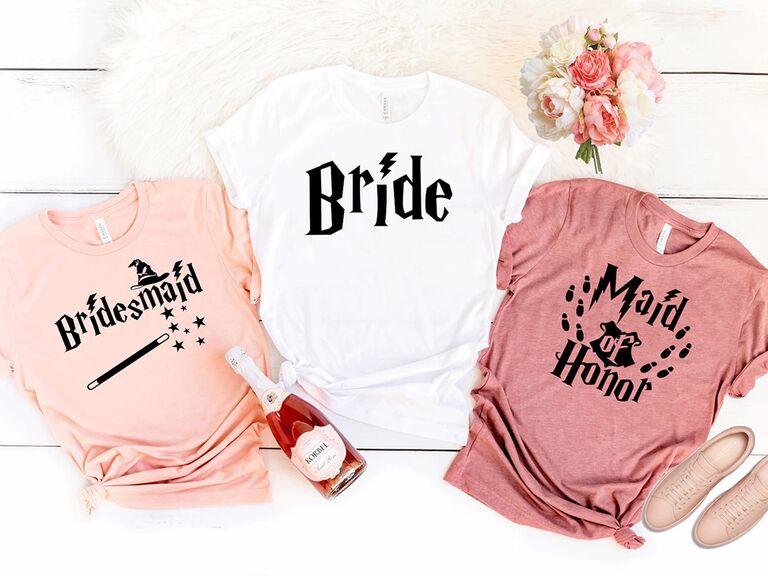 Whether you're going out or staying in, giving each party-goer a matching Harry Potter-inspired T-shirt or tank top at the start of the night will make you all feel "in it" together. (Plus, how cute will the Instagram photos be?)
Classy by Crissy Harry Potter Party Bags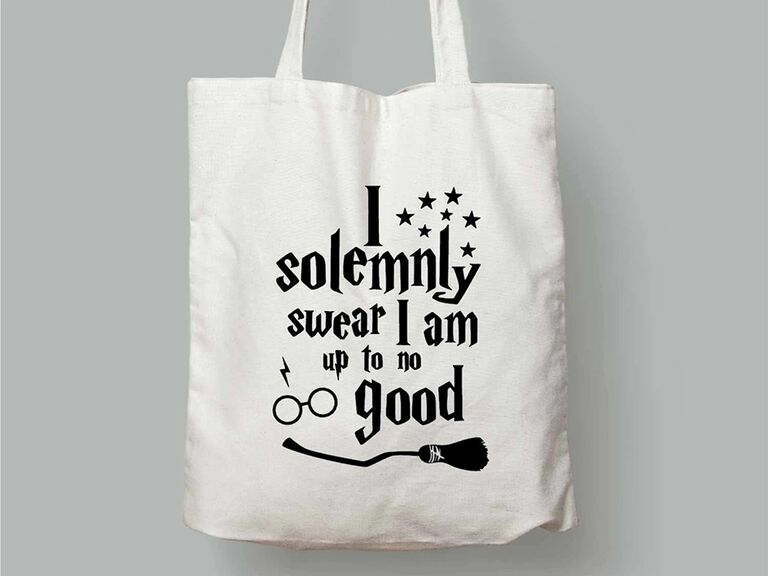 This tote can be used as a swag bag to store all of the weekend's goodies inside. (Think: party favors, hangover remedies and "wizardly" snacks like Jelly Belly Bertie Bott's.) The best part? They're cute enough to be used over and over again in the future.
The Sewing Laboratory Harry Potter-Inspired Drink Holder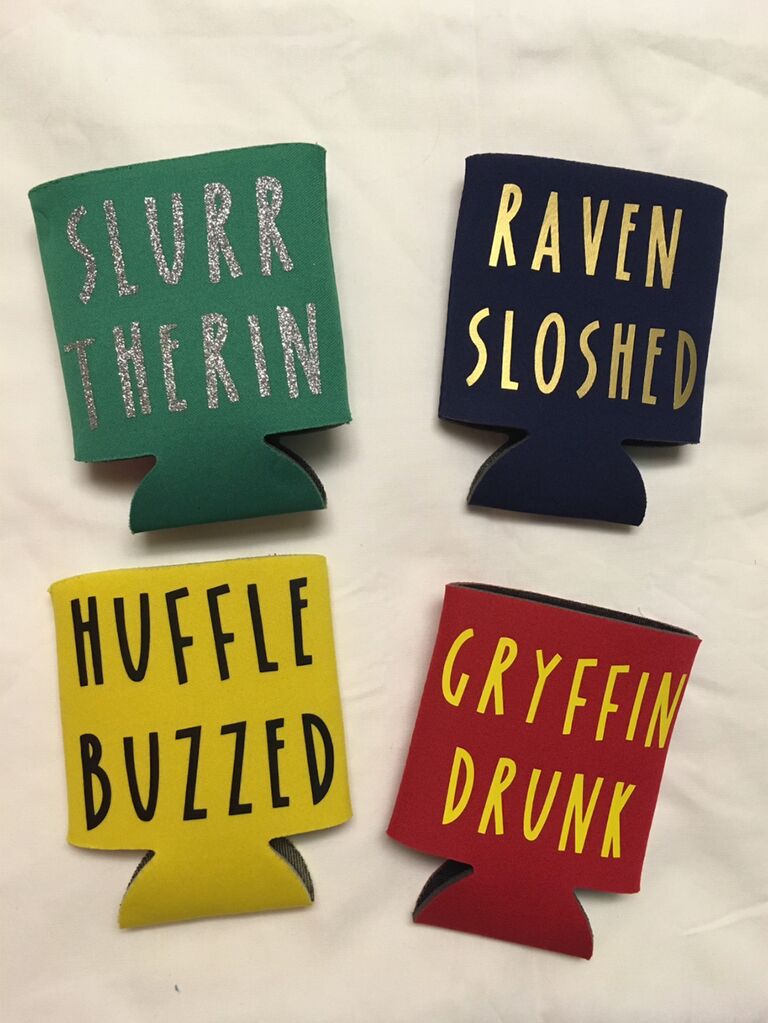 If your crew is in for a boozy weekend, these personalized drink koozies will get a lot of use (not to mention a lot of laughs). Gryffindor or Ravenclaw? Have each guest pull a piece of paper out of a real-life Sorting Hat to identify which Hogwarts House they belong to, then hand over a corresponding beer koozie before the night begins.
Ohia Lehua Store Magical Favor Tag Template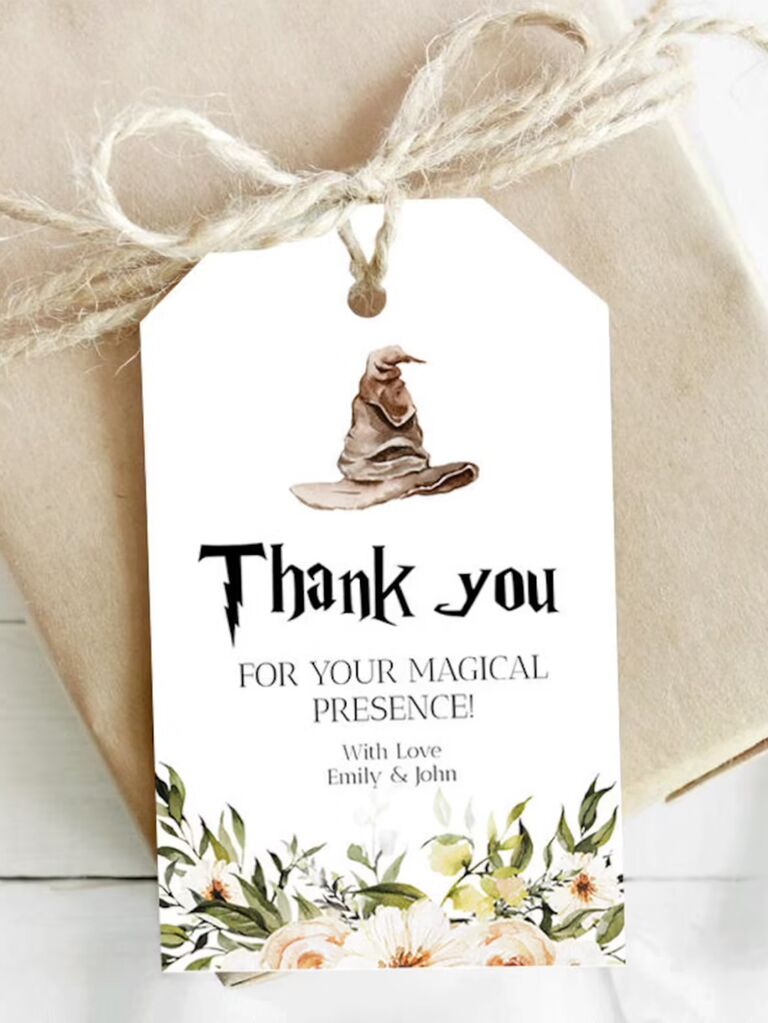 Say "Thank You" to your party guests with a little token of appreciation, which can be tucked inside a small gift bag or jewelry pouch and topped off with this sweet personalized favor tag. It strikes the perfect tone of classic wedding whimsy, while still sticking to the Harry Potter theme.
Blissfully Chic Co. She Found Her Keeper Bachelorette Banner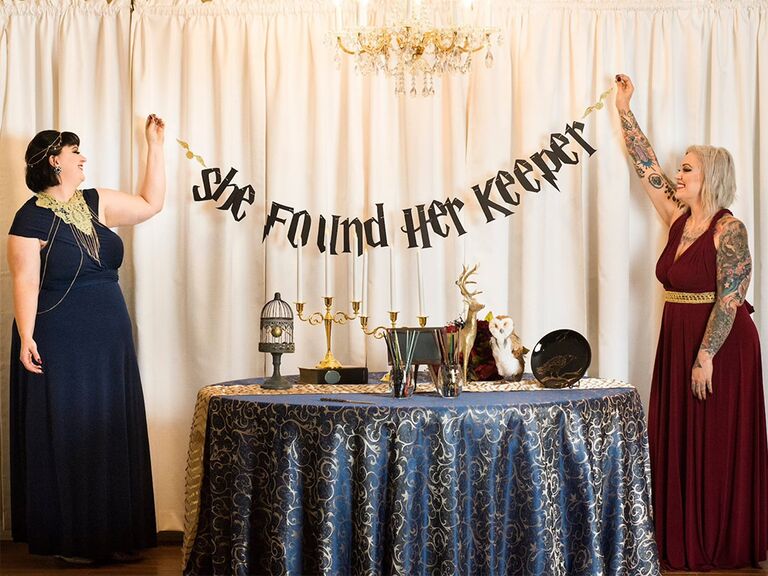 Whether you're crashing in an Airbnb or checking in at a swanky hotel, your main hangout room needs to be decked out in full Harry Potter fan decor to complete the theme. One way to set the party scene? Add some fun decor like this "She Found Her Keeper" banner, which is a lot more creative (and way less old-school) than a boring ol' "bride-to-be" banner.
Cher Can Do It Wizard-Themed Party Balloons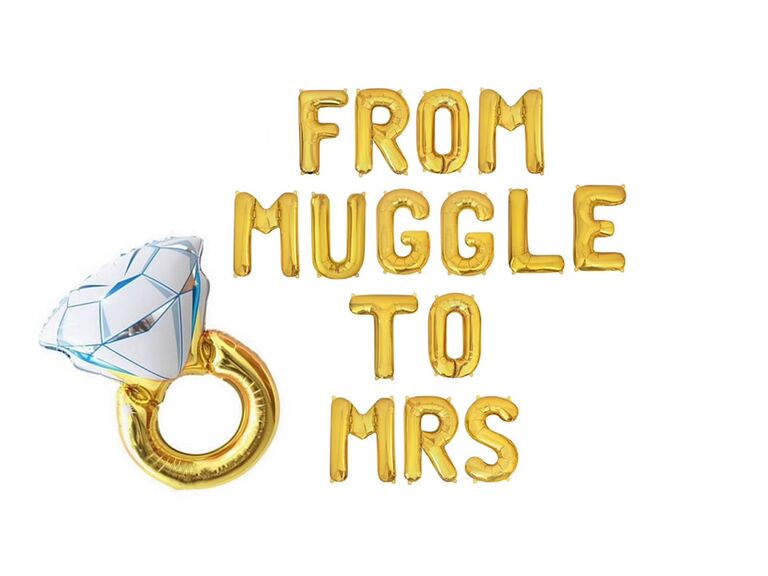 Balloons add a little extra fun to any party, but this wizard-inspired ballon phrase makes things even more unique. They're easy to blow up and even easier to hang from the wall or ceiling, so you can create a festive vibe or unique photo backdrop anywhere your party is going down.
London Cake Supplies Harry Potter Cupcake Toppers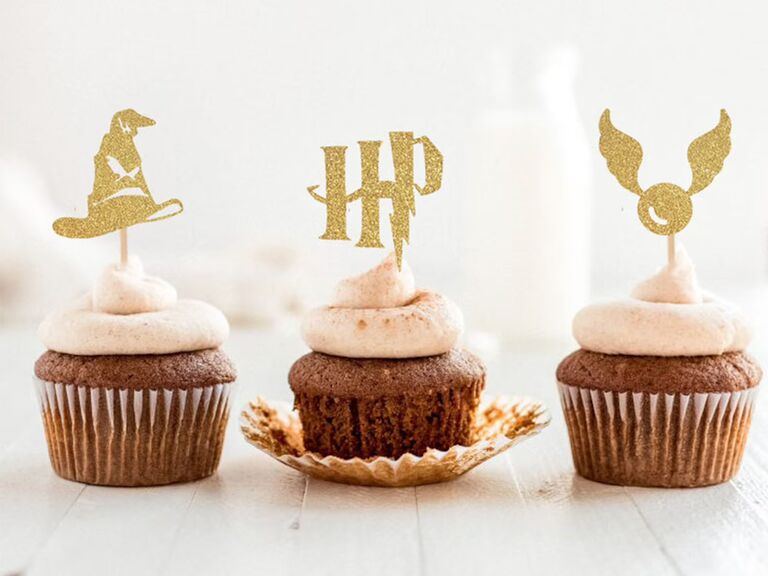 There's no need to go all-out finding a professional baker who can make artfully crafted cookies that look just like Harry, Hermoine and Ron Weasley. Instead, opt for the guest of honor's favorite cupcake flavor and top them off with these glittery Harry Potter-themed toppers, which dress them up with minimal effort.
Juvale 60-Pack Magical Wizard Party Photo Booth Props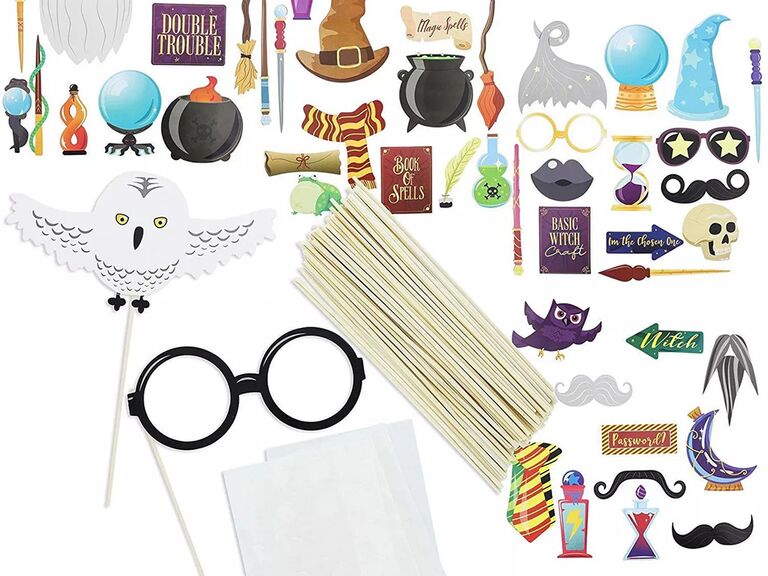 A DIY photo booth will seriously make the night, and the good news is, you don't have to do too much to create one on the fly. Simply hang a fun backdrop on the wall (like this rose gold fringe photo curtain) and place some Harry Potter-themed party props nearby. Your guests will pull out their phones and do the rest.
Oh Happy Printables Wizard Bachelorette Bingo Party Game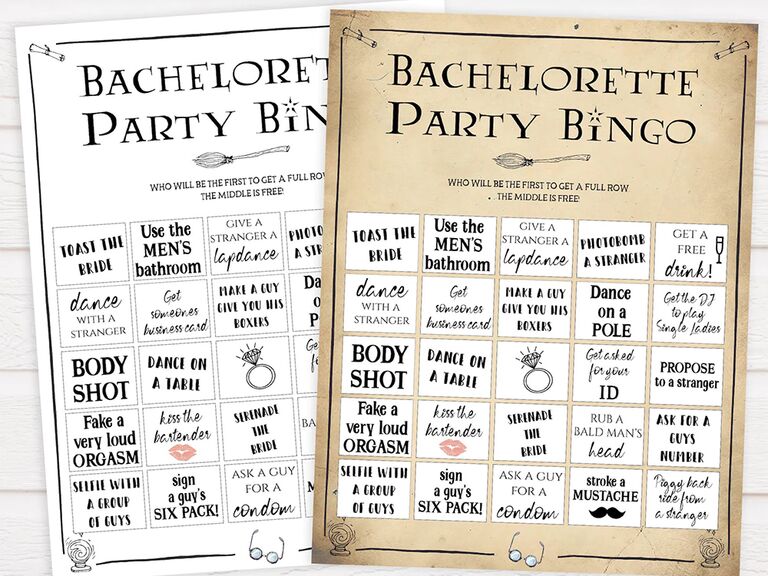 A game of Bingo is always a crowd-pleaser—especially if you've got some decent prizes at stake. This one will be fun for every guest at the party, even if they're not as well-versed as the bride on all things Potter.
Blue Panda 24-Pack Black Round Wizard Glasses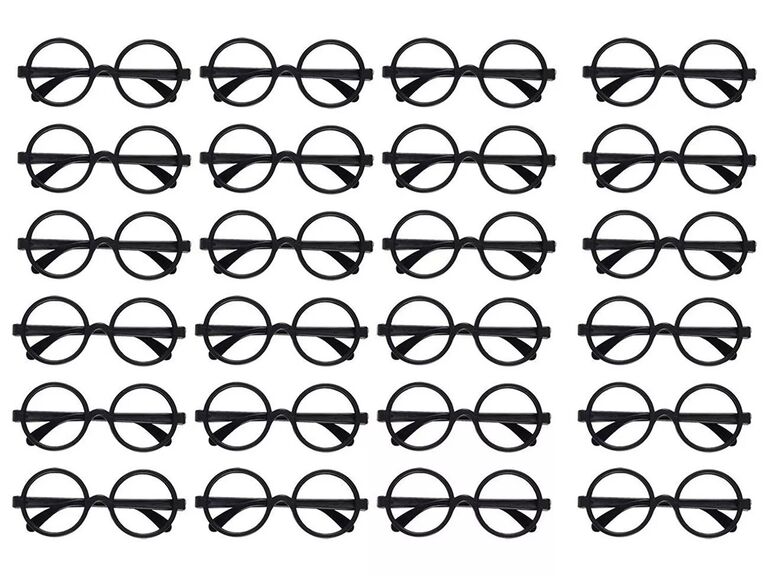 Each party-goer can channel their inner Harry with a pair of these black round "wizard" glasses, which will make them feel like they're The Chosen One himself. (You know, aside from the whole casting spells and being a wizard thing.)
Jelly Belly Harry Potter Solid Milk Chocolate Golden Snitch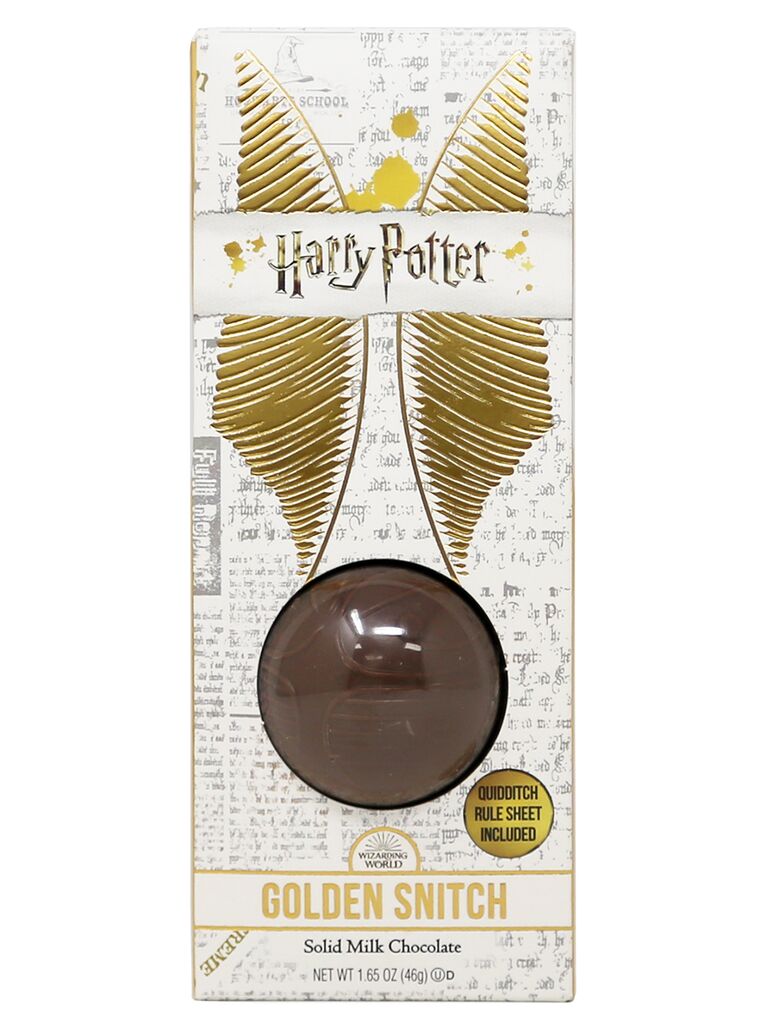 Now everyone at the bach can go home with their very own Golden Snitch. This solid milk chocolate treat comes beautifully packaged to resemble the most coveted ball in the game of Quidditch, which any Potter fan is bound to get a kick out of. Include it in each guest's gift bag or use it as the grand prize while hosting a round of party games.
Oriental Trading Wizard Wands
Obviously, any good Harry Potter bach needs a few wands (or more) at the ready. How else are you going to cast drunken spells with sayings like, "Accio, mimosas!"?
Oriental Trading Harry Potter Mischief Managed Tableware Kit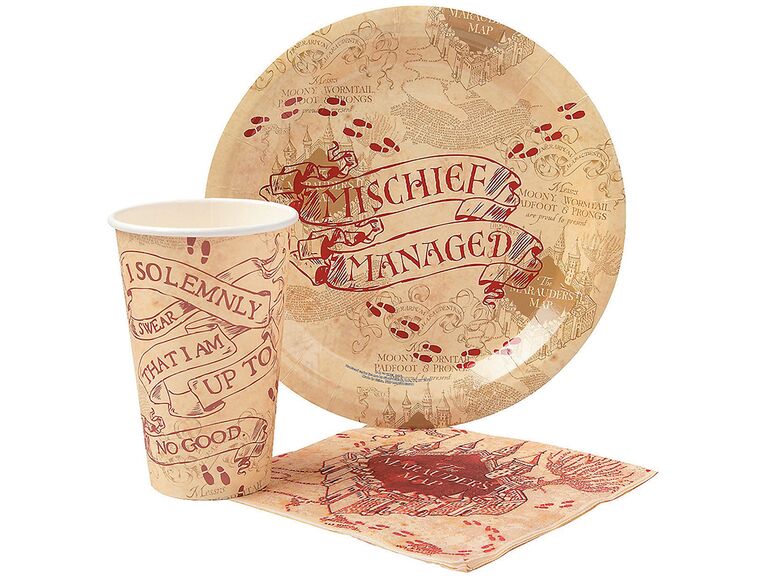 Once the booze is flowing, your guests are gonna be hungry. Make sure you've got plenty of fun snacks and finger foods—as well as cups, plates and utensils that match the theme. Each cup in this set says "I solemnly swear that I am up to no good," which might be the best tagline for a bachelorette party... ever?
Salty Spouse Glassware Harry Potter-Inspired Tall Tumbler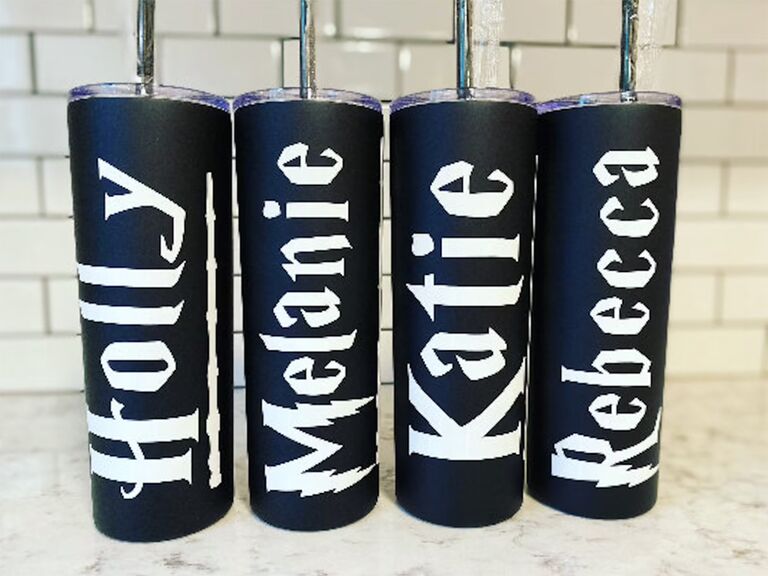 Forget a breakable wine glass—these personalized 20-ounce tumblers make for durable and long-lasting party favors. Plus, they serve a dual purpose, since you can use them to serve up some magical Harry Potter-inspired cocktails (Unicorn Blood on the rocks, perhaps?) and also fill them with water the next day to soothe that inevitable hangover.
Wedding Presse Wizard-Themed Hangover Potions Bachelorette Party Hangover Kits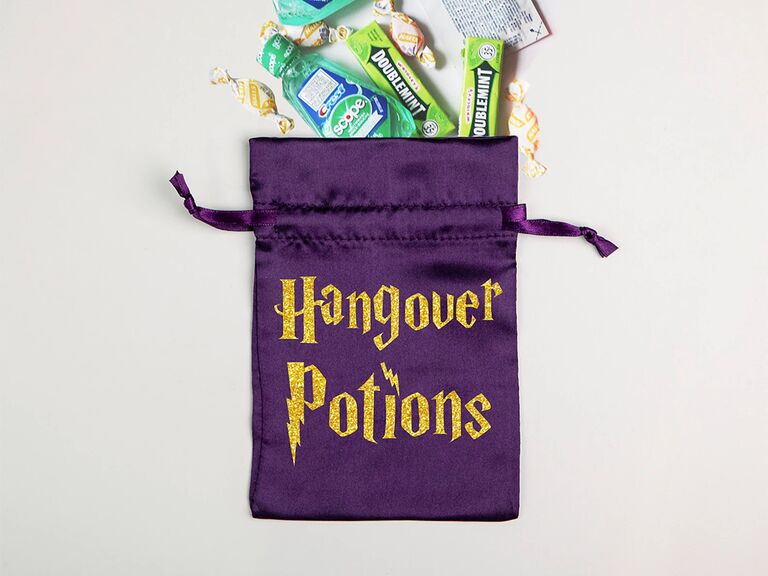 Speaking of hangovers... putting together a bundle of must-haves will (hopefully) head off any post-bach headaches and nausea that might strike. Use these pouches to create DIY hangover kits filled with individual-sized packets of pain relievers, antacids, digestive tablets and water. (It's basically a built-in insurance policy so the weekend doesn't go totally off the rails.)
Tatteco Always Temporary Tattoo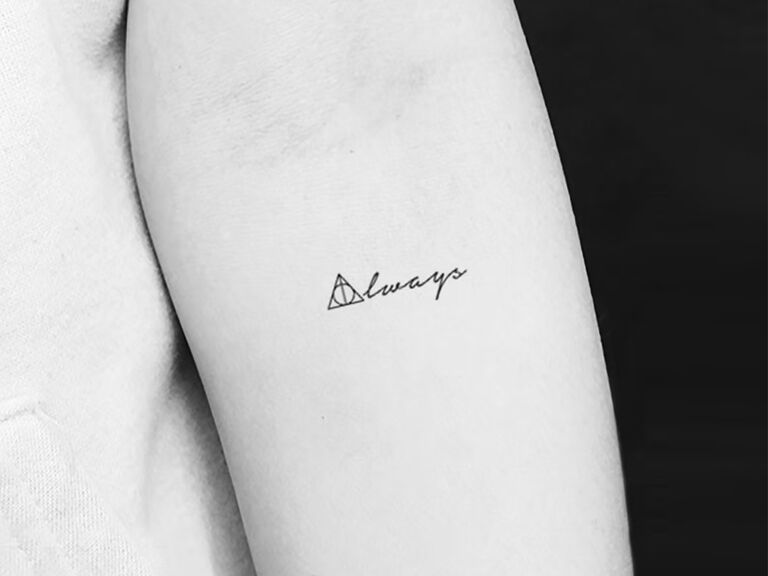 For a touch of Harry Potter-themed romance throughout the weekend (you are celebrating true love, after all), opt for these discrete and charming temporary tattoos. They include the Deathly Hallows symbol incorporated into one of the most iconic phrases from the whole series—IYKYK.
Shades of Pink Boutique Custom Mrs. Jacket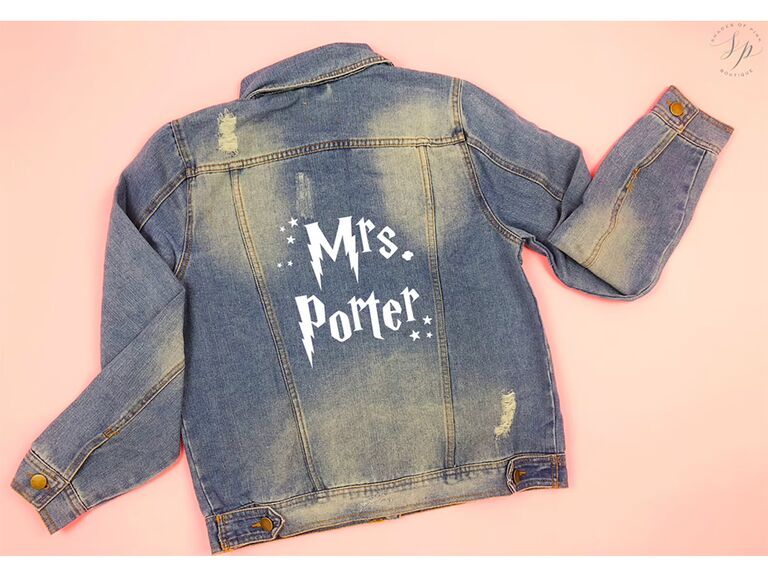 Everyone wants the bride-to-be to feel like a million bucks on her bach night, but not everyone is into wearing a "Here Comes the Bride" sash with a matching tiara and veil. If that's just a little too old-school for your modern, Potter-loving friend, consider having all the bridesmaids chip in on a personalized jacket with her new last name on the back. This one comes in the classic Harry Potter font.
The Lovebirds Designs Wizard Magical School Bachelorette Weekend Invitation & Itinerary Template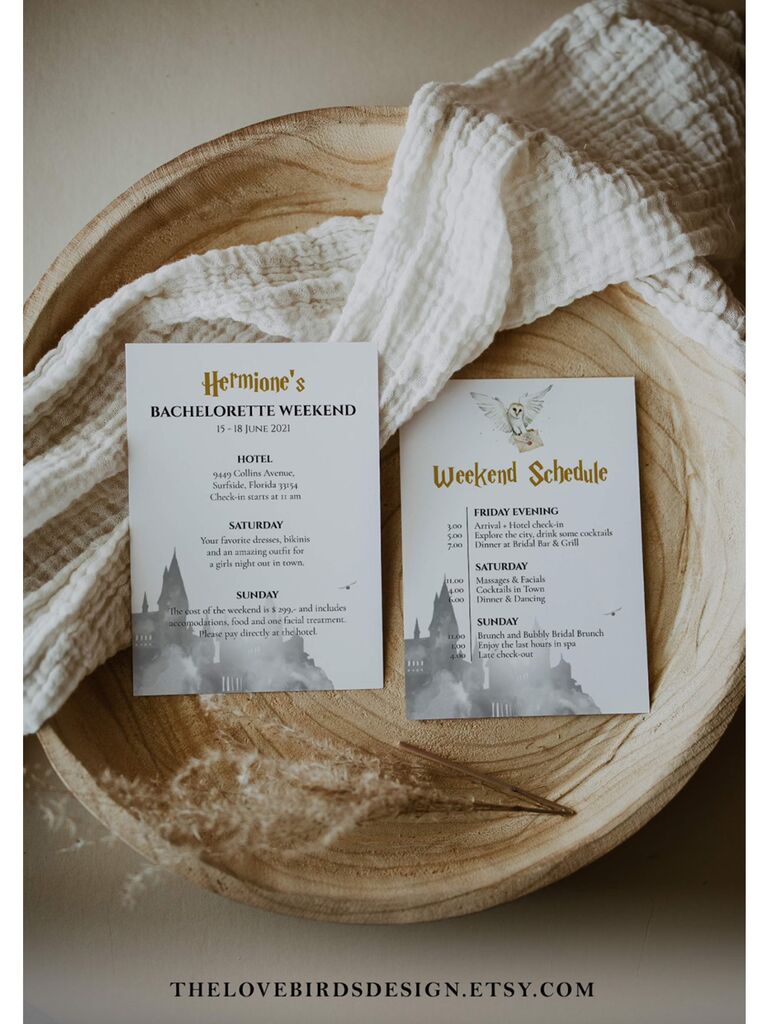 As the saying goes... if you can dream it, someone on Etsy has probably made it before. (Okay, so that's not actually a coined phrase yet, but it should be—especially when it comes to all things Harry Potter.) This digital download is delicate, whimsical and 100 percent customizable, so you can prep guests on what they can expect during the fun-filled weekend ahead.