23 Harry Potter-Themed Wedding Gifts for the Potterheads in Your Life
No matter their house, help their newlywed home feel a little more like Hogwarts.
We have included third party products to help you navigate and enjoy life's biggest moments. Purchases made through links on this page may earn us a commission.
Choosing a great wedding or anniversary gift isn't a simple task. There are traditional housewares and kitchen essentials, and then there are items that soon-to-be newlyweds may not necessarily need, but make for fun, personal presents. If you're reading this, we can safely assume you're shopping for Harry Potter wedding gifts—and we've got options that fall under both of the aforementioned categories. Of course, many couples elect to create a registry, which is the first place a wedding guest should look when shopping for a wedding present. Think the pair in question is registered with The Knot Registry? You can search for their personalized wish list here. Whatever their Hogwarts house (or if they're a muggle at heart), we've got 23 unique gift ideas perfect for Harry Potter fans who are still saying "always" after all this time.
Etch Labs Always Custom Engraved Cutting Board
A quality cutting board is a staple for any starter home. This beautiful, functional bamboo cutting board comes in three different sizes and is engraved with Harry Potter's glasses and scar above the word "Always." You can also customize the cutting board with the couple's names and wedding date for an additional personalized touch.
Williams Sonoma Harry Potter Hogwarts Castle Ice Mold, Set of 2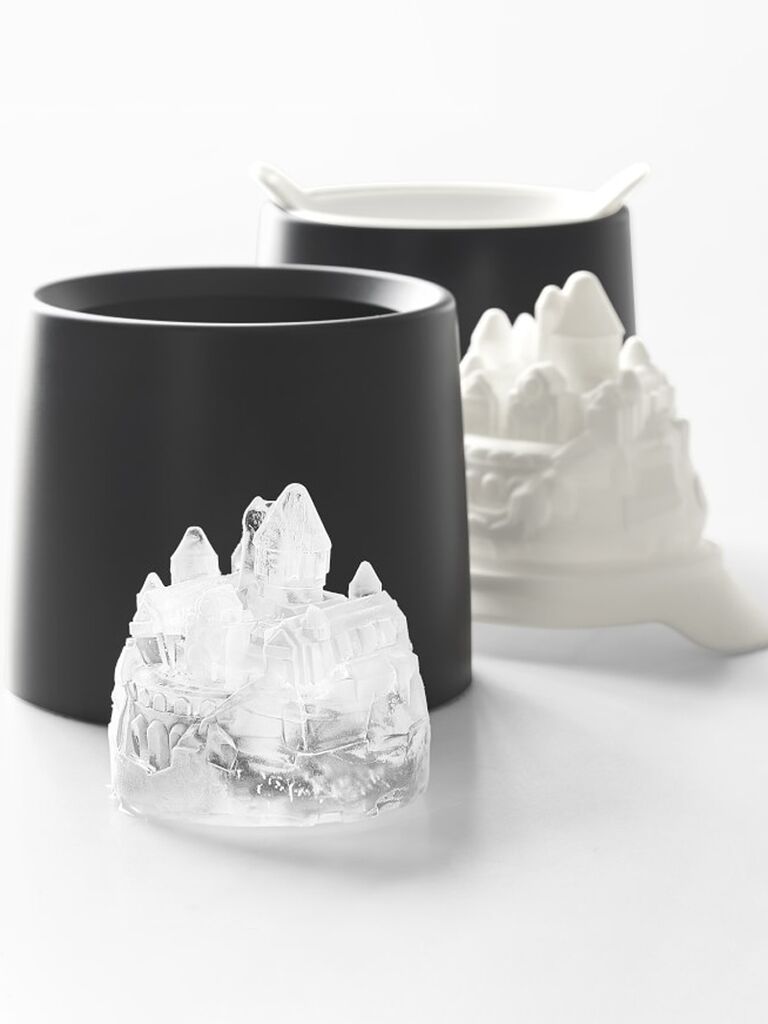 The newlyweds can add a splash of magic to their cocktails with these Hogwarts Castle ice molds. The set includes two molds made from flexible BPA-free silicone.
Pottery Barn Teen Harry Potter Hedwig Pendant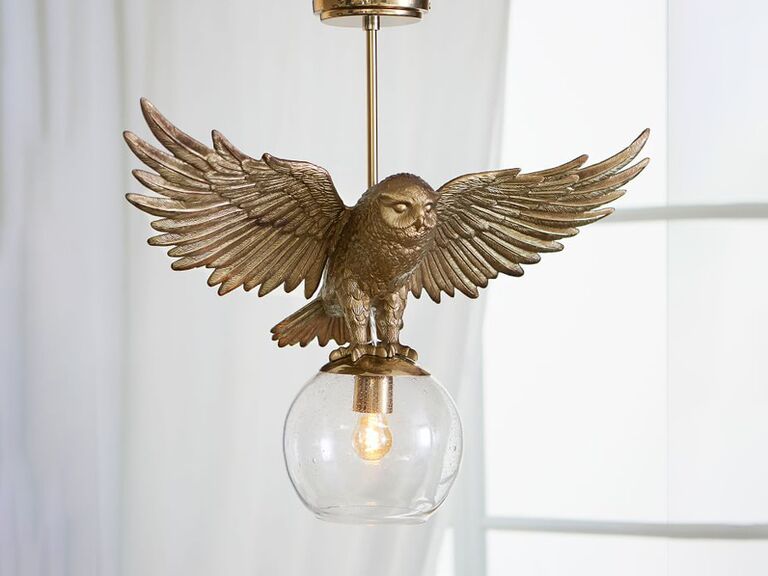 A tasteful ode to the wizarding world, this unique owl pendant light is modeled after Harry's owl, Hedwig. It boasts an antique brass finish that will feel at home among both rustic farmhouse furniture or more modern decor.
Whats Your Inner Geek Harry Potter Hogwarts Custom Engraved Bamboo Utensil Set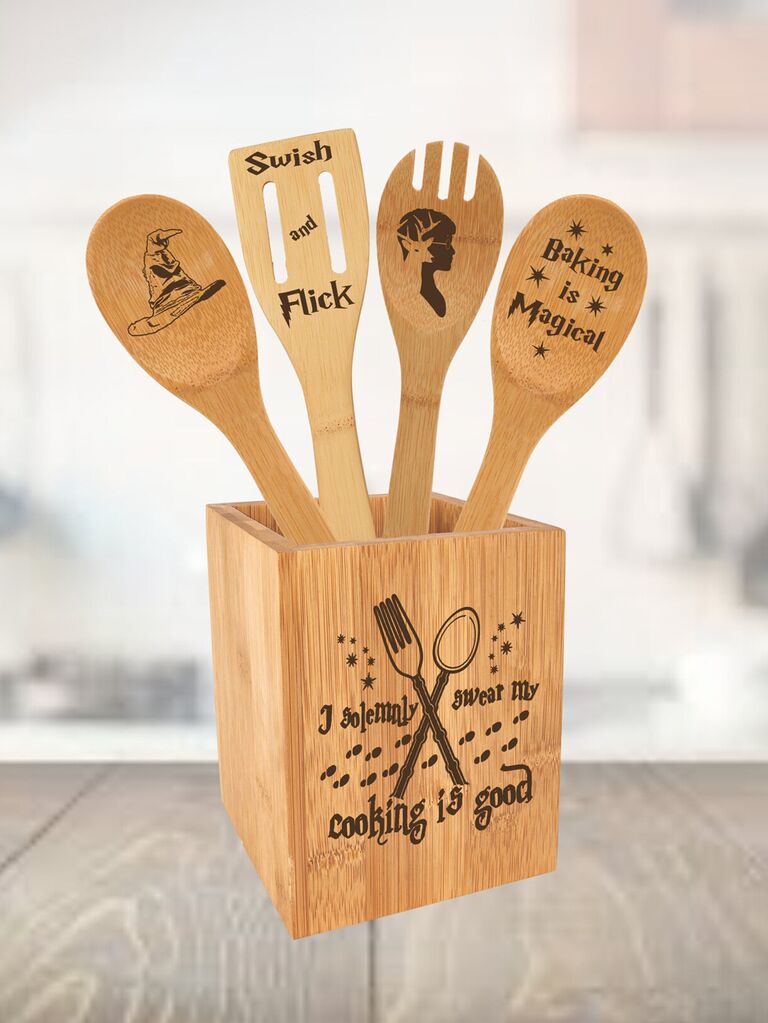 This handmade bamboo kitchen utensil set comes with a holder, salad spoon, salad spork and spatula. Each piece is engraved with an image or saying related to Harry Potter. The holder hilariously says, "I solemnly swear my cooking is good."
Ideal Bookshelf 455: Harry Potter US Print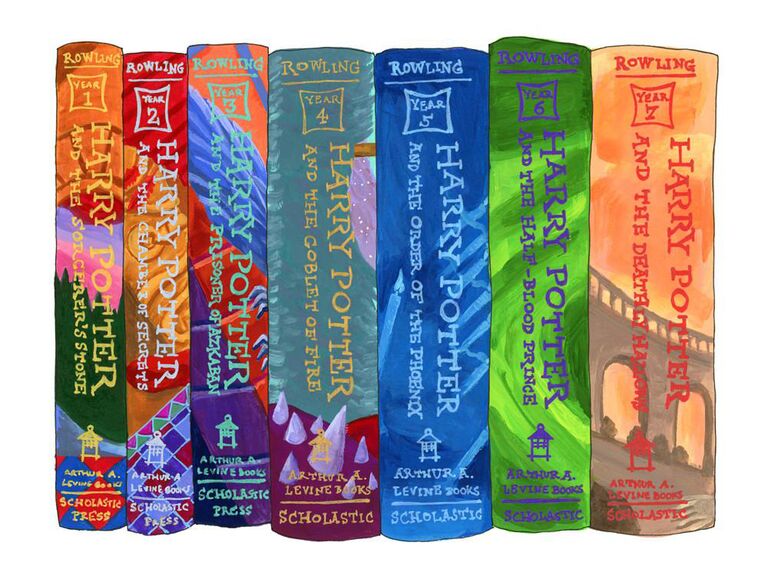 Gift your favorite quirky, well-read pair this print, which beautifully captures all seven of the US editions of the Harry Potter books.
Pottery Barn Teen Harry Potter Floor Length Mirror of Erised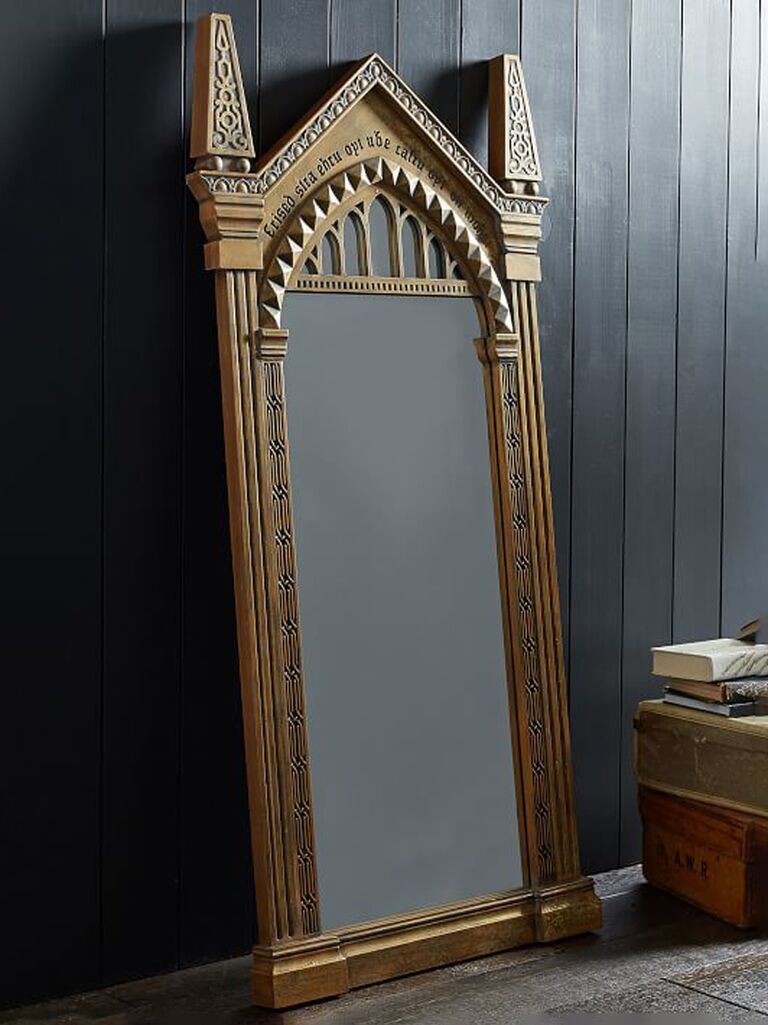 For the couple that envisions a Harry Potter-themed home (hey, you do you lovebirds!), this floor-length mirror styled after the Harry Potter series' iconic Mirror of Erised will fulfil their every desire.
MinaLima Harry Potter's Hogwarts Acceptance Letter Tea Towel Set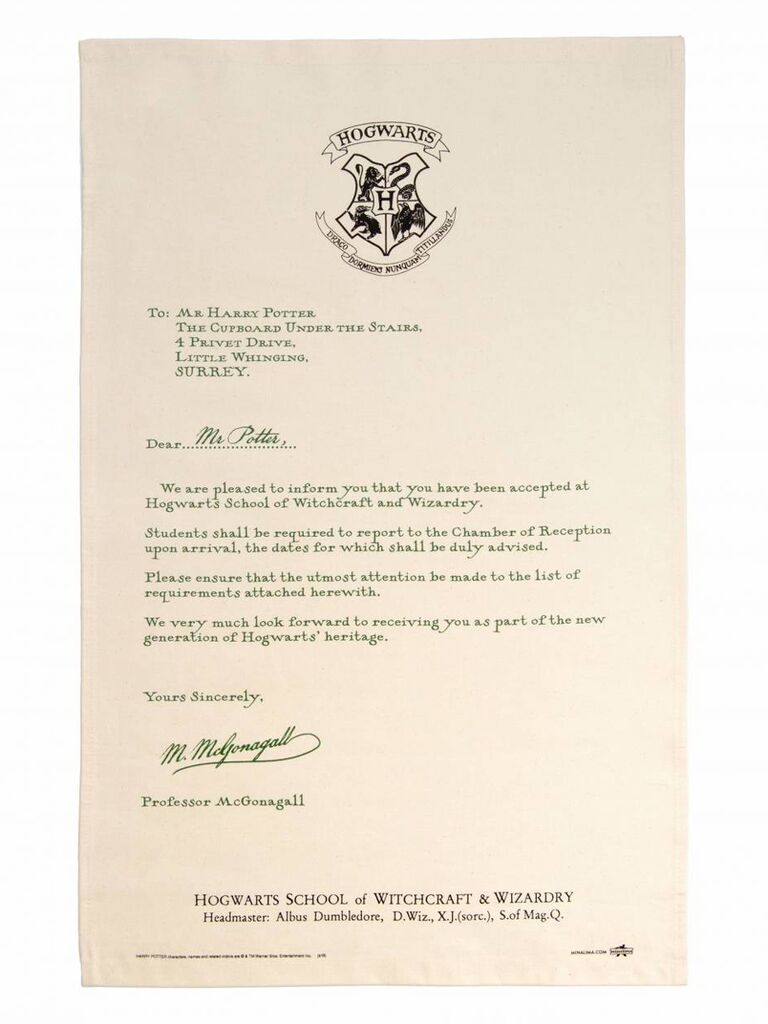 We are loving this next quirky gift idea. This set of two tea towels features the artwork created for the Harry Potter films (so cool!). One towel has the Hogwarts letter addressed to Harry, while the other is the list of books and equipment required for first-year students.
Marauder's Map Serving Tray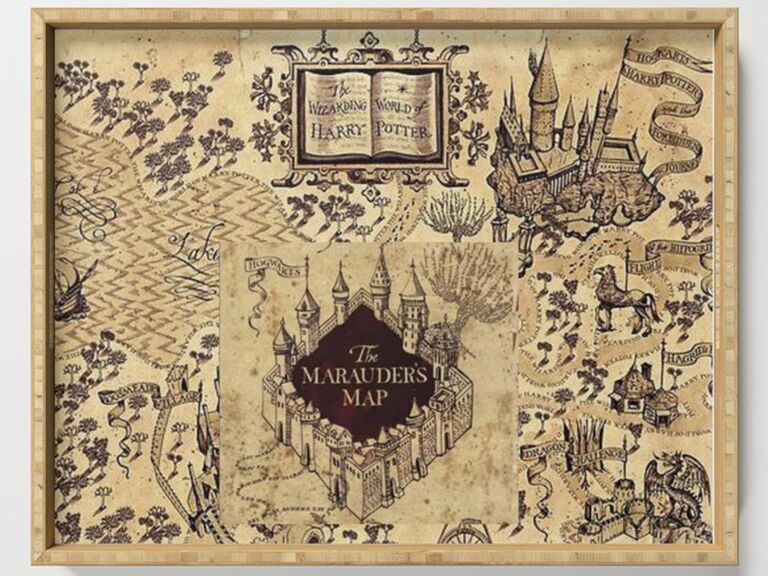 Serve looks while serving cocktails? Yes, please. This eco-friendly bamboo serving tray, which features the famed Marauder's Map, has a glossy finish and comes in three sizes. It's extremely versatile, so your loved ones can choose whether to use it as functional coffee table decor, an organizer or even a place for their plants.
Robe Factory LLC Harry Potter Hogwarts House Logos 16-Piece Ceramic Dinnerware Set
Make every dinner party feel like it's being held in the Great Hall with this 16-piece ceramic dinnerware set. There are four place settings, one for each Harry Potter house: Ravenclaw, Gryffindor, Slytherin and Hufflepuff. Each setting includes a dinner plate, salad plate, bowl and mug, all with house crest decals and mottos.
Anthropologie Wise Owl Bookends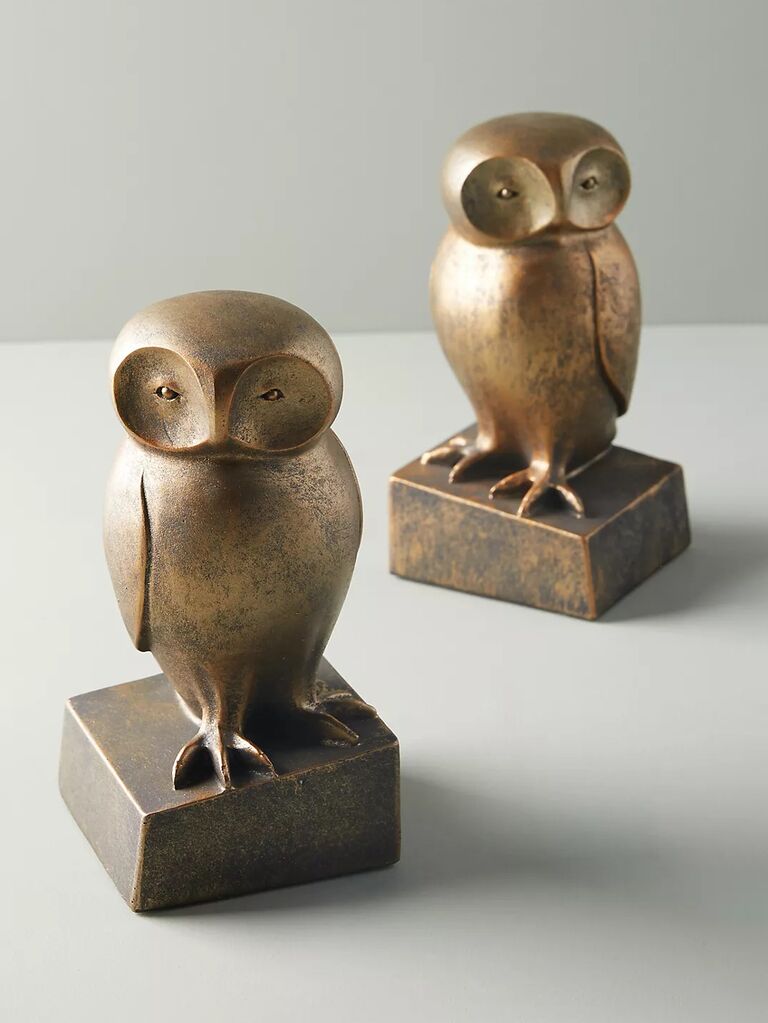 For a more subtle nod to Hogwarts, these gold owl bookends from Anthropologie make a great gift for a wedding or even a newlywed housewarming party. Imagine one on each side of a Harry Potter book collection. Now that's magic.
Noble Collection Hogwarts Wand Stand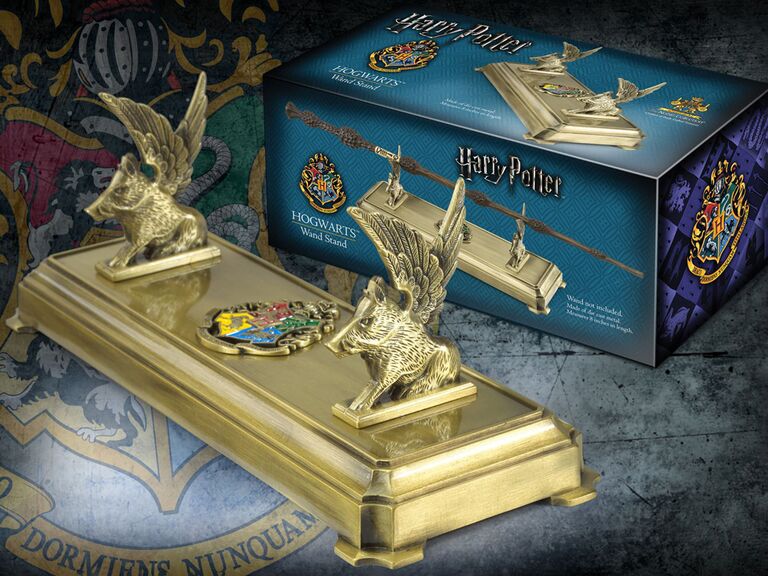 If they're Harry Potter fans, they probably have a wand or two. This metal stand with a chic gold finish is specially designed to display collectible Harry Potter wands. It's even embossed with the Hogwarts Crest in the center.
Pottery Barn Teen Harry Potter Time Turner Clock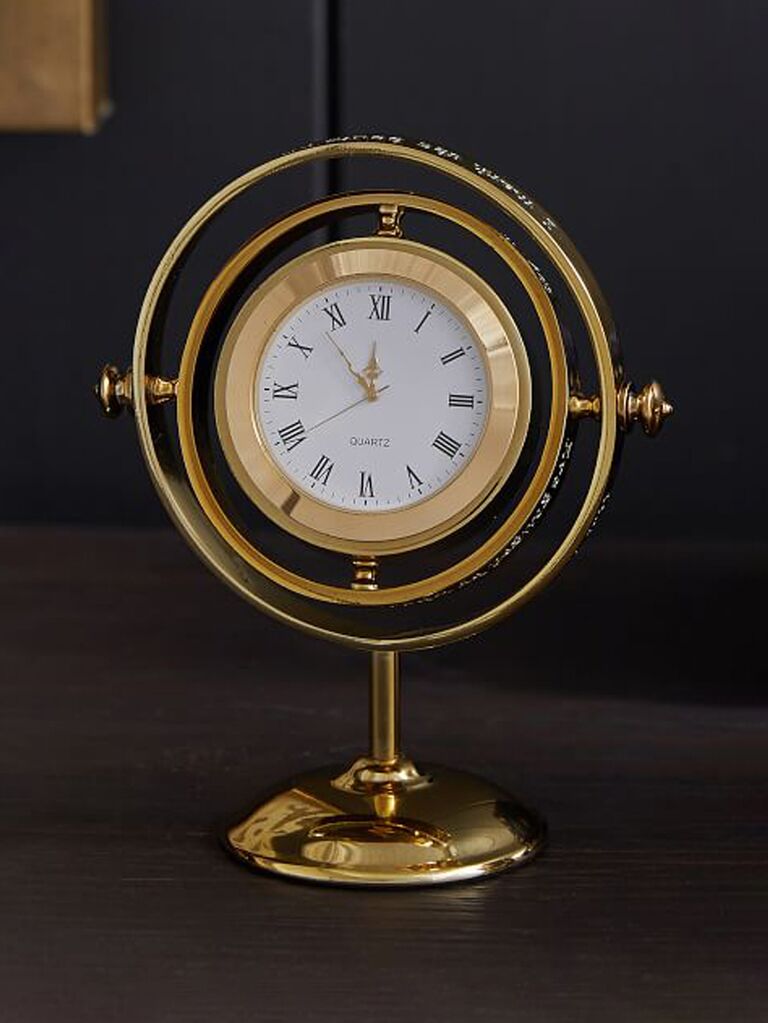 Not only does this gorgeous time-turner clock have a functional hourglass on the back, but it's also etched with the exact inscription as Hermione's from the books. Dumbledore would be proud.
Vera Bradley Harry Potter Plush Throw Blanket in Home To Hogwarts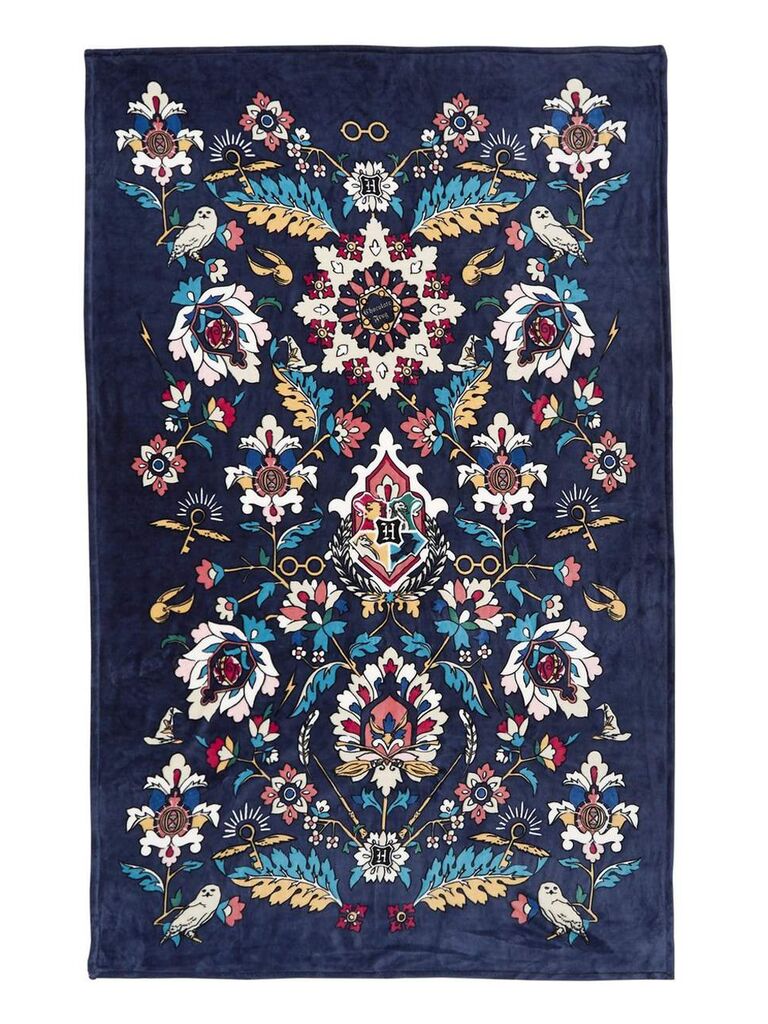 The perfect gift for couples who love to cozy up for Harry Potter movie nights at home, this colorful plush throw has a whimsical floral design complete with iconic motifs from the series. You'll find winged keys, the golden snitch, time turners, Hedwig, the sorting hat, Harry's glasses, the Hogwarts crest and more.
MinaLima Black Family Tapestry Cushion Cover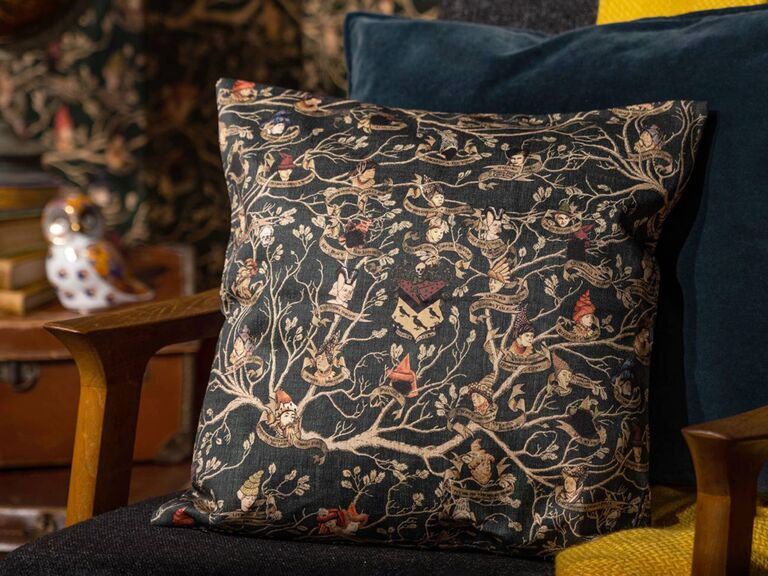 Diehard Harry Potter geeks will Sirius-ly appreciate this cushion cover, which is decorated to look like the Black family tapestry from the Order of the Phoenix headquarters.
Bed Bath & Beyond Harry Potter Marauder's Map Woven Tapestry Throw Blanket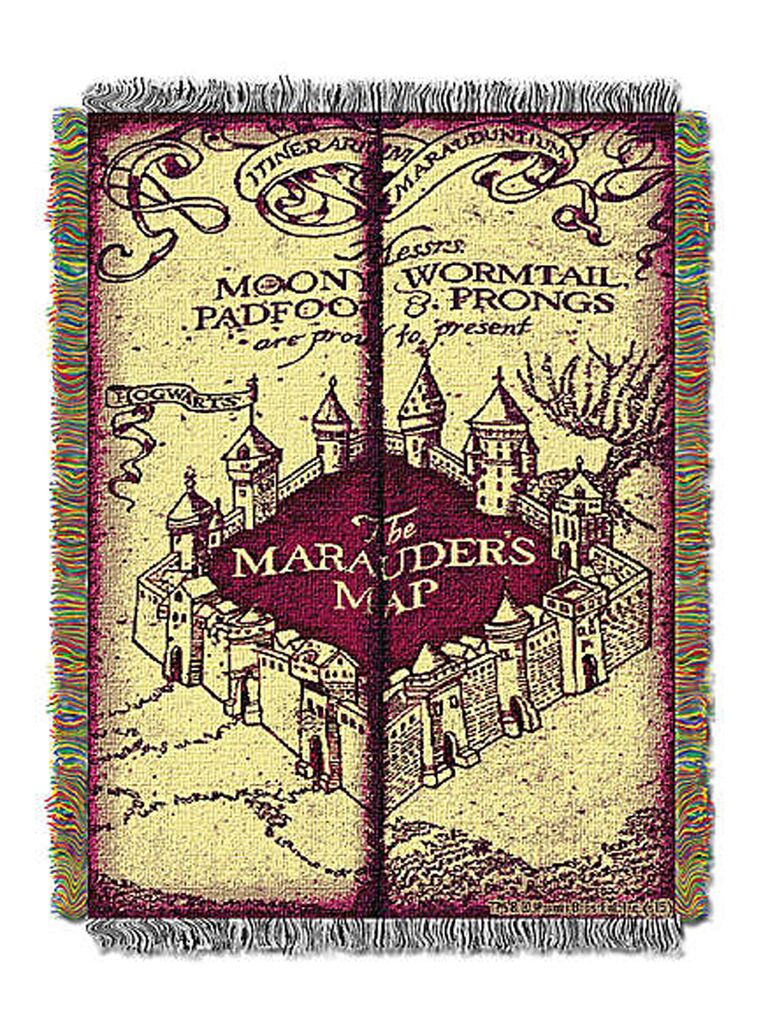 Home decor or throw blanket? Why not both? This Marauder's Map woven tapestry throw with fringe trim is as detailed as it is warm. It can be placed over the couch where it will look stunning and remain easily accessible when it comes time for the couple to cuddle up.
The Black Moon Home Co Harry Potter Wizards Welcome Doormat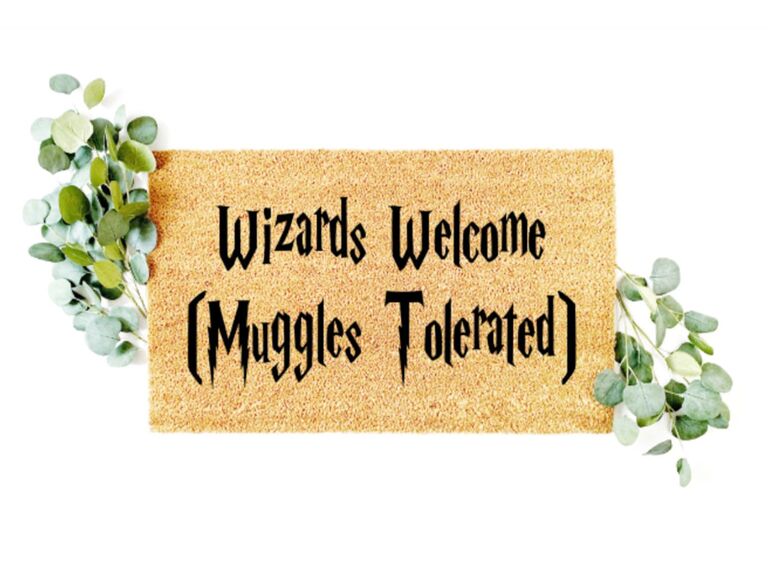 We love a gift that's funny and useful, and this sassy doormat is both. Welcoming wizards (but tolerating muggles)—as long as they don't track in mud.
BoxLunch Harry Potter Hogwarts Beverage Glass Set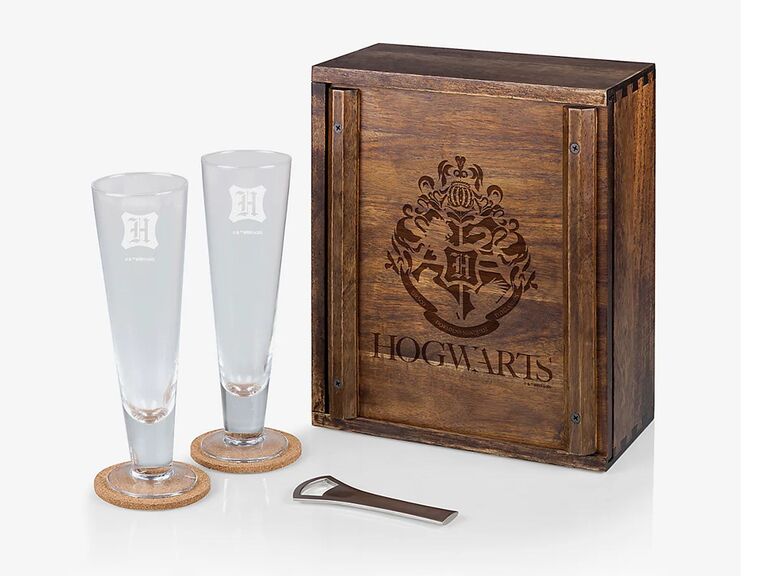 Inside this beautiful acacia wood box engraved with the Hogwarts crest, you'll find two fluted beverage glasses (also decorated with Hogwarts crests), two cork coasters and a sleek bottle opener. Suggested directions for the recipients: Fill with butterbeer and enjoy!
Robe Factory LLC Harry Potter Marauder's Map 16-Piece Ceramic Dinnerware Set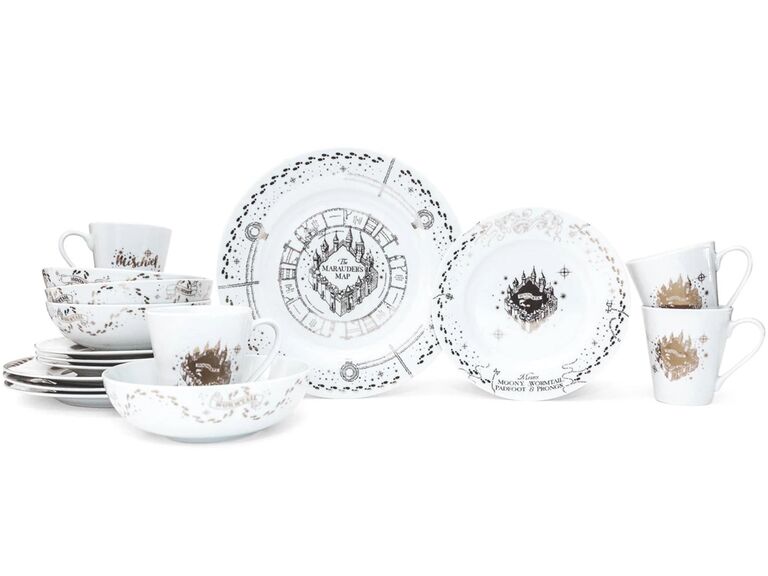 For the soon-to-be-spouses who solemnly swear that they are up to no good, this 16-piece dinnerware set designed with details from the Marauder's Map is a must-have for entertaining guests at home.
BoxLunch Harry Potter Quidditch Acacia Cheese Board & Tools Set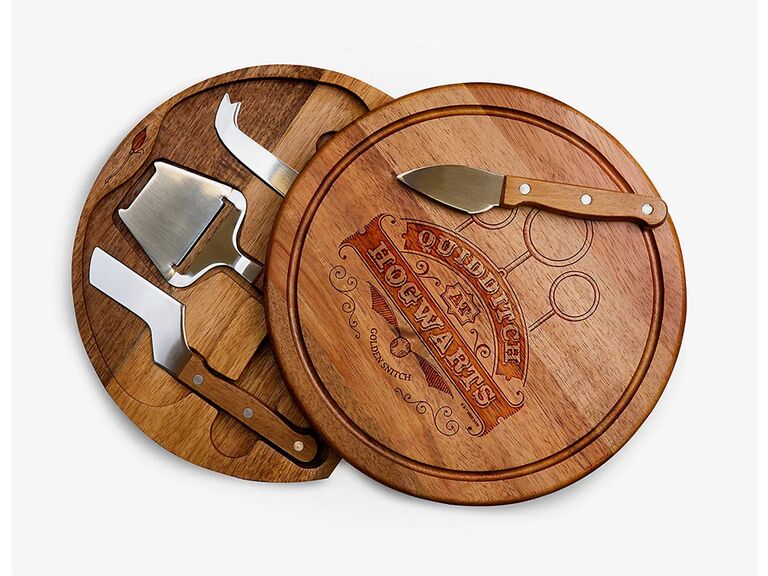 Why gift lifelong Harry Potter fans a regular cheese board when you can go with this quidditch-themed beauty? The cutting board top is etched with an illustration of the golden snitch and reads "Quidditch At Hogwarts." There's also a recessed juice groove, but that's not all—inside a swivel-connected box is a set of four stainless steel cheese tools: a cleaver for crumbly cheeses, a planer for semi-hard to hard slices, a fork-tipped cheese knife and a hard cheese knife spreader. Accio, charcuterie.
Awesome Hanger Deathly Hallows Wedding Hanger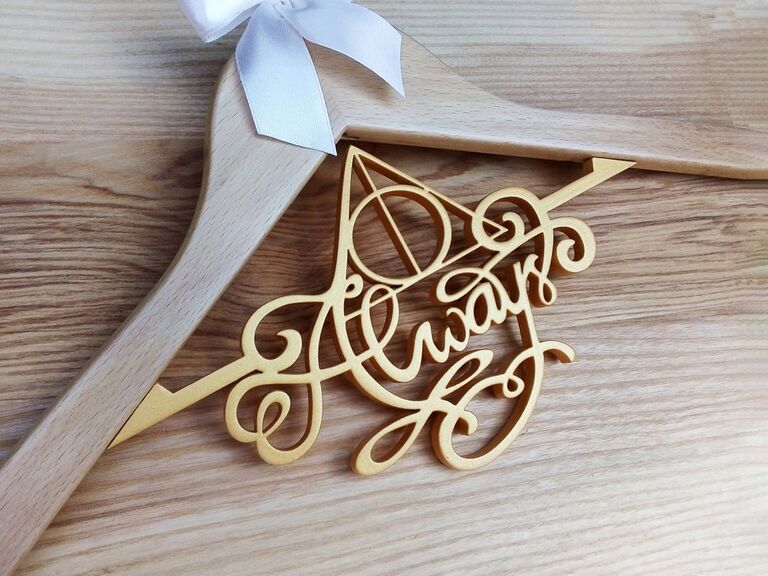 Commemorate the couple's wedding day (and their love for Harry Potter) with this intricate handmade wooden wedding hanger that says "Always" in script below a Deathly Hallows symbol. Choose from several colors for both the hanger and the inscription, meant to match any individual's style. Pro tip: This also makes a lovely bridal shower present. That way, the bride and her bridesmaids can use it to hang their dresses for photos on the wedding day.
Light Knife After All This Time? Always Champagne Flutes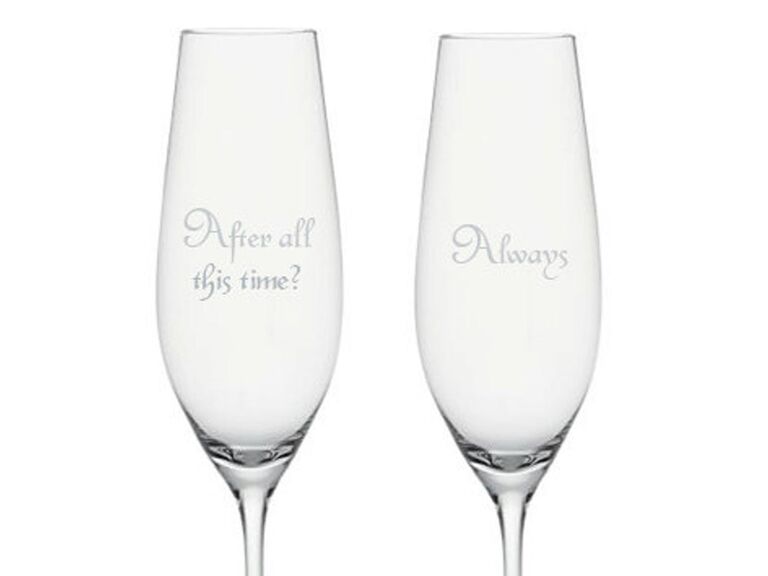 Congratulate the newlyweds and say cheers to a lifetime together with this thoughtful wedding gift. The champagne flute set features an iconic quote from the Harry Potter series: "After all this time?" "Always." There's also an option to customize the flutes with extra details, like the wedding date or the couple's names.
Harry Potter: The Illustrated Collection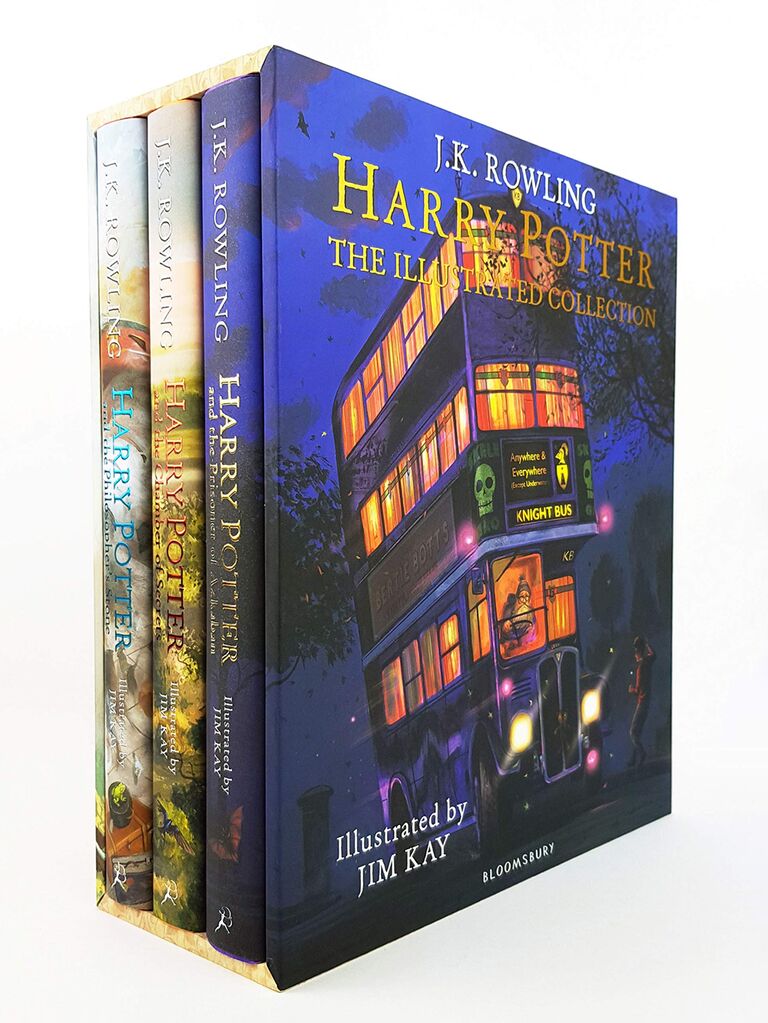 The magical Harry Potter illustrated editions are an essential pick for any Potterhead. This boxed set includes the first three books in the series (Harry Potter and the Sorcerer's Stone, Harry Potter and the Chamber of Secrets and Harry Potter and the Prisoner of Azkaban). The large-scale pages feature full-color illustrations from award-winning artist Jim Kay.
Noble Collection Harry Potter Wizard Chess Set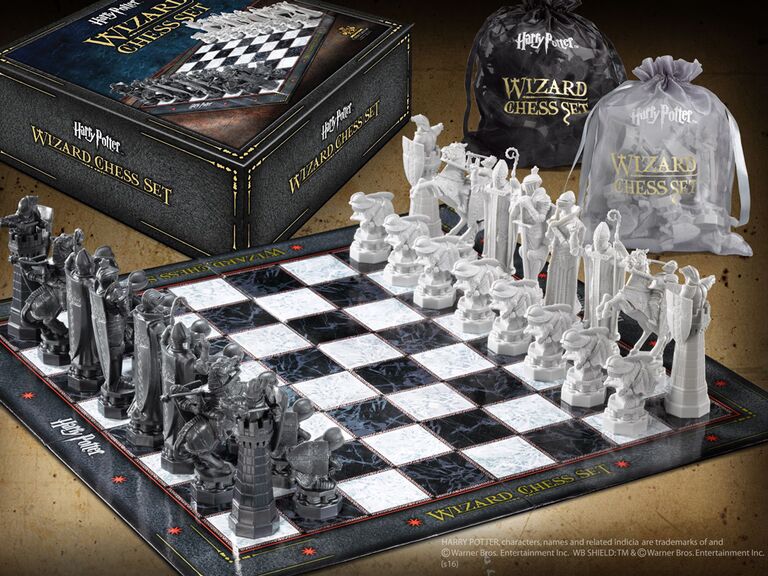 This gift checks all the boxes! The collectible wizard chess set is Harry Potter-themed, makes for beautiful decoration and will provide fun for the couple and their friends and family for years to come.