All Ranch Dressing Addicts Need This Hidden Valley Fountain at Their Bachelorette Party
If your love for ranch dressing knows no bounds, this Hidden Valley swag is a must for your bridal celebrations.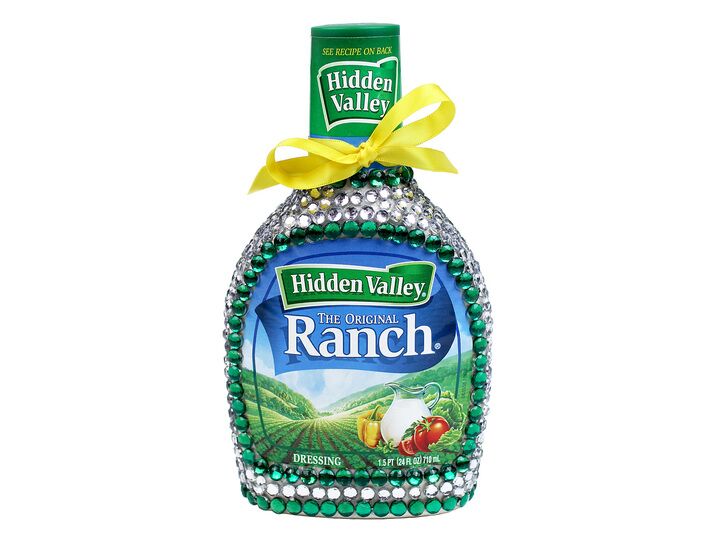 Hidden Valley Ranch
For all those brides who put ranch on their fries, ranch on their pizza, ranch on their wings, ranch on their salads and ranch on their ranch (what wedding diet?), Hidden Valley has some new swag that ranch dreams are made of. Direct your bridal party to the new Hidden Valley Ranch Outlet website where they can get you two items (among many) that will make your bridal shower or bachelorette party that much more memorable.
The first one is a $50 limited-edition Jewel Encrusted Hidden Valley Bottle, aka the perfect present for all the fancy gals out there who would feel a little better dumping ranch on everything if the bottle was a bit more glam.
The second is a Hidden Valley Ranch Fountain—we repeat, a Hidden Valley Ranch Fountain. Even though it's $100, it's the wisest $100 investment you could possibly make. Not only will your ranchaholic guests (we all know a few) be on cloud nine, but it comes with a YEAR'S WORTH of Hidden Valley Original Ranch, which is 12 36 oz. bottles. More for you! But don't limit it to just your bridal events if you suspect your wedding guests might lose their mind if they have this to dip their pizza in at the after-party.