How to Throw the Best Sober Bachelorette Party Ever
Don't want to drink rosé all day? We got you.
Rawpixel.com/Shutterstock.com
We have included third party products to help you navigate and enjoy life's biggest moments. Purchases made through links on this page may earn us a commission.
When you think of bachelorette parties, you might picture bottles of rosé, glasses full of champagne, and pretty mixed cocktails. But you don't need alcohol to have an amazing bachelorette party. Case in point: these 14 super-fun, sober bachelorette party ideas that everyone will love (for real). There are plenty of reasons you'd want to forgo booze at your bach bash—maybe you've never cared for the party scene, or your wedding party includes pregnant women, underage family members or non-drinkers. Whatever the reason for your sober bachelorette party, these ideas prove an alcohol-free celebration can be just as much fun (plus they don't come with the risk of the dreaded hangover). Many of these ideas could work as an alcohol-option or BYO event too, but they're just as amazing without any cocktails at all—we promise.
In this article:
Sober Bachelorette Party Invitation Wording
Here's the good news: sober bachelorette party invitations aren't that different from ones you've likely seen before. Rather than putting the emphasis on drinking (think: "Bach & Boozy" or "Rosé All Day"), simply turn the focus onto the fun activity you'll be participating in. Or, you can focus on celebrating the bride-to-be together as a group. Below are a few sober bachelorette party invitation wording ideas, but feel free to get creative and come up with your own!
You're invited to a bach bash in celebration of [friend's name]. Mocktails will be served. We hope to see you there!
The One Where [friend's name] Has a Bachelorette Party. There won't be any of Ross's margaritas, but there will be plenty of Monica-approved food!
Squad up! [Insert party details.] See you there!
Come help us send [friend's name] off into married life in style with [manis/pedi/blowouts/makeovers]!
Let's get nauti! Join us for a boat day in celebration of [friend's name]'s upcoming wedding.
You're officially invited to a sleepover in [friend's name]'s honor! Snacks and soda will be served. C u l8r xo
Let's go to the beach! Come celebrate [friend's name]'s farewell to single life with some fun in the sun.
Sober Bachelorette Party Ideas
You don't have to go to a club or a boozy brunch for an amazing bachelorette party. Here are 14 creative sober bachelorette party ideas everyone will love.
1. Amusement Park Outing
Is there anything better than a roller-coaster-induced adrenaline rush? Goodbye, wedding stress! Hit the park in matching tanks, personalized fanny packs or custom sneakers and spend the day on your favorite rides and eating your go-to snacks.
2. Spa Day
With the wedding approaching, your friend could likely use a little TLC. Plan a day of pampering at a nearby, full-service spa for the ultimate chill bachelorette party. Enjoy anything and everything from mani-pedis and facials to hot stone massages and mud baths.
3. Outdoor Adventure
If your friend doesn't enjoy being cooped up inside, have her party reflect that. Get outside with the crew, let loose and enjoy the fresh air with apple picking, canoeing, rock climbing, or a leisurely hike. If you'd rather have a relaxing day, consider renting a boat or heading out to the beach with your besties for fun in the sun. Don't forget to pick up matching hats or sunglasses for everyone.
4. Brunch, Lunch or Dinner
Try a new trendy restaurant or head to your favorite local spot for a decadent meal with your group. Without the cost of drinks to worry about, you're free to indulge in extra apps, desserts, decorations and maybe even a private room. Extend the festivities by going for blowouts and mani-pedis beforehand so you can roll up to the restaurant feeling fierce.
5. Group Classes
You can find a class for almost any activity, whether it's painting, pottery, cooking, baking, DIY crafting or even mocktail mixology. Now's your chance to try something you've always wanted to do alongside your besties. Not only will everyone learn a new skill, you'll also get to spend the time bonding. Afterwards, get a meal together and share your favorite part of the class.
6. Escape Room
This is the brainy sober bachelorette party idea you've been looking for. Try this hands-on challenge for some serious prewedding bonding. If you can solve the puzzles and escape the room, you can easily figure out what color bridesmaid outfits to order.
7. High Tea
If you're searching for an extra-classy sober bachelorette party idea, consider scheduling a high tea. Go all out with flowers, finger sandwiches, macarons, petit fours, scones, clotted cream and a variety of teas. You can easily host a tea in someone's home or splurge with reservations at a fancy local tea room or hotel.
8. Ghost Tour
If your friend loves ghost stories and goose bumps, most towns and cities offer ghost tours to show off their unique, spooky history to willing customers. If you think your group can handle it, a moonlit ghost walk through your city's haunted corners would be anything but boring. Just make sure everyone is comfortable attending before making the plans!
9. Slumber Party
You can't go wrong with a classic sleepover. Gift the whole group matching PJ sets and slippers, offer crave-worthy bites and watch all the best wedding movies until you can't see anymore. Feel free to take it one step further: plan personalized games, hire a caterer for an amazing dinner, or rent a photo booth and find a stylist who'll come to you for in-house blowouts and makeovers.
10. Workout Class
If the guest of honor is always at the gym, plan a sober bachelorette party she'll absolutely love. Take hip-hop Pilates, get Zen at a yoga session or push yourselves in spin class. The rush of endorphins will have everyone feeling happy and refreshed (especially great for the bride-to-be). Get green juice, smoothies or a yummy meal afterwards for even more bonding.
11. Group Retreat
Ready for the ultimate bonding experience? Reconnect with yourself and your besties at multi-day retreat focused on unplugging, mindfulness, nature and self-love. Escape to a dude ranch like Nine Quarter Circle Ranch in Montana for the Dare to Detour retreat filled with horseback riding, hiking and fishing—or head to Vita Vie Retreat's Bella Boot Camp, in Delray Beach, Florida for spa treatments, long walks on the beach and clean, gourmet meals.
12. Road Trip
Staying sober means you'll have an entire squad of designated drivers (the perfect excuse to take a roadtrip). Spend a weekend exploring a destination the guest of honor absolutely loves (or has always wanted to see). Prep for the trip by packing everyone snacks, creating an amazing playlist, and gifting everyone matching hats or hoodies. Go the extra mile by scoping out fun activities to do or restaurants to try at your chosen locale. Psst: The Knot has bachelorette party guides for every major city, so read up to get the best tips for your trip.
13. Community Service
Find a cause your friend feels passionately about and do some good with the wedding party. Volunteer at a soup kitchen or Habitat for Humanity, sort books at the local library, help clean up a local park or plant flowers at a nursing home—whatever gets everyone excited to lend a hand. Finish off the day with a sweet treat to celebrate your sweet friend.
14. Themed Race
If you have a bride who loves to run on your hands, get together for a themed run (or walk) you'll never forget. Whether you choose a Color Run, Warrior Dash, Zombie Mud Run, charity 5K or another type of race, it'll get endorphins pumping and everyone bonding in no time. Plus, you can chow down on some delicious food after the fact.
Non-Alcoholic Bachelorette Party Games & Decorations
We know it can be a challenge to find bachelorette party games and decorations that don't involve alcohol. That's why we rounded up some of our favorite non-alcoholic bachelorette party games and decor, below.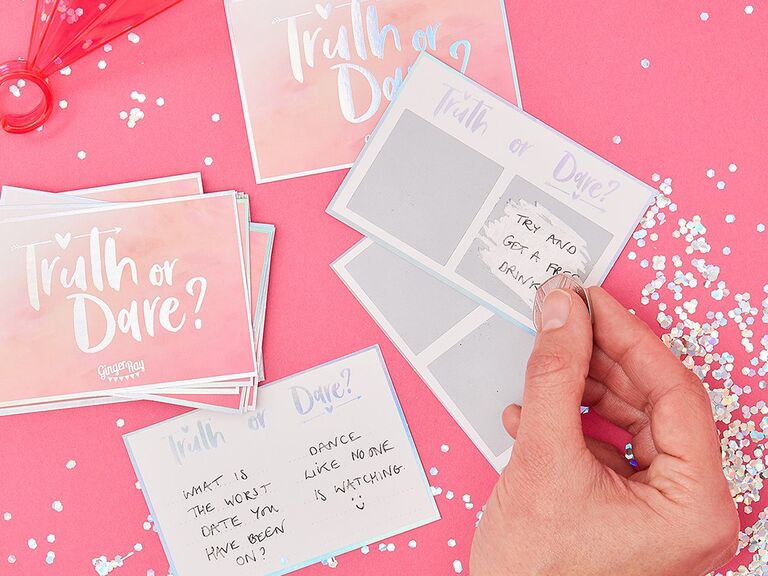 Is there anything more classic than a game of truth or dare at a bachelorette party? Customize the dare cards so they don't have anything to do with alcohol, and you're good to go.
The Knot Shop Truth or Dare bachelorette party game, $8, TheKnotShop.com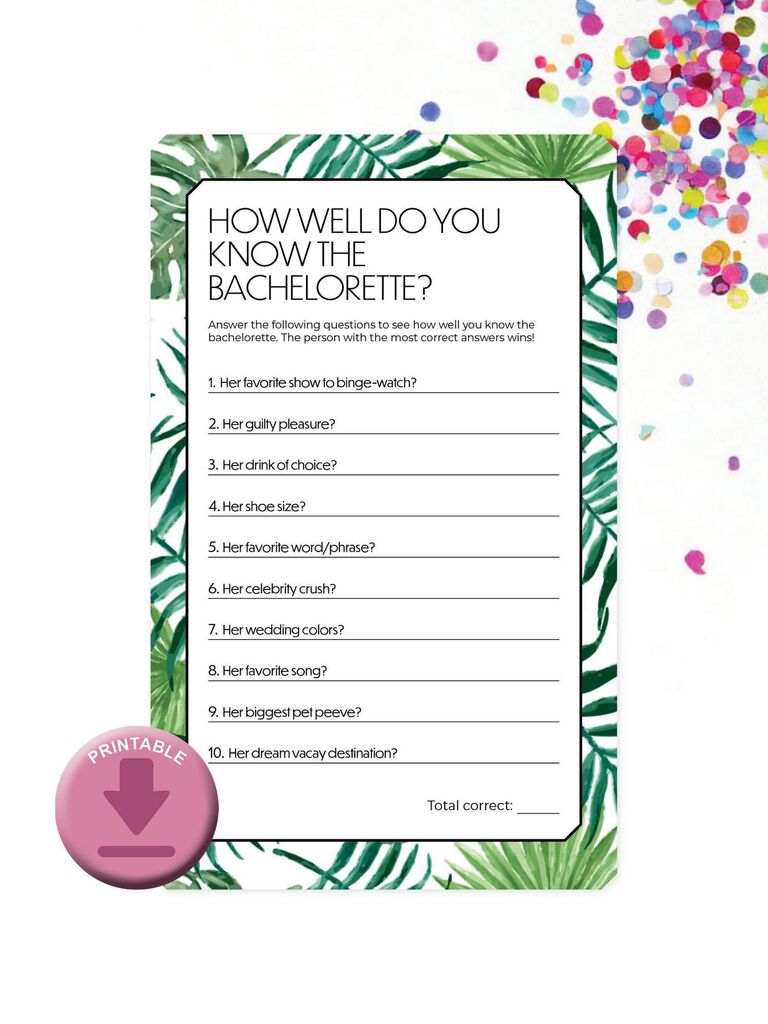 Turn the focus on the bride-to-be (she's the reason you're celebrating, after all). This cute printable game will make everyone smile.
Petal and Palm bachelorette party games, $3, Etsy.com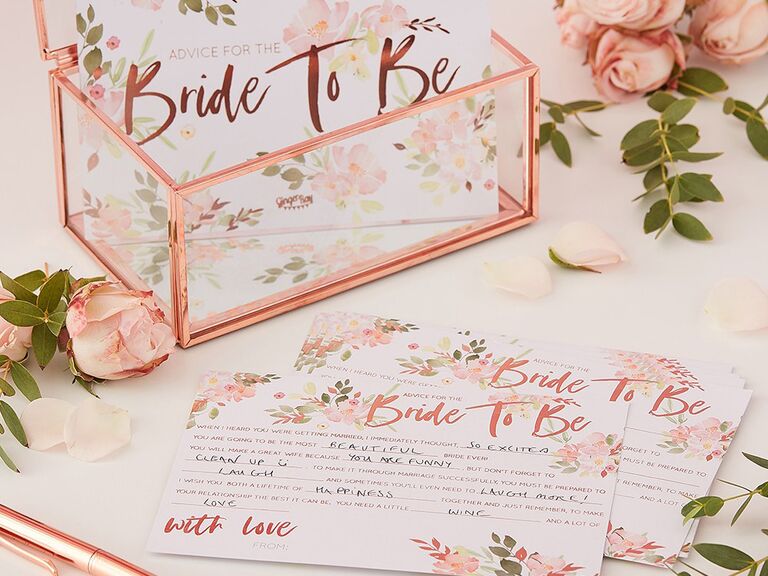 Schedule a sentimental activity at your sober bach bash. Have each guest give a sweet piece of advice to the soon-to-be bride.
The Knot Shop Bride to Be advice cards, $7, TheKnotShop.com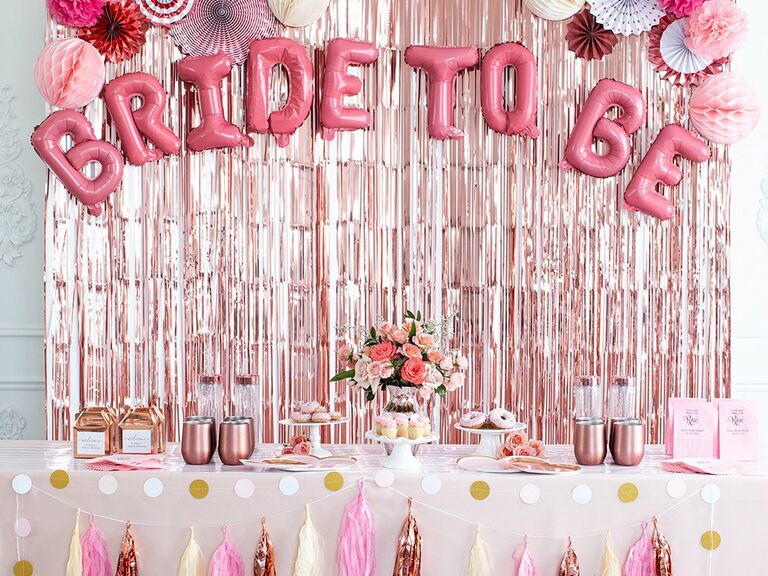 Feeling overwhelmed by all the different decorations you have to buy? Pick up this kit, which includes everything from balloon letters to pom poms.
The Knot Shop assorted party decoration kit in Bride to Be, $30, TheKnotShop.com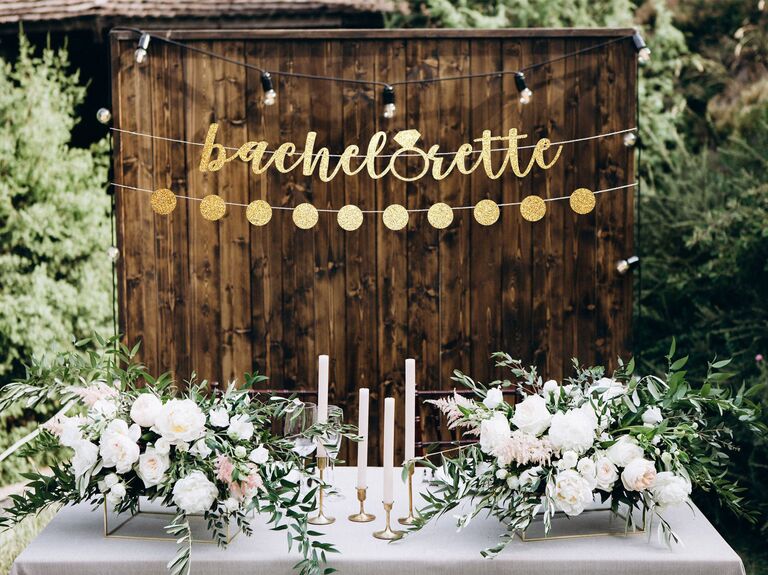 Pick up this best-selling gold banner for a chic addition to the party. The minimalist style will go with any party theme.
Cake to the Top bachelorette banner, from $12, Etsy.com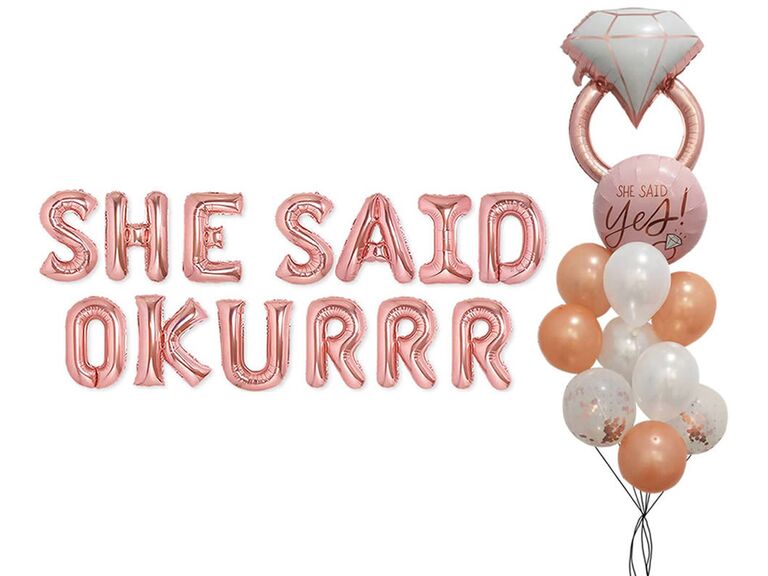 Going for a goofy vibe? These humorous balloons will put a smile on everyone's face (plus they'll look amazing in your pictures).
Sweet Amy Shop US She Said Okurrr balloons, $19, Etsy.com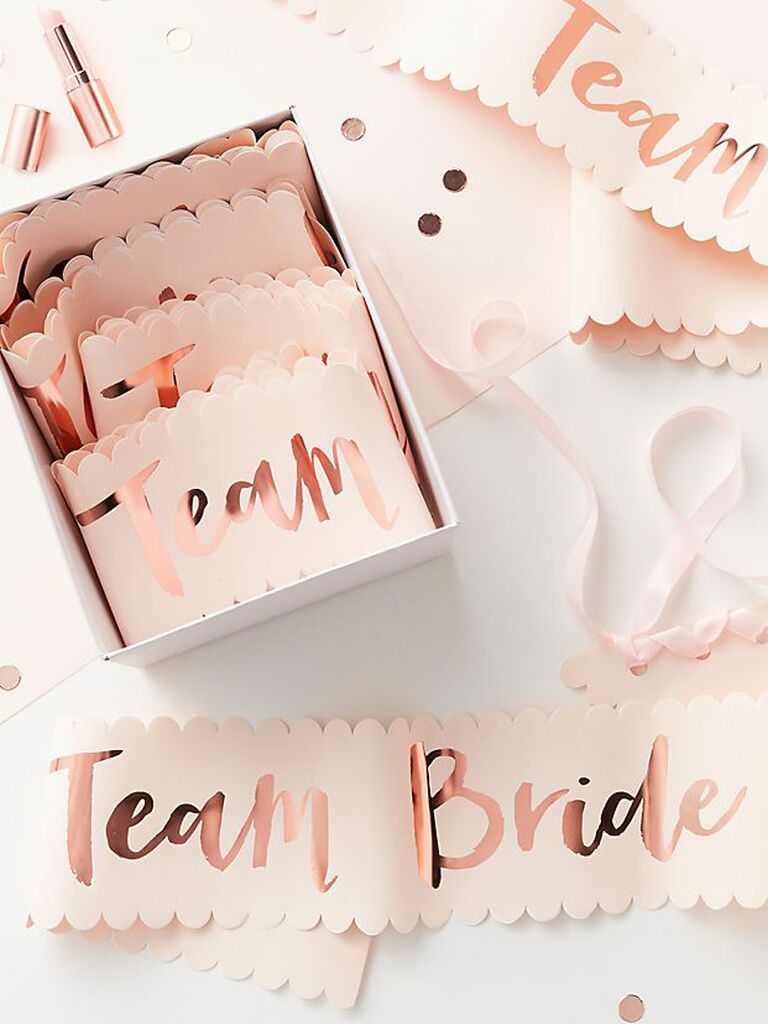 Get your guests camera-ready with these adorable rose gold "Team Bride" sashes.
David's Bridal rose gold Team Bride sash set of 6, $23, DavidsBridal.com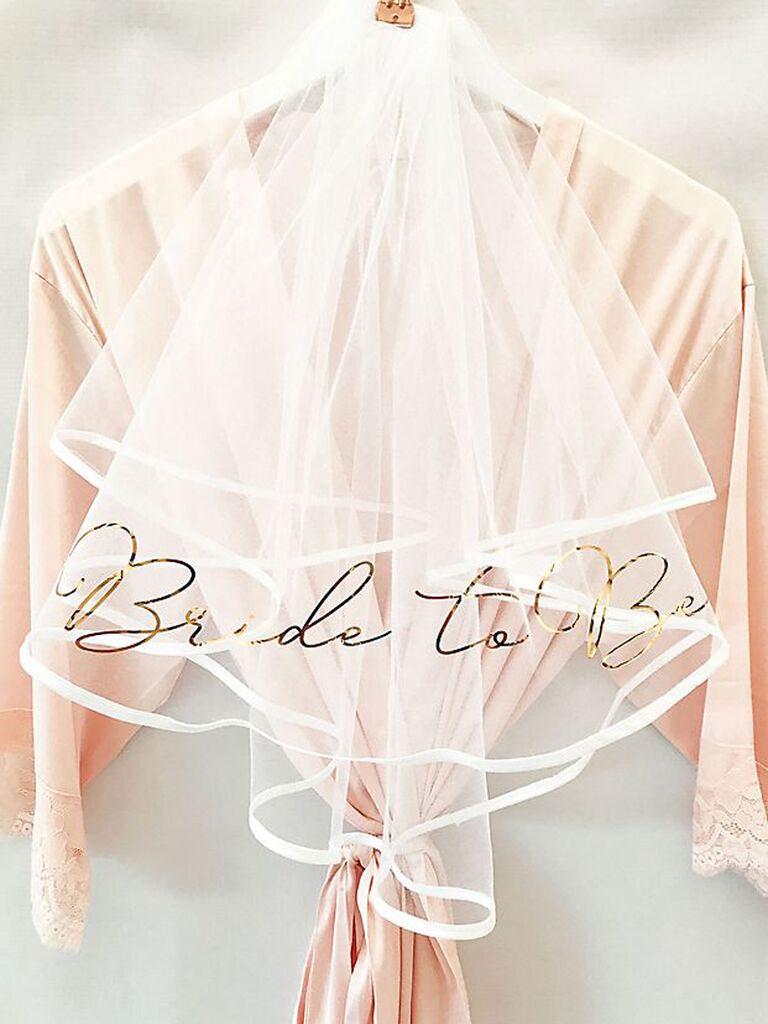 What's a bachelorette without a party veil? Pick up this pretty foil-printed one to get the party started.
David's Bridal Bride to Be foil-printed veil, $20, DavidsBridal.com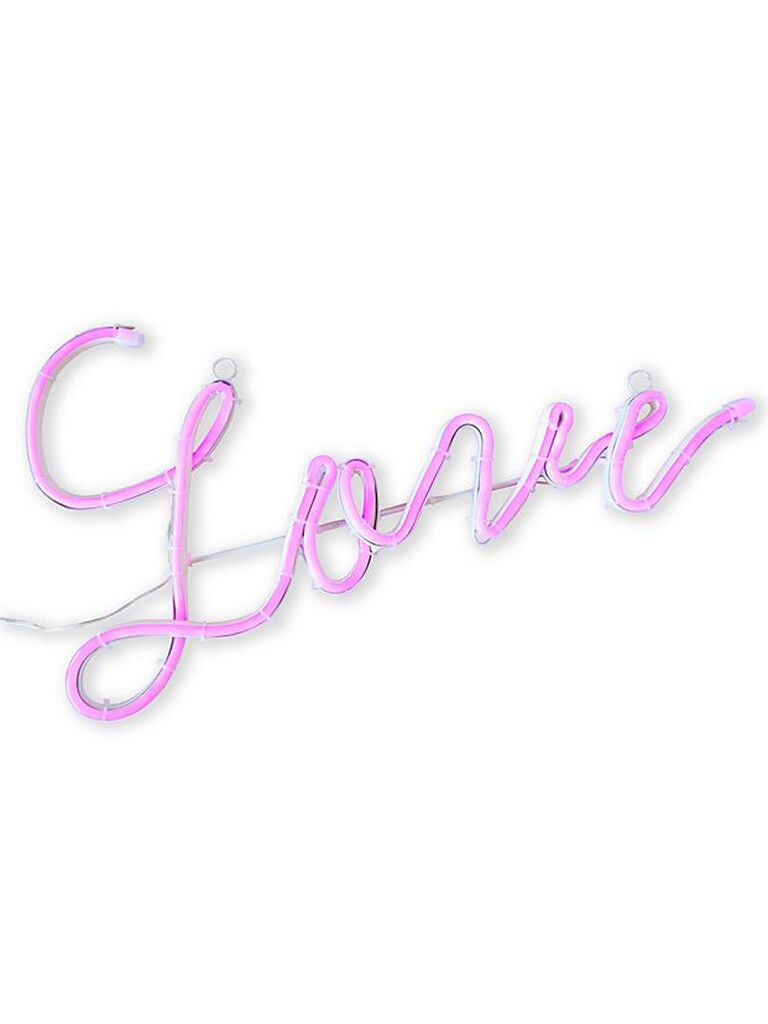 A neon sign will take your party decor (not to mention your Instagram) to the next level.
David's Bridal neon LED Love sign, $45, DavidsBridal.com
Non-Alcoholic Bachelorette Party Drinks
Wondering what to serve your guests at your non-alcoholic bach bash? Here are some creative sober bachelorette party drink ideas that your guests will genuinely enjoy.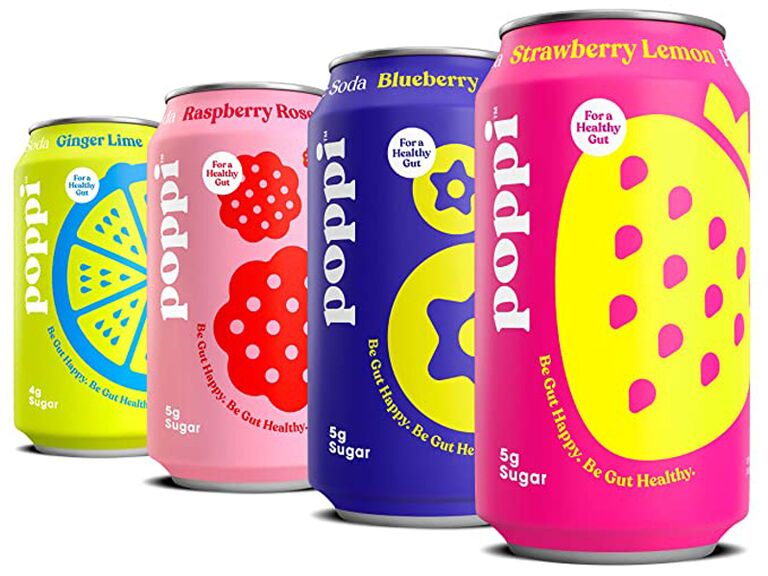 Change up your usual pop picks for Poppi, a soda made with low sugar, added prebiotics and apple cider vinegar. Not only does it taste delicious, it's also great for your gut health (much better than a hangover, right?).
Poppi The Short List variety pack, $36, Amazon.com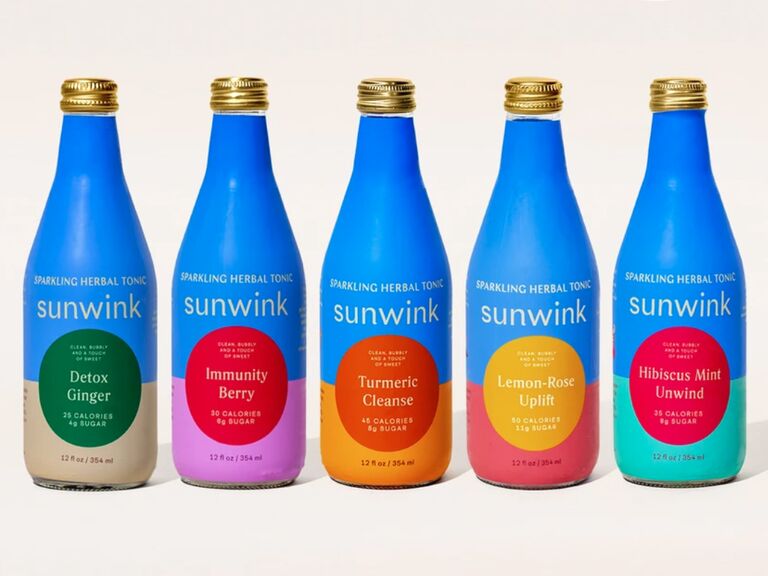 If your guest of honor is into wellness, she'll love these non-alcoholic bachelorette party drinks. Sunwink sparkling tonics contain powerful herbs that support digestion, immunity and stress.
Sunkwink variety pack, $48, Sunwink.com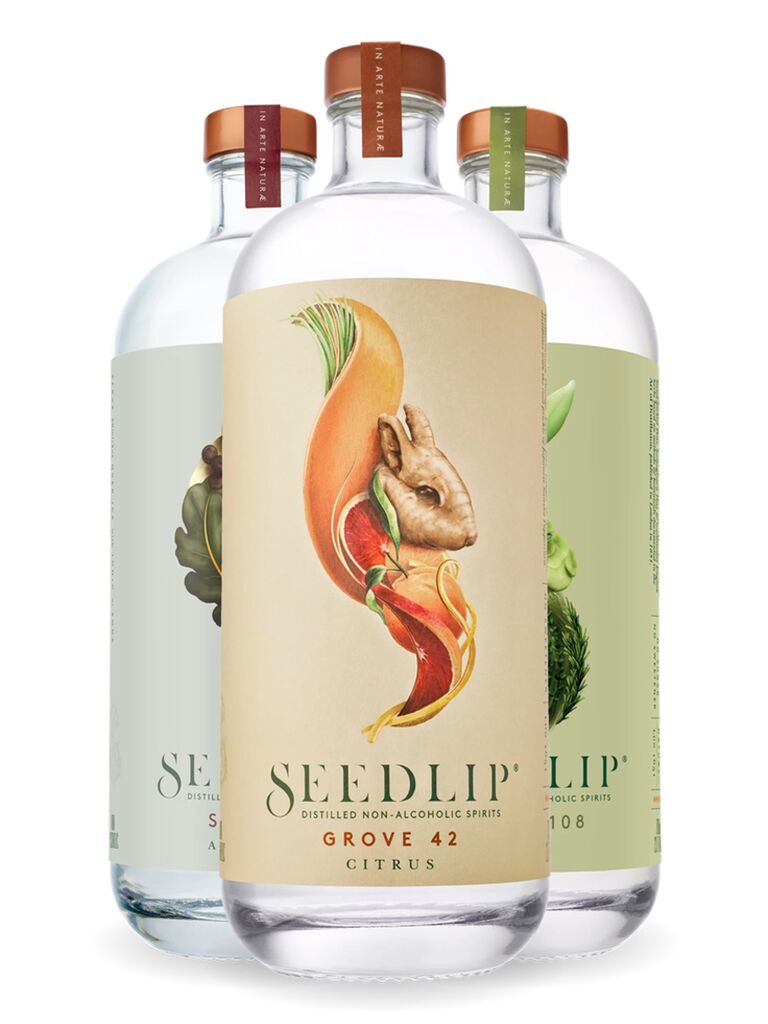 Make a mocktail with Seedlip, a non-alcoholic spirit. You can mix it with anything you'd like: fruit juice, soda or tonic. Get everyone together in the kitchen for a mocktail mixology competition. The bride gets to sample everyone's creation and choose the winner.
Seedlip sampler, $110, Seedlip.com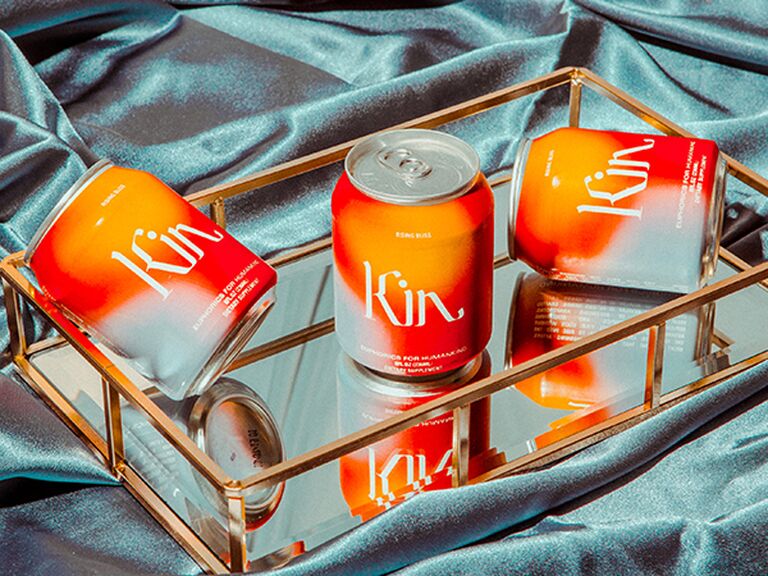 Kin Euphorics crafts their drinks with adaptogens (such as Reishi mushroom), which are believed to strengthen the adrenal and moderate stress responses. Sip on their popular Kin Spritzs for a lifted mind, relaxed body and kindred spirit.
Kin Euphorics Kin Spritz 16-pack, $80, KinEuphorics.com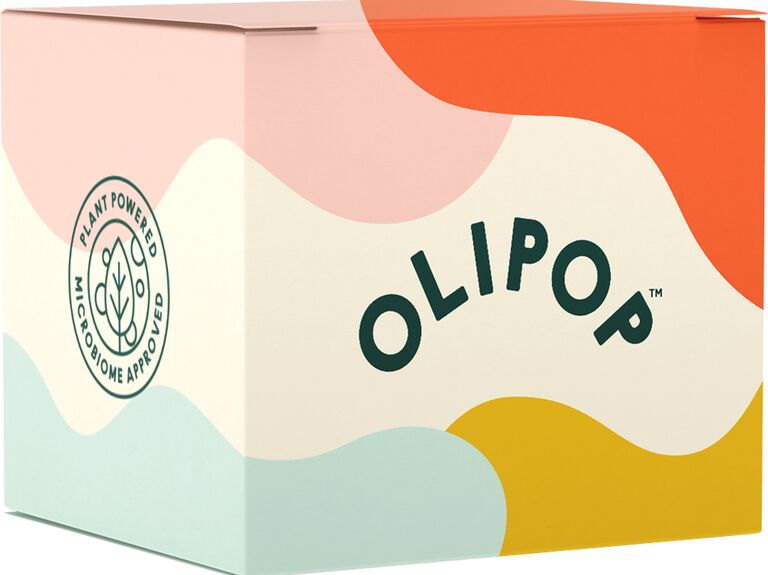 Another alternative to soda, Olipop is a fizzy tonic that combines prebiotics, plant fiber and botanicals to support your microbiome and your digestive health. Plus, they come in adorable old-school flavors, like orange squeeze, root beer and cola.
Olipop variety 12-pack, $42, Olipop.com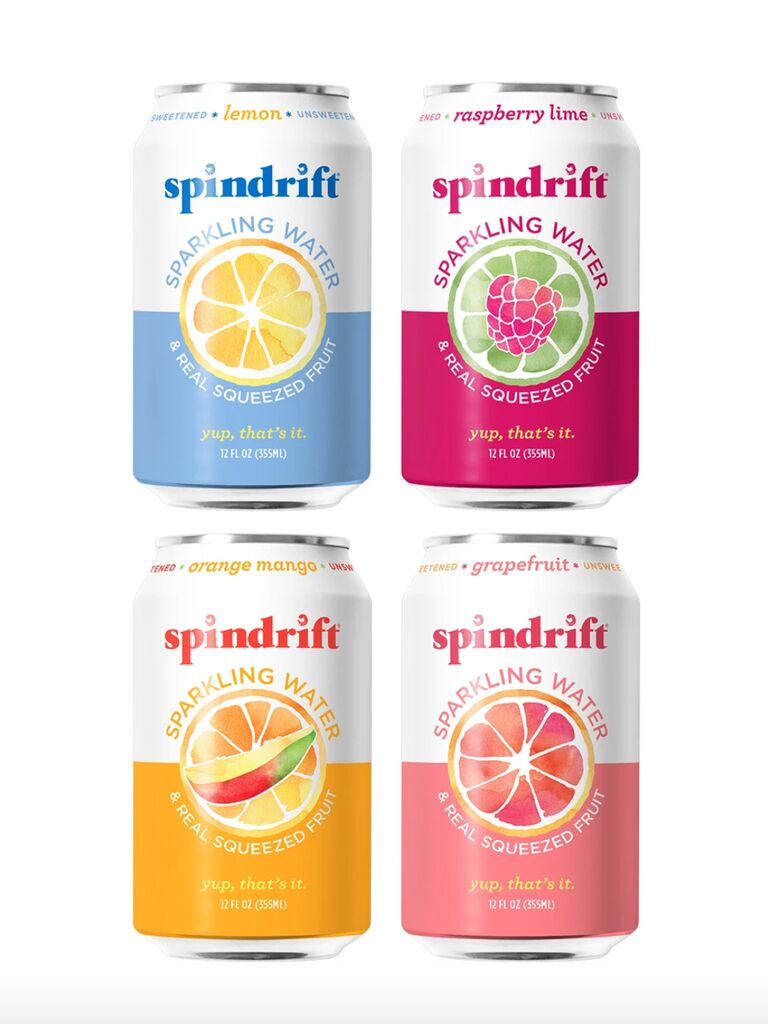 Spindrift is similar to other seltzers on the market, except it's made with real fruit juice. Pick up a variety pack for your guests to sip on all weekend long.
Spindrift 4-flavor variety pack, $22, Amazon.com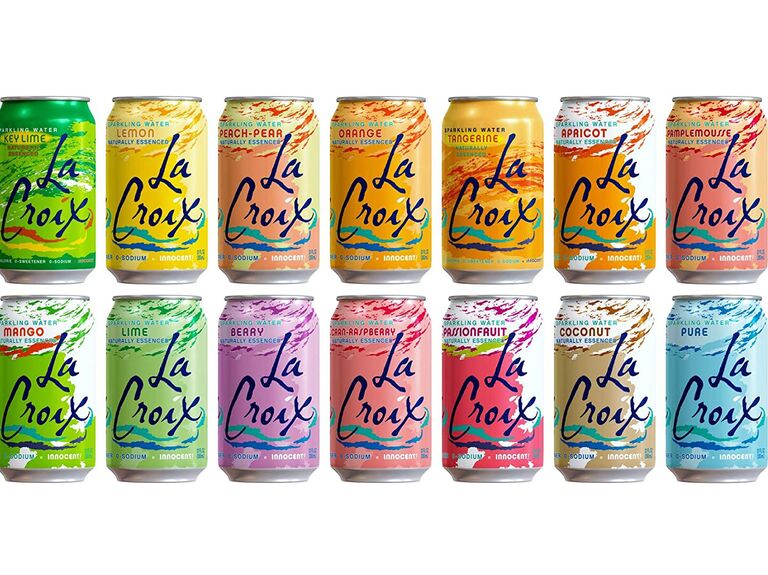 You can't go wrong with La Criox–it's a crowd favorite! Pick up the variety pack so there's a flavor for everyone.
La Croix all flavor variety pack, $20, Amazon.com
Sober Bachelorette Party Gift Ideas
Luckily, there are plenty of sober bachelorette party gift ideas out there. Skip the apparel and drinkware that mentions alcohol, and opt for these adorable picks instead.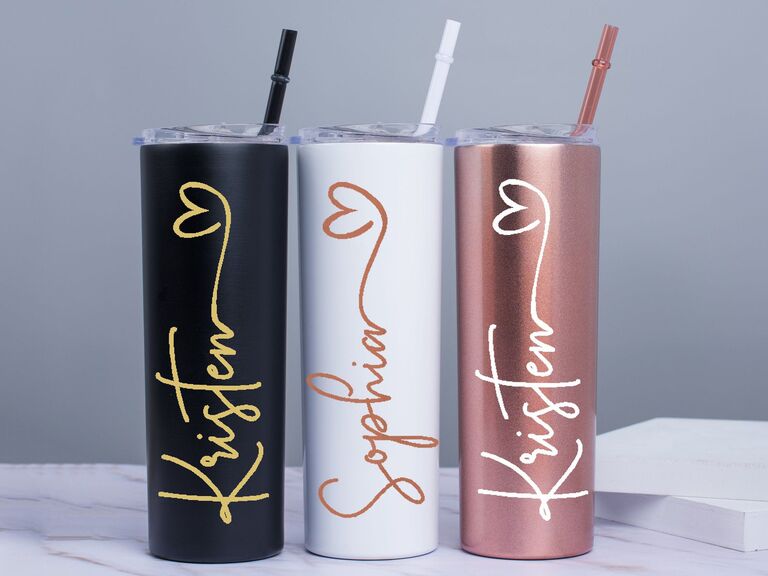 Keep your crew happy and hydrated throughout the bachelorette party. These personalized tumblers come with a pretty cursive script that will look amazing in your Instas.
Incitti Finds custom tumbler, from $10, Etsy.com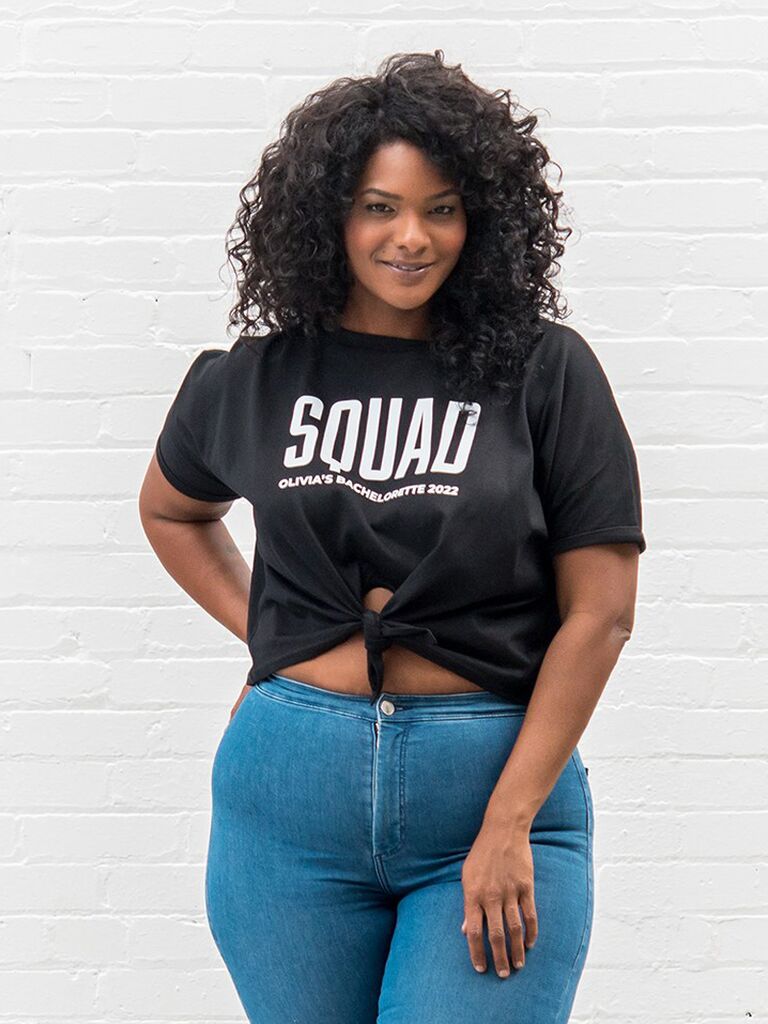 Switch up the traditional t-shirt for this chic tie-up top. Added bonus: you can personalize it too!
The Knot Shop personalized bridal party tie-up wedding shirt, $17, TheKnotShop.com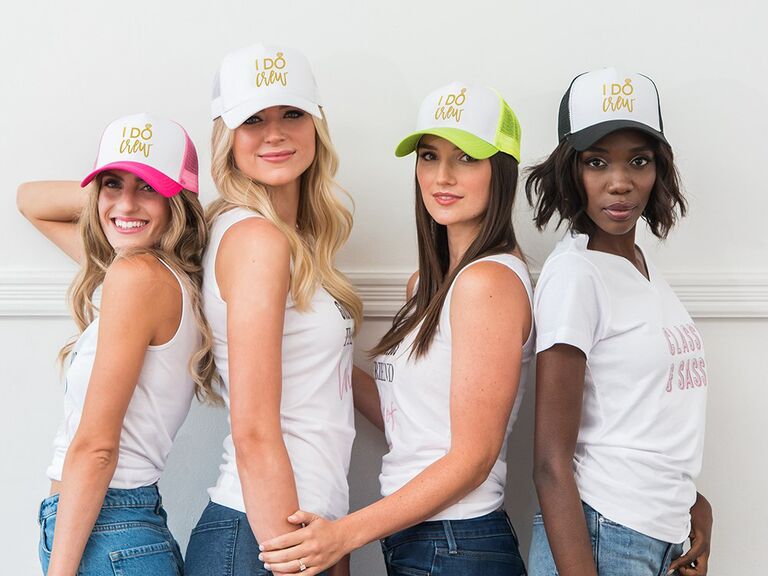 Hats are a great sober bachelorette party gift because they go with so many different activities: boating, kayaking, working out or hanging at the amusement park!
The Knot Shop wedding party snapback trucker hats in I Do Crew, $15, TheKnotShop.com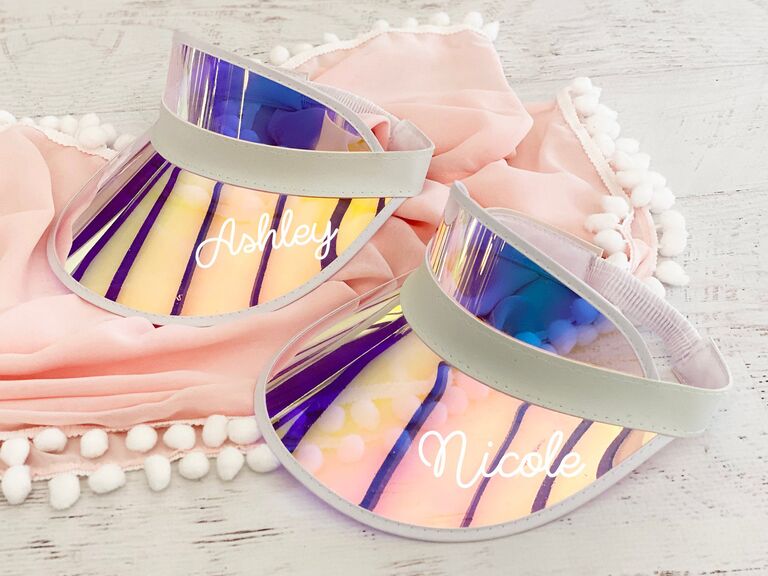 Whether you're going golfing or just want to channel a retro vibe, these chic visors are a unique and stylish bridesmaid gift.
Mod Party bachelorette visors, from $14, Etsy.com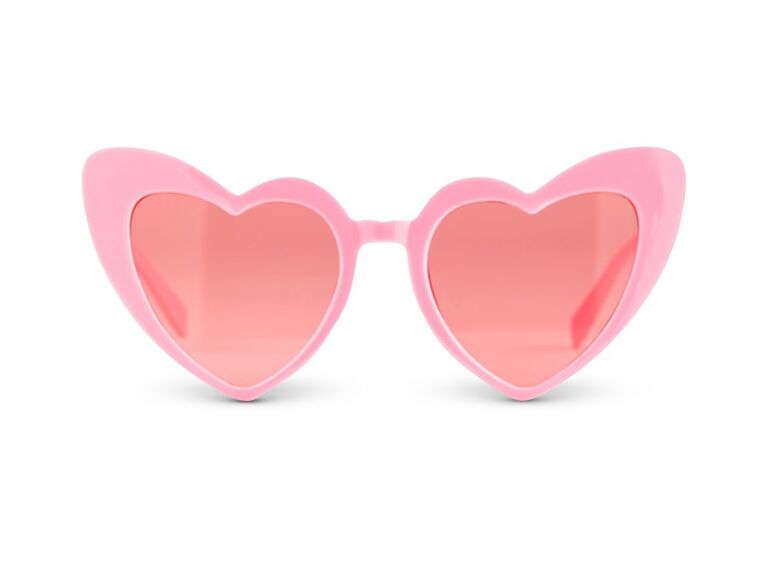 Your crew will be taking all the instas with these adorable heart-shaped sunglasses.
The Knot Shop women's unique shaped bachelorette party sunglasses in Pink Heart Eyes, $3, TheKnotShop.com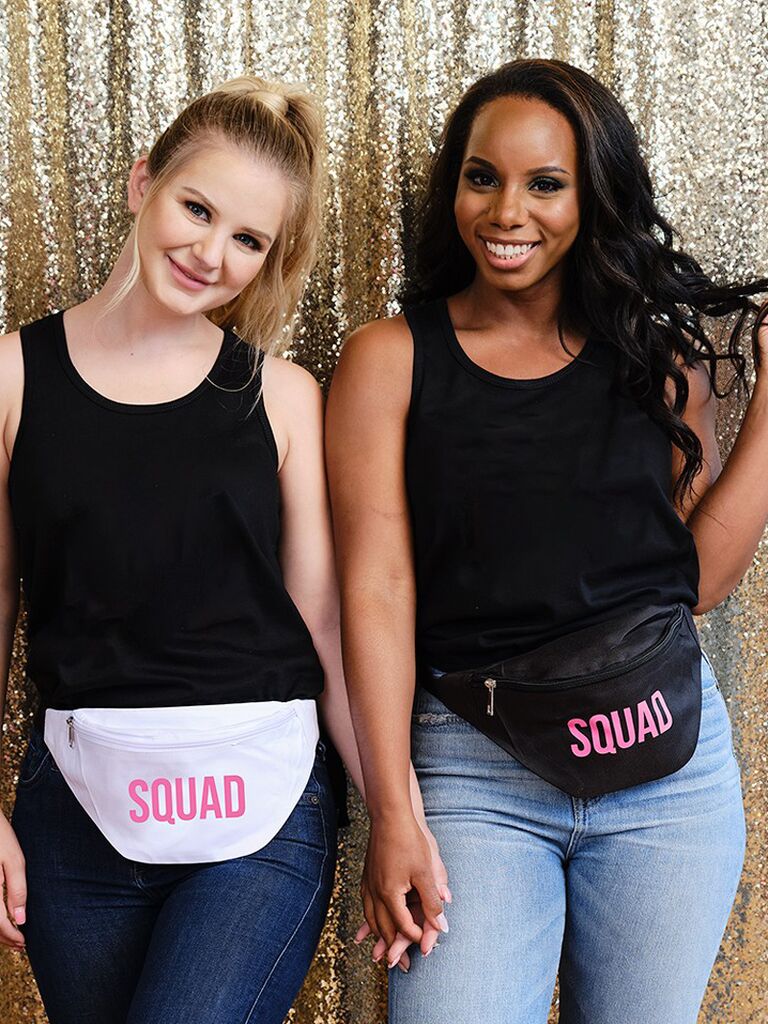 Whether you're going on a hike or hitting up a dance class, your guests will appreciate these stylish fanny packs. They can easily stow their necessities and focus on celebrating the bride-to-be.
The Knot Shop bachelorette fanny pack, $16, TheKnotShop.com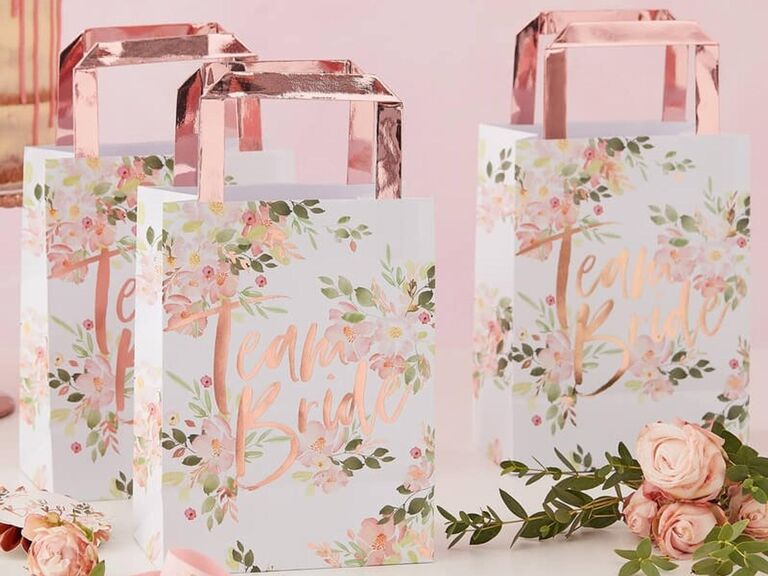 These pretty paper bags are perfect for your sober bachelorette party. Fill them up with yummy snacks, hair scrunchies or makeup (check out brands like Essence, Catrice and Colourpop, which offer amazing makeup products at super affordable prices).
The Celebrations House rose gold Team Bride party bag, $2, Etsy.com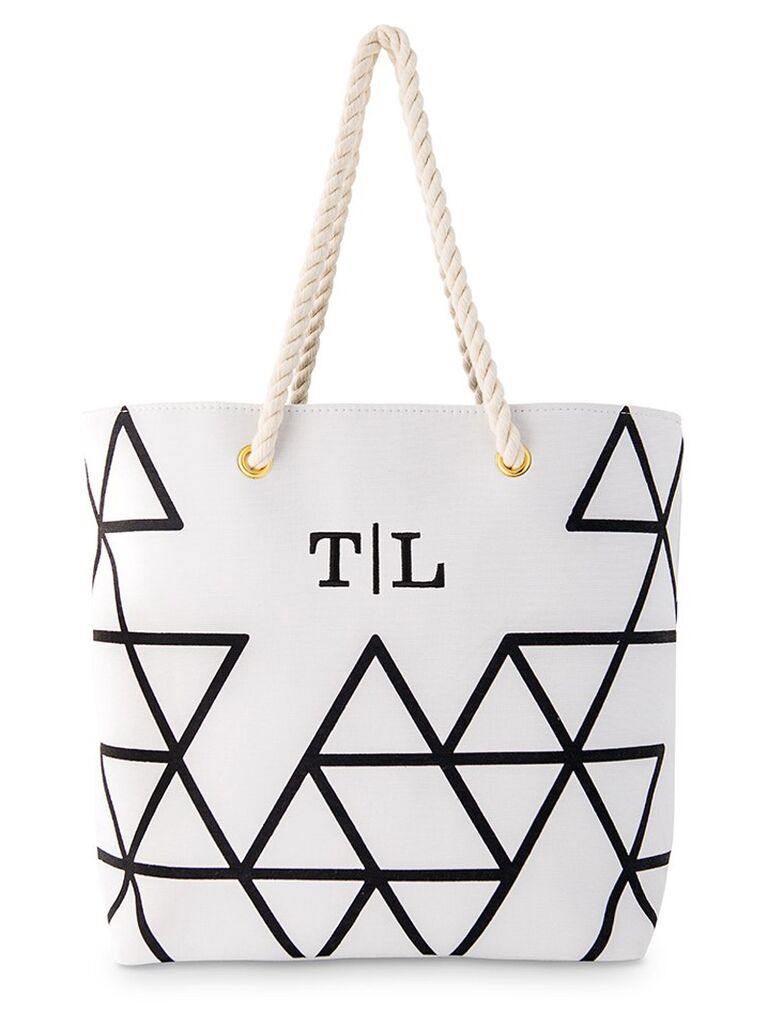 We know: another tote? But this one is extra-large (which means it can fit everything your guests need for a day trip) plus it comes with an adorable print and custom embroidery.
The Knot Shop personalized extra-large geo-cotton fabric canvas bag, $15, TheKnotShop.com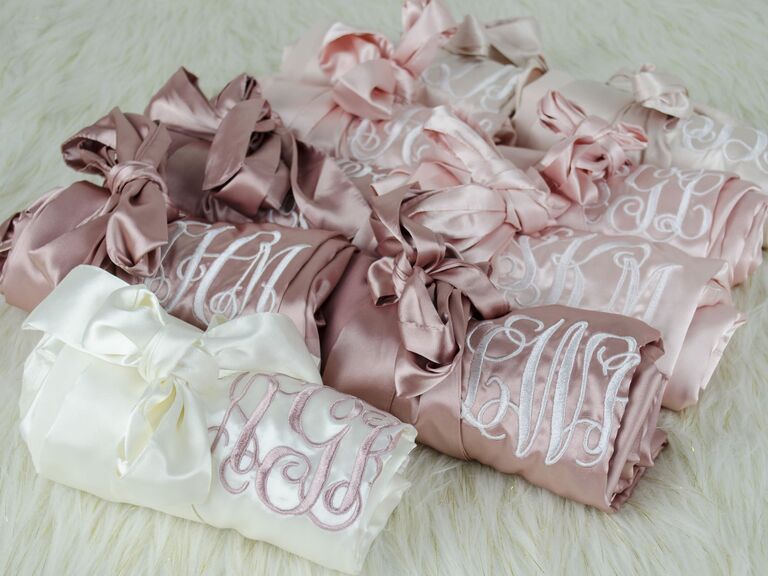 If you're hosting a slumber party or a weekend-long bachelorette party, these silky robes are the ideal gift. Plus, your crew can rock them while getting ready on the wedding day.
Everthine Bridal personalized bridesmaid robes, from $12, Etsy.com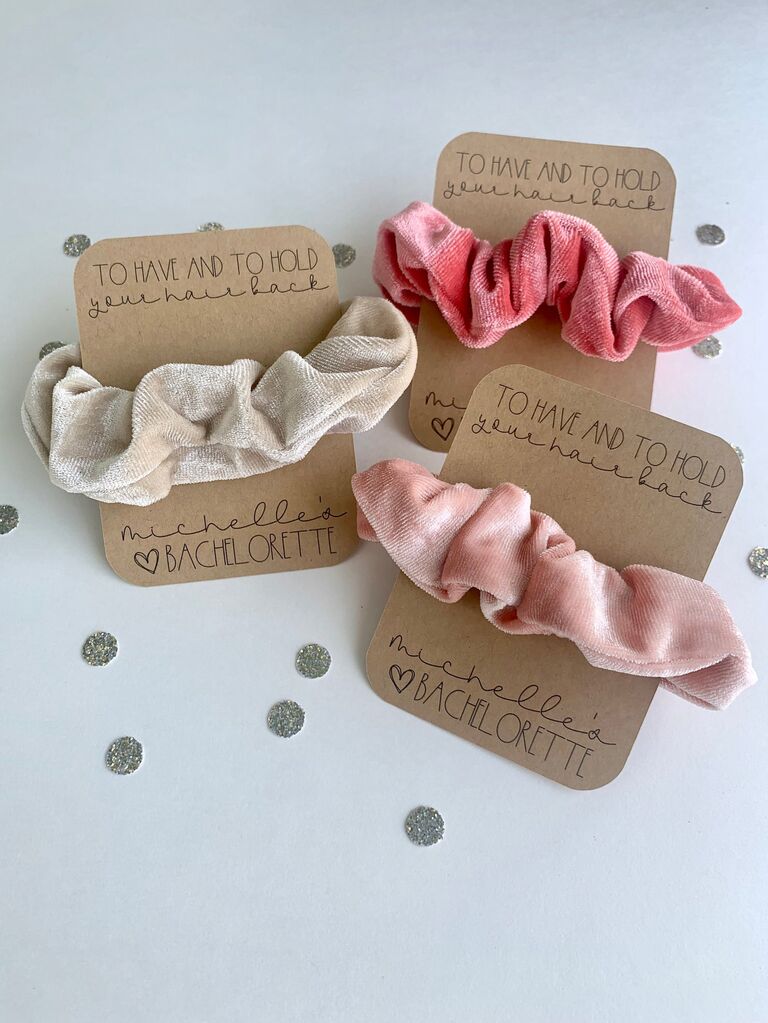 Bachelorette party gifts don't have to break the bank. Pick up these adorable scrunchies for everyone to commemorate the weekend. Guests can use them no matter what activity you end up doing.
Michi Makes Things bachelorette party favor scrunchie, from $4, Etsy.com