15 Nonalcoholic Bachelorette Party Ideas Your Whole Crew Will Love
No one will even miss the cocktails during these activities.
by Maggie Seaver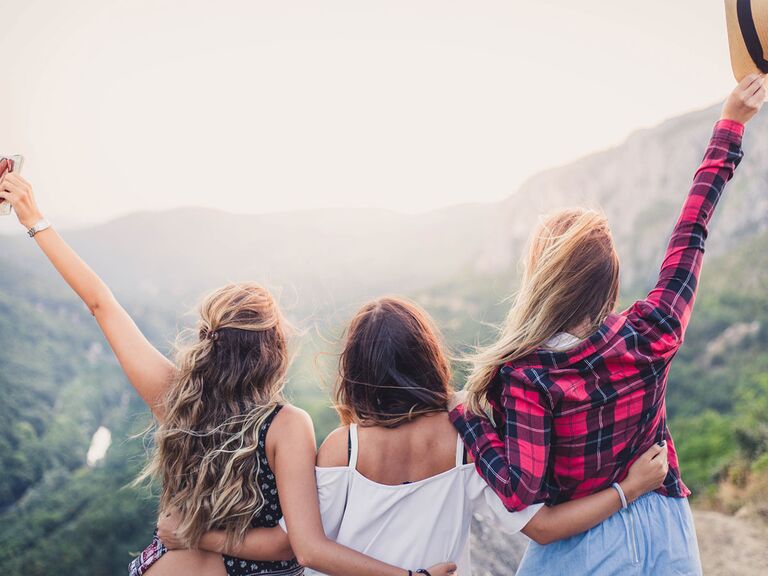 You don't need alcohol to have an amazing bachelorette party. Boozy bachelorettes have their place for sure, but they certainly aren't required. There are any number of reasons why you'd want to keep your hen party on the sober side, like the fact that you've never cared for bottle service, clubs and adult entertainment. Or maybe your wedding party includes pregnant women, underage family members and several non-drinkers. But just because you won't be drinking doesn't mean you need to cancel the bachelorette. These nonalcoholic party ideas prove a cocktail-free celebration isn't synonymous with a fun-free party. (Many of these ideas work as alcohol-optional or BYO events too, but they're just as fun without—promise.)
1. Amusement Park
Is there anything better than a roller-coaster-induced adrenaline rush? Bye, wedding stress! Hit the park in matching tanks or custom sneakers and spend the day on your favorite rides and eating your go-to junk food—you're not drinking and have to indulge somehow.
2. Spa Day
Two words: Treat yourself. Plan a day of pampering at a nearby, full-service spa for the ultimate chill bachelorette party. Enjoy anything and everything from mani-pedis and facials to hot stone massages and mud baths. 
3. Outdoor Adventure
If you've never liked to be cooped up inside for too long, why force your bachelorette indoors? Get outside with your bridal party, let loose and enjoy the fresh air with apple picking, canoeing, rock climbing, a leisurely hike—whatever floats your boat.
4. Brunch, Lunch or Dinner
Try somewhere new or head to your favorite local spot for a decadent meal with your bridal party. Without the cost of drinks to worry about, you're free to indulge in extras apps, desserts, decorations and maybe even a private room. Extend the festivities by going for blowouts and mani-pedis beforehand so you can roll up to the restaurant feeling fierce. Bonus: You won't need a crazy group chat to figure out designated drivers.
5. Group Classes
If you look hard enough, you'll find a class for pretty much anything you can think of, whether it's painting, pottery, cooking, baking, DIY crafting or even mocktail mixology. Now's your chance to try something you've always wanted to do and include your besties too. It sounds corny, but there's something so special getting your hands dirty and learning something together.
6. Escape the Room
This is the brainy bachelorette party you've always wanted. Tag team this hands-on challenge for some serious prewedding bonding. If you can solve these puzzles and escape the room, you can totally figure out what color bridesmaid dresses to order.
7. High Tea
Did someone say classy bachelorette? Go all out with flowers, finger sandwiches, macarons, petit fours, scones, clotted cream and a variety of teas. You can easily host a tea in someone's home, or splurge with reservations at a fancy local tearoom or hotel.
8. Ghost Tour
Not everybody's into this sort of thing, but if you're down for ghost stories and goose bumps, most towns and cities proudly offer ghost tours to show off their unique, spooky lore to willing victims customers. If you think your group can handle it, a moonlit ghost walk through your city's haunted corners would be anything but boring. 
9. Slumber Party
You can't go wrong with a classic night in. Gift the whole group matching PJ sets and slippers, offer crave-worthy bites and watch chick flicks until you can't see anymore. Feel free to elevate the evening too—plan personalized games, hire a chef for an amazing dinner, or rent a photo booth and find a stylist who'll come to you for in-house blowouts.
10. Workout Class
Depending on where you live, you'll probably be able to find a surprising variety of group exercise classes ranging from moderate to advanced. Take hip-hop Pilates, get Zen at a yoga session or push yourselves in spin class. Your favorite music, your favorite people and a rush of endorphins—sound pretty awesome, doesn't it? It also makes that taco truck stop you make on the way home worth it, which is pretty great too.
11. Group Retreat
Ready for the ultimate bonding experience? Reconnect with yourself and your besties at multi-day retreat focused on unplugging, mindfulness, nature and self-love. Escape to a dude ranch like Nine Quarter Circle Ranch in Montana for the Dare to Detour retreat filled with horseback riding, hiking and fishing—or head to Vita Vie Retreat's Bella Boot Camp, in Delray Beach, Florida for spa treatments, long walks on the beach and clean, gourmet meals.
12. Road Trip
Staying sober means you'll have an entire squad of designated drivers—aka the perfect excuse to take a roadtrip. Since you probably all can't take off too much time from real life (sigh) limit your adventure to long weekend and explore an area you've always wanted to see.
13. Community Service
Find a cause you feel passionately about and do some good with your wedding party. Volunteer at a soup kitchen or Habitat for Humanity, sort books  at the local library, help clean up a local park or plant flowers at a nursing home—whatever gets you excited to lend a hand.
14. Themed Race
If you have a group of runners on your hands, get together for a themed run (or walk) you'll never forget. Whether you choose a Color Run, Warrior Dash, Zombie Mud Run, charity 5K or another type of race, it'll get the endorphins pumping and everyone bonding in no time.
15. Axe-Throwing
If you've seen photos of wedding parties hurling hatchets at a bullseye, we'll be the first to confirm: You're not dreaming. You can actually spend an afternoon learning how to throw axes at a target like a total badass. If this rustic activity doesn't curb your wedding stress and bring your group closer together, we don't know what will.