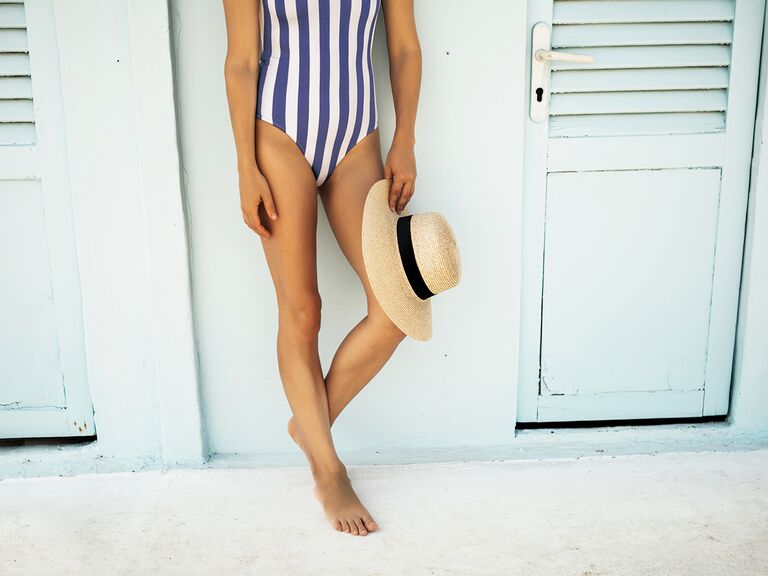 Celebrating your postwedding bliss on a faraway beach (tropical drink in hand, optional) might be a vision you've had since that bling first slid onto your finger. And now, the dream is finally becoming a reality. But if the climate where you live is more about sweater weather than soaking up the rays, you might have some prep work to do to get your skin sun-ready in time for your honeymoon. To look glowy and gorgeous as you take in the tropical scene, follow our top tips below for bearing nothing but your best beachwear.      
Wax On; Wax Off
Let's face it, swimsuits show everything, but if you want to remove unwanted hair, you probably don't want to spend your honeymoon shaving. Waxing is a good option for going (and staying) fuzz free, since it removes stubborn strands from the root. This not only keeps the hair from growing back quickly, but also exfoliates by removing dead cells. A little afraid of the pain required for the gain? European Wax Center makes the experience as painless as possible thanks to a signature four-step process. Their wax specialists cleanse the area; protect it with a prewax oil; and use a strip-less Comfort Wax that hardens and cools on the skin, making it gentler than traditional cloth-removal techniques. They also finish with a dab of Smooth Me Ingrown Hair Serum to calm, nourish and prevent ingrown hairs. For best results, their pros recommend bikini, leg hair and underarm hair be at least a quarter-inch long (about the length of a sprinkle) to give the wax enough to grip. Just wait 24 to 48 hours afterward before going in the sun, since freshly waxed areas are more sensitive and susceptible to burning and sun damage.

Exfoliate Skin
Supple, touchable skin requires a little planning. You'll want to get on a regular exfoliation game the month before you go. Marta Camkiran, an aesthetician at Haven Spa in New York City, recommends using a gentle body scrub two to three times a week to slough away dry, dead cells. "Start with your feet and go in a circular motion up the body," Camkiran says. "Then use a moisturizer right after exfoliating to lock in all that hydration." Just don't exfoliate fewer than two days before going in the sun since skin is more delicate afterward, Camkiran says. Our pick for smooth sailing? Paradise Strut Smooth + Refine Body Polish buffs away dull, dry skin; prevents bumps and ingrowns; and helps slow hair growth between waxes. Bonus: It smells like a tropical paradise, so your senses will already be in vacay-mode.

Tan (Safely)
Getting that bronzed goddess look with a faux tan not only gives skin that's been hibernating a healthy radiance, but can help hide cellulite and even out your skin tone. Camkiran recommends going for a spray tan a day or two before you leave. To avoid streakage, exfoliate first (see above). A tanning professional should also test the color on a hidden area before going full throttle to make sure you'll be made in the right shade. If you're planning to get glowing at home, start a week in advance with a lotion-based, gradual-glow tanner; it's the most goof-proof, natural-looking formula. Our pick: Glow It Gradual Glow Body Lotion, which is transfer-proof, so it won't stain your clothes once you apply.

Treat Your Feet
Steamy destinations and sandy shores all but require open-toe footwear. Don't scare your SO with feet that haven't seen the light of day since before you got engaged. If you're not up for splurging on a fancy spa pedicure, you can still get pro results at home with a little TLC. To banish dry, cracked soles and heels, Camkiran suggests slathering moisturizer on your feet and covering them in plastic wrap (sounds weird, but it works!). Sit for 15 minutes and then rub in the moisture so it thoroughly penetrates. "You can also make your own scrub by adding in coffee grinds or sugar," Camkiran says. Slough away extra stubborn calluses with a foot file

Be SPF Savvy
Using a broad-spectrum SPF every day (even in the shade) is the number one piece of advice any dermatologist will give. This is even more important at the beach because sand and water reflect sunlight, increasing the amount of UV radiation you're exposed to. The moral of this story is: Make sure you're generously applying and reapplying sunscreen every hour—especially after working up a sweat canoodling under the cabana or swimming à deux. The last thing you need is to start your stay looking like a lobster—or worse, suffering long-term sun damage.  
This article is sponsored by European Wax Center. To learn more about waxing for your honeymoon (or your wedding) or to schedule a complimentary first wax, visit WaxCenter.com.