Wondering What to Wear to a Bachelor Party? Read Our Tips for the Whole Crew
Your go-to style guide for your next bachelor party.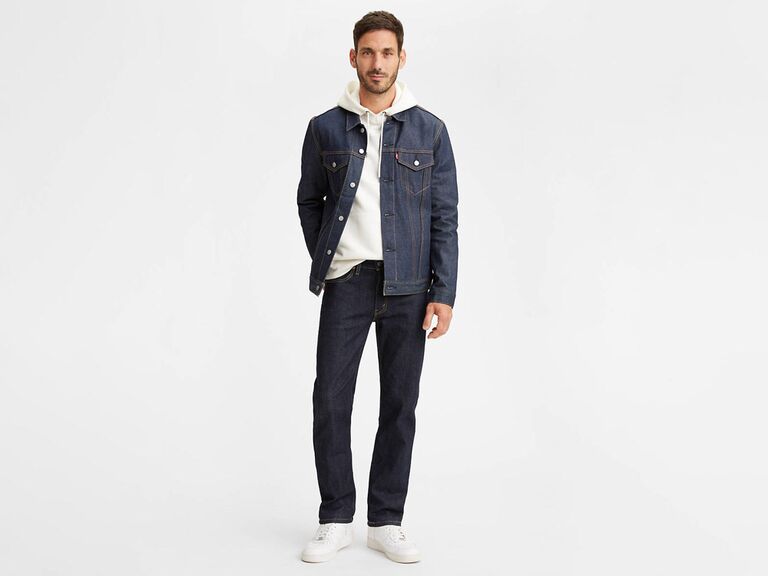 We have included third party products to help you navigate and enjoy life's biggest moments. Purchases made through links on this page may earn us a commission.
For many guys, the bachelor party is one of the most fun aspects of being part of a wedding, whether you're a friend, groomsmen, best man or the groom himself. While a lot of the focus is on what you'll do during the trip, there's something to be said for paying attention to what you'll wear too.
Whether you consider yourself a trendsetter when it comes to men's fashion or prefer comfort over style, knowing what to wear to a bachelor party can be a bit of a puzzle. To help you out, we consulted a men's style expert to give their two cents about what you should pack in your suitcase. So whether you're headed to a warm destination by the beach, planning on endless rounds of golf or hitting the slots and steakhouses on the Las Vegas strip, there are tips, attire ideas and products below for you.
Things to Consider
Contrary to what you might assume, packing for a bachelor party isn't just about throwing whatever is clean into your suitcase and calling it a day. Between ensuring that you have fancy enough outfits to abide by club or restaurant dress codes and checking off any themed outfit asks (yes, guys do it too!), it's a good idea to go into your packing session armed with a plan. Below, we're rounding up a few things pros suggest you keep top of mind as you get ready for your bachelor party.
1. Remember the climate.
Like any vacation you're packing for, you'll want to consider the average temperature and weather conditions of the place you're headed. "Climate and environment should be top of mind when packing," suggests Jian Deleon, men's fashion and editorial director at Nordstrom. "You're going to dress much differently for a weekend in Vegas than you would for a week in Ibiza."
2. Consider your plans.
In addition to factoring in the weather where you'll be headed, it's a good idea to have a grasp on what is planned for the trip, too. Is it going to be a very active bachelor party weekend complete with golf, swimming or other sports? Or will you mostly be bar hopping? Getting answers to these questions is important before you start packing. "Always think about where you'll be and what you'll be doing," says Deleon. "A day of surfing followed by a night out on the town means you're going to need to pack some dressier clothes alongside your board shorts." Deleon also suggests looking for pieces that can do double-duty throughout the trip in order to save space in your suitcase and not break the budget before the party even begins. "Items like camp collar shirts strike the ideal balance between something you can wear on the beach and something you can wear to a bar," he explains. "The same goes for outdoor-inspired pants from brands like Gramicci, which won't look out of place with a button-down at night and just as easily can be worn during a moderate hike."
3. Have fun with your looks.
Above all, a bachelor party weekend is supposed to be fun—so why not dress like it? "There's no better time to enjoy getting dressed than at a bachelor party," says Deleon. "Think of movies like The Hangover, Swingers and Ocean's 11, which are all a good place to start when it comes to channeling the style of a well-dressed group. What happens in Vegas may stay there, but if you find a few style tricks you like, you can take them with you anywhere you go."
Attire Ideas
Still struggling to figure out what needs to go in your suitcase? We asked Deleon for specific looks based on popular bachelor party locations, so if you're headed to one of these locales, consider this your unofficial packing list.
For a southern city with a bar-hopping scene like Nashville or New Orleans, Deleon recommends linen and cotton shirts. "They're the sweet spot between dressed up and dressed down. Resort shirts in fun prints like florals instantly step up any outfit, especially when worn beneath a cotton blazer for more upscale places."
Headed to a city with a serious club scene like Miami or Las Vegas? Be prepared to adhere to a dress code, Deleon warns. "You can't necessarily wear the same thing to dinner or the club as you did on the beach, so you're going to have to put some extra effort in when it comes to packing for a city like this. That means fewer T-shirts and more button-downs, and some dressier dark jeans or chinos in addition to shorts and swim trunks. A luxurious third piece—like a lightweight suede, leather or denim jacket—can usually take the place of a sport coat and make you look more modern."
For more laid-back groups going hiking or golfing, Deleon encourages them to still keep style in mind. "Comfort is key in these settings, but this doesn't mean you have to sacrifice style. Thankfully many outdoor and golf brands have been stepping up their game when it comes to gear that performs in the elements or on the course but also looks great worn to dinner. Breathable bomber jackets, moisture-wicking polos and slim performance trousers are the kinds of items that can be repurposed in a casual environment."
Shop Our Picks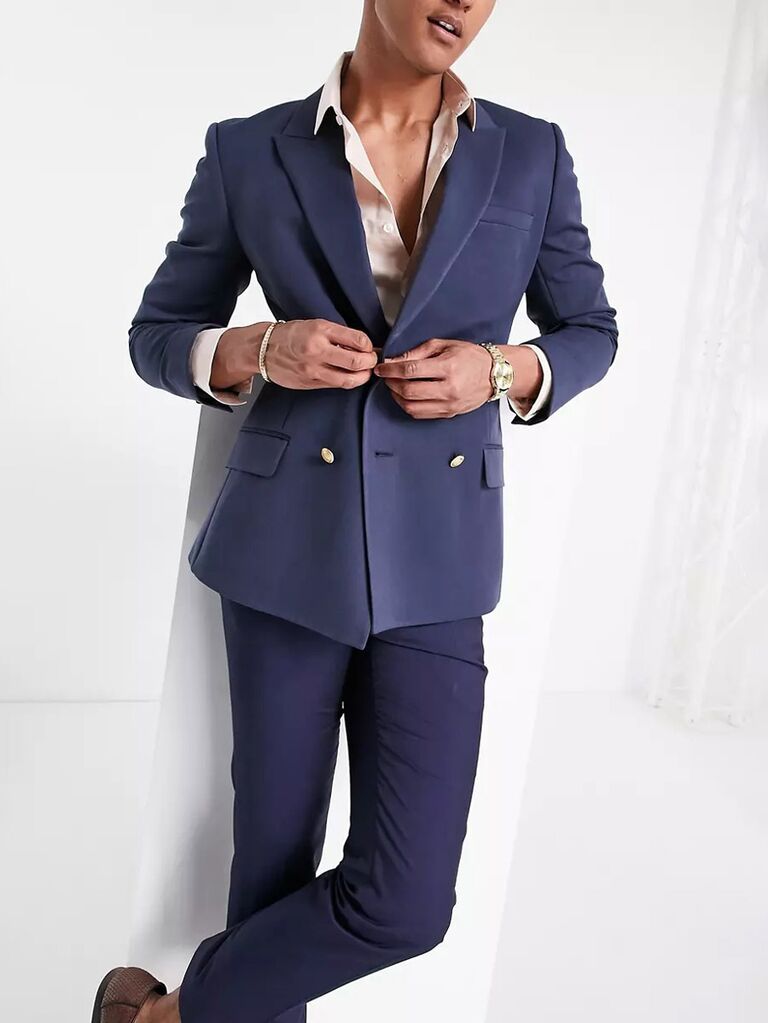 If you're planning on heading to a club with a strict dress code—or you just want to use this bachelor party as your opportunity to don the best in men's fashion—this skinny double-breasted blazer will definitely turn heads. The mid-tone blue hue will go with practically any accessories, and can even be worn again come wedding weekend.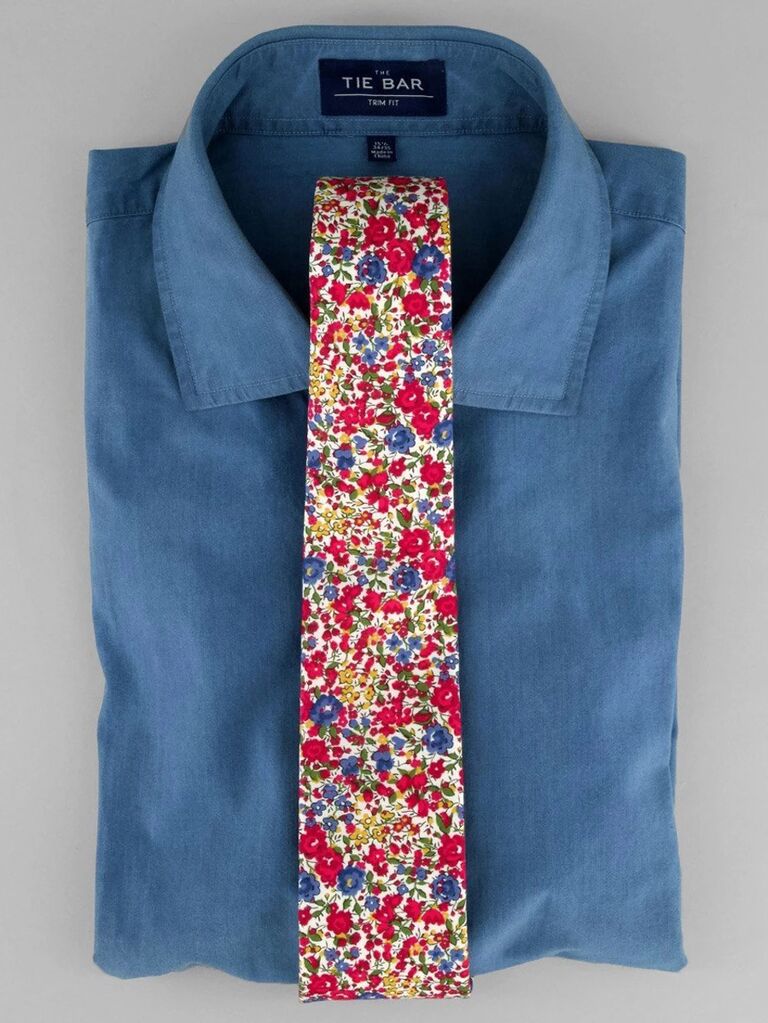 This chambray indigo dress shirt has the look of denim but in a lighter-weight fabric ideal for warmer temps. It'd be right at home during a trip down South to Music City or perfect for a groomsmen's night out in Las Vegas. You can even dress it up with a linen bow tie if you want to get a bit fancy.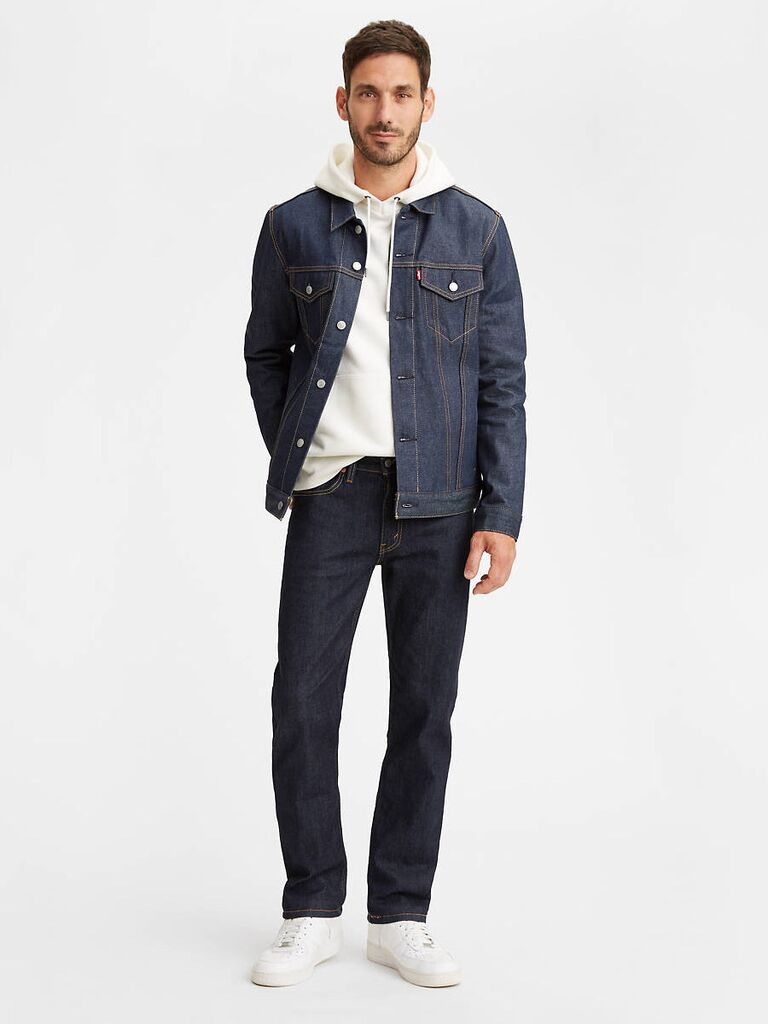 Another bachelor party staple? A pair of stylish jeans. These inky blue straight-fit jeans can be worn with a dress shirt and dress shoes to a club or with a T-shirt for bar hopping. Plus, you can often get away without washing jeans for a few wears, which is key if you're looking at hotel living for a long weekend.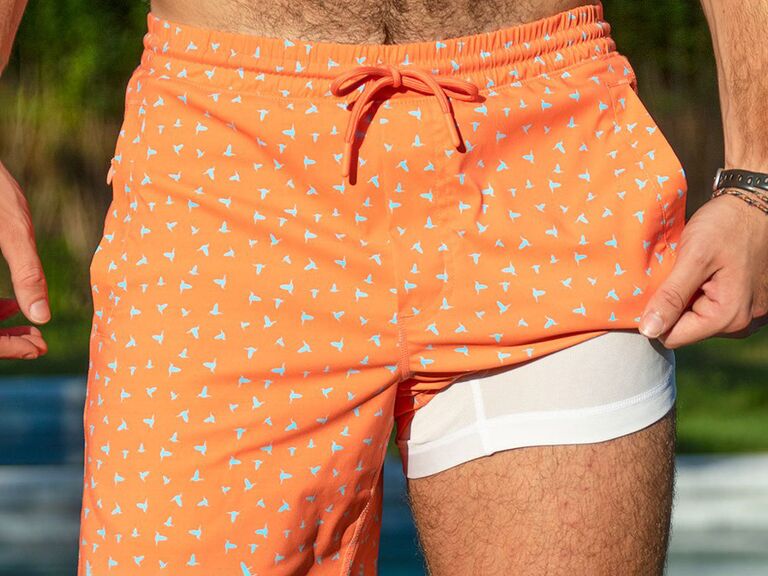 For a pool party or beach day, you'll want to have reliable swimwear on hand. With built-in underwear, these brightly-hued shorts are equal parts stylish and comfortable. If you're the groom, splurge on a pair for all your guys to rock poolside—it'll make for one epic Instagram shot.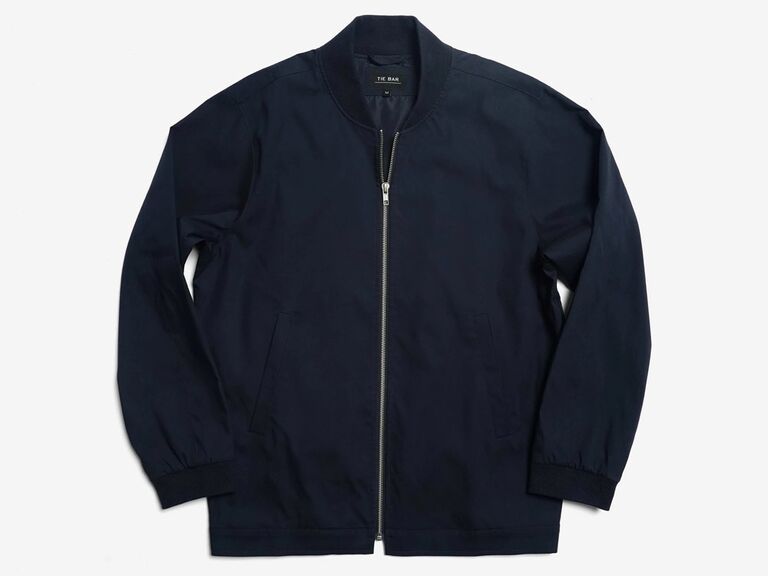 You might need some layers, especially if you're heading to a fall or winter celebration. This navy bomber jacket is a great laidback option if, say, leather jackets aren't your thing. It's super compact too, so you can even carry it onto the plane in your backpack in case that airport chill hits.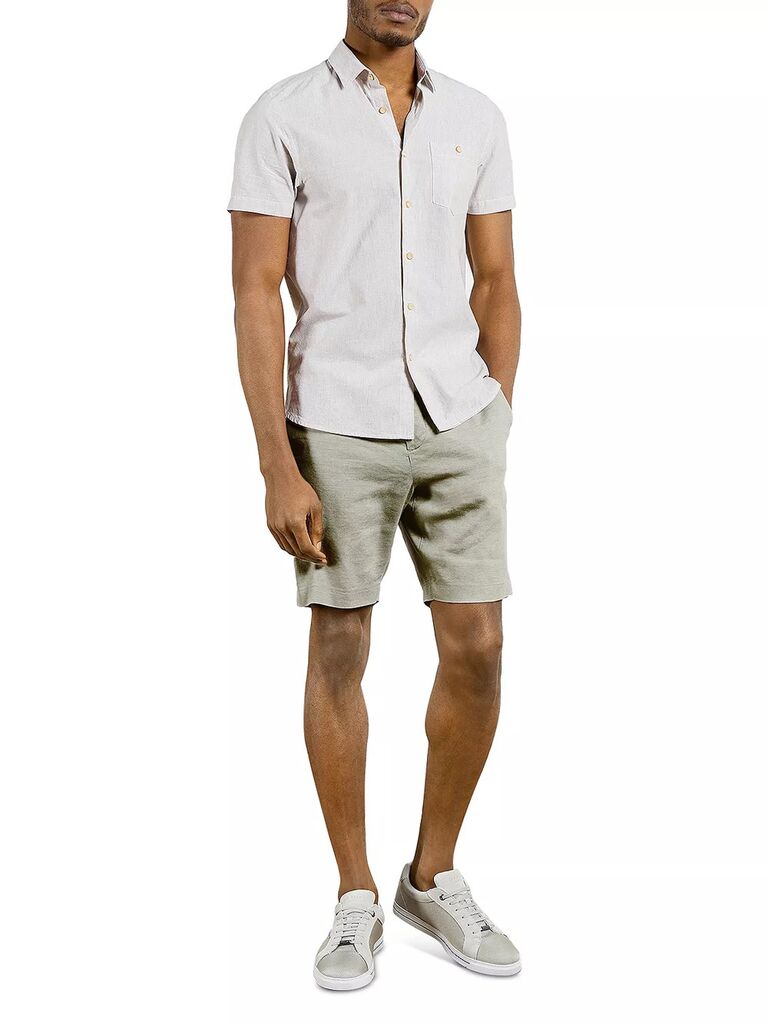 Headed to celebrate the groom in a super-warm climate? You won't want to travel without these linen drawstring shorts. Not only will they keep you cool, but they pair well with everything from collared shirts to tanks. The best part? The drawstring waist allows you to down a beer (or two) without getting uncomfortable.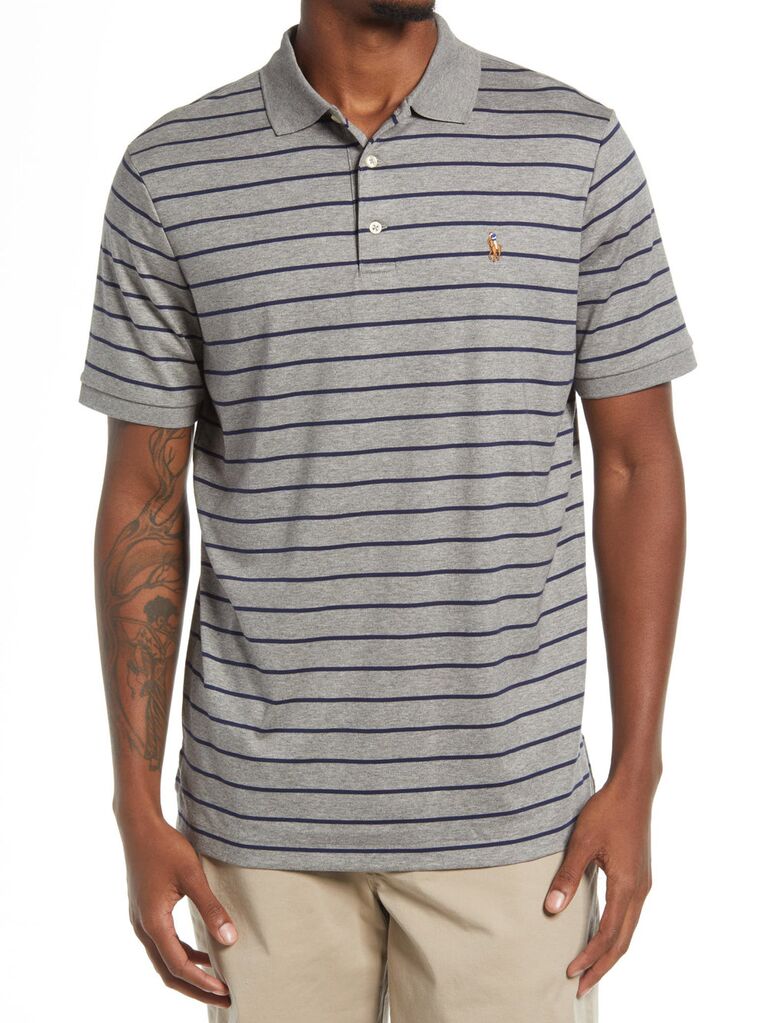 This classic fit stripe polo will work as a part of any bachelor party outfit. Whether you're going for a more casual look for brunch or heading to a nice steakhouse for dinner, this grey cotton polo is a staple every bachelor party guest should have in their suitcase. Pair it with a pair of khaki shorts for a casual day of sightseeing or dark wash jeans for a casual dinner.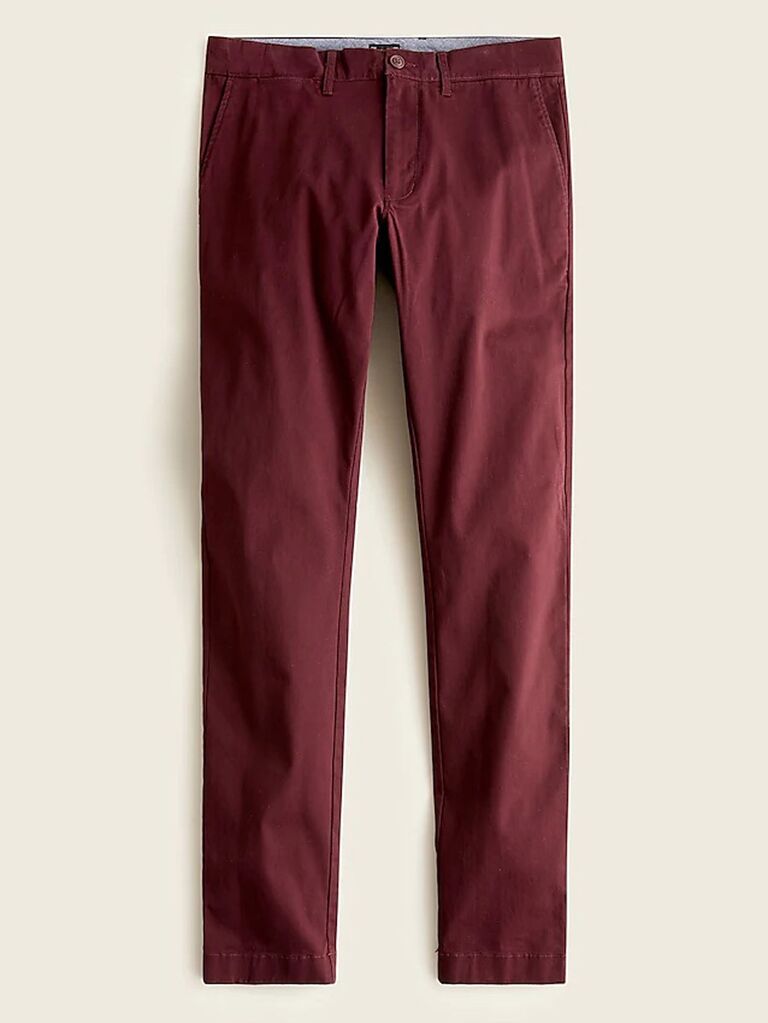 For men who prefer going off the beaten path with their fashion choices, these burgundy slim-fit chinos work great as casual wear for a groomsmen dinner or a trendy option for bar hopping. Accessorize them with camel leather details (think: a belt, loafers and even watch) for a sleek look suited to nearly any activity.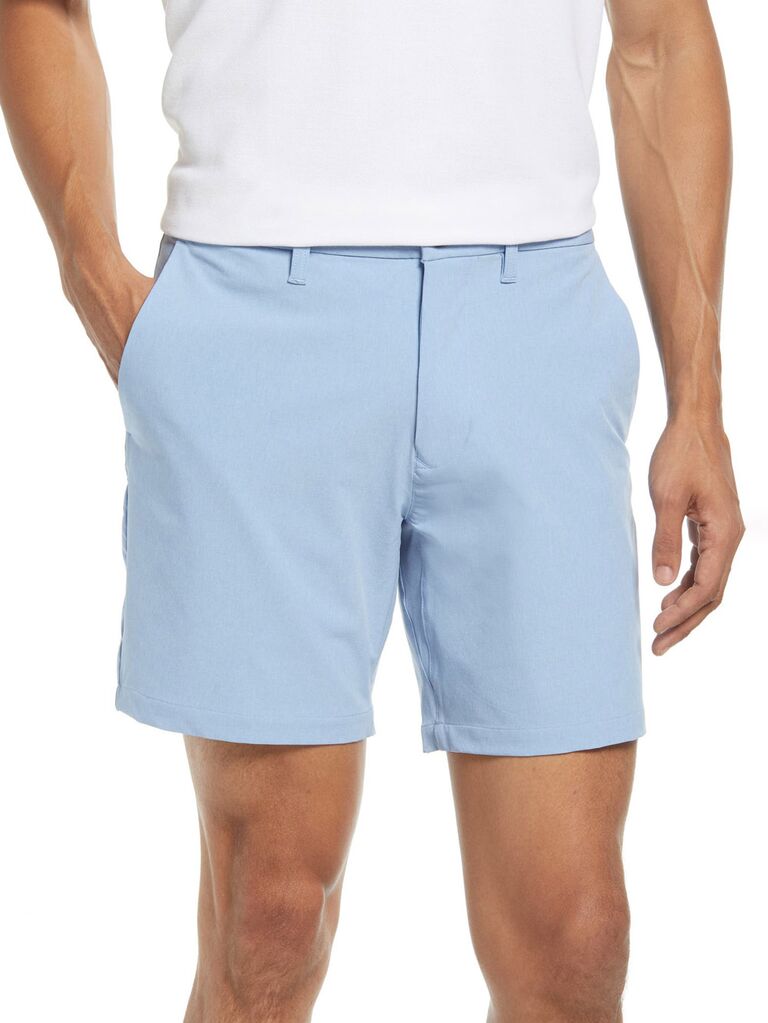 The color name of these stretchy performance shorts—calm ocean—pretty much screams summer style. Pair these versatile active chinos with a collared shirt for a more preppy look or V-neck tee shirt if you're going for more casual vibes. Either way, you'll be partying in comfort—they boast high-tech updates, like full-motion stretch, sweat-wicking fabric and UVF protection.