40 Cute Bridesmaid Proposal Gift Ideas for Asking, "Will You Be In My Wedding?"
Let's get this bridal party started.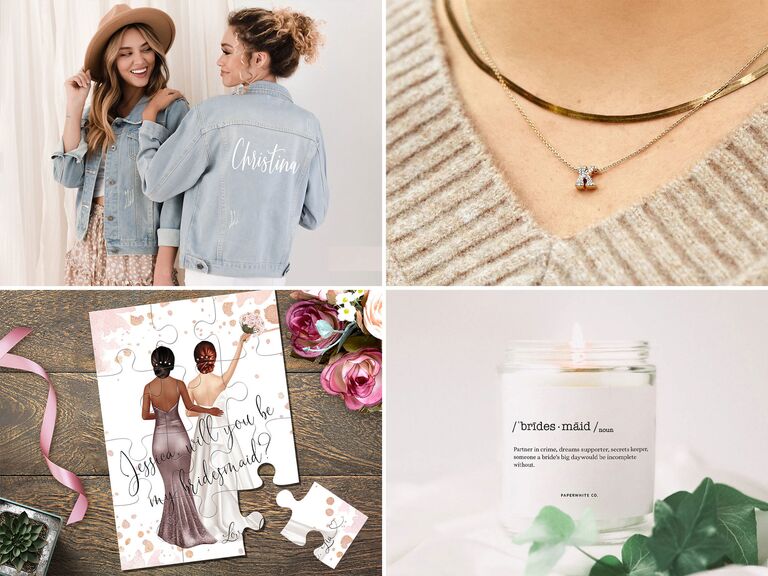 We have included third party products to help you navigate and enjoy life's biggest moments. Purchases made through links on this page may earn us a commission.
You've officially selected your wedding party—woohoo! Now all that's left to do is actually ask your besties if they'll stand by your side on the big day—and one way to do just that? A bridesmaid proposal gift. Whether you're looking for something sweet and simple or a tote bag full of wedding essentials, we've found all kinds of cute ways to ask your bridesmaids if they'll do you the honor on your big day. These creative wedding party proposal ideas will let them know just how much you appreciate everything they've done for you in the past, and the bridesmaid duties they're about to take on. So what are you waiting for? Secure your wedding party with one of these great gifts for bridesmaid proposals.
In this article:
The Best Bridesmaid Proposal Gifts

Whether you're looking for a singular bridesmaid asking gift or putting together a bridesmaid proposal box, these "Will you be my bridesmaid?" gifts will get a resounding "Yes!"
1. Bridesmaid Beaded Bracelets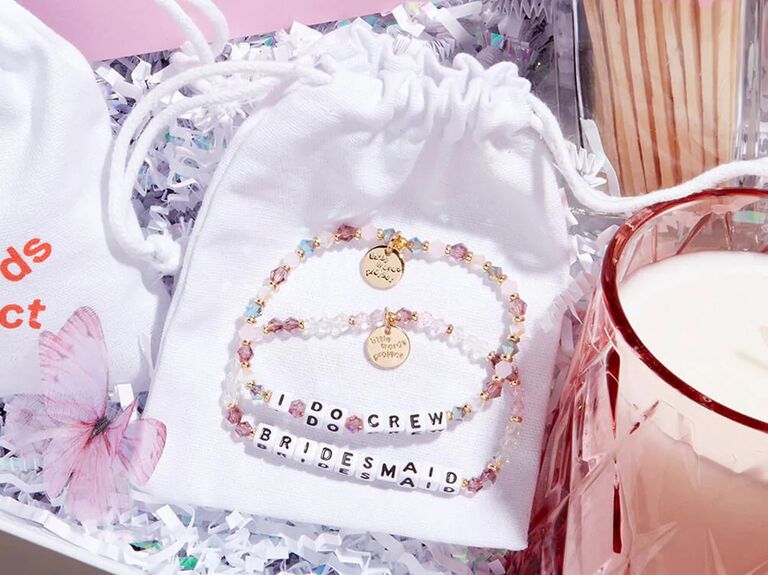 As far as bridesmaid proposal ideas go, jewelry is a tried-and-true option. Present each member of your entourage with one of these dainty beaded bracelets—which say "bridesmaid," "maid of honor" or "I do crew"—and they'll instantly understand what you're asking. You can even add a gift box for an additional fee so each present is presentation ready.
2. Denim Bridesmaid Jackets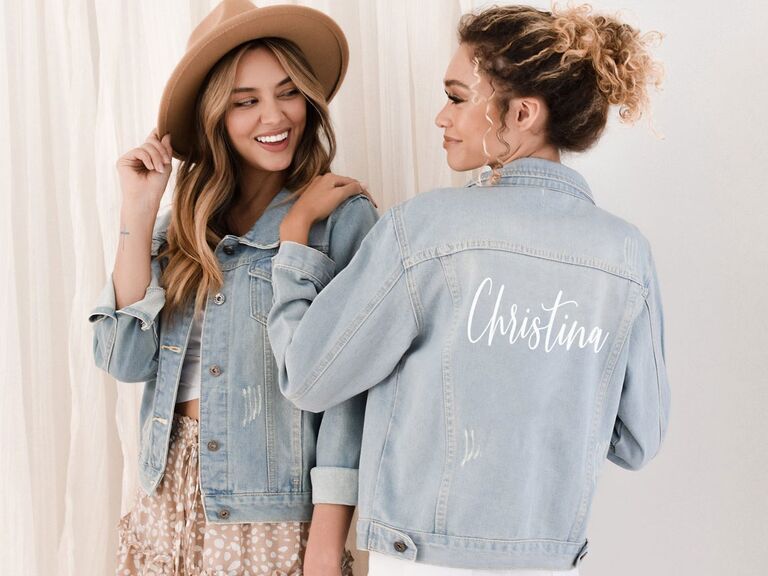 Bridesmaid swag like T-shirts—or, in this case, jean jackets—is a popular gift to ask someone to be a bridesmaid. The back of this jacket can be printed with each of your crew's names or wedding role; plus, there's a white one (with fringe) for the bride. They'll love sporting their new outerwear at the bachelorette party and beyond.
3. Lollipops With a Twist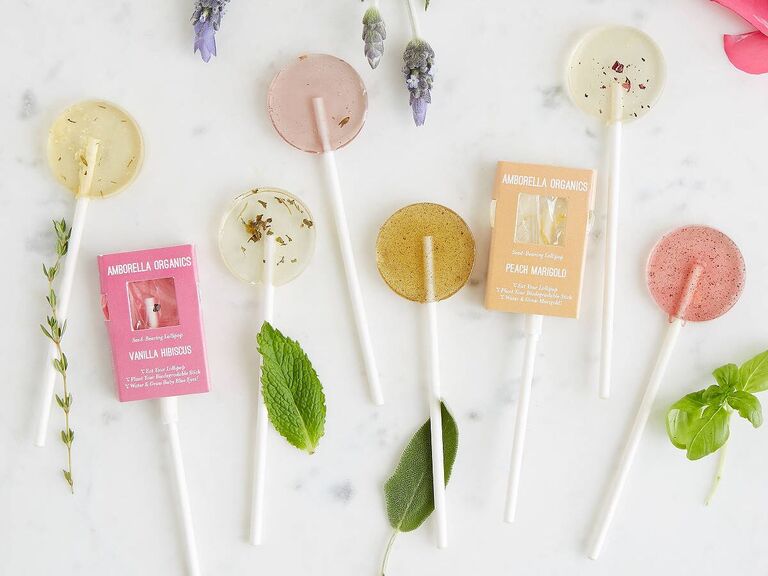 If you're looking for unique bridesmaid proposal gifts, look no further than these botanical lollies. With flavors like Strawberry & Basil, Lavender & Lemongrass and Sage & Marshmallow they taste amazing—but that's just part of the appeal. Once each bridesmaid finishes the candy, they can plant the stick to grow the flowers or herbs they just sampled. How fun and eco-friendly! They're the perfect edible addition to your bridesmaid boxes to make your proposal really stand out.
4. Custom Wine Labels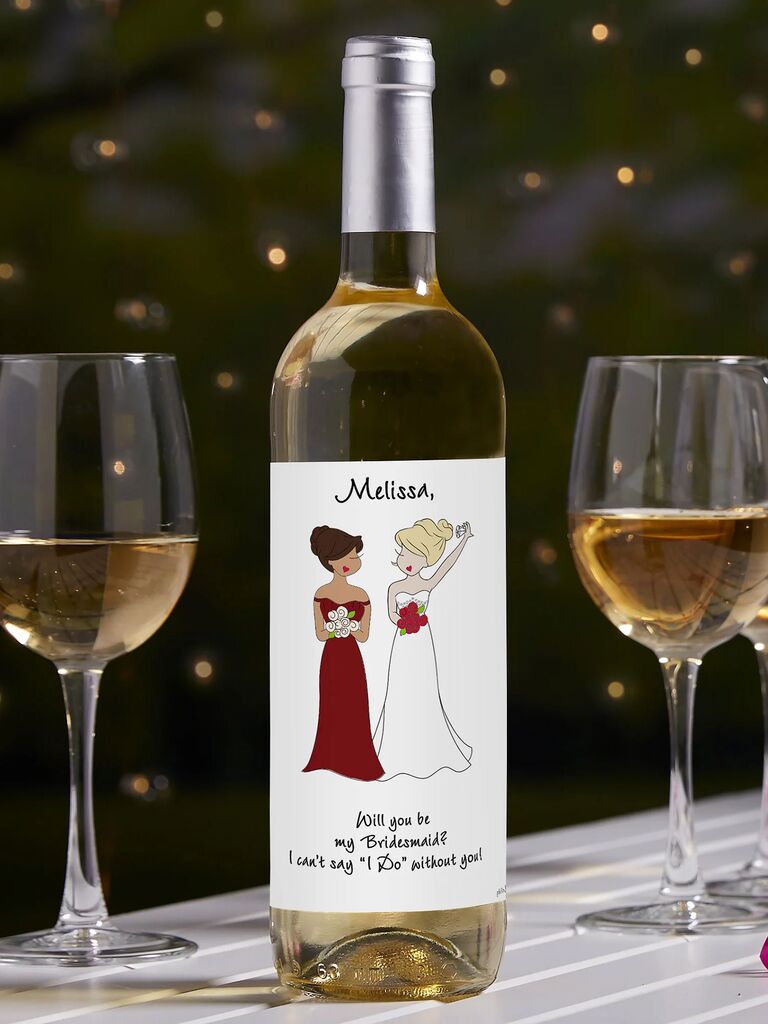 Of course, we can't talk about gifts to ask bridesmaids without mentioning wine. Get each squad member their favorite bottle, whether that's sparkling or still, then decorate it with a cute label. These ones are personalized with each recipient's name and read, "Will you be my bridesmaid? I can't say 'I do' without you." The winning touch: custom illustrations of you two fulfilling your wedding roles.
5. Personalized Velvet Clutches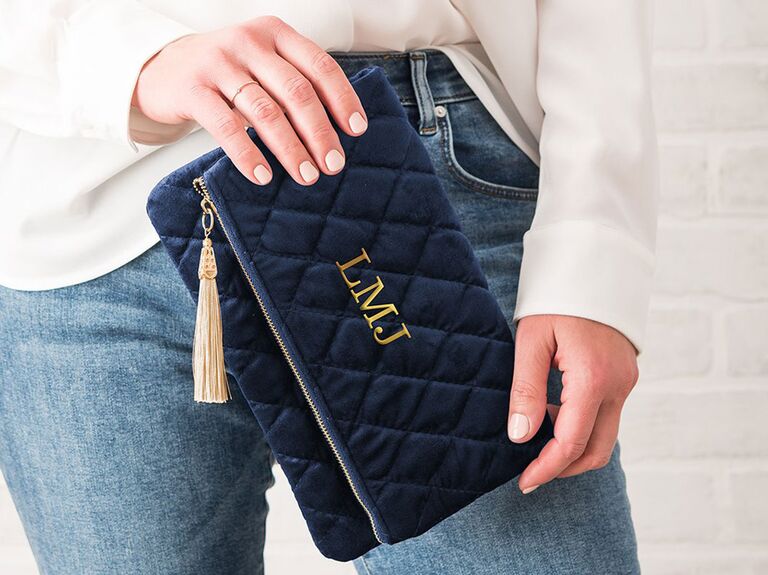 Your friends are always there for you, so come in clutch for them too! This foldover velvet purse will be a luxe way for them to store their phone, wallet and touch-up cosmetics at all wedding-related activities, from the bridal shower and bachelorette party to the reception. (Meaning the sooner you propose to your bridesmaids, the better!) It comes in navy, emerald green or blush pink and can be embroidered with their initials or name.
6. Mini Succulents & Card
These mini succulents are a super-cute bridesmaid proposal idea, especially when paired with a punny card message, like "I prick you" or "My wedding would succ without you." Plus, these plants come in a rustic-chic box with a classic phrase on the front.
7. Bridesmaid Proposal Puzzles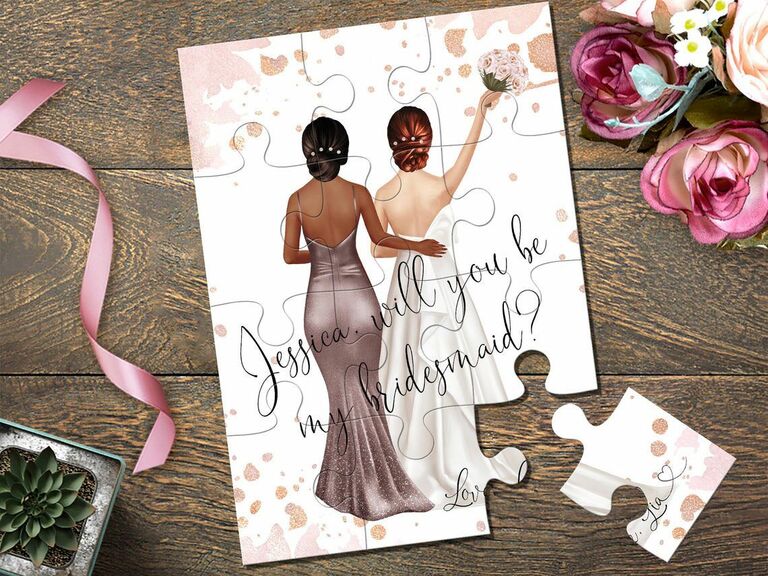 Want a fun bridesmaid proposal idea that'll keep them guessing? Give them a puzzle they'll have to put together to figure out the message. When pieced together, this adorable option displays a custom picture of you and each gal, plus a personalized "Will you be my bridesmaid?" message. (FYI: There are other designs, like this man of honor proposal puzzle, for everyone else in your party.)
8. Zodiac Sign Candles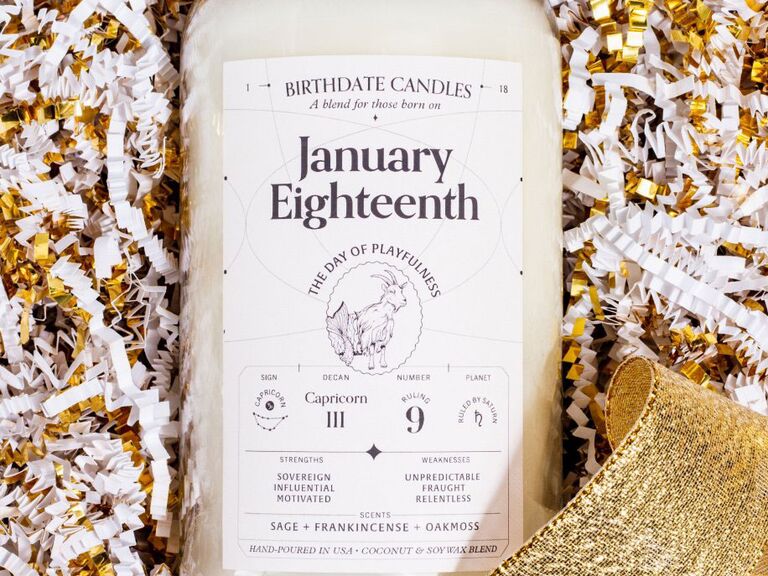 If you're looking for unique ways to ask your bridesmaids, consider the internet's favorite astrology-themed candles. Birthdate Co. has specific candles for every day of the year, meaning you can choose the exact one that reflects each bridesmaid-to-be's birthday so they all get a one-of-a-kind gift.
9. Personalized Trinket Dishes
The bride isn't the only one with important jewelry. Give your wedding party a place to store their own baubles with a chic trinket dish. These trays are elegant with your bridesmaid's names in a black, rose gold metallic, gold metallic, or silver metallic script.
10. Custom Wine Tumblers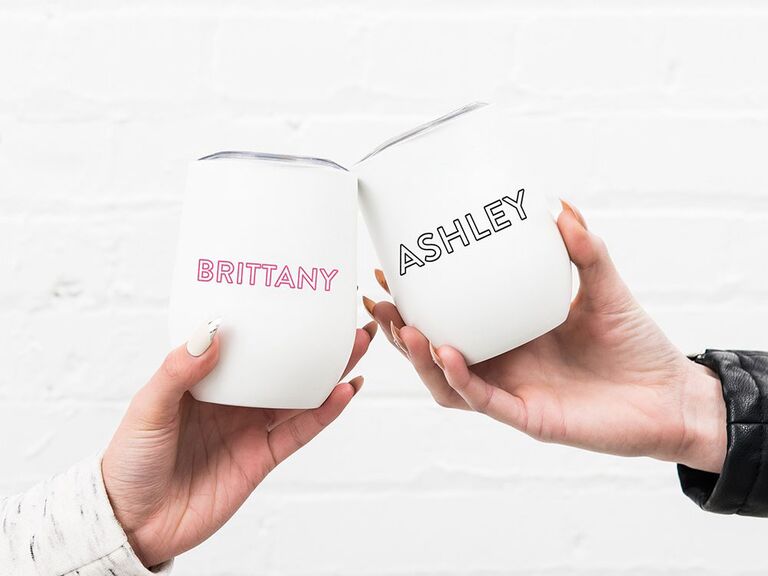 If you're not sure how to ask someone to be your bridesmaid, custom drinkware is a great place to start. After all, what better way to welcome them to your wedding party than a toast with personalized glasses? These stemless wine tumblers are printed with their names in a stylish neon-inspired print and the stainless steel insulation means their bubbly will stay cool even while lounging by the pool.
11. Wildflower Tote Bags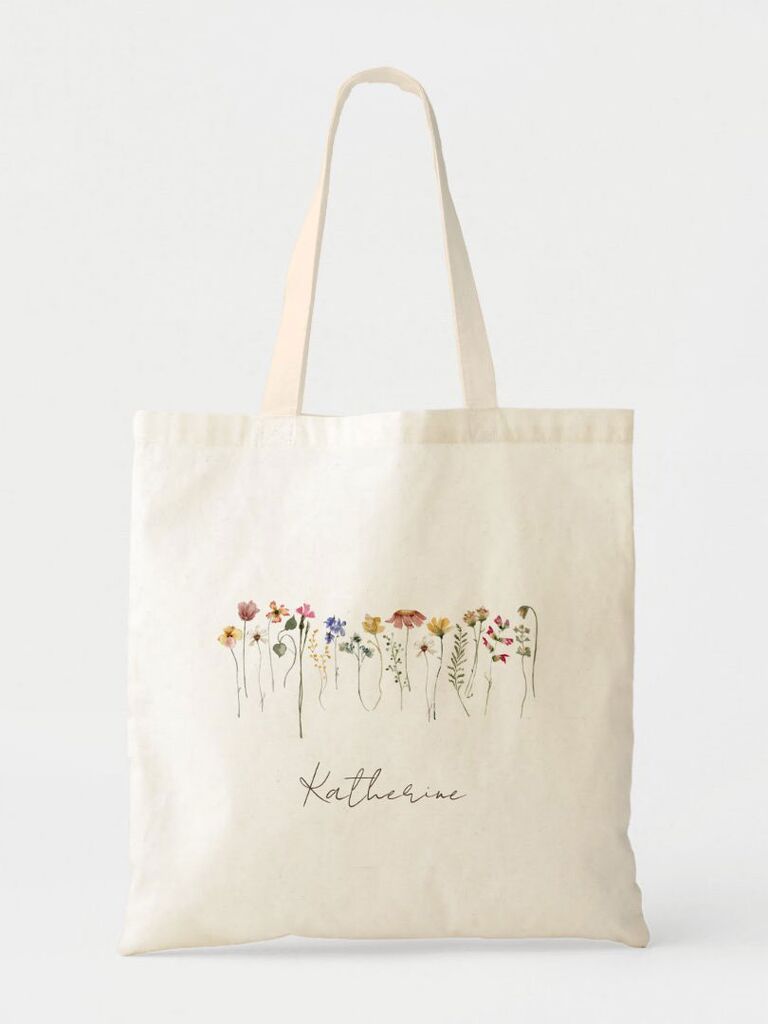 PSA: Tote bags are back in fashion—and just in time for your bridesmaid proposals. This canvas bag is decorated with colorful wildflowers and can be personalized with each of your crew's names or wedding titles. Give it alone or fill it with other goodies for your squad. You'll definitely see these accessories again at the bach party and every weekend errand together.
12. Bridesmaid Getting-Ready Robes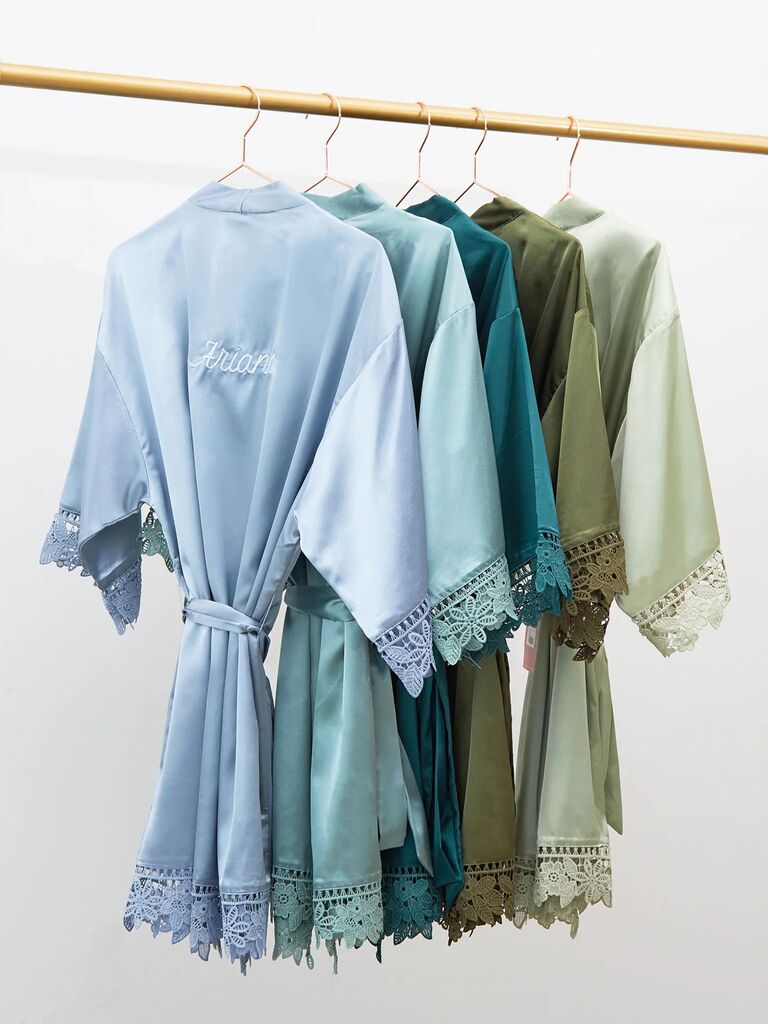 Here's a bridesmaid proposal gift they actually want: luxe bath robes for getting ready on the big day (and relaxing at home after). These satin wraps with lace trim are as pretty as they are comfy. Not only can they be embroidered with each future bridesmaid's name, they also come in over a dozen different colors so everyone gets a unique gift.
13. Press-On Nail Kits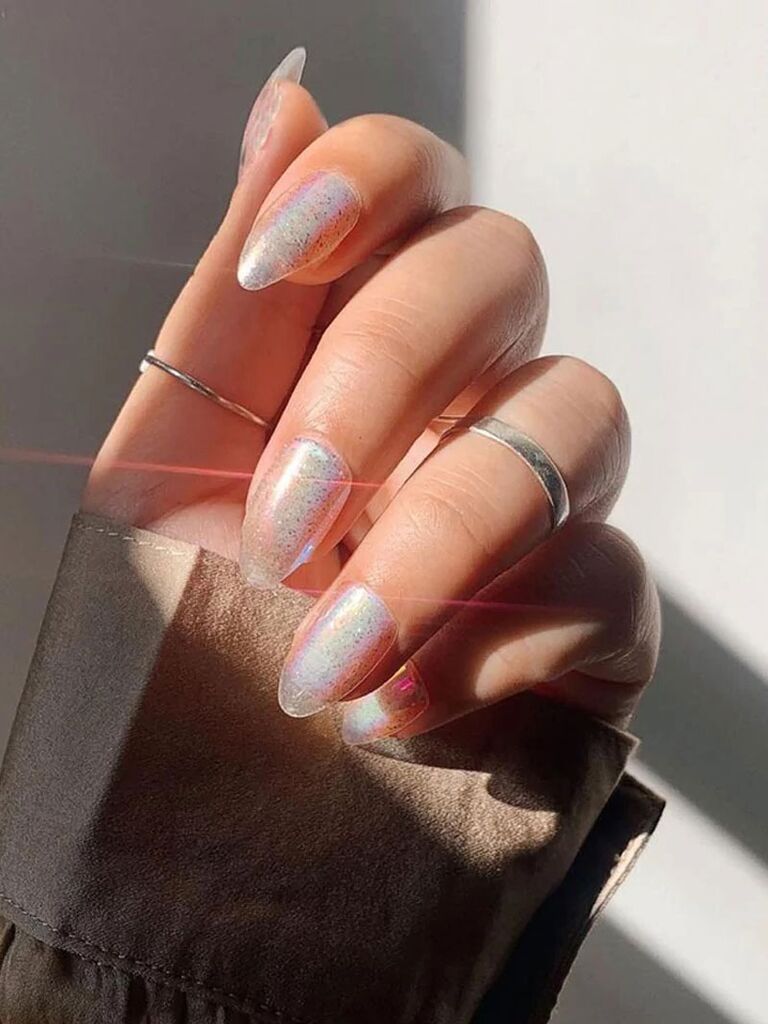 Press-on nails are the new secret to having a perfect manicure every day of the week. Gift each of your soon-to-be bridesmaids a set so they feel put together even when they can't make it to the salon. You'll see the nails at the wedding shower, bach party and even on the big day—that's right, they're reusable. And they last about two weeks every wear.
14. "Be My Bridesmaid" Candy
This delightful "Be my bridesmaid" gift features your proud message on the front with your proposal on the back, beautifully wrapping a Hershey chocolate bar. It's a super-sweet yet simple bridesmaid proposal your friends and family will (literally) eat up.
15. Leatherette Key Chains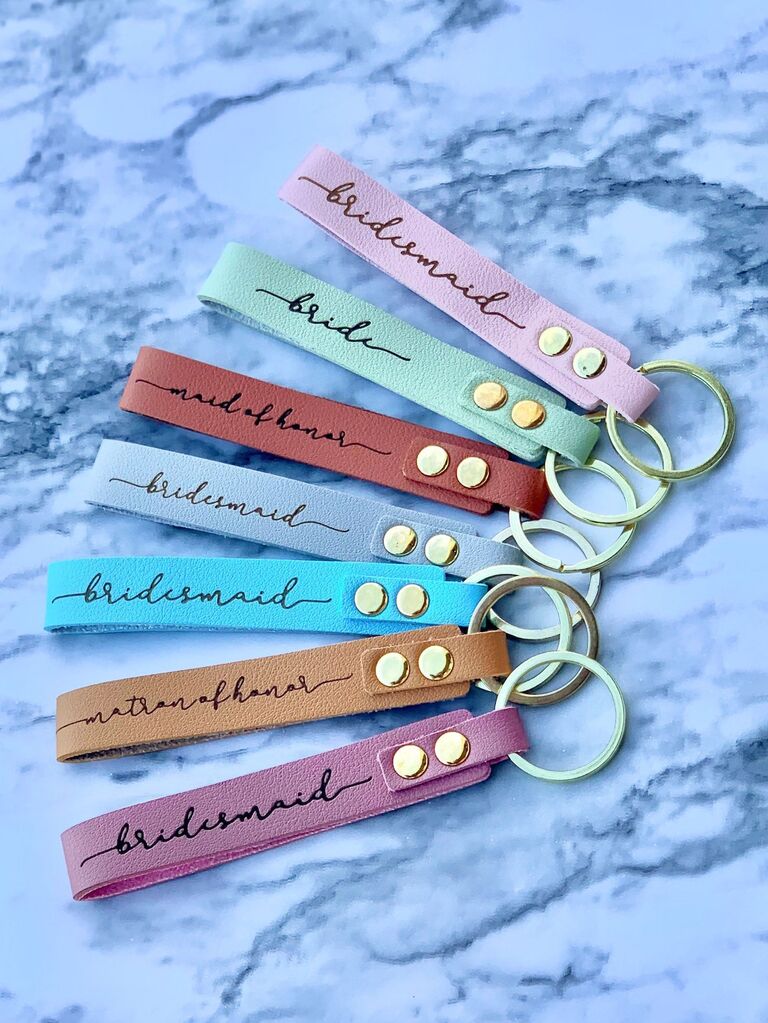 Looking for an inexpensive bridesmaid gift idea? Small tokens can go a long way. These leatherette key chains with gold foil writing are something they can admire every day. They come in cute pastels or more neutral classic colors, so you can find the ones that best match each bridesmaid's sense of style.
16. Matching Claw Clips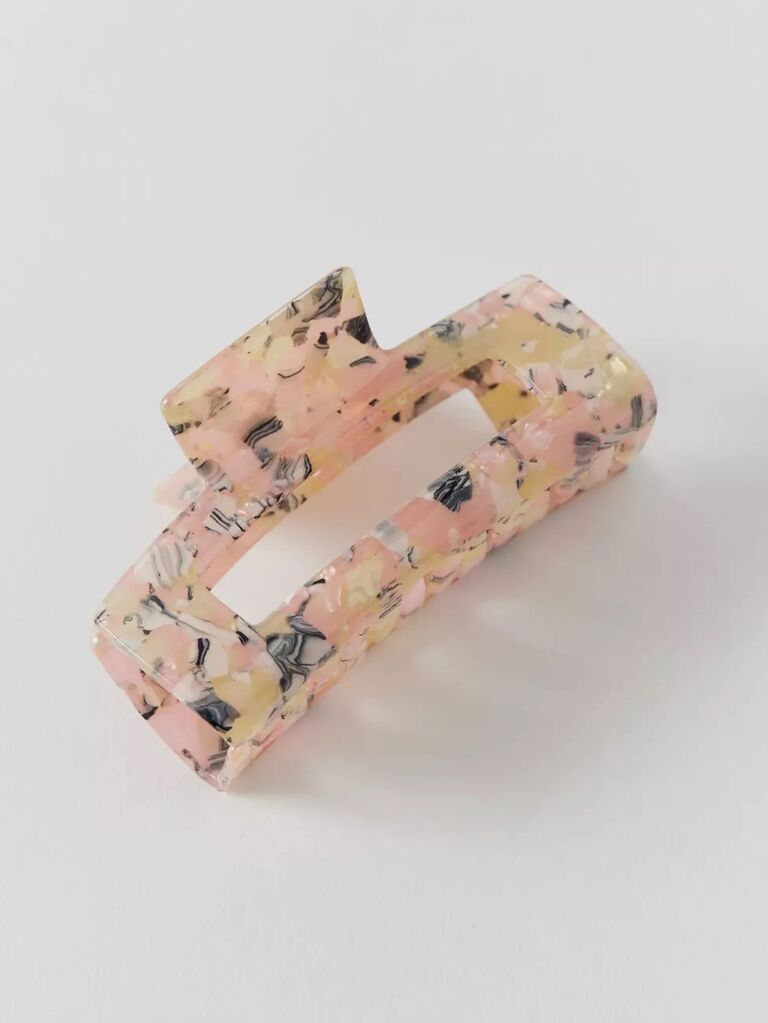 To have and to hold… Add a colorful claw clip to your bridesmaid proposal box for a cute and useful gift for your crew. They'll love throwing their hair up while they're hanging out at the bach party or getting ready on the wedding day.
17. Personalized Jewelry Boxes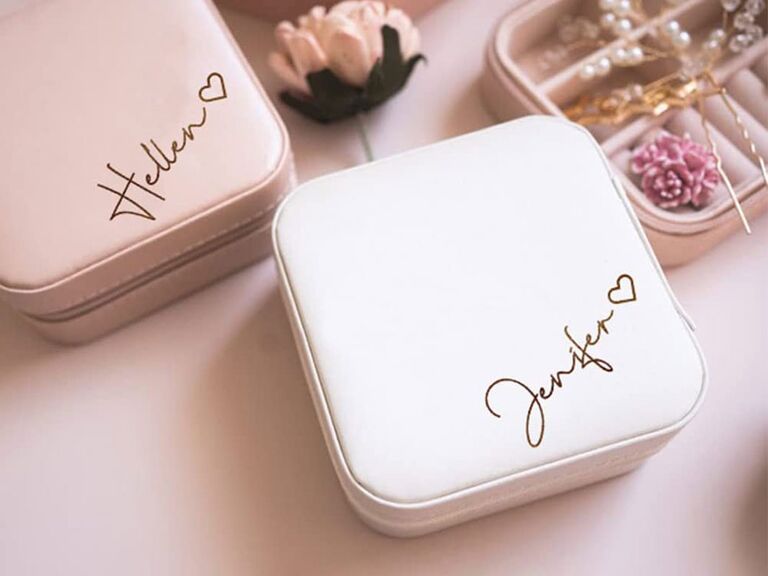 A travel jewelry box makes a great destination wedding bridesmaid proposal gift idea. This square case is finished with pink, white or teal faux leather and personalized with each of your crew's names and a heart—so cute! Zip your "be my bridesmaid" note inside the case for a sweet surprise.
18. Crystal Initial Necklaces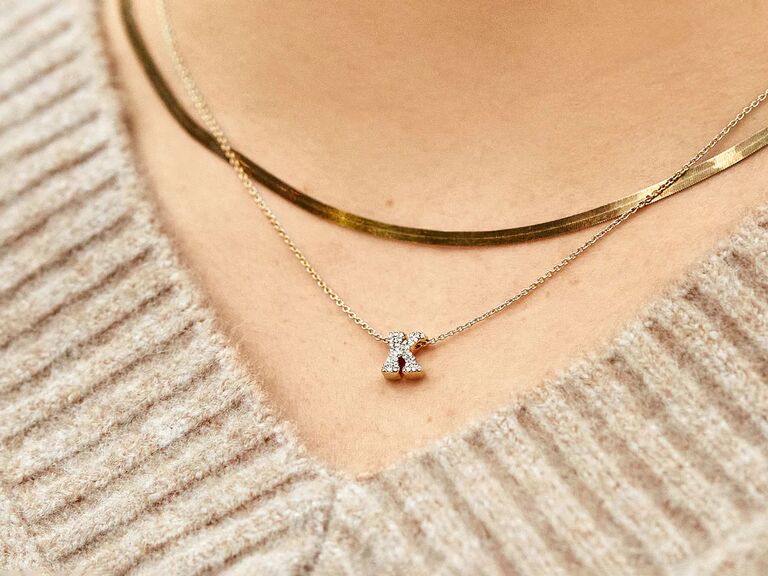 If you're looking for understated "Will you be my bridesmaid?" gift ideas, consider fashion jewelry your squad will want to wear all the time. This dainty gold necklace holds an initial charm embellished with pavé zirconia crystals. Simply pair it with a handwritten card for a great bridal party proposal gift.
19. Bridesmaid Proposal M&M'S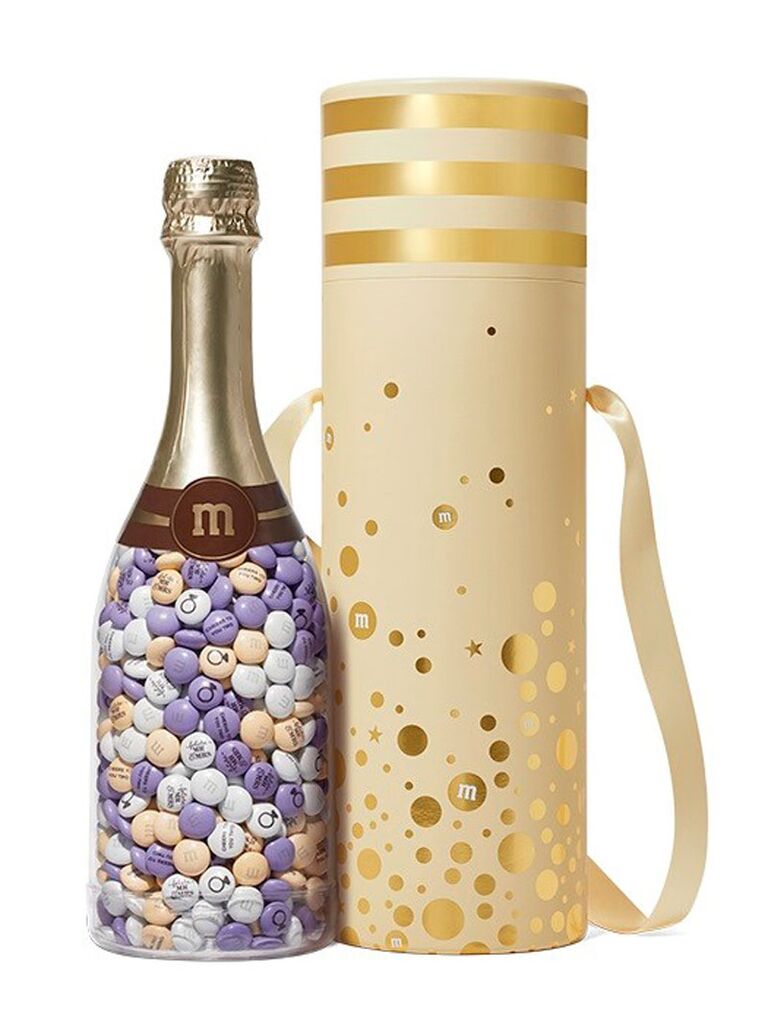 We bet you didn't know you can design your very own M&M'S. The site has on-theme clipart options such as "Team Bride" and "Will you be my bridesmaid?" If you really want to wow your wedding party, you put a custom picture on each chocolate, like you and your fiancé's faces or each future attendant's. The candies come in plastic champagne bottles with fun gold packaging.
20. Bridesmaid Dress Hangers
Get them personalized dress hangers they'll cherish even after they put away their bridesmaid gowns. These meaningful (and affordable!) bridal party accessories are a cute bridesmaid proposal idea that'll always remind them of this special time. Plus, it'll get them hyped to go dress shopping with you.
21. Something Blue Sweatshirts
As the saying goes, "Something old, something new, something borrowed, something blue." Ensure the best of luck for your marriage and friendships by giving your bridal party these something-blue crewnecks as a proposal gift. Whenever they sport this cute swag, everyone will know they're wedding VIPs.
22. Bridesmaid Bucket Hats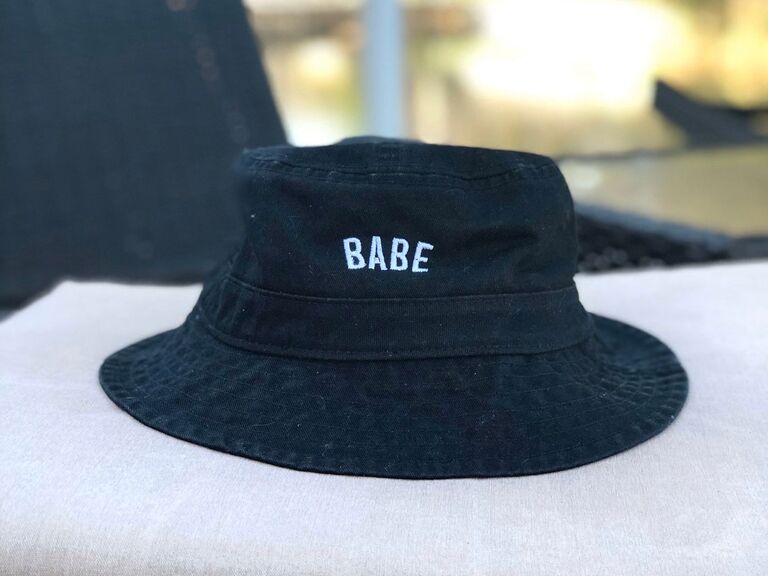 Give your crew something that'll come in handy under sunny skies, like this on-trend bucket hat embroidered with the word "babe." But it's not just a fun bridesmaid proposal gift; it could also be a great bachelorette party favor, especially if you'll be lounging at the beach.
23. Mimosas Glitter Bombs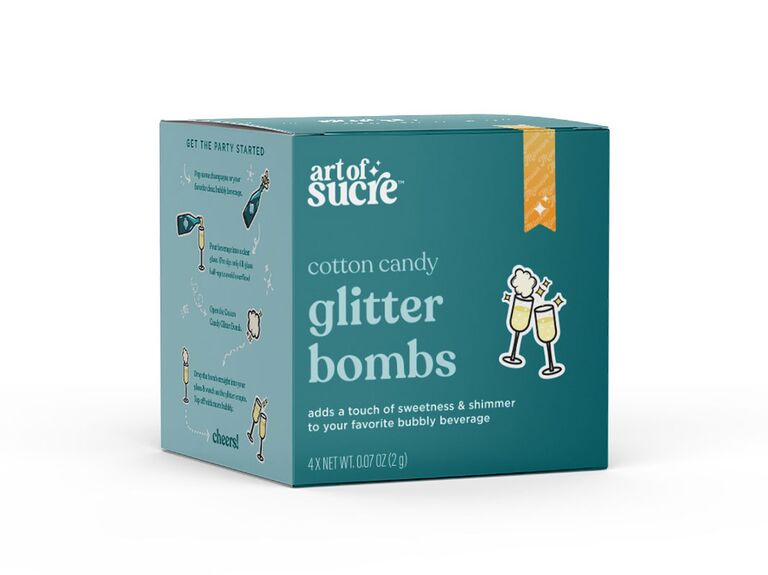 If you're throwing an official bridal party proposal brunch, these glitter bombs are a must have. Simply drop the orange-flavored cotton candy into your future bridesmaids' champagne flutes, then pour bubbly over the top to watch it melt and add sparkle and flavor to their drinks. Your girls will feel ultra glam sipping on shimmery mimosas and toasting the good news.
24. Bridesmaid Proposals in a Box
A Greetabl delivery is a clever bridesmaid invitation idea, especially if anyone in your crew lives far away. You can mail this personalized present right to their door, complete with a heartfelt note, pictures of your favorite memories together and a small gift. There are also lots of different design options for the outside of the box, including one specifically for bridesmaid proposals. Inside, surprise them with caramels, quartz stones or mimosa-scented candles.
25. Funny Face Masks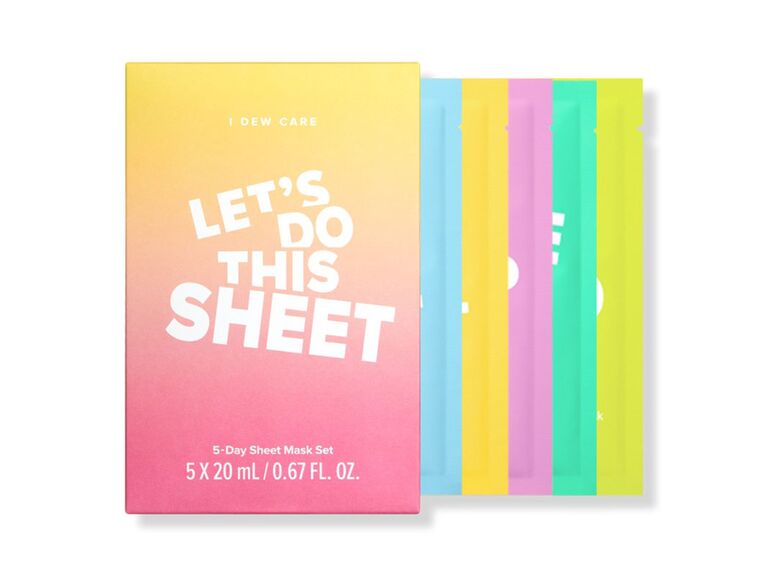 Here's a funny bridesmaid asking idea: "Let's do this sheet" face masks! Each set comes with five sheets (all with punny names) that offer different experiences, including: calming, brightening, firming and hydrating benefits. Thanks to this creative bridesmaid proposal gift, they'll all feel their best at every wedding-related activity.
26. Star Sign Soaps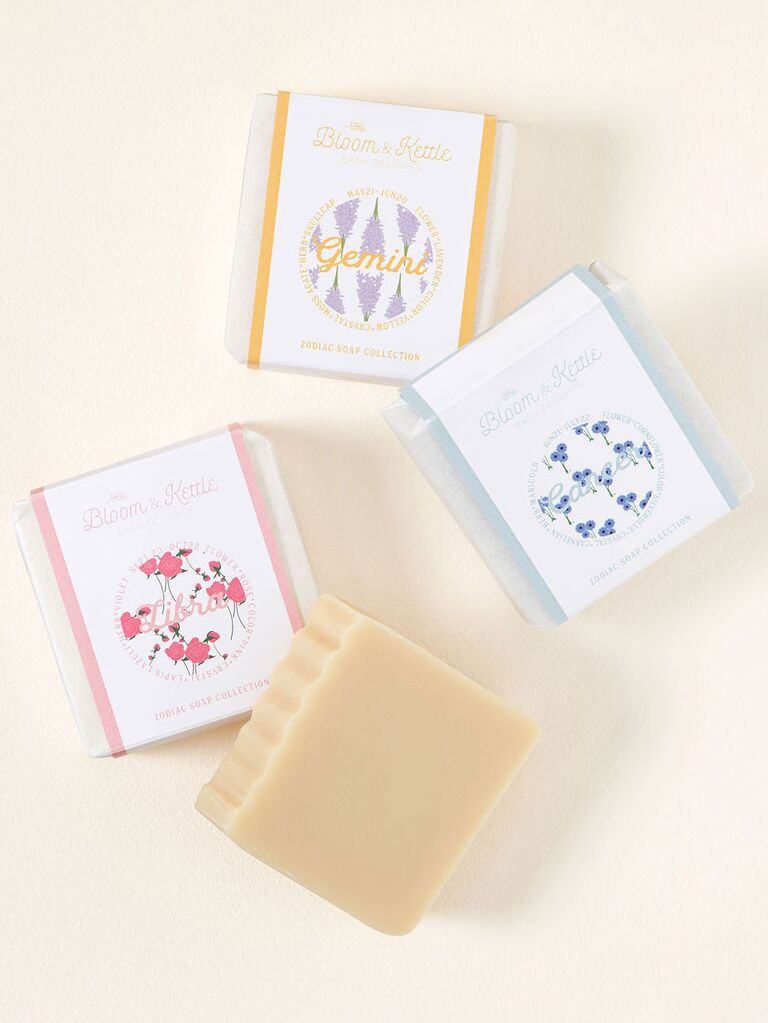 A spa kit is a fun way to ask bridesmaids to be part of your wedding journey. Pair face masks with these clever bars of soap inspired by your crew's zodiac signs. Each is handmade with vegan, all-natural ingredients and essential oils that reflect the star sign's associated flower, color, crystal and herb—all of which are listed on the wrapper.
27. Silk Sleep Masks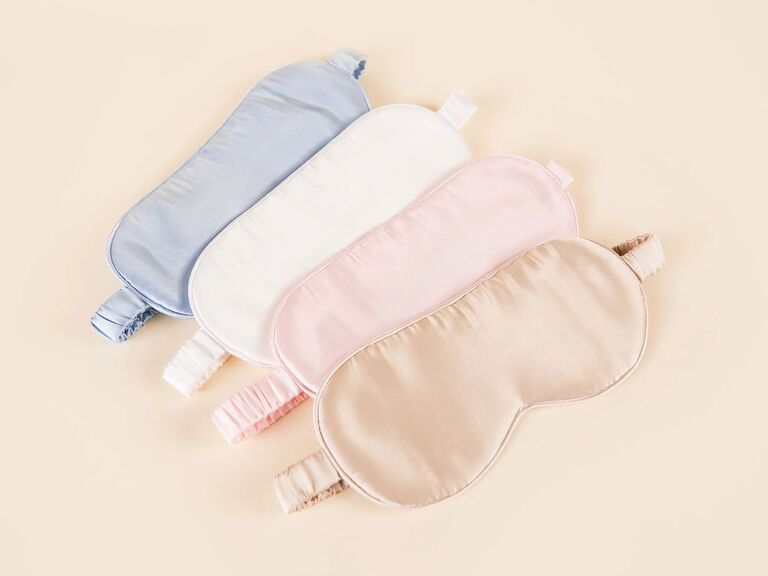 No self-care kit is complete without a silk sleep mask. Make sure your wedding party is well-rested by gifting everyone a luxe eye cover to get their "ZZZ's" in before the big day.
28. Sentimental Bridesmaid Candles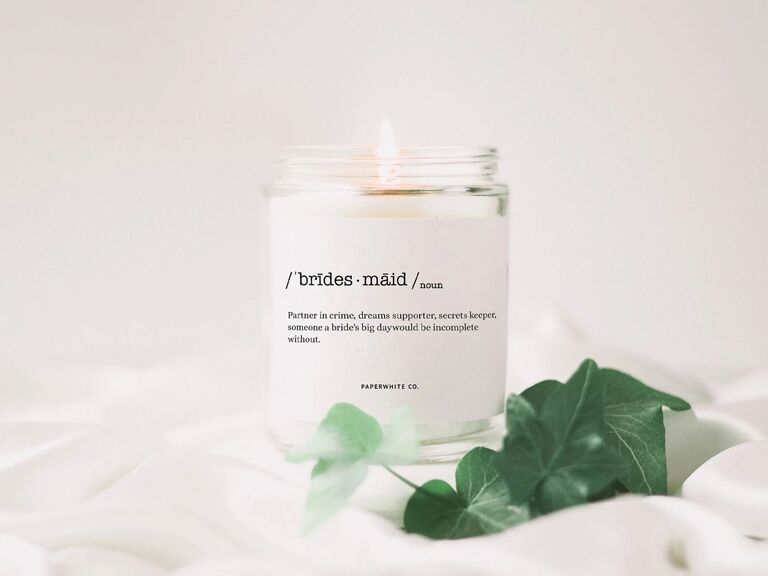 If you're looking for a small and sentimental proposal gift, this bridesmaid candle is a great way to pop the question to your loved ones. The handmade flame has a sweet label that defines the title "bridesmaid" and it comes in a variety of scents, including Champagne Toast, Love Is In The Air and Wedding Cake. You can also find labels for your maid or matron of honor.
29. Plush Bridal Party Slippers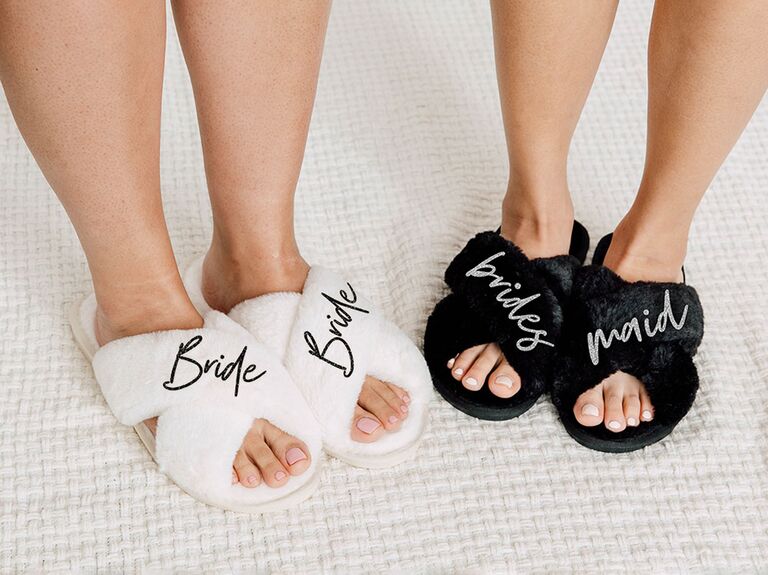 Make sure your besties don't get cold feet with this bridesmaid proposal gift idea. These plush slides with a trendy crossband aren't just cozy, they also celebrate each attendant's important bridesmaid role. There are also coordinating designs for your MOH and you, the bride.
30. Customized Cold Brew Glasses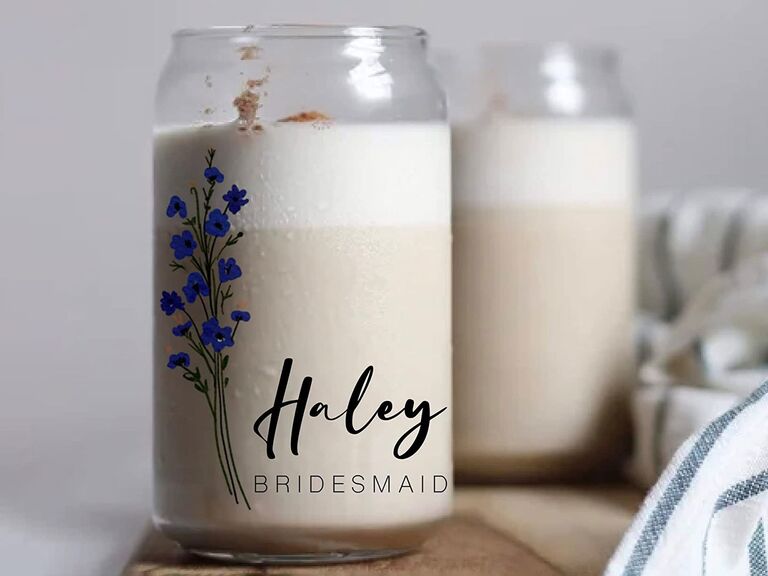 Still stumped on how to ask bridesmaids to be in your wedding? If they're coffee lovers, swap the classic wine glass for cold brew cups. These can-shaped tumblers can be clear or frosted and are personalized with each person's name, their role as a bridesmaid (or MOH) and a wildflower. Each glass comes with a bamboo lid and reusable straw so your crew can use them on the big day without too much fear of spilling on their formalwear.
31. Affirmation Card Decks
Sometimes the best bridesmaid proposal gifts are something that reflects their interests. Give your spiritual sisters a deck of affirmation cards based on their zodiac symbols. Each deck includes 100 cards tailored to their sign. Pair each deck with a handwritten affirmation card that reads, "I am going to be the best bridesmaid."
32. "Will You Be My Bridesmaid" Roses
How's this for a creative bridesmaid proposal idea? Preserved roses are a fancy gift to give your loved ones for stepping up to the plate. These even come in a large box with a gold foil font that asks "Will you be my bridesmaid?"
33. Best Friend Bracelet Charms
If you're looking for an extra-special way to ask your BFFs to be bridesmaids, look no further than this sentimental bracelet accent. The heart-shaped "Friends Are Family" dangle charm looks great on any of Pandora's chains, which you can also add to your order.
34. Bridesmaids Stickers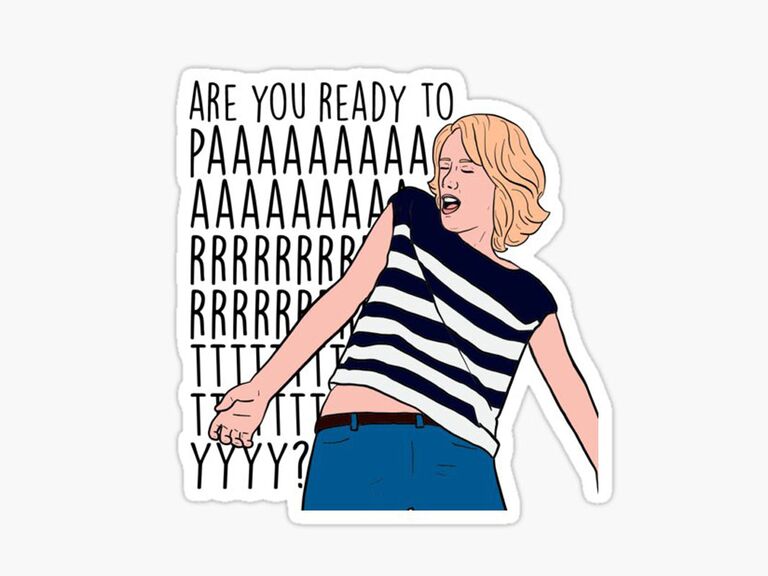 If you're looking for a funny way to ask a bridesmaid, take inspiration from the iconic movie Bridesmaids. This "Are you ready to party?" sticker will be an enjoyable finishing touch to your proposal card or gift.
35. Friends Coffee Mugs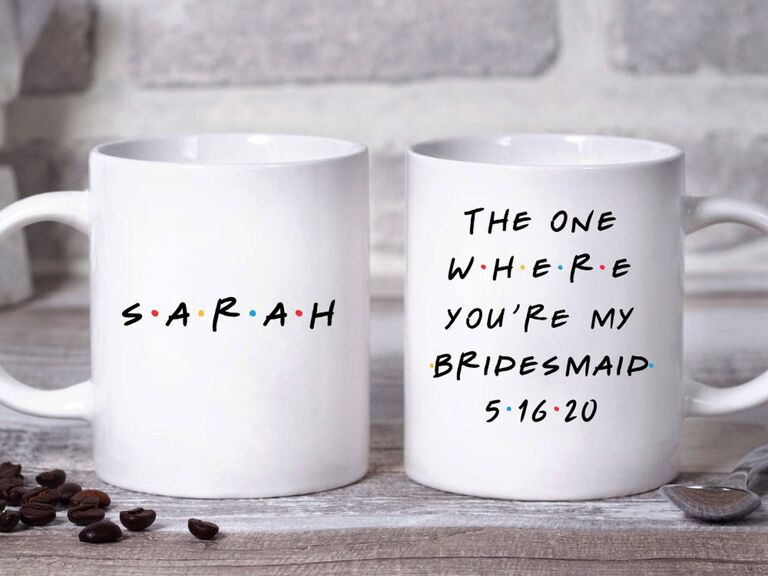 Here's another bridesmaid proposal gift inspired by pop-culture: A Friends coffee mug. It says "The one where you're my bridesmaid" with your crew's names and an optional date. It'll help them stay caffeinated while they help you make a million tiny decisions ahead of your wedding day.
36. Chocolate Confetti Cookies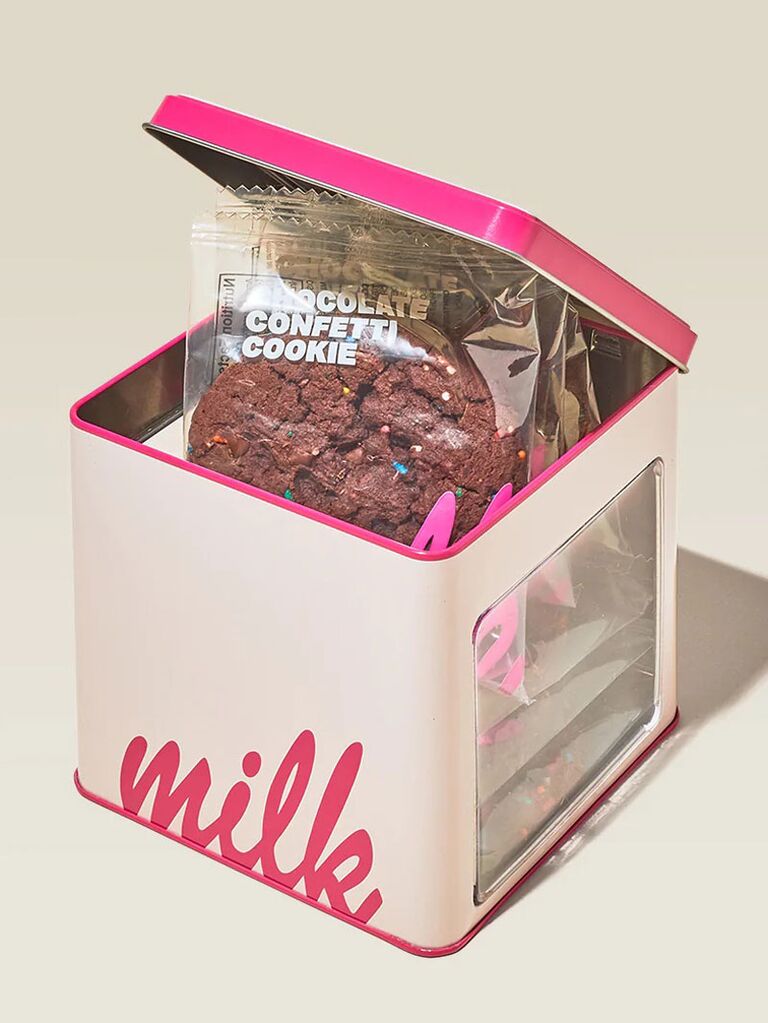 If you're looking for an edible bridesmaid proposal gift, a cute tin of Milk Bar cookies is just the treat—especially when they're confetti-filled bites. Choose between chocolate or vanilla cookie dough mixed with rainbow sprinkles or browse their dozens of other flavors including gluten-free options.
37. Scented Bath Bombs
Nothing says "let's celebrate!" like a sweet scented gift. These bright pink bath bombs are packaged with the words "beautiful Bridesmaid." Your future bride squad can use them to wind down after a busy bachelorette weekend (or just a long day at work).
38. Bridesman Socks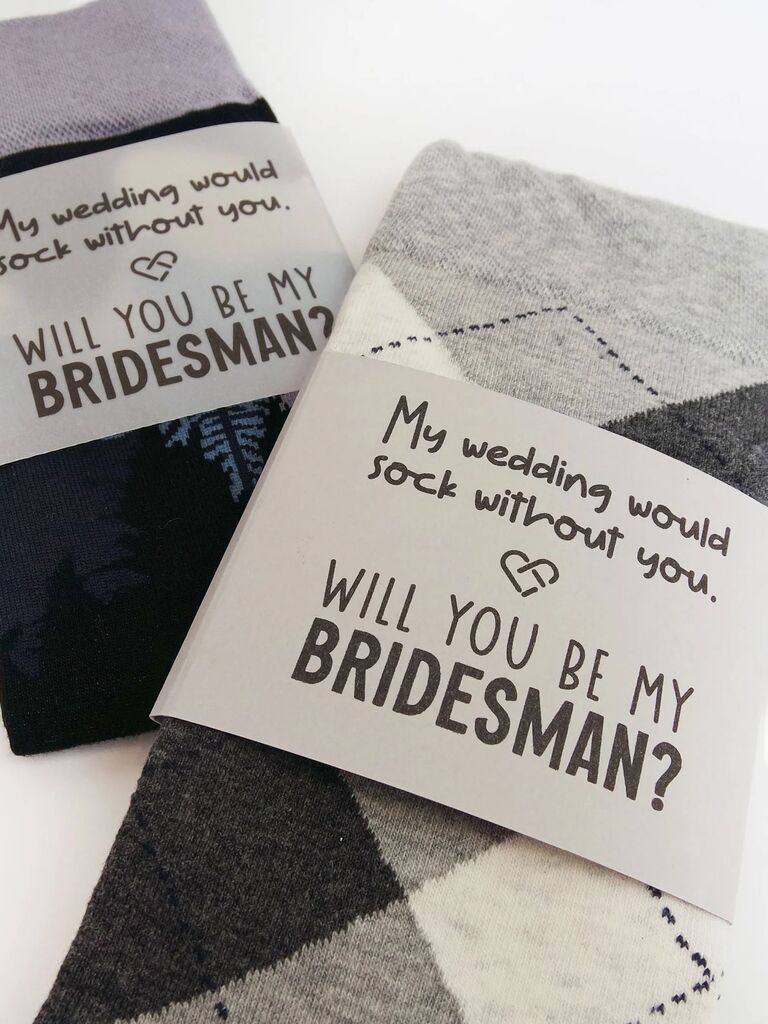 This bridesman gift is on theme and useful, which means it's an excellent wedding party proposal present. The cotton dress socks are wrapped with the message, "My wedding would sock without you. Will you be my bridesman?"
39. Love Knot Rings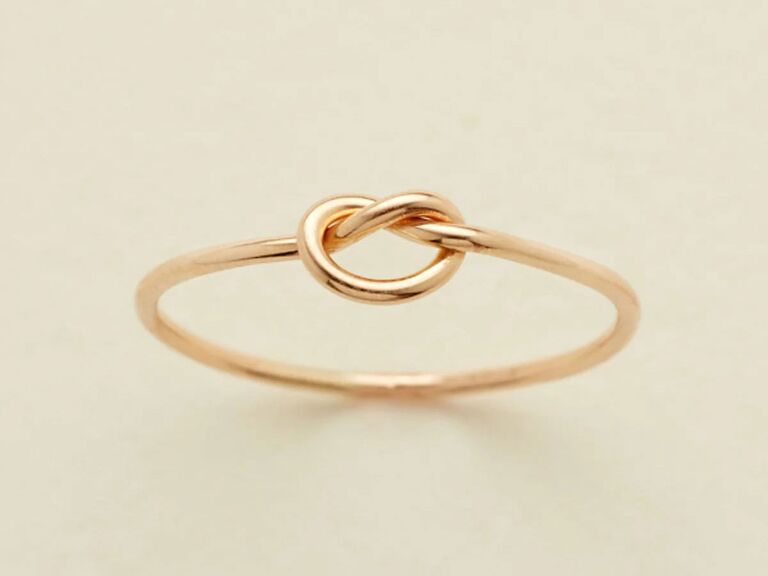 Have you ever thought about proposing to your bridesmaids with rings? This dainty fashion ring is fittingly designed with a love knot to symbolize your friendship. It comes in sterling silver or gold-filled to match your squad's accessory styles.
40. Babe Fanny Packs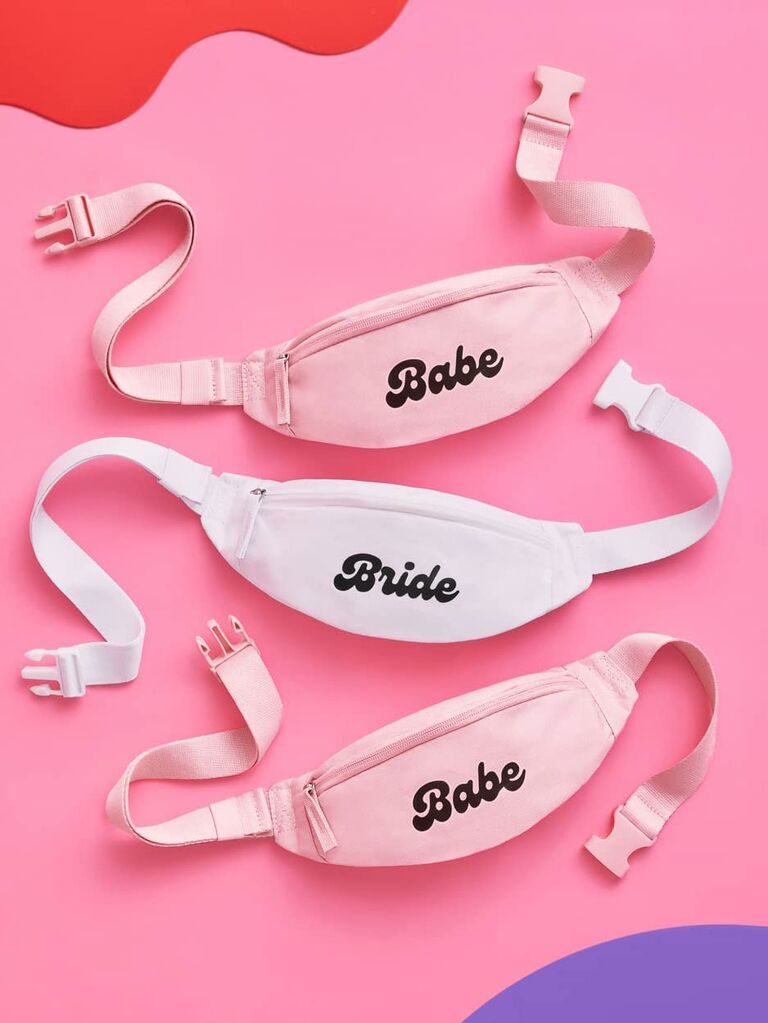 Here's yet another creative way to ask bridesmaids: fanny packs—or better known today as belt bags. These sling bags come in pink with retro "babe" script or white with "bride." You can buy them in bulk or individually. And if you're looking to do a little more for your loved ones, they can also serve as dual-purpose gift bags.
Bridesmaid Proposal Gift FAQ