44 Creative Bridesmaid Proposal Ideas to Ask "Will You Be My Bridesmaid?"
Wondering how to ask your bridesmaids to be in your wedding? Check out these unique bridesmaid proposal gifts and invitations.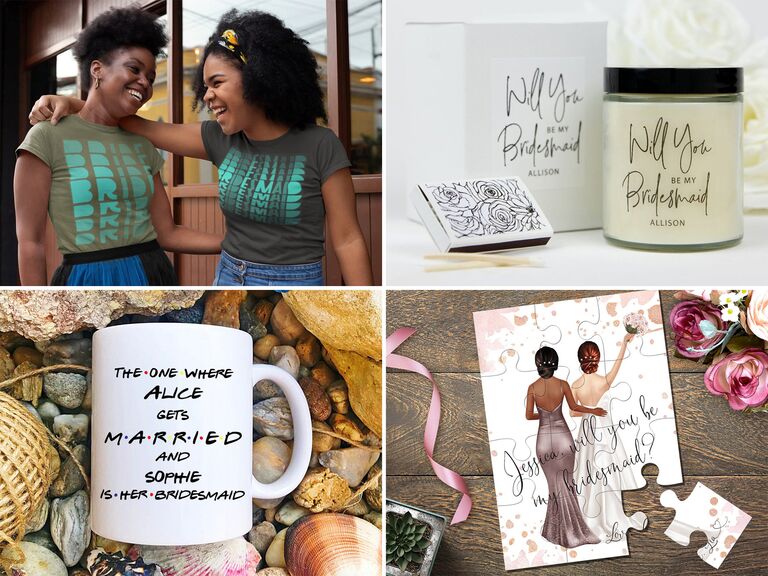 We have included third party products to help you navigate and enjoy life's biggest moments. Purchases made through links on this page may earn us a commission.
It's time to make it official with your bridesmaids. After having them by your side through thick and thin, it only makes sense that you'd want them beside you on the wedding day. And because you know your best friends and closest family members deserve more than just a text or a phone call for this momentous occasion, asking your bridesmaids to be in your wedding should be done in the most special and creative way possible.
How to ask bridesmaids depends on your crowd—it might be with a clever bridesmaid invitation card, or with a thoughtful gift that's bridesmaid-themed (or not!)—which is why we assembled this comprehensive list of the best bridesmaid proposal ideas out there. Choose the right one for your squad.
Bridesmaid Proposal Puzzle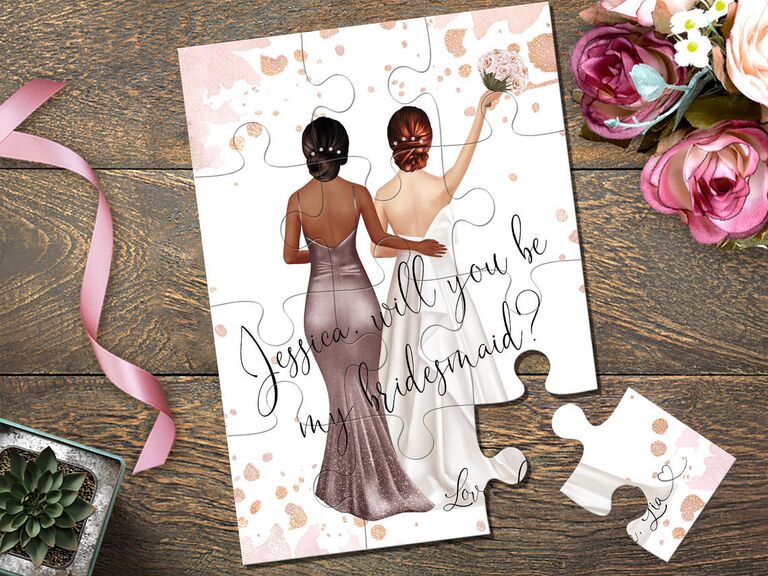 Want a bridesmaid proposal idea that keeps them guessing? Send a puzzle they'll have to put together to figure out the message. When pieced together, this adorable option displays a custom picture of you and each gal, plus a personalized "Will you be my bridesmaid?" message. (FYI: There are other designs, like this man of honor proposal puzzle, for everyone else in your party).
Two Crew Design bridesmaid proposal puzzle, from $10, Etsy.com
Bridesmaid-Themed Box of Goodies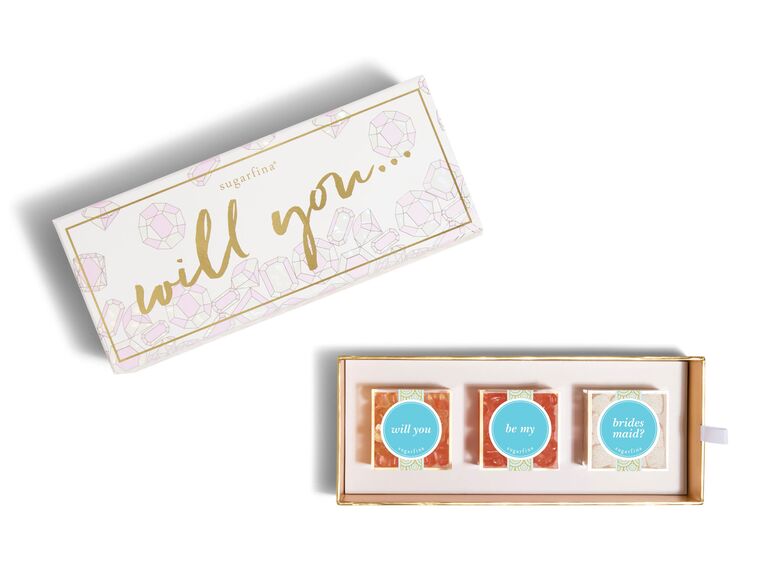 This delightful "be my bridesmaid" candy box comes complete with Champagne Bears, Champagne Bubbles and Rosé Roses.

Sugarfina Be My Bridesmaid 3-piece candy bento box, $28, Nordstrom.com
Bridesmaid Tees
The eye-catching retro design of this bridesmaid T-shirt is perfect to wear to your bachelorette party.
Basic Bride Co retro bridesmaid T-shirt, $30, Etsy.com
Custom Wine Label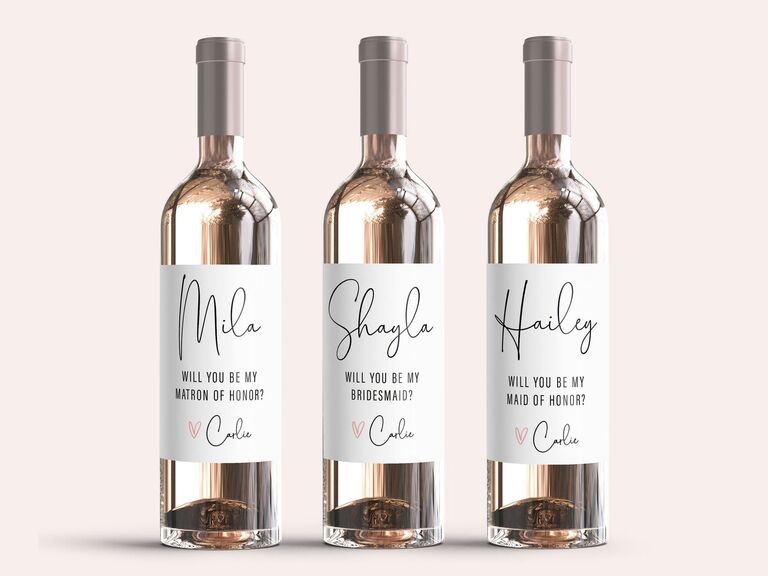 Get your gals their favorite bottles of vino with thoughtful custom labels. These personalized ones ask, "Will you be my [bridesmaid, maid or matron of honor]?" How's that for a cute way to ask your bridesmaids?

Label With Love bridesmaid and maid of honor wine proposal labels, from $4, Etsy.com
Bridesman Bottle Opener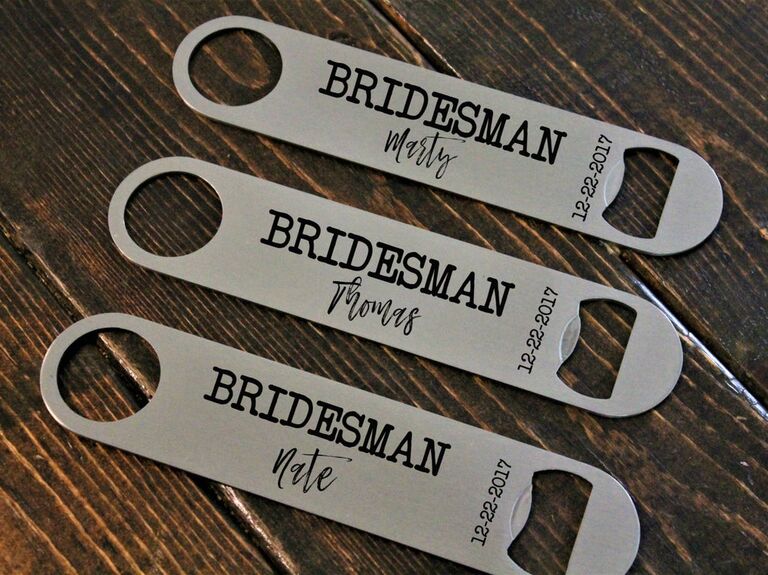 This man of honor or bridesman proposal present is on theme and useful, which means it's an excellent asking gift. Deliver it with a bottle of brew to toast to the happy occassion.

The Beez Kneez Designs bridesman bottle opener gift, $20, Etsy.com
Celebrity Shout-Out

Not sure how to ask them? Have their favorite celebrity do it for you! This service lets you book personalized shout-outs from famous musicians, reality TV stars, professional athletes and more. It's the latest wedding party proposal trend, and it's an unforgettable asking gift.
Cameo shout-out, prices vary, Cameo.com
Bridesmaid Bath Bomb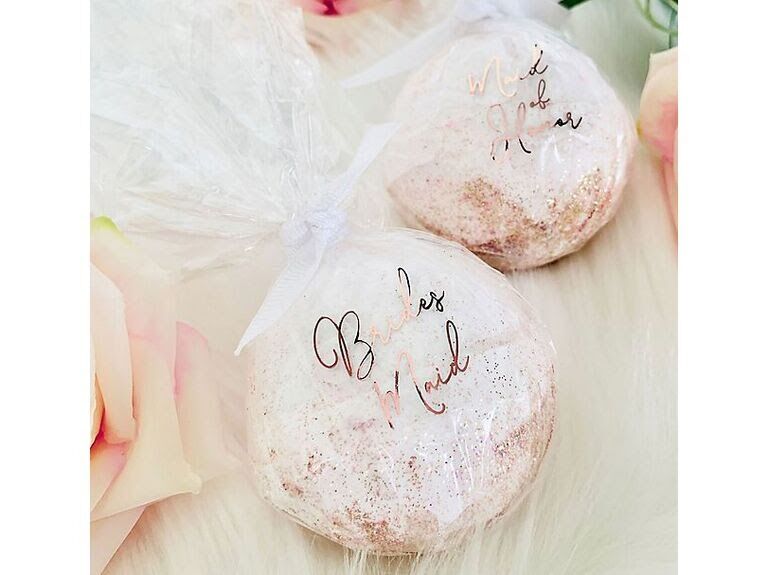 Nothing says "let's celebrate" like glitter! These sparkly, scented bath bombs are packaged with the words, "Will you be my…" plus the title of bridesmaid or maid of honor.
David's Bridal bridal party proposal glitter bath bomb, $15, DavidsBridal.com
Custom Gift Box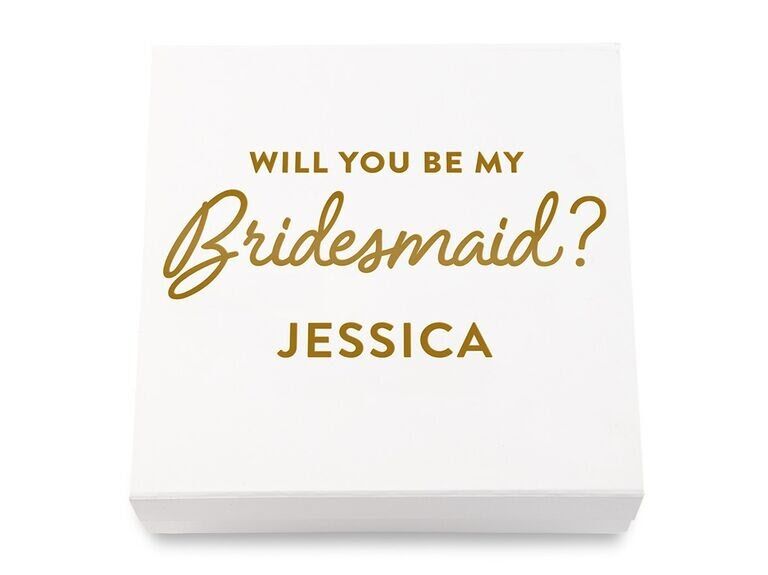 Any gift to your favorite women becomes the perfect bridesmaid proposal idea when tucked inside boxes that say "Will you be my bridesmaid?" and their names in gold.

The Knot Shop premium Will You Be My Bridesmaid gift box in Metallic Gold, $20, TheKnotShop.com
Personalized Shot Glass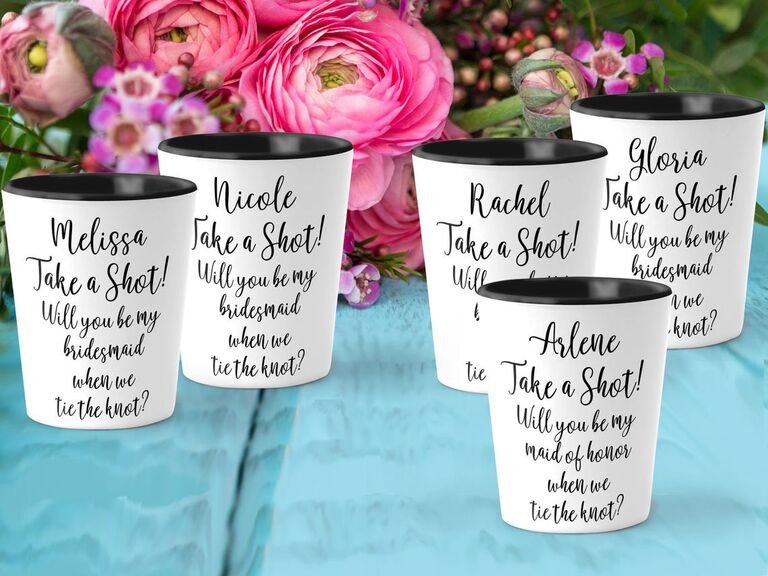 Because your bachelorette party wouldn't be the same without your girls, get each of them one of these shot glasses.
Desi Makes Company Take a Shot bridesmaid proposal shot glass, $10, Etsy.com
Custom Invitation Card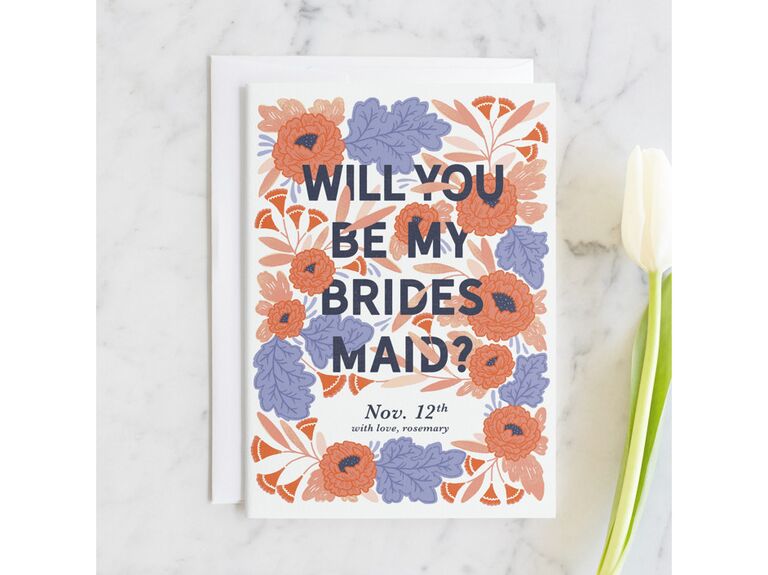 This floral bridesmaid invitation is not only super cute, but it's also available in six different color schemes, and the text is customizable.
Paper Raven Co. Midnight Garden bridesmaid cards, from $2 each, Minted.com
Bridesmaid Hanger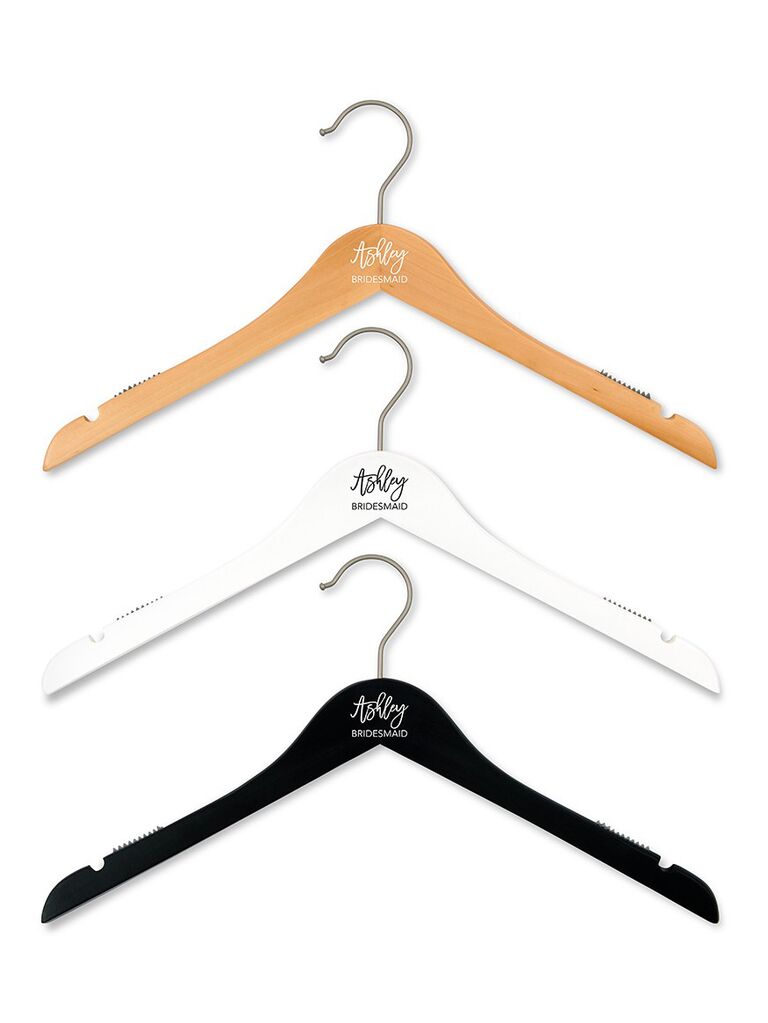 Get them sweet dress hangers they'll cherish forever, even after they put away their bridesmaid gowns.
The Knot Shop personalized wooden wedding clothes hanger, $12, TheKnotShop.com
Bridesmaid Tote Bag
If you're having a destination wedding, what better bridesmaid asking gift is there than a tote bag they can take along on the trip? This one can be personalized with each bridesmaid's name and has a modern floral design.
The Knot Shop custom personalized white cotton canvas fabric tote bag in Modern Floral, from $10, TheKnotShop.com
Mini Succulent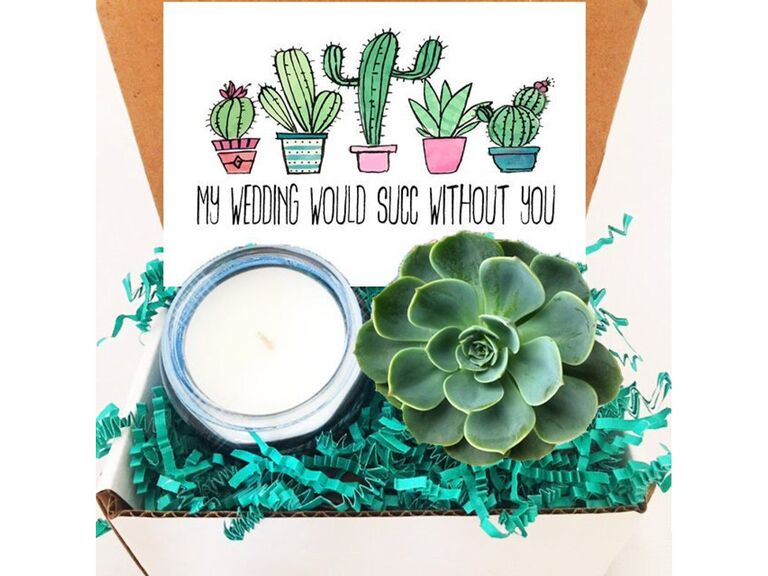 This genius bridesmaid proposal gift includes a real succulent, a funny card that says, "my wedding would succ without you" and a bonus scented candle. You can even add on additional items if you so choose. The best thing about bridesmaid proposal boxes? You can have them delivered right to their door.
Joshua Tree Rock and Lotus Will You Be My Bridesmaid live succulent bridesmaid proposal, from $30, Etsy.com
Personalized Locket

These distinctive envelope lockets can be customized with secret "Will you be my bridesmaid?" notes for a unique bridesmaid proposal. The seller engraves your message on a tiny insert made from paper, wood, brass or cork leather—so cool!

Lisa Angel Ltd personalized envelope locket necklace with hidden charm, $43, Etsy.com
Printed Macarons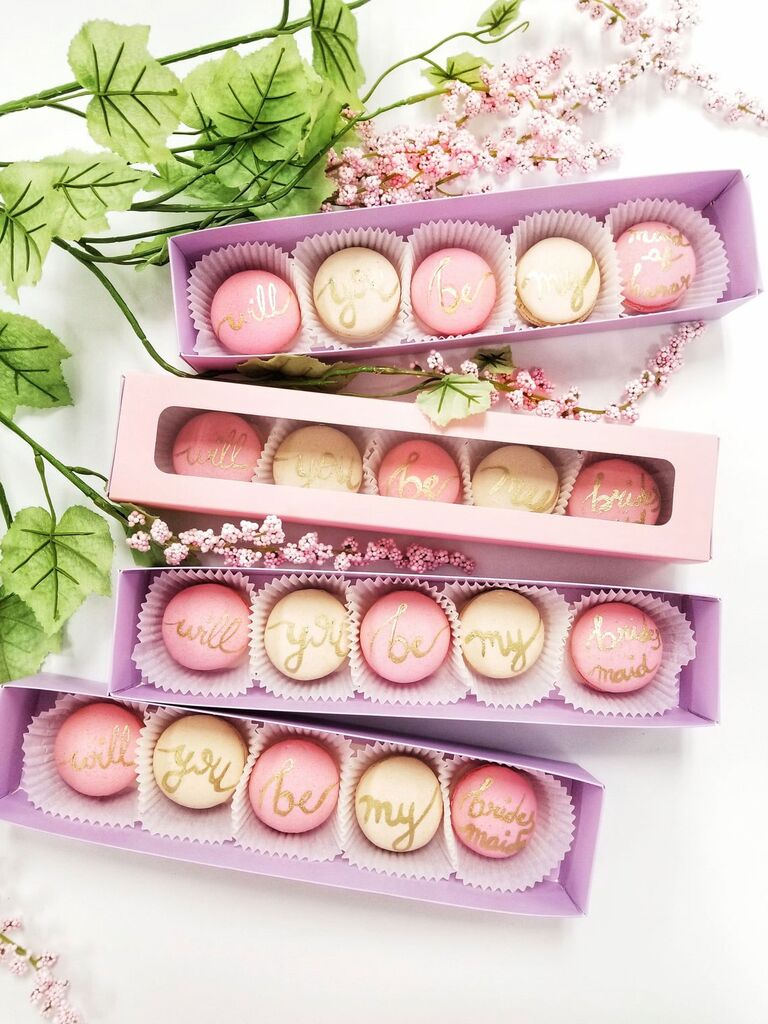 Your foodie friends will love these celebratory macarons, which come in a cute gift box.
Leila Love Macarons Will You Be My Bridesmaid macarons, $25 for box of 5, Etsy.com
Satin Robe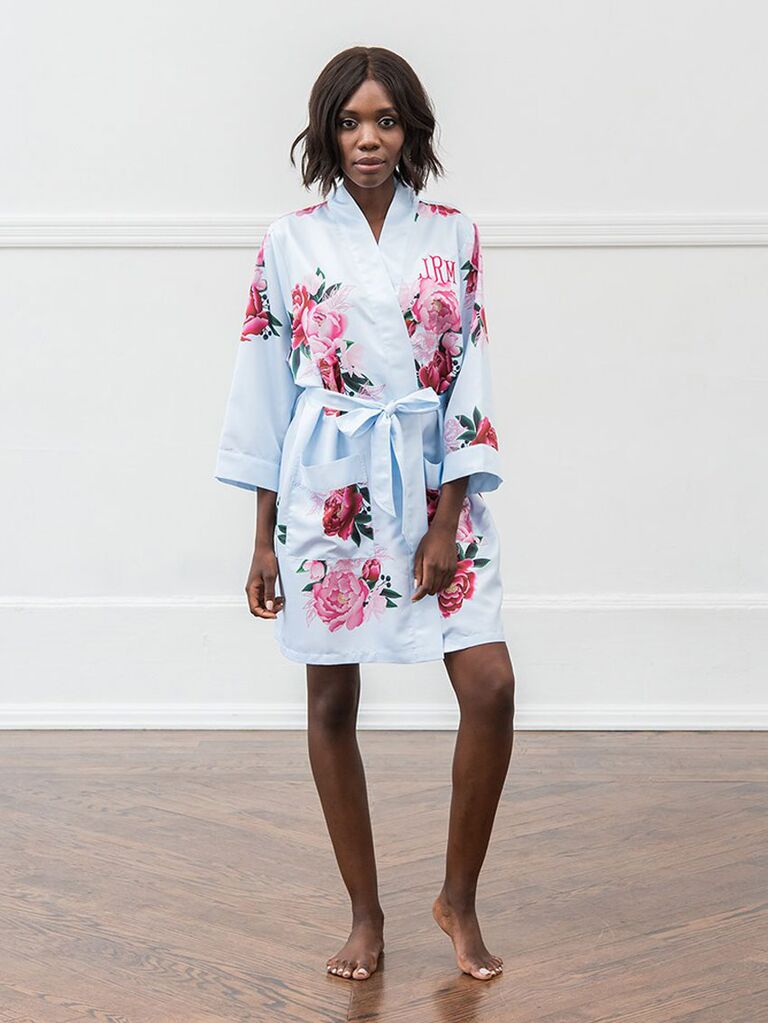 Comfy and stylish robes are excellent bridesmaid asking gifts. Your best gals will feel pampered wearing them when they're getting ready for your wedding and beyond.
The Knot Shop personalized embroidered floral satin robe in Light Blue and Red Blissful Blooms, from $22, TheKnotShop.com
Creatively Packaged Nail Polish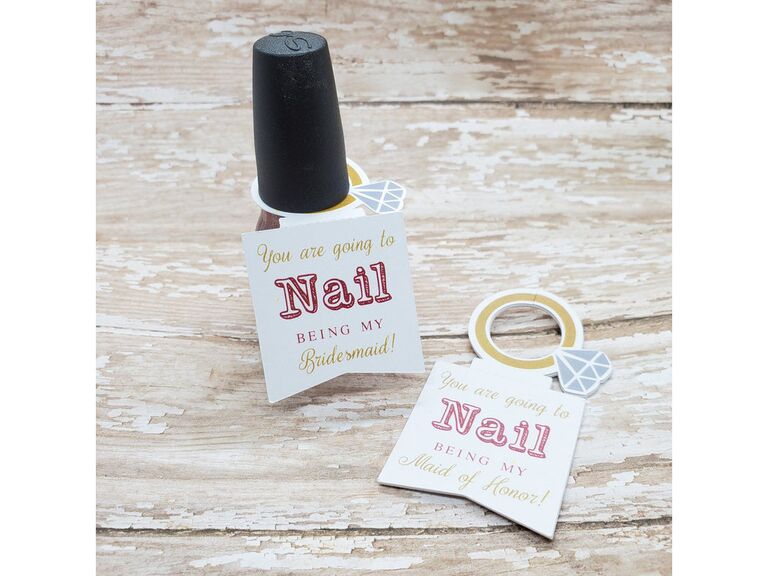 You know they'll nail it as your bridesmaids, so get them polish in their favorite shades accessorized with these cute gift tags. There's also an option for a maid of honor proposal.
BW Paper Studio You Are Going to Nail Being My Bridesmaid/Maid of Honor bridal party proposal, from $4 for 12 tags, Etsy.com
Monogrammed Vase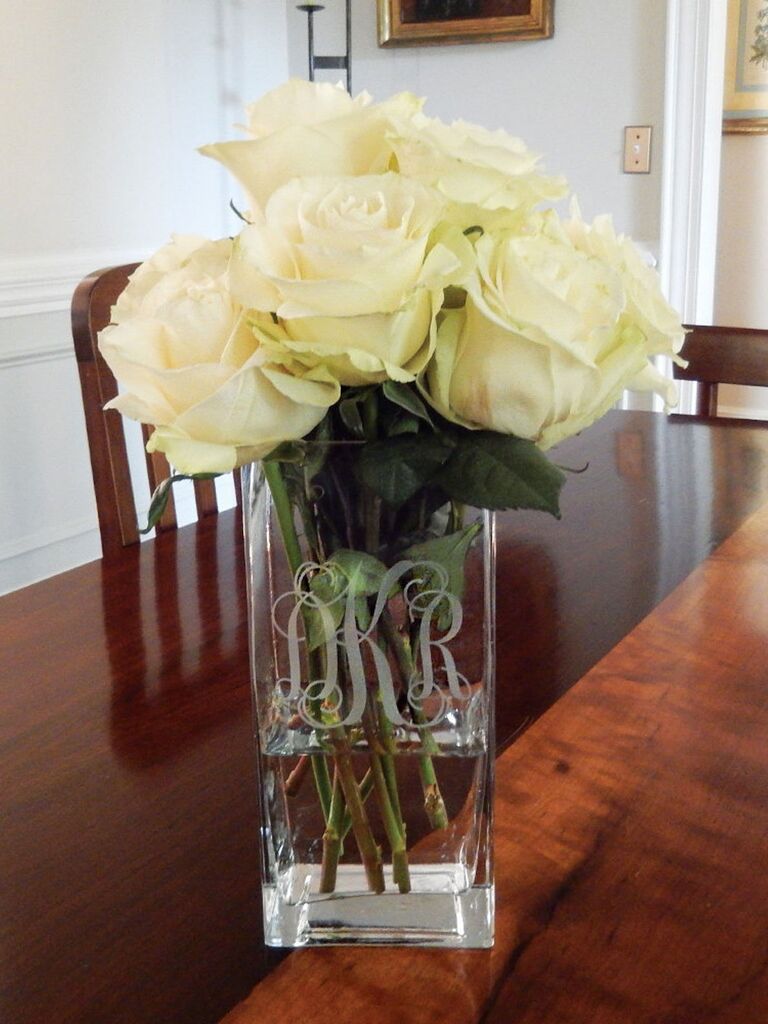 Have a chic square vase monogrammed with each bridesmaid's initials and then fill them with flowers for a sweet bridesmaid asking idea.
The Crystal Shoppe personalized square vase, from $14, Etsy.com
DIY Balloon Proposal

Here's a semi-DIY bridesmaid proposal gift your girls will appreciate. Each box contains confetti, a balloon, a ribbon, a "pop me" gift tag and a sweet message asking her to be your bridesmaid. You're also free to write your own note for a super-special touch.
The Grls Room DIY Pop Me bridesmaid proposal balloon gift box, $7, Etsy.com
Bridesmaid Invitation Card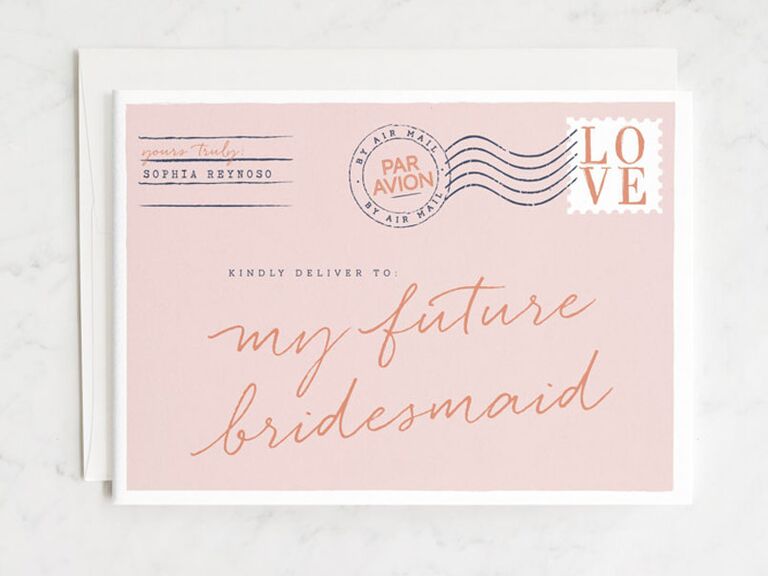 We love things that are a bit unexpected, and this charming postcard-style bridesmaid proposal card is no exception.
Jennifer Lew Par Avion bridesmaid proposal cards, from $2 each, Minted.com
Celebratory Scents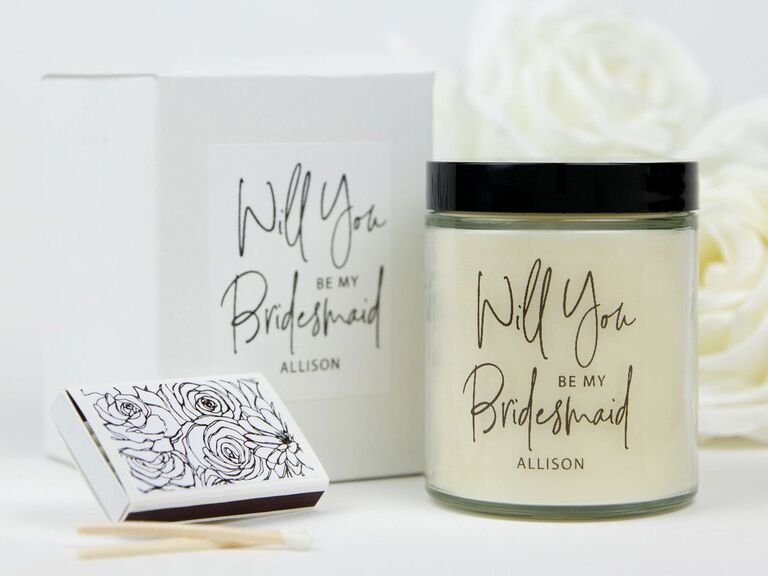 A personalized bridesmaid proposal candle is something she can show off in her home as a reminder of your friendship. There are loads of scents to choose from but we're most excited about the Roses and Rosé option.
ThreeTwoOne Will You Be My Bridesmaid personalized hand poured soy candle, from $17, Etsy.com
Bridesmaid Hair Ties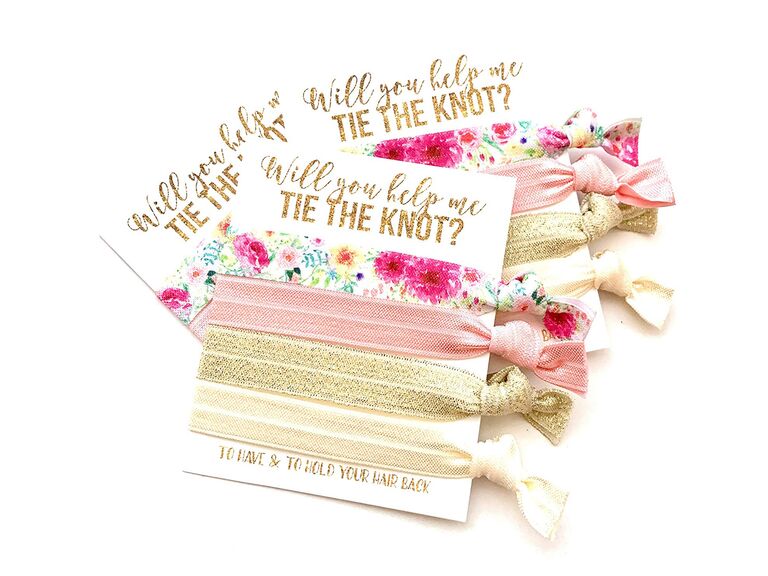 Here's a bridesmaid proposal idea for all the pun-loving friends out there: "Will you help me tie the knot?" hair ties.
Elastic Hair Bandz bridesmaid proposal hair tie set, $12 for a pack of 3, Amazon.com
Custom M&M'S
You can choose your own text, packaging and more for a creative way to ask you bridesmaids. (As in, you can literally put a picture of your BFF's face on a piece of candy.)
M&M'S design your own M&M'S, from $2 per pack, MyMMs.com
Celebration Box
Every box you buy provides meals to children in need, so you—and your wine-loving bridesmaids—can feel good about this one.

ONEHOPE Celebration set gift box, from $50, ONEHOPEWine.com

Bridesmaid Jacket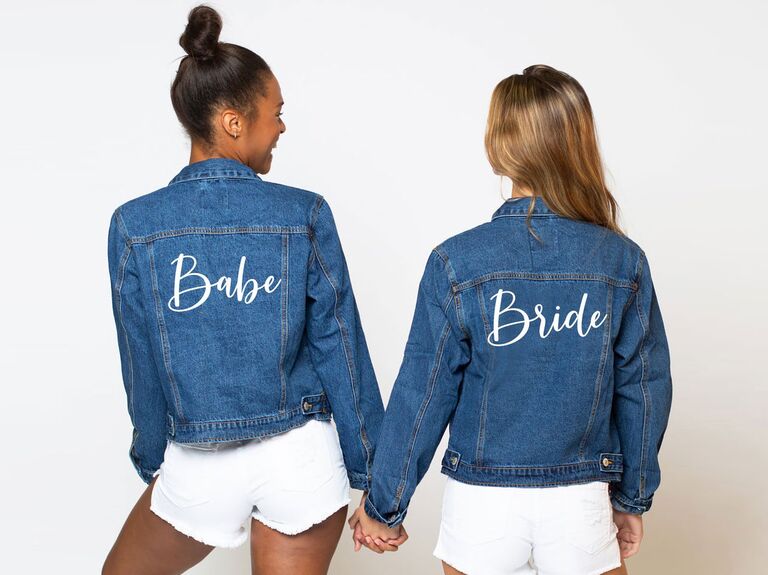 Willing to splurge a little? Give each lady in your squad their own denim jacket to rock at the bridal shower or bachelorette party. And snag one for yourself too!

Rose Gold Rebel customized denim jacket, from $57, Etsy.com
Personalized Stemless Flute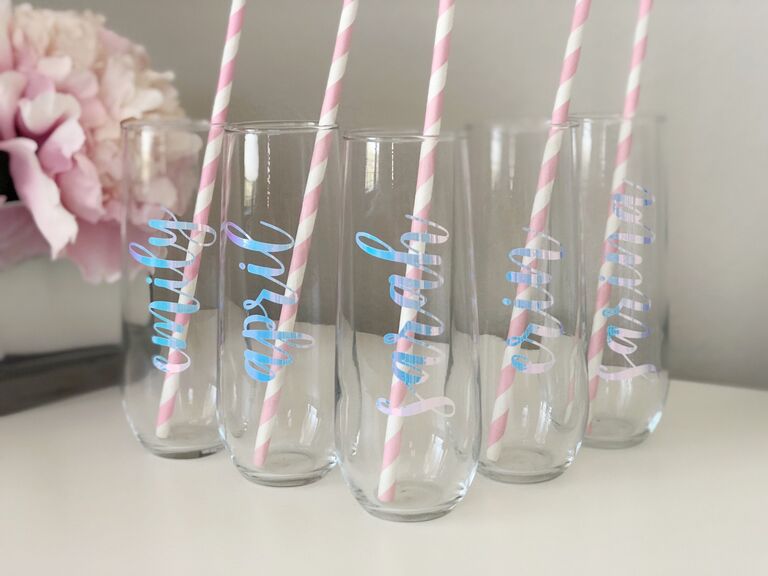 If you're having an official bridesmaid proposal brunch, bring these personalized flutes along and say cheers with mimosas. Bonus: The bridesmaid proposal gifts are something they can definitely use again.
Happily Chic Designs iridescent champagne flutes bridesmaid proposal gift, $10 each, Etsy.com
Bridesmaid Invitation Tag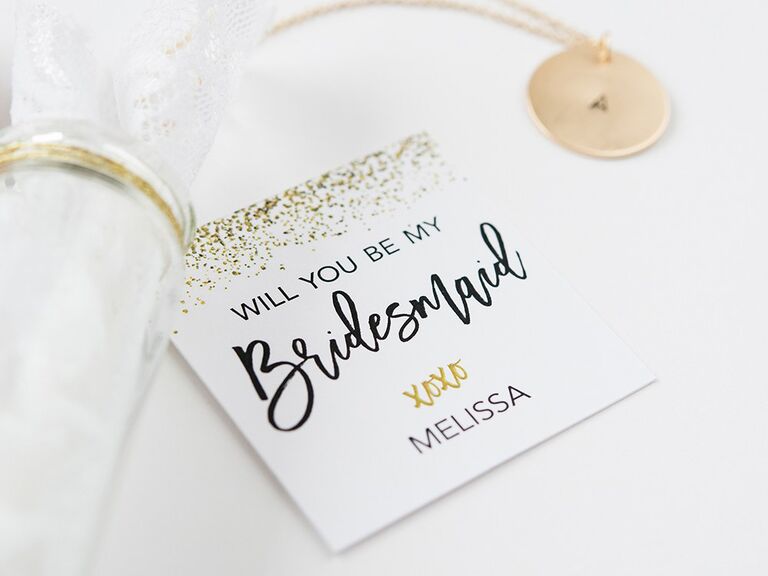 This bridesmaid invitation tag will make any bridesmaid proposal gift even more special.
The Knot Shop sparkle square tag, $1, TheKnotShop.com
Pop Culture-Inspired Mug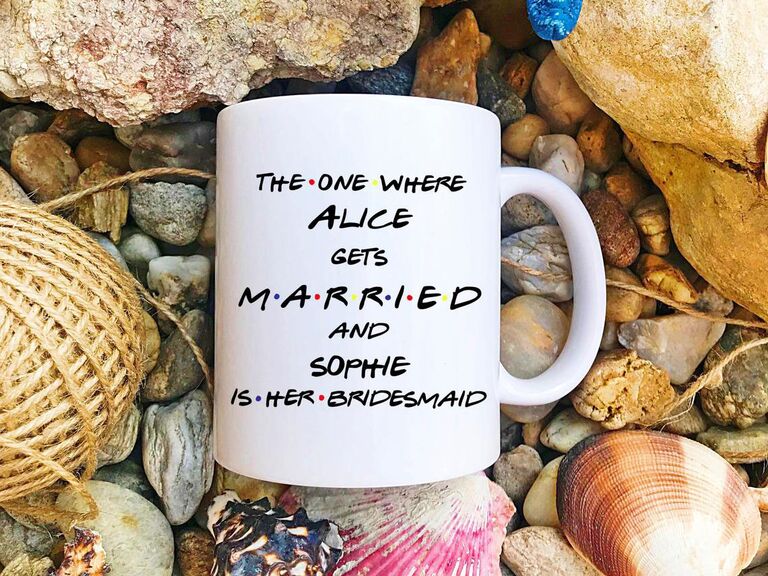 So they'll have a way of keeping caffeinated while they plan your bachelorette party. This genius "the one where" bridesmaid proposal mug is Friends-inspired—how fitting for your friends.
Suchmugs Friends-themed personalized bridesmaid mug, from $24, Etsy.com
Luxe Sleep Mask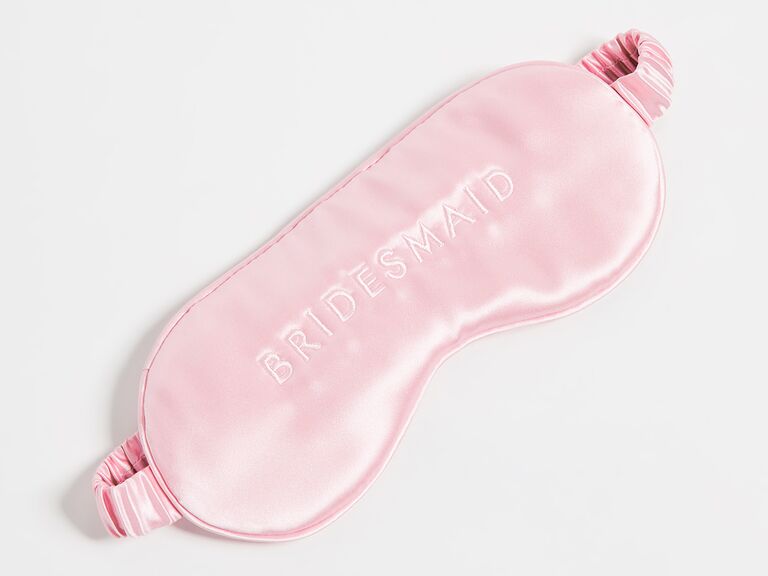 Got future bridesmaids who could use some R&R? Propose to them with silk sleep masks so they can get their beauty sleep in style.
Slip Slipsilk Bridesmaid sleep mask, $50, Shopbop.com
Leatherette Keychain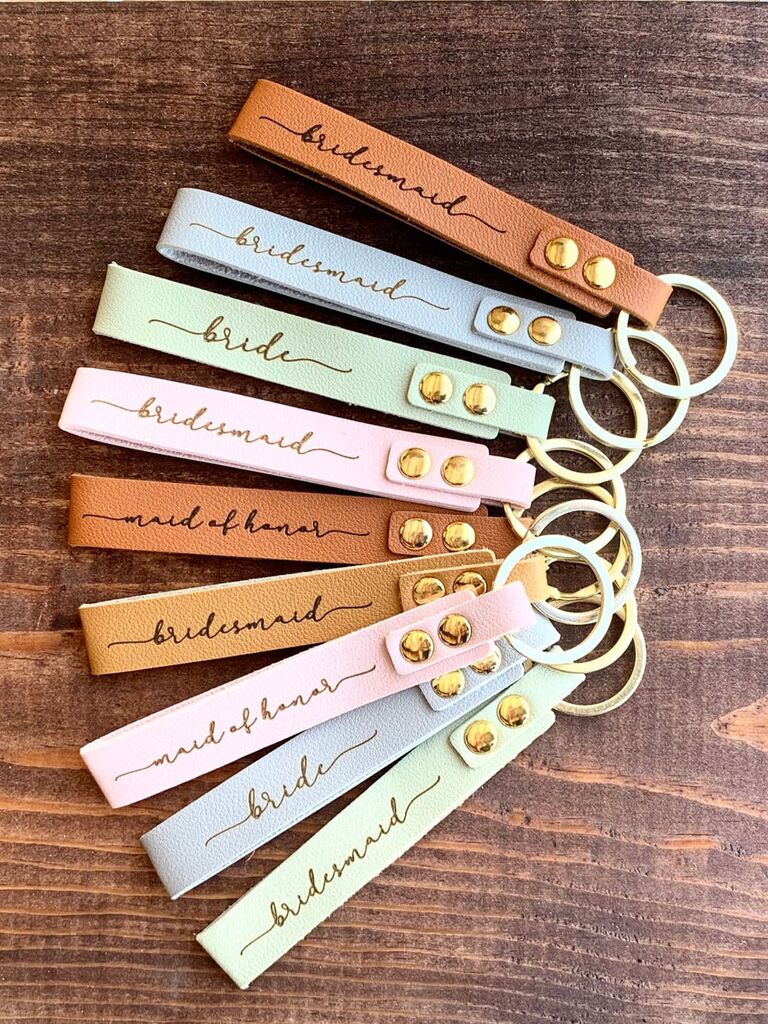 This sleek leatherette keychain is something they can admire every day. It comes in cute pastels or more neutral classic colors, so you can find one that best matches each bridesmaid's sense of style.
Plum House Gallery leatherette bridesmaid keychain, from $3, Etsy.com
Bridesmaid Invitation Bracelet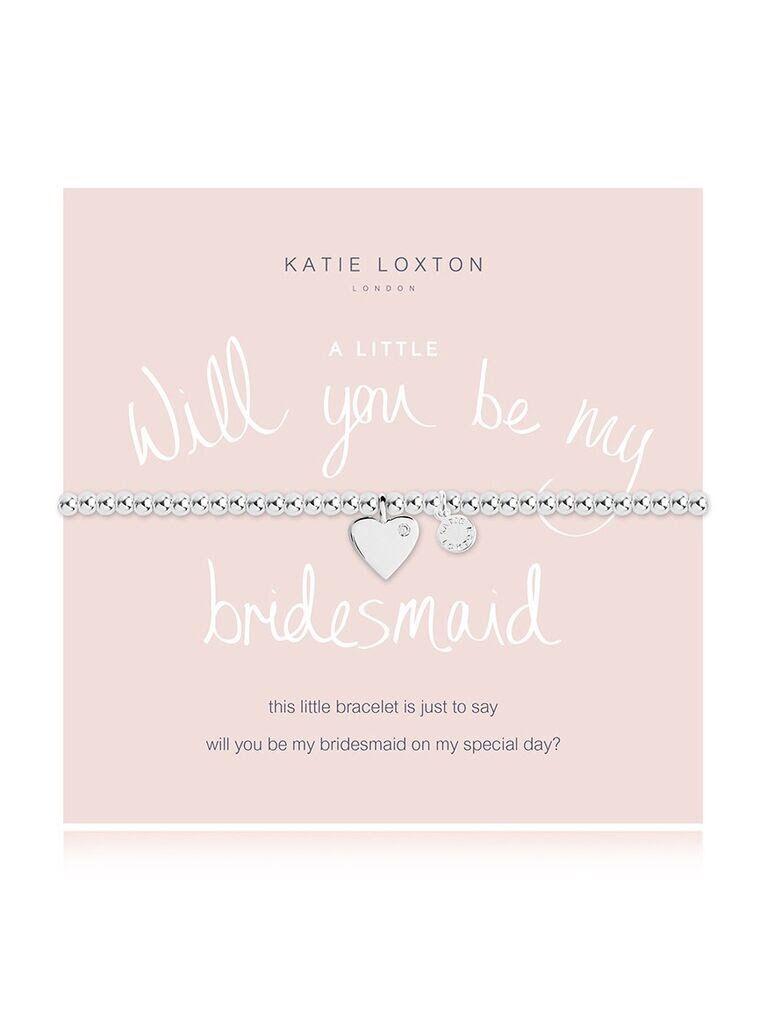 Asking bridesmaids to stand by your side on your wedding day doesn't get much easier than this. The pretty silver bridesmaid proposal bauble comes wrapped around a card that says, "This little bracelet is just to say will you be my bridesmaid on my special day?"

Katie Loxton London Will You Be My Bridesmaid silver bracelet with heart charm, $20, TheKnotShop.com
Custom Tumbler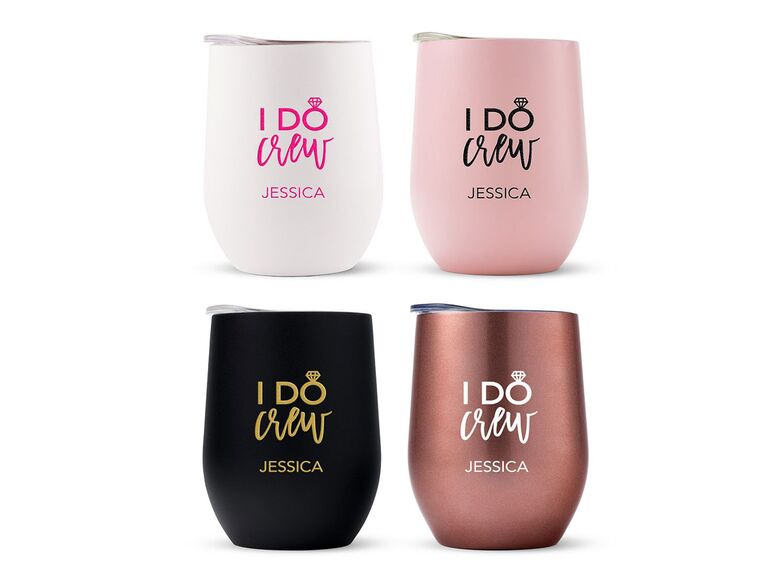 This travel tumbler comes printed with their name and the words, "I Do Crew." What better way to welcome them to your bridal party?
The Knot Shop personalized stemless travel tumbler in I Do Crew printing, $18, TheKnotShop.com
Box of Chocolates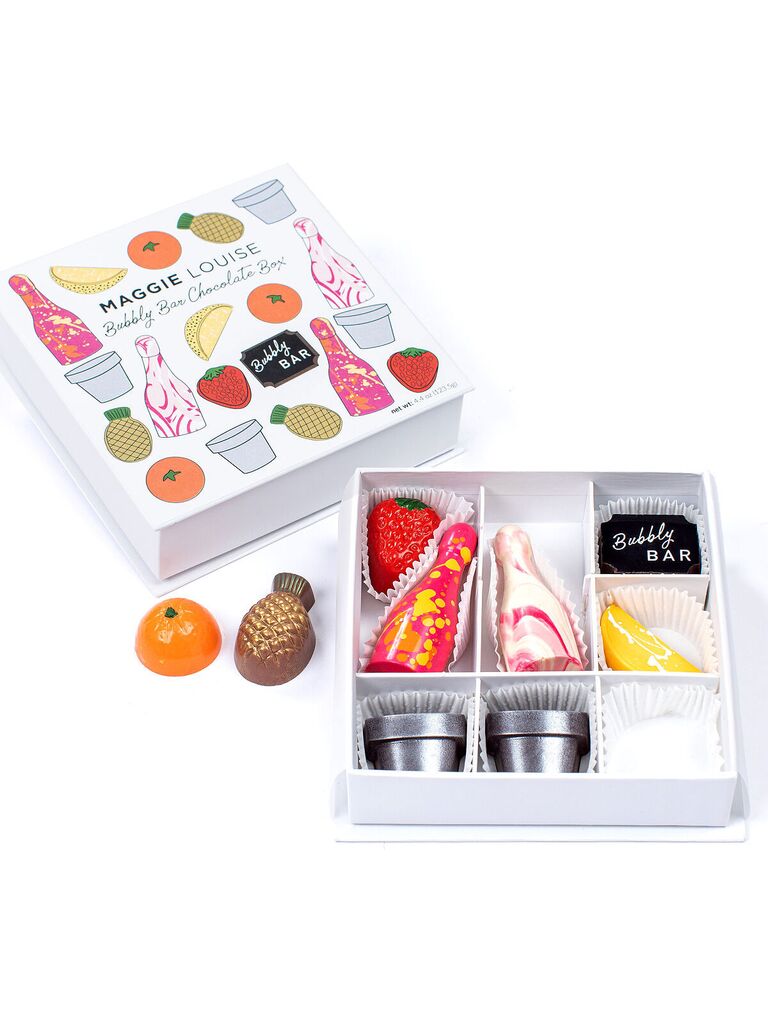 What's a sweeter gift to ask bridesmaids than chocolate and champagne? Bubbly-inspired chocolate, of course! These cute hand-painted treats are shaped like bottles, ice buckets and fruit.
Maggie Louise Callahan Bubbly Bar chocolate box, $48, UncommonGoods.com
Cute Picture Frame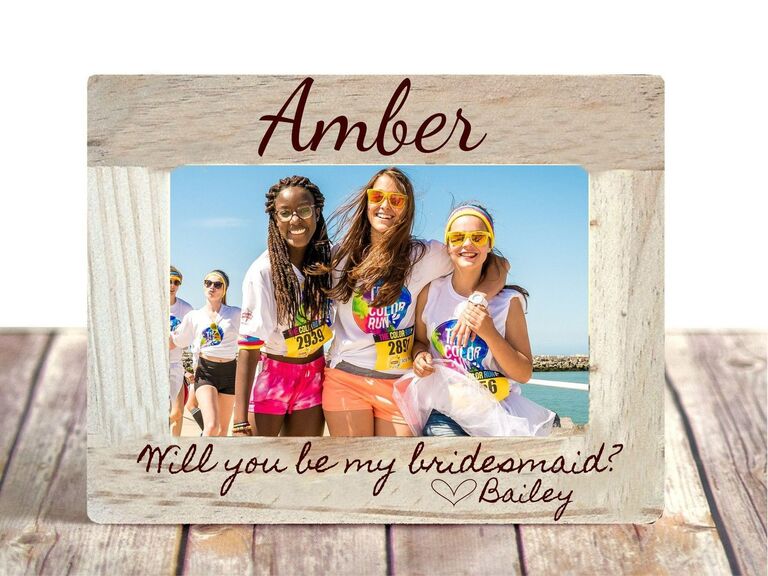 Browse your tagged Instagram photos or Facebook friendship pages to find the cutest photos of you and your bridesmaids that they'll cherish forever. Then, gift them using these "Will you be my bridesmaid?" picture frames.
Custom Wood Wonders Will You Be My Bridesmaid photo frame, $20, Etsy.com
Silly Bridesmaid Proposal Card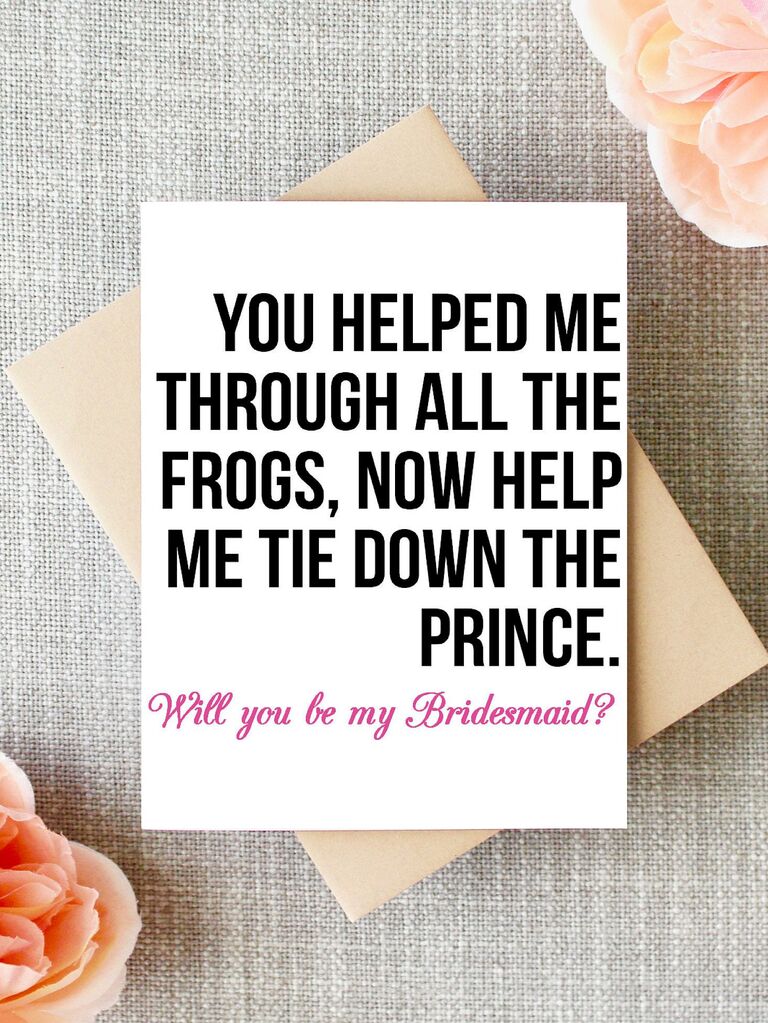 "You helped me through all the frogs, now help me tie down the prince." Truer words have probably never been spoken.
Patterson Paper Will you be my Bridesmaid proposal card, $4, Etsy.com
Let's Do This Card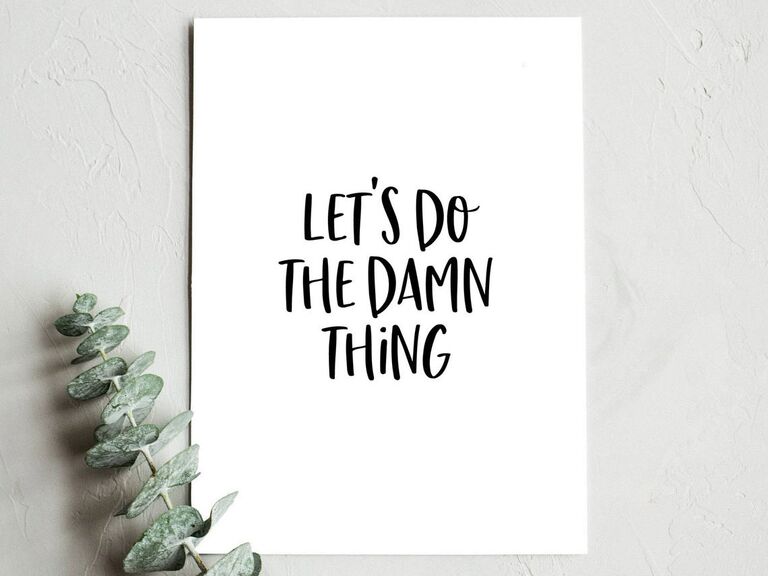 How to ask bridesmaids with a loveable sense of humor? This proposal card is the one.
Shop Gabrielle funny bridesmaid proposal card, from $5, Etsy.com
Lollipops with a Twist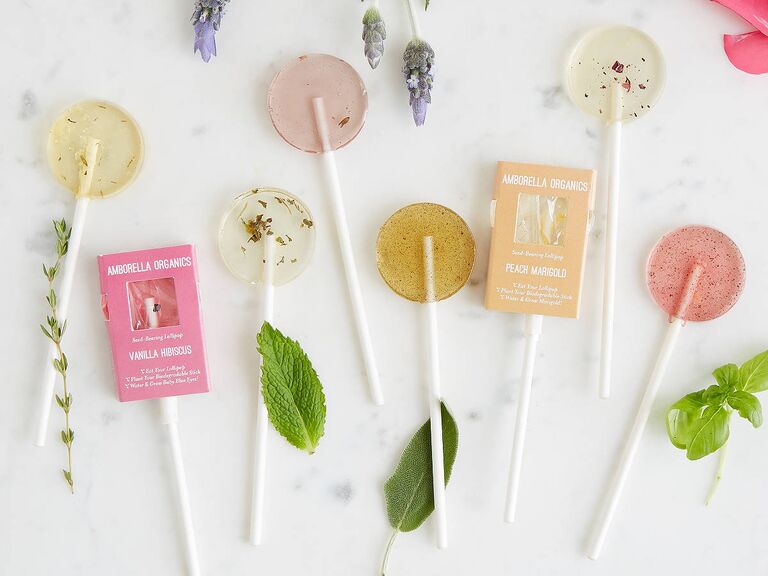 "Pop" the question with these decadent lollies, which come in one-of-a-kind botanical flavors. Wait until your bridesmaids learn that once they eat the candy, they can plant the stick to grow their own flower or herb! Talk about a unique bridesmaid gift.
Brennan Clarke and Taylor Morgan blooming lollipops, $20 for a set of 8, UncommonGoods.com
Creative Bridesmaid Invitation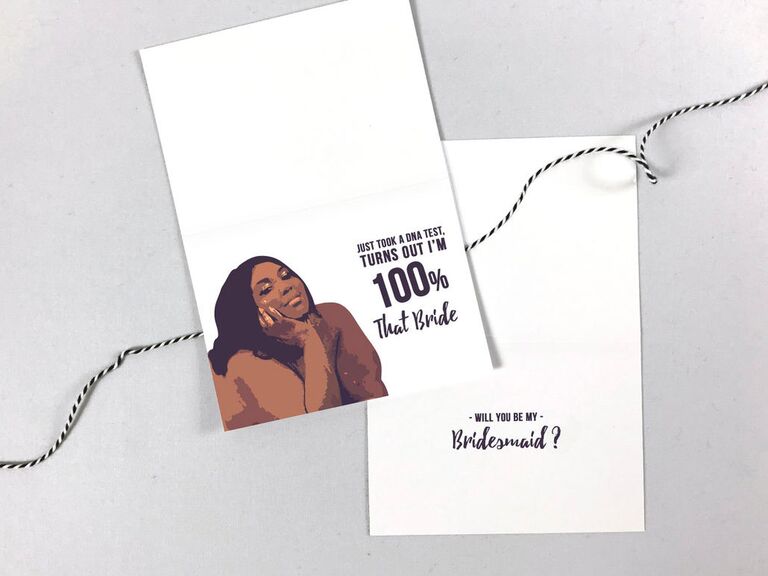 This Lizzo-themed proposal card is a guaranteed funny way to go about asking bridesmaids.
Enlove Occasions Lizzo bridesmaid proposal card, $5, Etsy.com
Spa Treatment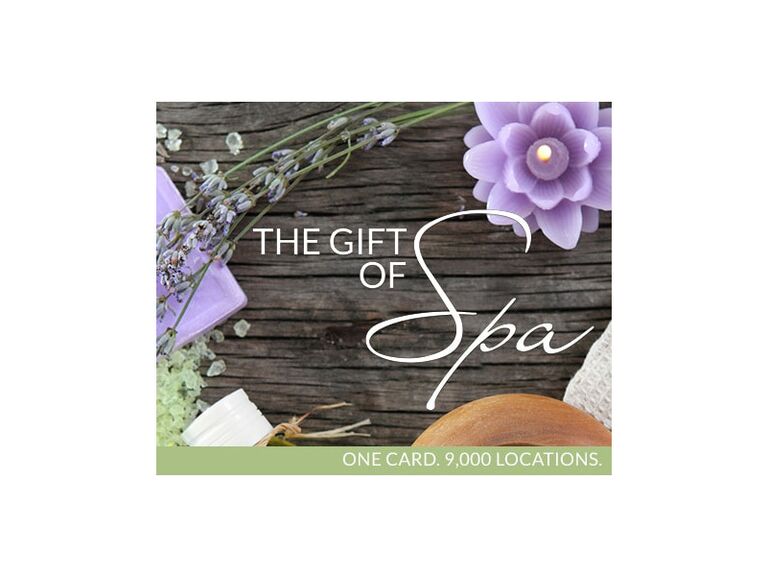 Bridesmaids deserve some pampering ahead of the wedding day—a mani, pedi, facial, massage, etc. Give her a gift card for her choice.

Spa Week gift card, amount of your choice, SpaWeek.com

Choco-Lot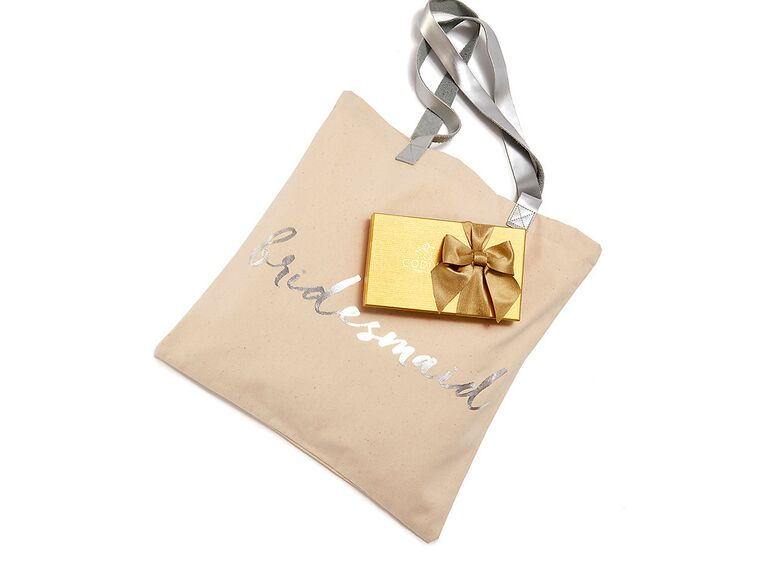 They'll realize it's a bridesmaid proposal when they see the tote bag. The sweet bonus is the decadent Godiva chocolate inside.
Godiva bridesmaid tote bag with assorted chocolate 8-piece box, $50, Godiva.com
Scratch-Off Card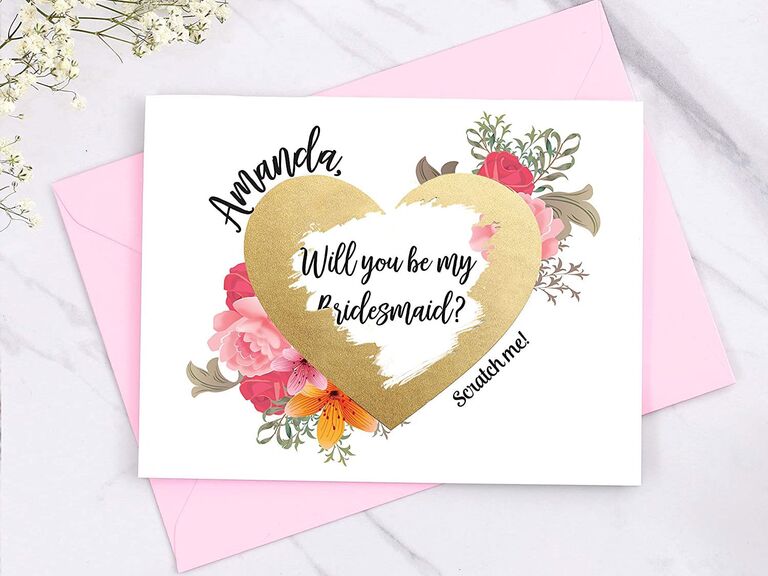 With these clever bridesmaid invitations, friends scratch to reveal their proposal.
XOXO Kristen bridesmaid scratch off cards, $5 each, Amazon.com
Bridesmaid Candle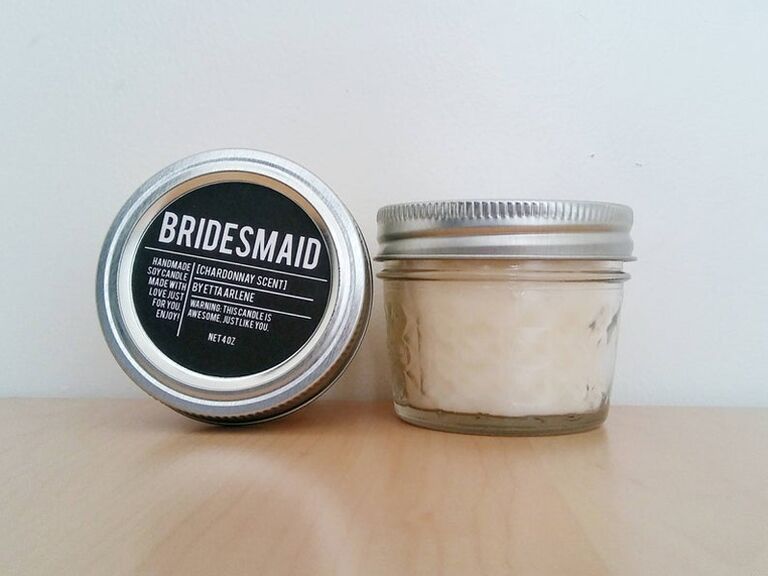 Pay tribute to the other lights of your life with these bridesmaid proposal candles. The small gifts are Chardonnay-scented—how fun. Oh, and there's also an equally awesome bridesman option!
Etta Arlene bridesmaid gift candle, from $12, Etsy.com
Custom Drink Sleeve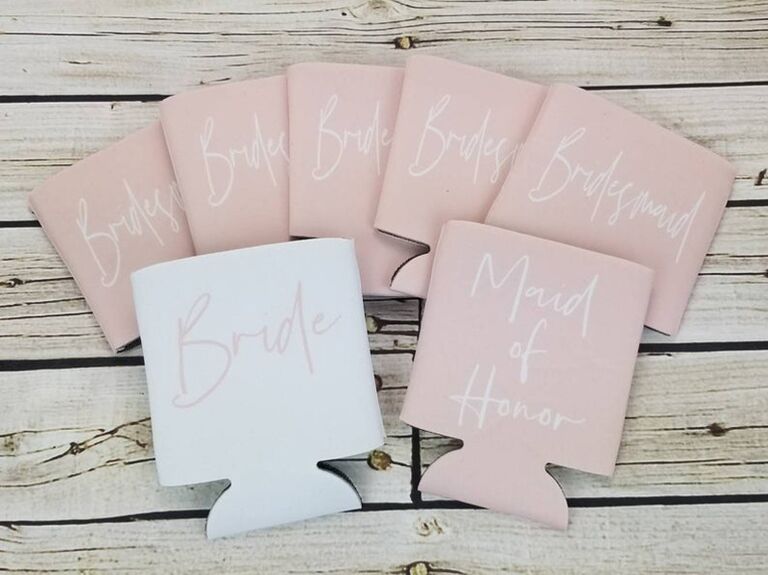 Cold feet? No thanks. Cold drinks? Yes, please. Give each member of your crew matching "bridesmaid" koozies.
iscreaMNlove bridesmaid proposal can coolers, from $5 each, Etsy.com
Bridesmaid Ornament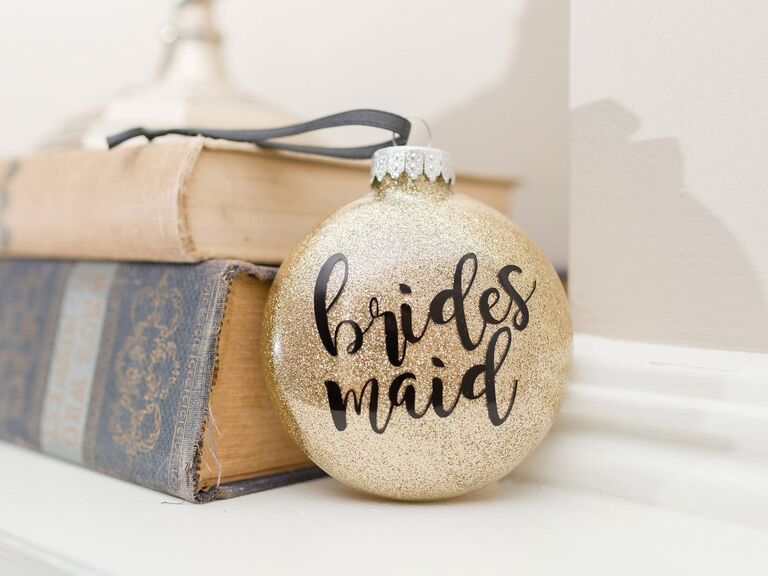 How to ask someone to be your bridesmaid who absolutely adores Christmas? This cute bridesmaid proposal ornament that makes a lovely keepsake. They can hang it on their tree to commemorate this special time in all of your lives.
Shop Pretty in Rose bridesmaid proposal Christmas ornament, from $12, Etsy.com