40 Cute Bridesmaid Proposal Gift Ideas to Ask "Will You Be My Bridesmaid?"
Let's get this bridal party started.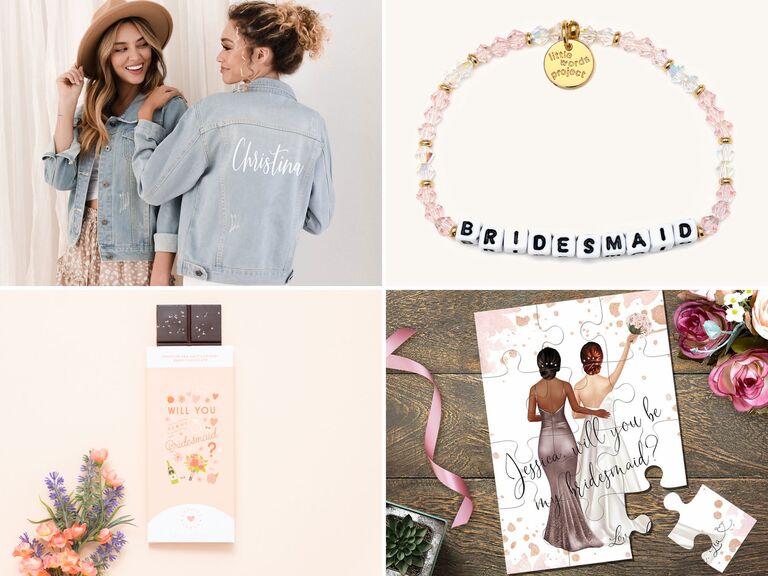 We have included third party products to help you navigate and enjoy life's biggest moments. Purchases made through links on this page may earn us a commission.
You've officially selected your bride squad—woohoo! Now all that's left to do is actually ask your besties to stand by your side on the big day. If you're the type of bride who loves a grand gesture, consider planning a full-blown bridesmaid proposal for your crew, complete with gifts, cards and plenty of bubbly. More of a chill bride-to-be? Bridesmaid proposal gifts can be sweet and simple too. We've found all kinds of presents that'll make asking your bridesmaids an experience to remember. These creative proposal gifts for your wedding party will let them know just how much you appreciate everything they've done for you in the past, and the bridesmaid duties they're about to take on. So what are you waiting for? It's time to pop the question.
Edible Cookie Dough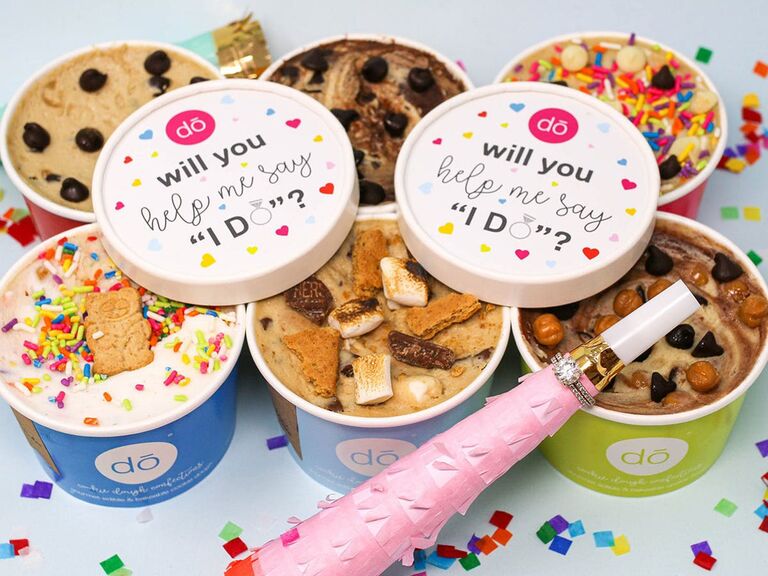 Here's an idea: Invite your crew over for a movie night and serve this delicious cookie dough to snack on. The lid of each tub is printed with the burning question: "Will you help me say I do?" Inside, they can dig into delicious cookie dough flavors like cake batter, s'mores and brookie dough. There are also vegan and gluten-free options to accommodate dietary restrictions.
Bridesmaid Proposal Puzzles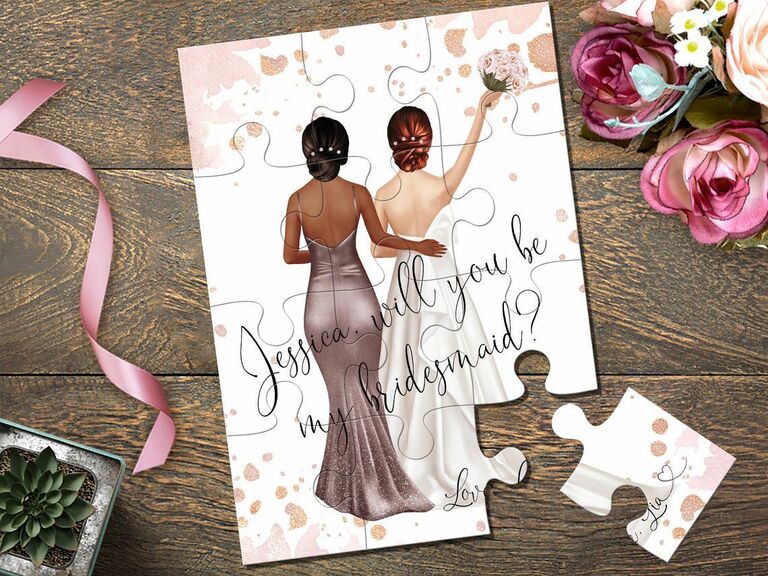 Want a bridesmaid proposal idea that keeps them guessing? Send a puzzle they'll have to put together to figure out the message. When pieced together, this adorable option displays a custom picture of you and each gal, plus a personalized "will you be my bridesmaid?" message. (FYI: There are other designs, like this man of honor proposal puzzle, for everyone else in your party).
Team Bride Sweatshirts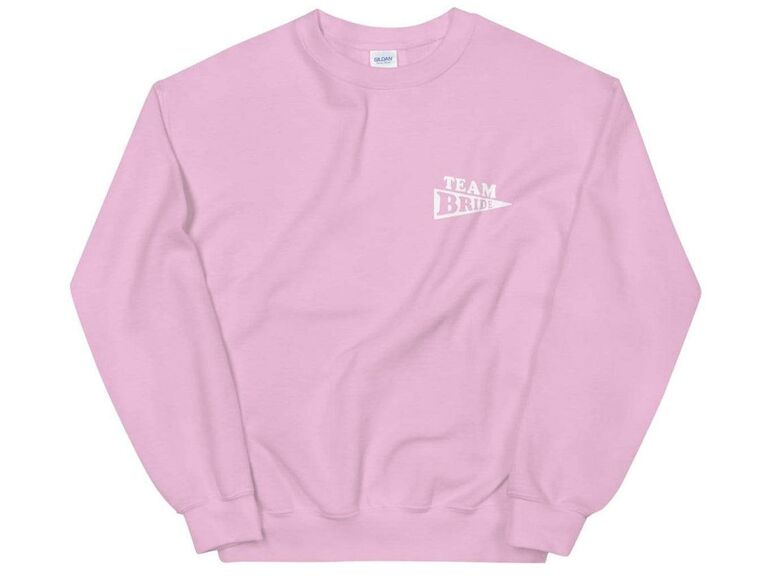 The retro design of this Team Bride sweatshirt is such a cute way to ask your bridesmaids the question. It's also pretty darn perfect for them to wear while helping you run wedding errands, lounging around the house or chilling at your bachelorette party.
On-Theme Candy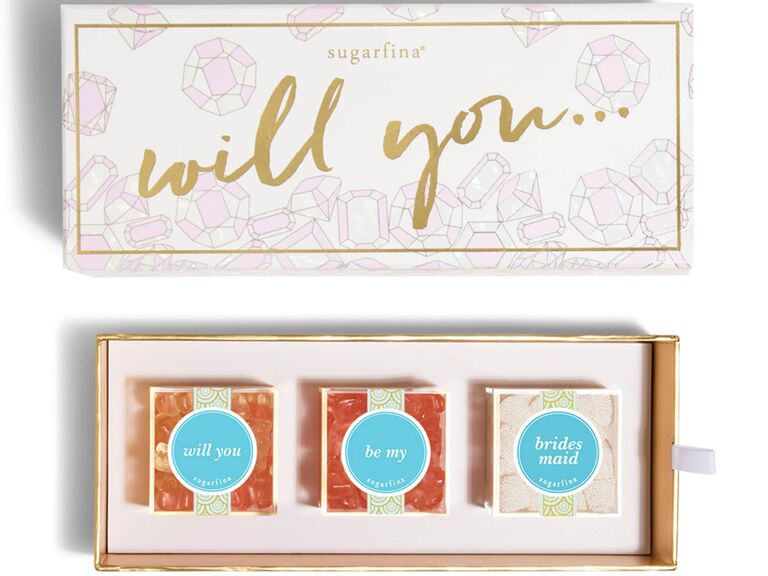 This delightful "will you be my bridesmaid?" candy gift set comes complete with champagne gummy bears, champagne bubbles and rosé gummy roses. It's a super-sweet way to ask your crew to join the party.
Bridesman Bottle Openers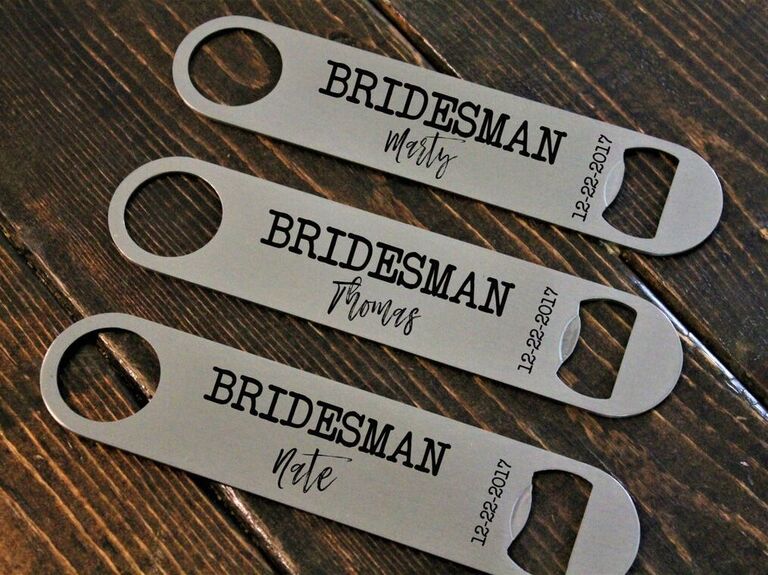 This bridesman proposal present is on theme and useful, which means it's an excellent asking gift. You can have it personalized with his name, wedding title and the date of your wedding day for a lovely personal keepsake. Deliver it with a bottle of his favorite brew to toast to the happy occasion.
Birthday Candles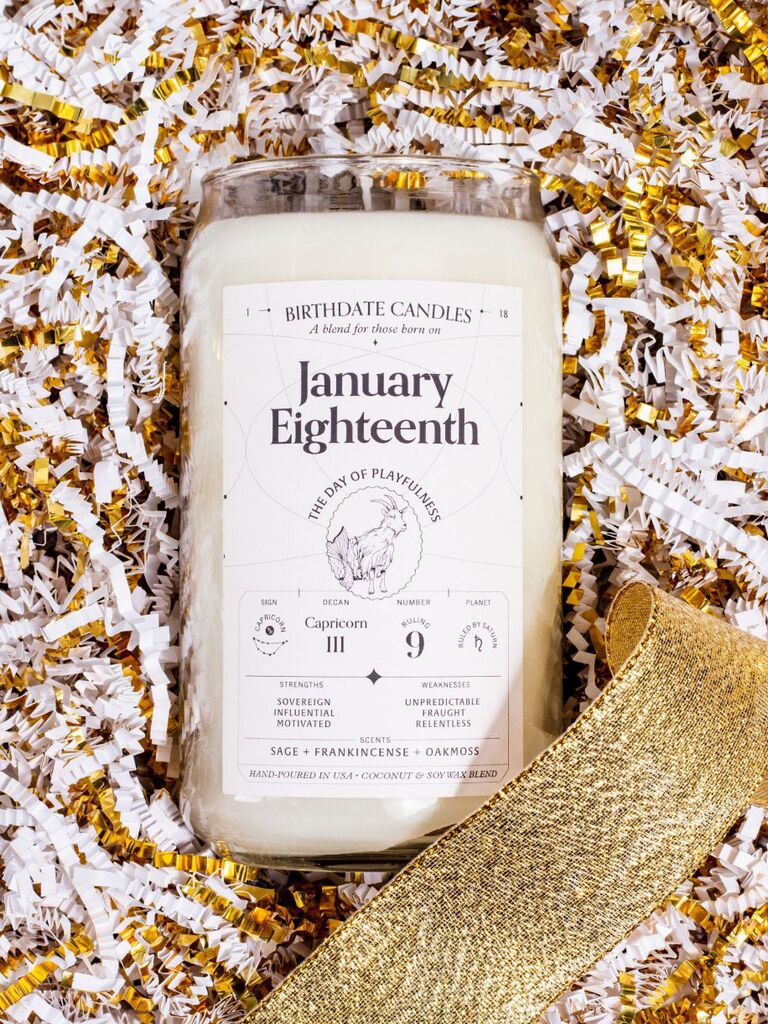 If you're looking for unique ways to ask your bridesmaids, consider the internet's favorite astrology-themed candles. Birthdate Co. has specific candles for every day of the year, meaning you can choose the exact one that reflects each bridesmaid-to-be's birthday. (Psst, use our exclusive code KNOT10 for 10% off the site.)
Glittery Mimosas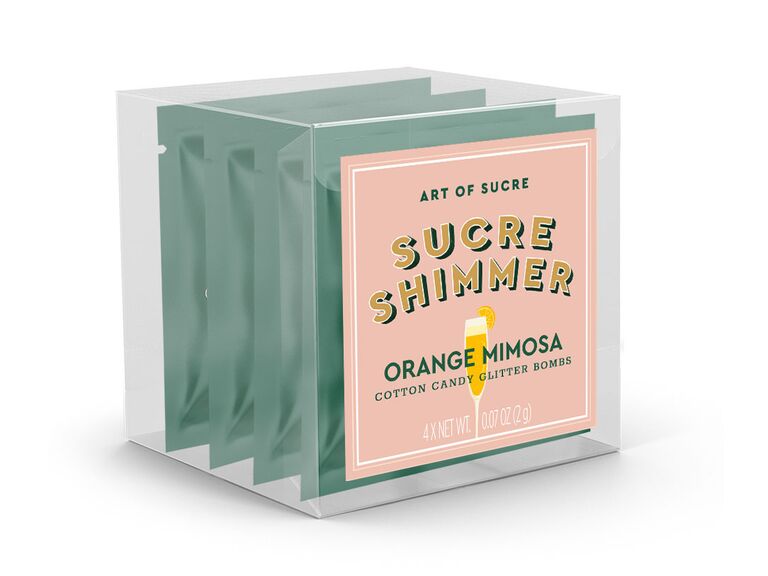 If you're throwing an official bridesmaid proposal brunch, these cotton candy glitter bombs are a must. Your girls will feel ultra glam sipping on sparkly mimosas and toasting the good news.
Celebrity Shout-Outs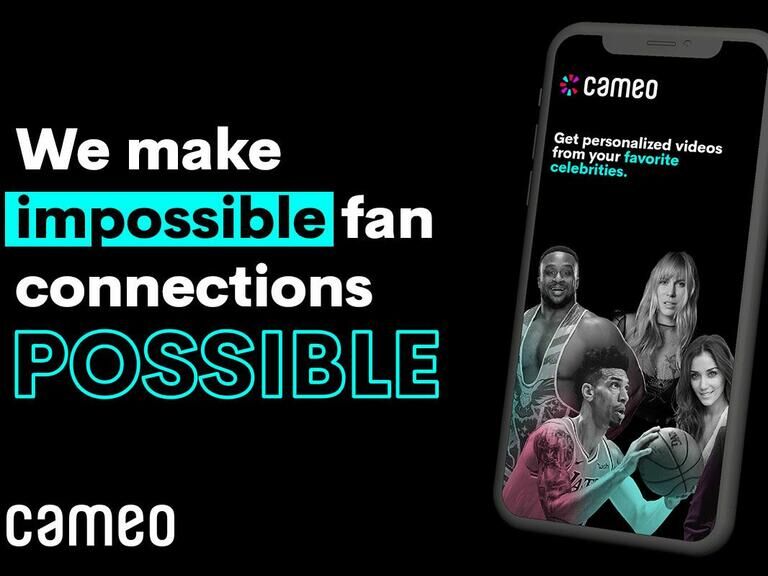 Not sure how to ask your bridesmaids to be in your wedding? Have their favorite celebrity do it for you! This service lets you book personalized shout-outs from famous musicians, reality TV stars, professional athletes and more. It's the latest wedding party proposal trend, and it's an unforgettable asking gift. It's also an excellent option if you're looking for virtual bridesmaid proposal ideas.
Bridesmaid Proposal Chocolate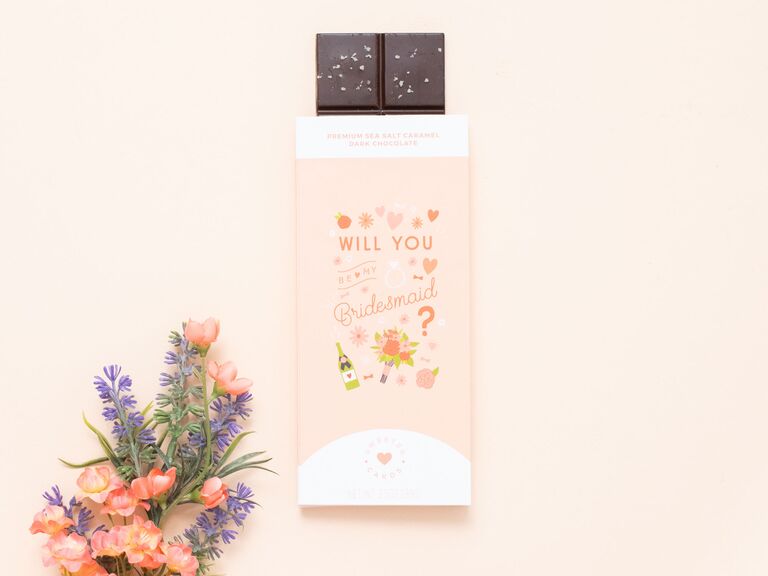 This delightful chocolate bar doubles as a bridesmaid proposal card, with extra space inside to write your own message. They'll enjoy the decadent sea salt-caramel chocolate almost as much as being in your wedding party.
Personalized PJs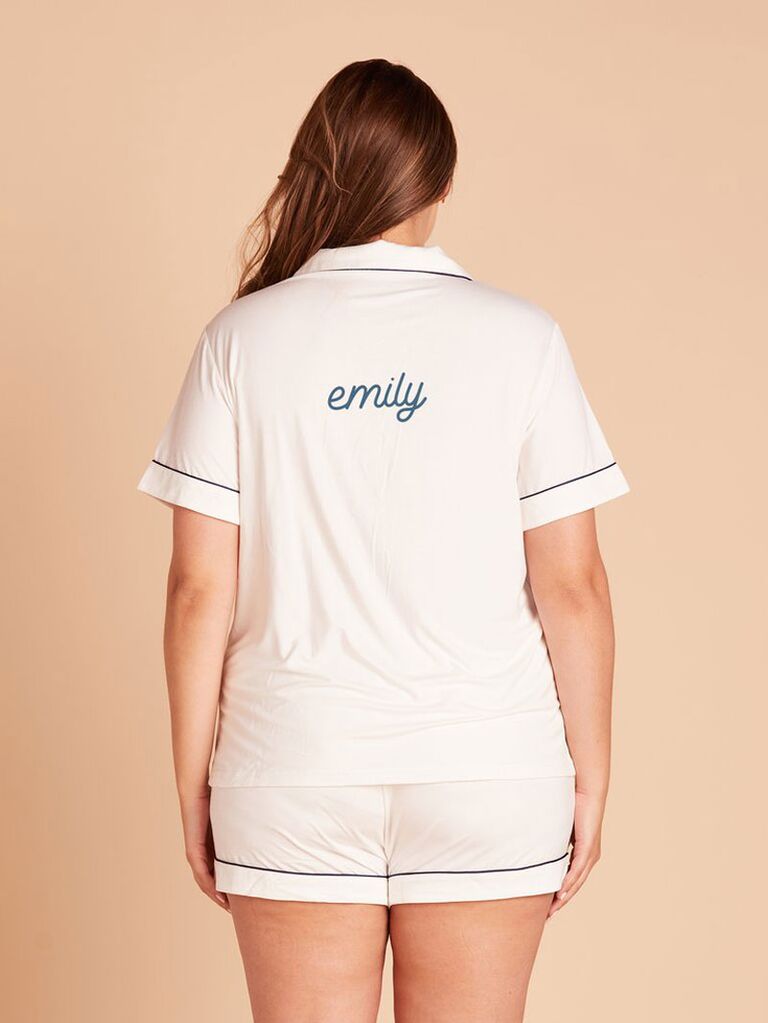 Still not sure how to ask someone to be your bridesmaid? Comfy and stylish pajamas are excellent bridal party asking gifts. Your gals will feel pampered wearing these personalized PJ sets when they're getting ready for your wedding and beyond.
Zodiac Nail Polishes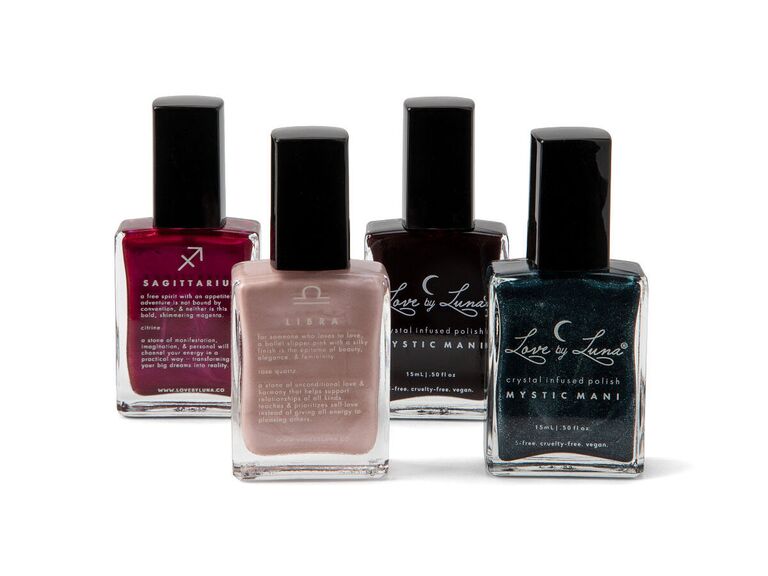 Your celestial-obsessed crew will adore these crystal-infused nail polishes by Katie Huang. There's a special shade for every star sign, which is explained on the back of each bottle. Who knew beauty products could make for such meaningful gifts?
Matching Bucket Hats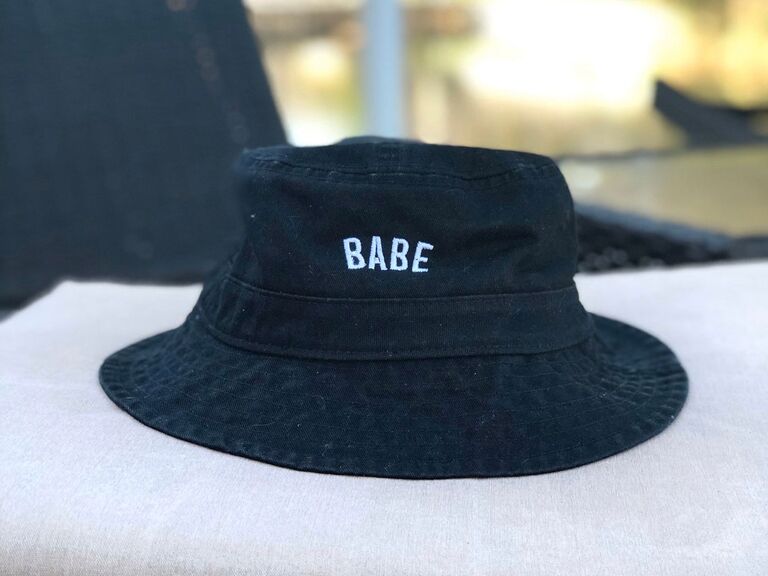 Planning a bridesmaid proposal for your destination wedding? Give your crew something that'll come in clutch under sunny skies, like these on-trend bucket hats embroidered with the word "babe." They're also a great bachelorette party favor, especially if you'll be lounging poolside.
Surprise Deliveries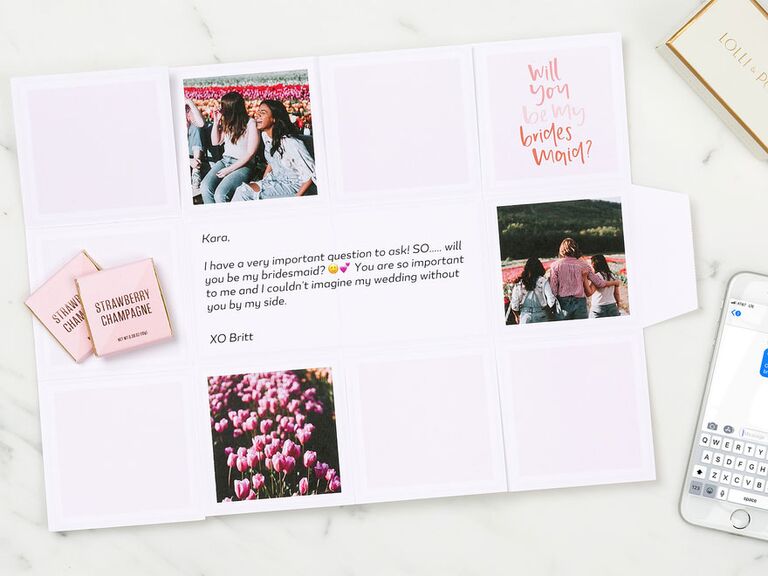 A Greetabl delivery is a clever bridesmaid invitation idea, especially if anyone in your crew lives far away. You can mail this personalized present right to her door, complete with a heartfelt note, pictures of your favorite memories together and a small gift. There are also lots of different design options for the outside of the box, including one specifically for bridesmaid proposals. Send her some good vibes by including quartz stones or a mimosa-scented candle.
Scented Bath Bombs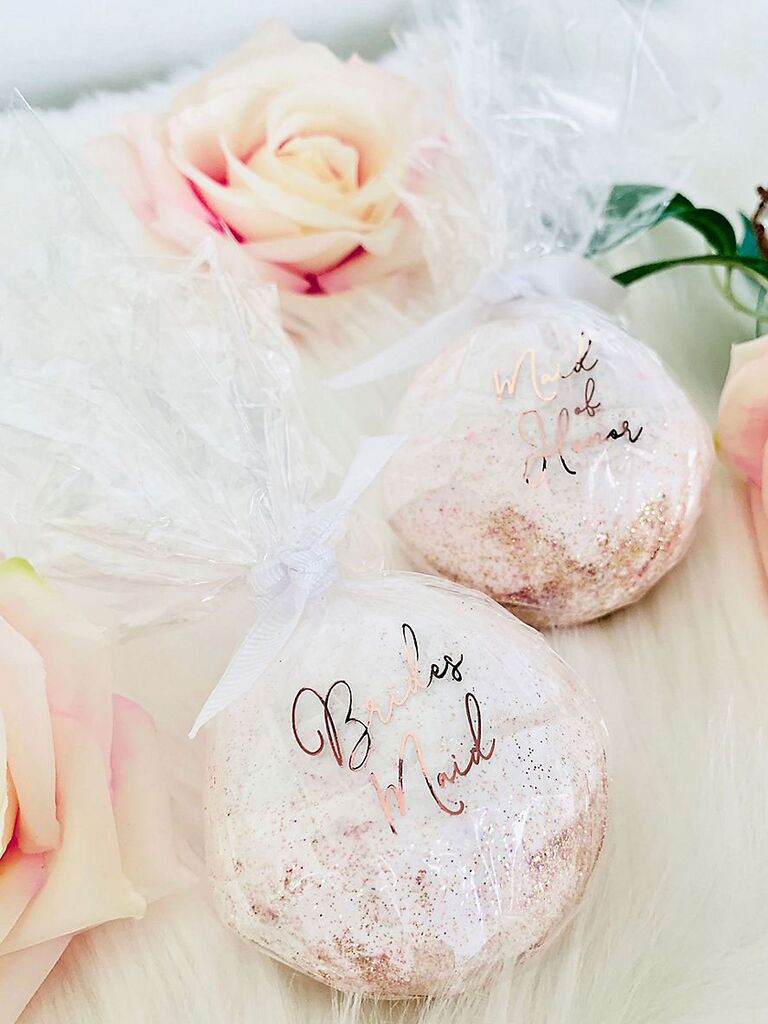 Nothing says "let's celebrate!" like glitter. These sparkly, scented bath bombs are packaged with the words, "will you be my…" plus the title of bridesmaid or maid of honor. Your future bride squad can use them to wind down after a busy bachelorette weekend (or just a long day at work).
Affirmation Decks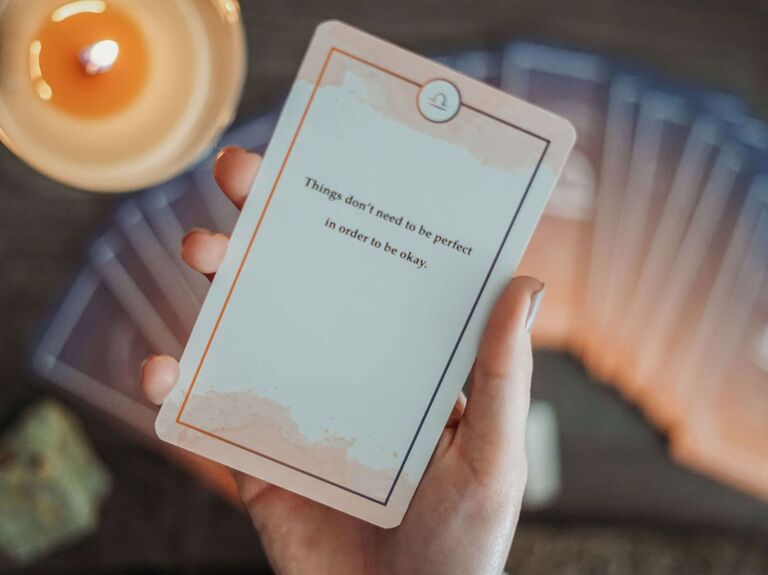 Sometimes the best bridesmaid proposal gift is something that reflects their interests. Send your spiritual sisters a deck of affirmation cards based on their zodiac symbol. Each deck includes 100 cards tailored to their sign.
Bridesmaid Bangles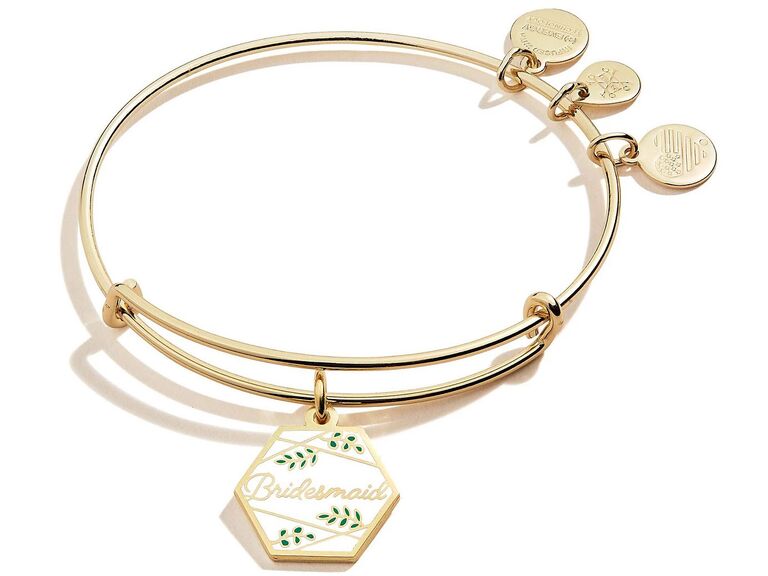 How do you ask your childhood friends to be bridesmaids? With a friendship bracelet, or course! This chic bangle comes in a silver- or gold-tone finish, so you can choose whichever option your bestie prefers. The finishing touch is a pretty "bridesmaid" charm in a geometric greenery design.
Preserved Roses
How's this for a creative bridesmaid proposal idea? Rosepops preserved roses are a fancy gift to give your loved ones for stepping up to the plate. The site even has a special wedding collection that can be printed with "bridesmaid" or "maid of honor."
Bridesmaid Dress Hangers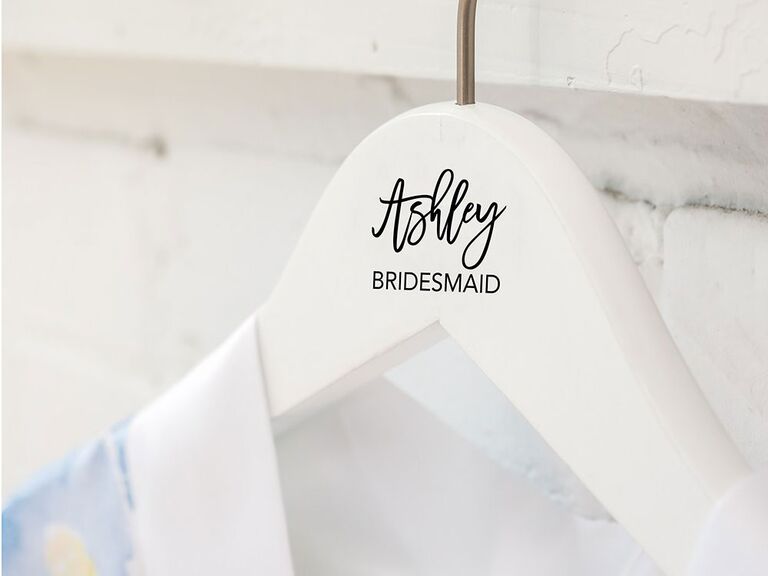 Get them personalized dress hangers they'll cherish forever, even after they put away their bridesmaid gowns. These meaningful (and affordable!) accessories are a cute bridesmaid proposal idea that'll always remind them of this special time. Plus, it'll get them hyped to go dress shopping with you.
Mini Succulents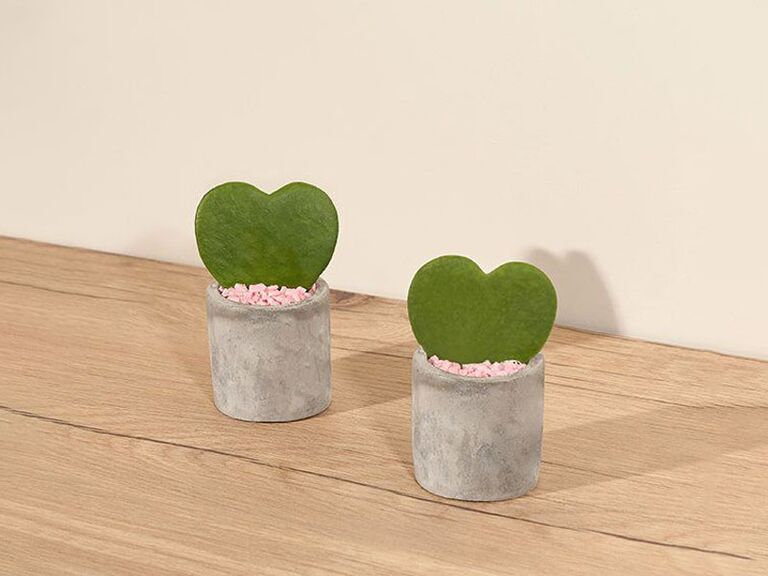 How adorable are these heart-shaped succulents? Use them as a gift to ask your bridesmaids to help you tie the knot or pick them up as thank-you presents after they say yes. The succulents come in a set of two, so you get more bang for your buck.
Personalized Lockets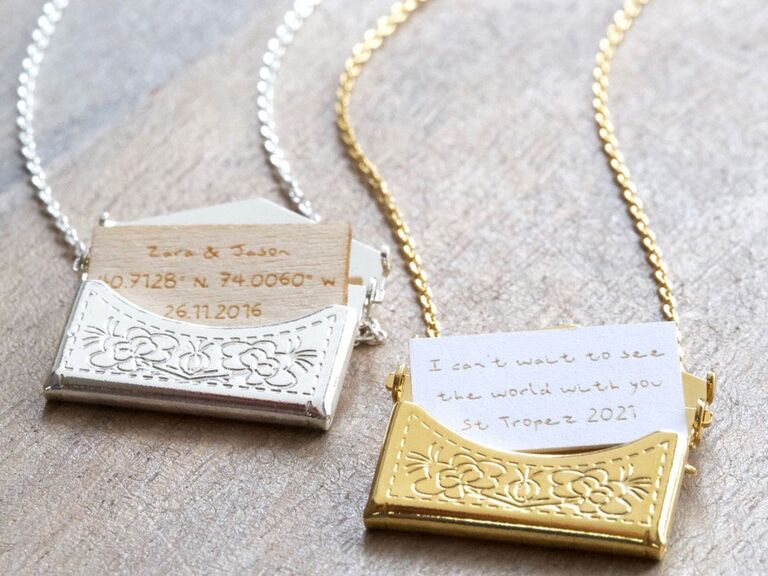 These distinctive envelope lockets can be customized with secret "will you be my bridesmaid?" notes for a thoughtful bridesmaid proposal. The seller engraves your message on a tiny insert made from paper, wood, brass or cork leather—so cool!
Cute Scrunchies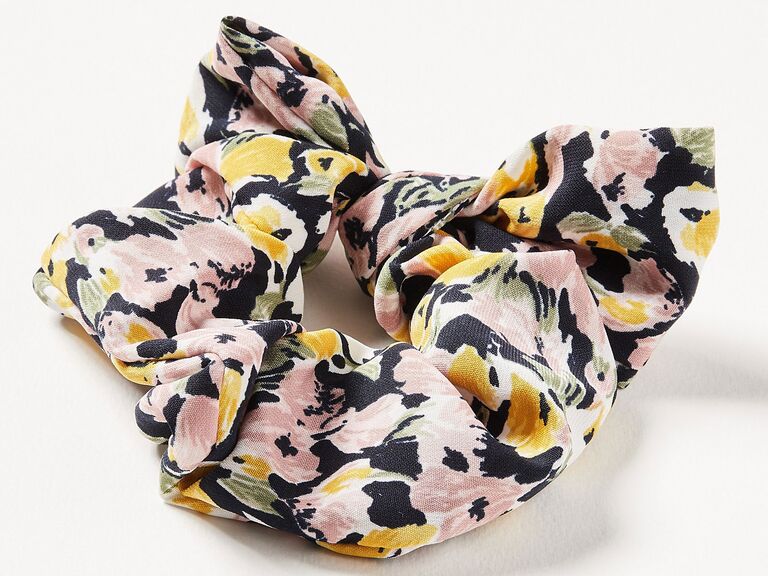 Bridesmaid hair ties are a classic proposal gift, but we think it's time to up the ante. Enter: the bridesmaid scrunchie. This pretty floral one will be their go-to hair accessory whenever their outfit requires a cute finishing touch.
Printed Macarons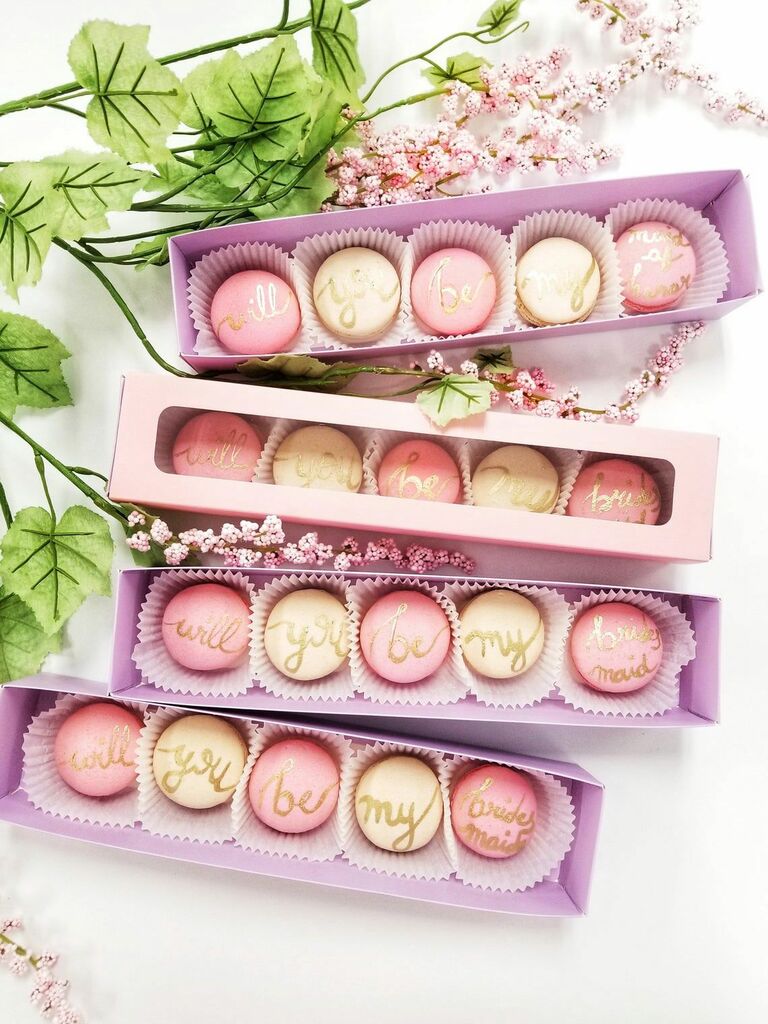 Your foodie friends will love these celebratory macarons, which come in cute gift packaging. Each sweet treat is calligraphed with a word to spell out: "Will you be my bridesmaid?" They'll be delighted by the macarons (and the opportunity to be in your wedding party).
DIY Balloon Proposals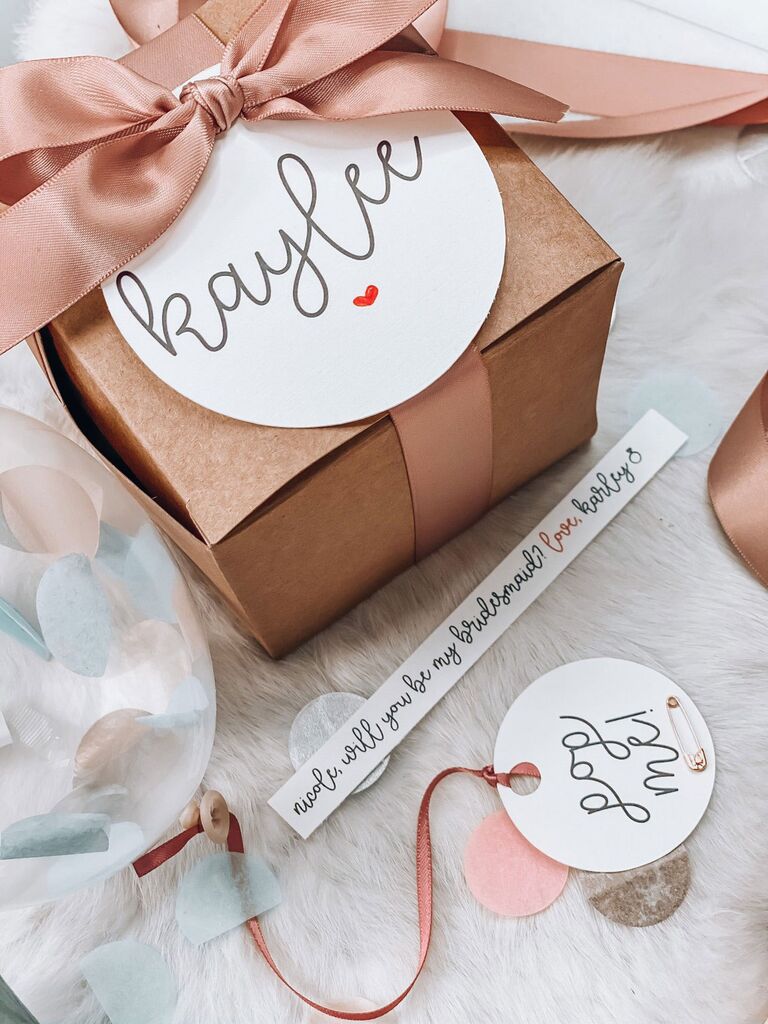 Here's a semi-DIY bridesmaid proposal gift your girls will appreciate. Each package contains confetti, a balloon, a ribbon, a "pop me" gift tag and a sweet message asking her to be your bridesmaid. You're also free to write your own note for an extra-personal touch.
Bridesmaid Tote Bags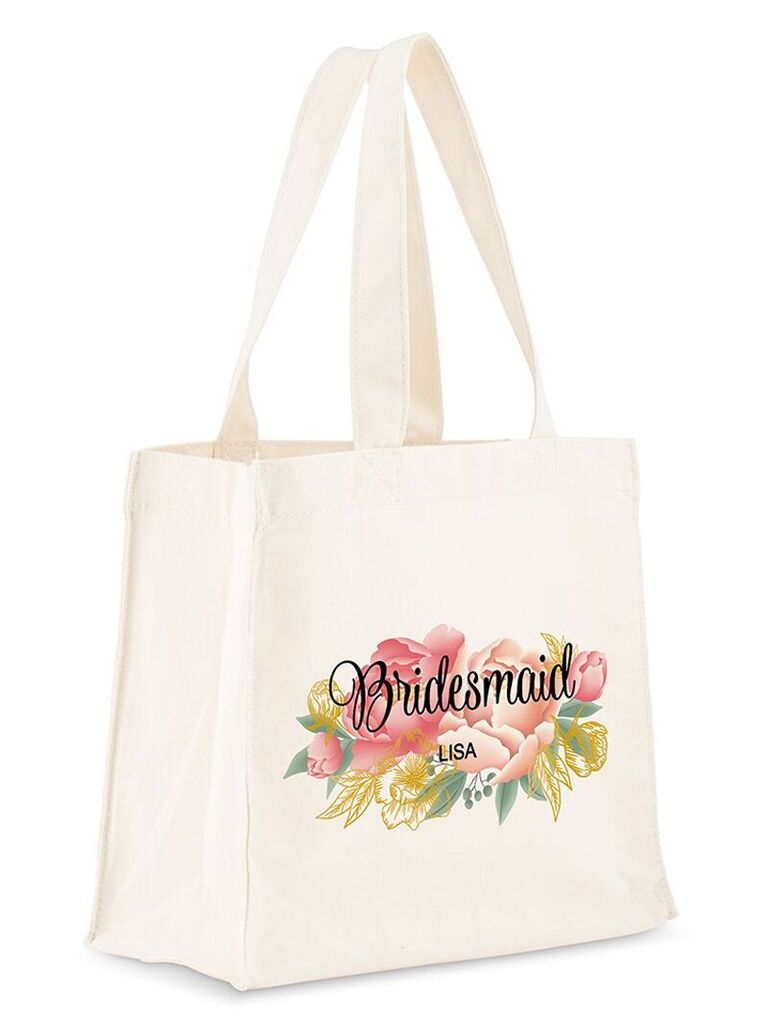 If you're having a destination wedding, what better bridesmaid asking gift is there than a tote bag they can take along on the trip? This one can be personalized with each bridesmaid's name and has a modern floral design. If you want to take it a step further, stock each bag with some of their favorite candy, mini bottles of wine and handwritten cards.
Celebratory Candles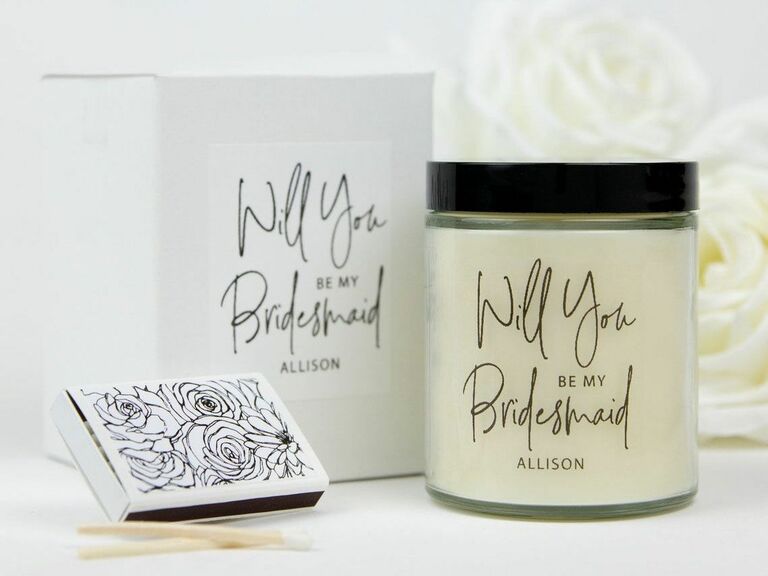 A personalized bridesmaid proposal candle is something she can show off in her home as a reminder of your friendship. There are loads of scents to choose from, but we're most excited about the "roses and rosé" option.
Custom M&M'S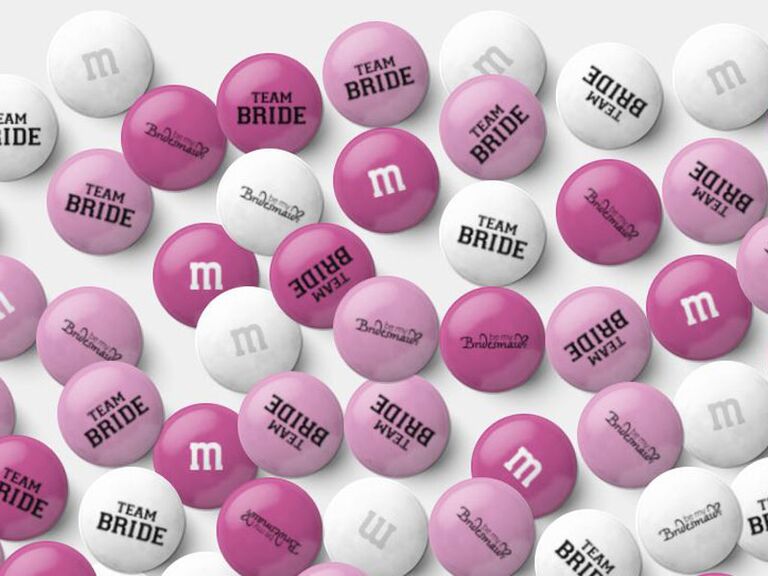 Got an M&M lover in your wedding party lineup? We bet you didn't know you can design your very own for a creative way to ask you bridesmaids. The site has on-theme clipart options such as "Team Bride" and "Will you be my bridesmaid?" If you really want to wow them, you can even put a picture of your BFF's face on a piece of candy. What a fun way to ask your bridesmaids!
Bridesmaid Jackets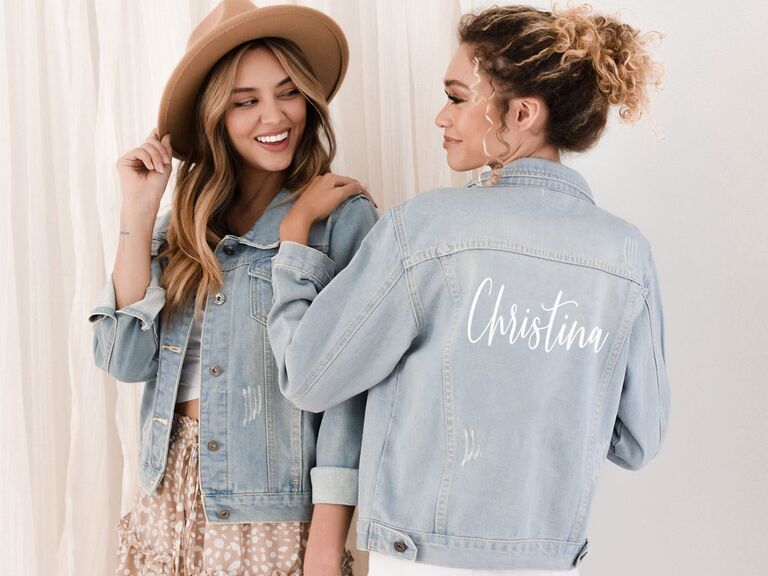 Willing to splurge a little? Give each lady in your squad their own denim jacket to rock at the bridal shower or bachelorette party. And snag one for yourself too! This trending wedding party aesthetic will give you and your gals all the cool girl vibes.
Pop Culture-Inspired Mugs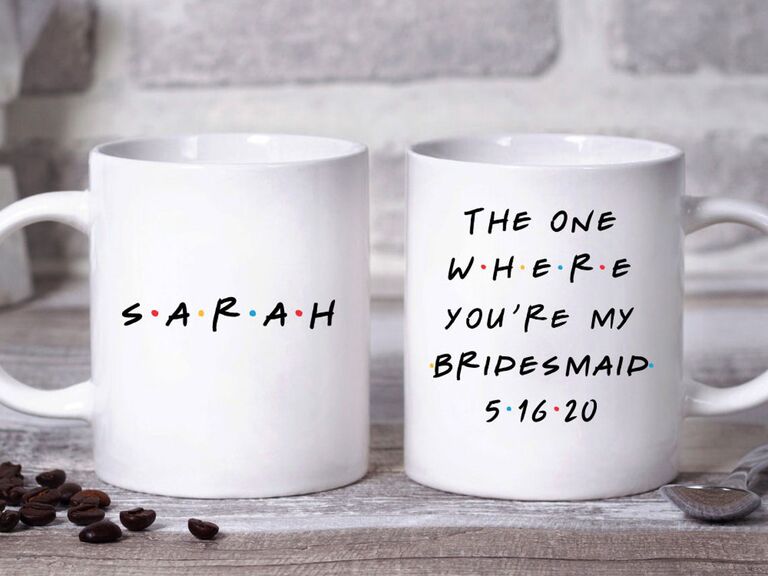 A coffee mug will help them stay caffeinated while they help you make a million tiny decisions ahead of your wedding day. This genius Friends-inspired bridesmaid proposal mug is especially fitting for asking your BFF.
Luxe Sleep Masks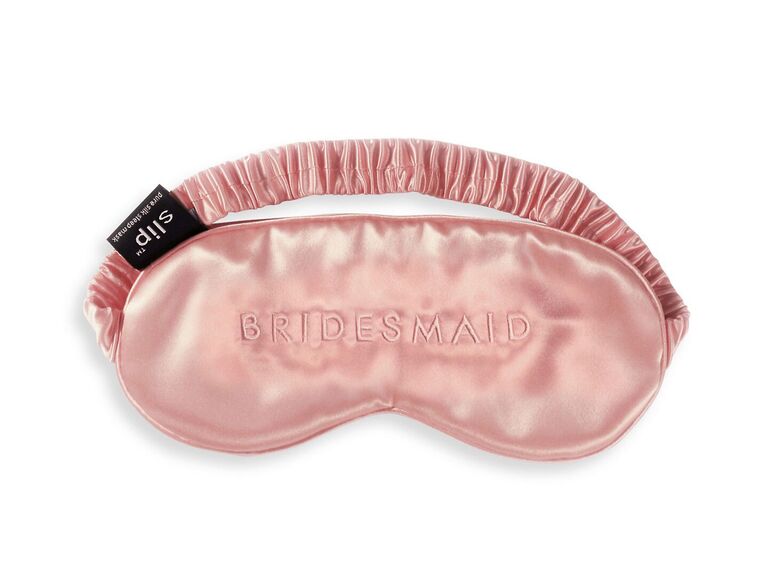 Got future bridesmaids who could use some R&R? Propose to them with silk sleep masks so they can get their beauty sleep in style. These high-quality Slip eye masks will be their new best friend, whether they're getting their usual shut-eye or catching a long flight.
Leatherette Key Chains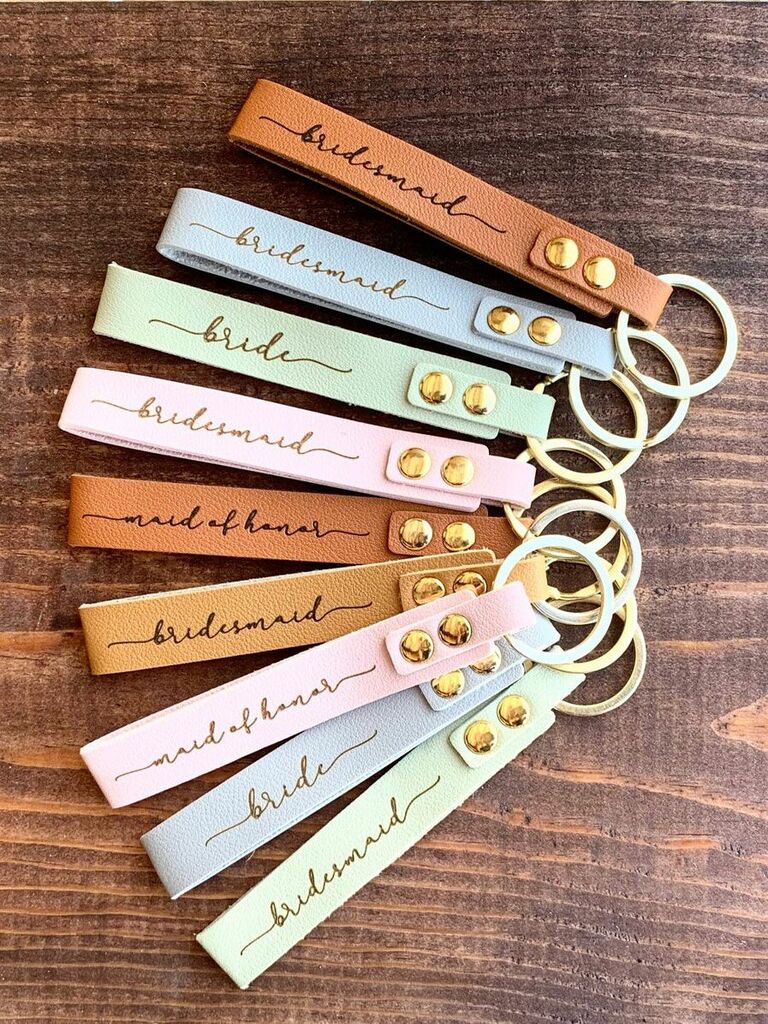 Looking for an inexpensive bridesmaid proposal idea? Small tokens can go a long way. This sleek leatherette key chain is something they can admire every day. It comes in cute pastels or more neutral classic colors, so you can find one that best matches each bridesmaid's sense of style.
Bridesmaid Bracelets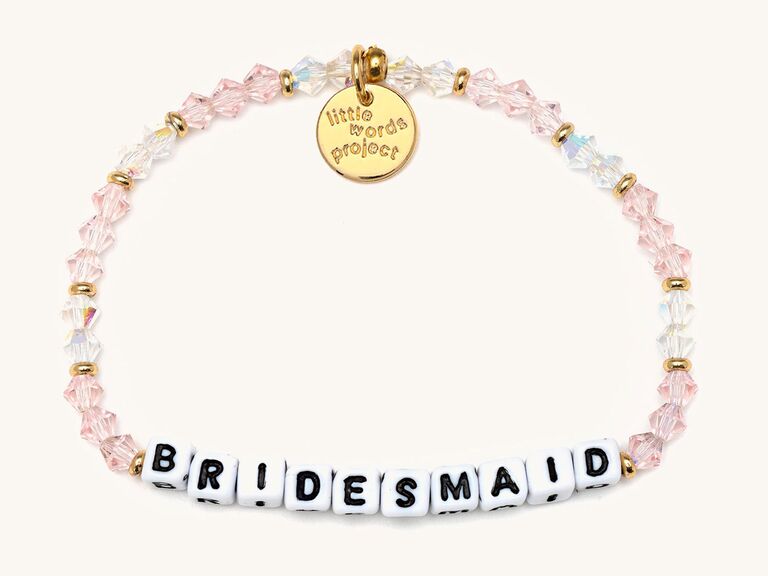 Asking bridesmaids to stand by your side on your wedding day doesn't get much simpler than this. Present each member of your crew with one of these dainty beaded bracelets and they'll instantly understand what's going on. The word "bridesmaid" is printed in bold black letters and surrounded by elegant crystal beads.
Custom Tumblers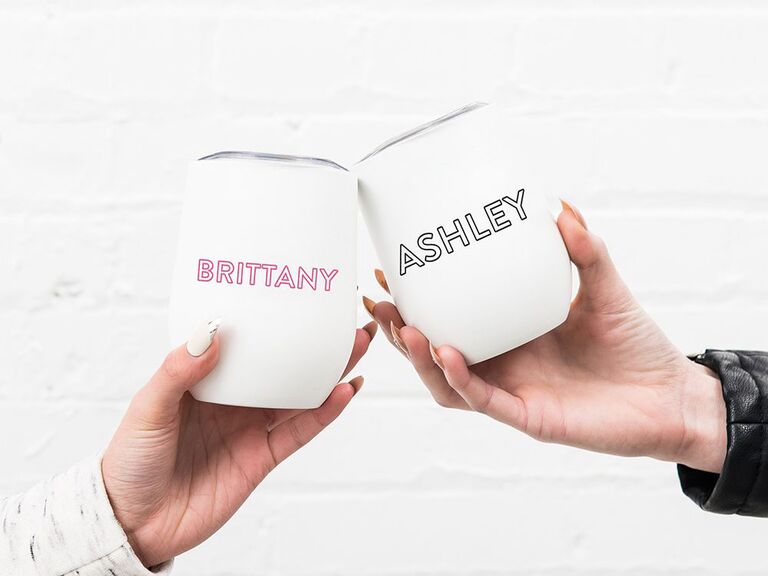 Give your soon-to-be bridesmaids stemless wine tumblers personalized with their names in a stylish neon-inspired print. While they're great for enjoying vino by the pool, your squad can also use these stainless steel travel tumblers to sip water, coffee, green juice or whatever their drink of choice is. What better way to welcome them to your bridal party?
Cute Picture Frames
Browse your tagged Instagram photos or Facebook friendship pages to find the cutest photos of you and your bridesmaids that they'll cherish forever. Then, gift them using these "will you be my bridesmaid?" picture frames. Each frame can be personalized with their name on the top and yours on the bottom.
Unusual Lollipops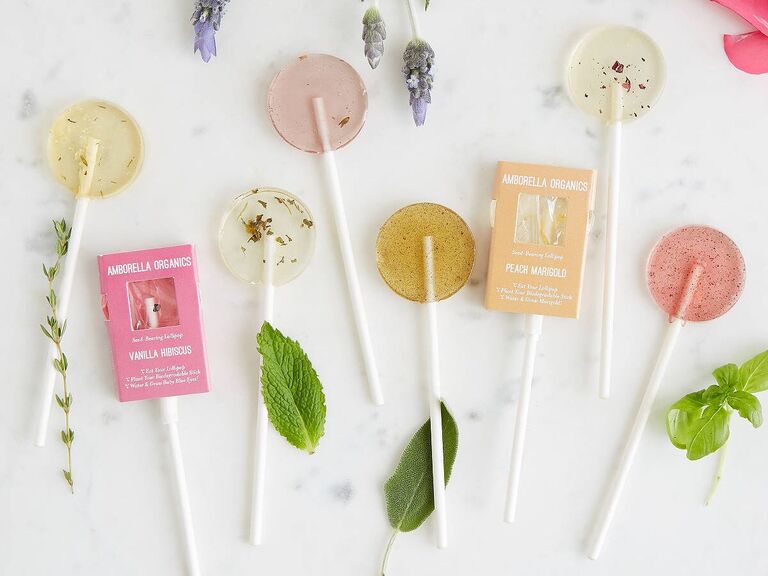 "Pop" the question with these decadent lollies, which come in one-of-a-kind botanical flavors. Just wait until your bridesmaids learn that once they eat the candy, they can plant the stick to grow their own potted flowers or herbs—they'll be even more impressed.
Custom Wine Labels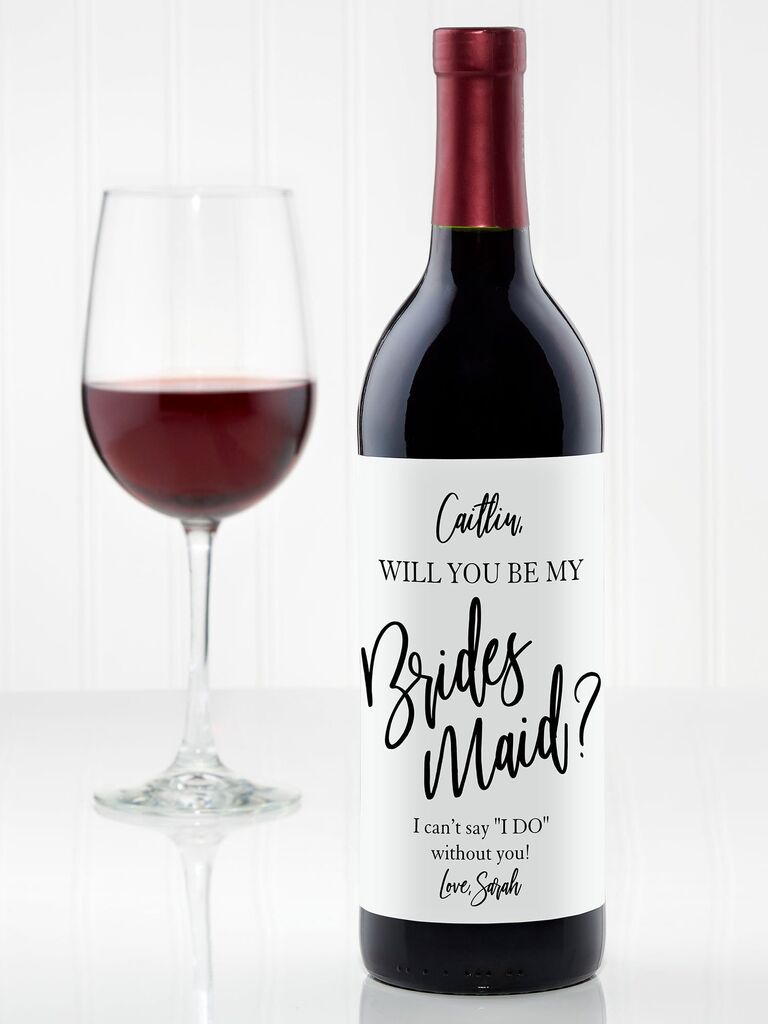 Get your gals their favorite bottles of vino with thoughtful custom labels as a unique DIY bridesmaid proposal idea. These personalized ones ask, "[Name], will you be my bridesmaid?" Make it all the more special by planning a girls' night so you can all sip wine together. Bonus points if you complete the evening with a killer charcuterie board.
Funny Bridesmaid Invitations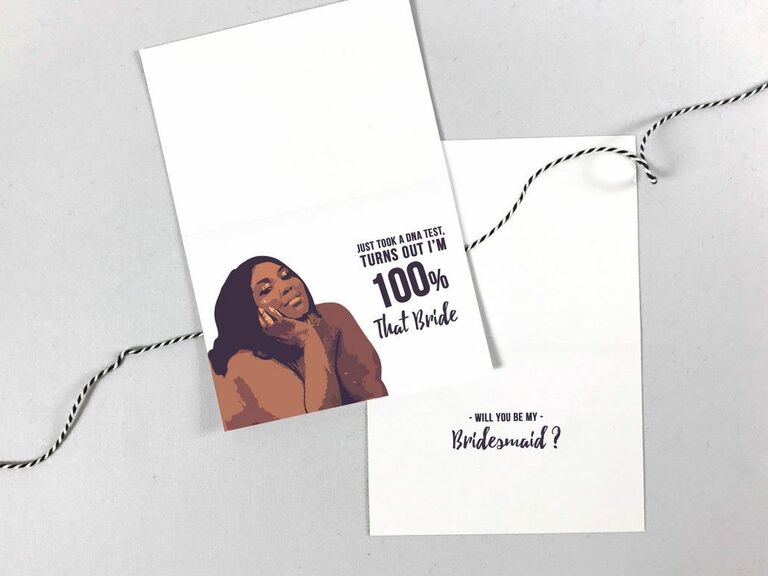 This Lizzo-themed card is a funny way to propose to your bridesmaids with or without an accompanying present. Arrange to spend some one-on-one time with each of your (almost) wedding party members so you can hand deliver your message and let them know exactly why you chose them for the part.
Spa Gift Sets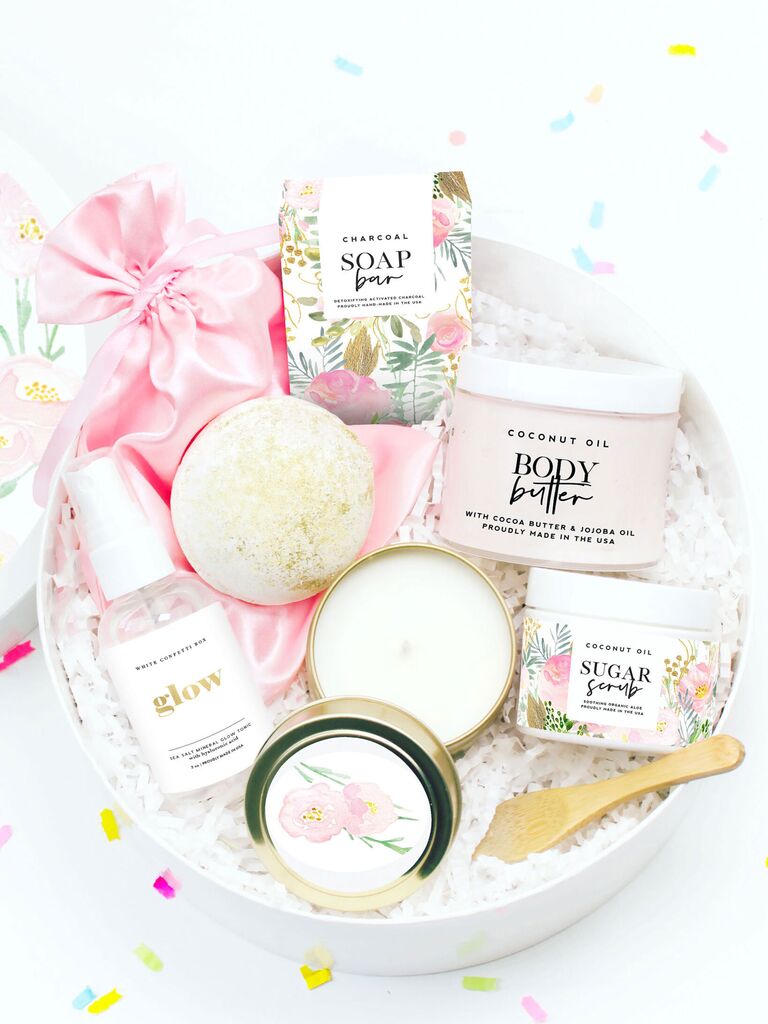 Bridesmaid proposal boxes are another popular way to pop the question. This one is chock-full of spa-themed goodies, including a glittery bath bomb, pink sugar scrub, a scented candle and more. Plus, it all comes packaged in a gorgeous personalized box in a choice of five designs.
Custom Drink Sleeves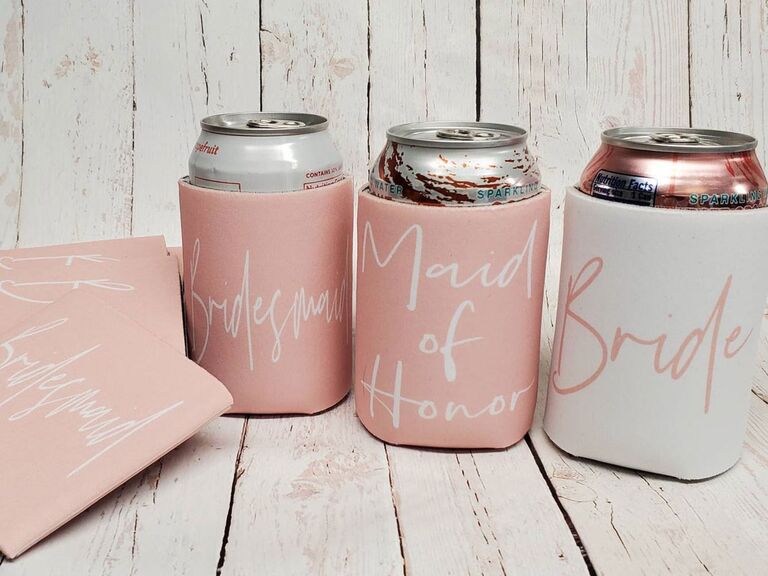 Cold feet? No thanks. Cold drinks? Yes, please. Give each member of your crew matching "bridesmaid" koozies they can whip out at your wedding shower, bach party and beyond.
Extra-Sparkling Wine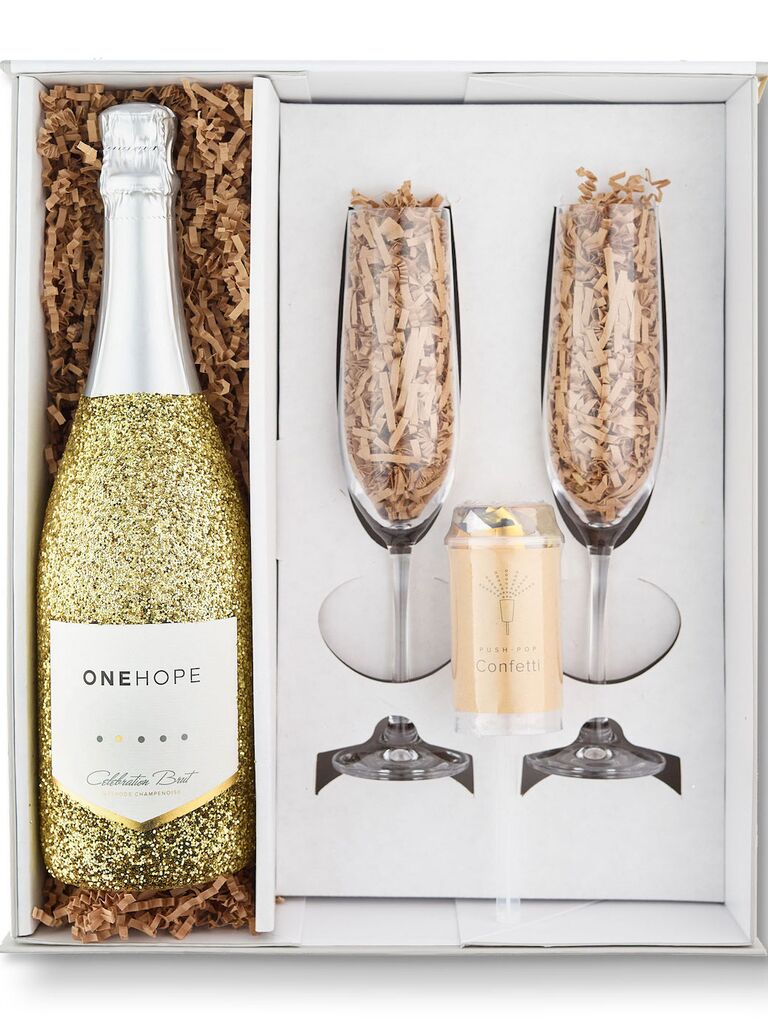 What more could your bridesmaid proposal need than a jazzed-up bottle of brut and two champagne flutes for toasting? Every purchase contributes to the ONEHOPE Foundation, so you—and your wine-loving bridesmaids—can feel good about this one.
Bridesmaid Ornaments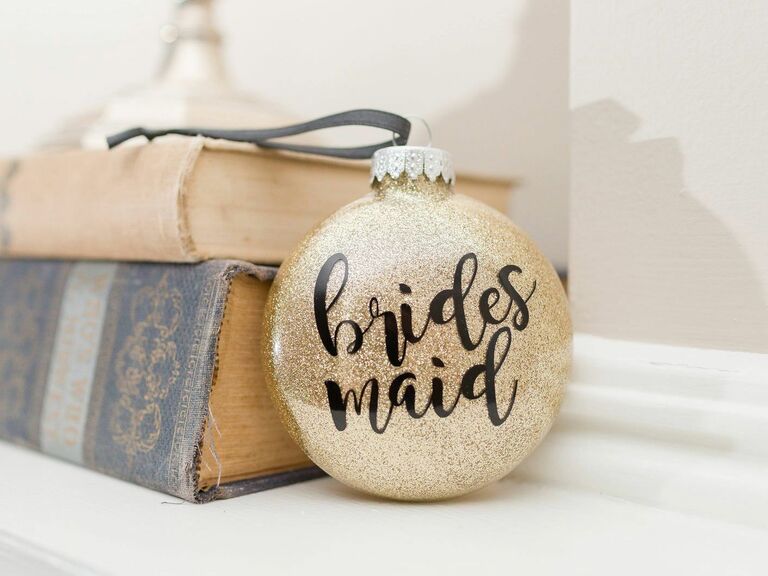 Wondering how to ask someone who absolutely adores Christmas to be your bridesmaid? This cute bridesmaid ornament is a lovely keepsake. They can hang it on their tree every year to commemorate this special time in all of your lives.