What Is the Average Length of a Honeymoon?
After months of wedding planning, newlyweds deserve a getaway. Here's what to consider.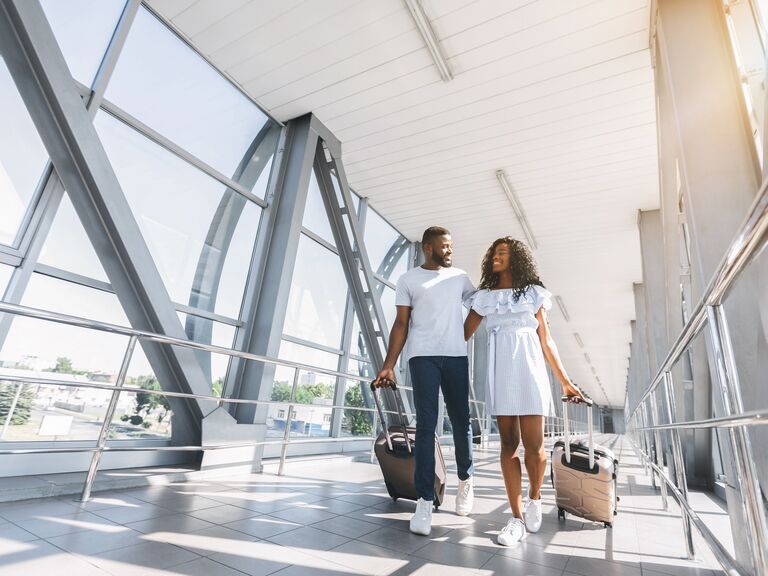 Prostock-studio / Shutterstock

The action-packed process of wedding planning followed by a honeymoon getaway allows newlyweds to decompress. The honeymoon also gives couples a chance to spend uninterrupted time with their new spouse. That said, planning for your honeymoon can sometimes be just as difficult as coordinating the wedding, especially when trying to figure out your perfect honeymoon destination or the ideal length of your honeymoon.
The average honeymoon period is closer to seven to 12 days, but some couples will extend their getaway to up to a month, especially when traveling internationally. Whether your dream as a newlywed couple is relaxing along the Caribbean or skiing down the Swiss Alps, here are questions to consider before landing on the length of time for your honeymoon.
How many vacation days have you and your partner accrued?
Most Americans get anywhere from one to three weeks of paid time off from their jobs, usually depending on their tenure. If you're planning your honeymoon far enough in advance, you can reserve most of your days to go towards extending the length of your honeymoon. You can get crafty by planning your honeymoon around holidays so that they don't count towards your paid time off.
Mike and Anne Howard, the husband-wife duo and founder of HoneyTrek, have been chronicling their adventures while on "The World's Longest Honeymoon" for the past nine years. "You'll also want to consider the vacation days you'll need to take for the wedding day too, since prepping for the big day can take a few days," says Anne. "[In some cases,] it might be worth holding off from a traditional honeymoon and enjoying a minimoon after the wedding instead."
A minimoon is typically a shorter version of a honeymoon (think: a long weekend) extended off your wedding weekend while you're exploring someplace local. "Your wedding and honeymoon are probably the few times in your life where you can convince your boss to take two large amounts of time without hesitation," Mike says. To prepare adequately, have an upfront conversation so you (and your team at work) can plan for your absence.
How long are your wedding festivities?
Most couples no longer depart for the honeymoon right after the wedding reception is over. Since your besties and loved ones are all gathered together, many couples have converted their weddings to full weekends reserved for multiple events and special parties.
There could be a Thursday night happy hour for guests who've arrived early or a Friday welcome party. The vast majority of weddings still take place on Saturdays, which are then followed by possible Sunday brunches. You'll want to suppress those days into your paid vacation time off too.
What's your budget?
Before your travel agent books the honeymoon trip of your dreams, you'll want to set a realistic budget. This might be a time where you want to splurge more than your usual vacations, especially as you enter married life. To keep from overspending, especially as you're recovering from other wedding-related costs, you will want to stick to your budget. The length of time will correlate directly to your budget.
Anticipated expenses include: getting to and from the airport, incurring travel expenses during your stay (like renting a car), food, drinks, accommodations, excursions or activities, shopping, plus a budget for emergencies. For what it's worth, the average honeymoon cost hovers around $5,000. If you have more wiggle room in your budget, it could mean you have the flexibility to extend your stay.
Where are you looking to go?
If you only have a few vacations days from work, it might serve you to pick a destination that's closer to home. However, if your schedule and budget allow for multiple weeks off, an international excursion or a longer domestic flight to Hawaii or the US Virgin Islands might be a more suitable option for you. If you've decided to partake in the latter, keep in mind how your body reacts to jet lag and how that might affect your first day or two in a new location.
"Generally, for every 10 hours of travel time, give yourself a full day to recover," Mike suggests. If you're traveling between time zones, you'll want to suppress jet lag and exhaustion into the length of your honeymoon. Don't forget about the return trip home (honeymooners often forget this piece). It may be wise to build in a buffer returning from your honeymoon to help you get adjusted back to normal life.
How far in advance are you booking your honeymoon?
To avoid getting stuck with expensive last-minute flights and accommodations, you'll want to start thinking about your honeymoon travel plans at least 10 to 12 months in advance. "The most important thing to lock first in is your flight," Mike suggests. "With everything else, you can watch for deals. You have a lot more options for hotels and accommodations than you do with flights, so you have more time to figure that part out."
What time of year do you plan on going?
"I always recommend that people travel in 'shoulder season' when possible," says Mike. This refers to the sweet spot between peak and off-peak months where the pricing for travel tends to be lower, the weather is decent, and it's not as crowded. Shoulder season varies by destination, naturally.
For instance, he says more affordable flight options are nonexistent in August for destinations like Greece and Italy. Do some research to see if there are any special events or holidays happening in the area you're planning to visit. "While it's super cool to see Carnival in Brazil during your honeymoon, it'll mean more crowds" and amped-up travel fees, says Anne. Traveling during peak seasons means you can't stretch your budget, and you likely won't be able to stay as long as you'd like.