50th Anniversary Gifts That Are Perfect for the Golden Milestone
These picks will score you a gold star in gift-giving.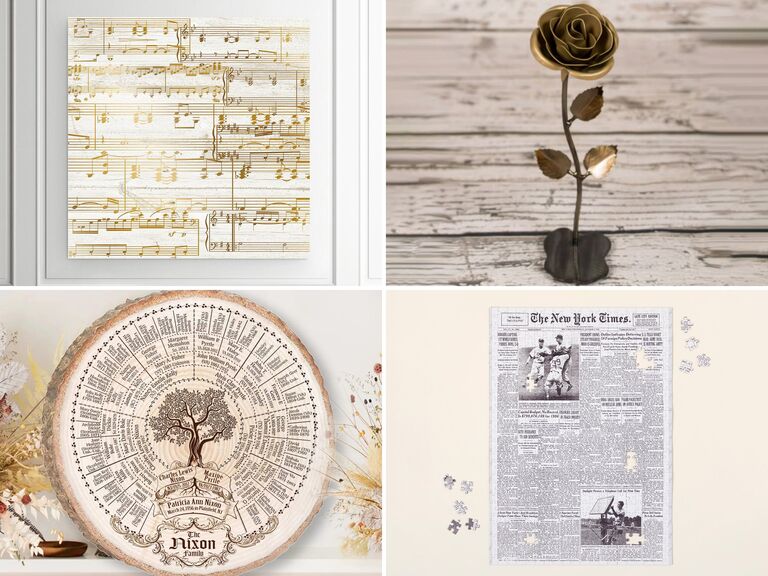 We have included third party products to help you navigate and enjoy life's biggest moments. Purchases made through links on this page may earn us a commission.
Any couple who's enjoyed 50 years of wedded bliss deserves a massive congratulations. While writing an anniversary card is a lovely gesture (and definitely something you should consider doing), we recommend breaking out the big guns for such a major milestone. That's right, we're talking about 50th anniversary gifts. Not sure where to even begin? That's what we're here for. Whether you need a meaningful and romantic present for your spouse or you want to wish a happy anniversary to a very special couple, we've got 50th wedding anniversary gifts for everyone. Keep reading to learn all about this milestone's unique gifting themes, then shop our top ideas.
In this article:
What is the traditional 50th anniversary gift?
A marriage that's lasted 50 years is certainly deserving of a medal, so it's no surprise that the traditional 50th anniversary gift is gold. "If you and your spouse have been together for half a century, that is something that must be celebrated in a major way," says Kathy Flynn, Senior Vice President of Merchandising and Creative at Personalization Mall. "The 50th anniversary is a momentous occasion that deserves a beautiful gift such as gold," she continues. Plus, the shiny and durable metal is brimming with meaning. "This precious metal symbolizes wisdom, strength and prosperity, much like a marriage that has lasted this long," says Flynn.
In fact, gold is so associated with 50 years of marriage that there isn't an alternative theme for this milestone (which is pretty unusual!). Gold is both the traditional and modern material, as well as the official 50th wedding anniversary color. It even replaces the gemstone that's usually assigned to marriage milestones. The 50th anniversary flowers are the only non-gold symbols associated with this special year. Both yellow roses and violets are considered an appropriate choice.
Of course, while traditional golden anniversary gifts are a lovely way to nod to the occasion, you don't have to follow tradition to pick out a meaningful present. We're also sharing some of our favorite nontraditional 50th anniversary gift ideas. Keep reading to find out our favorite traditional and alternative picks.
Gold 50th Anniversary Gifts
If you've decided to go for gold with your gift this year, let us point you in the right direction. We've got the best 50th anniversary gifts for parents, friends and spouses alike in line with this year's special theme. No matter who's on your list, one of these creative golden anniversary gifts is sure to impress.
Meaningful Sheet Music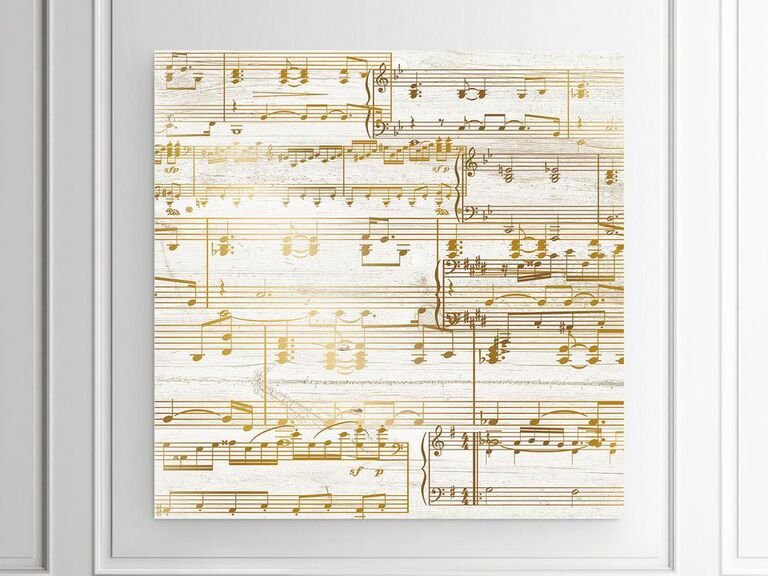 Looking for a traditional 50th wedding anniversary gift for your parents? Great news: "If you're getting a gift for your parents, you're definitely in the best position to get them something special and meaningful," says Krissy Osborne, Associate Buyer, Art at Uncommon Goods. "You have access to old photos and information that no one else knows." Our suggestion? Take one of your parents' wedding songs and gift them a canvas print of the sheet music in thematic gold ink.
Symbolic Studs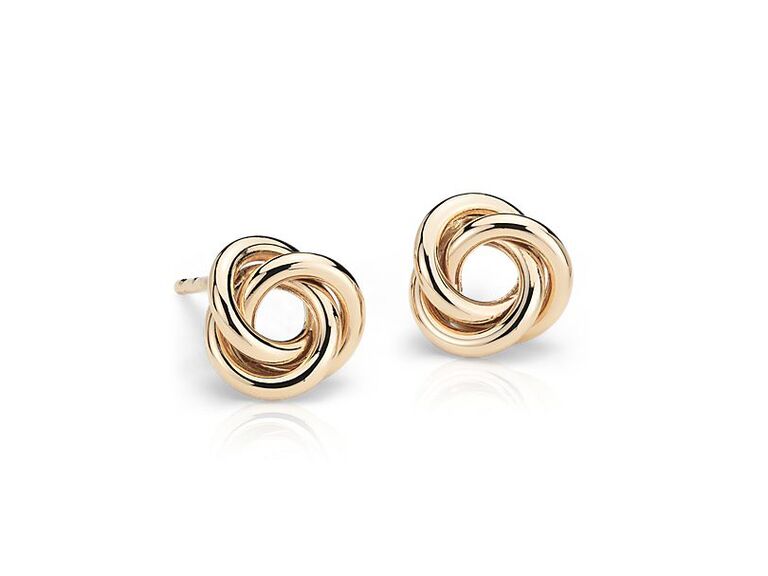 Expand your S.O.'s current roster of earrings with these gorgeous knot studs that represent when you first tied the knot 50 years ago. Made with 14-karat yellow gold, they're a symbolic nod to both your relationship and the 50-year milestone.
Keepsake Vinyl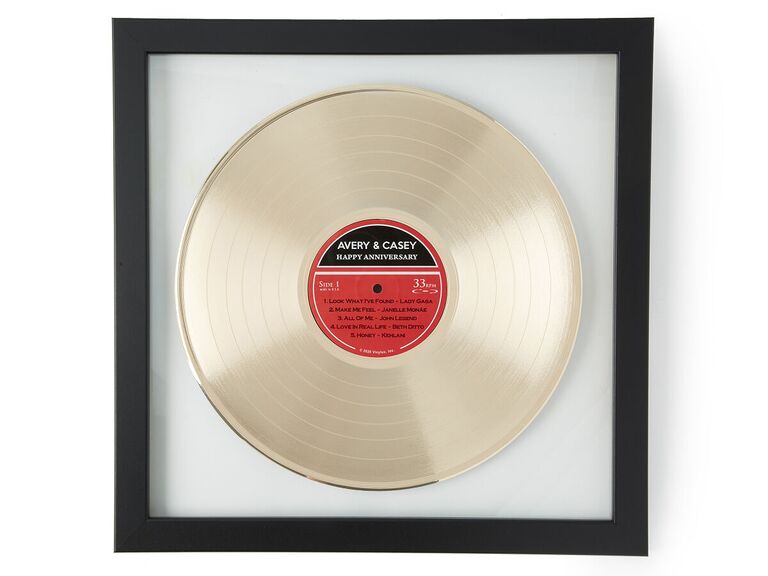 Here's another meaningful music-themed present that'll work for both the couple or your spouse. The upcycled vinyl can be customized with the couple's names, the tracklist of your choosing and a sweet message like "happy anniversary." With a dazzling gold finish, it's easily one of the most unique 50th anniversary gift ideas for parents, friends or your other half.
Unique Anniversary Ring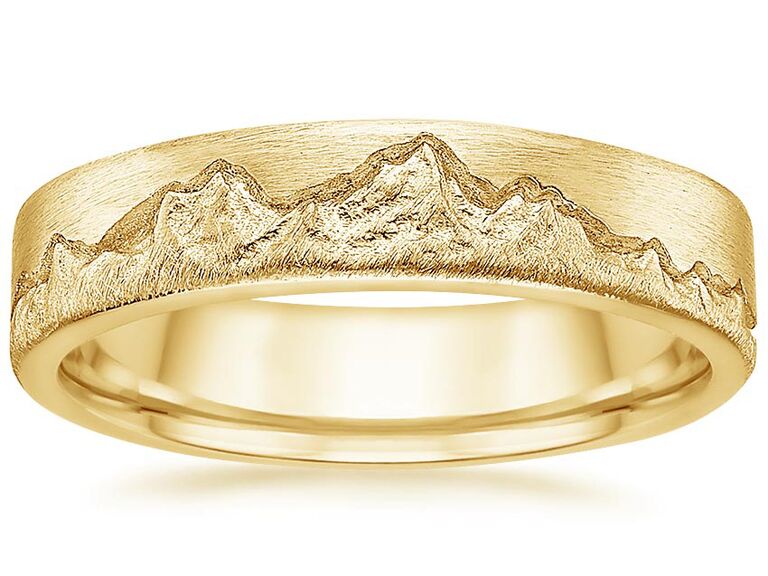 It's been 50 years since you first took the plunge, meaning it might be time for a ring upgrade. Brilliant Earth has a selection of unique and classic wedding bands to choose from. We love this nature-inspired ring adorned with the stunning summit of Mount Everest. It's the perfect gift for anyone who loves being outdoors.
Stunning Timepiece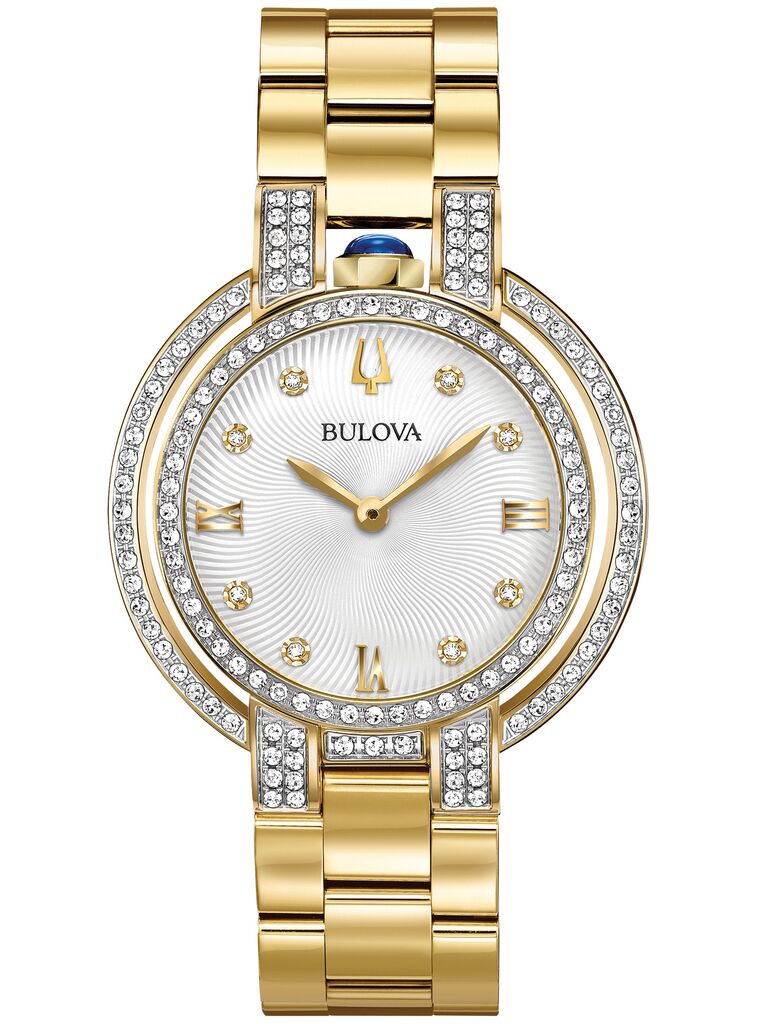 A beautiful new watch is an excellent 50th wedding anniversary gift for your wife or husband, especially if they've been wearing the same scratched-up old timepiece for years. This stunning Bulova watch might be a bit (okay, a lot) of a splurge, but it's sure to make a statement. Plus, the 18-karat yellow gold bracelet is fully on theme.
Gorgeous Preserved Rose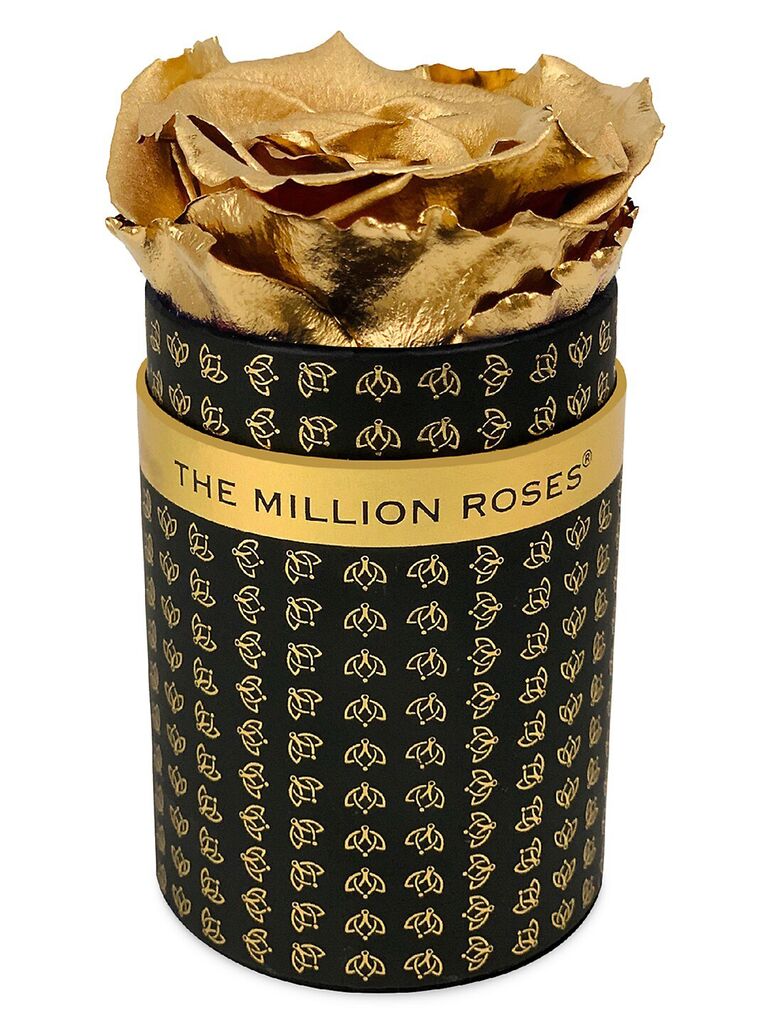 Still wondering what to get your partner for your 50th wedding anniversary? Swap out traditional roses for this shimmering gold preserved rose presented in an elegantly printed box. This long-lasting bloom will bring joy to your spouse's life for months. (And if you're not pushed on the gold theme, there are lots of other colors to choose from.)
Stylish Cuff Links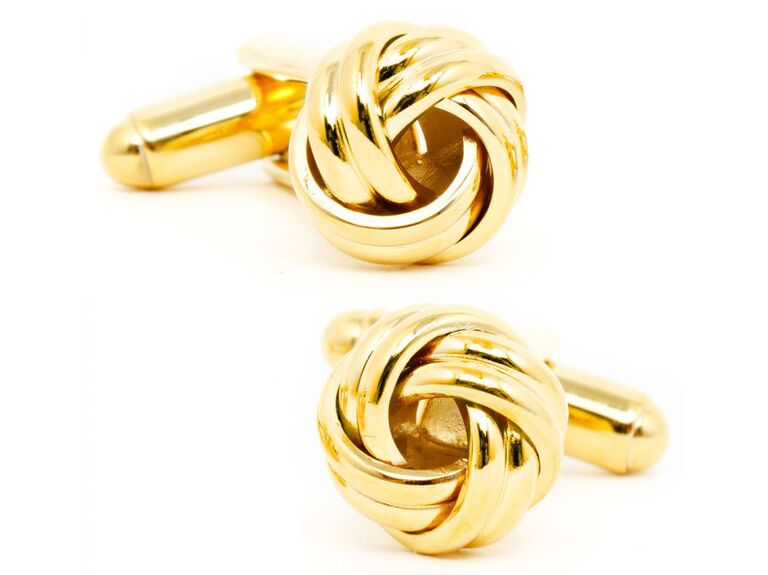 Cuff links are a lovely 50-year wedding anniversary gift. Your spouse will be reminded of the special occasion each time they wear these shiny gold-tone accessories. And just like those stud earrings, the knot design is a meaningful throwback to the day you said "I do."
Display-Ready Memento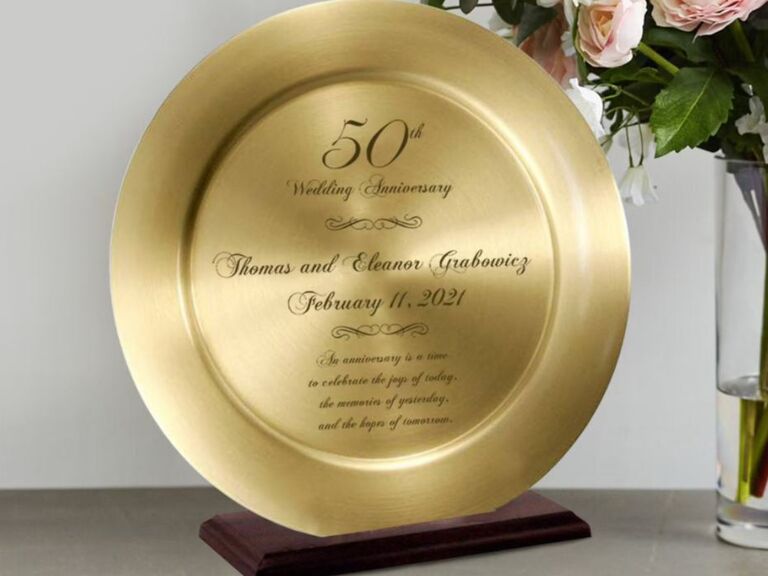 Help the couple commemorate their golden milestone with this personalized 50th anniversary gift. While this unique keepsake might be made of solid brass, it still proudly boasts the 50th anniversary color. The wooden stand is included, so your favorite lovebirds can put it on display right away.
Elegant Pendant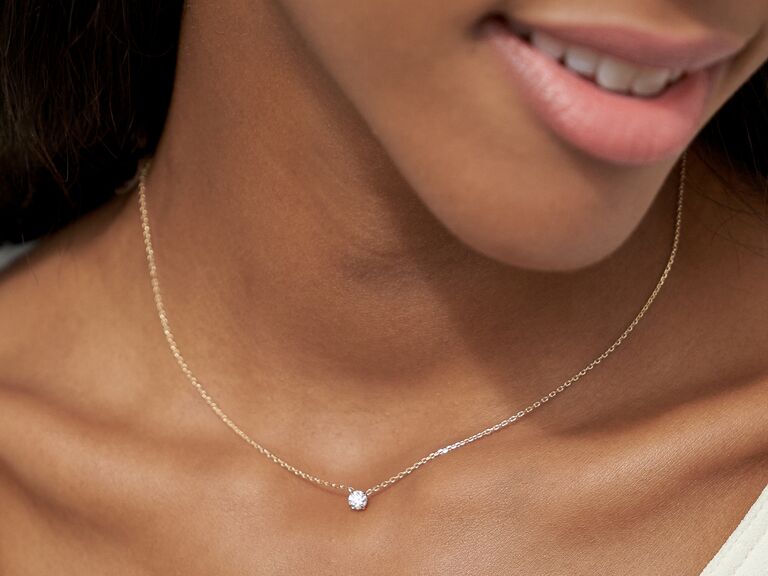 The fact that there's no 50th anniversary stone just means you get to pick whichever one you think they'll love most. This diamond solitaire necklace—complete with a yellow gold chain—is basically the little black dress of jewelry. Your spouse can wear it with their everyday attire, on date night or maybe even with a 50th anniversary party dress.
Romantic Wallet Insert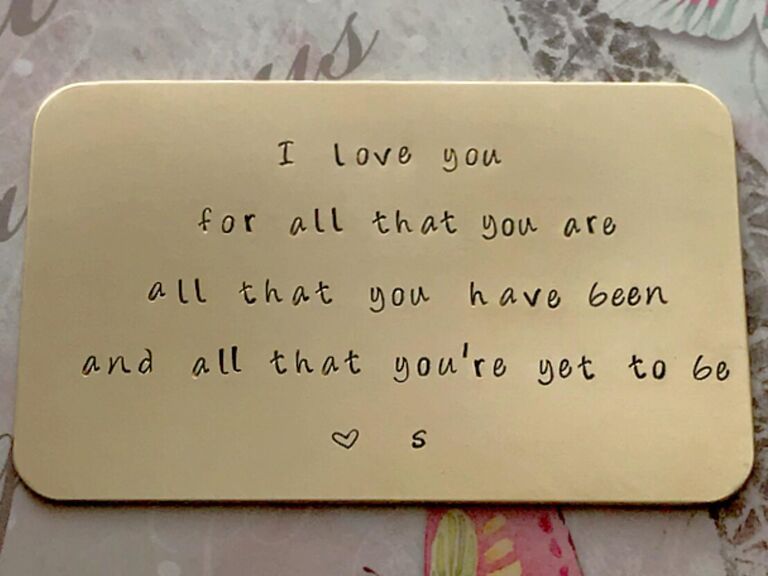 Looking for more affordable 50th anniversary gift ideas? Swap out the 24-karat gold for just-as-shiny brass. This practical and sentimental wallet insert can be stamped with a sweet message for your spouse to carry with them wherever they go. This one reads: "I love you for all that you are, all that you have been and all that you're yet to be."
Shiny Picture Frame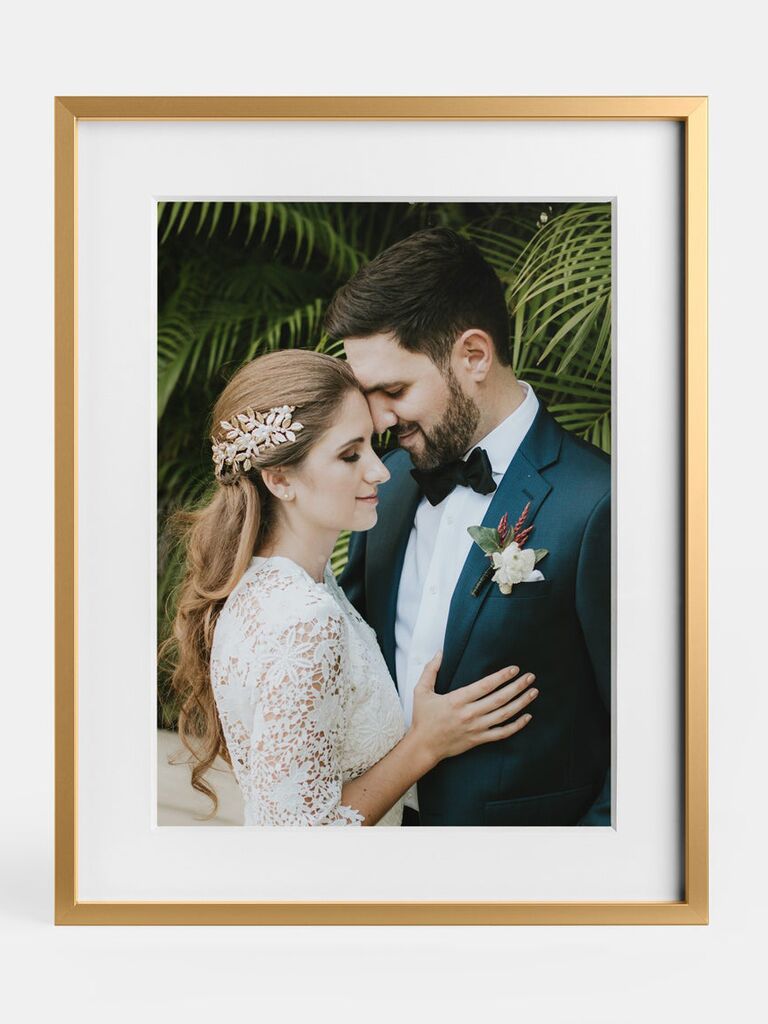 If you can get your hands on an old photo of your parents on their wedding day, placing it in a gold-hued brass frame will really nail the traditional 50th wedding anniversary gift theme. And if you can't get a wedding photo, don't worry—an up-to-date snap of them together will be just as precious.
Fancy Watch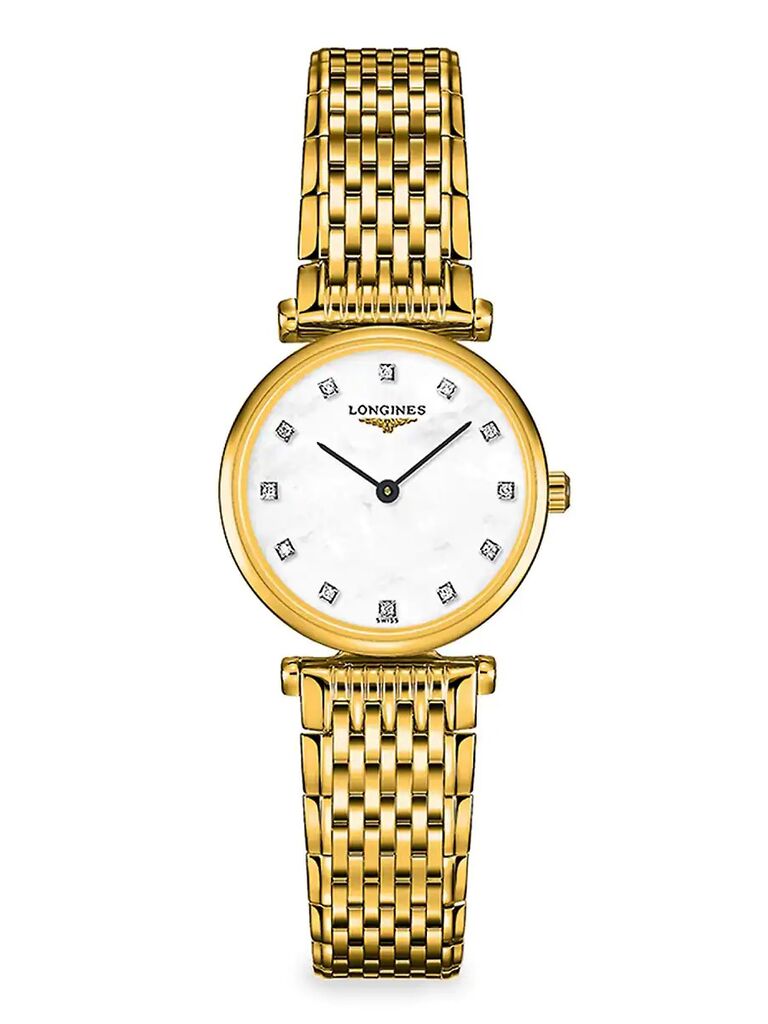 Nothing says "I love you" after 50 years together like a gold timepiece. Splurge on your spouse by giving them a fine, diamond-studded accessory from the iconic Swiss watchmaker, Longines. PS: This classic style also has a scratch-resistant sapphire crystal face, so it'll stay nice for decades of anniversaries to come.
Sparkly Eternity Ring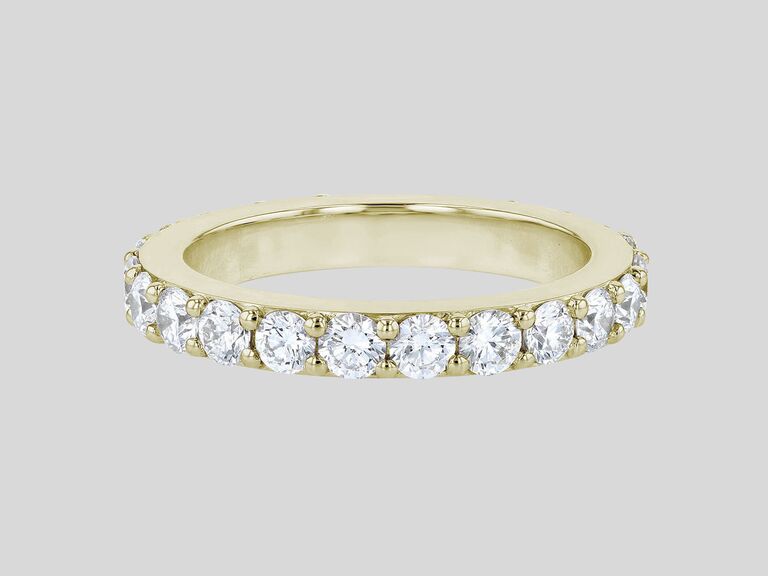 You've already shown your spouse serious commitment after 50 years of marriage. Let them know you'll be in it forever with this dazzling diamond and yellow gold eternity ring. Now that's what we call a romantic 50th wedding anniversary gift idea.
Ornamental Sundial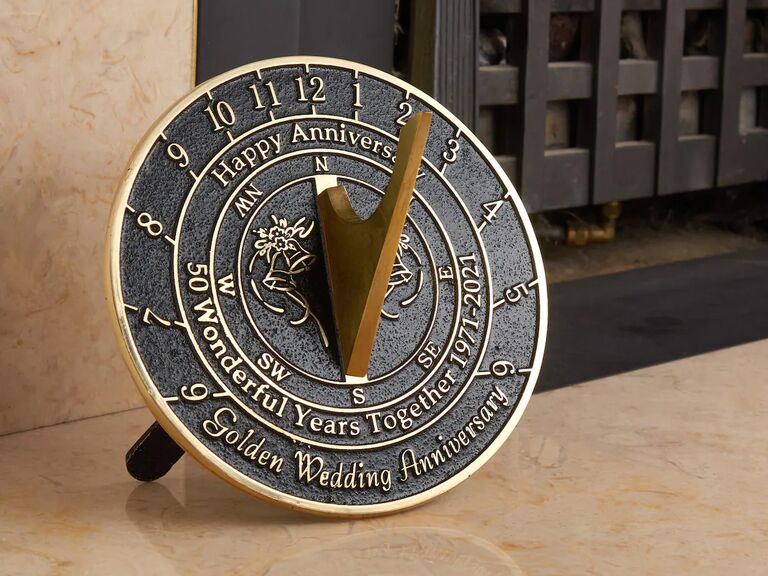 It's the couple's golden anniversary, meaning they've probably acquired pretty much everything they need by now. Something they likely don't have? A cool display-worthy sundial with gold-tone brass accents. Add an extra-special finishing touch by having it personalized with the year they tied the knot and the year they're celebrating the big 5-0.
Engraved Tie Clip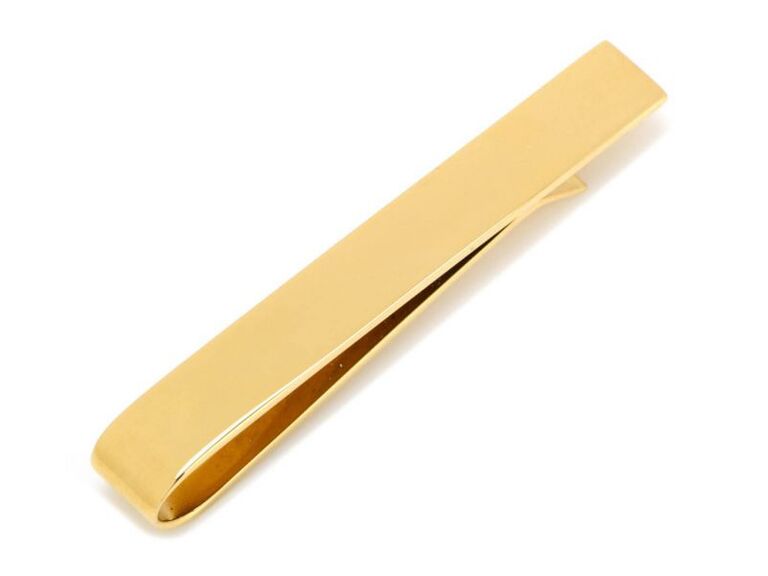 We're all for personalized gifts for the golden wedding anniversary. "Anything personalized is always special," says Dana Selarnick, Senior Buyer, Home and Technology at Uncommon Goods. Get your one and only an engraved gold-plated tie bar to wear on fancy date nights with you.
Sleek Measuring Set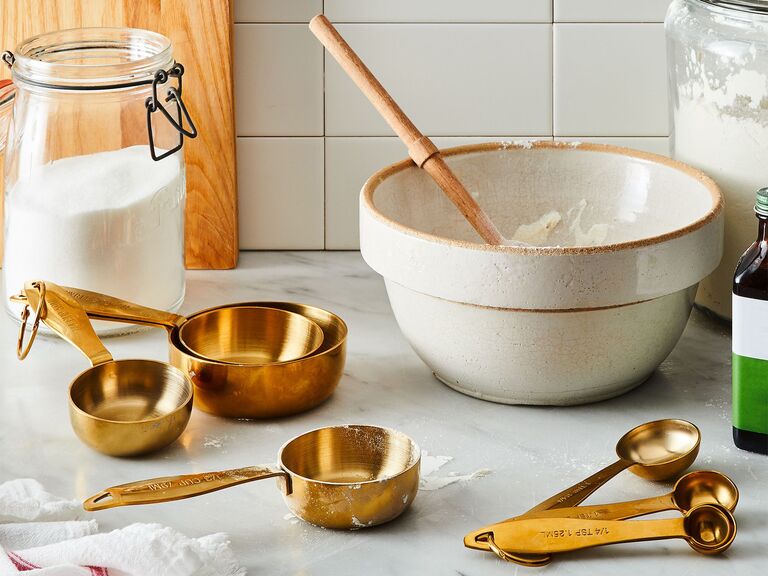 On the hunt for golden anniversary gift ideas for someone who loves to bake? Check out this sleek set of measuring cups and spoons made with stainless steel in a PVD gold coating. These measuring tools are practically heirloom-worthy.
Upgraded Candle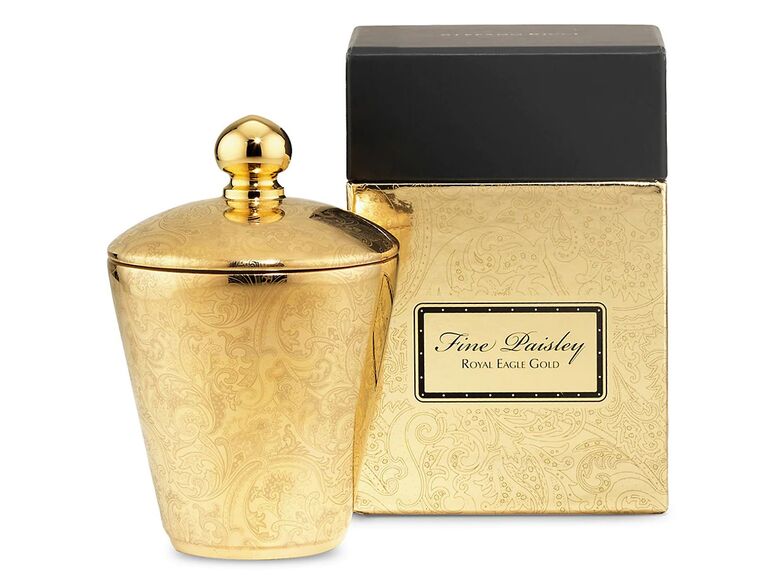 We bet you didn't think a candle would fit the gold 50th anniversary gift theme. Well, this isn't just any candle—it comes in a stunning porcelain container decorated with gold-tone, paisley-patterned platinum. They can use it again and again as a candle holder or trinket box.
Fairytale Flower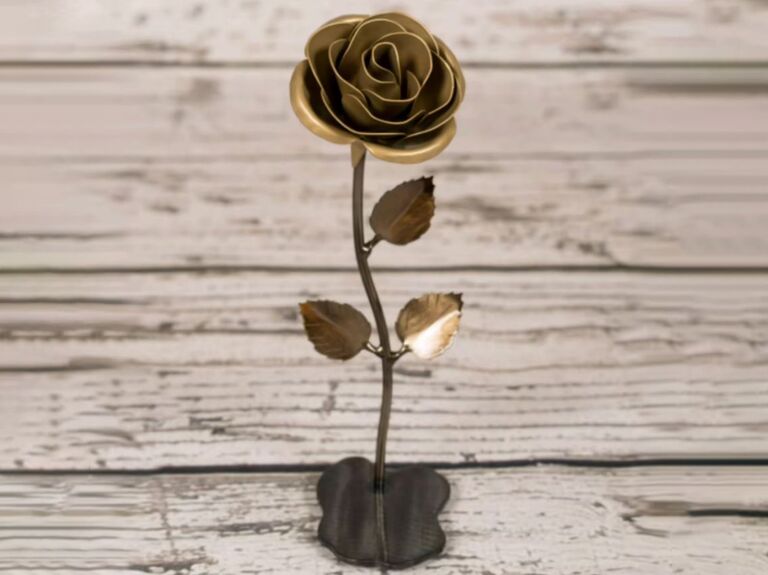 This unusual 50th anniversary gift idea is probably one of the most romantic gold-themed presents you could pick. The powder-coated iron flower will stand as a testament to your love long after fresh blooms have wilted.
Elevated Pen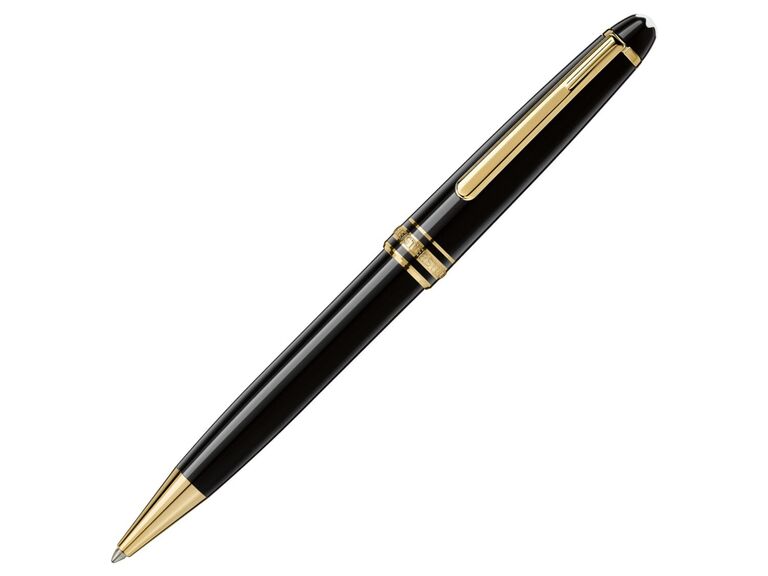 Writing love letters will be a breeze once your other half has this classy ballpoint pen. Personalize it with their initials to take your gift over the finish line.
Adorable Pebble Art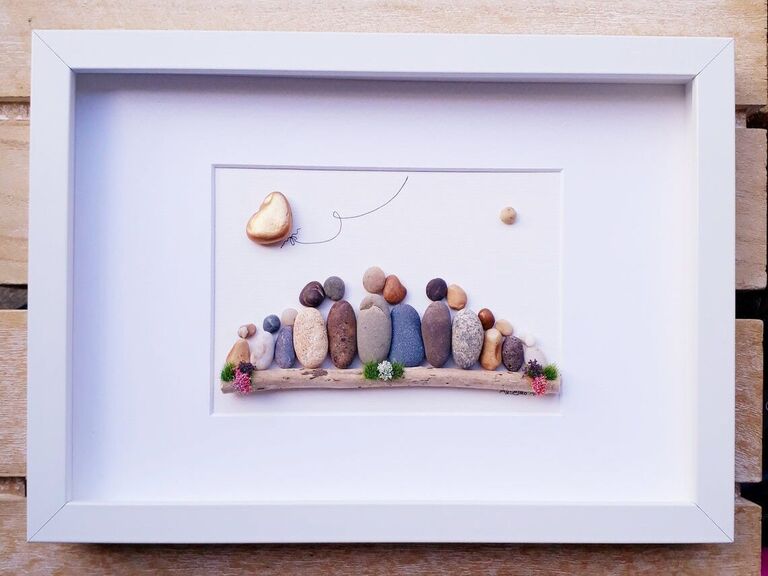 This quirky and unusual gift is perfect for couples who may appreciate an unconventional family portrait. Crafted using pristine pebbles (including a gold-coated heart-shaped piece), it's sure to rock their world and remind them of all the joy 50 years has brought.
Alternative 50th Anniversary Gifts
You don't have to stick to the traditional gold theme to get your wife, husband or the couple a 50th anniversary gift that they'll adore. Below are 20 creative picks that'll leave them feeling loved and appreciated.
Thoughtful Family Tree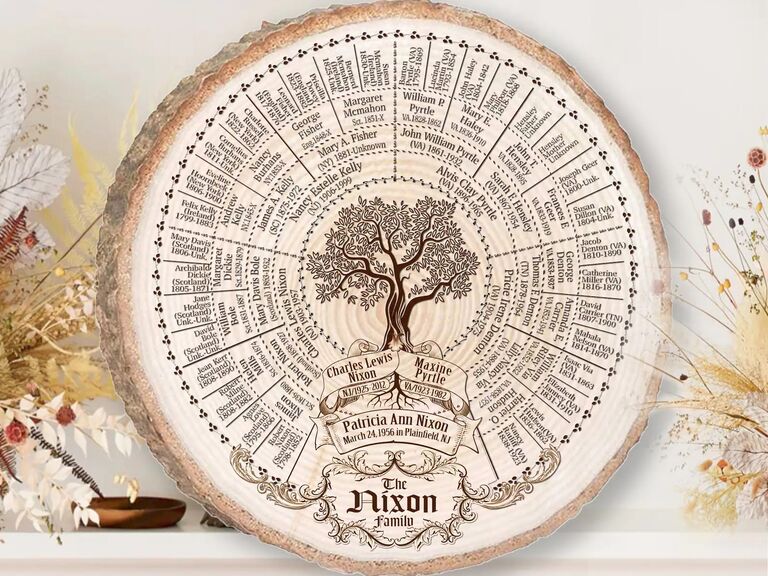 When it comes to gifts to give your parents for their 50th wedding anniversary, it's a good idea to get them something sentimental. Having your family tree engraved on natural wood will show them just how proud you are of where you came from. It's also a stunningly unique piece of decor everyone will want to know more about.
Sentimental Newspaper Page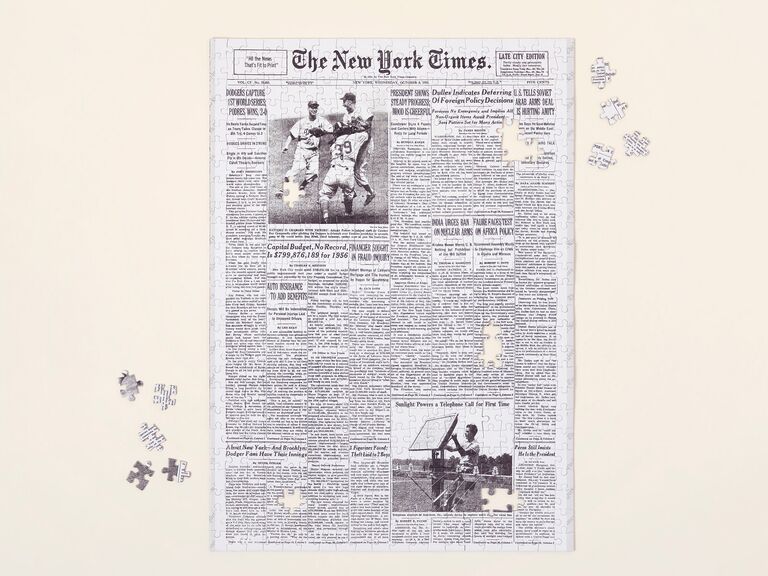 Here's another wonderfully sentimental 50th anniversary gift idea for your friends, parents or partner. Simply select the day, month and year of the nuptials and you'll receive a puzzle of the New York Times front page from that special day. Not the puzzle-solving type? Instead, hand over a book of all the paper's iconic front pages from every year of their marriage.
Personal Video Montage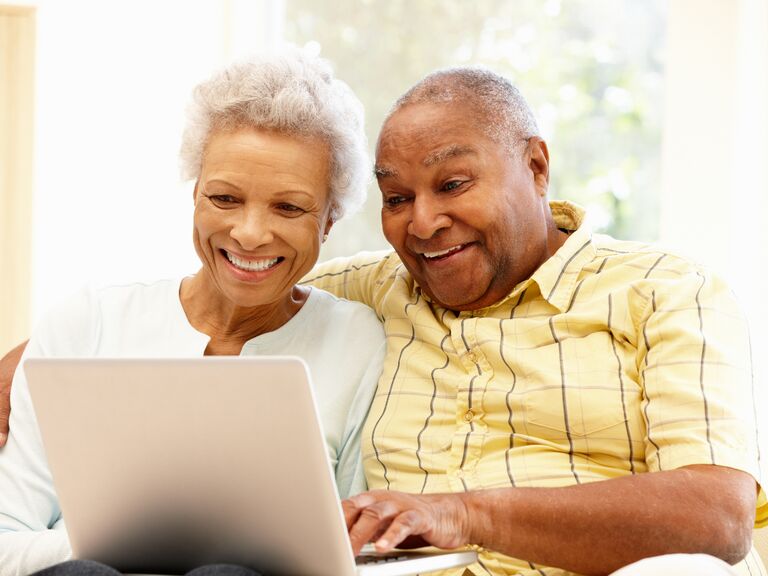 When it comes to buying an anniversary gift for a couple, Osborne has some top-notch advice. "Purchase something that can be enjoyed by the couple you're gifting to as well as friends and family. Experiential gifts always feel extra special and these are also the most memorable," says the Associate Buyer. Tribute will let you put together a montage of videos from the couple's closest friends and family. It's a great opportunity for loved ones to congratulate the happy couple on their latest milestone.
On-Theme Dessert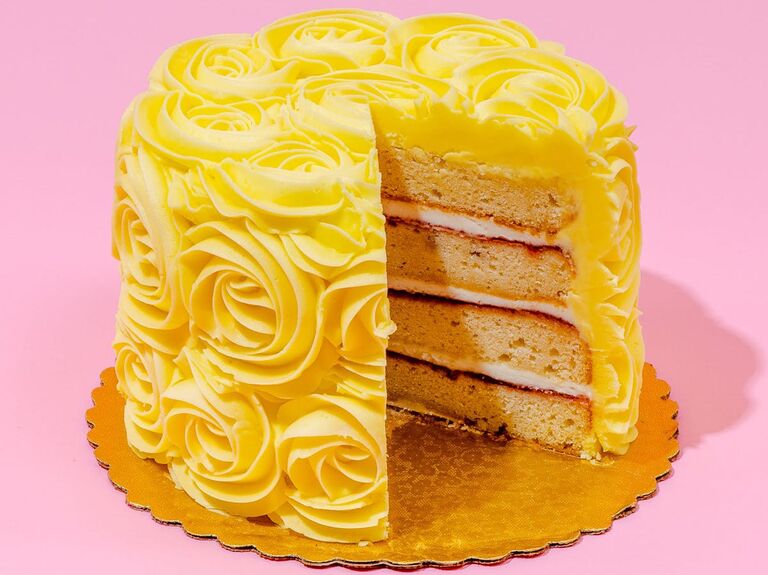 Okay, this one really takes the cake. Commemorate the couple's incredible achievement with a refreshing lemon and raspberry dessert decorated with frosted yellow roses. Want to know why it's so perfect? Yellow roses are one of the 50th anniversary flowers.
Digital Picture Frame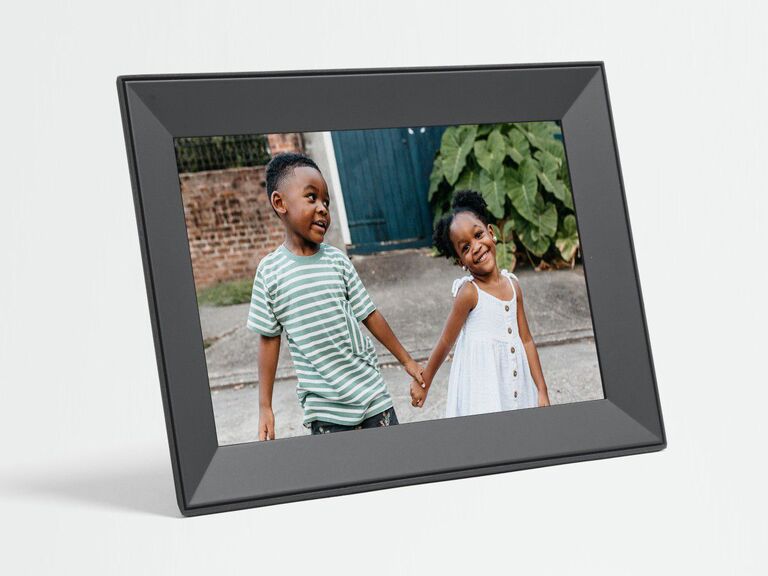 A digital photo frame is a practical 50th wedding anniversary gift that'll change your parents' lives. Aura lets you add preloaded snapshots to the frame before handing it over as a gift. Not only that, but you can continue to upload new images from your phone or laptop anytime, anywhere.
Commemorative Candle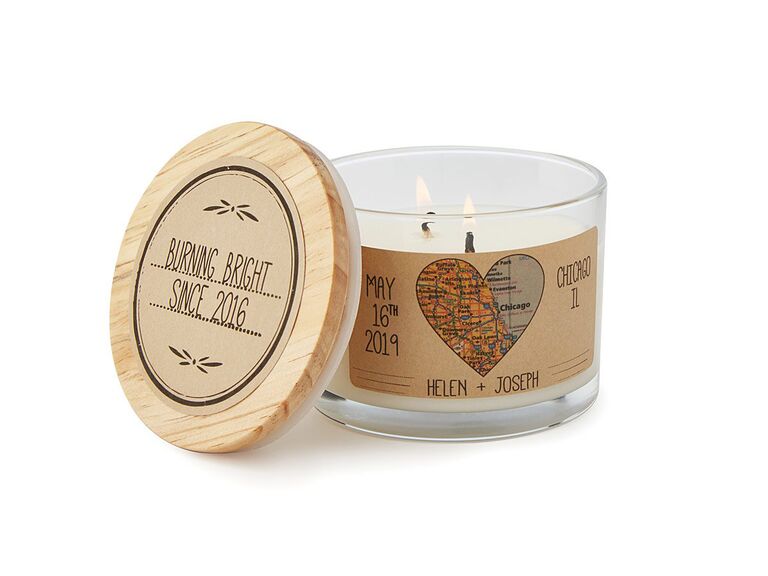 You don't have to splash out on luxury 50th anniversary gifts to get something truly special for your other half. This sweet candle comes in a personalized jar with space for your names, wedding or anniversary date and a meaningful location. We suggest choosing the place you met, your wedding venue or the home you built together.
Custom Portrait
Etsy has some of the coolest 50th anniversary gifts for couples. Imagine the look on their faces when they unwrap a beautiful artistic portrayal of themselves? Have your wall art framed before handing it over so they can instantly put it on display.
Luxurious Luggage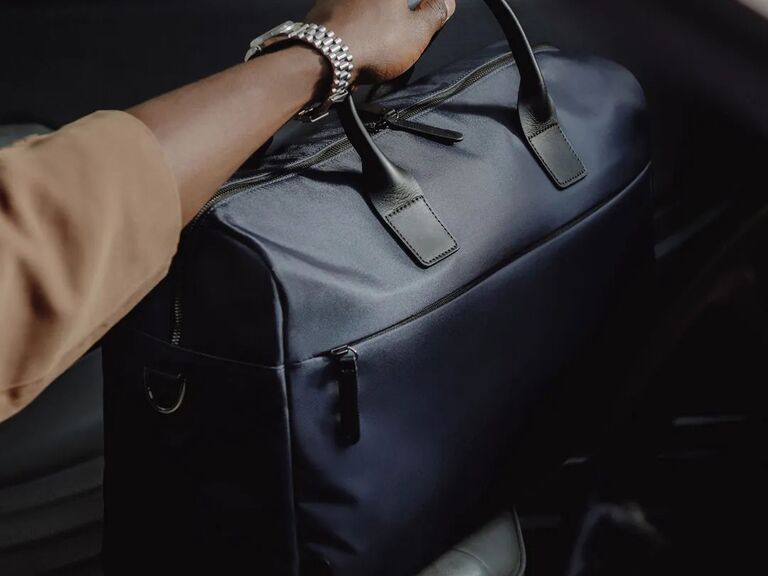 If you plan on jetting off together to celebrate your next milestone, why not give your spouse this useful 50th anniversary gift? It's a functional (and stylish!) weekend bag designed to carry all the essentials without weighing a ton. The minimalist design has us totally won over, but you can also add a monogram if that's more your partner's taste.
Sporty Barbecue Tools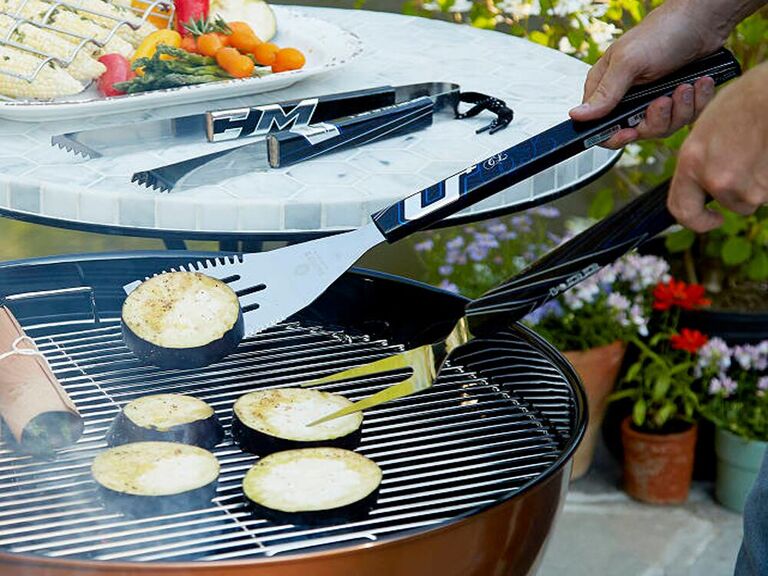 Your number-one griller and hockey fan will definitely appreciate this must-have set. Crafted from repurposed hockey sticks, these handy tools are a fun and unusual gift—and a great conversation starter at your next BBQ.
Celebratory Champagne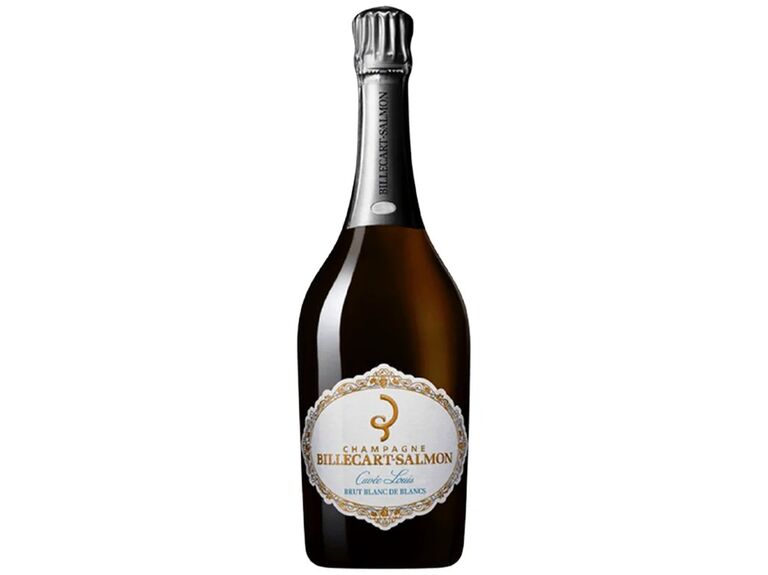 Champagne is a classic way to celebrate such a momentous occasion. And according to our friends at Wine Access, this Billecart-Salmon bubbly is one of the best gifts for a 50th anniversary. "This is patient, studied artistry in a bottle: It opens with aromas of green apple, Asian pear, yellow flowers and chalk, before giving way to palate-enticing quince and apple with mineral precision and tautness." Talk about a showstopping wine anniversary gift!
High-Tech Sunglasses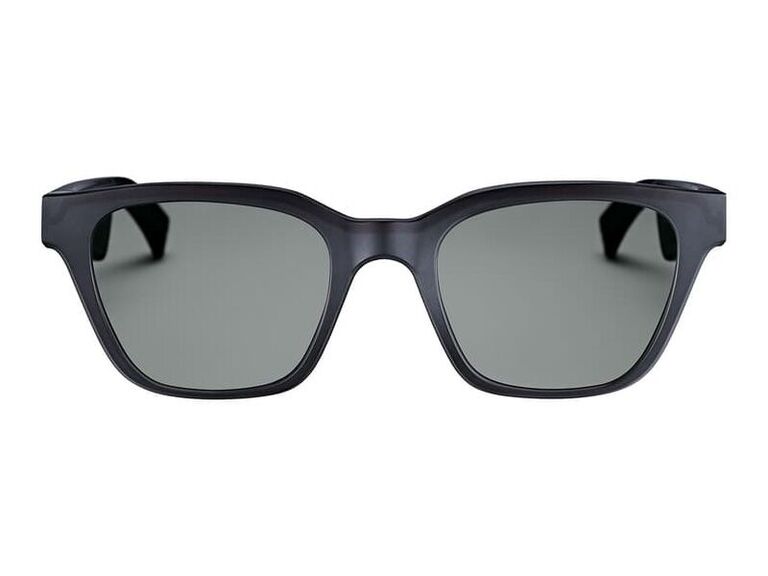 Still stumped about finding the ultimate present? These UV-blocking sunglasses from Bose are fitted with a miniature sound system so your spouse can enjoy their favorite songs and podcasts in the sun. Perfect for fishing and gardening enthusiasts alike!
Elegant Champagne Glasses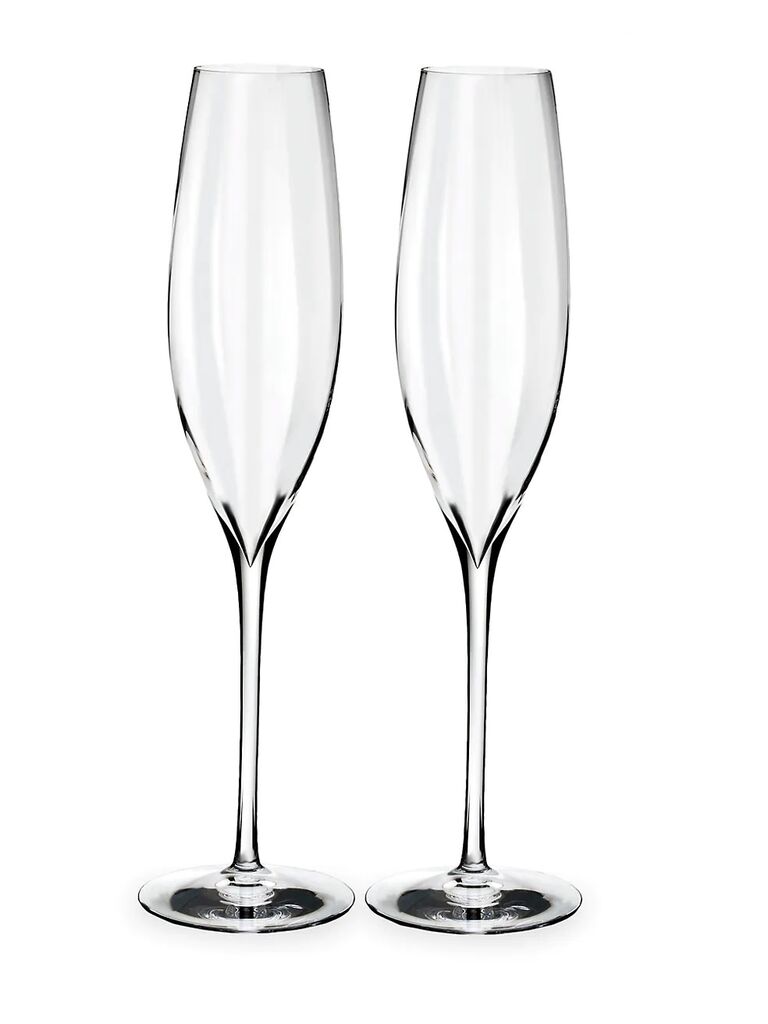 A set of champagne or wine glasses is a great gift idea for any occasion that's worth celebrating. Let them raise a glass to half a century with these beautiful champagne flutes crafted from shimmering Waterford crystal. The classic design will never go out of style.
Therapeutic Massage Gun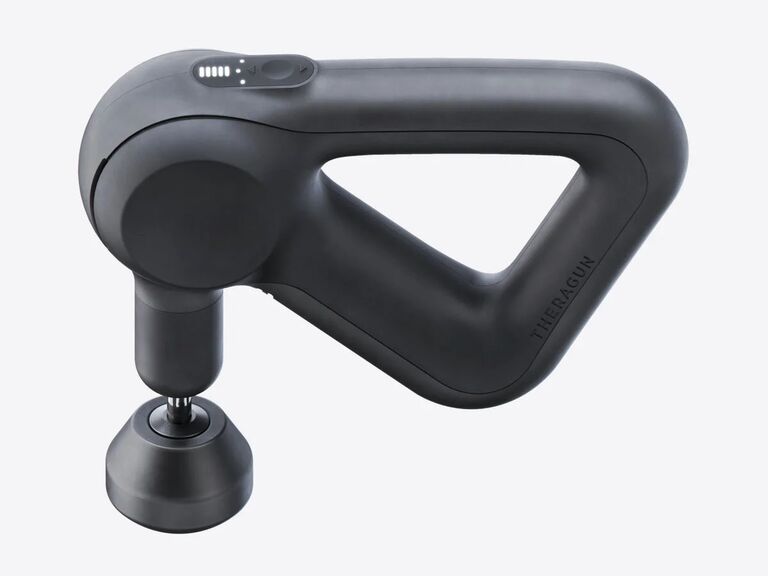 Sometimes the best gift for a 50th wedding anniversary is the thing your spouse has been hinting at. In our case, it's the Theragun. This bestselling massage tool is designed to soothe sore muscles at the push of a button. The ultra-quiet motor helps to make it a relaxing experience, while the ergonomic handle is easy to grip.
Embroidered Blanket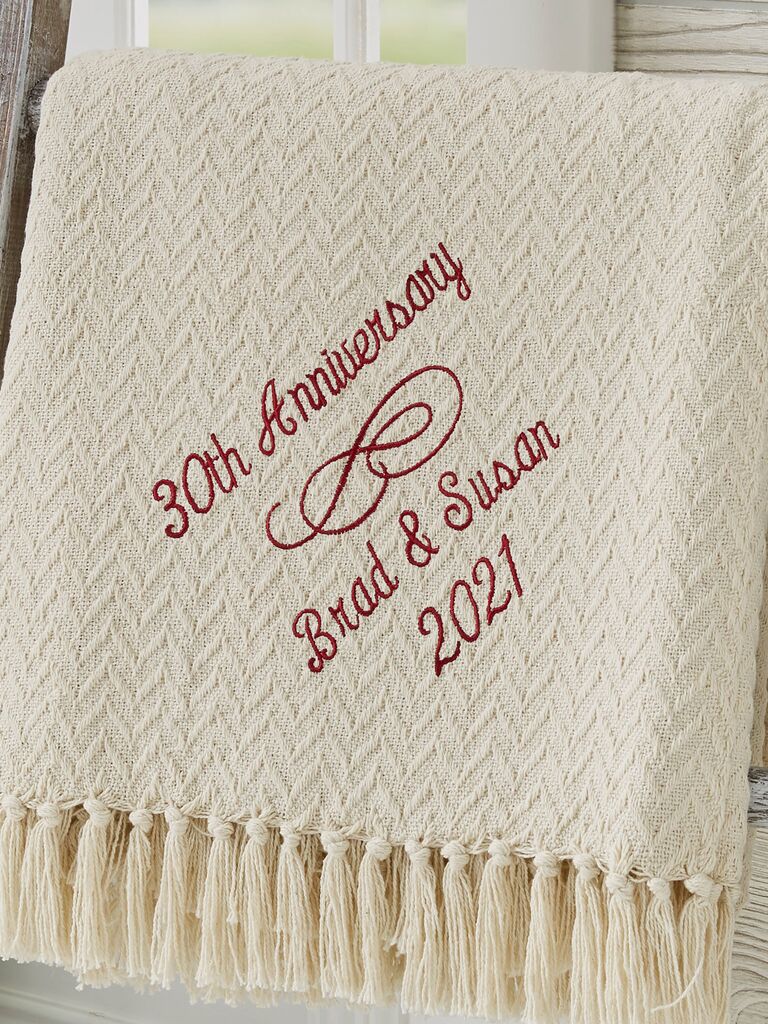 A super-soft and decorative throw blanket is already an excellent gift idea, but this one takes it to the next level. Have the gorgeous cream-color afghan embroidered with the couple's names alongside the year and milestone that they're celebrating.
Fresh Flower Subscription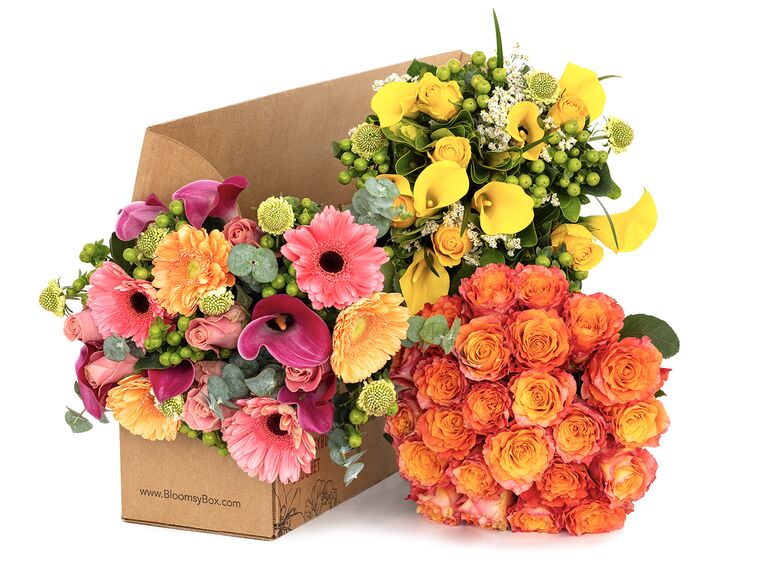 What's better than a bouquet of bright, beautiful blooms? Surprise your spouse with a fresh floral arrangement once a month with the help of Bloomsybox. It's a subscription gift that keeps on giving.
Custom Star Map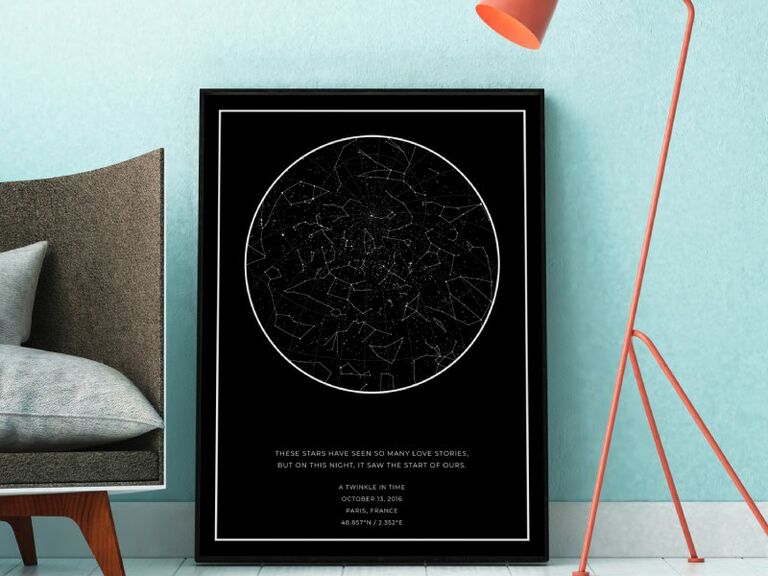 A framed map of the stars from the night you first met or the day you tied the knot is a sentimental gift that they'll surely treasure forever.
Heirloom-Worthy Anniversary Clock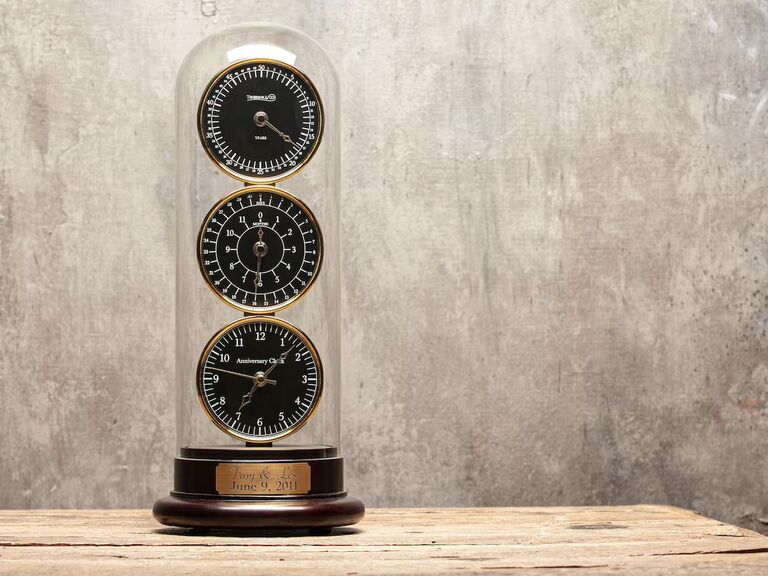 An anniversary clock is a truly special gift for any couple celebrating a major milestone together. This unique piece of decor has three faces: one showing the years, one showing the months and another measuring the seconds of their long-lasting romance. You can even have it engraved with their names and set up to play a meaningful song every year on their special day.
Celebrity Video Message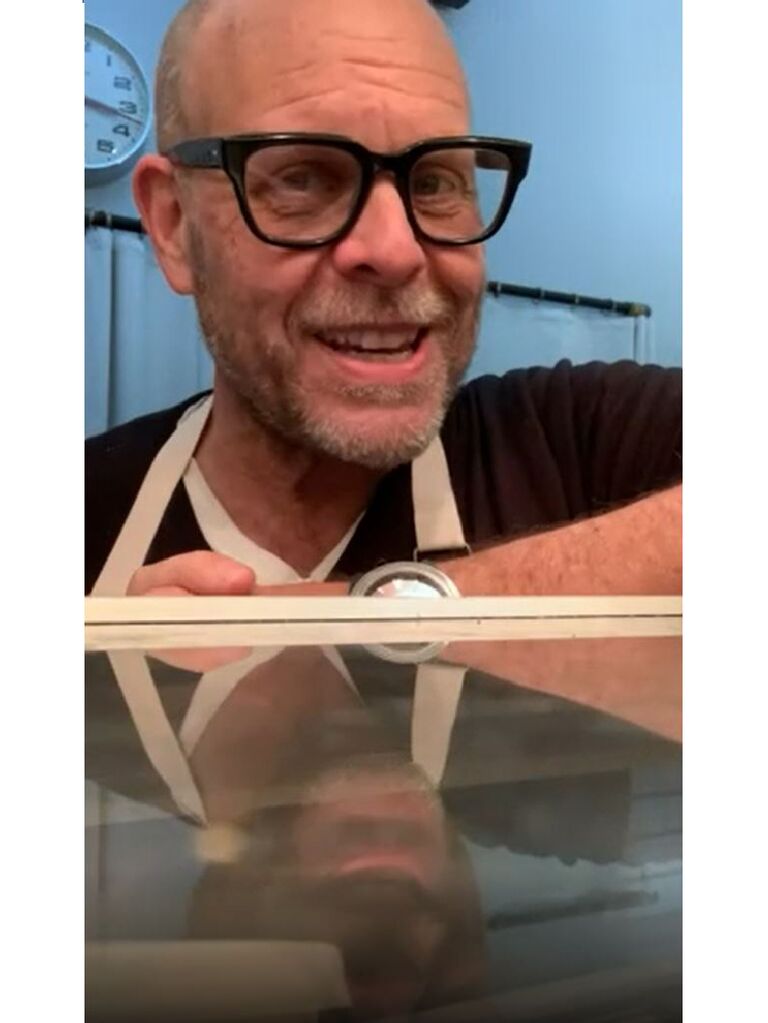 Cameo is a super-cool online service where you can request a personal video message from a whole host of famous faces. Choose an actor, musician, athlete or another favorite star. Then, have them record a congratulatory message to the lovebirds in honor of their marriage. Bonus: If you're looking for a last-minute 50th wedding anniversary gift, some celebs on the site offer a 24-hour turnaround.
Tasty Gift Box
This food crate is the ideal romantic gift for couples who enjoy the finer things in life. Each box contains a selection of award-winning wines, cheeses, nuts and more, perfect for sharing with visiting guests (or not!).
Pretty Plant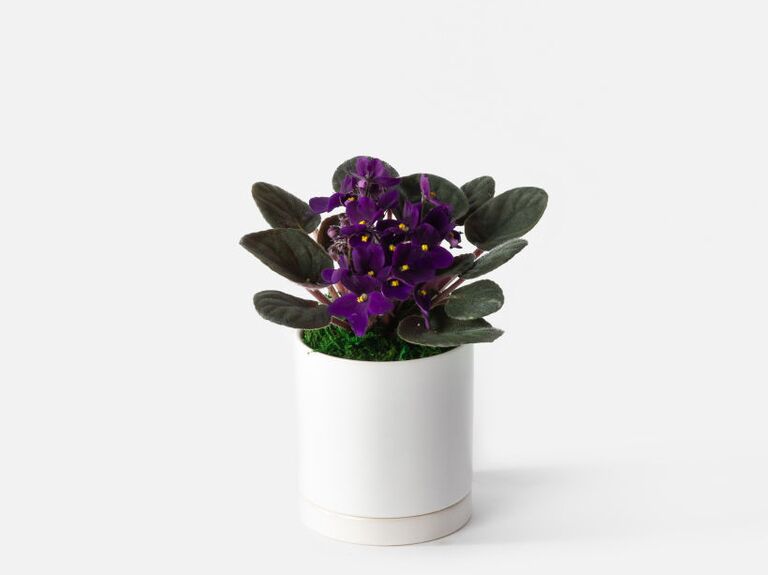 Violets are the other flower associated with this special milestone. This vibrant plant is indicative of affection, care and love—how sweet! This lovely gift includes a chic ceramic pot that'll look great on the windowsill or an end table.