The Best Gifts for the 50th Wedding Anniversary, AKA the Golden Anniversary
We have ideas for any spouse or couple.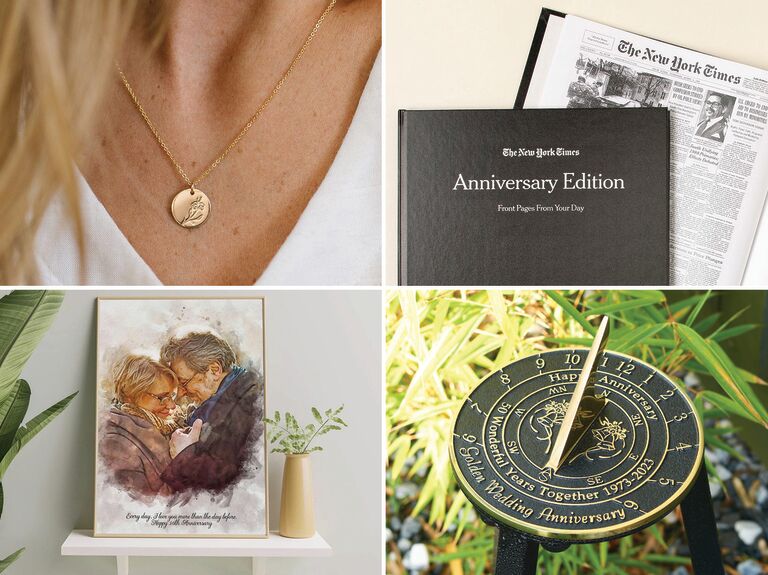 Photos, clockwise: Made by Mary, Uncommon Goods, TheMetalFoundry, WaKiwi
We have included third party products to help you navigate and enjoy life's biggest moments. Purchases made through links on this page may earn us a commission.
Any couple that has enjoyed 50 years of wedded bliss deserves massive congratulations—and plenty of thoughtful 50th anniversary gifts to mark the occasion. If you're not sure what to get for your favorite golden couple, we're here to guide you with our selection of unique and traditional anniversary presents. Whether you're shopping for your husband, wife or parents, we've got plenty of sure-to-please gift ideas for the 50th wedding anniversary. Keep reading to learn all about this milestone's unique gifting theme, then shop our top picks.
In this article:
Traditional Golden Anniversary Gift Symbolism
The 50th anniversary is famously known as the golden wedding anniversary, with gold being both the milestone's traditional gift material and associated color (of course!). This precious metal represents wisdom, prosperity and strength, making it a fitting tribute to a marriage that has lasted for over half a century. It also echoes the wealth of experience a couple has after 50 years of wedlock and the luxury of knowing someone intimately for so long. While gold is the gift that gets the most attention, the 50th wedding anniversary also has two flowers: yellow roses, which symbolize friendship and joy, and violets, which are a sign of faithfulness. Whatever approach you take while shopping, we've got you covered with our selection of 50th anniversary gifts for him, her or them.
Gold 50th Wedding Anniversary Gift Ideas
If you're taking the traditional route and going for gold, we're here to help you pick a special 50th anniversary gift that your spouse or favorite duo will appreciate. Gold offers so many great gift options, from fine jewelry and heirloom-worthy accessories to sentimental wall art and elegant glassware. To help you stay on theme, we've rounded up our favorite golden wedding anniversary presents worthy of this incredible marriage milestone.
Gold Sheet Music Canvas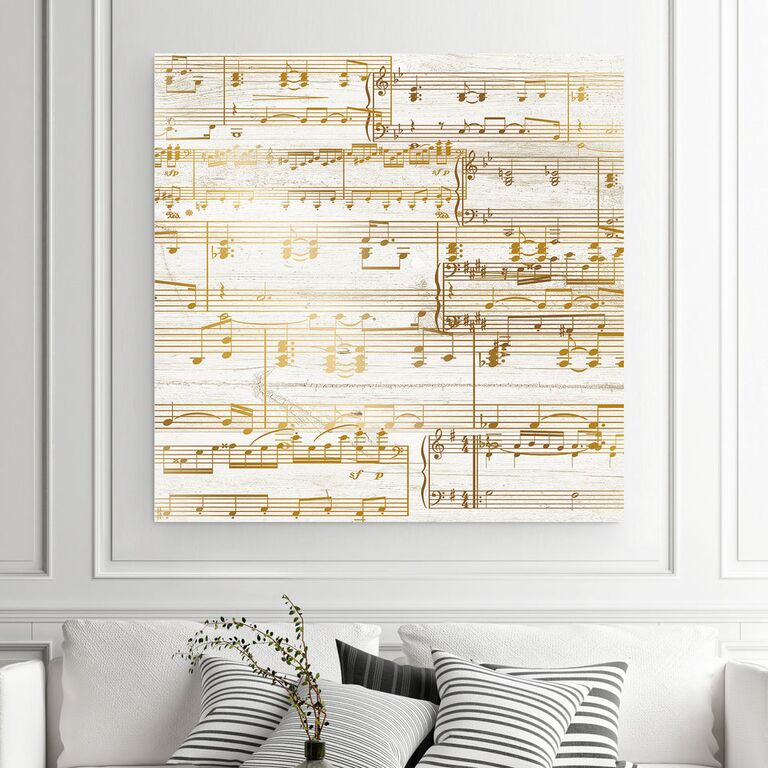 Few moments are as memorable as the first dance together as newlyweds, so why not take them back in time with this meaningful 50th anniversary gift? The sheet music from the couple's first dance song is printed on canvas in glittering gold, creating a sentimental showpiece for their home. Every time they look at it, they'll be reminded of the magical moment when their love story began and all the special times they've shared together since.
Gold Tree Ornament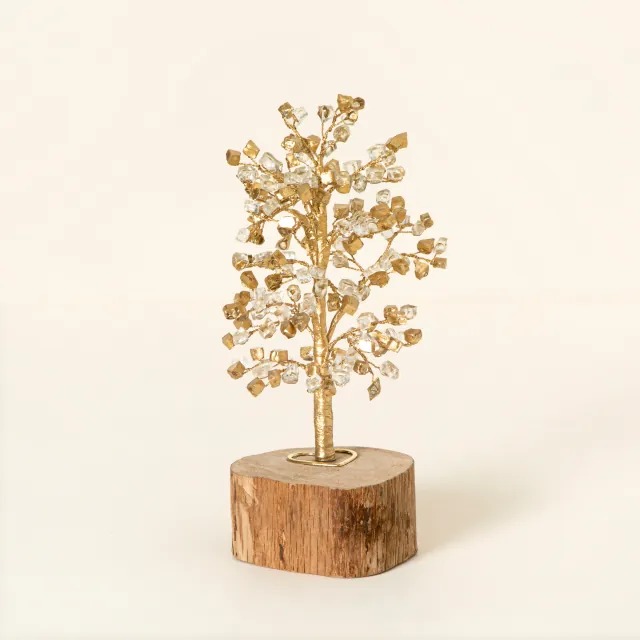 After five decades of a successful marriage, you and your spouse probably know nearly everything about each other. With this cute and thoughtful anniversary gift, you can pay tribute to how much your love has grown during 50 years of marriage. The base of this pretty tree ornament is made from wood, with recycled and gold glass beads forming the branches and leaves. It's a cute and quirky gift that represents the 50th anniversary theme and the beauty of your lifelong bond.
Personalized Metallic Record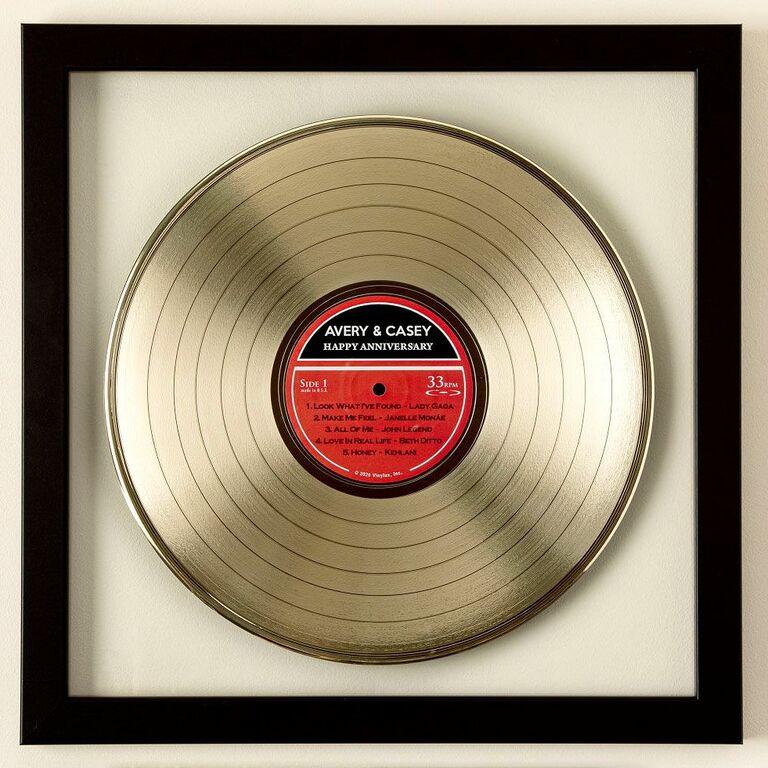 Shopping for someone who loves music is super fun because it lets you get creative with your gifting. This upcycled vinyl record is brimming with retro vibes and is guaranteed to be a hit with your partner or a lucky couple in your life. It's finished in dazzling gold and can be customized with their names and a five-song tracklist of their all-time favorite tunes. You can add a heartfelt message like "Happy 50th Anniversary!" to make this sentimental wall art even more meaningful.
Monogrammed Ice Bucket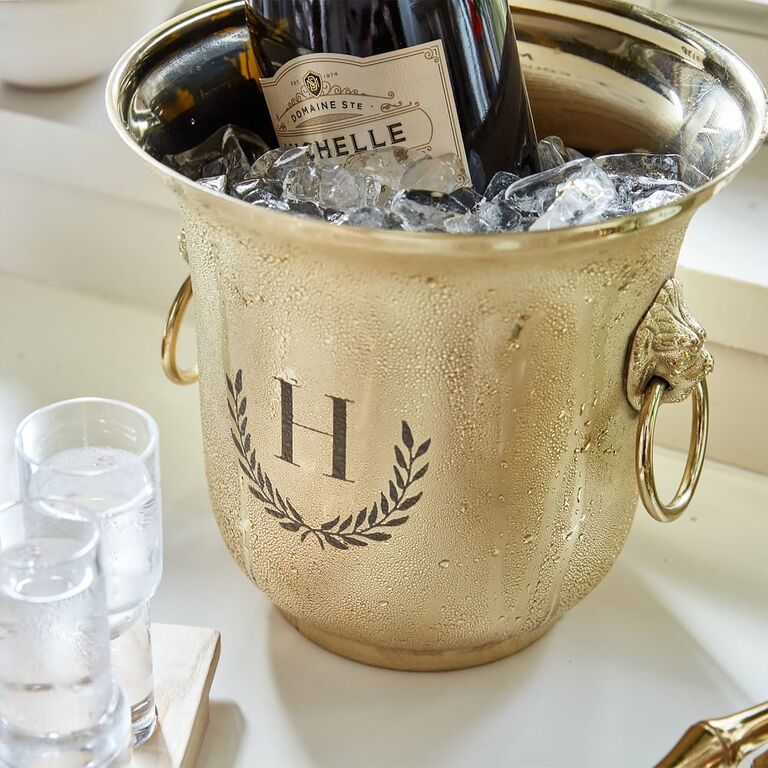 Pair their favorite bottle of anniversary wine with a gilded ice bucket for a celebration-worthy gift. This vintage-inspired vessel is made from gold-plated stainless steel and will keep any bottle of bubbly or wine chilled for hours while bringing a touch of sophistication to the table. It can be stamped with a monogram to create a personalized 50th anniversary gift they'll be happy to show off.
Gold-Dipped Preserved Rose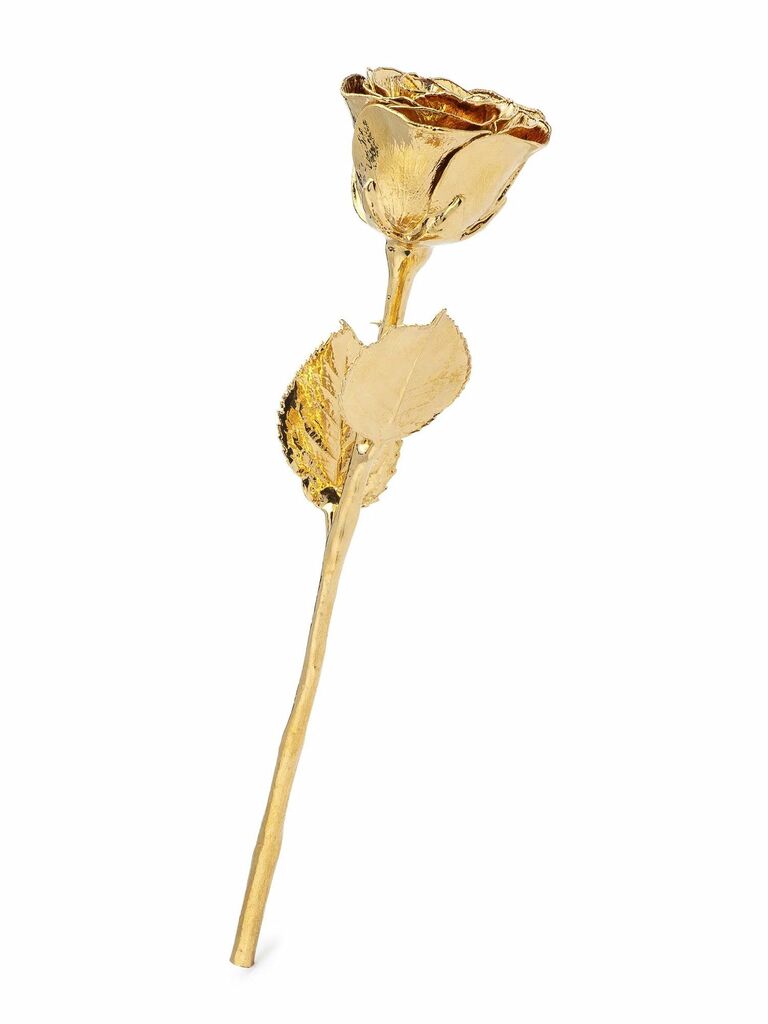 If you're planning on surprising your spouse with a bouquet of anniversary flowers, add this 24K gold-dipped rose to the bunch to really wow them. Made from an actual rose preserved at peak bloom, this forever flower is a romantic symbol of a love that never fades. Engrave the stem with a personal message for extra romance—it could be as simple and true as "I love you, always."
Gold Champagne Flutes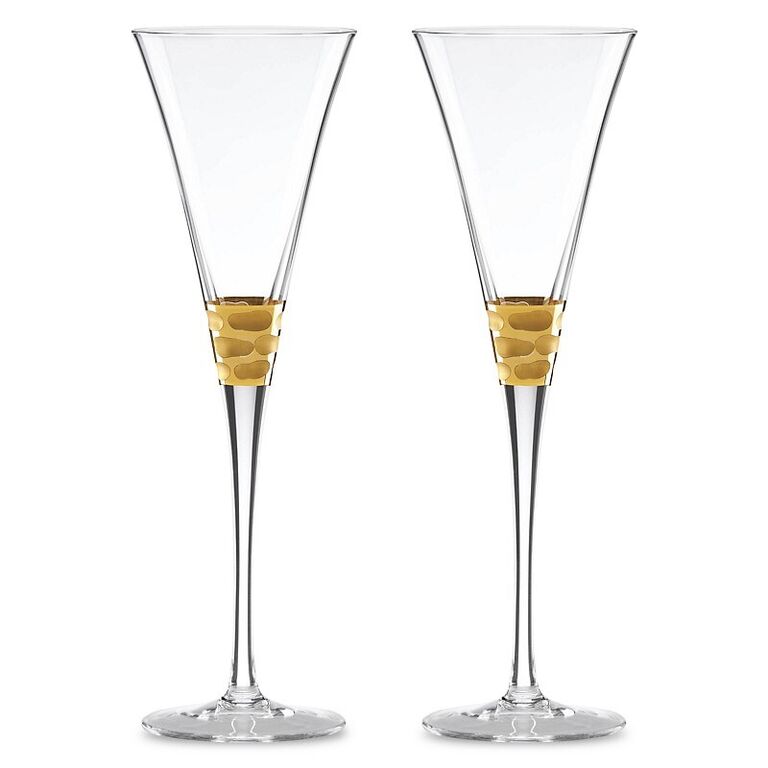 If there was ever a milestone worth toasting to, it's spending half a century married to your best friend. Raise a glass to your golden anniversary with these finely crafted champagne flutes, and let the celebrations begin. They're made from lead-free crystal and are embellished with gold detailing for a glamorous take on the 50th anniversary theme. Pair the glasses with a bottle of champagne to make this stylish anniversary gift really pop.
Elegant Gold Earrings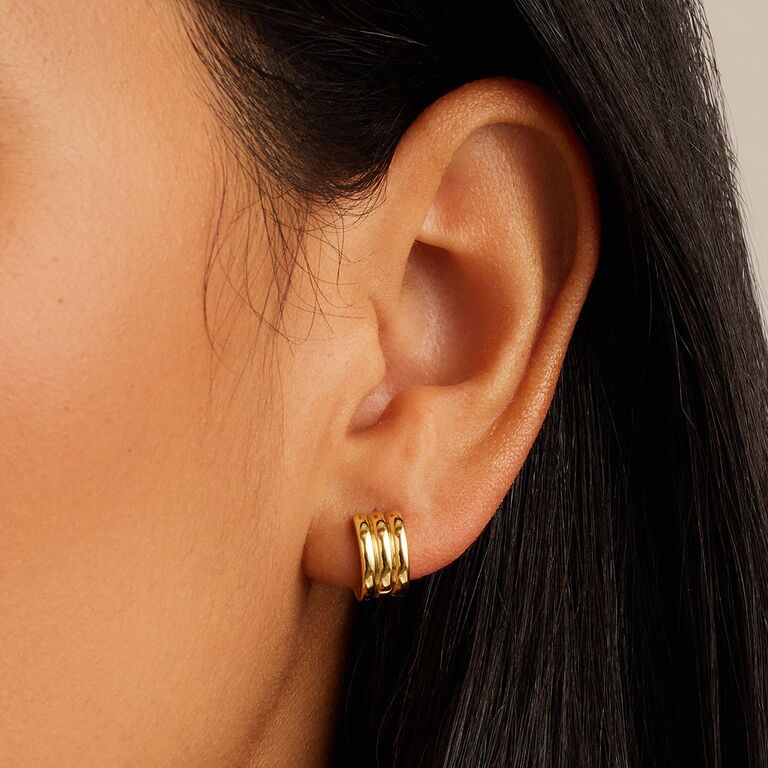 If you've got a stylish spouse to shop for, the 50th wedding anniversary is the perfect opportunity to treat them to some pretty jewelry. These 14K gold-plated earrings strike the perfect balance between sophistication and understated elegance and look way more expensive than their humble price tag. Whether your partner wears them out to celebrate or rocks them at home, they're guaranteed to bring a glamorous touch to any ensemble.
Golden Anniversary Sundial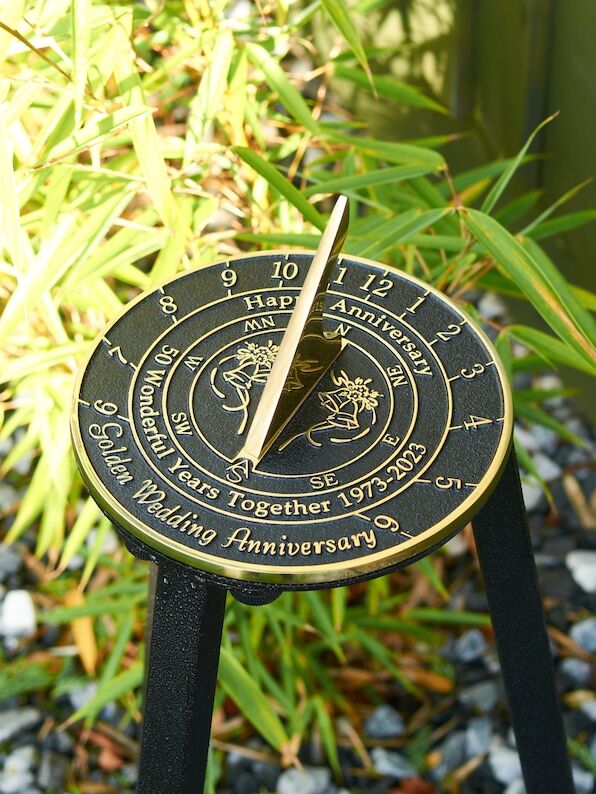 It's the couple's golden anniversary, meaning they've probably acquired pretty much everything they need by now. Something they likely don't have? A display-worthy sundial with gold-tone brass accents. Add an extra-special finishing touch by having it personalized with their wedding date and the year they're celebrating the big 5-0. It can be used as a decorative accent around their home or as a piece of garden art.
Luxe Gold Watch
Time flies when you're in love—and you and your spouse probably know that better than most. Honor the good times gone by (and all the great moments to come) with this luxe gold timepiece from Citizen. This glimmering watch features a black dial embellished with 11 sparkling diamonds, a calendar date window and a gold-tone stainless steel bracelet—but that's not all. It's powered solely by light, so they'll never have to worry about replacing the battery.
Gold-Plated Bookmark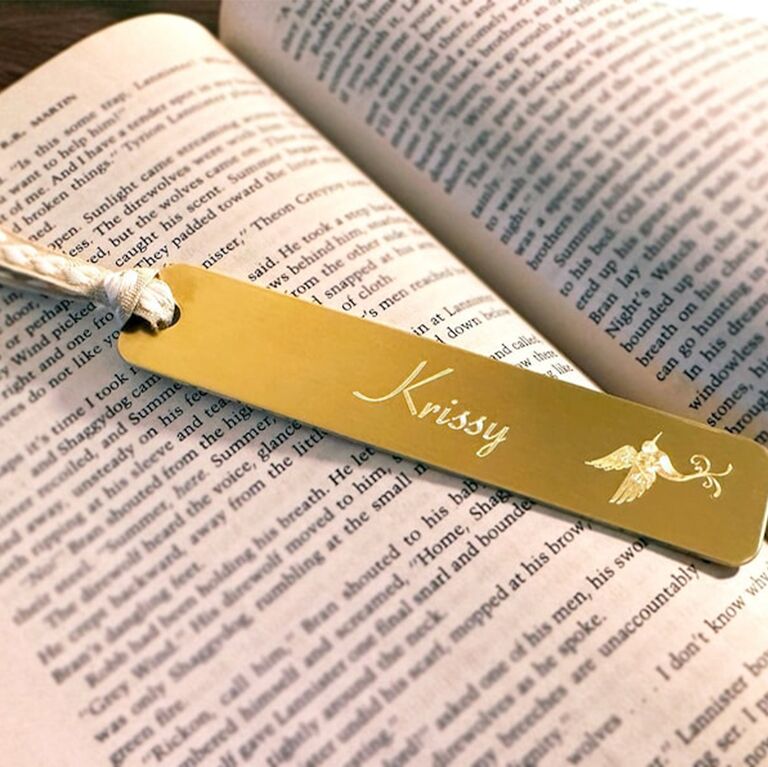 When shopping for a partner or couple who loves reading, think outside the box with this pretty and practical gift. This gold-colored bookmark will add a luxurious touch to their reading experience while making sure they keep their spot in their favorite romance novel or mystery thriller. It's already engraved with a cute bird motif, but you can also add your spouse's name or a meaningful quote to make this golden anniversary gift shine even brighter.
Gold Candle Holders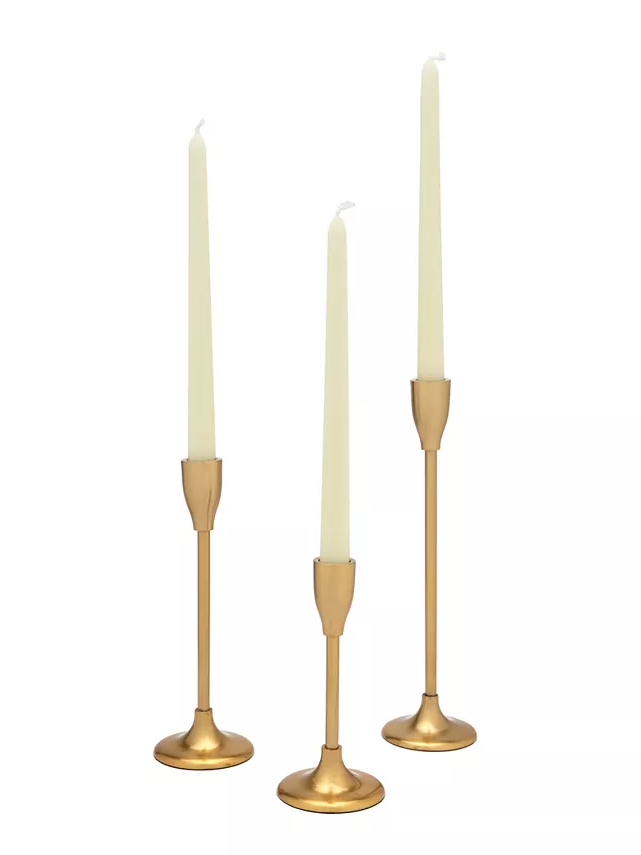 We can't think of anything more romantic than a candlelit dinner, especially one with your spouse of 50 years. Make the moment even more magical with these on-theme gold-toned candle holders. The set includes three sticks of various heights—each made from aluminum and iron—with an elegant gold finish that'll make any meal feel like a luxurious banquet.
Engravable Gold Bracelet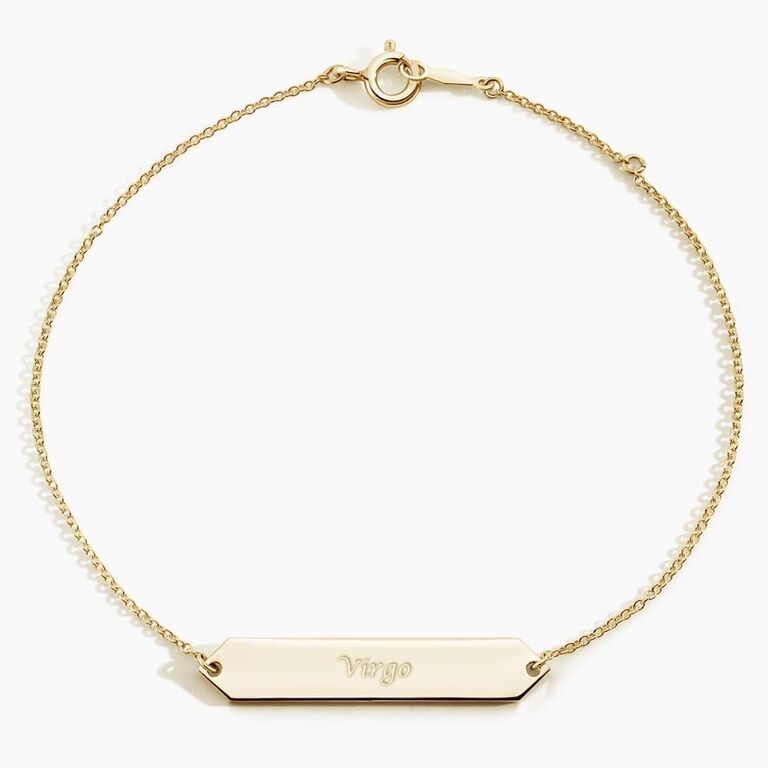 While a luxe jewelry gift is a thoughtful option for any romantic milestone, we think it's especially fitting for the 50th wedding anniversary. Simple yet stylish, this 14K yellow gold bracelet features a sleek rectangular bar that can be engraved with your partner's name for a thoughtful touch. It's a glamorous accessory worth splashing out on and one they can wear every day.
Glamorous Gold Handbag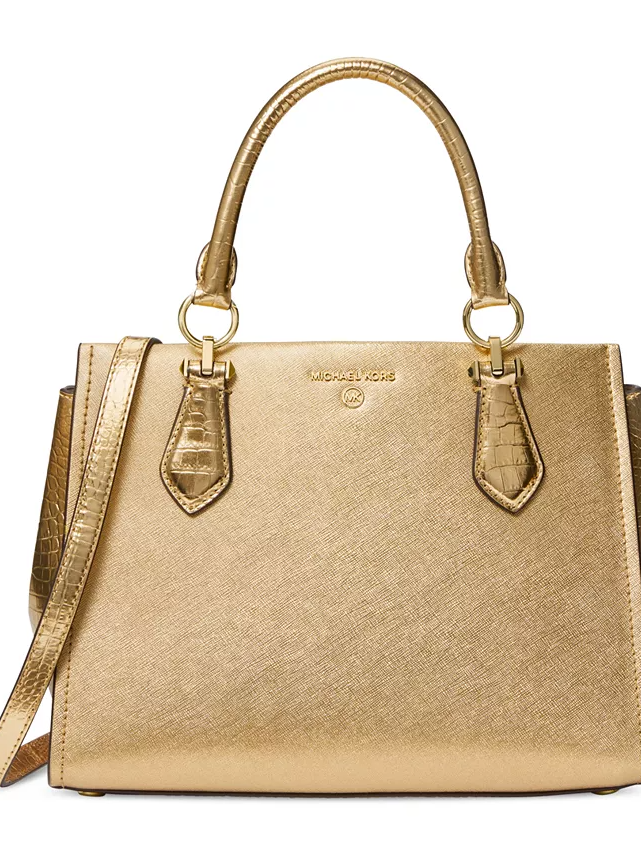 Wearable gifts are always a winner, especially if your partner likes expressing themselves through their personal style. This leather satchel from Michael Kors is a statement piece any spouse will be happy to add to their accessory collection. The elegant gold color perfectly encapsulates the 50th anniversary theme, while the zip enclosure keeps all the contents safely stashed inside. Bonus: It also comes with an adjustable strap, which is ideal for anyone who enjoys being hands-free while out and about.
Gold Rim Whiskey Glasses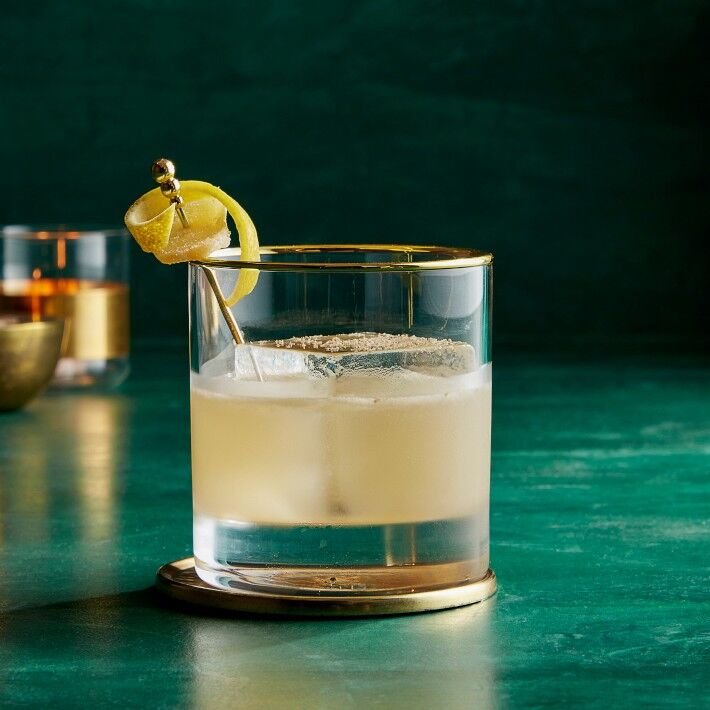 If the happy couple likes to round off a busy day with a nightcap or two, it's worth treating them to some stylish new glassware. This set includes four whiskey glasses, each embellished with a hand-painted 24K gold rim for an elegant (and on theme) finish. They're perfect for serving up everything from bourbon and soda to cocktails and iced tea and are a practical gift they can use at their 50th anniversary party and beyond.
Gold Cuff Links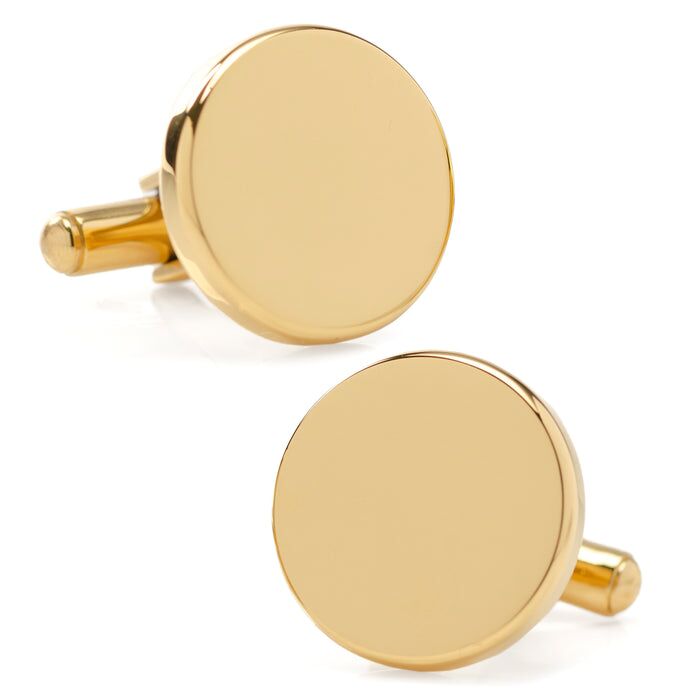 Whether you're celebrating your anniversary at home or at a swanky venue, you two should absolutely dress up for the occasion. Help your spouse look the part with this set of gold cuff links. They'll add a luxurious finish to their favorite shirt and will ensure they feel dapper and polished. Have them engraved with your partner's initials for an extra special touch.
Unique 50th Wedding Anniversary Gift Ideas
Breaking with tradition can be just as fun as honoring it when it comes to choosing a 50th anniversary gift for your partner or the happy couple. With this in mind, we've compiled a list of alternative anniversary presents that are sure to please. Our round-up includes everything from fun puzzles to custom portraits and is sure to make your shopping experience a little easier. Below are 15 creative picks that'll leave them feeling loved and appreciated this year—and always.
New York Times Anniversary Book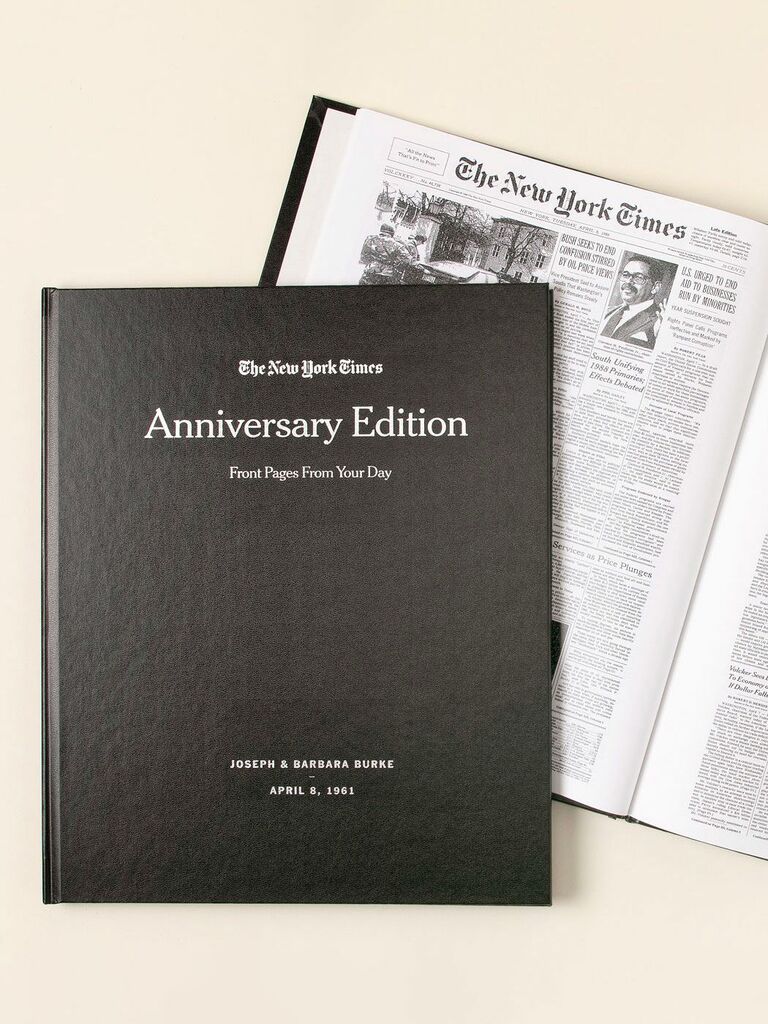 If your partner likes to while an afternoon away reading the newspaper, they'll love this personalized anniversary gift. The leather-bound book is filled with the front pages of The New York Times from your wedding date every year through the most recent anniversary—that's 50 pages of history you can both delve into.
Custom Embroidered Blanket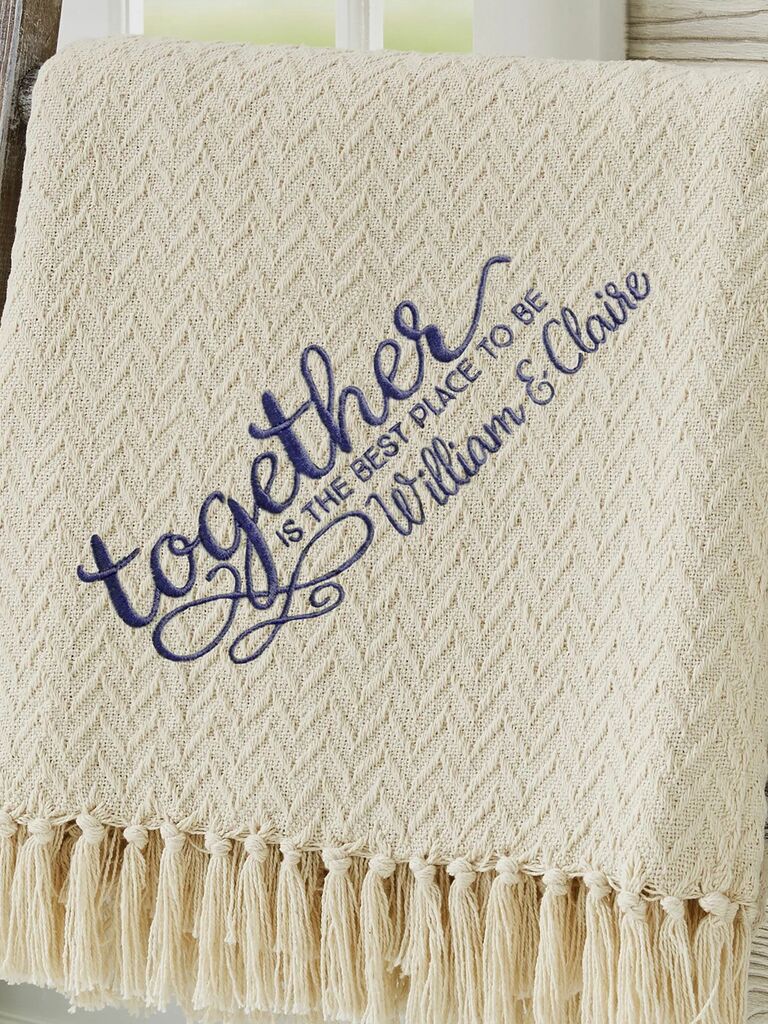 A super-soft decorative blanket is already an excellent gift idea, but this one takes the cozy vibes up a notch with the addition of custom embroidery. Accent the gorgeous cream throw with their favorite thread color, finishing the piece with their names alongside the sweet phrase "Together is the best place to be." It's a comforting and thoughtful anniversary gift that'll inspire plenty of cuddles (and maybe even a cozy nap on the sofa).
Personalized Compact Cheeseboard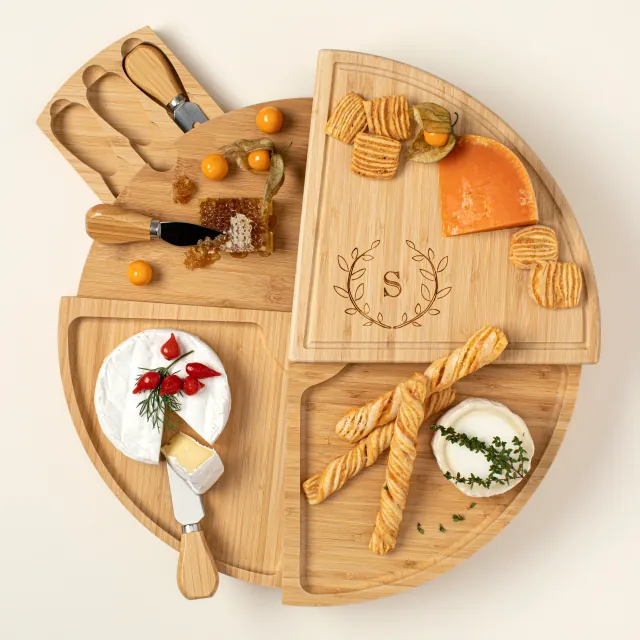 If you're shopping for a couple who likes to entertain at home, this compact cheeseboard is a 50th anniversary gift they'll be excited to show off. The unique design resembles a wedge of cheese when folded up and can be personalized with a monogram engraving. Once opened, it becomes a round swivel board ideal for sharing cheese, charcuterie and even biscuits. It also comes with a stainless steel fork, two knives, and a handy drawer for storage.
Personalized Anniversary Clock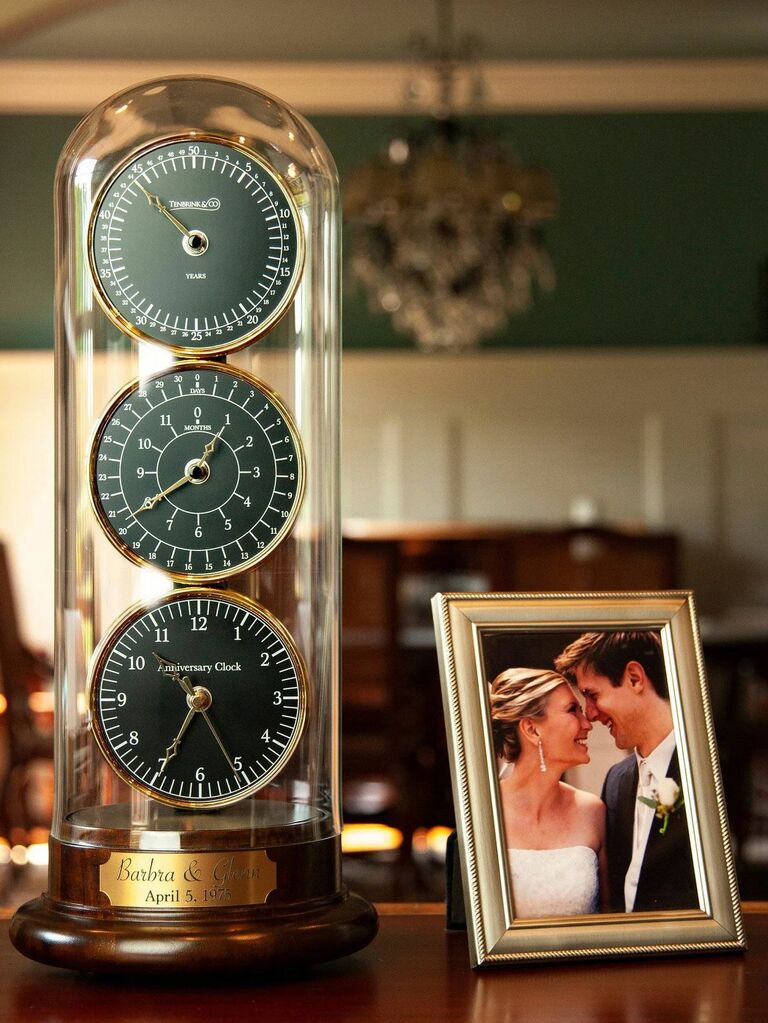 Encourage your favorite pair to keep having the time of their lives with a personalized anniversary clock. This unique piece of decor has three faces showing the years, months and seconds that have passed since they got married. It's engraved with the couple's names and plays a song of their choice every year on the special day (or just at the push of a button). It's a super sweet way to honor all the time they have spent together and the future that still awaits them.
Anniversary Map Candle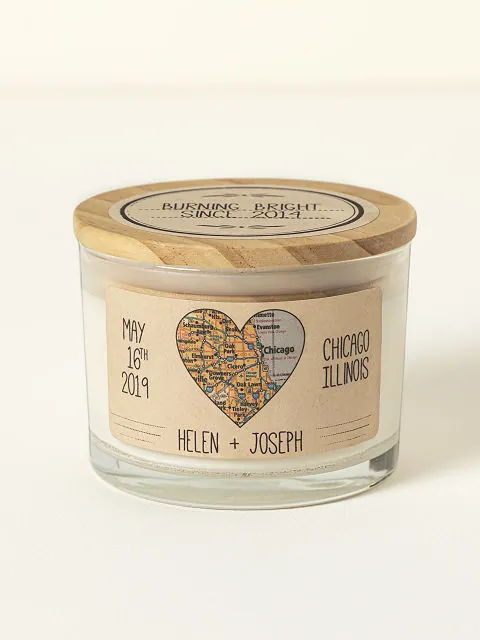 You don't have to splash out on a 50th anniversary gift to get something romantic for your other half. This sweet candle comes in a personalized jar printed with your names, wedding date and a meaningful location. We suggest choosing the place you met, your wedding venue or the home where you built your lives together. It's even champagne-scented, which is perfect for such a celebratory occasion.
Yellow Rose Bouquet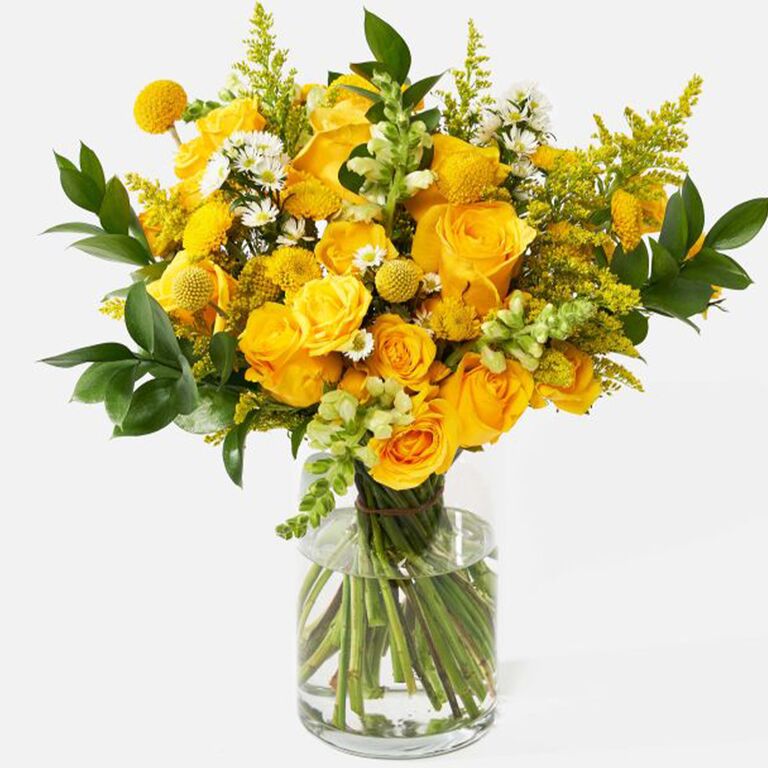 Take your cue from the yellow rose, one of the 50th wedding anniversary flowers, and surprise your spouse with a romantic bouquet. This bright bunch of blooms features a delightful mix of buds, including roses, craspedia and solidago. They'll add a splash of color to any space, as well as a bright smile to your partner's face.
Custom Couple's Portrait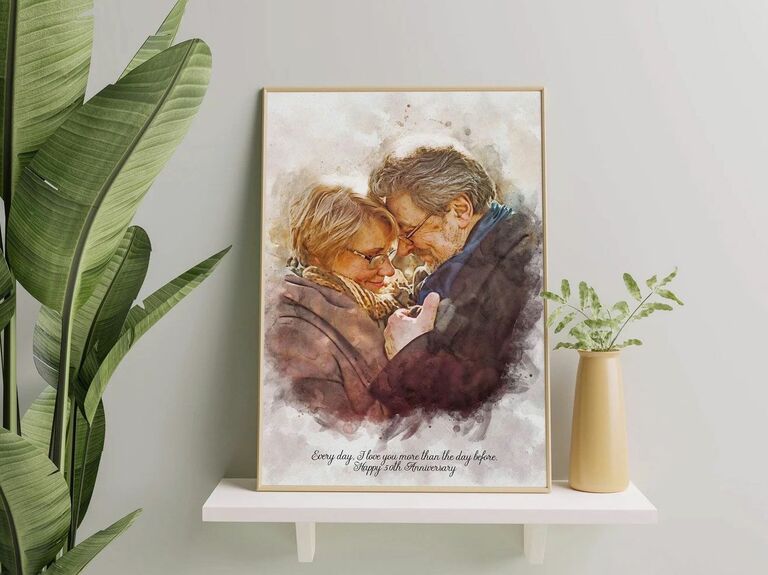 Put your own spin on a couple's portrait with this unique work of art. All you have to do is pick a photo of the happy duo to be transformed into a one-of-a-kind watercolor print they can treasure forever. The picture can be printed on matte paper or canvas and is also available as a digital download (which you can print and frame yourself if you prefer). It's a great alternative to a framed photograph, which they probably already have plenty of.
Crystal Photo Cube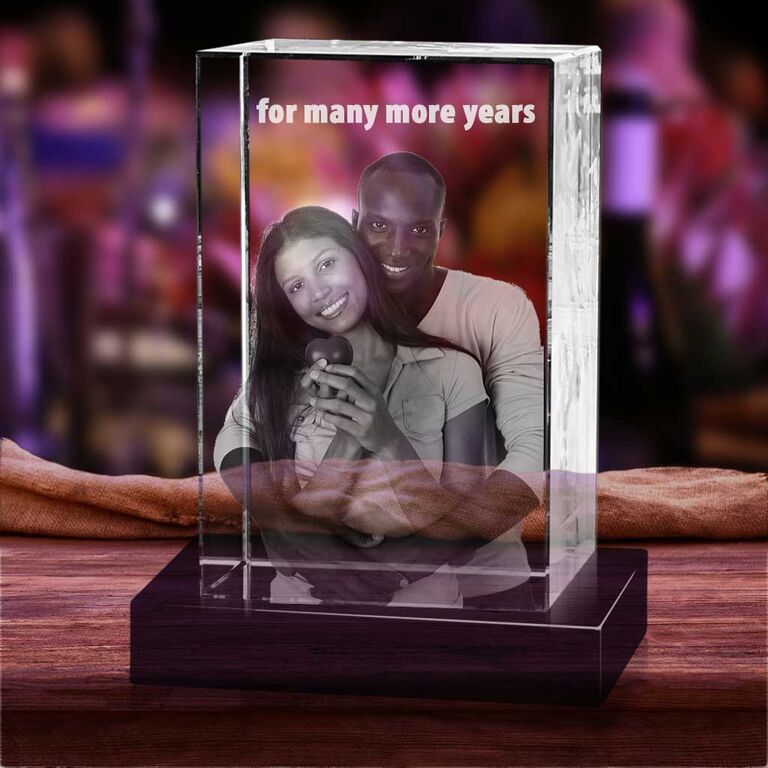 Photo gifts are always a great idea, especially for a milestone as significant as the 50th wedding anniversary. Instead of a traditional framed picture, switch things up with a crystal cube displaying a photo of the couple on a light-up base. Add a special message like "Happy 50th Anniversary" to give the lucky lovebirds all the feels.
Violet Flower Necklace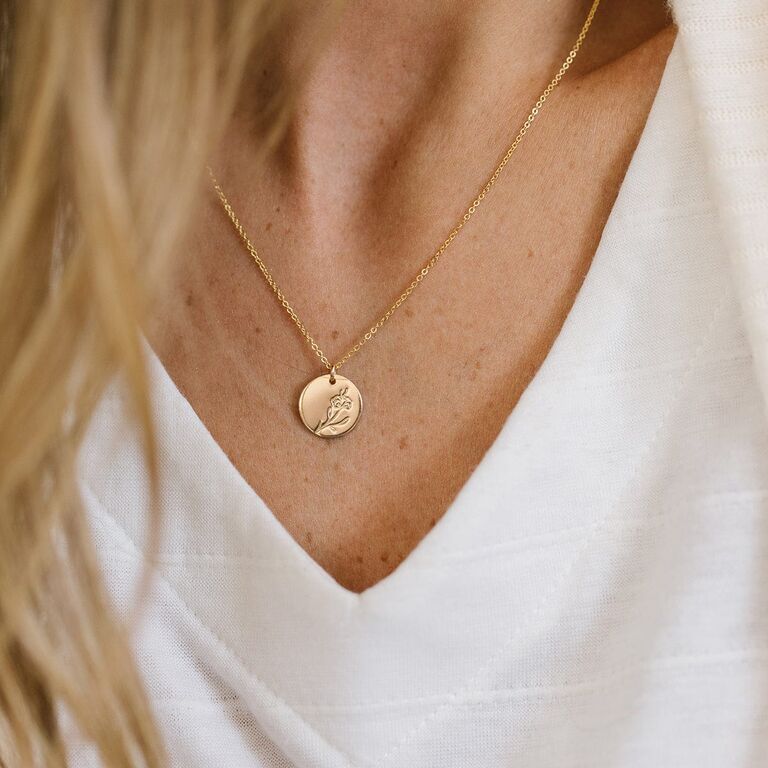 Not sold on yellow roses but still want to give something floral? Look to the humble violet, the other 50th anniversary bloom, for inspiration instead. This gold-filled necklace comes with a dainty charm featuring a pressed motif of a violet flower for a gift that's effortlessly stylish and on-theme. Choose from two different sizes and chain lengths to tailor this elegant accessory to your spouse's tastes.
Plush Cotton Bathrobe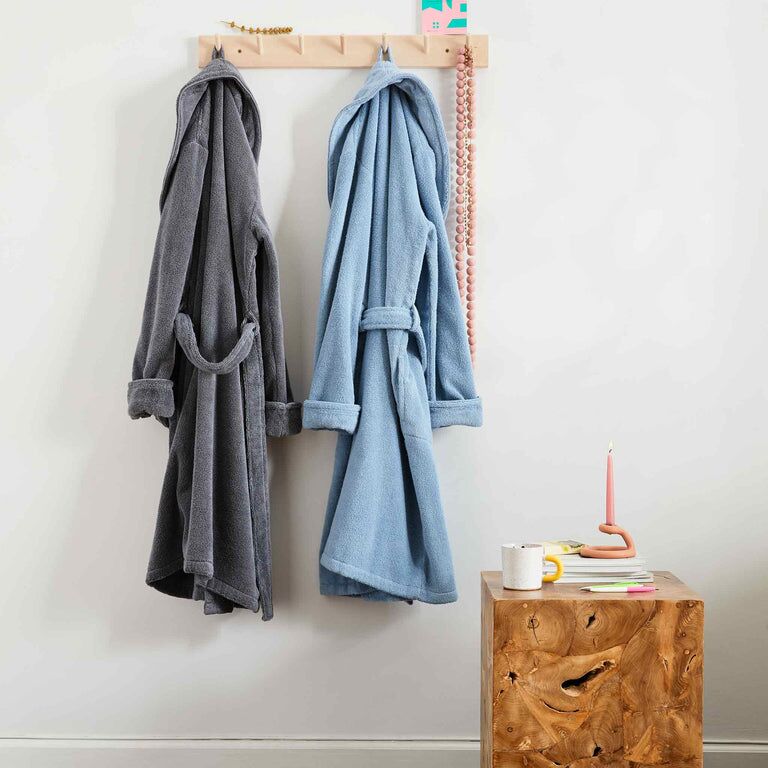 A plush cotton bathrobe is an excellent practical gift, especially if your spouse enjoys leisurely mornings or relaxing after a soak in the tub. This one from Brooklinen is made from 100% cotton and comes with wide sleeves, roomy pockets and a tie waist for maximum comfort. Shopping for your parents or another happy couple? Snag a pair of these cozy robes for the lucky duo to score yourself some major brownie points.
Personalized Jigsaw Puzzle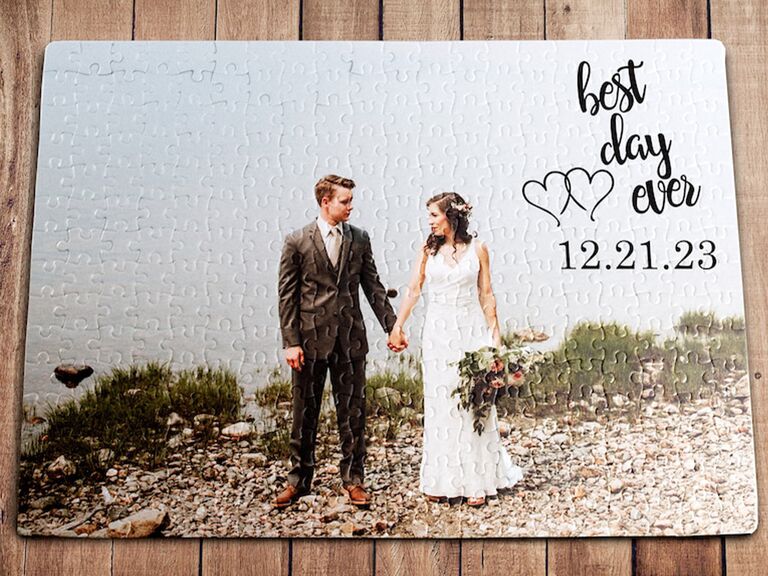 Celebrate 50 years of wedded bliss with a gift that pays tribute to an important time in your relationship, like the day you got married or any magical moment along the way. This romantic anniversary gift is a jigsaw puzzle of your favorite photograph that you can enjoy building together. All you have to do is pick out a snapshot you love and the Etsy seller will transform it into a jigsaw of 210 or 300 pieces. Once it's complete, have your picture puzzle framed so you can admire the results of your teamwork.
Delicious Cinnamon Rolls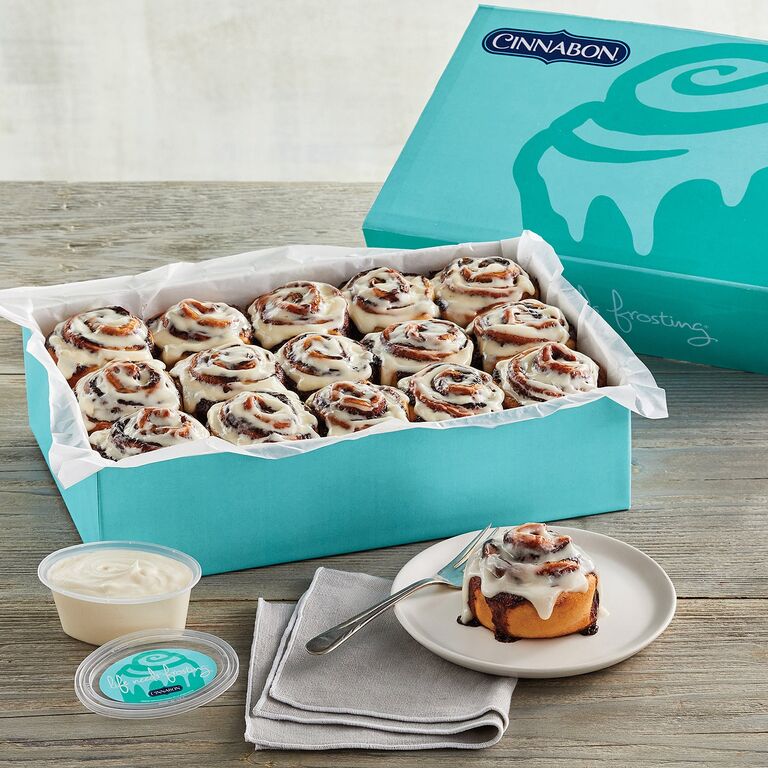 If the happy couple is celebrating their 50th anniversary with a low-key celebration at home, these tasty cinnamon rolls will make a delightful addition to the kitchen table. The gift set includes 15 delicious bakes, each decorated with a decadent cream cheese frosting. It's a great gift for anyone with a sweet tooth and one they can share with guests next time they come over.
Personalized Photo Frame
If you're searching for a 50th anniversary gift for your parents, this personalized photo frame is a clear winner in our eyes. Made from high-quality glass, it features beveled edges and golden brass trim for an elegant finish. Have it laser engraved with their anniversary title, date and a romantic verse (they're are three to choose from) for a meaningful memento they can display at home.
Porcelain Hummingbird Feeder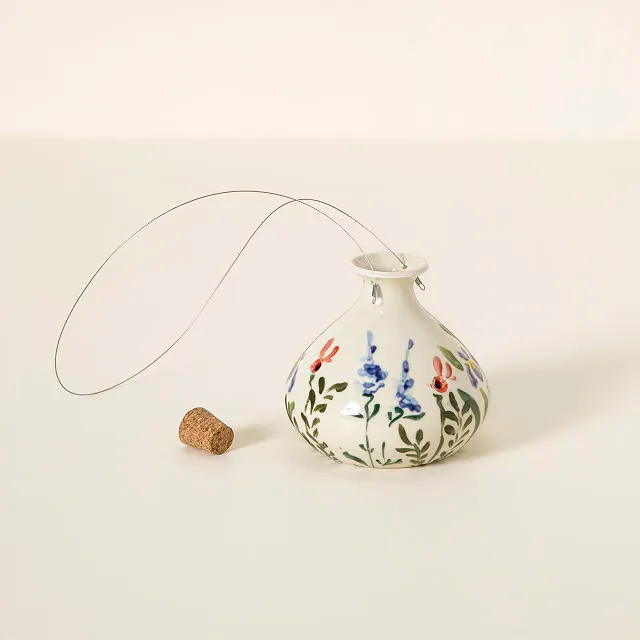 Does your spouse or married friends enjoy spending time in the garden? This colorful hummingbird feeder is a lovely way to brighten up their backyard and entice feathered friends to stop by for a while. It's crafted from porcelain and features a hand-painted floral motif for a unique (and thoughtful) 50th anniversary gift for anyone with a relaxing outdoor space.
Custom Yarn Bowl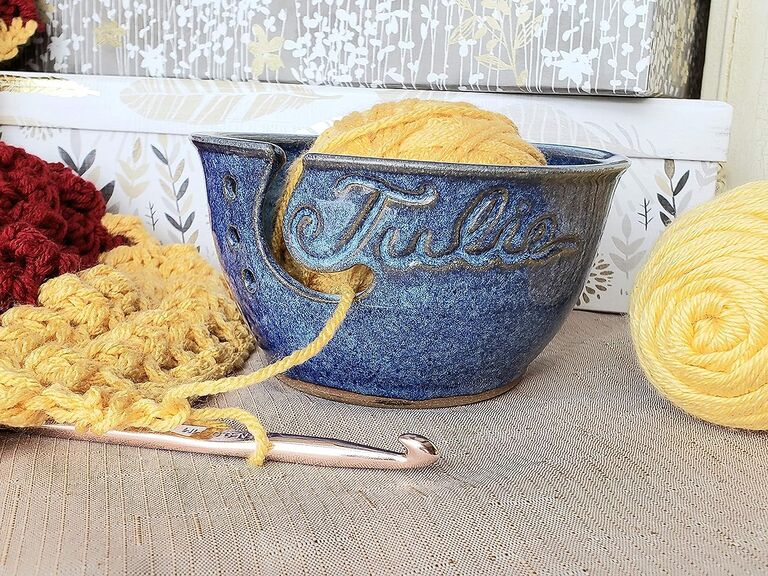 Shopping for a creative spouse can be really fun, especially if they have a talent for crafts or a favorite hobby. If your partner enjoys knitting or crocheting in their free time, they'll love this personalized yarn bowl. The glazed ceramic vessel has a hooked slot designed to keep skeins of yarn from getting tangled and three holes to rest their needles between projects. Have it carved with their name to take this thoughtful 50th anniversary gift to the next level.