50th Wedding Anniversary Gifts for Your Spouse (or Favorite Couple)
Go for the gold with these great ideas for your husband, wife, parents or friends.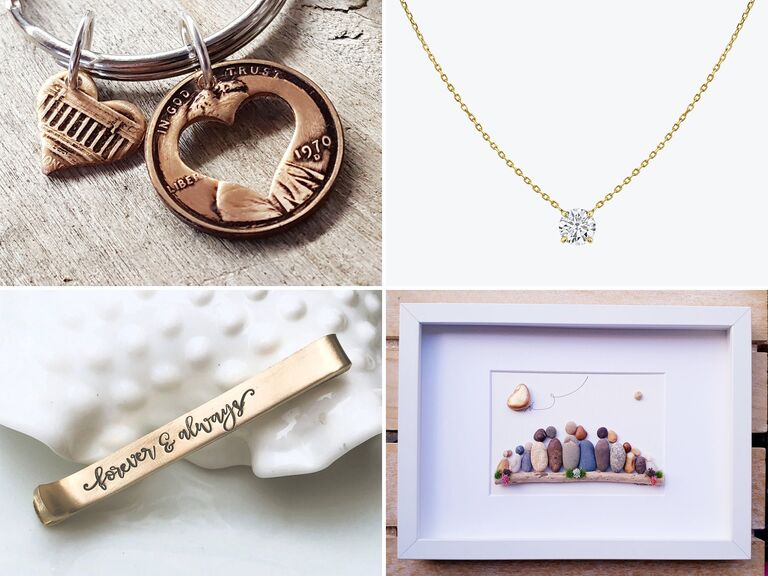 We have included third party products to help you navigate and enjoy life's biggest moments. Purchases made through links on this page may earn us a commission.
Celebrating 50 years as a couple is an incredible accomplishment—and it's one that many acknowledge and celebrate with meaningful gifts. Given that the 50th wedding anniversary is also known as the "golden anniversary," gifts in the form of this metal often represent the couple's precious and valuable milestone. But you aren't limited to gilded presents. Learn more about what makes a great 50-year anniversary gift below, then get all our best 50th anniversary gift ideas for spouses, parents and more.

What is the traditional and modern 50th anniversary gift?
Every anniversary is associated with a material theme, and the golden anniversary is no exception. Gold is given as the traditional 50th anniversary gift because it's the most timeless and treasured metal. It symbolizes love, compassion, courage and wisdom—and considering the golden anniversary is such a biggie (half a century together is very impressive!), celebrating a long-lasting marriage with a classic gold gift is a good way to go.
In fact, gold is so associated with 50 years of marriage that there isn't an alternative theme for this milestone (which is pretty unusual!). Gold is both the traditional and modern material, as well as the 50th anniversary's official color. It even replaces the gemstone that's usually assigned to anniversaries. But that doesn't mean you have to stick with convention. If you'd rather buy something more unique and sentimental, we've got ideas for you too. Actually, we'll kick things off with some nontraditional 50th wedding anniversary gifts.
In this article:
50-Year Anniversary Gifts for Her
You don't have to stick to the traditional gold theme to get your wife a 50th anniversary gift that she'll adore. Below are five timeless picks that'll leave her feeling loved and appreciated—and stylish at all times.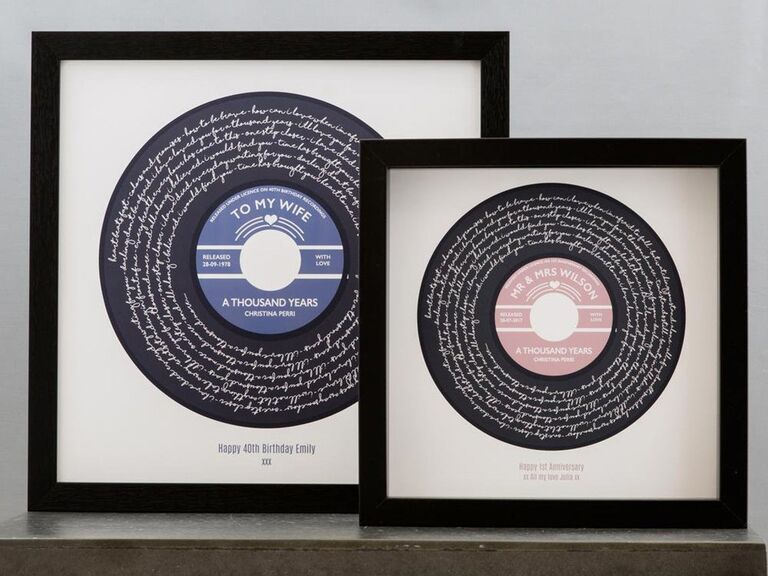 It may be 50 years since your first dance as a married couple, but it's never too late to remind your wife of the music that you were dancing to. This unique and customizable vinyl print displays lyrics of any song wrapped around a personalized message. If she's sentimental, she may just tear up when she gets it. 
Harley Dog Designs personalized song lyrics vinyl print, from $39, Etsy.com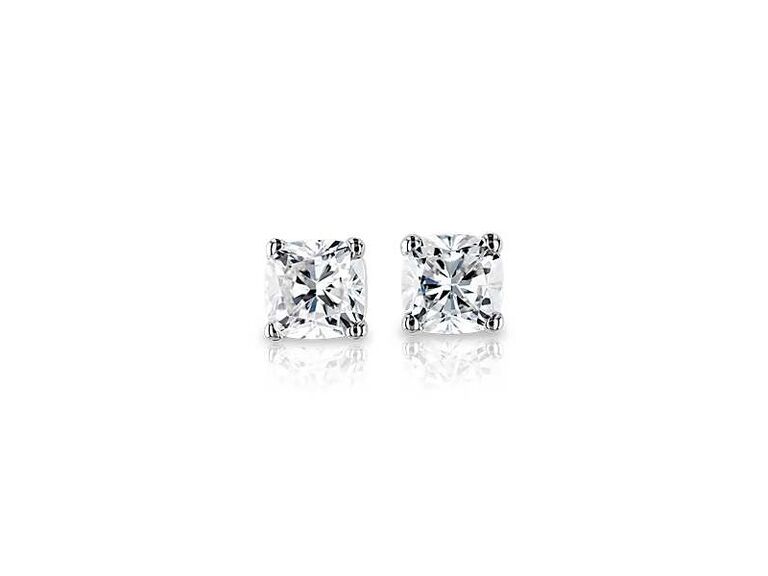 She'll think of you and your wedding anniversary every time she wears these shimmering diamond earrings—which will be all the time.
Blue Nile astor cushion-cut diamond stud earrings in Platinum, $1,780, BlueNile.com
This unique keychain allows her to take a symbol of your love everywhere she goes. Crafted from a 1970 penny, it's the perfect gift for someone celebrating their 50th anniversary in 2020.
Lucky Liberty 1970 penny heart keychain, $36, Etsy.com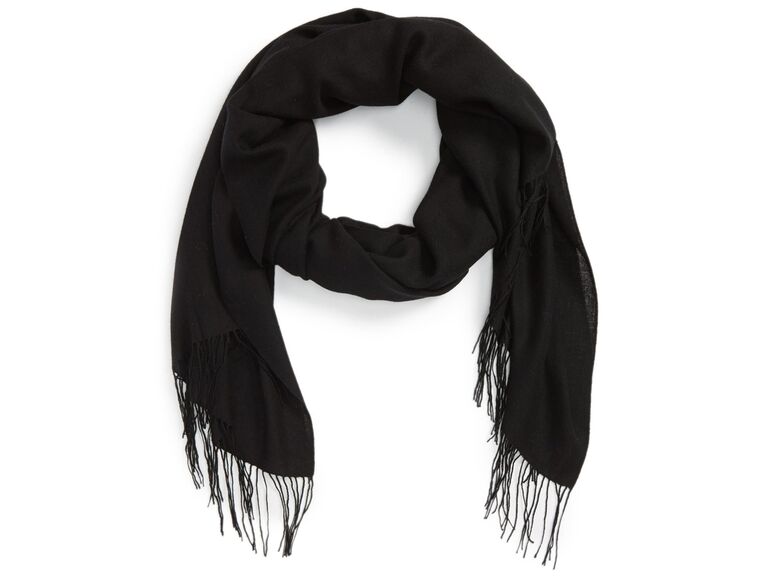 Let's be real: Cashmere is the gold of fabrics. Treat your leading lady to a scarf so soft, she'll never want to take it off. This one comes in several different colors, so finding her most flattering shade will be easy.
Nordstrom tissue weight wool & cashmere scarf, $99, Nordstrom.com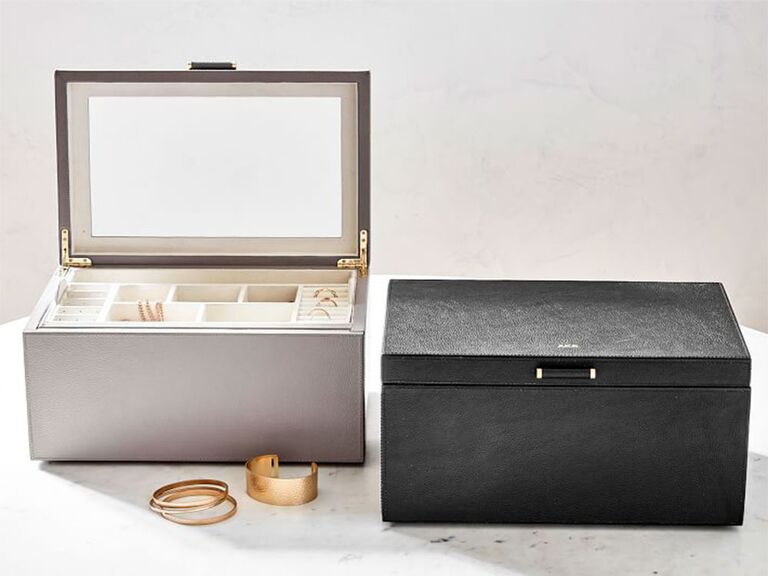 A luxe jewelry box with suede-like lined compartments will keep her beloved items from the last 50 years tidy and safe. Plus, you can add her monogram.
Pottery Barn Quinn leather jewelry box, from $129, PotteryBarn.com
50-Year Anniversary Gifts for Him
Even though 50 years together is a feat worthy of celebrating with gold, it doesn't suit every man's taste. Luckily, there are plenty of other high-end gift ideas as far as tech, home and accessories go. Find the best 50th anniversary gifts for him below.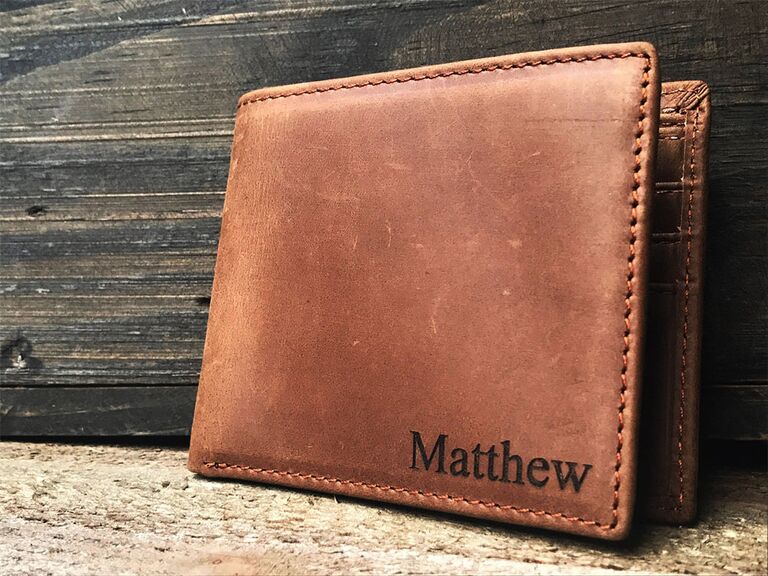 You can never go wrong with a classic leather wallet as a 50th anniversary present for him. This one can be personalized with his name on the outside and a special message on the inside.
Yours Personalized personalized leather mens wallet, from $15, Etsy.com
Your number-one griller and hockey fan will definitely appreciate this must-have set. Crafted from repurposed hockey sticks, it's a fun and unusual gift and a great conversation starter at your next BBQ.
John Ufland and Eric Bourgoujian hockey stick BBQ set, $45, UncommonGoods.com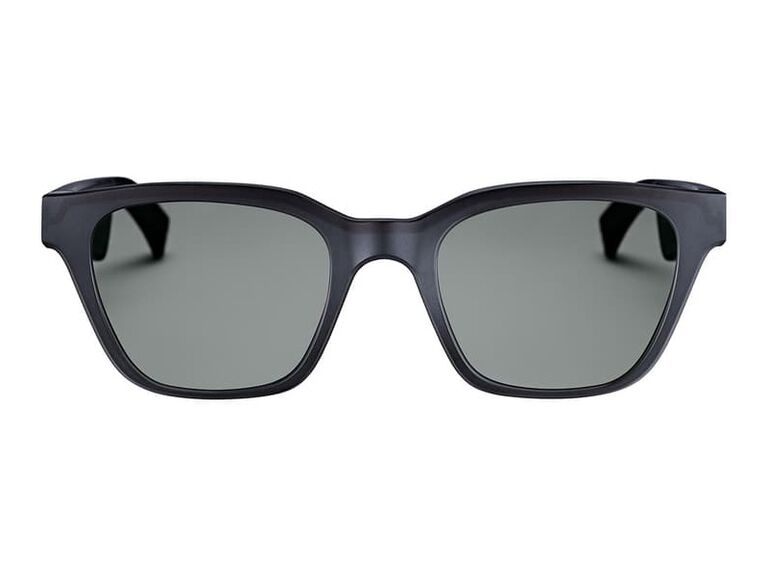 Still stumped about finding the ultimate 50th anniversary gift? These UV-blocking sunglasses from Bose are fitted with a miniature sound system so that he can enjoy his favorite songs and podcasts in the sun. Perfect for fishing and yardwork enthusiasts alike!
Bose Frames Alto small/medium 51mm audio sunglasses, $199, Nordstrom.com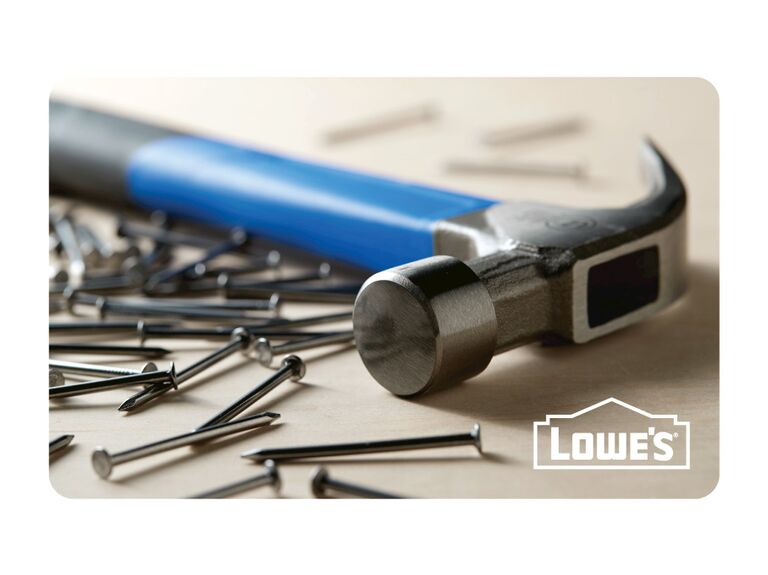 If he's still spending hours in the home improvement department at Lowe's after 50 years, he's definitely going to welcome a gift card there as a token of your appreciation for all that he does around the house. (FYI: The emailable option makes an excellent last-minute 50th anniversary gift. Hey, it happens!)

Lowe's classic gift card, from $10, Lowes.com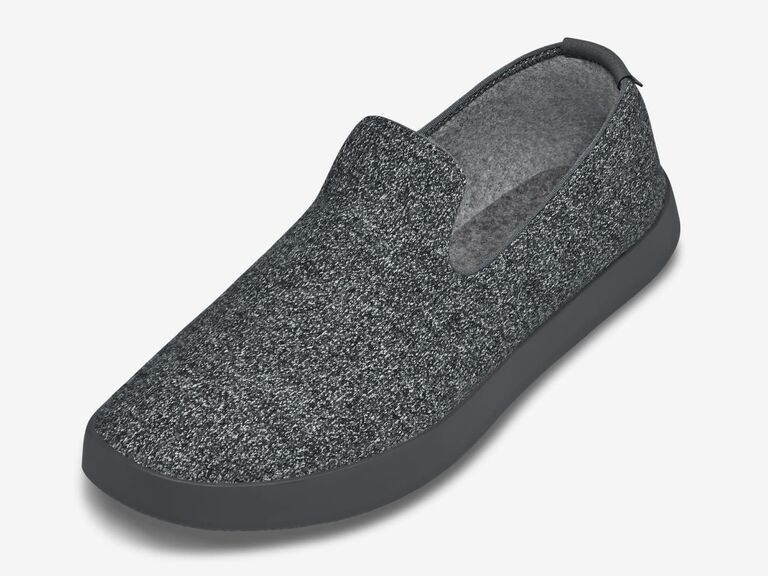 Your relationship has stood the test of time, but we're pretty sure his slippers haven't. Upgrade them to a pair of wool loungers that are as stylish as they are comfy in time for your 50th wedding anniversary.
Allbirds men's wool loungers, $95, Allbirds.com
50-Year Anniversary Gifts for Parents and Friends
Your favorite couple (or your parents!) deserve to be showered with love on their 50-year wedding anniversary. So treat them to one of these thoughtful and covetable gifts (that aren't exclusively gold), and they'll be showing their gratitude for years to come.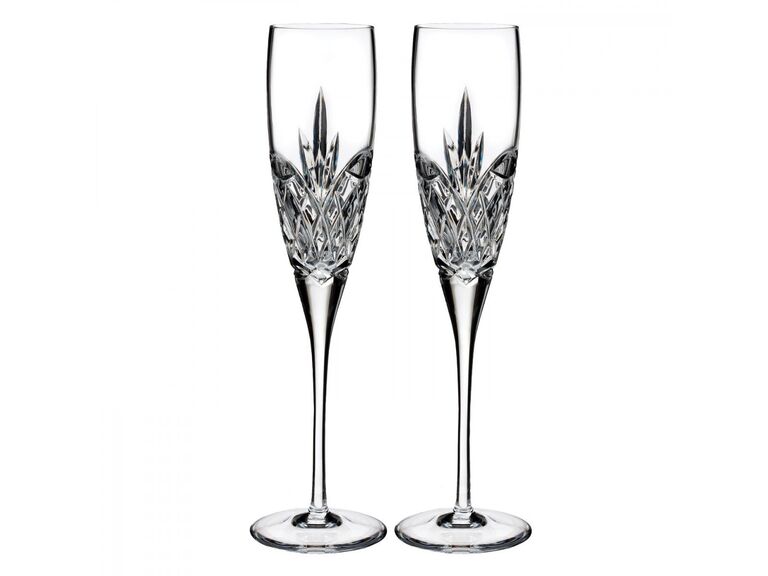 Let them raise a glass to half a century with these beautiful champagne flutes crafted from shimmering crystal. There's even the option to get them engraved.
Waterford Love Forever flute pair, from $150, Waterford.com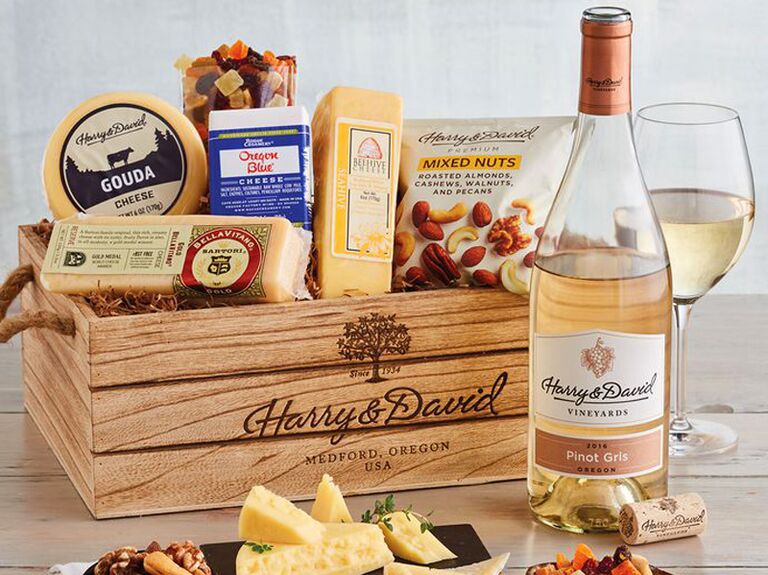 This food crate is the ideal romantic gift for couples who enjoy the finer things in life. Each box contains a selection of award-winning wines, cheeses, nuts and more, perfect for sharing with visiting guests (or not!).
Harry & David gourmet cheese gift with wine, from $80, HarryandDavid.com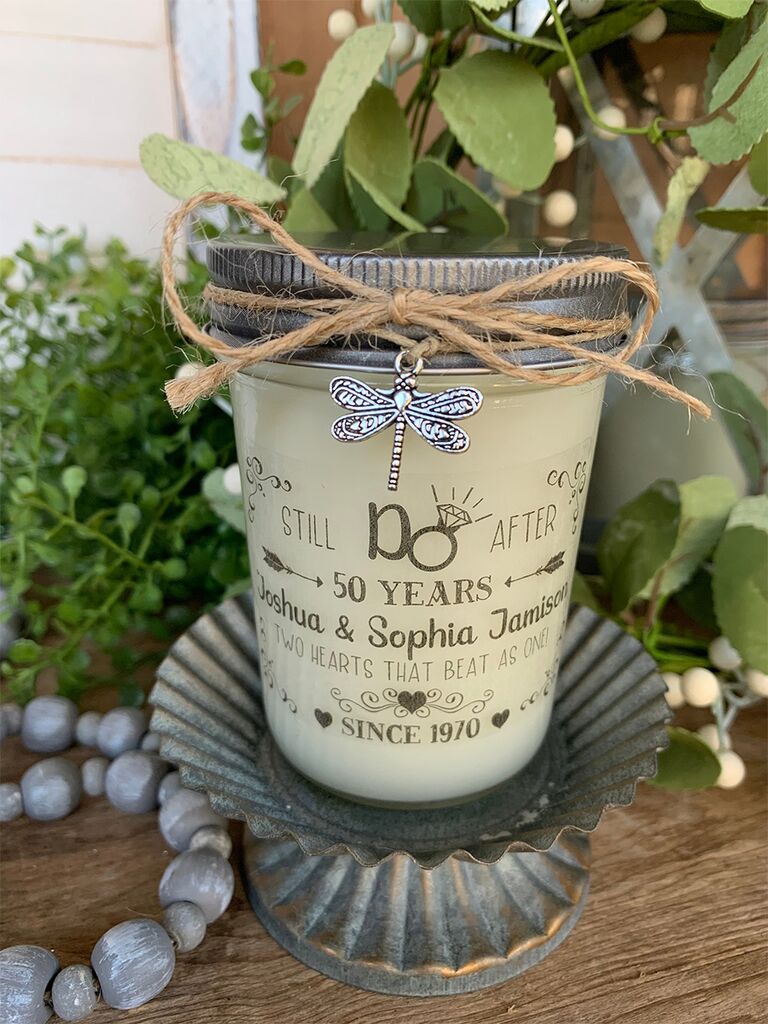 Candles always set the mood for romance, so this personalized 50th anniversary gift will definitely reignite their spark.
Fireflies & Candlelight 50th anniversary gift custom candle, $23, Etsy.com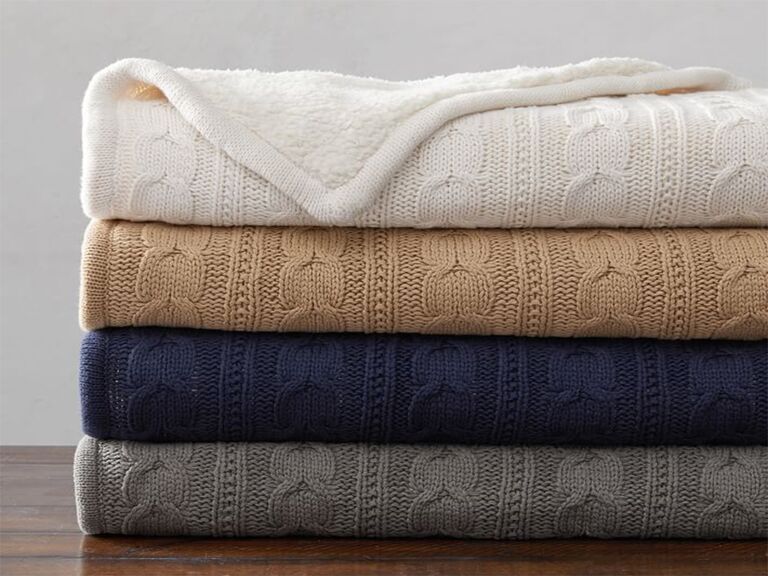 A luxurious throw blanket is a must for any inviting living space, and this one will get tons of use during cozy date nights at home. Also, it comes in an array of neutral colors that go with any sofa.
Pottery Barn cozy sherpa back cable knit throw, $149, PotteryBarn.com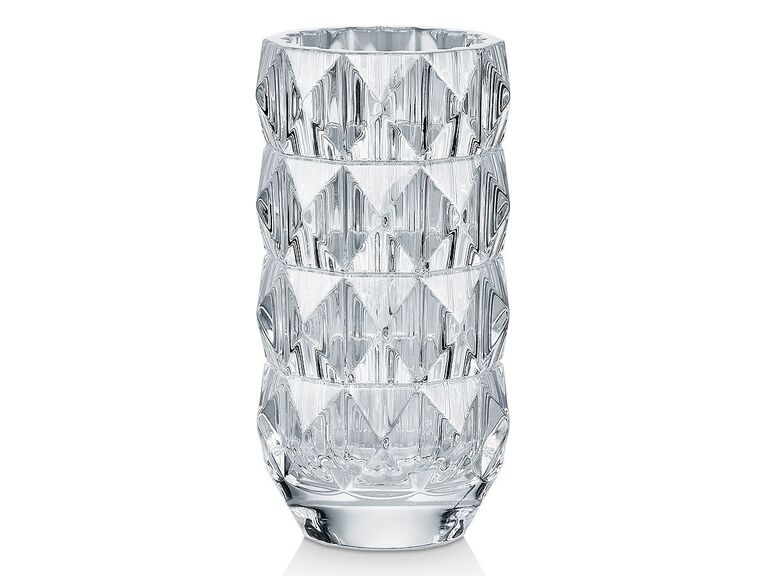 A suitable 50-year anniversary gift might be gold, but this stunning crystal vase is right up there with the crème de la crème of home décor items.
Baccarat Louxor vase, $220, Bloomingdales.com
Gold 50th Anniversary Gifts for Her
If you want to go with a traditional gold anniversary gift for your wife, you've come to the right place. These classic golden anniversary gifts will please any longtime spouse on her 50th wedding anniversary.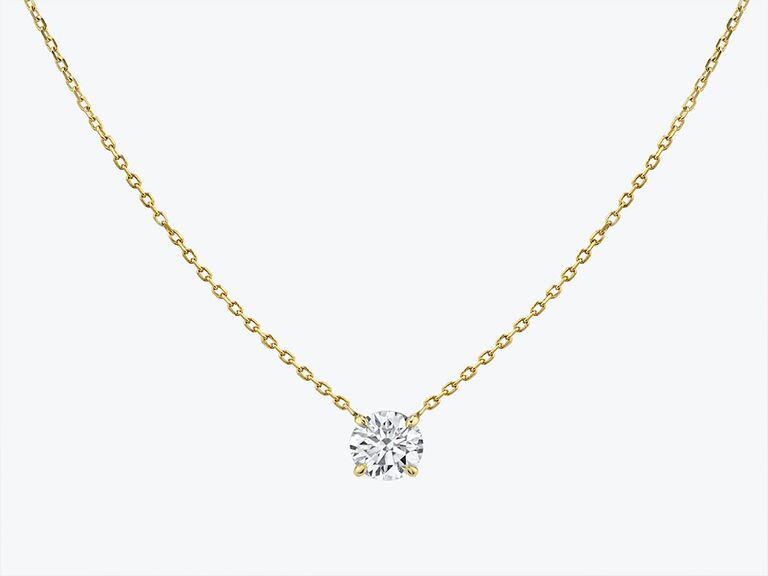 Diamonds and gold? Now that's really taking the 50th anniversary present to the next level. This diamond solitaire yellow gold necklace is basically the little black dress of jewelry.
Vrai solitaire round brilliant diamond necklace in 14k Yellow Gold, from $500, Vrai.com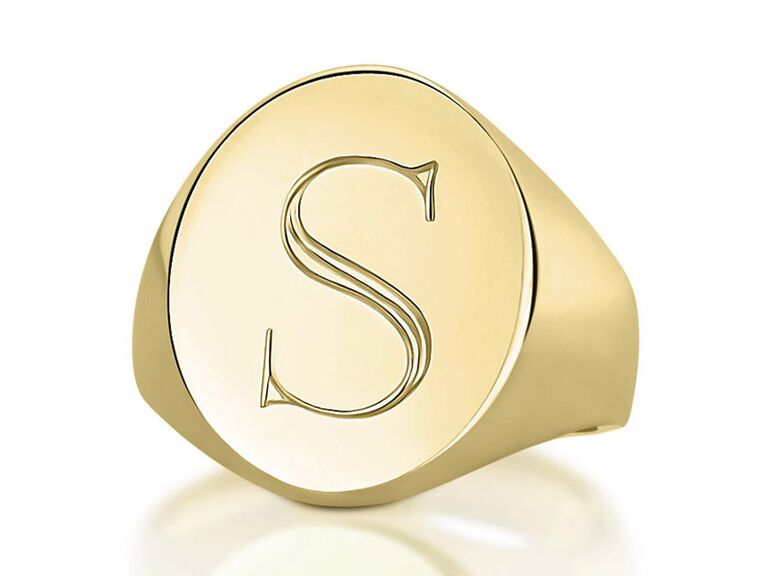 When it comes to you, she wears her heart on her sleeve. But with this gift, she can wear her (or your!) initial on her finger in the form of this chic yellow gold signet ring.
Sarah Chloe monogrammed pinky signet ring in Gold, $108, NeimanMarcus.com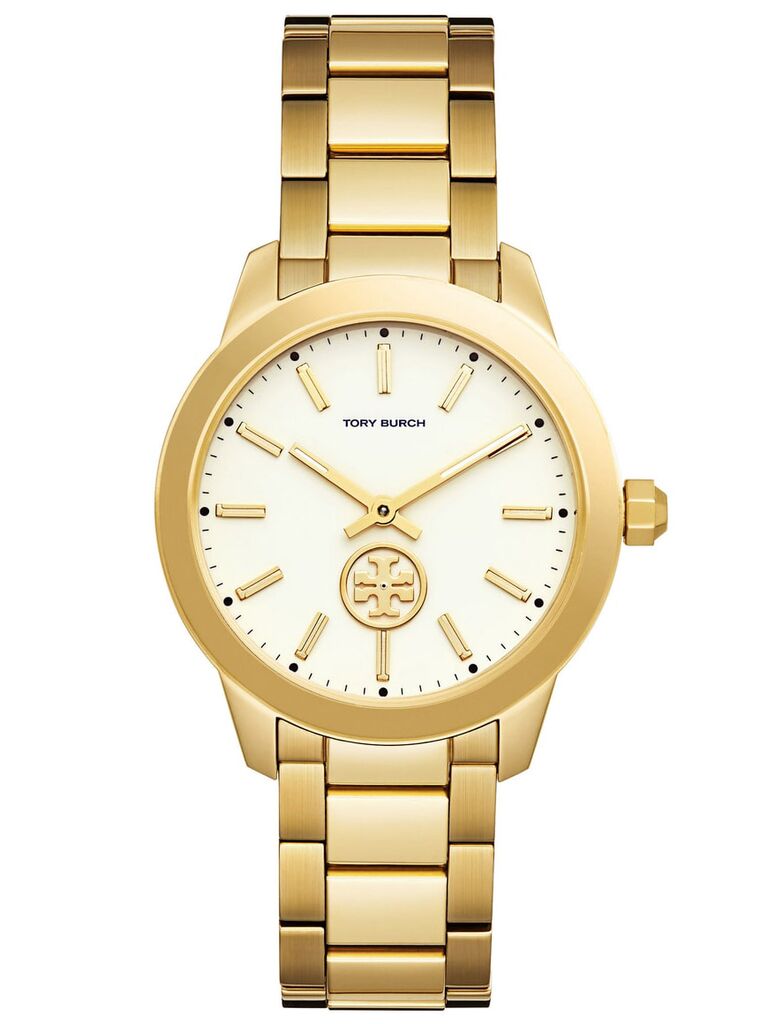 Nothing says "I love you" after 50 years together like a gold timepiece. PS: This Tory Burch style also has a scratch-resistant sapphire crystal face, so it'll stay nice for decades of anniversaries to come.
Tory Burch Collins bracelet watch in Gold/Ivory/Gold, $275, Nordstrom.com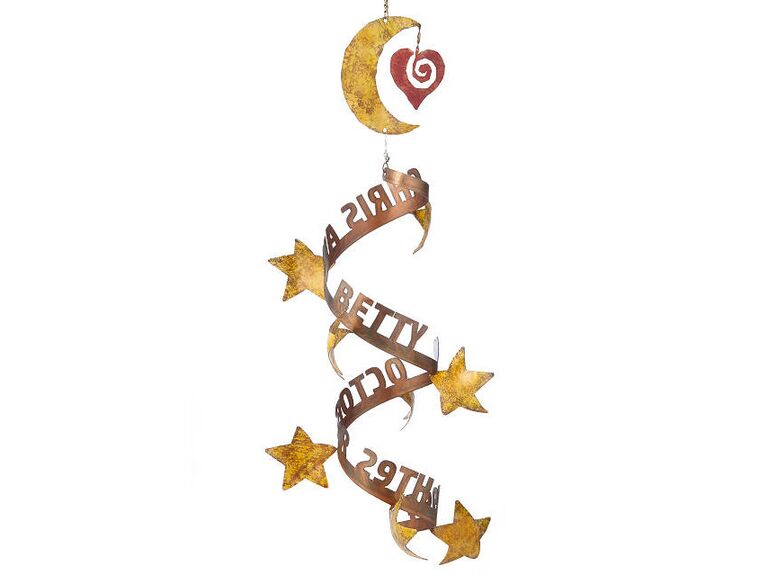 This romantic, personalized wind sculpture is perfect for the woman hoping to make her home shine as bright as her love. With a stylish gold finish, it's great for porches, patios and more.
Chris Crooks Stars Align personalized wind sculpture, $120, UncommonGoods.com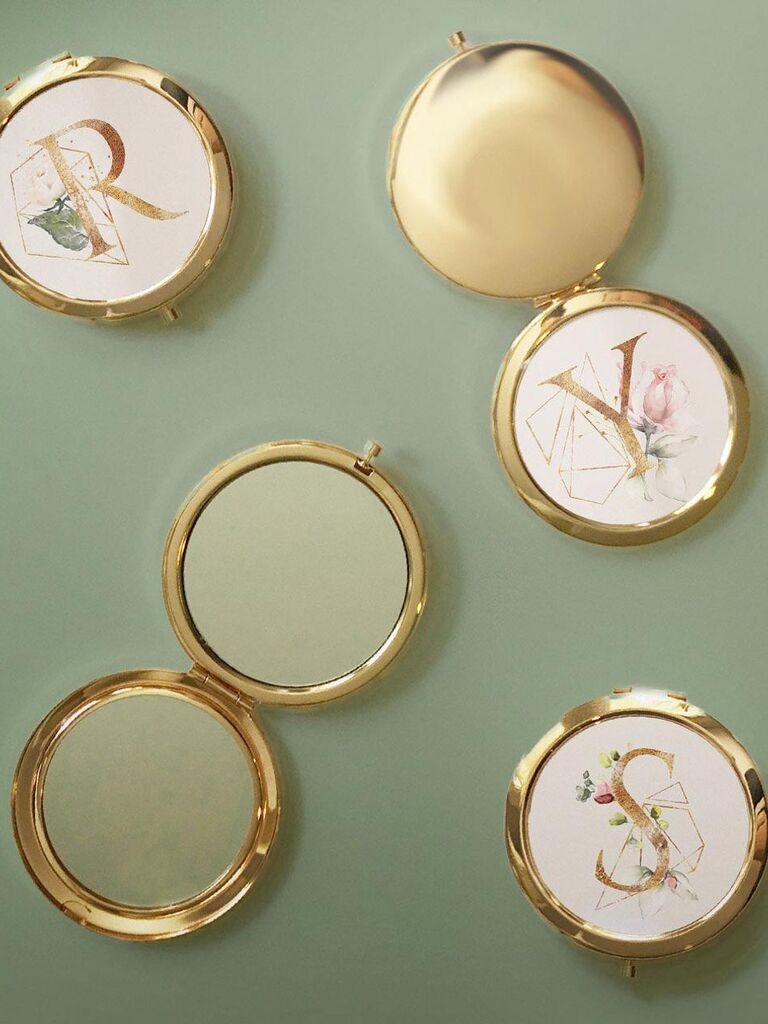 A personalized (and affordable) gold compact is one of the most practical 50th wedding anniversary gifts you could give her.
Sincerely Me Gift personalized compact mirror in Gold, Rose Gold or Antique Gold, from $11, Etsy.com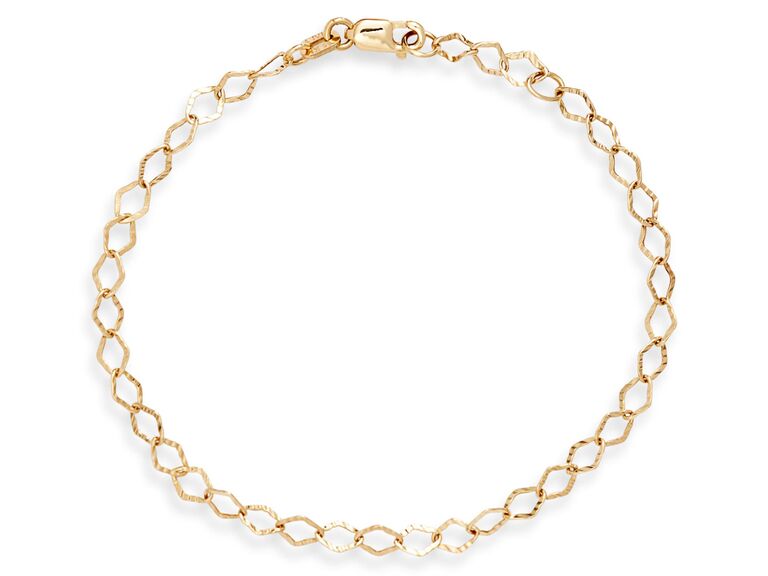 A timeless bracelet is a no-brainer anniversary gift idea—but for 50 years, it has to be glittering gold.
Bony Levy open link chain bracelet in Yellow Gold, $175, Nordstrom.com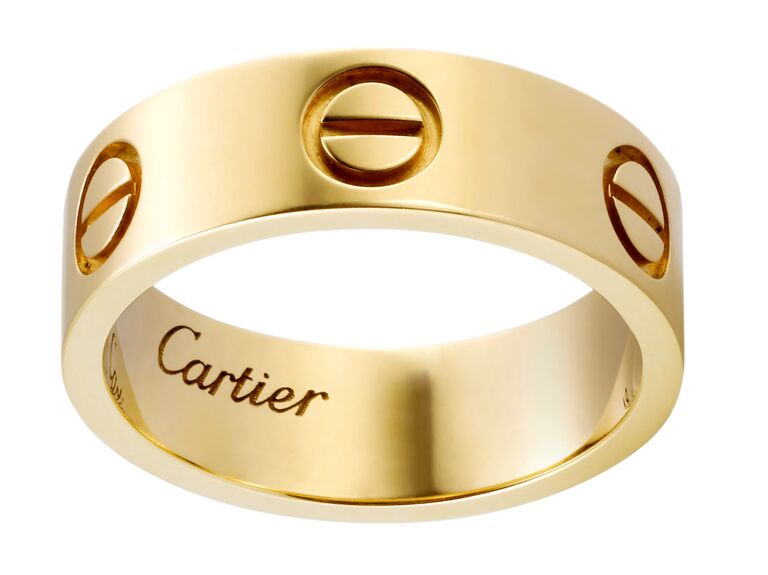 The love of your life deserves an iconic gold Cartier Love Ring, don't you think?
Cartier Love Ring in Yellow Gold, $1,650, Cartier.com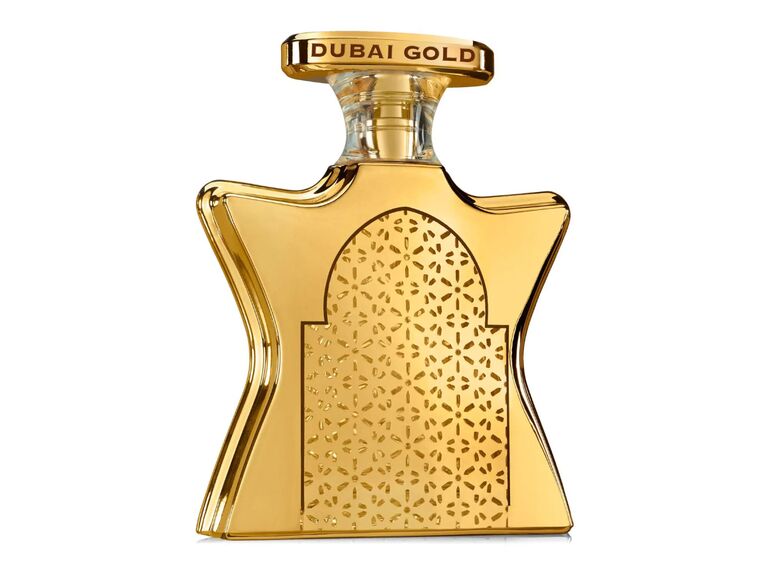 Make sure she knows she's limited-edition, just like this gilded perfume bottle that's only available at Saks. Even the scent is inspired by precious, mesmerizing gold.
Bond No. 9 New York Dubai Gold perfume, $550, SaksFifthAvenue.com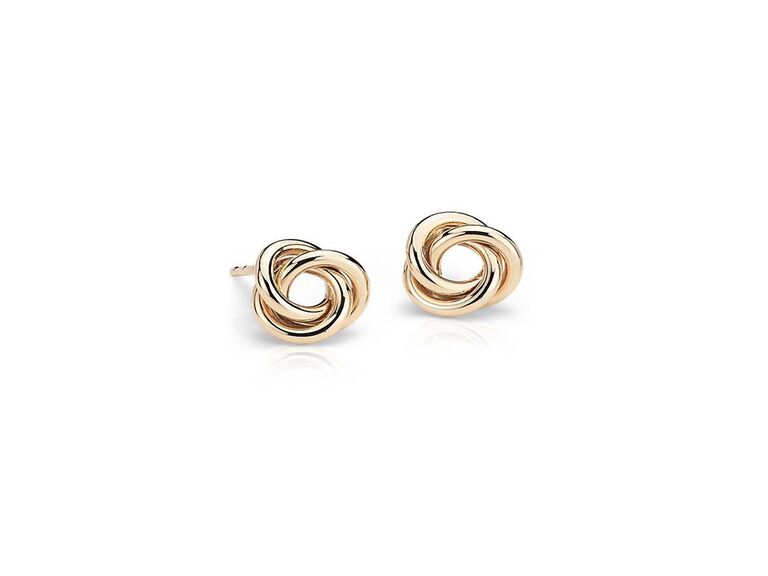 Expand her current roster of earrings with these gorgeous gold knot studs that represent when you first tied the knot 50 years ago.
Blue Nile petite love knot earrings in 14k Yellow Gold, $160, BlueNile.com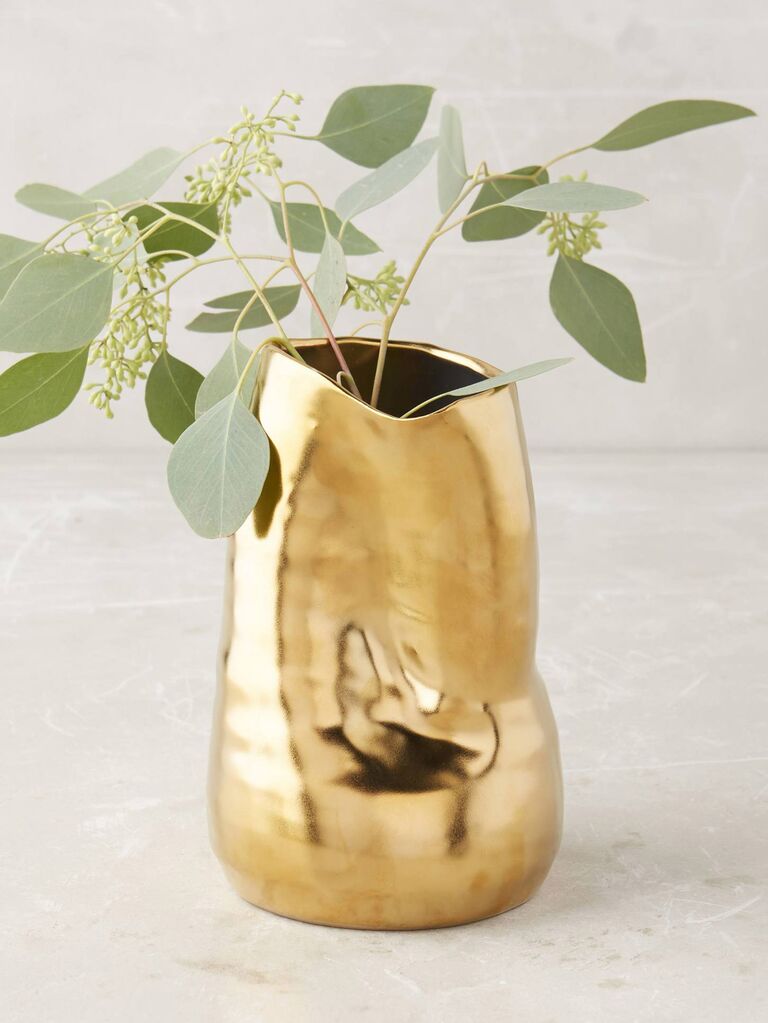 A gold vase is definitely a 50-year anniversary gift she'll adore, but probably not an item she would buy herself.
Anthropologie Goldshine vase, $18, Anthropologie.com
Gold 50th Anniversary Gifts for Him
What do you give your husband for the 50th wedding anniversary? If you really want to show him how much you care, consider these gold anniversary gifts that'll express your love and appreciation while staying on-theme. Below, find our top picks for 50th anniversary gifts for him.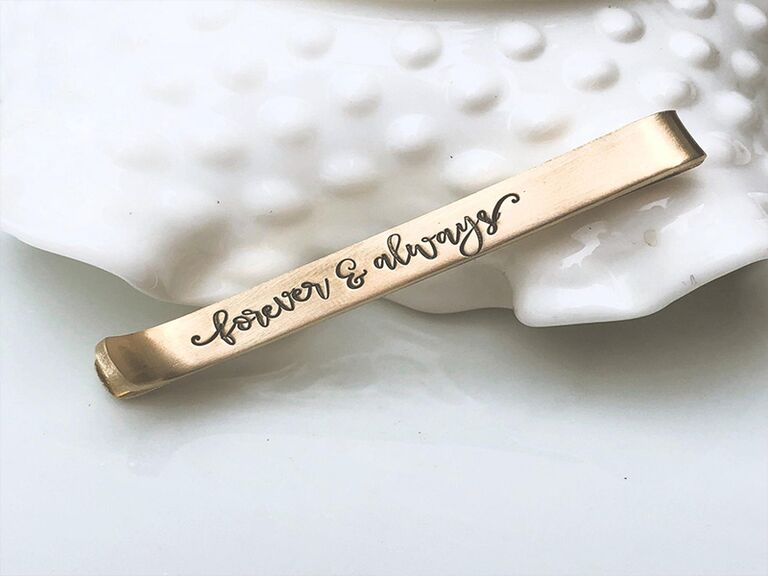 Get him an engraved gold tie bar that he'll be able to wear on fancy date nights with you. This one is engraved with his initials on the front and a sweet, hidden message of your choice on the back.
3 Little Pixies Shoppe gold hidden message tie bar, from $13, Etsy.com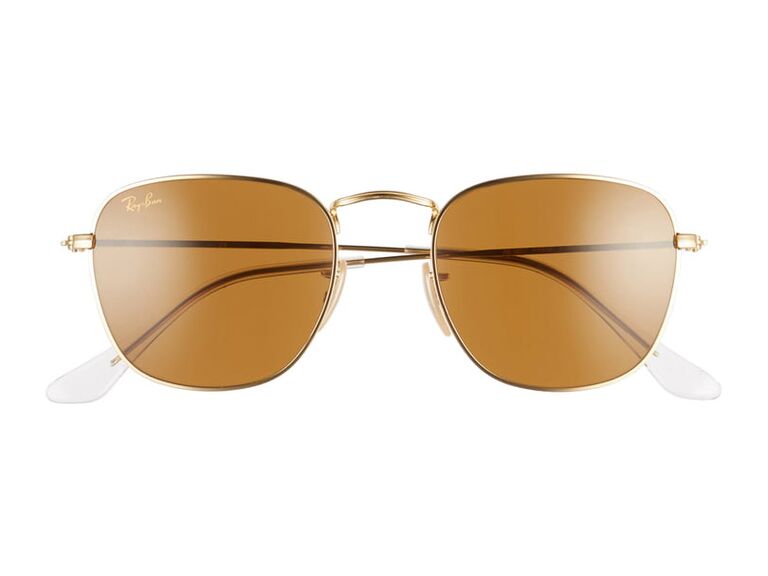 Show him he has a heart of gold on your 50th wedding anniversary by giving him a classic pair of sunglasses with subtle—but noticeable—gold touches.
Ray-Ban 51mm square sunglasses, $154, Nordstrom.com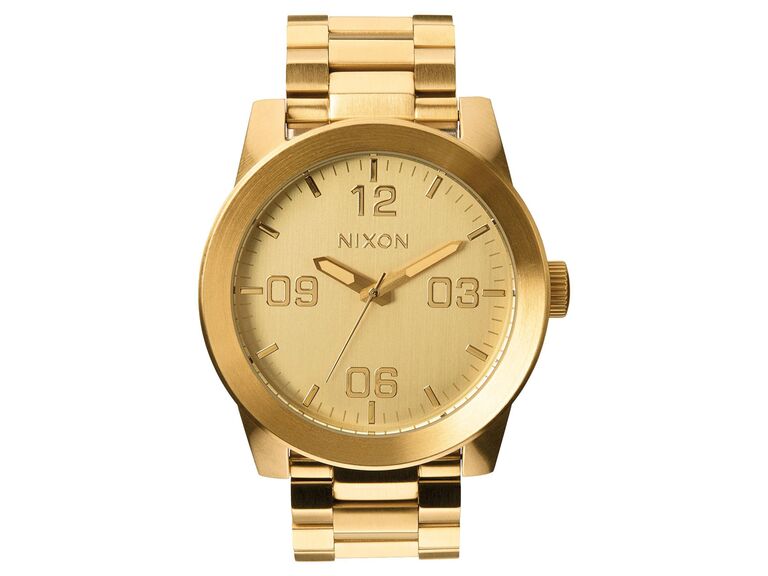 The guy who's constantly punctual (or even a tad bit late from time to time) can always benefit from a gold watch to dress up his best suit.
Nixon The Corporal bracelet watch 48mm, $200, Nordstrom.com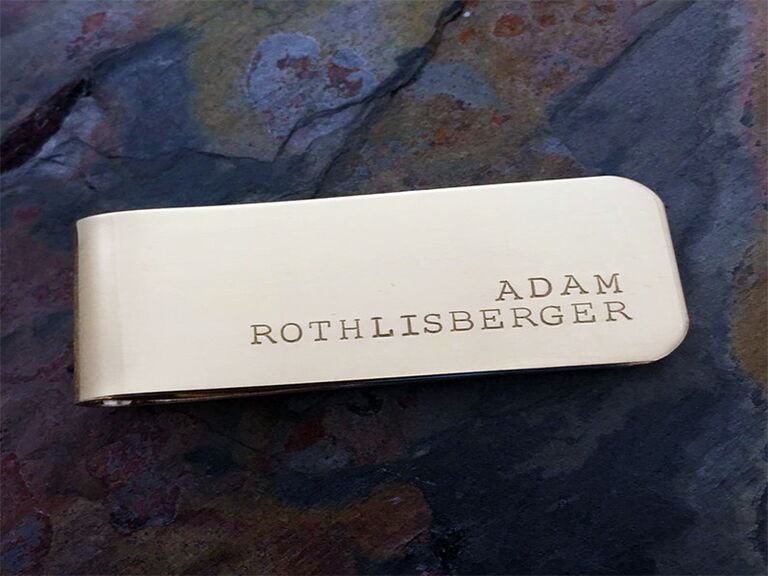 After 50 years, a quintessential gold anniversary gift for him is a gold money clip.
321 Simple Creations personalized gold color money clip, from $20, Etsy.com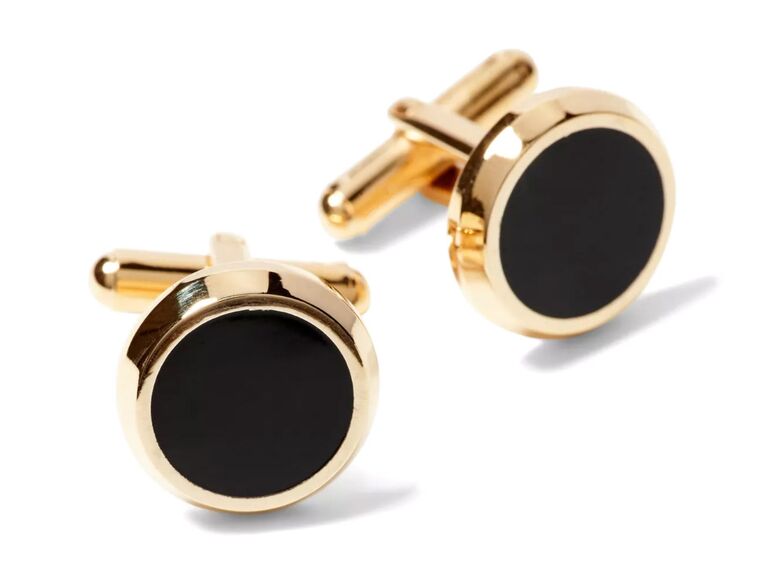 Gold and black enamel cufflinks are the ideal 50-year anniversary gift for the man who collects them.
Banana Republic gold & enamel cufflinks, $40, BananaRepublic.com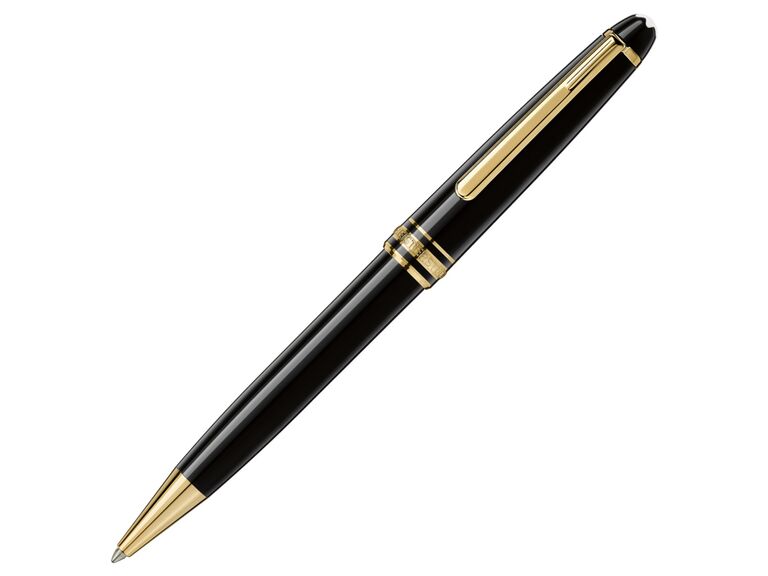 Writing love letters will be a breeze once he has this classy ballpoint pen to do so. Now that's a timeless gold anniversary gift for your husband.
Montblanc Meisterstück gold-coated classique ballpoint pen, $420, Montblanc.com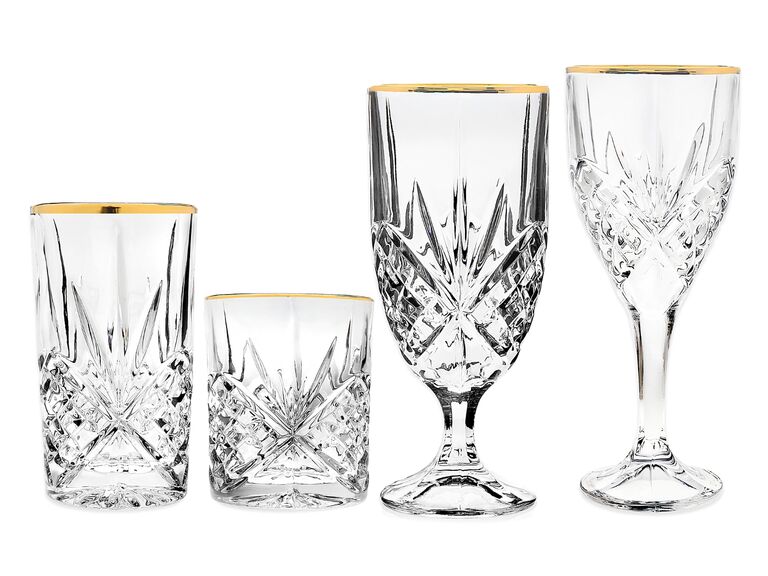 If he's a liquor connoisseur but has never splurged on a posh drinkware set, your 50th wedding anniversary is the perfect time to treat him to the best of the best. 
Godinger gold barware glasses collection, $30 for a set of 4, BedBathandBeyond.com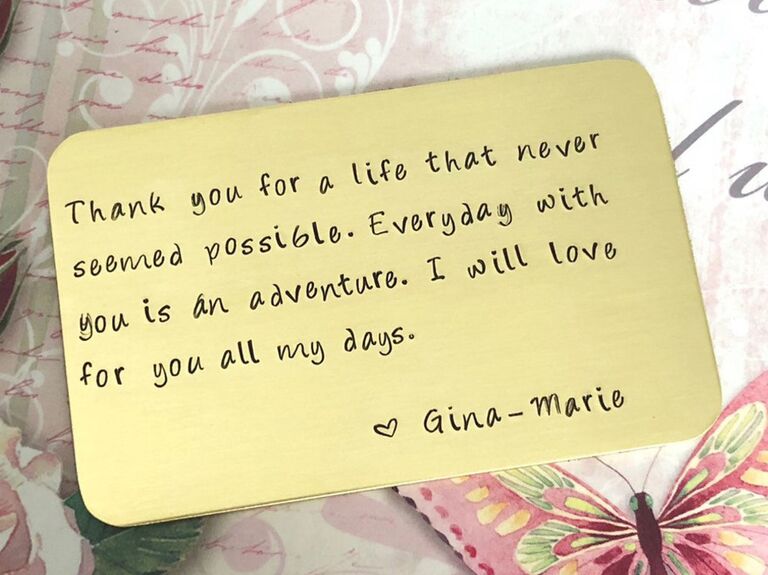 Let him take your love with him wherever he goes. This adorable metal card comes engraved with a custom note that he can stick right in one of his wallet's pockets.
Modern Expression gold color wallet card, from $18, Etsy.com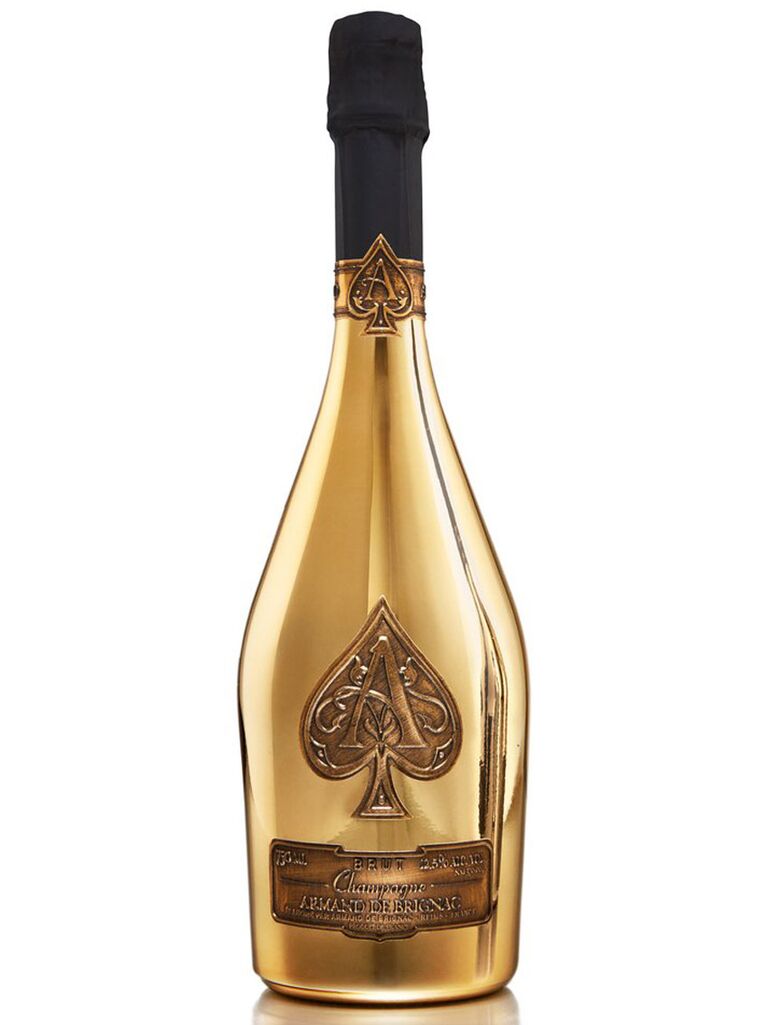 A world-glass champagne for a world-class guy. The gold ace of spade bottle only adds to the over-the-top factor.
Armand de Brignac Ace of Spades gold brut, $310, WoodsWholesaleWine.com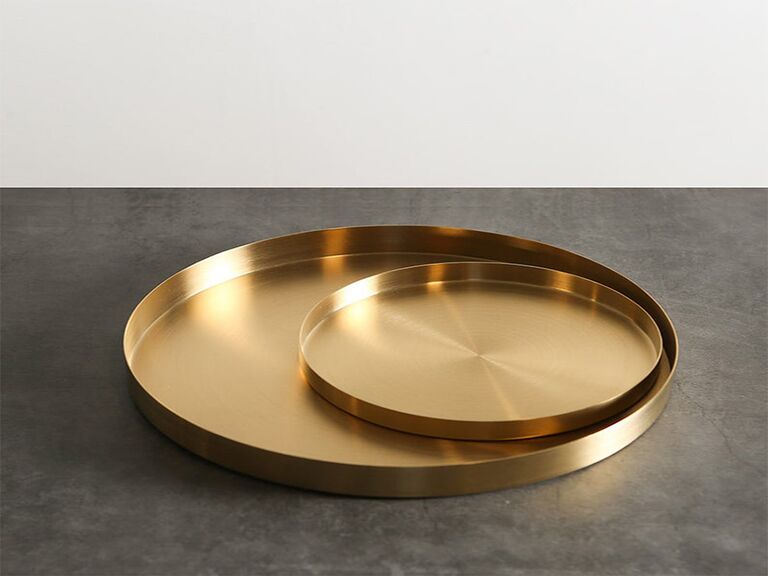 Help him stay organized (in an upscale way) with these gold vanity trays, perfect for holding his colognes and other odds and ends.
Vera Decor Shop gold round vanity tray, from $26, Etsy.com
Gold 50th Anniversary Gifts for Parents and Friends
If you're hunting for 50th wedding anniversary gift ideas that incorporate the traditional gold theme and you're buying for a couple in your life, look no further than these special keepsakes. We've found a number of great 50th anniversary gifts for your parents, your best friends or any other twosome you love.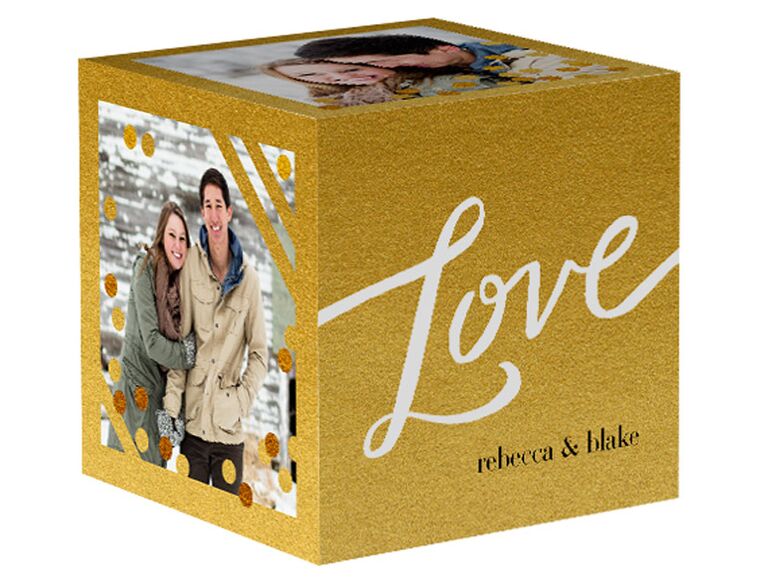 Put your friends' love on display in a gold photo cube decorated with the sweetest snapshots of them.
Shutterfly Golden Love photo cube, $35, Shutterfly.com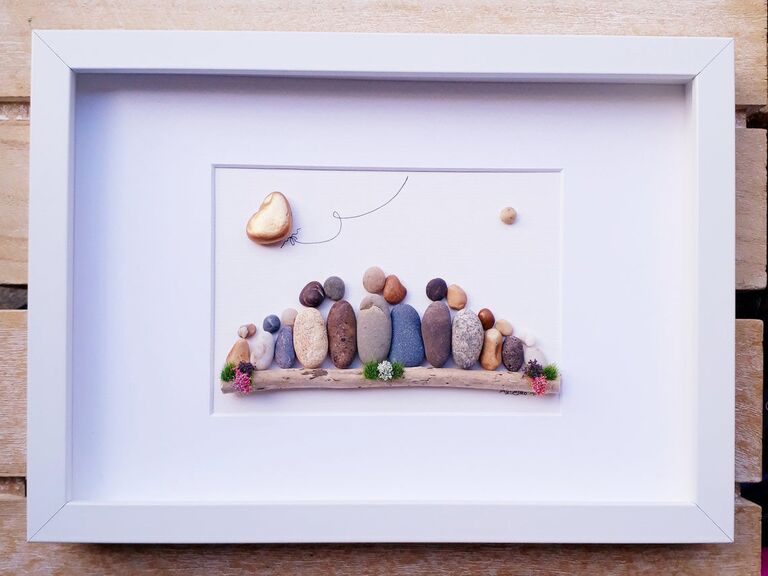 This quirky and unusual gift is perfect for couples who may appreciate an unconventional family portrait. Crafted using pristine pebbles (included a gold-coated heart-shaped piece), it's sure to rock their world and remind them of all the joys 50 years have brought them.
Anselmo Pebble Art large 50th anniversary family picture, from $135, Etsy.com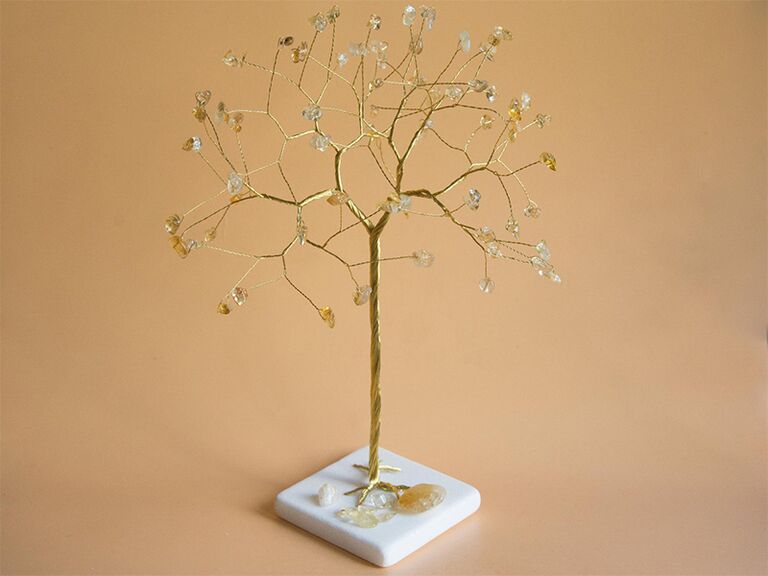 With elegant branches in stylish gold, this family tree is the perfect ornament for their mantle. The keepsake comes strung with citrine stones, which are said to give off good energy.
AbssOluto 50th anniversary family tree, $46, Etsy.com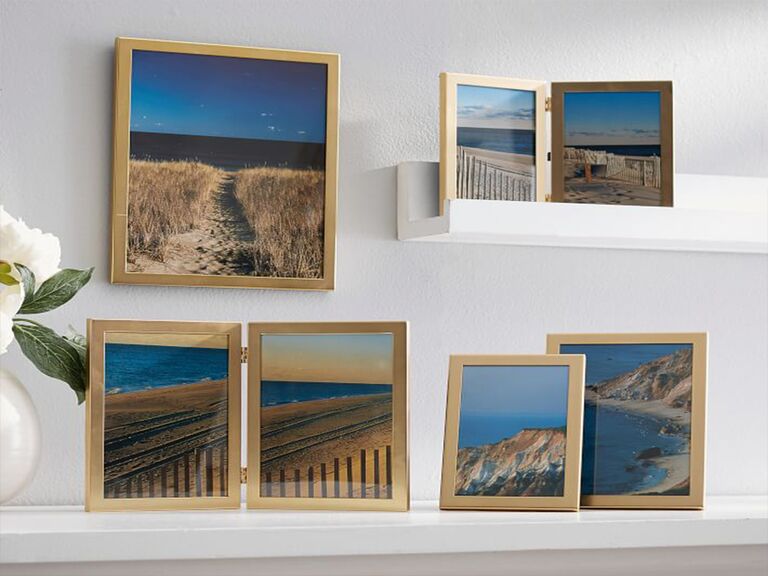 If you love the gold theme, get the couple one of these frames to mount in a special place in their home. To go the extra mile, buy the side-by-side version with a photo from their wedding day and a photo from their anniversary party. While technically brass, it gives off the gilded vibe you're after.
Pottery Barn personalized modern brass frame, from $30, PotteryBarn.com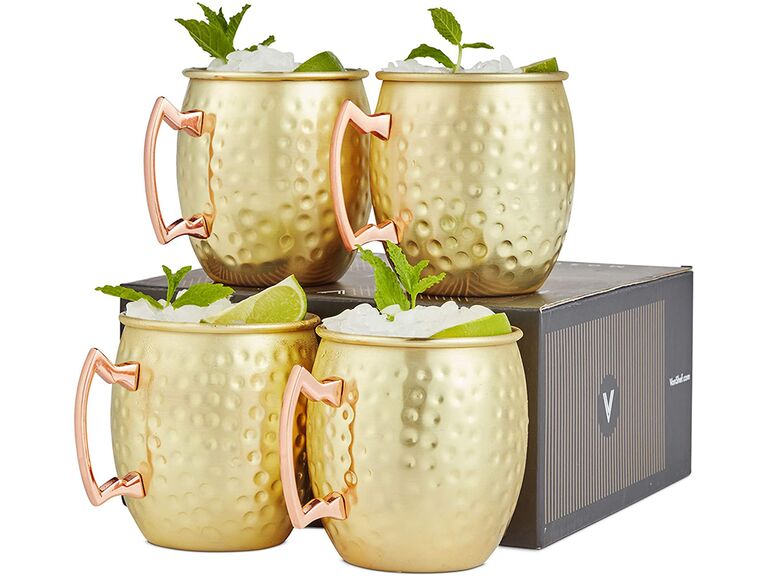 Even if they've accumulated an impressive bar and stemware collection in the last 50 years, they probably don't own a set of gold Moscow Mule mugs—but they'll be happy they do now.
VonShef Moscow Mule mugs in Gold Hammered Effect, $28 for a set of 4, Amazon.com
For more of the best anniversary gift ideas for all the major milestones, check out our comprehensive guide to anniversary gifts by year.