50th Year Anniversary Gifts Your Spouse (or Favorite Couple) Will Love
Looking for the perfect 50 year anniversary gift for your spouse or favorite couple? These are the best gold anniversary gift options to give and receive.
by Kelli Acciardo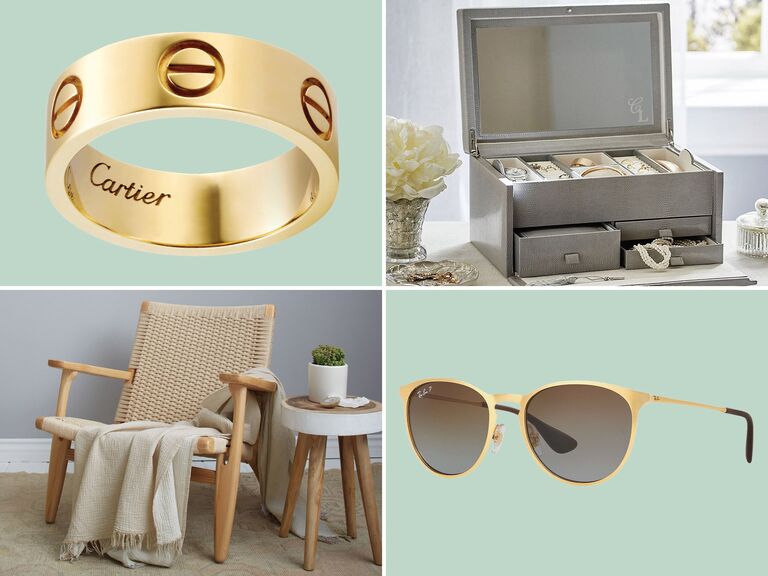 Making it 50 years as a couple is an incredible accomplishment—and one that should be acknowledged and celebrated with meaningful gifts. While the traditional 50 year anniversary gift is gold, there are countless modern takes on the luxurious theme, and even plenty of non-gold items worthy of a place on this list. See below for the best 50 year anniversary gift ideas.
What Is the 50 Year Anniversary Gift?
Traditional: Gold
Traditionally, gold was given as the 50th anniversary gift since it's the most timeless and treasured metal, and it symbolizes love, compassion, courage, passion and wisdom. And considering this milestone anniversary is a biggie (half a century together is very impressive!), celebrating long-lasting love with a classic gold gift such as jewelry, home décor items or a framed picture of the two of you is a good way to go.
Modern: Gold
While gold is still the modern take on the 50th anniversary gift, there are many more ways this can be interpreted. Gift options to give your spouse or favorite couple could be cool clocks, pens or servingware sets.
In this article:
50 Year Anniversary Gift Ideas for Her
Choosing the right 50 year anniversary gift for your wife can be overwhelming, to say the least, but we've narrowed the countless categories and present possibilities to five she'll absolutely love (that don't even need to involve gold).