An Iceland Bachelor Party Guide to Plan Your Trip
Discover an adventurer's paradise on a guys' trip to Iceland.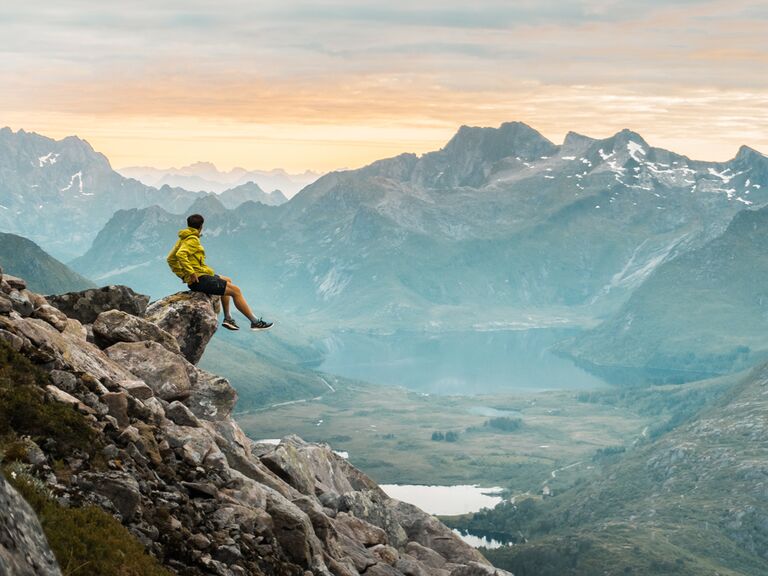 kasakphoto / Shutterstock
We have included third party products to help you navigate and enjoy life's biggest moments. Purchases made through links on this page may earn us a commission.
For the groom who can't sit still, an Iceland bachelor party may be just the ticket to cope with any pre-wedding jitters. A stay in Reykjavik offers a gateway for exploring from the stunning scenery of the Golden Circle to snowmobiling vast landscapes to the city's own lively nightlife.
What Are Some Iceland Bachelor Party Ideas?
Take advantage of everything Iceland has to offer on a three-day bachelor party that includes exploring volcanic landscapes, waterfalls and geothermal waters, along with tasting adventurous local foods and drinks. And don't forget to thank everyone for showing up with a gift or two from The Knot Shop.
For the Adventurer
Iceland is meant for exploring, whether that means hiking, biking, snowmobiling or ATVing. Along with each thrill-seeking tour, you'll spy waterfalls, walk on glaciers or spend the night hunting the skies for the Northern Lights.
For Foodies
But then there's also the food that ranges from roasted lamb to Icelandic fish. And don't forget to try the Icelandic "Black Death" liquor made of fermented potato mash and caraway.
For the Party Animals
Reykjavík is also home to more than 80 bars that don't close until the wee hours of the morning (in summer, daylight lasts 24 hours). So there's the nightlife to consider.
What Do You Do at a Bachelor Party in Iceland?
Follow our three-day Iceland bachelor party itinerary to make the most of a weekend in and around Reykjavik—you won't regret it!
Day 1
Morning: The trip begins with breakfast at CooCoo's Nest where whimsical dishes like green eggs and ham (made with pesto and bacon) and eggs Florentine alla CooCoo's made with spinach and creamy blue cheese sauce are on offer. You'll also find spiked iced coffee and bloody Mary's on the menu if you need a little jolt to conquer that jet lag.
Afternoon: Take the day to explore Reykjavik while everyone makes it in from their flights. Old Reykjavík Harbour offers views of the bay and whale spotting (depending on the time of year). For your first inkling of Iceland's dramatic landscapes, though, make your way to the Reykjanes Peninsula where you'll find volcanic craters, rugged mountains and mineral lakes.
Evening: Kick things off with a tasting at one of Iceland's distilleries: Reyka. Here you can get a behind-the-scenes tour of how they make their vodka, along with a tasting. Then head to dinner at Dill, which is year-over-year one of the top-rated restaurants in the country. Home to food that honors Nordic traditions, you'll find local Icelandic ingredients on a delicious tasting menu. From there, choose the nightlife vibe that fits your crew: B5 for a club vibe with bottle service; Microbar for craft beers; or the Lebowski Bar, themed after the beloved cult classic.
Day 2
Morning and Afternoon: Today, take on the insides of a volcano. But start with breakfast first. Stop in for a quick coffee and bite at Café Babalú before your tour into the dormant Þríhnúkagígur volcano. The hike into the volcano is daring, including a 50 minute hike to the crater and 400 foot descent by cable lift, but it's worth the effort to walk inside the crater of a volcano.
Evening: After dinner, it's back to downtown Reykjavik, where you can join a Bar Crawl Tour. The tour guides you to some of the best bars and nightclubs, with drink specials along the way.
Day 3
Morning/Afternoon: You can't come to Iceland and miss the wonders of the Golden Circle, but be prepared for a long day of touring! A nine hour Jeep and Snowmobile Excursion takes you up close to Geysir hot spring and Gullfoss Waterfall, into the highlands of Iceland and on a two hour snowmobile ride on Langjokull Glacier. It's a one-of-a-kind experience only to be found in Iceland worth taking up an entire day.
Evening: After cleaning up from your adventure, have a late night dinner before your last wild excursion. But don't worry about making it a fancy meal. Instead, stop at the beloved Baejarinns Bextu Pylsur, a hot dog stand that offers "the best hot dog in town" (the actual translated name of the place). And trust us, you will enjoy this dog. Skip a last night downtown in favor of a chance to spot the Northern Lights. While seasonally dependent, it's an adventure worth trying your luck for—and staying up until the dawn hours for, too. Afterall, you have to catch a flight in the morning anyway. Tours through Gateway to Iceland, rated five stars by TripAdvisor, are offered at prime Aurora Borealis viewing times—November to January, February, March, September and October. But when you get the chance to spot the lights, it's the memory of a lifetime.
Where Should I Stay in Iceland for a Bachelor Party?
Stay in downtown Reykjavík to make everything convenient when you aren't touring outside of the city. A hotel or apartment rental puts you within walking distance to the city's best sights and bites and you can rely on car services to get you to the outskirts and excursions.
Best Iceland Bachelor Hotels
Found in a central location with easy walking distance to many attractions, the Hilton Reykjavik Nordica is a budget-friendly option with modern rooms.
For a higher price tag, but walkability to the city's best bars and restaurants, stay at the Ion City Hotel, a boutique hotel offering epic views.
Right in the mid-budget range, choose the Apotek Hotel for a stay in the city center and the option to book suites for larger groups, plus an in-hotel bar.
Best Iceland Bachelor Home Rentals
Large groups (up to 18) can book a stay at this Two-Level Apartment, a rare find with such big space right in the heart of the City Center.
A Spacious Downtown Apartment has room for 11 across four bedrooms and is in walking distance to many bars and restaurants in the city.
Smaller groups (up to 8) can book this Loft Apartmentfor downtown digs without fanfare—but a short walk to the Blue Lagoon and other famous attractions.