Using These Instagram Filters Will Get You the Most Likes on Your Engagement Photo
And yes, #nofilter counts too.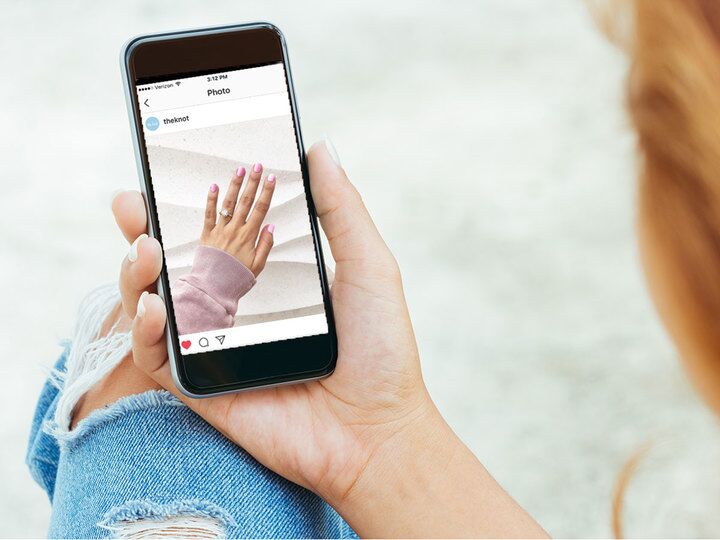 iStock
If special moments aren't shared on social media in 2017, you can't say with certainty that they happened at all, right? A study was done by Diamonds by Raymond Lee where it scoured over one million engagement photos on Instagram to determine the most popular cities, times, locations and other trends for proposals, and the findings are seriously interesting. See if you can identify with any below, and don't forget to tag your proposal and ring photos with #TheKnot and #TheKnotRings to potentially get featured on The Knot Instagram accounts and in our magazine.
The First Wedding Hashtag You Use Is...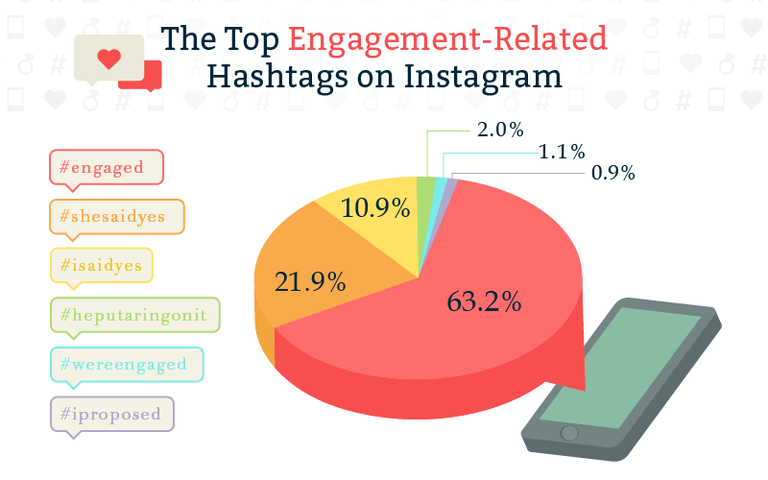 No surprise here, thanks to Beyoncé: #heputaringonit beats out #wereengaged in the top six engagement-related hashtags on Instagram. But the most popular engaged hashtag of all? Simply put, #engaged does the trick.
A Picture Is Worth a Thousand Words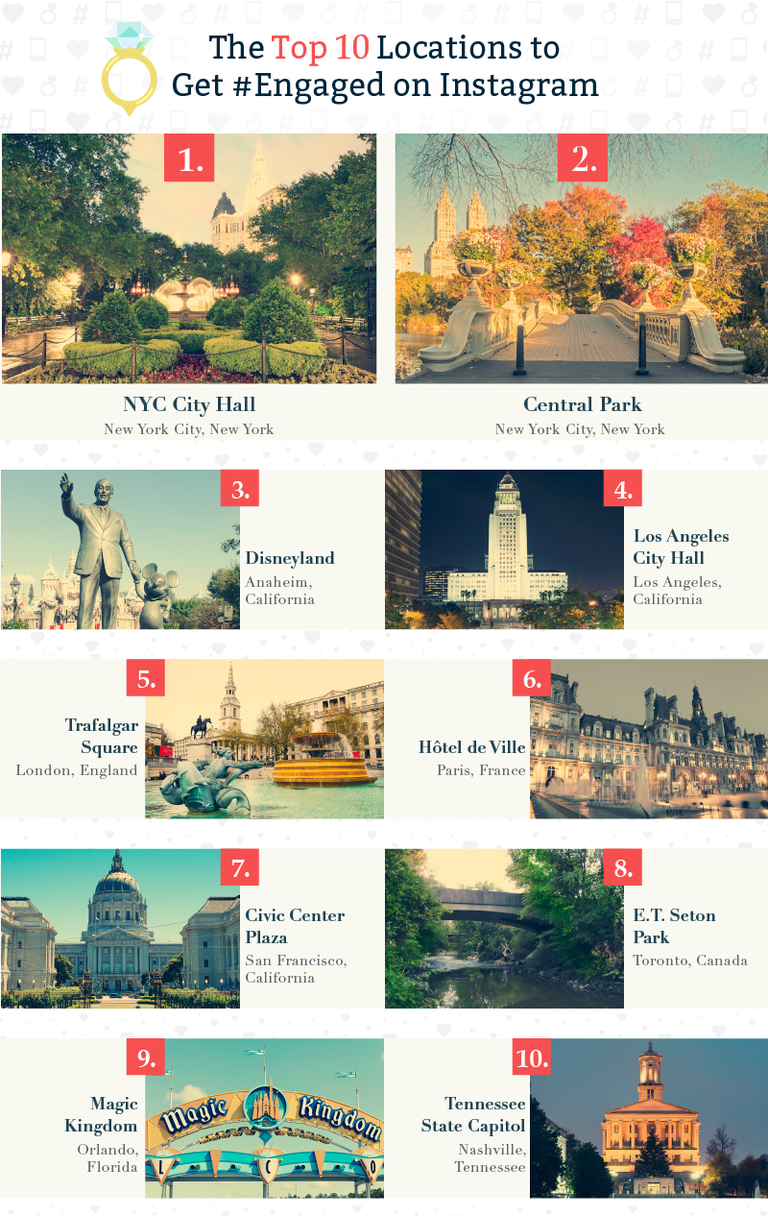 You'll remember the moment you got engaged for the rest of your life, and the location can be just as important for setting the tone as every other meticulously planned detail. The study of the top 10 locations for engagements around the globe found that seven of these spots were in the US.
New York City is one of the most visited places in the world, and it stole the top two spots on the list for enhanced engagement locations. The City Hall building in New York City isn't just a beautiful place to pop the question—it can also be the ideal location to tie the knot. If being indoors isn't your thing for the big moment, New York City's Central Park comes in as the number two spot. Regardless of the time of year, Central Park is an iconic location for any occasion and offers a seemingly infinite number of idyllic settings to help set the mood.
Theme parks also earned two of the top 10 spots for engagement Instagram posts. Whether it's your first time going or an annual excursion, the Mouse seems to have created a popular following for romantic spots and engagement opportunities. International romantic scenes in London, Paris and Canada also made the list.
The Most Popular States to Pop the Question
While New York state may have won out as the most popular place to get #engaged on Instagram, it has more than just city spots to pop the big question. From cozy cottages overlooking beautiful outdoor landscapes to upstate wine country, New York has almost anything you could think of to make the moment special.
On the complete other side of the country, Hawaii came in as the second most popular state for #engaged posts. Considering its world-renowned beaches, picture-perfect sunsets and exclusively intimate vibes, there may be few places better in the US to start your journey to the altar together.
Other parts of the Northeast including Maine, New Hampshire, Vermont and Rhode Island also made the top 10 states. There's no limit to the romantic settings you can create in these states with rich history, shifting seasons and picturesque backdrops.
Hot Cities for Engagement Posts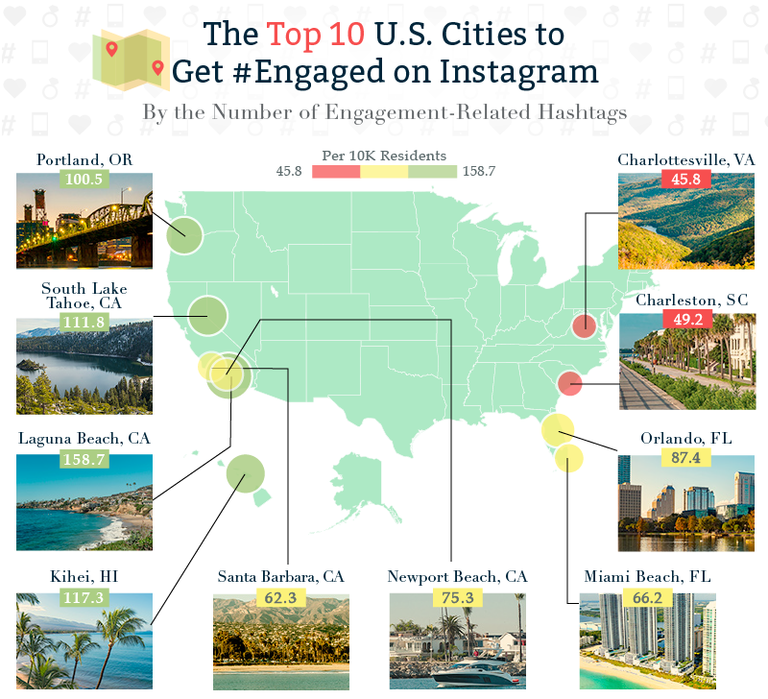 If you're looking for specifics to help you plan the ultimate engagement experience, the study has narrowed down the most popular cities for #engaged posts. Laguna Beach in sunny Southern California had almost 160 posts for every 10,000 residents in the city. From mountainous hilltops to sandy beaches, Laguna Beach has almost any backdrop you could want for your big moment. You also probably can't go wrong with just about any spot in Hawaii, but the town of Kihei on the island of Maui had almost 120 posts for every 10,000 residents. Known as one of the sunniest parts of the island, Kihei has beautiful beaches and lush parks to pick from for your engagement experience, as well as amazing restaurants to celebrate at afterward.
South Lake Tahoe in California drew in over 110 engagement posts for every 10,000 residents. Unlike Laguna Beach, South Lake Tahoe is more likely to experience all four seasons, and can even add some snow to your day if the proposal is timed right.
Seasons of Love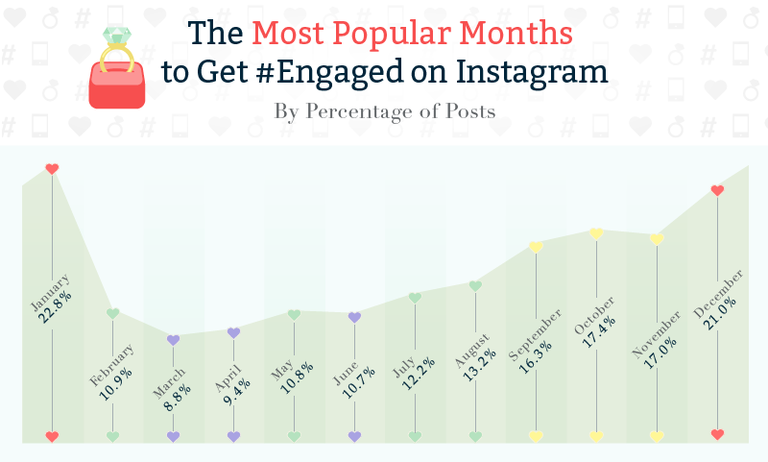 Picking the right time of year to propose can be just as important as the location, or even the ring you choose. You may want warm weather or the soft hue of holiday lights in your background. To get that, you have to be crafty with the time of year. This study of over one million engagement posts on Instagram found that January and December were the two most popular months for couples to share their big news, which is no surprise since that's prime proposal season time.
Fall months including September, October and November were also popular times of year for engagements.
The Love Hour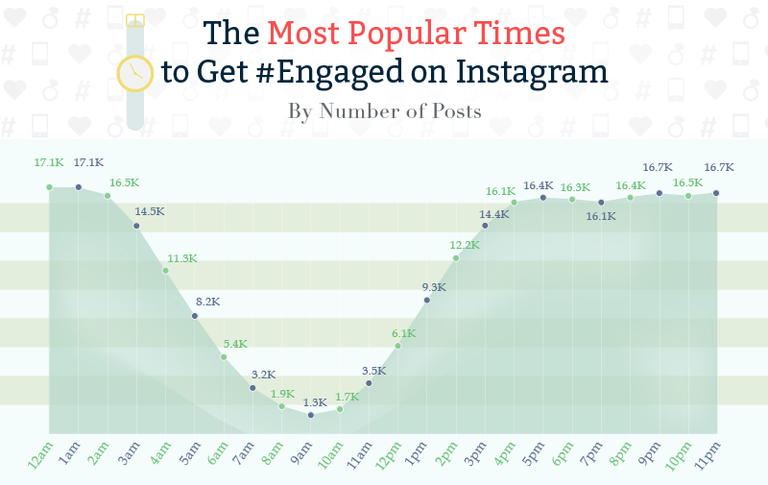 Capturing the moment can sometimes be a big part of pulling off the perfect engagement, and photographers have labeled the hour just after sunrise and just before sunset as the "golden hours" when it comes to natural lighting.
Of course, when you take your engagement photo and when you post them are two different things. Instagram analytics show the best and most popular time for posts comes around 5 p.m., followed by the very early morning hours. This data showed similar trends, with #engaged posts spiking between midnight and 2 a.m., followed by 5 p.m. Mid-morning hours between 8 and 10 a.m. were the least popular times for engagement posts.
Put a Filter on It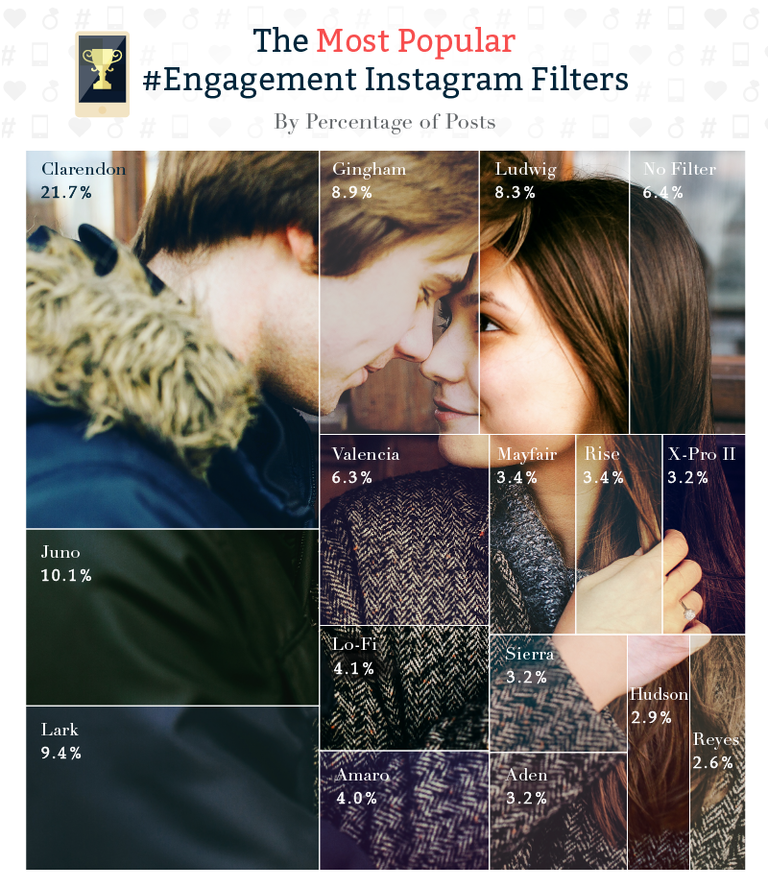 When it comes to sharing your engagement photos online, you want to make sure they look as wonderful as you feel. Picking the right filter can help convey the excitement of the moment for everyone to see. Over 21 percent of engagement photos on Instagram use the Clarendon filter. Perfect for drawing the eye to the photo's subject and making colors pop, Clarendon also does a good job picking up on shades of blue, which might help that new diamond shine even brighter for the camera.
Roughly 10 percent of #engaged photos used the Juno and Lark filters. Like Clarendon, Juno and Lark help intensify color to better convey the energy of the moment. City shots may want to consider the Juno filter, while outdoor pictures can lean on Lark to help brighten outdoor elements like water and foliage.
Filters for Instagram Likes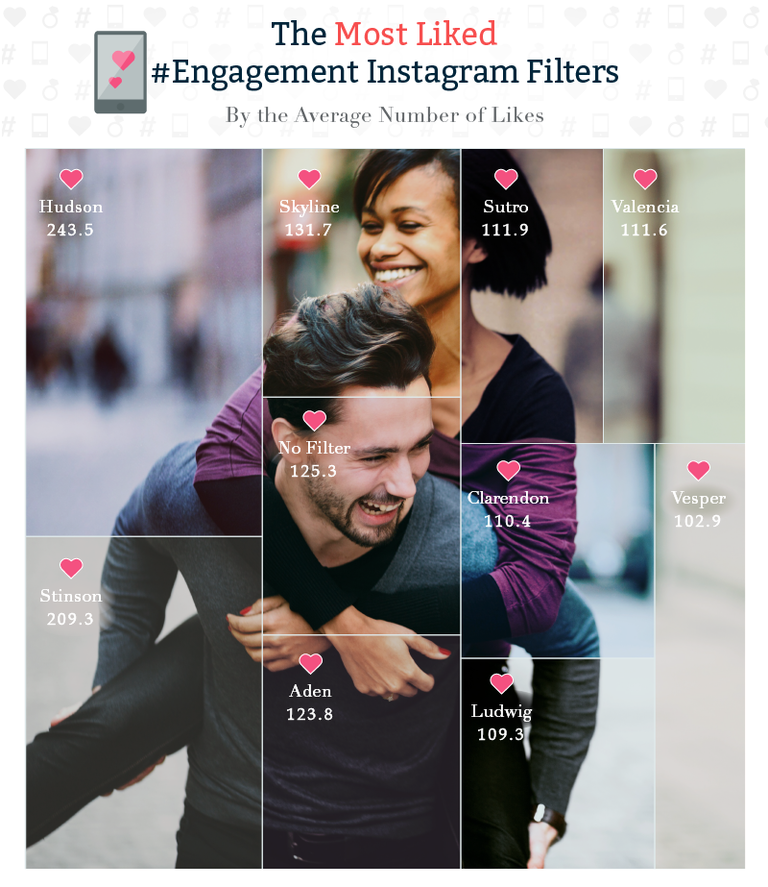 Engagement pictures on Instagram are popular, but the number of likes on each post seems to vary based on certain filters.
Even though Clarendon and Juno were the most popular filters to use, it was the Hudson filter that drew in the most attention. Averaging over 243 likes per post, the Hudson filter adds a cool hue over images, isolating warm tones and creating a blue vignette over the picture. Perfect for adding depth for outside pictures, Hudson is also great for earning likes on your big news.