The Jackson Hole Honeymoon Guide for a Naturally Romantic Getaway
Get the most out of your romantic getaway to this beautiful Wyoming destination.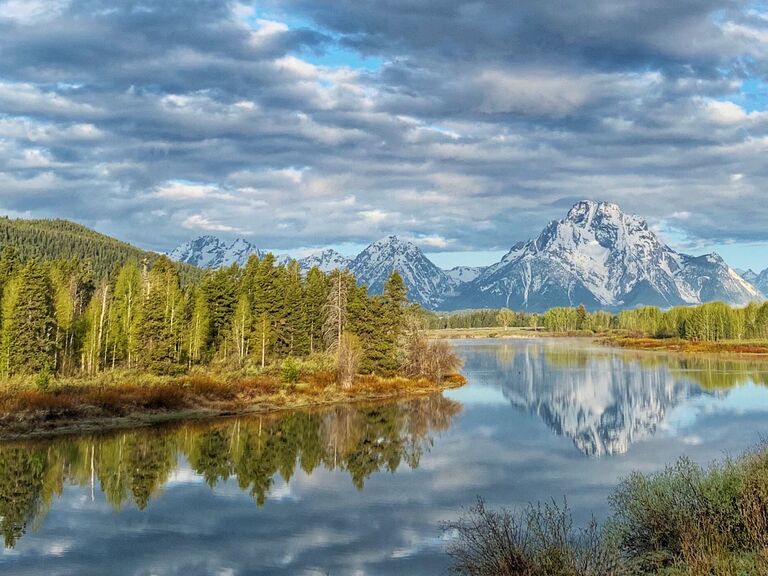 Jeff R Clow / Getty Images

We have included third party products to help you navigate and enjoy life's biggest moments. Purchases made through links on this page may earn us a commission.
Jackson Hole, Wyoming is perfect for couples who appreciate nature and romance. The US honeymoon destination is home to beautiful national parks like Yellowstone and Grand Teton, among outdoorsy activities in both the summer (white-water rafting, fishing and hiking) and winter months (snowmobiling, skiing and wildlife tours). A mountain honeymoon is incredibly romantic, and the location is not too difficult to get to, especially from the West Coast or the Midwest, with fairly short, direct flights available from certain destinations like LA and Chicago.
Travel Tips in this Article:
Is Jackson Hole Good for a Honeymoon?
Pros of a Jackson Hole Honeymoon
Not only is Jackson Hole beautiful all year round, with plenty to do in both the warmer and cooler months, but if you're traveling from the Midwest or the West Coast, the flights are relatively cheap and usually direct, especially from big cities like Denver (about 90 minutes), Chicago (just over three hours) and Los Angeles (under three hours).
Cons of a Jackson Hole Honeymoon
Jackson Hole is an easier location to reach from the West Coast or the Midwest. However, there are still plenty of flights from New York City that fall under five hours. Keep in mind: when booking the trip, summer has the highest tourism influx of visitors to Jackson Hole. It's beautiful, though, with temperatures around the 70s and 80s.
The Best Times to Visit Jackson Hole for Good Weather
The preferred climate depends on what you're looking to do. If you're looking for pleasant weather and sightseeing, plan to visit in the spring between April and May. The temperature warms up during the day to around 60 degrees Fahrenheit. There's just as much to do in the winter, but pack plenty of layers. If you would like heat, plan a visit during peak season in the summer with temperatures generally in the 70s and 80s.
Fun Things to Do in Jackson Hole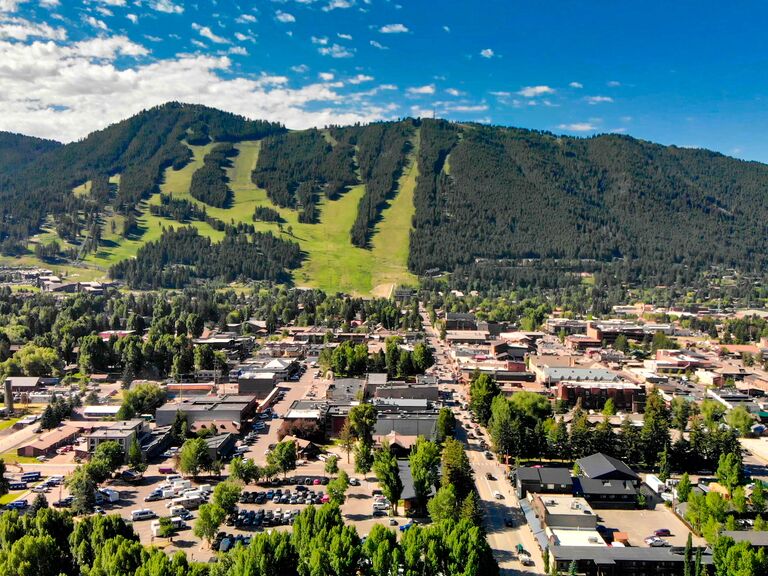 At Kemo Sabe, customers can add their own touch to their cowboy hats. You just select a hat that you like, they come in a very wide range of colors, and then you customize it. Customers can pick out different hat bands for color, add feathers and even brand the hat with your initials or word of your choice.
Enjoy the winter weather by going on a snowmobiling tour with Old Faithful Tours. You'll have fun whipping through the snow covered trees on a snowmobile together, possibly discovering wildlife along the way. It's a truly incredible way to discover Yellowstone National Park and view the Wyoming Mountains.
Visit the Million Dollar Cowboy Bar for a drink. The famous bar is decked out like a Western tavern, plus it's known for serving delicious burgers and barbecue. The Cowboy Bar also consistently has dancing and live entertainment for guests, including other couples and bach party members.
Snow King Mountain Resort has activities and entertainment for visitors in the summer, but the winter is when it really shines. Snow King is the perfect place to go skiing in the winter, carving through the fresh powder on the mountain. When you're done skiing and snowboarding, take a ride on the mountain coaster.
The beautiful Granite Hot Springs is just 30 miles outside of Jackson Hole. The hot spring in Teton County is a great way to enjoy the water during the cooler, winter months.
Have dinner at Local Restaurant & Bar to enjoy some seasonal specials and chophouse staples. They have delicious add-ons like Herb Roasted Bone Marrow with grilled focaccia or Foie Gras Torchon that can be tacked on to any steak, in addition to plenty of buffalo on the menu and regular chops. You can try Buffalo Wellington or Buffalo Tartare, or stick to classic favorites like a juicy, marbled ribeye.
Visit The National Parks
Visiting the area's beautiful national parks is a must when you're in Jackson Hole. You're right near Yellowstone National Park, filled with gorgeous scenery and wildlife, Old Faithful, Thumb Geyser and Mammoth Hot Springs. There's plenty to see and do nearby within Grand Teton National Park, as well.
Day Trips from Jackson Hole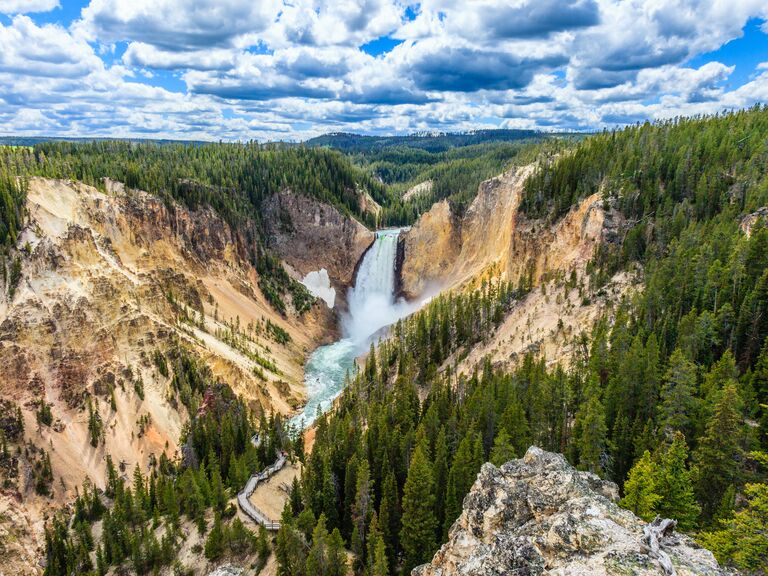 When you're that close to Yellowstone National Park, a day trip from Jackson Hole is necessary to view the scenic landscapes and wildlife like wolves, bison and bears. You can view Old Faithful, Thumb Geyser and Mammoth Hot Springs, enjoying all that Yellowstone National Park has to offer.
In addition to Yellowstone National Park, Grand Teton National Park is another beautiful destination with natural landscapes and wildlife. Just a short distance north of the city, Grand Teton National Park has scenic lakes, hiking trails and plenty of wildlife like elk, moose, river otters and more. Depending on the time of year, visitors can enjoy snow covered hiking trails, white water rafting, plenty of wildlife tours and more.
The Best Hotels, Resorts and Honeymoon Cabins in Jackson Hole
The Cloudveil is a luxury hotel in the downtown area of Jackson Hole. Fairly newer to the scene, it's in a convenient location with plenty to do and see within walking distance, including local shops or some of the best restaurants in town, without having to spend money on Ubers.
The Four Seasons in Jackson hole is a five-star experience at an alpine resort. Before you head out skiing or hiking for the day, they have an incredible breakfast menu at their in-house restaurant, Westbank Grill. After a day of activity, you can soak in the heated pool (open all year) or enjoy a relaxing spa treatment.
With beautiful views of Snake River Valley and the mountains, Amangani is the perfect place to stay to enjoy the scenery. The ambience is incredibly cozy, with a natural and minimalistic feel. Amangani focuses on outdoor activities when travelers come to stay there during their visit to Wyoming.
Hotel Jackson is in a great location, surrounded by plenty of boutique shops, places to eat and even the famous elk antler arches in the city square. With just 55 rooms, Hotel Jackson goes for a traditional theme of the west, offering guests a boutique experience with plenty of modern amenities and comfortable accommodations.
What to Pack for a Jackson Hole Honeymoon
When it comes to packing for Jackson Hole, Wyoming, it depends primarily on when you're planning to visit. If your trip is in the winter, pack plenty of layers, a thick coat, very warm boots, wool socks, a hat, gloves, a scarf and everything to keep you warm during outdoor activities. In addition to the essentials, you'll want to pack some dressier sweaters for the evening. Some standard items, or items for other seasons, as well, include a swimsuit for the pools and hot springs, plenty of sunscreen, T-shirts, active wear, lip balm, lotion and sneakers.