The Best Mountain Honeymoon Destinations in the USA & Abroad
These are the best honeymoon destinations in the mountains, whether you're an outdoorsy couple or just love resorts with mountain vistas.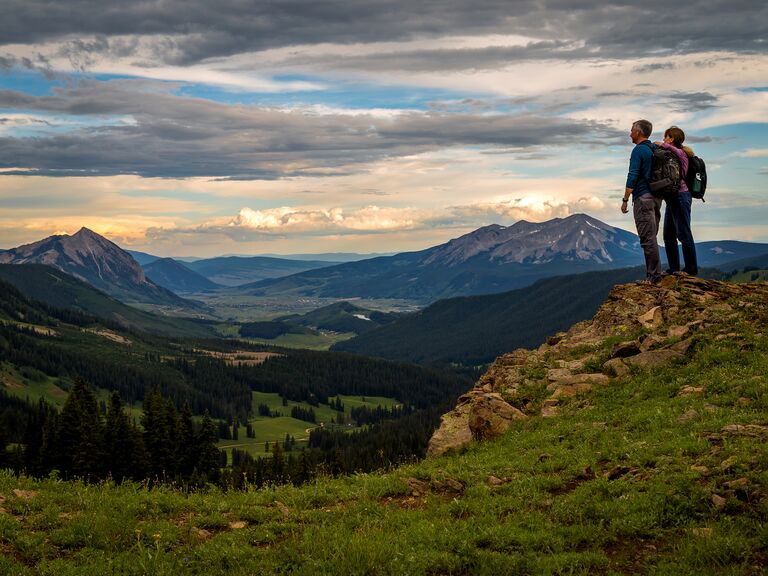 Hale Kell/Shutterstock
We have included third party products to help you navigate and enjoy life's biggest moments. Purchases made through links on this page may earn us a commission.
Some honeymooners look forward to relaxing on a beach after the wedding. Others believe the true definition of a romantic getaway for two is experiencing something new and exciting, like a mountain honeymoon.
A trip to the mountains doesn't have to involve cold weather. While you could always head to the slopes in Colorado for a luxurious ski resort honeymoon or spending your days flying down Rocky Mountain summits and relaxing in a mountain-view hot tub, there are plenty of warm-weather mountain destinations with much to do. Warm and sunny St. Lucia has plenty of stunning honeymoon resorts centered on a stunning mountain range. National parks across the US are also absolutely stunning year-round, regardless of the weather.
If you're considering a mountain honeymoon, explore the list below of the best mountain honeymoon destinations in the world. While some offer the opportunity for mountain biking, whitewater rafting, or even dog sledding, others are more relaxed and luxurious, with five-star luxury stays. Regardless of what you have in mind as newlyweds, the list below should help jumpstart your mountain honeymoon planning.
Denali, Alaska
If it's stunning natural beauty, cozy evenings spent snuggling next to a roaring campfire at a luxurious chalet and wildlife watching unrivaled elsewhere in North America you're after, plan for an alpine honeymoon in Alaska. One of the best places to visit is Denali National Park, where summer is ripe for spotting grizzly bears and hiking forested backcountry trails. Winter calls for downhill and cross-country skiing, plus a chance of seeing the northern lights. If you have time, consider taking a shuttle to the Denali Backcountry Lodge, then taking a scenic bushplane flight to leave the park. The lodge has charming log cabins plus daily guided hikes through remote terrain nearly untouched by civilization.
Saint Lucia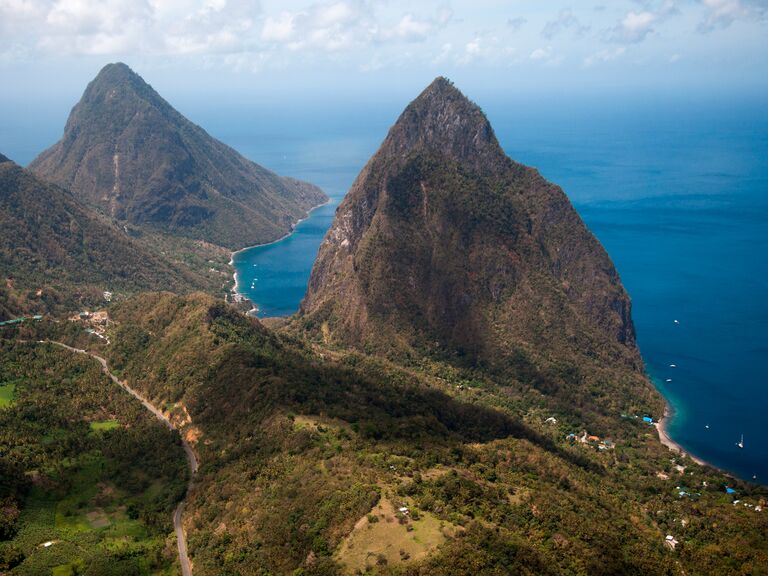 Honeymooners who prefer their mountains with a little less snow and a few more palm trees will want to consider spending their honeymoon in St. Lucia, in the eastern Caribbean. The mountainous jungle island is known for the "Pitons," which are the remains of lava that hardened millions of years ago in ancient volcanos. The picturesque honeymoon destination offers mountain biking, heart-pumping jungle treks leading to tropical waterfalls and world-class snorkeling with equally impressive underwater terrain. The most romantic hotel on the island is Jade Mountain, which offers luxury suites with private pools or hot tubs looking out on the mountainous terrain. There's also a Sandals Resort that's located on Rodney Bay, a prime choice especially for couples seeking over-the-water bungalows and all-inclusive options.
Greater Zion, Utah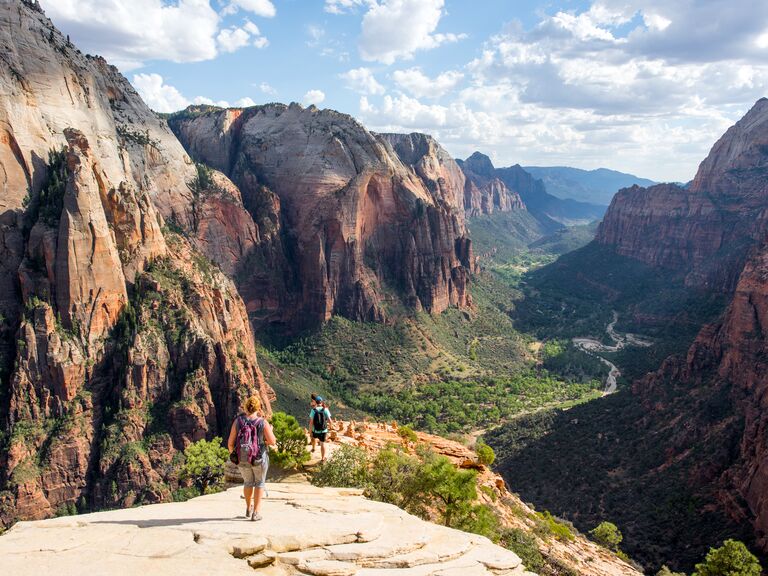 Zion National Park is one of the world's most beautiful mountain destinations and is equally renowned for offering outdoor adventure. But the areas just outside Zion, which tend to be less crowded and more affordable than being in the park itself, should not be missed during a Utah mountain honeymoon. Newlyweds can stay at world-class resorts like Open Sky (a luxury glamping resort) or the upscale Crystal Mountain Resort. Spend your honeymoon exploring both inside and outside the park, enjoying everything from touring slot canyons to horseback riding to taking a private hot-air balloon ride across the desert landscape.
Innsbruck, Austria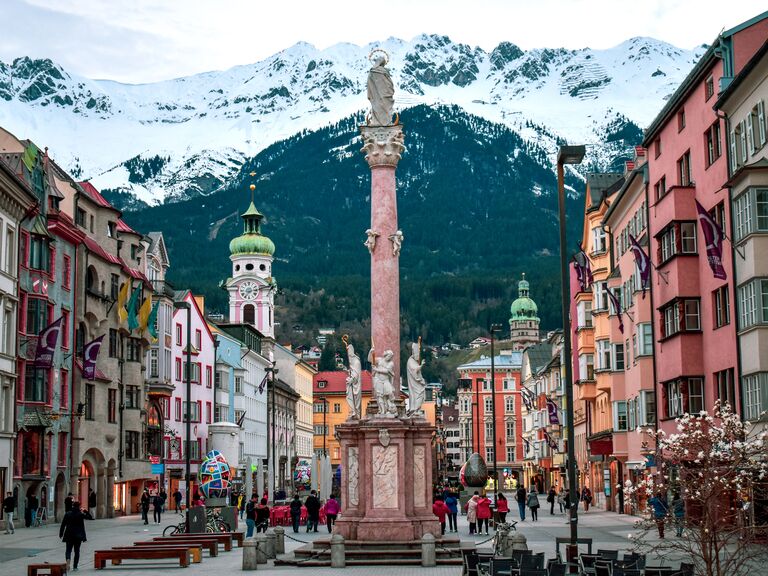 If you're dreaming of the perfect European mountain resort town, Innsbruck, Austria, is a mountain paradise for travelers who love to be outdoors. Couples interested in trying something new can take kayaking and rafting tours, hike to alpine restaurants tucked into mountain valleys, or go on a gentle mountain biking ride through small towns. You'll find excellent hotels in the Old Town of Innsbruck (nearby attractions include Swarovski Crystal World and the Innsbrucker Nordkette gondola). Tyrol is another town located about 30 minutes west of Innsbruck.
Patagonia, Chile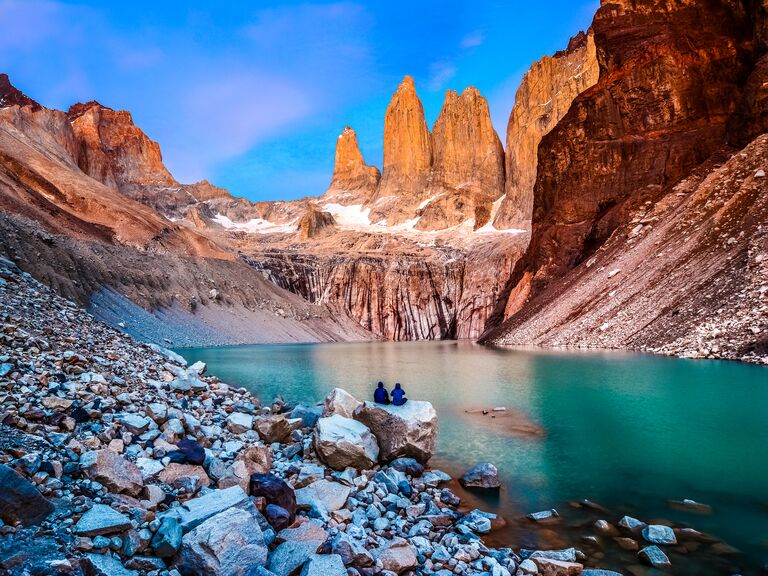 While Patagonia is perhaps most famous for the mountain towers of Torres del Paine National Park, you don't have to hike for days to see the beautiful mountain views. In fact, newlyweds don't even have to rough it too much, thanks to a host of luxury eco-hotels in Patagonia. Tierra Patagonia is an architecture lover's dream tucked very close to Torres del Paine. On the Argentinian end, Explora El Chaltén is an all-inclusive option with breathtaking glacier views. Awasi Patagonia offers private cabins with hot tubs, plus inclusive packages with daily excursions like guided hikes, driving tours or photo safaris. If you'd rather arrange your own tour, companies like Chile Nativo offer everything from one-day fly-fishing tours to multi-day penguin or puma-tracking tours around the region's parks.
Amalfi Coast, Italy
Couples keen on mountain views but not-so-interested in roughing it may want to spend their honeymoon on the Amalfi Coast, about three hours south of Rome. Small towns like Positano, Amalfi and Ravello are bursting with Italian seaside charm. Newlyweds can spend their days sailing on the Mediterranean Sea, cliff jumping, visiting vineyards and lemon groves, or sightseeing across nearby destinations like Pompeii (for history) and Naples (for pizza). Consider basing yourself at the Hotel Belmond Caruso in Ravello, with palatial decor that makes every room feel like the honeymoon suite, or the acclaimed and secluded Monastero Santa Rosa, located 15 minutes from the Amalfi Port.
Gatlinburg, Tennessee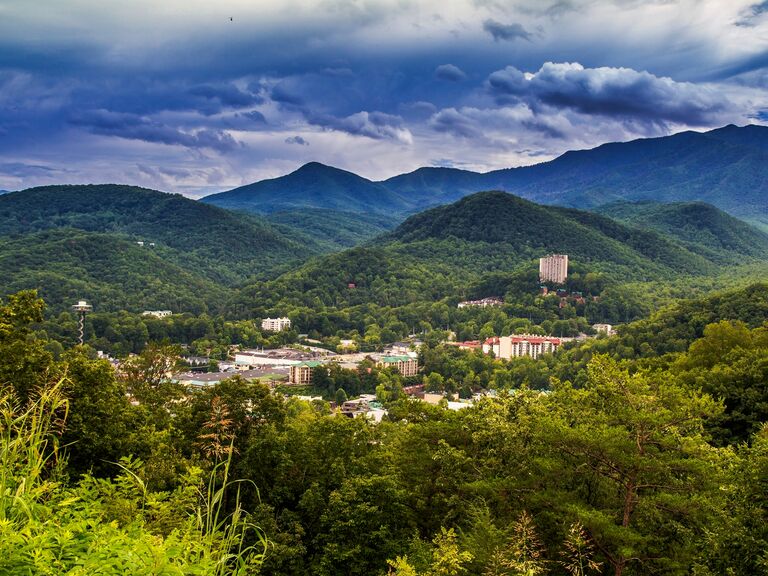 The Great Smoky Mountains is the most-visited national park in the US, so it's no surprise that the surrounding towns are booming with outdoor activities. And Gatlinburg, the town closest to the park, is an under-the-radar destination for now – but that'll likely change soon. It's becoming a very popular mountain honeymoon destination thanks to a variety of unique but luxurious lodging options like the Under Canvas Great Smoky Mountains and the Treehouse Grove Retreat. Spend your days trekking with llamas, swimming in hidden waterfall pools or following parts of the Tennessee Whisky Trail. It's the perfect honeymoon for couples who like active – but still luxurious – mountain getaways.
Bali, Indonesia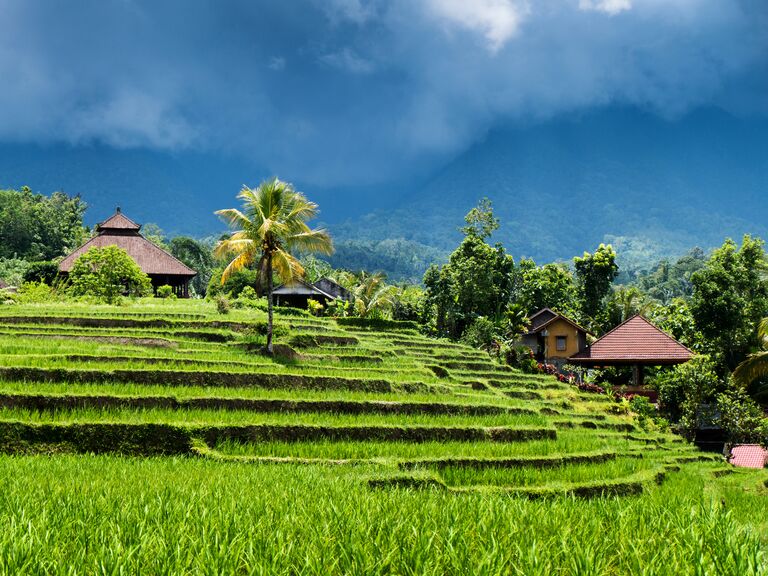 Don't let the of Bali among social media influencers turn you off. The island paradise is full of adventure, and while you certainly take a ride on a highly Instagrammable swing through a rice field, you can also spend time in the island's rainforested, mountainous interior. Book a few days in Ubud if you need to destress post-wedding with some meditation and yoga (the luxurious Capella Ubud has mountainside safari tents with private pools), summit Mount Batur if you want to get in a workout with epic views, or take a tour of the island's mountain waterfalls. Be sure to keep an eye out for long-tail macaques along the way.
Vestland, Norway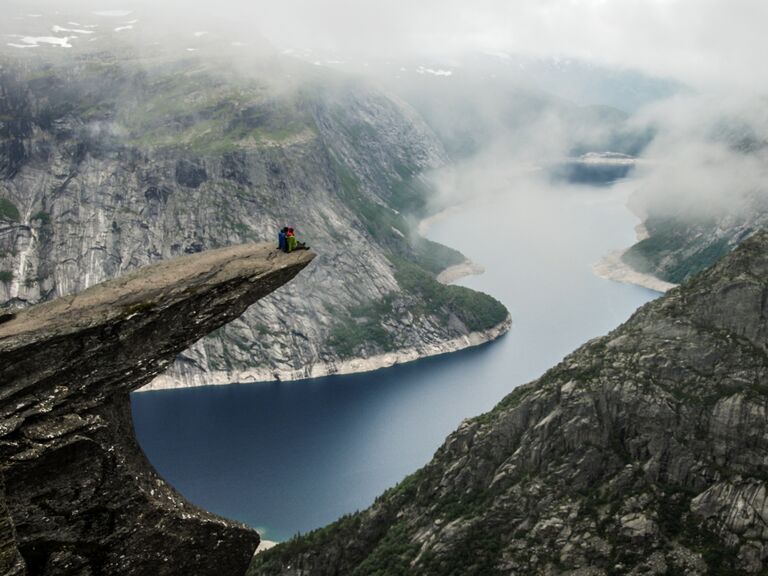 Expect a literal winter wonderland when you honeymoon in Norway, where couples' activities include everything from dogsled rides under the northern lights to visiting a reindeer farm to whale watching and sleeping in an actual snow hotel – and that's only in the winter. Warmer months call for everything from fishing in the Lofoten Islands to hiking to the famous "Trolls Tongue" to driving the famous Trollstigen road. The Wonder Inn glass cabins are a particularly trendy (and aesthetically pleasing) place to stay near Oslo, while the Fjaerland Fjordstove Hotel oozes vintage luxury near the glaciers of Jostedalsbreen National Park.
Bwindi National Park, Uganda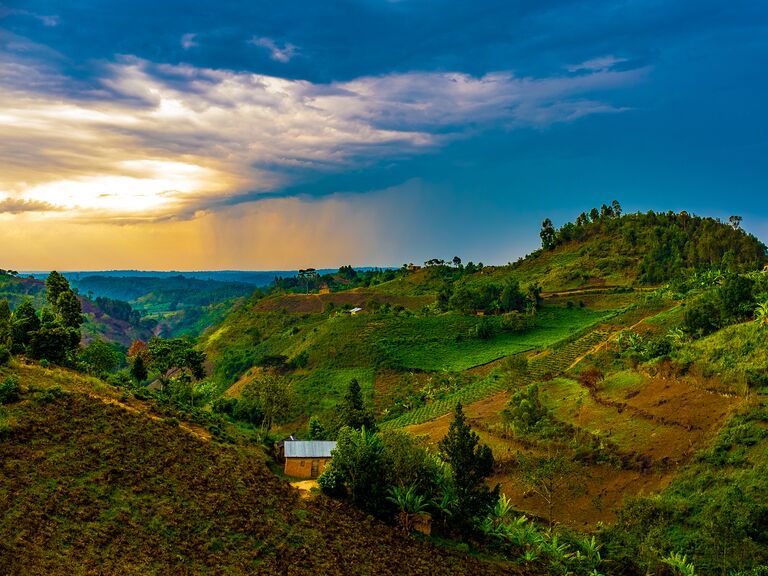 Shouldn't your honeymoon be the trip of a lifetime? If you're set on making your honeymoon the best two weeks of your life, head to Uganda, a small, mountainous country in East Africa. The country is most well-known for its treks to visit highly endangered mountain gorillas in Bwindi National Park. Because gorilla trekking permits attract a generally well-off clientele (permits are well over $1,000 per person), there's a developed eco-tourism community near the park to ensure guests have a luxurious and sustainability-focused experience. You'll find five-star eco-lodges tucked into the hillsides near the park, like the Gorilla Forest Camp or Volcanoes Bwindi Lodge. Of course, driving safaris, whitewater rafting, and sightseeing boat cruises on the Nile are also fantastic outdoor activity options in the country.
Crested Butte, Colorado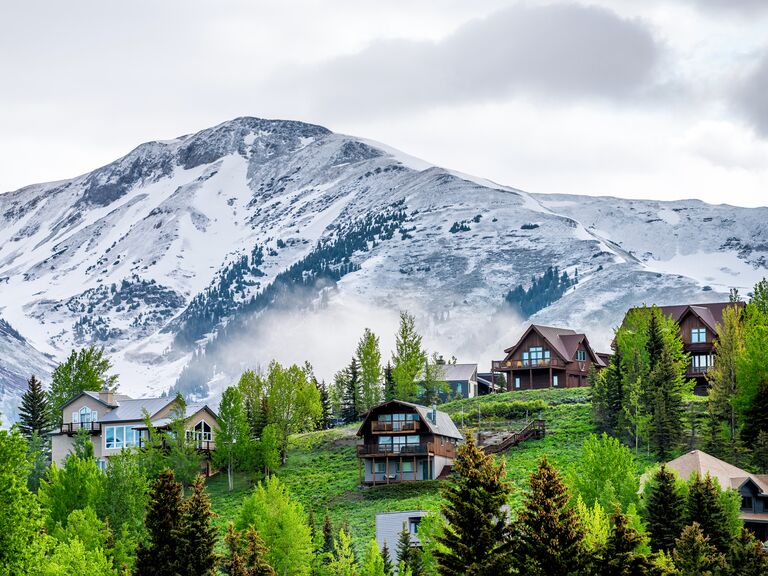 Good luck finding a cuter mountain town than Crested Butte. Home to fall foliage that could make New England jealous in the fall, some of the world's best skiing in the winter and spring, and amazing cycling and hiking during summer, there's no bad time to honeymoon in this mountain paradise town. Stay at the cute Elk Mountain Lodge to walk to everything in Crested Butte (a colorful cowboy town lined with colorful aspen trees, by the way) or opt for more remote digs at the Taylor Creek Lodge, a luxury boutique hotel housed in a former general store.
Río Grande, Puerto Rico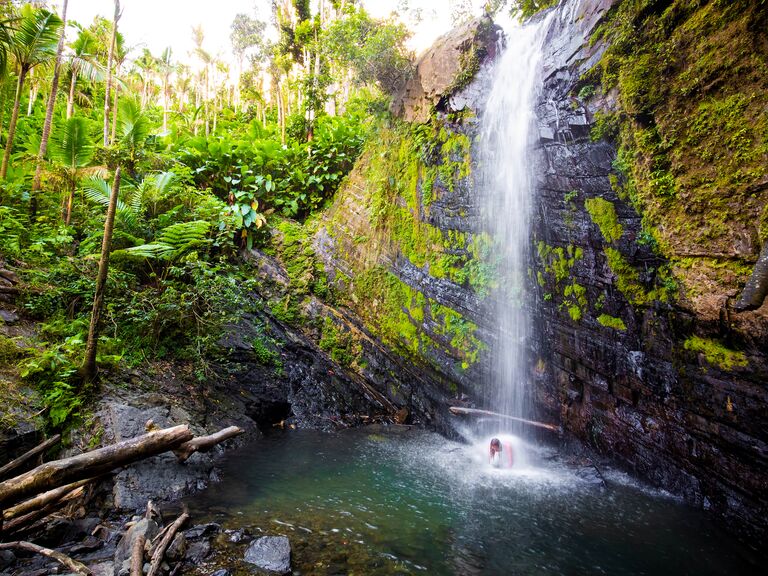 You don't need a passport to travel to Puerto Rico, which makes it one of the easiest honeymoons to plan in a hurry. It's an excellent choice for couples split on what type of honeymoon they want as it offers a bit of everything. Couples can start the honeymoon off by spending a few days exploring the El Yunque Rainforest, where they can hike to mountain summits, take a zip-lining tour, or jump into tropical waterfalls via a wooden rope swing. San Juan offers culture (we recommend the Caribe Hilton), while other oceanfront accommodations will give couples a necessary dose of surf after exploring mountainous terrain. One of the most romantic experiences in Puerto Rico is a bioluminescent kayak tour. In some bays, plankton illuminates the water, causing it to glow as you paddle through.
Vancouver, Canada
If you're after mountain biking, beautiful hiking, whale watching, and heck, even a few hot springs, consider heading to Vancouver and using it as a base for a week or two of exploring Western Canada. Just north of Vancouver is Squamish, one of the most famous mountain towns in the world for mountain biking. From there, you can head to Whistler for a luxurious mountain getaway, head back to Vancouver to spot orcas on a whale-watching trip or board the Rocky Mountaineer to Banff. It's a luxurious glass-roofed train that carries passengers to Banff and Lake Louise, with gourmet meals and local wines along the way. You can add on time in Banff and Lake Louise before returning to Vancouver to fly home.
Mammoth Lakes, California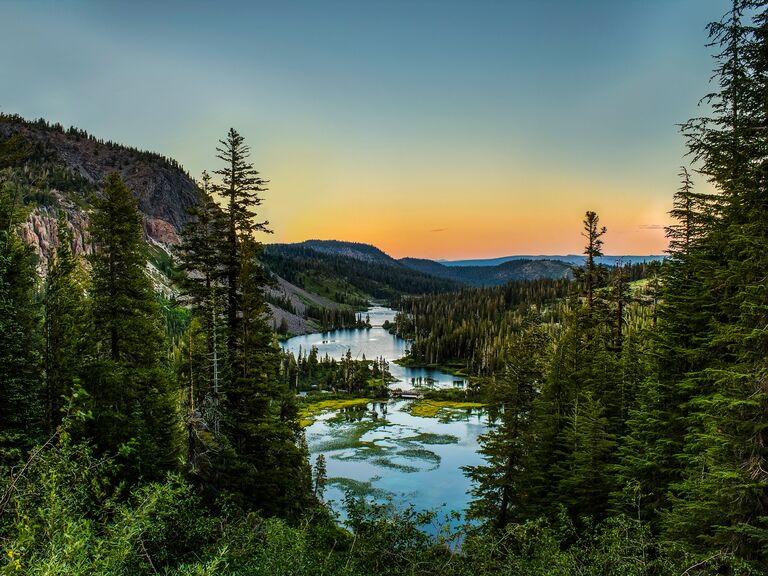 If you're on the West Coast, escape to an alpine paradise with a trip to Mammoth Lakes, California. It's roughly five hours north of LA and five hours east of San Francisco, which helps keep the crowds down compared to other mountain towns across the state. It's known for Mammoth Mountain, which has world-class skiing and snowboarding in the winter and mountain biking in the summer. The cute down has Swiss chalet-inspired hotels like the budget-friendly Sierra Nevada Resort and Spa, nearby natural hot springs and dog sled rides during the winter months. You can also take a ride in a snow grooming machine (known as a "sno-cat") to a sunset happy hour on the summits, complete with wine and an impressive cheese spread.