Your Guide to an Epic Honeymoon in Yellowstone National Park
This honeymoon destination is a national treasure.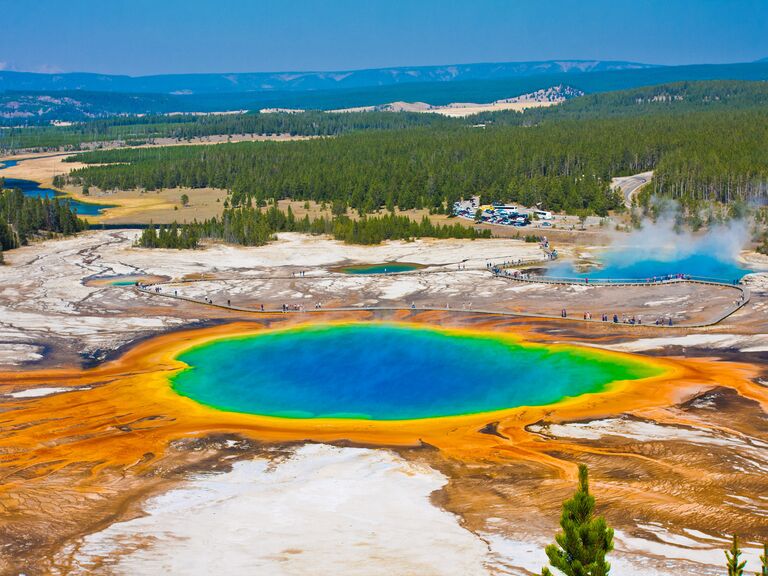 Lorcel / Shutterstock,Location: Prismatic Spring in Yellowstone National Park

We have included third party products to help you navigate and enjoy life's biggest moments. Purchases made through links on this page may earn us a commission.
Welcome to the world's first national park, where dramatic canyons, winding rivers, natural hot springs and gushing geysers set the scene for a honeymoon in the great outdoors. Although 96% of the park is located along the northwest corner of Wyoming, Yellowstone's borders also branch out to Montana and Idaho, offering several options for incoming flights. With over 2.2 million acres and five entrances, it's best to do your homework to determine your best portal for your adventurous, romantic getaway.
If you're looking to lean into a grand road trip to kick off your marriage, read ahead for everything you need to know about planning a honeymoon in Yellowstone National Park.
Is Yellowstone Good for a Honeymoon?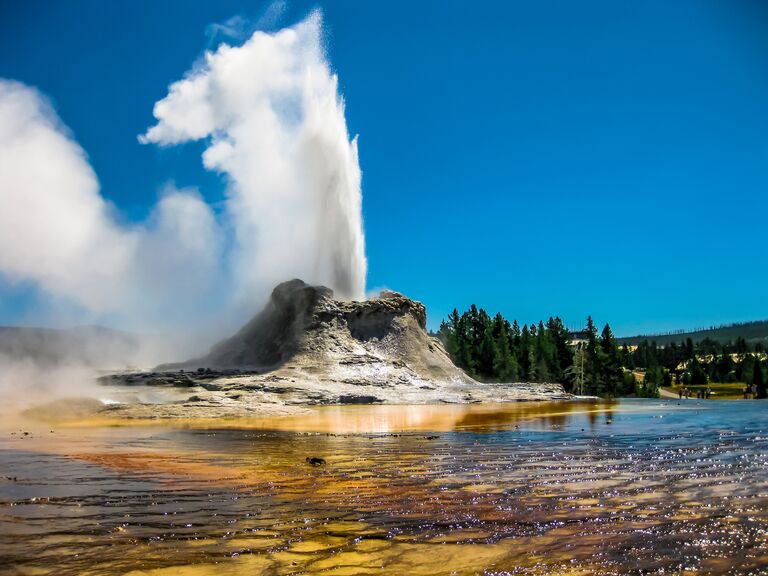 Yellowstone National Park is an easy trip from California or the Pacific Northwest. Several direct flights from major cities, such as Los Angeles or Seattle, will get you there in three hours or less. From the East Coast, you can expect at least one stop from six to eight hours of time in the air. Regardless of your arrival tactic, be prepared for an inspiring getaway full of natural wonders and astounding wildlife at every turn. In short, Yellowstone is a great honeymoon option for outdoorsy couples who appreciate national parks. See below for more.
Pros of a Yellowstone Honeymoon
A trip to America's first national park is an unforgettable experience, no matter the occasion, and there is a range of experiences for visitors with any area of interest. From laid-back horseback riding and nature trails to high-adrenaline ski slopes and rock climbing, honeymooners of all activity levels will appreciate this region's splendor. The focus on nature and wide-open spaces creates a natural, socially-distanced environment for US couples who want to travel safely close to home.
Cons of a Yellowstone Honeymoon
Because of its location, you may experience drastic changes in temperature, sometimes as much as 30 degrees from day to night. In such instances, couples should pack a bit extra to be prepared. While the park is perennially picturesque, carefully consider what time of the year you plan to visit because of seasonal road conditions. Only the North Entrance is open year-round, while all other access points and entry roads are accessible seasonally. Unless you plan a visit in the summer, always double-check the opening dates.
The Best Times of Year to Go on a Yellowstone Honeymoon for Good Weather
Summertime is prime for taking in verdant landscapes and flowering flora, but it's also the most popular time of year, so you'll be competing with high season traffic and lots of families. Fall is also a magical time to visit as changing leaves and grasses create fiery hues of yellows and oranges. There's a slight bite in the air, and the majority of summer tourists will have returned home for more privacy.
If a winter wonderland is what you're after, Yellowstone won't disappoint. Temperatures will be frigid, but the park is the perfect playground for cold-weather-loving couples who want to shred the slopes or simply sightsee by snowshoe.
Spring, often called "mud season" in the park, is the least ideal time to visit. Winter's snow is thawing and the park's roads, trails, meadows, and campgrounds may be muddy and difficult to navigate. The upside – very few tourists and one of the best opportunities to see the baby animals making their debut.
Places to Visit in Yellowstone for a Honeymoon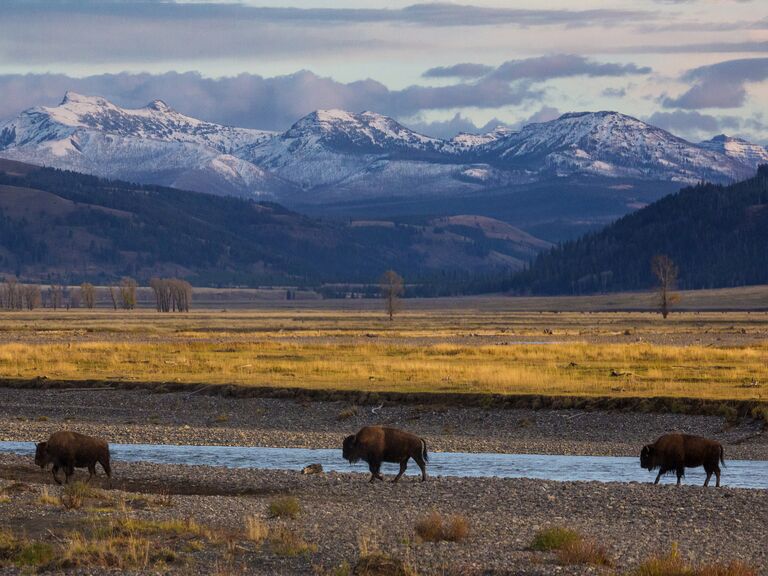 Mammoth Hot Springs via the North Entrance
Land at the Bozeman Yellowstone International Airport, located about an hour and a half from the park's North Entrance, especially to enjoy Mammoth Hot Springs. This marvel of nature is a large complex of hot springs that have carved themselves into a hill of travertine over thousands of years.
Lamar Valley via the Northeast Entrance
From the Northeast Entrance, venture to Lamar Valley to experience the "Serengeti of the United States." You'll be transfixed by the scenery alone, but the area has the most access to spectacular wildlife that calls the park its home. At dawn or dusk, couples can expect to spot gray wolves, bison, elk, grizzly bears and more.
Geysers via the West Entrance
If geysers are on the top of your Yellowstone hit list, the western entry point puts you in the center of the action. Fly into Bozeman Yellowstone International Airport, and you'll be about a two-hour drive from the park's best basins.
Yellowstone Lake via the East Entrance
Fly into the Yellowstone Regional Airport near Cody, Wyoming, and you'll find yourselves less than an hour from the park's eastern entrance. This path leads you to Yellowstone Lake and its shorelines dotted with geothermal features. From there, you'll find the West Thumb Geyser Basin and Old Faithful to the southeast and the must-see Grand Canyon of the Yellowstone Park to the north.
Grand Teton National Park and Jackson Hole via the South Entrance
The Jackson Hole Airport is actually inside Grand Teton National Park, Yellowstone's neighbor park to the south. It's about an hour's drive to Yellowstone's South Entrance, so this arrival is ideal if you want to knock out both parks during your trip.
Things to Do During a Yellowstone Honeymoon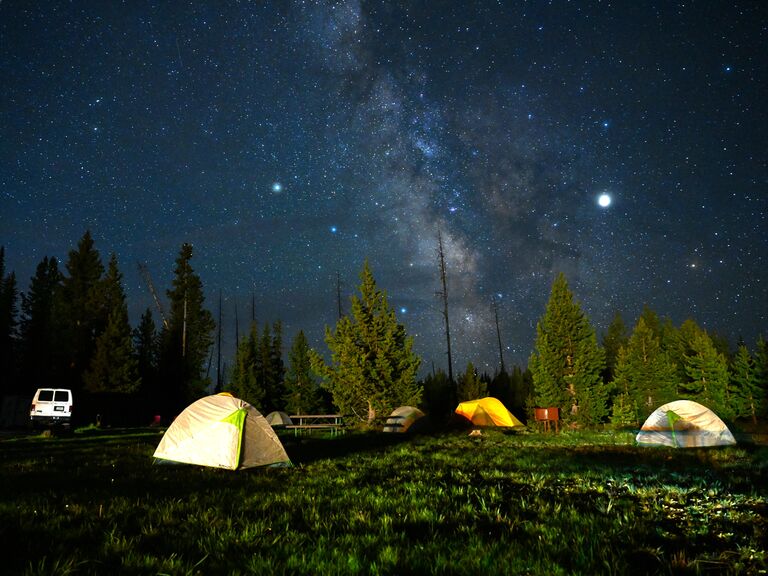 Get Steamy in the Hot Springs
One of the best ways to unwind after a day of adventuring is with a dip in one of the region's natural hot springs. As you travel through Wyoming, don't miss the opportunity to heat things up in the world's largest mineral hot springs, located in Thermopolis.
Picnic by Day, Stargaze by Night
A picnic basket, your favorite bottle of wine, and a perfect perch with the park as your backdrop are all you need for an unforgettably romantic outing. Lake Butte Overlook on East Entrance Road provides an especially swoon-worthy sunset view across Lake Yellowstone. In the summer season, after the sun goes down, embark on a ranger-led stargazing tour or a night skies photography workshop to take in the awe-inspiring astrology around you.
Hit the Trails on Horseback
Dig your spurs into the American West experience and emulate the original cowboys of Wyoming by exploring on horseback with Wilderness Trails. If you're not into horseback riding, but still appreciate the beauty of these majestic beasts, Wyoming is home to the nation's second-largest wild horse population and you can stake out several locations to catch the herds of wild horses in action.
Play in the Snow
If snow sports aren't your jam, perhaps you'd prefer a horse-drawn tour through snowy meadows? Head to the National Elk Refuge just outside Jackson between December and April and enjoy a ride through herds of these gentle giants. During the winter you can also find dog sledding, snowmobile rides or snow coach tours that allow you to see Yellowstone's wildlife and natural beauty up close.
Best Hotels and Resorts in Yellowstone for a Honeymoon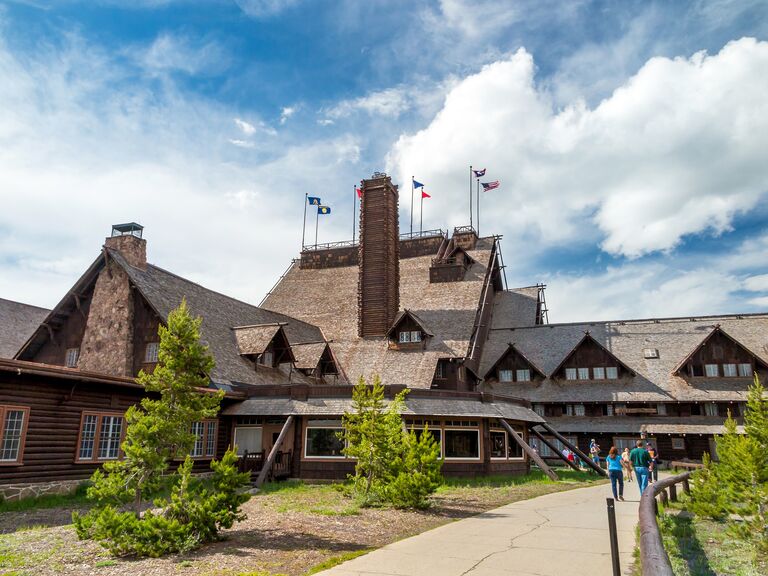 Located just 90 minutes from the park's North Entrance, historic downtown Bozeman welcomes the new hotel as the city's first and only four-star hotel. Couples planning an excursion to Yellowstone from Kimpton Armory Hotel can pre-order lunch the evening before, choosing from customized picnic baskets to simple box lunches.
High in the Rockies, Four Seasons Resort and Residences Jackson Hole is the perfect year-round destination for honeymooners. In the winter, ski right off the slopes of Jackson Hole Mountain Resort then hit the aprés-ski scene in Teton Village; in summer take off on a scenic backcountry excursion on ATVs.
This property lends itself to be an intimate escape with its tranquil outdoor hot tub, rooftop yoga, and once-in-a-lifetime excursions in Yellowstone National Park. Curated by the hotel's Pathfinders, a typical full-day tour includes the lower loop, featuring the Grand Canyon of Yellowstone with its breathtaking waterfalls, as well as Old Faithful, the geyser basins, and the beautiful thermal pools.
Located at the gateway of Yellowstone, this boutique property is owned by a family that has been in the valley for three generations. It's the perfect honeymoon basecamp for any and all outdoor adventures, especially for those seeking exclusive access to activities. The property offers off-the-beaten-track snowmobile tours through park areas that are typically closed to tourists.
Set to open into 2022 (just in time for ski season), this luxurious newcomer is about a 45-minute drive from Yellowstone. The Montage will also be the first luxury resort experience in Big Sky, ideal for guests looking for upscale adventure and unparalleled access to the great outdoors.
What to Pack for a Yellowstone Honeymoon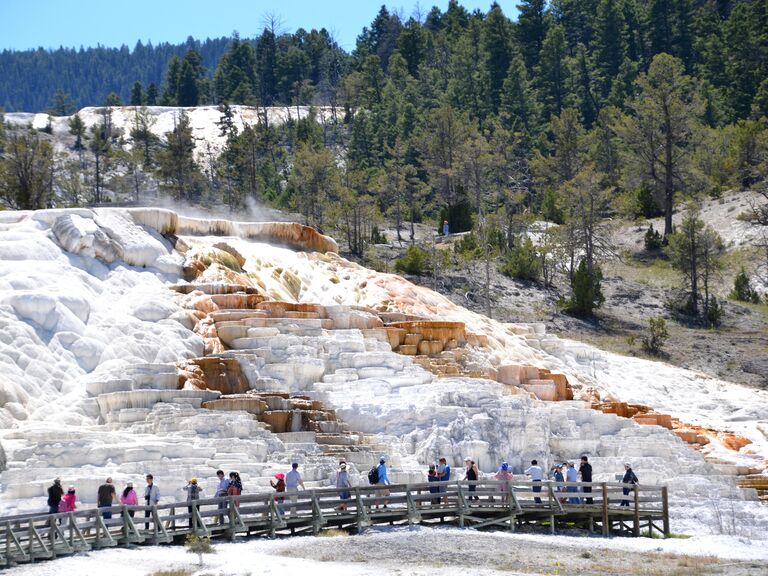 Unlike most destinations, the season you visit won't necessarily dictate what you should pack. Depending on the combination of altitude, seasonality and time of day, temperatures in this region can shift considerably. To be safe, it's recommended to pack for all seasons (even in summer as it's been known to snow in June at the park's higher elevations).
You can count on summer showers in the afternoons, so a raincoat is a smart bet. Of course, sunscreen, sunhats, and sunglasses are a must this time of year, along with water bottles or a hydration system. Pack hiking boots if you plan on hitting the trails and sturdy water shoes for river rafting or kayaking excursions.
Being that you'll be exploring amongst the wildlife, bug spray, bear spray (you won't be able to fly with this so buy it upon arrival), and a first-aid kit are wise accessories to pack. Bring a pair of binoculars, as well, to catch wildlife from a safe distance.