The Best Honeymoon Cabins in the U.S.
Your rustic and relaxing getaway awaits.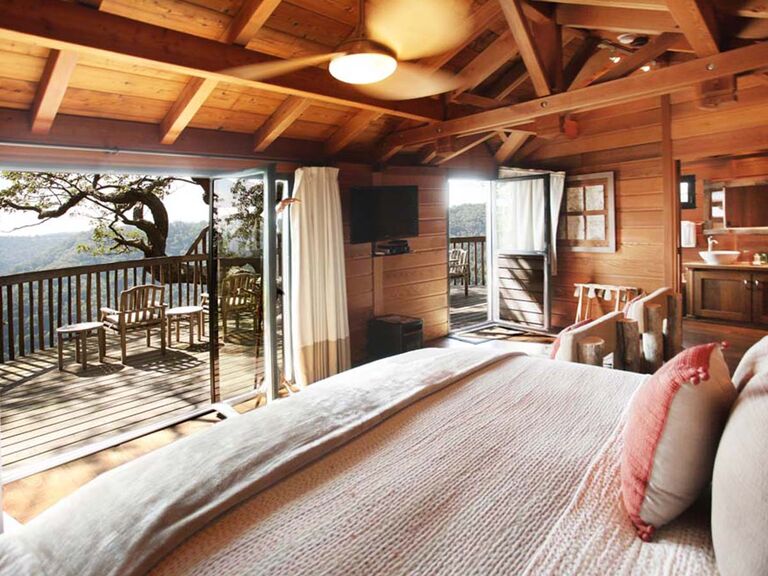 Primland Resort
We have included third party products to help you navigate and enjoy life's biggest moments. Purchases made through links on this page may earn us a commission.
While walking down the aisle and saying "I do" to the start of your life together is exciting, dreaming of the vacation you'll go on after the big day is just as fun. And as modern couples have proven time and time again, there is always room for creativity for this romantic getaway. Recently, many duos have explored the idea of honeymoon cabins. Just as it sounds, these rustic and often secluded rentals create a romantic retreat from the chaos of everything around you and dedicate all of your attention to each other. Located throughout the United States — and the world! — this honeymoon theme may provide the privacy and rejuvenation you both need to recover from the stress of planning your nuptials. 
Here, we explore this trend with honeymoon cabin rental services — and some dreamy options to consider for your first trip as married partners:
The Best Honeymoon Cabin Rental Services 
Browse through more than two million rentals until you find a honeymoon cabin that meets your needs. This expansive website has everything from a luxury log cabin in the mountains of Tennessee to a quaint resting place in Vermont, the ski capital of the East Coast. If you and your spouse aren't exactly comfortable in the great outdoors, without protection from Mother Nature, VRBO might be the right route to go. How come? You won't be roughing it here: Most of the cabins for rent on VRBO are described as 'lavish' or 'luxury' — meaning they come with all the necessities for a comfortable night's rest, along with a hot tub, outdoor patio or bonus spaces. Can't you just imagine gazing up at an incredible sky full of stars, with only the wind filling your ears? Ahhh. 
By definition, 'sonder' is the realization that each person you pass by has a unique life story — including frustrations and preferences — that's just as special as your own. In many ways, that's what becoming someone's partner is all about: accepting another human for who they are and loving them all the way. This concept is at the heart of this honeymoon cabin rental site by the same name. After all, a secluded cabin with mountain views makes you focus on one another. 
Sonder eliminates the back-and-forth often found on other vacation rental websites. You know: waiting for your host to respond, following up on your questions, and so on. Here, guests can check-in, make late checkout requests, browse through neighborhood guides and keep in touch with the hosts on the Sonder app. And hey, as a bonus: If guests select 'Flex Rate' when booking their stay, they can cancel their visit up to three days before check-in for a 100-percent refund.
Your honeymoon is the first official trip you take as a spouse. It's meant to be a time to savor the beginning of your marriage, and provided a much-needed disconnect from everyone and everything. You can book an escape from one of Getaway's 14 outpost locations, mainly on the east and west coasts. The no-frills service offers minimalist honeymoon cabins with one or two queen-size beds that fit anywhere from two to four guests. 
When booking your stay, you have the option to choose between a rustic or classic cabin. What's the difference? Rustic cabins are deeper into the woods with dry-flush toilets, whereas classic cabins come with all the standard bells and whistles (flushing toilets, hot showers, and more). You can also add on a 'Sustenance Box' for $30 to get a range of snacks delivered right to your door. 
You've heard of it, used it, and loved it. So it's likely no surprise you can find a spectacular honeymoon cabin via Airbnb, the industry leader of short-term rentals. Find cabins in dreamy destinations worldwide in their database, ranging from traditional log cabins in the great outdoors for just $96 a night to a 'Lord of the Rings' style cabin tucked away in the Blue Ridge Mountains for $138 a night. (Yep, we're serious!)
Each listing offers different amenities (like a swimming pool, WiFi, a DVD player to go old school, or pet-friendly cabins if you want to bring Fido). Look out for Superhosts, who are more experienced and highly-rated by past guests for top-notch experience — beyond the cabin itself. You can think of Airbnb as the ideal way to have the comforts of home for your honeymoon. 
Find an upscale cabin — tiny house, yurt or decked-out tent, too — with Glamping Hub. Amenities and rates vary from cabin to cabin, but there are more than 240,000 places to choose from, depending on where you're planning to stay. Several come with all of the modern-day essentials like WiFi and access to a washer and washer, while still giving you the unplugged experience you're looking for with outdoor firepits, game rooms, arcade game options, rocking chairs and patios for lounging.
Resorts and hotels 
Many hotels and resorts have started to create honeymoon cabins within the property. For duos who don't want to spend their whole romantic escape grocery shopping and meal prepping, this could be a smart in-between. You still have the secluded, private experience of a cabin, but you're also part of the hotel, giving you amenities like room service, private butler help, and maid service. From one-bedroom cottages to mountain cabins, with so many options, you can carefully select what fits your hopes and dreams as a couple. 
Depending on where you book, you could spend your days walking along a beach or climbing a mountain, and your evenings enjoying in-room dining, snuggles, and ahem, more. 
Honeymoon Cabins to Consider for Your Post-Wedding Vacation
For some inspiration, these ideas at hotels, resorts and rental companies can guide you on the right track. From seclusion to amenities, all of these cozy cabins are sure to ooze romance: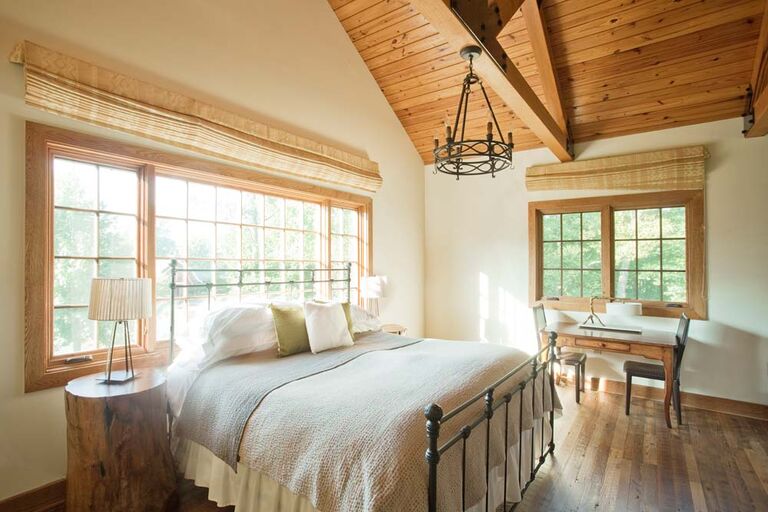 Nestled in the heart of the Blue Ridge Mountains in Meadows of Dan, Virginia, Primland Resort offers luxury indulgence in a picture-perfect setting. Rather than staying in a traditional room, go the romantic honeymoon cabin route by booking a two-story chalet-like cottage, including multiple rooms and gorgeous balconies, ideal for early-morning coffee drinking late-night champagne. The resort itself also offers many activities, from golfing to spa treatments, paddle boarding, and more.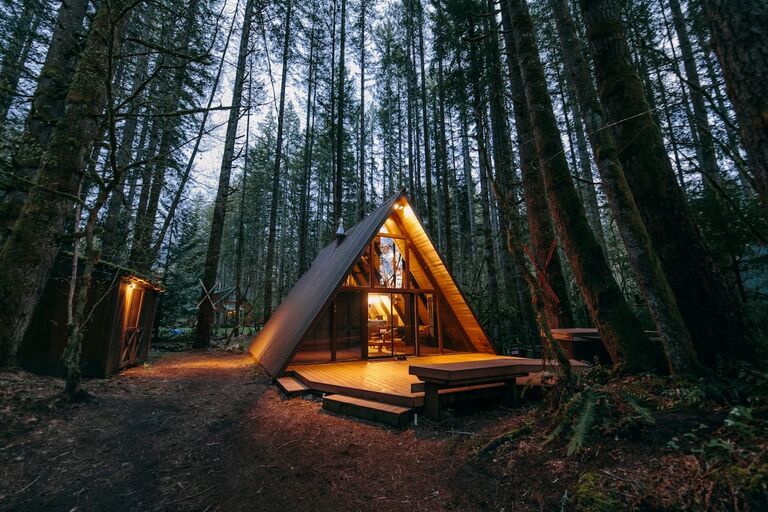 Bookable on Airbnb, this cabin located in Skykomish, Washington, features loft beds, an outdoor hot tub, and other special touches that will make your cabin feel like home. As a bonus for those who enjoy hiking, it's super close to picturesque trails. Don't forget about the spectacular views and a cozy sitting area for reading and romancing.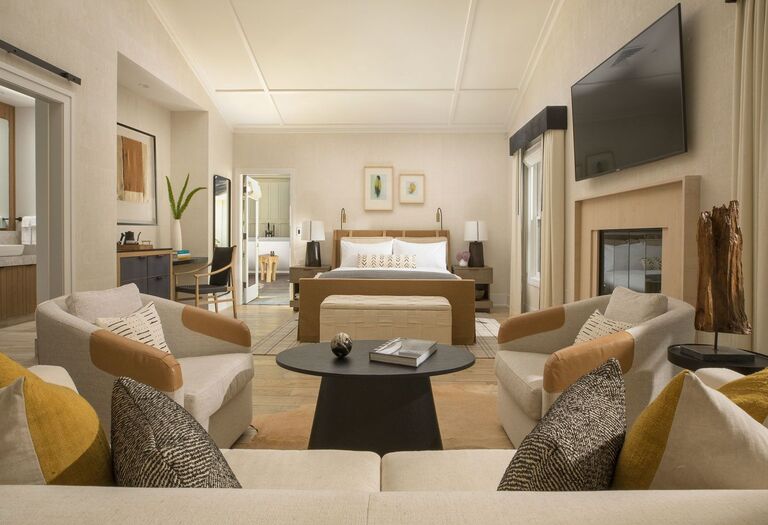 MacArthur Place


If you want a part-honeymoon cabin and part-wine tasting extravaganza for your newlywed trip, consider booking the Garden Spa Suite at MacArthur Place Hotel & Spa in Sonoma, California. You can think of this cabin as a Victorian-era, farmhouse-style, including a private outdoor tub and shower, all tucked away in lush foliage. And for when it's colder at night, you can build a flame in the wood-burning fireplace.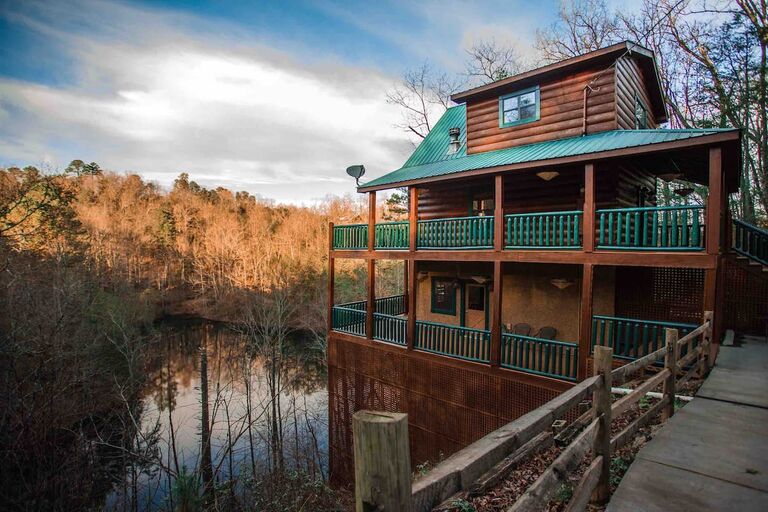 If you've been dreaming of a mountain getaway, this is it. Located just 10 minutes from the Downtown Gatlinburg and in the Pigeon Forge area, this dreamy cabin features the beauty of the Great Smoky Mountains. With sweeping mountain views, a lake that, yep, mirrors to the sky, and many special touches, you'll be able to hideaway from it all. Plus, a jacuzzi tub in the main bedroom can turn up the heat! If you want to sightsee on your trip, you're only a short-drive from downtown and to Dollywood, a popular theme park in the area and The Great Smoky Mountains National Park, for hiking and exploring.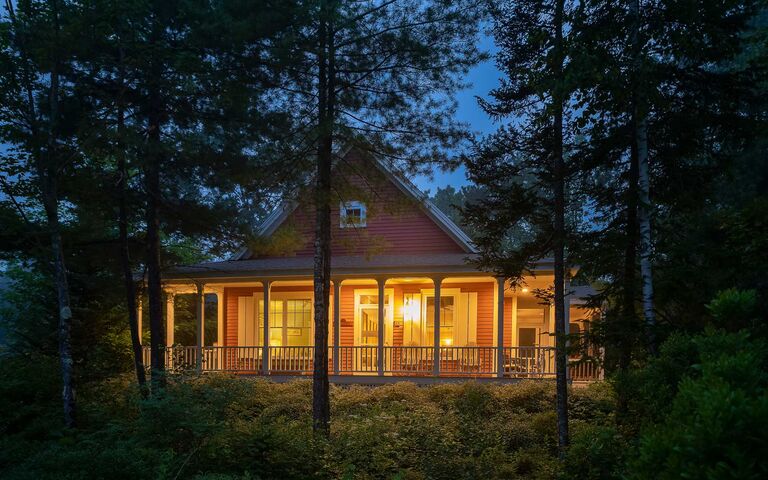 Hidden Pond 
Kennebunkport, Maine
For honeymooners who love the charm of New England and Mother Nature, Hidden Pond will check all of your boxes. Located in Kennebunkport, Maine, this is a luxury resort that offers cottages, bungalows and treetop lodges. It's located within 60 acres of birch forest, and all of the accommodations have fully equipped kitchens, living rooms and gas fireplaces. Not to mention also outdoor rain showers and screened-in porches. We suggest taking a dip in the adults-only serenity pool and visiting the Tree Spa, where you can enjoy a massage amount the treetops.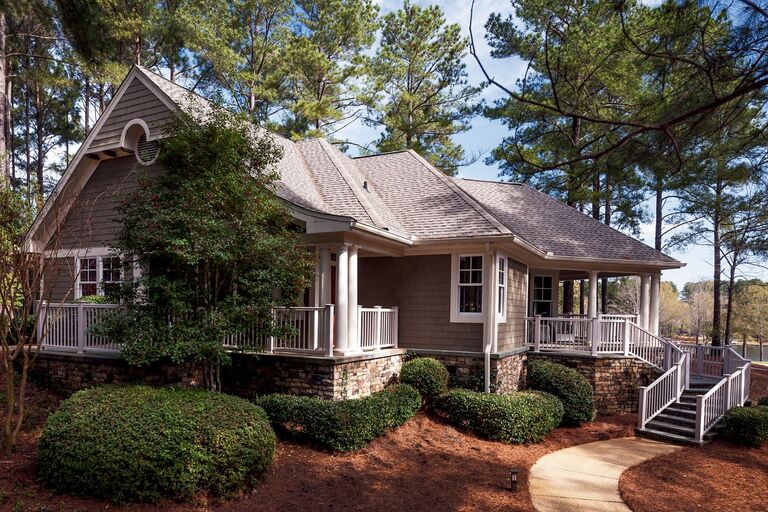 The Ritz-Carlton Reynolds
Greensboro, Georgia
Consider booking your honeymoon cabin at The Ritz-Carlton Reynolds on Lake Oconee in Georgia for couples who want to go high-end for their getaway. You can choose between two and three-bedroom cottages or splurge big on a three-floor private lake house that is just like home. Here, you'll enjoy the special touches of staying at any Ritz property while also savoring alone time in your luxury cabin.