Wedding Inclusivity, But Make It Fashion: An Interview with Custom Wedding Dress Designer Kelsy Dominick Hall
Meet the viral wedding dress designer who infuses inclusivity, sustainability for fashion-forward, unconventional brides.
Photo: DiDomenico Design
You may not have met Kelsy Dominick Hall yet, but you've definitely seen her work on social media. The African-American and Italian-born fashion designer, entrepreneur and CEO of DiDomenico Design, and mom of almost three, is best known for her custom wedding dress designs that are changing the way we think about bridal fashion. This, of course, includes her iconic rainbow wedding dress, which has garnered over 24 million views on Instagram alone (and that's just the number of views from the first time she posted about it!)
Dominick creates one-of-a-kind dress designs that fold color, inclusivity and sustainability together. "I encourage my brides to come to me with their wildest ideas of inspiration, images and simple thoughts," she tells The Knot. "It's my job as the designer to mesh all these ideas together perfectly." Basically, she makes the seemingly impossible possible, and just wait until you hear her story and see her designs.
Born a Design Disruptor
Dominick's desire to unapologetically disrupt the bridal fashion industry is rooted in her childhood. Both of her grandparents, who came from very different cultures, had design-related professions. On her Italian side, her grandmother curated gowns on a machine from 1914 that Dominick still has in her studio to this day. Her sewing technique was gifted from her African American side. Her grandmother owned a business reupholstering chairs and couches while also sewing clothing for all 11 of her children. This skill was passed down to her mother and finally, at a young age, taught to Dominick.
"When I was in third grade, it was culture day, and they asked us to bring a doll that was dressed up like our culture or heritage (I'm half African-American and half Italian), and we were challenged to create a dress that represented both cultures, and what I learned from that project was that there was no wrong answer," she says. "I grew up not having a character that represented how I looked, and I'm happy I can change that narrative not just for different skin tones but also for different body shapes, sizes and needs who may not have something that uniquely caters to who they are. I get to be that voice on one of the most important days of my brides' lives and represent how they feel inside."
So in 2015, Dominick started DiDomenico Design, a name inspired by her original Italian surname, before it became Americanized as Dominick after her family's move to the United States. "I was looking for a name, and DiDomenico is an iteration of "the day of God" or "Sunday" in Italian," she explains. "It was a moment for me when I realized I could represent my heritage and ancestry by using the original name but getting to move forward with a fresh new perspective on how we are all divinely created in His image and how each one of my brides deserves a divine look for their day."
Changing the Narrative Through Design
Dominick has since stayed true to the mission of her business, designing inclusive gowns up to a size 30, infusing and blending different cultures, and even designing gowns to accommodate wheelchairs, mastectomies, lymphedema, and more.
"Many of my customers get frustrated with the dress shopping process, and that's how they end up at my doorstep," Dominick explains. "For instance, my brides are often challenged with skin mesh. There's a big trend with the see-through illusion look and floating lace; when you go to your traditional off-the-rack, it's either an off-white tulle or Caucasian skin tone where it's hard to not look like it's not supposed to be there." Her solution to the problem was simple: "We provide 16 different shades our brides can choose from, so it looks like the lace is floating on your skin."
Dominick has traveled across the globe, filling up her empty suitcases with lavish fabrics from around the globe as part of her sustainability initiative. "When it comes to white fabrics, they make them in surplus," Dominick tells me. "Color fabrics are made in much smaller quantities. So when we make our custom dresses, we order the exact amount of fabric we need based on measurements to minimize any waste that is produced."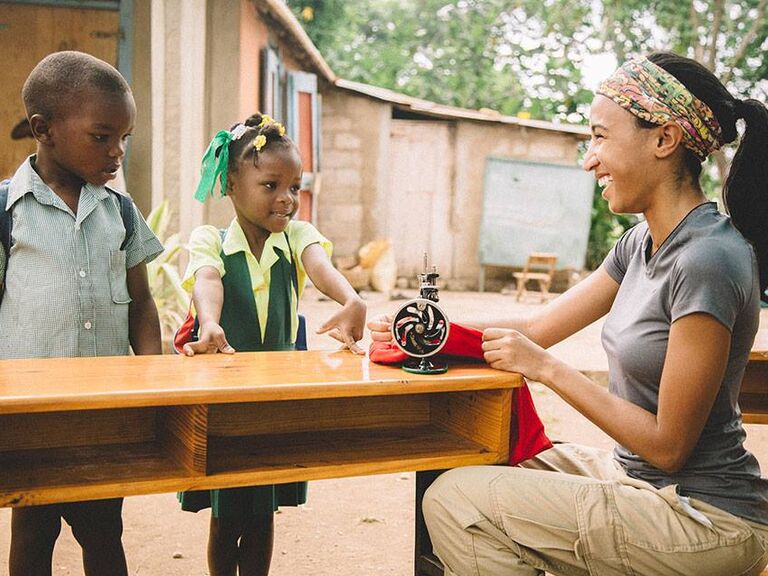 Dominick also has a philanthropic side. Leveraging her design skills, she visits developing countries once or twice a year in what she calls "sewing the world" to teach women how to sew in the hope of giving them the ability to be independent. "I hope I'm leaving them with something valuable that can help sustain their womanhood and support their families," she says. To this day, she's proudly taught over 200 women the art of sewing.
How to Work with DiDomenico Design
DiDomenico Design is located in Haymarket, Virginia, but you don't need to live there to build your gown. 90% of her custom wedding dress clients are actually located out of state. "The whole process is virtual, and I meet with clients on Zoom," she explains "I sketch out different options, show them their exact fabrications, and they approve absolutely everything before they agree to move forward. We master everything within two fittings, even for a dress that is more traditional," she says. "We do alterations in person, so if we need to cut a sleeve, we do it at that moment."
DiDomenico Design Dresses
Ready to see some of the DiDomenico Design dresses for yourself? I hope you're holding on because you're about to be blown away by her totally unique ensembles.
1. The Rainbow Wedding Dress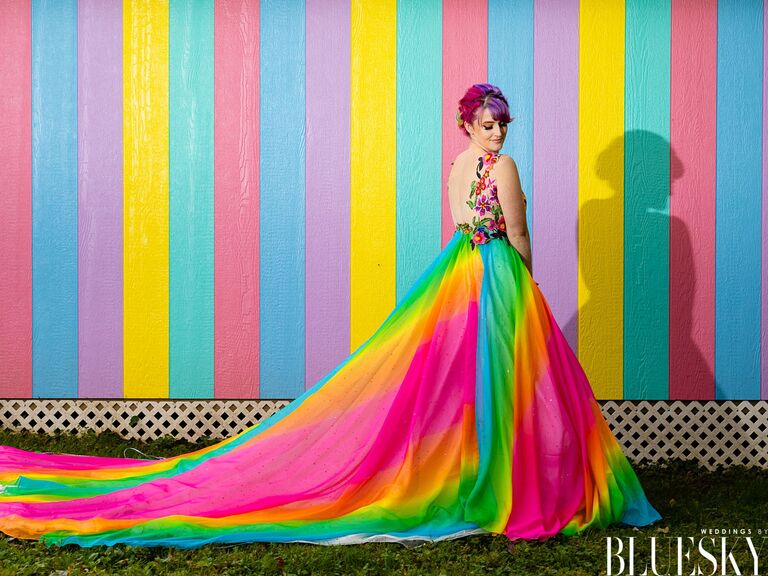 Let me introduce to you the rainbow dress that blew up the internet, and for good reason. "My bride, Anna, simply loved rainbows her entire life, so when the moment came to truly showcase her spirit in the form of a dress, she wanted to do a two-in-one reveal," Dominick says. "Together we studied Broadway shows and instant transformation dresses with the goal of incorporating that into her magical moment where she reveals her dress to her husband. Annas' dress, in one instant, went from white to rainbow, leaving her guests truly speechless with a truly memorable happy ending to her love story." See the transformation for yourself here.
2. Chrysalis Wedding Gown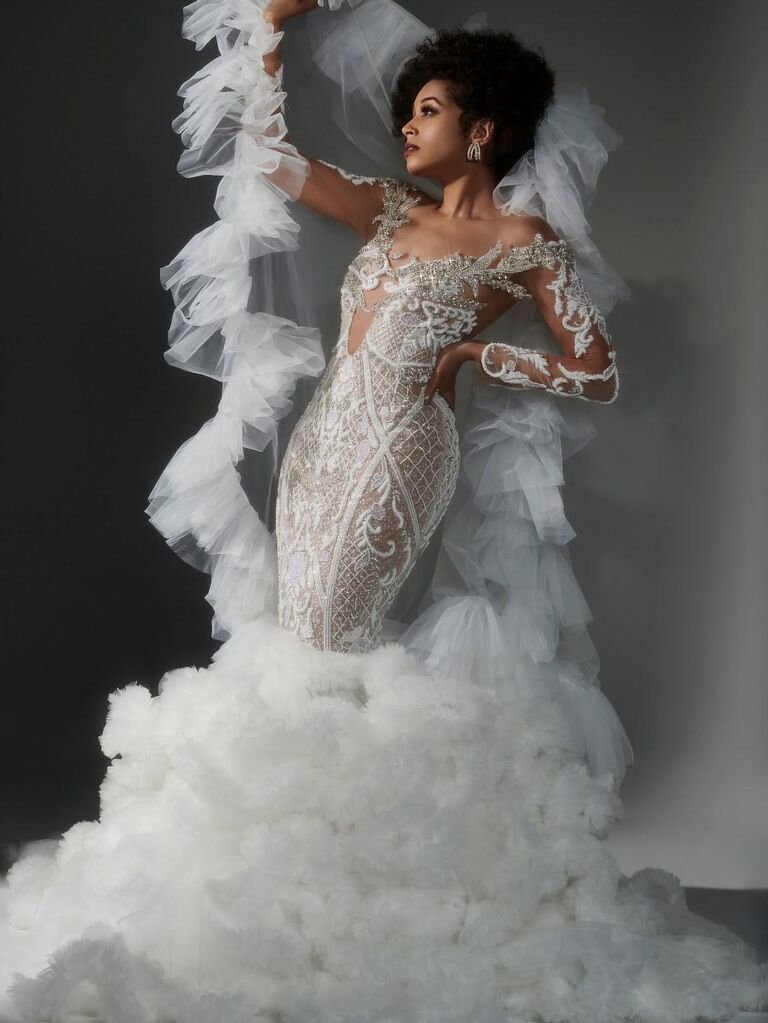 In addition to being a custom wedding dress maker, Dominick just released her first wedding dress collection called Metamorph, dedicated to "the bride who is transforming into her own self and wants to reflect the essence of the woman she has become." One of those gowns is Chyrsalis. This couture beaded gown has illusion skin mesh that is 100% matched to the bride's unique skin tone, as well as three versatile skirt attachment options so that the gown is still bespoke to the bride. Since this gown is meant to represent the transitional state of the butterfly, it's only fitting that it also comes with literal wings.
3. Sustainable Gowns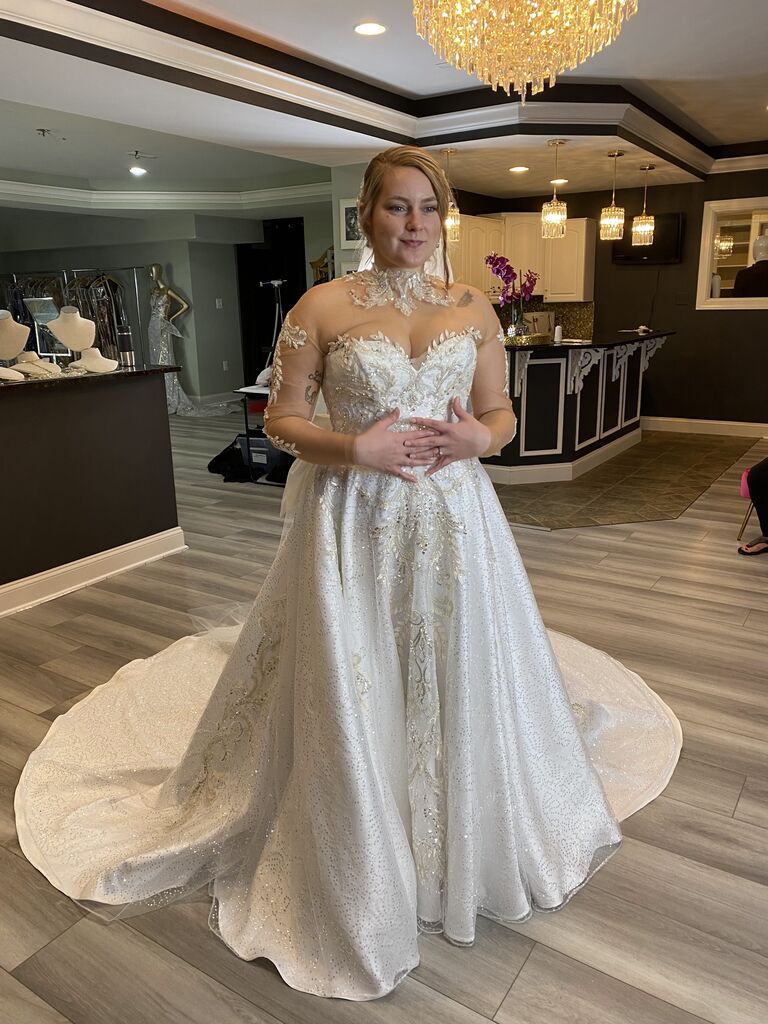 In addition to creating unique custom wedding dress designs from scratch and sourcing sustainable fabrics from across the globe, Dominick specializes in remaking generational gowns handed down from mothers and grandmothers. She reuses and repurposes unique laces, creating custom fabrics in precise quantities to minimize waste.
4. The Black Wedding Dress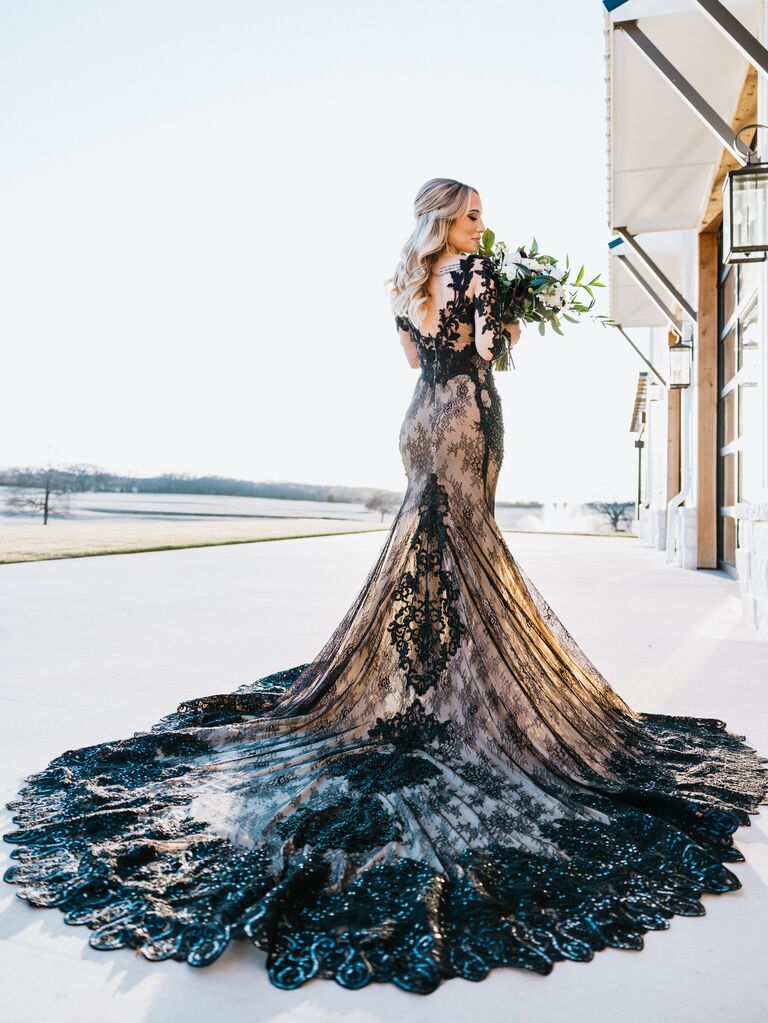 DiDomenico bride Lauren tried on 100+ wedding gowns, even purchasing a white one, but something still didn't seem right. She reached out to DiDomenico to design her own custom black bridal gown. "This wedding dress was designed with four different laces and a hand-applied crystallized bodice," says Dominick. "The skin mesh matched the bride's skin tone perfectly, and the back was uniquely designed to look like black ivy." The cathedral-length train was layered with a dramatic one-layer veil that made Lauren's grand exit just as dramatic as her grand entrance.
5. Kelsy's Wedding Dress(es)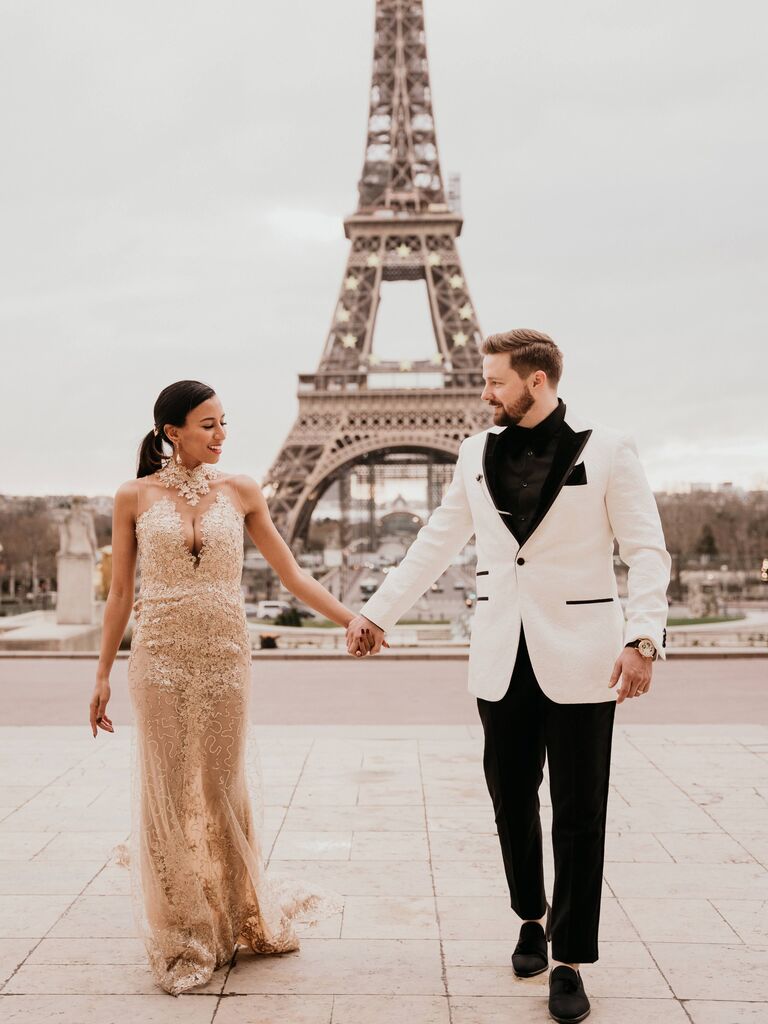 One thing to know about Kelsy is that she is a go-big or go-home kind of girl, and that includes her own weddings. Yes, plural; she actually remarries her husband, Duncan Hall, suit designer and founder of Aurelius Suits, every year. Creating a new dress each time they renew their vows "I'm trying to cover the full spectrum of the rainbow in my pursuit to marry this man every single year," she says. "I've done white, rose gold, champagne, and this year I did black. If these dresses were ever displayed in a museum, they would tell the story of our lives. In these years I was carrying children, these years we were traveling, and that's so special."
6. Multicultural Wedding Dress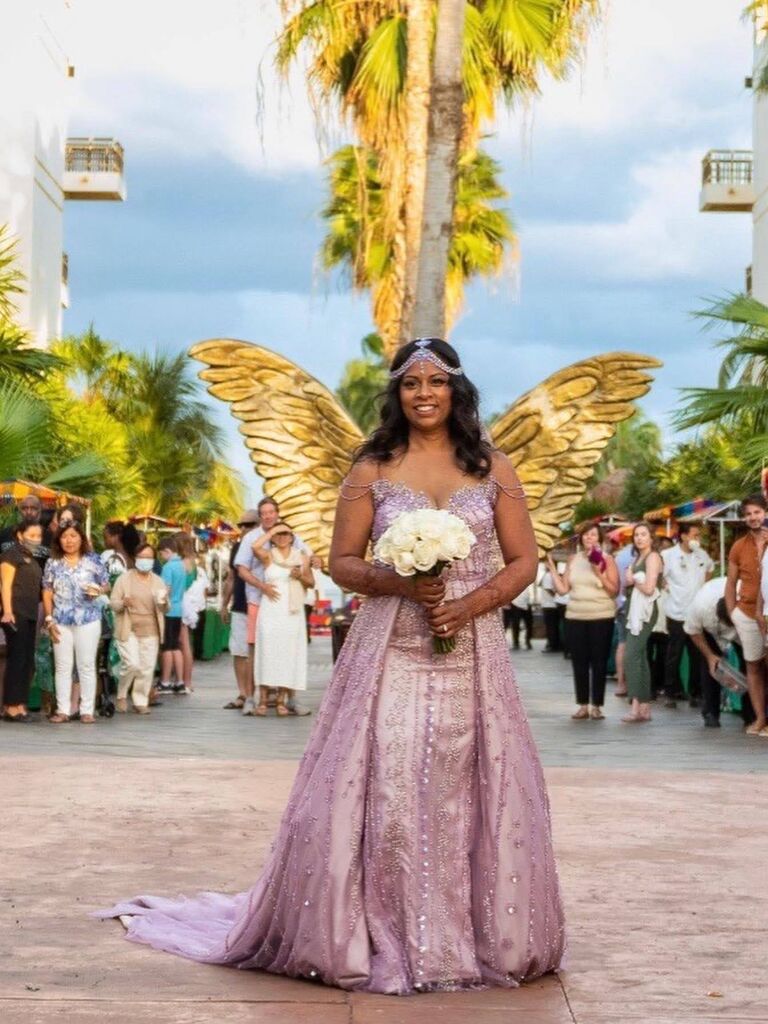 Originally from Trinidad, DiDomenico bride Jeanelle wanted her gown to celebrate both her mother and all the parts of her heritage. It was a tall order considering Jeannelle is Indian, Trinidadian and African American. But Kelsy honored each aspect, designing a lavender gown with a gorgeous removable train.
7. Christmas Tree Dress
Ok, so technically this isn't a wedding dress, but I had to include it. A dress inspired by a Christmas tree with ornaments, LED lights and everything you'd expect to see out of a Christmas tree-inspired dress. It really goes to show that Dominick knows how to think outside the box. "As much as I love tradition, wedding dresses and tradition can really box women in. Women come to me longing for self-expression. I'm the vehicle that brings their biggest dreams, passions and intuitions to life—whatever they can imagine," says Dominick.