Every Wedding Dress Style, From A-Line to Trumpet
All the silhouettes you need to know.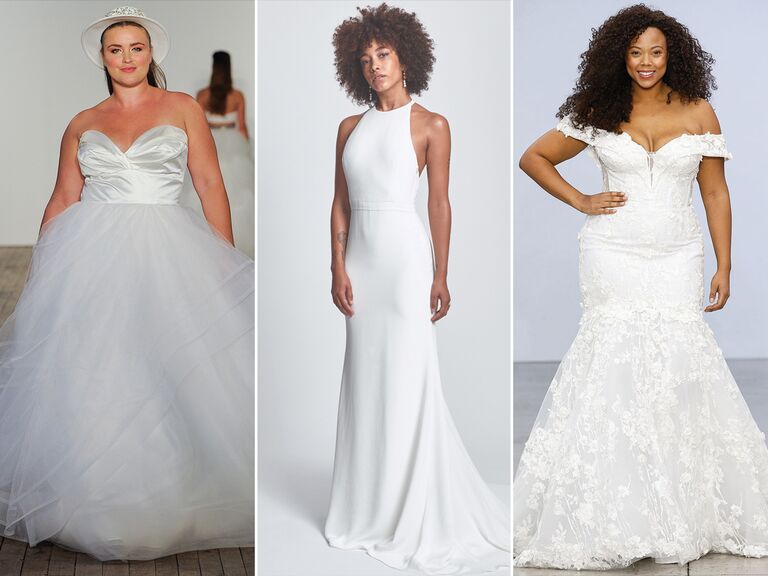 MCV Photo,Courtesy of Alexandra Grecco,Courtesy of Pnina Tornai
As you begin your wedding dress search, learning terminology is a major help. Knowing the names of different looks and wedding dress silhouettes will help you sort through all the different options out there (Sheath! A-line! Slip!). Being able to articulate your favorite wedding dress silhouette styles will also help your bridal consultant at your appointment. But if you don't know the difference between a trumpet gown and a mermaid gown, not to worry. It's a lot of information to learn, but we're here to help.
We've put together a definitive guide of all the wedding dress silhouettes styles you need to know so you can head into your wedding dress shopping experience with confidence. We also tapped Hayley Paige, renowned wedding dress designer, to break down the all the different wedding dress silhouettes. Once you find your preferred dress silhouette, work with a bridal consultant at a bridal salon to find your perfect wedding dress. Read on to find out the name of your favorite wedding gown silhouette, length, and shape.
Every Wedding Dress Silhouette You Need to Know
A-Line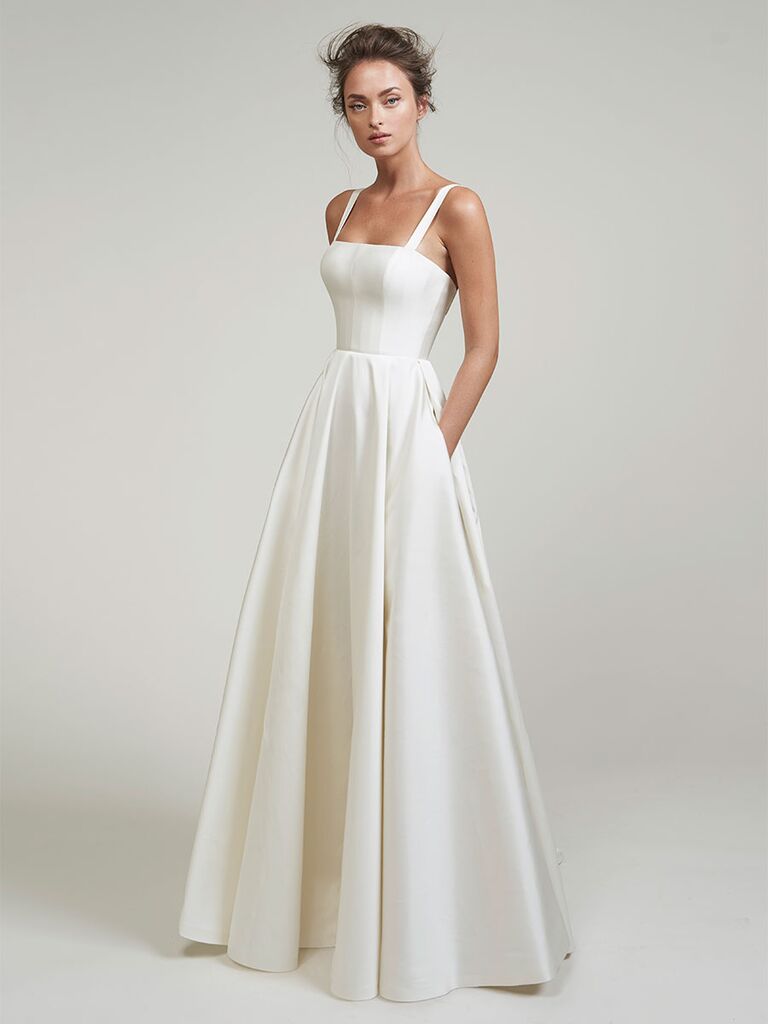 A universally-loved wedding dress silhouette, this style is great for to-be-weds who want a fairytale moment without all the volume and drama. A-line gowns are fitted through your natural waist and then flare out softly to create an "A" shape (hence the name). This dress silhouette is elegant and lovely. "Embrace your effortless glamour in a silhouette that harmonizes a dreamy feel with a danceable functionality," Paige says. "What I love most about A-lines is that they are extremely wearable and adaptable for any occasion."
Ball Gown
Ready for your fairytale moment? Embrace your inner princess with this stunning wedding dress silhouette. Ball gowns are fitted through your natural waist or your hip and then flare out dramatically for a lovely hourglass effect that will make you feel like Cinderella at the royal ball. "If you're looking for that 'extra-bit-of-extra,' ballgowns will bring the voluminous drama," Paige says. "There is something so flirty and fun about layers upon layers of tulle...the trick is finding one that still feels equal parts manageable and 'twirl-worthy.'"
Column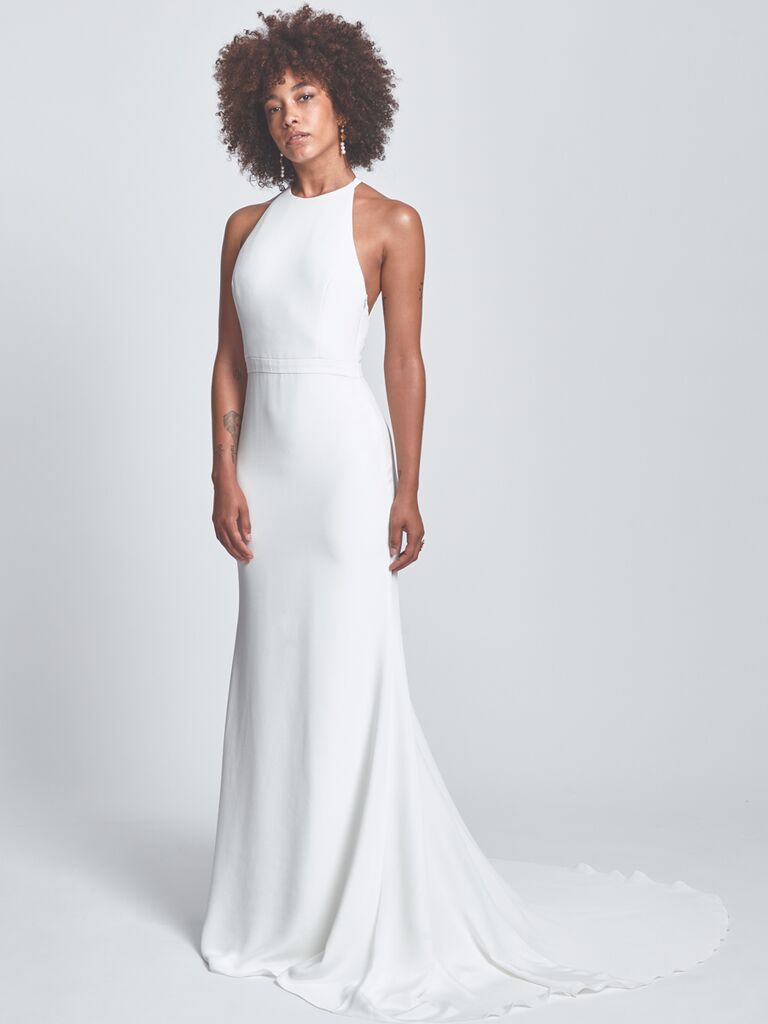 The column dress silhouette is typically streamlined and fairly uninterrupted by drastic seamlines. This fuss-free wedding silhouette is simple, yet undeniably stunning. The look is especially appealing when you find one with a halter neckline like this example. "Not to be confused with a sheath that tends to fit a bit more effortlessly and is lighter in fabrication, the column look is more often seen with a natural waistline and made from fabrications that hold a bit of structure (think: taffeta, brocade, organza, corded lace)."
Empire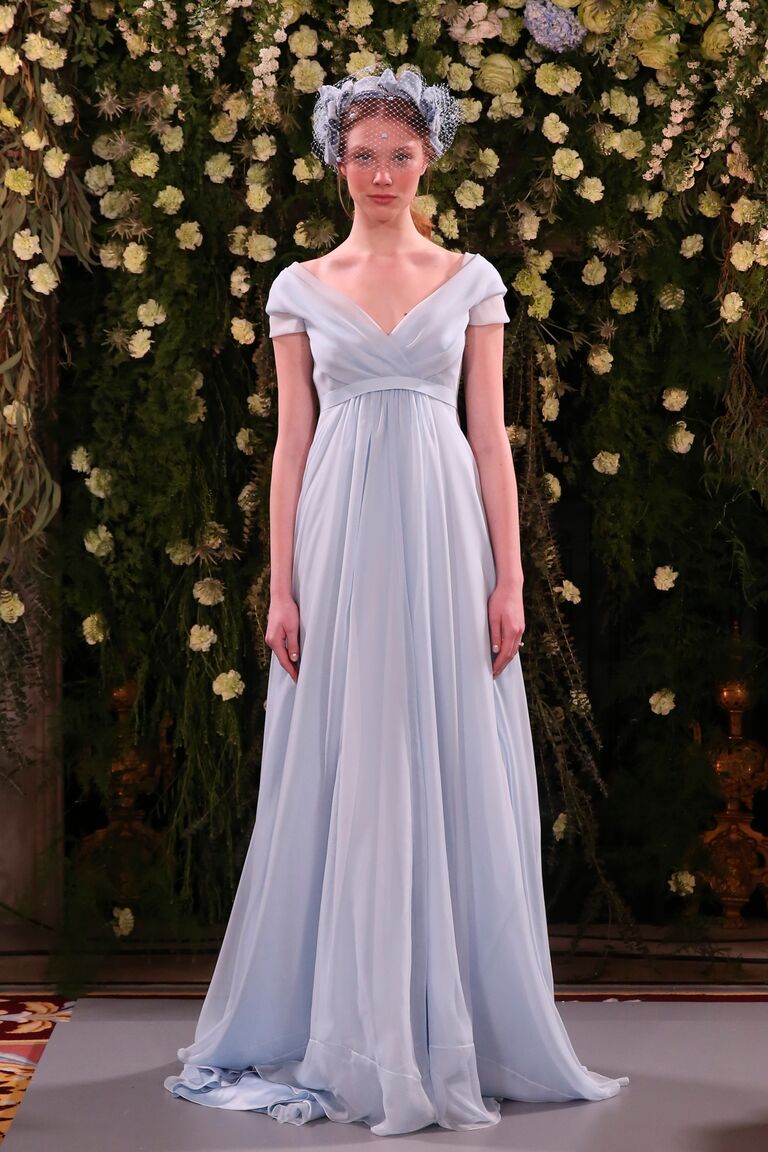 Wedding dresses with an empire waist are perfect for those who love a flowy, boho dress. This wedding silhouette is fitted through the bust and then flows away from the body all the way down. It's light and airy giving it a whimsical feel. Another pro? The higher waistline elongates the body, which can make you appear taller. "Leaving most of the body shape undefined, I love that this silhouette leaves room for the imagination and keeps the focus on the décolletage and smiling face."
Fit-and-Flare
This dress silhouette really knows how to show off your figure. It's no wonder why this is a popular wedding dress style (and has been over the years). To-be-weds who want to highlight their figure but also want to be comfortable throughout the night will love this stunning silhouette. "I like to call this a "nice hug and release" because the fit-and-flare is all about highlighting shape…and then some." The style hugs your bust, waist and hips, and then flares out ever-so-slightly for a pretty and romantic look. "Depending on the proportions of the seamline, this silhouette can be a nice balance for the bride who wants something form fitting and sexy, but also high voltage and glamorous."
High-Low
Don't be afraid to veer from traditional looks. If you're looking for a unique style (or you have a pair of shoes you're dying to show off), consider a high-low dress. This dress silhouette cut has an asymmetrical hemline: it's shorter in the front—generally hitting between your knees and your ankles—and is longer in the back. "This silhouette is charming and feels a wee bit old-school couture," Paige says. "You're going to need a devastatingly fabulous pair of shoes because this look offers a sneaky-peek from the mid-calf down."
Jumpsuit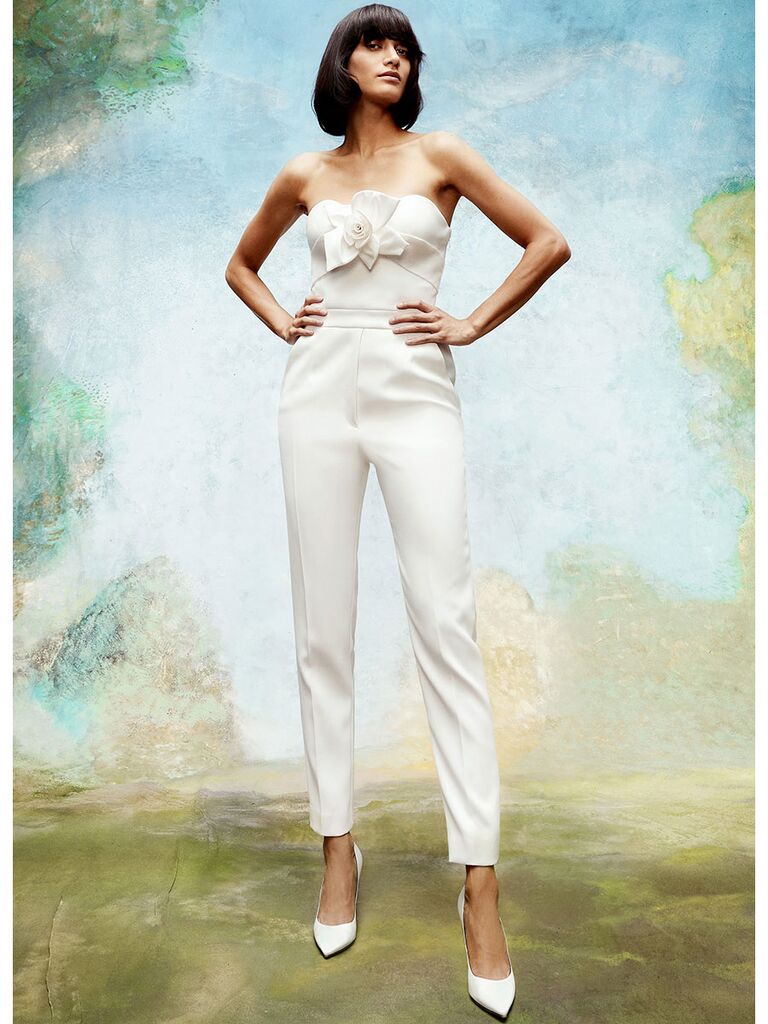 If a dress just doesn't feel right for you, consider a jumpsuit. "I love a great jumpsuit moment because it's unassuming, unexpected, and always ready to disco." This style is a one-piece that has a top and connected long pants. It's an alternative to a formal gown that will show off your flirty side. "Whether it's a wide-legged pant or a pegged-cigarette-slimmer paired with a plunging neckline or a bustier corset, the jumpsuit is forever playful and ever so accessible."
Mermaid
"For the magical mavens and bodacious bombshells, the mermaid never disappoints." To-be-weds going for a sultry look will love this curve-hugging wedding dress silhouette. Mermaid-style gowns are fitted through the bust, waist and hips, and then dramatically flare out at the knee. The result is a stunning mermaid tail-effect that shows off your lovely figure. This classic wedding silhouette promises to look good on every shape and size.
Midi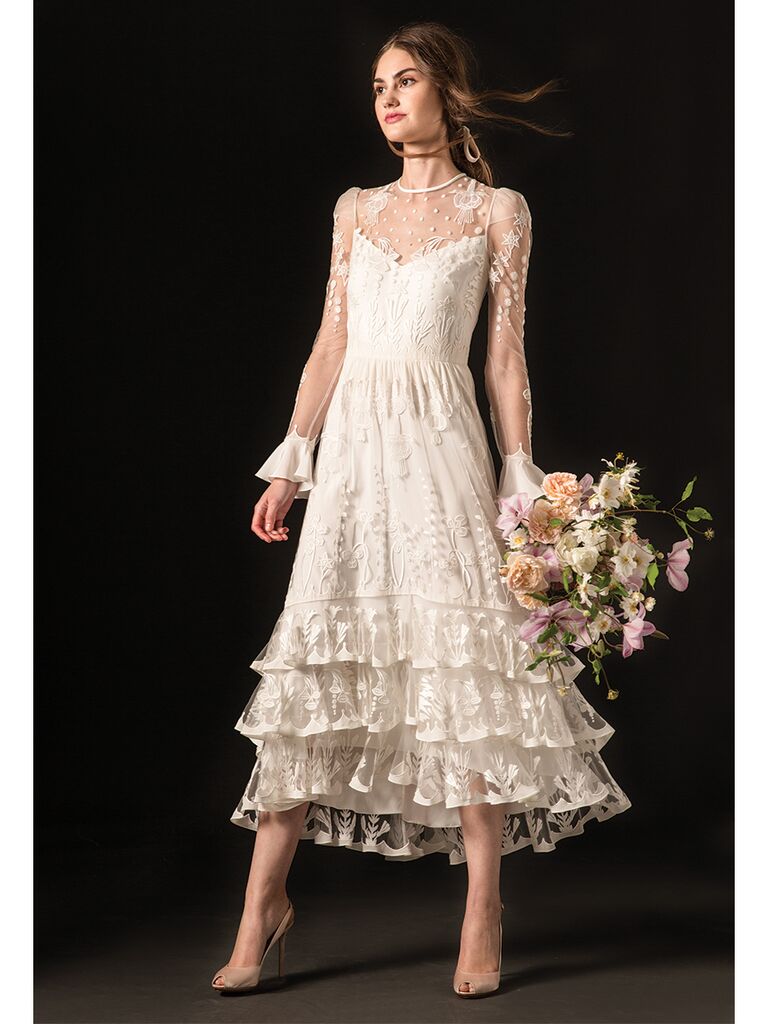 Don't want to wear a traditional long gown? Rock a midi dress instead. This silhouette hits between the knees and the ankles. "There is no specific measurement or seamlines, but the idea is to curate a length that compliments your proportion and height." The hem length is having a massive moment in bridal fashion, making it perfect for the fashion-forward nearlywed. Dress it up with a fun headpiece, some sparkly jewelry or a pretty veil for an on-trend wedding day look. And don't forget to top it off with a pair of eye-catching shoes.
Mini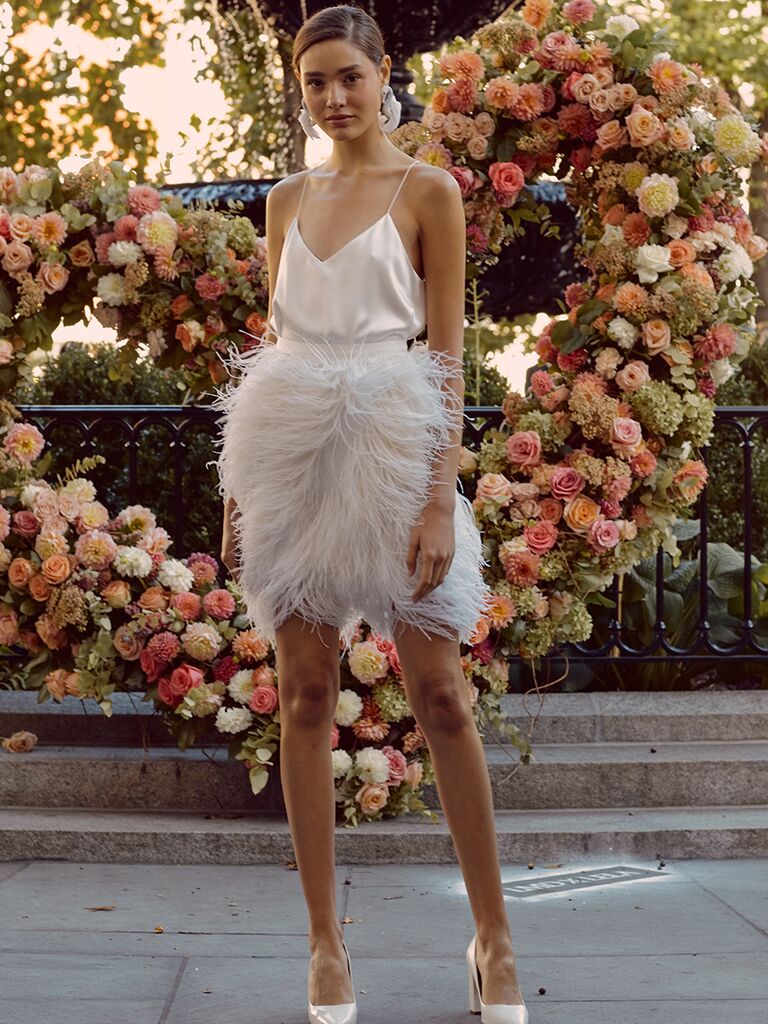 Calling all daring to-be-weds. This wedding dress silhouette hits anywhere above the knee, allowing you to show off your gorgeous legs and have total freedom on the dancefloor. "Anyone can appreciate a mini moment because it's fresh, fun, and forever retro in a wedding setting," Paige says. "I also love to encourage it under a detachable skirt, as it doubles as a second look. I'm all about multiple looks on your wedding day; especially if you are a style chameleon or having a hard time deciding between two completely different looks."
Pantsuit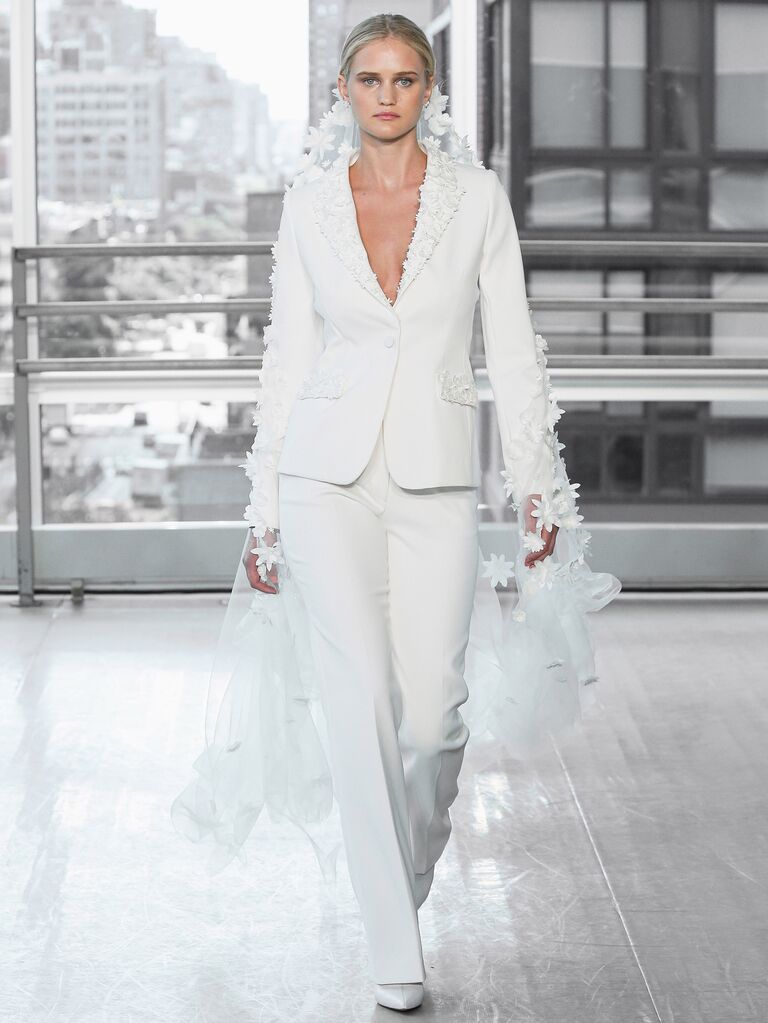 It's your special day and you get to call the shots. If you're going for a formal look but don't want to wear a gown, a pantsuit is the perfect option. It consists of full-length pants and a matching jacket (or top). Another reason we love this look? Pants are one of the biggest wedding dress trends we're seeing for 2020.
Romper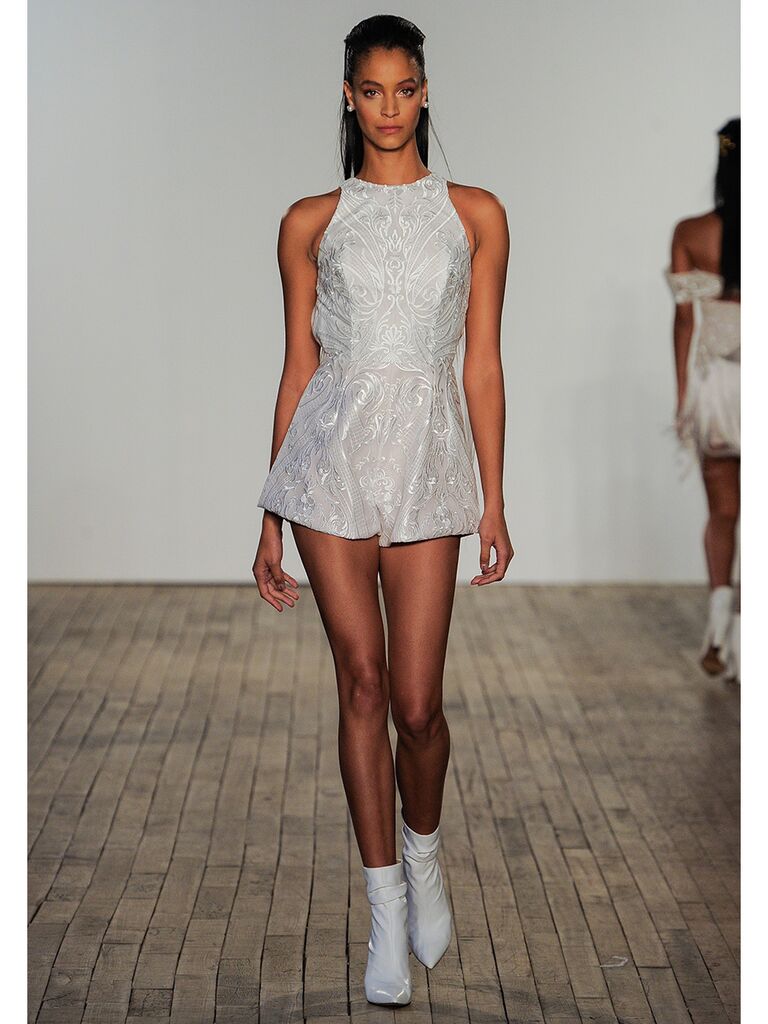 More of an adventurous to-be-wed? Choose a fun and unconventional wedding dress, like a romper. This style is a one-piece garment that has a top and attached shorts. Wear it for your reception or for your whole wedding—it's your day, after all! And the best part? We doubt any of your friends have rocked a similar look on their special days. This is definitely a one-of-a-kind style.
Sheath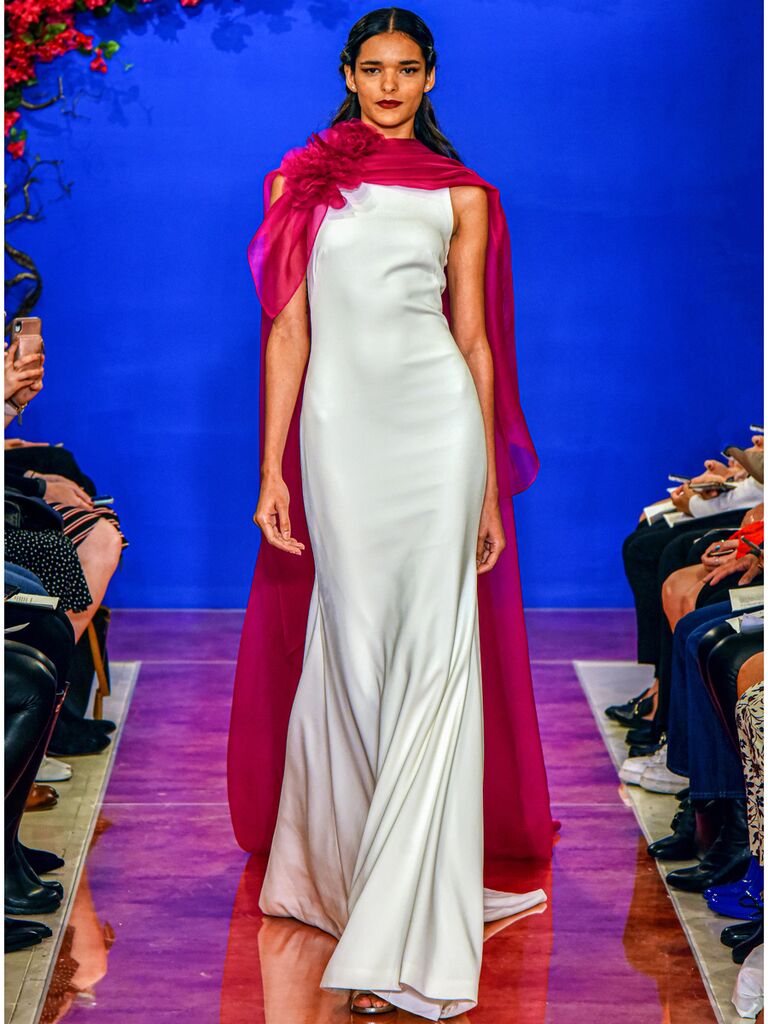 Not into voluminous skirts? Not a problem. The sheath silhouette is a great way to show off your figure without any added drama. The slim silhouette hugs your body and falls straight to the floor. It says sophistication, glamour and elegance all at once. "Sparing the horizontal join lines, the sheath silhouette is geared to elongate one's shape," Paige says. "It's similar to a column shape, but typically consists of silky fabrics that delicately grace the contours of the body via chiffon, charmeuse, or lace."
Separates
Want to shake up your wedding day look? Try out a two-piece look rather than a traditional gown. Separates involve any top and skirt paired together for one cohesive look. With this wedding dress silhouette, you can show off a little skin on your midriff or pair it with a flirty belt. "This option offers the ultimate versatility and ideal amount of 'extra' because it can create the effect of two gowns in one."
Slip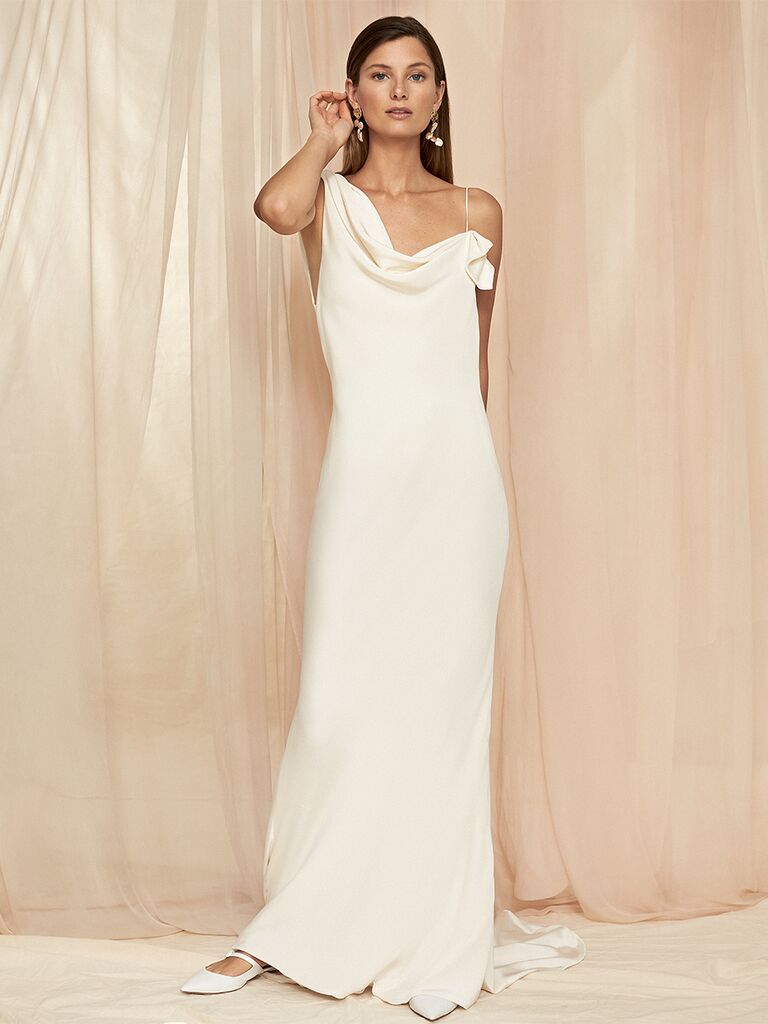 For the minimalist to-be-wed, the slip dress is a great option. They're generally made of unstructured fabric (think satin or silk) and loosely graze your figure for a simple and pretty overall look. Pair the look with some flowers in your hair or a long, sheer veil for a gorgeous wedding day style. This wedding dress silhouette is a fun and flirty choice.
Tea Length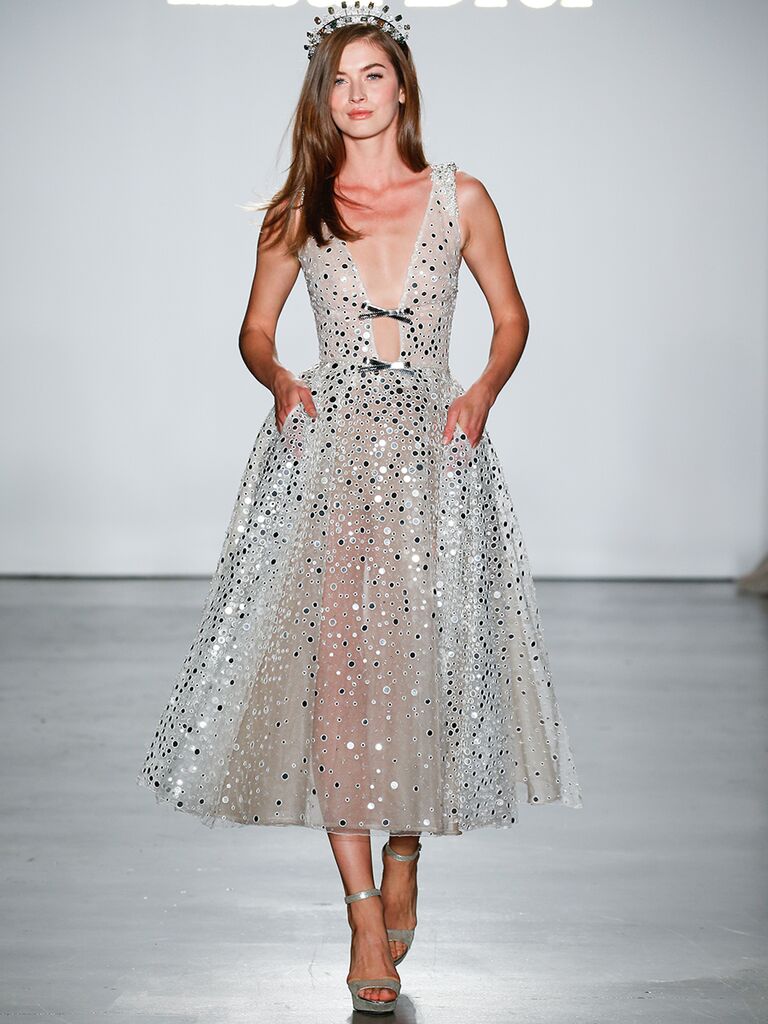 Looking for a slightly more casual dress silhouette? Try the tea-length dress route. While tea-length dresses can technically hit between your knee and your ankle, most fall right above the ankle. This style is great for to-be-weds going for a vintage or retro look, and it also allows you to show off your wedding day shoes. "I love the tea-length because it's curated to your proportion and forever charming."
Trumpet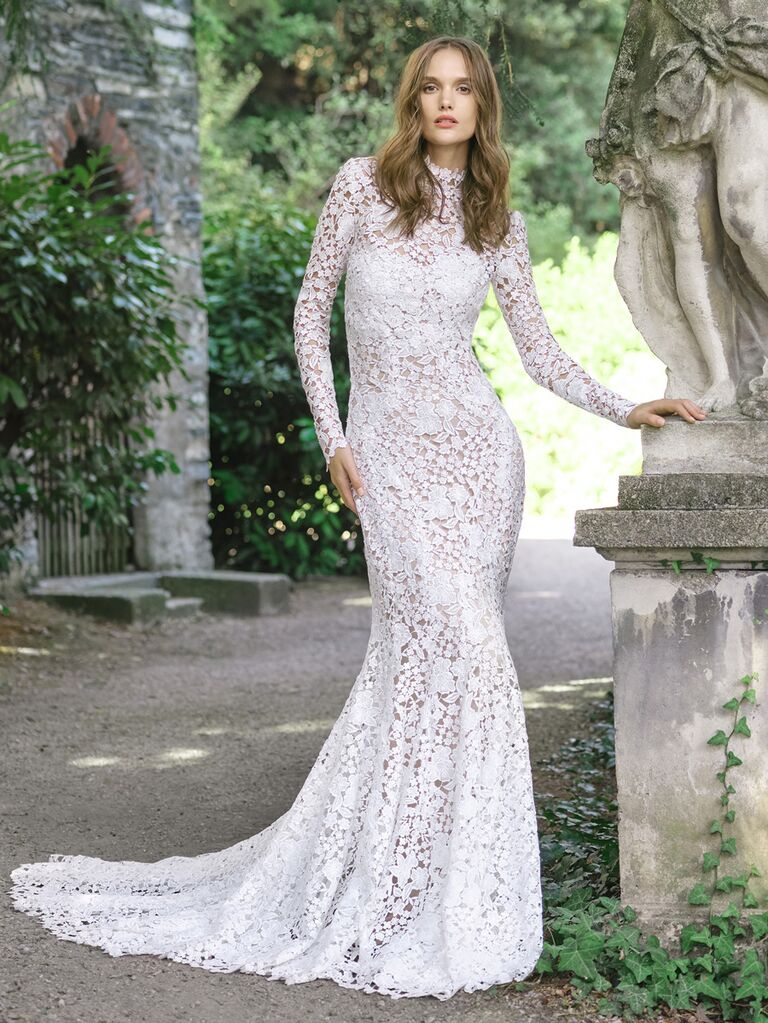 If the mermaid silhouette is just a little too much volume for you, try a trumpet gown. It's fitted through the bust, waist and hips, but then flares out with volume. The overall effect mimics the bell of a trumpet horn, highlighting your figure without being too dramatic.